10 Best Tips for a Sexy (Sober) Cocktail Party
Written by: Megan O'Neill
|
Published on: March 9, 2023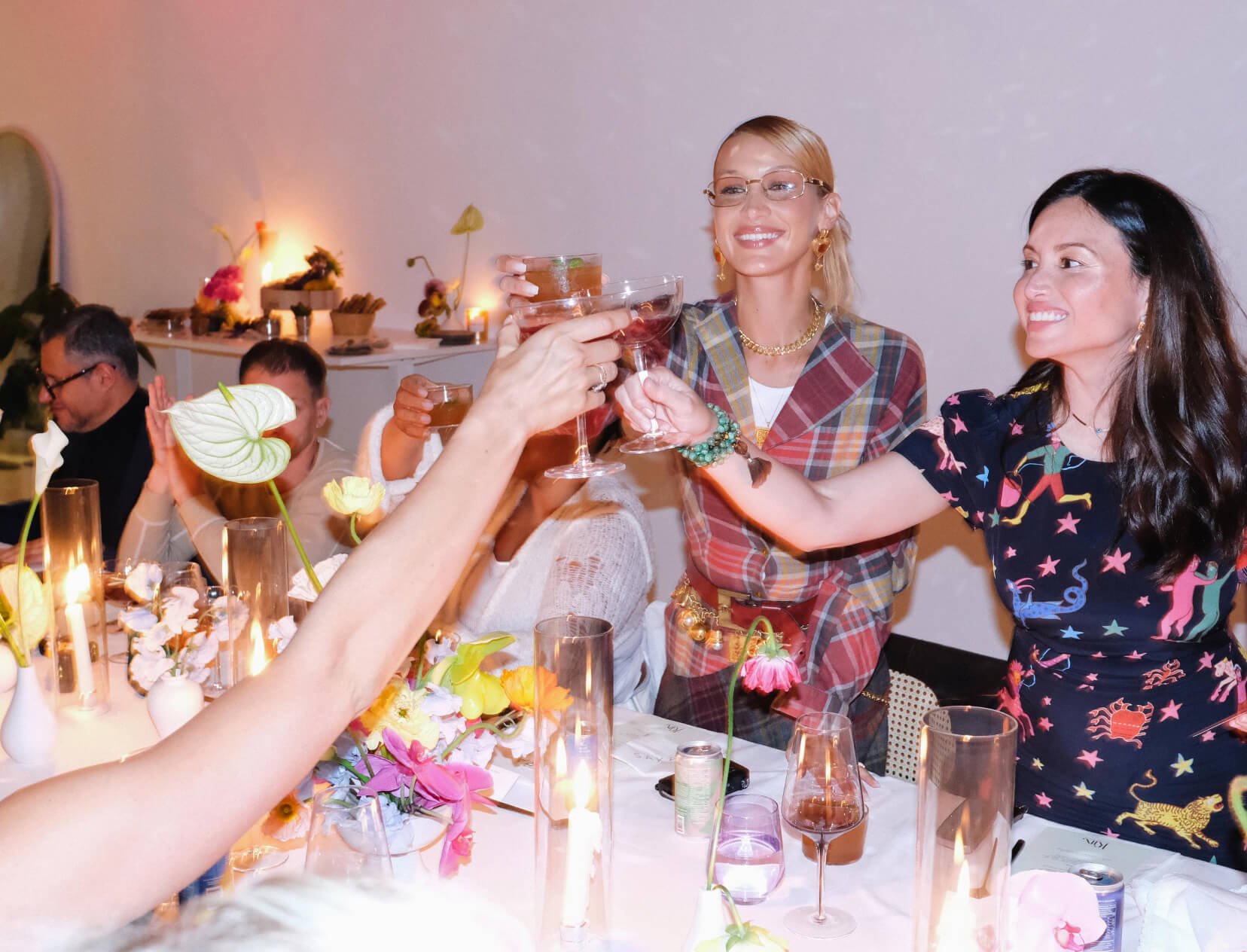 Photo courtesy of Lianna Tarantin for Sakara
Can a party crackle with possibility even if there's no alcohol? Austin-based Jen Batchelor, who cofounded Kin Euphorics nonalcoholic cocktails with Bella Hadid, says yes, absolutely. Batchelor, a mom of two, recently threw an especially sexy New York City dinner bash with Hadid and Sakara, where guests like chef and activist Sophia Roe and model Paloma Elsesser sipped Kin's mood-shifting cocktails made with adaptogenic herbs, nootropics (or cognitive enhancers), and aromatic flower and plant extracts.
"The ritual of sipping a cocktail is beautiful, but there's a reason why so many of us are drawn to do dry January or take a little break at another time of year," says Batchelor. "Whether you continue with sobriety or not, it's an incredible launchpad for finding out what actually brings you joy. There's this discovery of, 'Oh sh*t, alcohol isn't the only way to relax.' What a great reset to skip it, even for a night." Here, Batchelor's best tips for making said night the best night.
1
Have a Uniform
"I like a slight gloss on my eyes, an oiled-up protective sheen from Furtuna face balm, a little dusting of something pearlescent that still looks natural, and a matte lip."
Sheer Tinted
Eye Balm

Jillian Dempsey

Lid Tint

goop, $28

SHOP NOW




Glowy Moisturizer

Furtuna Skin

Rinascita Delle Olive Replenishing Balm

goop, $225

SHOP NOW

Just-Right Dash of Shimmer

Westman Atelier

Super Loaded Tinted Highlighter

goop, $75

SHOP NOW

Creamy Matte Lip

Saie

Lip Blur Lipstick

goop, $24

SHOP NOW




Perfect Bold Pattern

"For my outfit, I layer an old vintage shearling or Moncler coat over a bold-patterned La DoubleJ dress—it can be 30 degrees in the morning and 70 degrees by early evening here in Austin."

La DoubleJ

Brunch Dress

goop, $1,100

SHOP NOW
2
Serve a Ton of Drinks
Go for variety, Batchelor says. Try Kin Spritz, a sparkling ginger-hibiscus cocktail that's hard not to guzzle (it's gently caffeinated and infused with mood-elevating adaptogens like rhodiola), or Actual Sunshine, a refreshing blend of pineapple, saffron, and cardamom that's a riff on a mimosa. Both come in cans that couldn't be chicer or more party-portable; you could also mix up her next-level piña colada.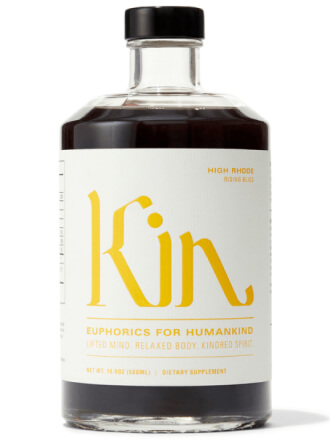 The Creamy, Dreamy, Healthyish Piña Colada
Add all the ingredients, including the ice, to a shaker and vigorously shake it up. Strain over a (sleek) ice-filled glass and sprinkle cinnamon on top. You can find more incredible Kin cocktail recipes here and on Kin's site.
2 ounces Kin High Rhode

1 ounce coconut milk

1 ounce pineapple juice

1 pinch spirulina

1 bar spoon ginger syrup

1 pinch cinnamon

cubed ice
3
Different Drink? Use Different Glasses
"I have a big collection of vintage glassware, and I love putting out little glasses, like ones for sake, in case people want to just give Kin a try."
"Toward the end of the night, I either bring out a warm Dream Light affogato or do a hot-toddy-style nightcap in glass mugs."
Handblown by Venetian Artisans

Emporio Sirenuse

Aria Stem Glass,
Set of 2

goop, $336

SHOP NOW

Festive Hand-Cut Crystal-Stem Glasses

Reflections Copenhagen

Mayfair Short Crystal Glass, Set of 2

goop, $650

SHOP NOW

Pear-Shaped Chalices

R+D.LAB

Luisa Calice, Set of 2

goop, $128

SHOP NOW




Fine-China Pinstripe Mug

Richard Brendon

Pinstripe Mug

goop, $68

SHOP NOW



4
Make Space for Every Sort of Crowd
"Inside, I set up a bar in the kitchen. You want to give your guests something to do with their hands, so I sometimes make a 'sangria' station. I like serving sangria-type drinks from a carafe and putting out tumblers for people to grab when they want a drink."
"Basically, there's a kitchen crew—some people will stay there and hang forever—an outside gang, and then the most mellow zone is the living room. For the outside people, I set up food, games, and a big tub of drinks on the terrace."
World's Chicest Checkers

Edie Parker

Checkers in Rose Quartz

goop, $1,895

SHOP NOW

Made from (Dishwasher-Safe) Borosilicate Glass

R+D.LAB

Velasca Carafe, 1L

goop, $135

SHOP NOW




Artful Tarot Deck

The Garden Journey

The Garden Journey Deck

goop, $95

SHOP NOW

Beautiful Fine-Ribbed Finish

R+D.LAB

Luisa Vino, Set of 2

goop, $80

SHOP NOW



5
Make the Lighting Sexy and Dim
"I put candles out everywhere. There's just nothing better for setting the mood."
Green and Woodsy

goop Beauty

Scented Candle:
Edition 02 – Shiso

goop, $72

SHOP NOW

Smoky and Mysterious

The Maker

Spiritus Candle

goop, $80

SHOP NOW




Unscented

Zeus + Dione

Hestia Two-Toned Beeswax Candles – Set of 20

goop, $65

SHOP NOW
6
Let the Music Dictate the Menu
"Music impacts the party vibe and the menu. I sort of plan what the food is going to be in relation to the music and vice versa; it all has to flow. I love some good Spanish guitar."
Indoor

Transparent

Small Transparent Speaker

goop, $550

SHOP NOW

Outdoor

BALMUDA

Balmuda The Speaker

goop, $399

SHOP NOW
7
Go Easy on the Hors D'Oeuvres
"A charcuterie board as an appetizer can be so heavy. Instead, I put out salty pistachios so people have something to nibble on when they arrive that won't ruin their appetite."
Minimalist Bowl for Nuts and Dried Fruit

FS Objects

Long Standing Bowl

goop, $150

SHOP NOW
8
Serve A Dinner that's Simple and Delicious
"I always come back to Tuscan pasta salad with sun-dried tomatoes, pesto, and avocado—so nourishing, so easy to put together. My husband invariably throws a steak on the grill."
Reclaimed-Acacia-Wood Bowl

Alexis Steelwood

Family-Style Serving Bowl

goop, $460

SHOP NOW




Glazed Terra-Cotta Serving Platters

Il Buco Vita

Assisi Nested Oval Platters,
Set of 3

goop, $300

SHOP NOW

Best Grill Ever

Everdure

The Cube Portable Grill

goop, $199

SHOP NOW



9
Make a Potluck Feel Intentional
"Another strategy: the main-course charcuterie board. Our kitchen has a 12-foot table, and I cover it with butcher paper and turn it into a 12-foot charcuterie board. I add nuts, cheese, and fruit and enlist friends for finger food, like bacon-wrapped figs and toasted walnuts. I set out all the different cookies and pies people bring, too."
Ultimate Party Serving Board

Alexis Steelwood

Charcuterie Board

goop, $250

SHOP NOW

Reclaimed-Wood Cake Plate

Alexis Steelwood

Acacia Cake Plate

goop, $250

SHOP NOW
10
Add Color
"In spring, it's so beautiful to put flowers on the table—or a bunch of eucalyptus. And use colorful plates."
goop-Exclusive Dinner Plate

goop x Social Studies

Secret Garden Dinner Plate

goop, $48

SHOP NOW

(Paper) Flower Centerpiece

The Green Vase

Floribunda Rose Plant

goop, $650

SHOP NOW

Italian Ceramic Plate

Emporio Sirenuse

Flower Charger Plate

goop, $150

SHOP NOW

Festive Dessert Plates

La DoubleJ

Dessert Plate, Set of 6

goop, $340

SHOP NOW
Shop Home Décor
Recommended Reading
Easiest-Ever Hair and Makeup for Parties
The Dolce Detox
A Weekend Spa Vacation in the Misty Costa Rican Mountains