[ad_1]

Customer Experience (CX) is an indispensable pillar of any business strategy. Its quality matters in any size business, and yours is no exception. "Treat others as you would want to be treated," isn't a novel concept. It's The Golden Rule. And just as it applies to most things in life, it applies to customer service. Following the golden rules of customer service can give your business an edge over the competition. After all, when your customer service shines, customers take notice. That means increased customer satisfaction and loyalty and, in turn, growing profits.
1. Provide Quick Responses and Solid Answers
Customers don't want to wait for answers, and your first answer should be the right one.
Statistics show that speed and accuracy are the two things that customers covet most.
66% of adults feel that valuing their time is the most important thing a company can do. @forrester Click To Tweet
According to a report from Forrester, 66% of adults feel that valuing their time is the most important thing a company can do. Additionally, 69% of customers shop more with retailers that offer consistent customer service.
Pro Tip:
Implement self-service options on your website, like an FAQ knowledge base, a 24/7 live chat service, or a chatbot. These are all great ways to ensure your customers have access to answers and support around the clock. A 24/7 online support option will also put your availability on par with that of larger companies. In fact, 51% of consumers say a business needs to be available 24/7 (Inc.com).
51% of consumers say a business needs to be available 24/7. @Inc #customerservice #customerjourney Click To Tweet
A comprehensive knowledge base centralizes product information and company data. An effective customer support portal – both internal and external – serves as another tool for both customers and agents. It helps them quickly locate the information they need.
2. Listen Well
Just like in any relationship, customers want to know that they are heard and understood.
According to a study conducted by Apptentive, 55% of consumers say they won't buy from a company that ignores their feedback.
55% of consumers won't buy from a company that ignores their feedback. @Apptentive #customerservice #customerexperience Click To Tweet
Thus, acknowledge their pain points and make an effort to relate to their struggles.  The simple act of listening can result in a satisfied customer and a positive brand impression.
Pro Tip:
Make sure your staff is up to snuff on their communication skills.
According to leadership experts Jack Zenger and Joeseph Folkman, good listening comes down to three key points:
Not talking when others are speaking

Letting others know you're listening through facial expressions and verbal sounds

Being able to repeat what others have said, practically word-for-word.
3. Acknowledge That All Cases Are Not Equal
There will be times when established policies don't fit the situation.
It's inevitable. At some point, complicated customer issues will arise.
Encourage your staff to empathize and reason like a person, not a corporation. Your customers will appreciate that you've acknowledged a special case and offered a fair solution.
Pro Tip:
Be able to adapt, and give your staff the power to do so as well (more on this at #10).
When a family emergency, natural disaster, serious illness, or other unforeseen circumstance impacts a customer's interaction with you, consider making an exception.
Customers that have an emotional relationship with a brand have a 306% higher lifetime value. They tend to recommend the company at a rate of 71%, rather than the average rate of 45% (Motista).
Customers that have an emotional relationship with a brand have a 306% higher lifetime value. They recommend the company at a rate of 71%. @Motista Click To Tweet
Your flexibility could win you a customer for life.
4. Learn How to Apologize Well
No one can be right 100% of the time. You know it, and so do your customers.
One thing is guaranteed, mistakes will happen. The important thing is how you handle those mistakes.
Studies show that  37% of customers are satisfied with service recovery when they are offered something of monetary value (e.g., a refund or credit). But when the business adds an apology on top of the compensation, satisfaction doubles to 74%.
So, don't just teach your support team to apologize, teach them to apologize like rock stars.
Pro Tip:
When you're wrong, say you're wrong.
Recognize when circumstances have turned for the worst, graciously accept the blame, and issue a great apology.
But, don't just stop at "sorry."
Go the extra mile to make the situation right, and make it a point to exceed the customer's expectations.
Customer service is an opportunity to exceed your customer's expectations. –
John Jantsch, President at Duct Tape Marketing pic.twitter.com/L3aUIloBa9

— ted Learning (@TedLearning1) February 5, 2018
---
Related Post: 6 things service reps should do when an angry customer calls
---
5. Appreciate Your Customers and Show Respect
Everyone loves to be thanked.
Unsurprisingly, 77% of consumers like it when brands demonstrate their appreciation (TD Bank).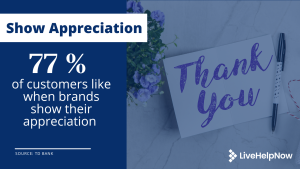 However, limiting gratitude to a closed sale or a compliment is not enough. Expressing gratitude for whatever a customer brings to your company is key. Take the topic of negative reviews, for example. . An outside perspective (be it positive or negative) is gold for a brand. It provides a unique opportunity to create and give the customers exactly what they want, thus growing your business.
Keep in mind: 70% of companies that deliver a best-in-class customer experience use customer feedback to provide a better customer experience (Huffington Post).
70% of companies that deliver a best-in-class customer experience use customer feedback to provide a better customer experience. @HuffPost #customerexperience #customerservice Click To Tweet
Pro tip:
Always say thank you. No matter what.
Never let your customers walk away from an interaction without thanking them for their time and their business.
In addition, consider launching a customer loyalty program to reward them for their support.
Here 7 tips from Forbes on building a successful customer loyalty program:
Loyalty is important, but it is also important to do it right! Seven Tips For Successful Customer Loyalty Programs In 2019 by @forbes #LoyaltyProgram #RewardsProgram https://t.co/EvnxvoIA6l

— Nuala Canning (@NualaCanning) July 26, 2019
6. Remember Your Customers
Customer service personalization is one of the most important golden rules of customer service. It serves as an important factor when it comes to customer loyalty. Be your customers' good friend and they are more likely to patronize your business and spread the word.
In order to remember your customers, you have to get to know them. So, ask questions and pay attention to their habits. Make it clear that you're utilizing collected information to their benefit. Then, most customers will provide key details about themselves.
Store and organize any identifying information you receive from the customers. Keep a log of each customer's purchases, returns, exchanges, and methods of contact. Big or small, record every aspect of an interaction. Then, your support team can use the gathered data to provide each customer with a personalized experience.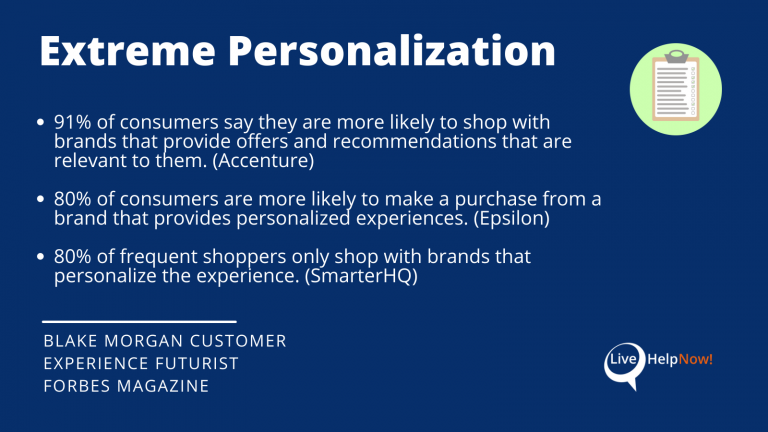 Pro Tip:
Data unification software like CRMs and email ticket systems are both great ways to centralize and manage customer data.
For instance, ticket systems allow businesses to manage customer emails and form submissions. They archive shoppers' data for easy retrieval and updating.
Staying on top of your customer service game entails keeping an organized record of client communications. A ticket management system helps you stay on track. #ticketmanagement #email #CustomerService https://t.co/WxeDSH4X20

— LiveHelpNow (@LiveHelpNow) July 14, 2019
Tools like these will allow you to build in-depth customer profiles and give your support team the ability to treat customers like family.
---
Related Post: A Tool that Makes a Difference: Ticket Management System
---
7. Say Yes, Whenever Possible
If somebody offers you an amazing opportunity but you are not sure you can do it, say yes! Then, learn how to do it later! – Richard Branson
As mentioned earlier, every customer inquiry should be viewed as an opportunity. So, oblige your customers whenever possible.
When someone calls on your support staff for help, he or she seeks affirmation that a positive resolution is possible.
So, first, assure them that you'll find a way to solve their problem. Then, get to work solving it.
Pro Tip:
Create a "yes" culture.
Of course, you can't say "yes" to your customers 100% of the time. That would just be unrealistic. But, that doesn't mean you have to say "no."
Actually, you don't have to use the word "no" at all. Instead, you can explain the reasons why you can't give them exactly what they're asking for.
Then, list a few alternative resolutions to which you can say "yes".
8. Invite Feedback and Accept Criticism
Your customers have great ideas right at the tips of their tongues. All you have to do is ask them to share their thoughts.
Not only will their feedback help you grow your business, but your company's receptiveness will also have a positive impact on your brand's reputation.
Brands are viewed more favorably by 77% of consumers if they proactively invite and accept customer feedback. @Microsoft #customerservice #customerexperience Click To Tweet
Brands are viewed more favorably by 77% of consumers if they proactively invite and accept customer feedback. (Microsoft)
Pro Tip:
Make it easy for customers to provide you with their feedback by setting up post-call and post-chat surveys.
Just keep in mind that the amount of effort you put into creating the surveys will determine the value of the information you receive. If you run a bring-and-mortar retail store, an office, or a restaurant, feedback surveys serve as a great way to collect feedback.
Customer experience expert, Annette Franz, recommends structuring customer surveys so that the feedback you receive is both "meaningful and actionable."
Her article below will point you in the right direction:
Do You Employ Actionability Thinking in Survey Design? | CX Journey™ https://t.co/ygk09DxJT9 #feedback #surveys #action #voc #voe #empexp #custexp pic.twitter.com/lWlzTMWPAi

— Annette Franz, CCXP (@annettefranz) July 29, 2019
There are other ways to collect feedback as well. Hubspot outlines 16 strategies to obtain customer feedback.
9. Revise Tactics Based on Feedback
If you collect feedback and then do nothing with it, then why even bother? Collecting feedback is a great start. But using that feedback to improve customer experience is another one of the golden rules of customer service.
52% of people around the globe believe that companies need to take action on feedback provided by their customers. @Microsoft #customerfeedback #customerservice Click To Tweet
As the old saying goes, "Actions speak louder than words." Making actual changes will let customers know you're listening.
Pro Tip:
Start by organizing and prioritizing the responses you receive.
Helpdesk auto-tagging is a great way to collect customer feedback, identify important trends, and pinpoint potential issues. This helpdesk feature categorizes customer interactions across multiple channels including, live chat, email, and voice calls.
Group actionable issues in order of frequency and severity. Then make a plan to alter your product and your customer roadmap accordingly.
Here's a great video from Hunter Business Group that outlines the process of acting on customer feedback.
10. Value and Empower Your Customer Service Employees
Ahhh, number 10. Some would argue that this is the most important of the golden rules of customer service.
None of the above strategies will do you any good if don't have an engaged staff.
In order for your employees to engage, they have to feel valued and empowered. Also, consider Outsourcing Live Chat Support with established processes for agent empowerment.
70% of employees rank the empowerment to take action at work when a problem or opportunity arises as an essential element of their engagement (SHRM).
Pro Tip:
Give your employees the power to think on their feet and trust them to make the right calls. Achieve this through informing and training your staff.
Here are the most popular methods to actively manage and drive employee engagement:
drafting employee engagement surveys (55%),
creating culture committees and events (29%)
offering employee resource groups (20%).
When this statistical data is broken down to its simplest form, it translates to 3 points:
Surveys = Listen to your employees
Committees and Events = Have a way to make them feel appreciated and rewarded
Employee Resource Groups = Provide support and proper training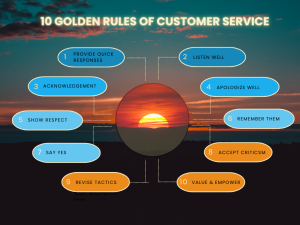 10 Golden Rules of Customer Service
Your current business strategy might revolve around the retention of existing customers. Or. perhaps. or the acquisition of new ones. Either way, focusing on the golden rules of customer service above can help improve overall customer experience. Exceptional customer service leads to happier customers, increased customer loyalty, and, of course, better business.
For more business tips and customer service advice like LiveHelpNow on Facebook or follow our business page on LinkedIn.
Originally published Oct 15, 2013


[ad_2]

Source link