10 Skin (and Sex) Secrets from an Ex–Pastry Chef
Written by: Megan O'Neill
|
Published on: February 9, 2023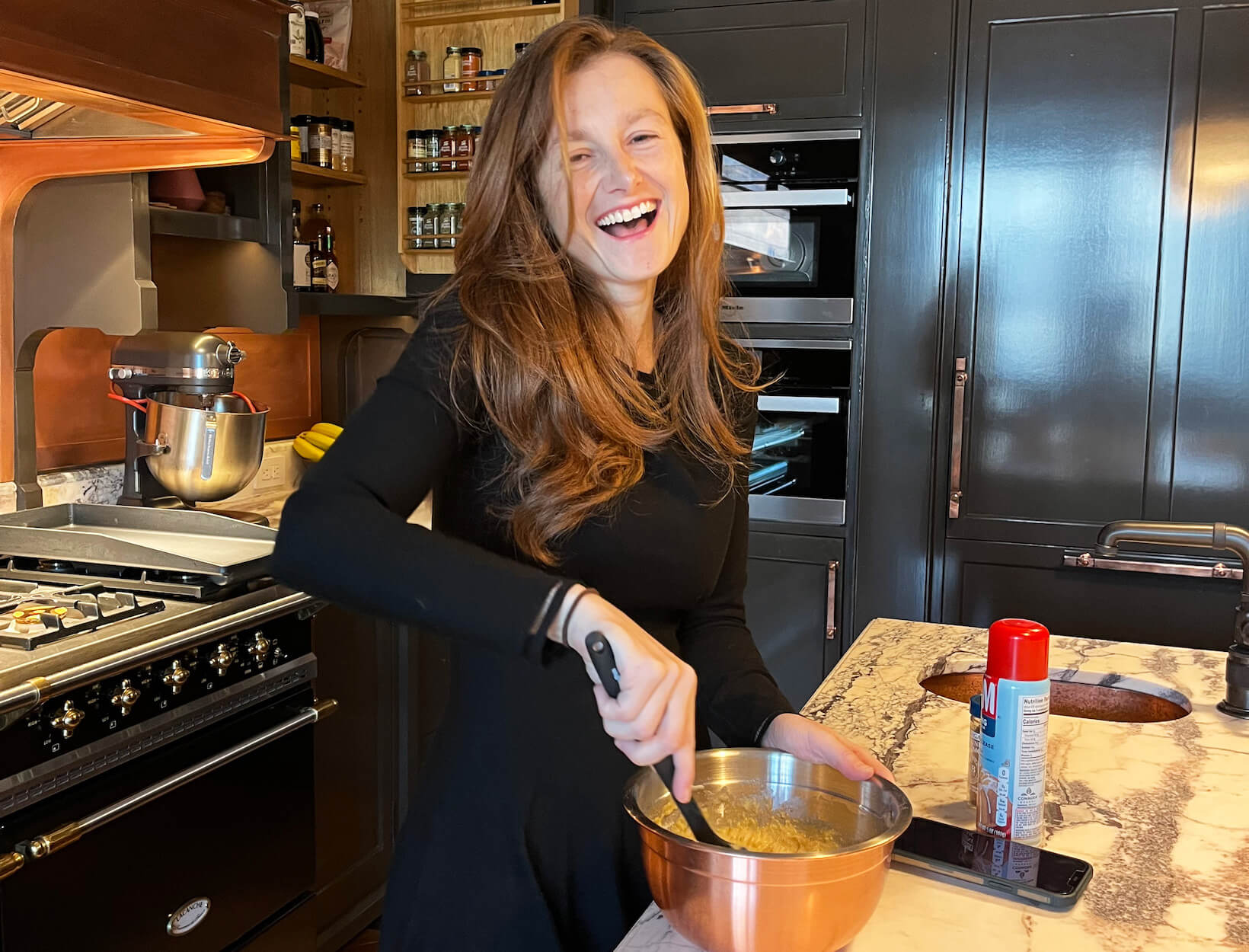 All sorts of things come out of skin care founder Kate McLeod's kitchen. The ex–pastry chef whips up a mean stack of golden griddle cakes—that's her above, mid-stir, at home in her kitchen. Her secret ingredients for their remarkably pillowy texture: "Mochi flour and sprinkling a handful of flaked almonds—get the super flaked kind—into the batter. OMG. That gives it just the right amount of bite," says the New York–based mom of two.
What also started in her kitchen: McLeod's sumptuous, beautifully original, brilliantly sustainable skin line. Her newest additions to it, made with cocoa butter, jojoba and baobab seed oils, and absolutely gorgeous essential oil scents, are called bath pebbles. The pebbles look like miniature versions of McLeod's much-adored body stones—moisturizing body and face bars that leave skin supple and glowing—turned into an ultrahydrating version of a bath bomb. (Only on goop: this adorably packaged set with one box of lavender-scented pebbles and another with eucalyptus-scented ones. They make pretty much the best Valentine's Day gift ever, especially for yourself.)
Kate McLeod

Sleep and Breathe Pebble Set

goop, $76

SHOP NOW
When you toss a pebble into a warm bath, it gently fizzes into a luscious oil—the formula's bicarbonate of soda and citric acid create the effervescence, McLeod explains. "They react and break up the butter and oil, creating this beautiful oil-butter bath," she says.
Secret quickie baths are one of McLeod's favorite maneuvers for pouring back into herself, along with a few makeup essentials, sculpting face massage, and something called the Sex Stone.
Kate M
c

Leod's 10 Tips to Live By
1
Body Heat Melts In Hydration
My body stones are designed as a solid that melts on the warmth of your skin—a thick coat leaves even my rough elbows and hands that used to split in the winter silky. The Daily Stone smells like rose, neroli, and frankincense. The Naked Stone is unscented and amazing for people with sensitive skin, and it doesn't compete with your perfume.
Kate McLeod

The Daily Stone

goop, $45

SHOP NOW

Kate McLeod

The Naked Stone

goop, $45

SHOP NOW
2
Infrared Heat Goes a Step Further
At night, after I've moisturized (and maybe had a bath), I get into my pajamas and lie on our PEMF mat with a blanket over me. I thought my husband was ridiculous to buy one, but it's become such a part of our routine now. The heat feels so good and helps all the oils and butters melt in to feed my skin. We take turns lying there, and it's like we've been drugged.
HigherDOSE

Infrared PEMF Go Mat

goop, $599

SHOP NOW
3
Sex Is Better with Moisturizer
Thursday is date night. Last week, we got home at 8:27 p.m. The babysitter was like, "You're back?" But dates are important. And so is sex. I'd say the majority of the time we have sex, the Sex Stone is involved—ha. I'm sensitive. I don't use synthetics or plastic—whatever I make has to be safe enough to live in my pantry.
Kate McLeod

The Sex Stone

goop, $45

SHOP NOW
4
Take Bath Breaks (during the Day)
As I've gotten older and I'm giving, giving, giving to my children, my work, my husband, I find my body running colder—I think there's a connection. Sometimes I'm at home at my desk working and I just cannot get warm. Even with cozy slippers on. Between meetings, I drop a stone into the tub and sit in there for five minutes. Once I feel the heat flow through me, I slip back into my clothes. Back to work. We've built up baths to be this looong, momentous thing, but they can also be quick resets.
Kate McLeod

Sleep and Breathe Pebble Set

goop, $76

SHOP NOW
5
Warm Up Your Face with Color and Shimmer
I like to grab this highlighter from Westman Atelier—which also somehow works as the best bronzer—and I love their blush sticks, too.
Westman Atelier

Super Loaded Tinted Highlighter

goop, $75

SHOP NOW

Westman Atelier

Baby Cheeks Blush Stick

goop, $48

SHOP NOW
6
Dry Brush before You Bathe
It just feels so good and softens my skin.
goop Beauty

G.Tox Ultimate Dry Brush

goop, $25

SHOP NOW
7
Learn from Other Moms
I read one of Gwyneth's cookbooks years ago, and there were all these photos of her daughter, Apple, as a baby, and Gwyneth talks about the importance of getting kids involved in the kitchen. I still think about that—and always let my son Ollie stir the bowls in the kitchen. I'm like, "This needs five minutes of mixing, sir!" He eats more batter than he does the finished pancake usually. He gets really involved during bath time, too. He loves sliding open the bath pebbles box and picking a pebble to throw into the tub. They look like chocolates but bubble and smell like lavender as they dissolve—it's like a science experiment to him.
Hachette

It's All Easy, Autographed Version

goop, $45

SHOP NOW
8
Bath Pebbles Are Great for Showers, Too
If you're not a bath person, the pebbles still work. Hold two in the palm of your hand and smooth them all over your body under the shower. I love cleansing with oils; it gets all the dirt and grime out of my pores—plus the citric acid and bicarbonate of soda act as a gentle exfoliating scrub.
9
Find a Fantastic Brow Person
My brow lady, the founder of Azi Sacks, The Brow Studio, in Chelsea, is the best person ever if you're looking to shape your brows, and I love the brow serum from Typology.
goop Pick
Rye Beauty

Brow Grooming Serum

goop, $42

SHOP NOW
10
Exfoliate and Massage for Glow
Most of the time I just rinse my face with water, but when my skin needs a little more, I exfoliate with rice powder I buy at a Japanese pharmacy.
I moisturize with my Face Stone, which doubles as a face massage tool. I'm vigorous with it, smoothing it along my jaw, my forehead, the bridge of my nose, and my under-eye area and over my eyebrows to set them. The tamanu and blue tansy oils, along with the robust massage, give me a real glow.
goop Picks
Humanrace

Rice Powder Cleanser

goop, $36

SHOP NOW

Jillian Dempsey

Gold Sculpting Bar

goop, $195

SHOP NOW

goop Beauty

GOOPGENES All-in-One Super Nutrient Face Oil

goop, $98/$89 with subscription

SHOP NOW
Recommended Reading
You Can Use a Body Stone for Everything from Silkier Skin to Sexier Sex (and Much More)
My Morning Routine: How a New Mom (Who's Y7 Studio's CEO) Gets Sweat and Exfoliation In First Thing
A Winter Checklist for Dry Skin