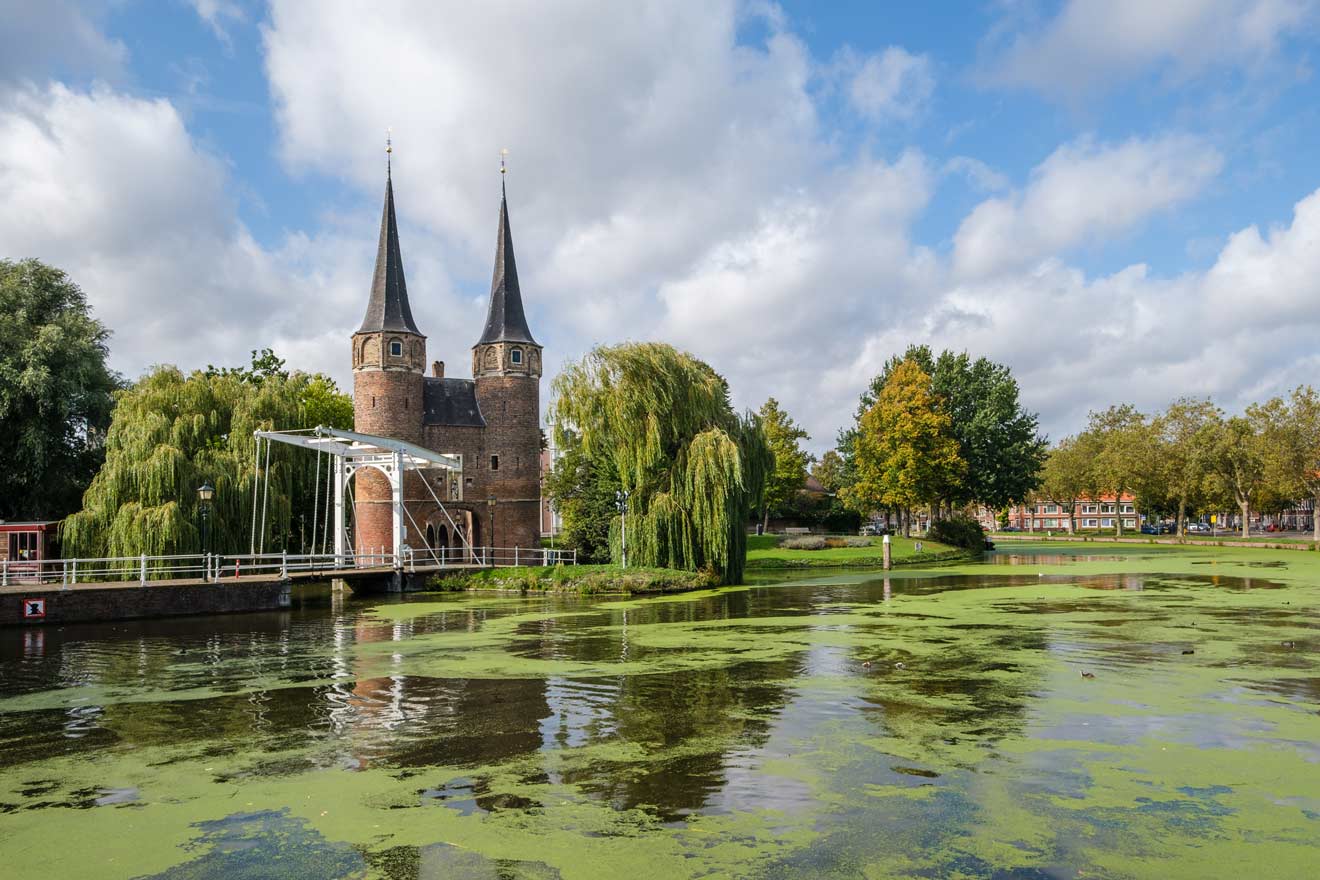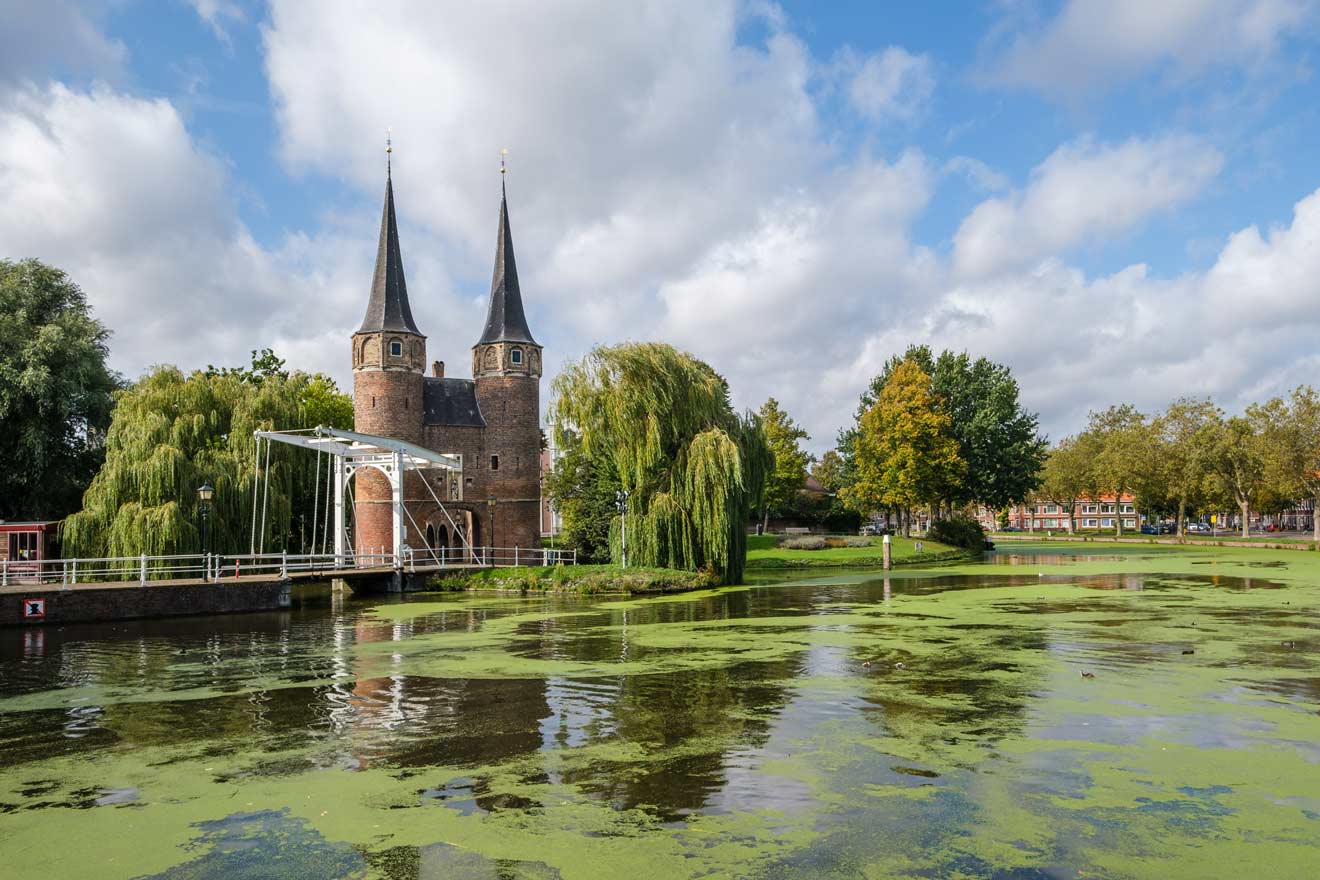 The picturesque city of Delft is located in the southwestern part of the Netherlands on the banks of the Schie river. Charming and irresistibly reminiscent of Amsterdam, it's often dubbed "Mini Amsterdam" or "Amsterdam in miniature."
This wonderful city with its quaint, pastoral architecture and narrow streets crossed by beautiful canals and bridges, still preserves its ancient history in its gorgeous traditional housing and façades. 
Below I'll take you through some of the most awesome things to do in Delft. I've done all the research so you don't have to, making your trip a breeze 🙂 You won't want to miss any of them, so make sure you get a tour so you can hit all the good spots! 
Let's go!
If you are in a hurry
If you want quick recommendations, these are the best things to do in Delft!
Here are the main things to book in advance:
And here are the best hotels in Delft: Hotel Arsenaal Delft (luxury), Hotel de Koophandel (mid-range), The Social Hub (budget)
1. Visit The Royal Delft Museum and Delftware Factory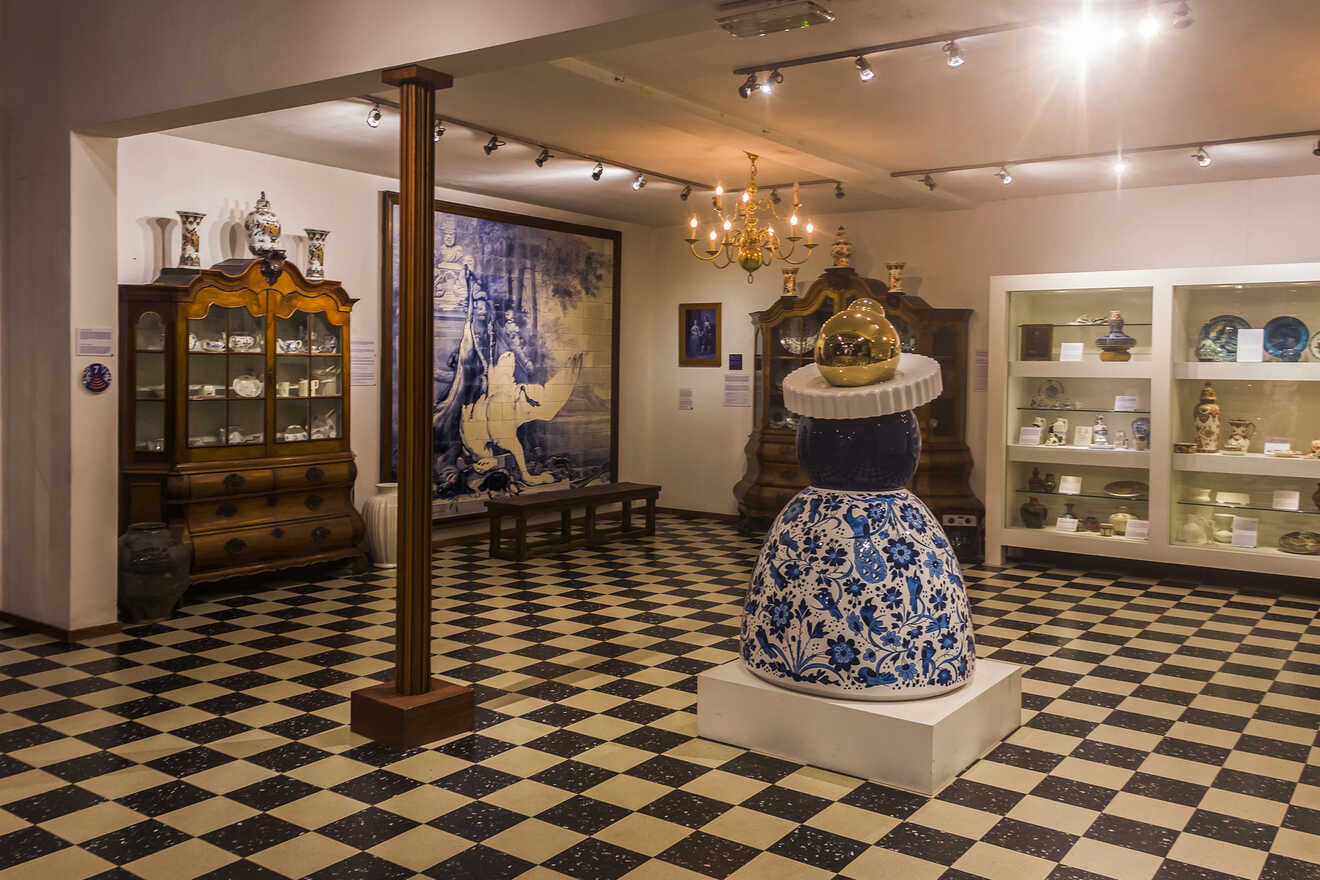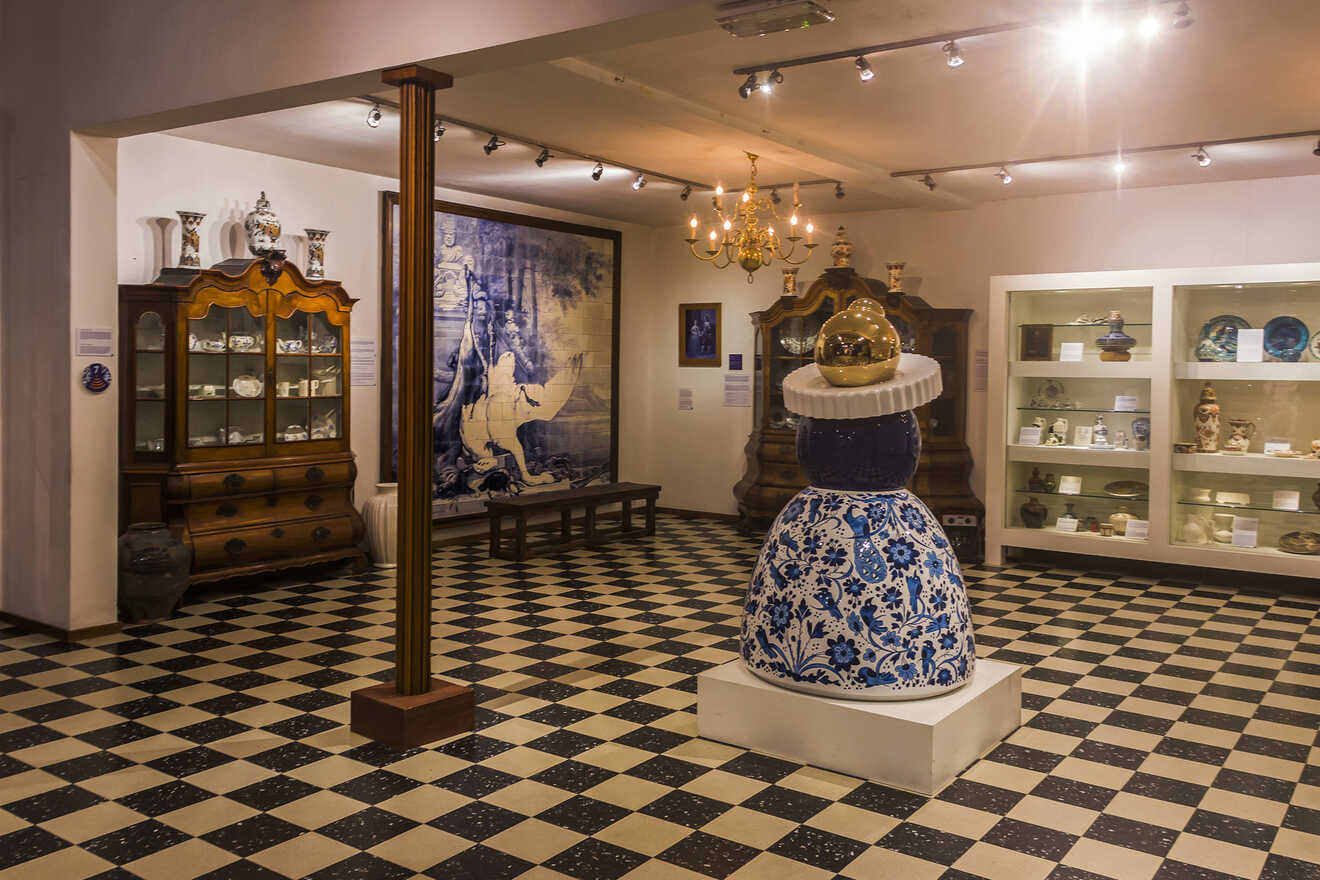 Delft is famous for its beautiful handmade Delft pottery and artists who have nurtured the ancient Dutch tradition of making gorgeous blue and white Chinese porcelain pottery.
You'll find Delft Blue at the Royal Delft factory and Museum located in Delft centrum, and the best way to visit is to get a guided tour. This Royal Delft experience offers you a private guide to take you around the last remaining Delft factory in the Netherlands.
If you book in advance, you can also reserve a painting workshop, which is not to be missed! You'll be able to learn all the techniques that have survived the centuries, and you can end your tour with a relaxing cup of coffee in their pretty courtyard.
While you can enter the museum for the same price as the tour, you get much more with the tour! You can explore both the museum and the Royal Delft factory on the tour and the painting workshop is so much fun.
Did you know that Delftware's traditional blue paint actually comes from a black pigment? You'll find out all the secrets of these practices on your tour!
After your tour, don't forget to hit one of the surrounding souvenir shops! You can buy hand painted Delftware to take home, so leave some time at the end of the day to get ensconced in these little stores.
PRO TIP: If you're taking your children to the museum, be sure to download one of the museum's custom coloring books so they can learn about traditional Deltware style before you go! They also occasionally have painting activities, tours, and workshops just for kids, so keep an eye out for that!
PRICE: €15
Book Your Delft Museum and Factory Tickets
2. Visit the Museum Prinsenhof Delft
The Museum Prinsenhof Delft, located in an old monastery, is a prominent cultural institution of Dutch royalty. It overlooks the gorgeous gardens of Prinsentuin about 20 minutes walk from the Royal Museum in the city centre.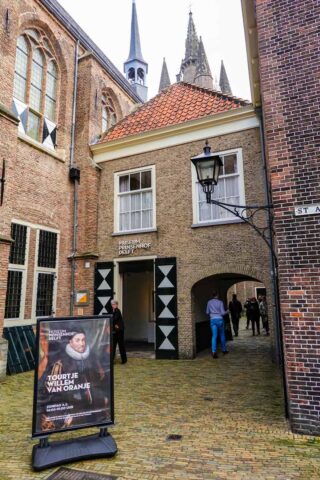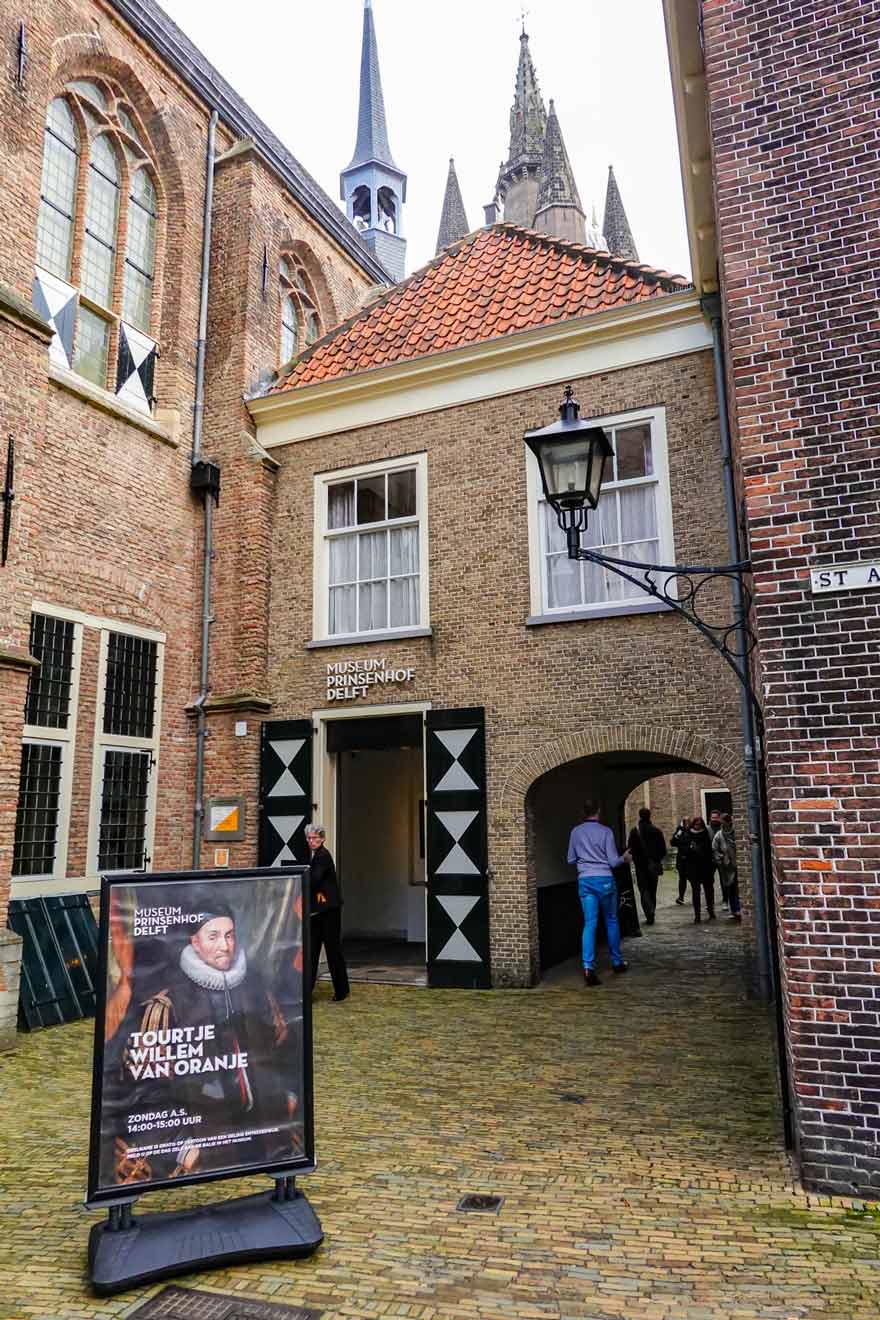 Prinsenhof museum was home to Prince William I of Orange, also known as the "Father of the Dutch nation" and a prominent figure in the Dutch uprisings.
The best way to get the most out of your visit to this Dutch royal house is take this awesome tour, which even takes you to the exact spot William of Orange was assassinated!
Take a leisurely stroll with your guide to enjoy the artwork and the museum's lush surroundings, and be captivated by the old spirit of the Dutch royal family in every corner.
NOTE: The museum is closed on Mondays, so plan accordingly! You also can't take big bags or wet coats into the museum, so make sure you pack light. For small bags they have a free cloakroom at the entrance 🙂
PRO TIP: While you can purchase a ticket for the museum on their website, you can book your tour in advance without paying anything until you travel! This is super helpful to keep you on budget for your vacay and allows you to plan in advance.
PRICE: €13.50
Book Your Museum Tickets in Advance
3. Have your morning coffee at Markt Square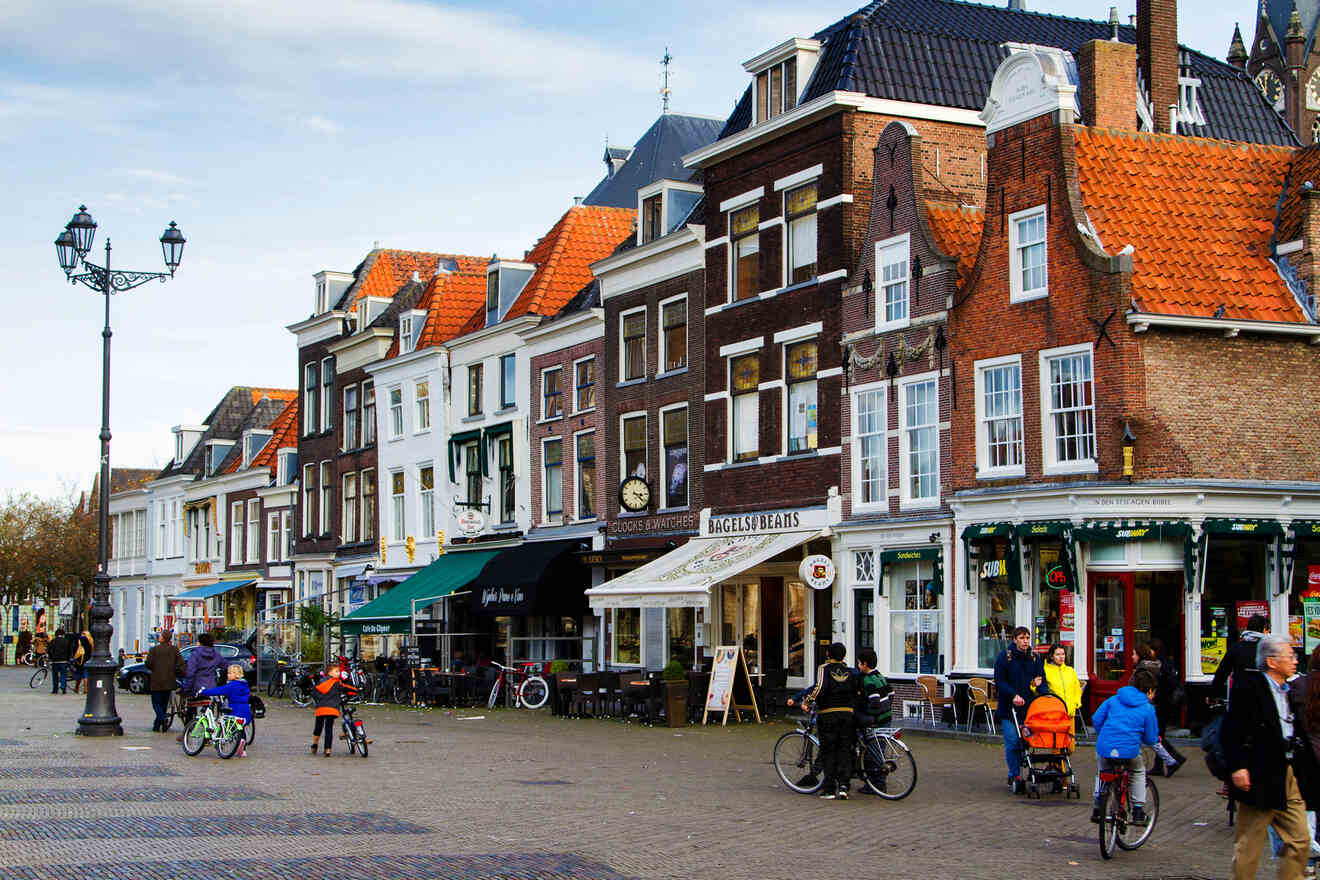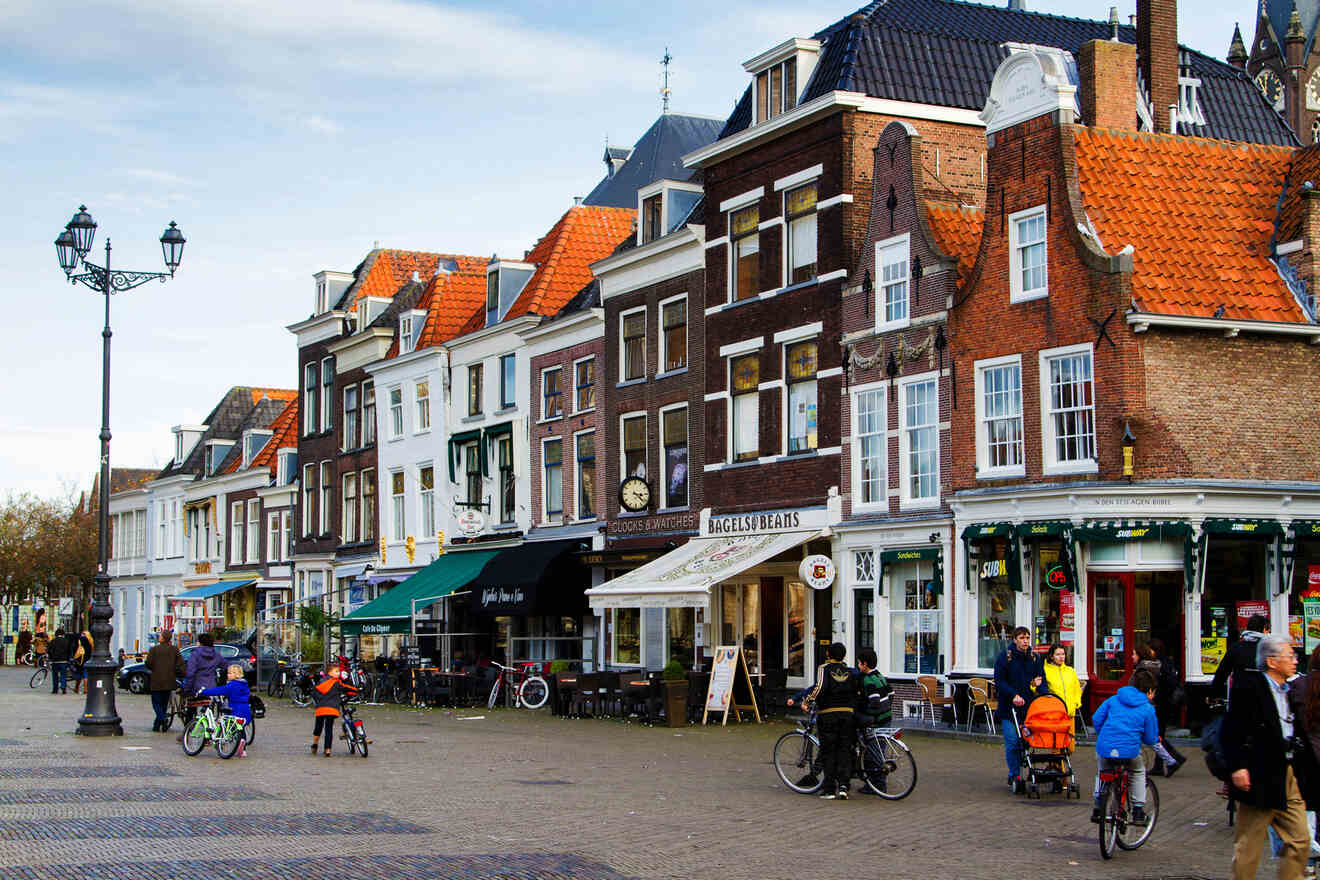 Markt Square is the most beautiful square in the city, its trademark, and lifeblood. All roads lead to Rome as they say, but here in Delft, all roads lead to Markt Square!
If you love a good market, you'll love Thursdays at this main square. As far as a market square goes, this one is pretty big, and more than 150 stalls are set up every week and you can buy anything from local fruit and veg, Dutch cheese, books, and other little trinkets you can take home as souvenirs. It's the perfect location for a leisurely morning!
If you get tired of tasting all the local food, drop by one of the square's cafes to freshen up and rest. If you need a boost, try the famous Leidse koffie! This traditional Dutch drink is basically caffeinated cinnamon liqueur – and it looks like liquid gold!
NOTE: It's customary to tip around 10% in the Netherlands, so don't forget to bear this in mind when you go for cocktails in Delft!
PRO TIP: If you ever get lost in Delft and your phone dies (happens to the best of us), just ask for directions to Markt Square. You'll be able to find your way around easily from there!
4. Visit City Hall and indulge in the beauty of Renaissance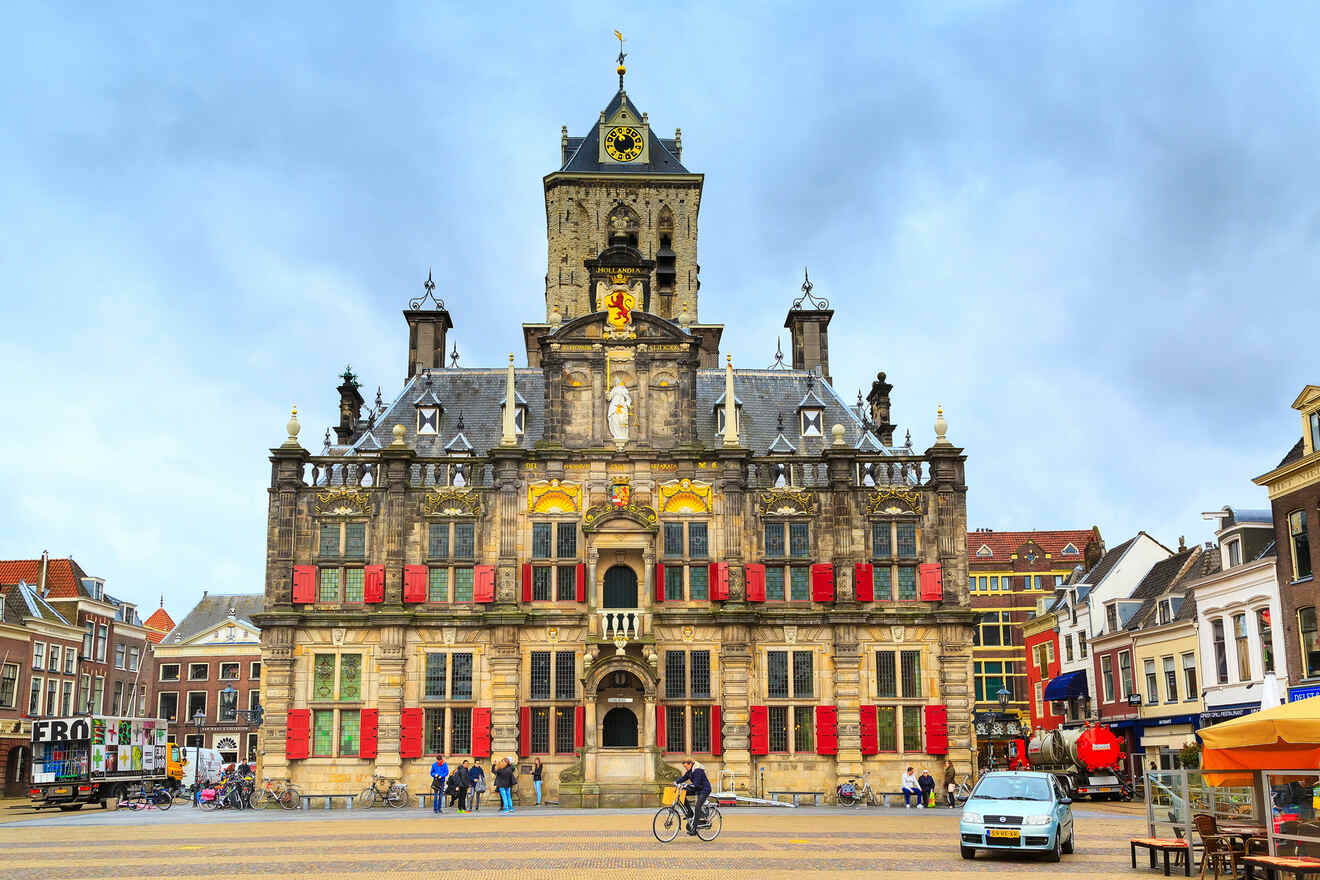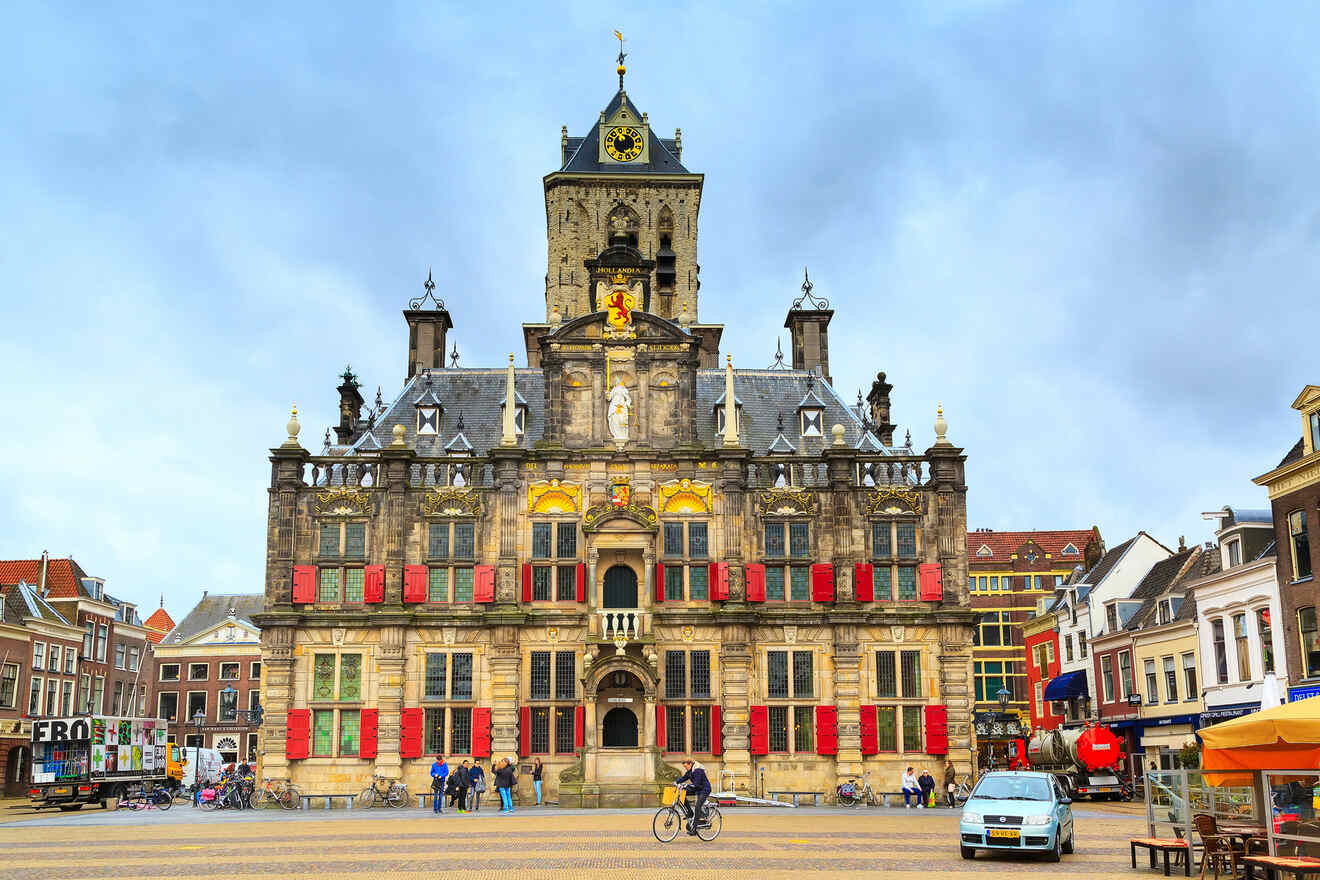 Delft City Hall should be your next point of call! It's on the west side of Markt Square and has a pretty striking façade, so you can't miss it!
This richly-decorated building was rebuilt in the 17th century and has the reticent vibes of Paris Opéra. Its impressive structure hides a grand collection of art and regal rooms, and its stone tower (Het Steen) was once Delft's old medieval prison!
The municipal building can only be visited with a prior reservation and a tour guide, which is why I recommend taking this walking tour that allows you to learn all about Stadhuis Delft and a ton of other exciting things around it! 🙂
Once you're done with the Old Church, walk just 2 minutes to Delft's oldest bakery, Stadsbakkerij de Diamanten Ring! You'll get a real sense of traditional Dutch baking over there, and their pastries are to die for!
PRICE: €114
Take a Walking Tour Including City Hall
5. Enjoy a romantic view at New Church (Nieuwe Kerk)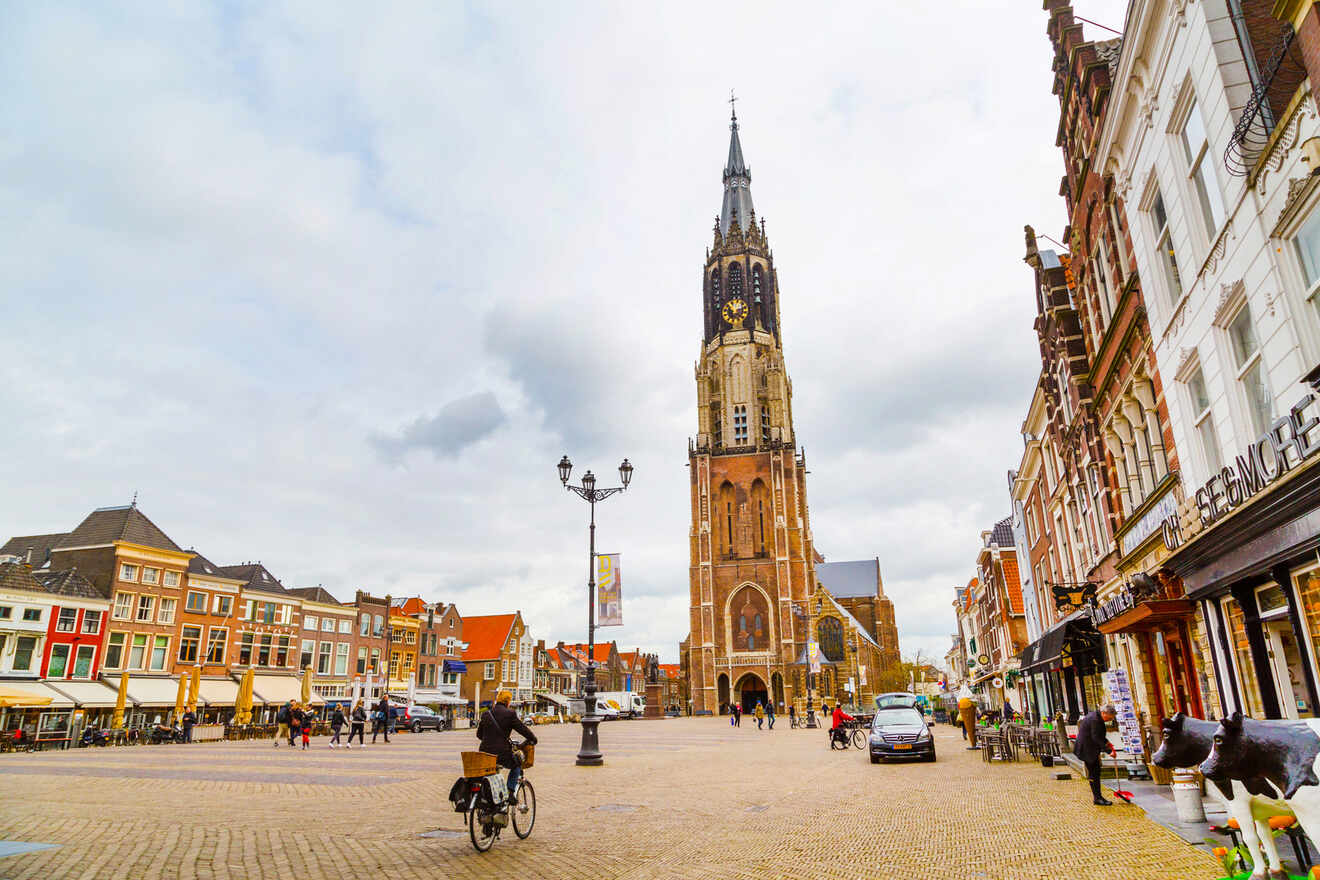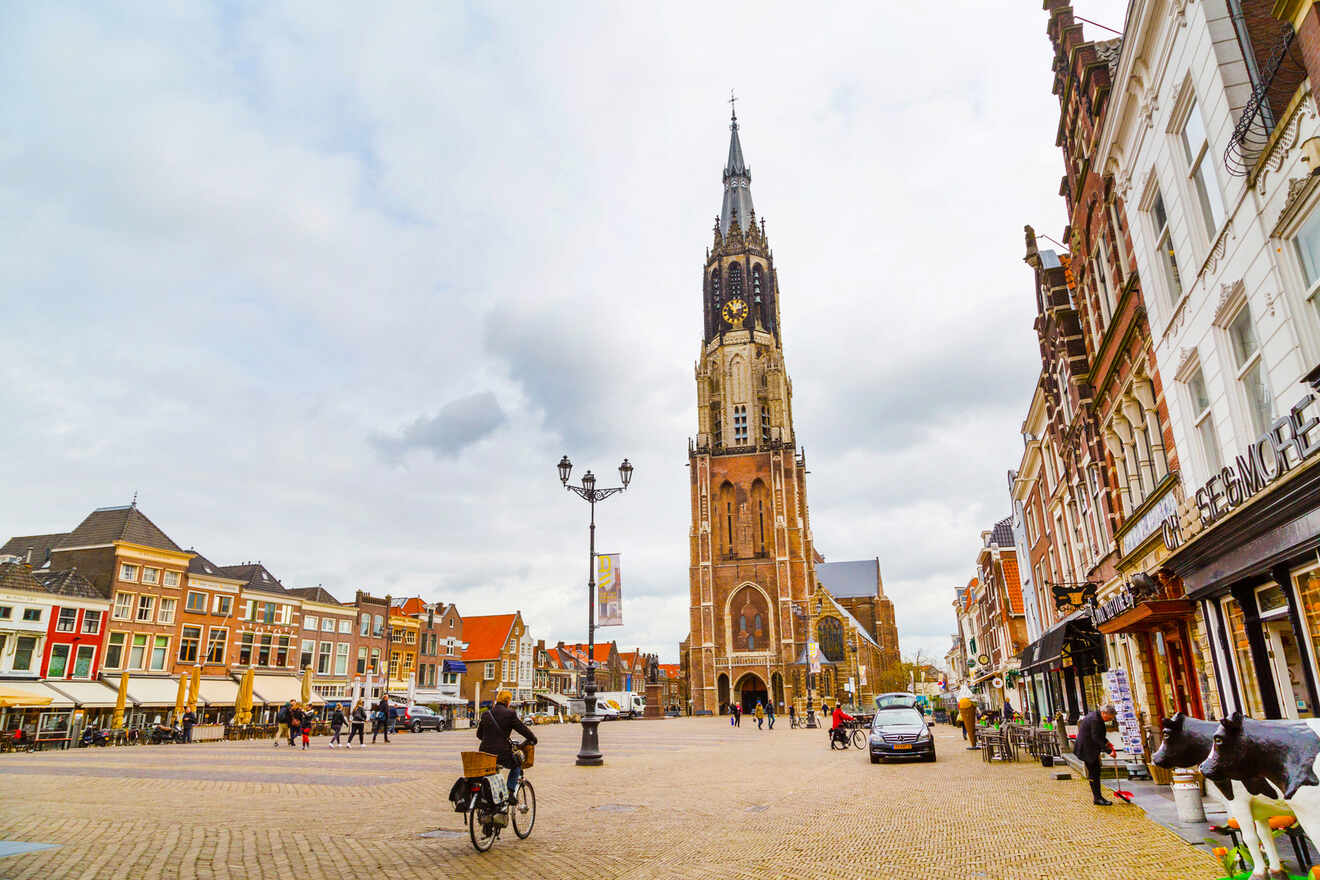 Right opposite the Town Hall, the gothic-style Nieuwe Kerk looms high above Markt Square, with a whopping 108 meter church tower that dominates the skyline – making it one of the tallest church towers in the country!
You can climb all the way up to the top of New Church and experience a romantic view of Delft from high above the rooftops. And, if you're interested in a bit of Dutch history, the church is also home to the mausoleum of William of Orange and a few other notable Dutch royals!!
Don't leave before you hear those bells tolling! The bell tower was built back in the 17th century, so you may catch a glimpse of the ghost of Delft's past when they ring across the city.
To gain entrance into both the New and Old Church, I'd recommend getting this all-in-one ticket that also comes with access to all the tombs at both sites – an opportunity that can't be missed!
NOTE: You won't be allowed into the church 15 minutes before closing time, so make sure you get there early enough!
PRO TIP: If you've had too many cocktails and climbing all the way up the tower seems like too much effort, they also have an elevator that takes you right to the top!
PRICE: €8
Book Ticket to the Old and New Churches
6. Explore the Old Church (Oude Kerk)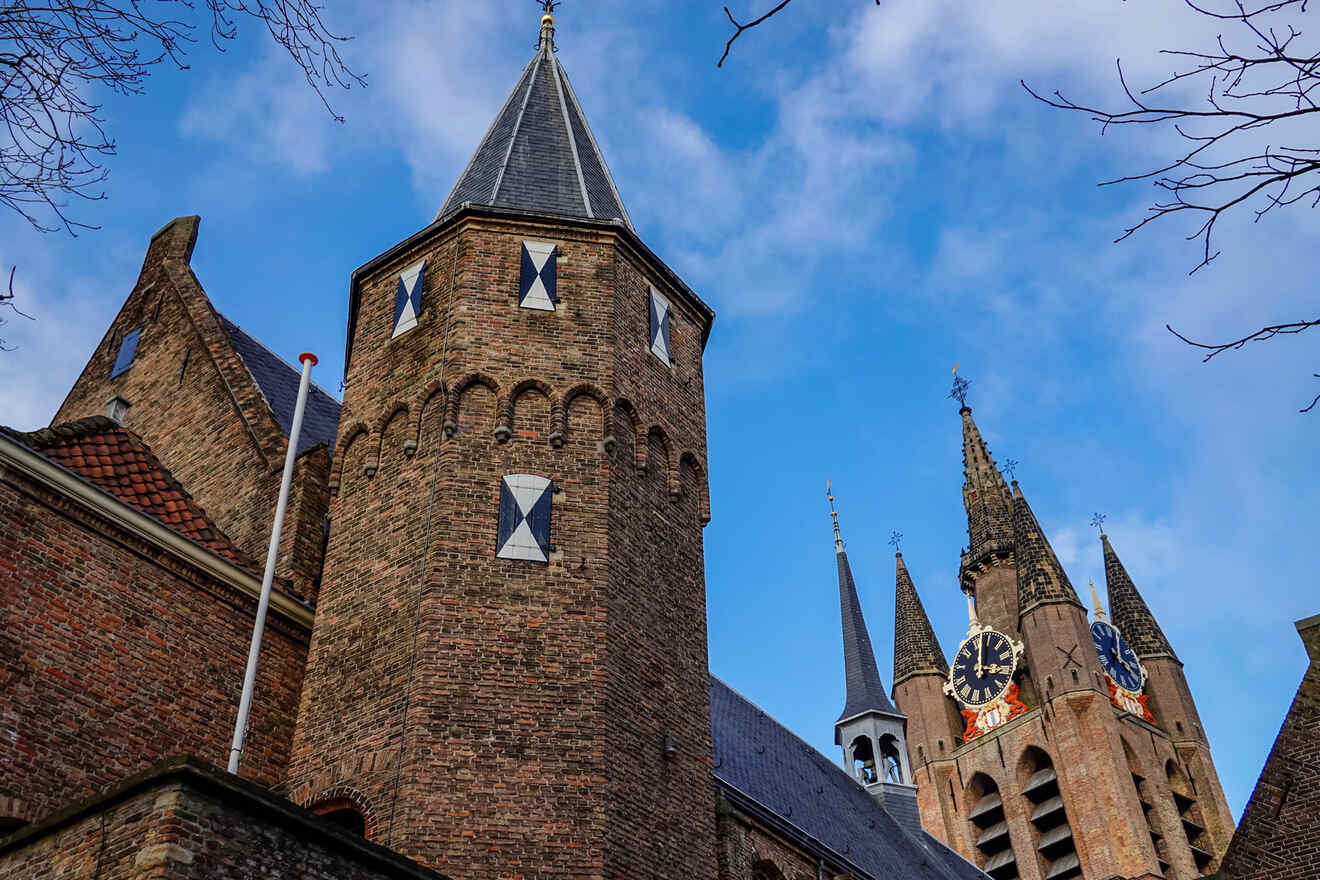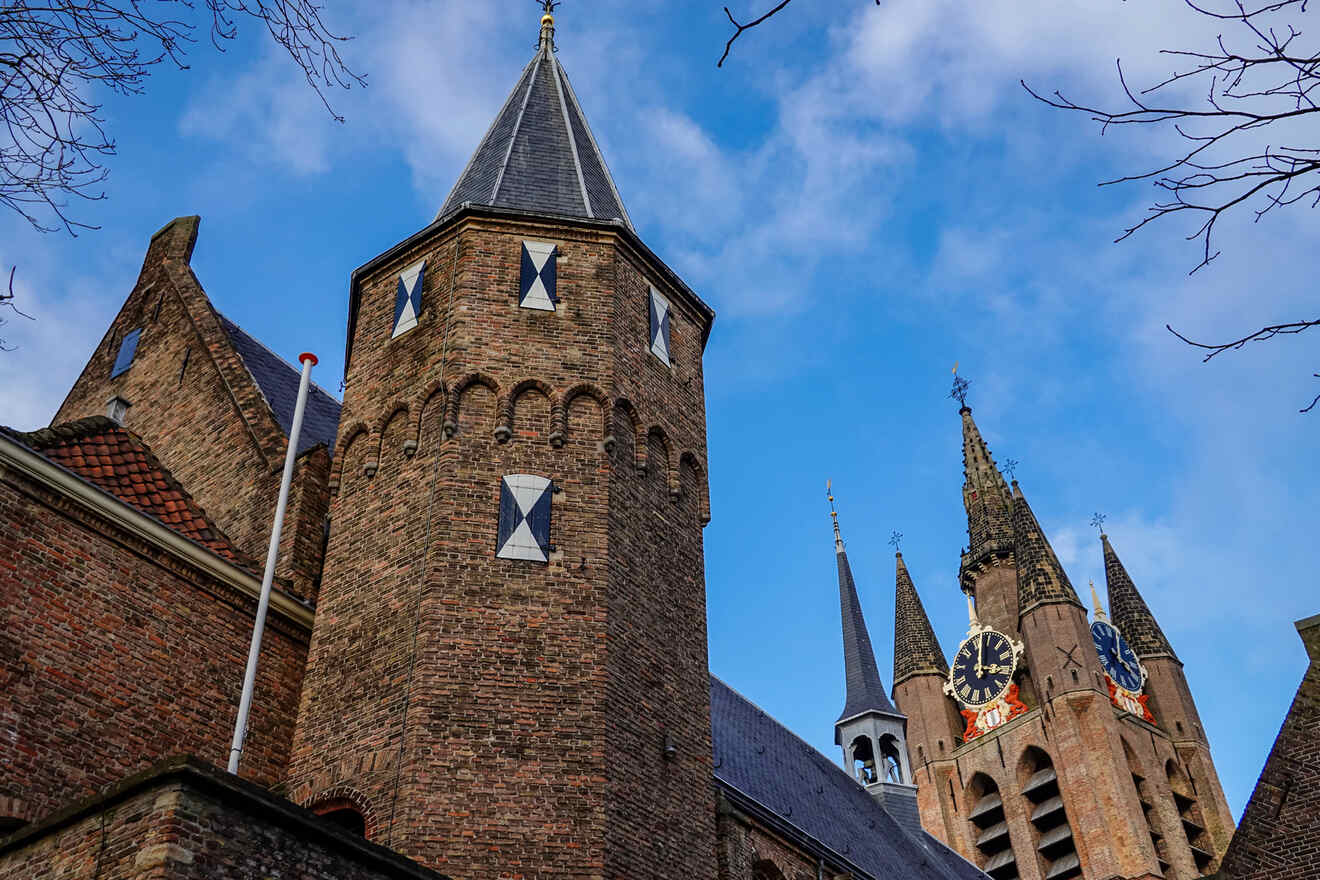 Along with your all-in-one church ticket, you'll also be able to visit Delft's Old Church, a monument that sits next to Delft's peaceful Oude Delft canal. This is the oldest building in this old town!
The church has a 75m high Gothic tower and is just a short walk from Markt Square. With stunning stained glass windows, you'll be mesmerized by the atmosphere in this stoic building.
Did you know that the microscope was invented in Delft? And the inventor, Leeuwenhoek, is buried in the Old Church!
The most notable aspect of the Old Church is its leaning tower, which stooped under the weight of the bell installed in 1570. You'll also find several mausoleums of Delft's VIPs, such as Johannes Vermeer!
You can use the same ticket you bought to visit the New Church to see all that here too!
PRO TIP: Once you're done, head across the street to Delfts Brouwhuis for a proper Dutch beer experience. The brewery is 700 years old and you'll have your fill of craft beers! 🍺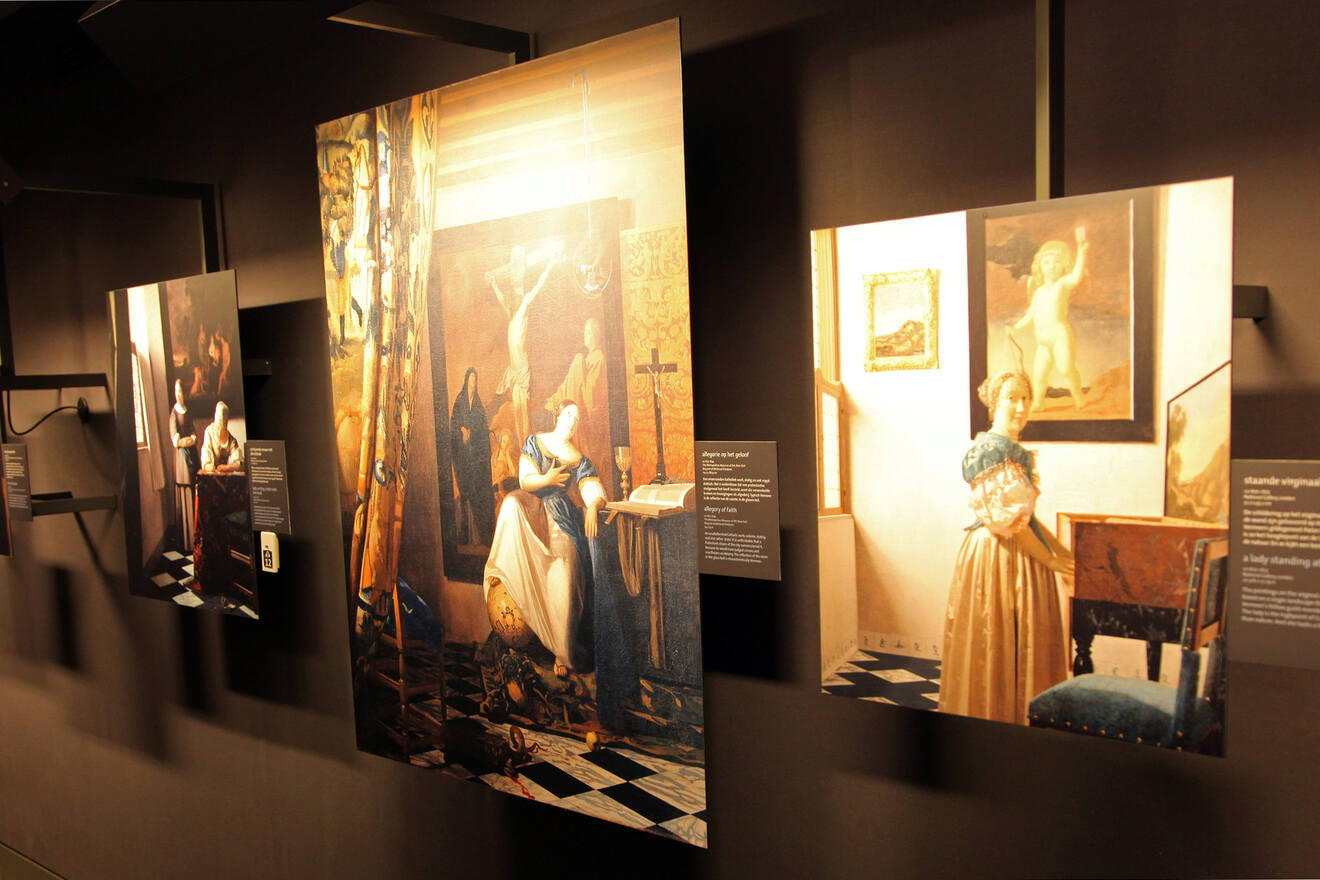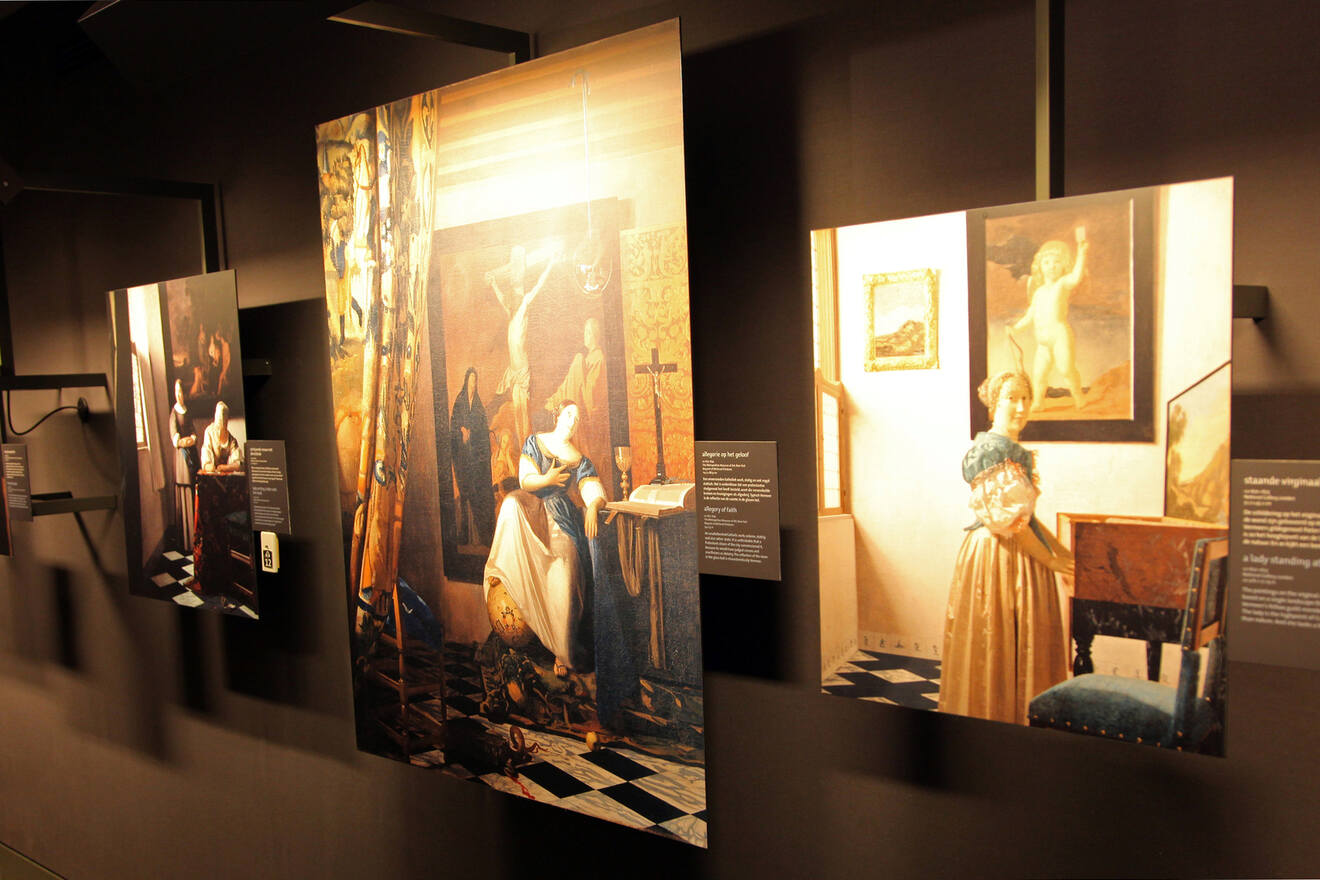 Art lovers gather round! At Vermeer Centrum you'll find the rich history and works of Johannes Vermeer and other Dutch artists, just 2 minutes' walk from Markt Square!
Vermeer's paintings are on display in chronological order throughout the Vermeer museum. You'll also find Vermeer's secret love messages!
Once you've explored the museum, you can delve into the life of an artist in Vermeer's old studio, where famous works such as Girl with a Pearl Earring and The Milkmaid were created. Plus, there's a cute little café on-site!
So what's the best way to get the most out of Vermeer Center? I'd personally recommend this entry ticket, which offers the best value for money as you can cancel anytime!
PRO TIP: If you're a lover of museum gift shops like me, you'll love the Vermeer Centre shop!
PRICE: €12
Get Your Ticket to Vermeer Centrum
8. Discover the East Gate (Oostpoort) of the old city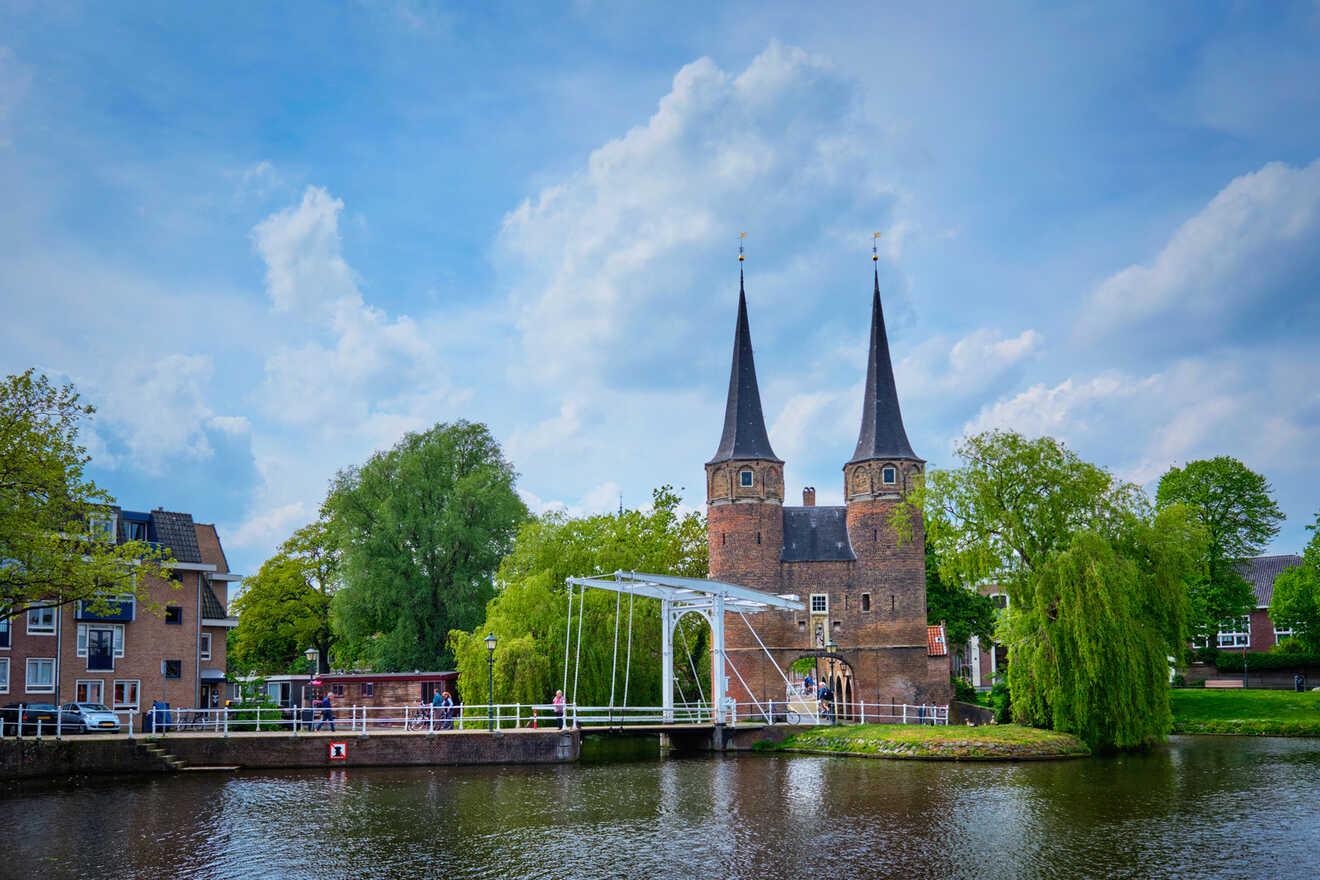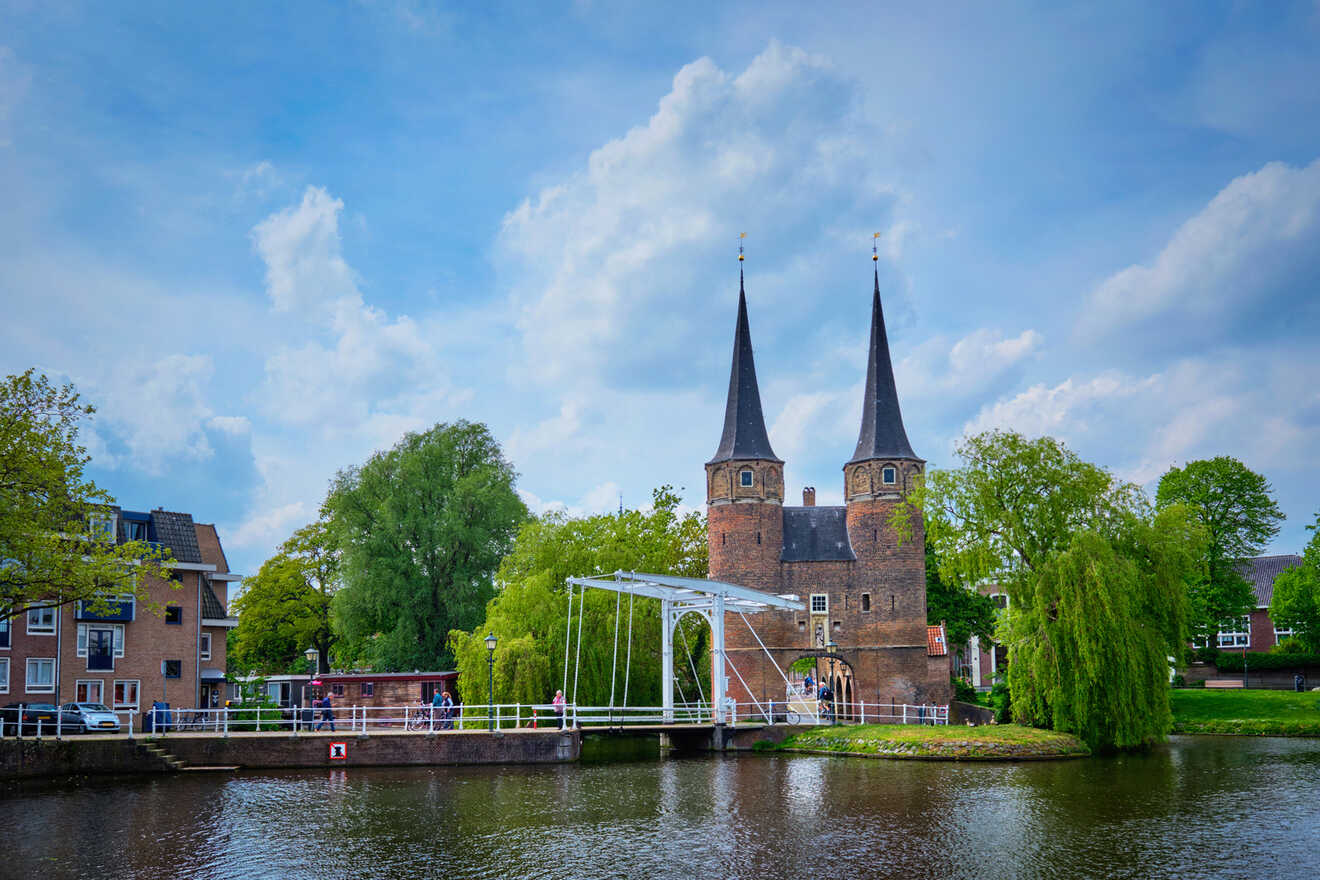 The original walls that protected Delft from enemy attack were built in the 15th century, and one could enter it through 8 gates. Today, only one, the Eastern Gate, remains, and it's one of the most-visited attractions in Delft!
This picturesque structure is just a ten minute walk from Markt Square and sits on Delft's famous canal. It even still has the old drawbridge!
Oostpoort looks like a part of an old fairy tale castle, so I would recommend visiting it in the early evening to get the full ambiance and take some instagrammable pics. Go for a wander down Delft's canalways towards the west and you'll walk straight through it!
NOTE: The Eastern Gate now serves as a private residence as well as a gallery, so be respectful in its vicinity!
9. Explore traditional Dutch milling at Rose Windmill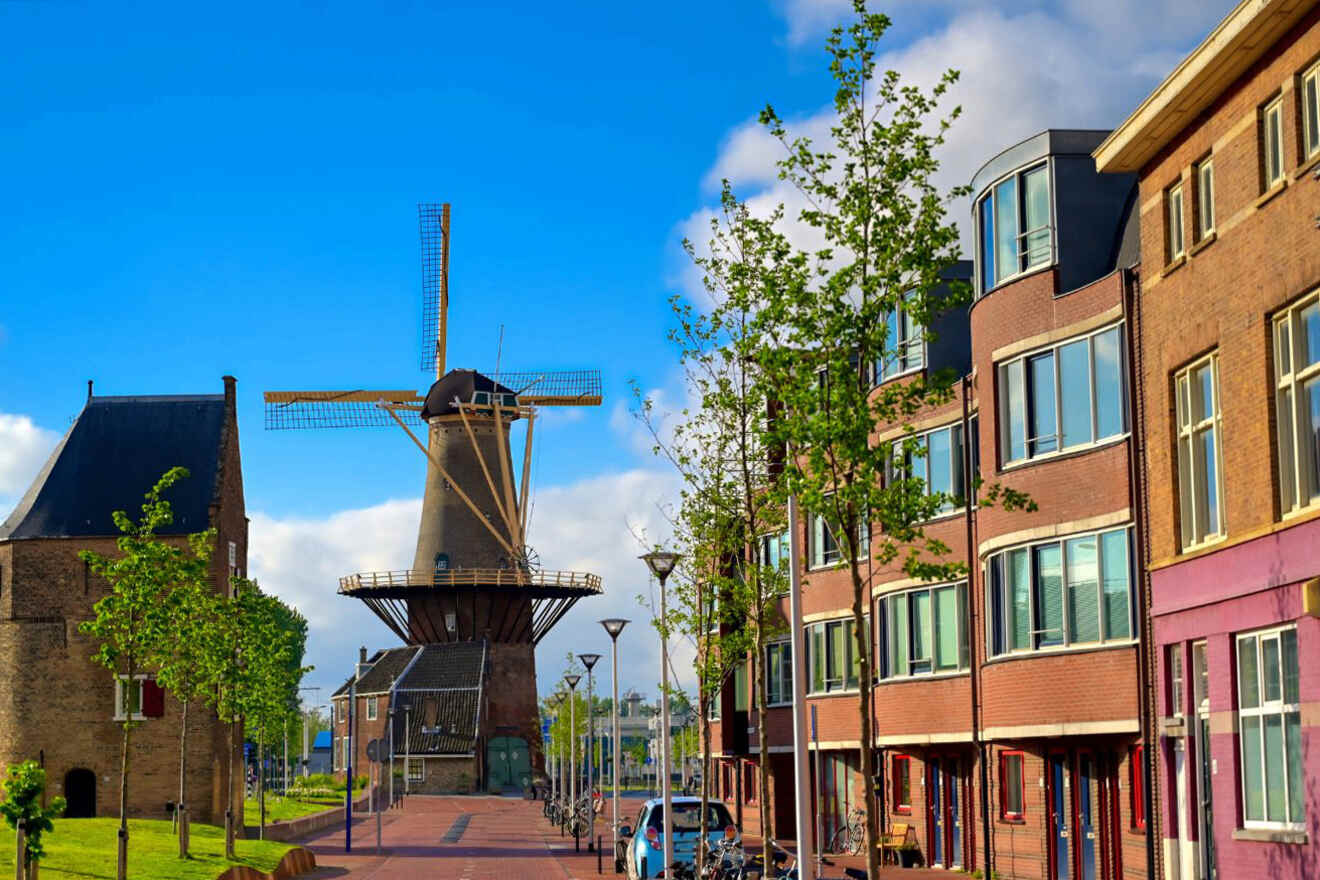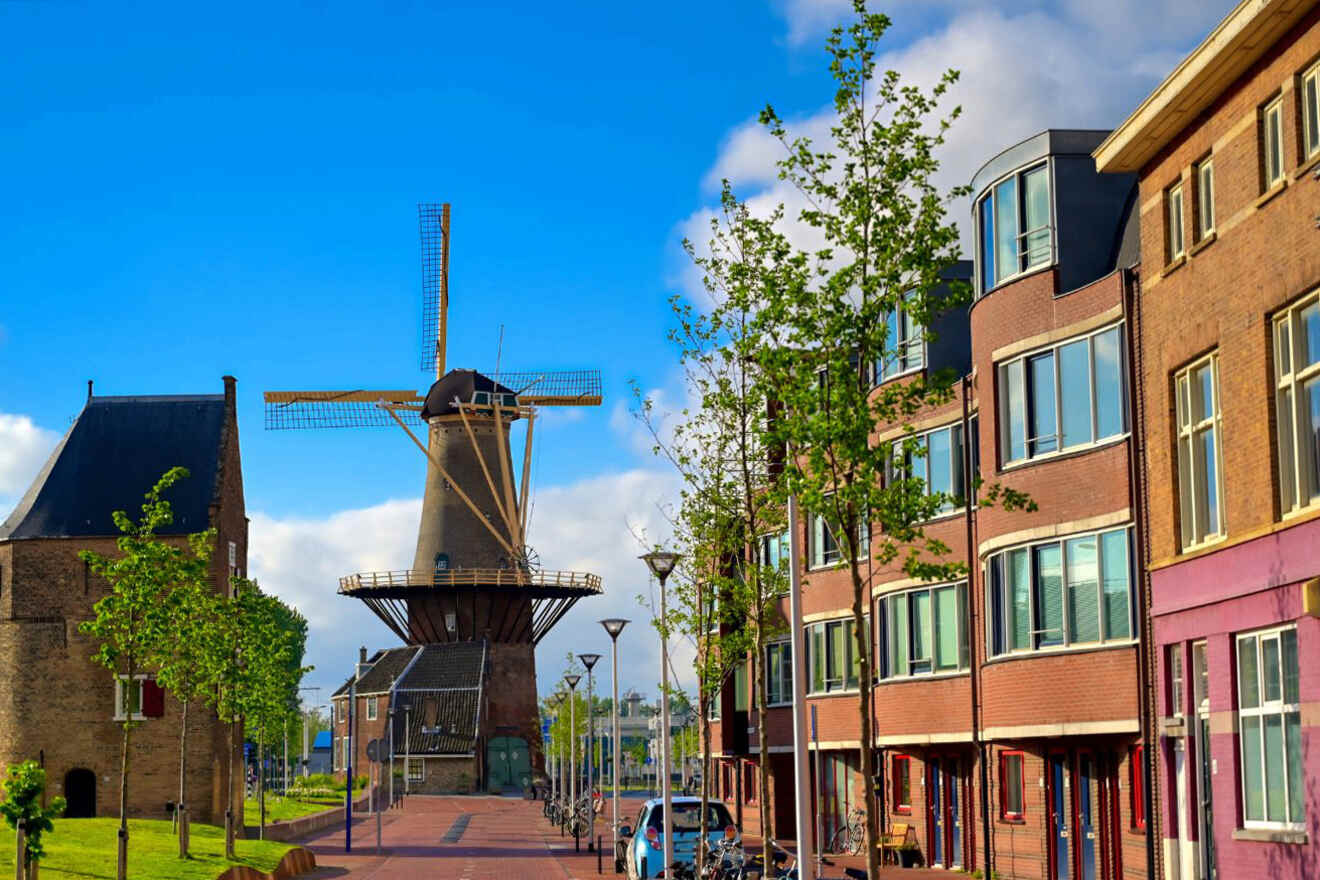 In the north of the city, you'll find Windmill de Roos, a beautiful old windmill known as one of Delft's cultural and economic landmarks. The city once had 18 windmills, and Windmill de Roos is the only one left, making it one of the most important historical monuments in Delft Netherlands.
In a country known well for its windmills, you can't travel all the way to Delft without visiting one! It's an icon of the past and the present and will leave you feeling nostalgic.
On Wednesdays, Thursdays, and Saturdays, the working parts of the windmill open to the public. You can go inside and get acquainted with traditional grinding tools and methods well-known to Dutch legend.
You can also find delicious honey and elderberry syrup made right on the premises!
10. Walk, cycle, swim, or sail around the city!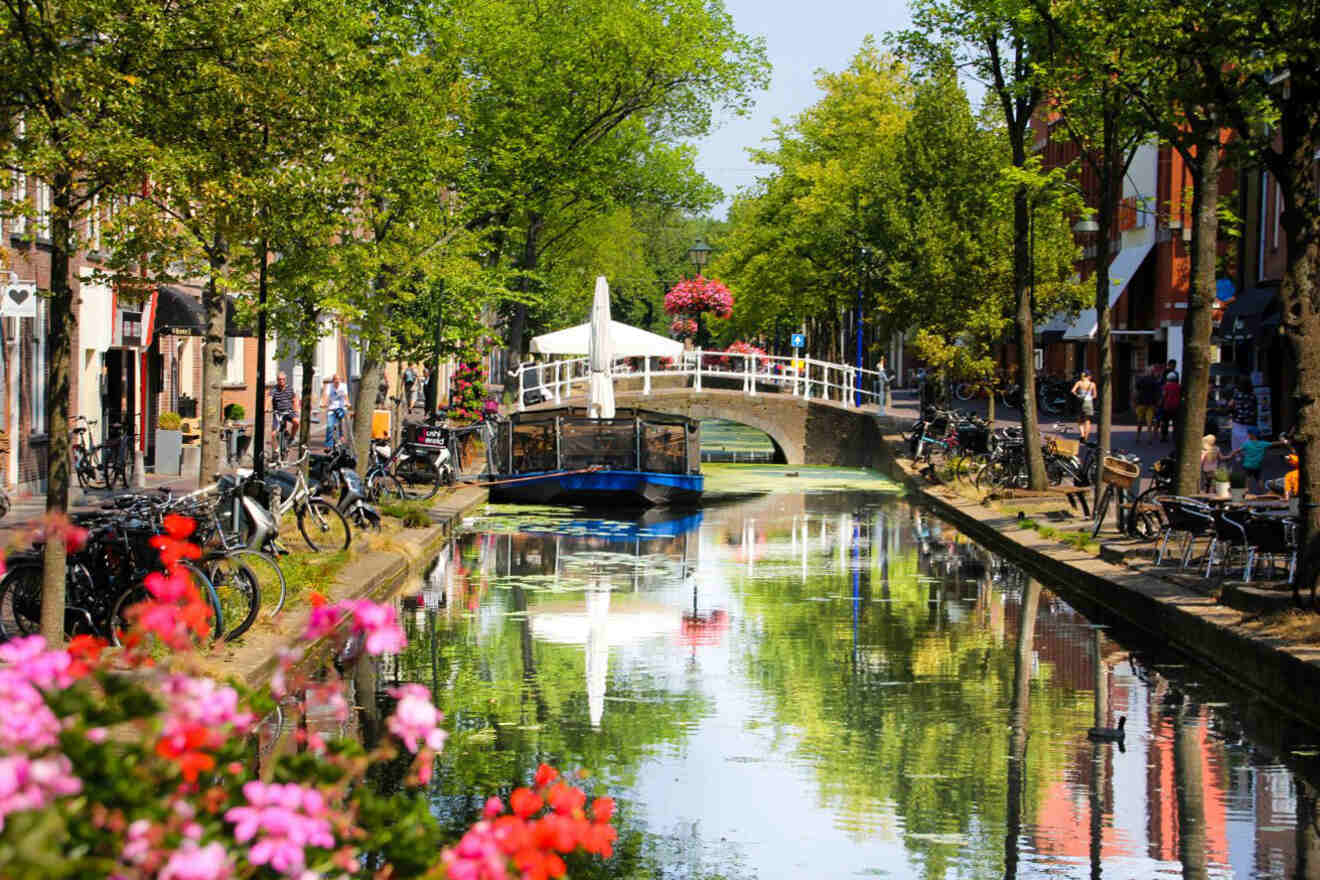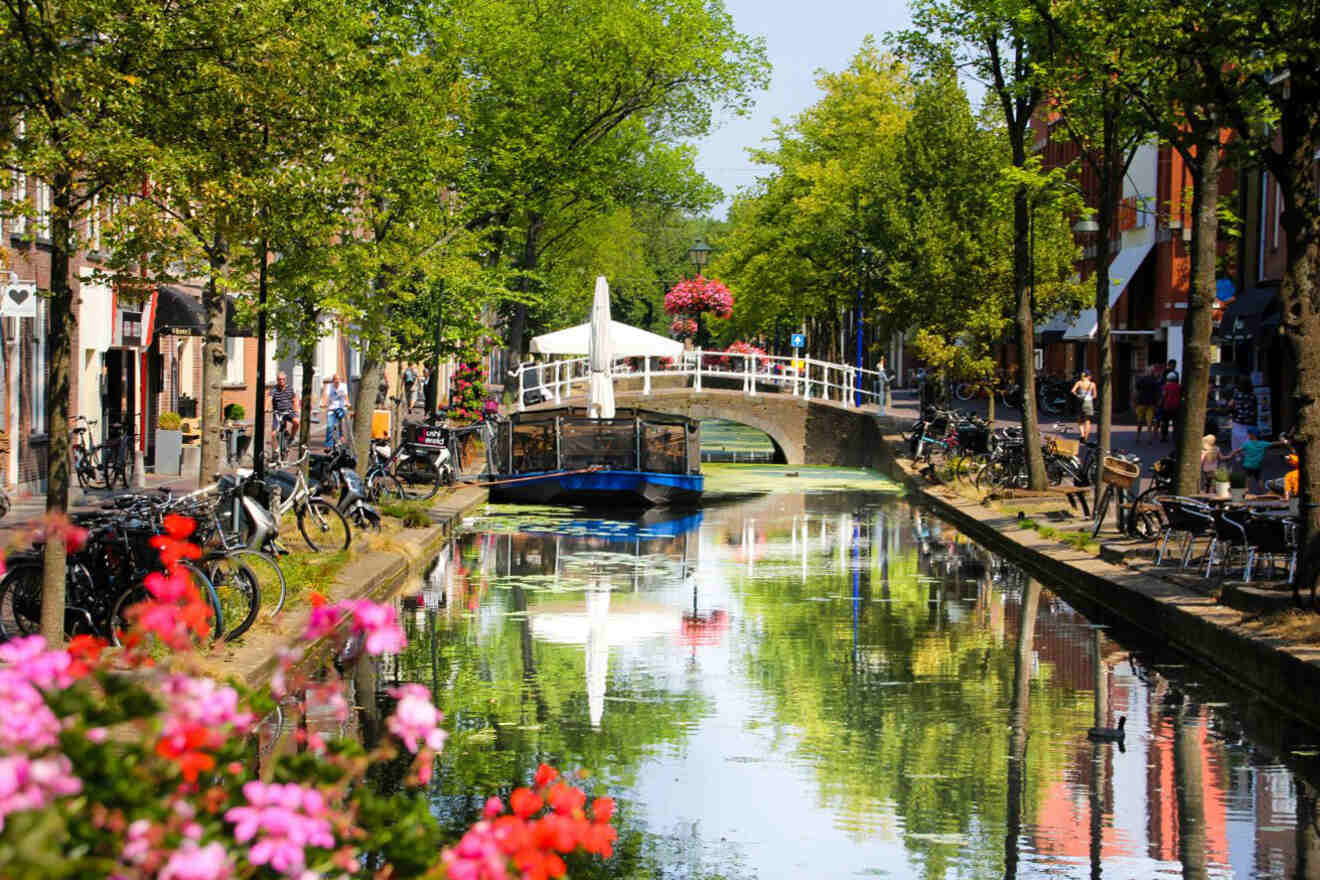 Walking through the beautiful city of Delft is a memorable experience, but cycling is also an excellent way to see the sites! It's the Dutch favorite means of transport so you'll really be getting down with the locals! This private cycling tour will take you everywhere, and they'll even provide you with a bicycle for just €115.  
Did you know that Delft is actually a series of islands separated by canals? Many of its streets are actually merged canals!
If you love the idea of chilling out on Delft's quiet old canal, spend a day on a canal cruise! You'll coast through the city's gorgeous canalways and see Delft's quintessential architecture everywhere you look. Great for a romantic day out for €50 for up to 8 people!
Book a Canal Cruise
| | |
| --- | --- |
| 🤩 Range of activities: | Average |
| 👪 Family-friendly score: | High |
| 🏛️ Best museum: | Prinsenhof Delft |
| 🚶🏽‍♂️ Best free activity: | Cycling |
Where to stay in Delft
Now you know all the fun things to do in Delft and how to create the perfect Delft itinerary, you'll need to figure out where to stay! Here are some hotels I think are the best in the city: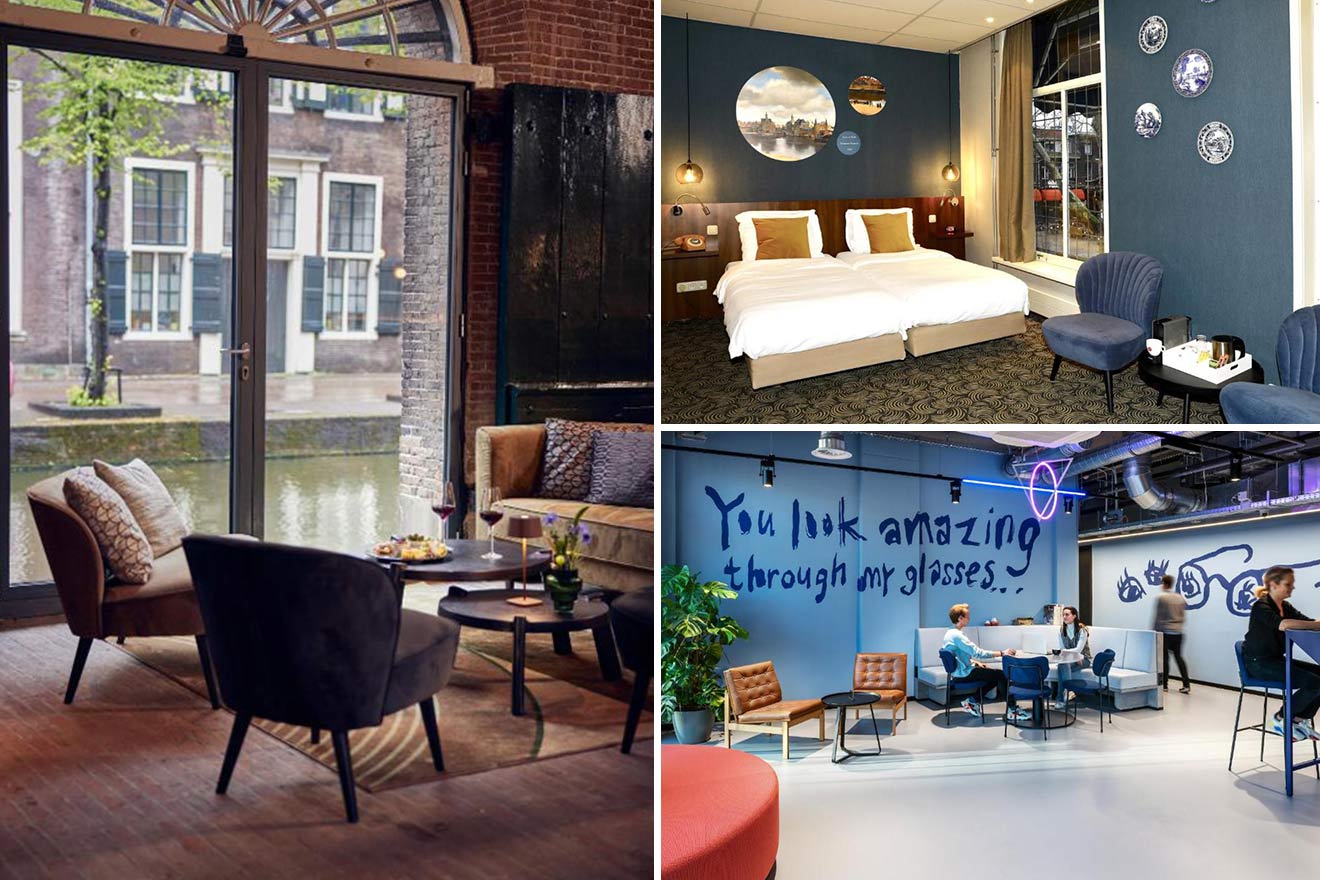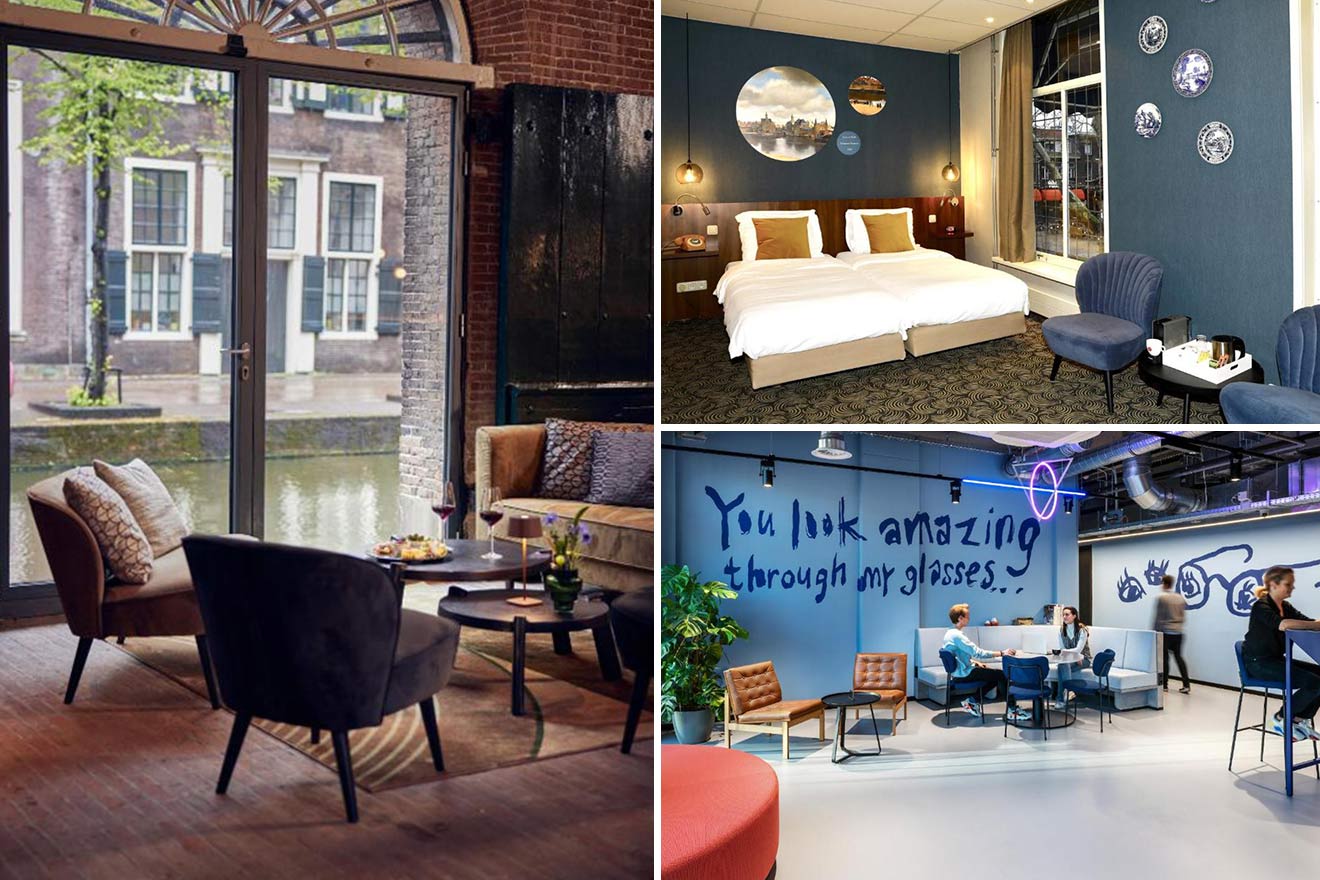 Luxury: Hotel Arsenaal in Delft is a fab option if you're looking for a little bit of luxury. It's right in the town centre!
Mid Range: Hotel de Koophandel is super central and has an amazing breakfast!
Budget: While there aren't too many budget options in Delft, The Social Hub offers you a comfort at a great price! It's close to Delft's Central Train Station, so great for a day trip!
Check the rates here
Practical Information
Now that you've got your itinerary and hotel sorted, you'll need to know a few other important things like transport and sim cards. Here are all the essentials for your trip!
How to get to Delft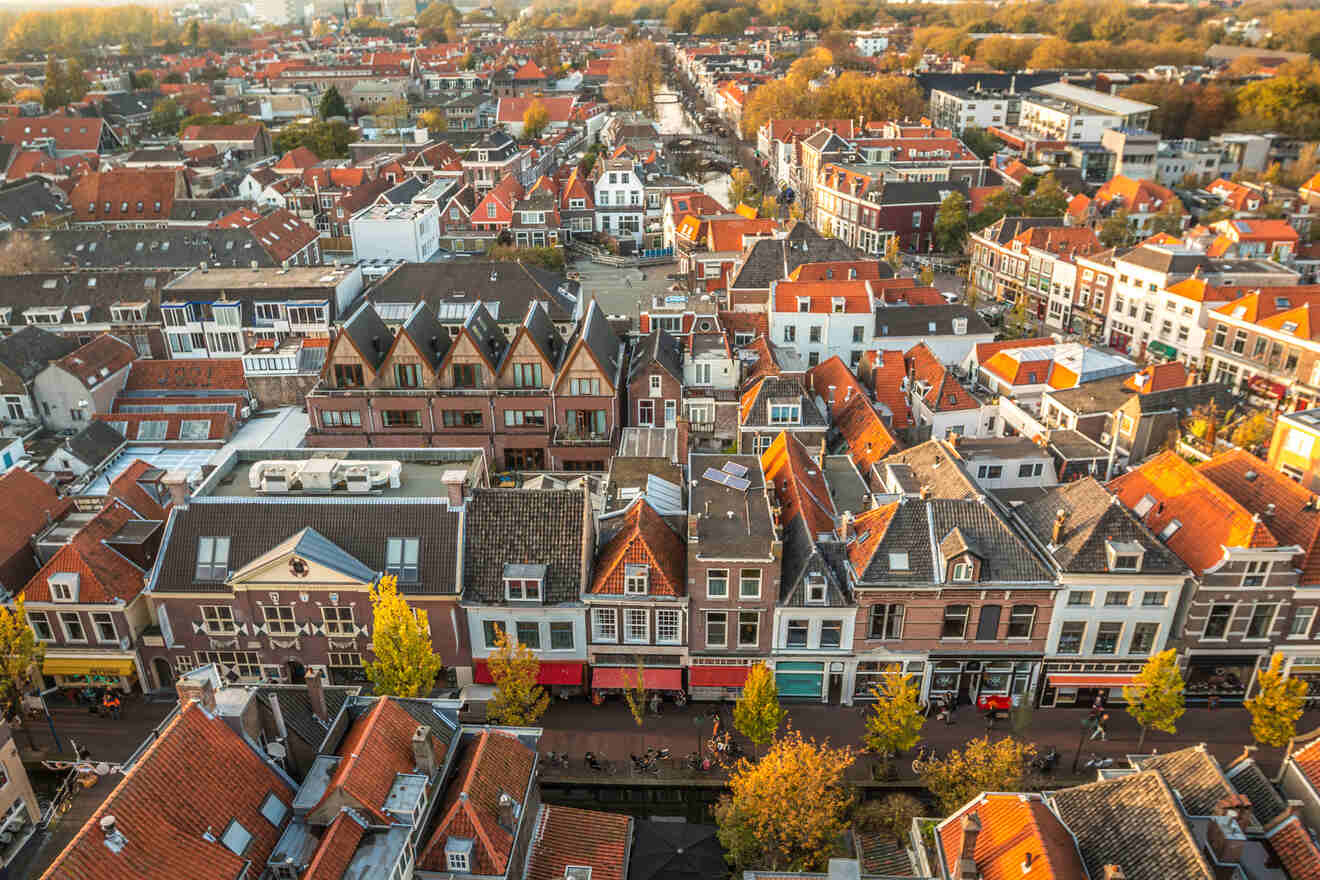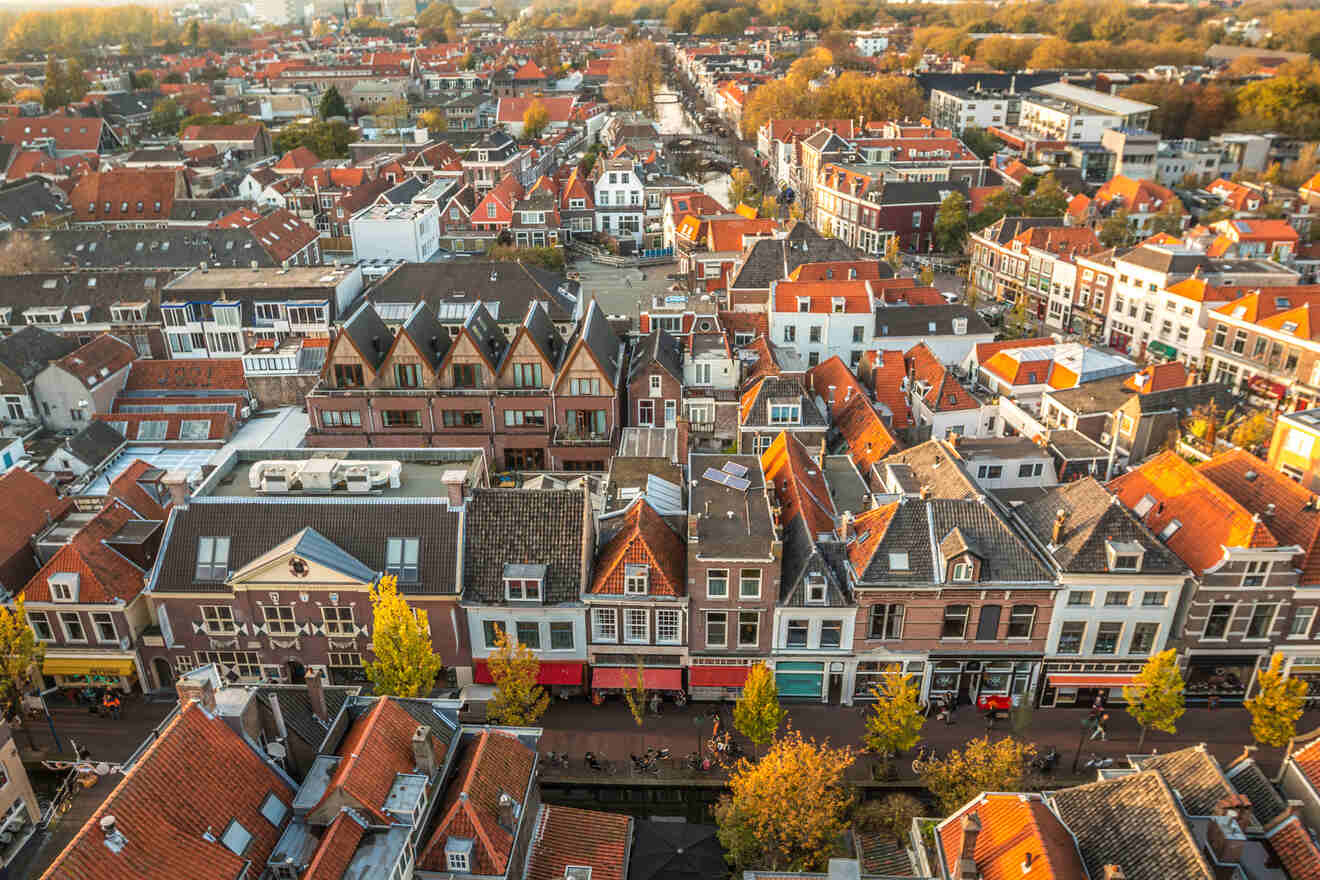 Visiting Delft doesn't require stressful travel, and the best way to get to Delft is by bus and train. Here's how to get there from Rotterdam airport:
Bus: You can take bus 33 from outside RTM airport to take you into Rotterdam, which only takes about 20 minutes and drops you straight outside the station. Tickets are only €2
Train: The train to Delft from there only takes around 15 minutes, so it's the easiest journey! It costs around €5, so your entire trip from the airport is only €7!
Of course, if you prefer to plan in advance and would like a private taxi, you can also take Taxi Delft, the most reliable service around. Airport transfers cost €35! I would personally save the money and take the train since it's a lot cheaper, but if you have a lot of bags then this is also a safe option!
If you've got lots of luggage and you forgot to book a taxi, don't fret, Uber is here to help! You'll find Uber all across the Netherlands and Delft is no exception 🙂
How to get around Delft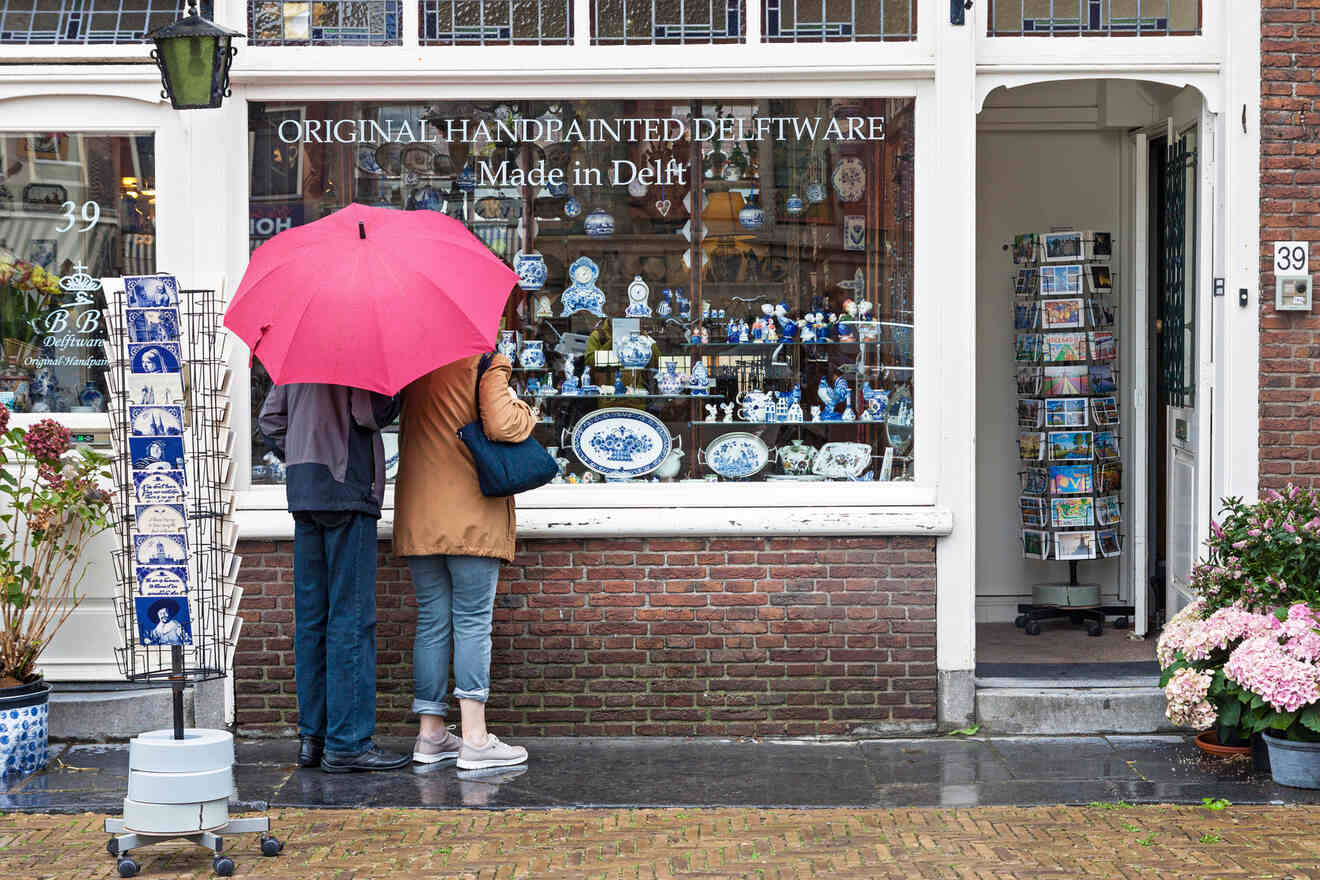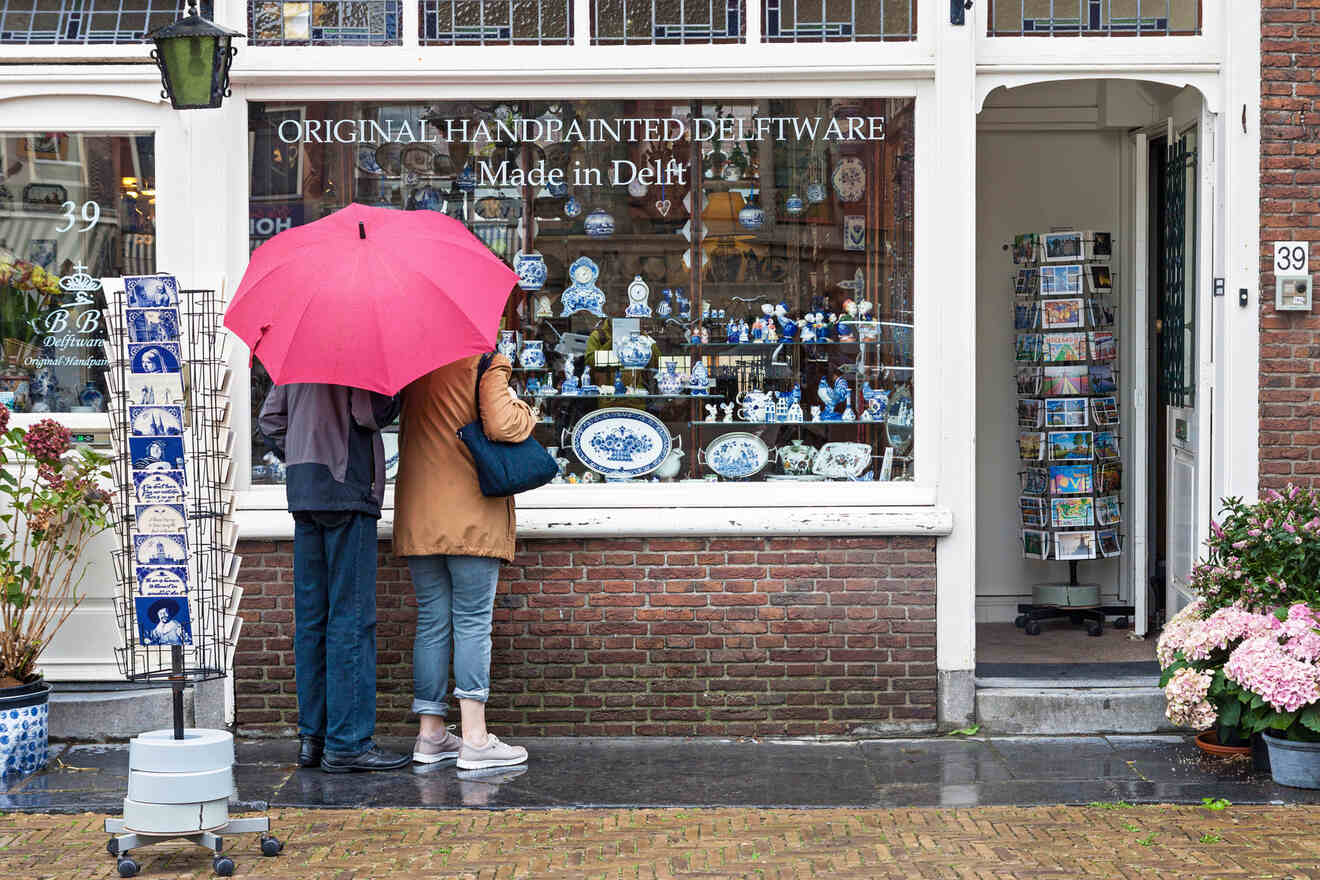 Getting around Delft is super easy. Everything is within walking distance around the city center so you won't really need to spend money on transportation unless you're heading outside the city.
If you are heading outside the city, buses are easily accessible and you can buy tickets through the 9292 app. You can just choose your location in the app, tell it where you're going, and it will give you the best route to take!
There are also train services from Delft Central Station that will take you anywhere in the country and they're super cheap 🙂
As I've mentioned, you can rent bikes from one of the city's rental shops – or take the private cycling tour instead!
All about sim cards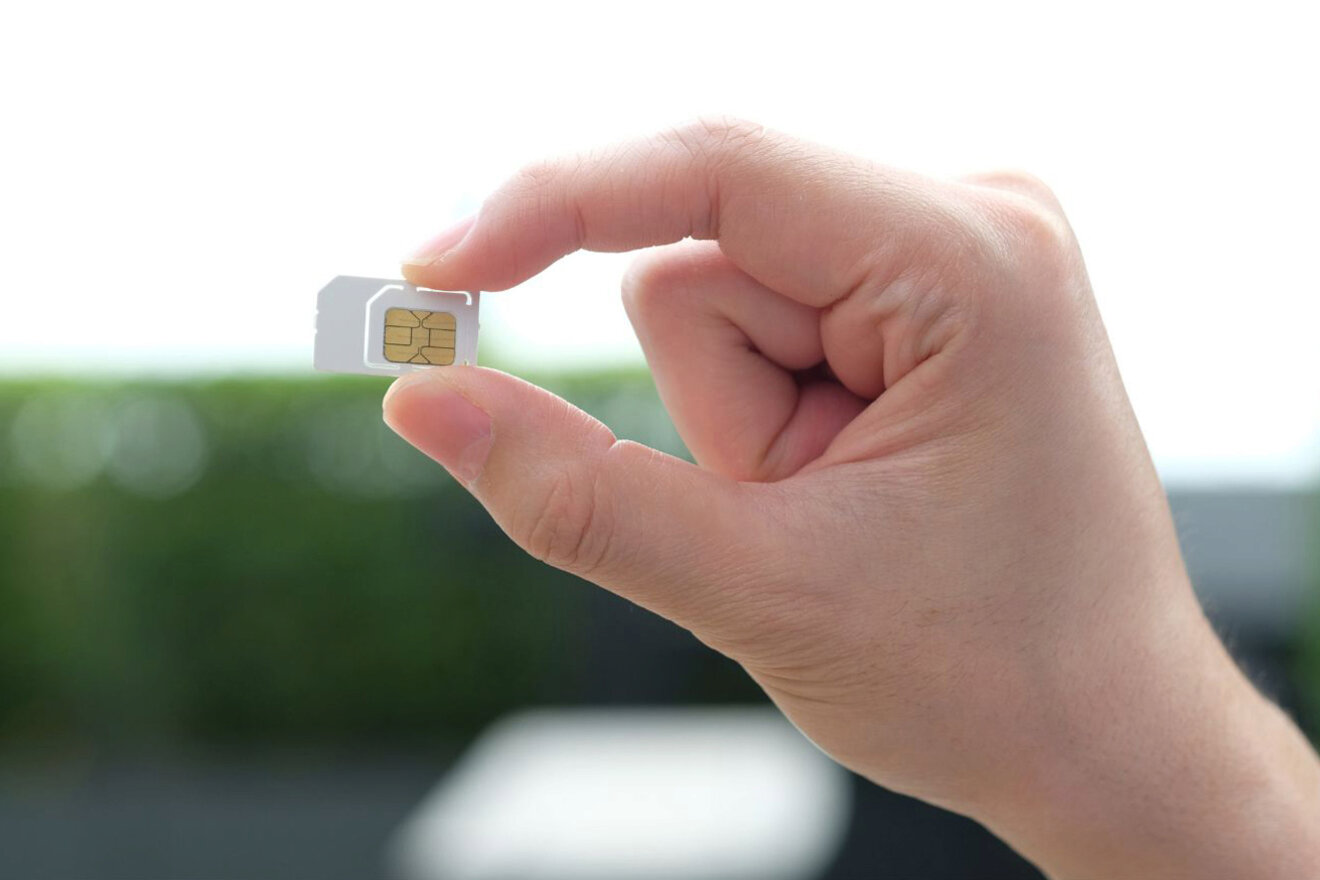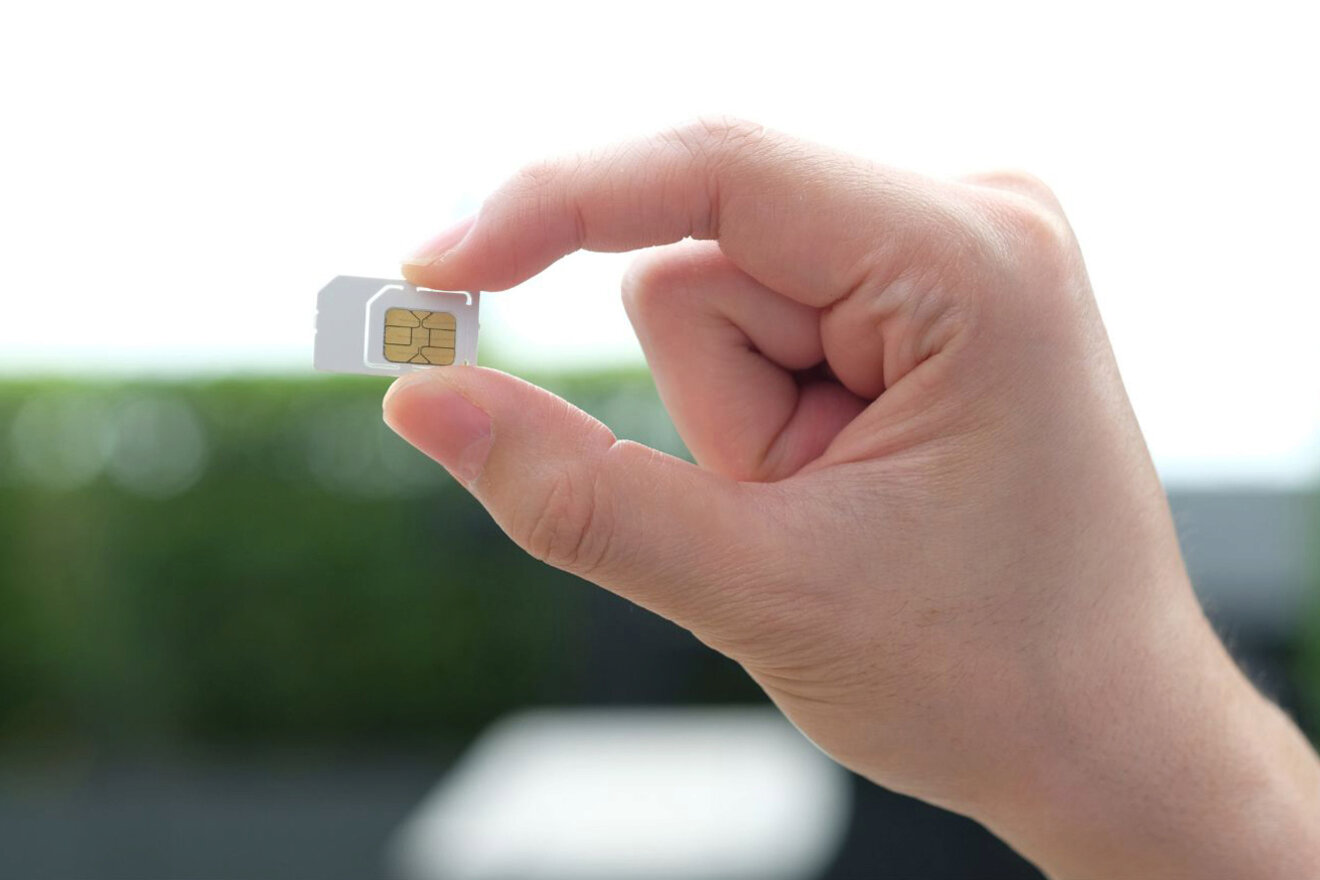 It's really easy to find prepaid sim cards in the Netherlands, and if you're flying into Rotterdam airport it'll be a breeze!
The most trusted prepaid sim card in the Netherlands is Lebara. You can find great deals in the airport with them and it'll only cost you around €10 to get a month's worth of internet, minutes, and messages.
If you forget to get one at the airport, there are plenty of corner shops in Delft that sell prepaid sims so it will be easy to track one down.
FAQs about Delft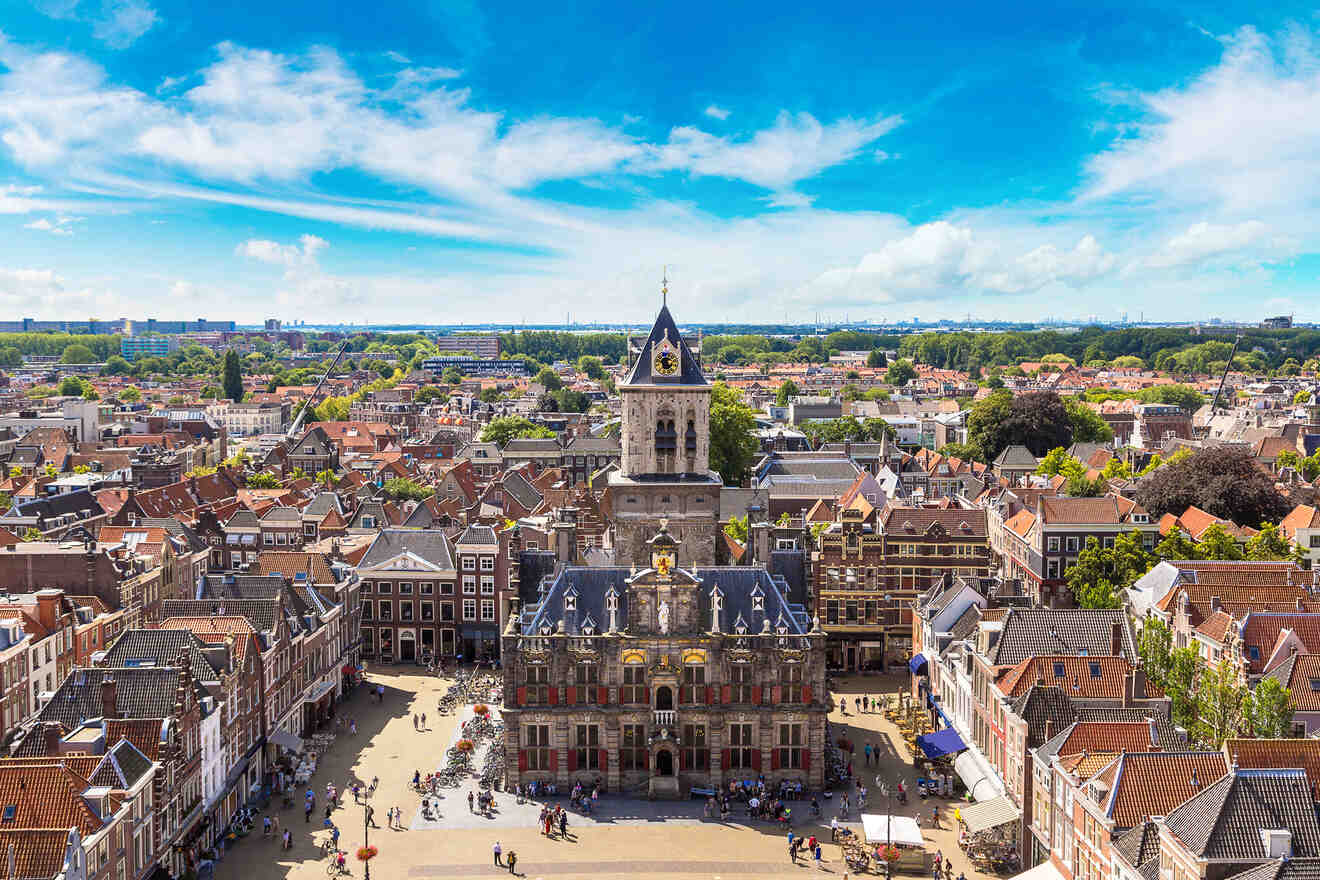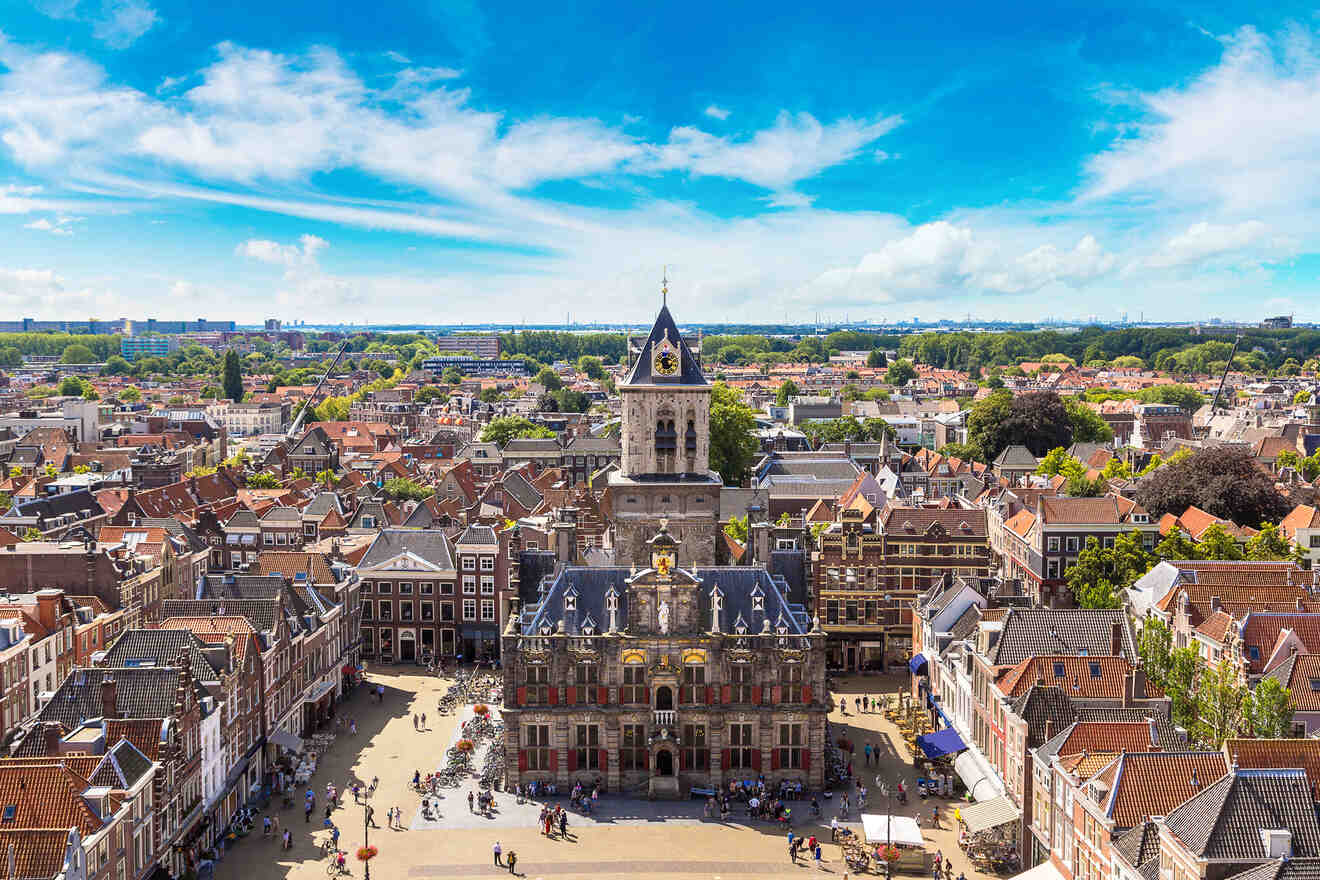 💃 What can I do in Delft at night?
At night you can go to one of Delft's many famous breweries or have a glass of wine at one of the terraced bars. Beestenmarkt is a favorite haunt of many locals and there are many cafes around Delft University!
🛍️ Are there any flea markets in Delft?
There are many flea markets in Delft in the northern quarter of the city. The Saturday flea market along the canal banks next to the Old Church is a great place to spend a morning!
🥐 Where is the best place to eat in Delft?
If you're looking for traditional Dutch food, the best place to eat in Delft is THUIS by Ladera. For honest, cozy food in a warm atmosphere, you can't get much better than this!
🚂 How can I get from Amsterdam to Delft?
You can easily get from Amsterdam to Delft using an intercity train! It's relatively quick and only takes around an hour to travel between the two.
Conclusion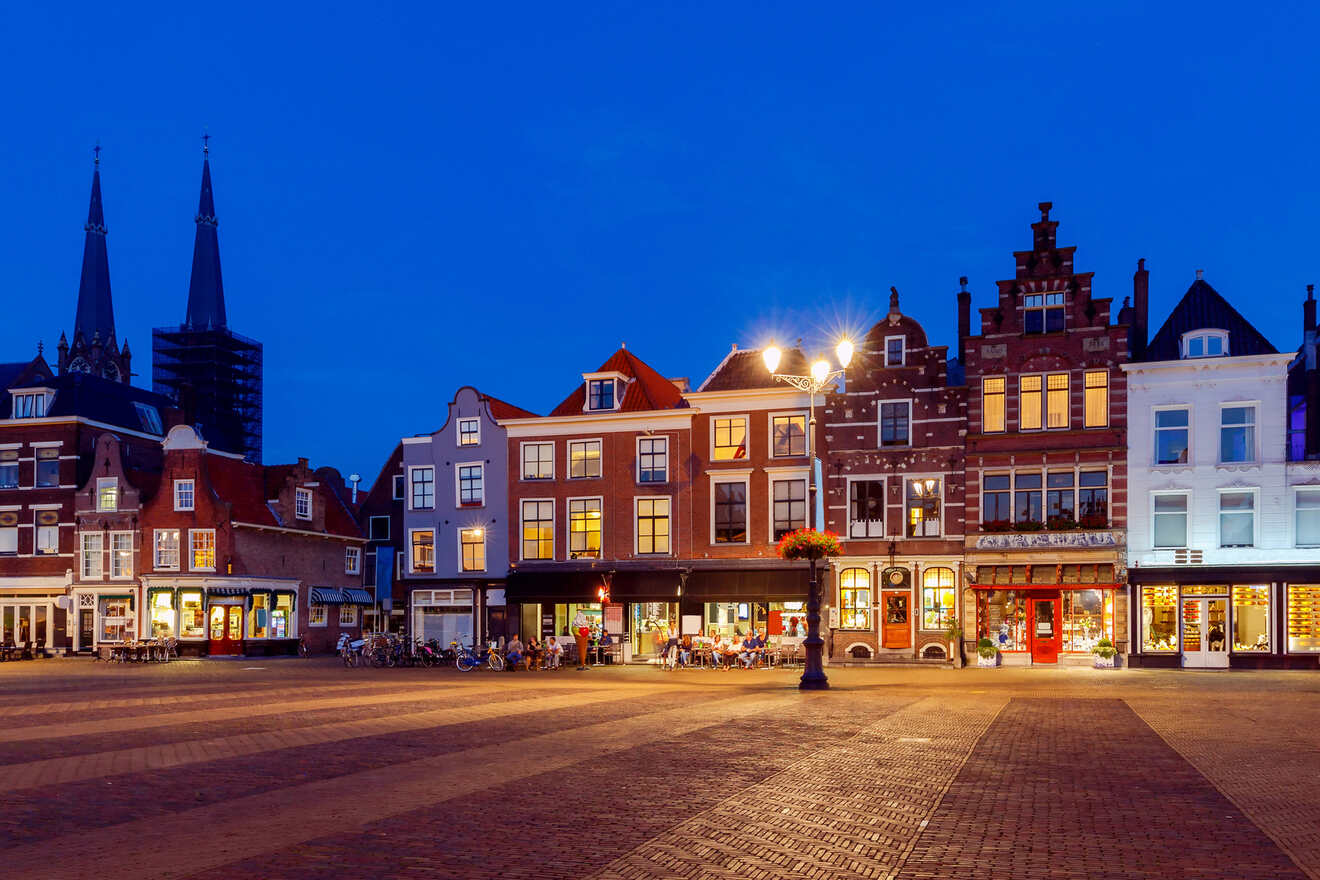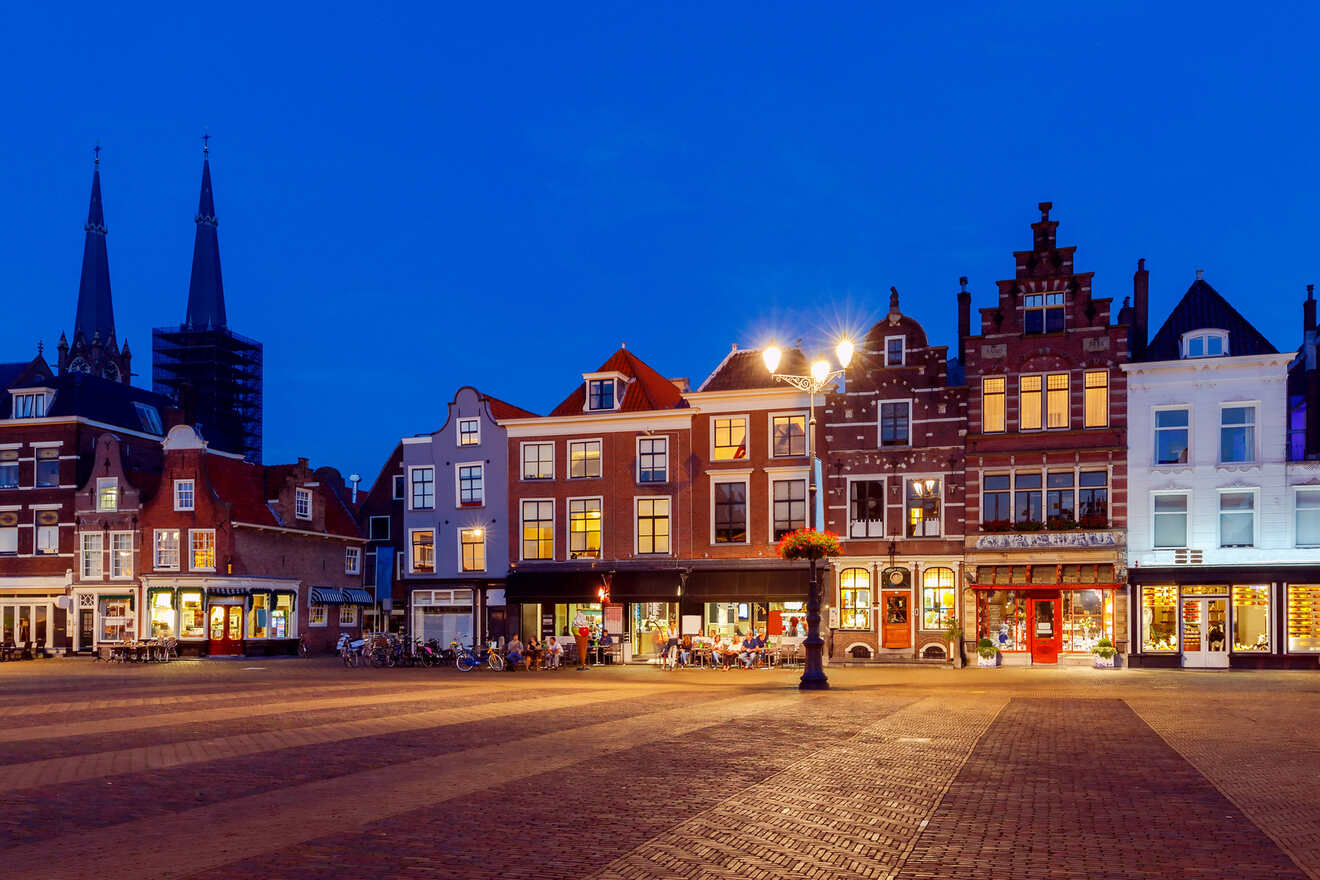 And that pretty much wraps it up! Delft is SUCH an amazing place to visit and there's so much to do there, I promise you won't be disappointed. I hope I've managed to answer all your questions about this gorgeous little city!
From beautiful architecture and historic churches to serene little pathways and canals, there's a tour for each one – just get booking before everything gets sold out!
Delft is becoming more and more popular as a tourist destination every year, so you'll want to jump on it before it's too late!
Let me know if you've got any questions, I'll be happy to answer them! just drop me a line below 🙂
Happy travels!
Lizzie
---
Pin it for later!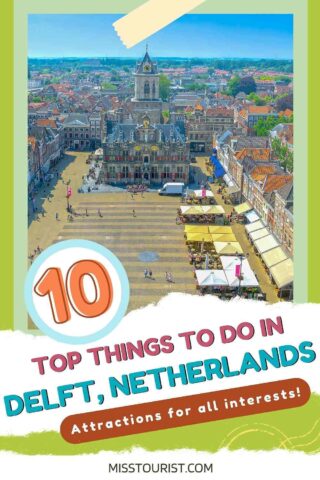 Pin it for later!