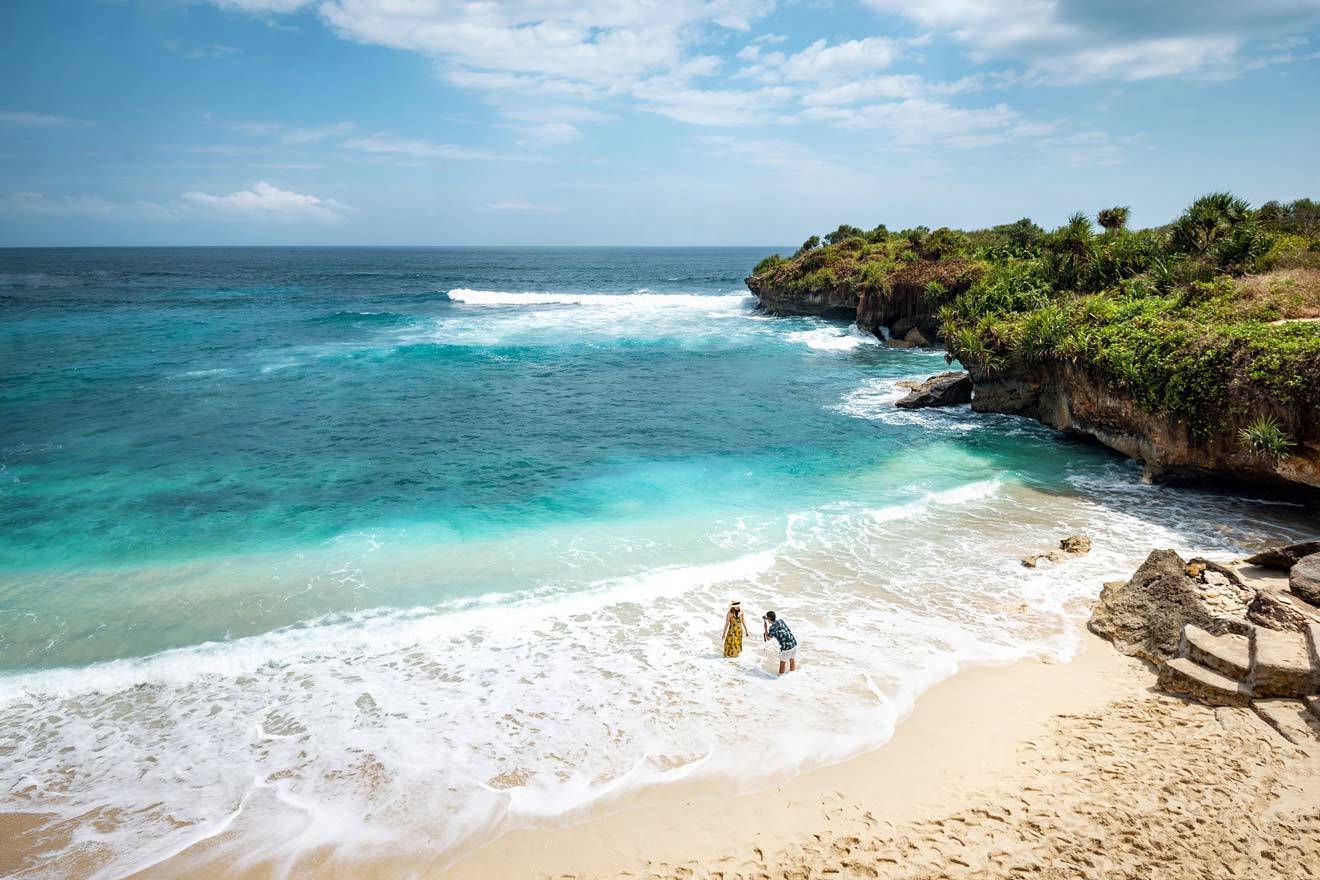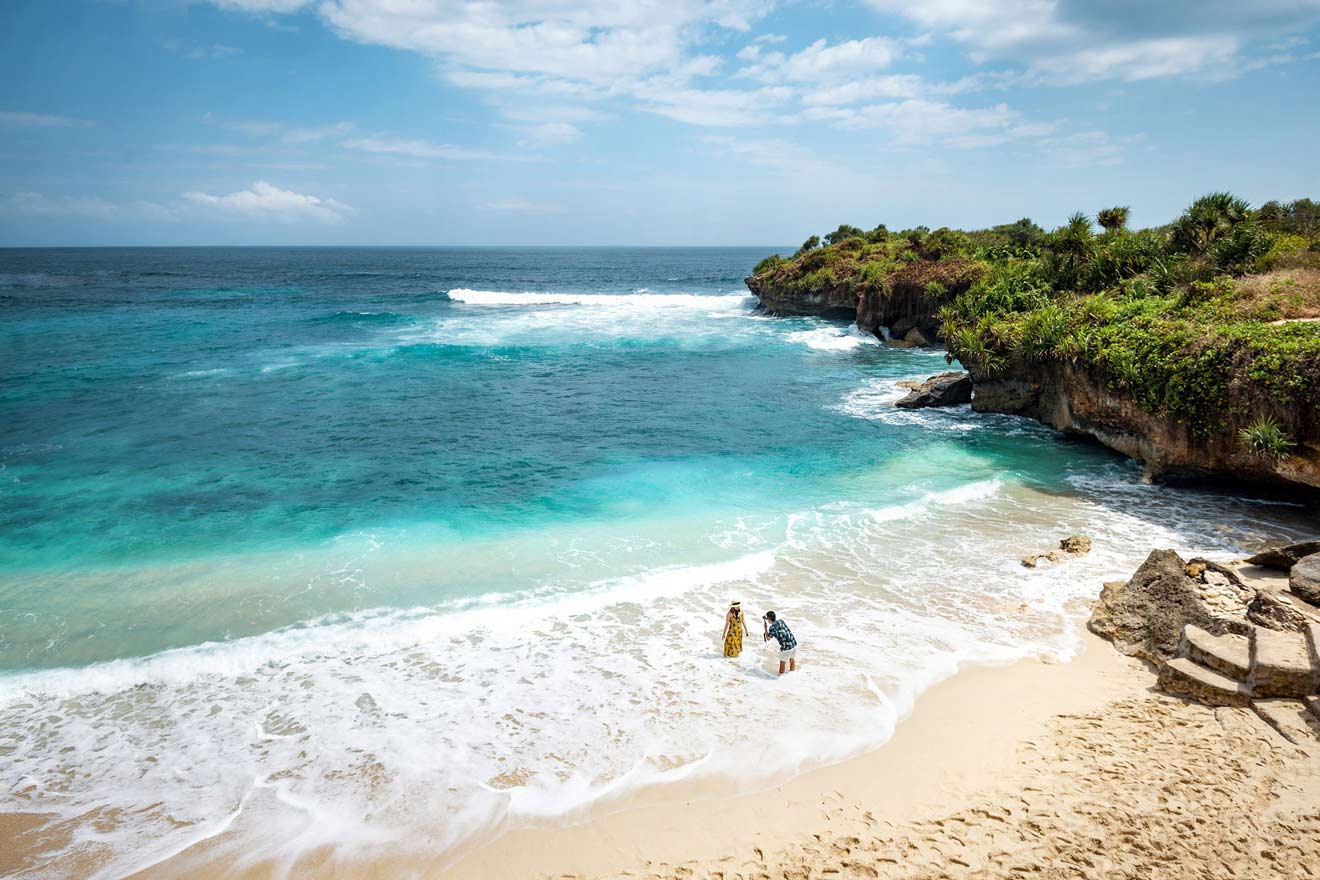 Apa kabar ("How are you?"), travelers? Looking for the perfect island getaway where you can relax for hours on a secluded beach? Well, I've got just the place for you! Recently I visited Nusa Lembongan, a dreamy island southeast of Bali, fell in love with it, and thought to help you organize your next trip there!
In this post you'll find a list of the best things to do in Nusa Lembongan! I've combined the list of all the attractions I saw plus some things that I didn't get to do but I'm sure some of you will enjoy!
After the main section you'll also find a list of super useful tips on where to stay in Nusa Lembongan, how to get here from Bali, and many other things.
So definitely check that out as it will help you a lot when you're planning your trip! Before we start the fun I do want to mention how important it is to book your hotels, tours and any other tickets in advance. Nusa Lembongan's popularity is growing rapidly and everything good sells out super fast!
Let's go!
If you are in a hurry
If you're ready to book some fun tours and things to do in Nusa Lembongan right now, then check out the list below:
Here are the main things to book in advance:
And here are the best hotels in Nusa Lembongan: The Acala Shri Sedana (luxury), Palm Grove Villas (mid range), Bungalow No 7 (budget)
1. Be mesmerized by the power of nature at Devil's Tear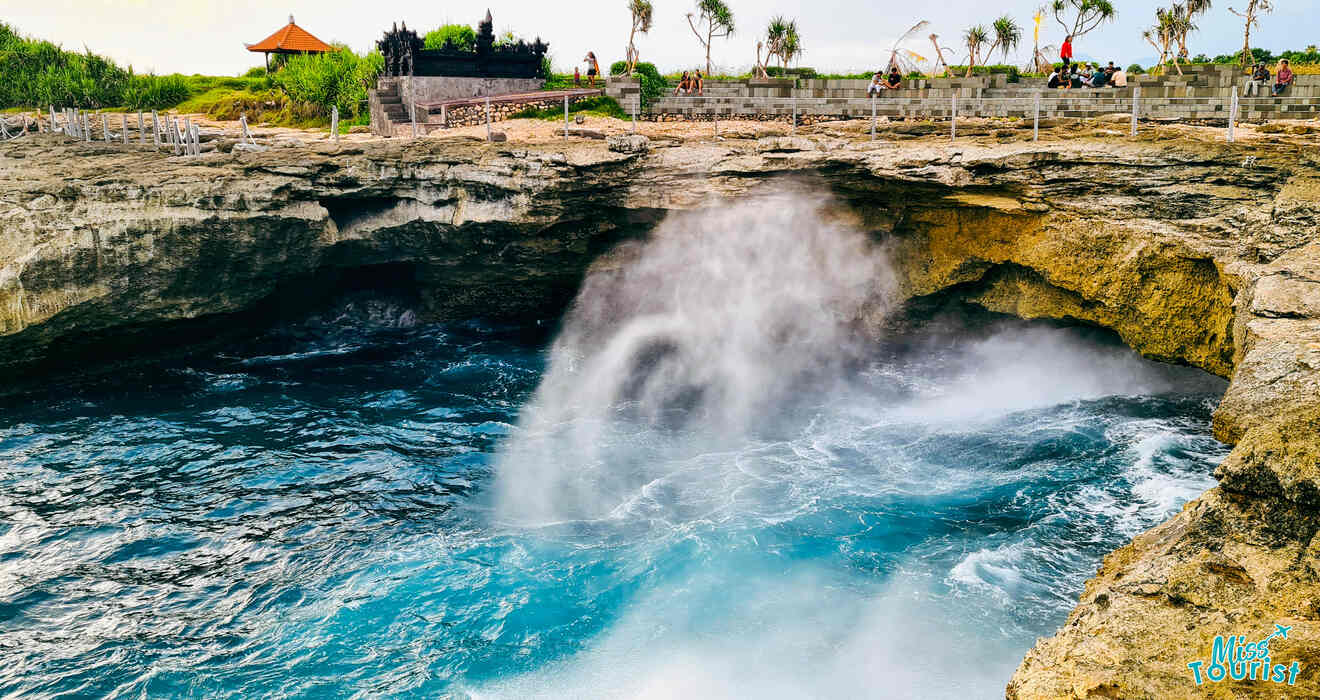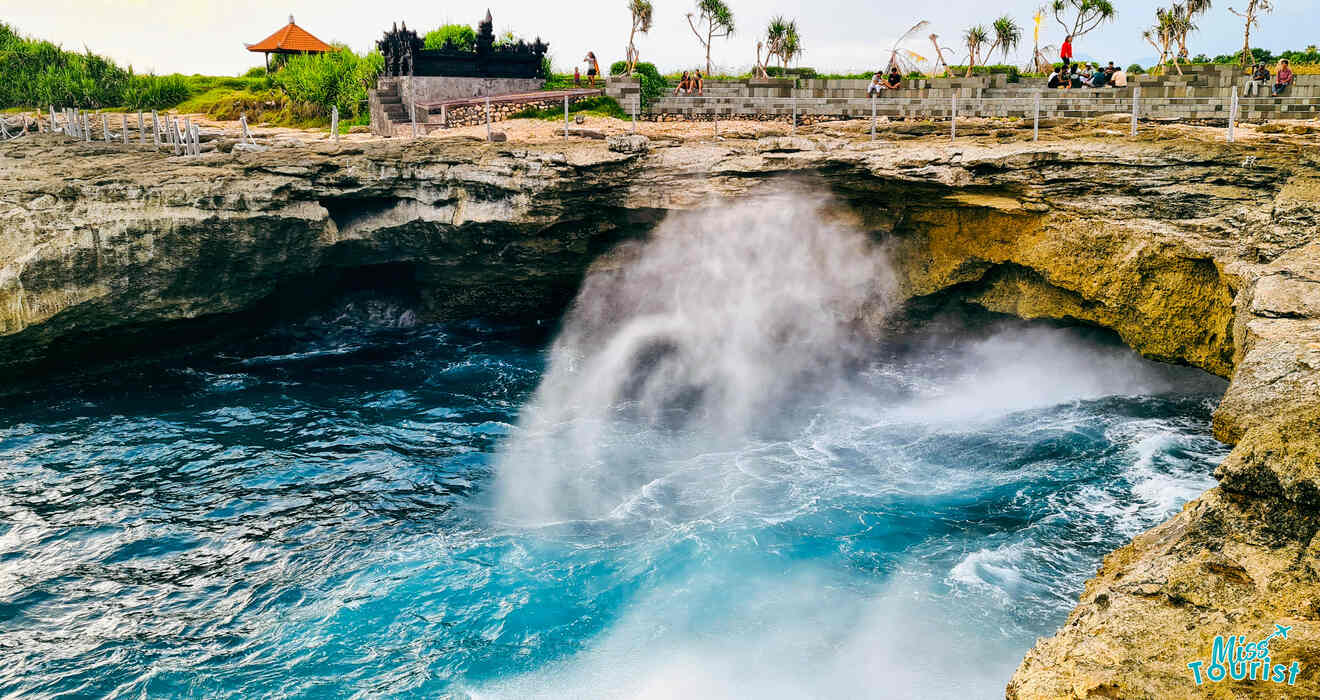 Bali is so magical and has such a strong energetic pull that you'll forever be attracted to all the fantastical natural attractions! And the list is long!
However, I'm sure that Devil's Tear, a scenic cave pool set on the south coast of Nusa Lembongan, is at the top of that list.
Apparently this poetic name (Devil's Tear) was given by tourists who saw the raw power of mother nature here!
Everyone comes here (especially during the high tide) to see the waves crashing into the cliffs which create this foggy spray that looks out of this world! And if you're lucky enough you may even see some rainbows and naturally-created infinity pools.
This beautiful union of opposites and the aliveness of the whole process will make you feel as if you can stare at the crashing waves against the cliff for a long time!
PRO TIP: I recommend coming to Devil's Tear before sunset as the weather is just perfect and the lighting is just spot on for some memorable pictures to take home as a memory!
2. Discover the dreamy beaches
Island life is such a dream!
As you explore Nusa Lembongan island you'll find many beaches, but if you're spending a limited amount of time here and you want to hit the best ones then check out my list below:
2.1 Dream Beach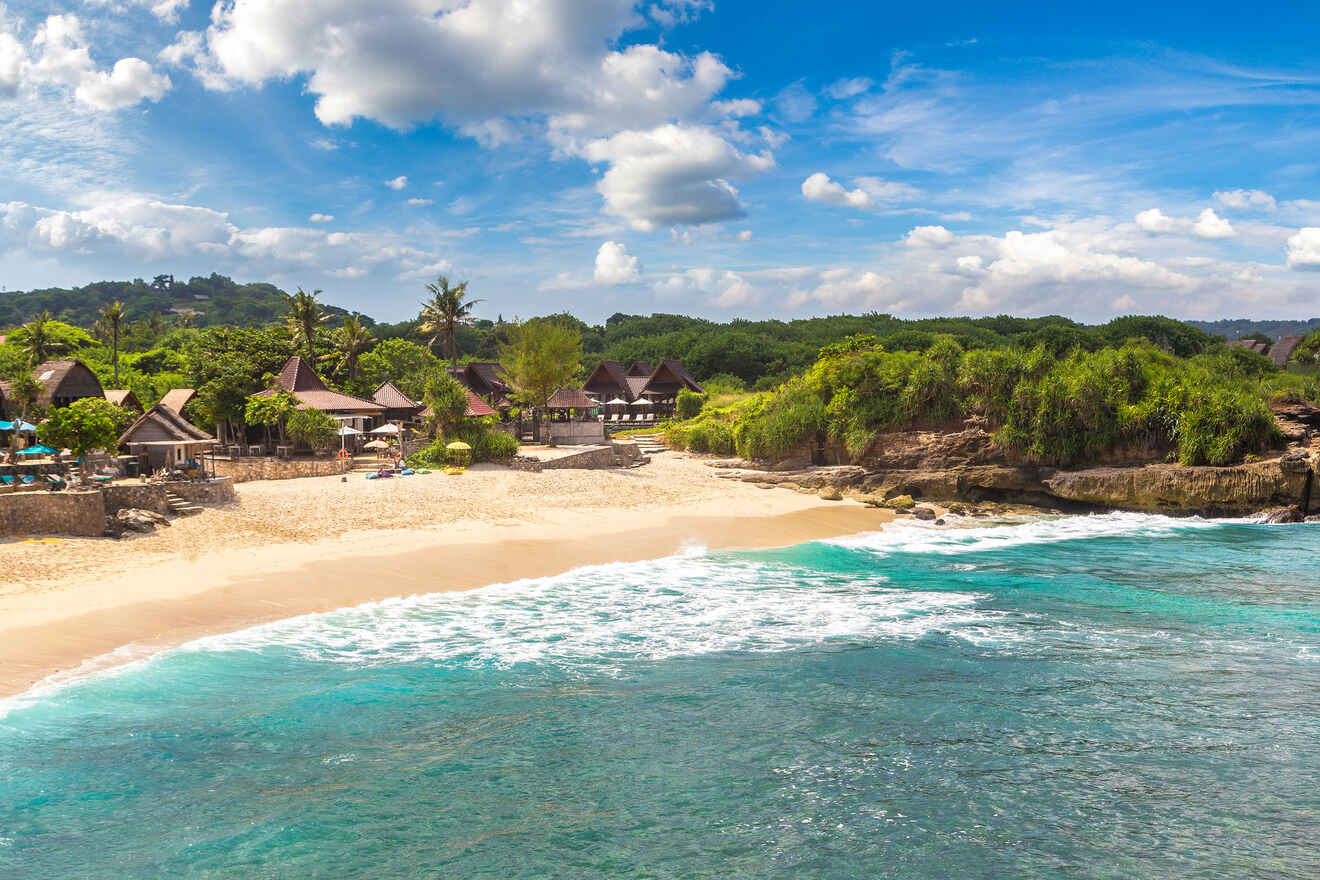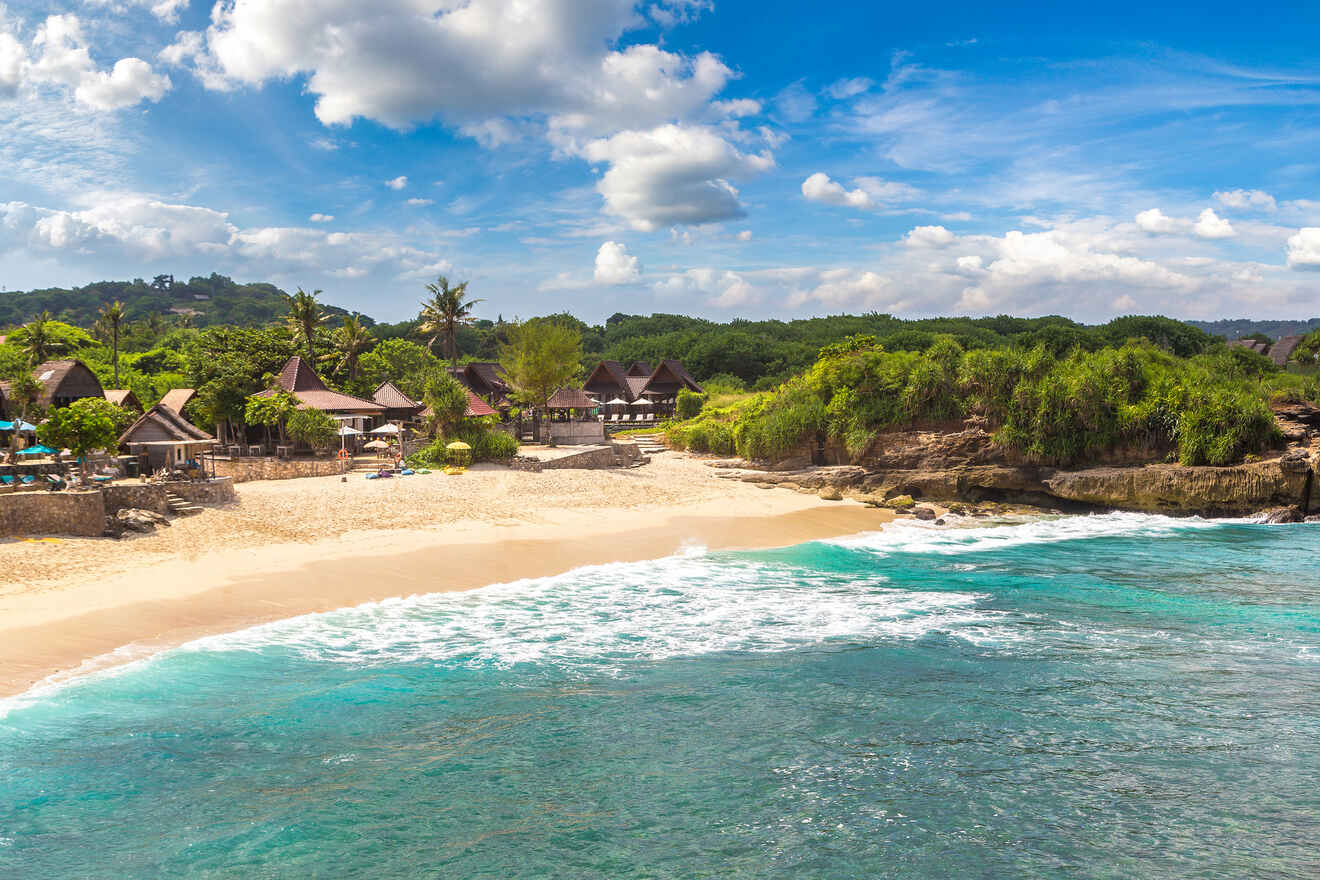 They sure got the name right for this place! Relaxing on this popular beach is one of the best things to do in Nusa Lembongan and once you see it, you'll understand why!
Set not too far from Devil's Eye, Dream Beach is the perfect spot to go swimming (the waves aren't so fiery here), and try some cliff jumping (although there are no designated places for that but there are sites where the water is deep enough).
There are also a couple of restaurants around Dream Beach and some cafes, in case you get hungry!
PRO TIP: Definitely come here in the morning if you want to avoid the crowds as Dream Beach gets super crowded throughout the day.
2.2 Sandy Bay Beach
Another stunning beach on Nusa Lembongan island that will leave you in awe!
The best beach to catch a sunset and even have a drink at the Sandy Bay Beach Club, which I'll talk about more in detail in section #4. Visiting Sandy Bay is definitely one of the best things to do in Nusa Lembongan.
2.3 Mushroom Bay Beach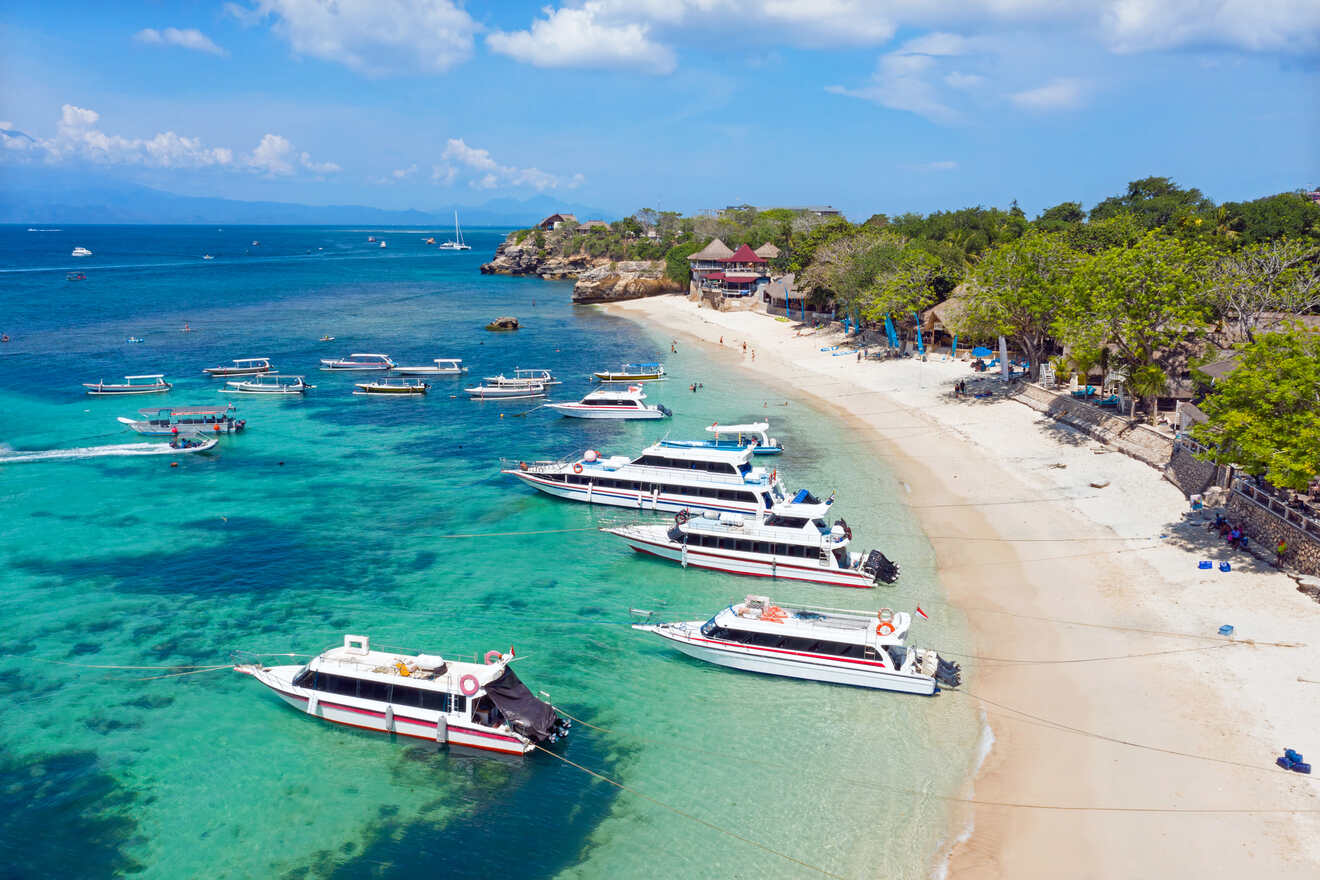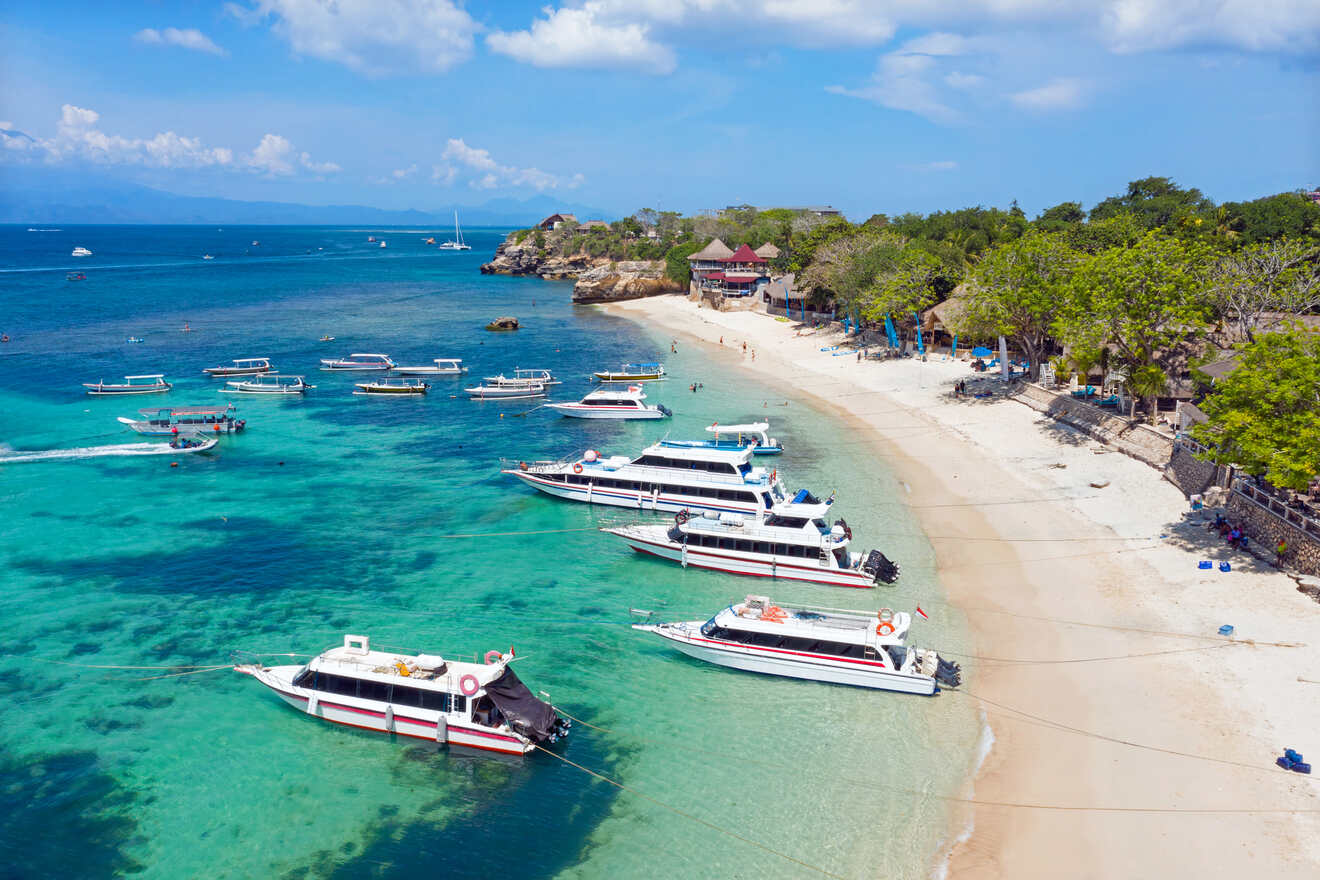 Set on the west coast of Nusa Lembongan, Mushroom Bay Beach is one of the most popular sites on the island, just like Dream Beach.
However, at Mushroom Bay Beach you'll find even more people as there are many tour operators who offer boat trips and it's also one of the ferry drop-off pick-up points from and to Bali mainland.
Still, Mushroom Bay Beach itself is so beautiful, with turquoise waters and goldish sands, that you'll never want to leave!
2.4 Secret Beach
This beautiful white sand beach is actually located on Ceningan Island, which is linked to Nusa Lembongan by the iconic Yellow Bridge (which I'll talk about in section #10).
Although it's not such a big secret, this beach is less crowded than most beaches on Nusa Lembongan, making it the perfect place for a moment of solitude while surrounded by those breathtaking landscapes.
However, I'd stick to just sitting on the sand at Secret Beach as the waves are pretty strong.
2.5 Jungutbatu Beach
Say hello to the longest beach on Nusa Lembongan Island and the place where you'll find the majority of oceanfront hotels like Nusa Indah Bungalow and nearby Aqua Nusa.
Lots of people come here to walk along the white soft sands, sunbathe, and also go surfing! So put on your swimsuit and get ready for a relaxing day on Jungutbatu Beach which is only a 30 min walk from the Nusa Lembongan Cemetery and Panorama Point.
3. Take a tour through the Mangrove Forest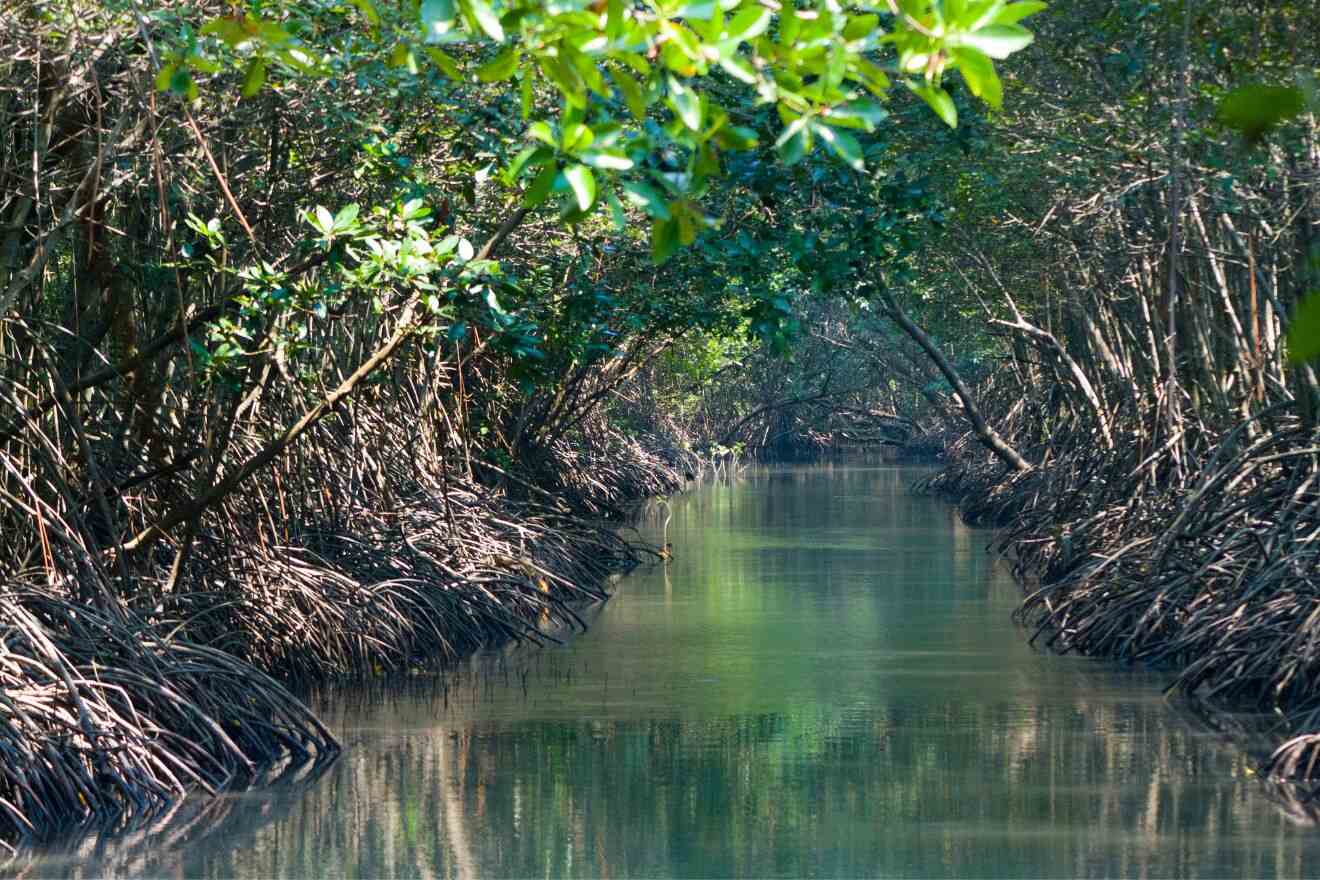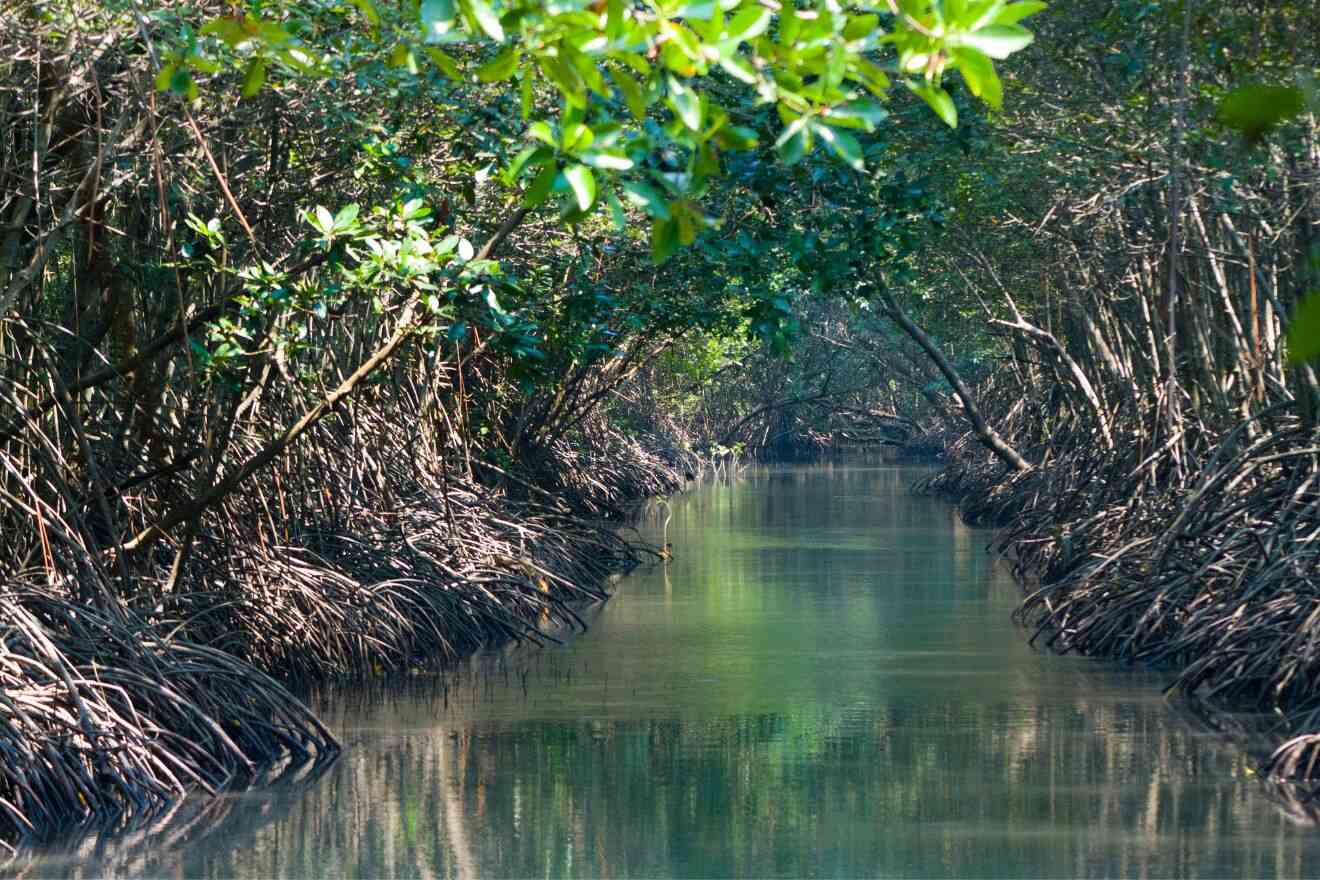 For sure one of the most exciting things to do in Nusa Lembongan is to go on a boat tour in the Mangrove Forest!
The boat tours are so incredible as they give you the chance to explore the Mangrove forests and also spot some of the wildlife that call this place their home.
Most tourists who want to take the tour usually make their own way by scooter to the northeastern point of the island and go to Mangrove Point. Here there are lots of boats with local tours who'll offer you a 30 min ride through the Mangrove Forest which usually costs around US$10 for a boat.
You can also go on this incredible 1-hour Mangrove tour on a kayak! Light up your adventurous side and explore the forest at your own pace.
NOTE: Since you've made your way up to this part of the island I'd also recommend going snorkeling at Mangrove Point! The crystal-clear waters are filled with colorful surprises and friendly underwater creatures!
Book a kayak tour
4. Chill at a beach club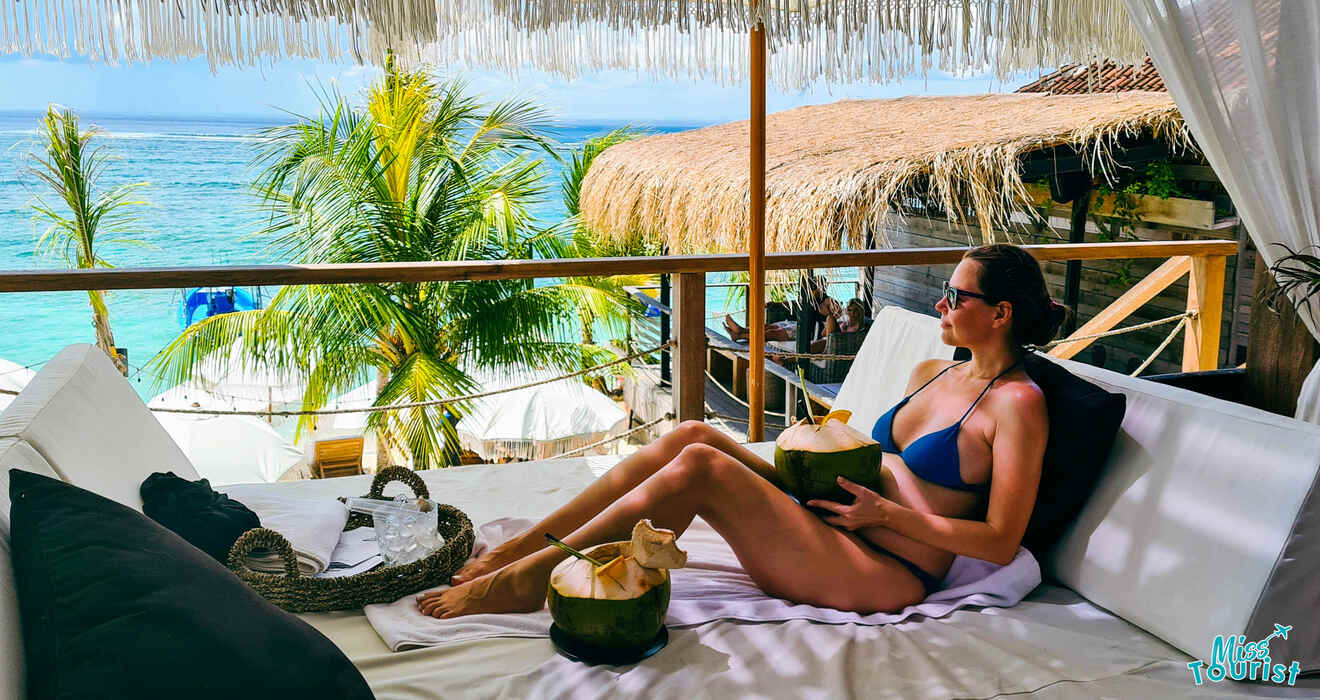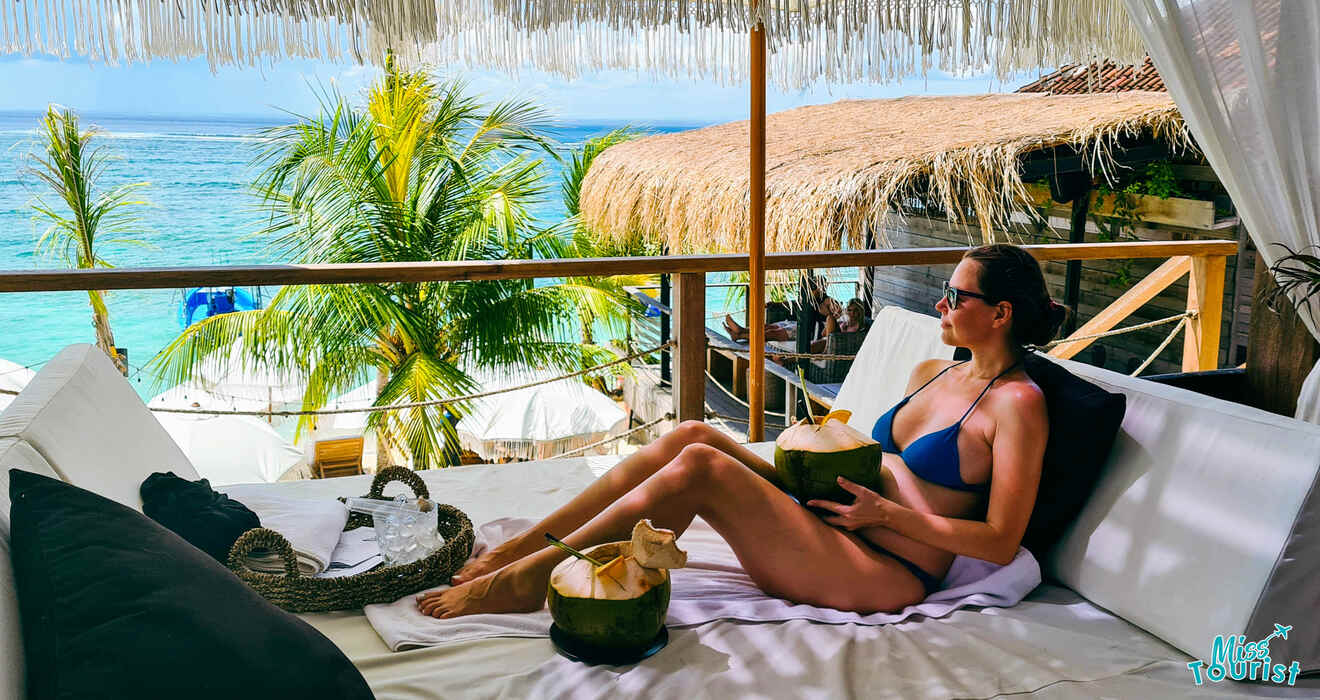 The Nusa islands have some incredible beaches as we've seen and most of them are home to lots of beach clubs where everyone goes to have a cooling drink and just relax!
That's why I thought I'd make a list of the best beach clubs around! So, let's check them out:
Ohana's – I loved this place, we spent half a day here and would've stayed more if our boat wasn't leaving to head back to mainland Bali. Drinks were great, the vibe even better, and by the way they have a second floor with beds where there is more shade and a much more incredible view!
Sandy Bay Beach Club – The perfect place to get some sunset cocktails! Also offering an oceanside pool, this beach club is a great place to end your day.
The Sand – Nothing beats a yummy snack after a day spent on the beach and this place on Nusa Ceningan Island offers some yummy dishes and a great view!
Le Pirate Beach Club – If you need a break from all the sun and a cold drink, come to this beach club on Nusa Ceningan! Great food, a fun vibe, and of course a breathtaking ocean view!
5. Take a picture on a swing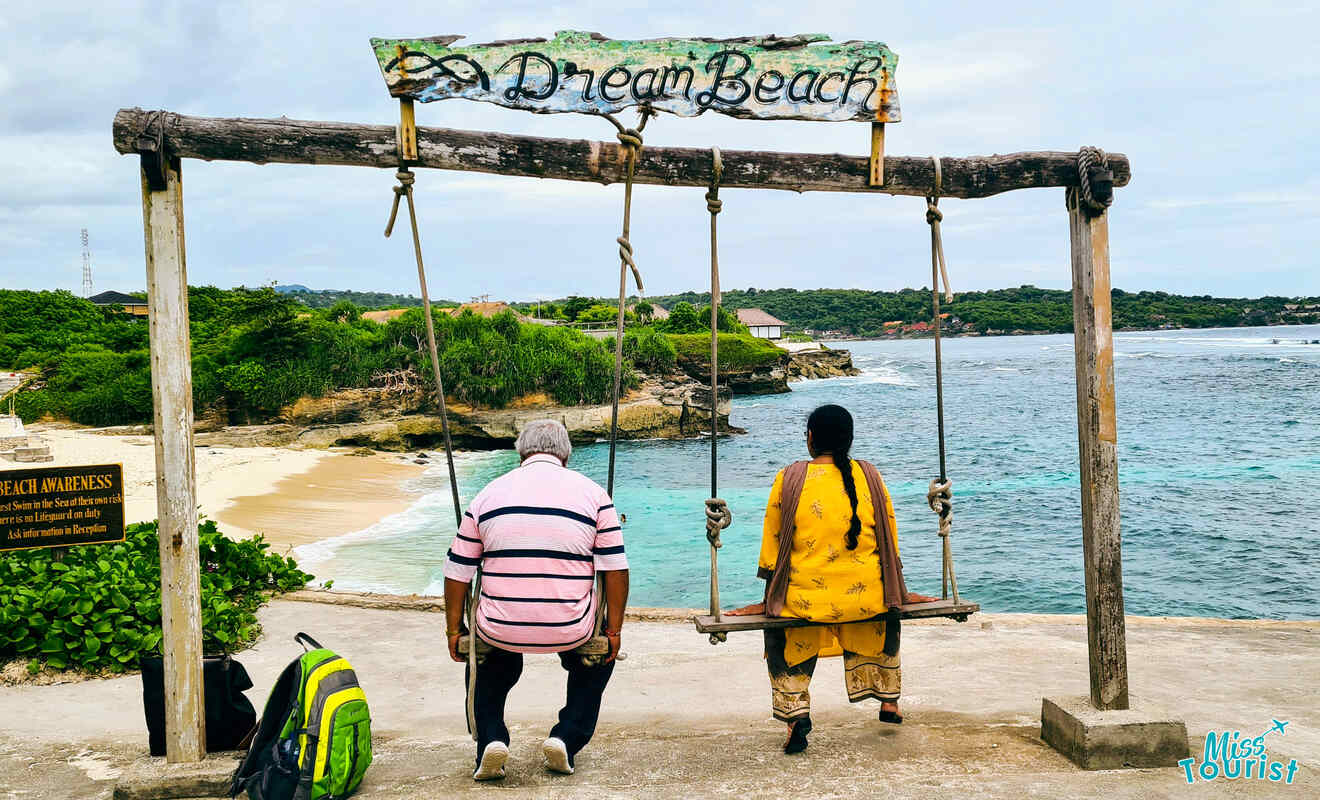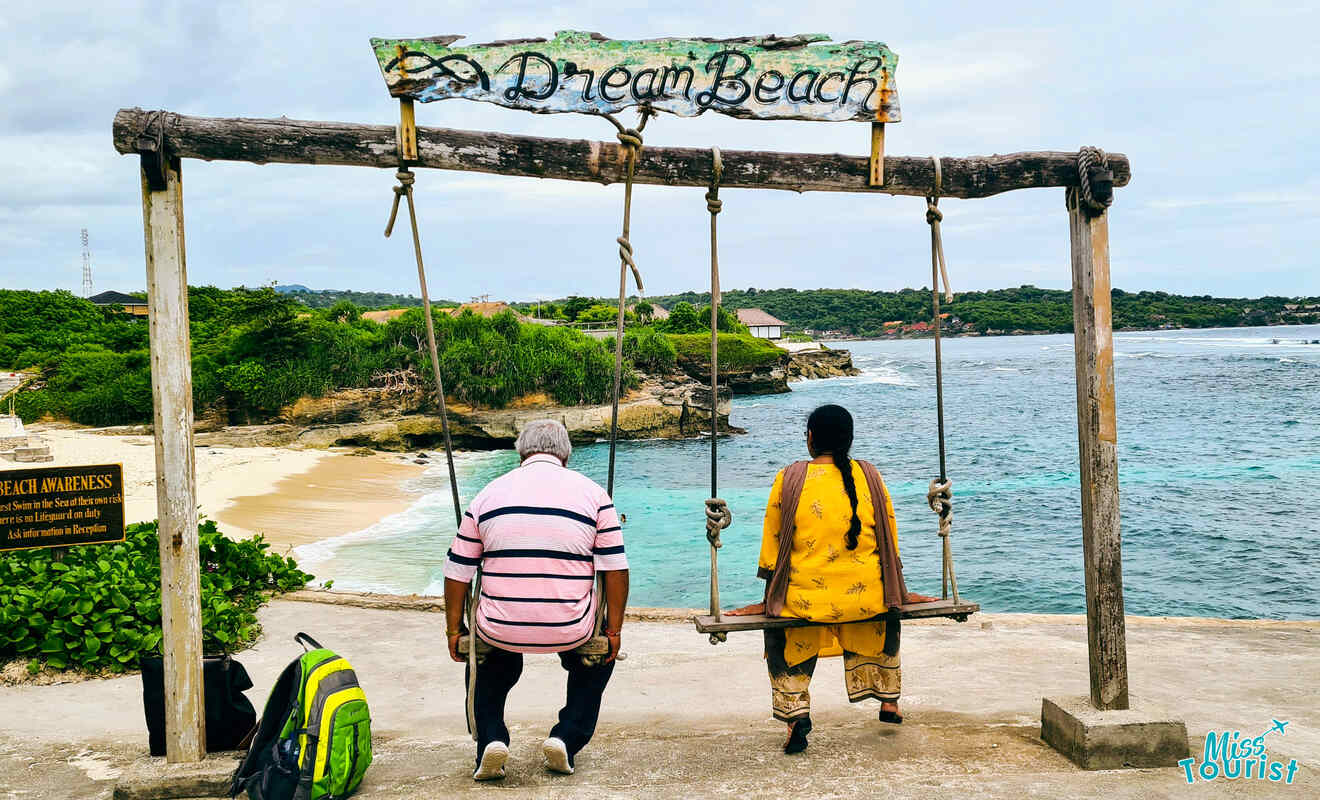 You can't leave the Nusa Islands without taking a picture on one of the scenic swings on the beaches!
This is one of the best things to do in Nusa Lembongan and it's like a rite of passage for all tourists who visit the Nusa Islands. That's why I gathered a short list of beaches where you'll find these dreamy spots.
There's a really cool swing in the water right on Secret Point Beach (come here at sunset and you'll score some pretty iconic pictures).
But in case you're not on that side of the island you can also get a swing picture on:
6. Admire the view from Blue Lagoon cliff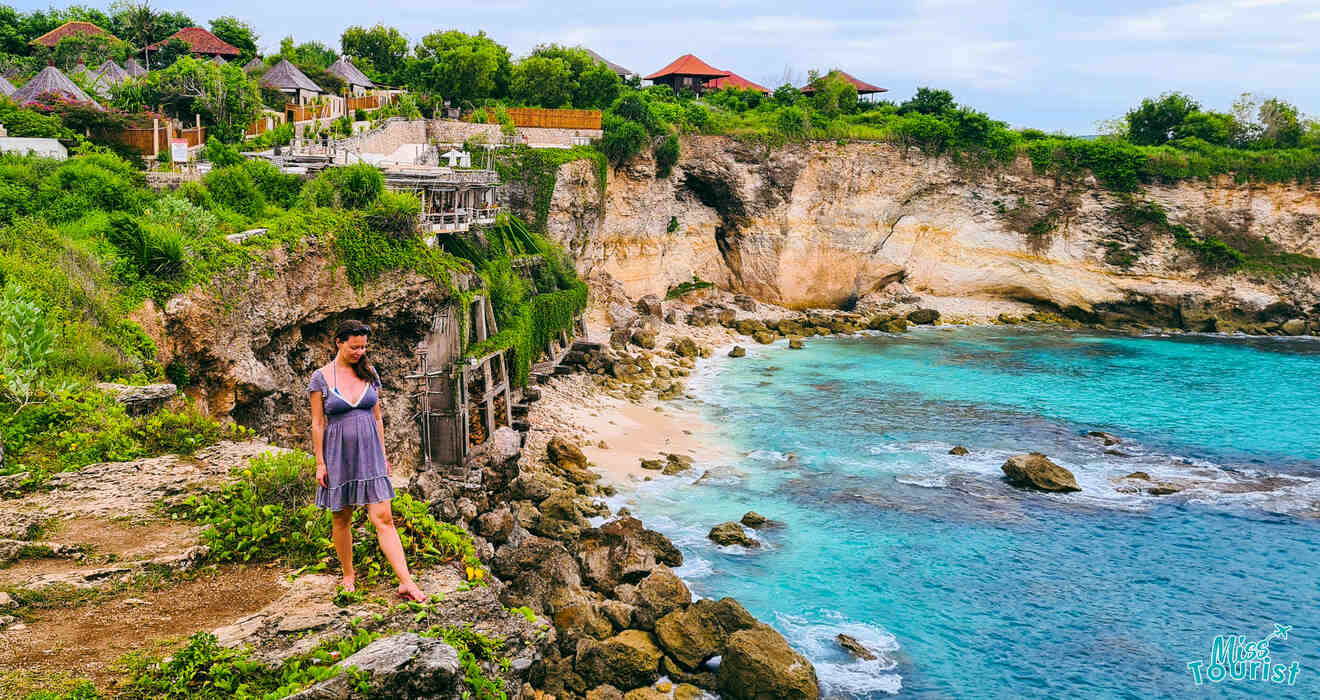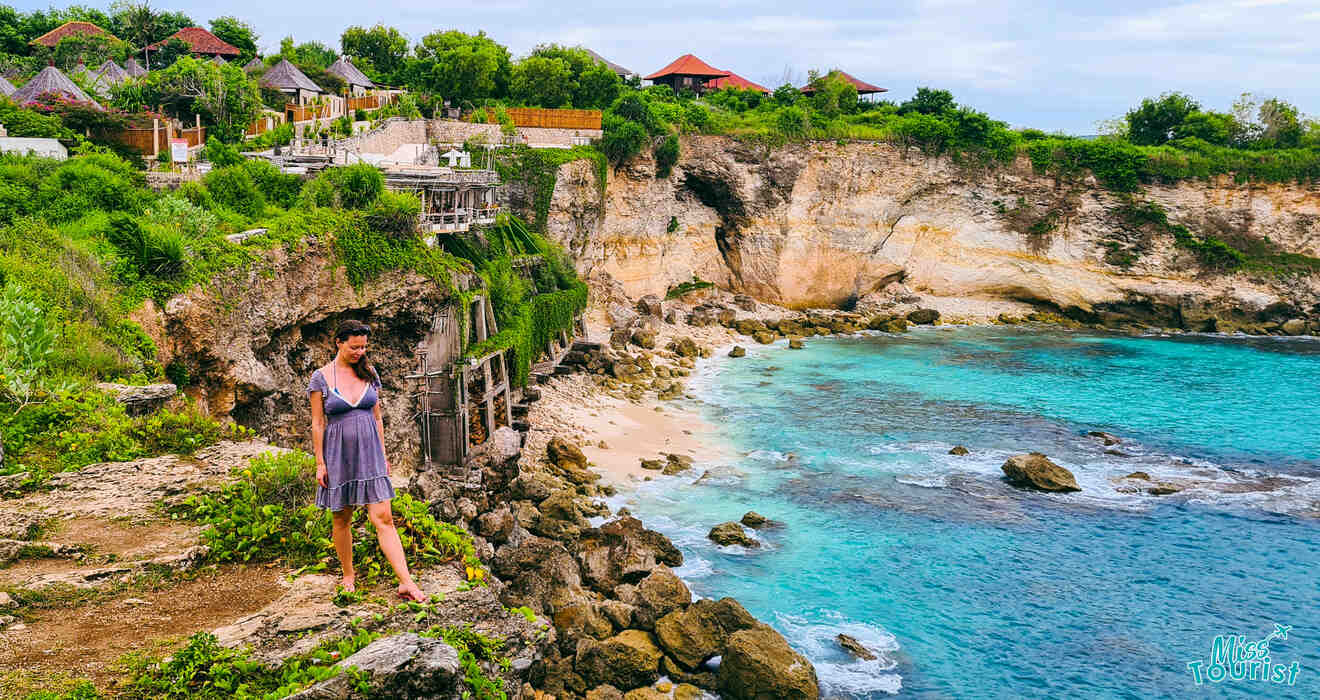 You can never grow tired of the beauty of the Nusa Islands! And although Nusa Penida is the biggest one, Nusa Ceningan comes full force with numerous sites that will leave you in a constant state of awe!
And here's our next stop: the Blue Lagoon cliff where the waters look straight out of a really beautiful painting (those shades of blue and turquoise are so unique)! Combine that with the views, which are so soothing and calming, and you've got yourself the perfect spot to just relax and enjoy!
I was super excited to even spot some turtles here so be on the lookout for those cuties!
PRO TIP: Right around the corner from the Blue Lagoon you'll find Klyf, a super nice bar with a great view that will make you want to spend the whole day there! And that's not it! There's also an infinity pool that you can use as a restaurant customer plus a hotel which offers some incredible views.
NOTE: Another thing to know about the Blue Lagoon cliff on Nusa Ceningan is that lots of people come here for cliff jumping. There are lots of spots on the Nusa Islands used for cliff jumping, like Mahana Point on Nusa Ceningan but I definitely recommend taking extra care and having a proper look to see if it's safe.
7. Snorkel with manta rays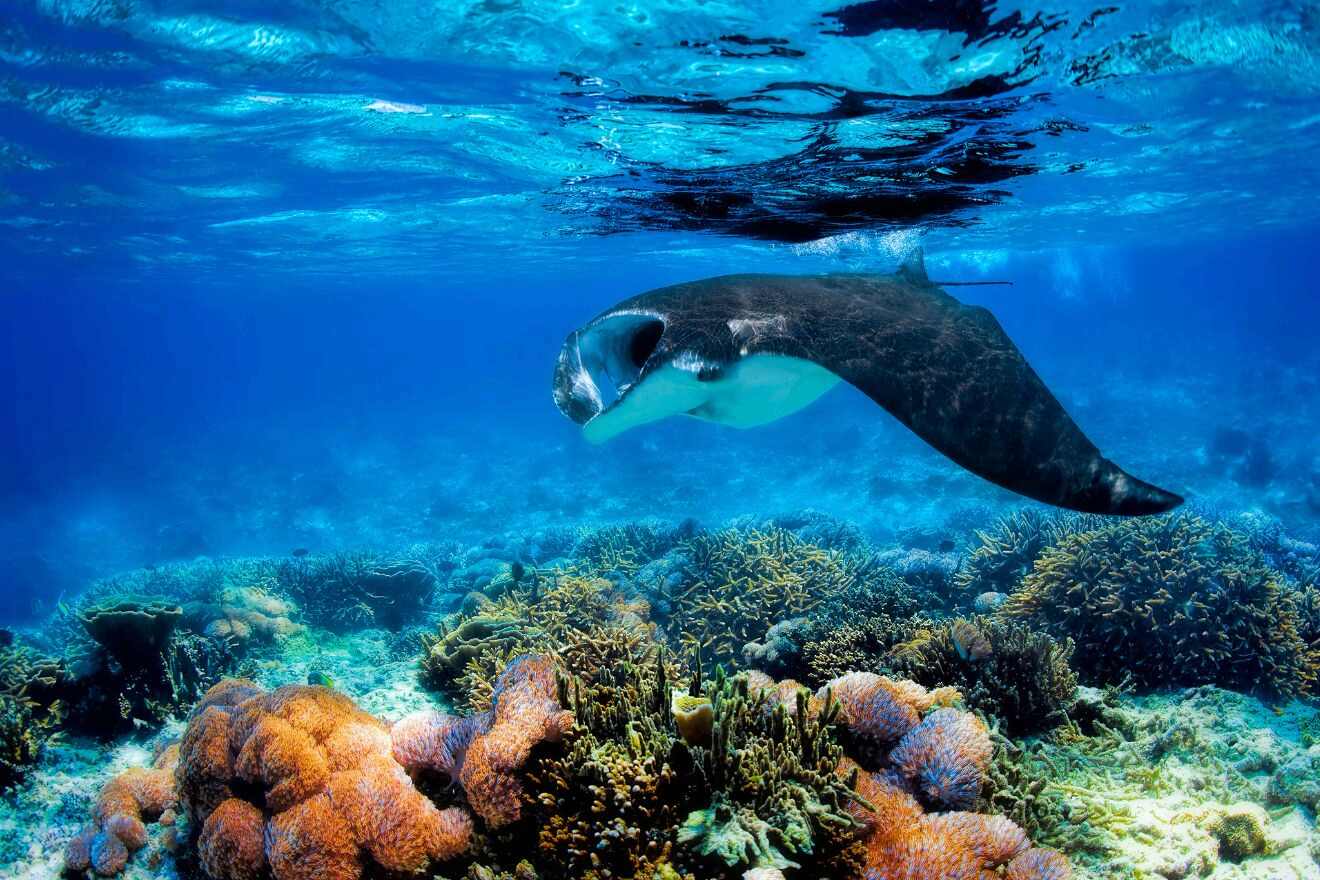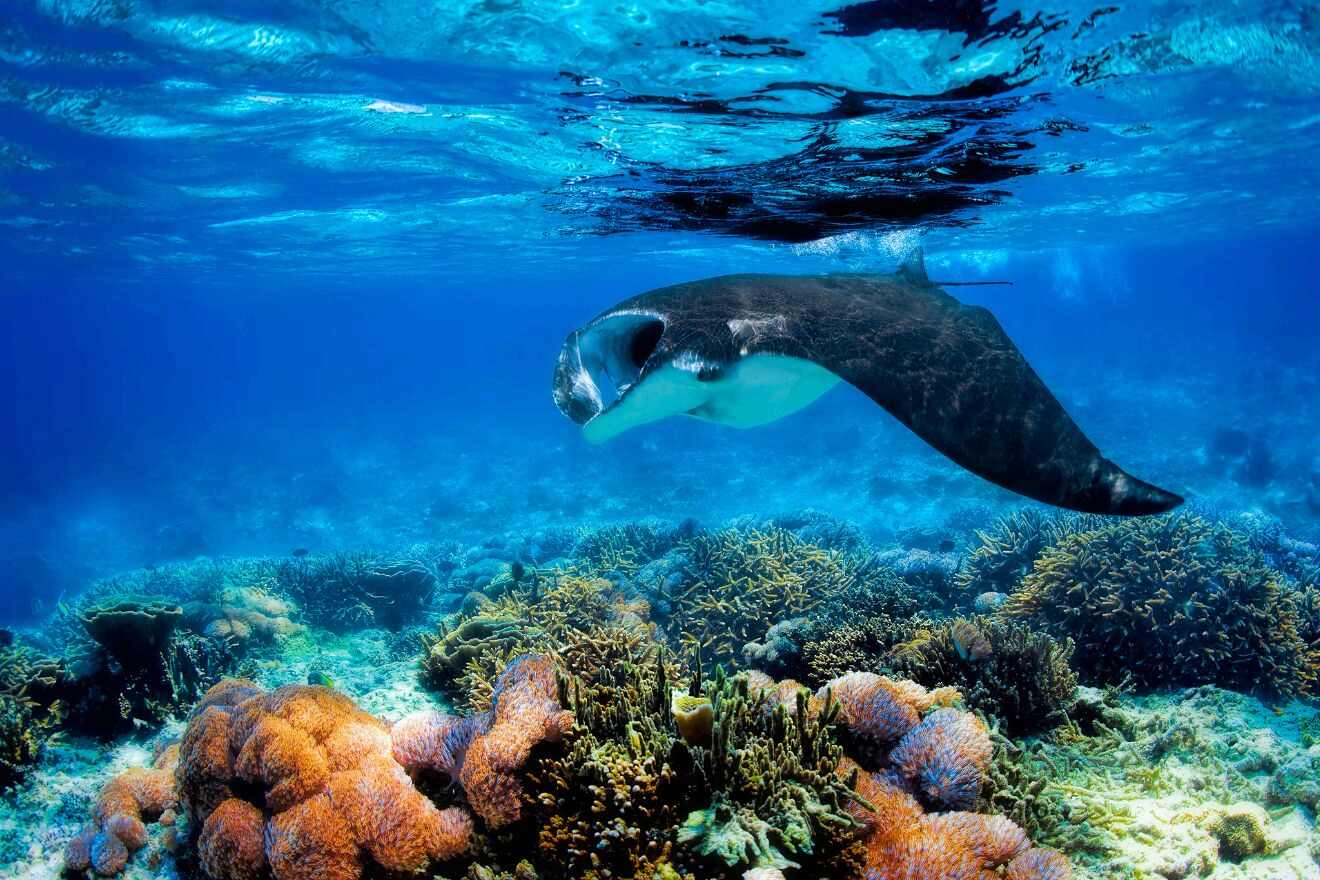 As I mentioned there are three Nusa Islands and right between two of them (Nusa Ceningan and Nusa Penida) you'll find lots of snorkeling spots and dive sites. There you'll find some incredible marine life and you can make new friends among the giant manta rays, who attract big crowds.
Usually those who want a guarantee that they'll see the famous manta rays head to Manta Bay and Manta Point. The latter (Manta Point) is one of the most popular spots to see manta rays as well as turtles and sharks.
I didn't go snorkeling here this time as I have done it before, but another one of our team members has done it at Manta Point and says it was incredible! The manta rays come right up and swim around you!
I've found this great snorkeling tour from Nusa Lembongan that goes to the main sites like Manta Bay, Crystal Bay, Gamat Bay, and Mangrove Point.
No prior experience is needed and of course they'll offer you snorkel equipment as well as hotel pickup and drop-off.
Go snorkeling with manta rays
8. Treat yourself at a spa
I know there are so many active things to do in Nusa Lembongan that you won't know where to start! Well, if I were you, I'd begin my trip with a short trip to one of the island's spas. There are some awesome places on Nusa Lembongan where you can forget about all the planning and just relax!
Below you'll find a list of the best ones, which I also categorized by luxury, mid-range, and budget so you can easily pick your favorite:
Indiana Kenanga Boutique Hotel – For a luxury experience I'd head to the spa center of this awesome hotel near Jungutbatu Beach, for an unforgettable Balinese massage (they also offer other types), a long and relaxing facial, or a flower bath!
Harumaya Day Spa – If you're looking for some mid-range prices then I'd recommend this spa center on Nusa Lembongan which offers all sorts of services from body scrubs, to massages and beauty treatments
Jamu Day Spa – In desperate need of a long massage after walking and exploring the two islands? Well, this spa center offers some great budget treatments that will make you feel like a brand new person!
9. Admire the sunset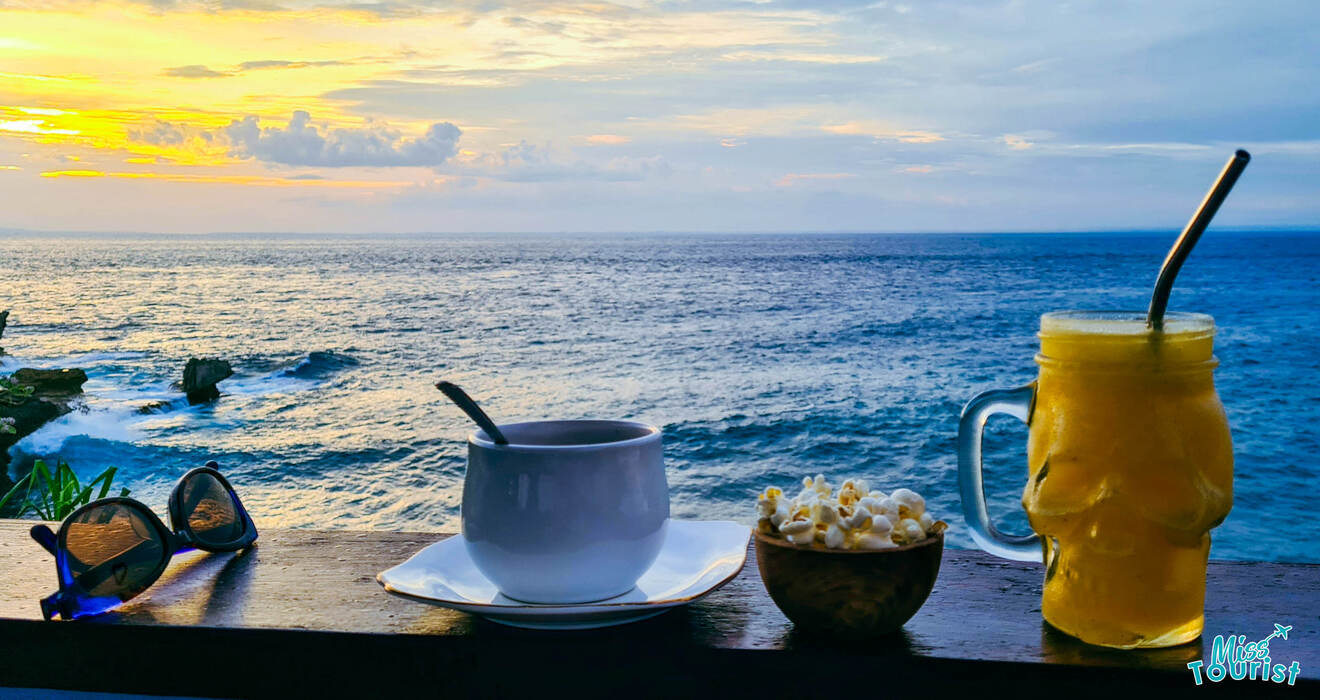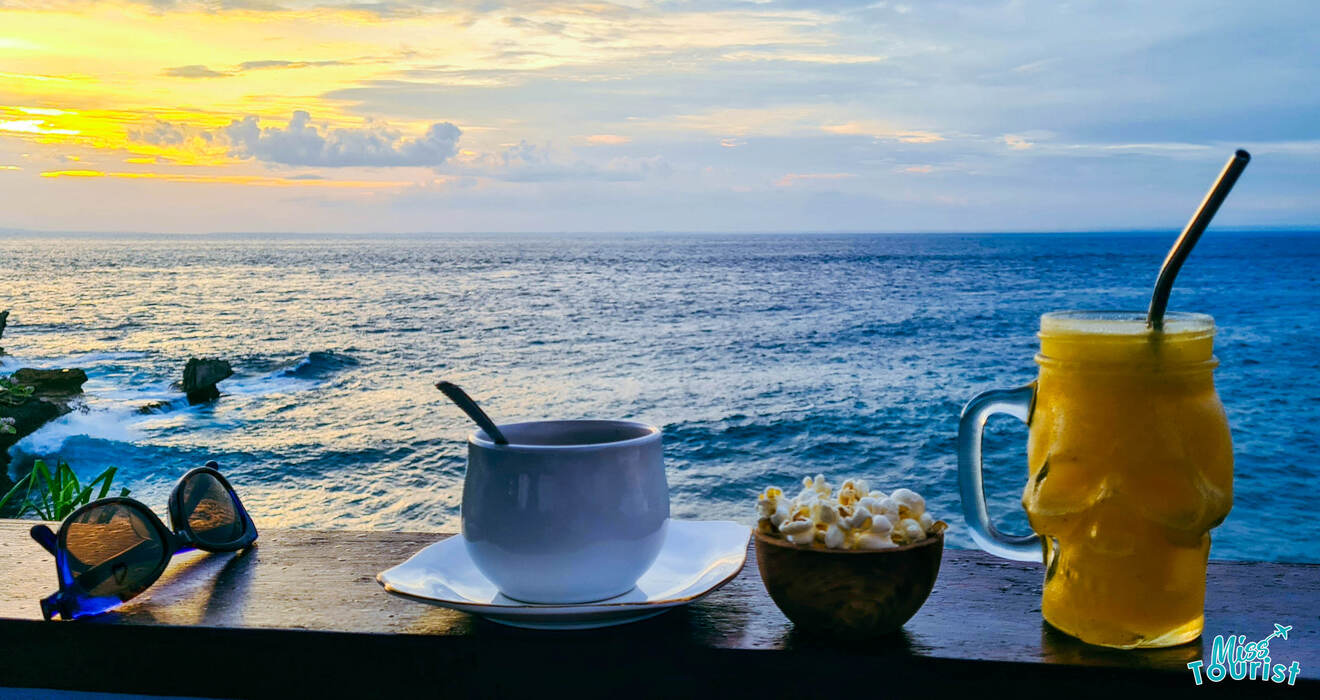 Isn't it amazing that after seeing so many sunsets you wouldn't say that two were exactly the same?
Well, let me tell you, island sunsets are even more one-of-a-kind, and you should definitely plan to catch at least one here. Trust me, it's one of the best things to do in Nusa Lembongan!
We caught a nice sunset at the Cloudland Bar, where the ocean views are so pretty and you can even spot some turtles! The vibe is also great and if you just want to get comfy, they've got some bean bags and an upstairs area.
Some other awesome spots where you can catch some scenic sunsets are:
10. Cross the Yellow Bridge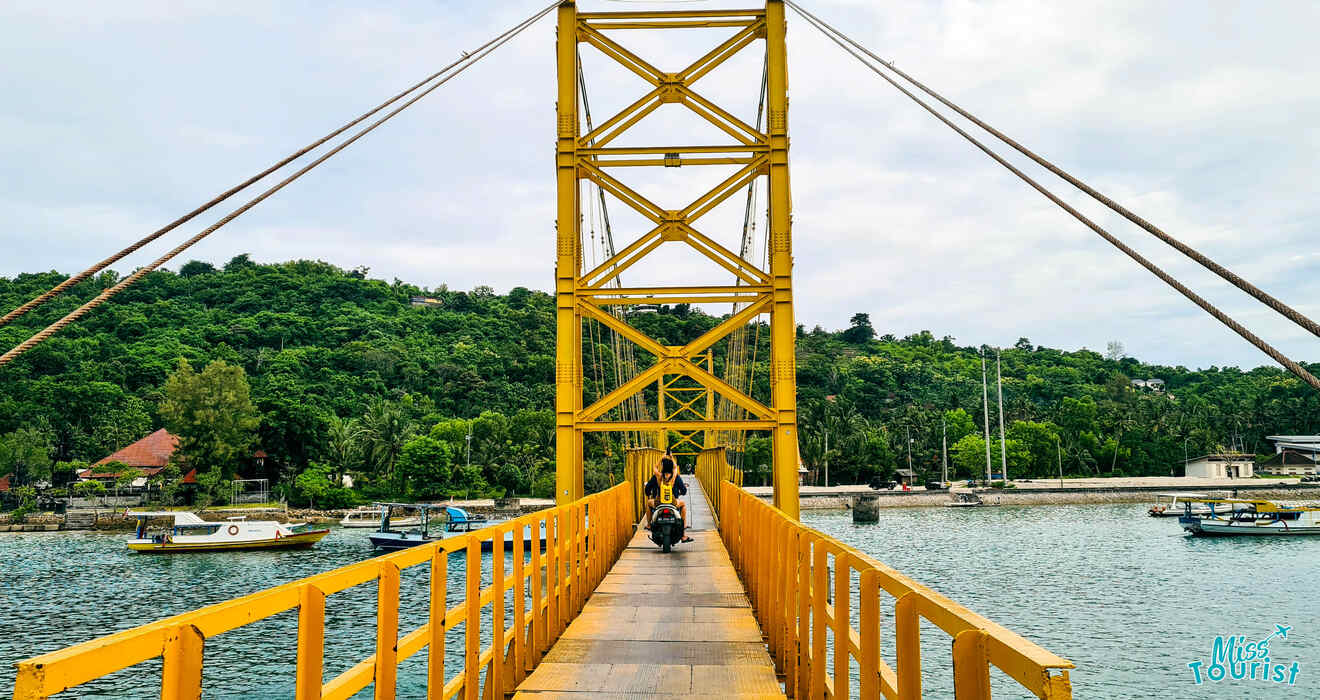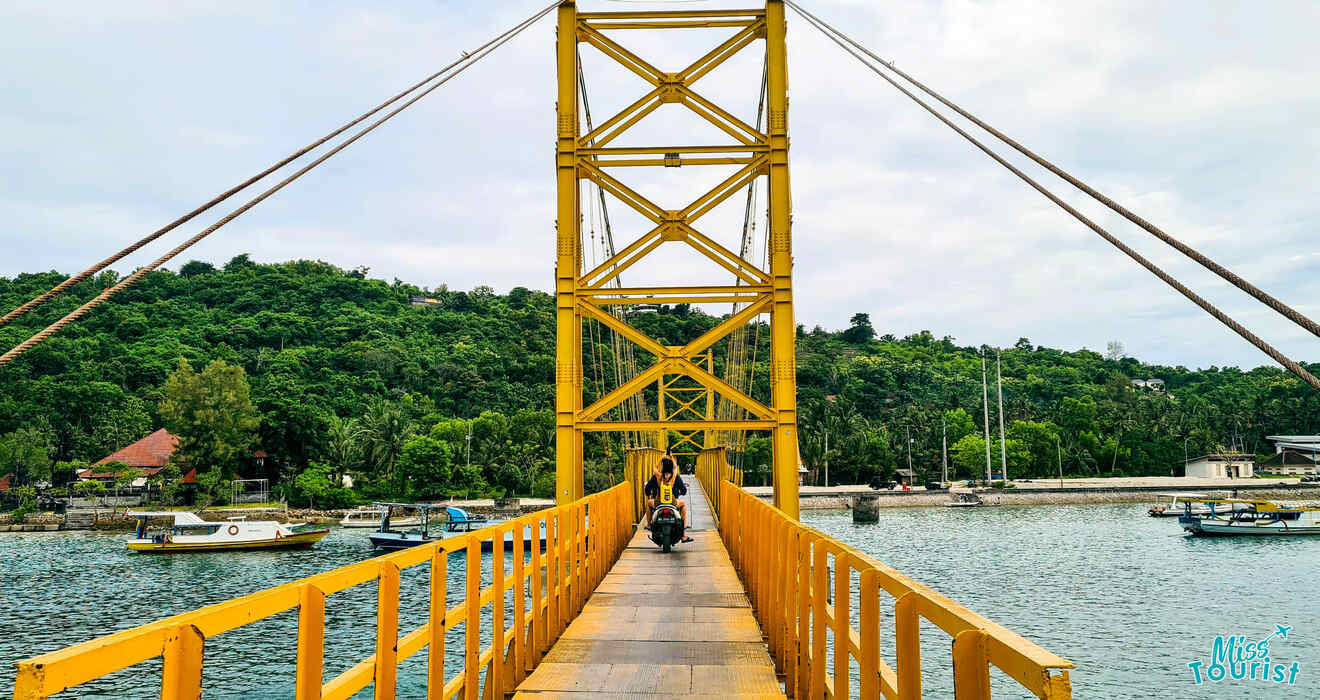 This famous Yellow Bridge connects Nusa Lembongan to Nusa Ceningan and it's pretty narrow! That means you won't see any cars on it as that'd be too heavy but motorbikes are allowed, which is what people use to go from one island to the other.
As the 2 islands are linked by this Yellow Bridge, it gives tourists a chance to visit whenever they want without having to take a boat or ferry. That's why I've added beaches and cliffs from Nusa Ceningan as well, since you can easily get here.
However, Nusa Ceningan is even smaller and not so popular, making it a great spot for people who aren't big fans of crowds. So most tourists stay at the hotels on Nusa Lembongan and just head to the other island whenever they want by crossing the Yellow Bridge.
11. Take a day trip to Nusa Penida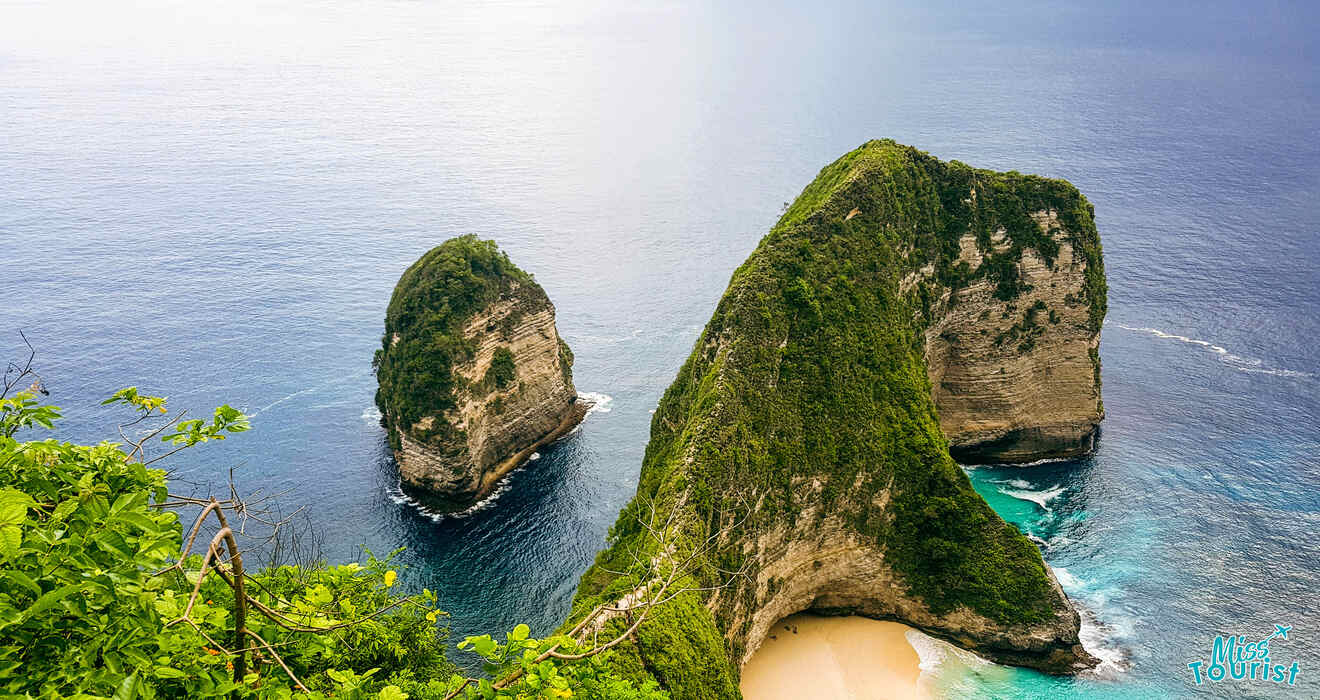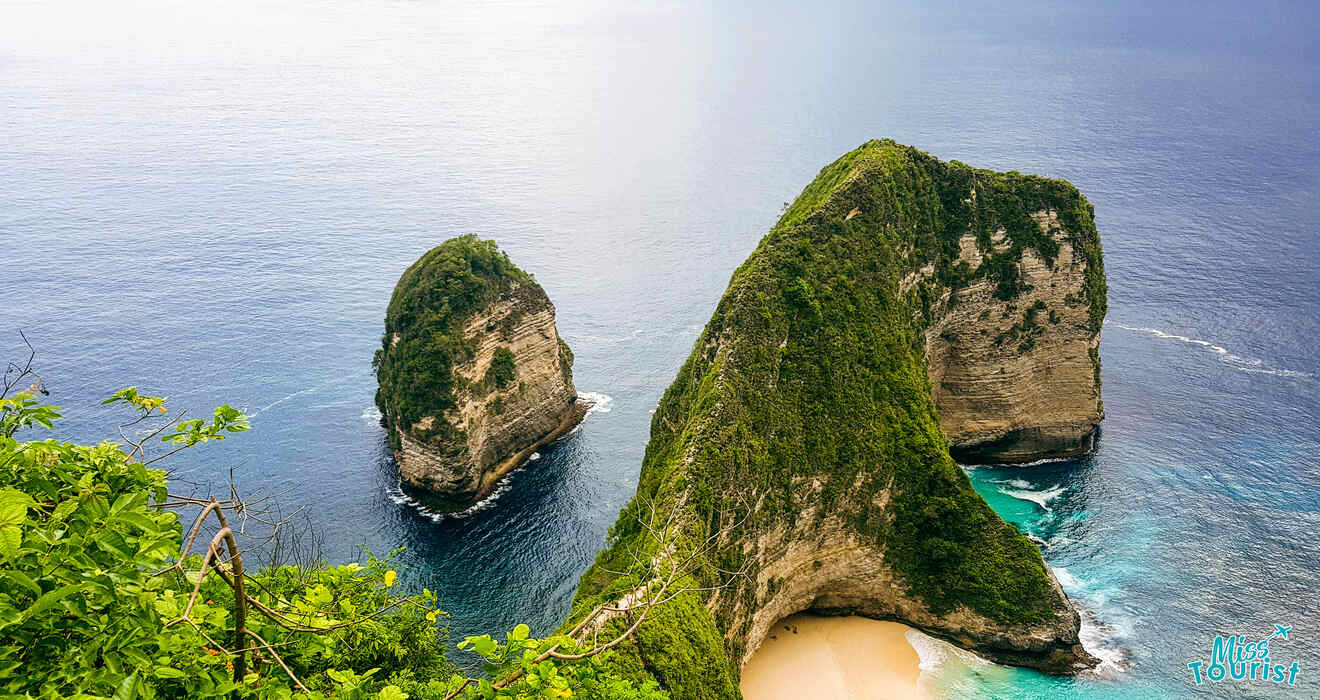 Nusa Penida island is like the big brother of both Nusa Lembongan and Nusa Ceningan. So if you've managed to check all the things to do in Nusa Lembongan from your list and you're looking for a new adventure, why not take a day trip to Nusa Penida?
There are lots of tour operators who offer day trip from Nusa Lembongan to Nusa Penida and I've found this one which is super cool as it picks you up from your hotel and takes you with a speed boat to Nusa Penida and also gives you an island tour of some of the coolest places like Kelingking Beach, Angel Billabong (a natural infinity pool), Broken Beach (the island's hidden beach), and Crystal Bay.
The journey from Nusa Lembongan to Nusa Penida lasts around 20 min and it costs US$49 per boat for 2 people.
Although day trip tours are fun, I know that some of you will want to visit the island on your own. And yes, that's possible as there are ferries that go to Nusa Penida. The journey is the same around 20 to 30 min but the prices are a bit higher and a ticket per person costs US$50.
| | |
| --- | --- |
| 🤩 Range of activities: | Average |
| 🤿 Best for snorkeling: | Manta Point |
| 🛶 Top kayaking tour: | Mangrove Forest |
| 💵 Avg hotel price: | $30 |
Practical info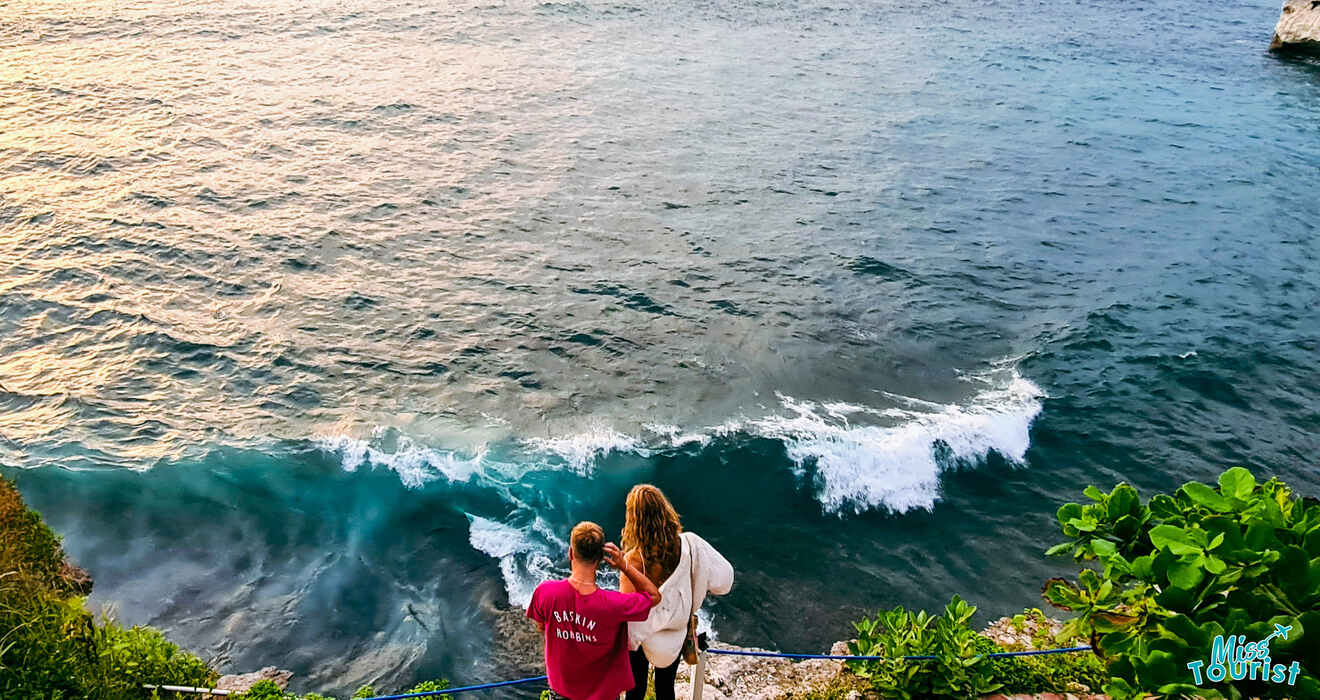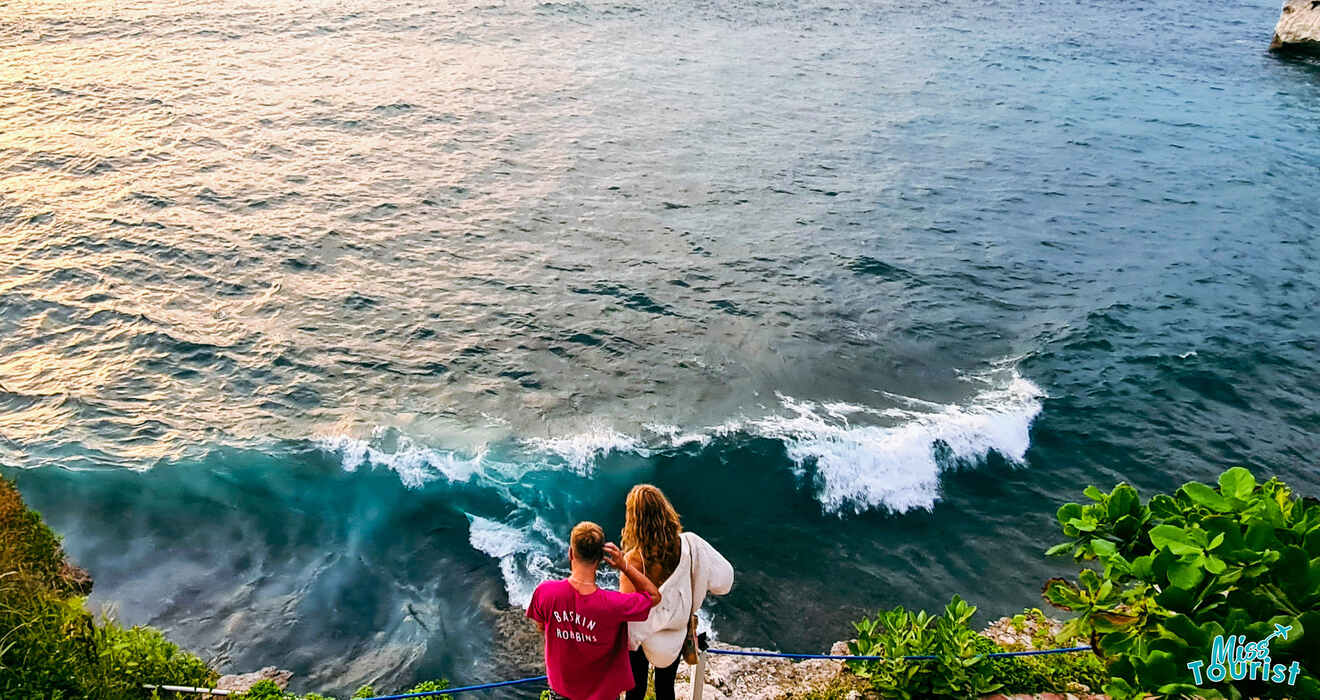 Woohoo, we've finished our list of things to do in Nusa Lembongan, Bali! However, if you've read any of our other posts by now you probably know we like to help you with as many details as we can!
So I thought I'd make some sections with lots of tips on where to stay and other things that I think all tourists should know before visiting Nusa Lembongan Island!
NOTE: I'll start with the one that may affect most of you: The mobile internet is quite slow here so keep that in mind in case you've got some work to do!
Where to stay in Nusa Lembongan
Luckily for us, all the hotels are extremely affordable on Nusa Lembongan Island! Honestly it's hard to find anything higher than US$30 on the island, so definitely take advantage of that and treat yourself to a fancy hotel!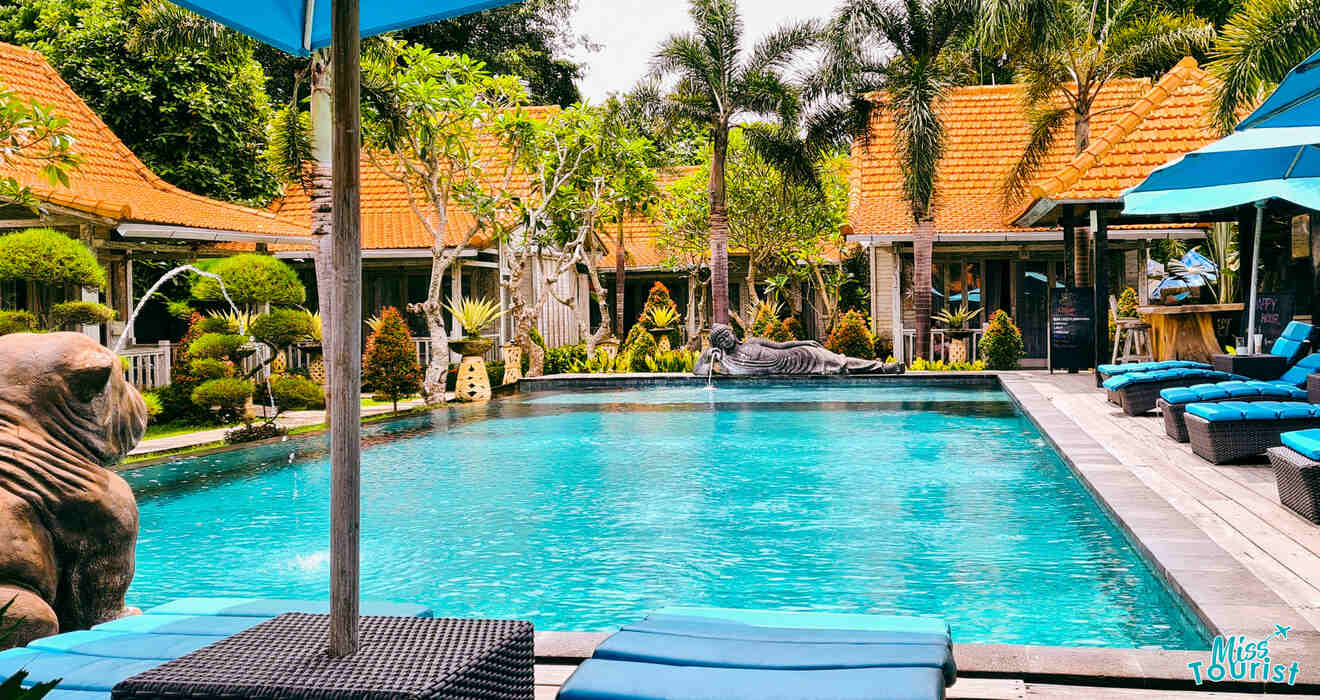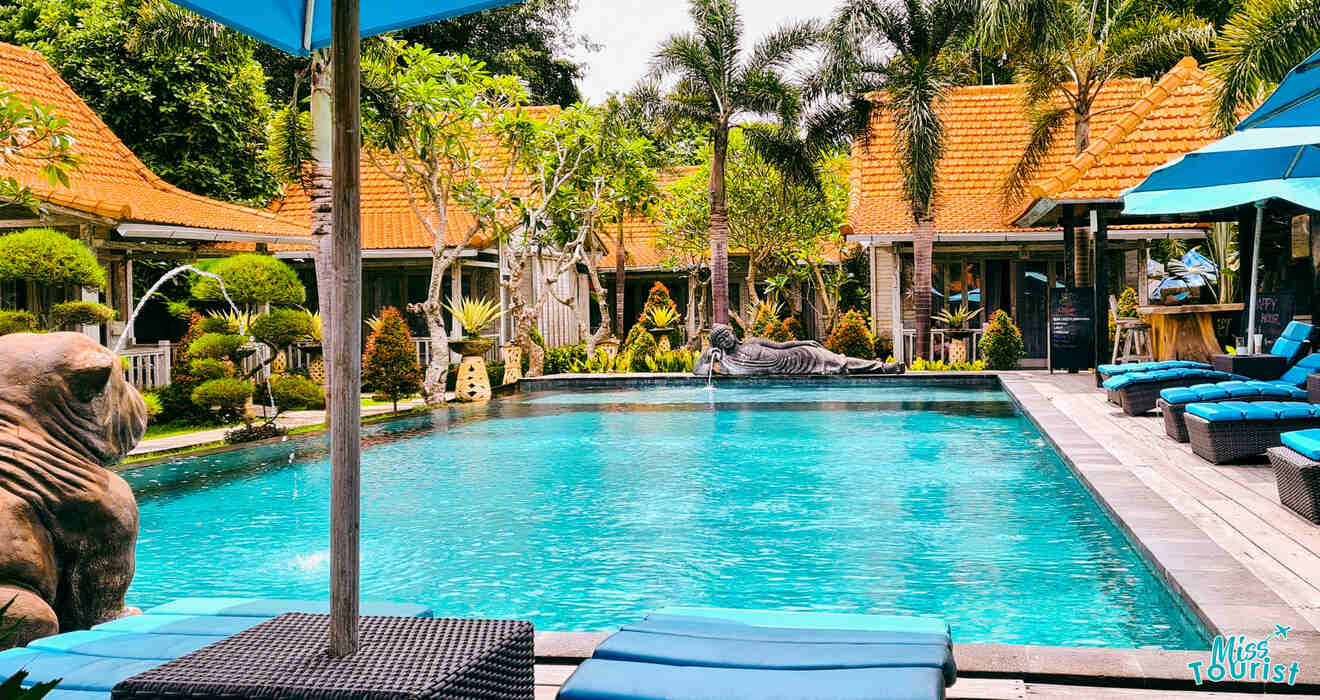 Luxury: The Acala Shri Sedana – Set on the southside of Nusa Lembongan near the Gala Gala Underground House, this resort has a fabulous mix of Balinese decor and contemporary elements. While staying here you'll have access to an outdoor swimming pool, a terrace, and spa facilities
Mid Range: Palm Grove Hotel – This is the wonderful hotel where we stayed and really liked it as it has 2 outdoor pools and a spa center as well. I'd recommend not booking a room near the road as there's a noisy restaurant which may bother you, otherwise I loved everything about it!
Budget: Bungalow No 7 – Enjoy your stay at this affordable accommodation on Nusa Lembongan that offers a dive shop, a restaurant, and boat transfers
Check the rates here
How to get around Nusa Lembongan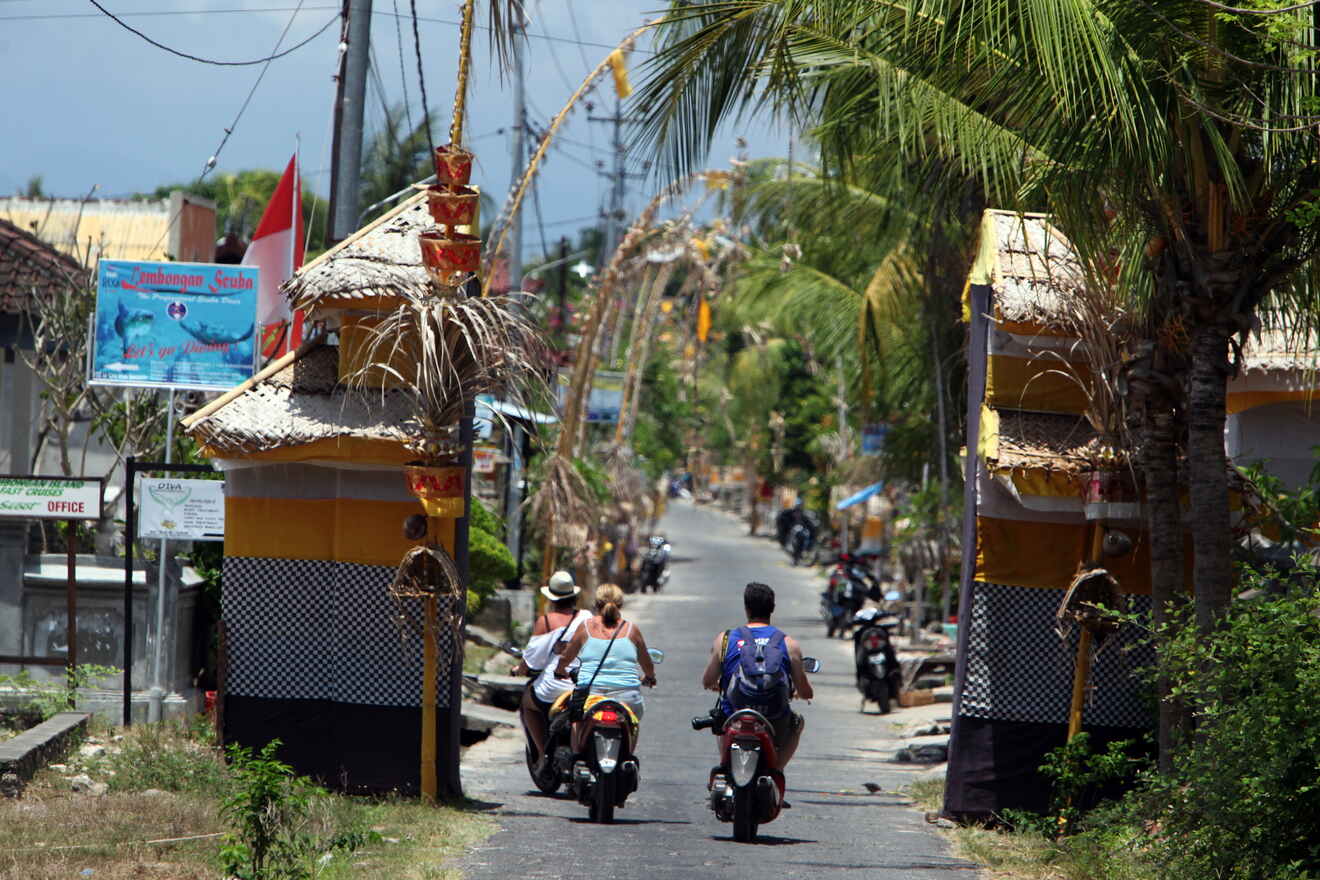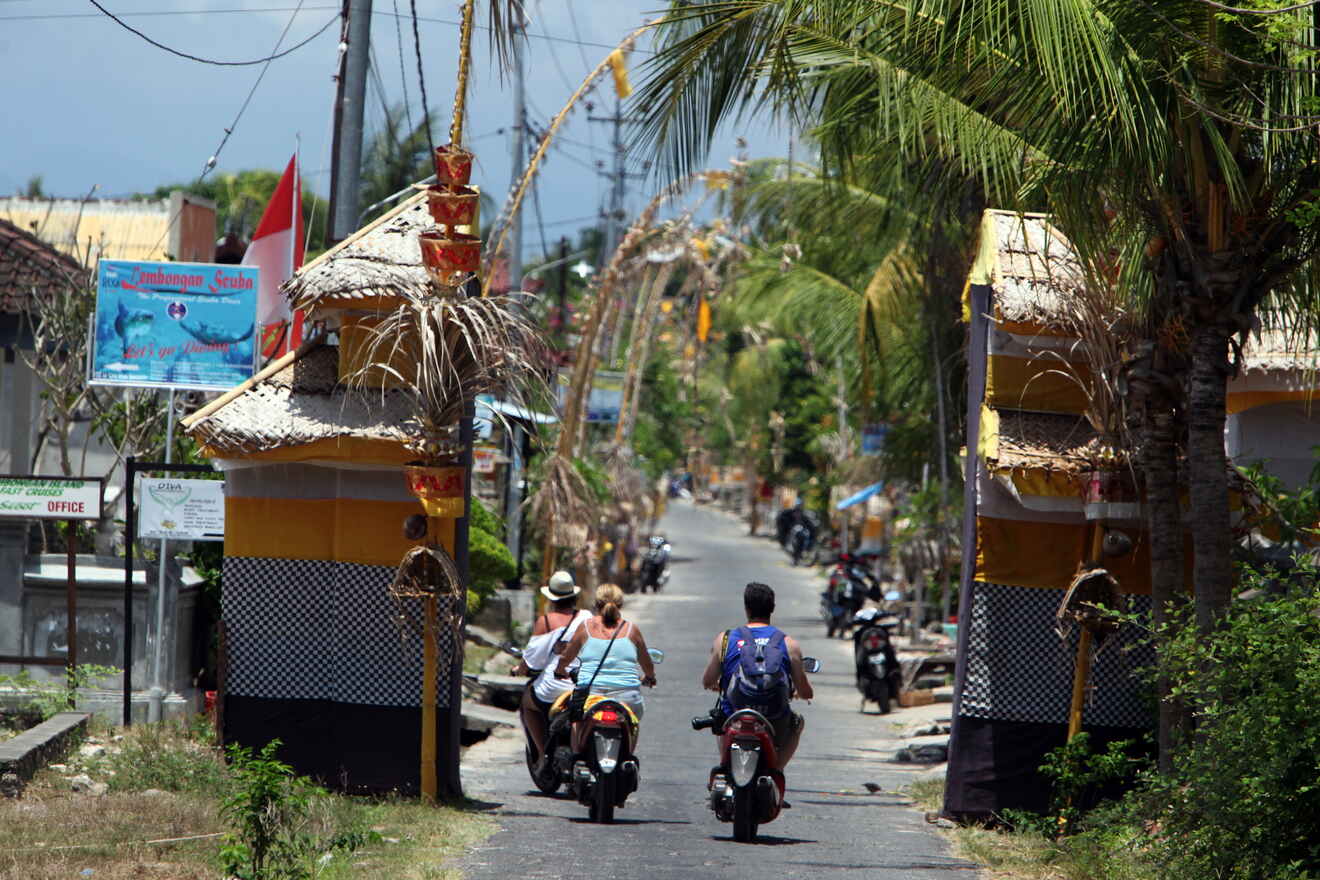 Well the most common and easiest way to get around Nusa Lembongan and Nusa Ceningan is by motorbike and you can literally find one anywhere you go so that won't be a problem (they usually cost around US$6 for a 24-hour rental).
However, if you don't feel comfortable on a motorbike there are different ways to explore the island:
Car – There are car rental services on Nusa Lembongan and the prices start from US$50 per day
Taxi – Alternatively, you can use taxis to get around, and although there aren't any Ubers, you'll find some local companies like Halo Taxi Lembongan which you can contact at +62 822-3636-0600
NOTE: Grab and Gojek which are popular apps on mainland Bali are currently not available on Nusa Lembongan.
Alternatively, if you don't want to spend money on renting a car or taxi, I recommend just booking a hotel near the attractions you want to see. The two main places to stay are on the west coast of the island around Jungutbatu Beach and between Mushroom bay and Dream beach.
How to get to Nusa Lembongan from Bali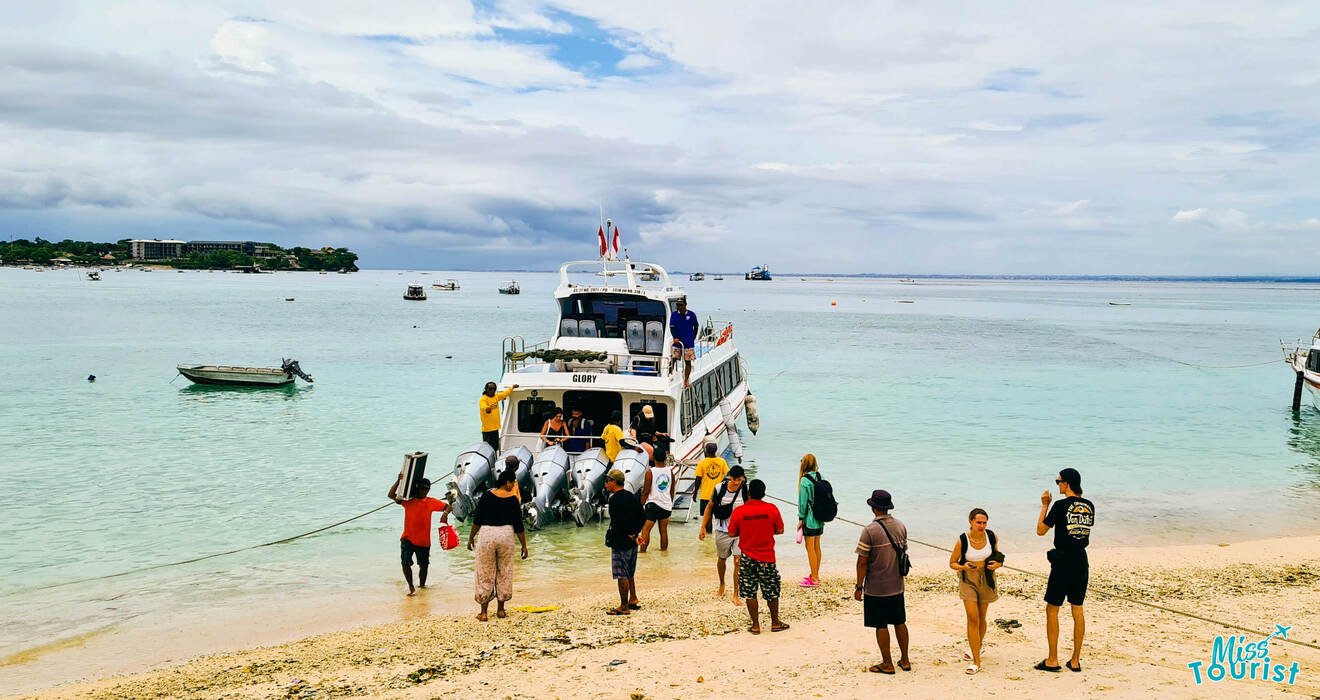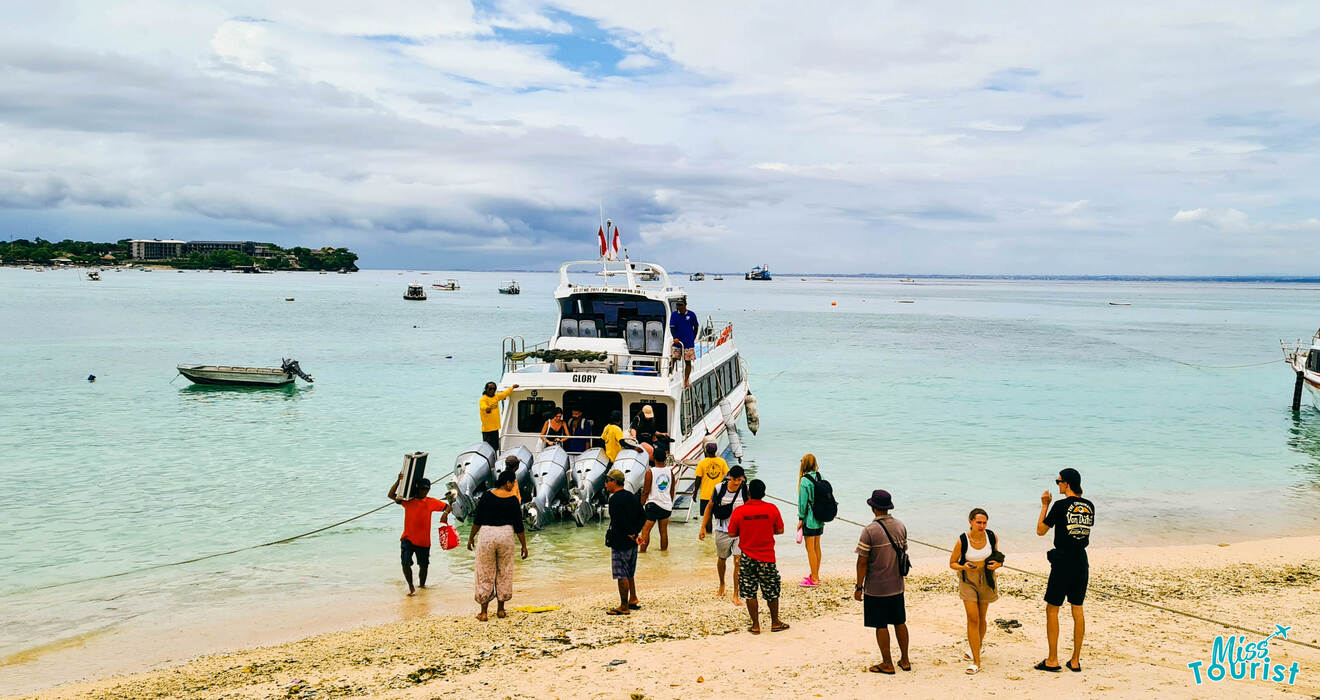 Most tourists who visit the Nusa Islands head over to Sanur harbour. There you'll find lots of boats that will take you there. The whole journey is around 30 to 40 min without any stops (you can take a fast boat or a slower boat).
I would recommend booking your slow or fast boat in advance. Otherwise, if you just show up and they don't have any room left, you'll have to wait for 1h before you can get on the next boat. A ticket usually costs around US$10 for a one way trip.
And if you're bringing big bags I'd say come 30 min early before your boat has to leave as they'll have to load up everything. If you don't have bags you can just show up there but remember that you may have to wait.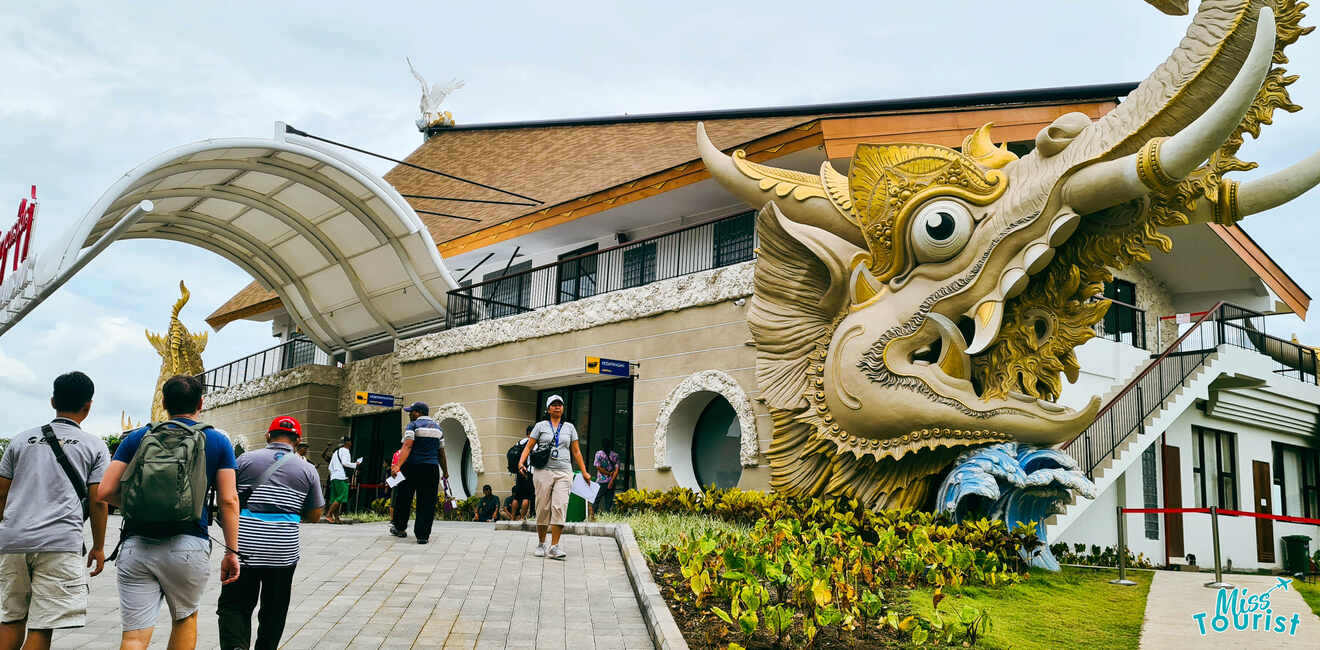 PRO TIP 1: When you get to Sanur many people will try to sell you a boat trip with them (even if there is a different company leaving sooner). Make sure you ask the time they leave because their next boat could be in 3h and I'm sure you're not interested to wait around for that long. Most likely there is another boat operator leaving earlier so definitely ask around to see who's leaving first.
PRO TIP 2: All the boats that leave from Sanur arrive on different beaches on Nusa Lembongan, so I'd recommend checking beforehand to see if the boat that you're hopping on arrives somewhere near your hotel.
NOTE: The last boat back to Bali from Nusa Lembongan is at 4PM.
When you arrive back to Bali (to Sanur station) you'll probably want a taxi to come and pick you up. Keep in mind that if you tell them to come right to the station you'll have to pay extra (around US$1). If you don't want to pay, I'd say walk a bit to get to the main road and call your Go Jek or Grab taxi there.
Where to eat in Nusa Lembongan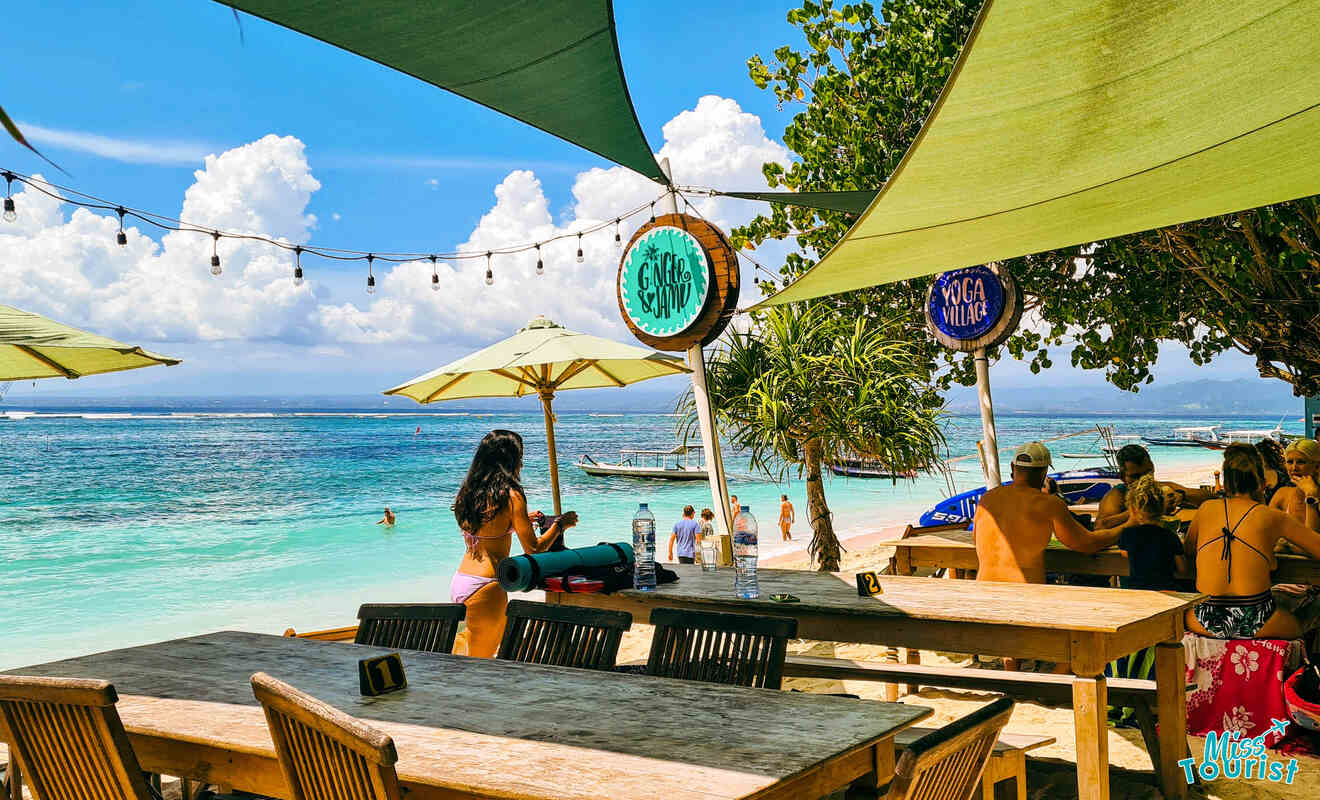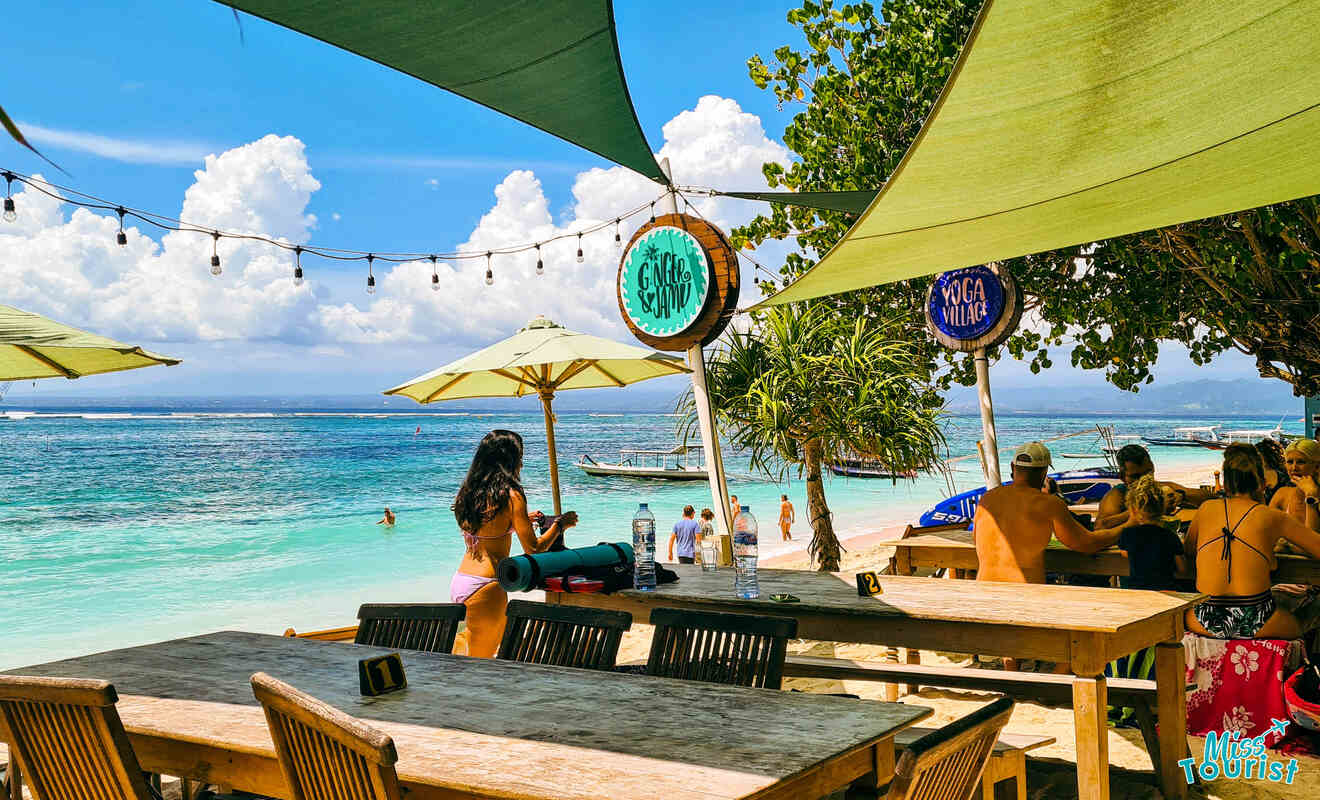 There are lots of fabulous places to eat in Nusa Lembongan and Nusa Ceningan, but if you're looking for something a bit more specific I thought I'd give you a short list of some great restaurants:
Ginger & Jamu – amazing food and a mesmerizing view to the ocean right from your table!
Bali Eco Deli – Looking for some yummy healthy food? Bali Eco Deli is the place to go! This awesome restaurant serves delicious dishes including some colorful smoothie bowls that I'm sure you'll love!
Coco Penida Restaurant & Bar – The perfect place for dinner and cocktails! This restaurant offers a mix of dishes with seafood, pasta, and other mouth-watering things
Indiana Kenanga Boutique Hotel & Restaurant – If you're searching for the perfect fancy restaurant where you can eat a delicious dinner, I'd recommend this one as it has a diversified menu which includes mushrooms, risotto and yummy fish dishes
FAQs about Nusa Lembongan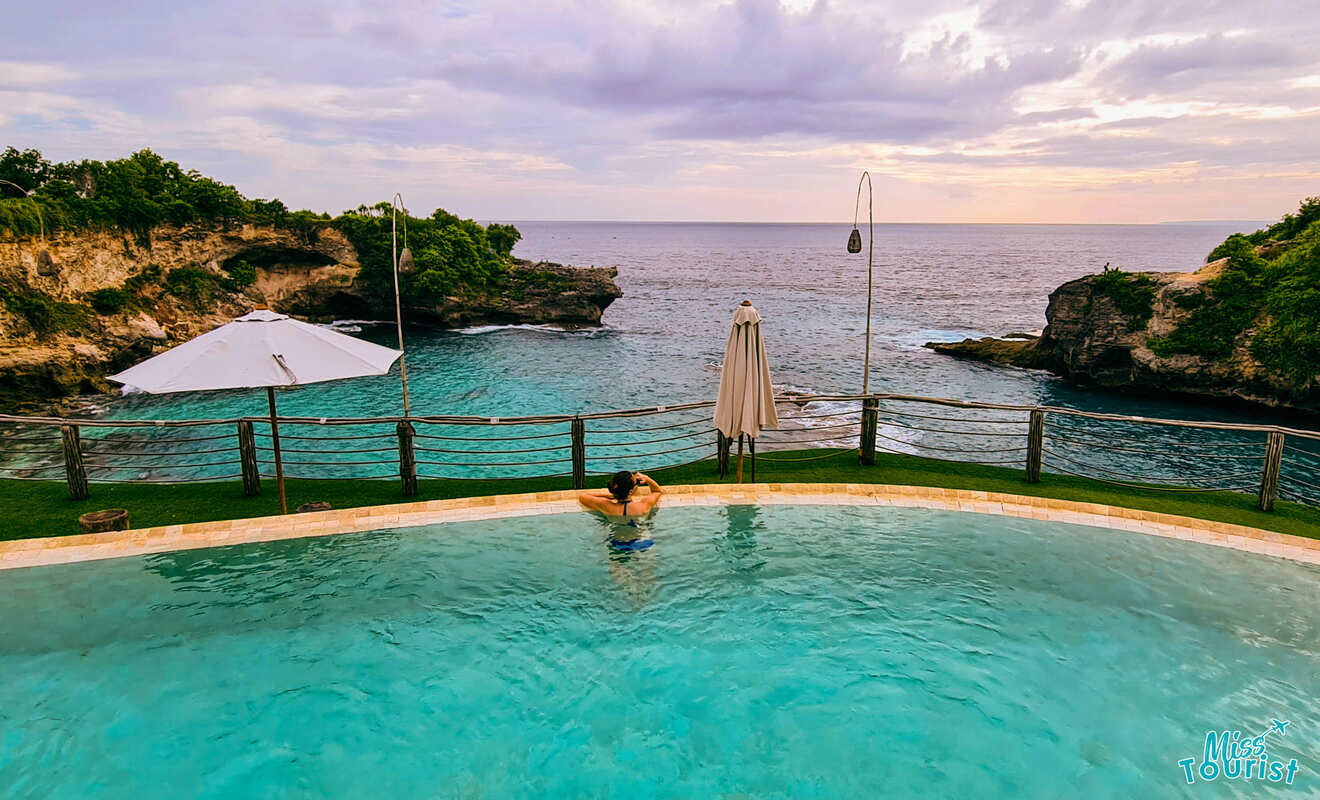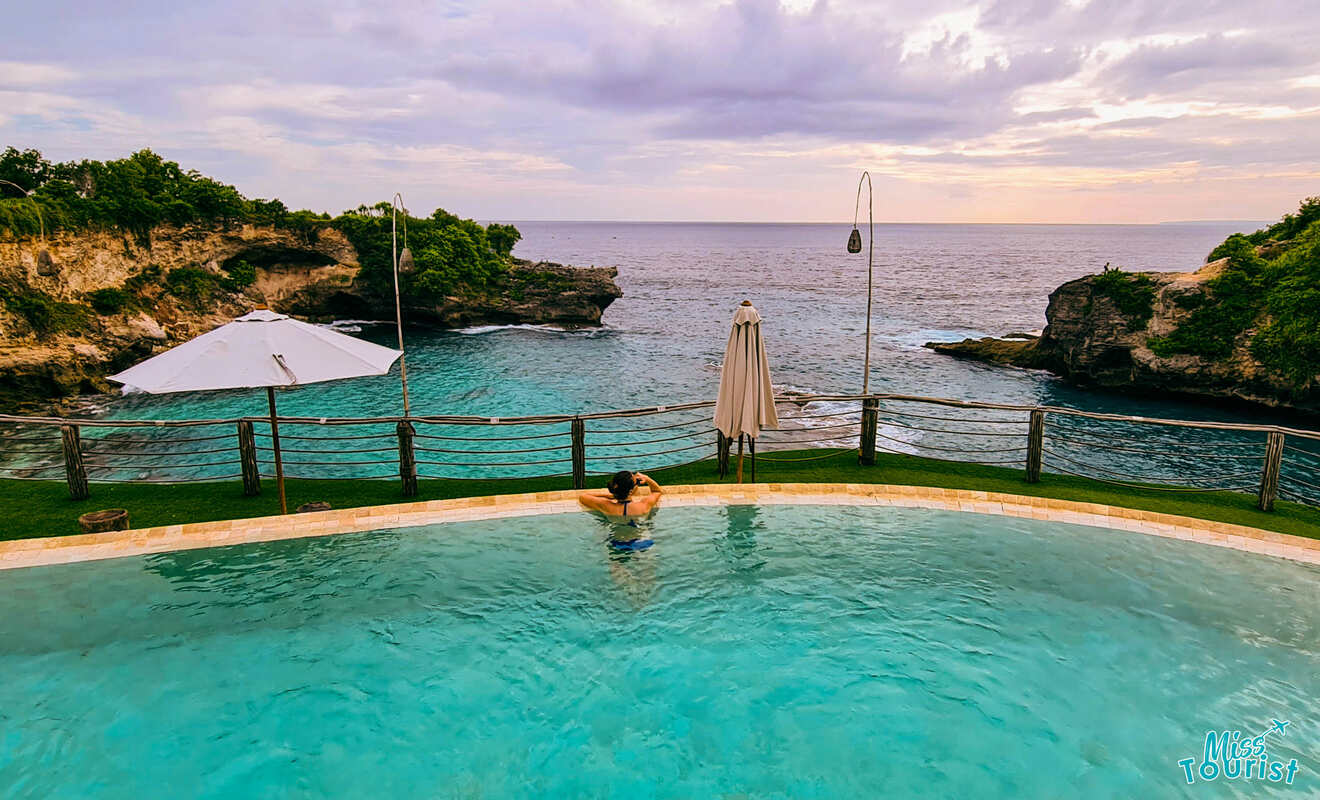 🏝️ How long should you stay in Nusa Lembongan?
I'd recommend spending 2 days here, that will give you enough time to try all the things to do in Nusa Lembongan and find all the good surf breaks spots.
🌞 When is the best time to visit Nusa Lembongan?
The best time to visit Nusa Lembongan is during the dry season between May to September.
🤔 What is Nusa Lembongan known for?
Nusa Lembongan is known as a top destination for surfing, scuba-diving and their seaweed farms which are found at low tide (their seaweed farms are so good they even export it to Japan!)
⚖️ Which is better: Nusa Penida or Nusa Lembongan?
Nusa Penida is great for adventure seekers as it has some insane scenery, while Nusa Lembongan is a bit more relaxed and you'll find lots of restaurants and resorts.
Conclusion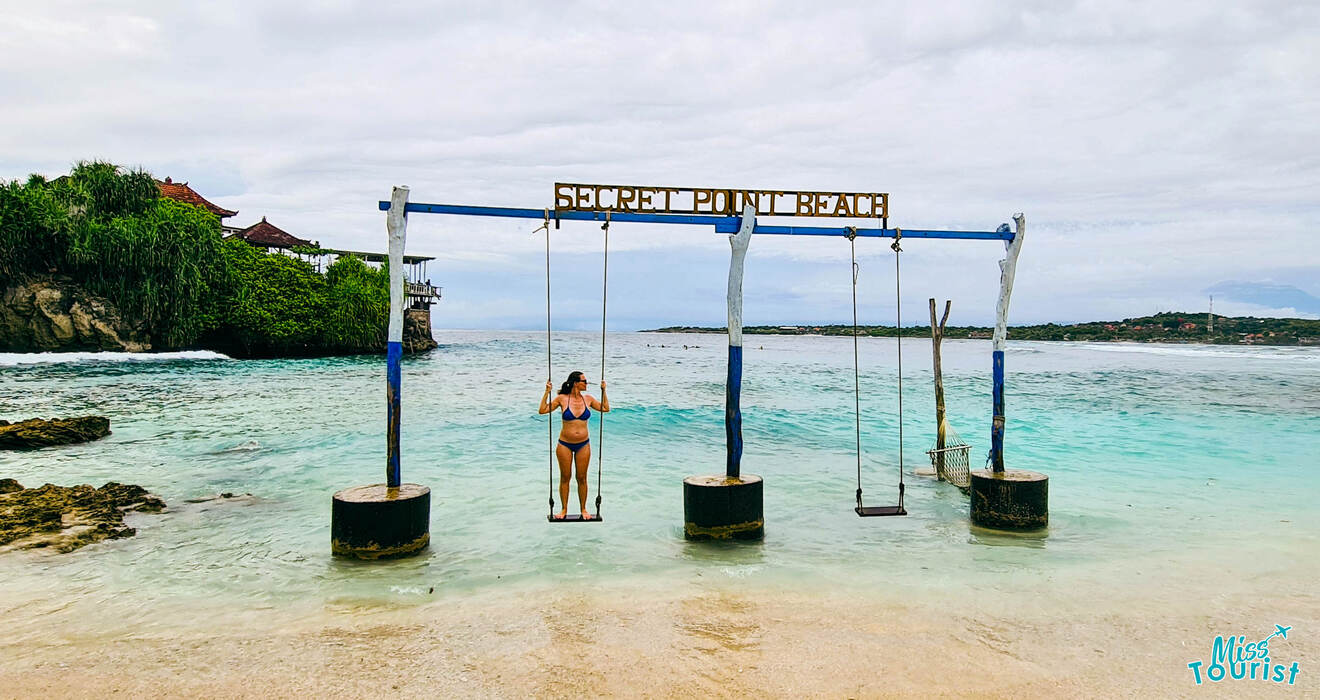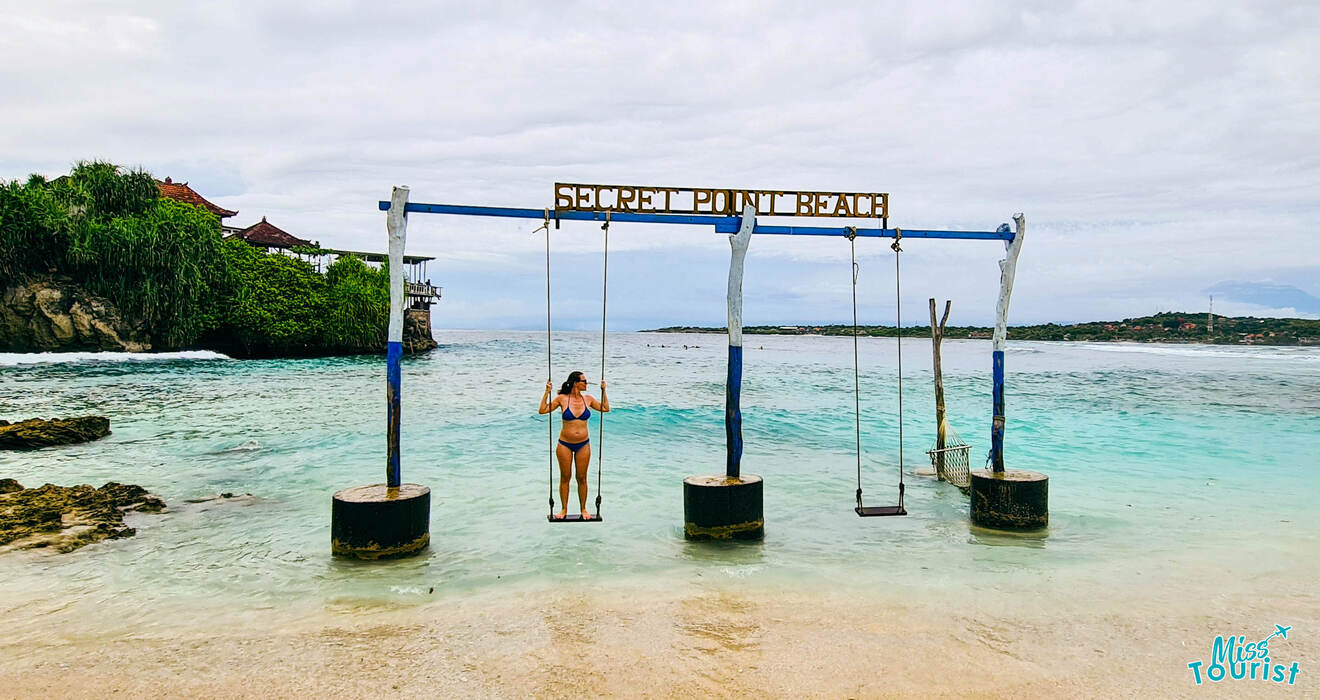 Wow, who knew Nusa Penida's smaller brother had so many fantastic attractions!
Now that we've gone through all the things to do in Nusa Lembongan, and also saw all the other important things like how to get here and where to stay, I think we're ready to wrap it up!
Don't forget that it's important to book your attraction tickets and hotels in advance. Although it's not as popular as Bali, Nusa Lembongan gets more and more tourists every year. If I were you, I would pre book a tour to snorkel with Manta Rays and a Mangrove forest trip to make sure you don't miss out on these cool activities!
Now it has been so fun to tell you all about these islands and relive a bit of my trip there! I'm sure you'll enjoy your time there as much as I did. But if you've got any questions on which are the best things to do in Nusa Lembongan or anything else just let me know in a comment below and I'll help you ASAP!
Happy travels,
Yulia
---
Pin it for later!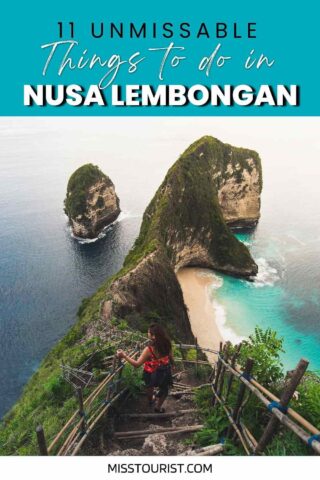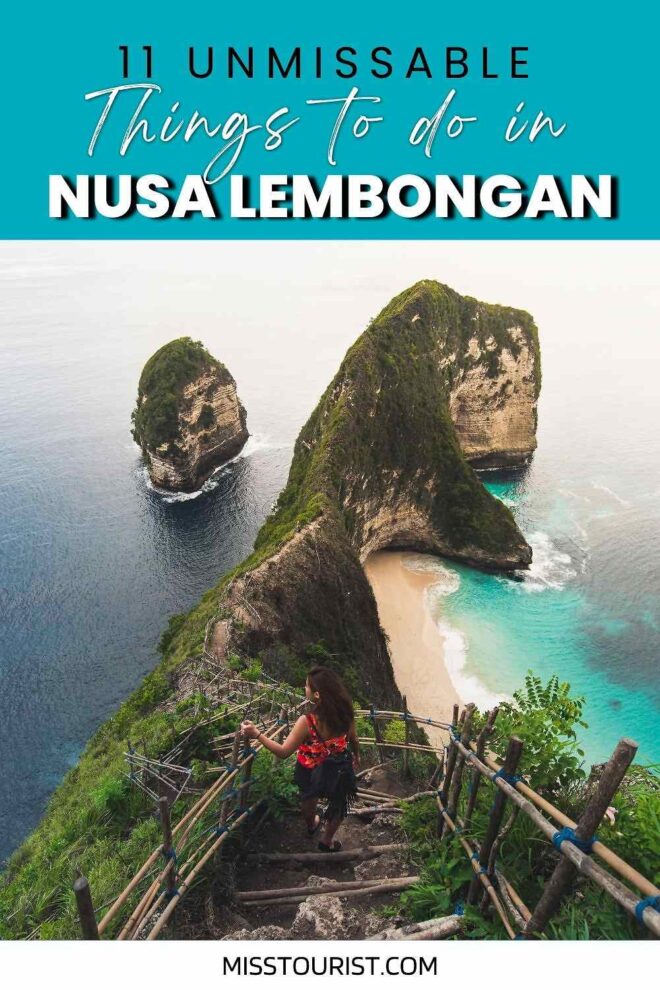 Pin it for later!