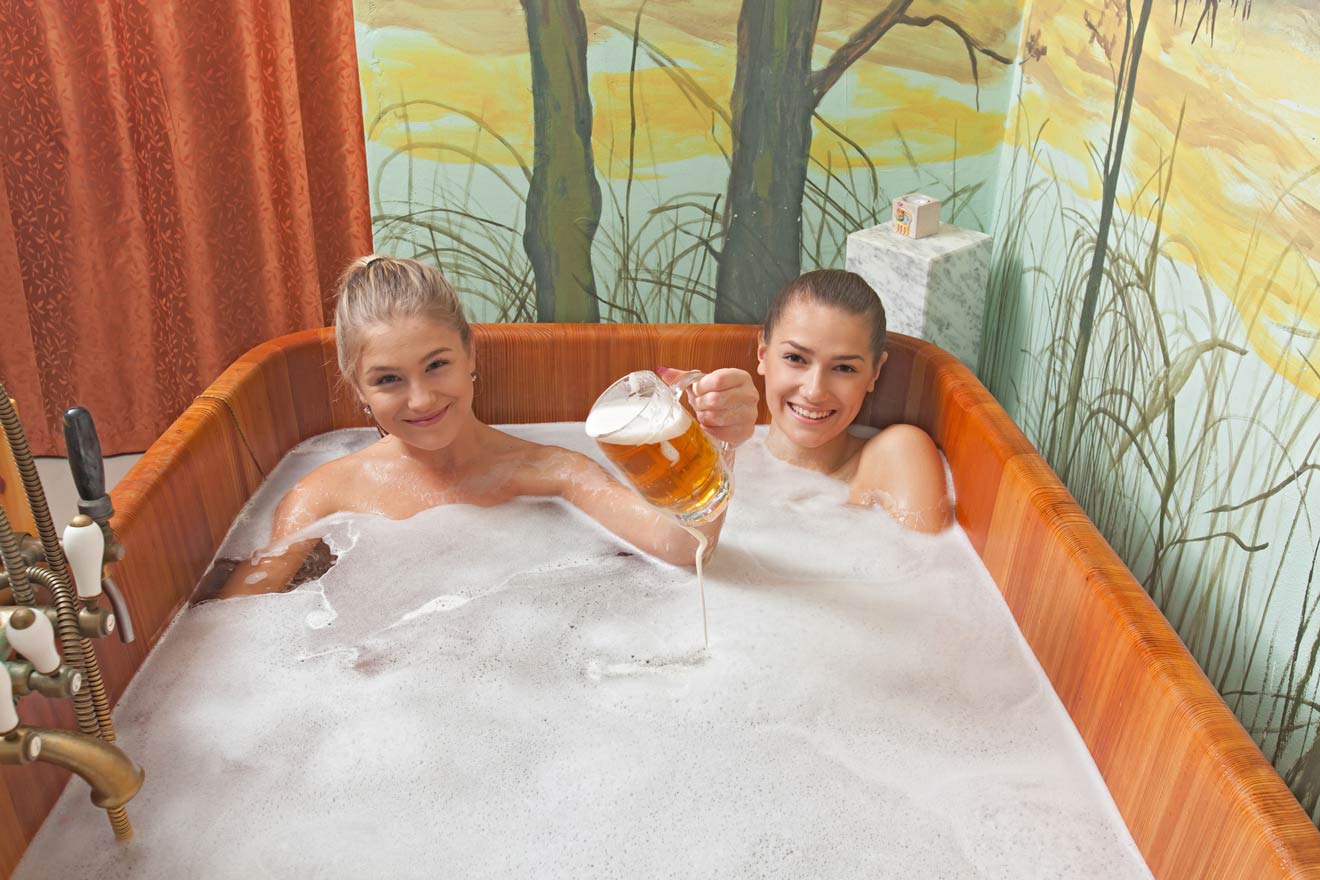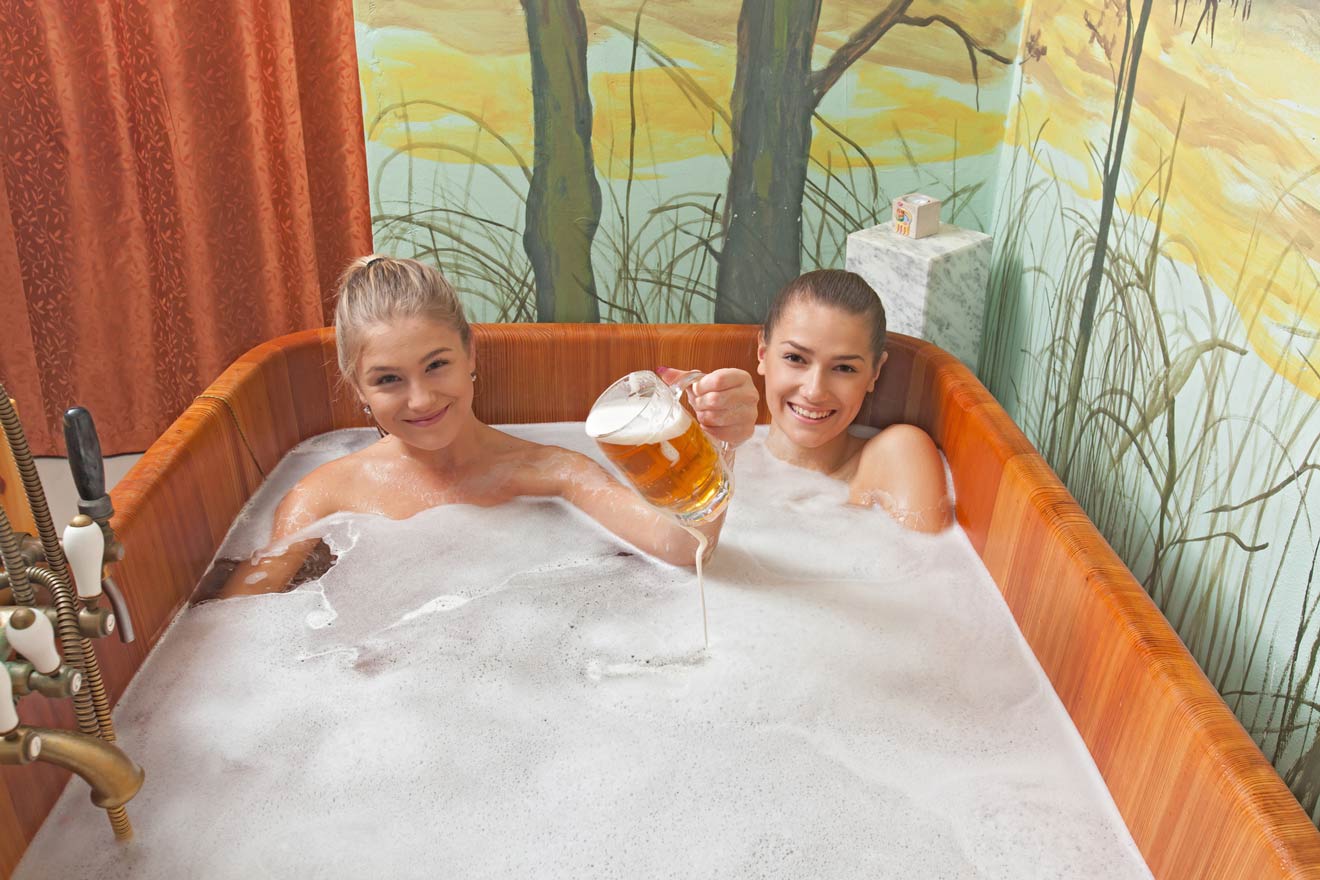 Whether it's your first time visiting Prague or your 20th, this is a city which keeps on giving when it comes to unique attractions. If you've checked off all the normal touristic activities in Prague already, then you are in the right place to find some cool and unusual things to do in Prague!
I have hand picked the top attractions and compiled this collection of the coolest non touristy things that you won't find on any regular list! Just remember that even though these are a bit off the beaten path, some of them you still need to book in advance as there are limited spots.
So let's not waste anymore time and get straight into discovering these hidden gems!
If you are in a hurry
If you don't have time to read the whole post right this second, just make sure to book the ones below in advance!
Here are the main things to book in advance:
And here are the best hotels: Grand Hotel Bohemia (luxury), MOODs Charles Bridge (mid-range), Little Quarter Hostel (budget)
1. See the John Lennon Wall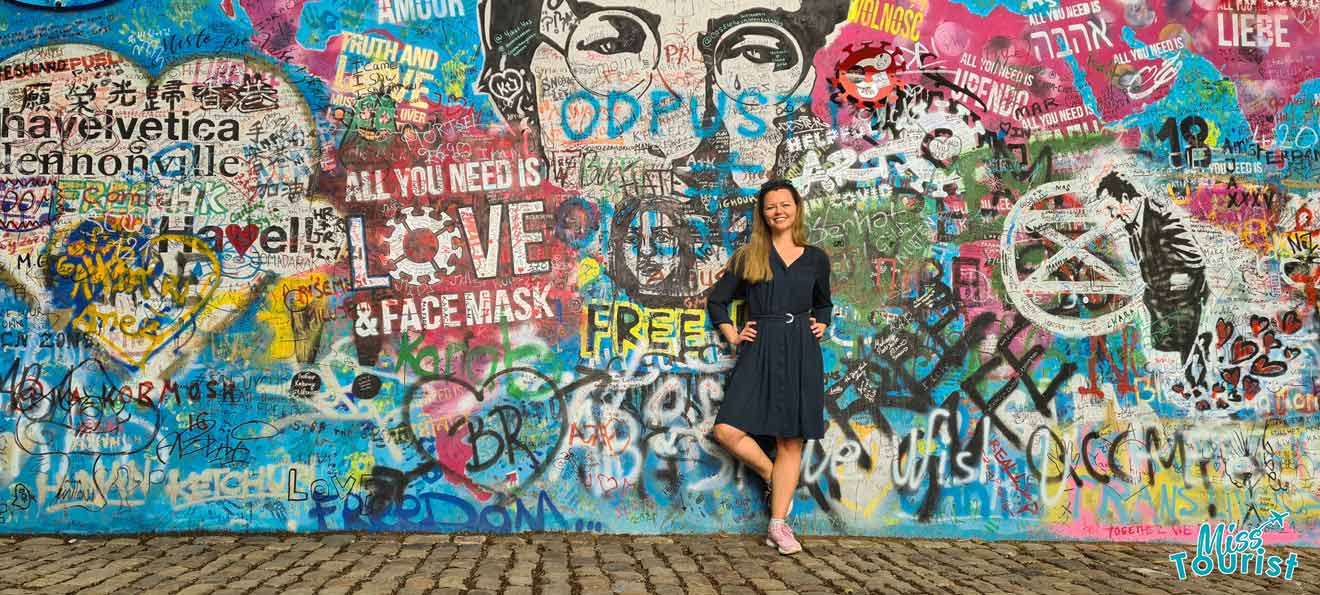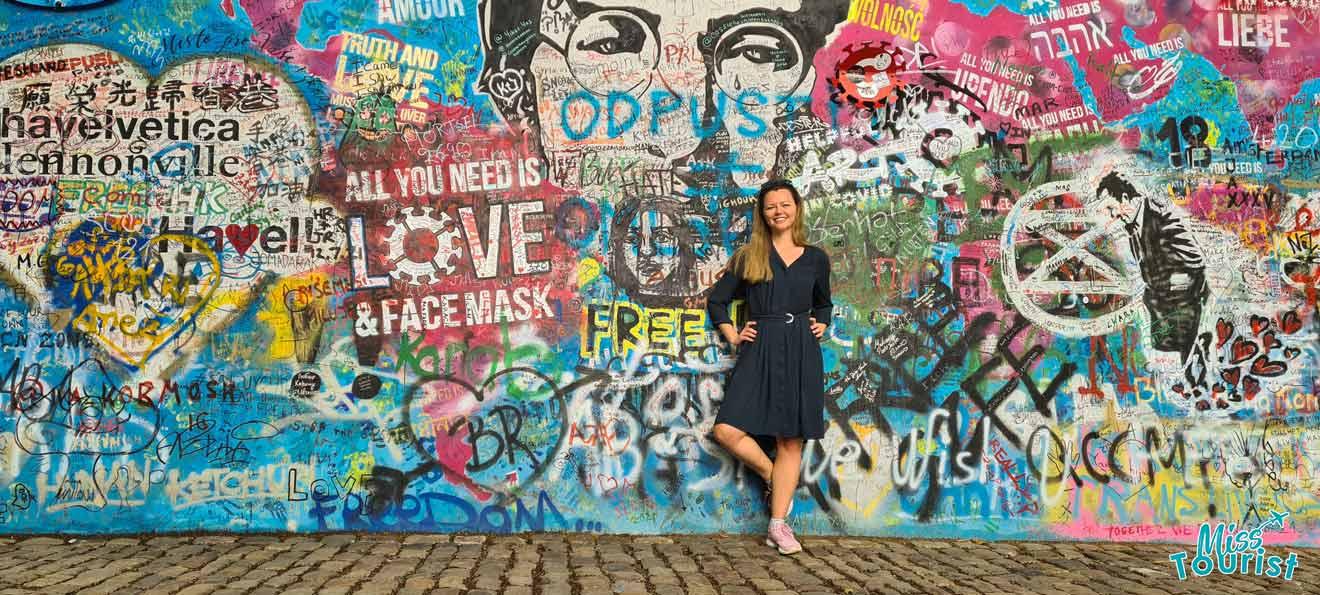 I'm sure you've heard about the famous John Lennon Wall before, as it's one of the coolest things to do in Prague!
It was around the 1980s, after his assassination, that the John Lennon Wall in Prague went from being a regular wall to a tourist stop. The John Lennon Wall has been covered with a variety of Lennon-inspired graffiti, lyrics from Beatles' songs, and paintings that mention local and global causes.
There is almost always a street musician near the Lennon Wall playing some of Lennon's songs, so I definitely recommend checking it out just for the atmosphere!
2. Relax at a beer spa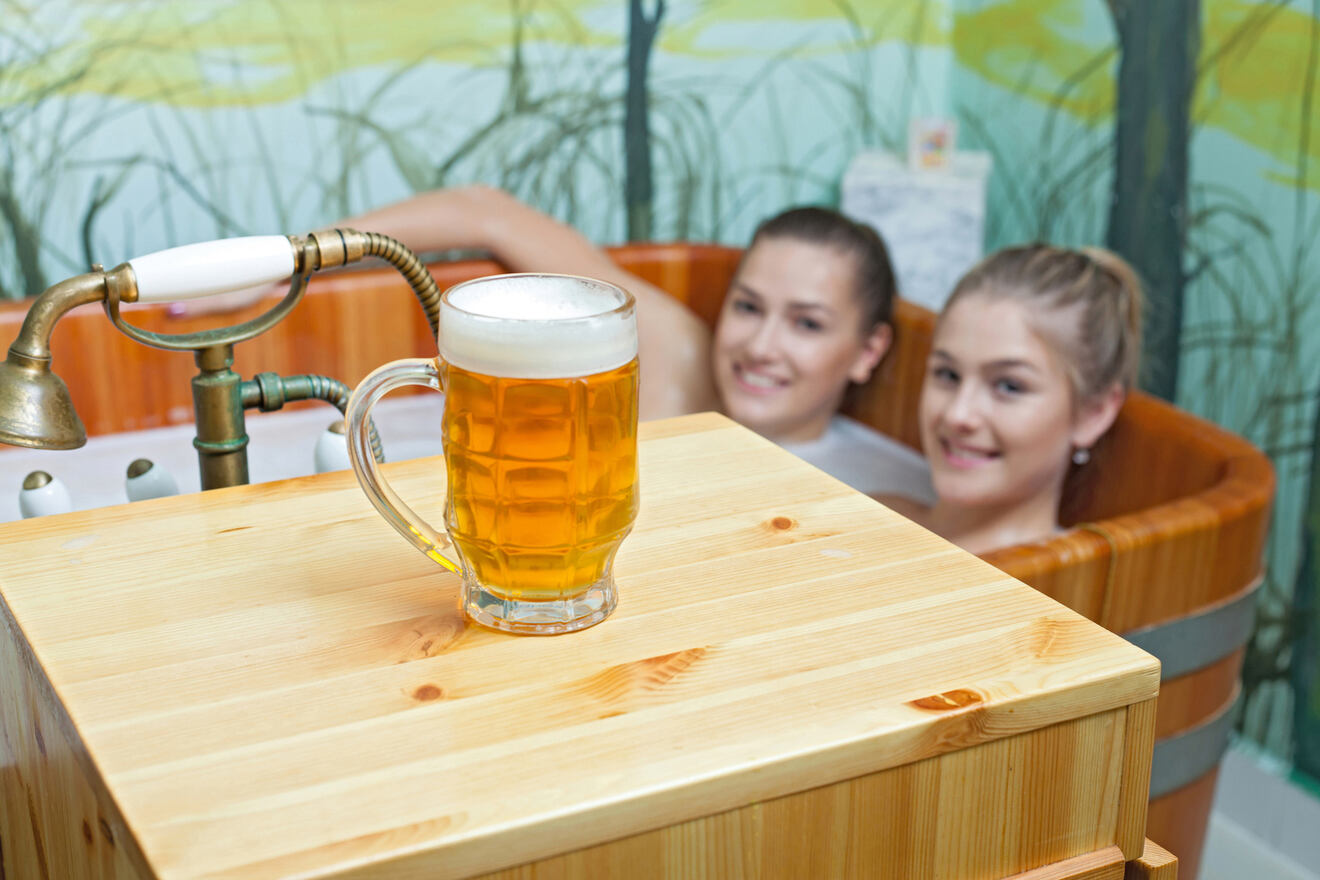 Yep, you read that right, a beer spa! As you might be able to imagine from the name, at the beer spa you will not only be treated to unlimited beer (to drink), but you will also soak in a bath of beer!
Even though it may just sound like a fun gimmick, Beer baths are actually a medical procedure from the Middle Ages, known to cleanse the pores and regenerate skin and hair!
Each group will get a private room with multiple specialized baths and afterwards, you will get to relax on a heated bed. To really complete the experience, add a beer massage to your booking!
All you need to bring is your bathing suit, although since it's a private experience, you don't even need that if you want to bathe in your birthday suit!
PRICE:  €150 for 2 people
Book Your Beer Bath
3. Find the quirky art around town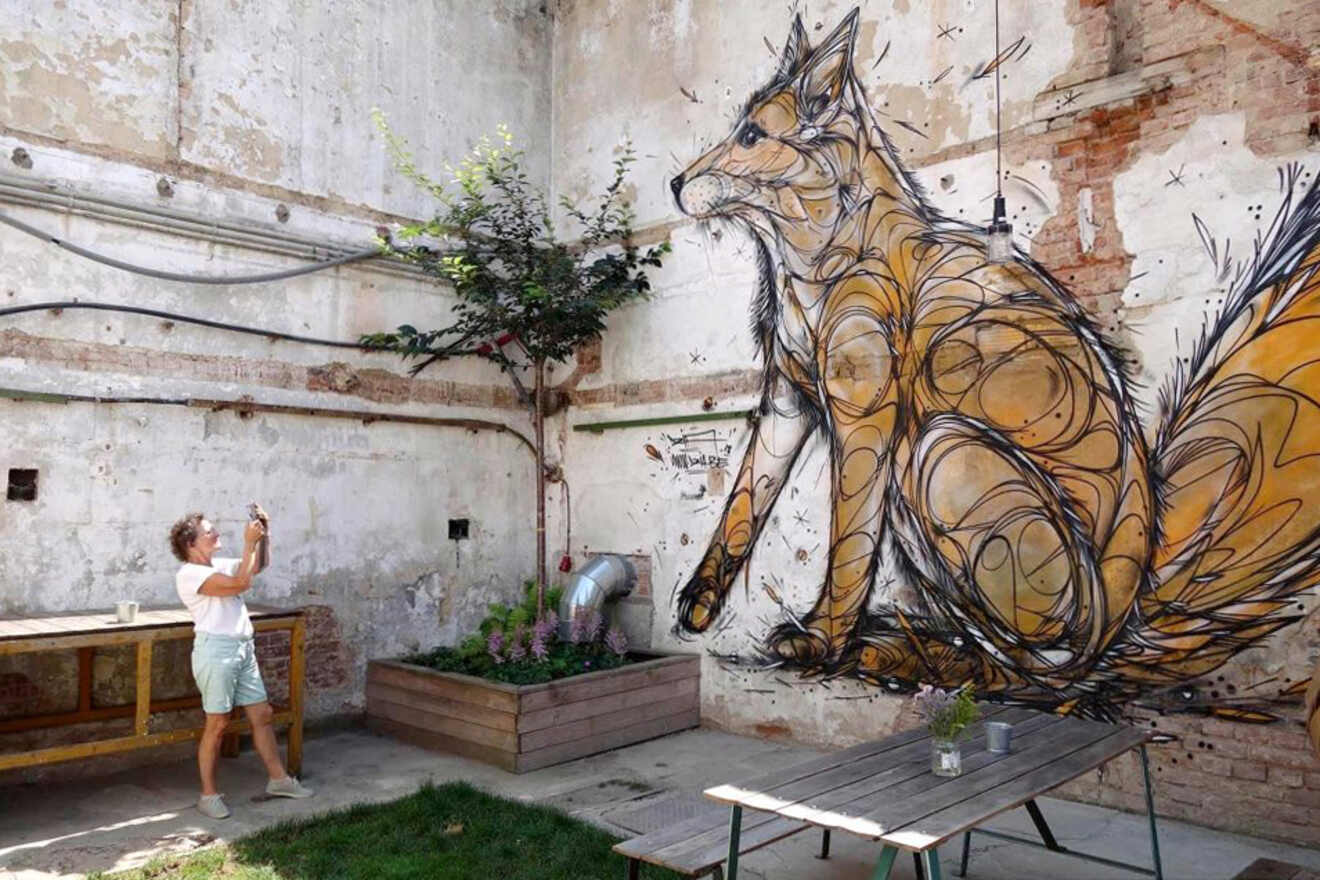 If you're like me and love to discover the underground scene in any new city that you visit, then you absolutely must go on a scavenger hunt for all the cool art you will find in Prague. It will give you a great insight into Czech culture. The easiest way to do this is to join this alternative Prague walking tour where you will be guided around the city by a local who will point out all the cool and local expressions of art. Your guide will tell you personal stories and let you in on the secret cultural hotspots, handy tips, hidden gems and hipster hangouts! All this for just €27 per person.
However, if you prefer to explore the city alone, here is a list of some of the top things to look out for (and their locations):
Book an Alternative Walking Tour
4. Visit the dancing house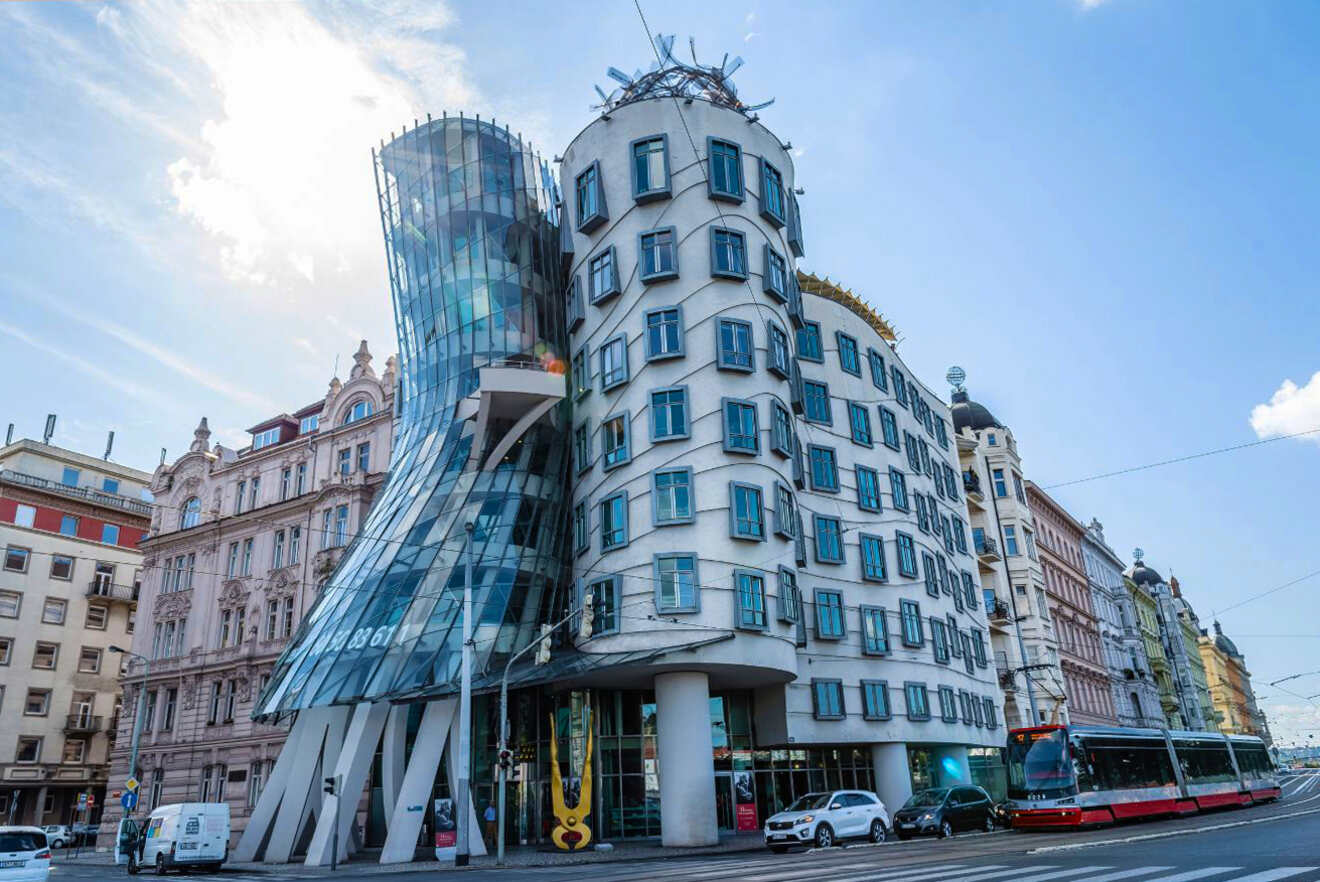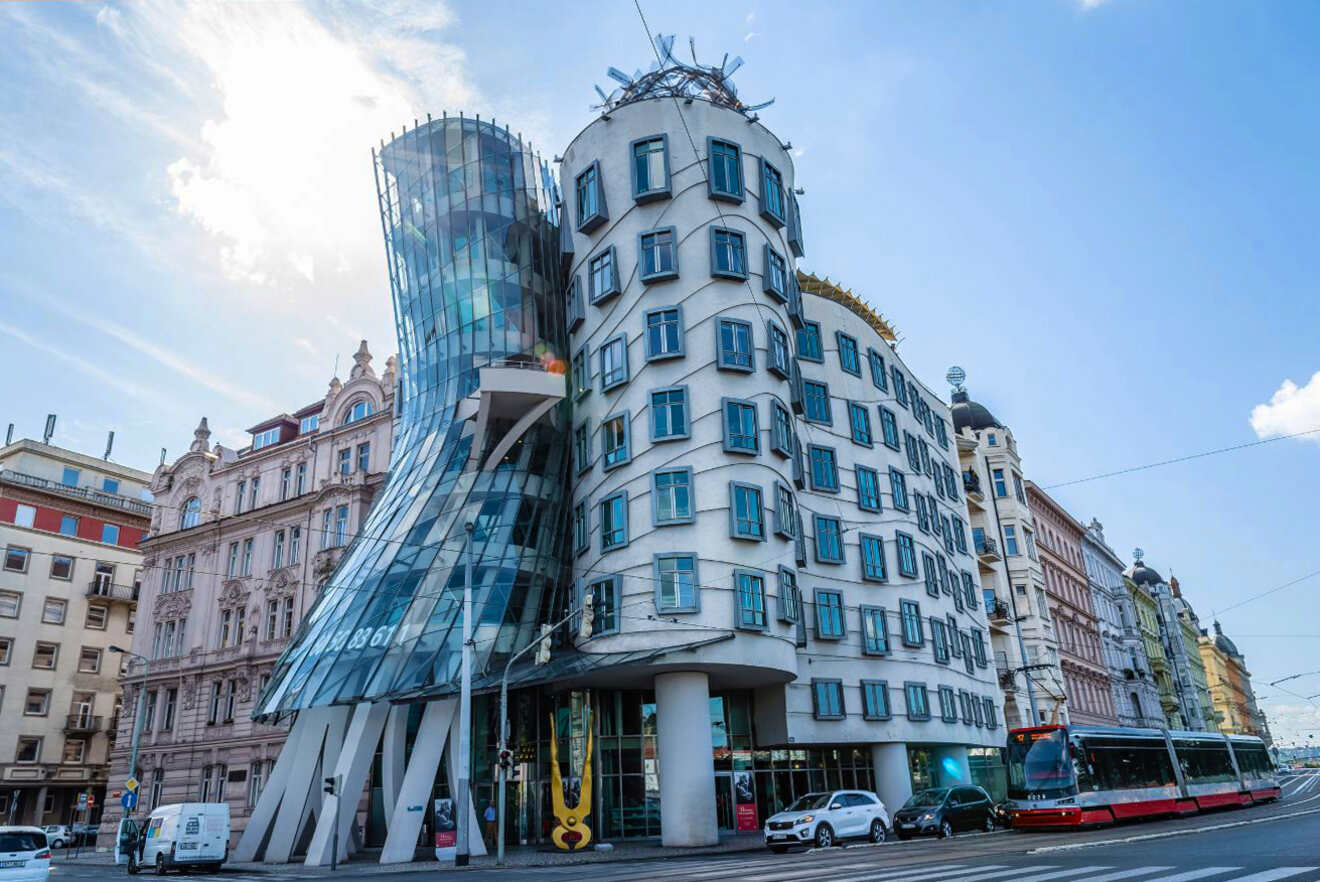 The Dancing House was very controversial when it was created as its design clashes with the Baroque, Art Nouveau and Gothic style that dominate the city center. This is why you should add it to your list of top things to do in Prague!
FUN FACT: The building is also known as "Fred and Ginger" because of its resemblance to a pair of dancers! Plus, these names were famous in the Czech Republic at the time.
The building itself is a beauty to look at from the outside, with it's unusual shape and glass tower, but the other part of the magic is inside, where you can find the Dancing House Hotel, the Ginger & Fred Restaurant, the brilliant GLASS bar, a shop, an art gallery and a panoramic rooftop!
NOTE: To enter the art gallery and rooftop you must buy a ticket
PRICE: €9 (entrance to art gallery and rooftop)
Buy a Ticket to the Dancing House
5. Learn more about Franz Kafka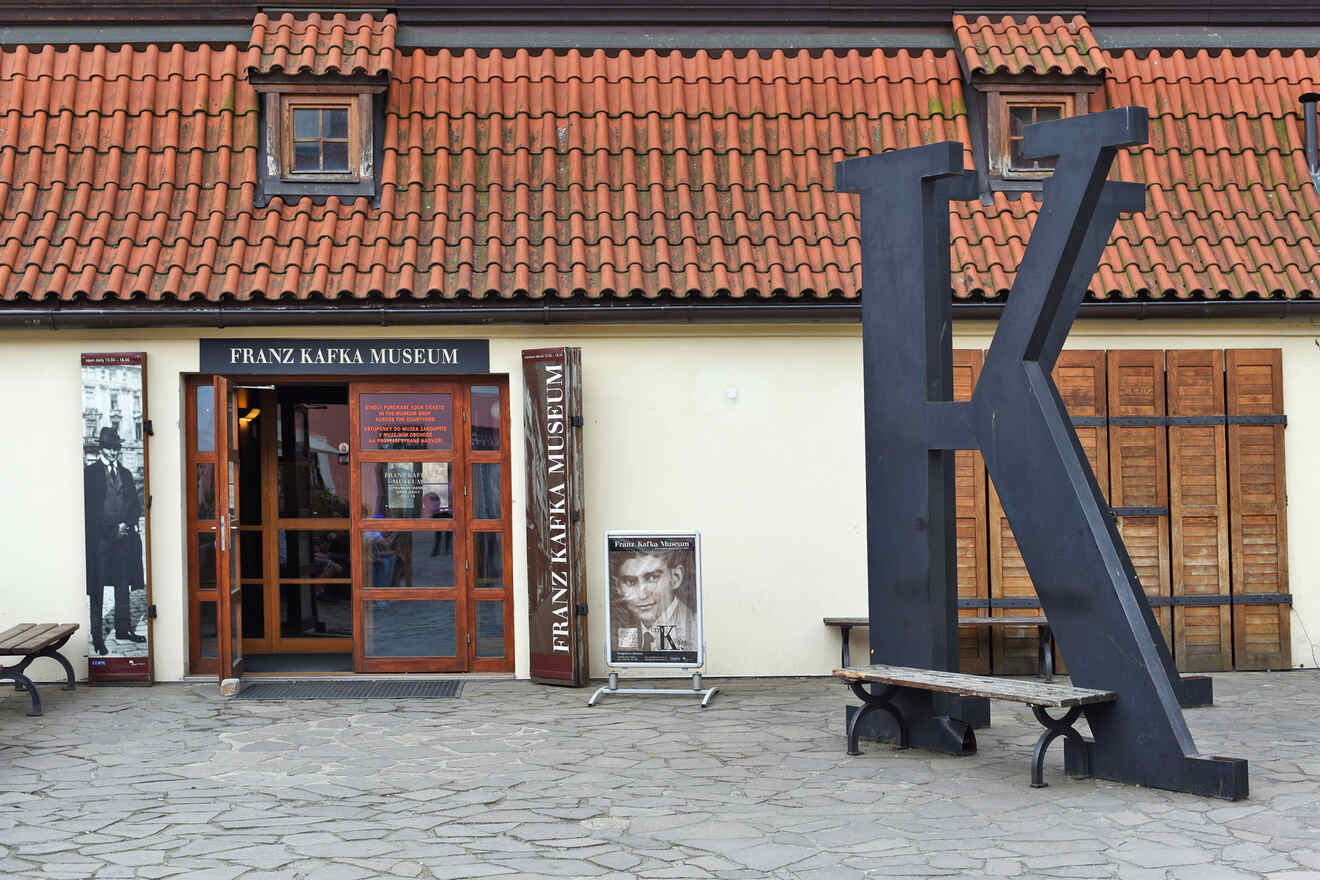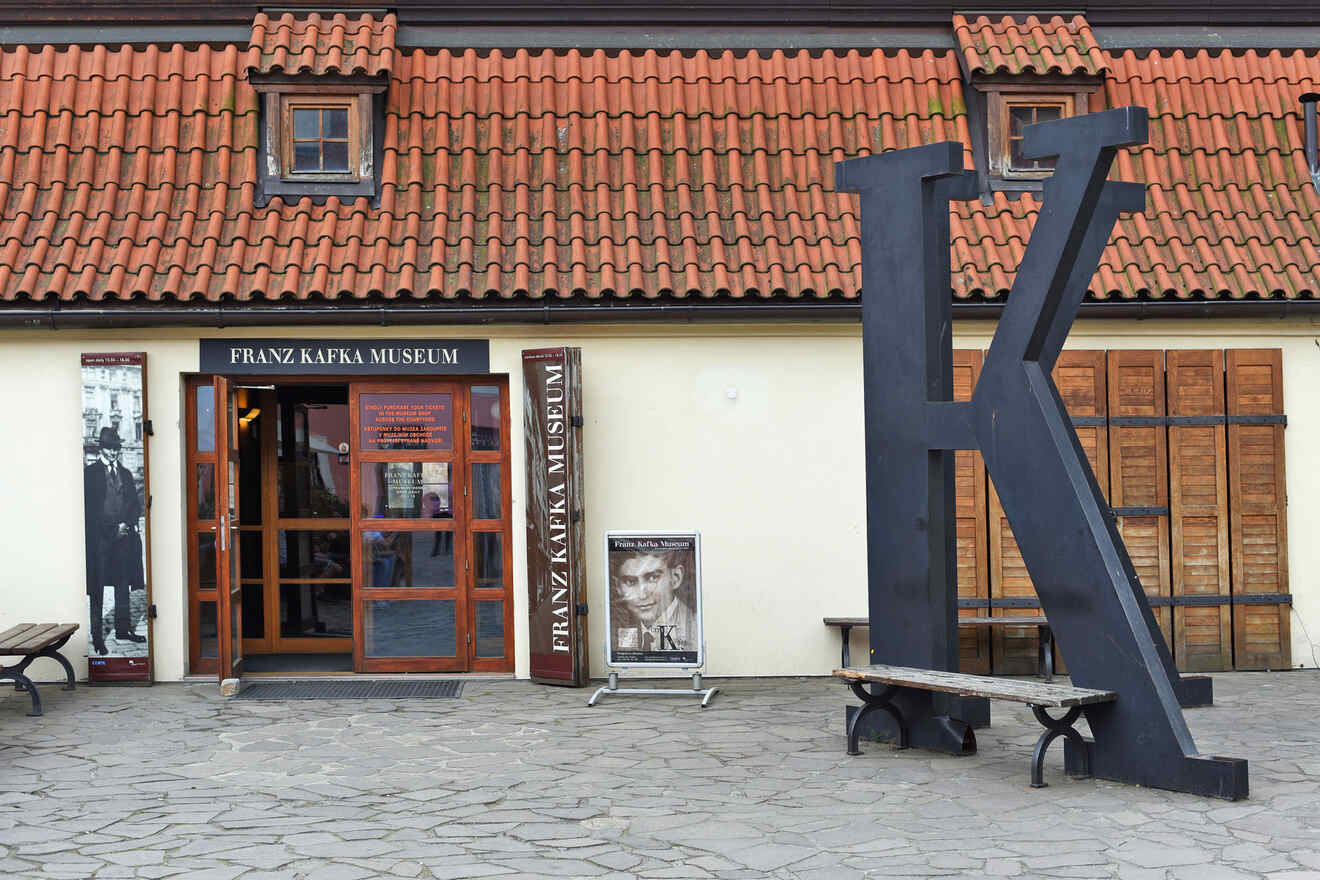 Franz Kafka was a world renowned author, known as a major figure of 20th-century literature. Being born in Prague, it is only natural that the city honors this incredible figure in a number of ways.
In fact, Kafka lived in the Old Town, right beside the astronomical clock, and at another stage, with his sister in house number 22 on Golden Lane inside the Prague Castle Grounds!
If you want to learn more about this interesting icon, your first stop should be a visit to the Franz Kafka Museum. Located right above the shore of the Vltava River, the museum shows many never displayed, first edition Kafka works from diaries to photographs and drawings!
NOTE: You can book a guided tour around the museum, but it is recommended to do it at least 7 days in advance to ensure your spot.
Alternatively, if you are a big fan or simply want a more interactive experience, I recommend joining this Prague through the eyes of Franz Kafka tour. Your guide will take you around the streets to the sites where Kafka got his inspiration and spent most of his days, and even his old university!
PRICES:
Book your Tickets
6. Take a communism tour of Prague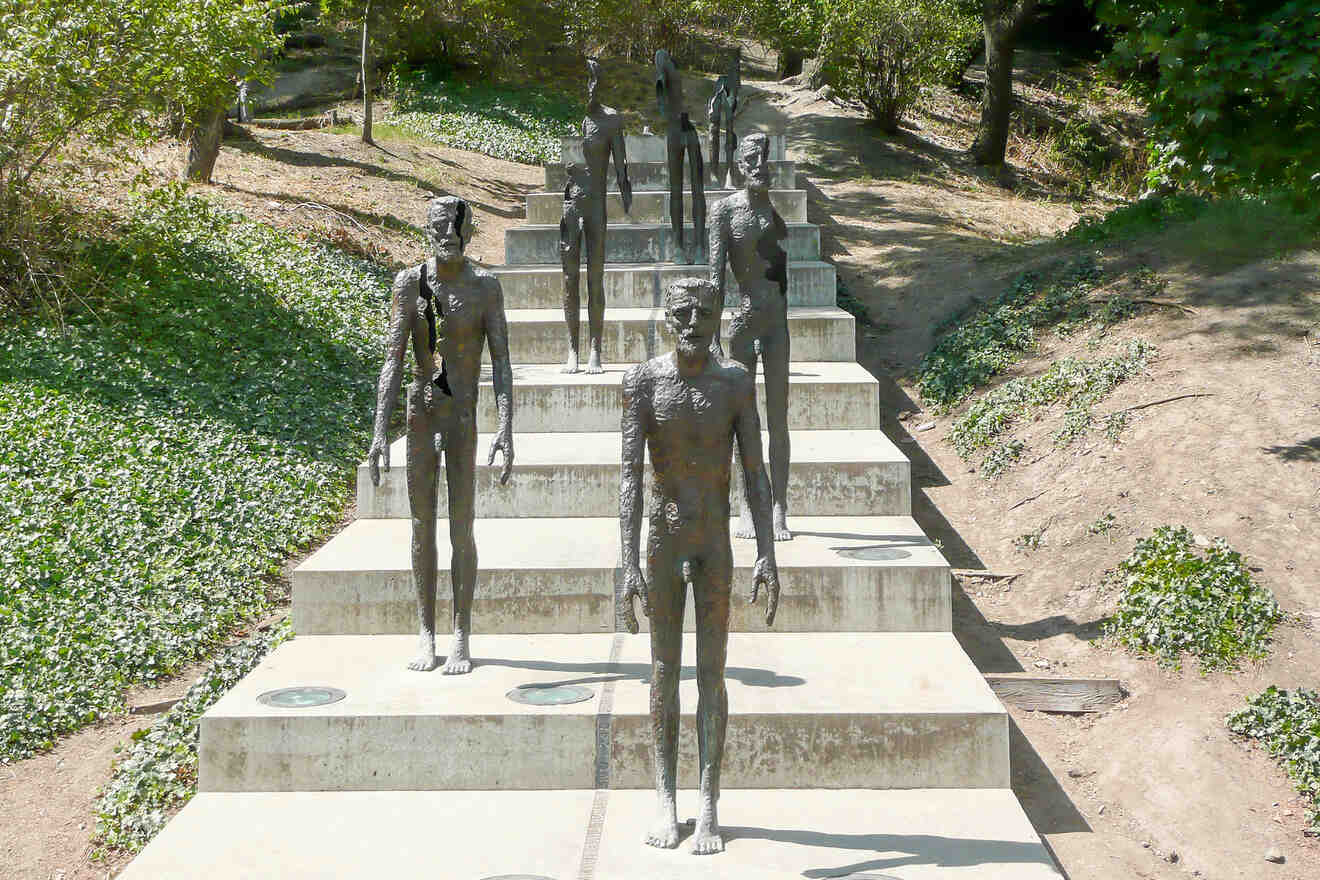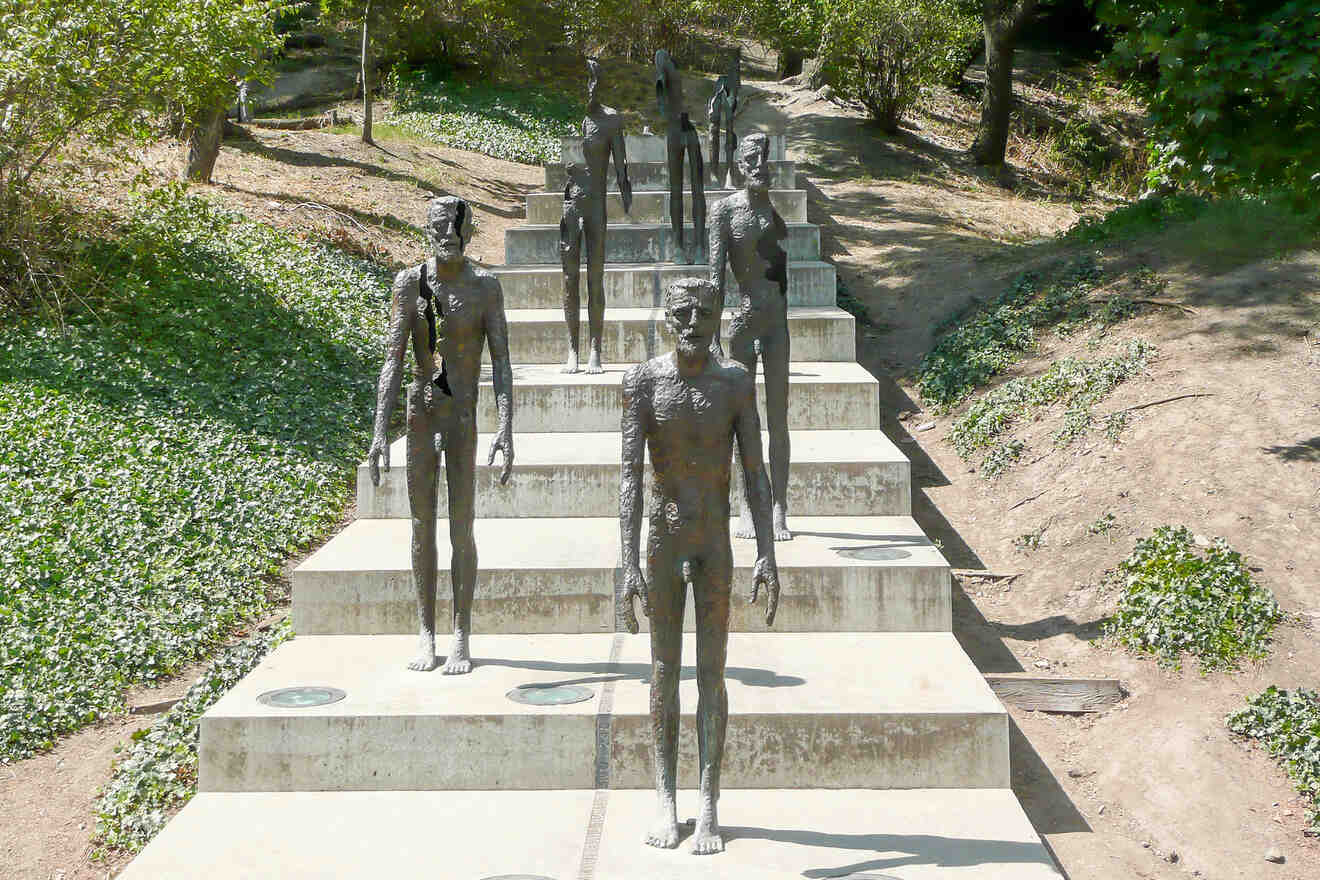 The Czech territory was ruled by the Communist Party between 1948 and 1989, leaving a lasting impact on the city which is still visible today. At one point the largest Stalin Statue in the world stood in the Czech Capital, but as the de-stalinization movement began to take traction, the statue became a liability for the communist party so they blew it up!
Nowadays, a giant working metronome stands in the place where the communist monument once stood. While you can visit the monument in Letna Park by yourself, if you want to learn more about the Communism era and life at a nuclear bunker, I suggest taking this 2-hour tour.
Your guide will tell you stories about what it was like to live in Prague during the communist era and at the end, bring you to a real bunker used during the cold war, which is hidden underneath Hotel Jalta in Wenceslas square!
If, on the other hand, you just want a general idea of what the Czech Communism period was like you should visit the Museum of Communism. The museum can be visited by yourself for CZK 380 (€15), or with a guide for CZK 1.500 extra to the entrance fee (€60).
PRICES:
Join a communist tour of Prague
7. Enjoy a traditional medieval dinner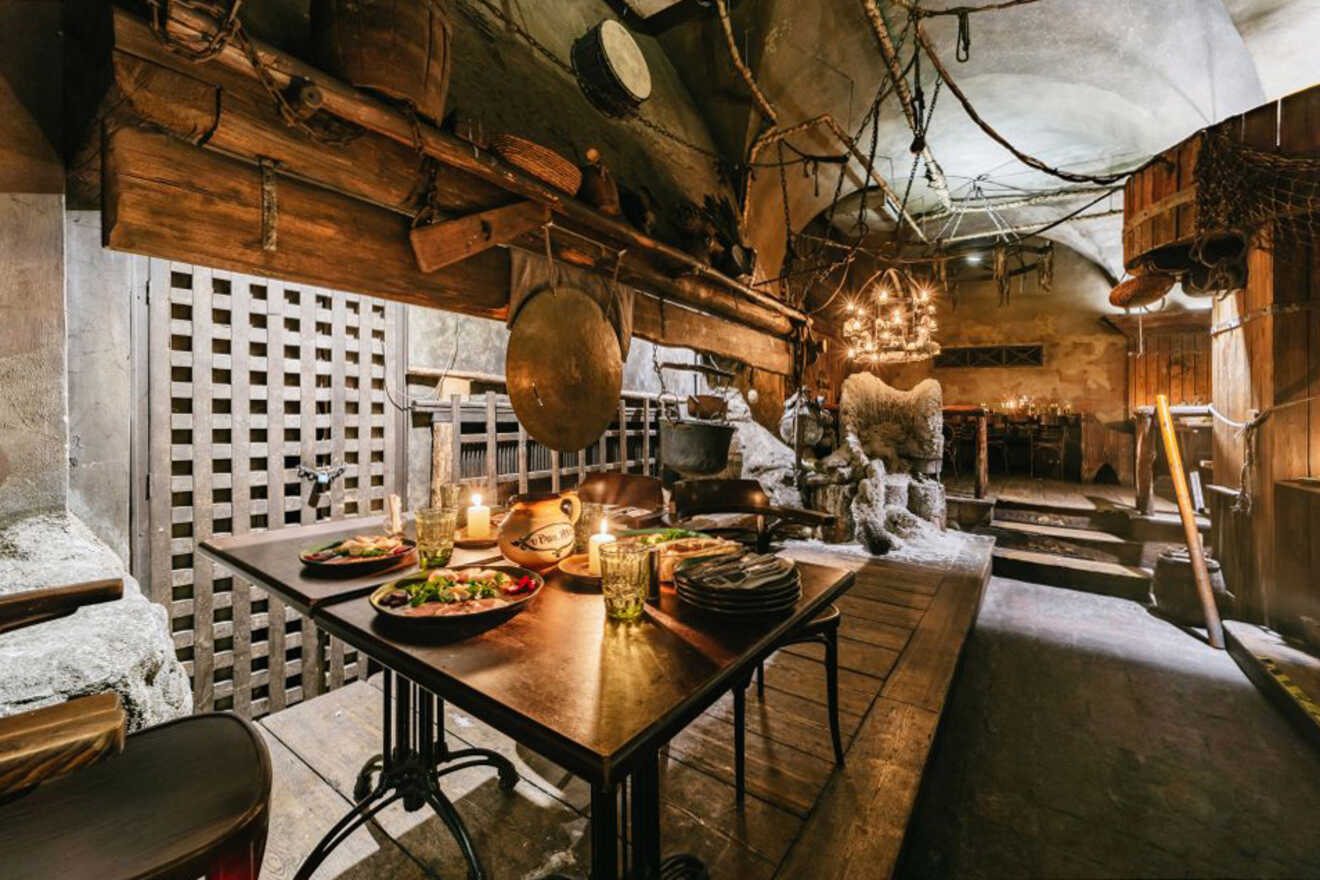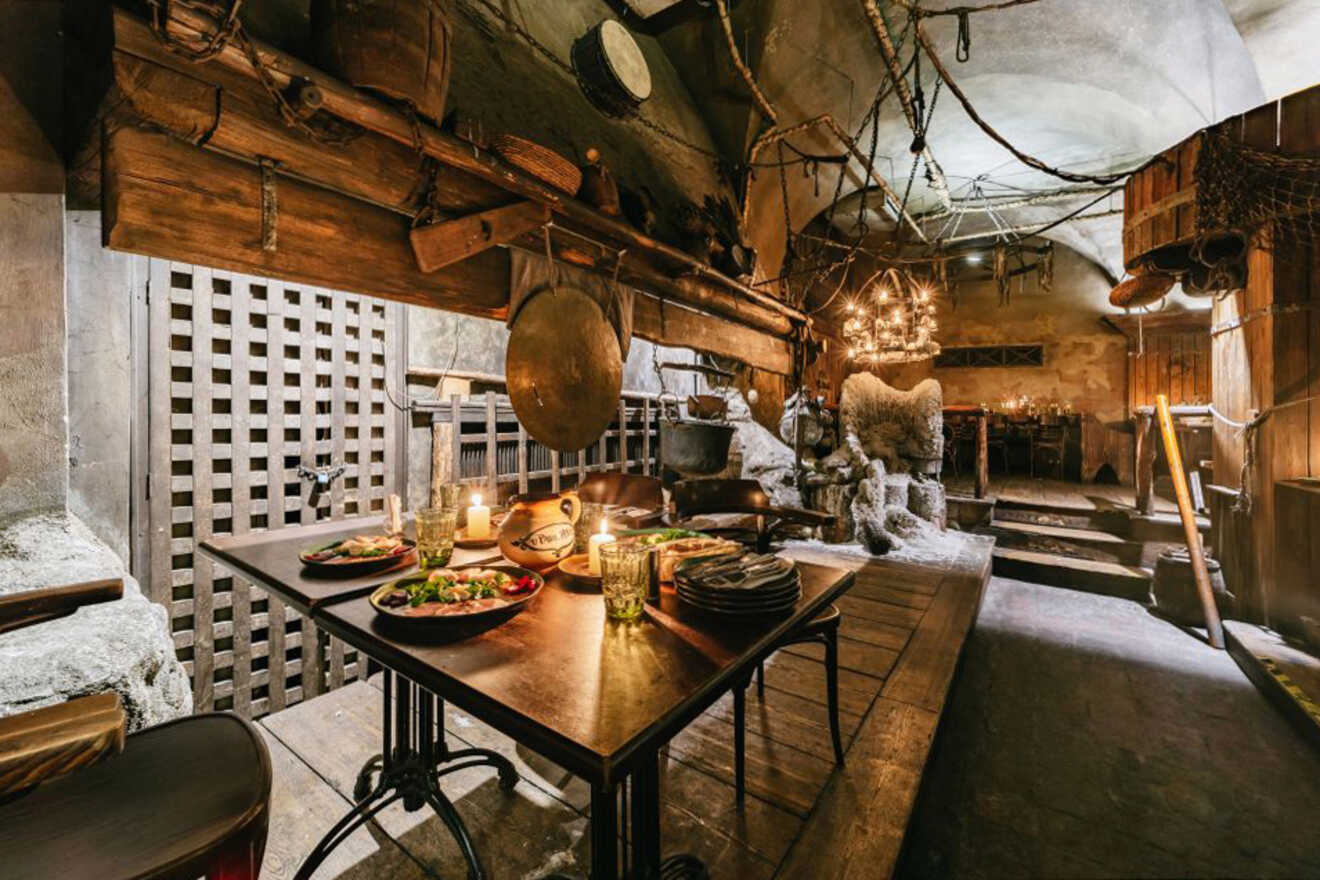 In old Prague, there's always a magical feeling in the air as you stroll cobblestone streets, cross Charles Bridge, and visit enchanting castles. I think that makes it the perfect place to experience medieval times first hand!
And now you can! Choose between a 3 or 5 course meal with unlimited drinks, to enjoy with an authentic medieval atmosphere! But just because this is a medieval dinner, don't think that the food will be boring, you will have 6 meal options to choose from so I'm sure you can find something of your liking. While you feast inside this beautiful old restaurant, you will be entertained with an authentic live show featuring swordsmen and belly dancers, music and of course lots of interesting conversations with your fellow participants!
PRICE: €43
Book your medieval dinner experience
8. Get an incredible view from Petrin Hill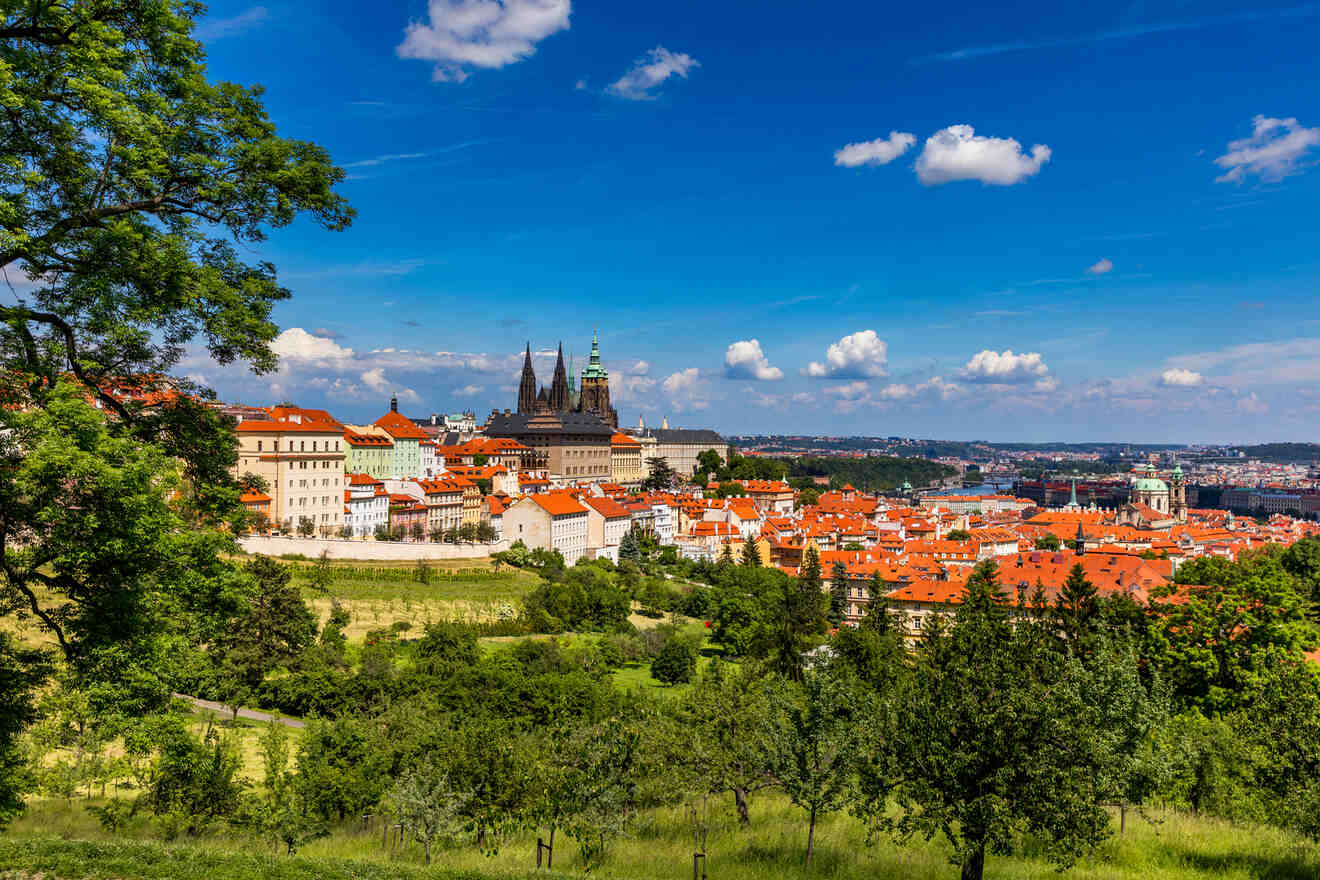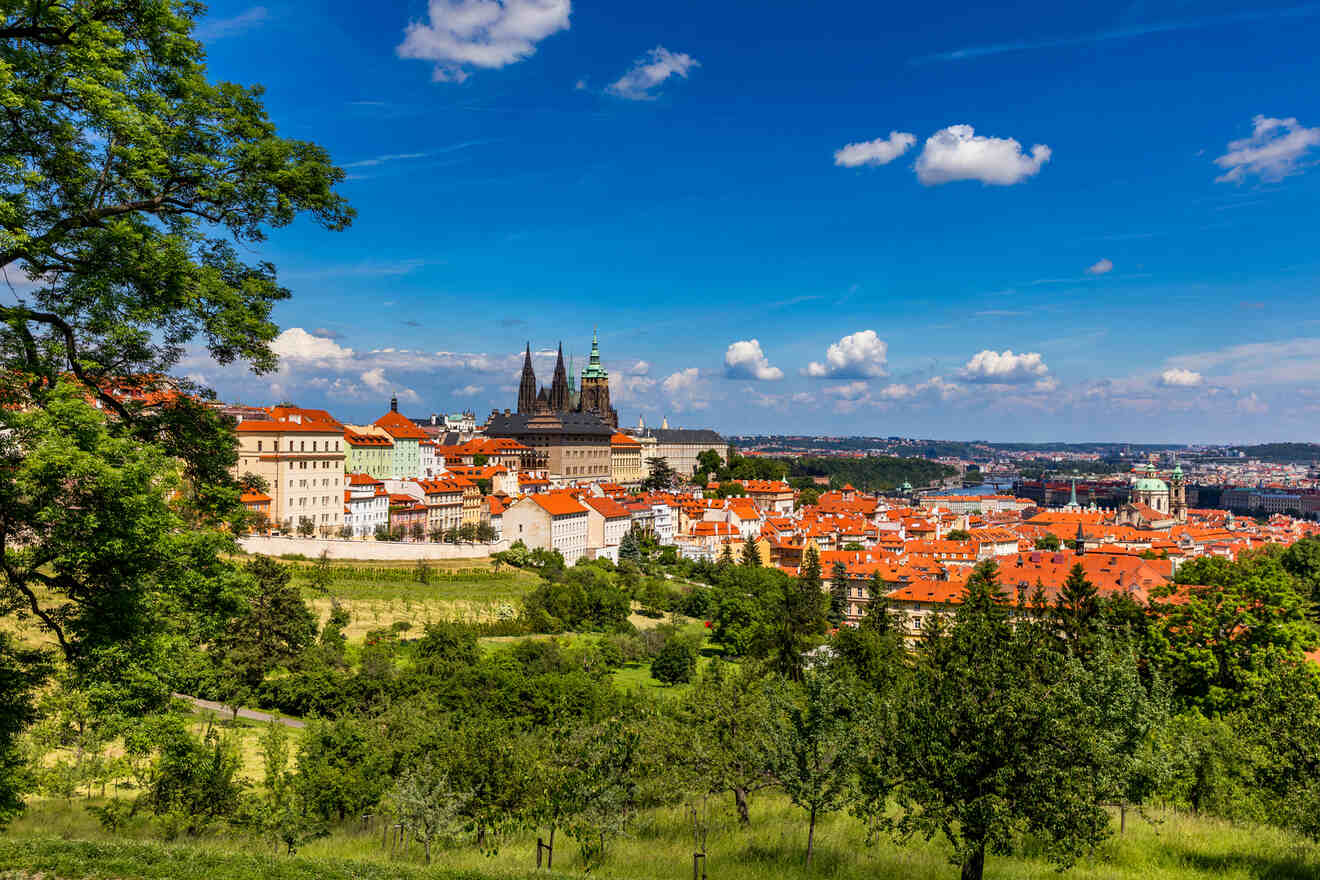 130 meters above the river, you will find the beautiful vantage point of Petrin Hill. If you're like me and always want to seek out nature during your travels, this is a great activity to add to your list of unusual things to do in Prague.
At the very top of Petrin Hill you will find ​​Petrin Tower, this is Prague's answer to the Eiffel Tower! While this one is technically much smaller, as it is set on a hill, the top is actually the same height above sea level.
Yep, if you pay 150 CZK (€6) you can even access the stairs and climb up to two different viewing platforms for the ultimate lookout over the city. If you don't want to walk, you can also pay an additional 60 CZK (€2.5) to take the elevator.
Of course it's not just the hill and the view that you have to enjoy, Petrin Hill is found inside Petrin Park which is the biggest green area in the city. Right next to Petrin Tower you can enter one of the coolest hidden gems in the area, a unique mirror maze for ​​100 CZK (€4) or learn about the sky at ​​Stefanik Observatory for 90 CZK (€3.7).
If you are looking for something to do for free, the park also has many different trails where you can take a leisurely stroll, see the Memorial to the Victims of Communism and spot the statues of many famous Czech people!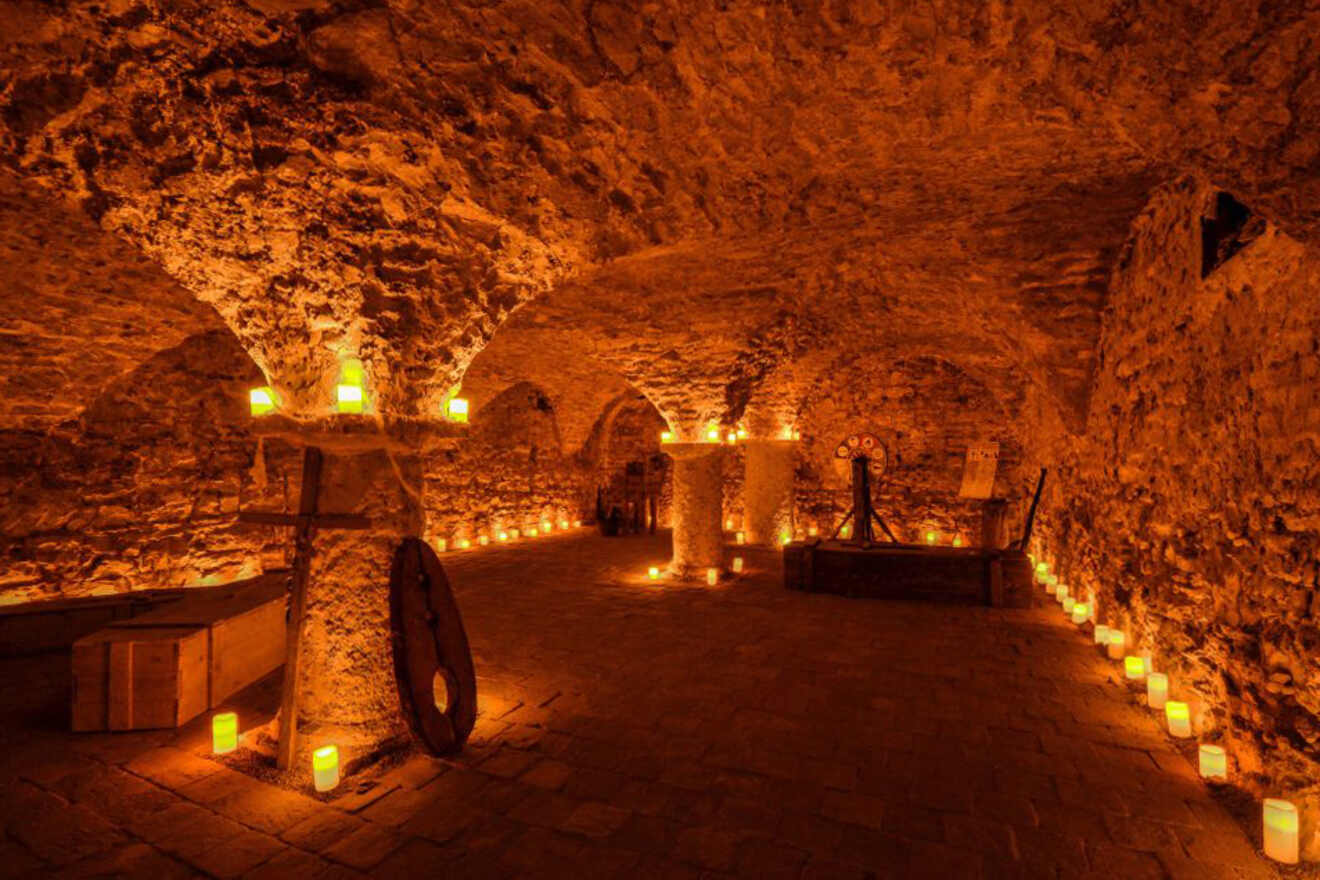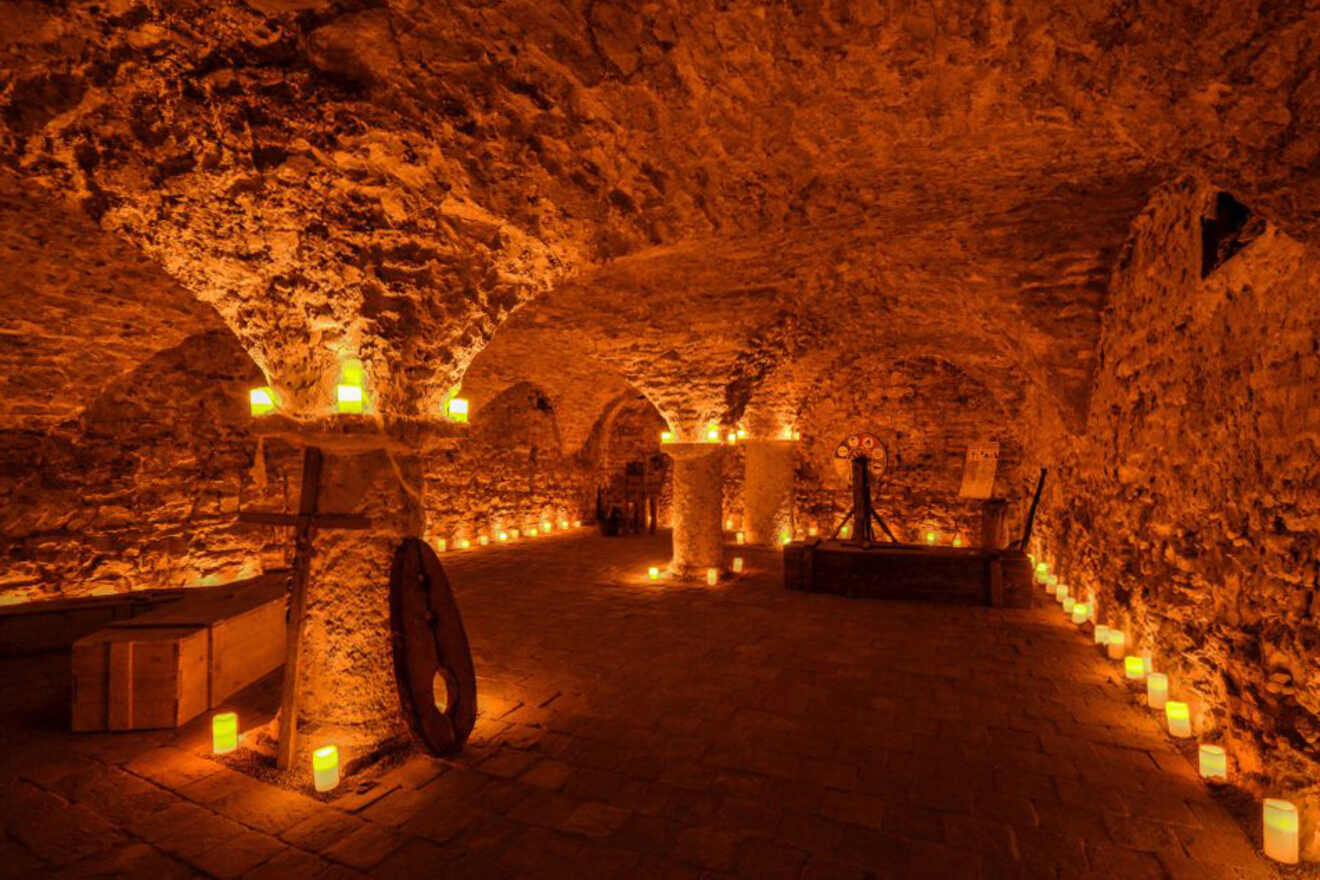 While everyone else is wandering the crowded cobblestone streets above, if you want to escape the masses, why not go and explore the secret underground world below Prague!
Hidden beneath the city is a series of corridors, rooms and cellars which you can only visit on a guided tour. During the tour your guide will take you back in time and relay all the fascinating history and stories about how these tunnels were used in Medieval times.
To top off the experience, you will end the experience by visiting a medieval dungeon where you will see torture and execution devides from this grusome period of time!  
PRICE: €20
Book an Underground Tour
10. See the beautiful Klementinum & Strahov monastery libraries
Many big publications include these 2 libraries on the list of the most beautiful libraries in the world! I agree, the only one I have seen that was more beautiful is the Bodleian Library in Oxford.
Both boast super impressive architecture and are each worth a visit, so let's have a look at each one in more detail:
10.1 Klementinum Library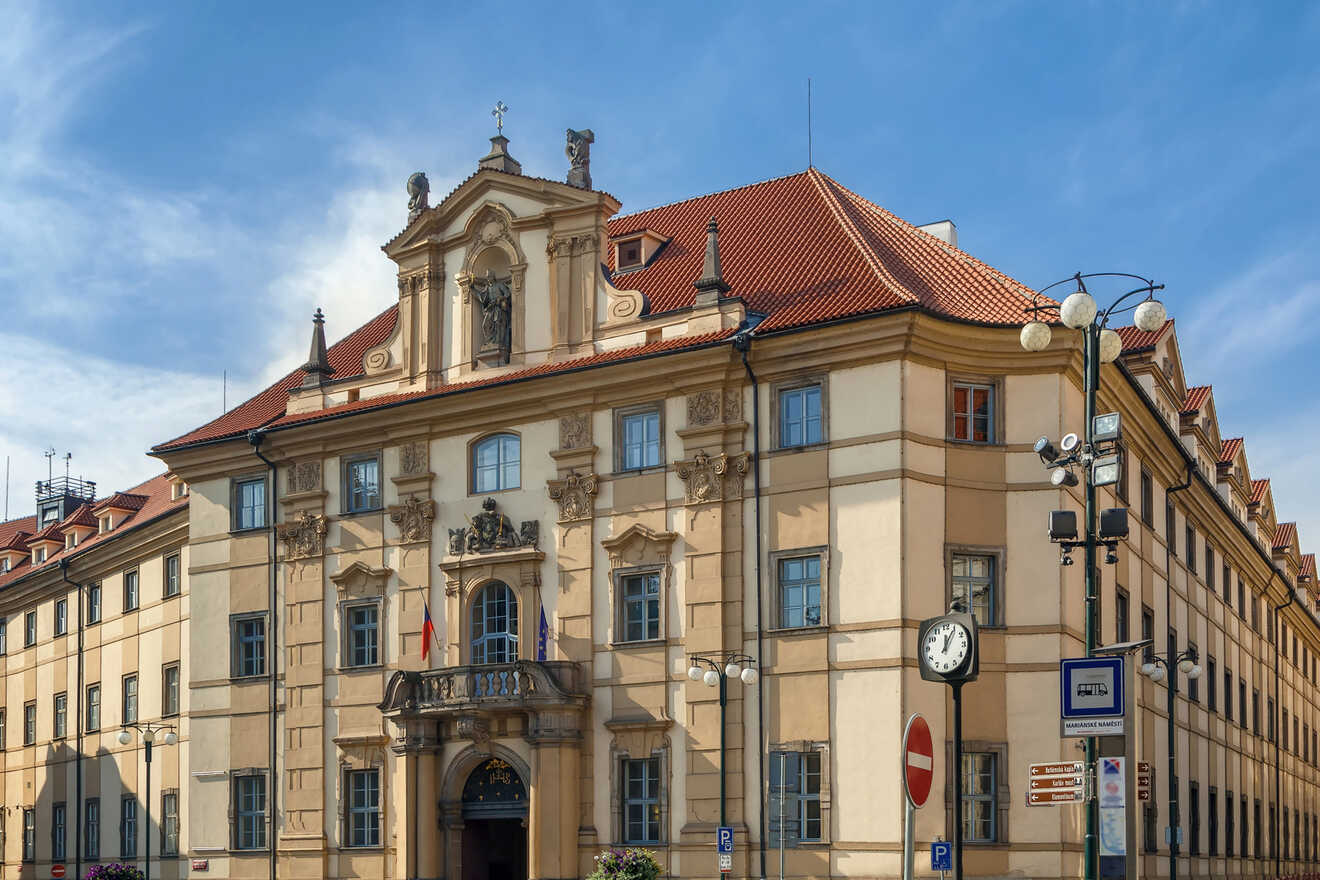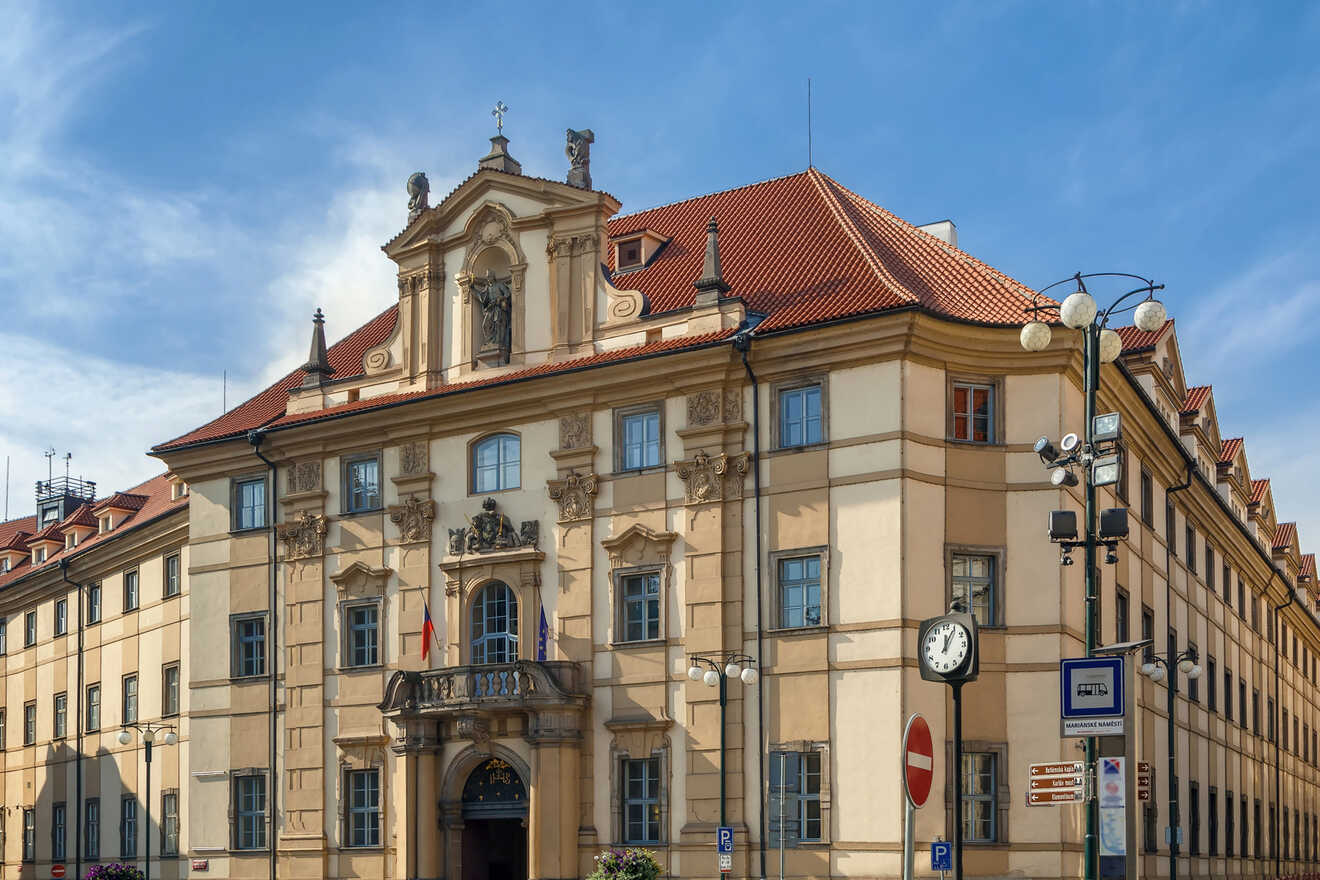 Klementinum (also spelt Clementinum) is located in the Old Town Square of Prague and is a historic complex of buildings (one of the largest in Europe) that was built between the 16th and 18th century. Nowadays, it is mostly used as the National Library of the Czech Republic and is definitely one of the top Prague attractions!
The best way to enjoy the baroque architecture of this incredible building is on this guided tour which can be booked at the library or online. The tour takes about 50 minutes and is available in English and Czech. PRO TIP: If you book online you'll be part of the "skip-the-line" group that immediately enters at the designated time (the lines can be long otherwise!)..
PRICE: CZK 380 (€13) – You can book your online ticket here.
10.2 Strahov Monastery Library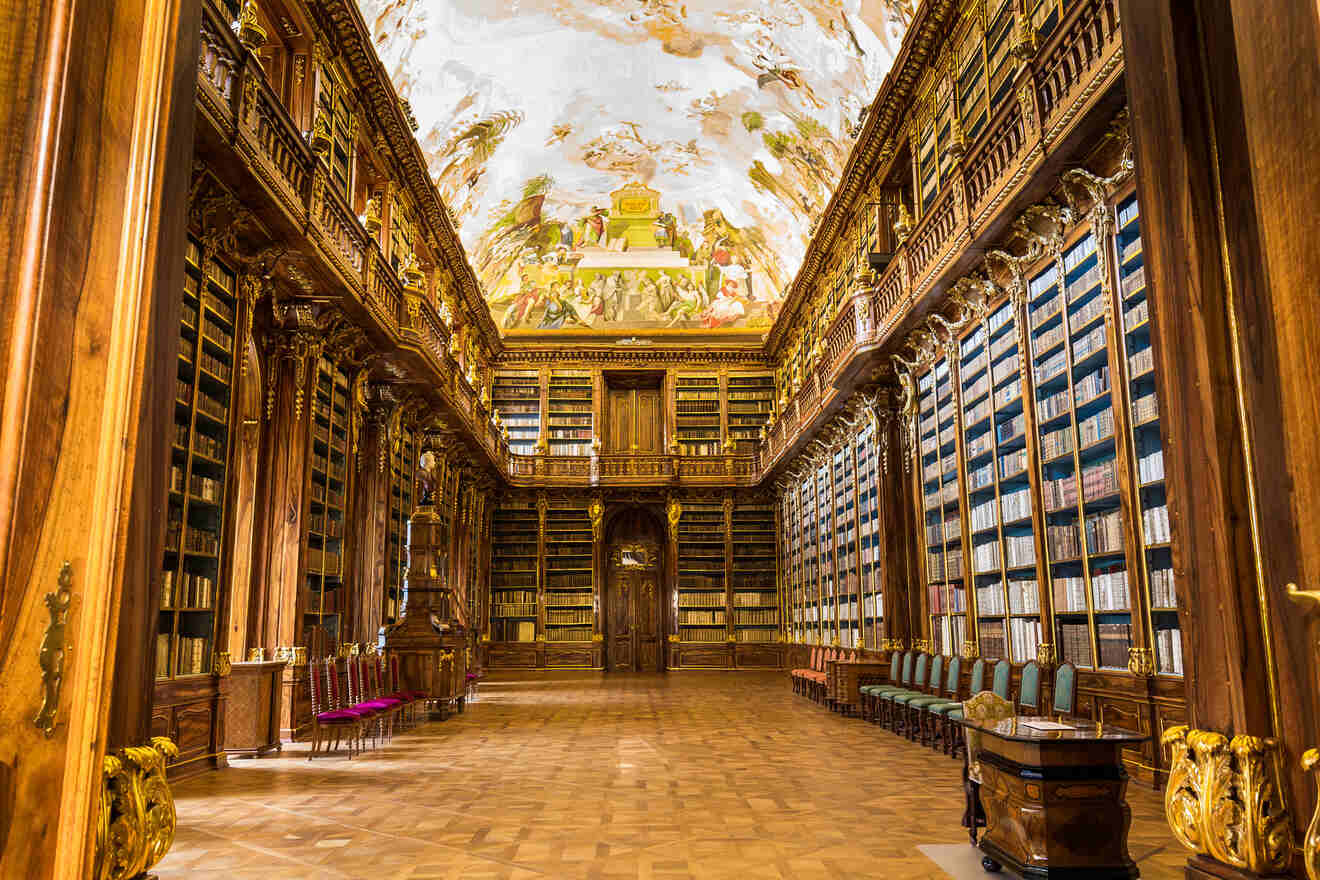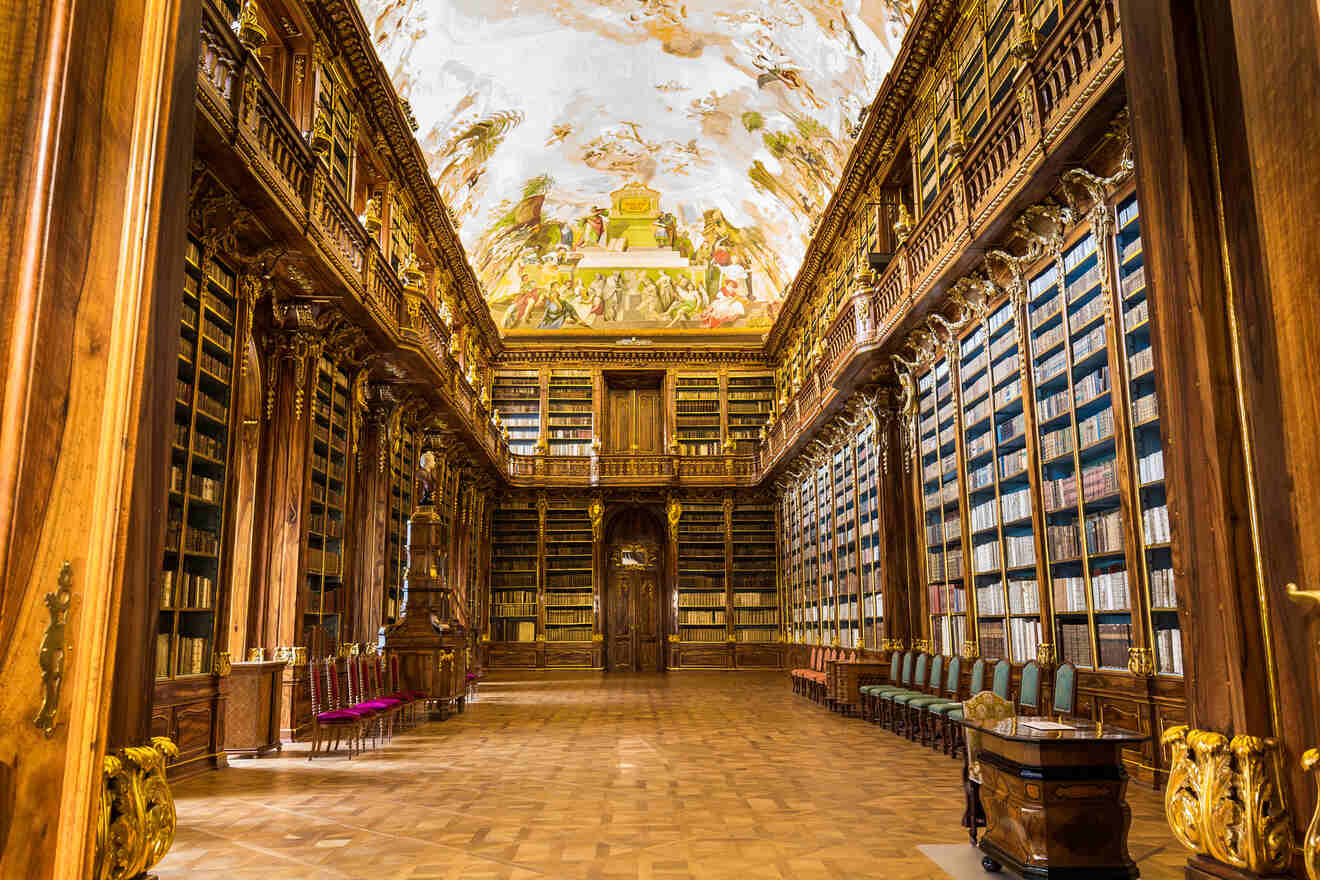 Strahov Monastery Library is another baroque library and it is one of the most valuable and perfectly preserved historical collections in the world with more than 200,000 volumes. Built between 1671 and 1674, the huge fresco ceilings by Siard Nosecký and Anton Maulbertsch are absolutely breathtaking!
There are 3 main places to see here: the Baroque Theological Hall, Classicist Philosophical Hall and the Cabinet of Curiosities. Unlike the Klementinum Library, there are no regular guided tours here, instead you can wander around by yourself and read the guide texts available in many languages (including English).
If you do really want a guided tour, you can contact them at [email protected] to inquire.
You have three ticket options here; entrance to the library only (€6), the Picture Gallery only (€8), or to the whole complex (€11). Tickets are not available for purchase online so you must buy them on site at the Strahov Monastery.
PRO TIP: To really appreciate the Strahov art and décor, I recommend going for the CZK 280 (€11) ticket that includes the Strahov picture gallery, the Convent building, and the Strahov Library (only until 4 PM).
If the above fun things were not enough to do and you are still craving more, no worries, here are some extra ones I would suggest doing if you have more time:
PRICE: CZK 150 / €6 (Library only)
11. Take a break at Kampa Island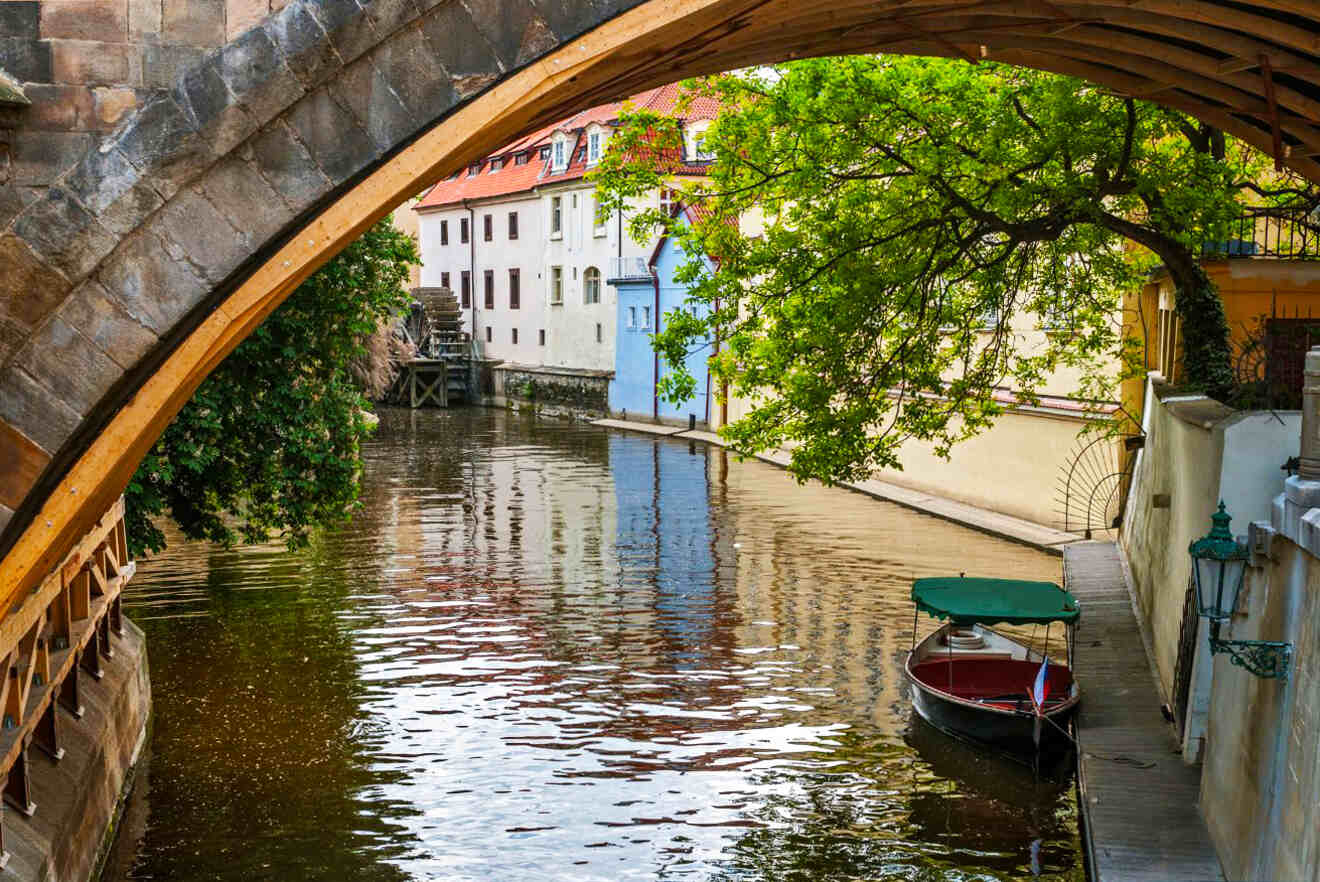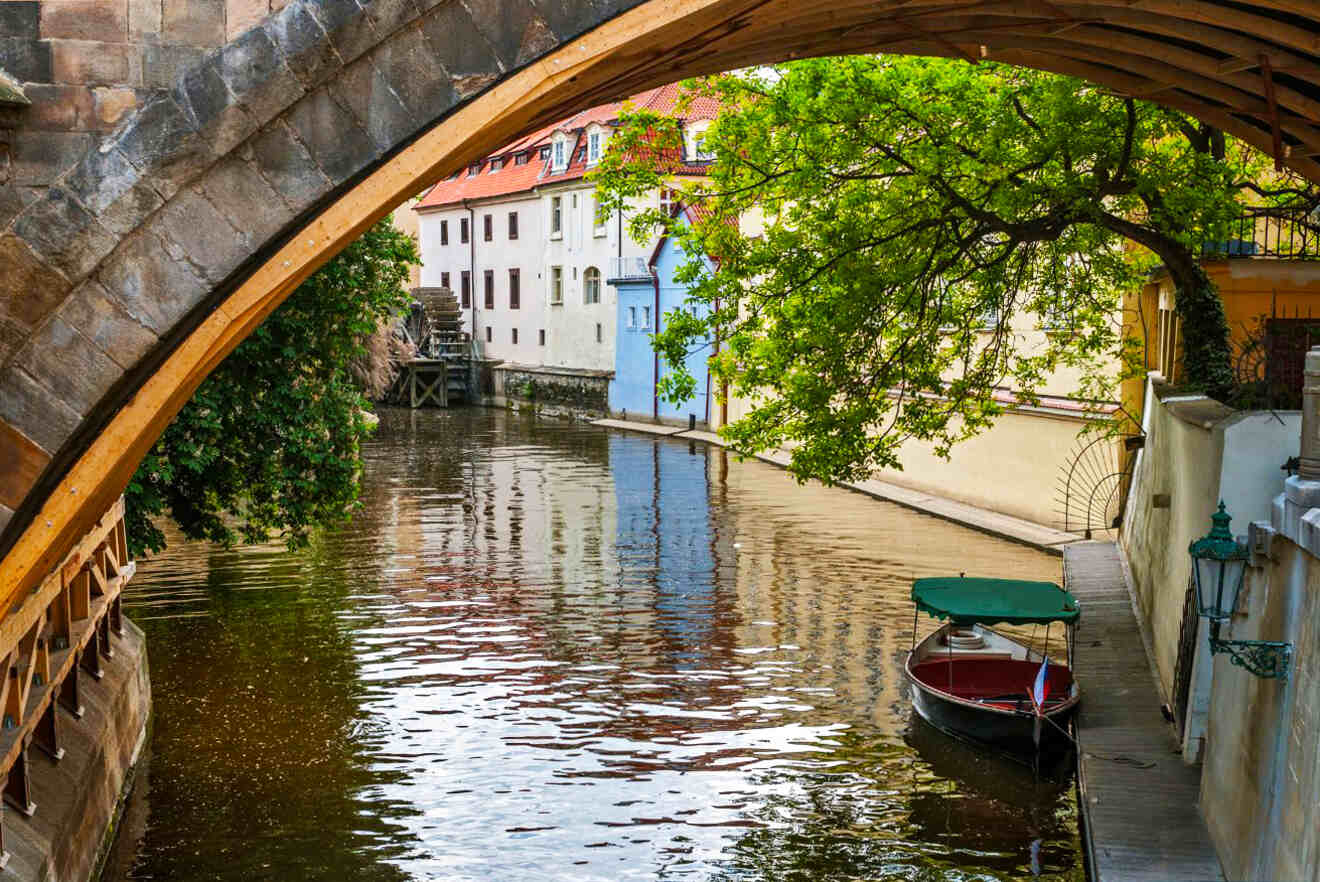 Kampa is a man-made island, and because of its slight separation from the city and houses near the water, it has earned the nickname of "the Venice of Prague"!
To really enjoy the island views you can rent a rowboat or go on a romantic sightseeing cruise down the Vltava River. The Island is right on the Vltava River and next to the Mala Strana side of Prague so to get there from Prague center it is only a 15-minute walk.
Once on the island, you can simply walk around and enjoy the views, have a nice lunch or even visit the Kampa Museum full of interesting modern art from all over Europe. The entrance fee for the museum is CZK 290 (€12).
Book a sightseeing cruise
12. ​​Visit the Basilica of St. James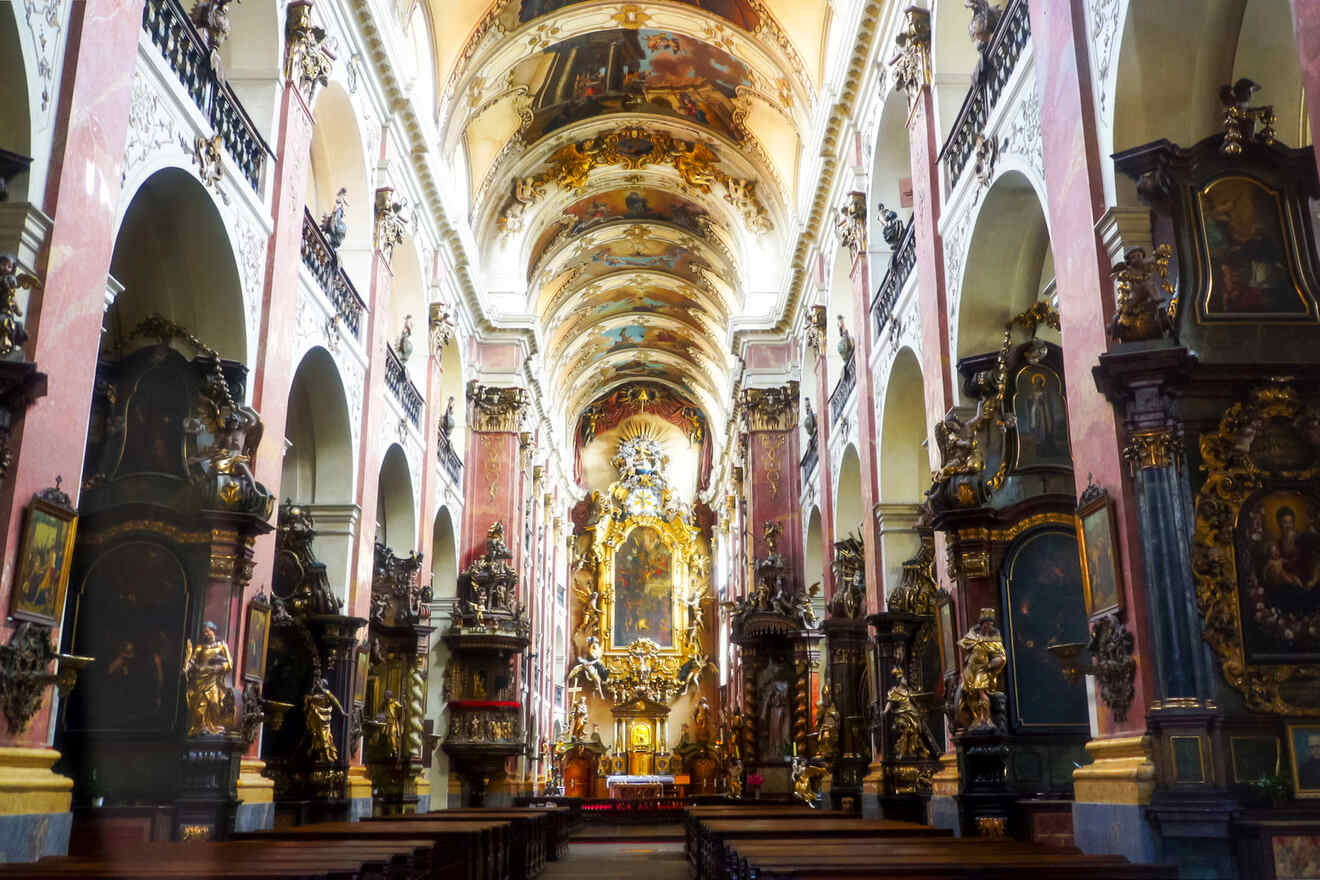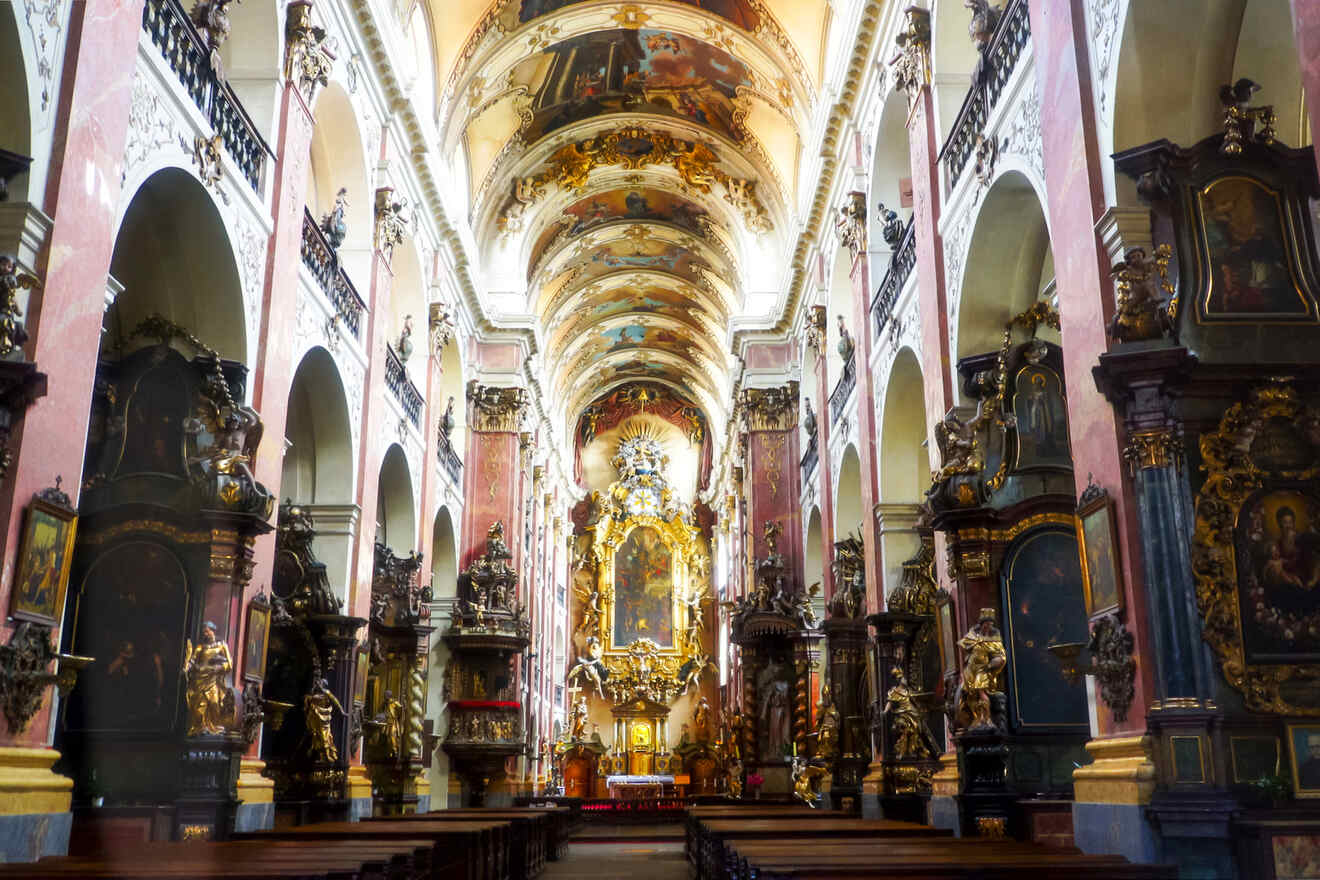 Originally founded in 1232 and then rebuilt in the 18th century to suit the Baroque style, not only does this Basilica have a beautiful facade and a world famous organ (it is huge, with 8,277 pipes), but this quirky church is actually a super weird thing to do in Prague!
When entering the church, make sure to look left to see the real mummified arm dangling by the tomb! Yes you read that right, the arm once belonged to a thief who attempted to steal jewels from the church. It is said they were caught by the statue of the Virgin Mary and now the 4 century old arm remains as a warning for anyone else who may be looking for hidden treasure!
FAQs about unusual things to do in Prague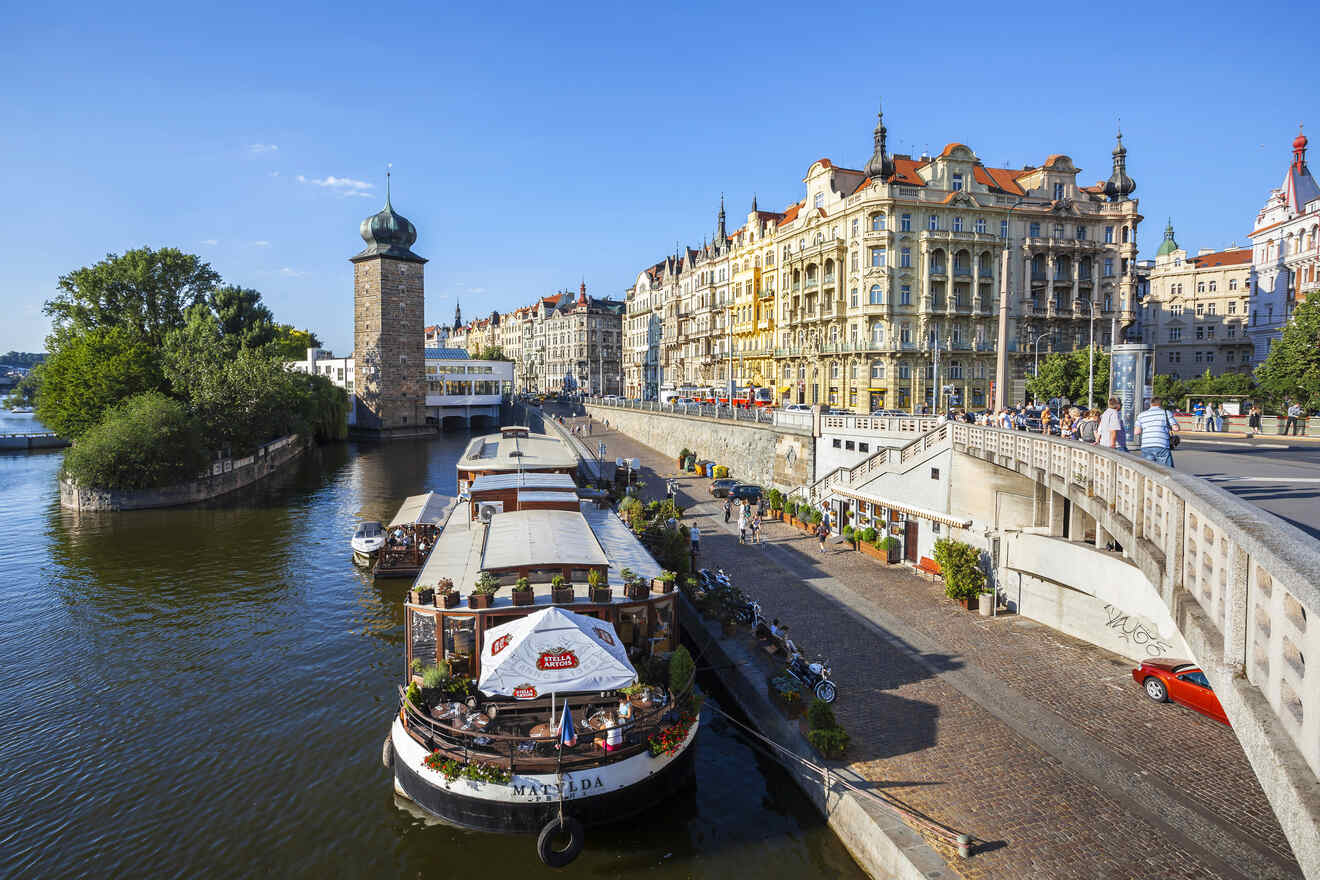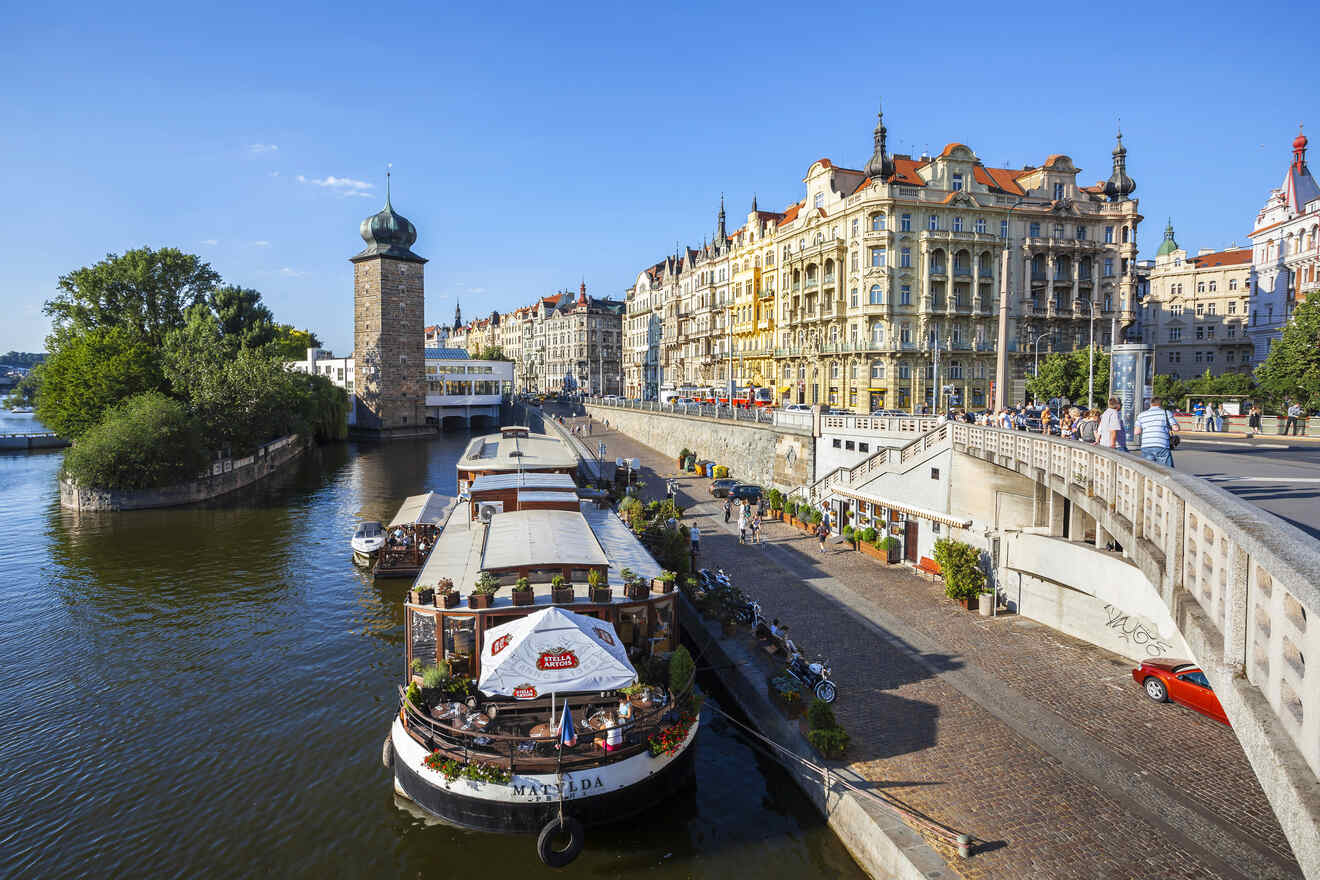 😎 What are some fun things to do in Prague for young adults?
The best things to do in Prague for young adults include joining this alternative walking tour where you will find all the city's hipster hotspots and underground art, and indulging at the beer spa (if they are over 18 of course). You may also like the Black Light Theater.
👻 Are there any creepy things to do in Prague?
Yes! The coolest creepy things to do in Prague include seeing the mummified arm at the Basilica of St. James, and exploring the underground tunnels of Prague. You can also take a day trip from Prague to visit the Bone Church.
🆓 What are the most unusual fun things to do in Prague for free?
The most unusual things to do in Prague for free include seeing the John Lennon Wall and the Dancing House, plus going for a walk in Petrin Park.
💑 What are the best unique things to do in Prague for couples
The best unique experience for couples in Prague is definitely a visit to the Beer Spa. You will get a private room with unlimited beer and soak in a big bathtub (also full of beer).
Conclusion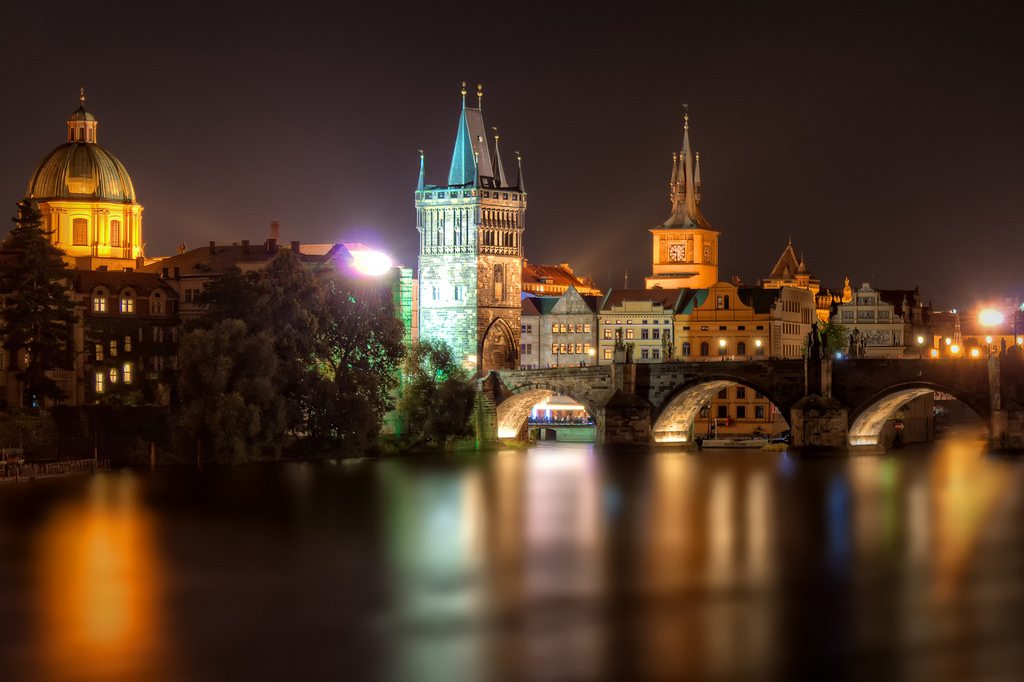 Well, there you have it, a complete guide to all the wacky and wonderfully non-touristy things to do in Prague.
By now I hope you have so many cool places and activities to fill your time in this cool city. If you haven't already, make sure you don't miss out on any of the regular fun things to do in Prague for tourists by checking out our post here.
And remember what I said in the beginning, just because some of these attractions are pretty off the beaten path, it doesn't mean they won't book out! So make sure you don't reserve your spot until the last minute, especially if you want to visit the Beer Spa.
If you have any questions or additional suggestions for this list, feel free to leave a comment below and I will reply as soon as possible!
Happy exploring,
Kate
---
Pin it for later!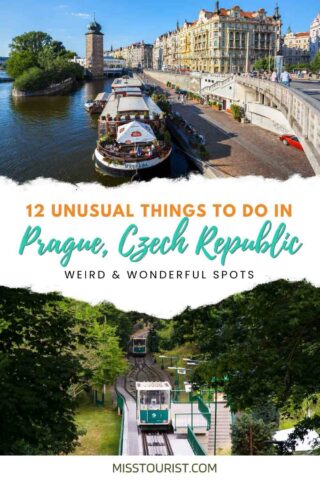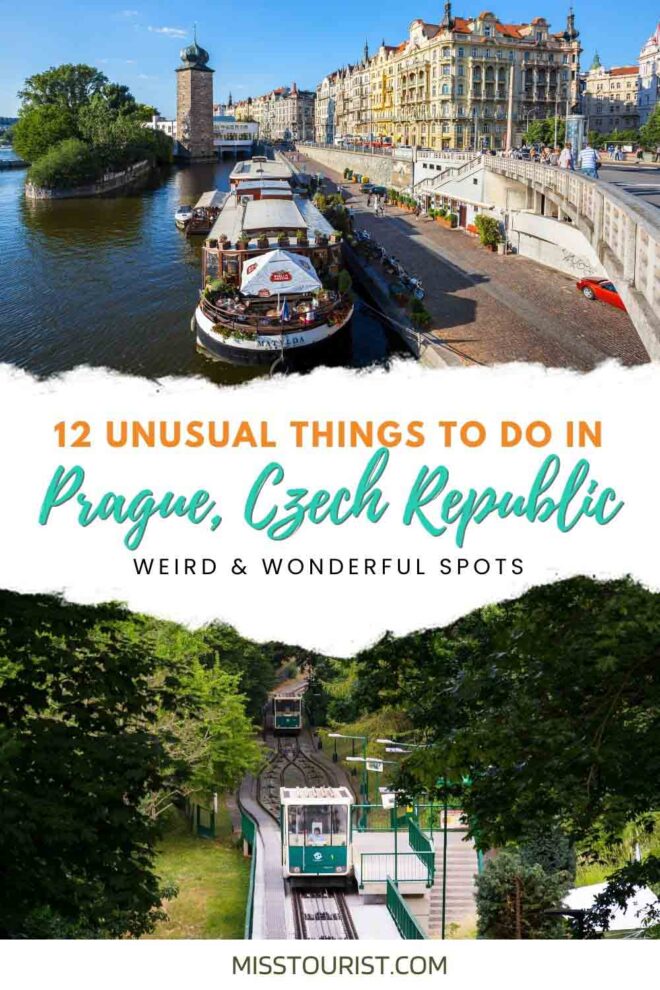 Pin it for later!