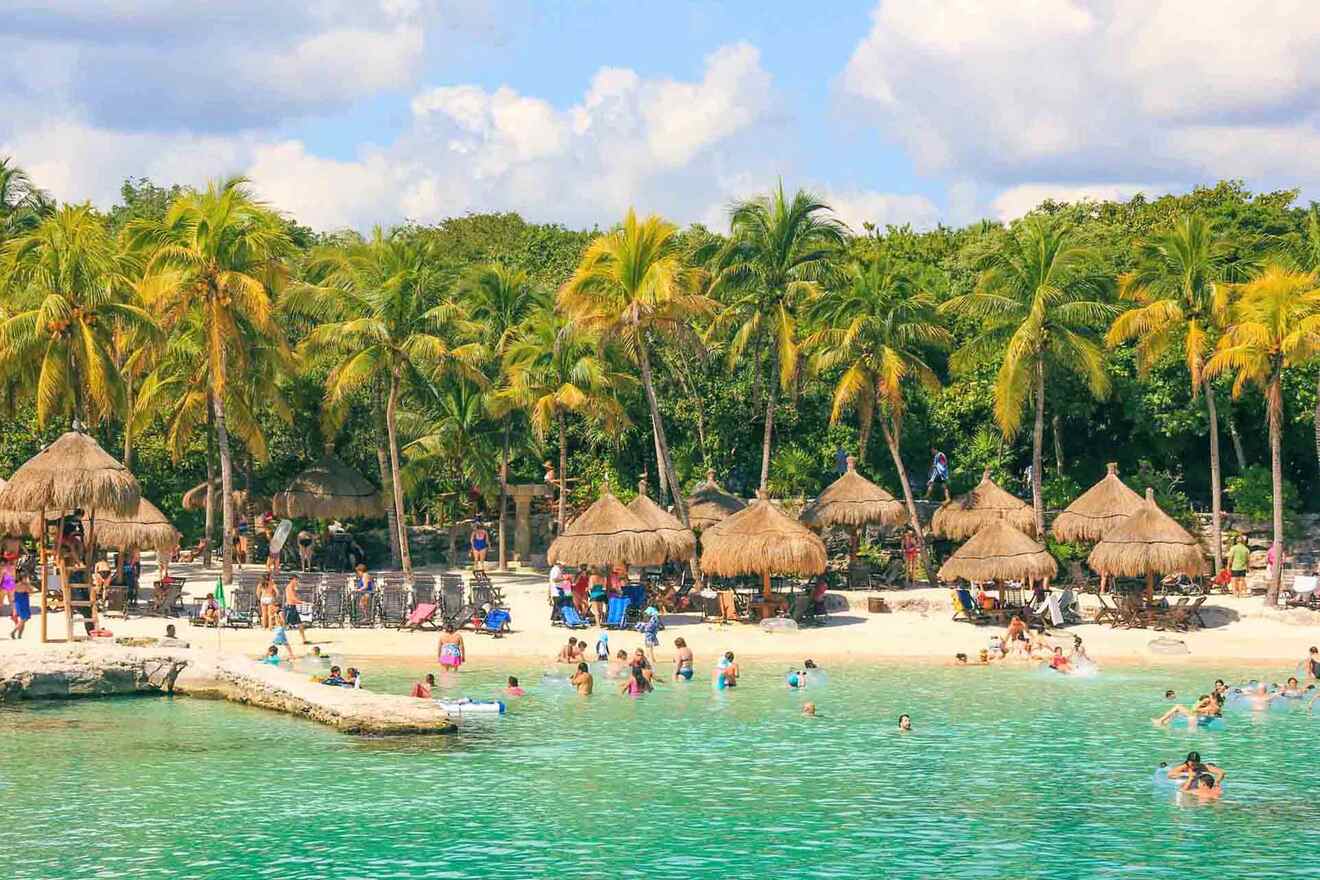 Vamos a la playa! But make it a private beach and add a couple cocktails (of yes and some toys for the little ones)! If you're planning an epic family vacation in Cancun then come along as I'm about to help you discover the best places there!
In this post you'll find a list of the top Cancun all inclusive family resorts, which I listed from most to least expensive. I've also searched the web for hours to find the ones with the most amazing reviews.
But you know what that means, right? Yep, these resorts will sell out super fast, so I highly recommend booking your spots early as you're planning all the details, otherwise you may lose your chance and spend way too much money!
Vamonos, it's time to hit the beach!
If you are in a hurry
Just here for a short summary? Check out the list below, it has the best all inclusive family resorts in Cancun:
1. Grand Residences – beachfront resort with 2 pools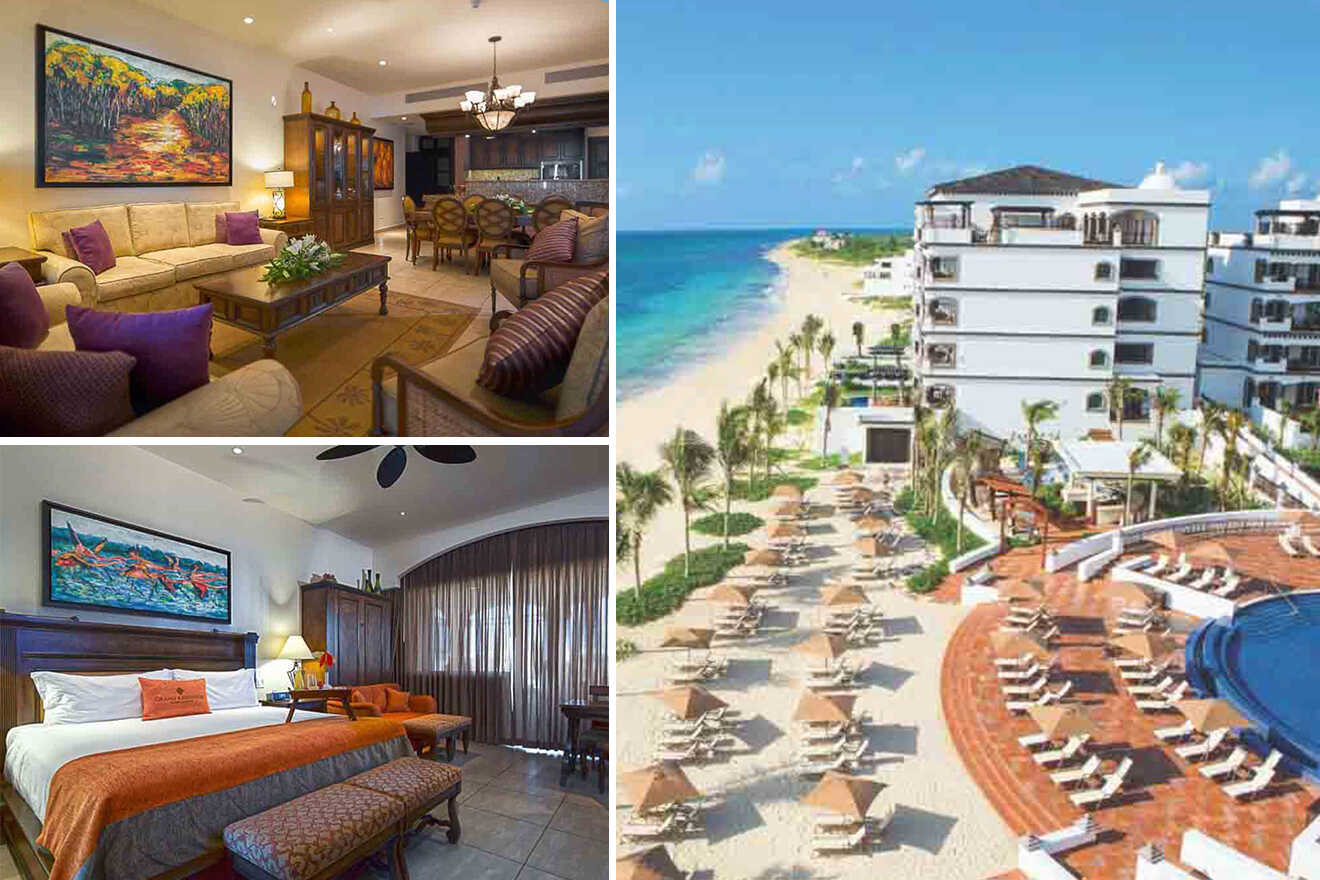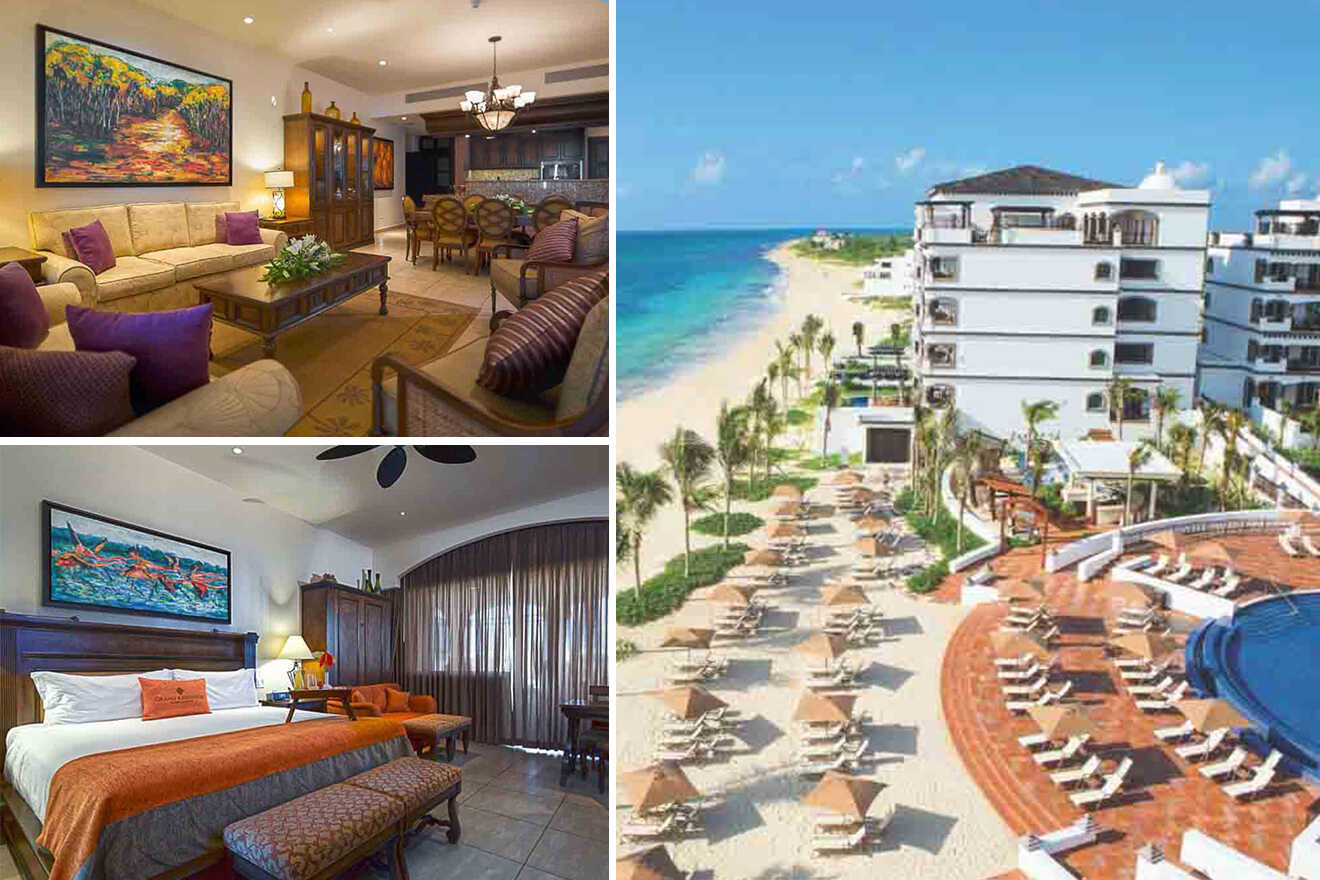 The staff better have the cocktails ready because once you get here that's all you'll want to drink! Spend a memorable vacation with your family at one of the best all inclusive resorts in Cancun that has a full service spa, multiple swimming pools, a hot tub and a playground for the little ones!
Of course you'll get to try lots of fun activities while you're here from bike tours to movie nights and playing on the tennis courts! This all inclusive family resort also has a private beach area where you guys can relax and enjoy the Mexican sun!
Check Current Prices
2. Hard Rock Hotel – family resort with a private beach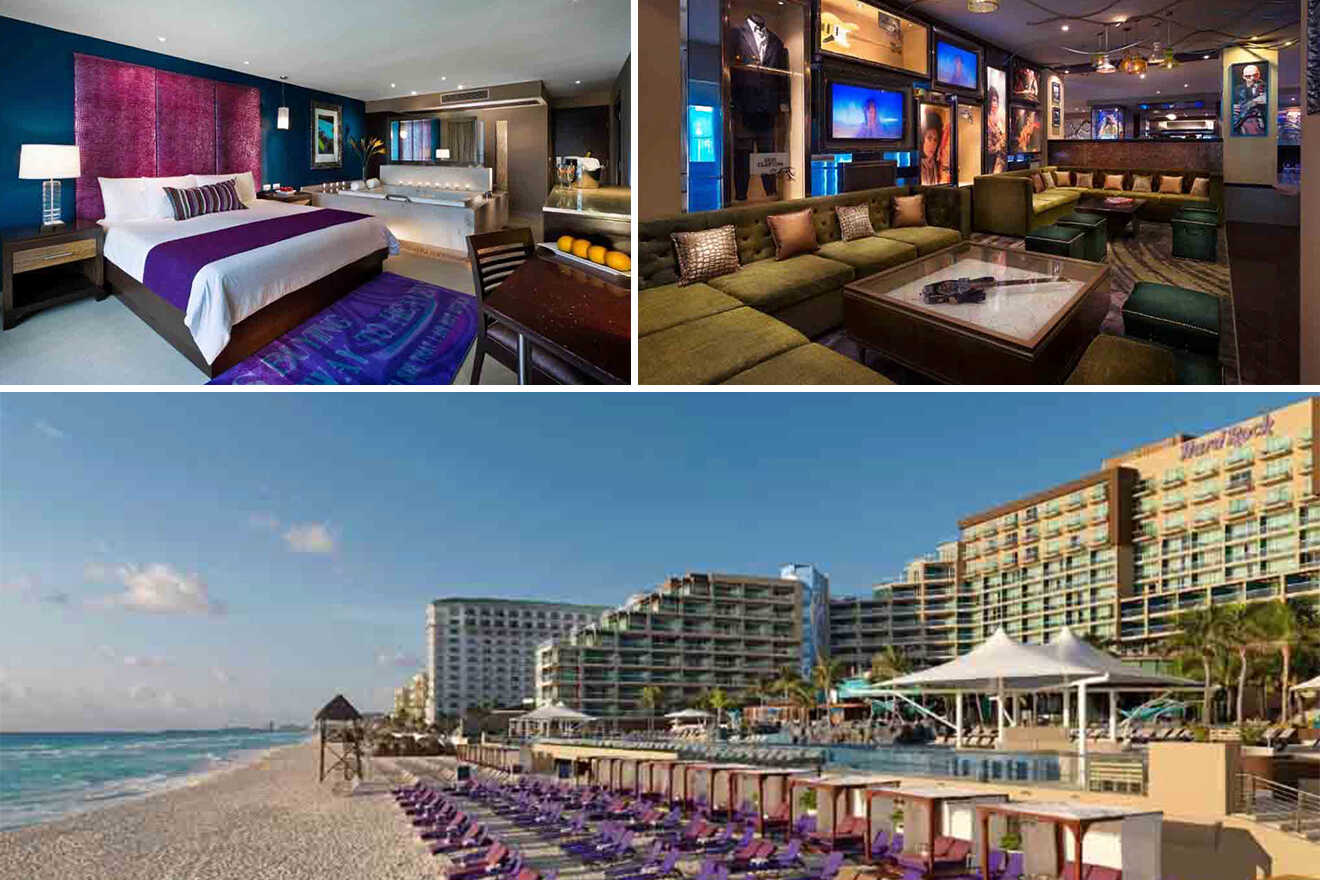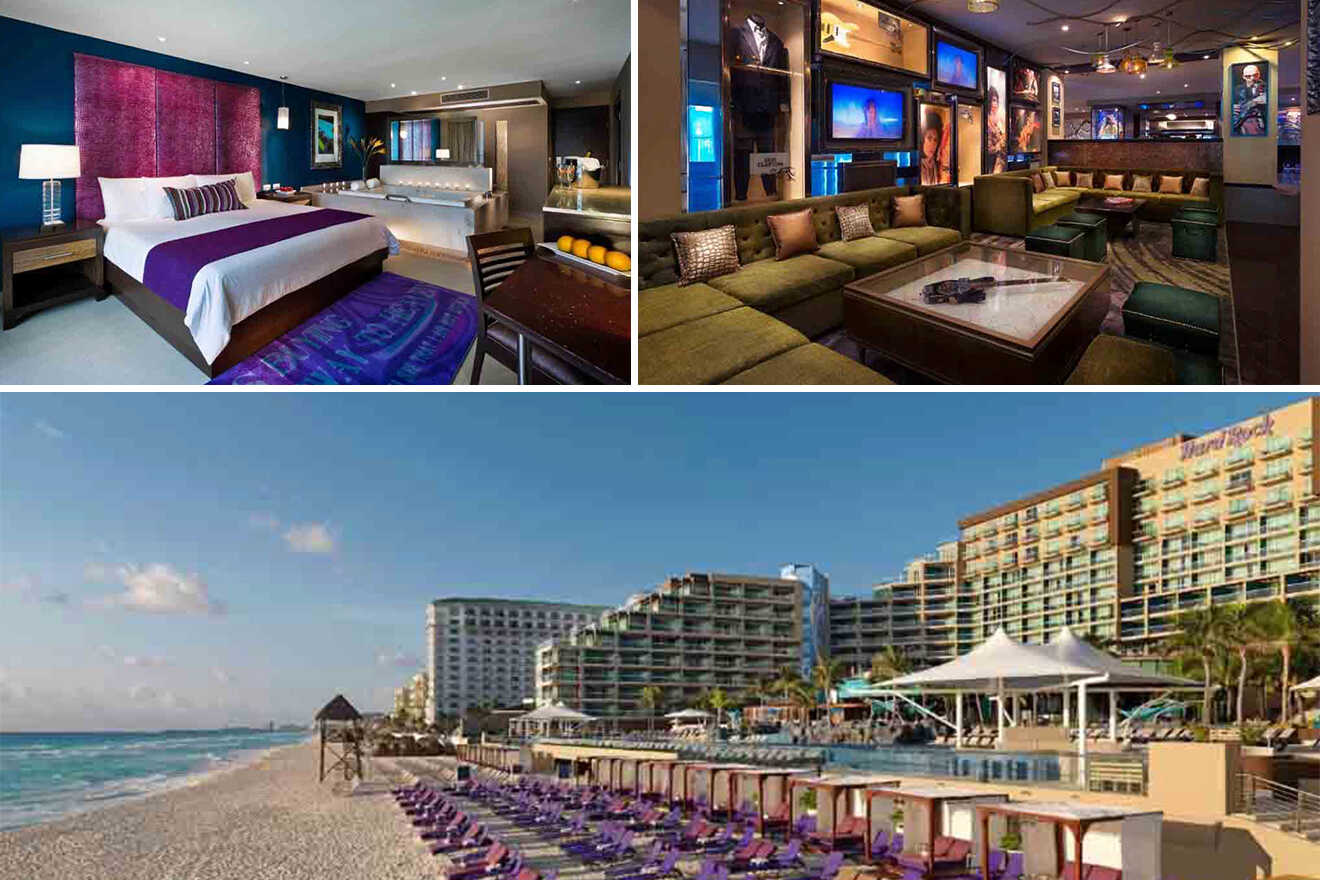 Enjoy a scenic sunset by the infinity pool of this all inclusive property in Cancun that offers oceanfront family suites with private balconies! And that's just the beginning! The accommodation has perks for the whole family including a kids club, a music lab with lots of music related events and a golf course not too far from the hotel.
Oh yes, never a dull moment at Hard Rock Hotel Cancun! And when you're not out and about exploring the private beach or playing with the little ones, you can enjoy some relaxing time at the spa center. Plus, at night the whole family can dine at one of the 5 restaurants on-site!
Check Availability
3. Fiesta Americana – family resort with water sports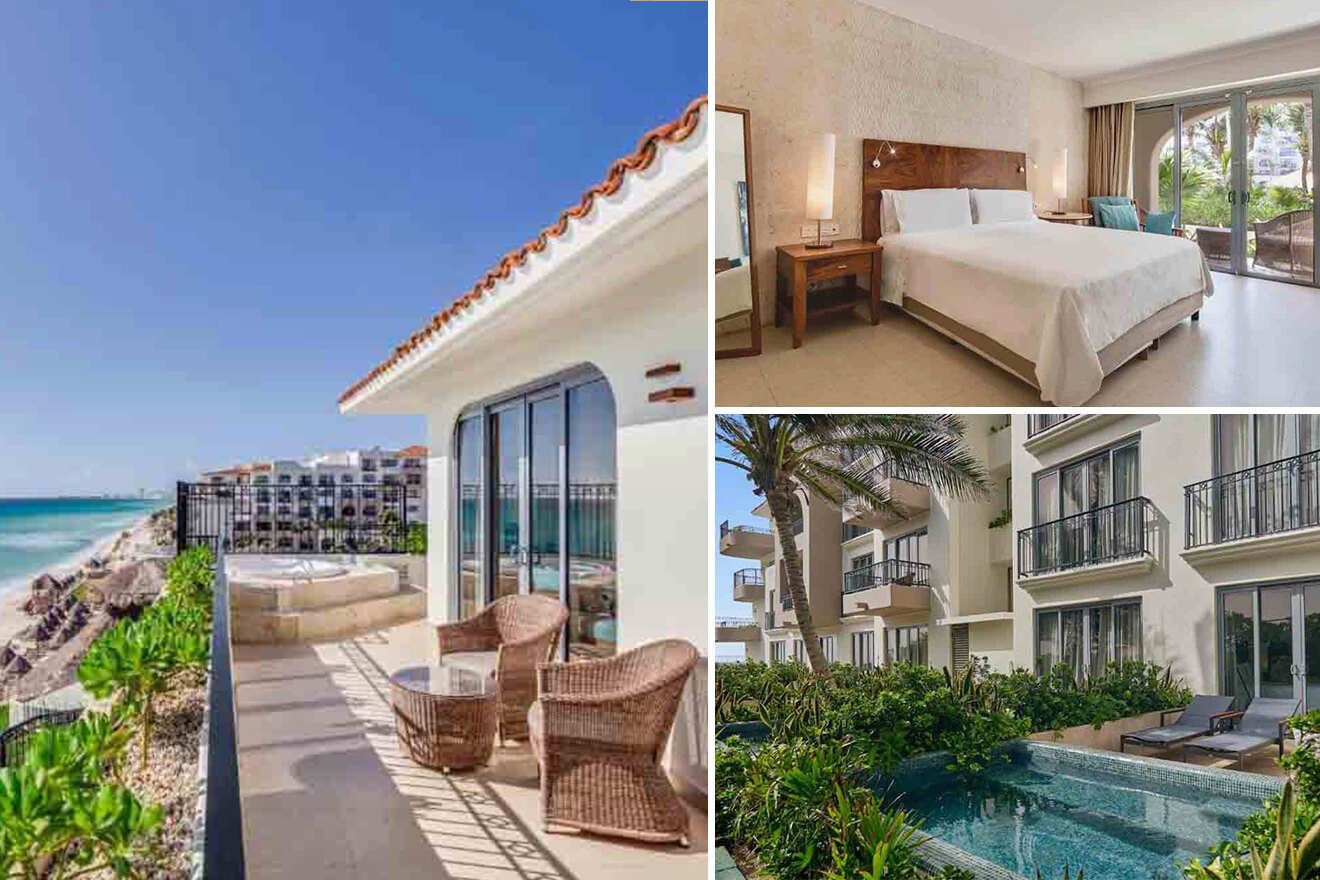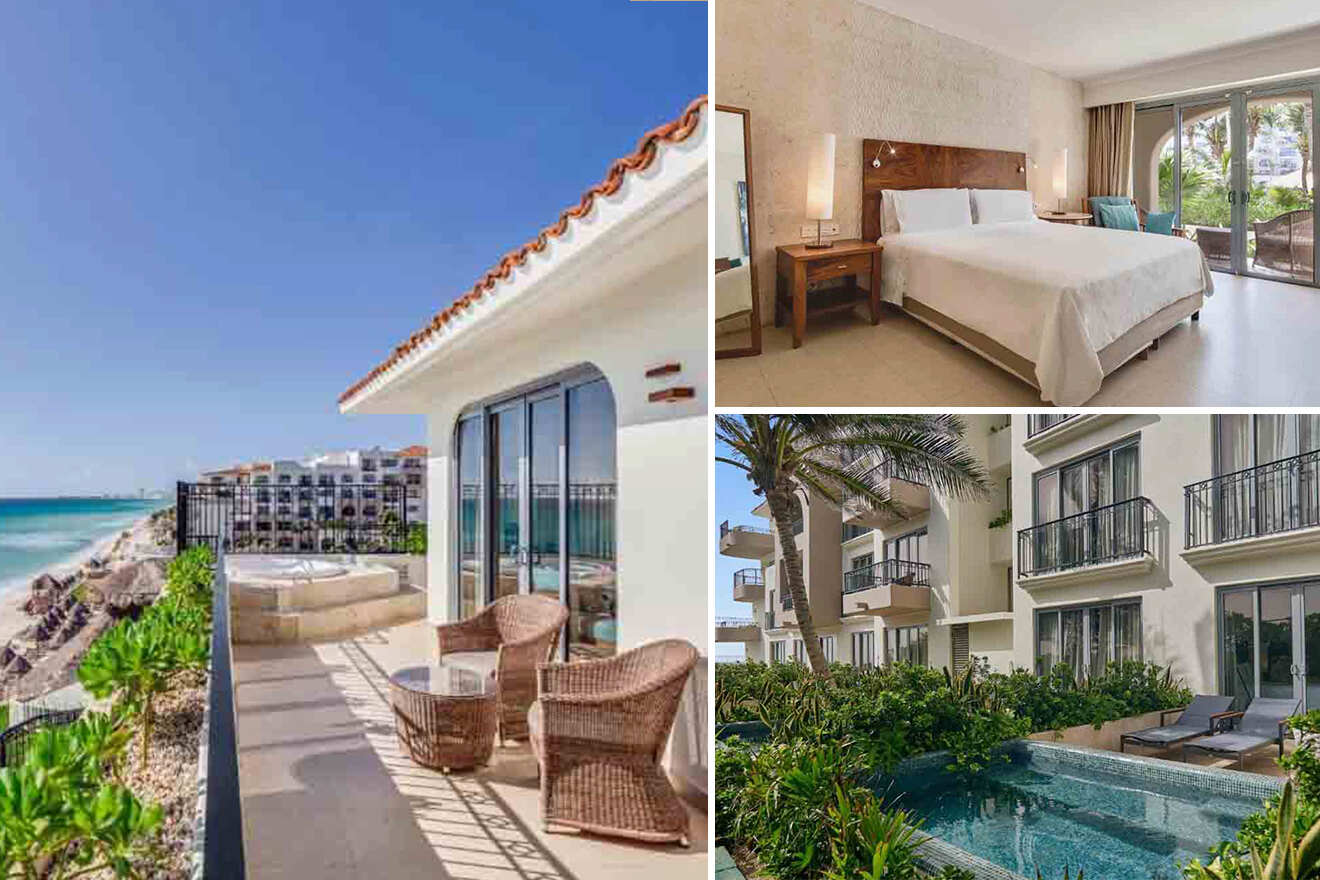 Enjoy a lovely family breakfast with a stunning view of the beach at one of the best Cancun hotels that's located within walking distance from many attractions and sandy shores! With over 10 (!) restaurants on-site and lots of family friendly activities like a kids club and water sports, Fiesta Americana Condesa Cancun will become your favorite place!
Some suites come with a private pool, private balconies, and of course lots of space for all the family members! You'll find that the resort also offers babysitting services, in case you need some time to relax at the spa center with a long massage or to enjoy some cocktails by the swimming pool!
Check Current Prices
4. Paradisus Cancun – beachfront resort with games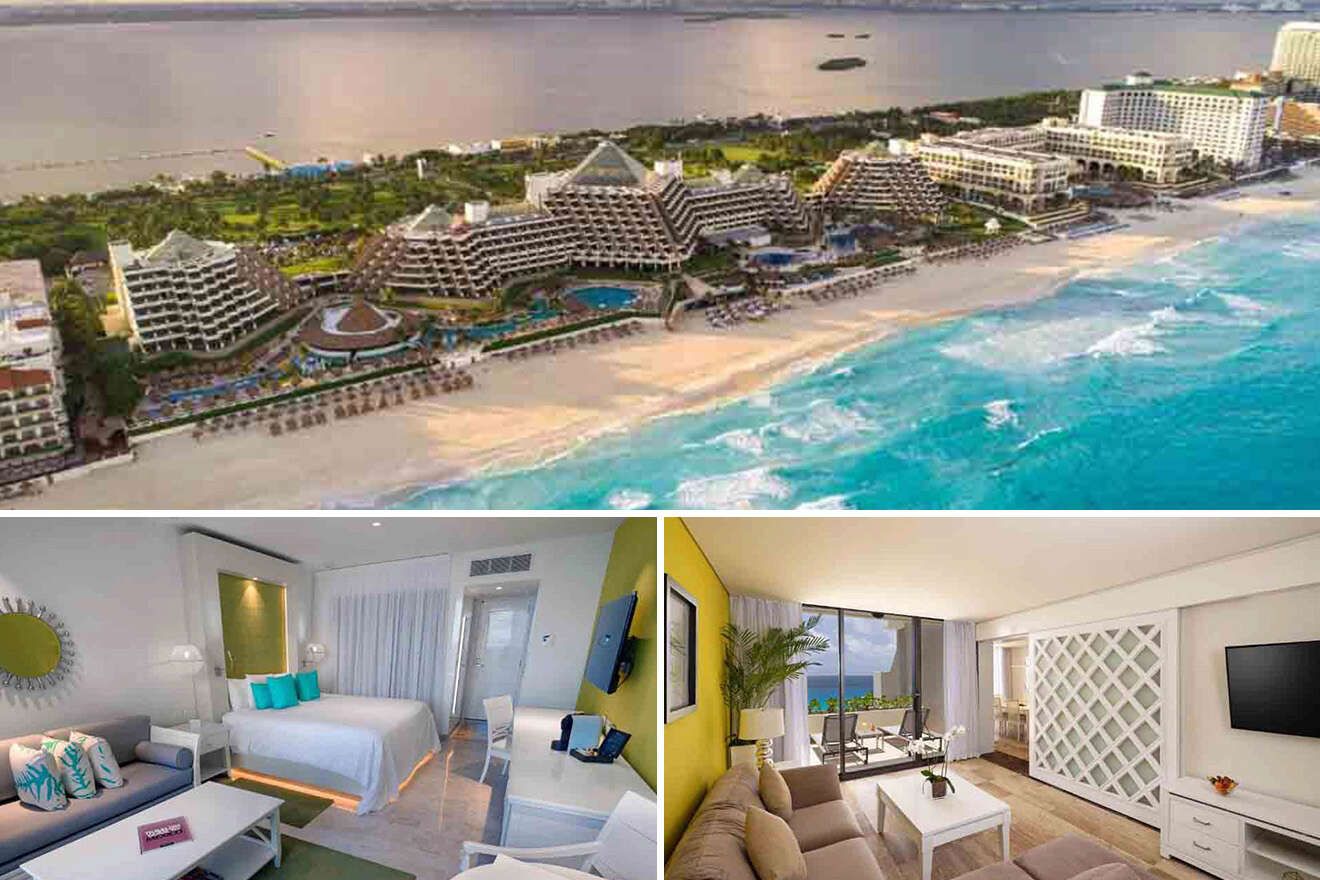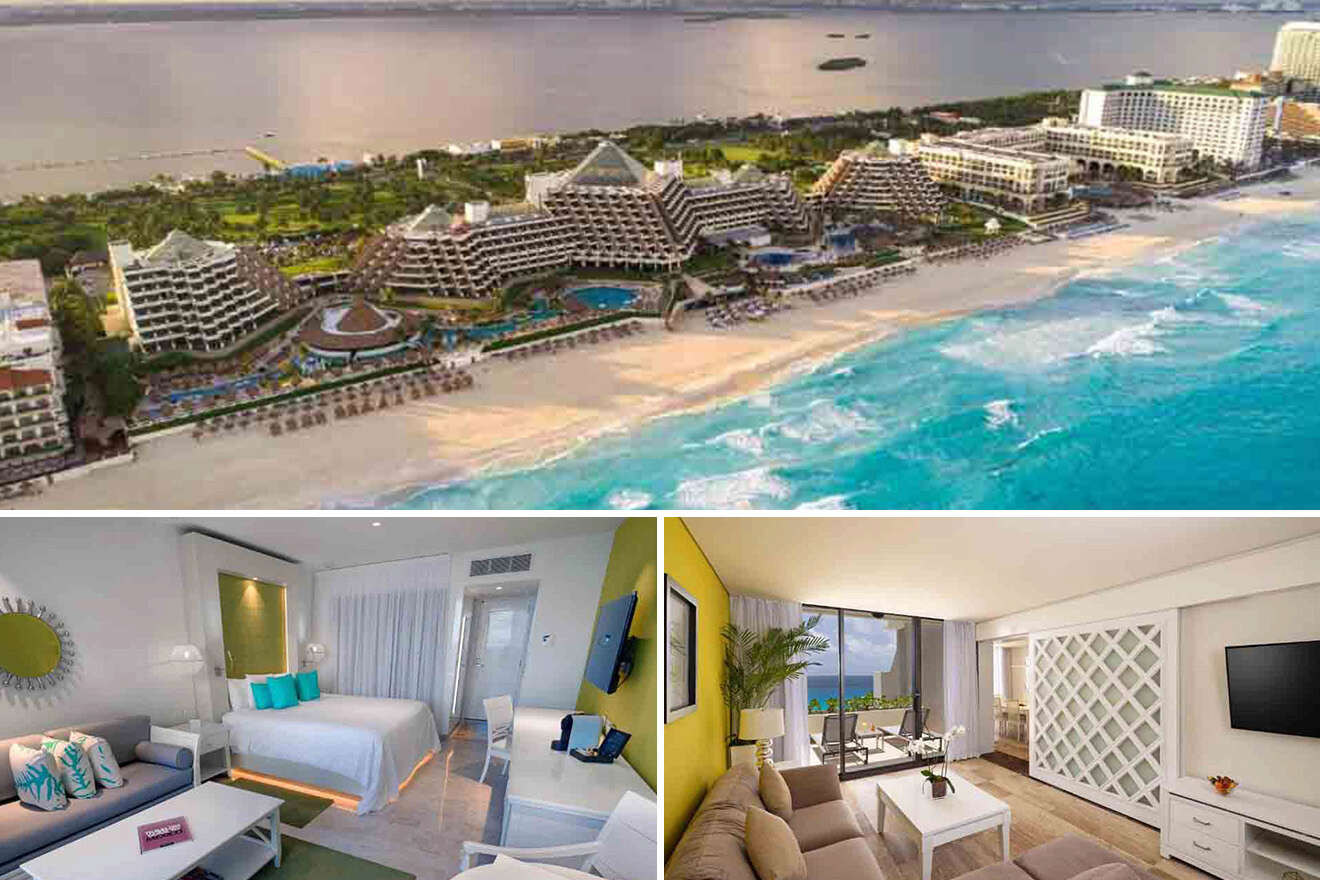 Planning your family getaway? Well, then check out this family friendly resort in Cancun that has so many cool features for the whole family! Set only a 30 min drive from Cancun International Airport, the Paradisus Cancun offers room service and suites with a rain-style shower.
While the kids will be happy to know that there's a games room for them, a kids club, water sports facilities and even a children's pool, the adults will also have their fair share of facilities
like the world-class spa that offers Ayurvedic, Balinese and Thai therapies. And of course you'll also get to indulge in all the delicious Mexican food at one of their 14 restaurants!
Check Availability
5. Hyatt Ziva Cancun – family resort with stunning views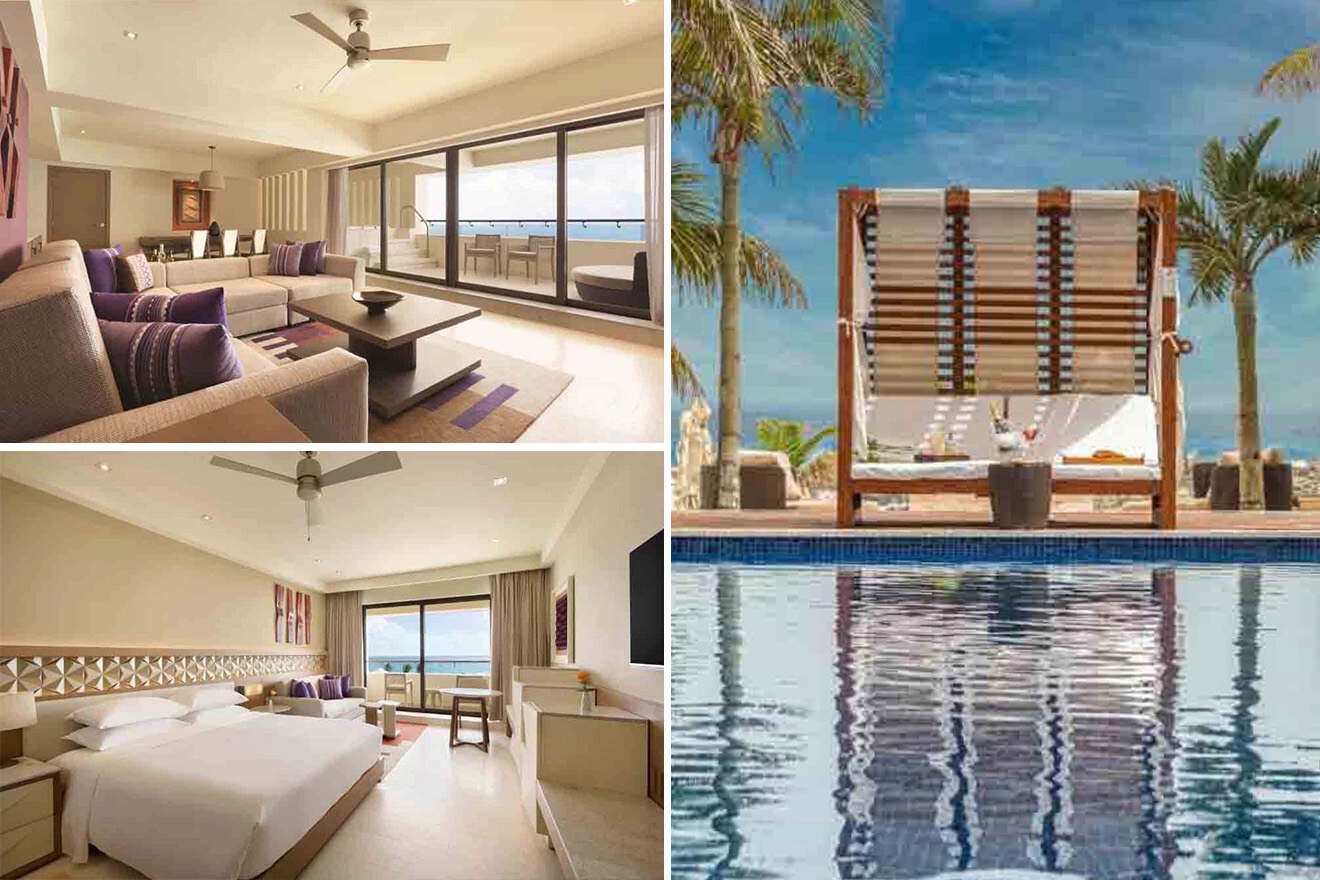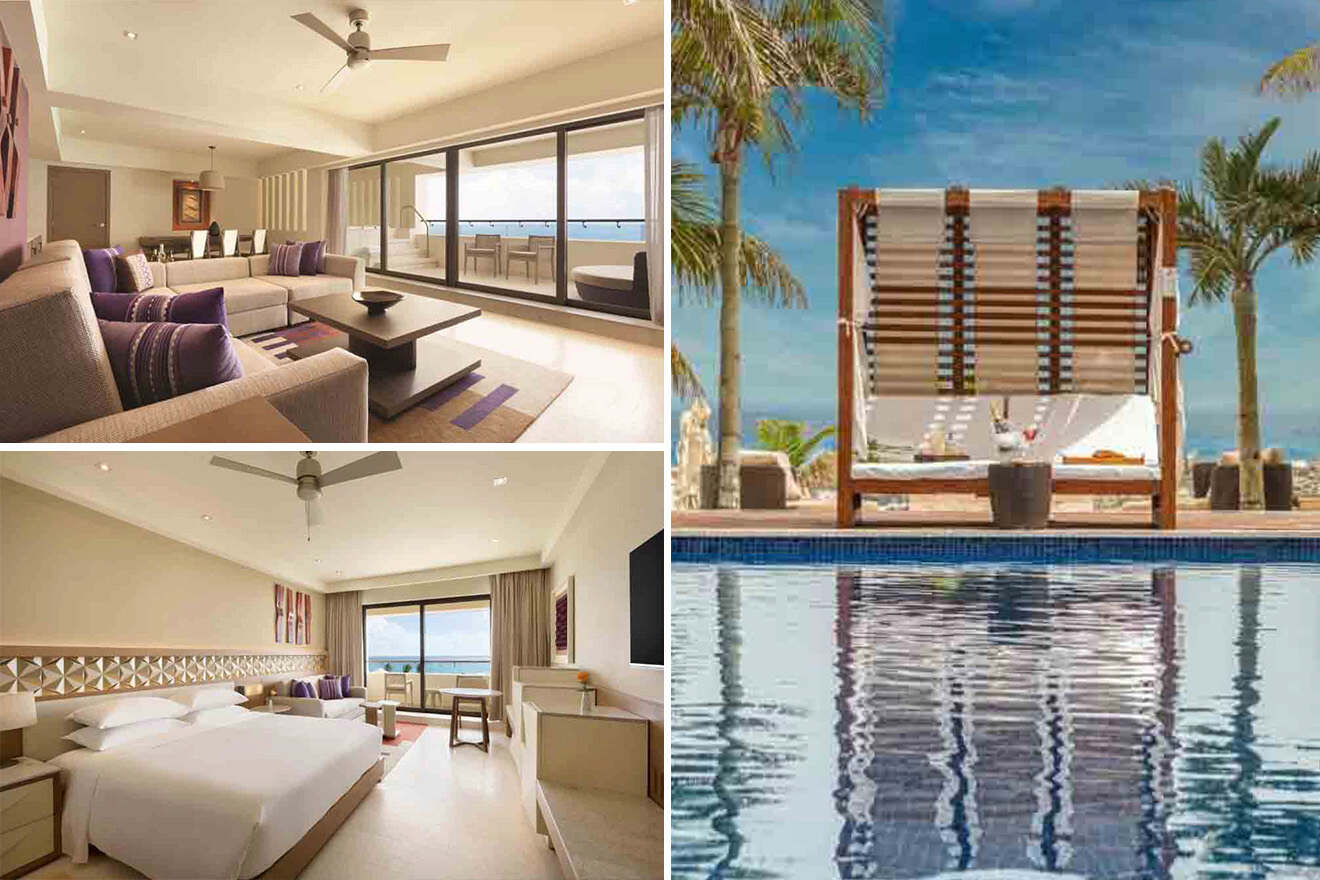 Wake up to a stunning view of the Caribbean Sea at this amazing all inclusive resort that's just perfect for your family vacation! With so many fun things to do and try like water sports, playing tennis, Spanish lessons, and exploring the beach, this Cancun resort is unmissable.
While I'm sure the kids will spend much of their time on the playground or making new friends by the children's pool, the parents will probably seek some quiet time. For that, the staff at Hyatt Ziva Cancun offers babysitting services, so you can rest at the spa, and enjoy all those fabulous services, knowing that the little ones are taken care of.
Find Available Dates
6. The Royal Sands Resort & Spa – beachfront hotel with a pool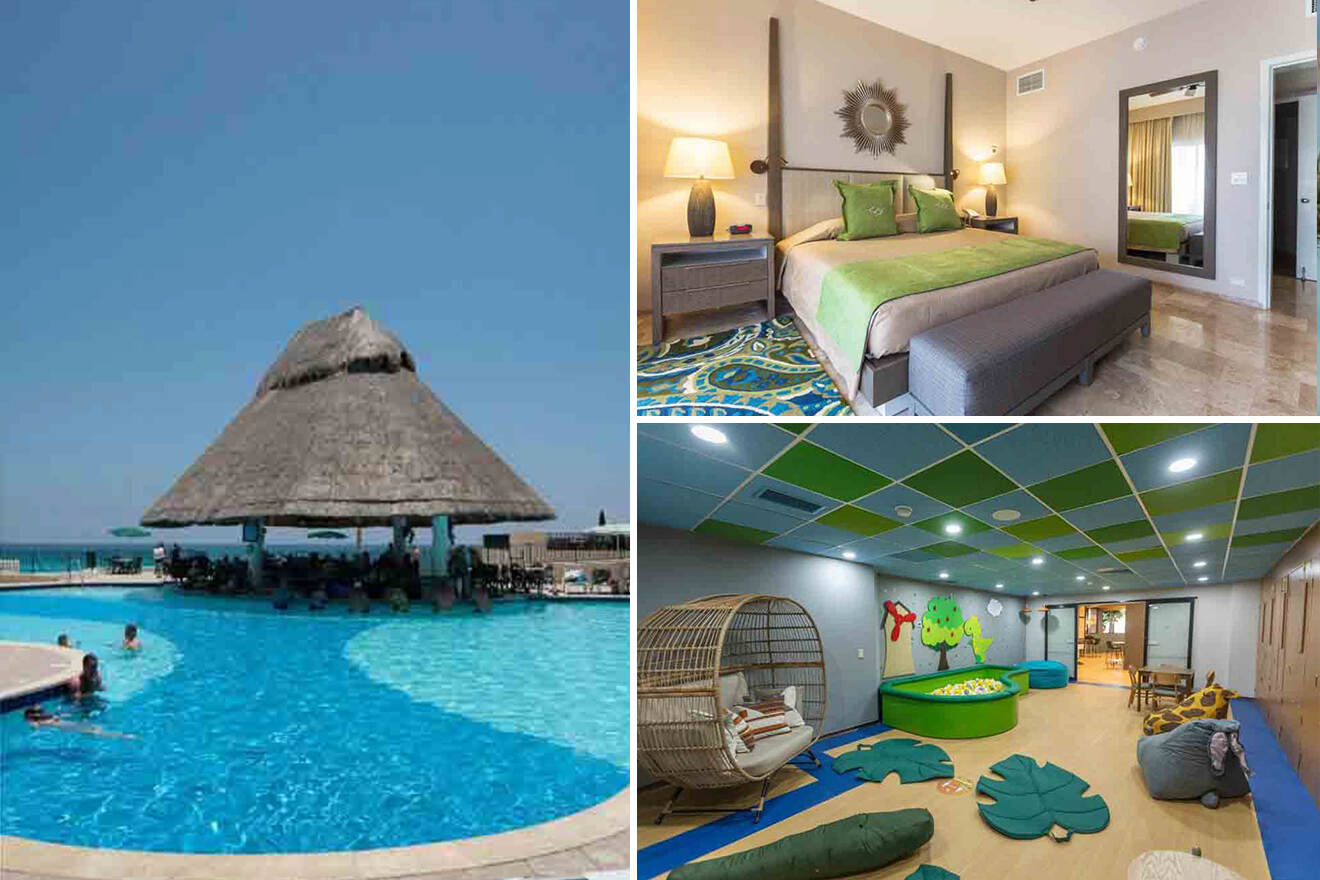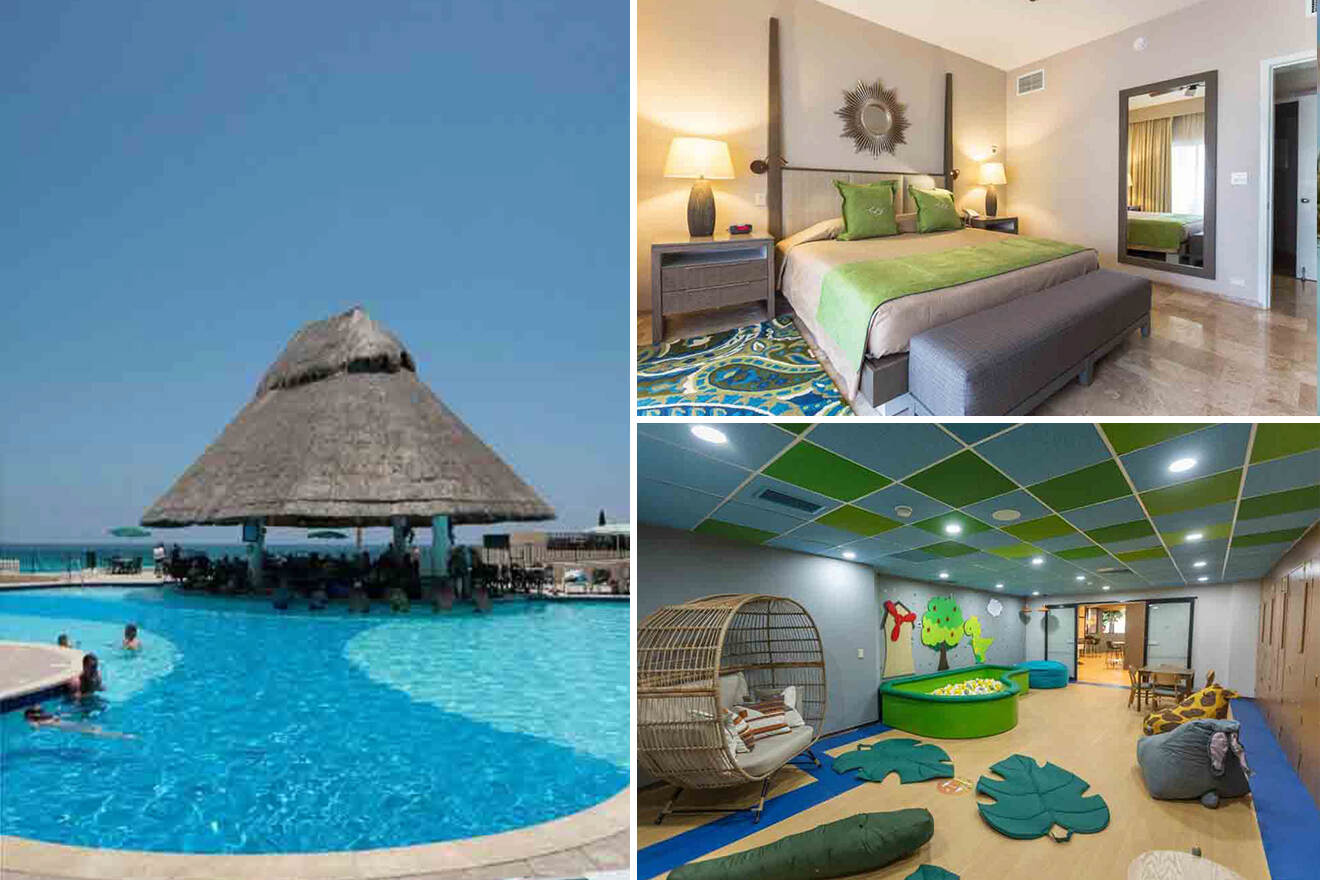 Located in central Cancun, this all inclusive resort is prepared to offer you a fun family vacation that everyone will remember! Equipped with all sorts of facilities that will keep all family members busy as bees like water sports, a spa, tennis courts and outdoor pools, this resort is definitely a keeper!
Start your mornings with a delicious breakfast and then head out to explore the private beach area! Your reservations at Royal Sands Resort include 2 free tickets to the Cancun Mayan Museum so you can also visit it during your outing. Or if you just want to be lazy all day long and simply enjoy the vibe, the pool is a great spot for that!
Check Availability
7. Finest Playa Mujeres – fancy resort with a spa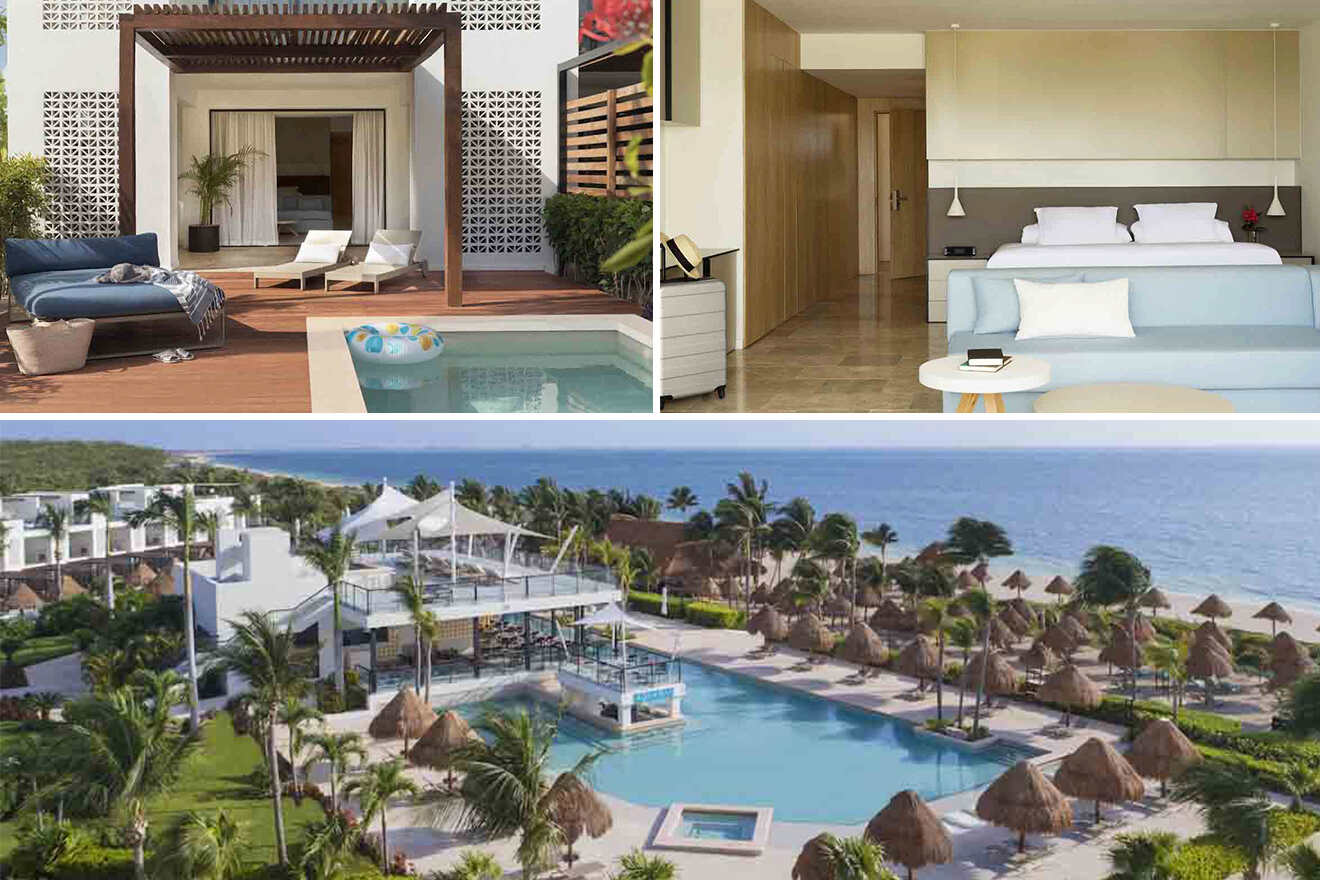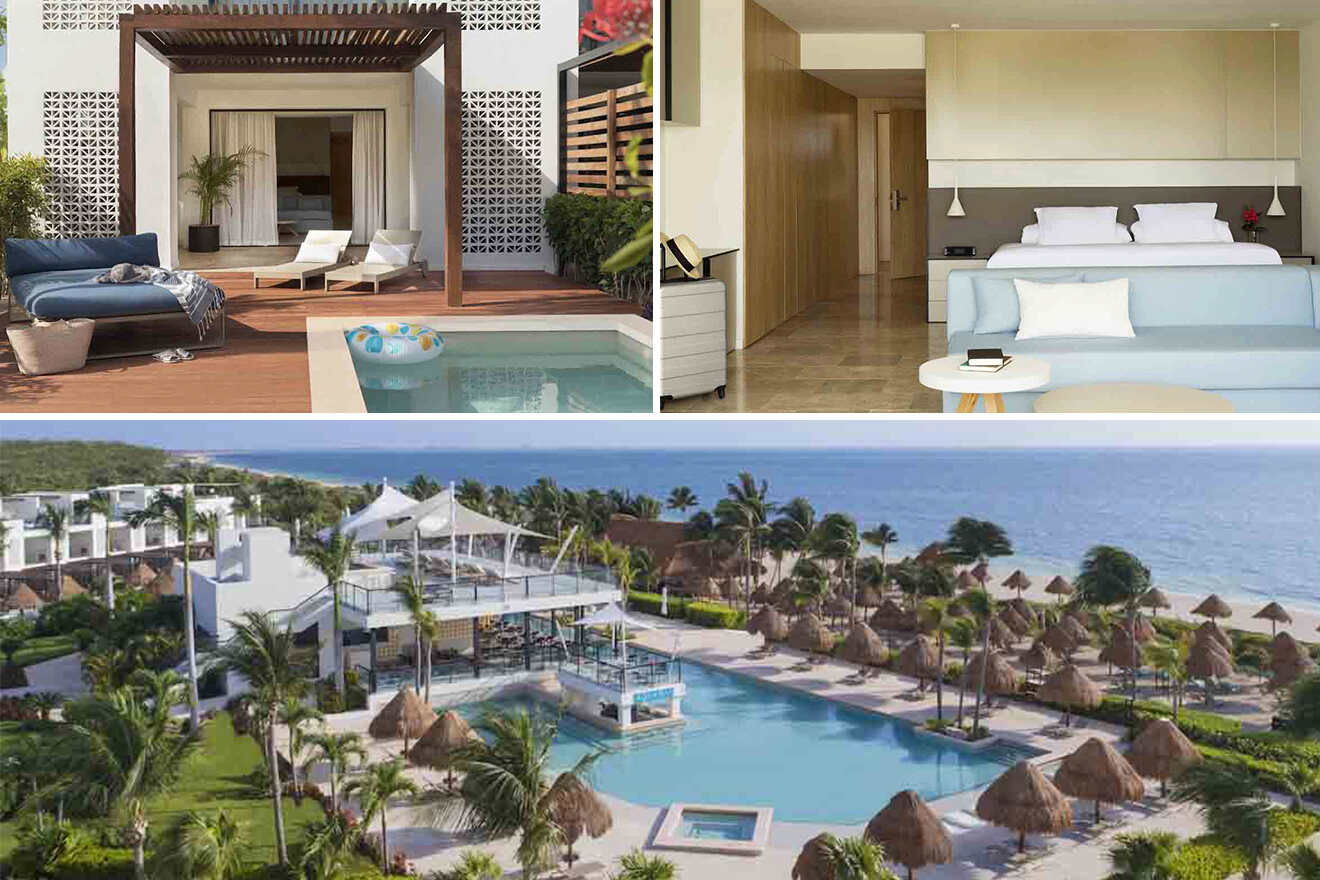 I love the simple and modern decor of this Cancun resort! The aesthetics and minimalist touches will have you asking about its designer the minute you get here! Plus the combination of white decor and the ocean's blue color will put you in a holiday mood asap!
The resort has 12 restaurants, kids clubs, play areas, a spa plus many other spots where you can relax, play with the little ones and enjoy some yummy food. If you're up to explore around you can even rent bicycles and go on a family adventure, which I'm sure the children will love!
Check Current Prices
8. Wyndham Alltra Cancun – beach resort with mini-golf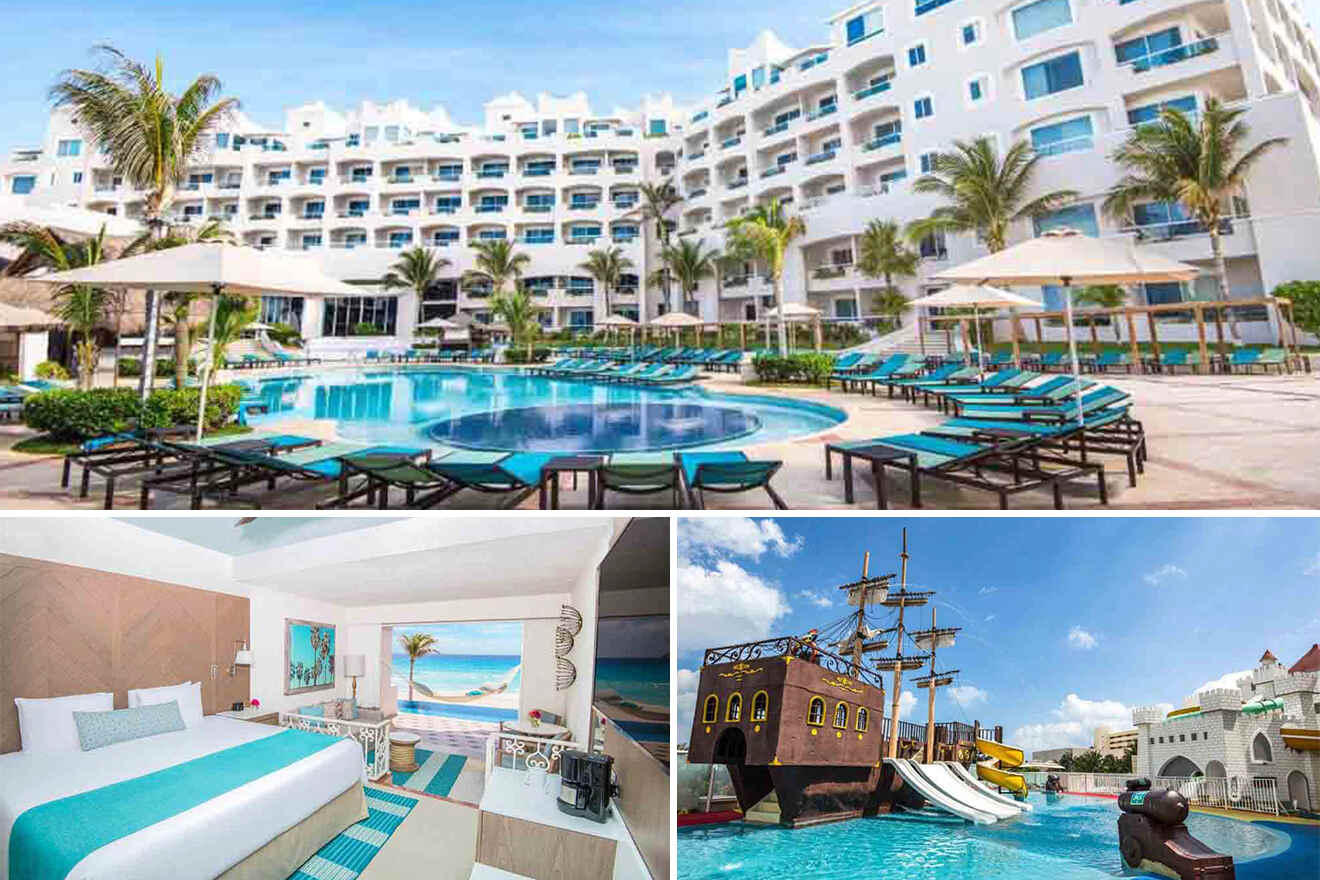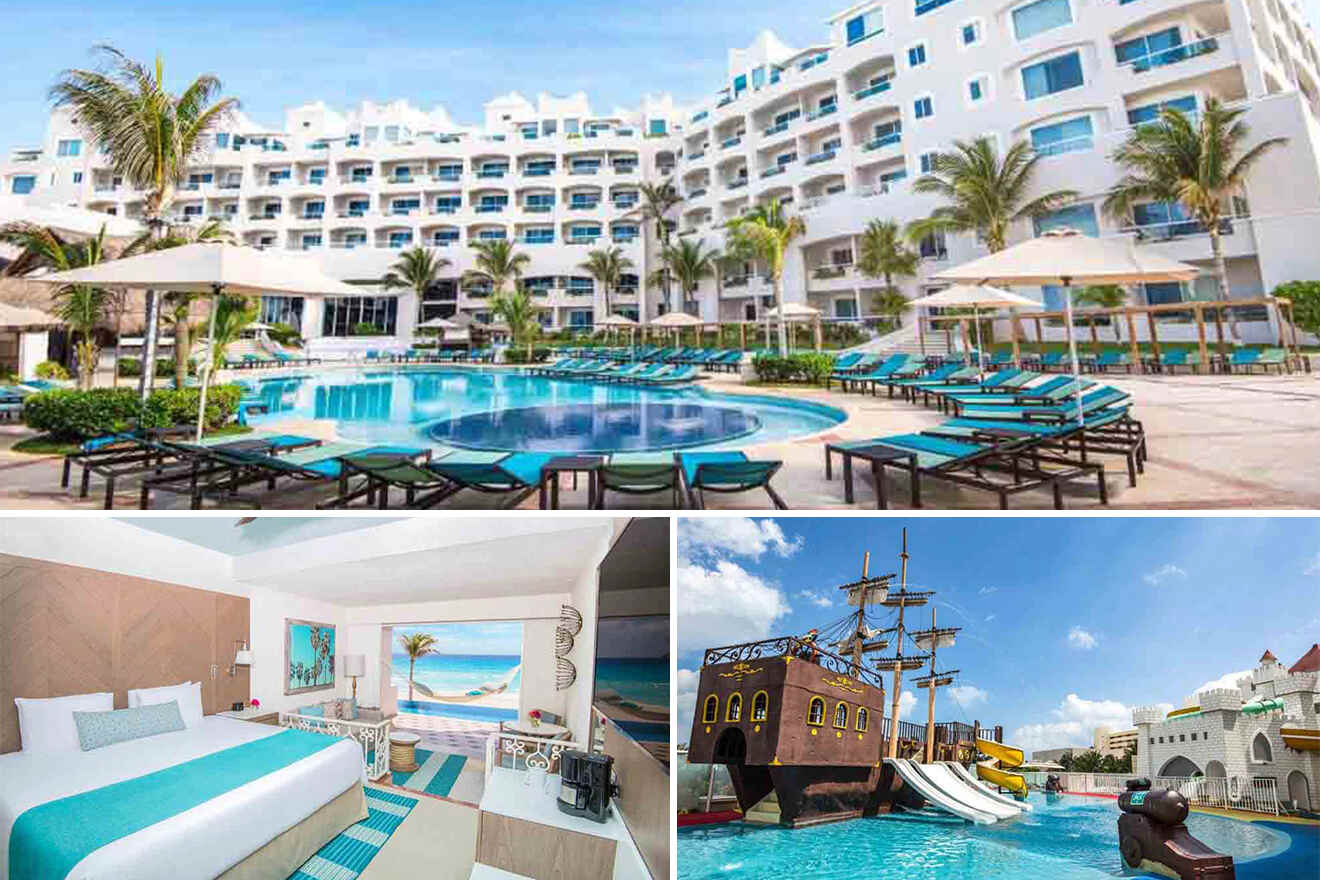 Hop from your bed straight onto the sandy shores at this all inclusive family resort that offers kids clubs, a mini golf course, on-site boutiques and a spa center! What's great about this hotel (which is also known as Panama Jack Resorts Cancun) is that each guest can personalize the services, and create their own unique experience.
However, no matter what you pick I'm sure the kids will probably play by the water park all day long! And if that isn't really your scene, don't worry there are plenty of spa services, yoga classes and even a gym for you to hit whenever you're in the mood!
Find Available Dates
9. Moon Palace – elegant resort with a games room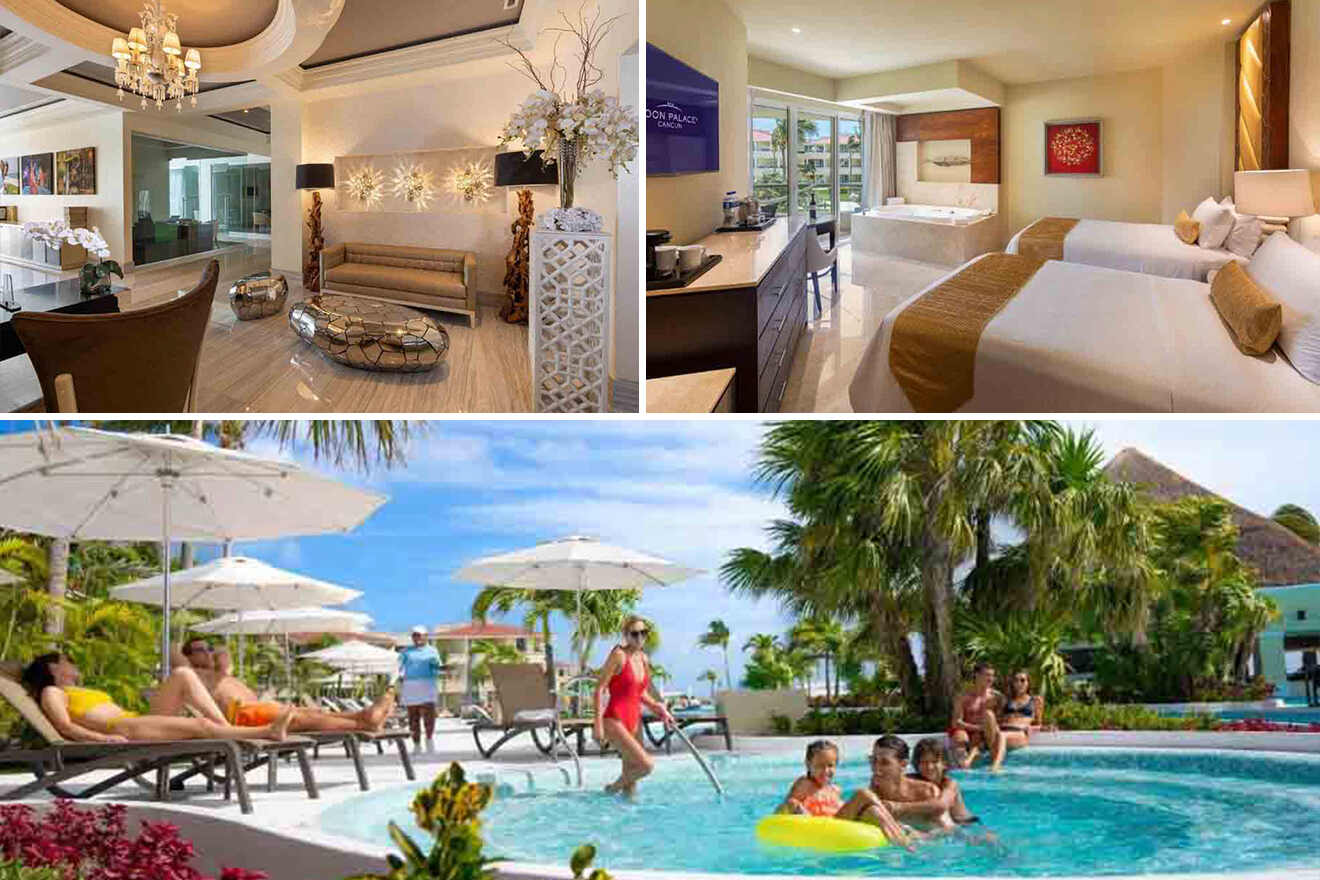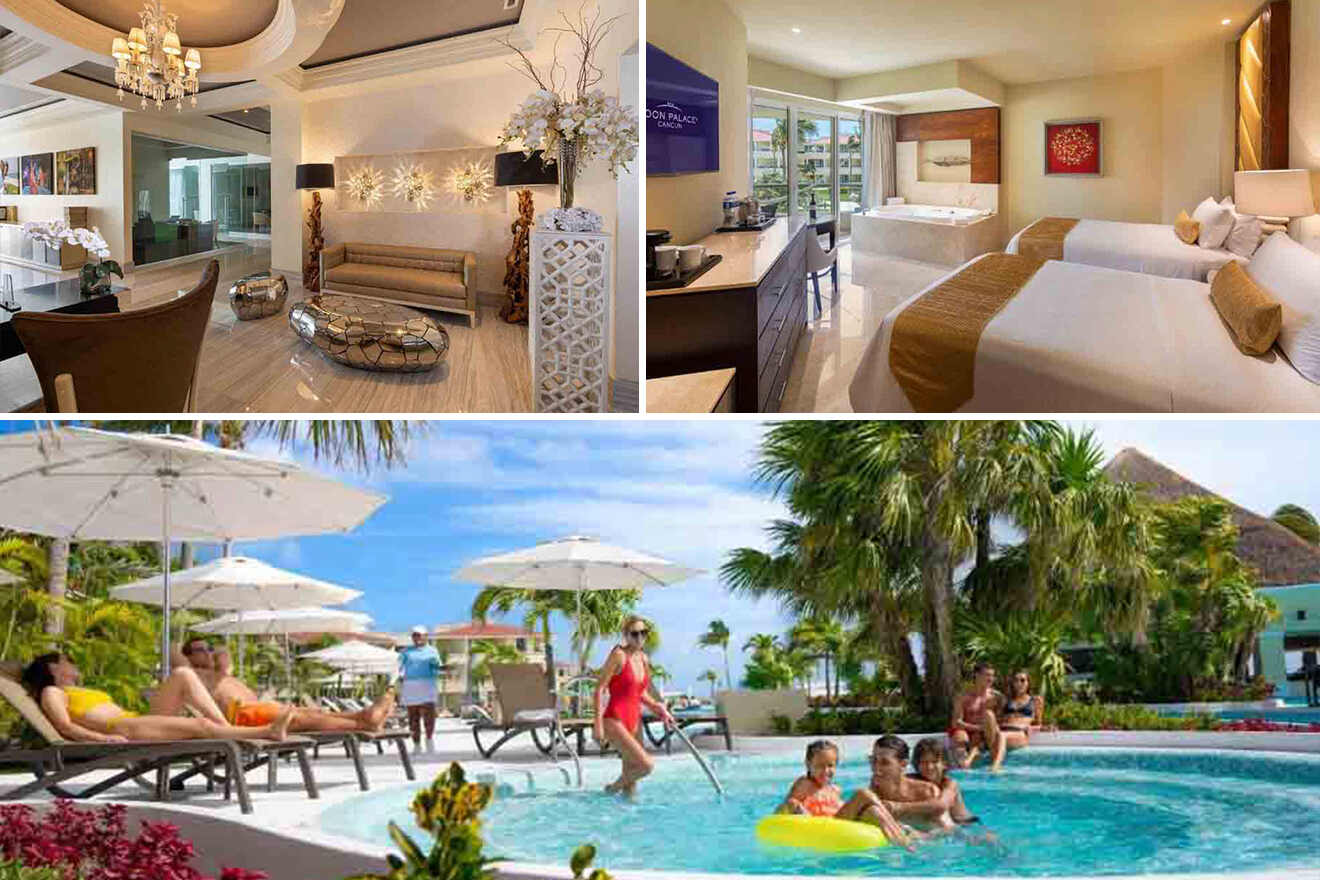 Welcome to the place you'll never want to leave! Moon Palace Cancun is one of the best all inclusive resorts around and they offer such cool facilities! From world-class golf, to a stunning spa center, and a fun games room, this resort in Cancun will make your family holiday so much better!
Moon Palace Cancun offers a lovely setting, super elegant (and spacious rooms), and swimming pools which look as if they were taken out of the magazines! But I'm sure you won't spend so much time on land. The ocean is waiting for you and the kids to spend your days snorkeling and kayaking!
Check Current Prices
10. Hotel Riu Palace Peninsula – with 5 swimming pools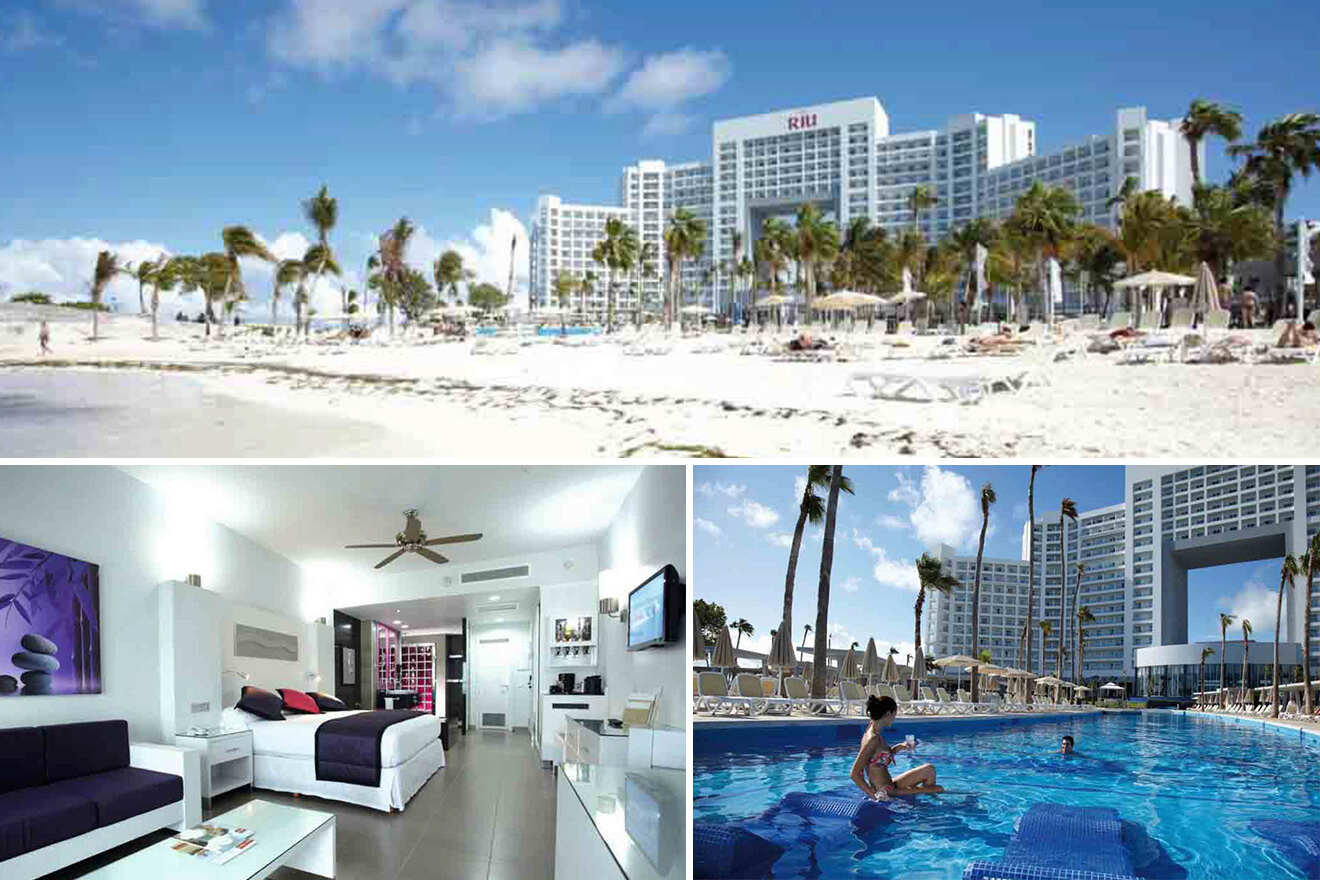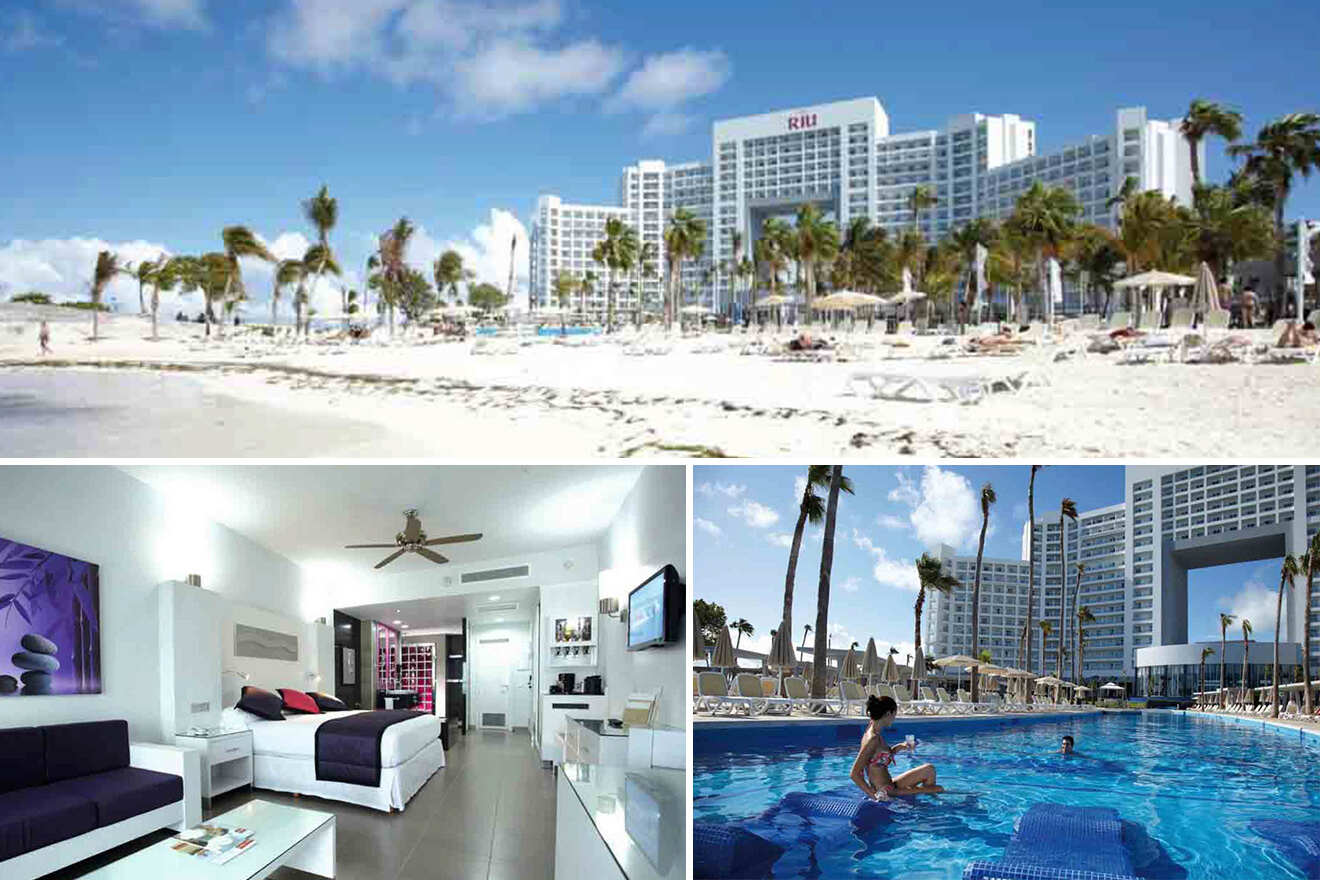 Parents get ready to relax, kids, I hope you're not bringing any toys because this resort set in the Hotel Zone has lots of amazing amenities for you! Oh yes, I'm talking about playgrounds, kids clubs, swimming pools and water sports! You'll always remember this trip!  
And don't worry, I'm sure the parents will enjoy the evening entertainment, drinking cocktails by the pool and letting all the worries melt away in the steam room. All the rooms at the resort come with lots of space, air conditioning, a seating area and a flat-screen TV for the nights when you can't be bothered to leave your room and want to have a good old family movie night!
Check Availability
11. Iberostar Cancun – with an awesome water park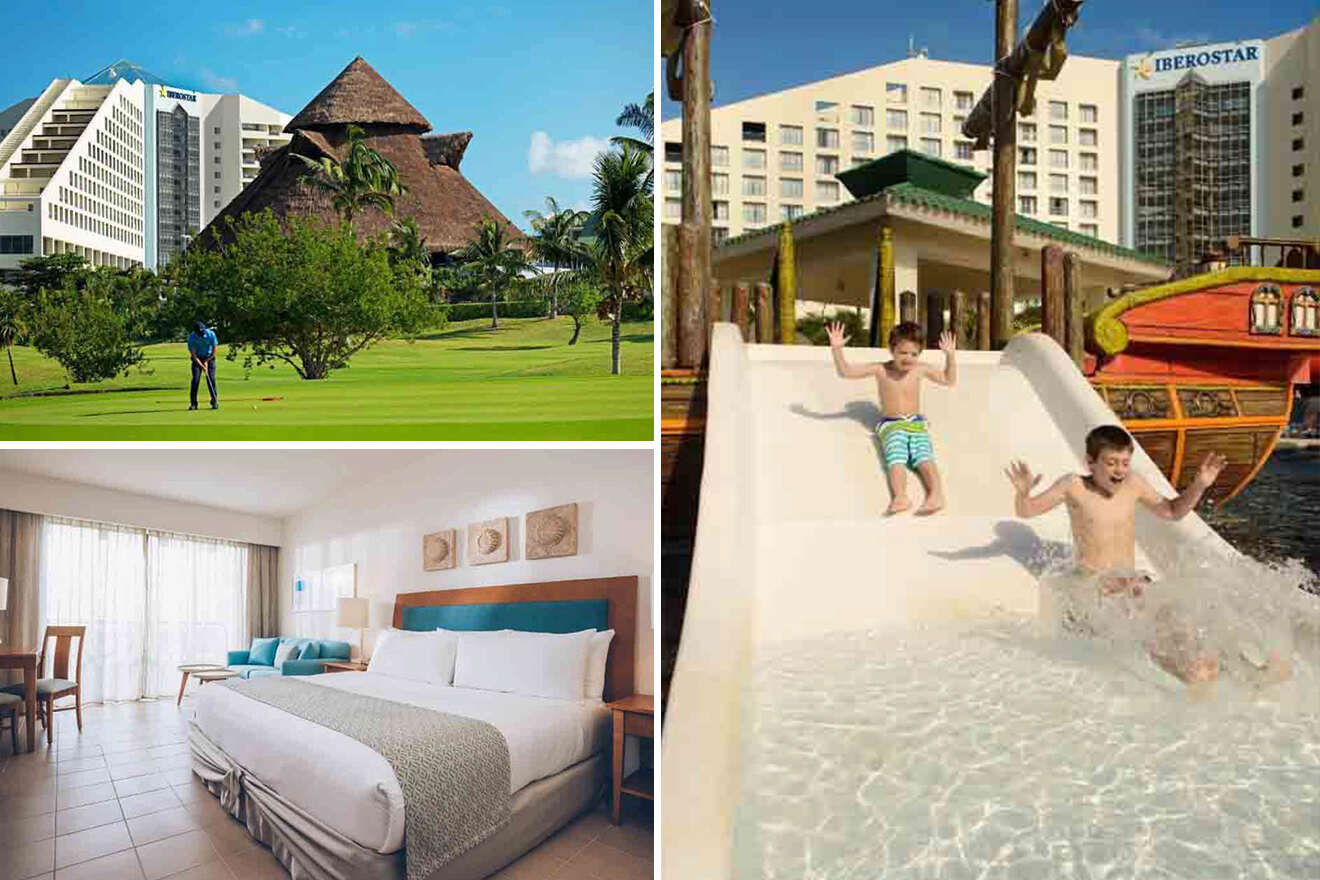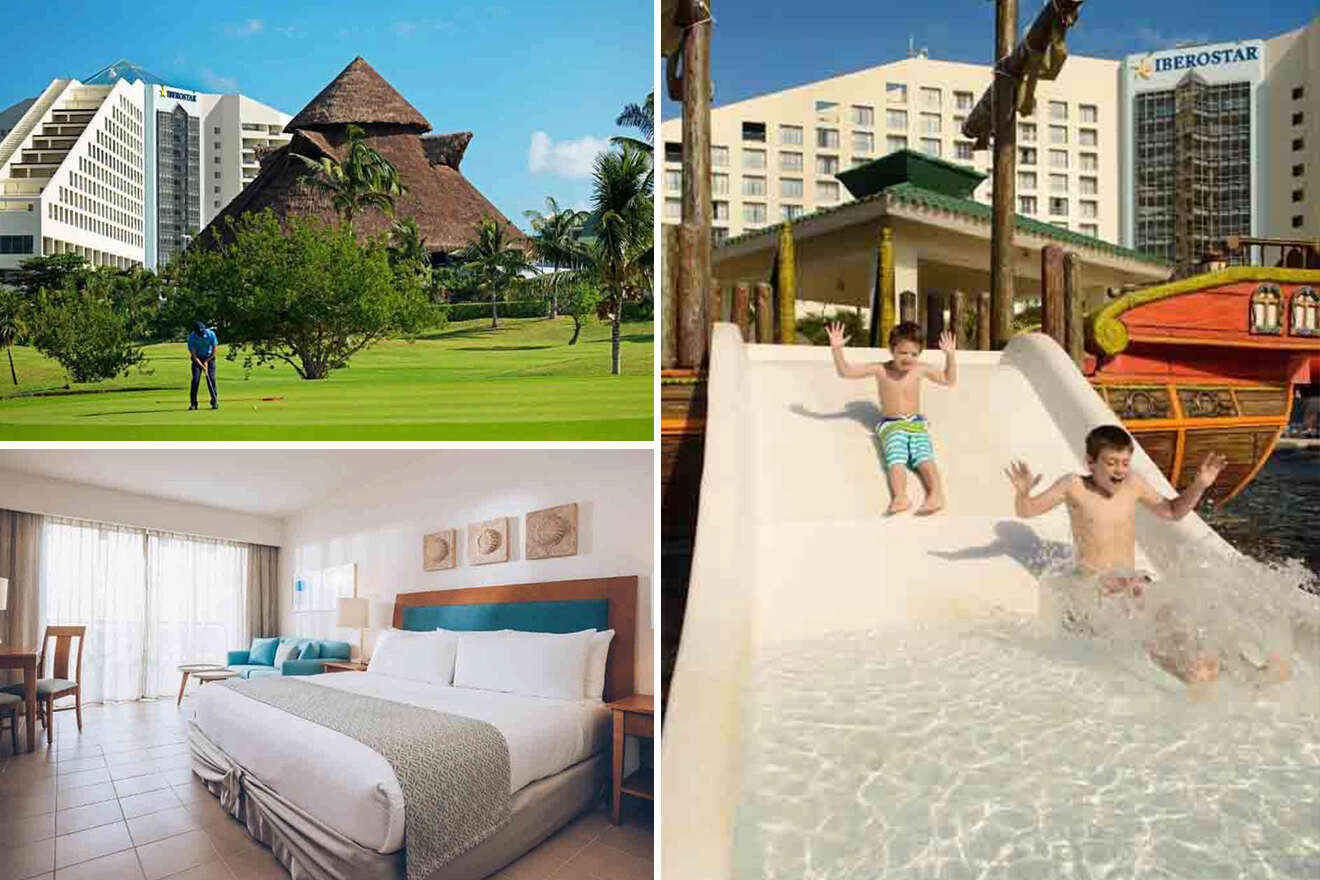 Who's in desperate need of a holiday somewhere where there's sun most of the time and an ocean? I'm guessing everyone! And if you're planning a family holiday then you'll love this place! Iberostar Cancun is set right on the sandy shores in the Hotel Zone!
Offering fabulous facilities like a swim-up bar, 4 swimming pools (including one for kids) and a neverending list of fun activities, this resort is unmissable! Enjoy those spa days to the fullest and play with the kids at the water park until the sun goes down. And don't forget you've got a private beach area just for you!
Check Availability
12. Beach Palace Resort – all inclusive resort for families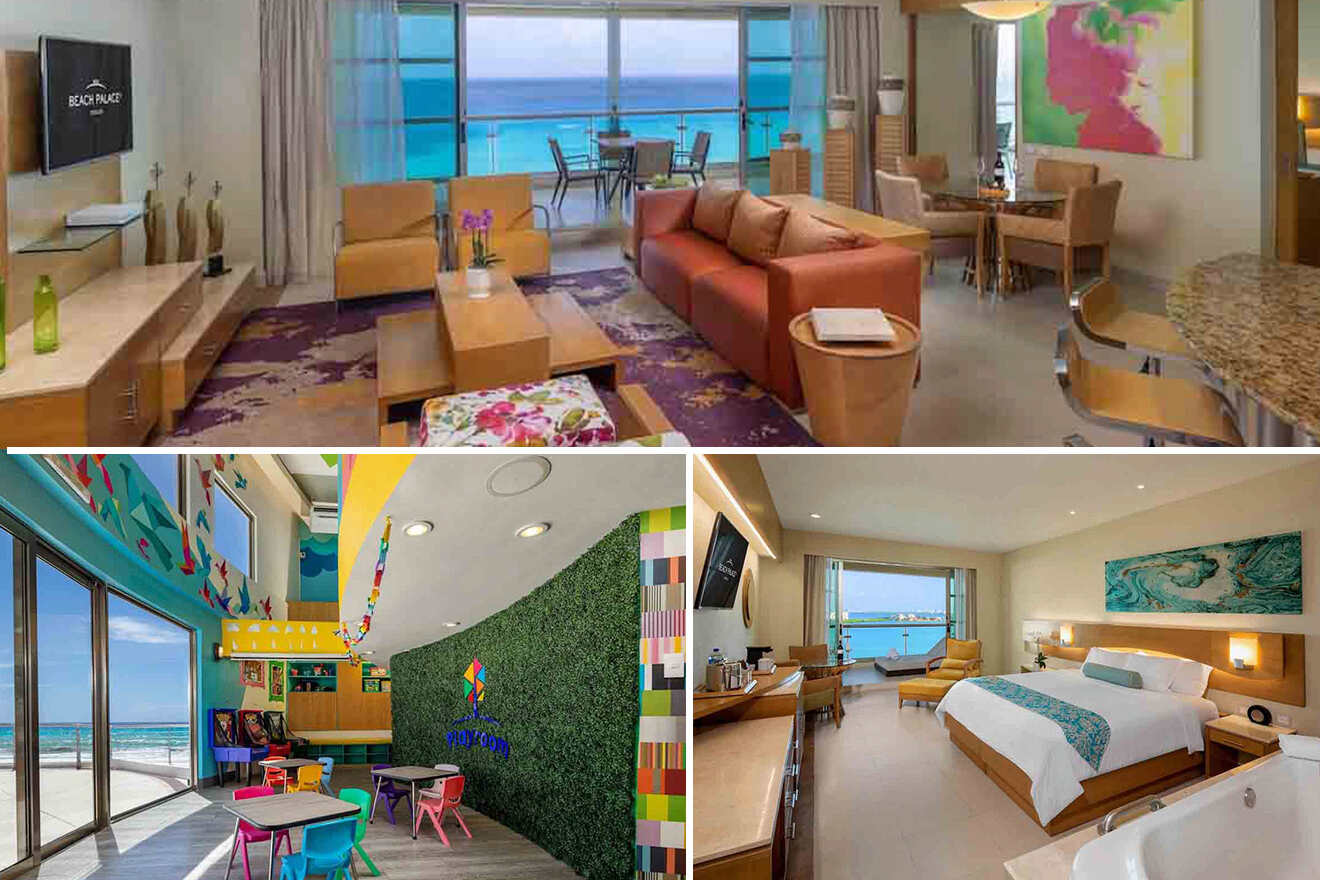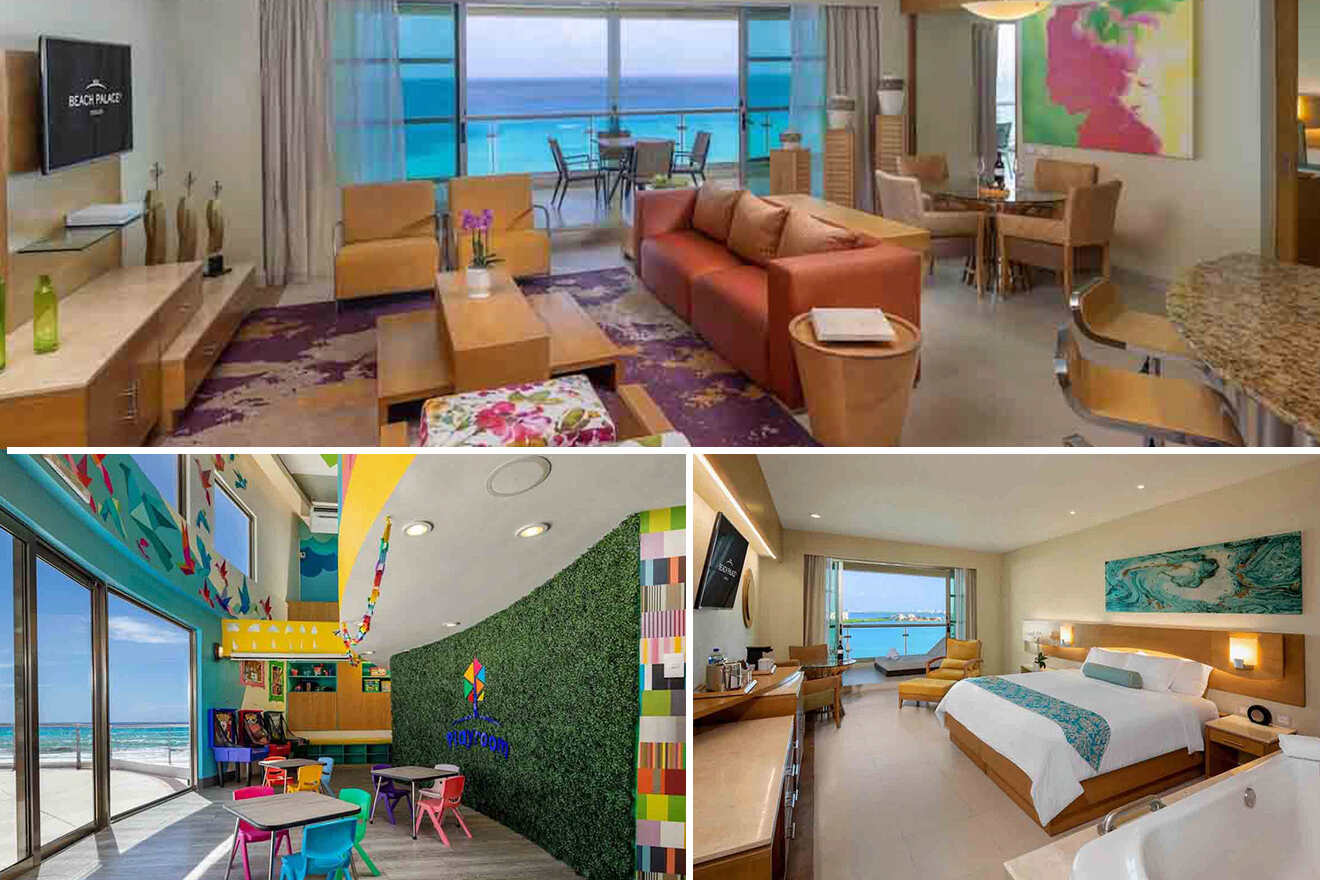 Ola familia! Who's eager to start this holiday already? I guess by now you've noticed how many incredible all inclusive resorts you'll find here and most of them offer kids clubs, pools and other cool things like dance classes!
Just like Beach Palace resort which is set next to the beach, offering those fabulous ocean views which you can spot right when you wake up in the morning! All suites at this all inclusive family resort are super comfy and spacious but I doubt you'll spend much time there when you can go snorkeling, take the little ones to the kids club and enjoy the sun by one of the swimming pools.  
Check Current Prices
13. Royal Solaris Cancun – beach resort with a water park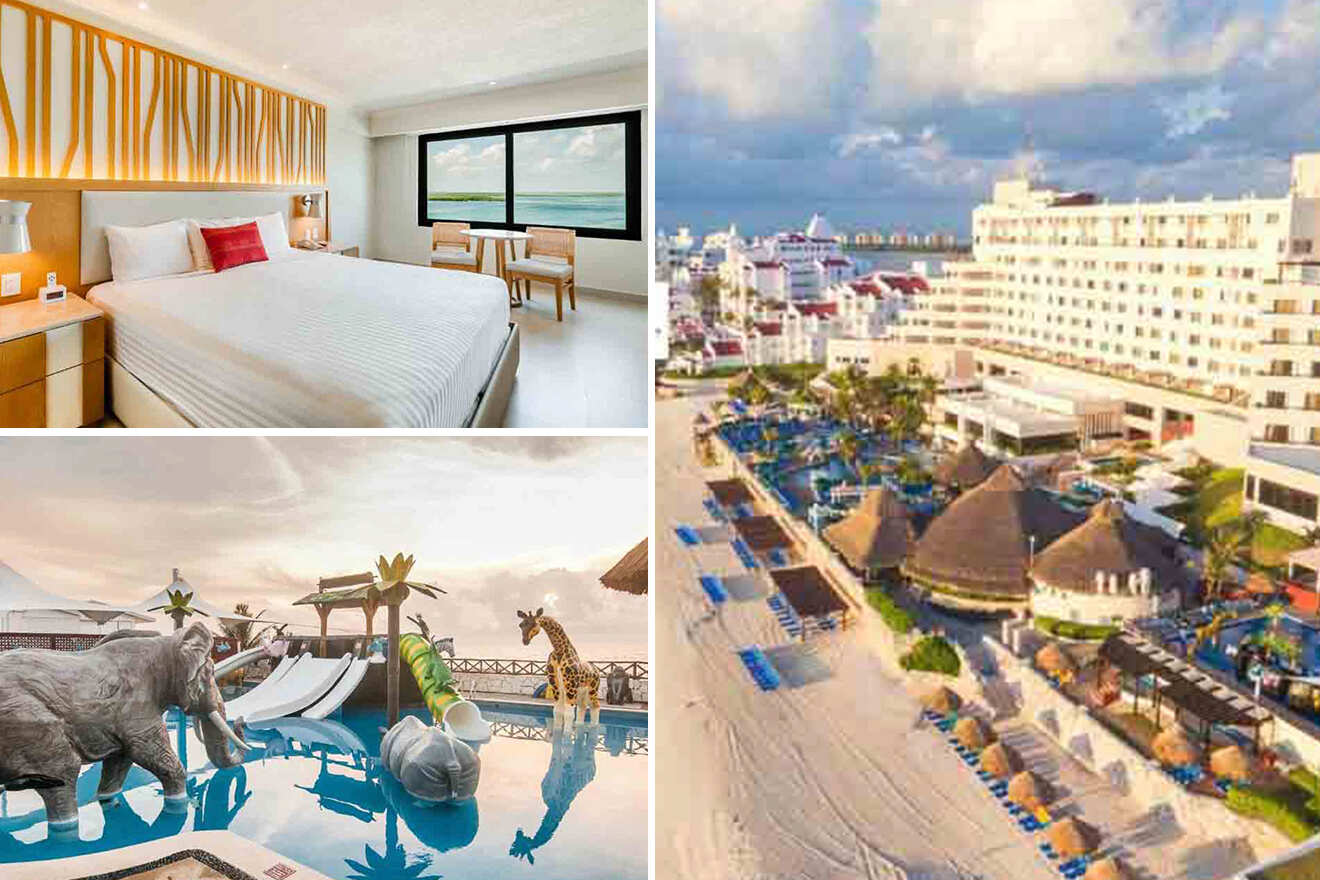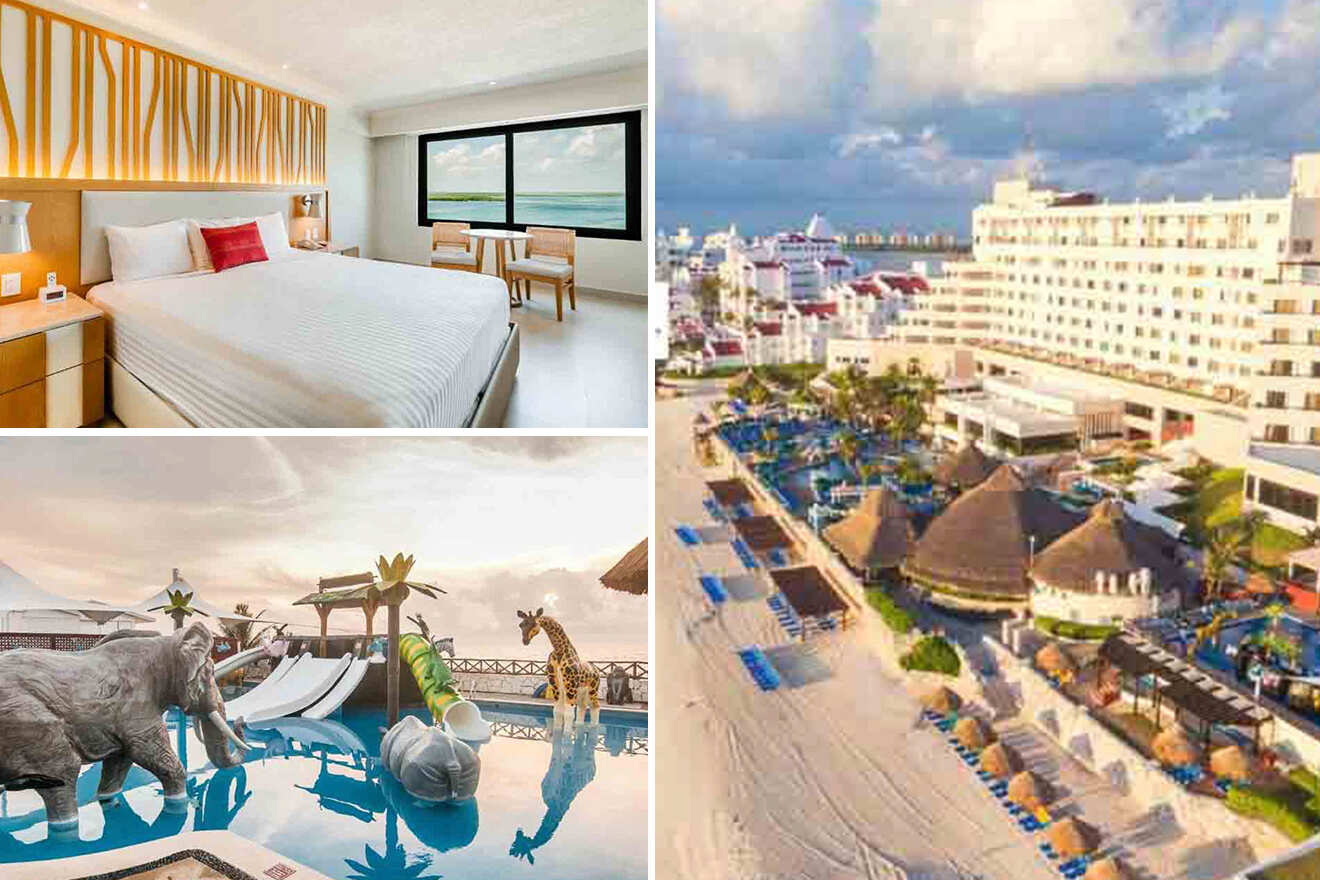 The sun, pristine beaches and the ocean! Oh yes, there's nothing like a holiday in a place like Cancun with the whole family! Better bring lots of swimsuits with you because you'll want to spend most of your time at the pool, in the ocean or trying lots of water sports with your little ones!
This Cancun resort set in the hotel Zone has 3 restaurants and I'd recommend starting with the one that serves authentic Mexican cuisine. Royal Cancun has a swimming pool, a water park (which will become the kids' favorite place) and a golf course not too far from the hotel.
Find available prices
FAQs about Cancun all inclusive family resorts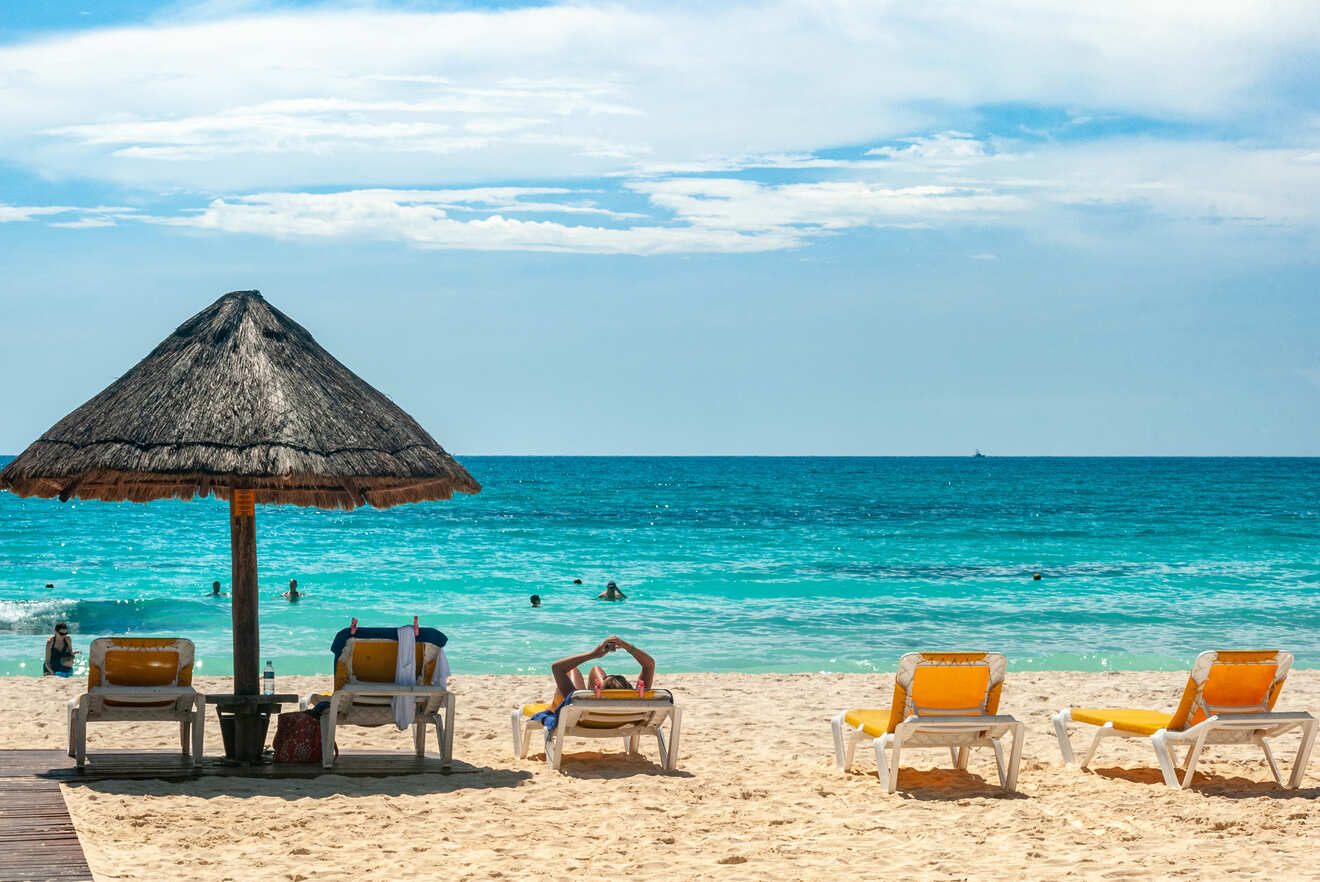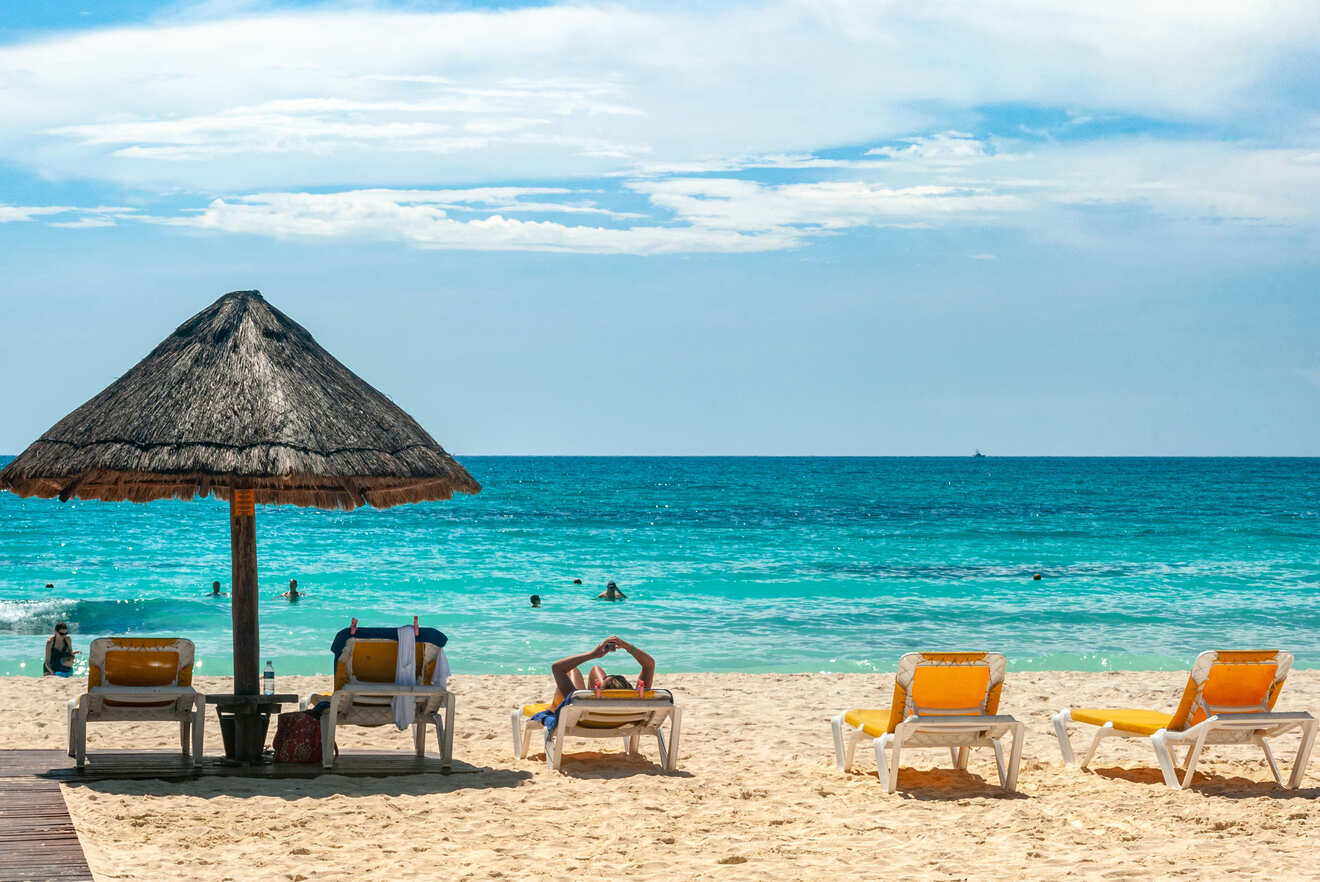 👪 Is Cancun Mexico good for families?
Yes, Cancun is a world-class beach resort city, and it offers a wide range of attractions for families from amazing beaches, water parks and aquariums.
⭐ Which are the best Cancun all inclusive family 5 star resorts?
🎢 Which all inclusive resorts in Cancun have a water park?
🌞 Which is the best time to visit Cancun?
The best time to visit Cancun is December through April, that's when the weather is at its best.
Conclusion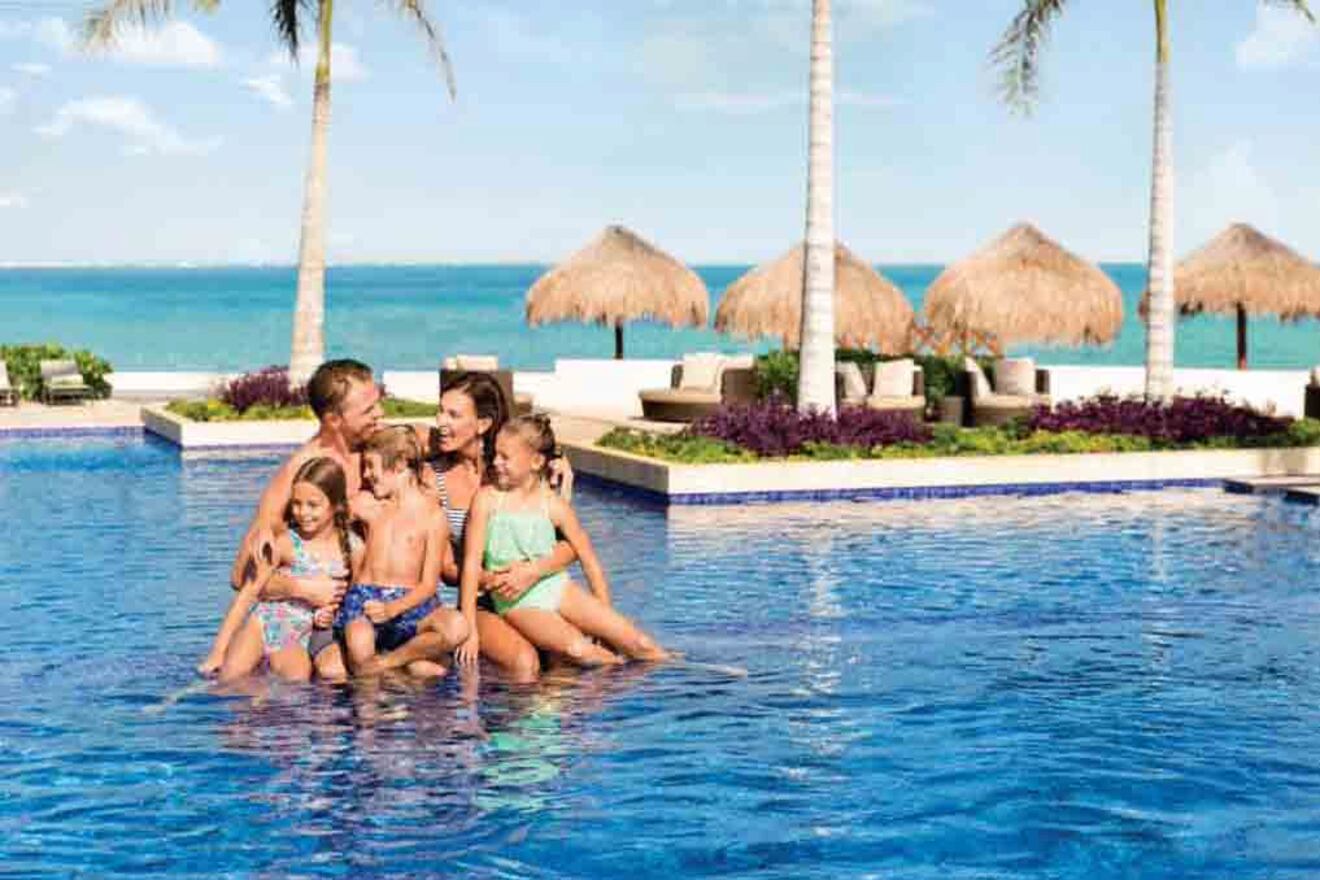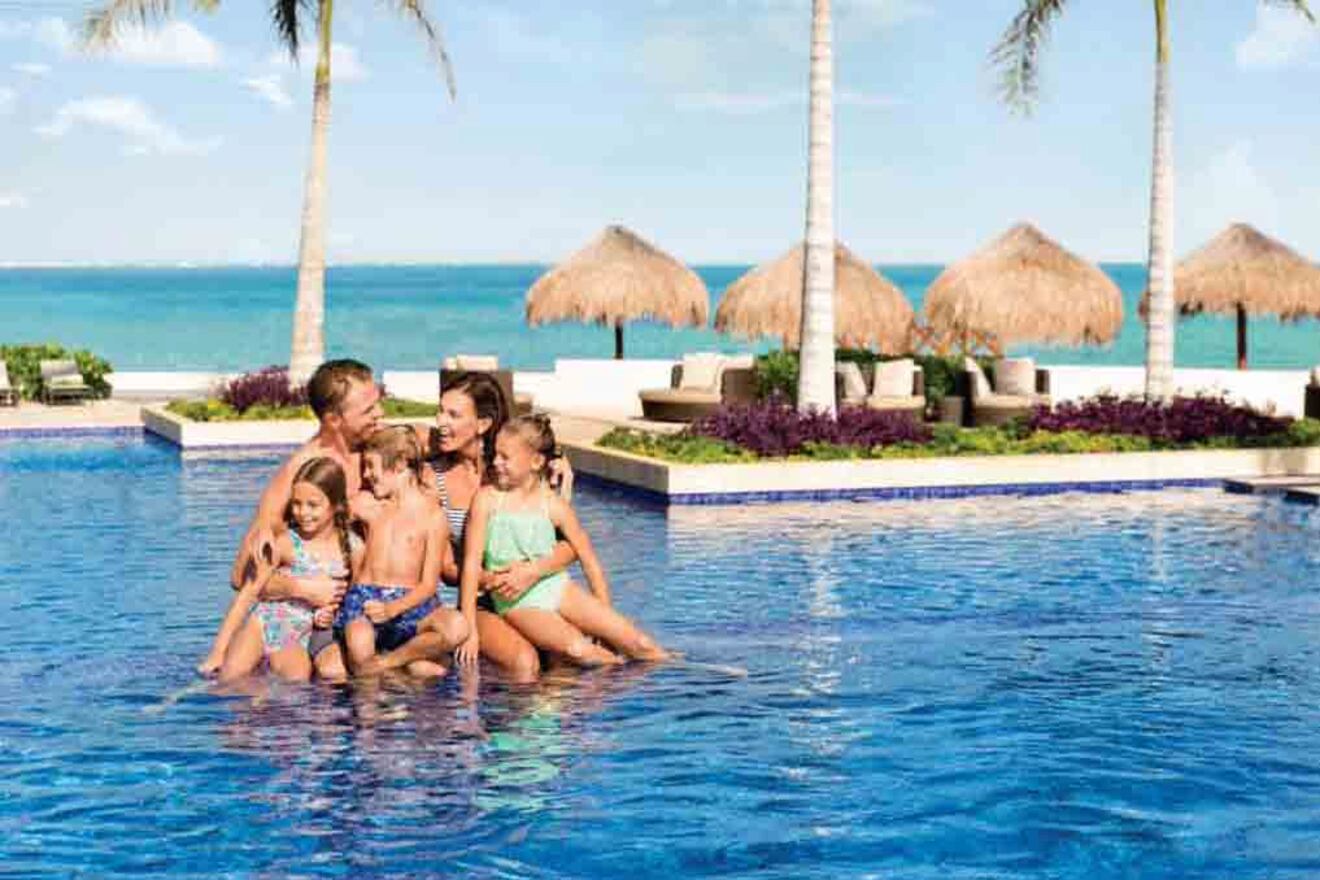 What a place! Your family is going to love it here, especially after they see all these Cancun family resorts which look unbelievable!
Since we're almost done, I think it's time we do a quick recap! So this post has the best Cancun all inclusive family resorts, which I hand picked myself (and added the ones with the top reviews), and also listed them from most to least expensive.
Picking your favorite is so difficult, especially when you have to consider your family members' opinions. So to make your job a little easier, here are my top 2 favorite places:
Grand Residences Riviera Cancun – Enjoy some sunny days on the private beach of this resort that has a spa, 2 swimming pools and an on-site market
Hard Rock Hotel Cancun – Hop from your bed straight on the beach at this hotel that has 5 restaurants on-site, a games room, and a tennis court
Don't forget that these are the best resorts for families around, which means that they'll sell out fast so I highly recommend booking super early!
Enjoy this fabulous trip and don't forget I'm always here if you need some help! Just leave me a comment below and I'll answer ASAP!
Happy Exploring,
Victoria
---
Pin it for later!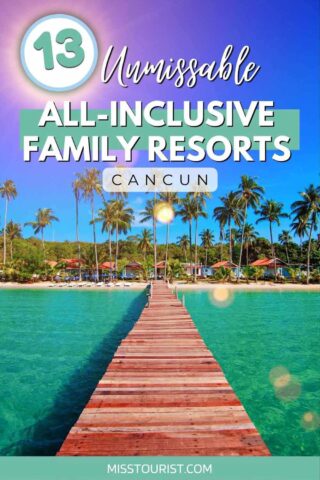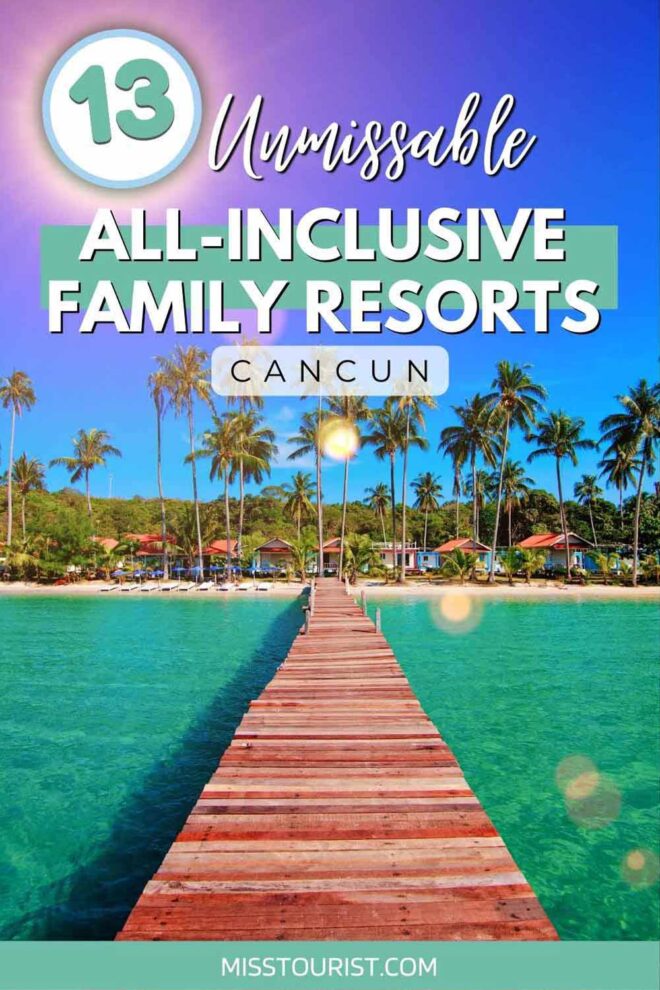 Pin it for later!