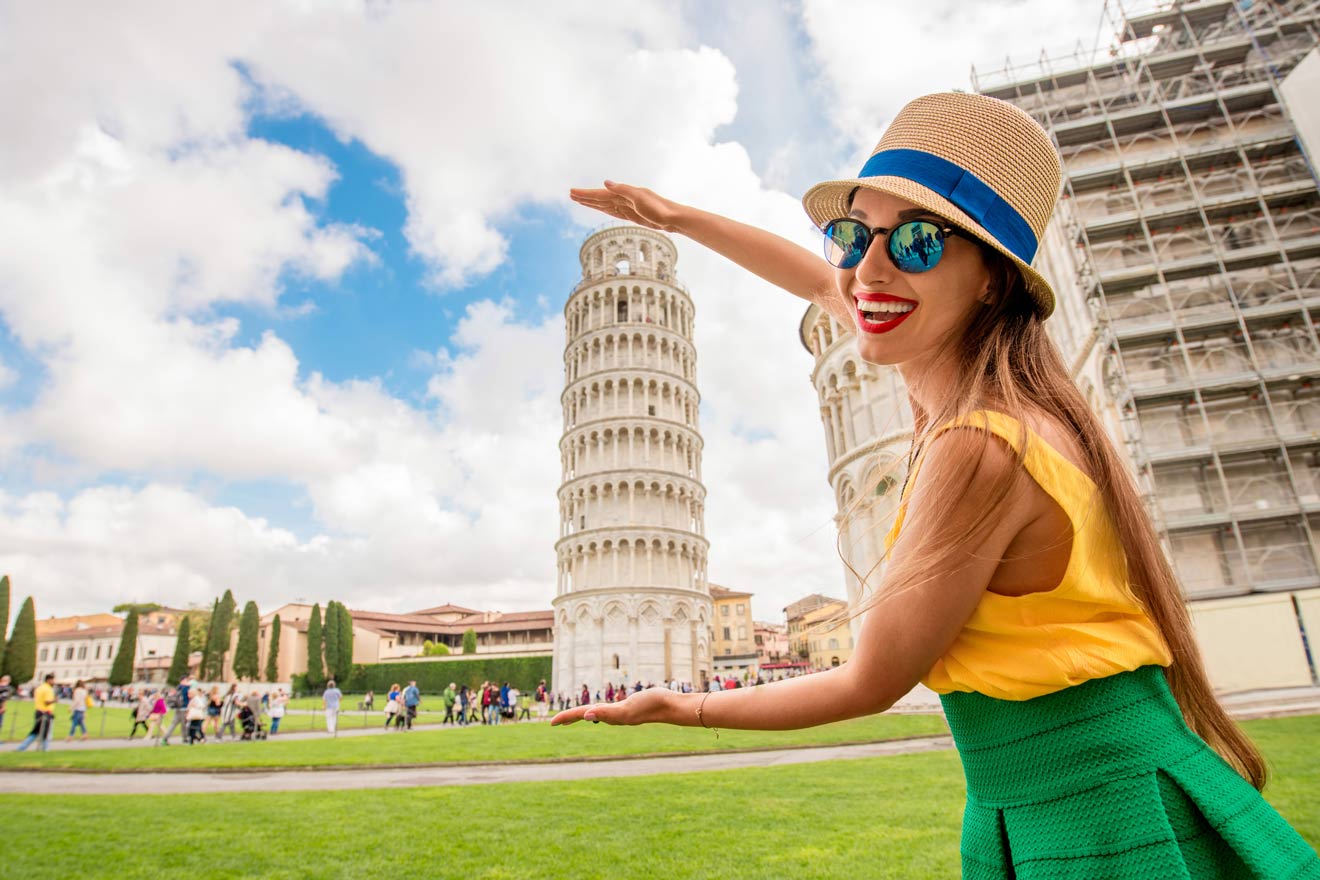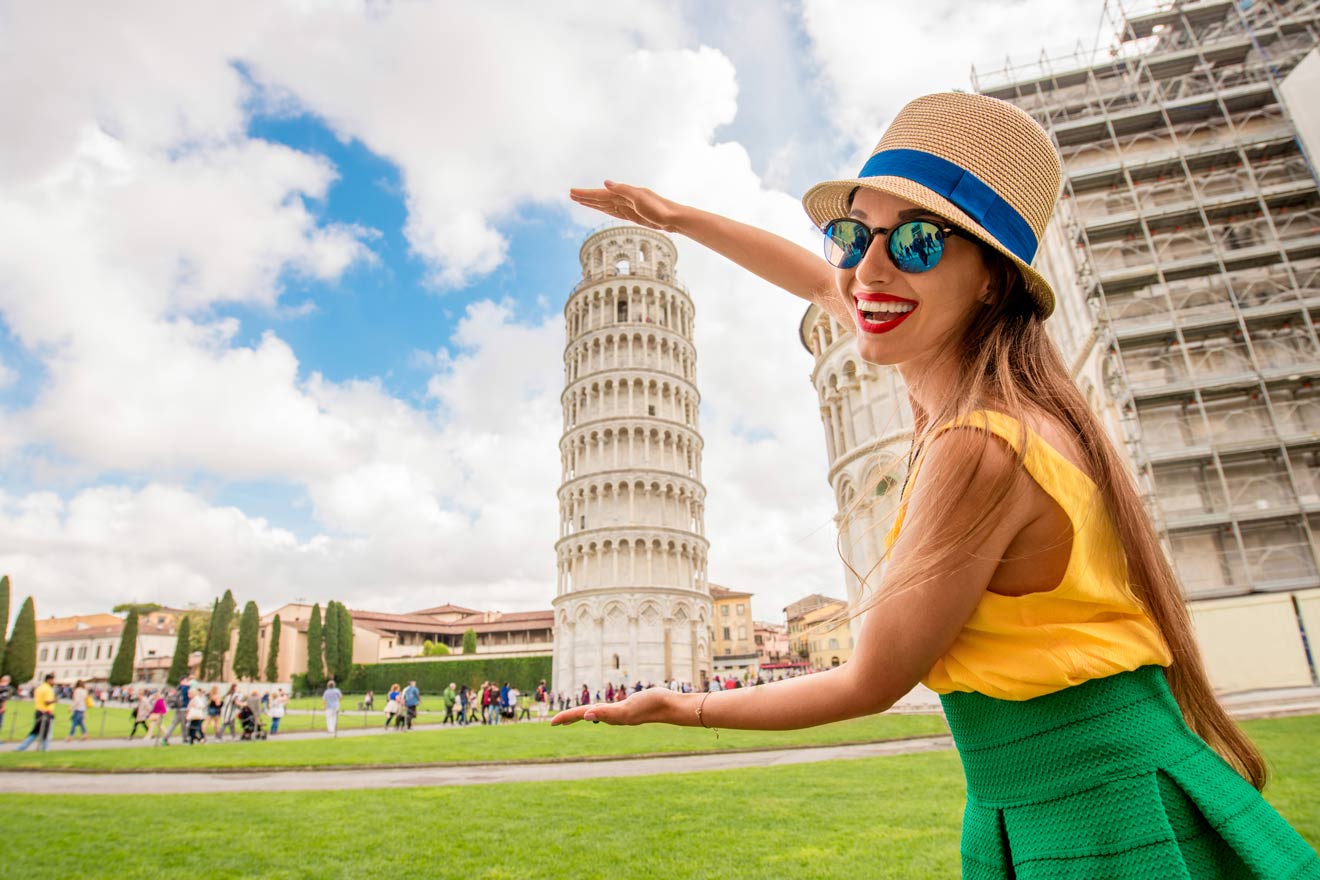 Ciao amori! If you're considering a weekend getaway to the alluring city of Pisa, you've come to the right place! Perched on the west coastline of Italy on the Ligurian Sea, this gorgeous Tuscan metropolis is definitely worth visiting.
Nestled alongside the banks of the River Arno, you'll discover so many historical monuments and lovely walkways leading to Pisan hidden gems and local Tuscan delights. Renaissance buildings, stunning frescos, and white marble wonders await!
Of all the Italian cities I've been to, I thought Pisa was one of the best. So I've compiled all the most incredible things to do in Pisa that I think will make your trip super memorable. Whether you want a romantic vacation or a family holiday, Pisa offers it all!
I'll also include a little bonus section on the best day trips from Pisa – you can't visit Pisa without discovering the exquisite Tuscan countryside!
Pisa gets super touristy, so make sure you book well in advance to avoid disappointment!
So let's get to it!
If you are in a hurry
If you're visiting Pisa and just looking for the main tours and hotels, I think these are excellent choices. Have a look below for some quick recommendations:
Here are the main things to book in advance:
And here are the best hotels: Palazzo Cini (luxury), Harmony House Prestige (mid-range), Bed & Tower (budget)
1. Marvel at the Leaning Tower of Pisa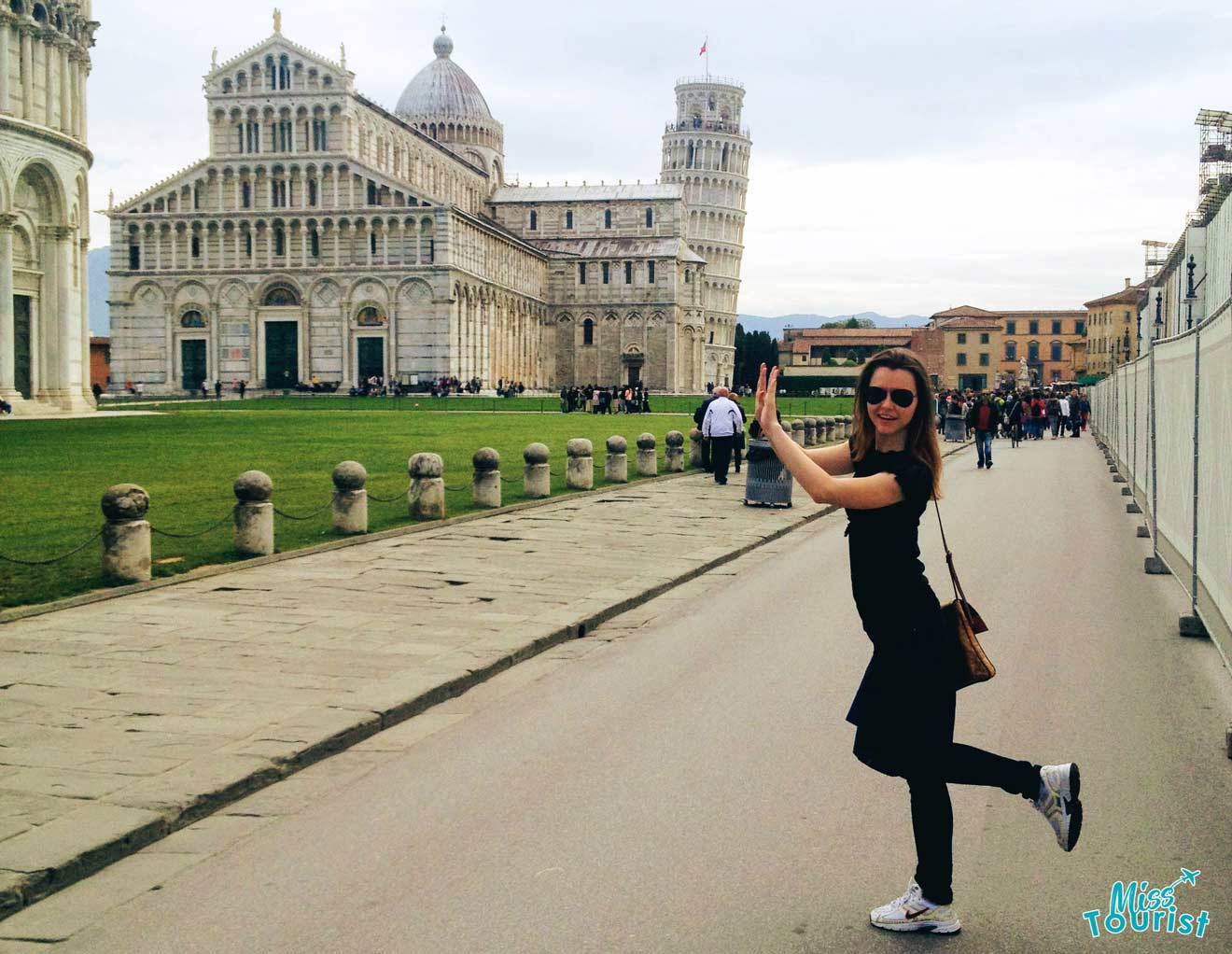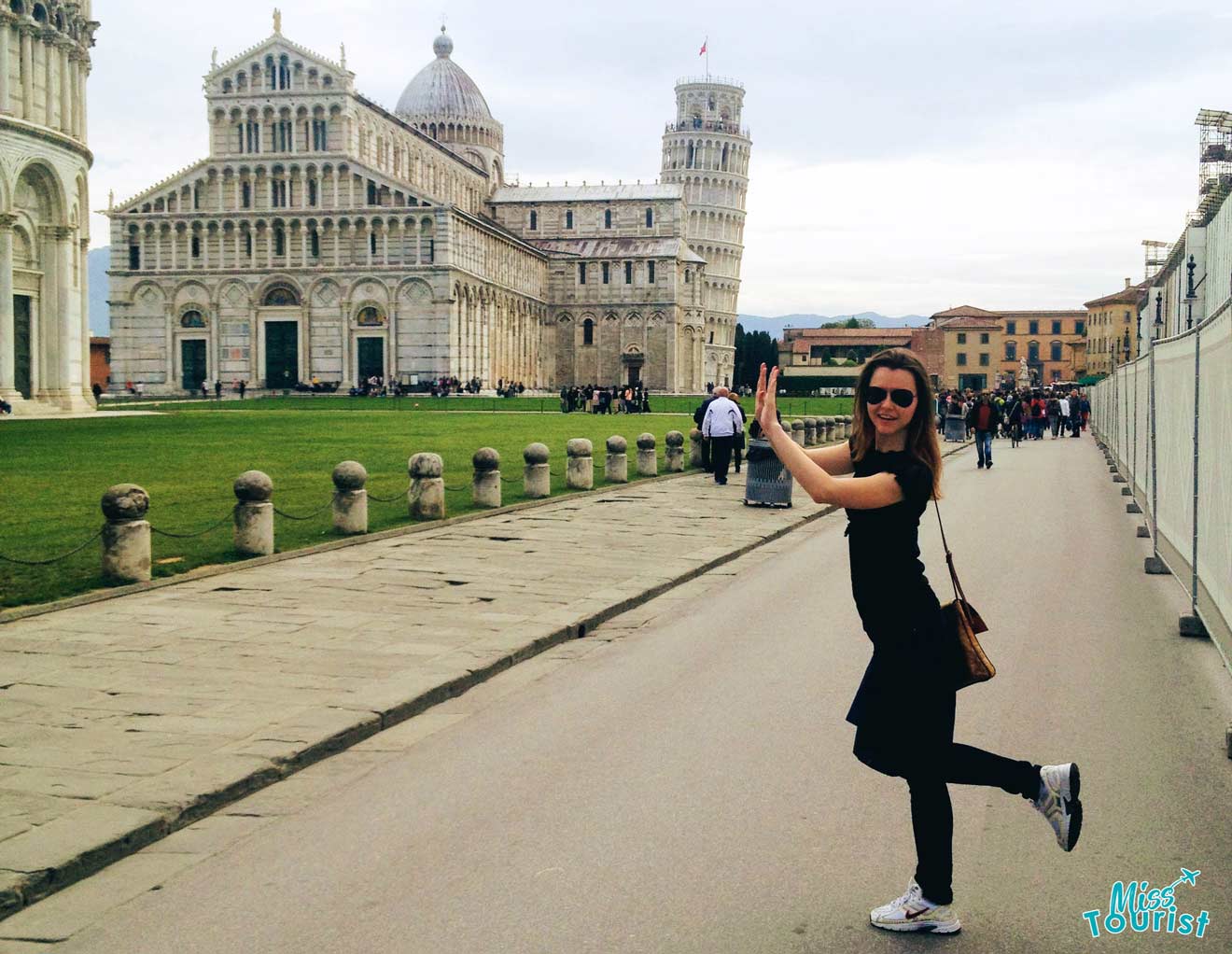 Sitting rather crooked in Campo dei Miracoli, deep in the heart of central Pisa, the world famous leaning tower is one of Pisa's most celebrated sites. For your first time in Pisa, I'd recommend making a beeline for this majestic structure!
This miraculous architectural feat is over 600 years old! It's now a UNESCO World Heritage site and you can even climb all the way up to the top for an incredible view.
The Leaning Tower of Pisa actually isn't the only leaning tower in the city – the bell tower of Chiesa San Nicola, next to the Arno River, also leans to one side!
However, the lines for the Tower of Pisa are RIDICULOUSLY long. I'm serious – depending on what time of day you go, you could be there for ages. That's why it's usually best to pre-book a ticket so you can get first dibs on those views!
The best ticket I've found doesn't just get you a ticket up to the top of the tower – it also gives you access to Pisa Cathedral (which I'll talk about in section #2 below). This skip-the-line ticket allows you to explore both incredible structures at your own pace, so you can soak up the culture for however long you like.
PRO TIP: If you don't want to fight off hordes of tourists, the best time to visit is in the early morning. That means 9 AM, bright and early!
HACK: There are two levels overlooking the city, and the first one is covered by a huge fence, so don't waste your time here! Instead, carry on up the stairs (I know, more stairs!) and see the view right at the top.
PRICE: €25
Book Your Skip the Line Tickets
2. Admire Pisa Cathedral in Piazza del Duomo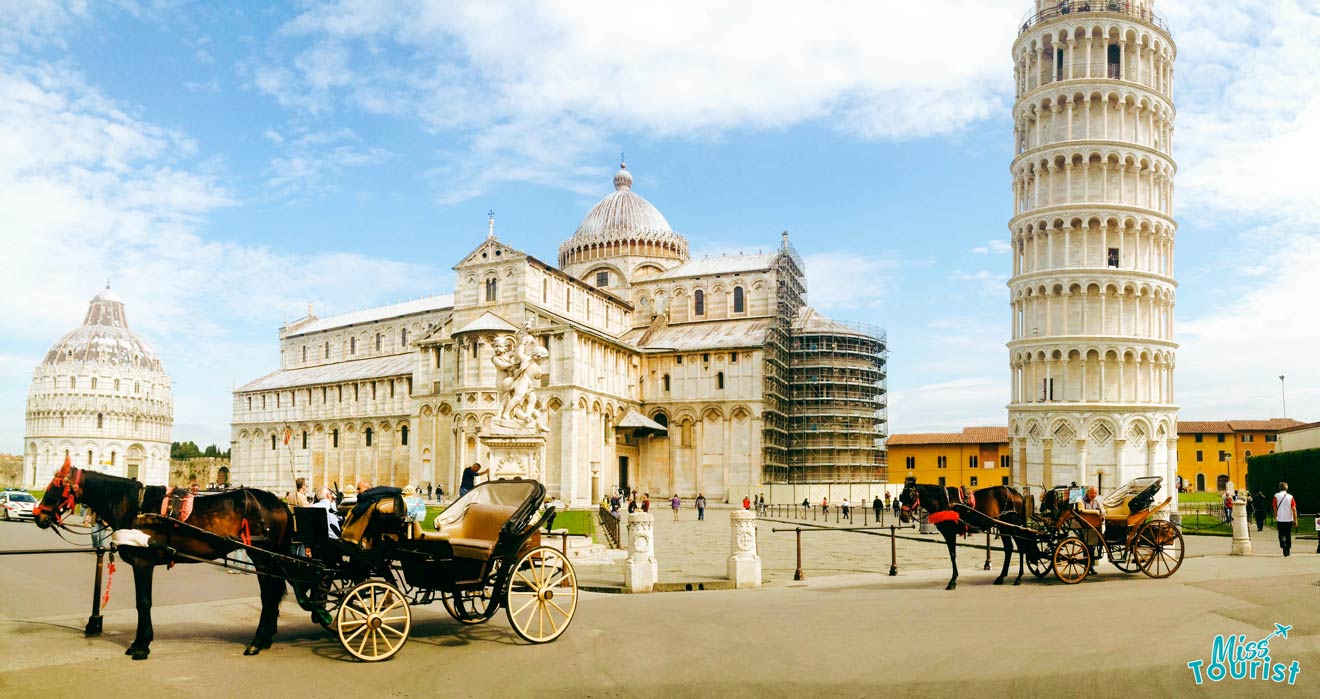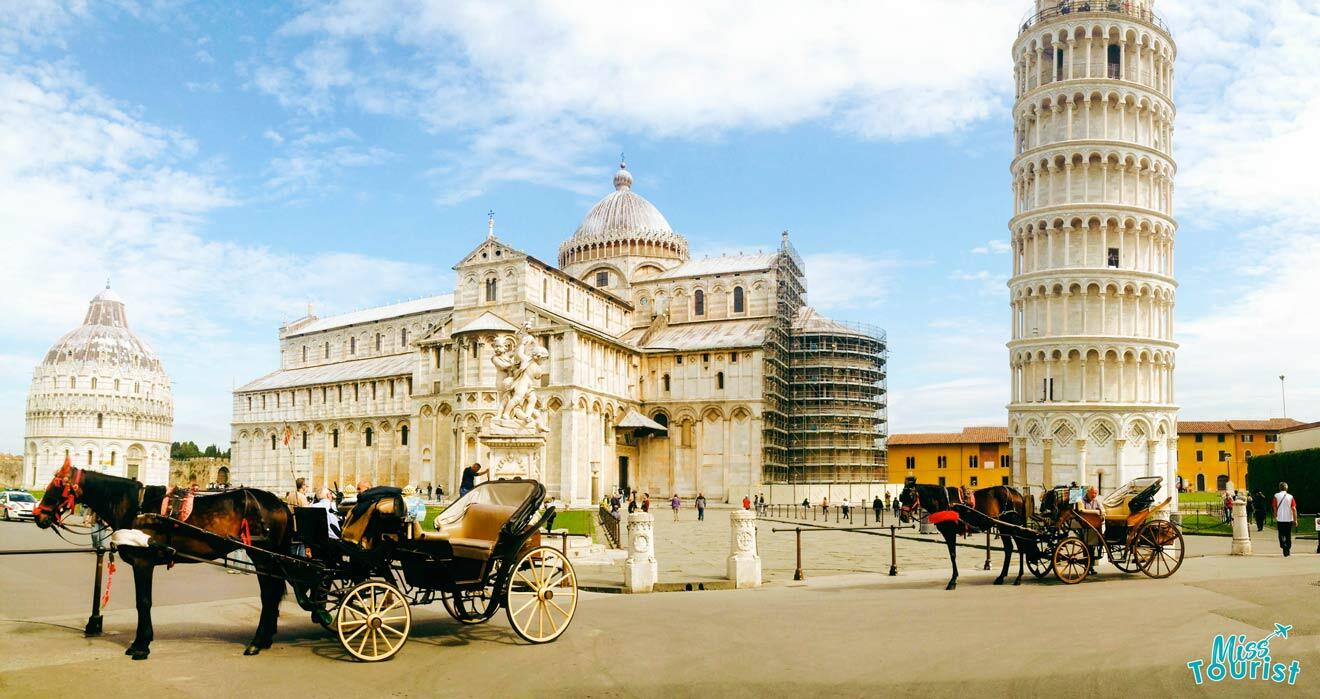 Right in the center of Piazza Duomo, also known as Campo dei Miracoli, Duomo di Santa Maria Assunta looms in gothic magnificence above everything. A Pantheon-esque basilica with stone arches marbled to perfection, its design is evocative of ancient Islamic architecture and is probably the most breathtaking work of art in all of Pisa.
Inside, you'll find countless incredible mosaics, sculptures, paintings, and frescoes that provide a testimony to the resilience of European and Islamic history, and the Corinthian-style oval dome is absolutely mesmerizing!
Remember to get your all-access pass (€27) to visit this and the Leaning Tower of Pisa! Admission to the Cathedral itself is free, but you have to stand in line and get a free ticket anyway to enter (to prevent too many people going in at once) so you might as well get your ticket in advance!
NOTE: Make sure you're dressed appropriately to go inside Duomo di Pisa – shorts and bare shoulders aren't allowed, so you'll likely be asked to cover up.
3. Visit Pisa Baptistery (Battistero di San Giovanni)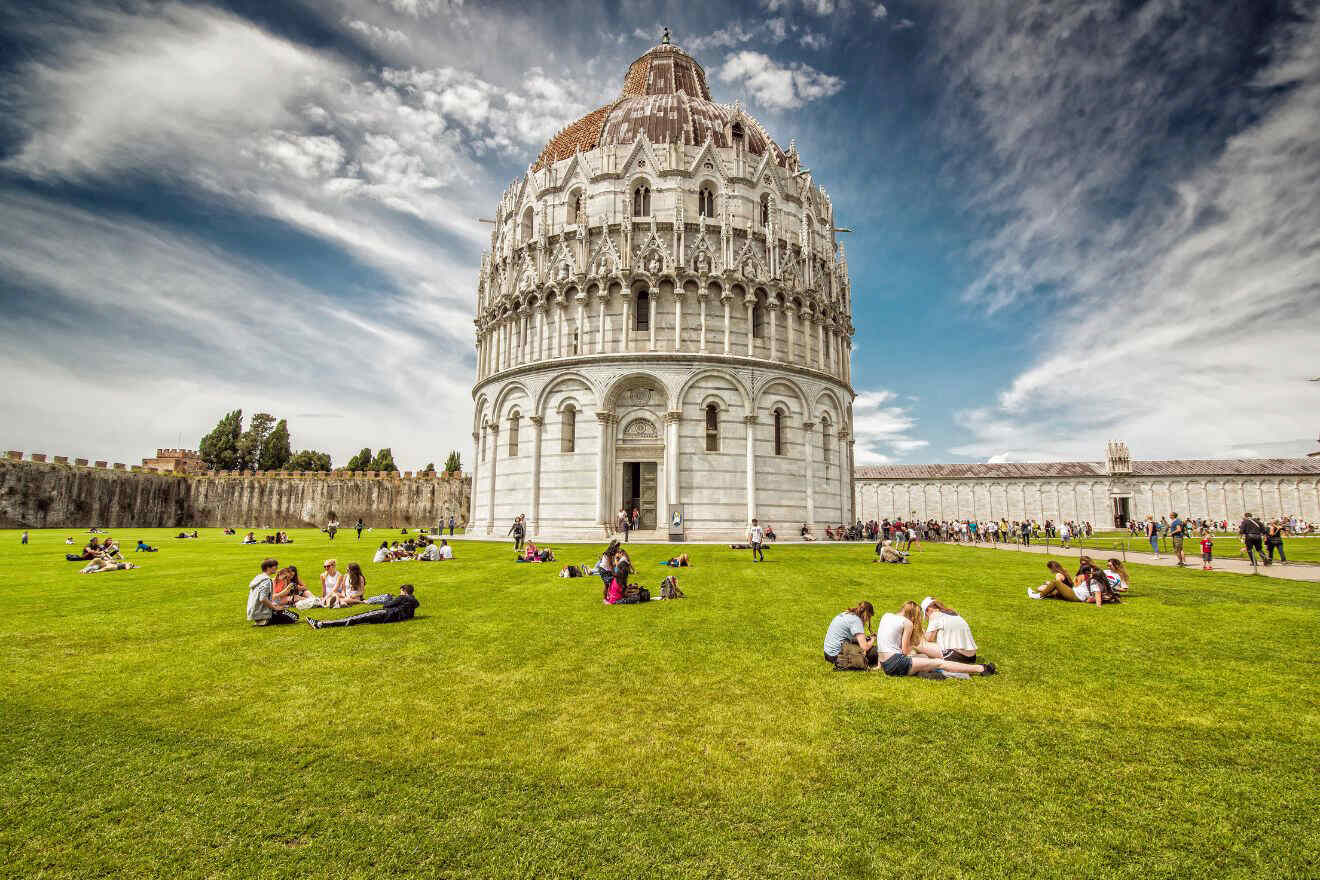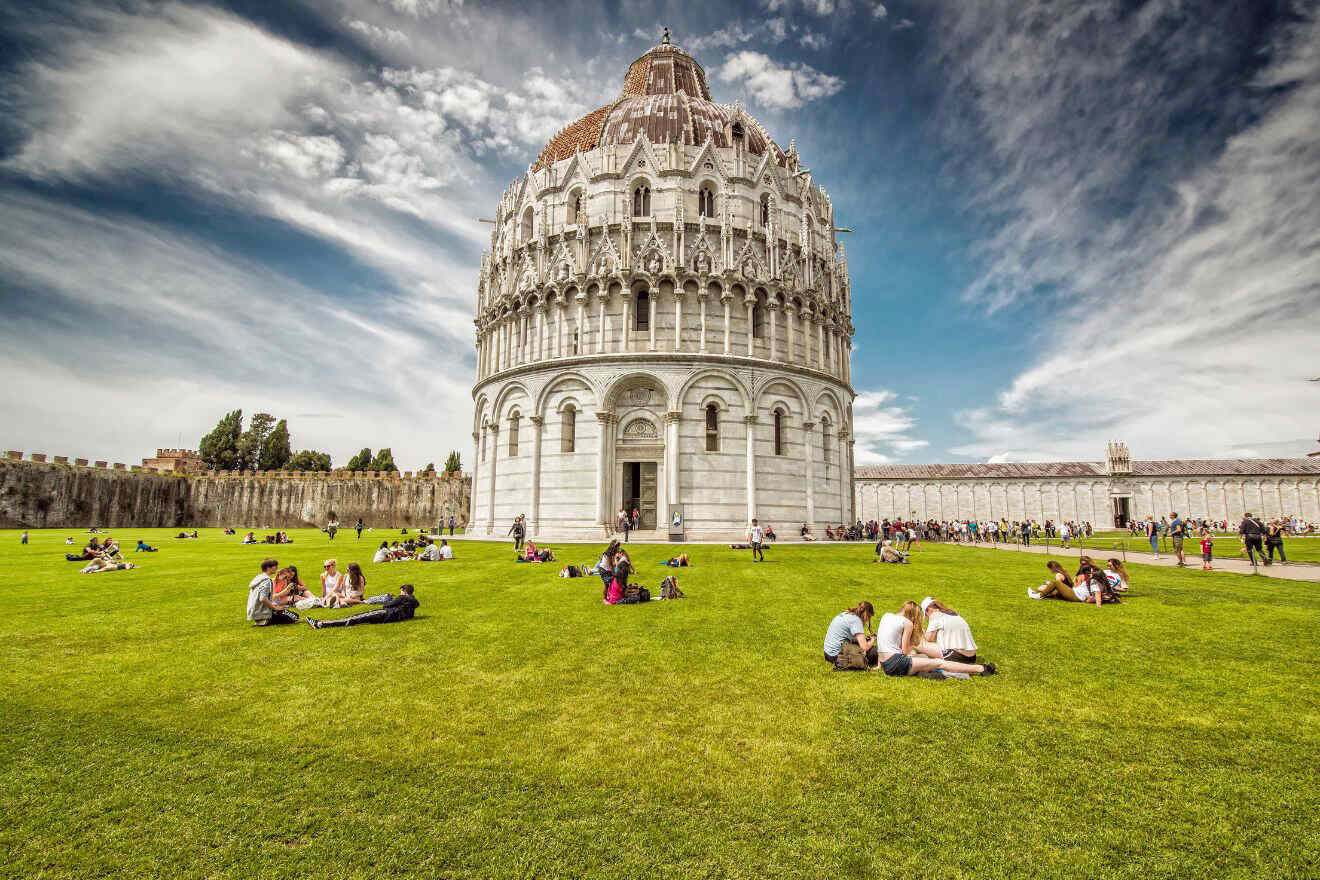 Located on the opposite end of the square to the Leaning Tower, Pisa Baptistery is the biggest baptistery in the country, and it's a true testament to this Tuscan city and its fantastic architecture. Built as a monument to St. John the Baptist, this intricate structure is filled with works by famous Italian artists.
PRO TIP: The acoustics in this gorgeous building are INCREDIBLE. Every 30 minutes or so, the custodian will give you a taste of his musical prowess, so stick around to hear a musical marvel!
PRICE: Free
4. Step back in time at Camposanto Monumentale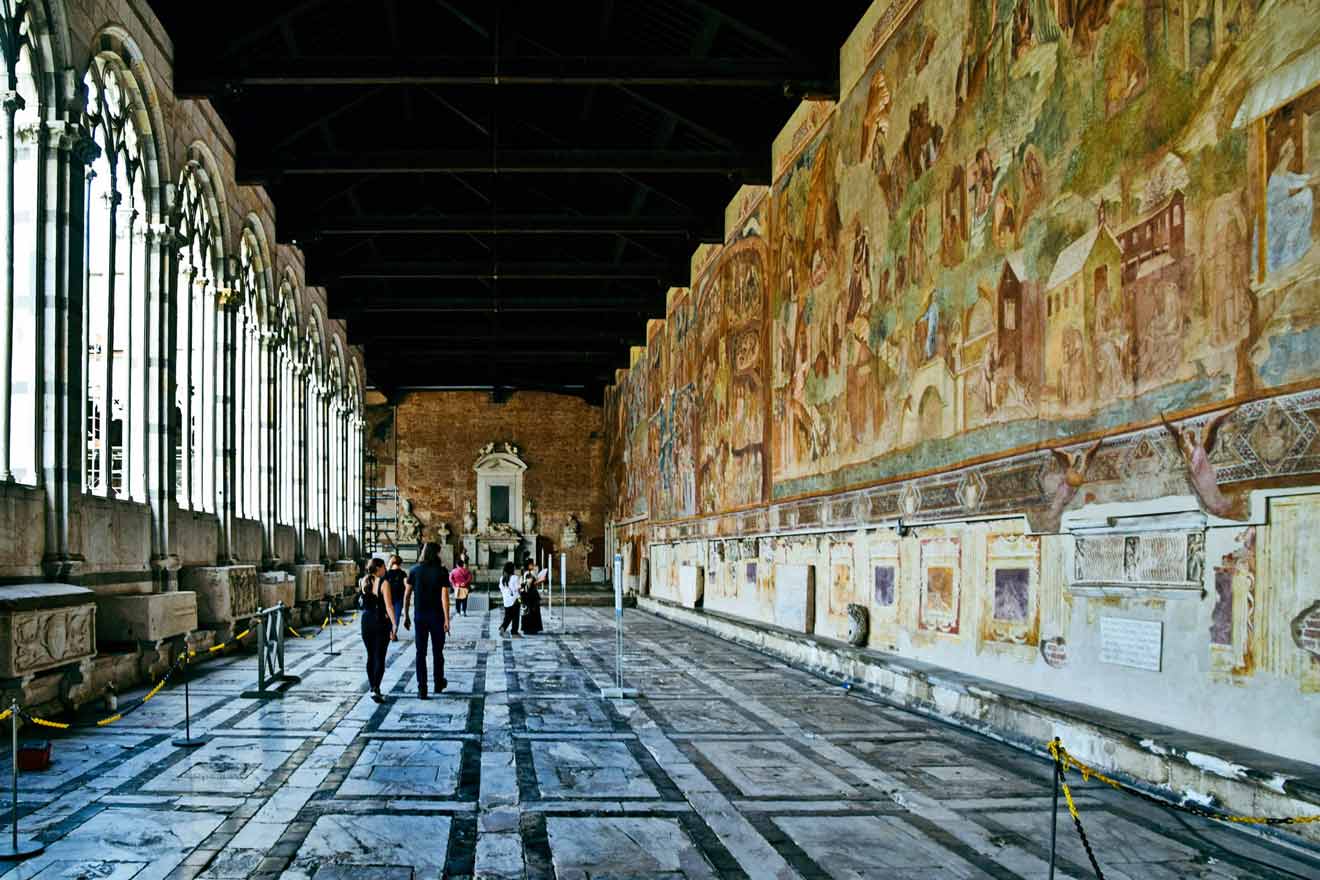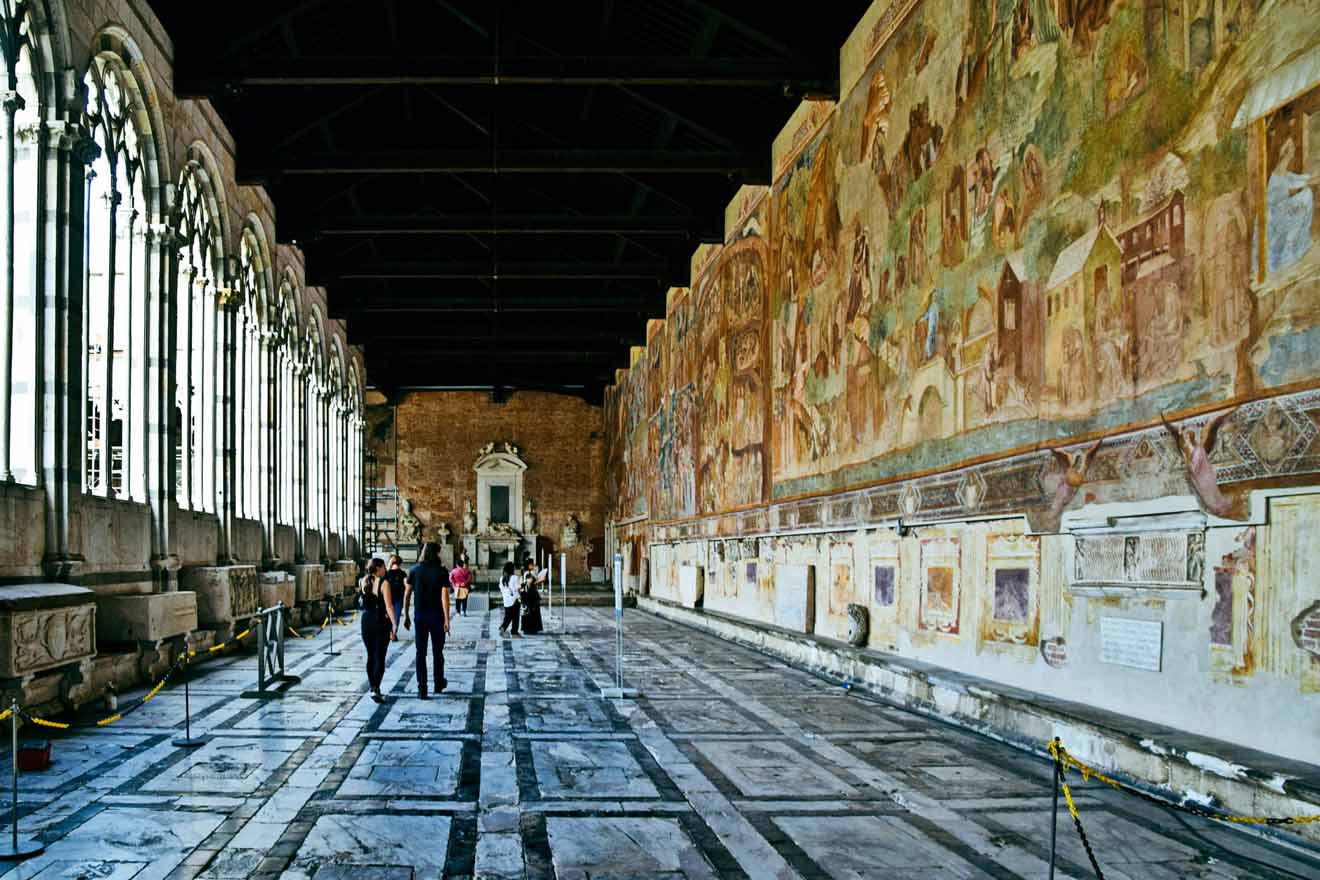 This monumental cemetery dates back to the 13th century, and is the final stop on your tour of Piazza dei Miracoli. Its impressive façade is enclosed by arched marble columns, and its solemn atmosphere is a peaceful retreat from the crowds of the piazza.
Legend has it that Camposanto Monumentale is built over sacred soil, gathered from the site of the crucifixion of Jesus. Whether as a result of the holiness of the site or some other phenomenon, there are some who say that bodies buried here will disintegrate within just 24 hours.
Don't miss the surviving Roman sarcophagi in Camposanto's cloisters!
If you want to visit all 3 of these incredible sites along the piazza, your best option is to get this incredible skip-the-line tour, where you'll be given access to all the main points around the same complex and a historical commentary to take you back in time for €32!
Book Your Skip the Line Tickets
5. Stroll around the Botanical Garden and Museum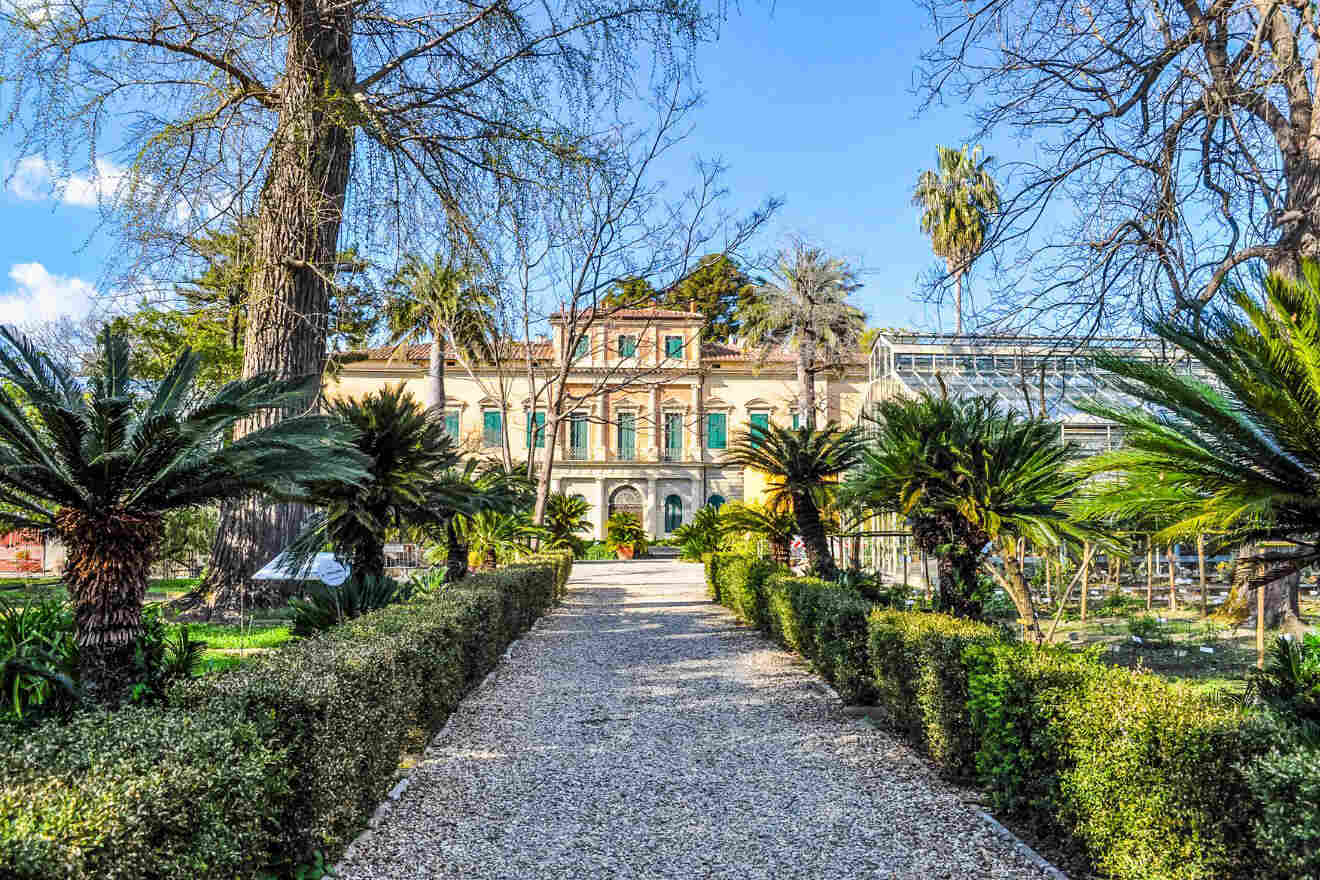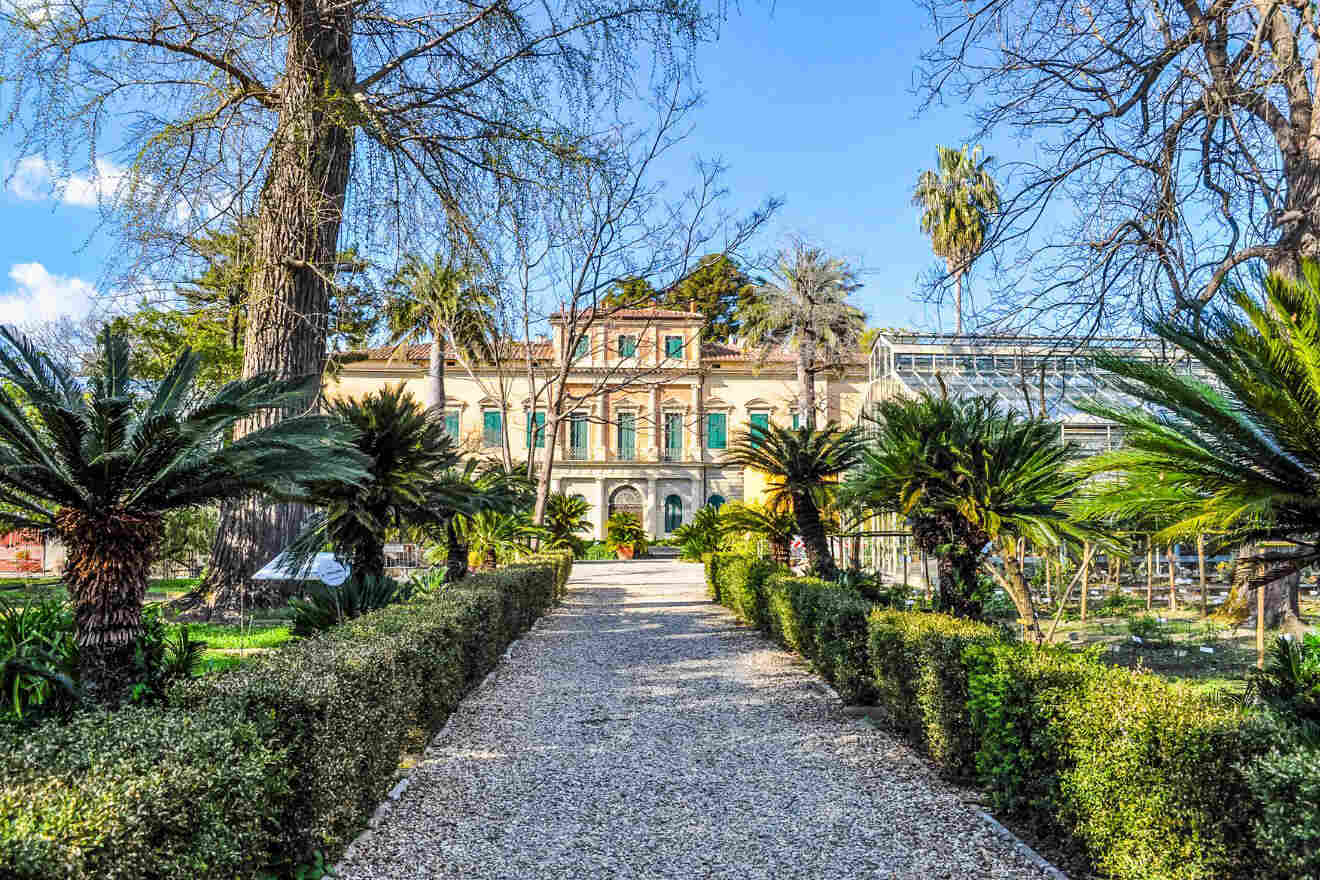 A leafy haven to the south of the Leaning Tower near Piazza dei Cavalieri (otherwise known as Knights Square), Pisa University's Botanical Garden and Museum was the very first of its kind – in the whole world! Walking through the serene grounds with bamboo forests and peaceful ponds will lend your vacay an air of tranquility.
If you happen to enjoy a bit of botanical history, the museum is amazing! A huge collection of the rarest botanical samples can be found here, a true homage to many great botanists.
Tickets to the Botanical Garden and Museum are €4 and €2 for kids under 12.
6. Visit Museum of Human Anatomy
If you're a museum buff who likes unusual artifacts, I'd also recommend visiting the Museum of Human Anatomy, which is right next door to the Botanical Garden! Those with a fascination for the morbid will love this museum – not for the faint of heart!
They have all sorts of wonders here, from eerie skeletons and scarily accurate anatomic models to objects found in ancient graves – their collections are truly phenomenal.
Tickets can be found on their website and reservation is recommended! Tickets cost €2.50 per adult.
7. Admire the frescoes at Museo dell'Opera del Duomo
You can also visit Museo dell'Opera del Duomo, which is just to the north of the Botanical Garden. Want to see a stunning fresco or huge mural? Archeological wonders await at this museum! Plus, it's right next to the Leaning Tower of Pisa, so it'll be easy to do both 🙂
There are almost 400 works housed here, including statues of the Madonna and Child and various other significant religious artworks.
If you've got your heart set on the cathedral and this museum, you can check out this skip-the-line ticket to both!
PRICE: €19
8. Have dinner and drinks at Piazza della Pera
If you're looking for a characterful, authentic Italian experience away from the main tourist attractions, Piazza della Pera is an excellent choice! Located just south of the River Arno in the historic city, you'll find everything you need here to take a load off after your adventures around the sites!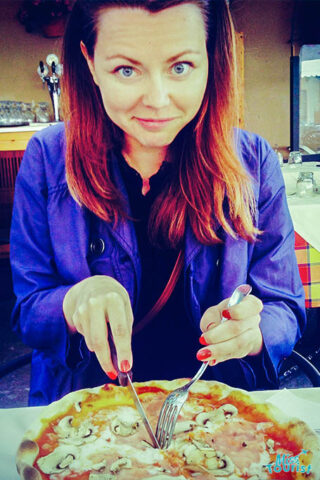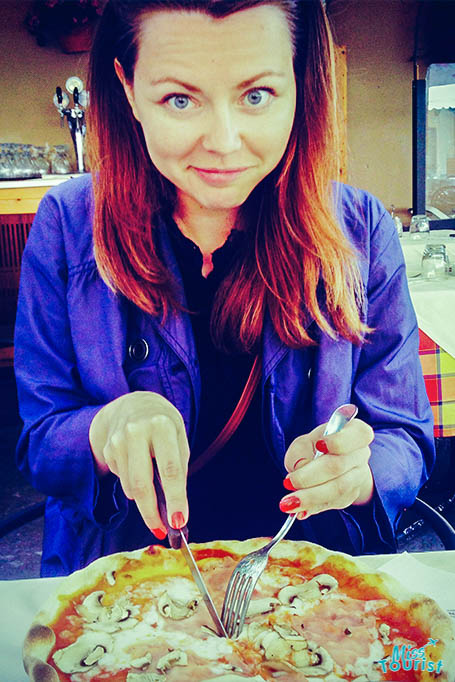 Known locally as Piazza Chiara Gambacorti, the square is hedged in by beautiful buildings and picturesque town houses, some dating back to the 1400s.
I would recommend visiting in the evening for the perfect romantic date with your loved one! In fact, you should go to Enoteca La Dolce Vite! They specialize in local charcuterie and cheese boards, fresh bread, and bottles of Italian wine – there's nothing better than this! They're also famed for their bruschetta, so make sure you give it a try when you go.
Piazza Gambacorti is so-named for Chiara Gambacorti, a Christian nun from Pisa who was beatified in 1830.
If you're looking for some local Tuscan delights and can't decide between all the lovely restaurants, why not take a food tour? This local dining tour will take you to 5 of the best spots, so you're guaranteed satisfaction! You'll taste Tuscany's traditional specialties, including a special ice cream stop that can't be missed!
PRO TIP: Beware of the pigeons! Piazza Gambacorti is often frequented by hordes of them, so don't throw them any crumbs or you'll quickly be inundated by a flurry of feathers!
Book Your Food Tour Here
9. Explore Palazzo Blu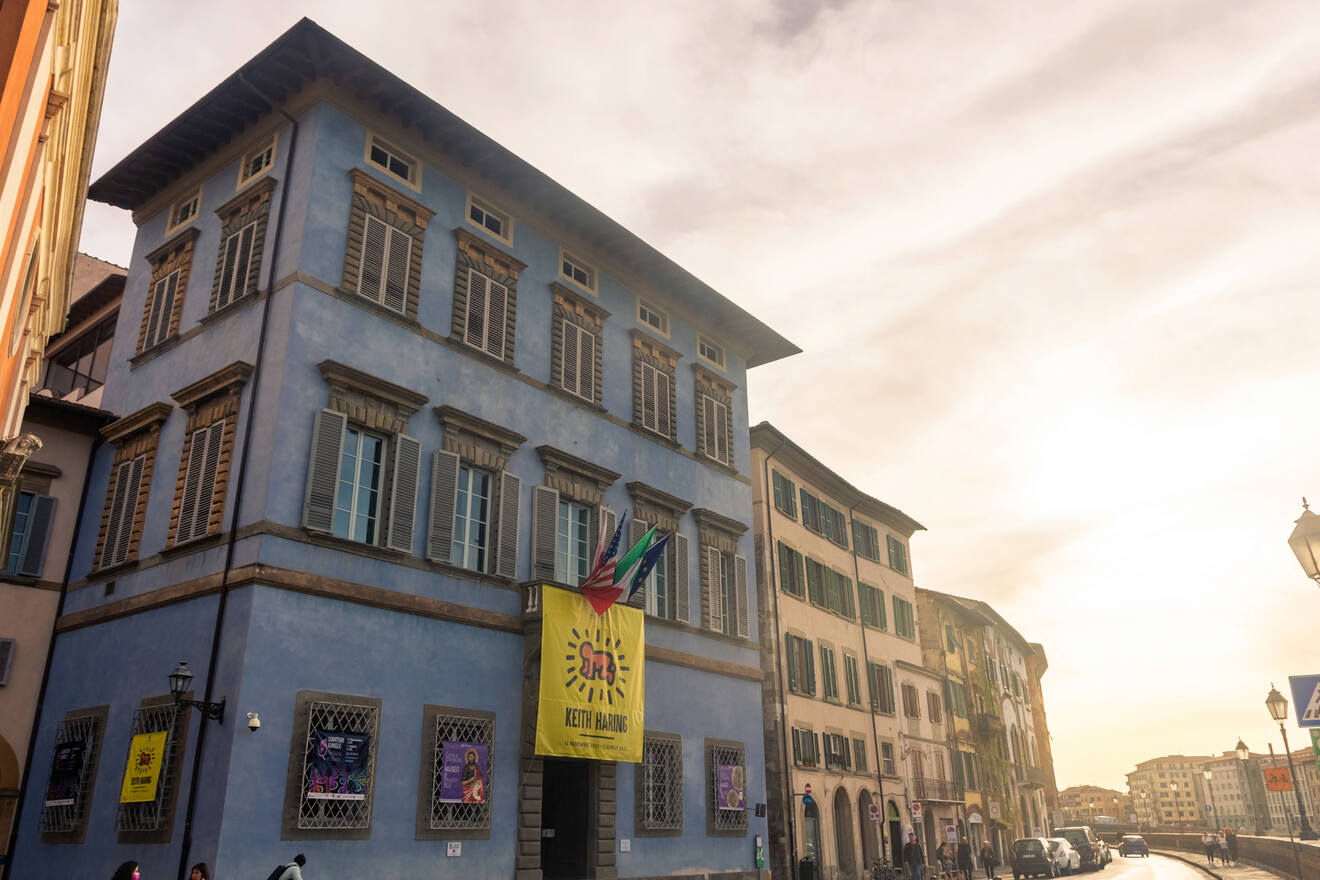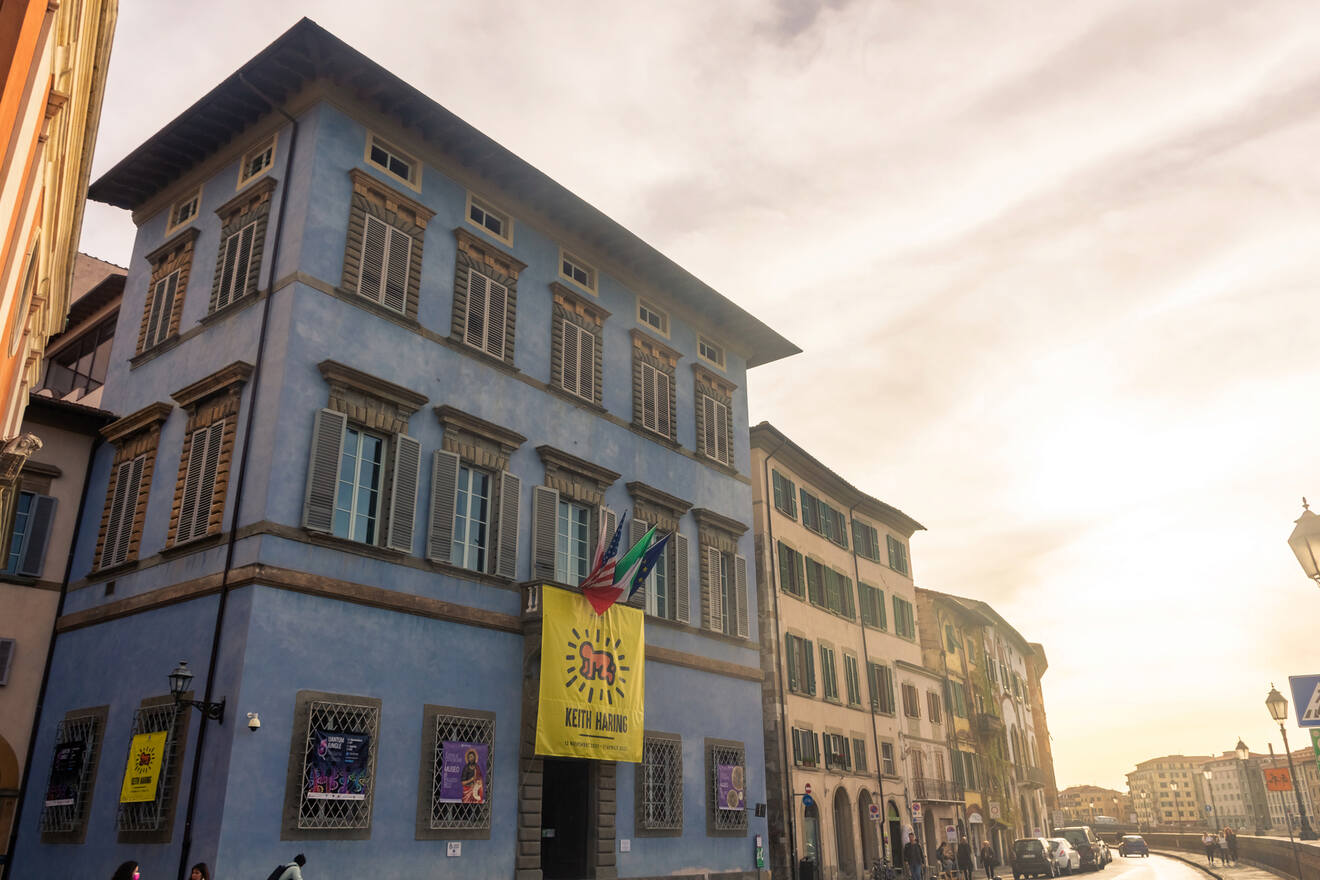 On the edge of the quaint River Arno, the iconic Blue Palace stands out amidst the soft yellow buildings lining the banks. It's hailed as Pisa's favorite cultural center and museum, with a huge number of collections from artists throughout the ages. You can't miss it – it's right across the river from the National Museum at Piazza San Matteo, so it's easy to find.
Although Palazzo Blu has been rebuilt and renovated over the years, you can still spot remnants of its history throughout the structure – which date back the 11th century!
If you're lucky, you might catch one of Palazzo Blu's famed temporary expos, where they explore themes like Fascism and Dante's Inferno.
You can check out their opening hours on their website, where you can also find up-to-date information on temporary and permanent exhibitions. Don't worry about buying a ticket in advance – just show up at the door and you can buy a ticket from the office.
PRICE: €3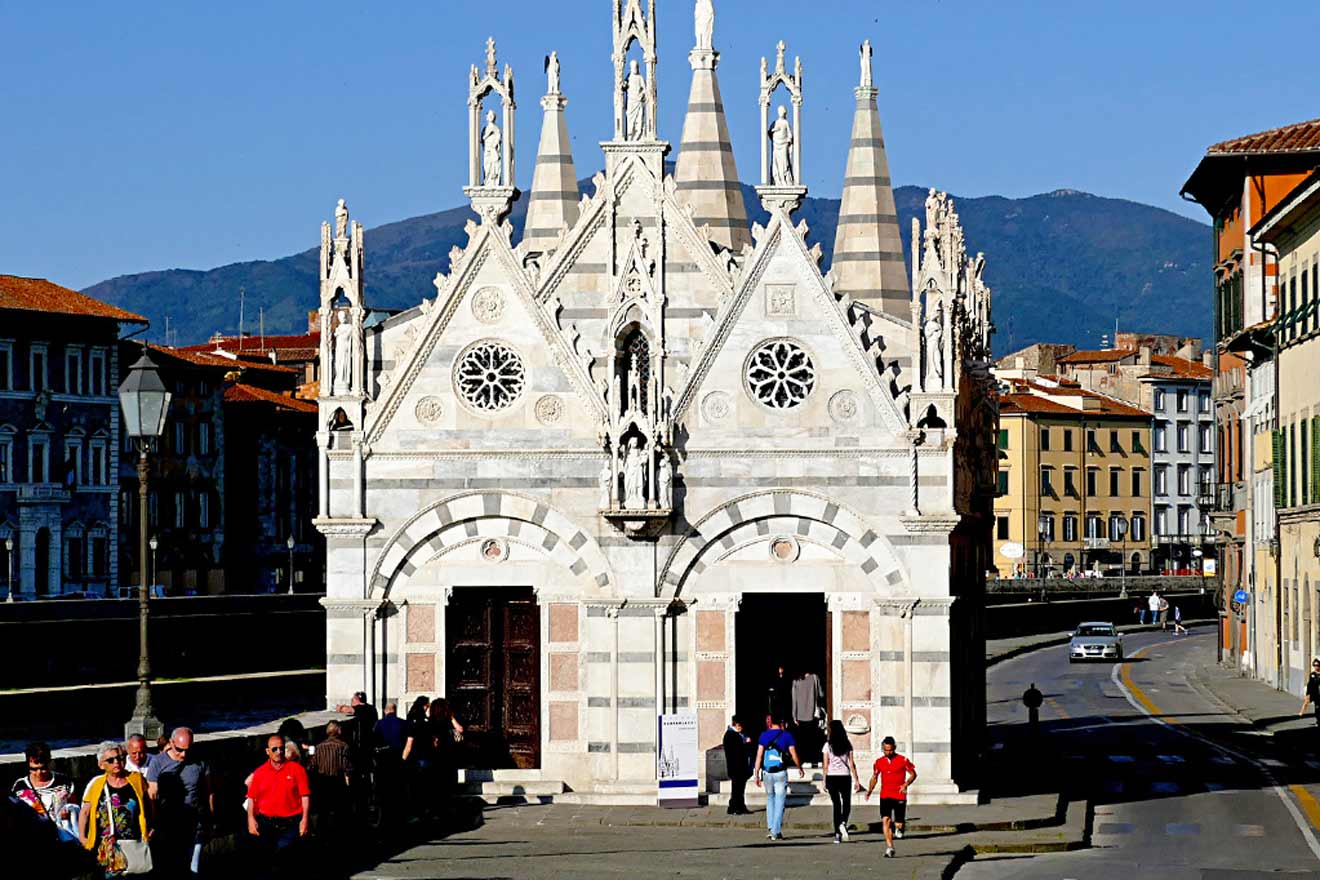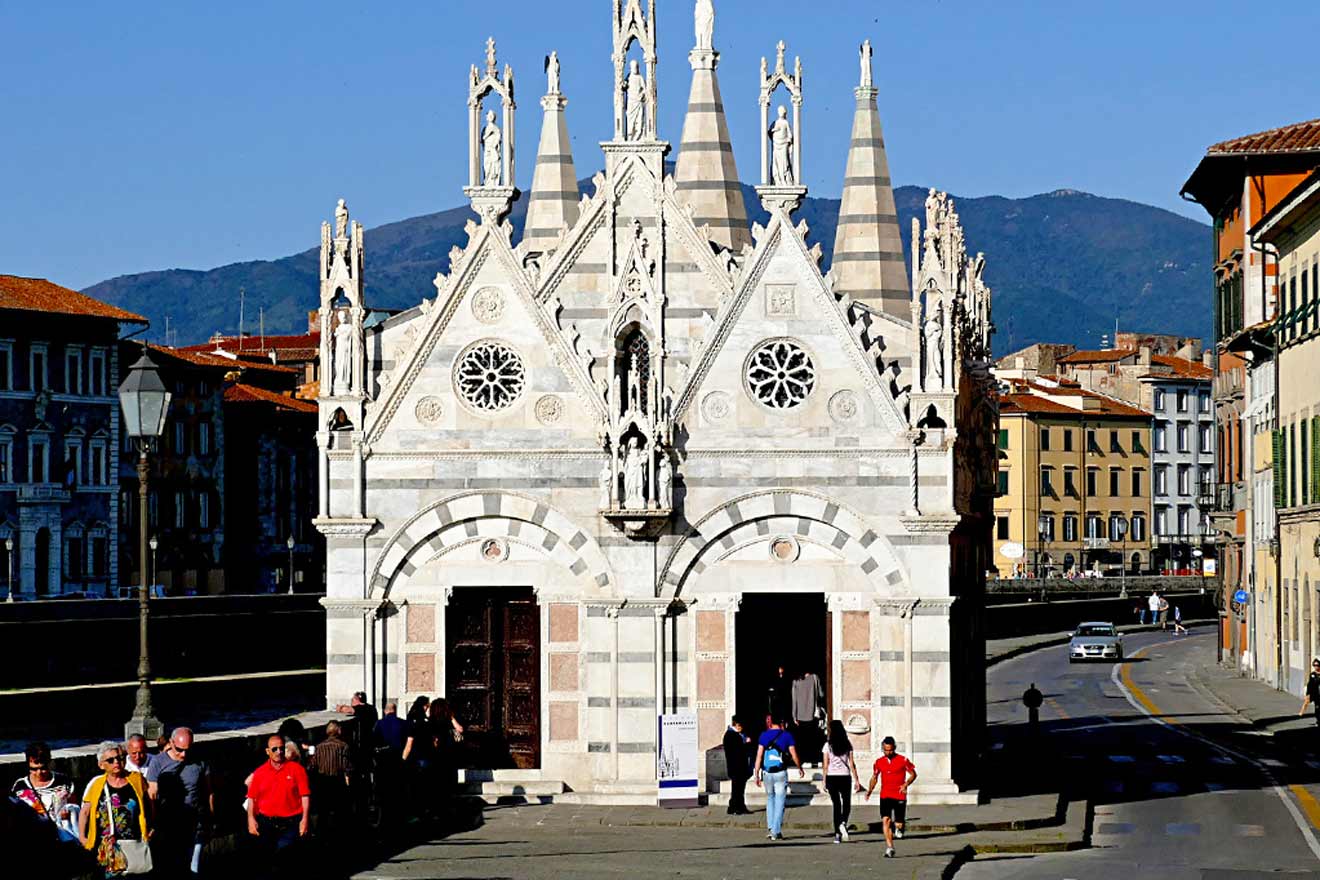 Historical buildings from the middle ages and beyond abound in this city! Pisa is well-known for its cathedral, but there are also a number of ancient hidden churches away from the hustle and bustle of tourists and crowds.
Below I've created a custom walking tour just for you!
Just a short walk downriver from Palazzo Blu next to Ponte Solferino, you'll stumble across the opulent, gothic church of Santa Maria della Spina, which is over 800 years old! This little church is decked in marble and has a multitude of elaborate spires reaching into the skies.
Wander through the arched entryway and spend a moment in the echoing tranquility of the Chiesa. Don't miss the spot where religious relics like pieces of Christ's thorned crown were once held!
Walk past Ponte Solferino, one of the many bridges of Pisa destroyed and rebuilt through turbulent history and war, and walk down to the beautiful Chiesa Parrochiale di San Paolo, one of the oldest churches in the city dating back to the 11th century!
This church, also known as Duomo Vecchio, is part of a medieval monastery set amid lovely trees and quiet walkways where you can appreciate the Pisan Romanesque architecture of this ancient structure.
Now walk through the little backstreets of the old town past Palazzo Blu, and you'll also come across Parroquia de San Martino, a lovely little building that might seem like any old simple church, but it's over 800 years old and houses the urn of Santa Bona!
Here's a walkable map between these three places for your own personal walking tour 🙂
PRICE: Free
11. Wander round the National Museum of San Matteo
If you're an art lover, you'll definitely appreciate the Pisa's National Museum, located just north of the river in Piazza San Matteo on the site of an ancient monastery. Filled with incredible sculptures, age-old paintings, and religious artifacts from throughout the ages, the collections here are just divine.
Since this is one of Pisa's hidden gems, the place is often relatively empty, so it provides the perfect sanctuary from tourist crowds! Plus it's a true treasure trove of ancient relics, artwork, and statues, so you'll probably want to stay here for hours!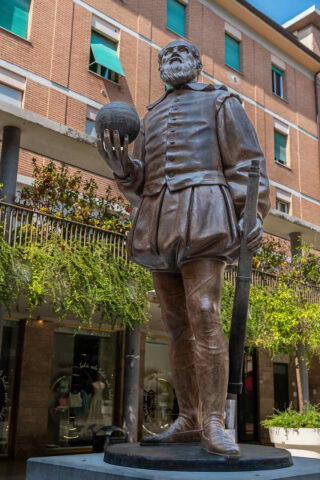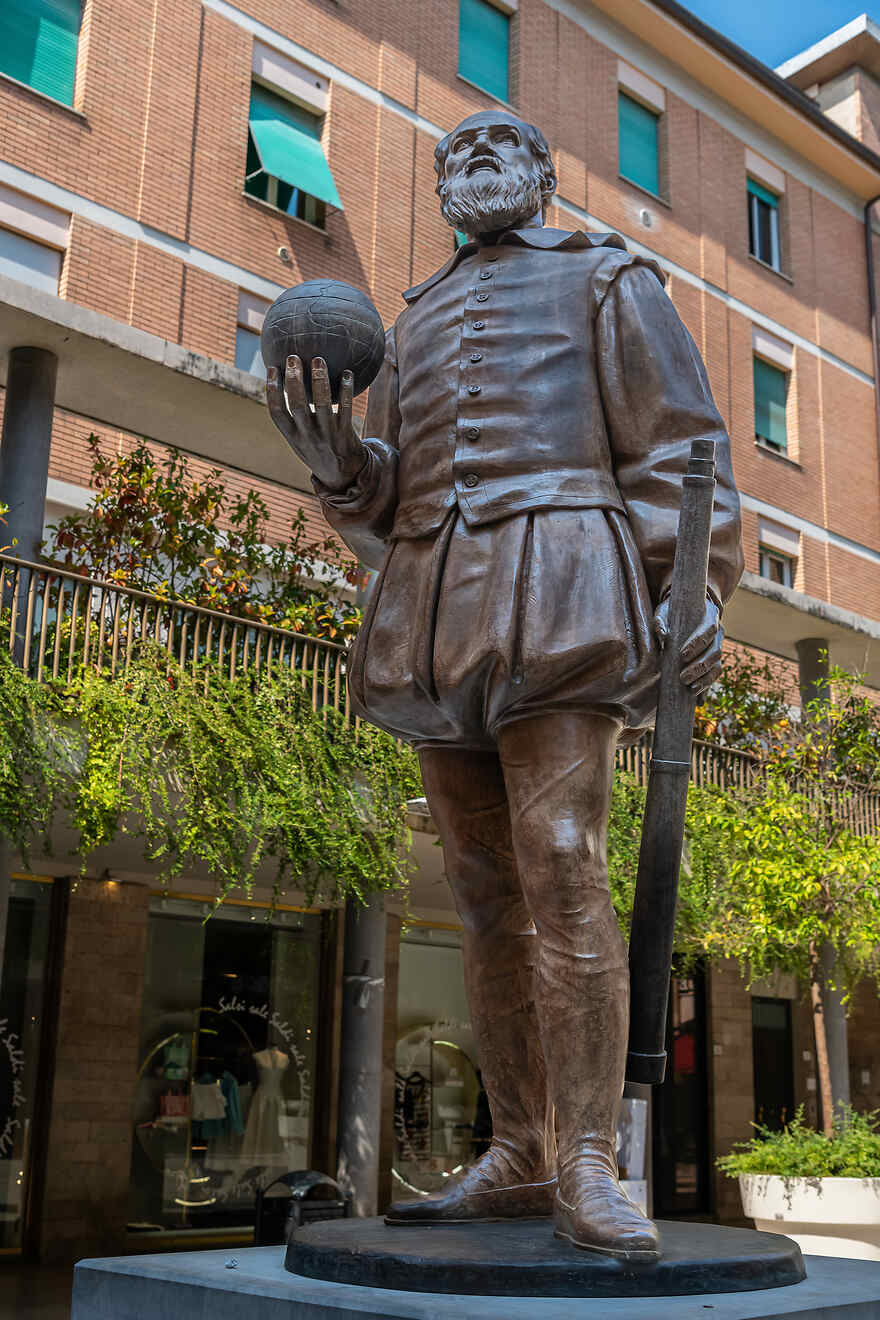 You can't leave Pisa without walking in the footsteps of the great physicist and astronomer Galileo Galilei! The best way to do that is to visit his birthplace, Casa Ammannati, just north of the river. A perfect midday pitstop between all the other attractions Pisa has to offer, this place is just enchanting and full of history!
Although it isn't a museum yet, you can still enter and read all about Galileo and his life. If you want a glimpse into the life of the father of modern science, this is the best place to go!
13. Admire Keith Haring's mural, Tuttomondo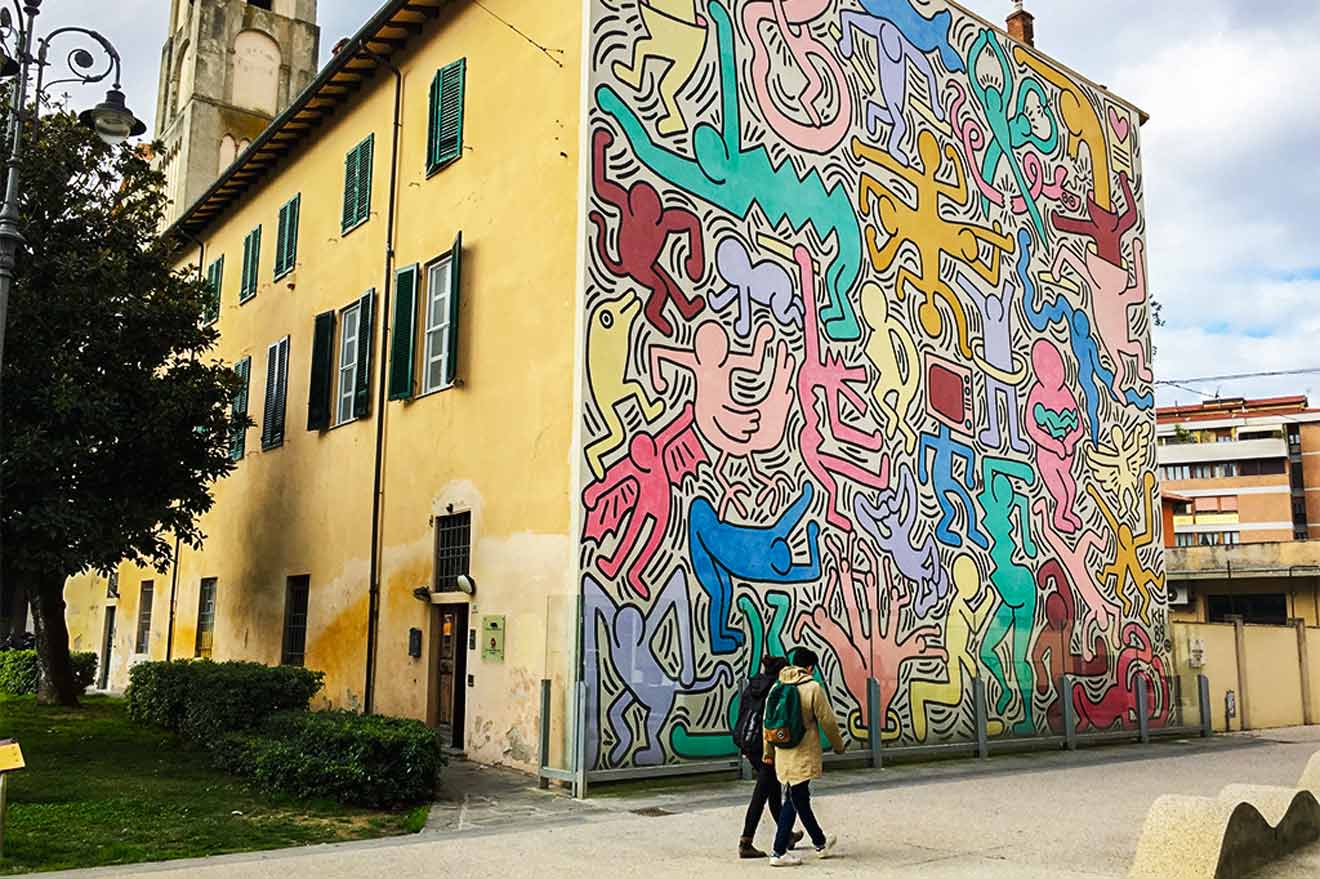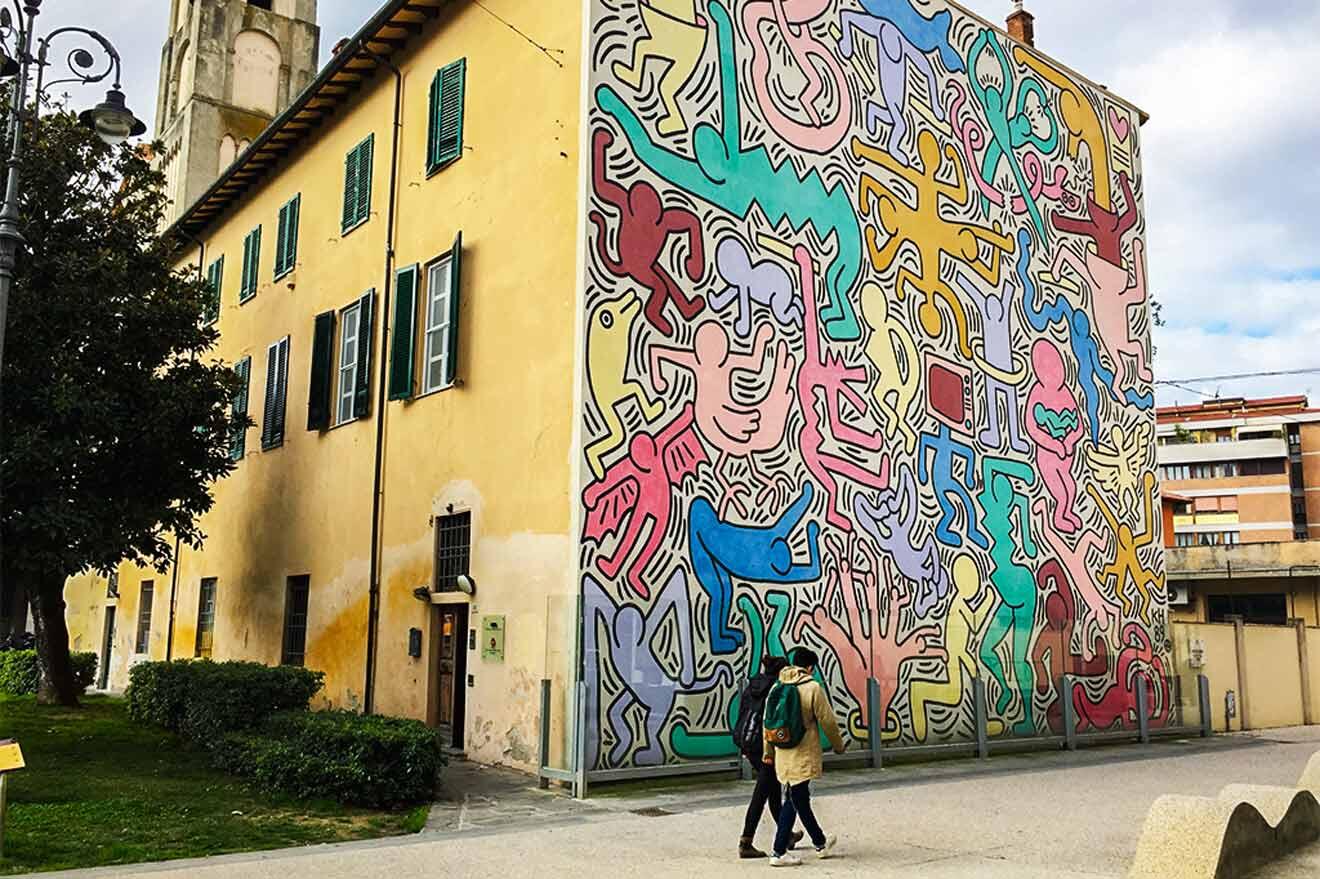 Located south of the river on Piazza della Vittoria, Keith Haring's famed mural is truly a sight to behold. If you're looking for instagrammable snaps, this is a great stop! If you're a fan of street art, this one shouldn't be missed.
This mural was one of Haring's final pieces of work, and since it's only 15 minutes' walk from the Leaning Tower, you can see it as part of a walking tour!
Speaking of which, if you're looking for a great walking tour that takes you around the lesser-known parts of Pisa (away from the crowds), this 2-hour walking tour will take you right off the beaten path and show you some of Pisa's awesome hidden gems, including the mural!
PRO TIP: Make sure you stop by the café opposite the mural – I hear the burgers are amazing!
PRICE: €25
Book Your Walking Tour
14. Travel to Basilica Romanica di San Piero a Grado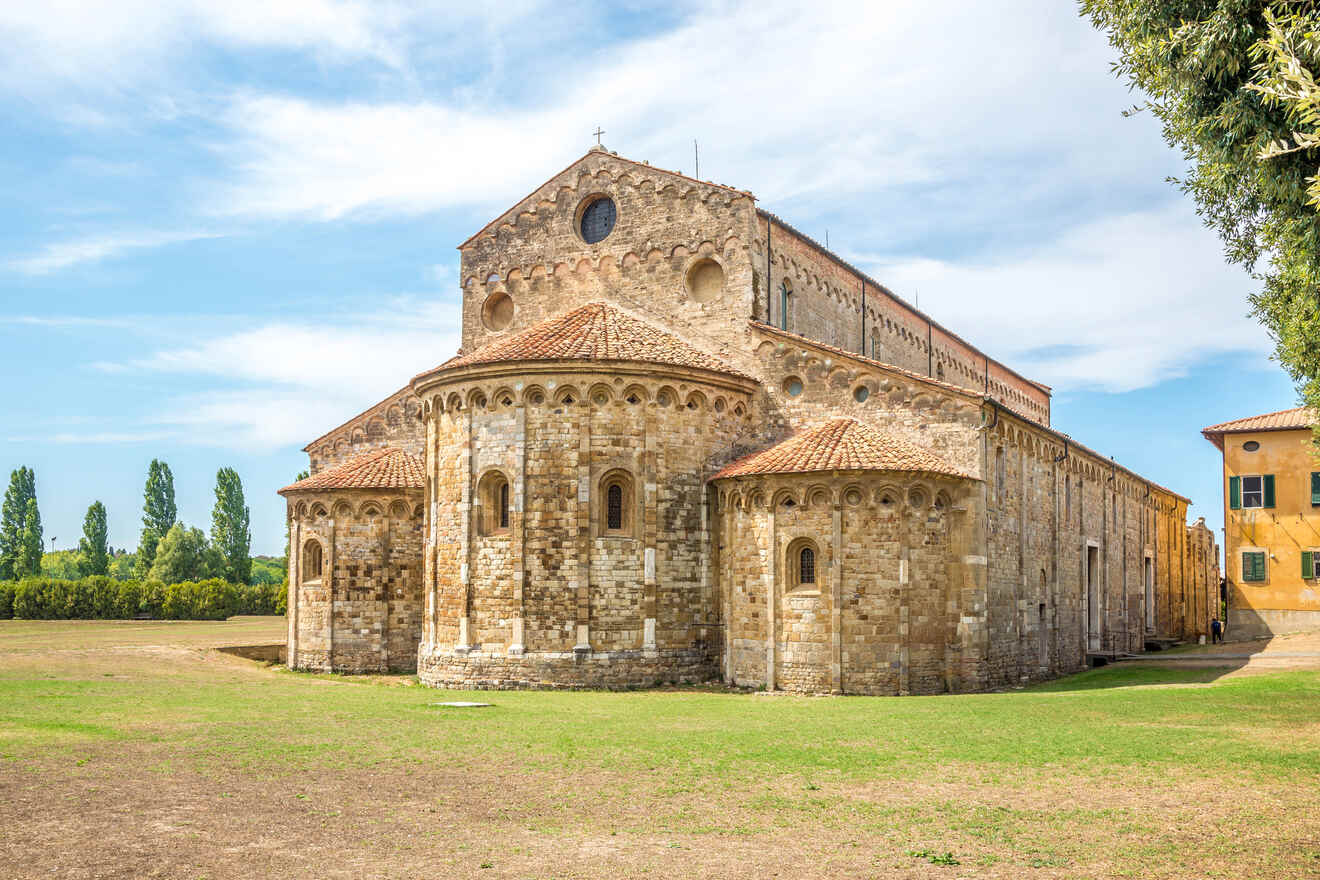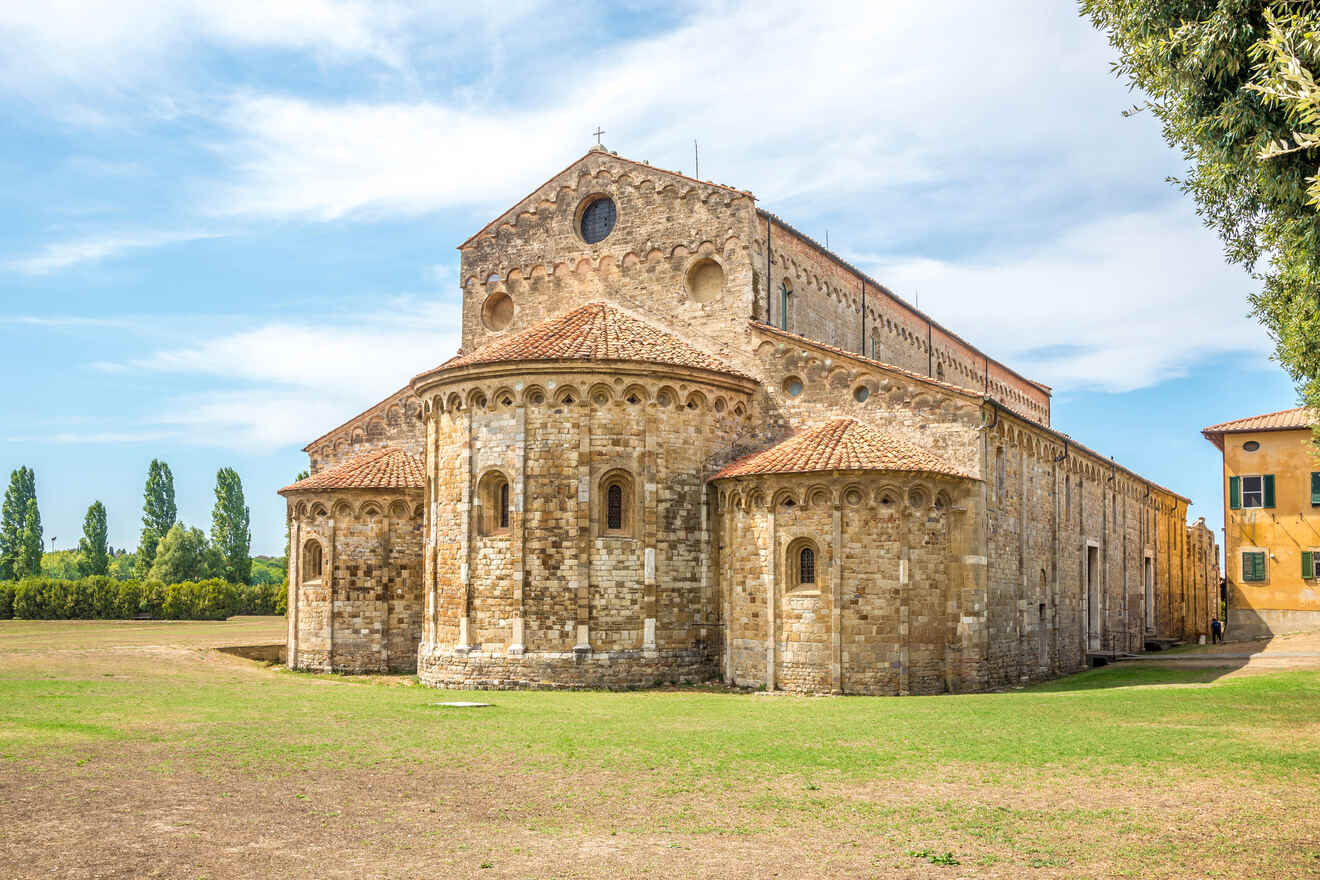 Just a ten minute drive from central Pisa, San Piero a Grado is built on the stuff of legends. Some say that St Peter came here back in 44 AD amidst a storm, and was saved by this small strip of land – which used to be right on the edges of the Mediterranean sea, believe it or not!
The Basilica is eerily beautiful, and it still has the original walls that date back to around the 10th century. If you love a bit of history and want to take a peaceful moment away from the crowds of Pisa, this is the perfect place to go. Plus, don't miss the ice cream parlor right across the street!
15. Go to the Beach!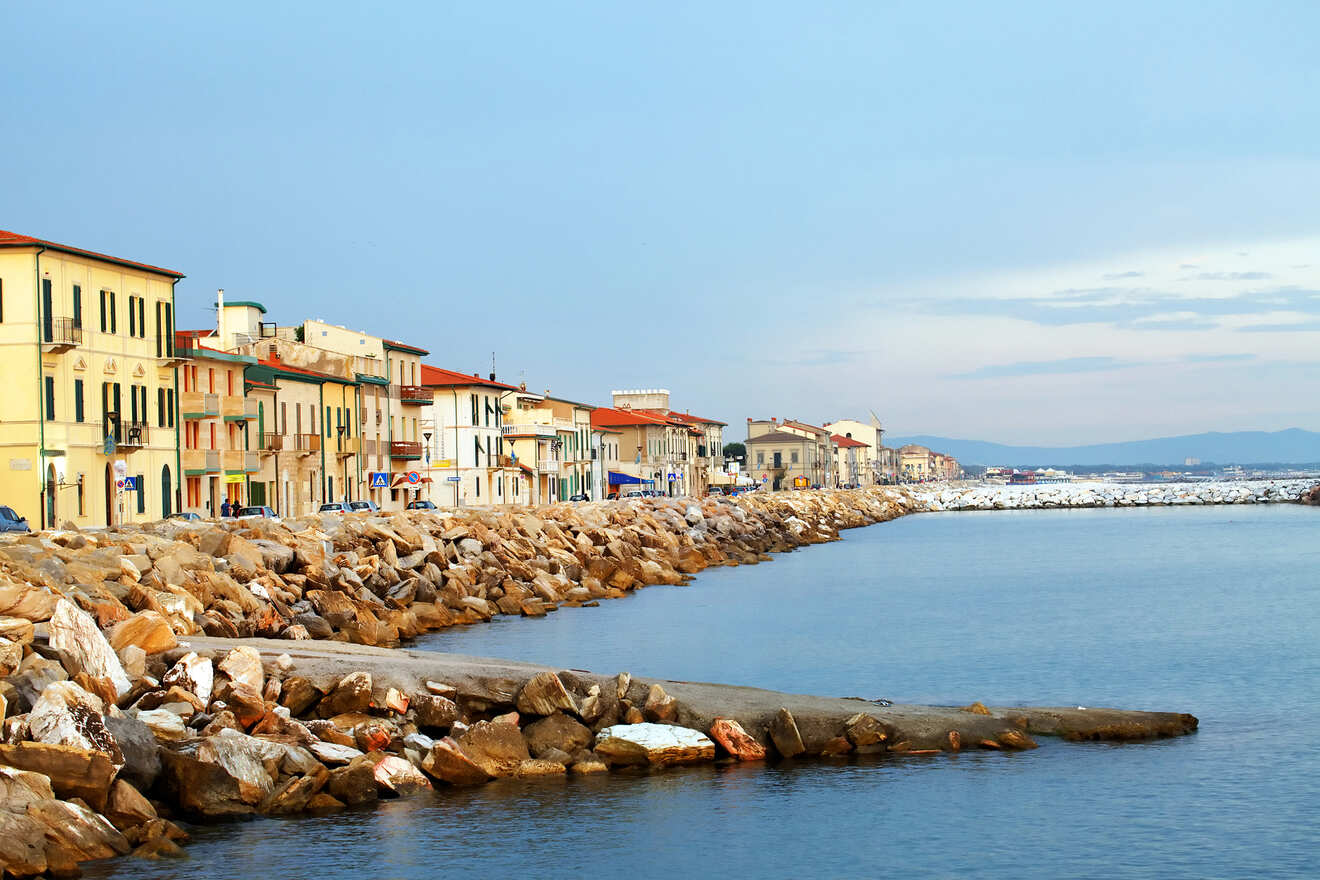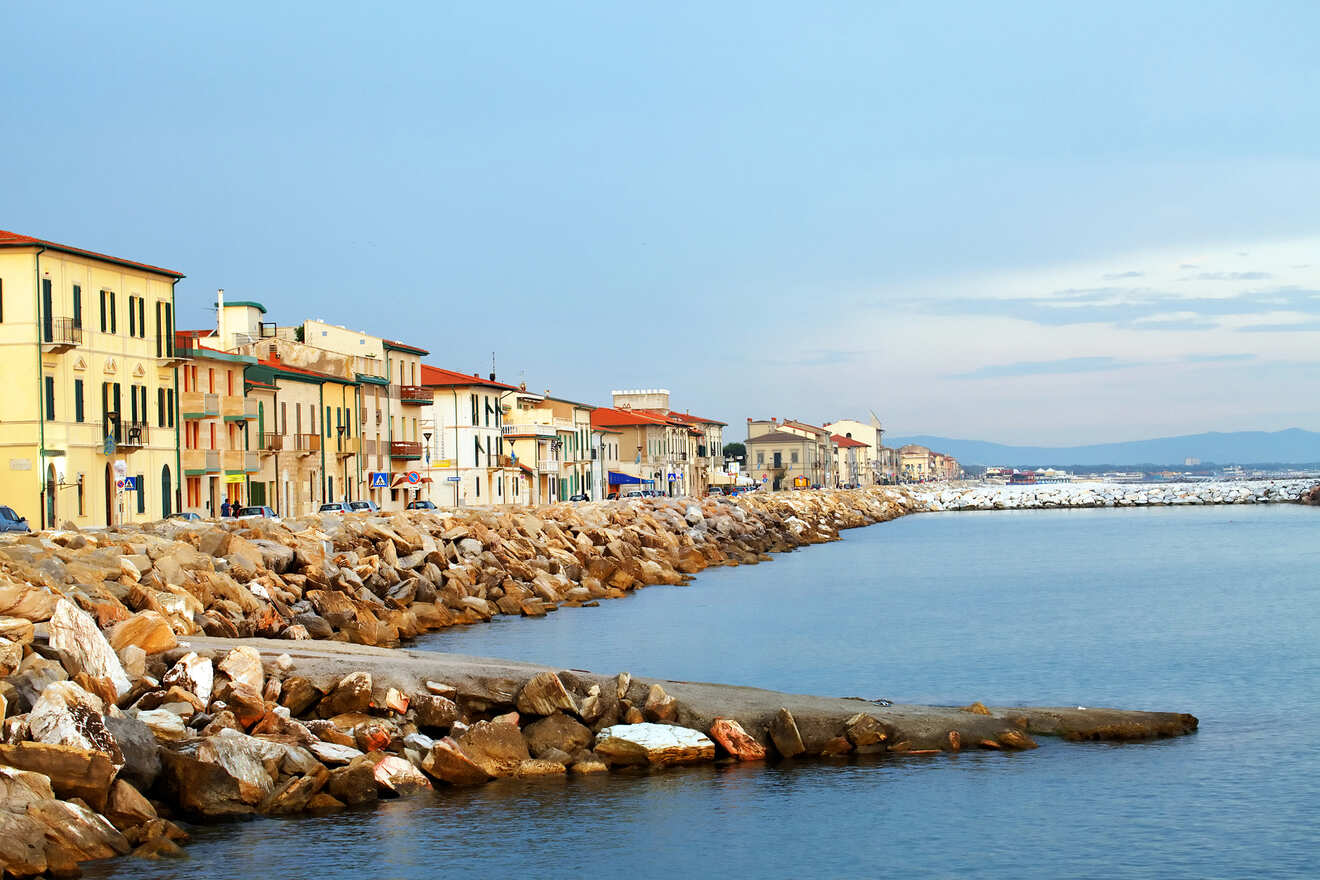 Pisa has so much to offer – churches, beautiful architecture, ambience, incredible food, museums – but you can't go without a quick trip to the beach!
The best resort to visit is Marina di Pisa, just a quick 15 minute drive away from central Pisa. This place is great for families and there are tons of cute little restaurants and ice cream shops lining the shoreline, so it's the perfect way to soak up the sun and enjoy a little peace away from the main city.
On that note, you should definitely pay a visit to Manzi Gelateria if you and the fam are looking for ice cream – seriously, true Italian gelato just doesn't get much better than this!
| | |
| --- | --- |
| 🤩 Range of activities: | Large |
| 👪 Family-friendly score: | High |
| 🏛️ Best museum: | Palazzo Blu |
| 🎢 Top paid attraction: | Leaning Tower of Pisa |
| 🕺 Nightlife: | Piazza della Pera |
BONUS: Best day trips from Pisa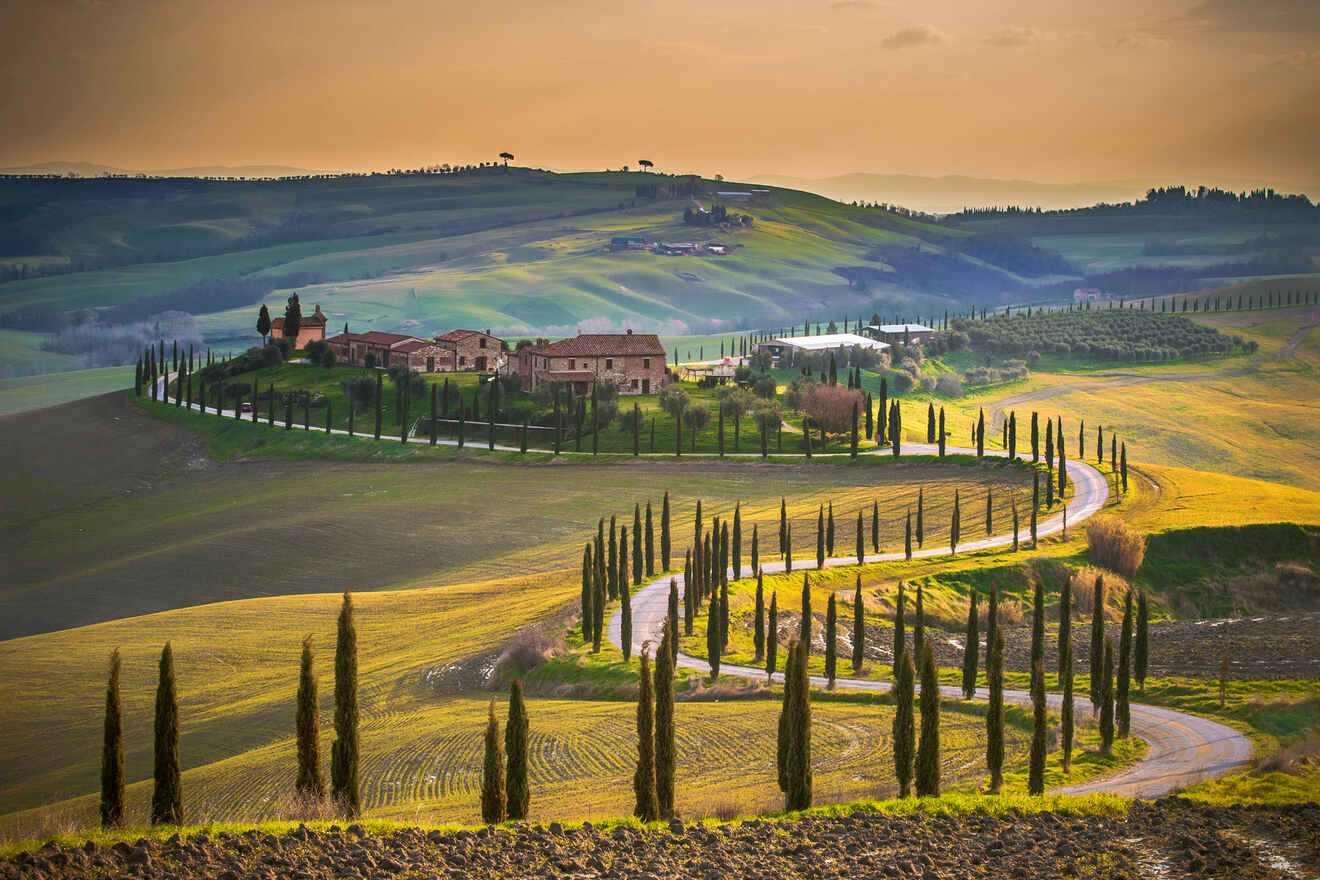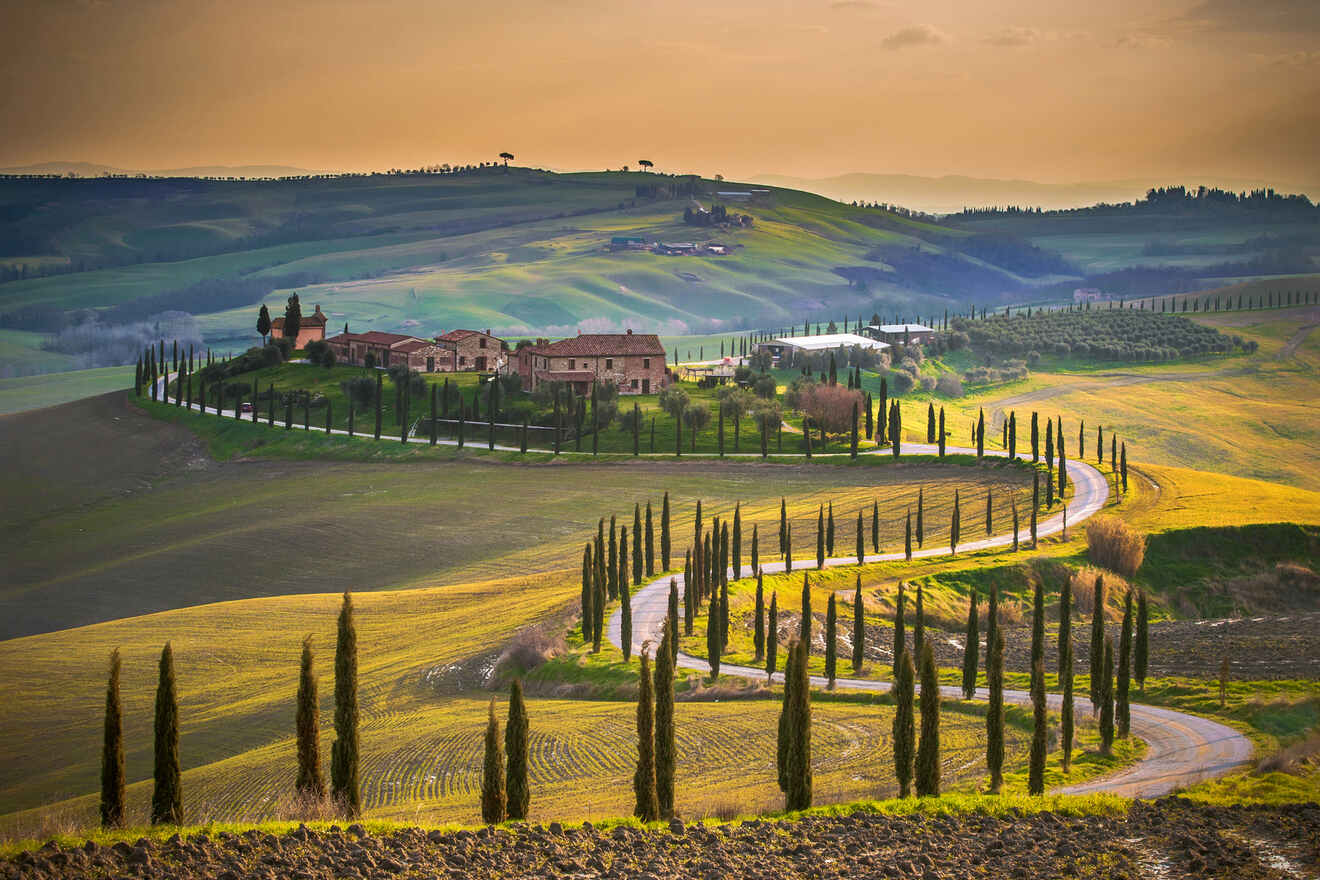 Once you've done the rounds of Pisa, you might think that's the end of your trip – but you can't visit Pisa without exploring greater Tuscany! Beyond Pisa's city walls, you'll find that Tuscany is one of the most beautiful regions in Italy, and its sloping hills filled with vineyards seem to go on forever.
Here are a couple of the best day trips from Pisa:
Winery Tour in the Tuscan Countryside: To experience the gorgeous countryside, I highly recommend taking this incredible culinary tour, where you'll visit 2 wineries to taste the local wine and sample the local Tuscan aperitivo! Plus, round trip transportation is included! (€120)
Cinque Terre Cruise Tour: This small group tour of Cinque Terre is the most unforgettable experience. It's literally 10 hours of cruising along the coastline of the Ligurian Sea and discovering quaint little fishing villages all around Pisa. You can get off periodically to walk amongst the lemon trees and try the local seafood! (€160)
If you're not much of a sea-farer, you can also choose to travel by train through the region, embarking on an eat pray love adventure, and just take the day as it comes 🙂 Pisa Centrale train station goes to all the major regions of Italy, and you can easily travel to Florence, Bologna, and Rome!
On the other hand, if you prefer to have your own space, you can easily rent a car (and it's relatively cheap to do so in Tuscany) and create your own adventure. Get away from all the tourist traps and live like a local for a few days – you won't regret it!
Where to stay in Pisa
Ok, phew! SO many things to do in Pisa – so now you need to figure out where you're going to stay! There are a few great options below, but if you need more, check out our post on where to stay in Pisa!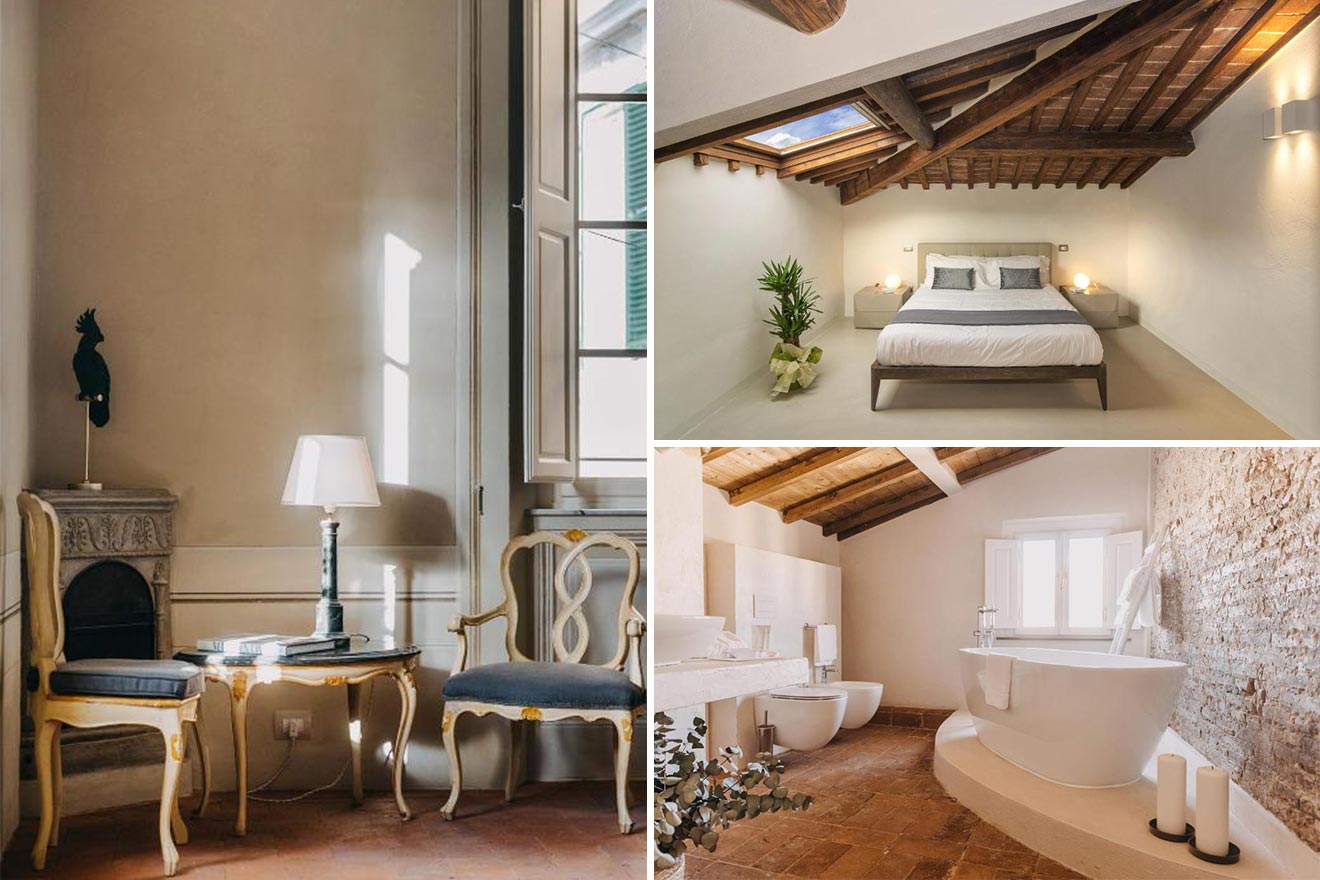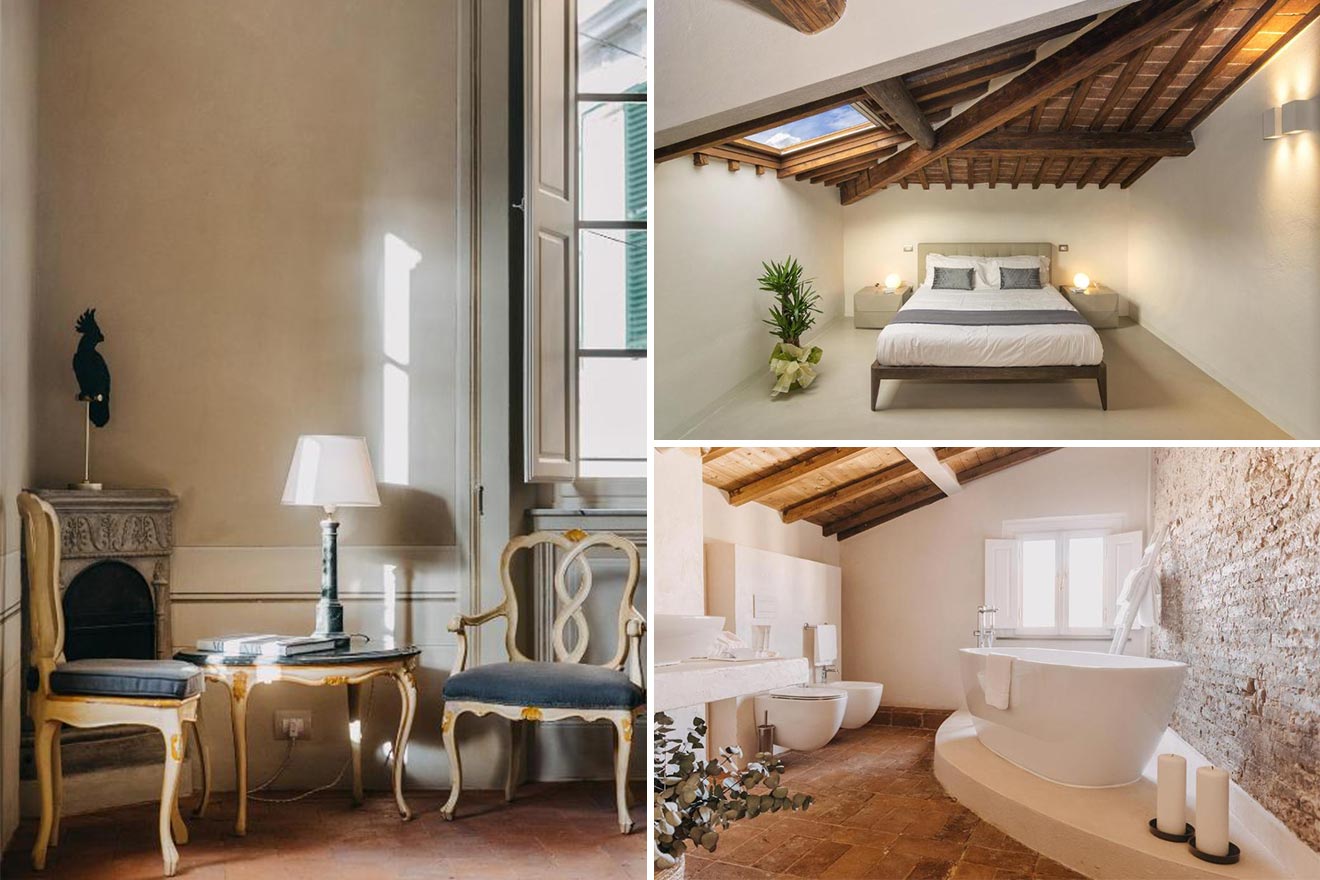 Luxury (€200 and up)
Palazzo Cini Luxury Rooms – Honeymooners gather, you can have rose petals strewn in your own private jacuzzi at this boutique hotel! Set in Pisa's old town, you're a short walk from pretty much everything.
Palazzo Feroci – This gorgeous penthouse apartment is an experience of true Italian style and class. It has its own lovely little terrace overlooking the narrow lanes, classic wooden floors, and an entryway that'll make you feel like Julia Roberts!
Mid Range (€100 – €200)
Harmony House Prestige – Modern rooms and a nice quiet location – perfect for a chilled city break! Their beds are SUPER comfortable, so you might have to drag yourself out of bed to see the sites!
La Perla del Borgo B&B – Authenticity reigns at this cute hotel, right in the center of the city! Just a short distance from Pisa Tower and the amazing cathedral, the rooms also have underfloor heating in the winter!
Budget (up to €100)
Bed & Tower – This lovely little hotel is right next to the Leaning Tower! It's in an old 13th century building, so it breathes old Pisan history and culture. Italian breakfast here is not to be missed!
Safestay Pisa – This place is excellent for solo travelers. It's literally a 5-minute walk from Pisa Central station, and everyone is so nice! You'll make friends in no time in their game room and cafe 🙂
Check the rates here
Practical Information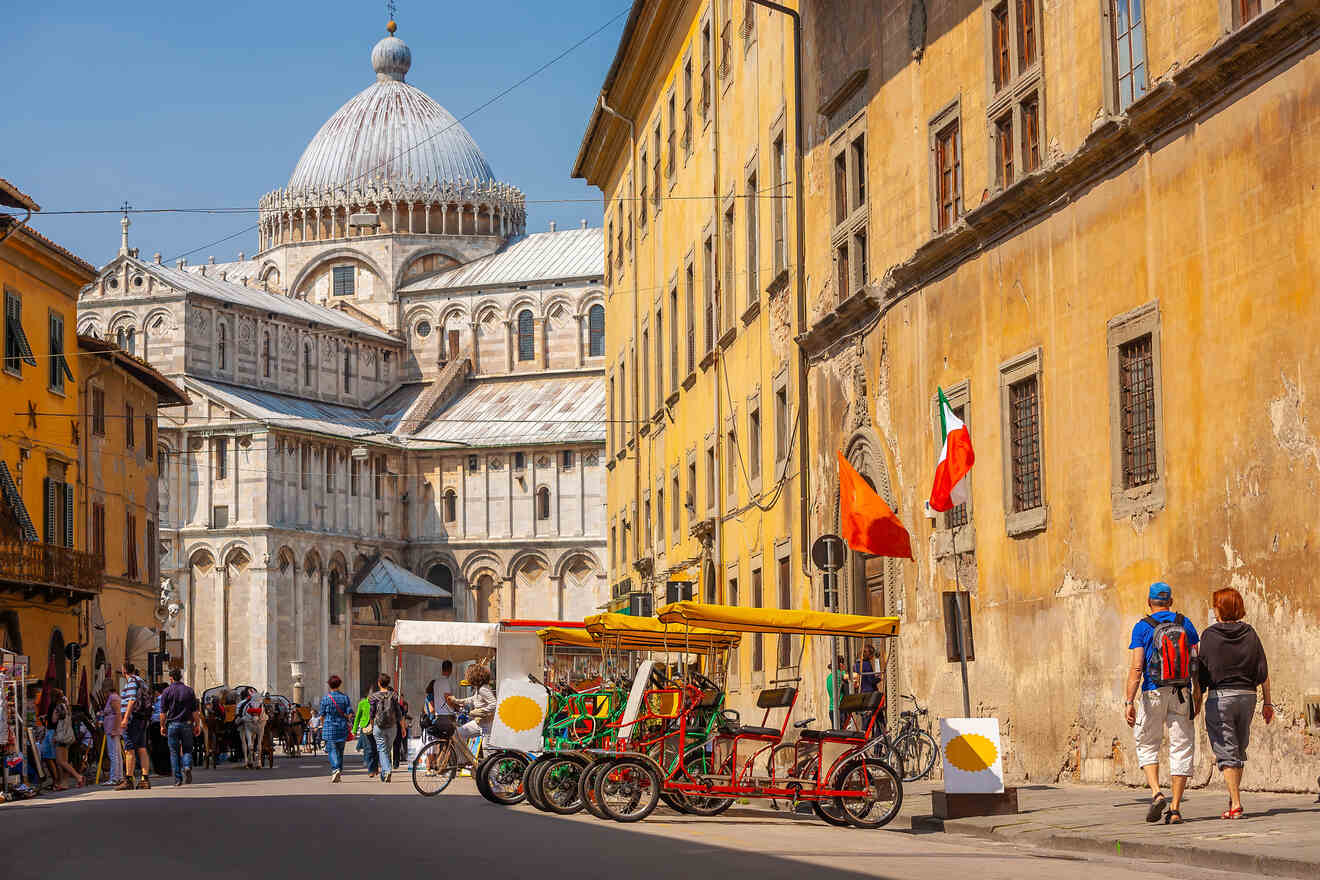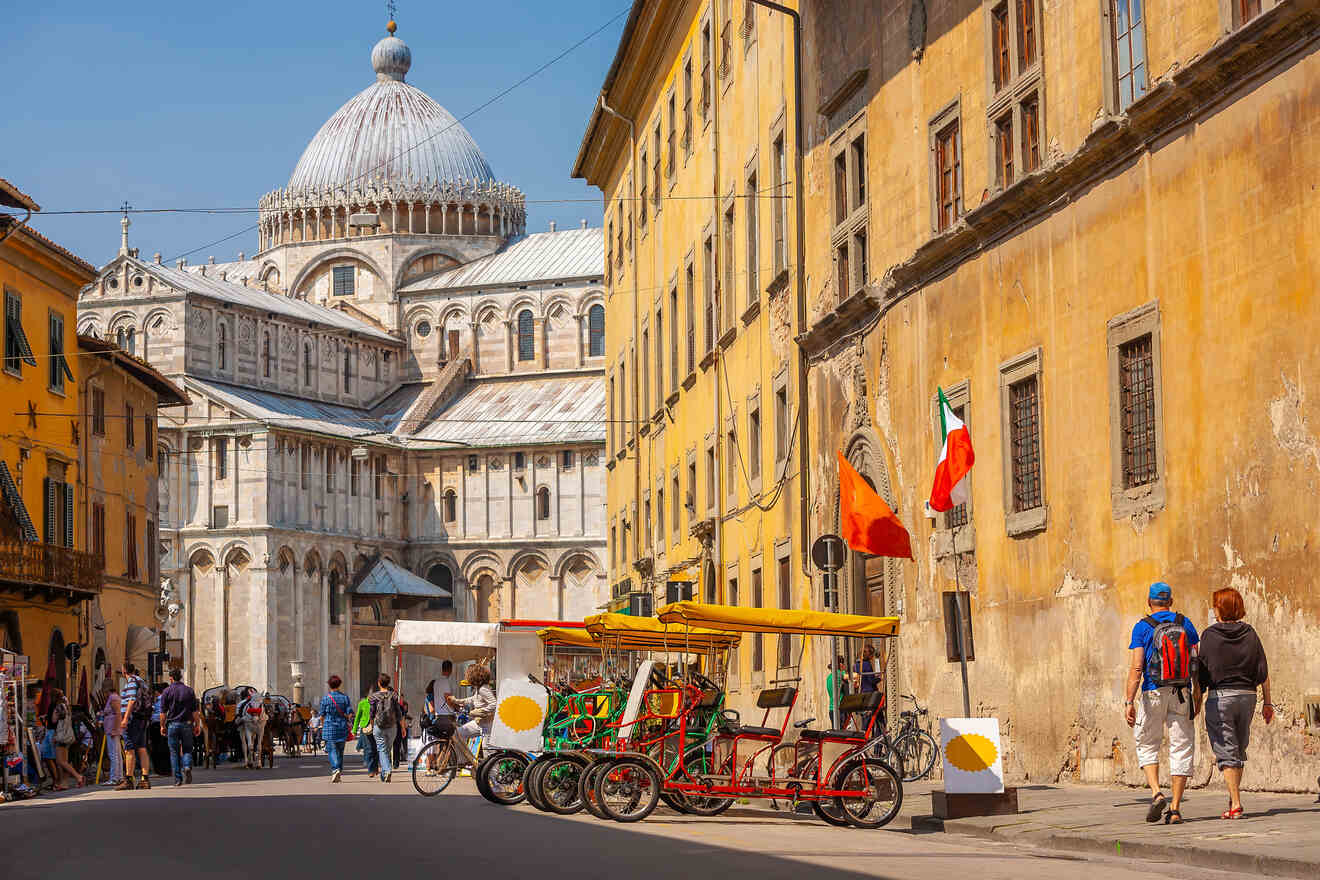 Itinerary? Check. Hotel? Check. Now you need to know some practical info, like travel and transport, SIM cards, etc. Keep reading!
How to get around
Walking
You can explore Pisa easily on foot since it's a really small city! There isn't a metro service, so walking is your best bet. If you're in Pisa for a couple of days and you're only seeing the main sites, you'll save money this way.
Bus
There are bus stops throughout the city. The main bus hub is next to Pisa Centrale, the main train station, and you can buy a ticket from any corner shop or newsstand in the city. One bus ticket lasts 70 minutes and costs €1, but if you buy the day pass it'll cost only €3, so that's probably your best bet! Here's a map of the bus routes to make your life easier 🙂
NOTE: When you get on the bus, make sure you stamp your ticket in the machine! If you don't you could end up getting fined, so look for a little yellow machine next to the driver's seat as you embark.
Bike
If you're up for a bit of fun, one of the best ways to get around is to rent a bike! Pisa is a super safe place to bike around, and you'll get in some exercise as well as see more of the sites. If you're craving adventure and bicycles just aren't fast enough for you, rent an e-scooter for the day!
Taxi
There's no Uber in Pisa, but you can book a taxi through NCC Pisa, a super reliable taxi company – and if you're nervous on the phone, you can just text them via WhatsApp! Just go on their website and click "Contact us on WhatsApp" and tell them where you're going.
All about SIM cards
To get a SIM card anywhere in Italy, you'll need to have your passport and a fiscal code – but to get around the fiscal code issue, you can just tell the provider you're a tourist and they'll give you a temporary one.
Here are the main providers for prepaid SIM cards in Pisa (and Italy in general):
For a short term stay in Pisa, I would personally recommend TIM. TIM has a central store just south of the river and offers great deals for prepaid sim cards.
FAQs about things to do in Pisa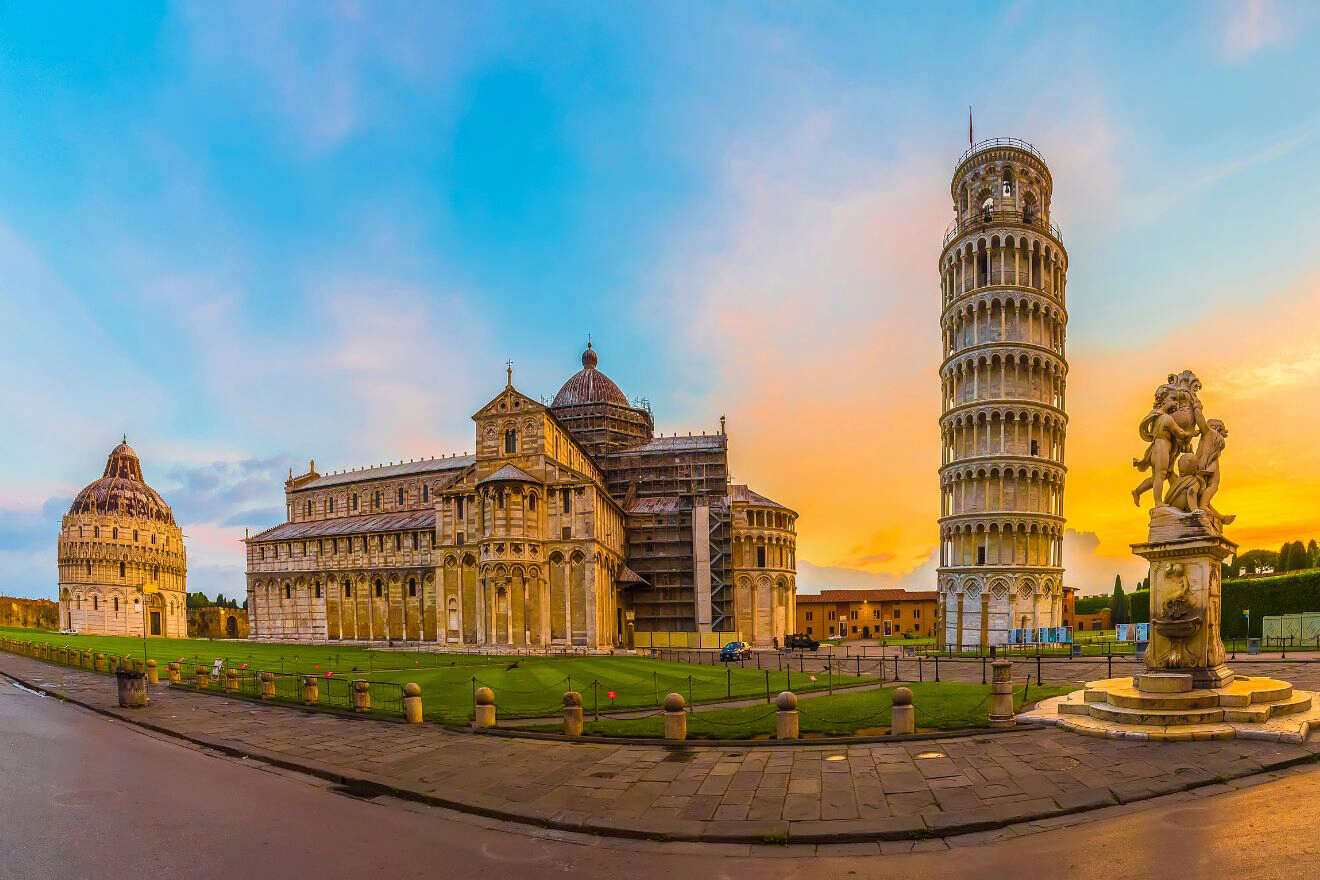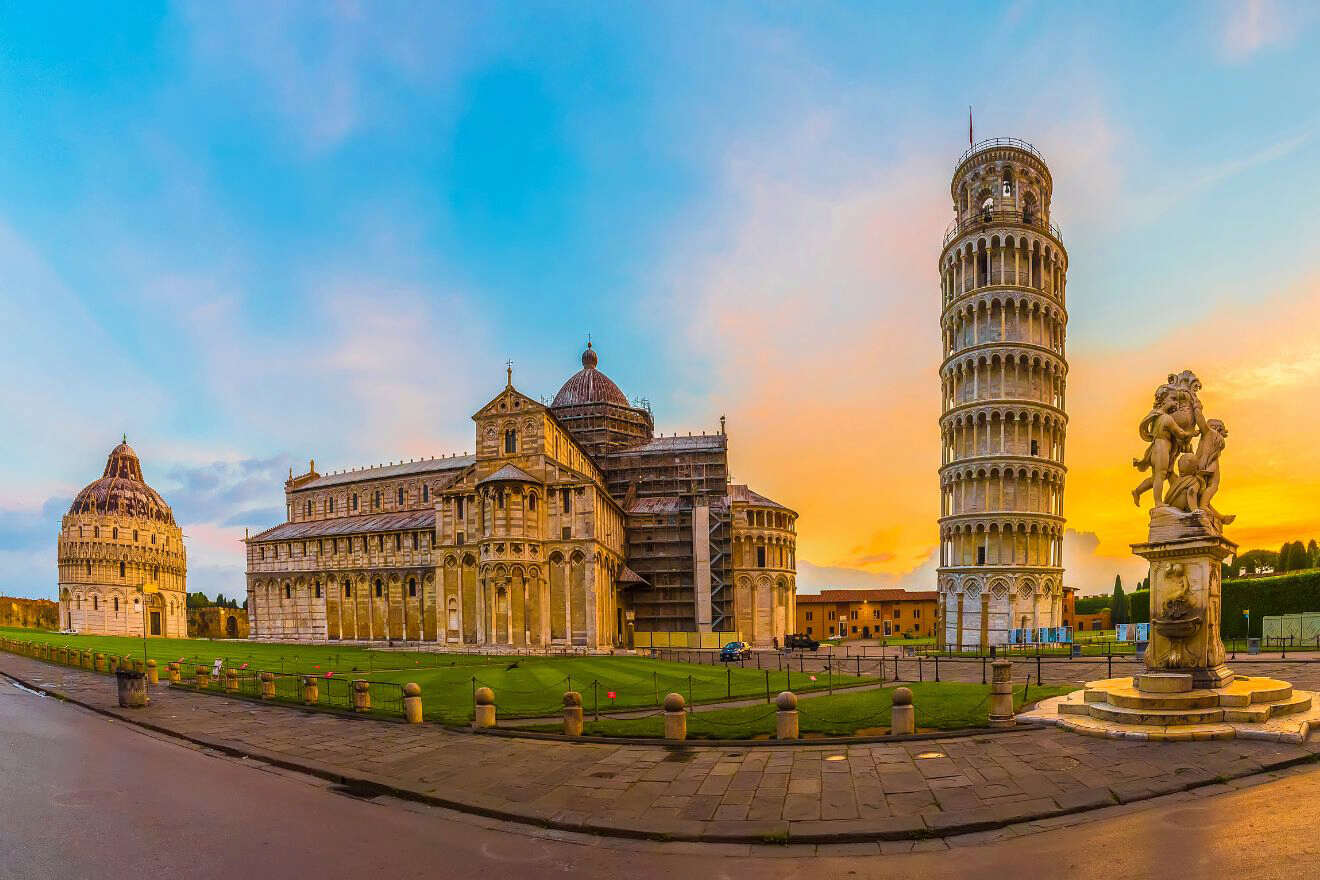 ✈️ What are the best things to do in Pisa in a day?
You can do a lot in a day! You should definitely do Piazza dei Miracoli since most of the big attractions are there! Head over to Piazza delle Vettovaglie to sample fresh fruit, and amble over to Piazza della Pera for a glass of wine.
👯‍♀️ What can I do in Pisa at night?
If you're looking for nightlife in Pisa, a great option is a pub crawl! Pisa has many bars and restaurants, especially in Via Lungarno! This is right along the river so it's super picturesque.
❤️ What are the most romantic things to do in Pisa?
The most romantic thing to do in Pisa is go for wine and cheese on Piazza della Pera! Alternatively, you can take a romantic cooking class with a local! You can learn to make pasta and have your very own Lady and the Tramp moment!
👪 What are the best things to do in Pisa for families?
One of the best things to do in Pisa is take a bike tour with the whole family! You can also explore the surrounding region at Marina di Pisa, and spend the day admiring the pine trees and relaxing in the sun.
Conclusion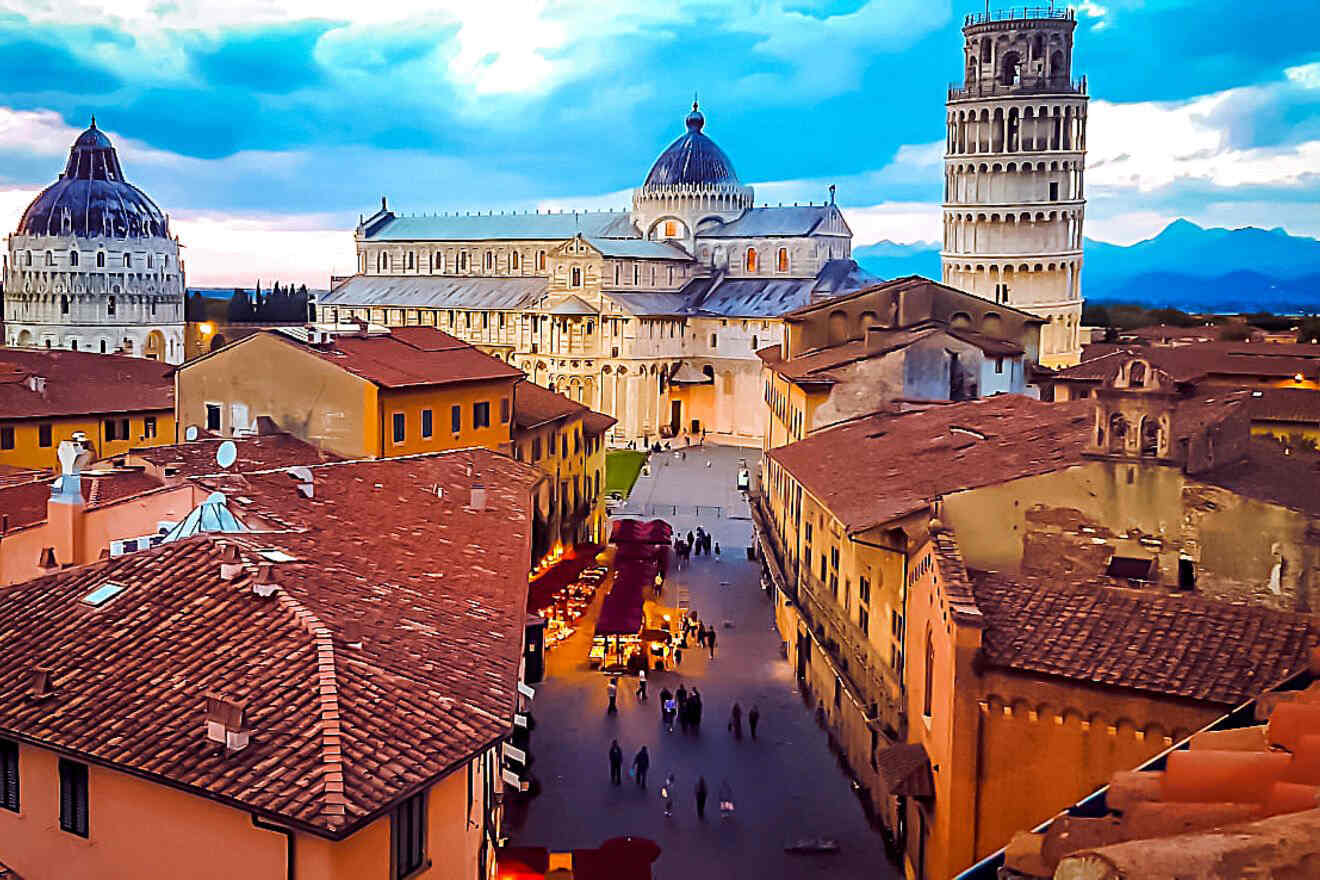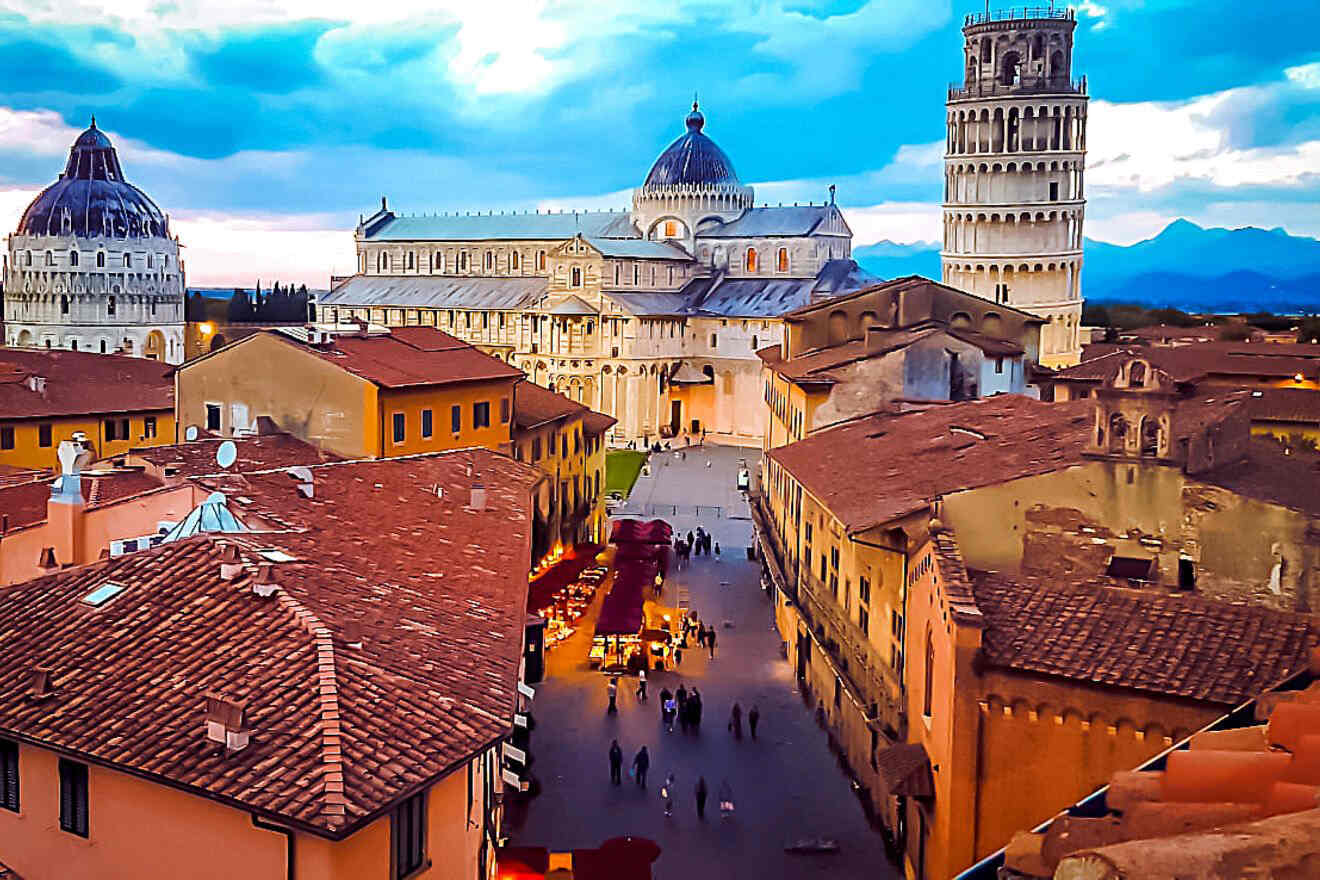 So there you have it! I know that was so much to take in – there really is no shortage of things to do in Pisa – but at least you've got some fun ideas to take your vacay to the next level!
If you can't decide on your favorite things to do, here are a couple of my absolute faves:
Get booking quick so you don't miss all the best spots, and if you're booking for the summer months, I'd recommend booking around 4-6 months in advance just to make sure you get first dibs on those stunning sites.
Have an amazing trip! If you have any questions, let me know in the comment section and I'd be happy to chat with you 🙂
Buon Viaggio!
Lizzie 
---
Pin it for later!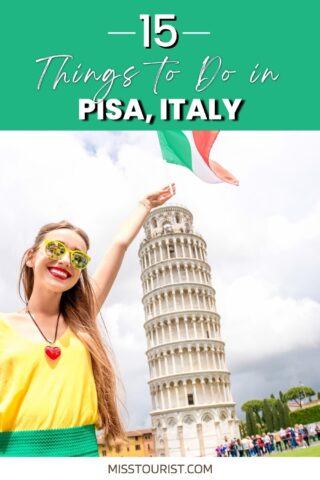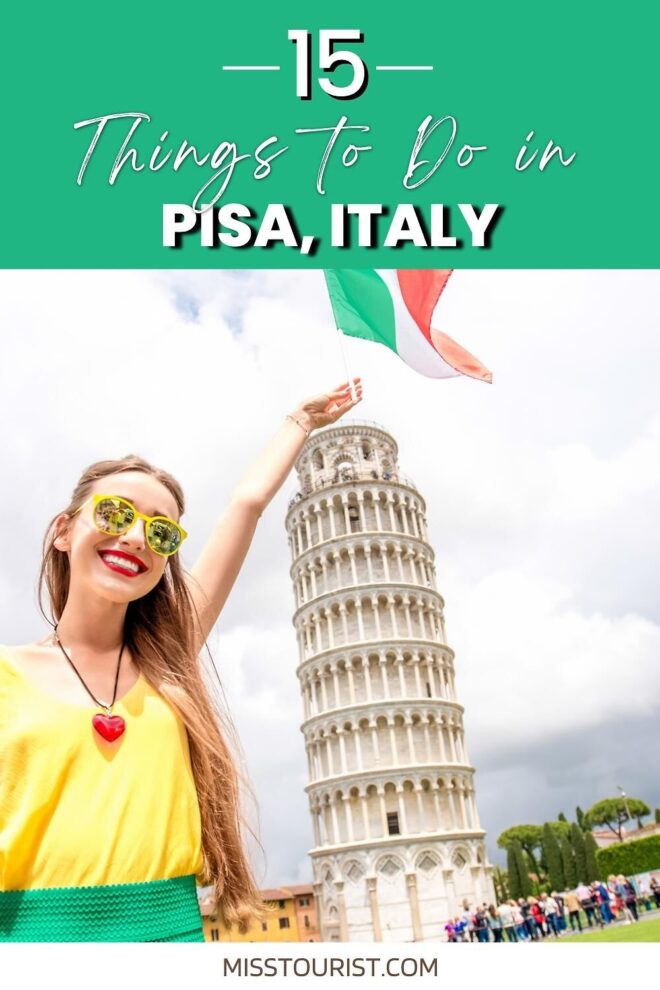 Pin it for later!