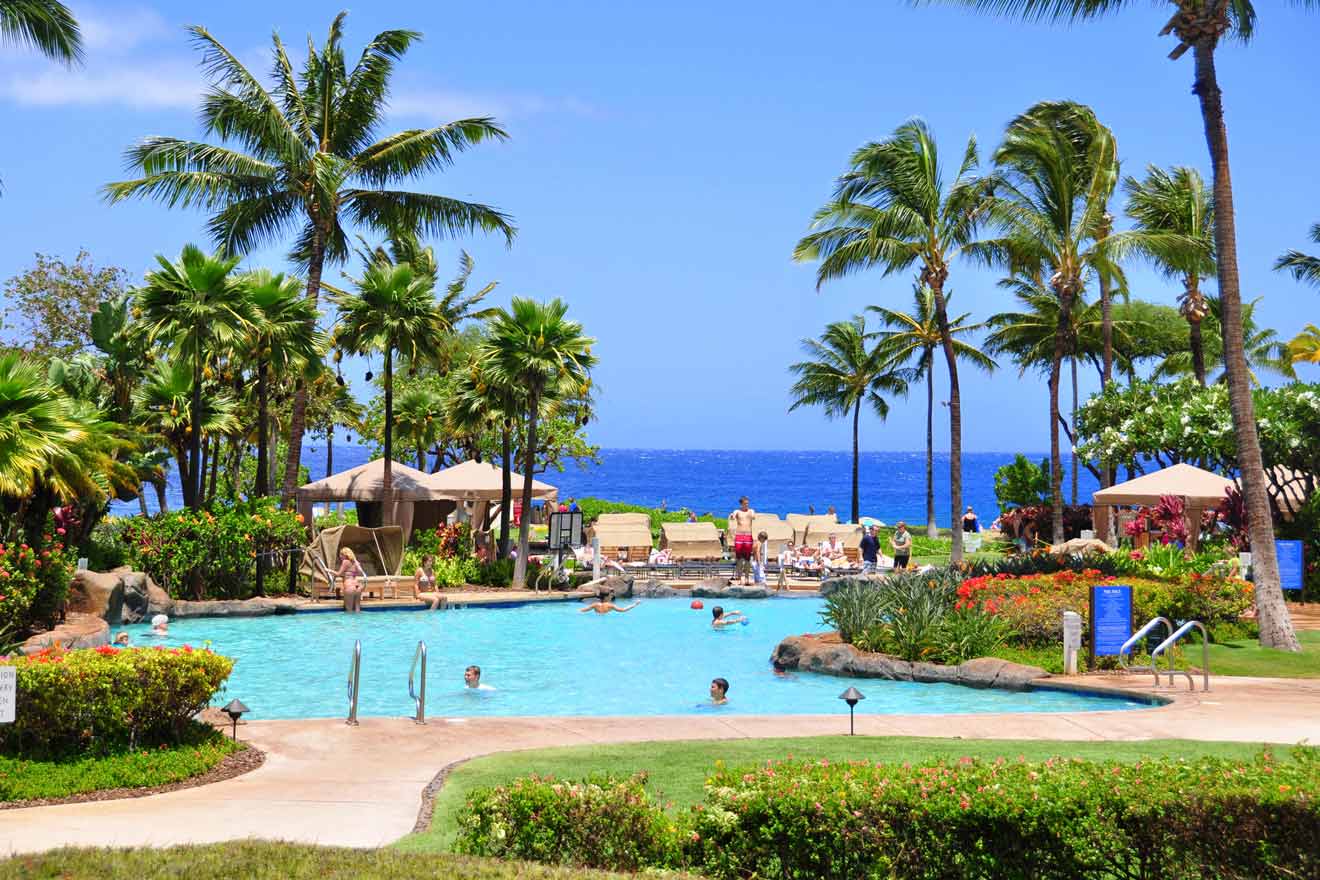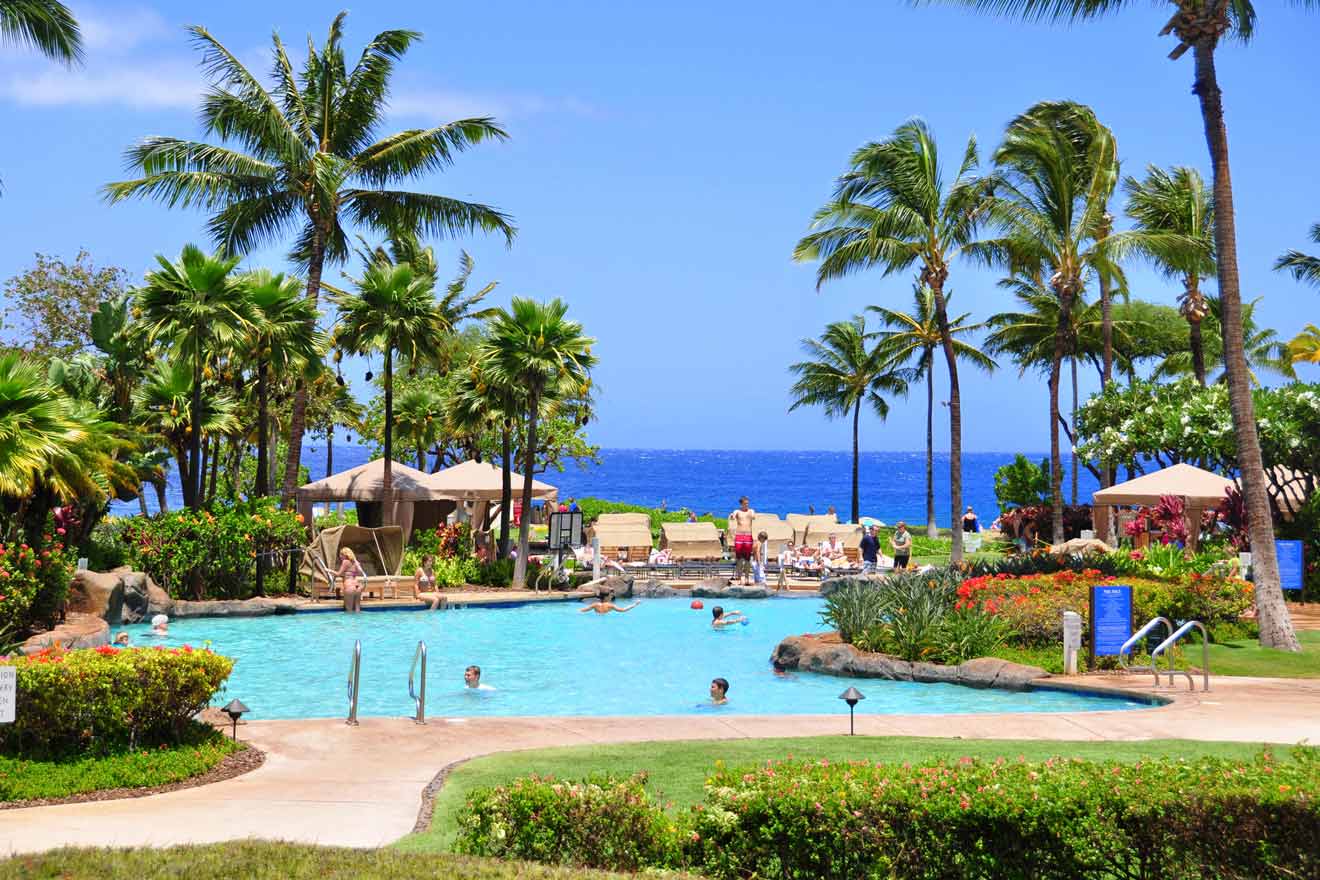 I hope you packed lots of swimsuits and sunglasses because you'll need them for this fun trip to one of the best Hawaiian islands! And what you'll also need is a great list of resorts from which you can easily pick your favorite without having to lift a finger (this is where I come to your rescue)!
In this post, you'll find the best resorts in Maui which have all the facilities you would expect from an all-inclusive hotel. I hand-picked all these incredible spots from a long list myself, and listed them from most to least expensive.
NOTE: Before we start you should know that Maui and the Hawaiian islands, in general, don't actually have typical all-inclusive resorts where you just pay one sun for all the services to be included in your price. That's mainly because the beaches are pretty close and tourists are encouraged to explore outside of their hotel.
Nonetheless, all the resorts that you'll find in this post have all the same facilities that you'd pay for in the classic vacation packages like restaurants, spas (and spa credit), and watersports, except that you'll only pay for what you use.
I hope that makes sense for everyone, but don't forget that I'm always here to answer your questions if you have any. And before we hit the road I should tell you that it's super important to book in advance. These Maui resorts are some of the best on the island that offers secluded luxury and trust me, rooms won't be available for too long!
Vamanos!
If you are in a hurry
Looking for the best of the best? Then check out this short list, it has the top resorts in Maui:
1. Four Seasons Resort Maui – top oceanfront resort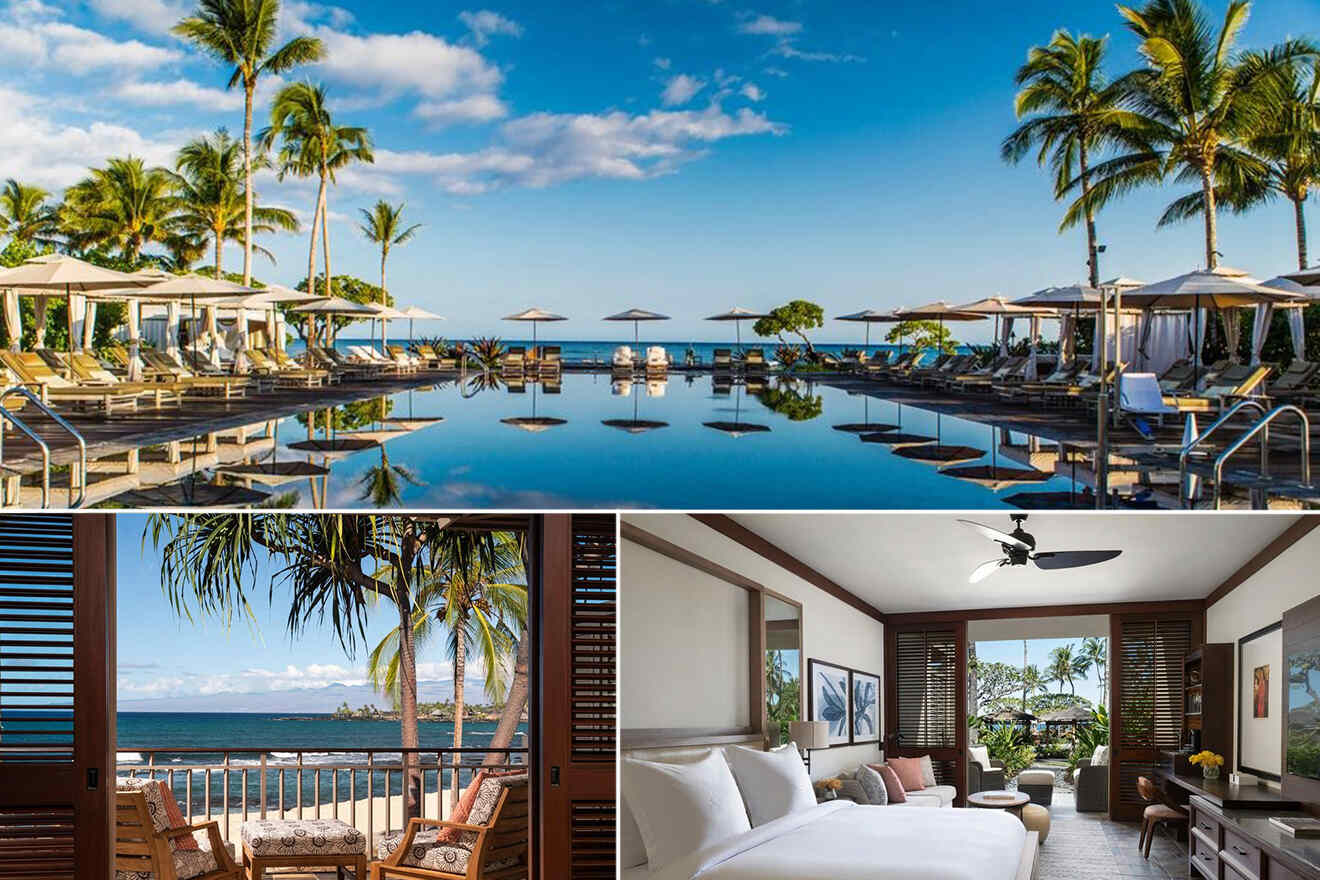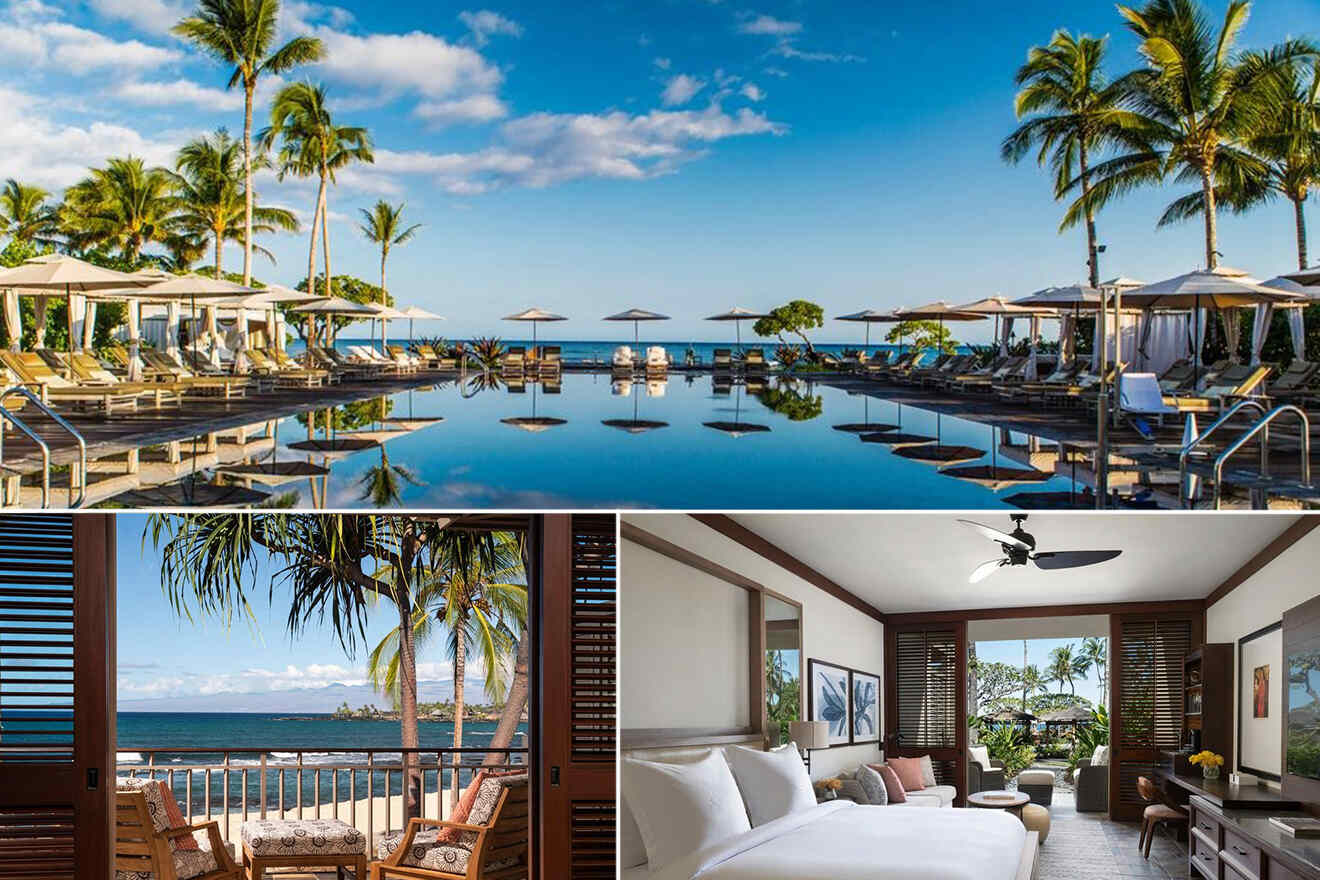 Planning your Hawaiian vacation? Well, there are so many fabulous resorts on Maui island, (most likely set on a sandy beach) which you should see! This resort offers no less than three saltwater pools and 3 restaurants on-site (including an oceanfront restaurant) and round trip airport transportation.
Four Seasons Resort offers vacation packages with the complete suite experience, an on-site spa, where you can try their numerous facials and just a bunch of things that will make you feel as light as a cloud. But rest assured there are lots of fun activities as well like water sports, playing tennis, tours and a kids' club as well.
Check Current Prices
2. Honua Kai Resort and Spa – family-friendly resort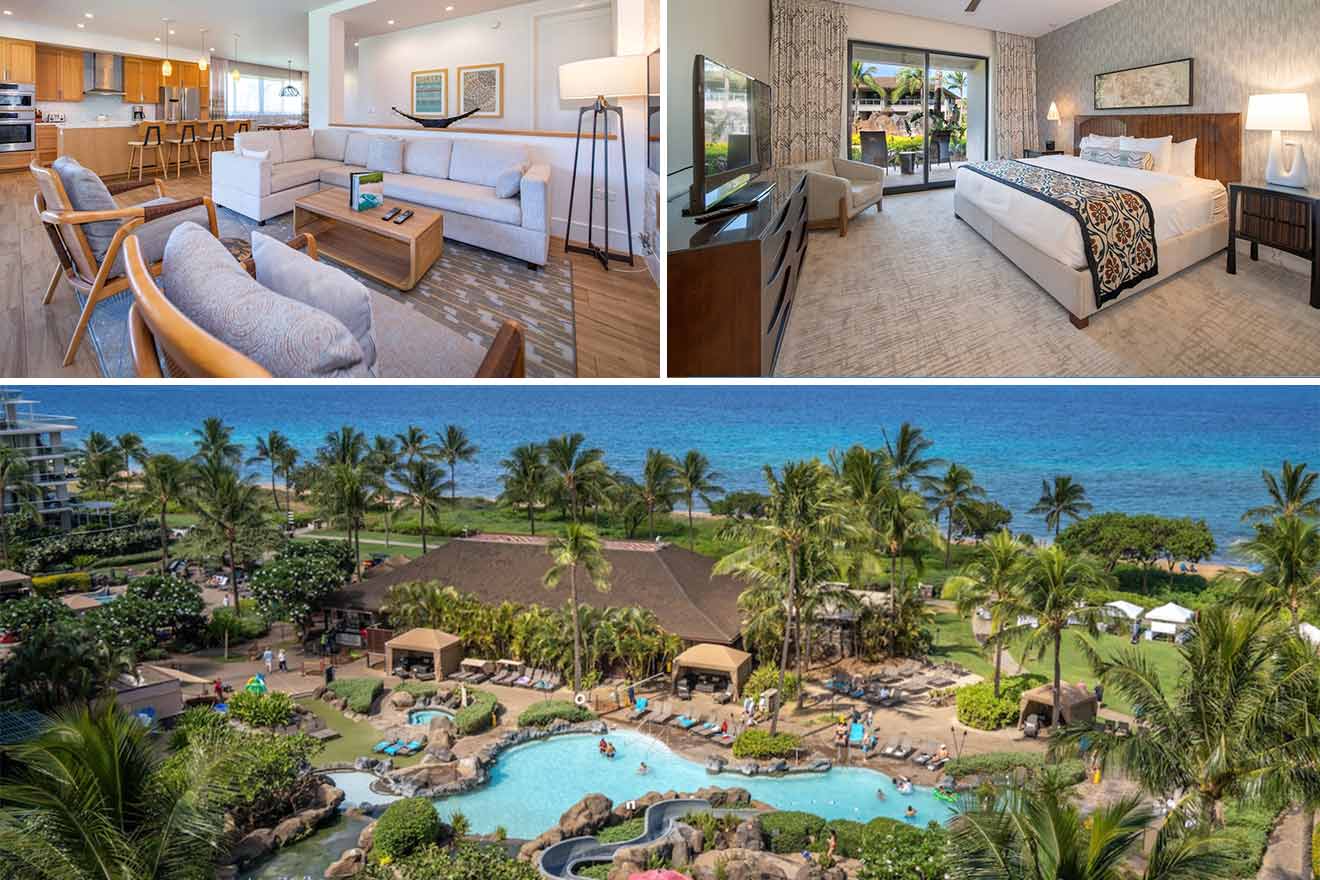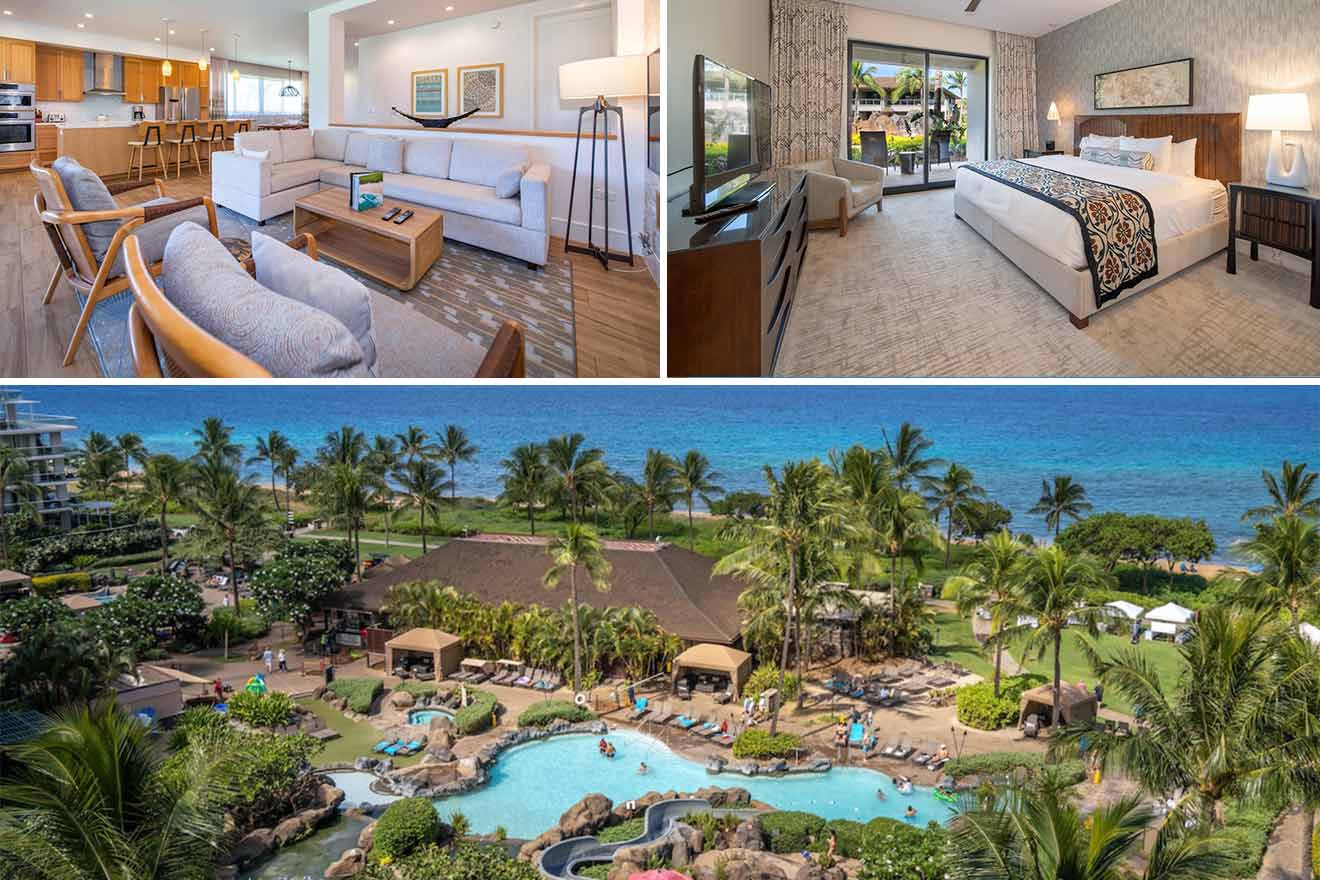 There are many family friendly resorts in Hawaii, including this one! Resort amenities here include a kids pool plus 3 other pools, and some amazing ocean view rooms with facilities like a kitchen and lots of space!
Your island getaway will be filled with fun activities like relaxing in the onsite spa, or trying different water sports from surfing to canoeing. The lovely outdoor area is perfect for catching a sunset and you even have a BBQ grill in case you're up for some cooking. If not you can always eat at one of the 2 restaurants on-site! But don't forget everyone, booking your resorts early is highly recommended, especially in a location like this one!
Check Availability
3. Fairmont Kea Lani – beachfront resort with 5 restaurants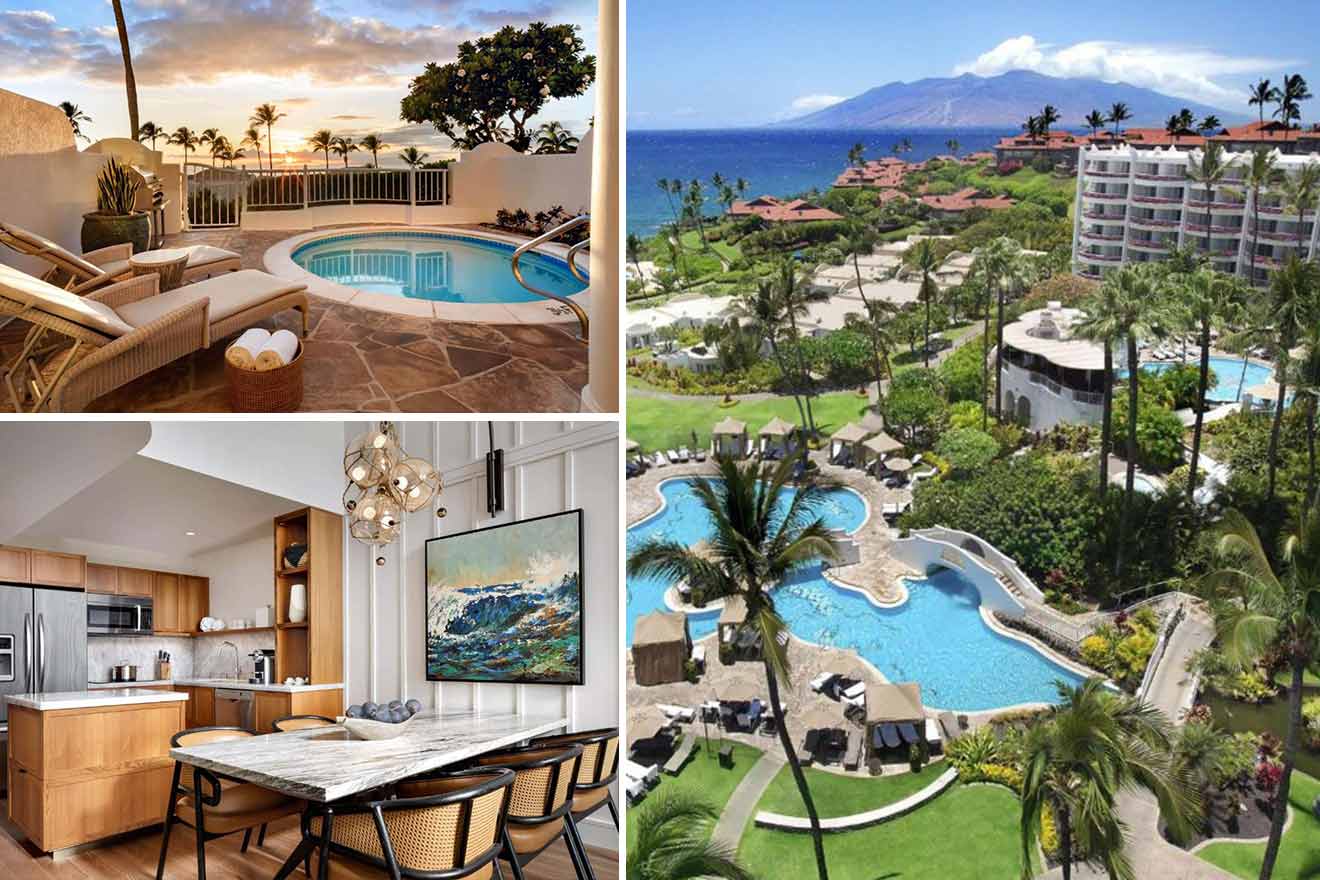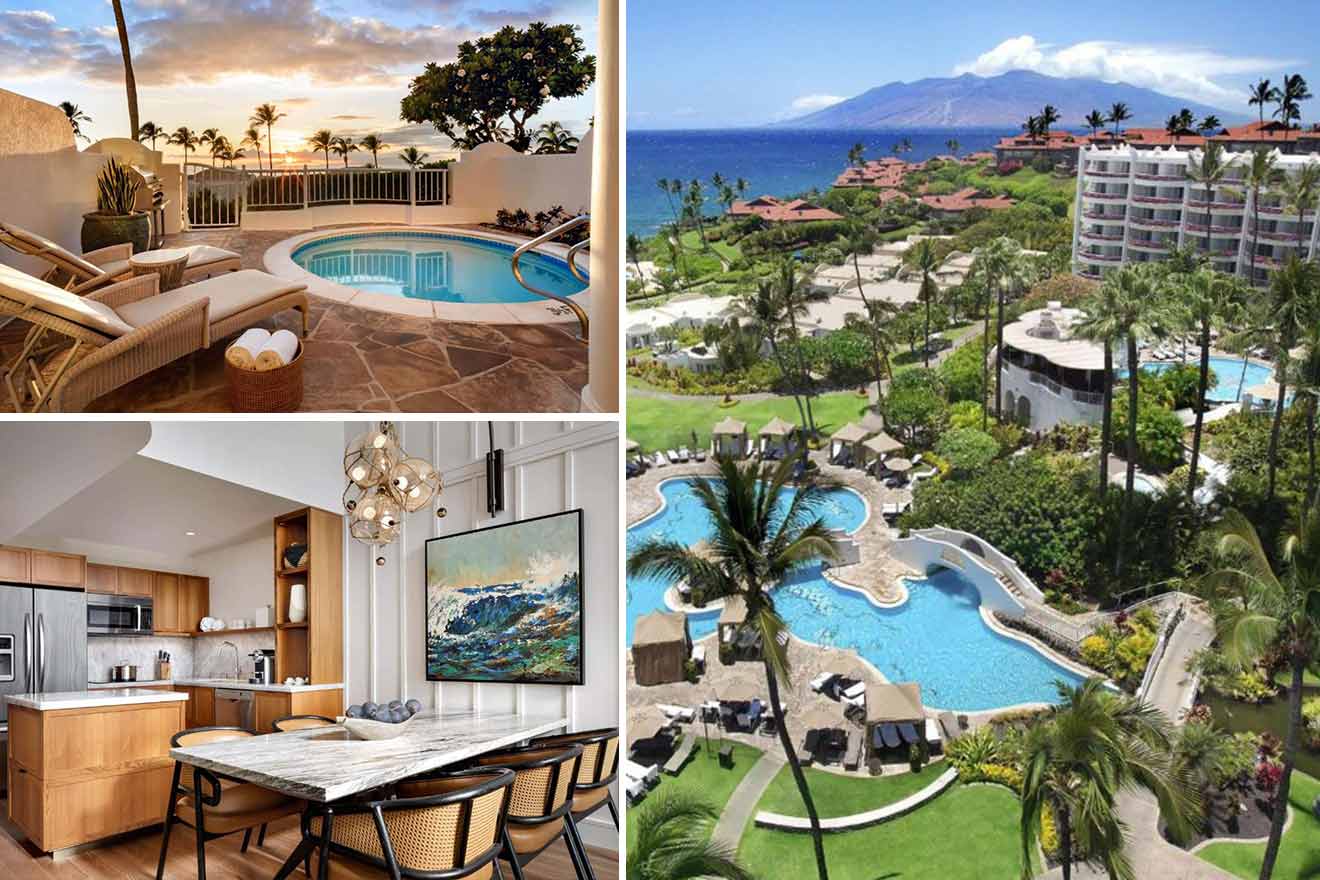 Hop from your bed straight onto the beach at this Maui resort offering incredible views of the Pacific Ocean! Some of the resort perks include buffet breakfasts in the morning and an amazing cabana-style suite that will make you feel at home!
Of course, Fairmont Kea Lani offers spa packages and golf packages (on the course nearby) but for the days you want to chill in the sun, there are 3 pools and one of them even has a waterslide! But that's not it, this place has 5 restaurants on-site (one to try each day) where you can enjoy some live entertainment or just the lovely sights of the Pacific Ocean!
Check Current Prices
4. The Grand Wailea Resort Hotel – featuring a waterpark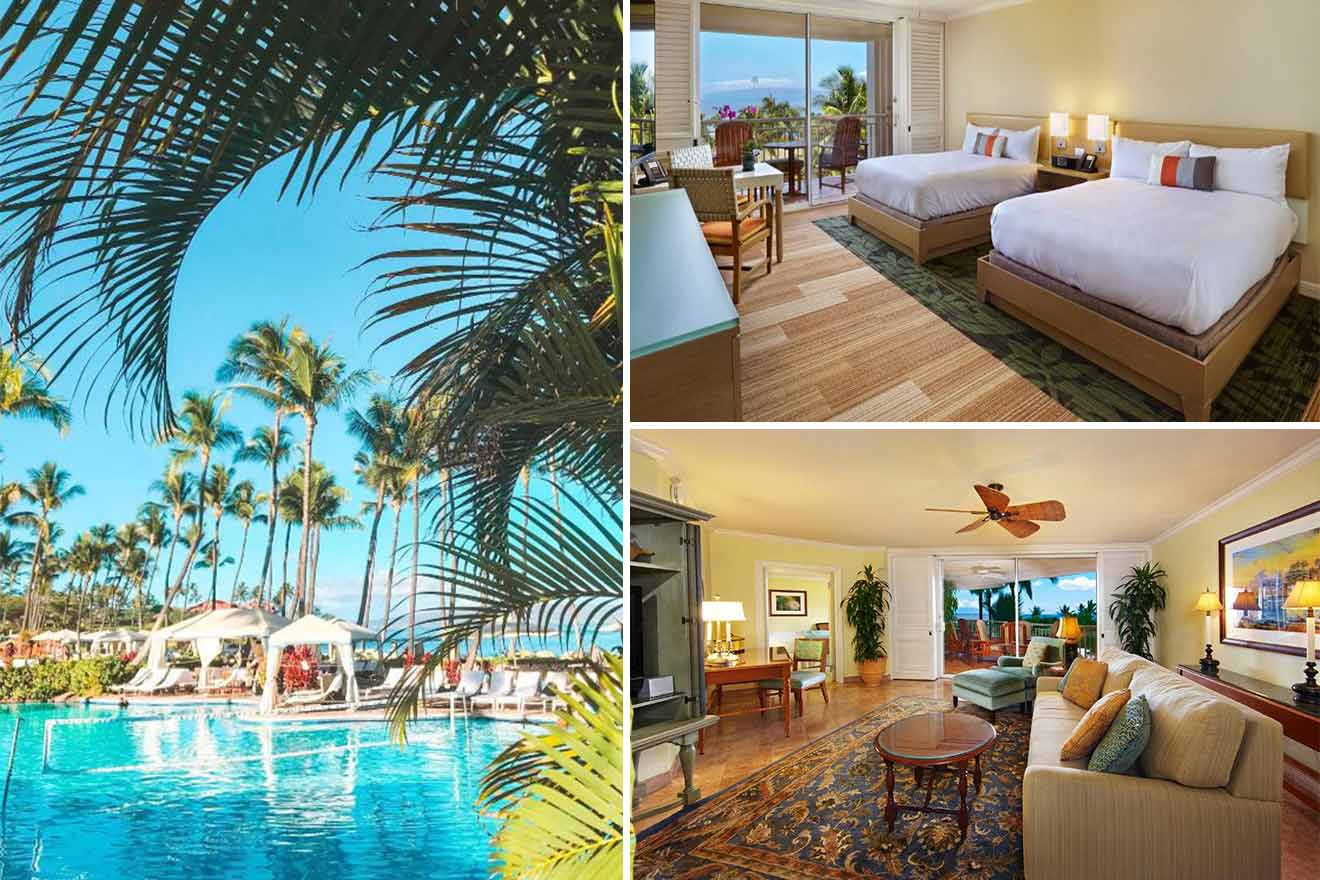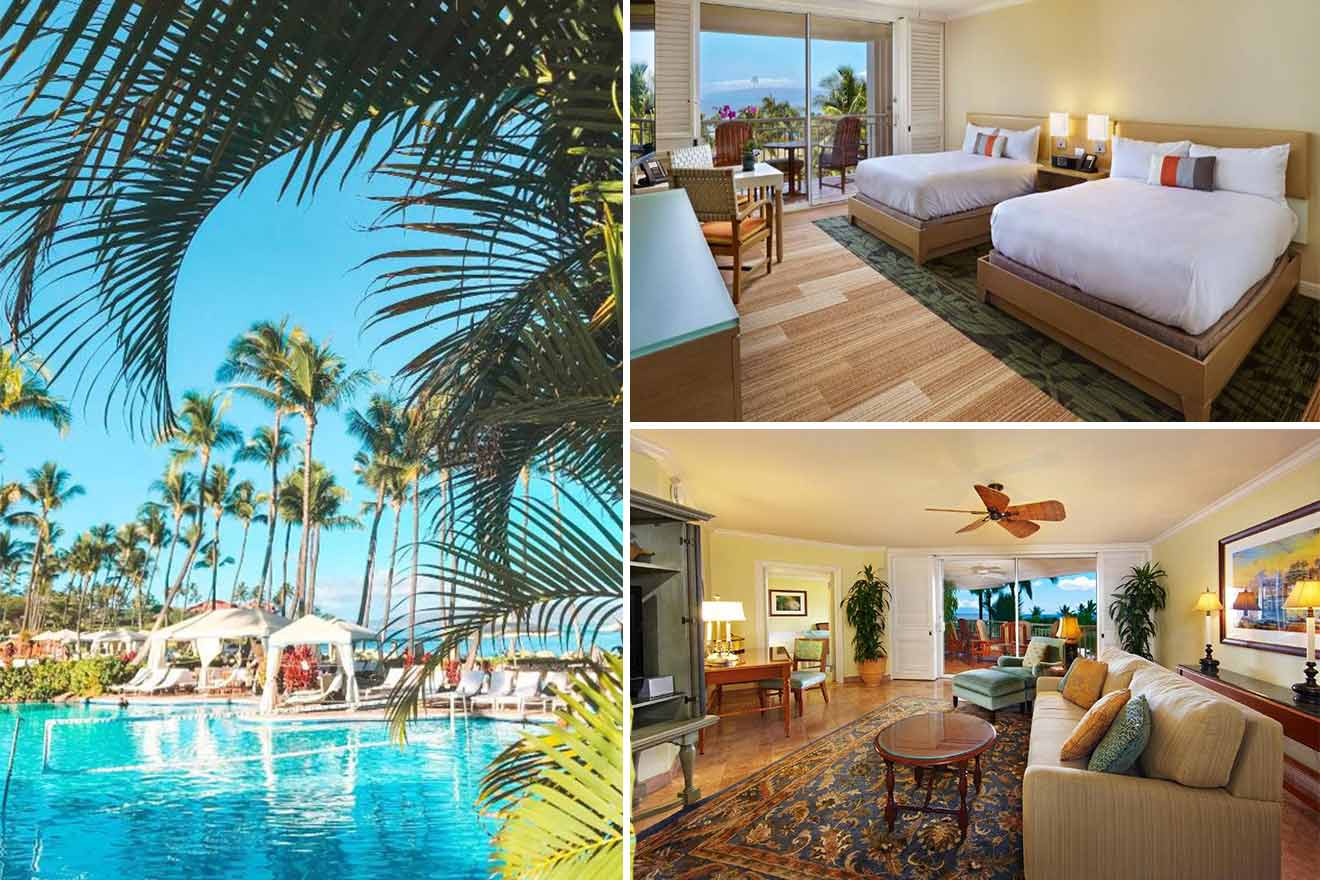 Non-stop fun for all family members, that's what the Grand Wailea offers! You'll never want to leave once you see all the resort amenities which include some fabulous golf packages, 5 restaurants, a spa, and a water park that has 9 outdoor swimming pools connected by a lazy river, a water elevator, and a swim-up bar!
The Grand Wailea resort offers the most comfortable plush rooms which have private furnished terraces with some great views and a deep soaking tub. During your stay, you can try all sorts of new things like scuba lessons or yoga on the beach (sounds amazing), plus go on all those tours that will take you around the island!
Find Available Dates
5. Montage Kapalua Bay – for rooms with spa baths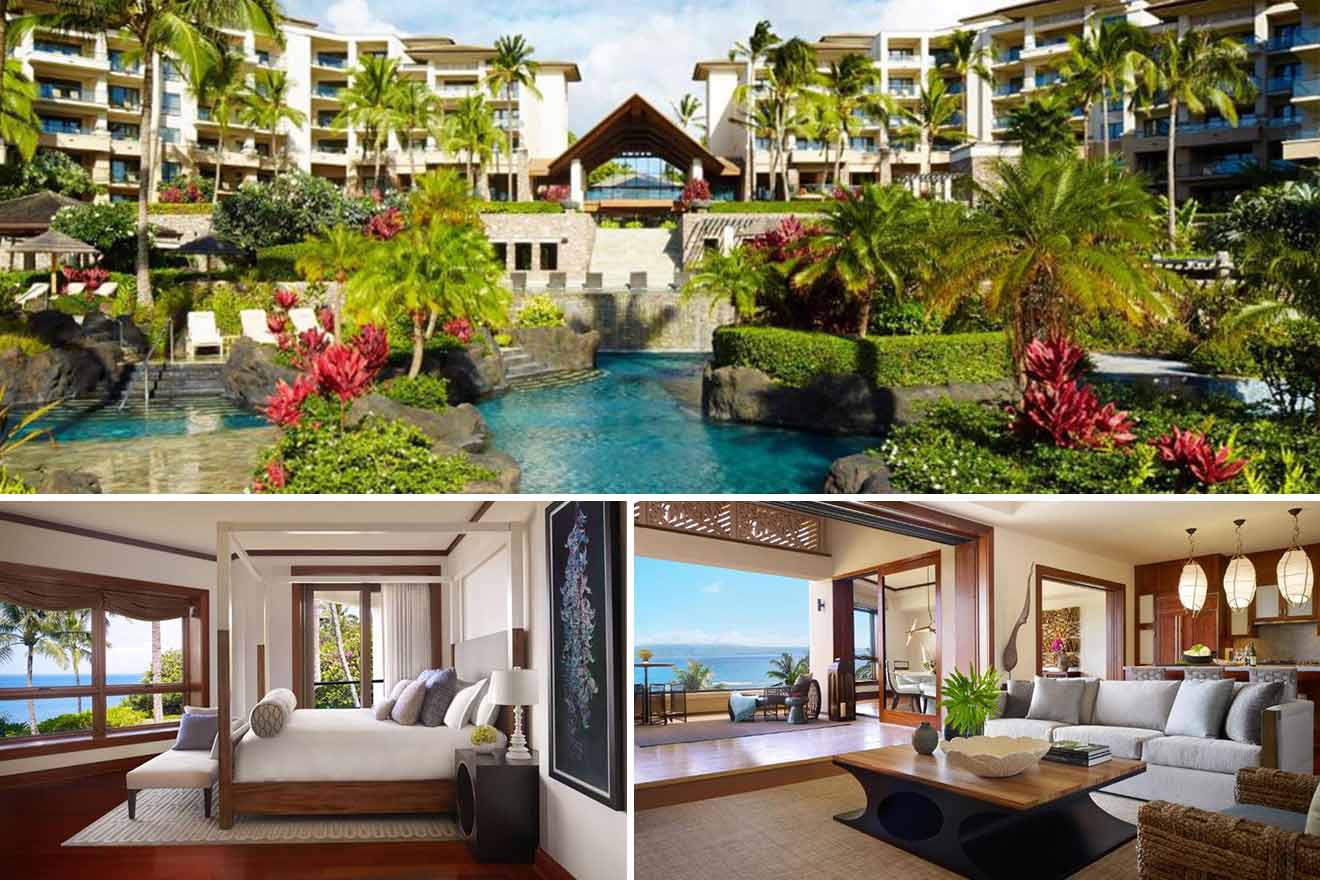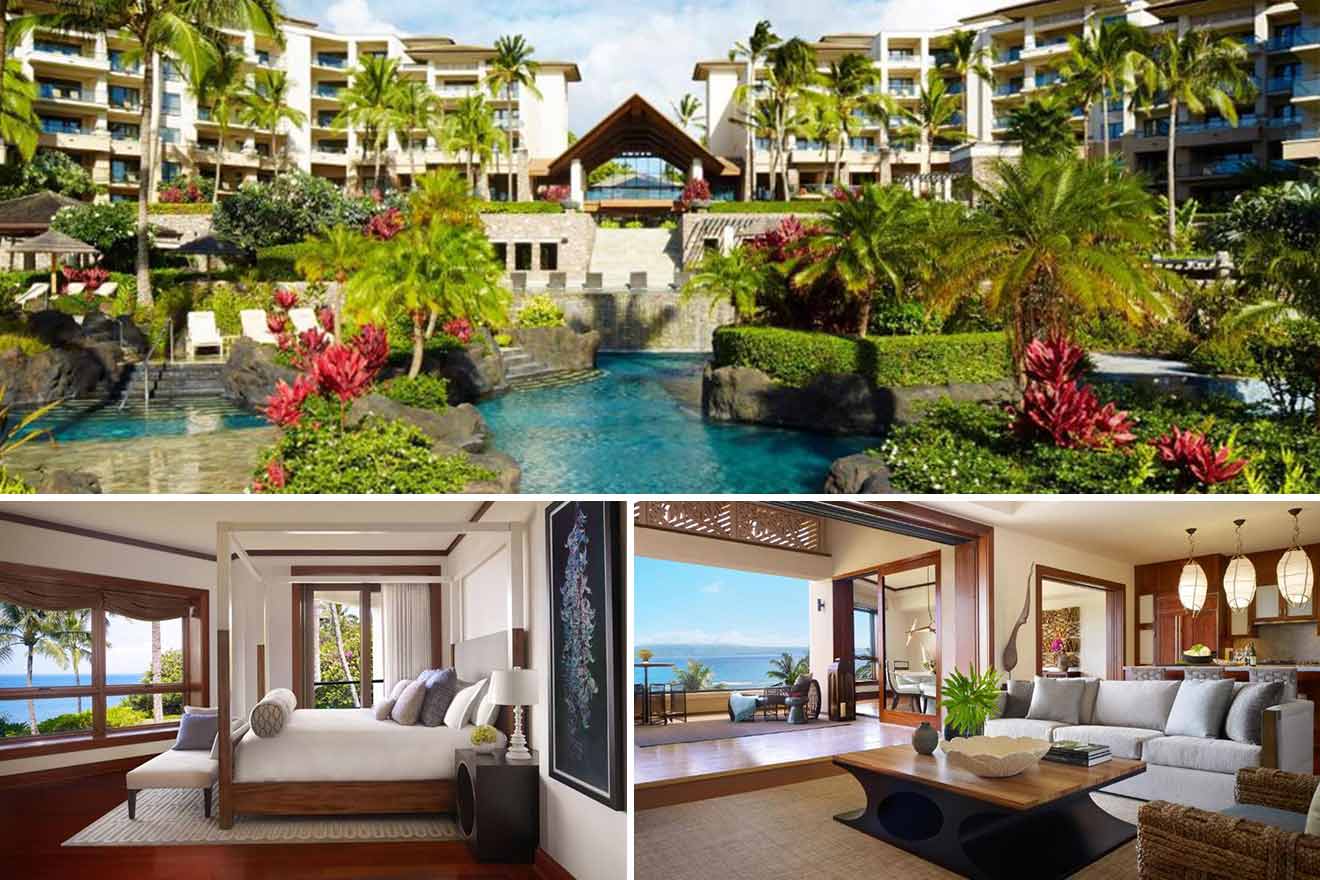 Elegant, classy and beautiful decorated with a bunch of wooden furnishings! And of course set in a scenic location in the beautiful Kapalua Bay. This Maui resort has an outdoor pool, a restaurant and spa and wellness center.
All the luxurious suites come with a seating area and a private balcony boasting ocean views, and private bathrooms with a spa bath where you can relax for as long as you want! Don't forget though that there are lots of fun things to try here from renting bikes and exploring the island, playing some tennis or going golfing, and finishing up your days with a chill movie night!
Find Available Dates
6. Hyatt Regency Maui Resort – with an oceanfront golf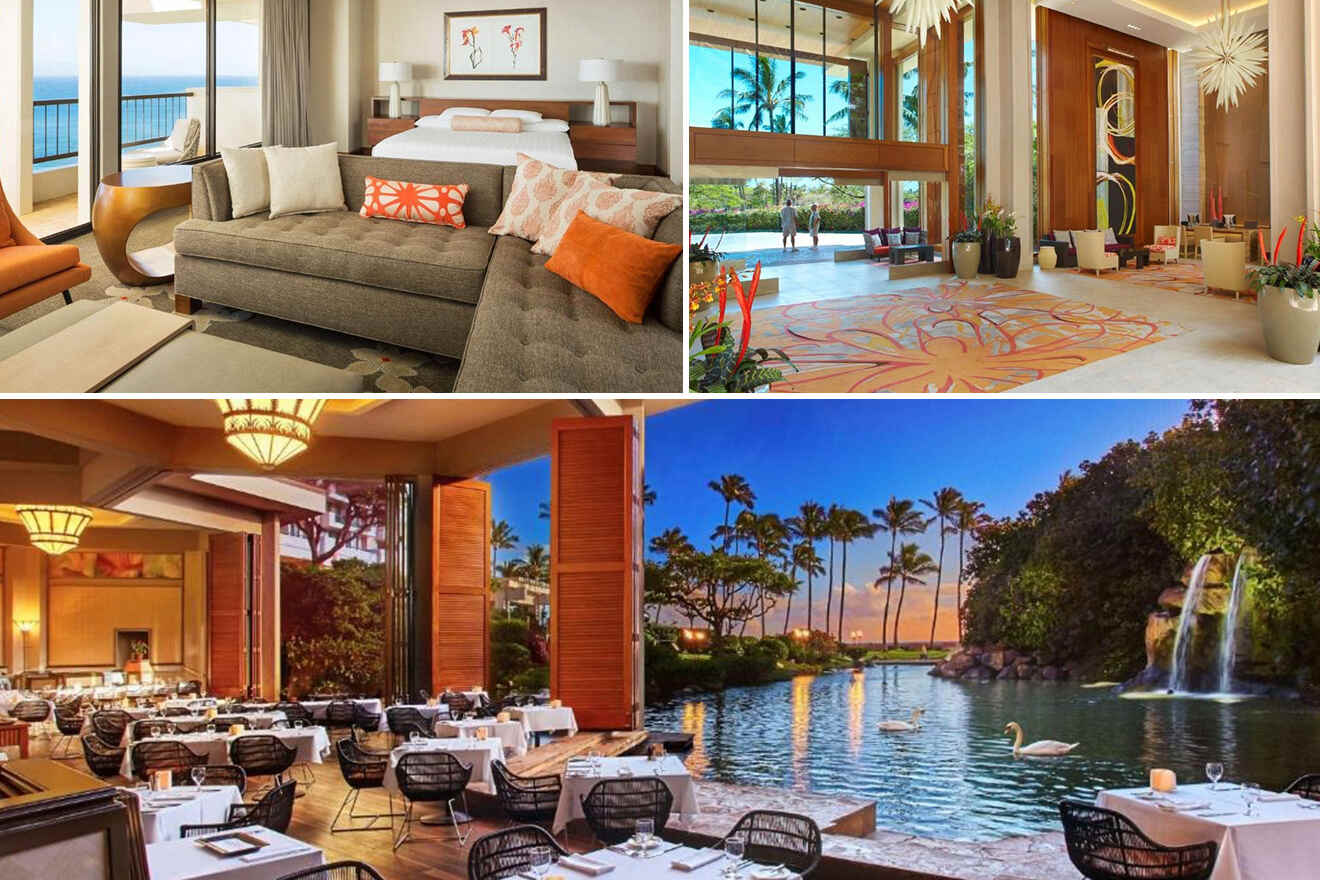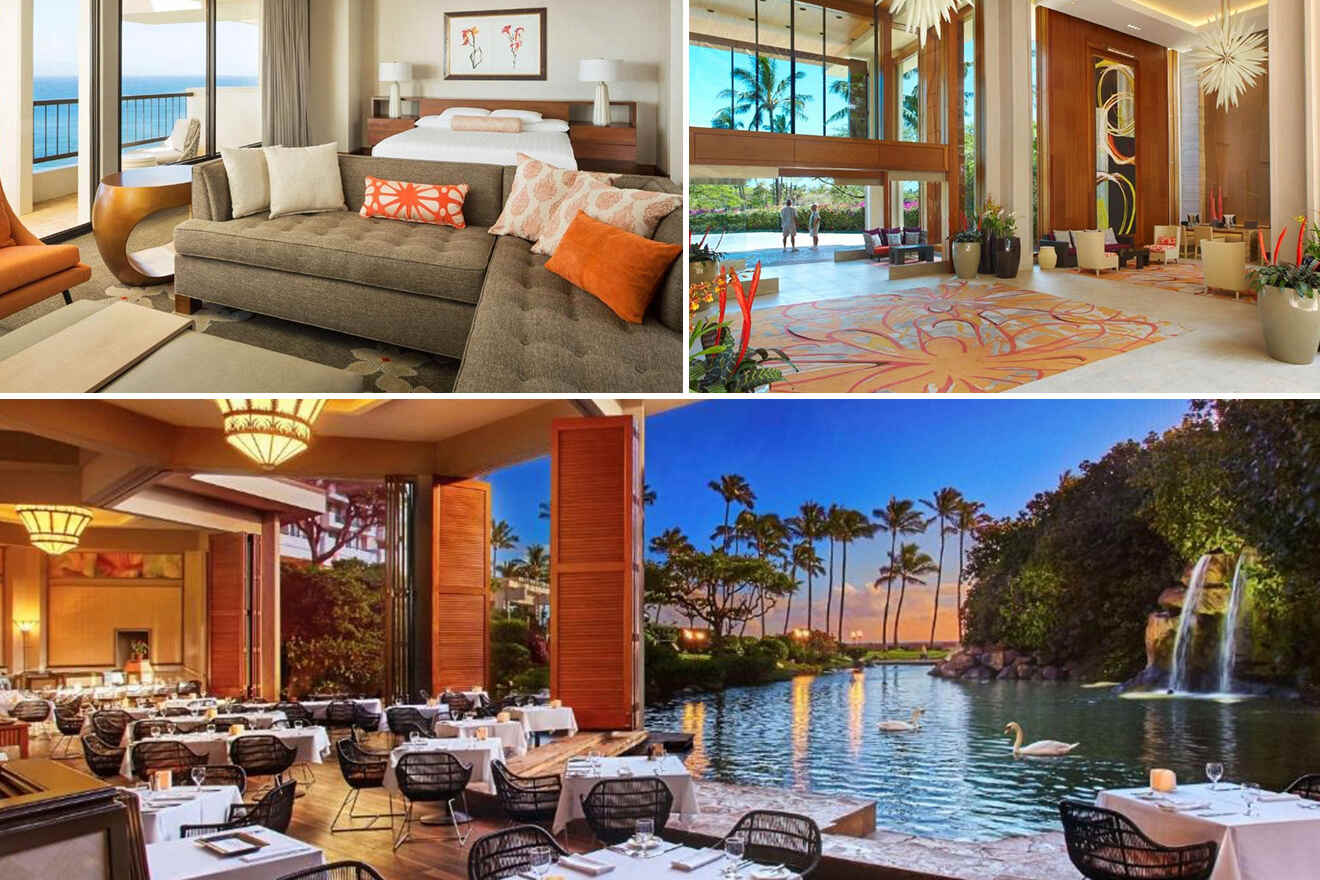 Class, elegance, and style! This Maui resort offers mesmerizing ocean views, a fun water park and oceanfront cabanas! Your island getaway will also have the most amazing dining conditions (5 top restaurants) and 6 free-form pool areas. 
Oh yes, the spa packages at Hyatt Regency Maui are insane! So start your days with the yummy buffet breakfasts (or with coffee in your fancy oceanfront cabanas) and then head to the onsite spa to unwind, hang by the outdoor pool or enjoy some oceanfront golf. But don't forget that the resort offers lots of traditional Hawaiian activities like lei making classes and Hula demonstrations, plus a cool complimentary beach portrait session. There's never a dull moment here!
Check Availability
7. Andaz Maui at Wailea – with 4 infinity pools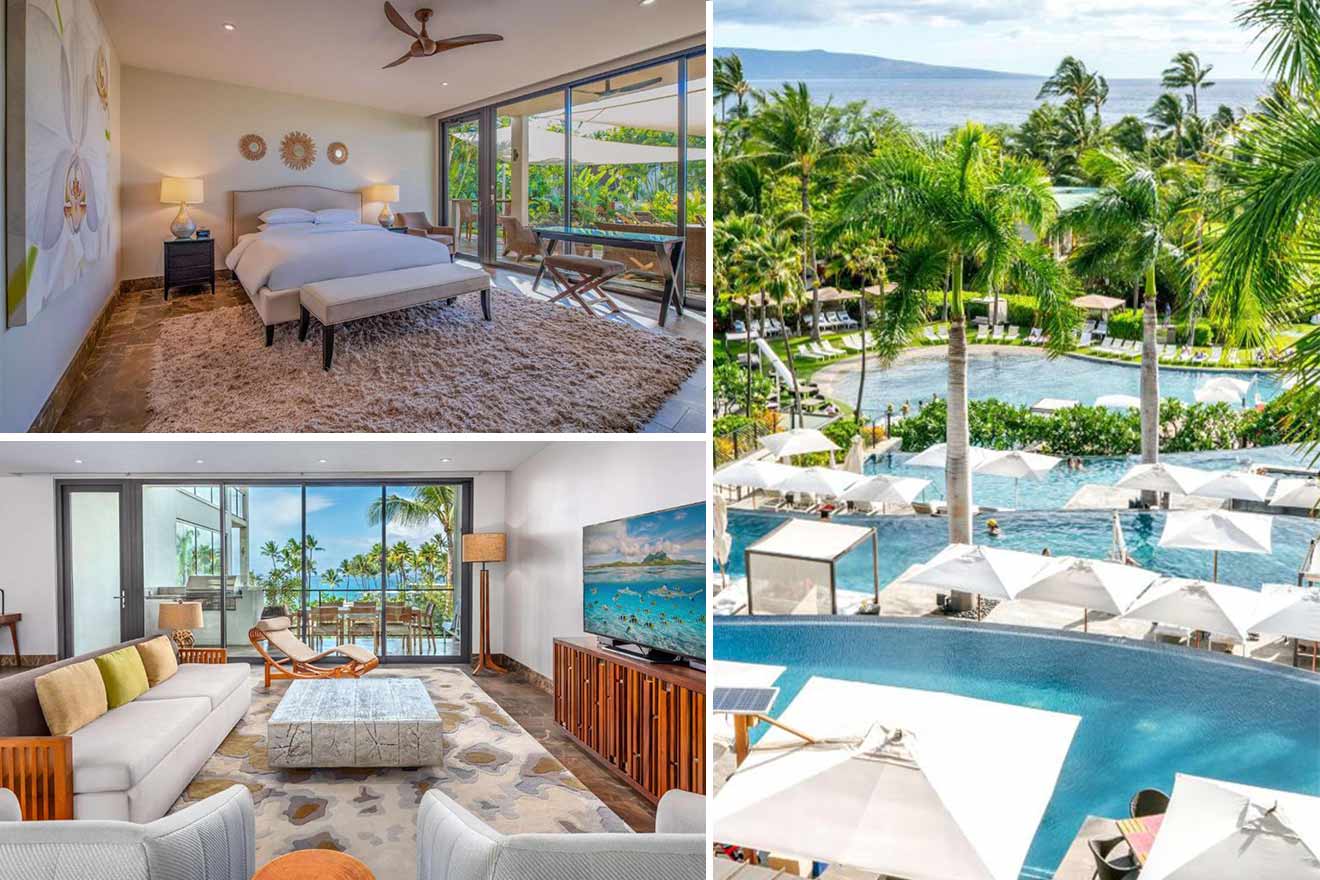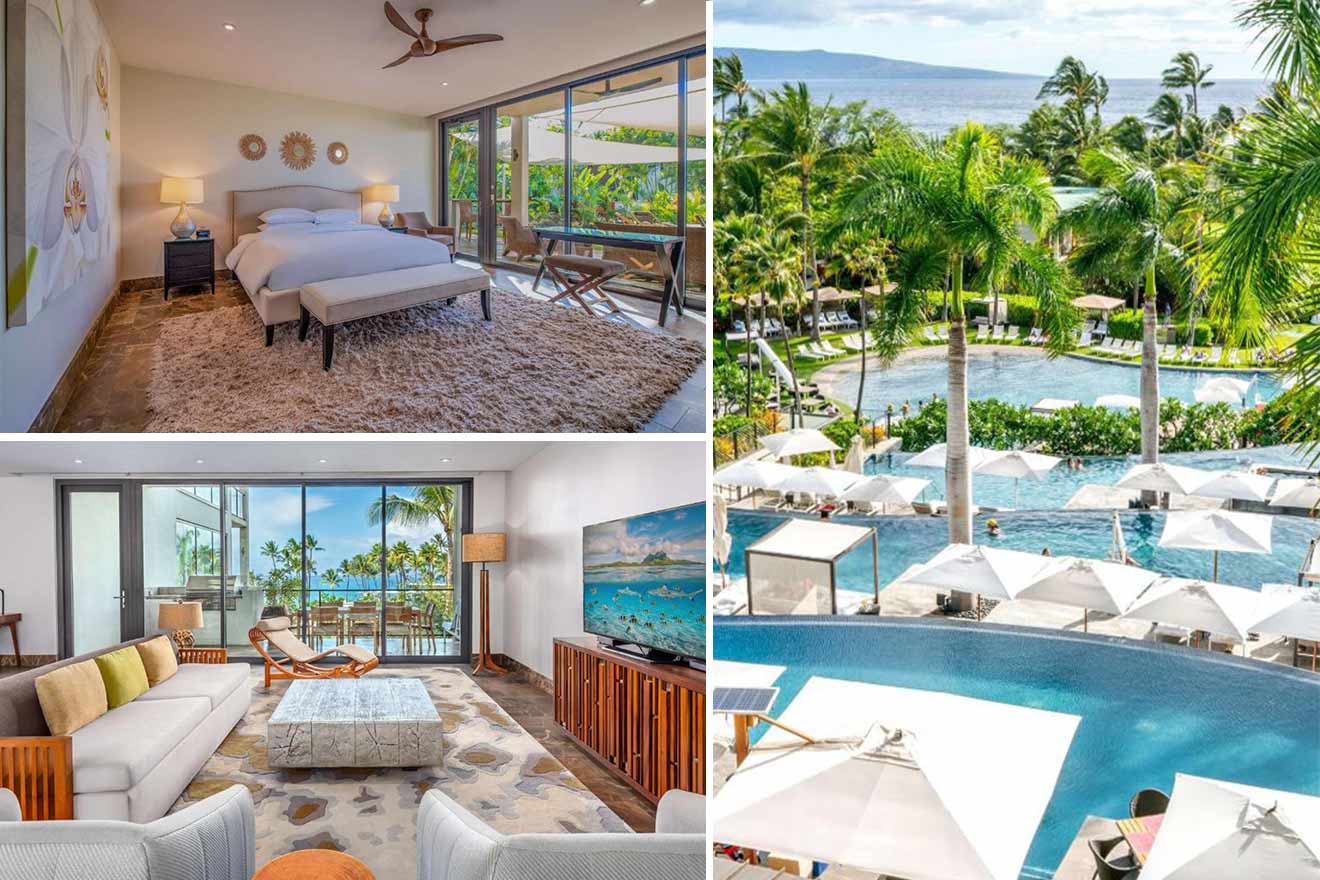 If you love a place with fabulous views then I'd definitely recommend booking one of those spacious rooms at this Maui resort! Featuring 4 breathtaking infinity pools, the accommodation is set on Mokapu Beach.
All the rooms have a lovely ambiance (must be the classy decor), free Wi-Fi and of course, your usual ocean views. And if you're looking for something a bit more special, I recommend booking the villas which come with a kitchen and a private hot tub or plunge pool. Which is just perfect for anyone who wants some privacy!
Check Current Prices
8. Sheraton Maui Resort and Spa – with the perfect location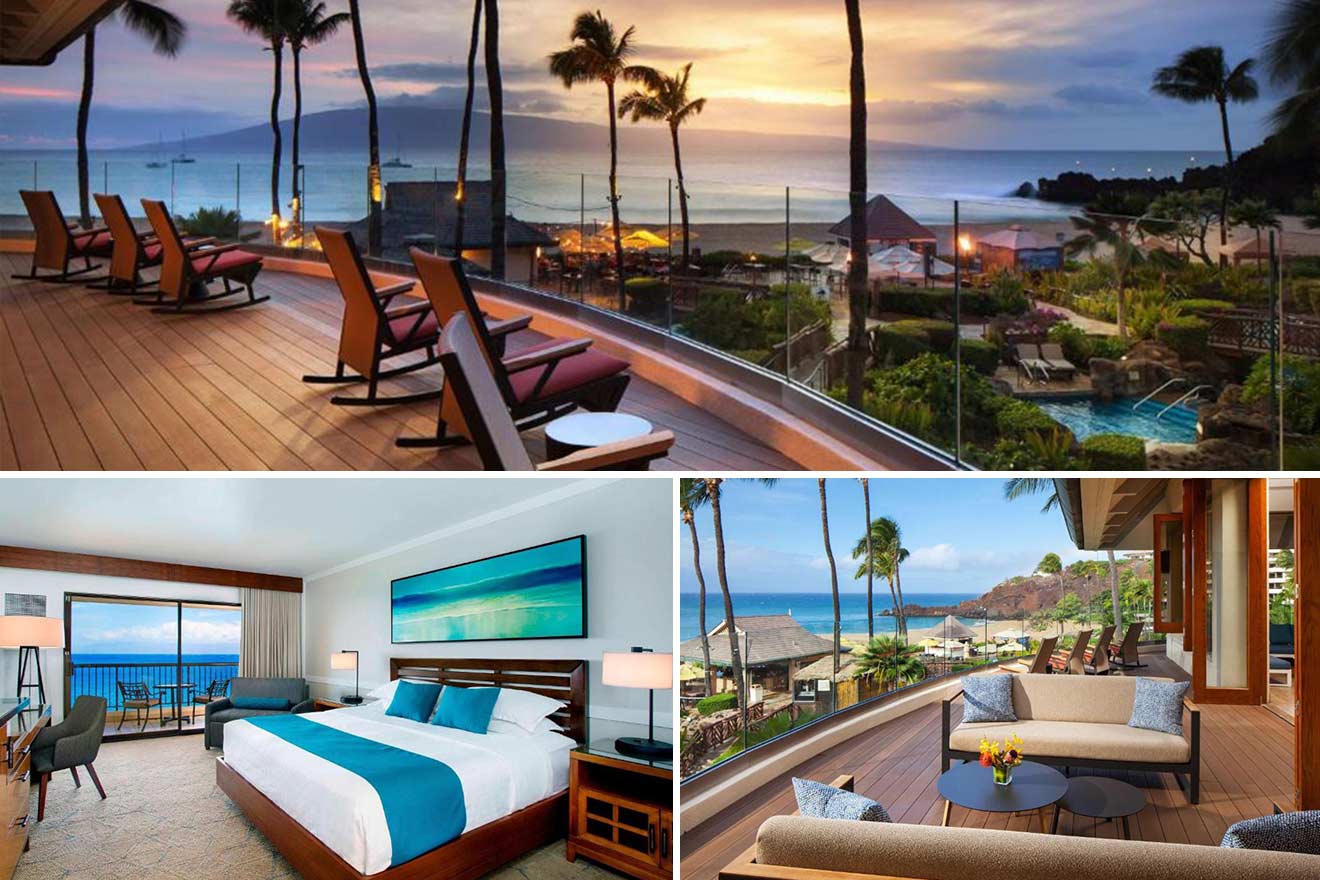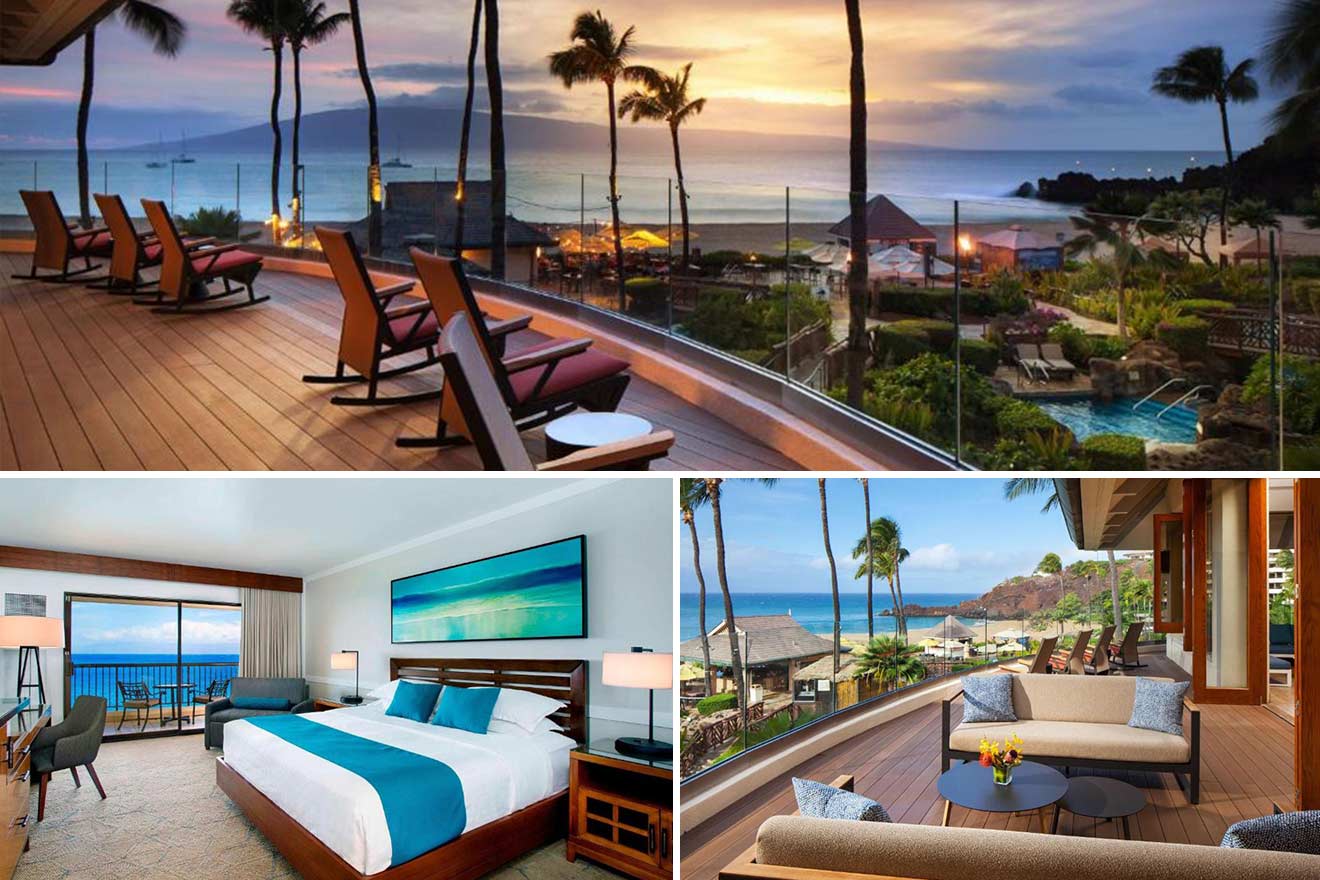 Set within walking distance of Kaanapali Beach, this resort offers some great package deals which you can personalize to your own liking. But first let's see which are the best features. Well firstly, the accommodation has some spacious rooms with great ocean views and Hawaiian art work.
Plus 3 tennis courts, 5 restaurants and lots of fun activities like hula dancing classes and scuba diving lessons. But the cherry on top has to be the onsite spa where you can enjoy some unbelievable oceanfront massages! There's nothing like the fresh ocean breeze while you sit comfortably and relax! But if you get tired of staying put, I'd recommend renting some bicycles from the resort and exploring around!
Find Available Dates
9. Wailea Beach Resort – with a private beach area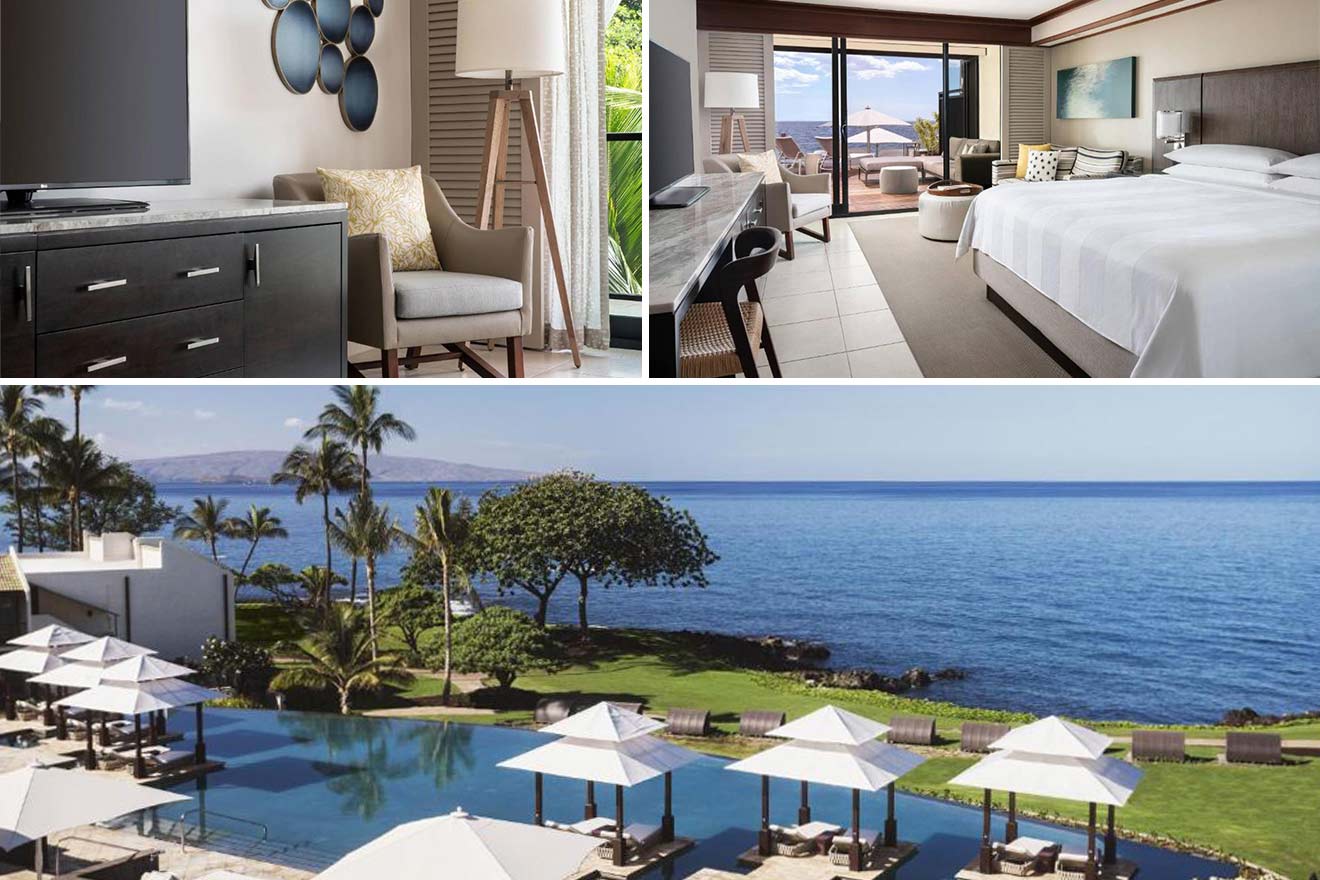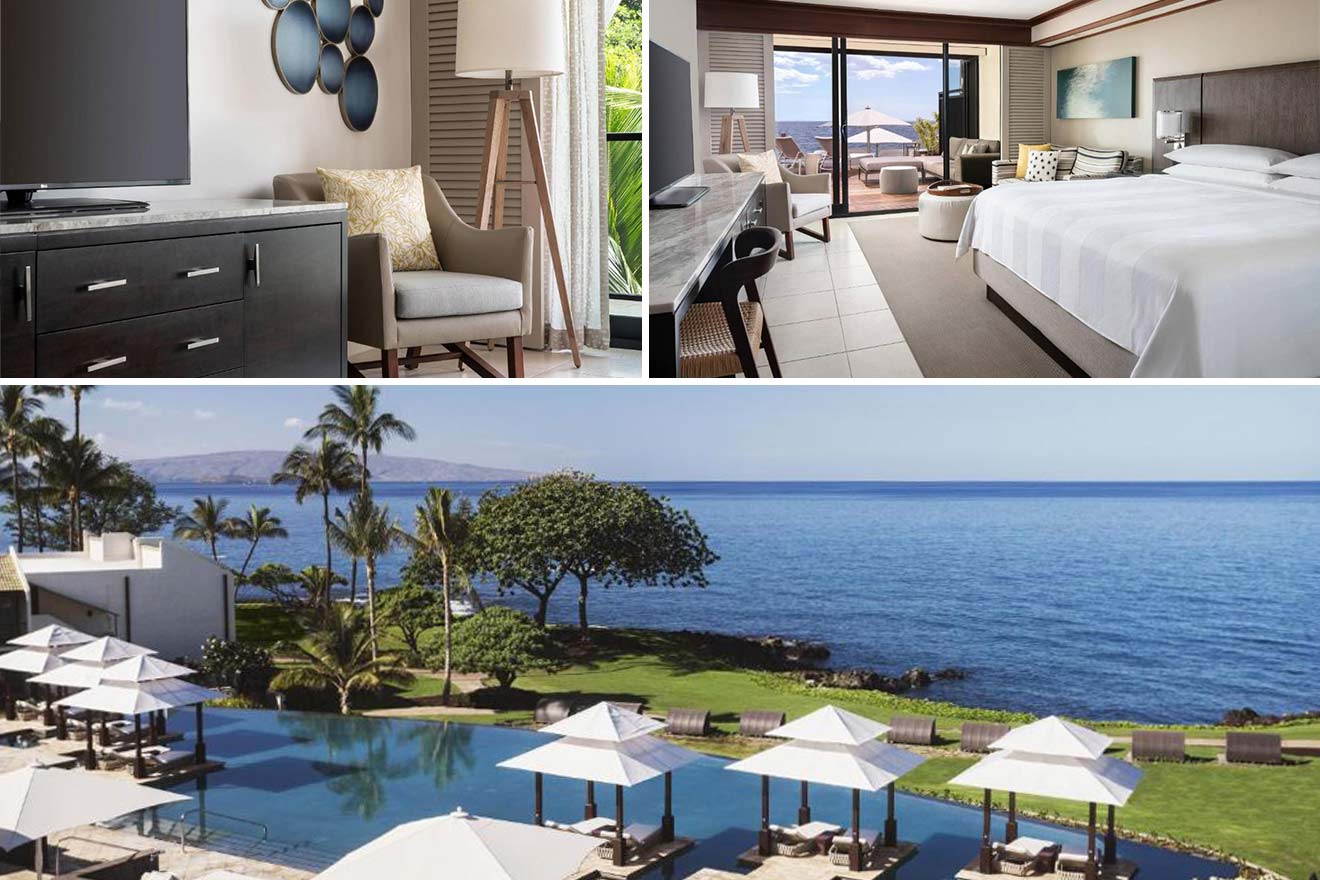 These Maui hotels are so incredible and offer so many cool facilities that you'll never want to leave the island! Just like this one, which has such a beautiful sight of the Pacific Ocean and the nearby islands. Wailea Beach Resort is set in a tranquil location where you can enjoy some peace while hanging by the pool or on the private beach area.
Underwater sports fans will be happy to know that the resort has dive pools for those with scuba certifications and also pools with water slides for those with kids. You can enjoy your mornings on the patio with some room service and then head to the spa center for an afternoon facial and a massage.
Check Availability
10. Ritz-Carlton Maui – boasting 2 golf courses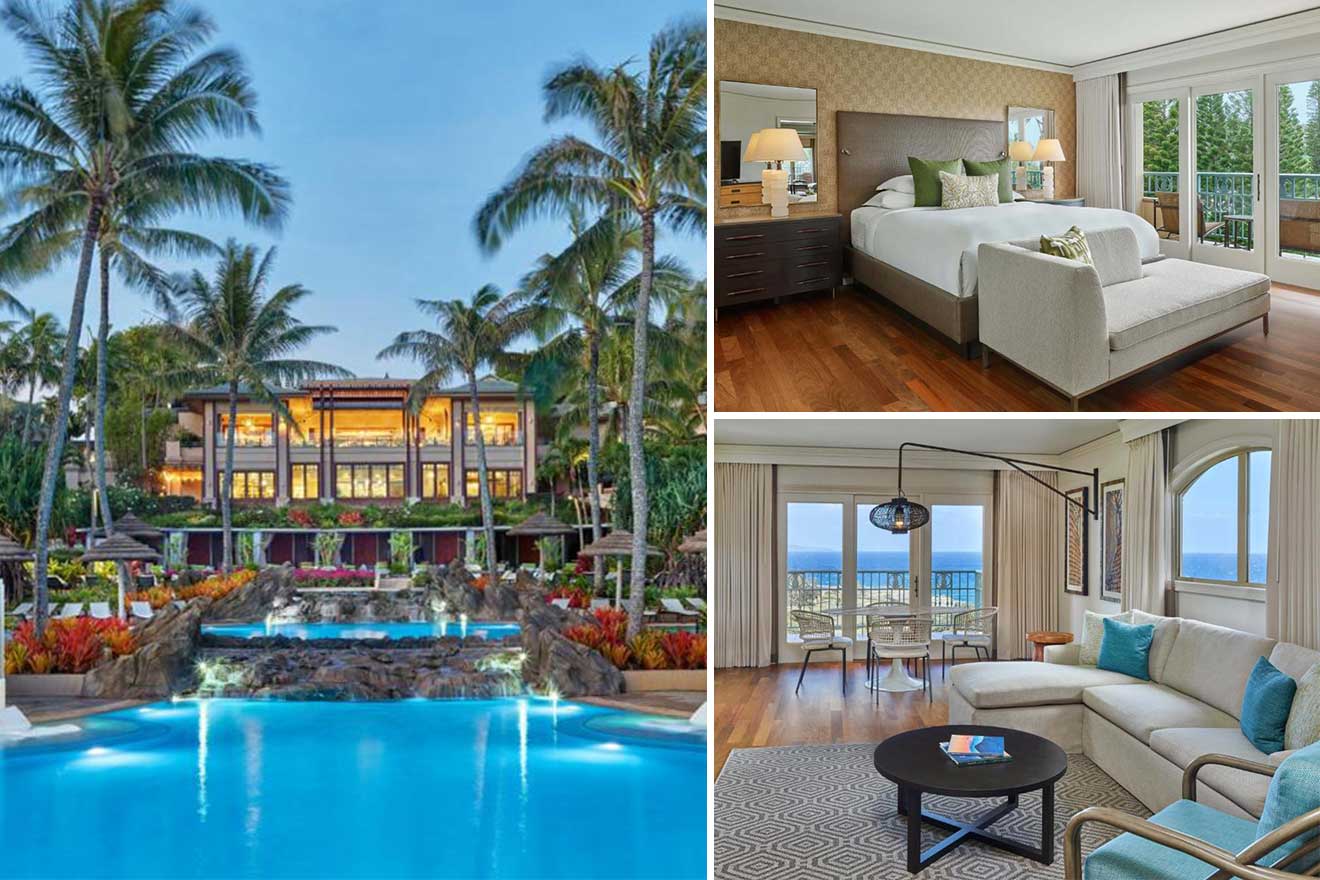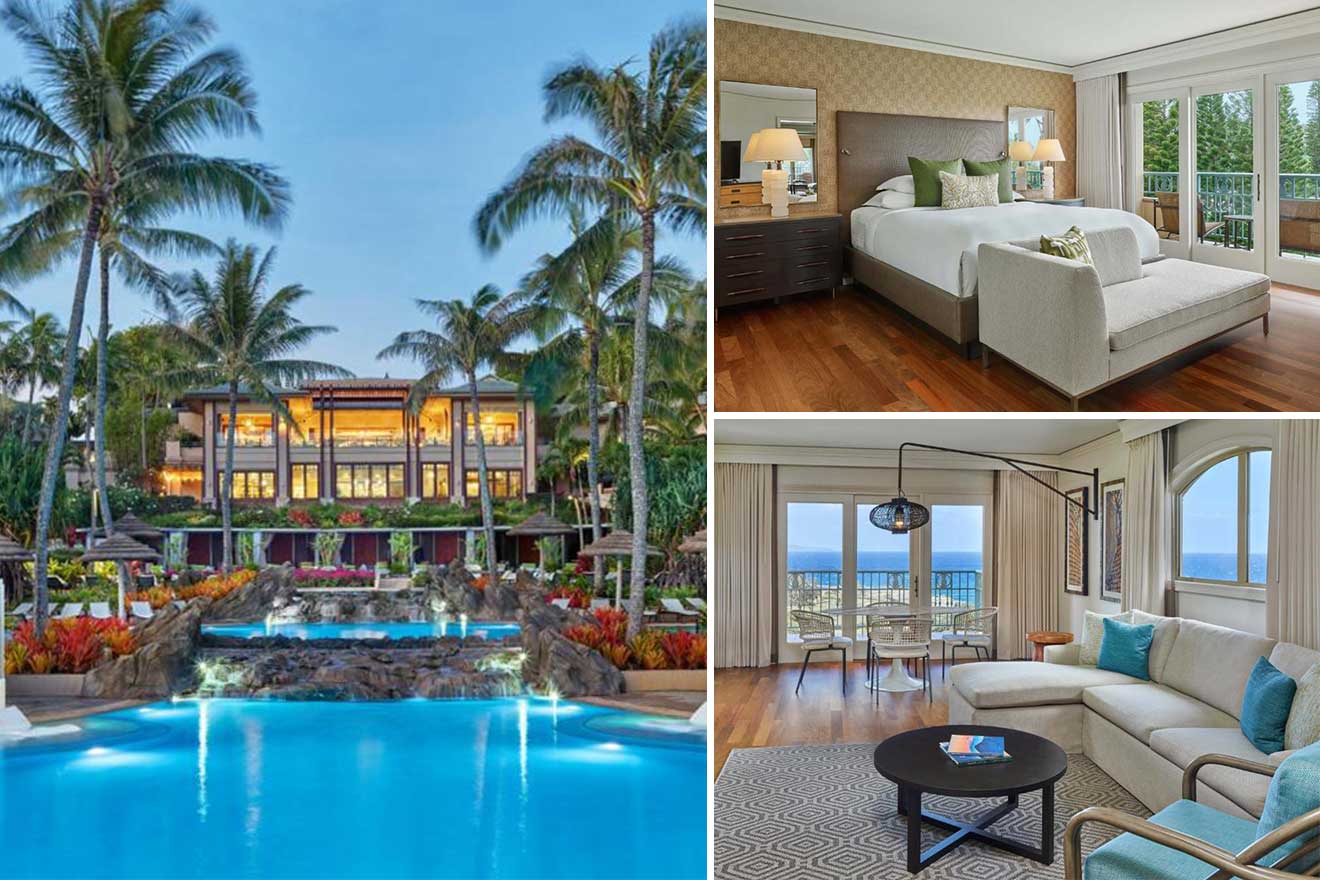 Still, searching for some cool vacation packages for your trip to Hawaii? Then check out this resort which is surrounded by tropical landscapes facing the ocean. You'll want to wake up to that view every day from one of the fabulous rooms here!
The suites have free Wi-Fi, and marble bathrooms, and are designed with vibrant island-inspired decor. But let's face it, you'll probably spend most of your time playing golf (there are 2 golf courses on-site), tennis or hanging by the pool. You'll definitely find all that here plus a bunch of other water sports to try!
Check Availability
11. Hotel Wailea, Relais & Châteaux – adults only resort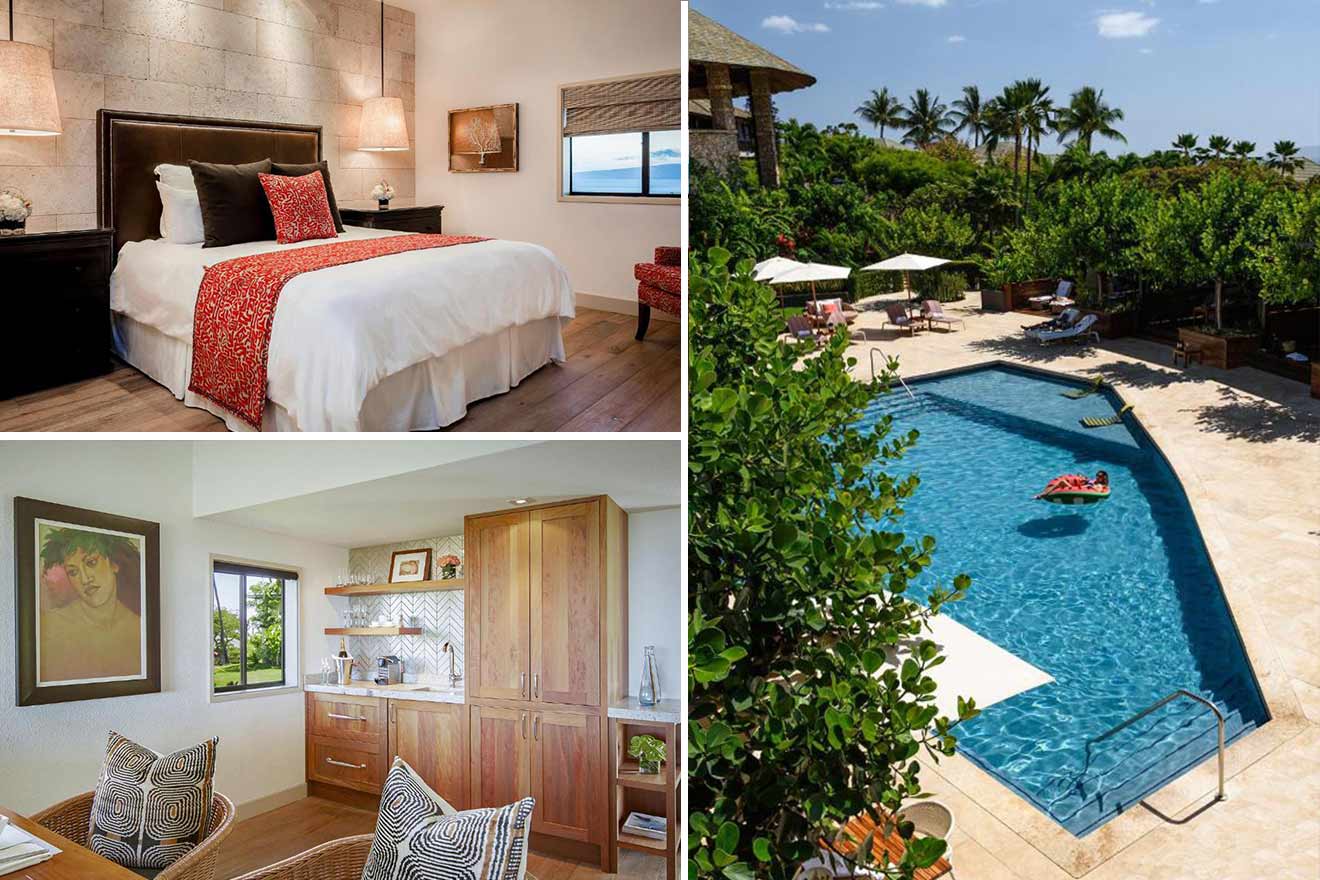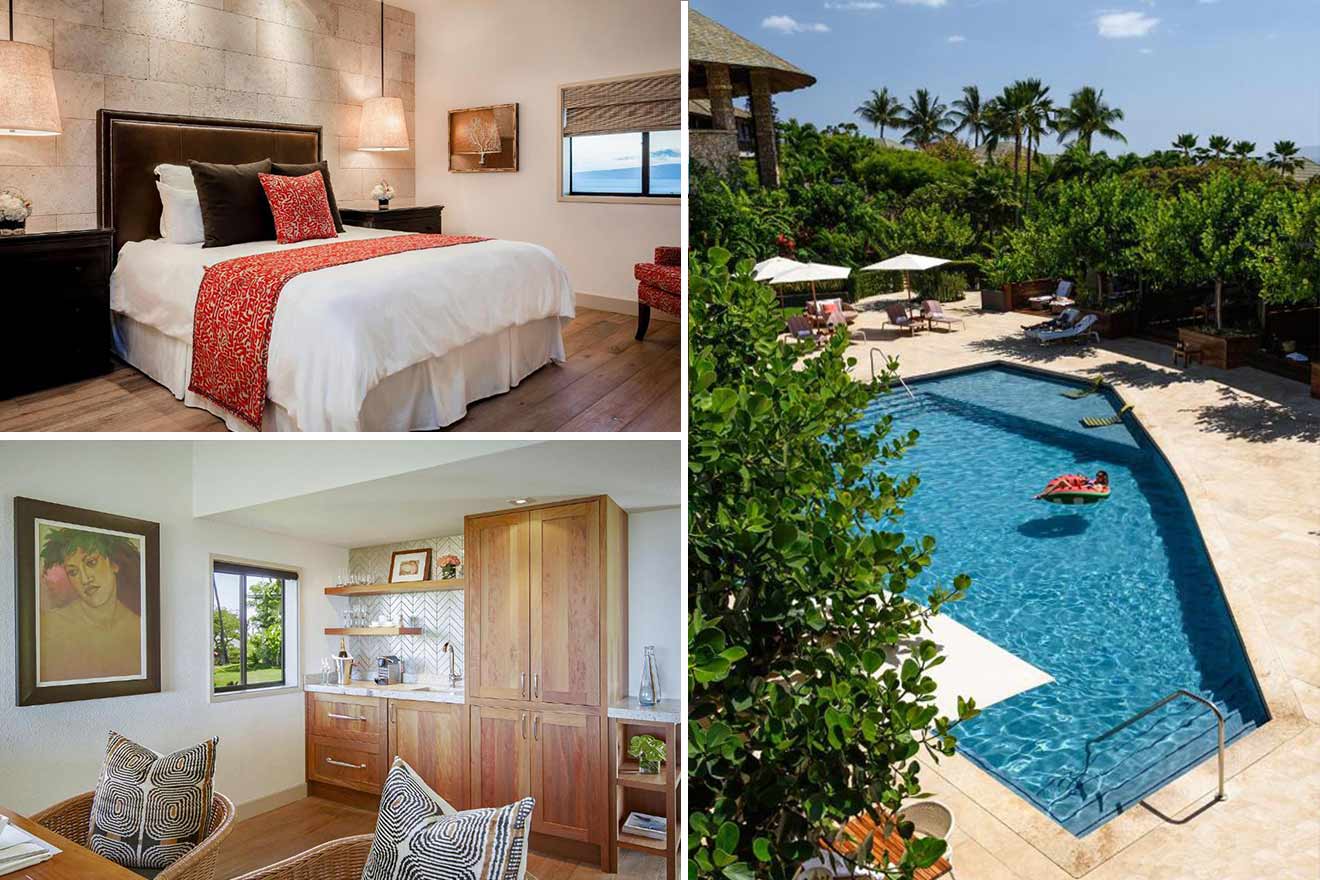 Looking for an adults-only resort in Maui? Then check out this place which is set on a cliff overlooking Maui's southern coastline. The accommodation comes with all the facilities you need for your stay, including room service, a swimming pool and a restaurant.
The gorgeous rooms even have a private balcony where you can enjoy some of the hotel's best views both in the morning and at night when you can probably see the beautiful moonlight! Naturally there are a bunch of things to do here from going on bike tours, snorkeling, and diving. And if you want to take it slow in the first days, there's nothing like a sesh in the spa to put you in a good mood.
Check Current Prices
12. The Westin Maui Resort, Ka'anapali – with a pool bar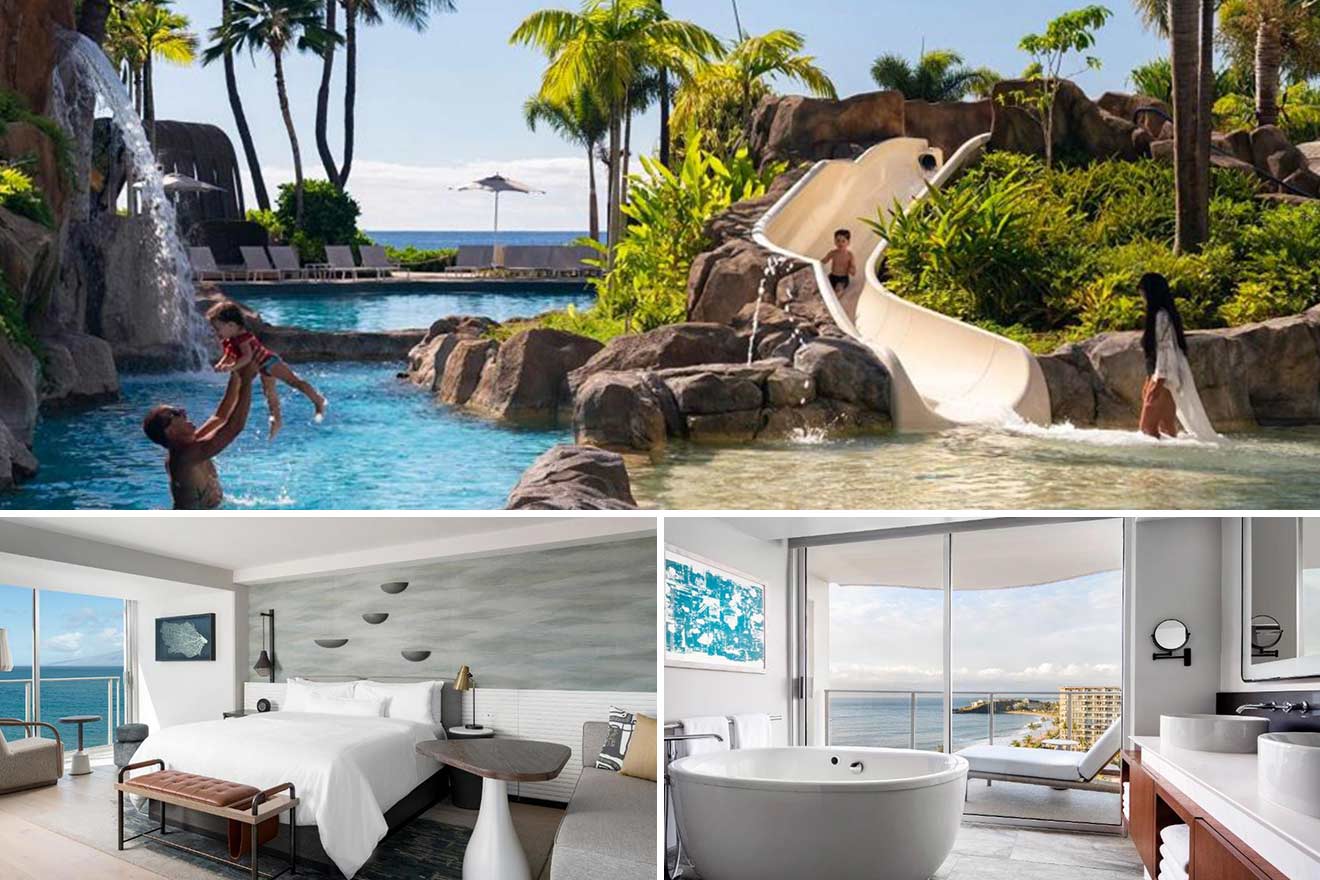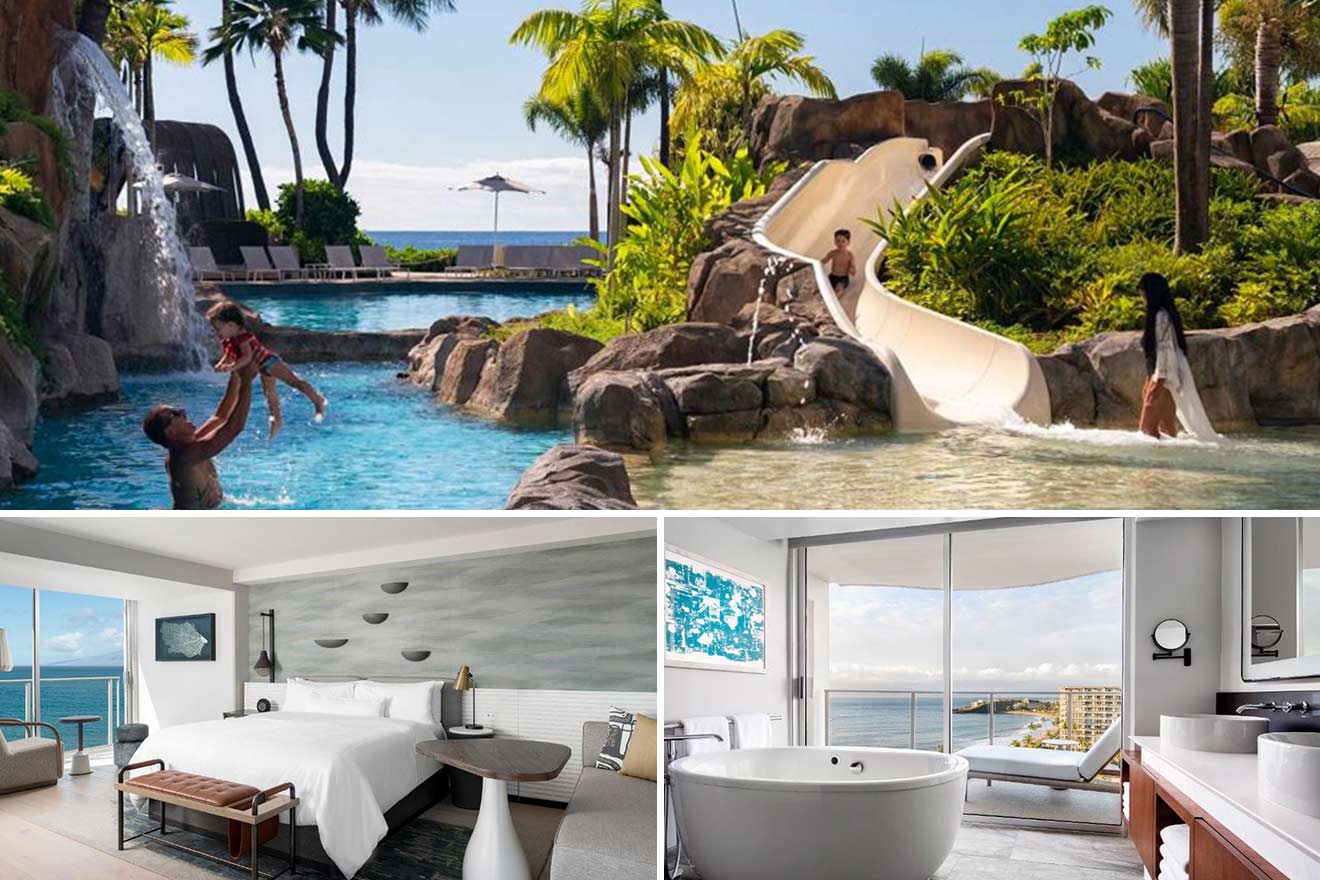 Wake up with a fabulous sight from your ocean-view rooms that have free Wi-Fi and start your day with a yummy Hawaiian coffee! This Maui resort is absolutely packed with incredible facilities including 6 outdoor pools and a pool bar as well, because who doesn't love cocktails while sunbathing?
The resort perks are numerous as I mentioned, and I think everyone will love their traditional Hawaiian cuisine, which is just mouth-watering! And of course the spa where the adults can escape to just relax. Don't worry though the little ones also have lots of things like a kids club, a children's pool and other activities like hiking and snorkeling.
Check Availability
13. Hana Maui Resort – oceanfront resort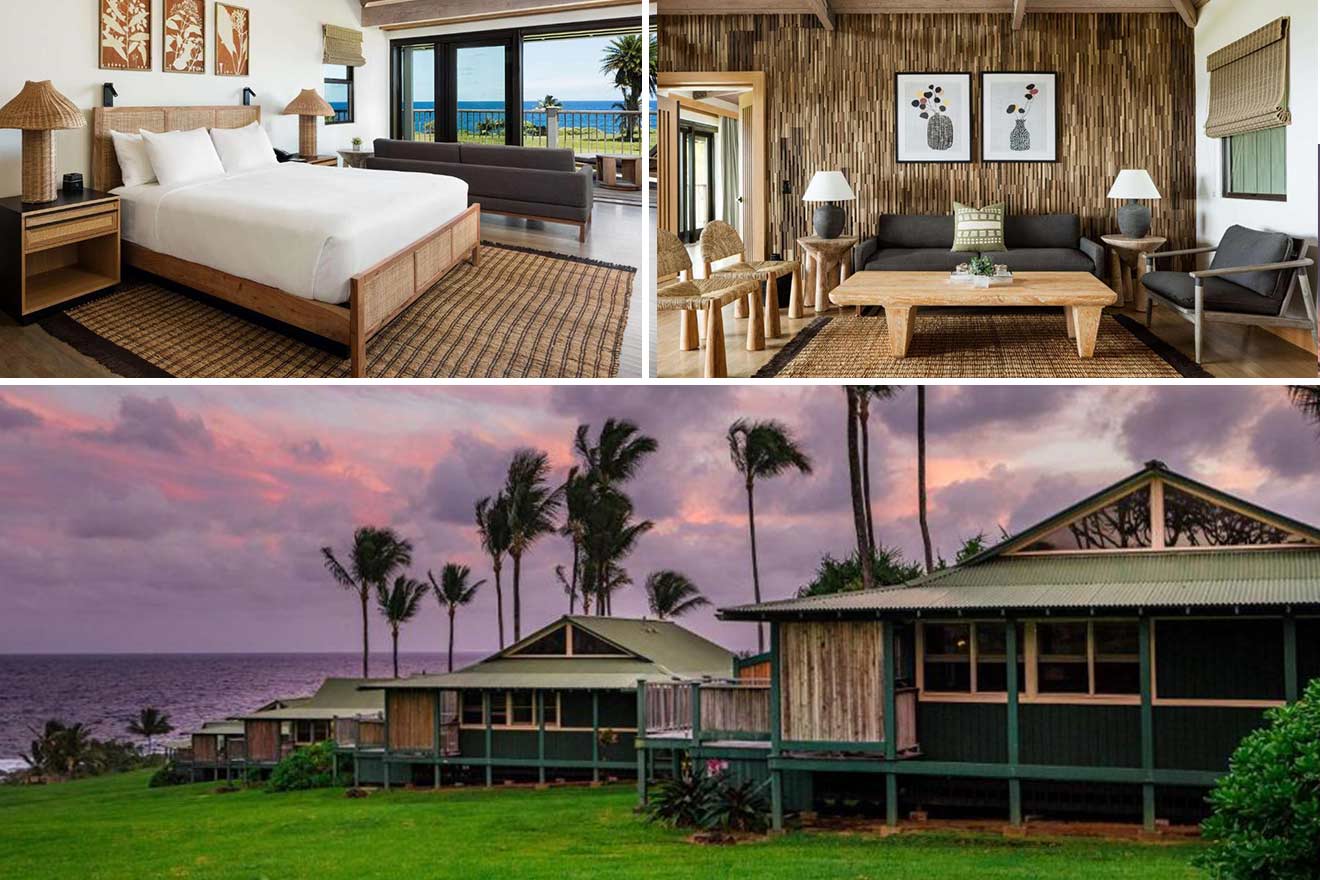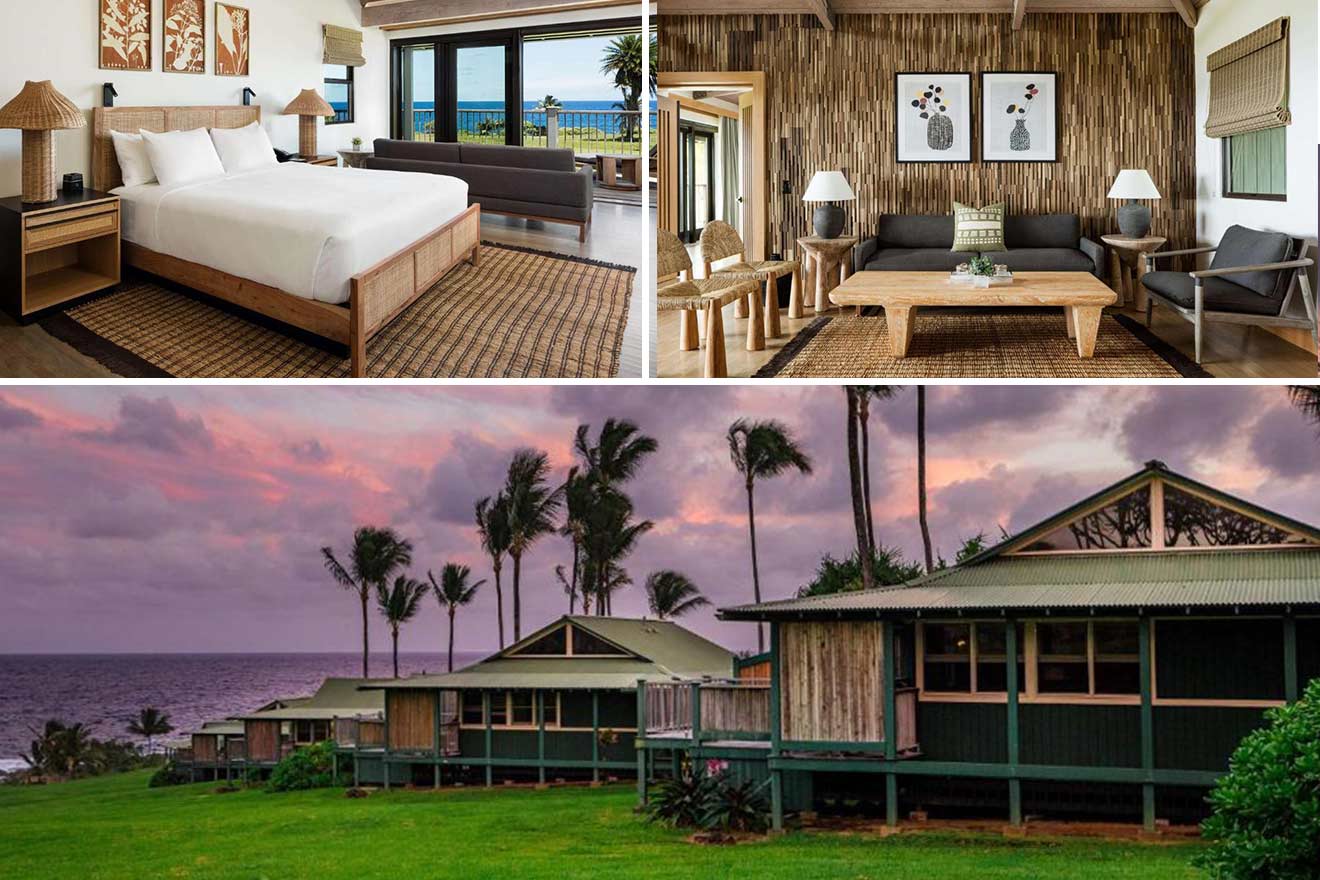 Fancy some beautifully decorated oceanfront bungalows? This amazing resort offers some great package deals (including spa credit and free parking) plus it's set in a tropical location that will make you feel as if you've arrived in paradise!
All the oceanfront bungalows have a terrace with ocean views which is the perfect spot to enjoy your morning coffee! And after that you'll be ready to start your day and try all the activities like lei making and horseback riding! Once your batteries run down, I recommend heading to the spa for some super relaxing massages or hopping in the cold plunge pool. I hear it does wonders for one's health!
Check Current Prices
14. Ka'anapali Beach Hotel – the most authentic resort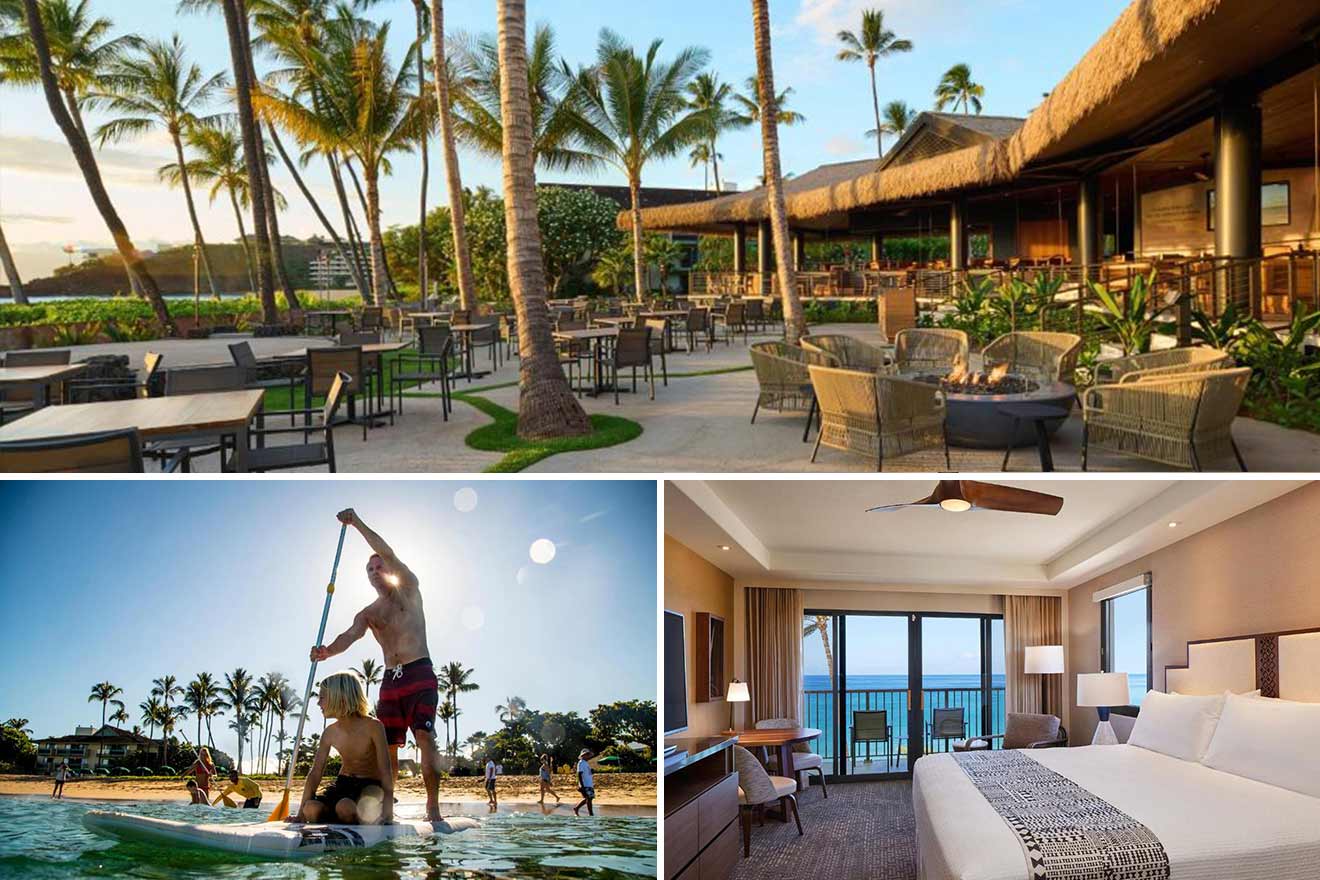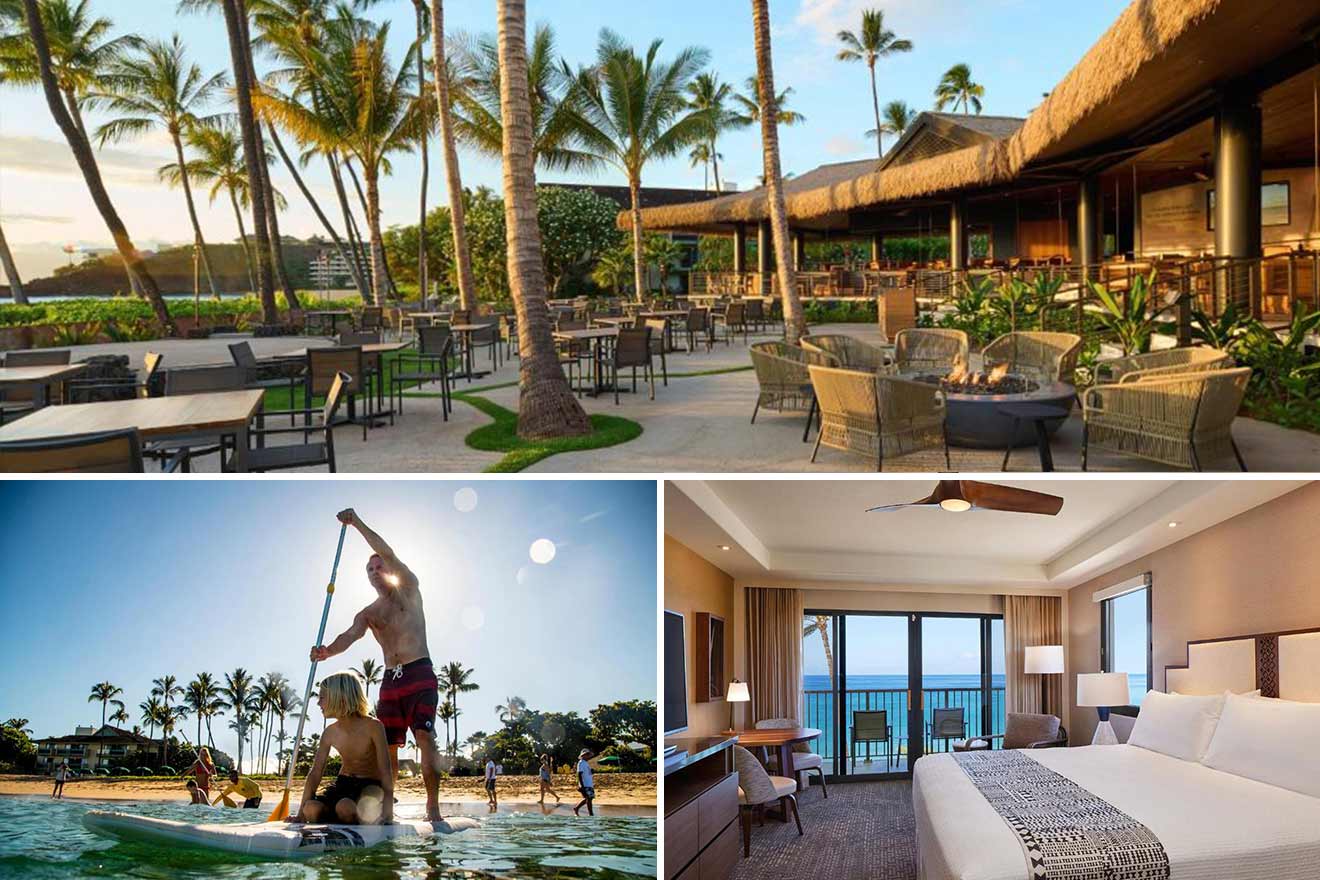 Known as the most Hawaiian hotel in Hawaii, this Maui resort right on the beach is perfect for anyone who wants to try different Hawaiian traditional activities! Equipped with everything you need for your stay like lots of things to do from whale watching to surfing and snorkeling, this place will soon become your favorite!
Enjoy your days by the outdoor pool, and check out all the package deals which include daily hula shows and free parking, dinner theater performances and cultural activities like lei making. All the rooms at the resort come with free Wi-Fi, ocean, garden, and pool views, and of course a flat-screen tv, which is perfect for a lazy night in!
Check Current Prices
15. Napili Kai Beach Resort – beachfront hotel with 4 pools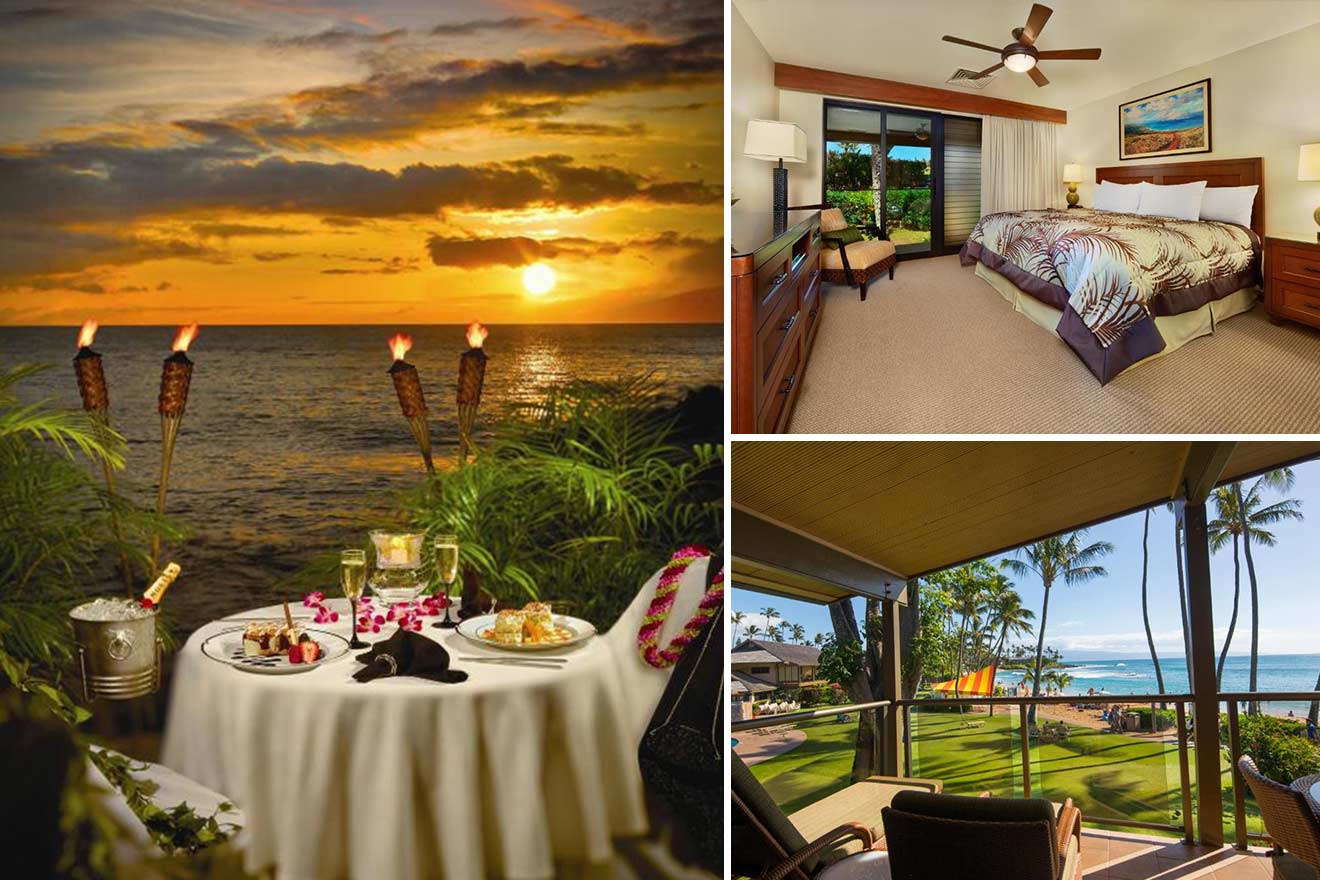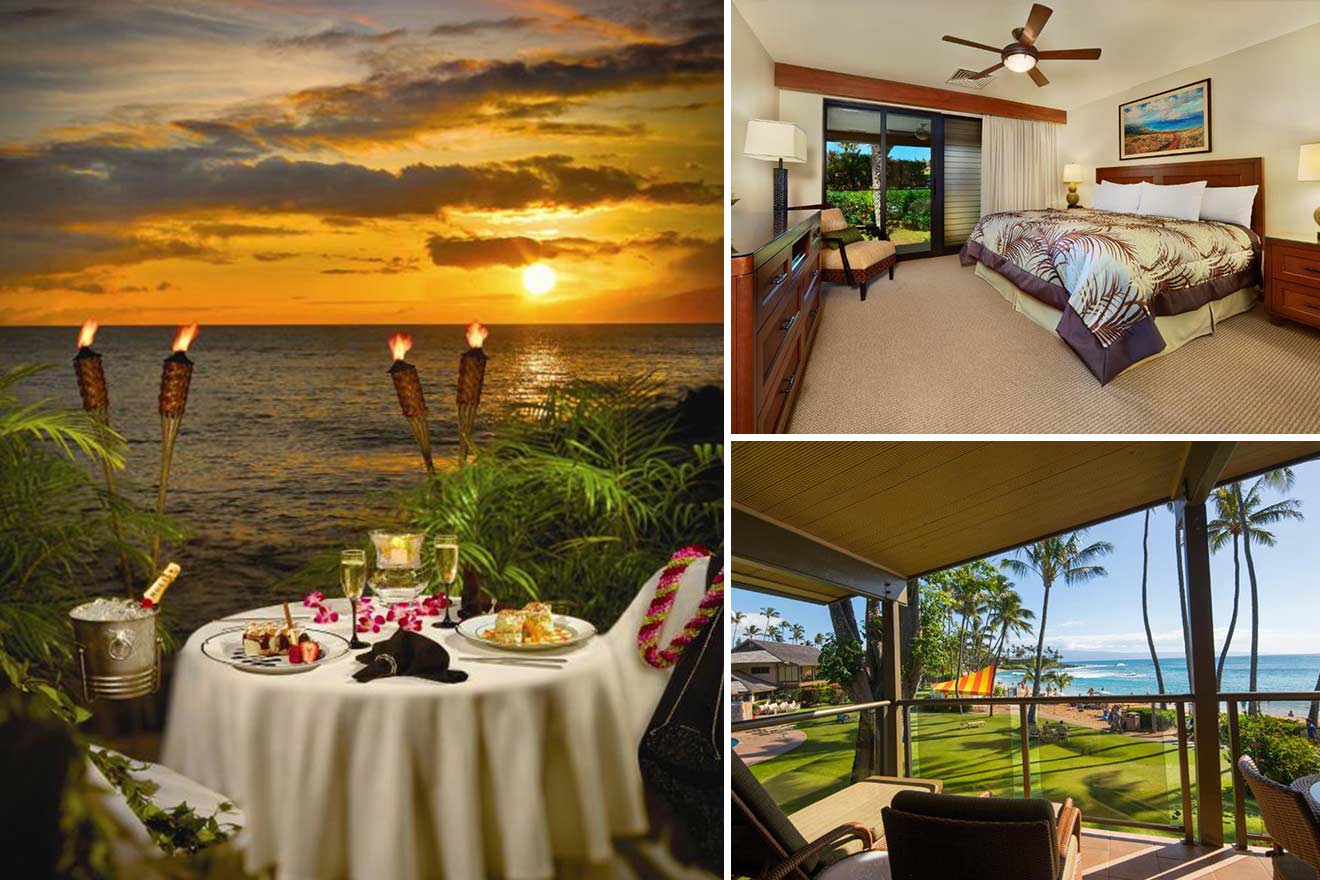 I hope you packed your bags and you're ready to take off because you'll want to spend as much time as possible on this island! And trust me, you'll love this accommodation, some of the resort perks are 4 swimming pools and two 18-hole putting greens!
Oh yes, you'll never want to leave! You can enjoy your breakfasts at their open-air restaurant, and you can also grab some snacks by the pool as well. When you're not out and about exploring the island you can chill with a massage, spend some time with the little ones at the kids' club or go swimming!
Find Available Dates
16. Lumeria Maui – cool retreat center with a spa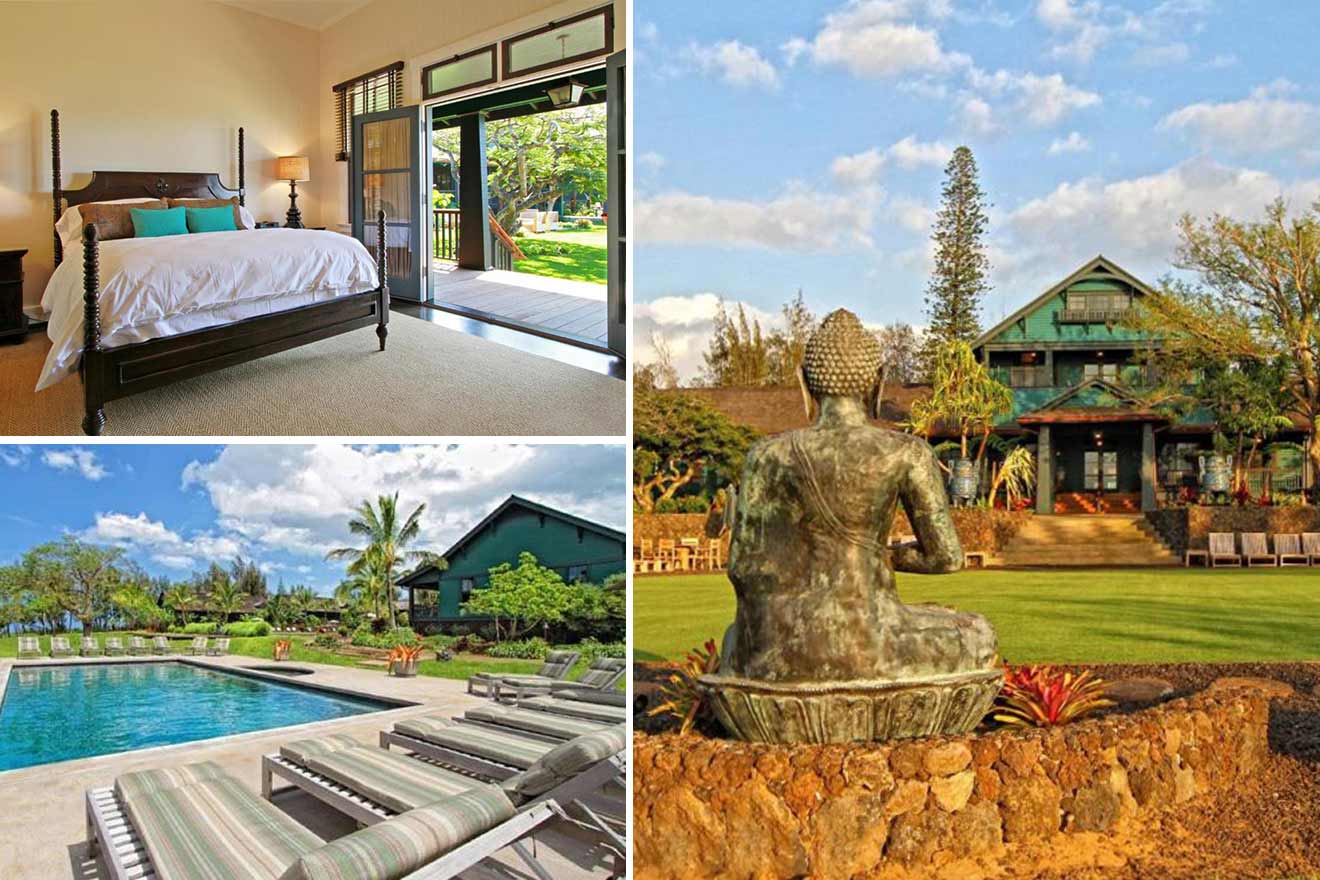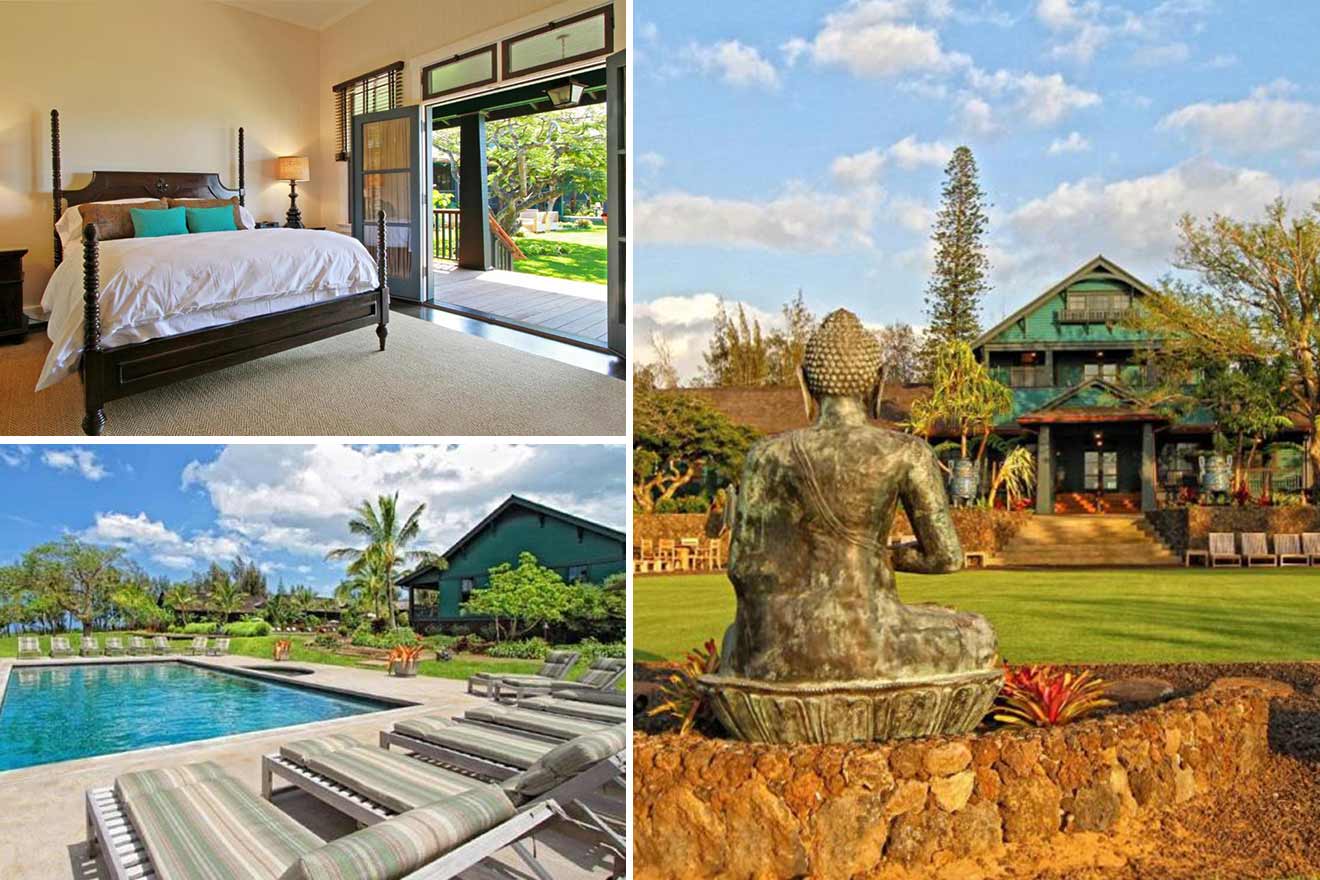 Who is into yoga, meditation or just into leading a healthy lifestyle? If you are, then I think you'll love this place which is kind of a combination of hotel and educational retreat center. Set in a stunning location, this Maui resort offers lots of cool classes from the ones I mentioned above to many other healing arts, dance therapies and other metaphysical studies.
Definitely a bit different from everything else but I'm sure some of you will love to stay in a place like this one! Besides all the cool activities, you'll also get to eat yummy farm-to-table food and relax at their spa center!
Check Availability
FAQs about all-inclusive resorts in Maui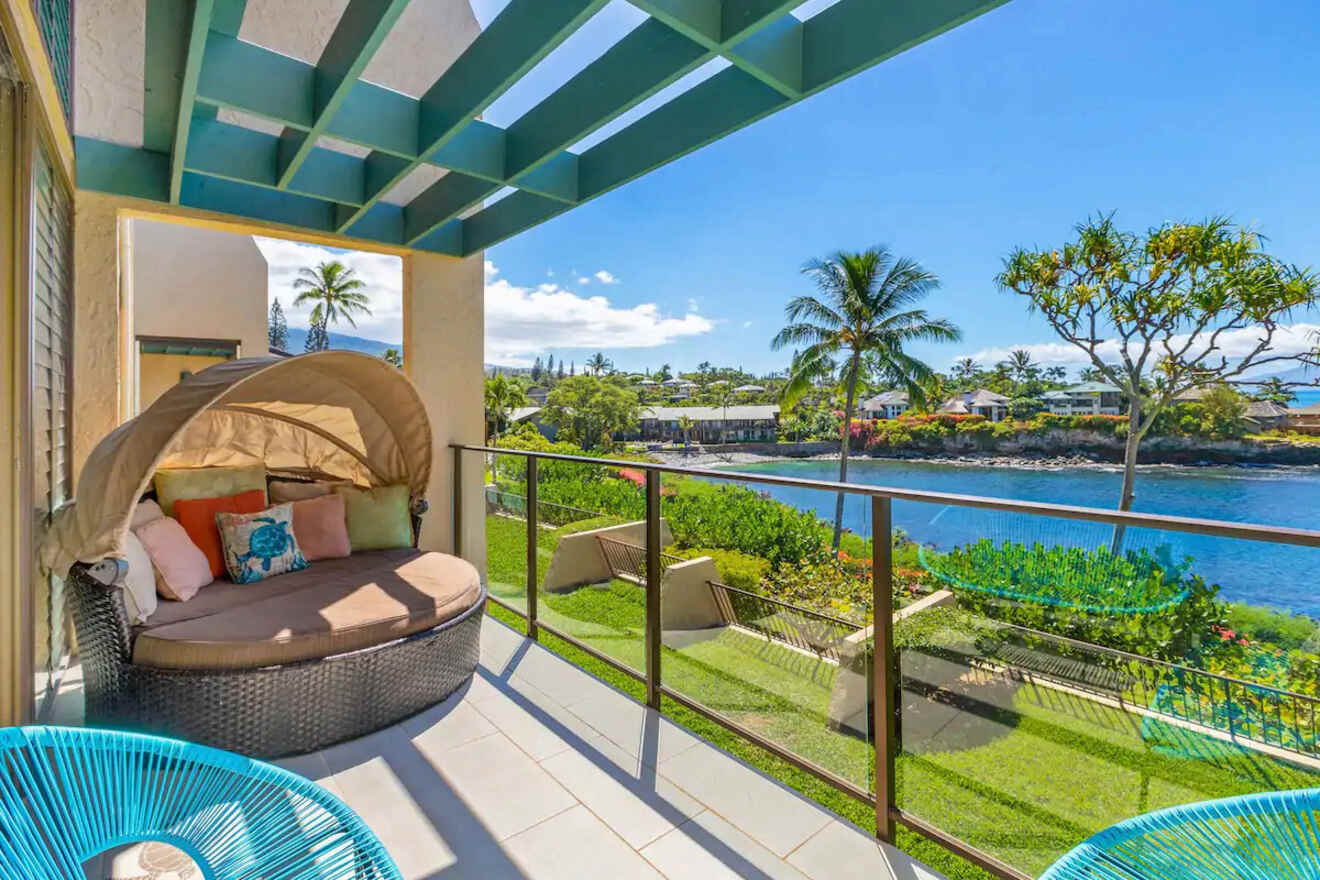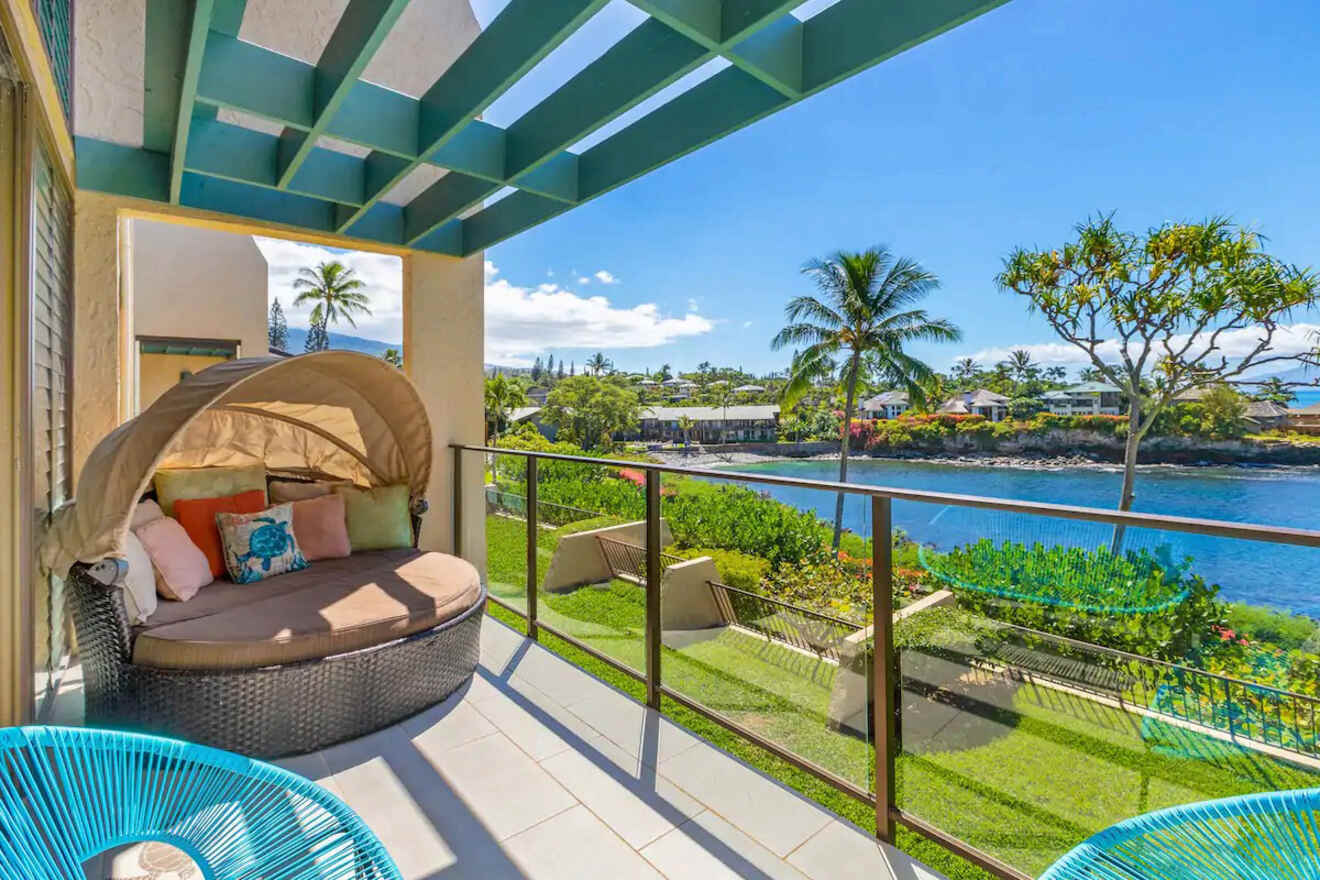 🤔 Are there all-inclusive resorts in Maui?
No, Maui doesn't have the typical all-inclusive resorts, however, most of the hotels on the island offer all-inclusive packages which you can personalize to your own liking.
🏝️ What is the nicest part of Maui?
Some of the nicest parts of Maui are Kihei, Wailea, Lahaina, Kaanapali, and Kapalua. That's also where you'll find the best resorts on the island.
🌞What is the best month to visit Maui?
The best time to visit Maui is April – May and September – November.
💌 Which are some great adults-only resorts in Maui?
Hotel Wailea, Relais & Châteaux is one of the best adults-only resorts in Maui. The accommodation offers incredible views and lots of facilities like a restaurant, water sports and a spa.
Conclusion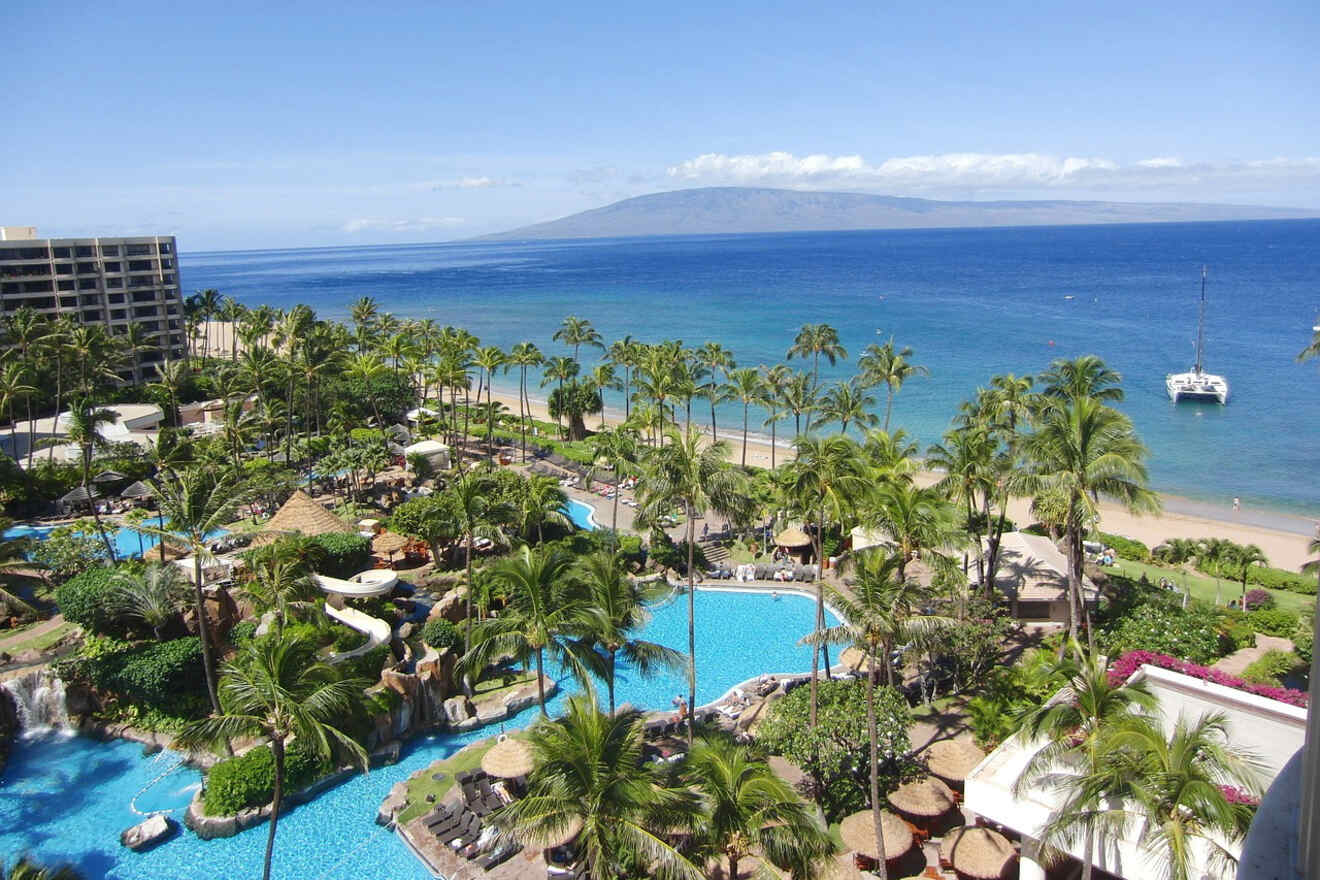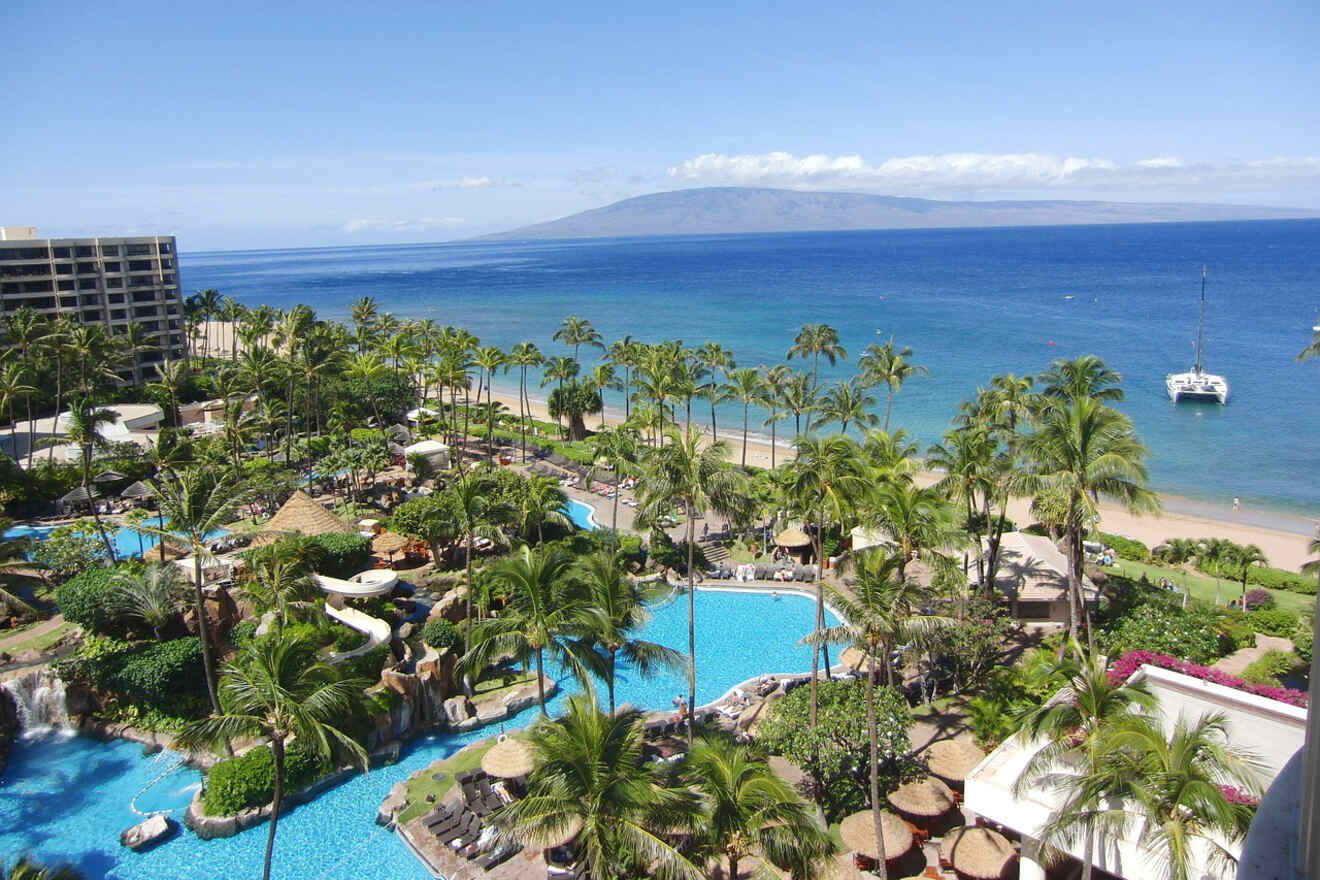 Who's already so excited for this trip? I'm sure everyone, so before I lose you to go buy tickets, and everything else you need, let's go over what we talked about today.
The most important thing to remember is that these accommodations aren't the typical all-inclusive resorts that you'd find in most locations. However, they do offer the same facilities and many of them are free!
And now you've seen a long list of some of the best all-inclusive resorts in Maui! Which means that you're more informed than many other tourists. However, with all this information comes the hard decision of picking the one! Since I know how hard that is, I'll leave you with 2 of my favorite all-inclusive resorts in Maui:
Four Seasons Maui at Wailea – A fantastic oceanfront resort that offers a complete suite experience, round-trip airport transportation, and 3 saltwater pools
Honua Kai Resort & Spa – This family-friendly resort comes with 4 swimming pool (including one for the kids) and lots of fun watersports
Don't forget that the resorts on the list are some of the best-secluded luxury places and they'll sell out super fast, so make sure you book as quickly as possible!
Well everyone, enjoy your holiday on this dreamy island and your sunset dinner cruises! You'll never forget it!
Happy exploring,
Victoria
---
Pin it for later!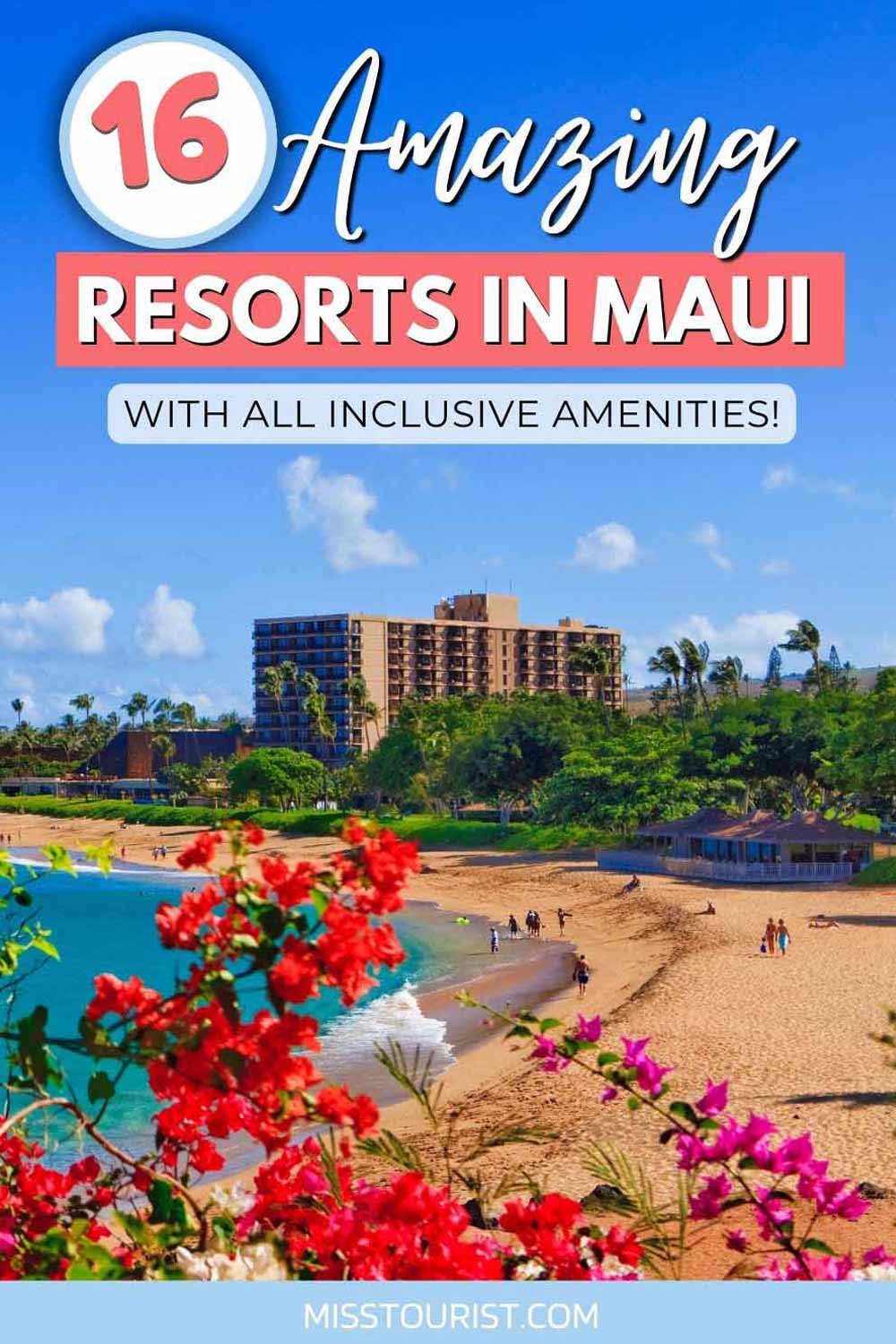 Pin it for later!