For the first couple of years that I lived in Austin, I lamented the lack of good brunch spots in town. Of course, this was years ago, but at the time, if you weren't in the mood for eggs and tortillas, your options were limited. Fast forward to 2023 and wow—Austin's food scene has transformed. (Our Austin restaurant guide is all the proof you need.) Today, the best brunch in Austin can include everything from pork belly steamed buns to red quinoa porridge to the most elevated avocado toast. And don't worry: we can still crush a breakfast taco like no other city on Earth.
Featured image of June's All Day by Michelle Nash.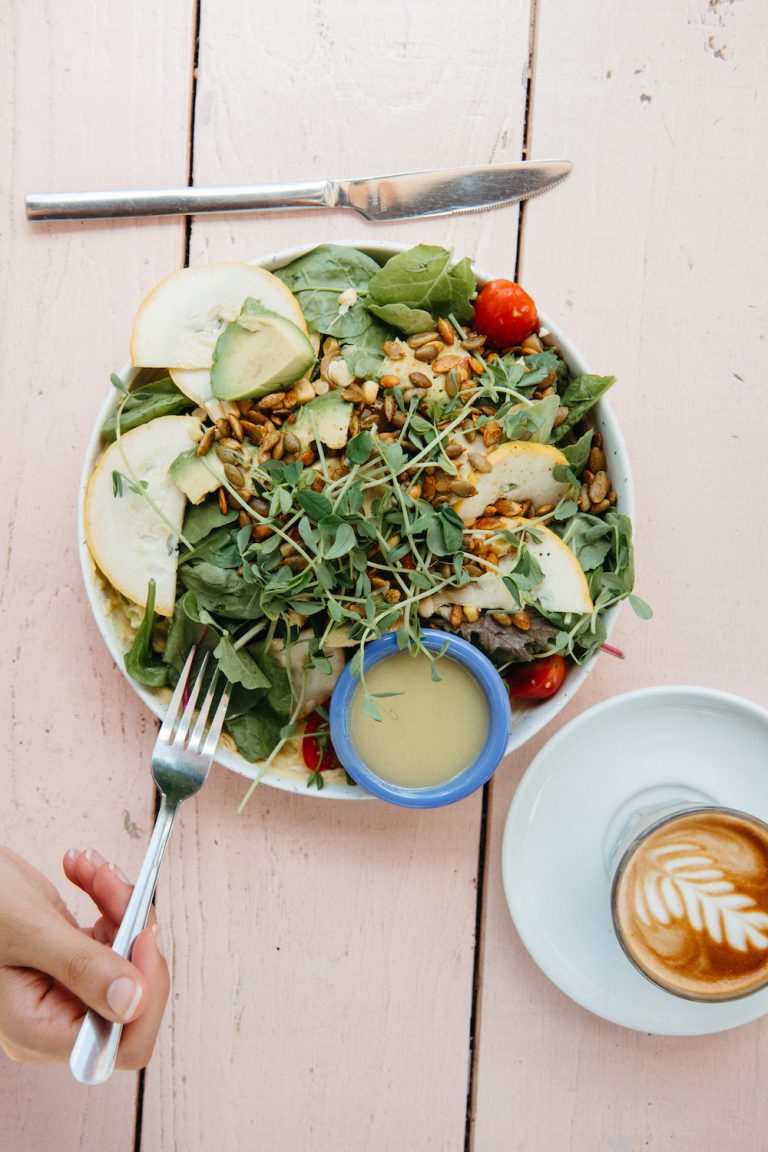 16 Spots With the Best Brunch in Austin Right Now
And if there's one thing you need to know (and haven't yet caught wind of from our countless Instagram stories all over the city), it's this: the entire Camille Styles team is obsessed with Austin's food scene. Whether we're in need of an inspiring lunch break reprieve, craving coffee post-photoshoot, or hitting up a weekend brunch as a team, you can trust us when we say: we've reveled in the joy of a good meal at all of the following spots many times over.
Because nowadays, Austin is a city of countless good options. And while they all make us proud of our hometown, we've done the research to recommend the following top 16 best brunch spots in Austin. So dig in—we guarantee you'll have a few reservations booked by the time you're done.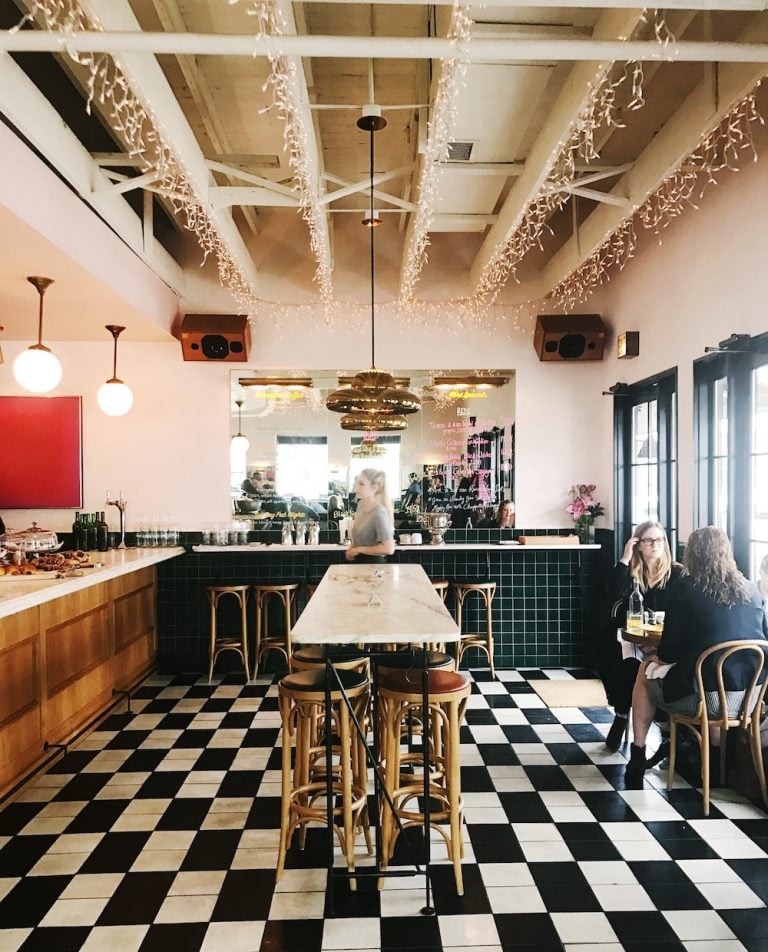 June's All Day
Located in the heart of South Congress, June's All Day is the perfect neighborhood café for any meal, but especially breakfast. It is one of Austin's chicest spots and is totally worthy of a feature on your Instagram story.
What to Order: The breakfast chalupa and the best almond milk cappuccino in town.
Price: $$
Cuisine: American
1722 S Congress Ave | (512) 416-1722 | website | instagram
Veracruz All Natural
We all know that Austin knows how to make a good breakfast taco, but Veracruz does it in a way that feels so authentic. Most of their locations are food trucks or walk-up stands, so make sure you go on a pretty day.
What to Order: The migas tacos all the way.
Price: $
Cuisine: Mexican
multiple locations | (512) 981-1760 | website | instagram
Café No Sé
Café No Sé feels more Californian than it does Austin, in the best way. All of their food is healthy, fresh, and delicious. It's a good place to bring your laptop to get some work done or have mimosas with friends.
What to Order: Crispy Sunny Egg with Speck, Arugula, & Romesco Toast
Price: $$
Cuisine: California Café
1603 S Congress Ave | (512) 942-2061 | website | instagram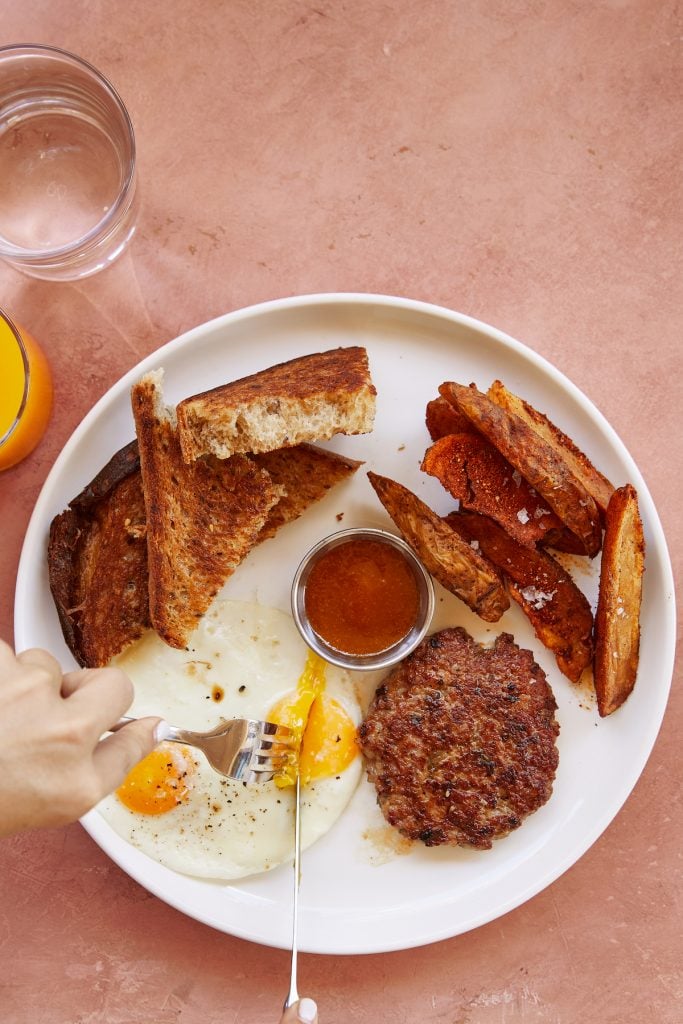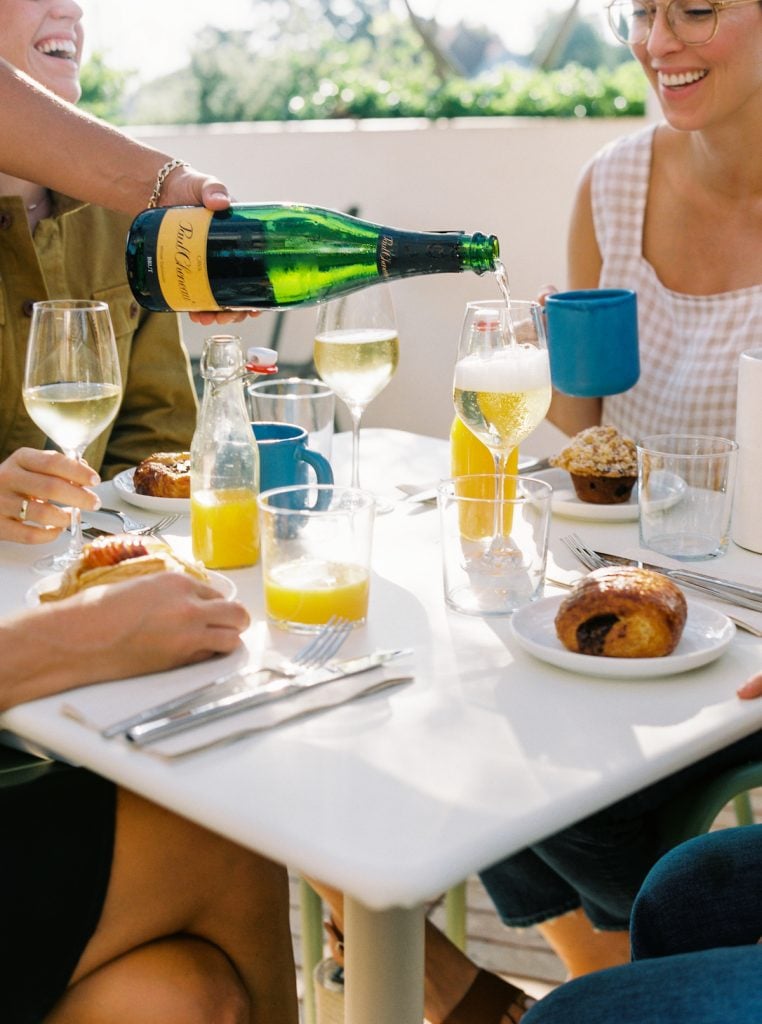 Paperboy
Everything about Paperboy is gorgeous—from the bright and airy interior to the entire menu. (Plus a kale salad that rivals any comfort dish? We're here for it.) It's hard to pick a favorite from this perfectly-curated, seasonally-rotating menu, so we recommended a few of our go-to's below.
What to Order: Don't miss the Texas hash, avocado tostada, and some of the best bacon in town.
Price: $
Cuisine: Brunch
1203 East 11th St | (512) 910-3010 | website | instagram
Easy Tiger
Easy Tiger is perfect for big groups and celebrations. It has tons of outdoor seating, making it a go-to for busy brunch weekends. It's exactly where we want to be spending every Saturday and Sunday—with live music, a bustling beer garden, and a game day energy that's unmatched, Easy Tiger checks all the boxes.
What to Order: My mom considers herself THE foremost almond croissant connoisseur in town, and these are quite simply the best.
Price: $$
Cuisine: Gastropub
1501 E 7th St | (512) 839-8523 | website | instagram
Cenote
Cenote was one of the first breakfast spots I tried in Austin and has been a favorite ever since. It has a neighborhood feel to it but has a contemporary menu with something on it for everyone. This is where you want to go if you're craving a classic, comforting brunch but with the volume turned up. They do the basics to perfection—breakfast sandwiches customized to your liking, parfaits with house-made granola that's beyond, and a lox bagel that's one of Austin's finest.
What to Order: Apple Butter Pancakes or the Migas Taco
Price: $
Cuisine: American
1010 E Cesar Chavez St | (512) 524-1311 | website | instagram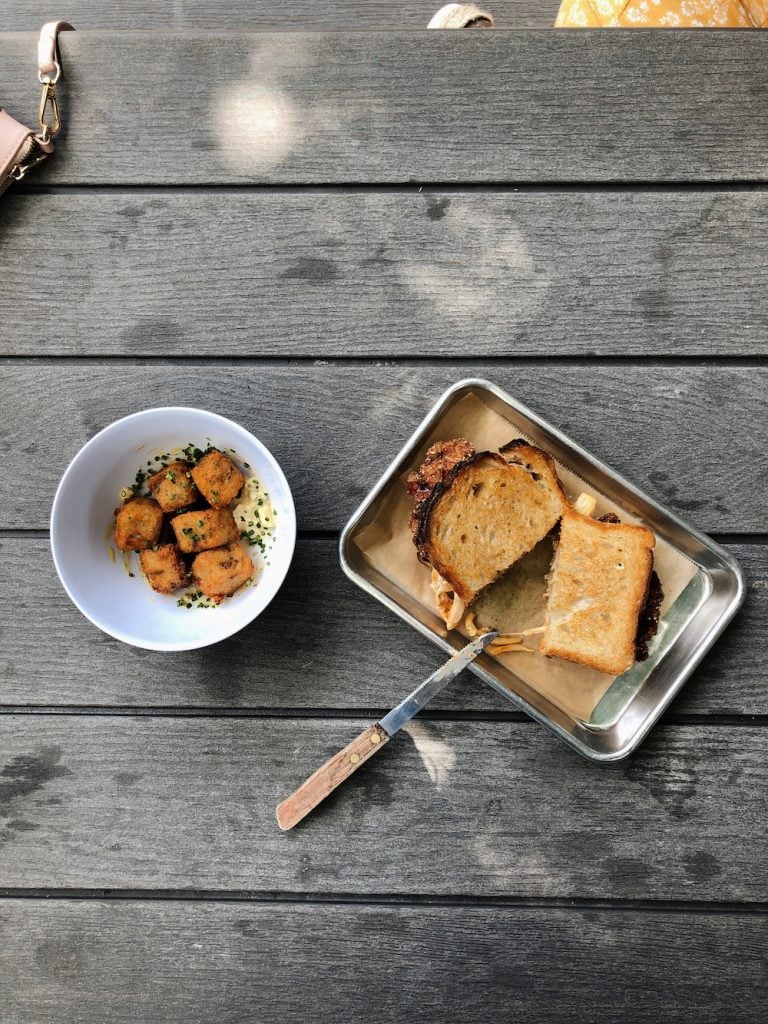 Sour Duck Market
From the Odd Duck and Barley Swine team, Sour Duck Market celebrates the true craftsmanship behind well-made food. From divine pastries baked with locally-milled flour to cocktails whose flavor is amplified by freshly-squeezed juices, everything at Sour Duck Market tastes as it should—only a million times better. It not only has our vote as a top contender for the best brunch in Austin, but it's one of our favorite spots to gather any day of the week (well, except Mondays and Tuesdays).
What to Order: Whatever is in the pastry case. And if they're on the menu, grab the tots.
Price: $$
Cuisine: American
1814 E Martin Luther King Jr Blvd | (512) 394-5776 | website | instagram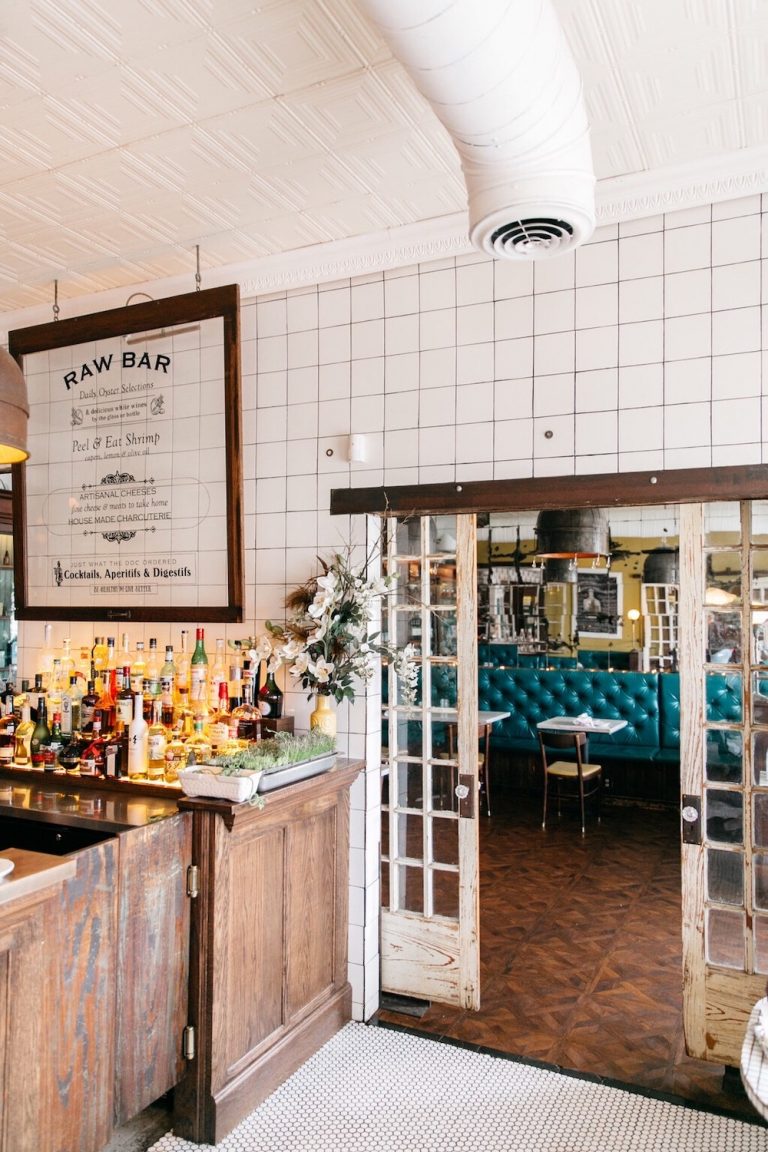 Hillside Farmacy
Hillside Farmacy's breakfast should be famous (well, here we are upping its virality!). Everything is made farm-fresh with seasonal produce sourced locally from the restaurant's sister farm located in Bastrop and other vendors around and near Austin. It's a true celebration of this thriving city—and the patio is worthy of a photoshoot.
What to Order: The Big Brekkie might just be my favorite breakfast in town.
Price: $
Cuisine: American
1209 E 11th St | (512) 628-0168 | website | instagram
24 Diner
Located in Central Austin, 24 Diner (of course) has the typical diner vibe to it—only it's inspired by Austin's out-there ethos. This is a true mid-century diner, with an eclectic interior and a warm and welcoming atmosphere. My only complaint is that it isn't actually open 24 hours! But hey, if you're craving a late-night bite or an early breakfast, 7 am to 11 pm is pretty good.
What to Order: If you're a late riser, you're in luck. Breakfast is served all day here. I'm a hash kinda girl, but the chicken & waffles is 24 Diner's signature dish.
Price: $$
Cuisine: American
600 N Lamar Blvd | (512) 472-5400 | website | instagram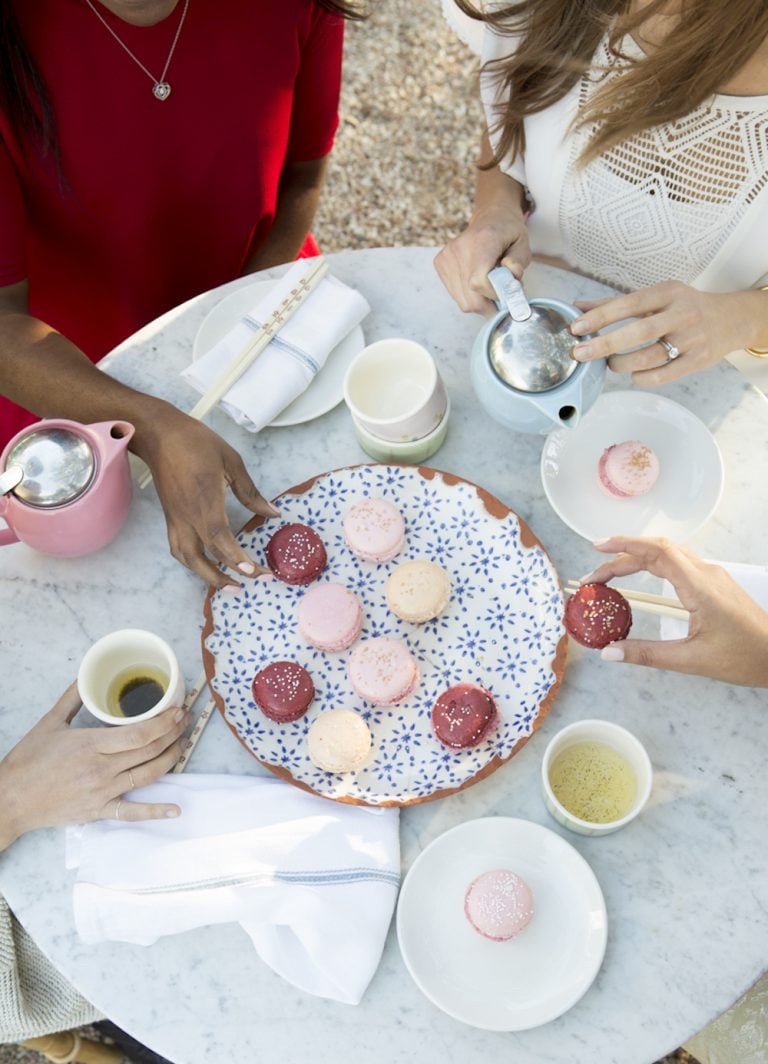 Elizabeth Street Café
Elizabeth Street Café's breakfast is only available on the weekends and is not your typical brunch. They take creative food to a new level and it is downright delicious. If you're looking for an aesthetic spot to snap a few brunch pics, first: check out our style guide for brunch outfit inspo. And second? Stop by Elizabeth Street Café—it's in keeping with this year's Barbiecore vibes.
What to Order: Roasted Pork & Wood Ear Mushroom Omelette (the mango and cucumber salad that comes with it is incredible).
Price: $$
Cuisine: Vietnamese
1501 S 1st St | (512) 291-2881 | website | instagram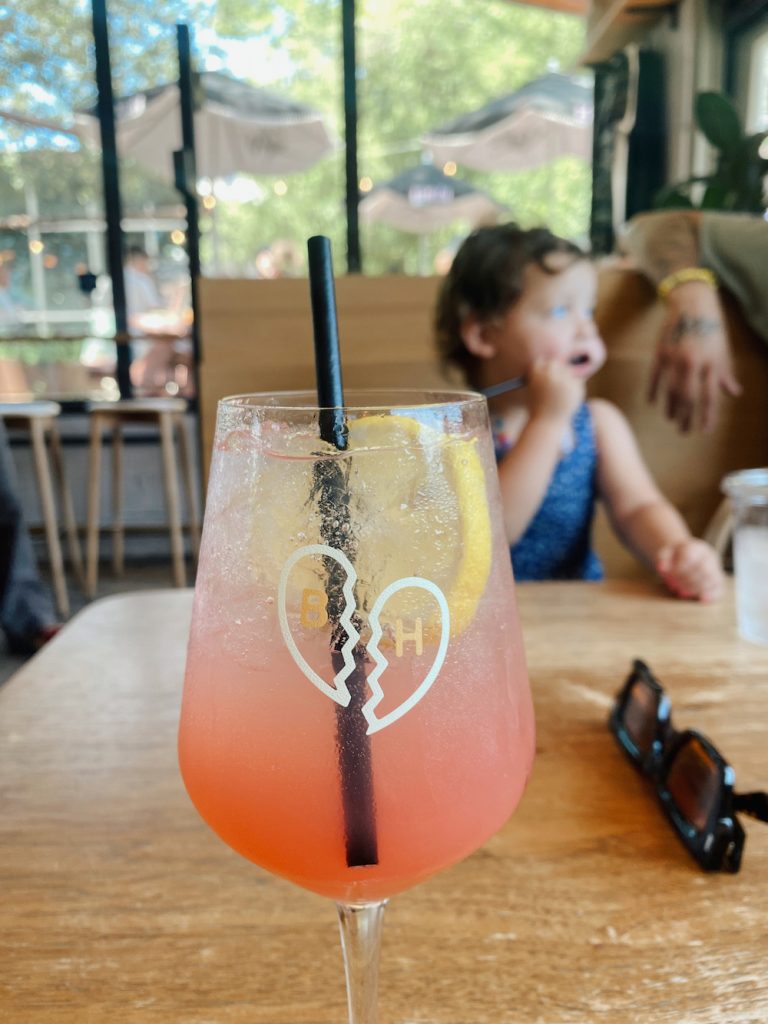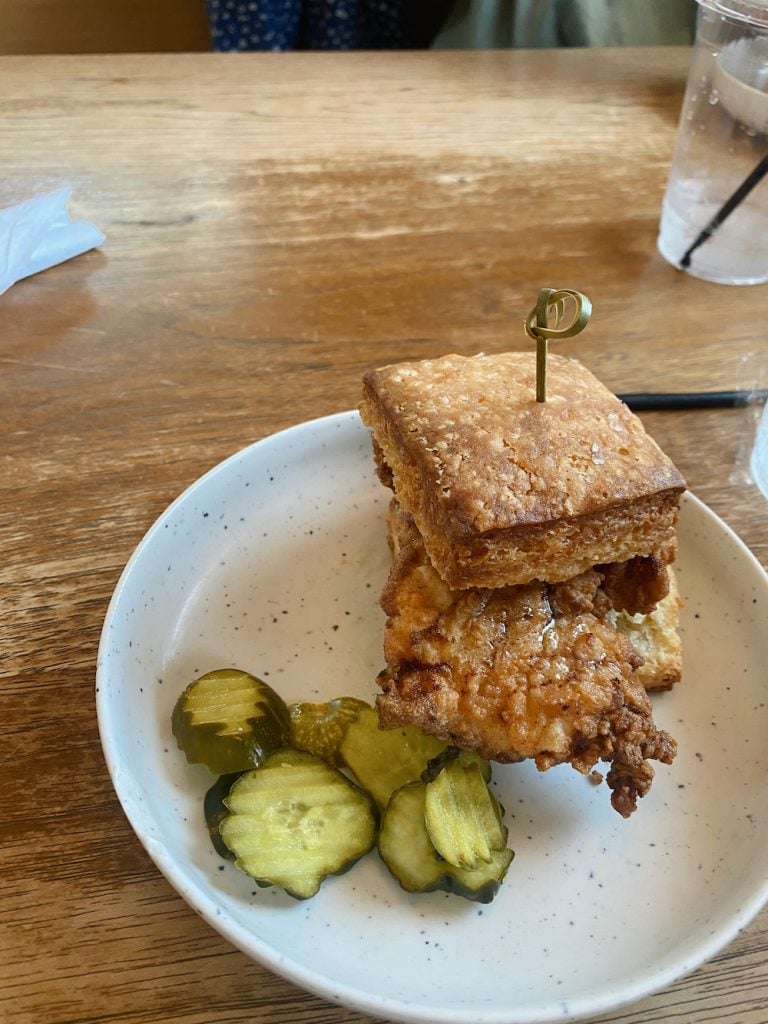 Better Half Coffee & Cocktails
Also featured in our guide to Austin's best restaurants, Better Half is a tasty and vibey all-day affair. Better Half is a go-to pick for a big-group brunch, as the outdoor picnic tables can accommodate larger parties. And if you're not craving one of their made-to-order cocktails (in which case, I ask: how?), be sure to stop by Hold Out Brewing next door for a stellar house brew.
What to Order: The Chicken Biscuit with jalapeño honey butter will convince you to move to Austin if you don't live here already.
Price: $$
Cuisine: Elevated casual
406 Walsh St | (512) 645-0786 | website | instagram
Jo's Coffee
The best coffee shops attract people both stopping by on their morning commute and those wanting to set up camp on the weekend with great company or a good book. Jo's is all of that—and of course, so much more. With four locations and the fifth popping up in South Austin in early May, Jo's is keeping Austin happily caffeinated. Stop by for concerts and to love on the many dogs that pass through the doors. And be sure to pick up a seasonal drink special—you can catch me treating myself to the blueberry matcha.
What to Order: Egg White Breakfast Sandwich with Avocado and a side of great people-watching.
Price: $
Cuisine: Café
1300 S Congress Ave | (512) 444-3800 | website | instagram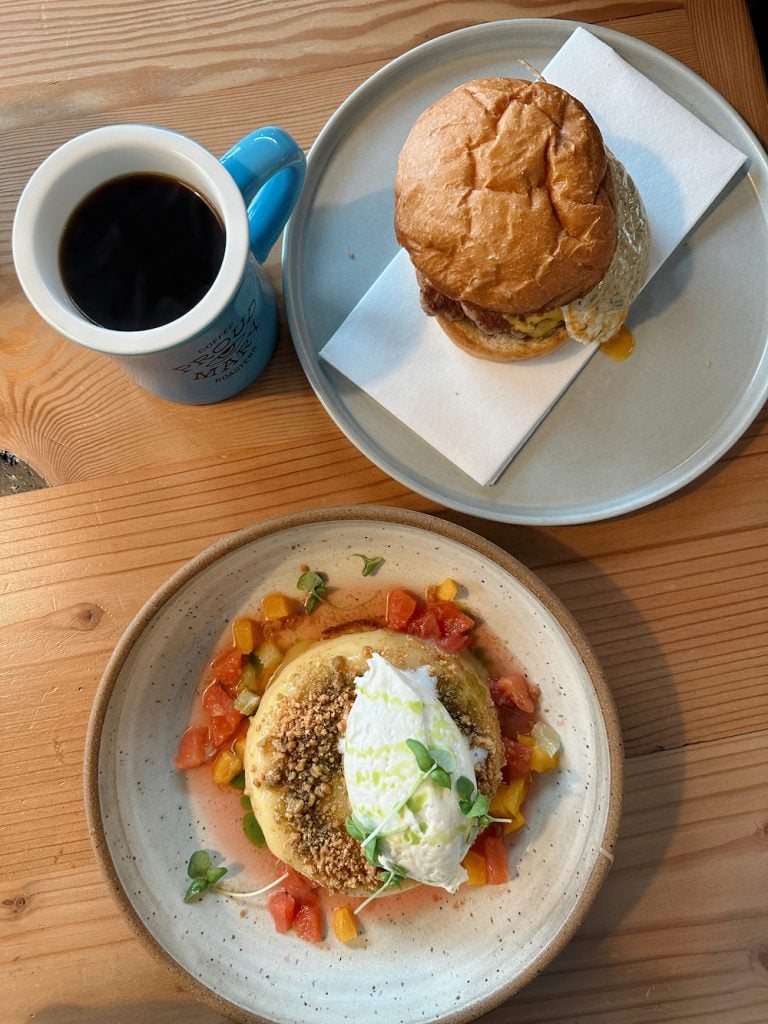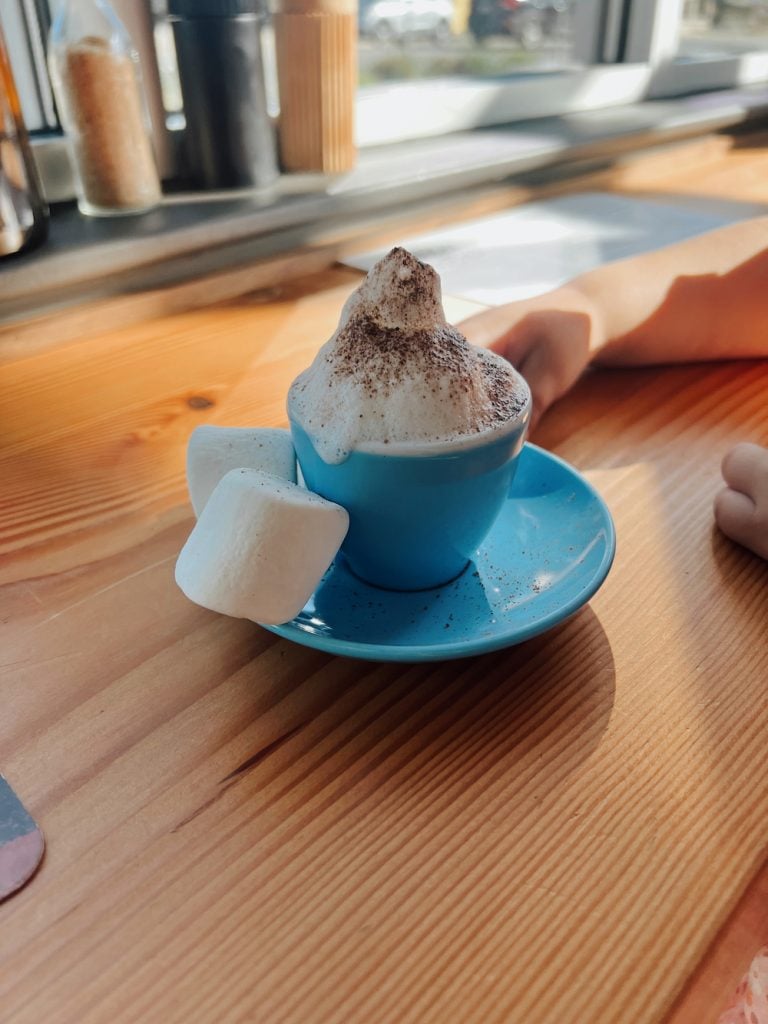 Proud Mary
From Melbourne to Portland to now becoming one of our picks for the best brunch in Austin—Proud Mary is a must-visit. They serve up Aussie-style brunch favorites but with their own elevated appeal. (Think: a potato hash that shines with thick-cut pork belly bacon, toast piled high with miso-infused leeks, and a stunner of a ricotta hotcake.) Oh, and the coffee is phenomenal—trust, you haven't had pourover like this. AND this café is family-friendly. How cute is that babyccino?
What to Order: This is not your basic avo toast. The heirloom tomatoes, passionfruit vinaigrette, and fresh herbs make it feel really special.
Price: $$
Cuisine: Australian Café
2043 S Lamar Blvd | (512) 551-2901 | website | instagram
Fresa's 
Fresa's fresh Mexican food is delicious and healthy. I love that their Lamar location has a drive-through for busy mornings on the go.
What to Order: With sweet potato, avocado, roasted cauliflower, and more, the power bowl hits your taste buds in all the right places.
Price: $
Cuisine: Mexican
1703 S 1st St | (512) 992-2946 | website | instagram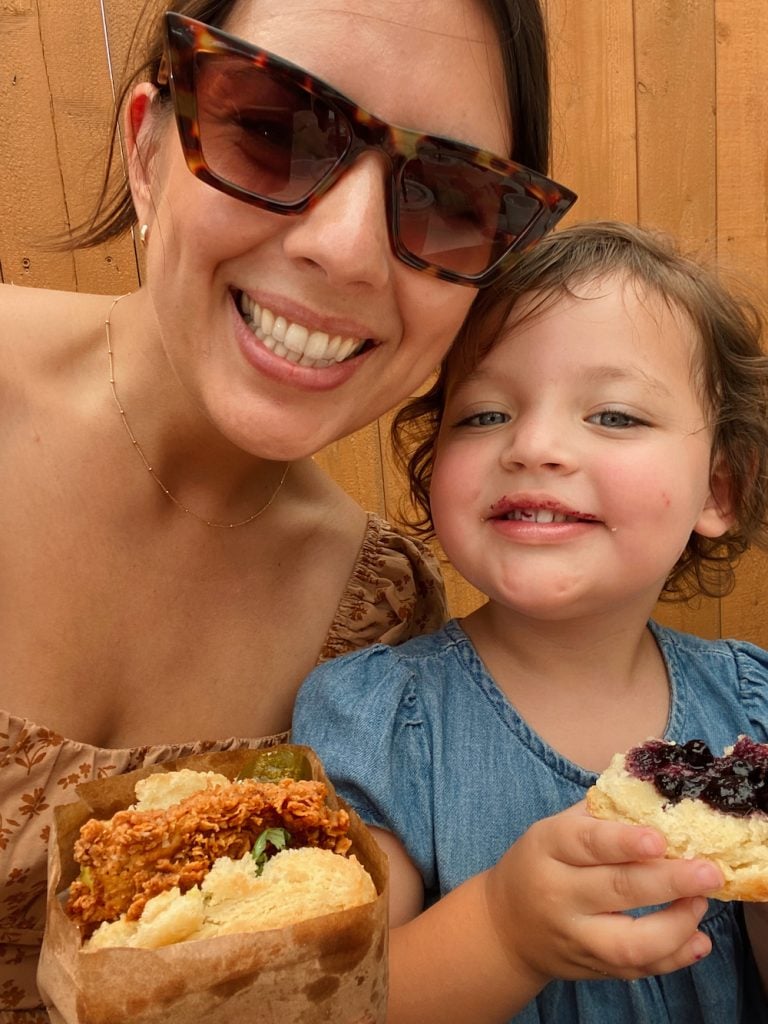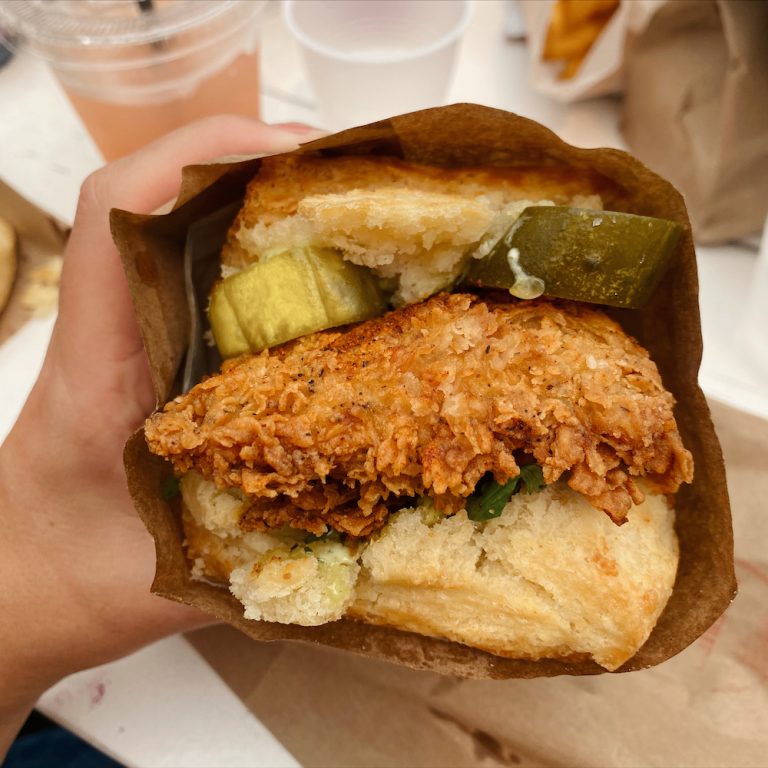 Bird Bird Biscuit
There are chicken biscuits, then there's the beauty that is the Bird Bird Biscuit menu. Y'all, they've transformed the classic, crave-able sandwich into a flavor-packed behemoth. And while the fluffy-af biscuits and crispy breaded chicken are enough to make you crave a second sammie (though your stomach will be saying no), the sauces and finishing touches are next-level, too. It's hard to go wrong—no orderer's remorse here.
What to Order: The chicken sandwiches are made fresh to order and my favorite is the Queen Beek. Make sure you grab Dough-Doughs (biscuit donut holes) on the side… and maybe leave time for a walk afterwards.
Price: $
Cuisine: American
2701 Manor Rd | (512) 761-4922 | website | instagram
Bouldin Creek Cafe
Women-owned, vegan, and vegetarian. Need I say more? Okay, we'll say more: the vibe is casual and community-centric. Even if you're visiting as an out-of-towner, you'll immediately feel welcomed in. And just because the menu is plant-based doesn't mean you won't be left unsatisfied. House-made veggie chorizo stars in some of Austin's tastiest breakfast tacos and the zucchini migas do the classic justice with a flavor-forward pepper purée. What's more, Bouldin Creek is a member of One Fair Wage Austin. Your check will include a 20% Fair Wage Surcharge, helping to support an equitable, living wage for all employees. We love.
What to Order: The grilled house-made vegan blueberry cornbread with two eggs (or tofu) and a cup of black bottomless coffee.
Price: $
Cuisine: Vegetarian
1900 S 1st St | (512) 416-1601 | website | instagram