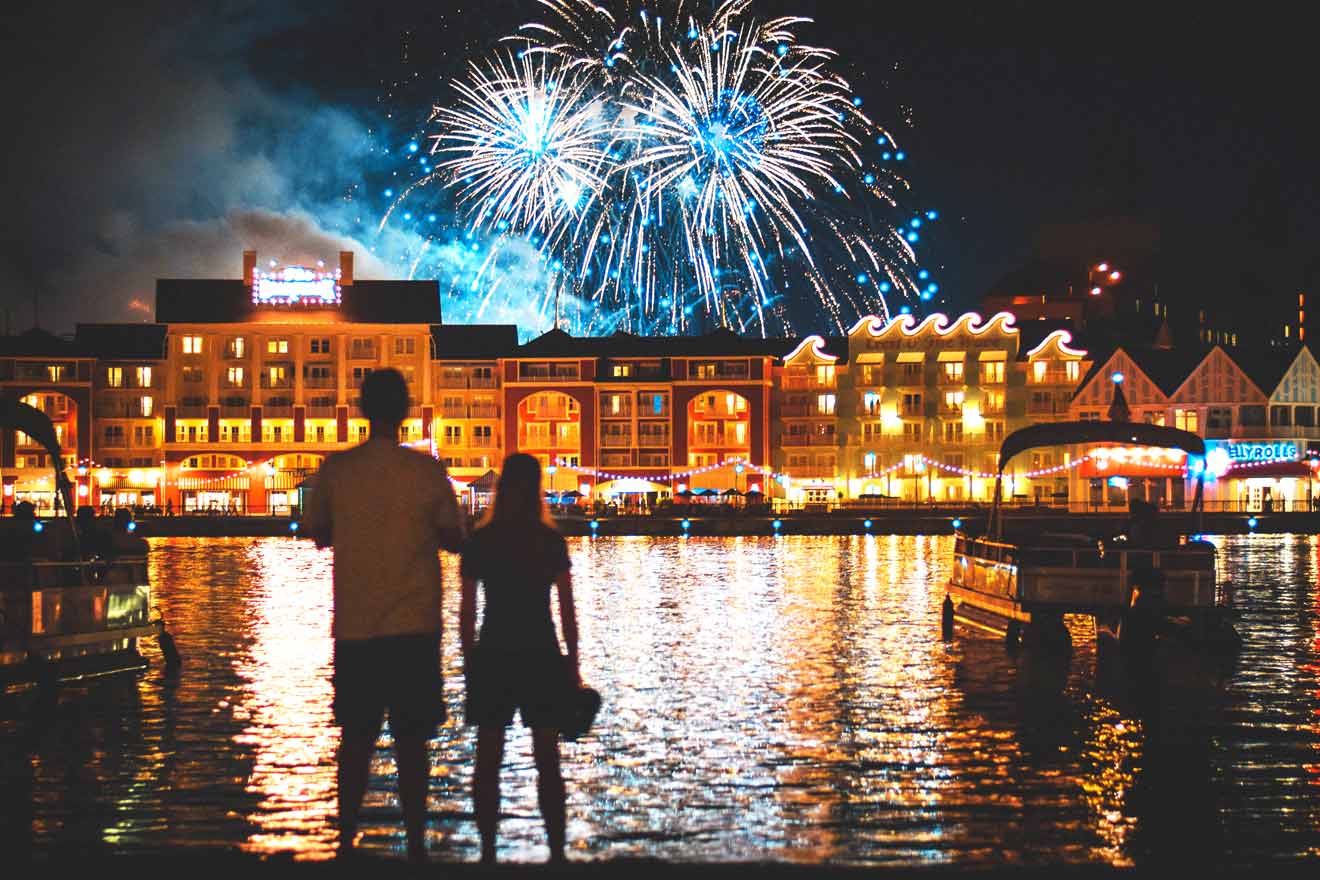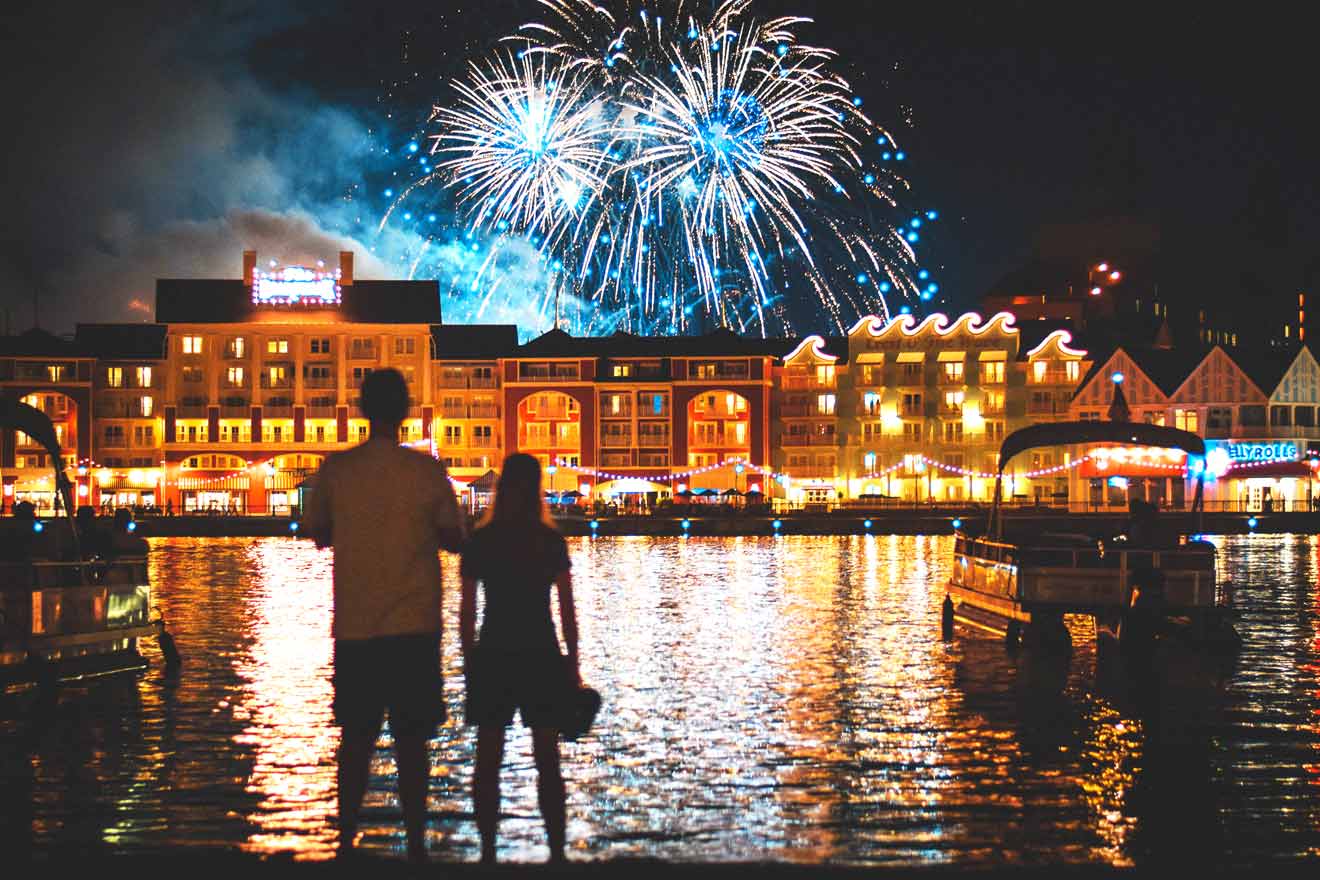 Hey everyone! Excited to finally take your kids to meet Mickey and all the other Disney characters? If you're headed to Orlando then hop along on this magic carpet that will take us through this list of all the best Disney resorts for kids!
I've searched the web and handpicked the most amazing Disney World hotels with great reviews, which I categorized by price so you can easily decide which is the best Disney resort for you and your kids.
Even though there are so many hotels in Orlando, since these are located inside Disney World, these ones will sell out super fast, of that I'm sure. So I do recommend booking yours in advance as you're planning the trip, otherwise you may get stuck with hotels which are not worth your money at all.
Enough with the chatter, let's find the Little Mermaid (and your dream family hotel)!
If you are in a hurry
Here to just book your Disney resort? Then check out the list below, it has the best Disney World Hotels for you and your family:
Luxury (US$350 and up)
Looking for some fabulous and luxurious Disney hotels? I've gathered a list of the top ones located inside Disney World.
1. Four Seasons Resort Orlando – Disney resort with a water park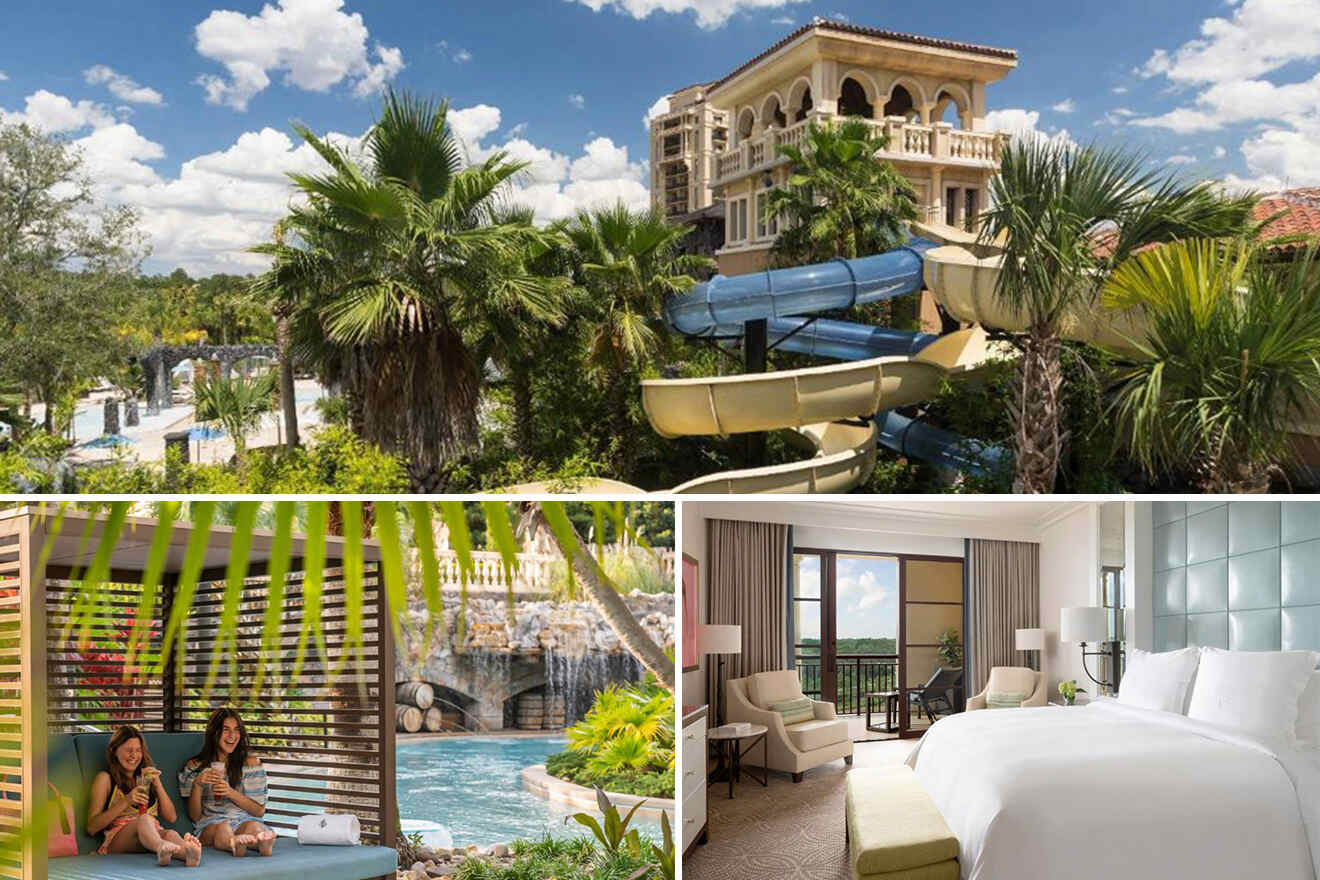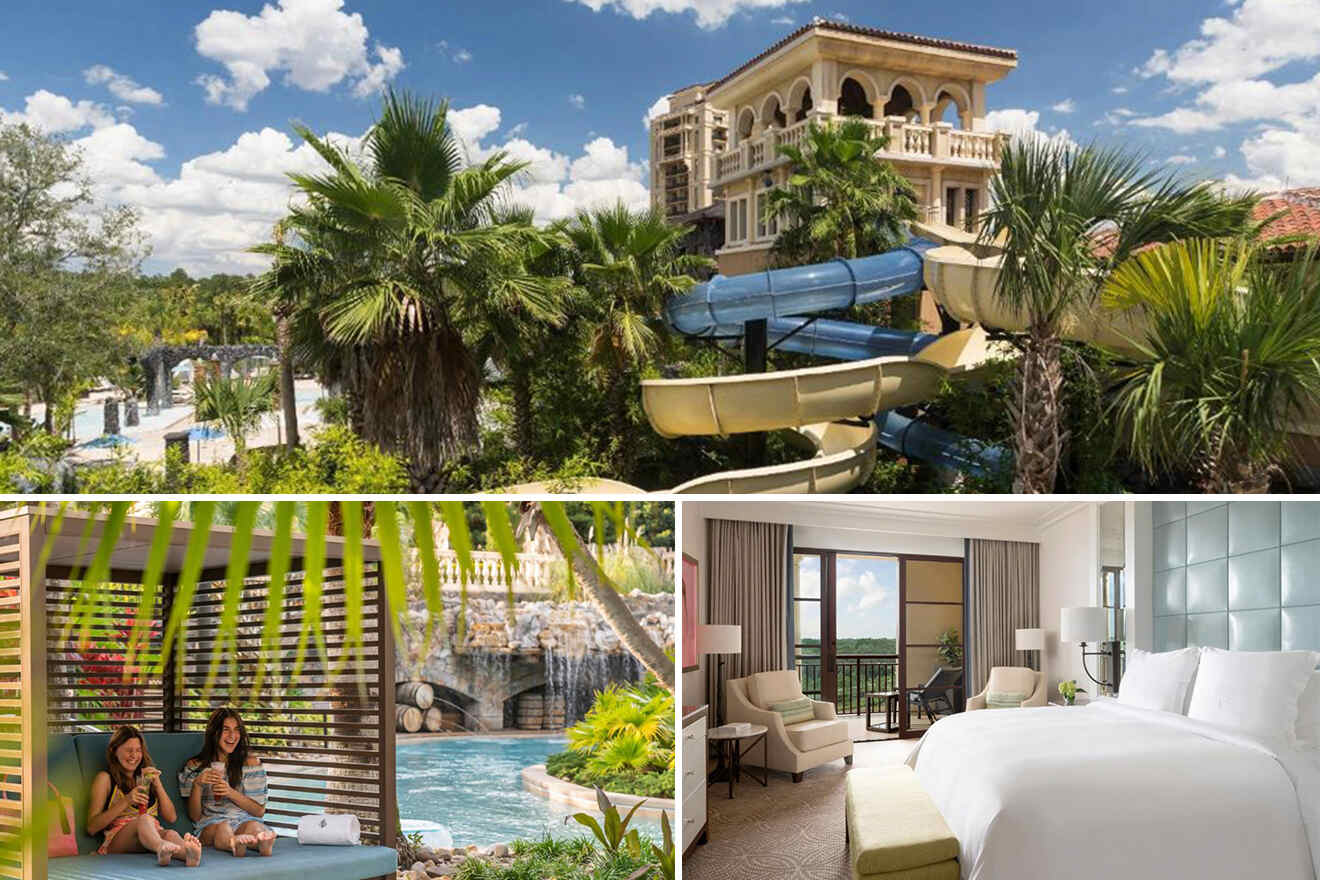 A place that you'll never want to leave! This contemporary resort has it all and by that I mean a fabulous water park with a winding lazy river and other facilities that the younger kids will love, 6 restaurants (including a Michelin Star-rated) and some tennis courts!
While the kids get all excited about the games room, playground and even a club just for them, I'm sure the parents want to know all about the family suites! And yes, they are spacious and very well-equipped. Another perk of this resort is that you'll enjoy free bus transportation to the 4 main Disney World Parks!
Check availability
2. JW Marriott Orlando Bonnet Creek – modern resort with a kids club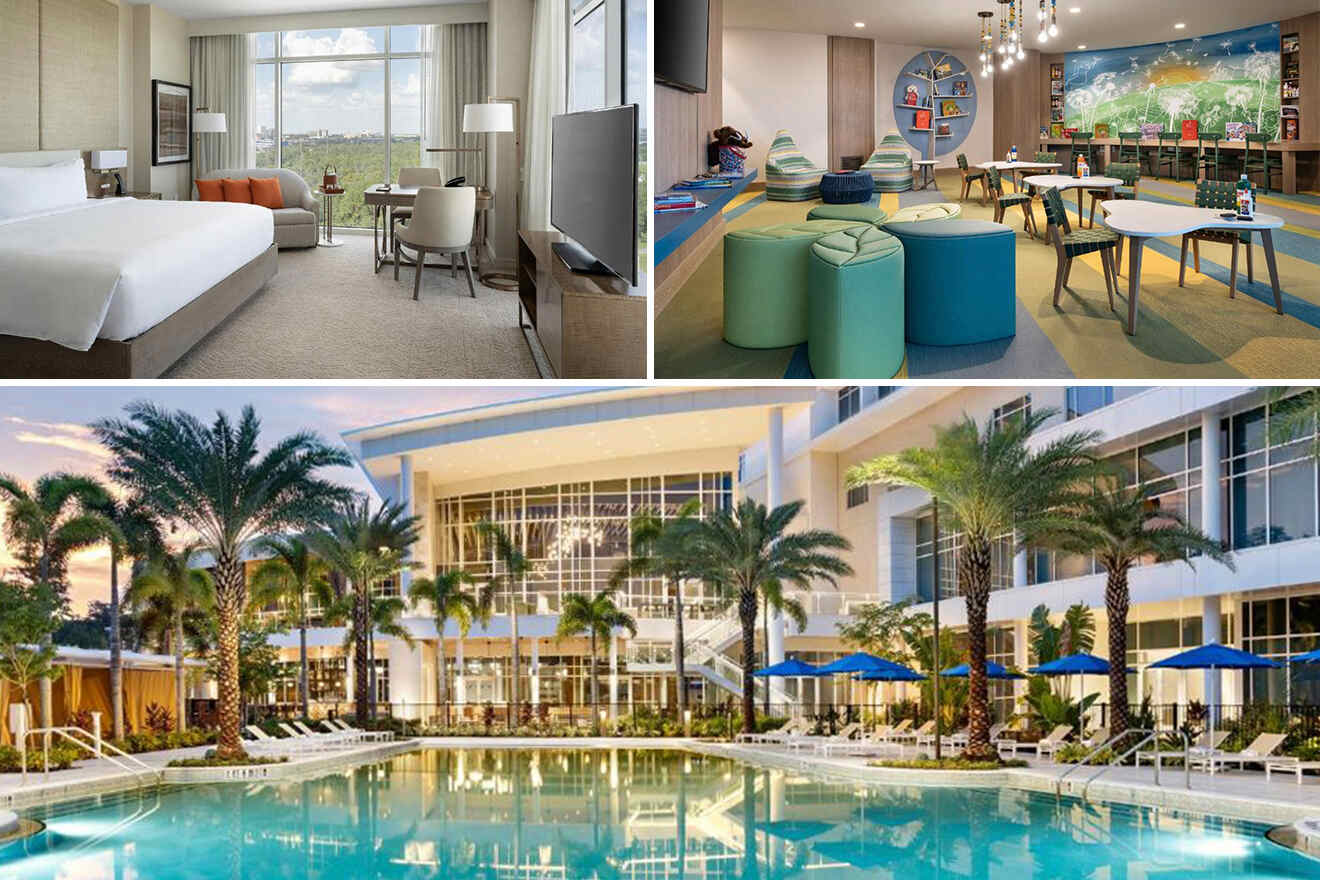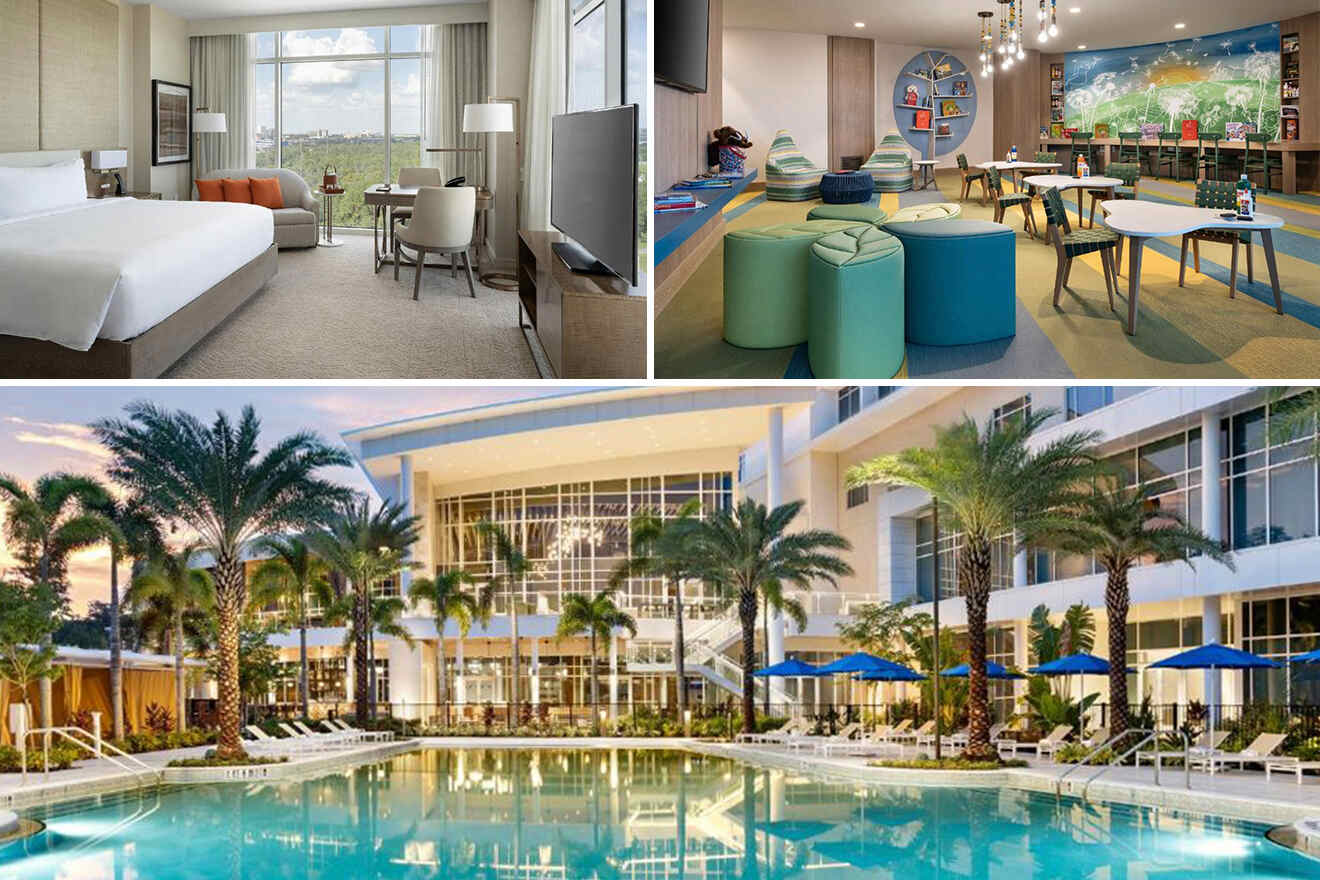 Royal guest rooms, fabulous restaurants and a fun kids club that the young kids will love! This Lake Buena Vista hotel is the perfect place for you and the family! And when you're not out there exploring the Disney theme parks, know that you'll have plenty of things to do here too!
Like playing by the 2 swimming pools or spending some quality time with the little ones in the outdoor and indoor play areas. There's also a spa if you're in need of a quick break from all things Disney related and even a bar. But don't forget that Disney World is super famous and these hotels book out as fast as a lightning bolt, so secure your rooms before it's too late! 
Check rates
3. Waldorf Astoria Orlando – resort with 2 pools & a lazy river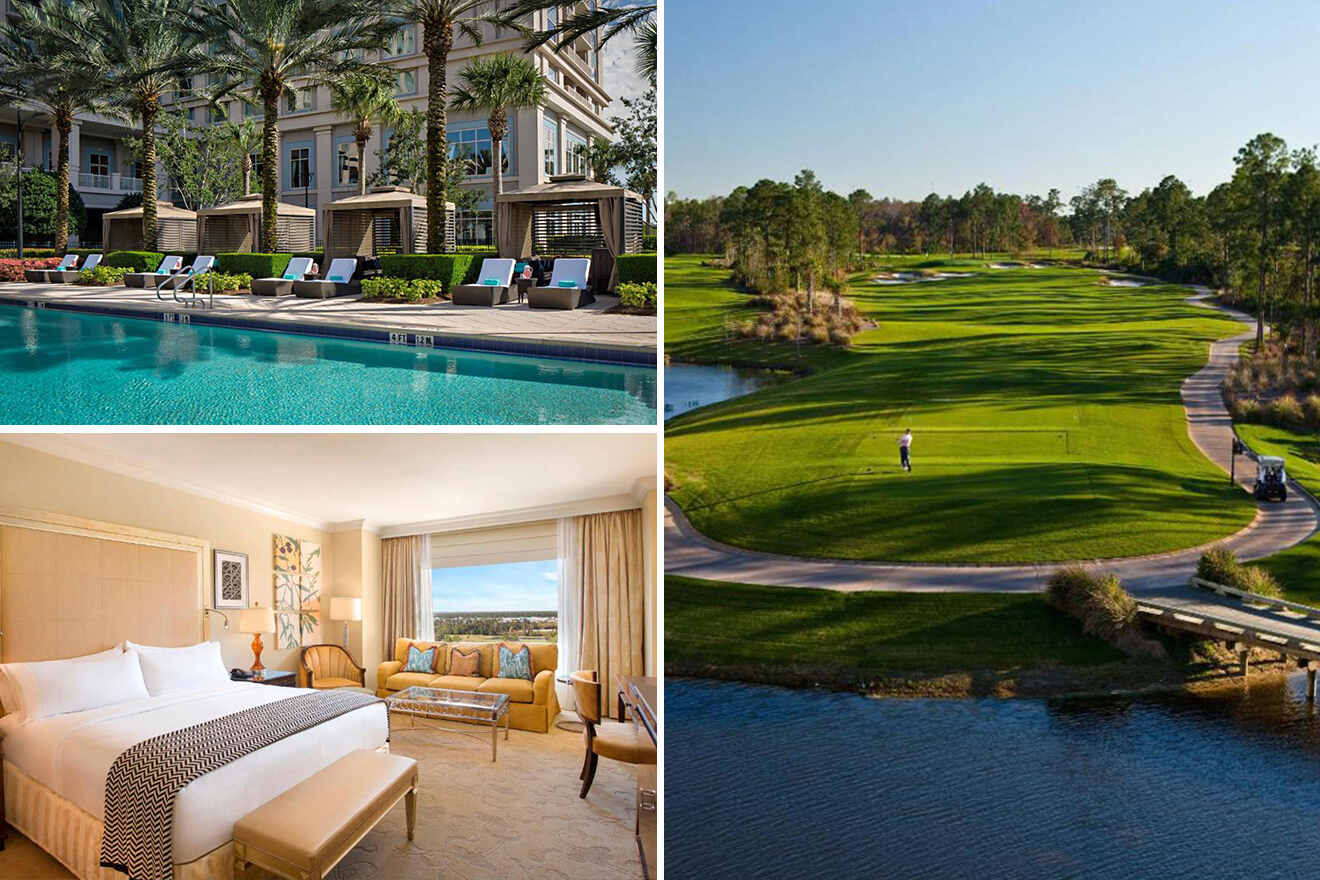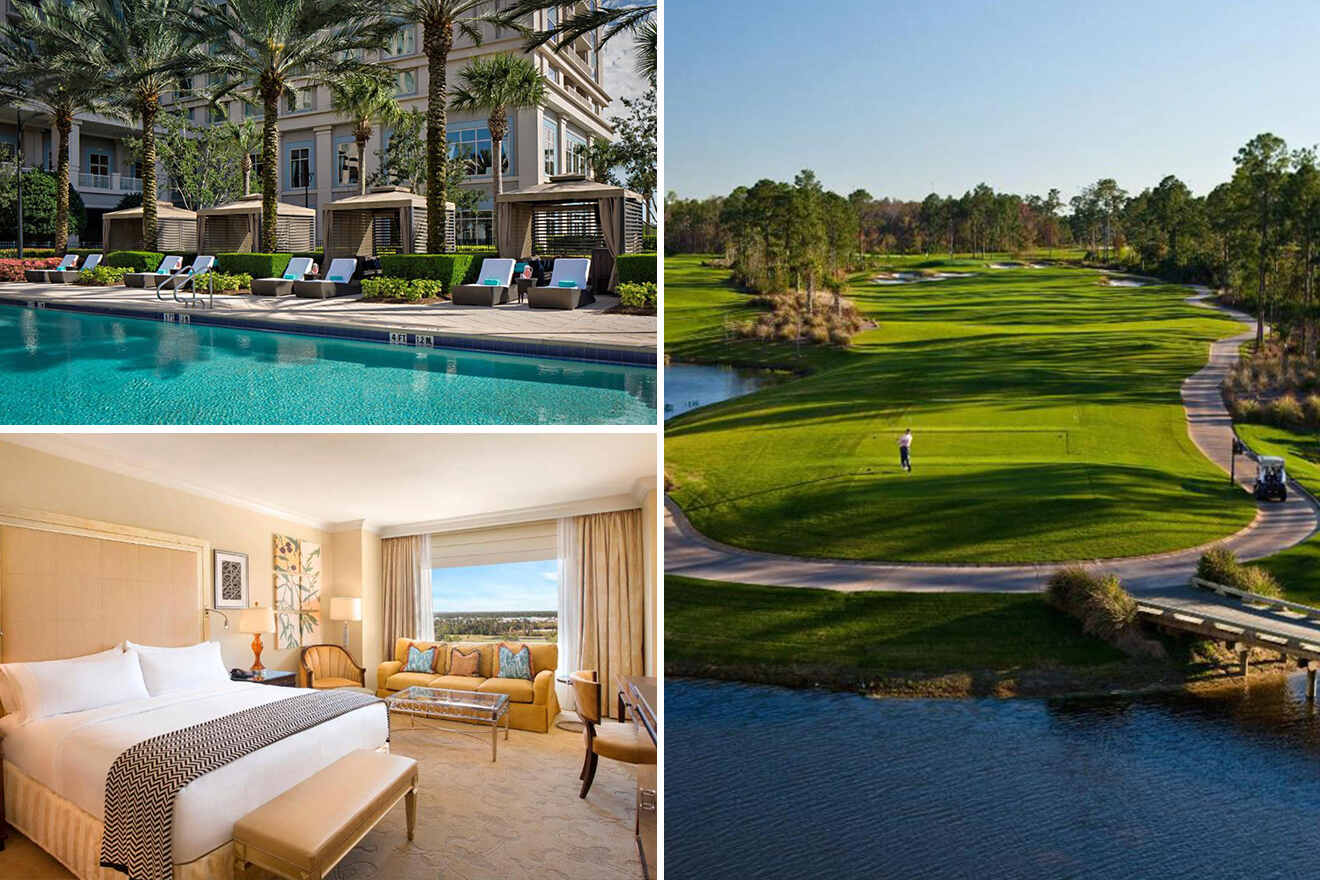 Planning your Disney vacation in Orlando? Well let me tell you there are many fabulous hotels near Disney World Florida and some are just perfect for the kids! Just like this one which is located on a nature preserve and offers free bus transportation to the Disney World parks!
I know you'll probably spend most of your time at Disney World, but hey if you and the kids need a break just to relax and play, then know that the resort comes with a kids club, 2 swimming pools and a lazy river as well! Plus a golf course which I'm sure the adults will love!
Find available dates
4. Walt Disney World Swan Reserve – cool hotel with a private beach area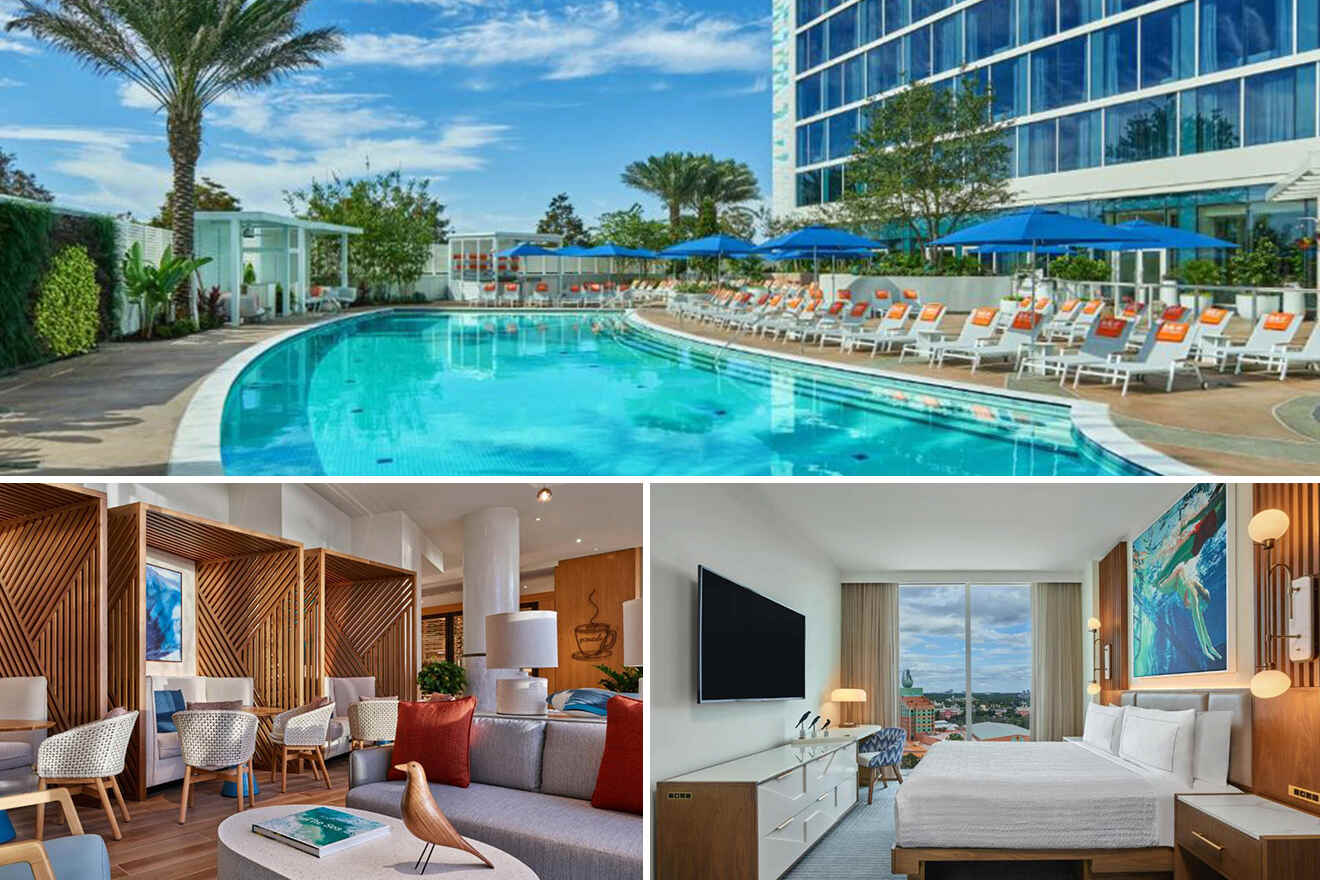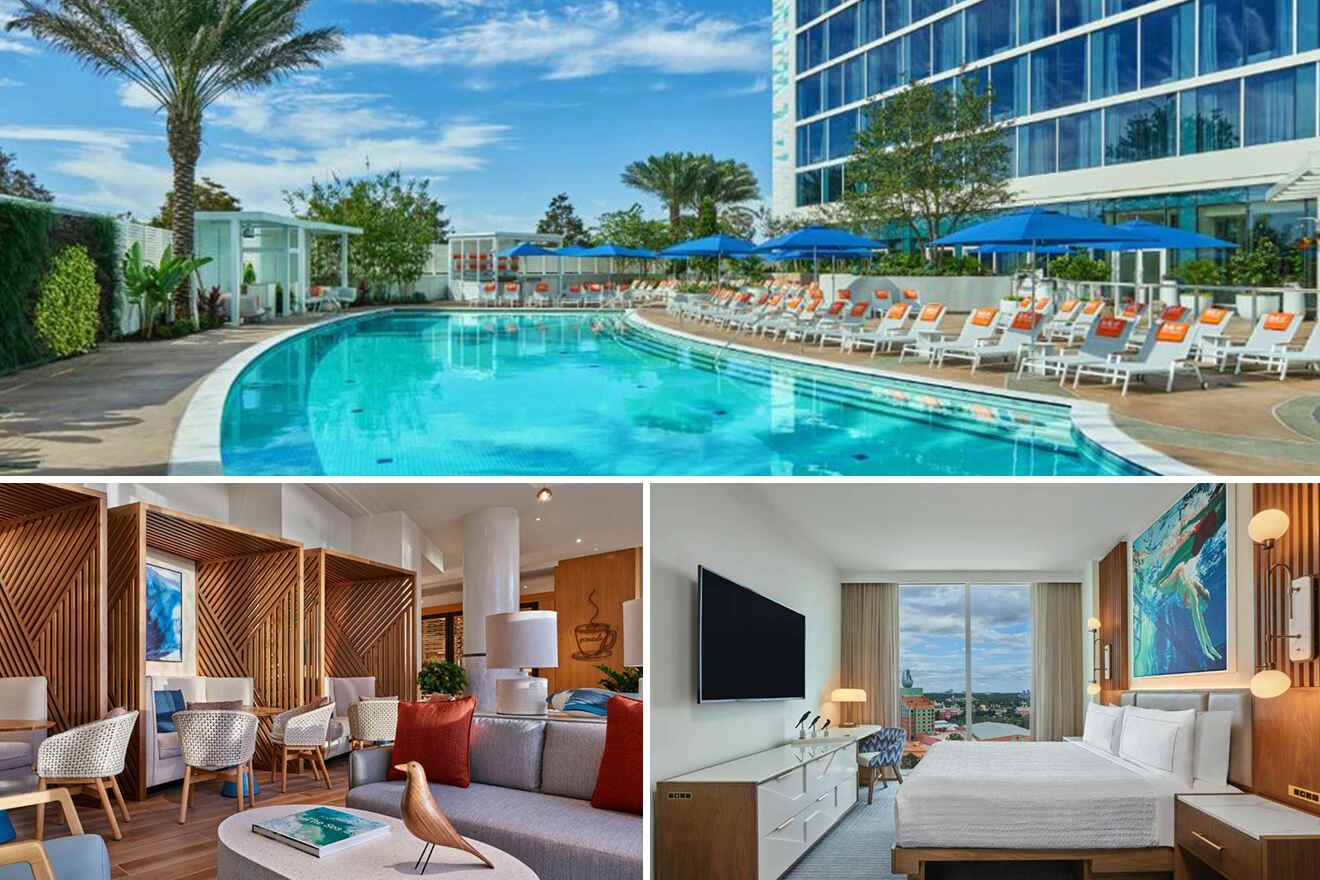 Ready to play all day long and get into the Disney world spirit? This Lake Buena Vista resort for kids offers so many cool activities that you won't know when you'll do them all! Free bikes, water sports, and even a private beach area! Oh my, that sounds like so much fun!
This Disney resort will make your family trip to Orlando unforgettable! There are 3 restaurants on-site so you're always guaranteed yummy food, and even a spa if you're finding yourself feeling a bit tired after spending a day in the Magic Kingdom Park!
Check rates
5. Disney's Beach Club Resort – great Disney resort with water slides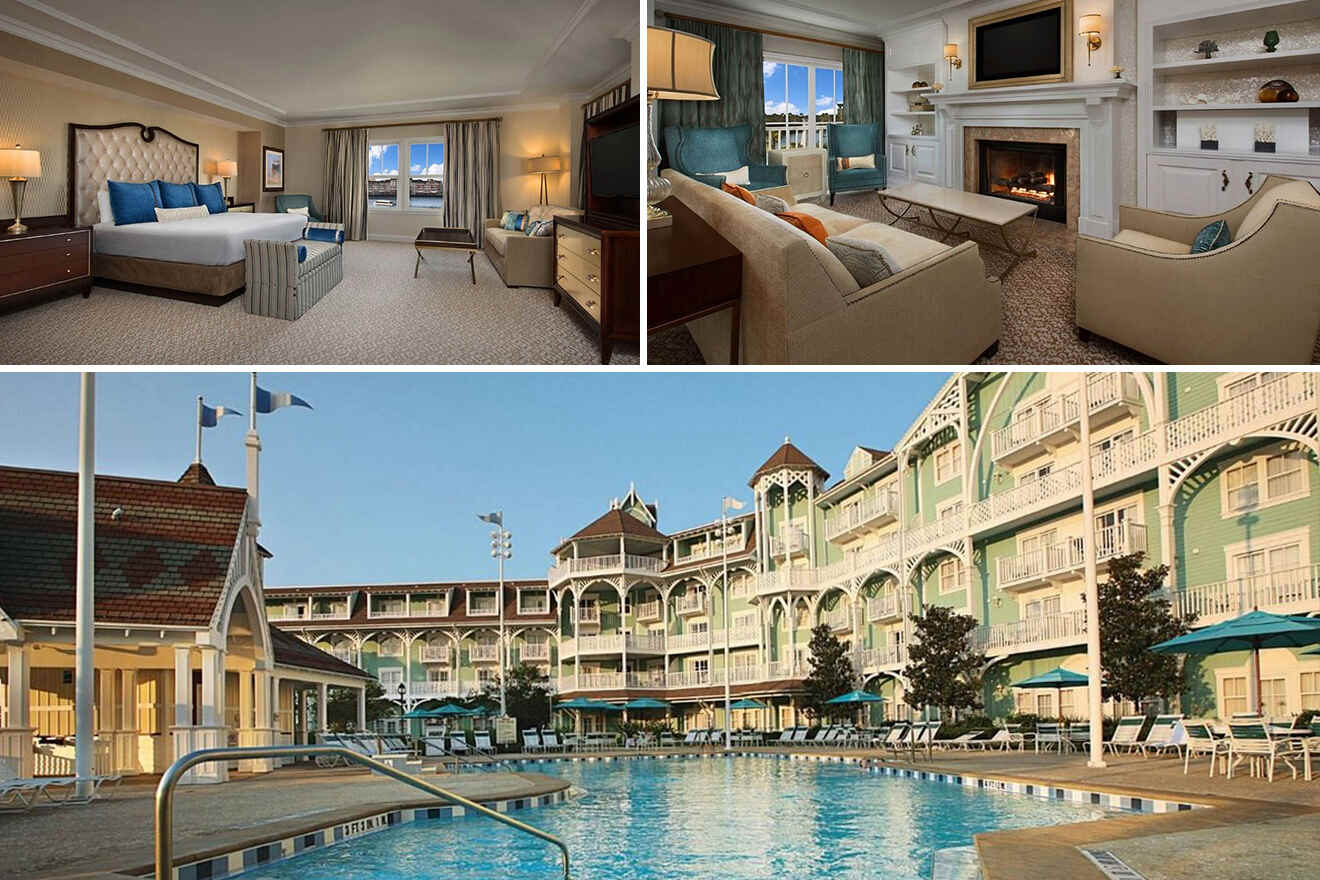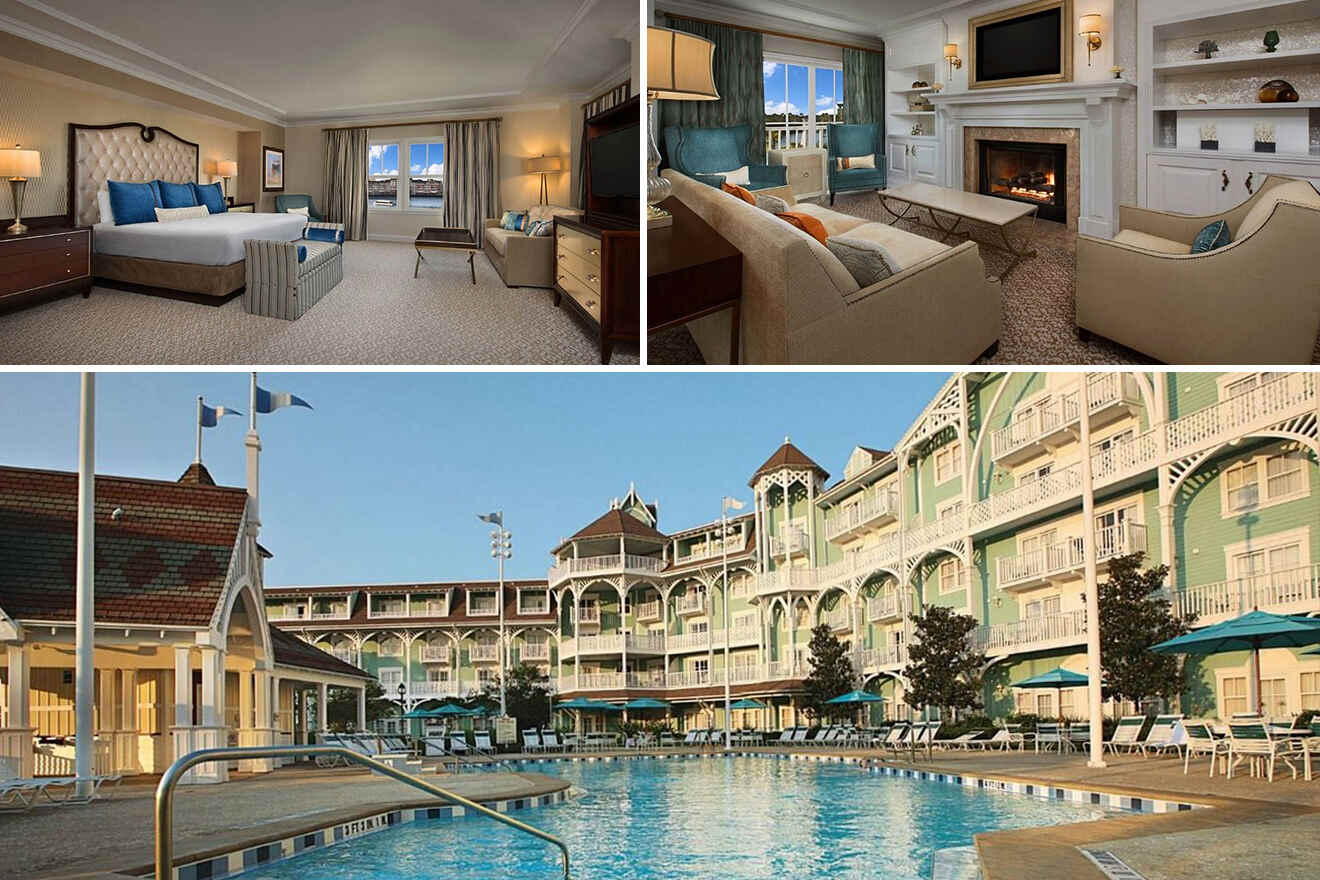 If you're a family who loves a nice pool then this Disney hotel is surely the best resort for you! The swimming pool at Disney's Beach Club Resort is known as one of the top ones out of all Walt Disney line of resorts.
But trust me there are so many other perks! Such as volleyball and tennis courts, outdoor campfire, spas, fitness centers, and fishing excursion and also the resort's proximity to Epcot and Hollywood Studios. It's easy to see why Disney Beach Club Resort is so great for kids and I'm sure they'll feel the same after seeing all the water slides and the lazy river!
Find available dates
6. Disney's Animal Kingdom Lodge – one of the best deluxe Disney resorts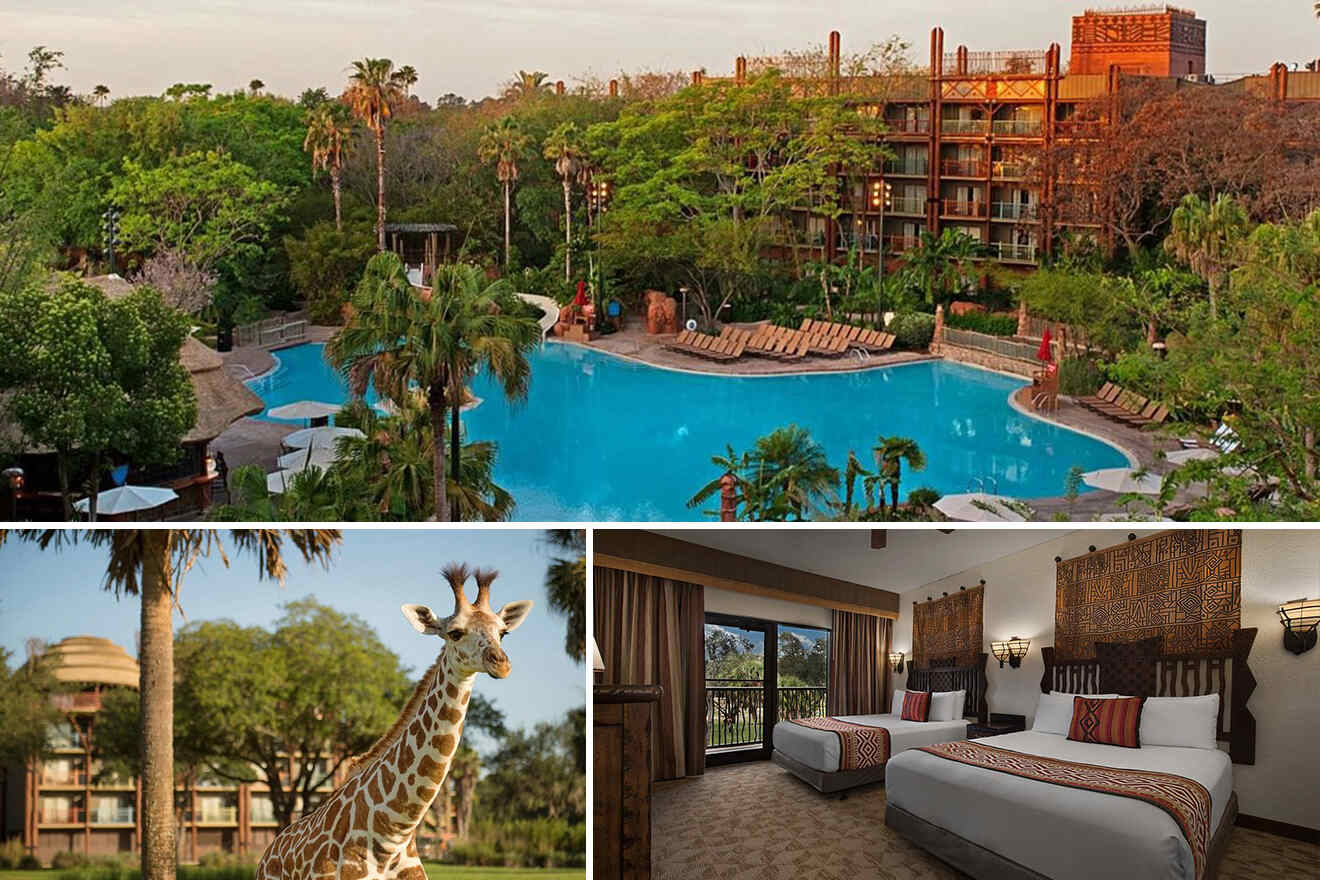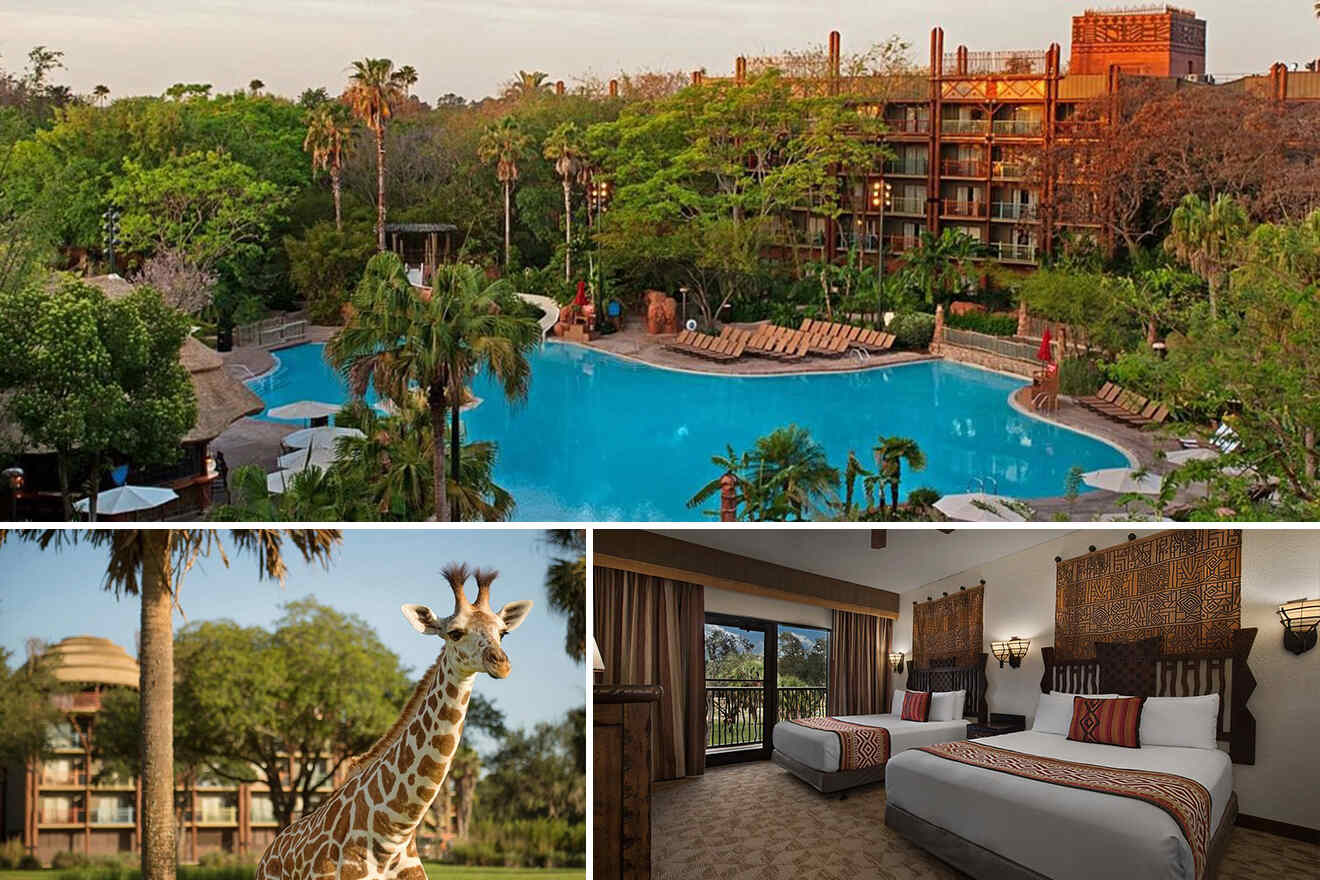 If your kids love wilderness then this is the best Disney resort for you! It's also the only one of all the Disney resorts that offers families the chance to see some zebras and other African wildlife animals up-close!
Disney's Animal Kingdom Lodge is one of the best deluxe resorts and it offers lots of cool educational activities for toddlers and preschoolers, plus a childcare center and a zero-entry pool for the small kids! So lots of cool facilities that you can use when you're not visiting the Disney World Theme Park. I would definitely recommend this Disney property to parents with smaller children as it has everything you need!
Check the rates
Mid Range (US$250 – US$350)
Looking for some hotels that are just as great but a bit more affordable? Then check out this list below, and I'm sure you'll find your favorite!
1. Hyatt Regency Grand Cypress Resort – unique hotel with a private lake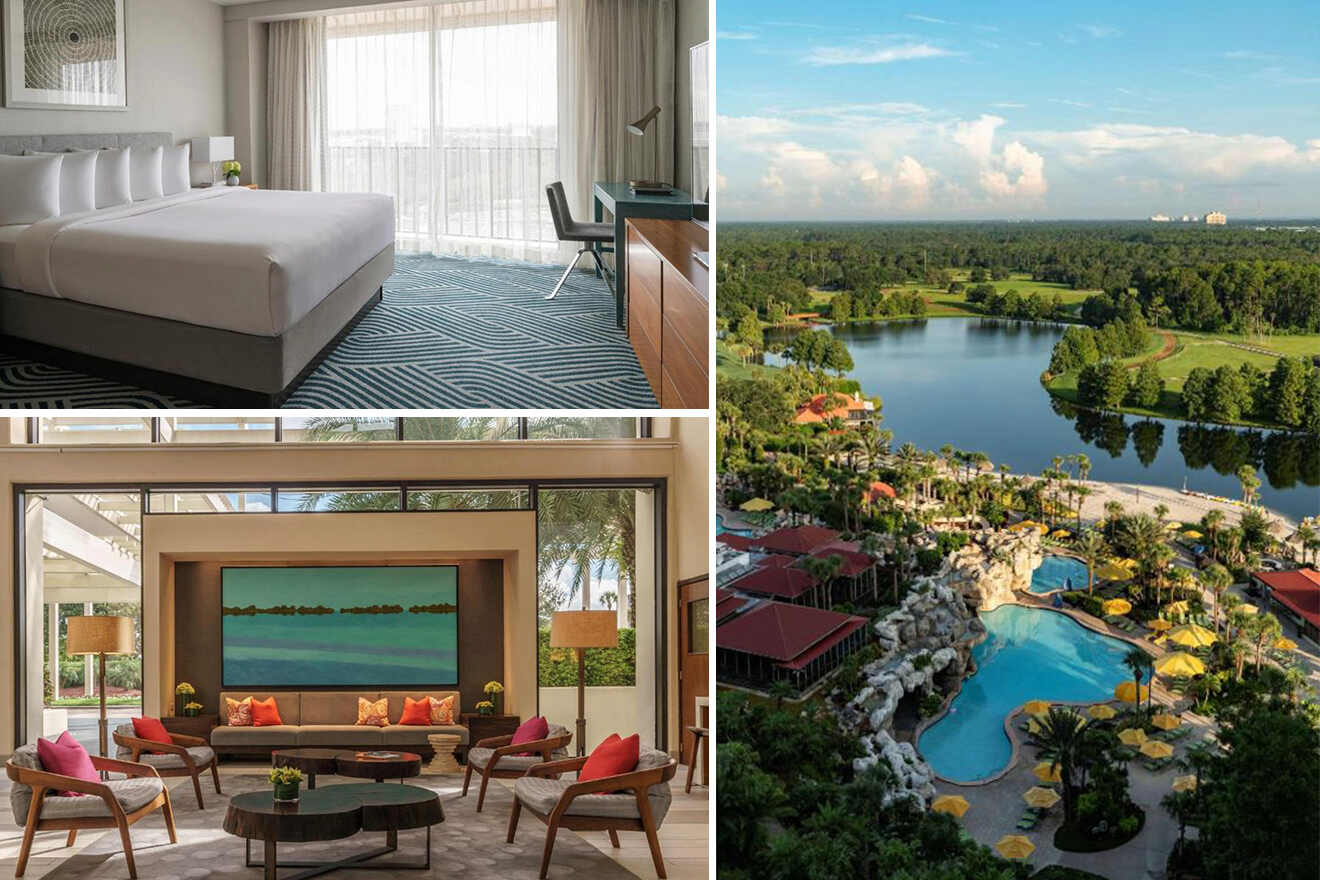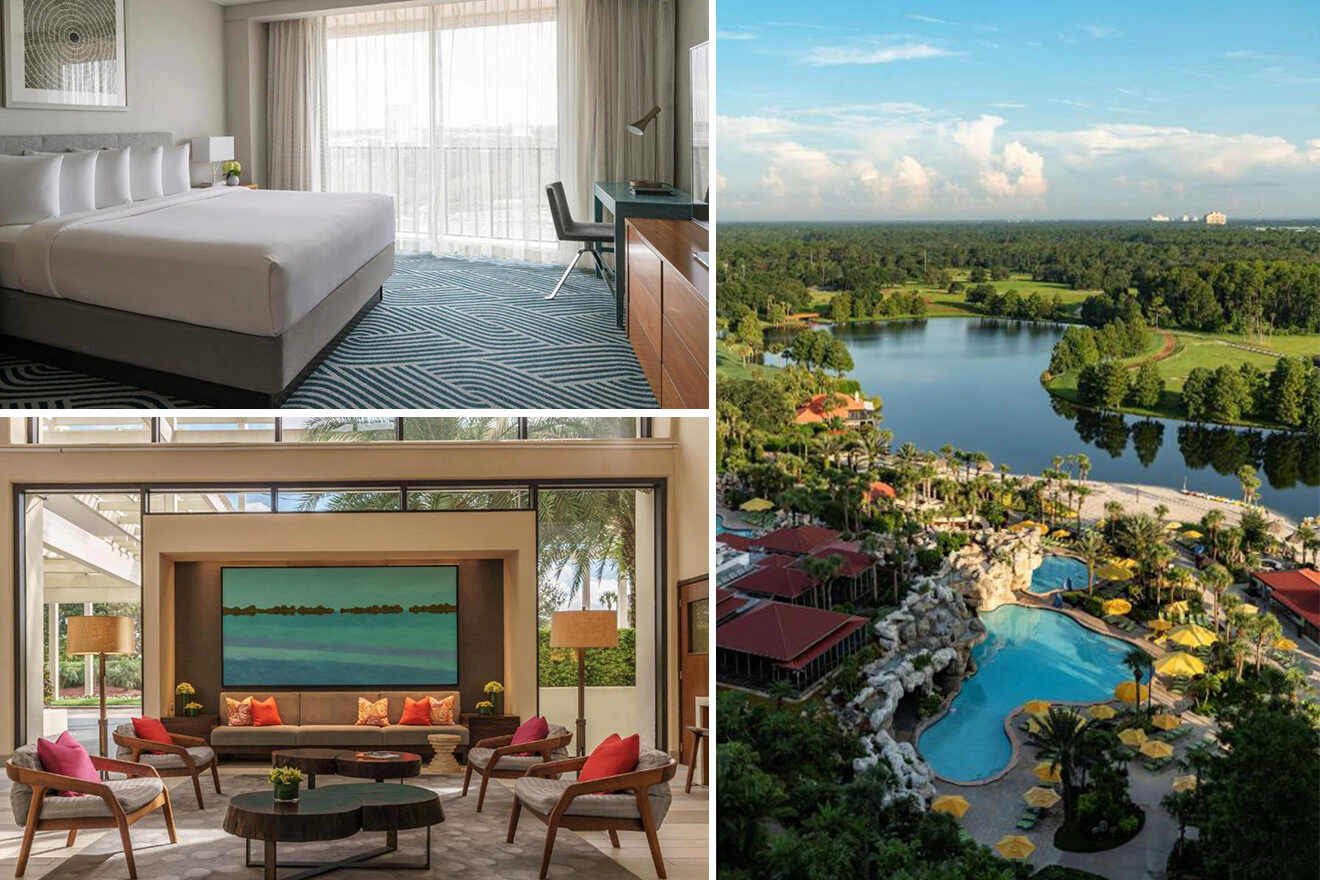 Adults, load up on the coffee, because your kids will want to try all the cool facilities at this resort and I'm sure you'll also be super tempted! I mean a private lake, tennis courts, a water slide and a lagoon pool? I'm so in!
These things get me excited, imagine what the little ones will say when they know they'll get to try different water sports, and spend all day long in the children's play area! The family suites are also pretty cool, and they come with a flat-screen tv (perfect for family movie nights) and a balcony as well.
Check availability
2. Walt Disney World Swan – Disney resort with water sports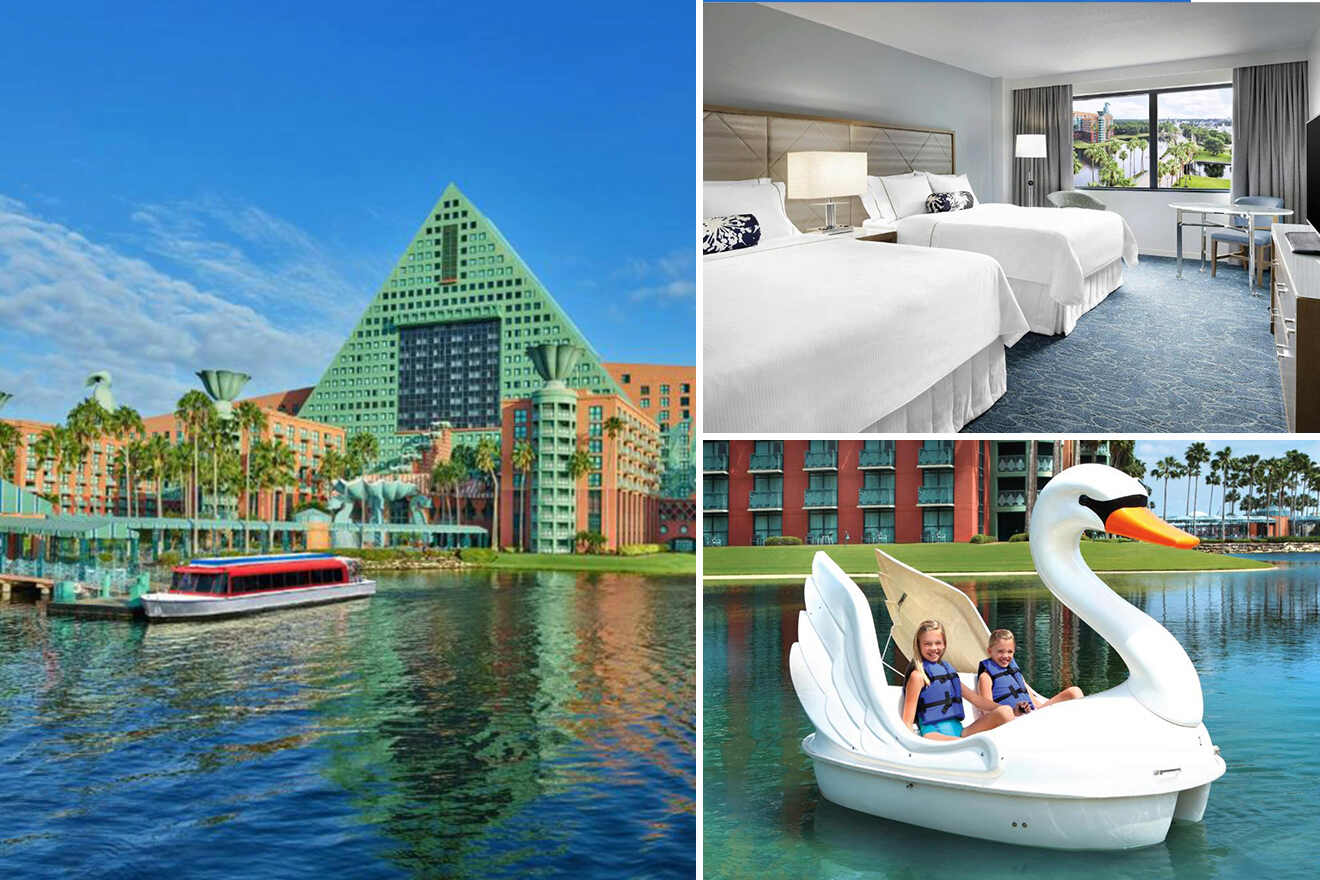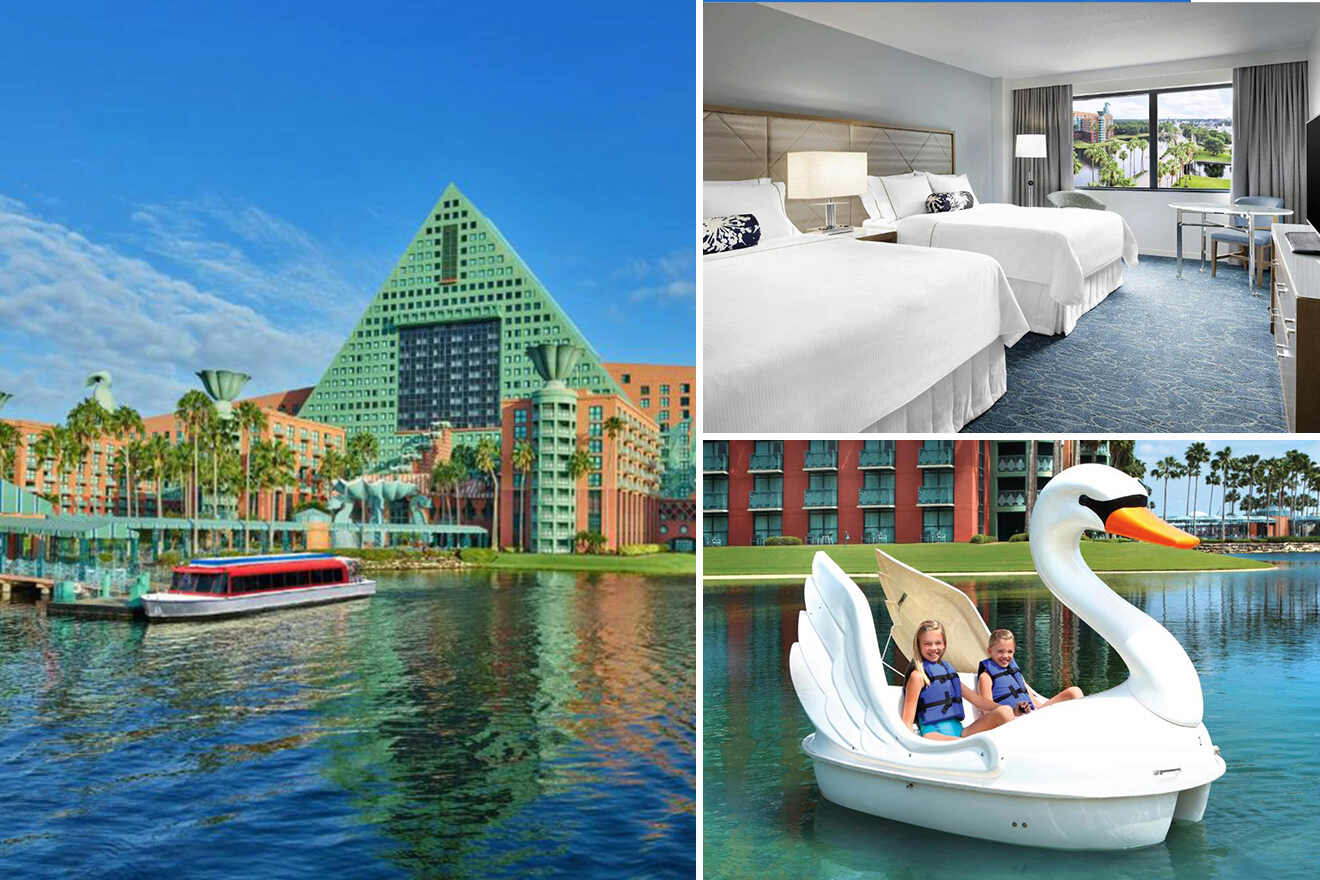 With a fabulous location right in the center of the Walt Disney World Resort, this amazing resort has no less than 17 restaurants and lounges(!), and even a beach! If you do pick this Disney resort you'll also get Walt Disney World early entry and extended evening hours plus free bus rides to the Disney World theme parks!
And I'm just beginning! The list of facilities is so long but I'm sure you'll all want to know first that they have 5 outdoor pools and even watercraft rentals! Never a dull moment at one of the best deluxe resorts! Besides all the water sports facilities offered on-site, you'll also get some fun off-site things to do like horse riding, bowling and canoeing!
Check rates
3. Holiday Inn Orlando – family-friendly hotel with an outdoor play area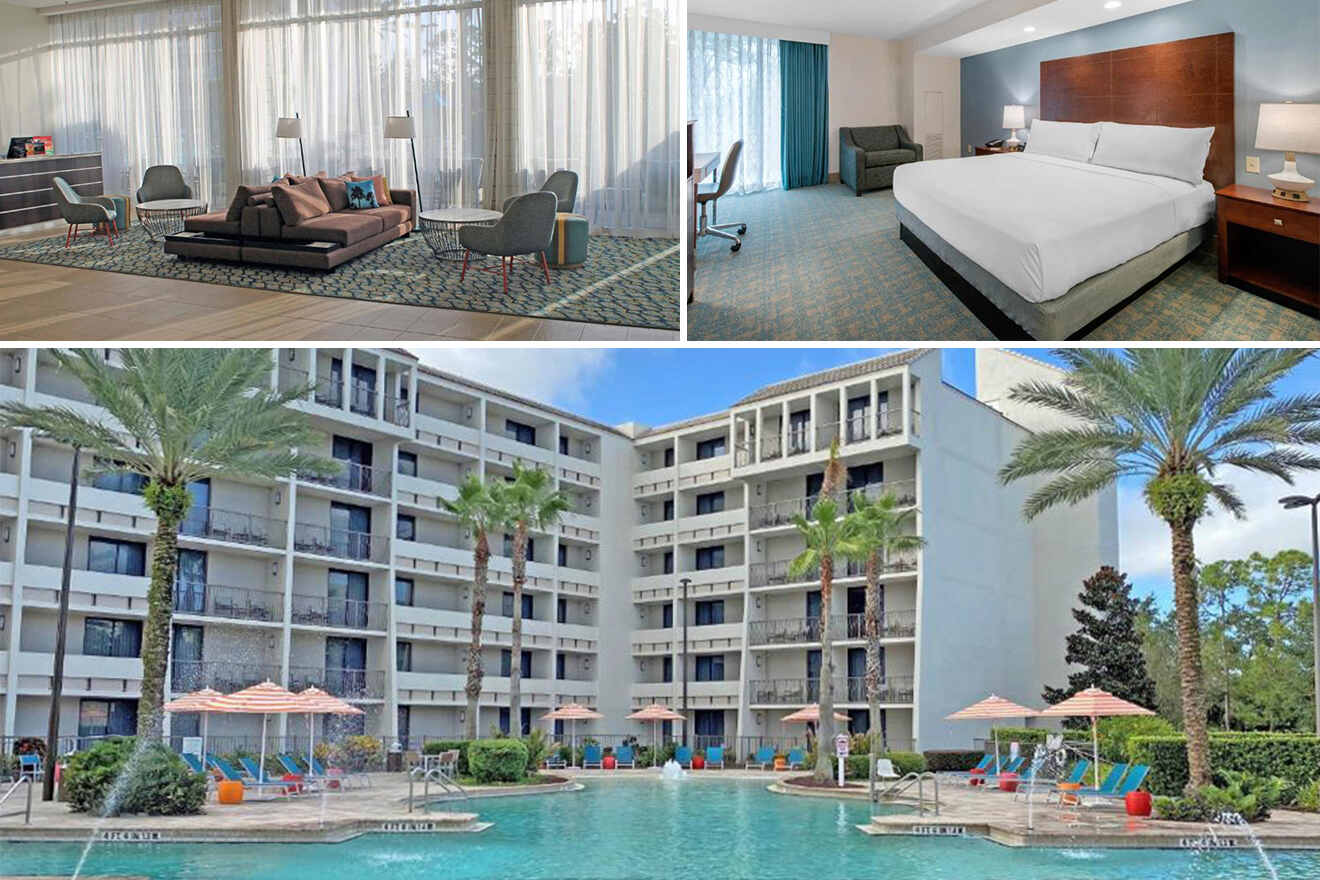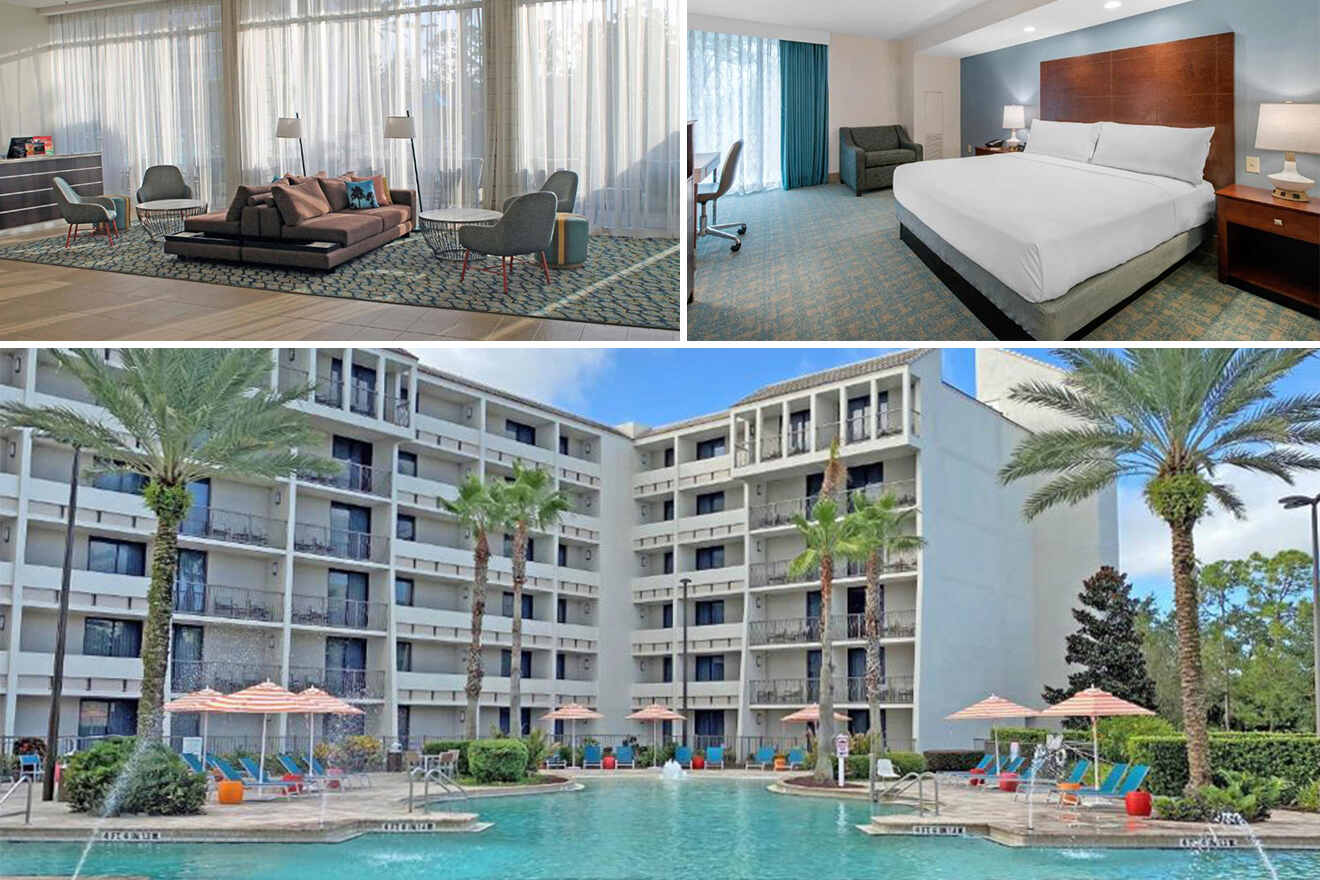 Located within walking distance of the Disney Springs and not too far from Epcot and Hollywood Studios, this great hotel has spacious family rooms with lots of cool facilities like a flat-screen tv, free Wi-Fi, and a balcony.
This is the perfect hotel for families who need a nice place where they can relax after spending some crazy hours playing at Walt Disney World. If you're thinking of taking a day off and just relaxing, the hotel has a lovely pool area with sun loungers where you and the kids can hang out, and outdoors there's also a little area designated for the kids where they can play.
Find available dates
4. Wyndham Grand Orlando Resort Bonnet Creek – with a cool game room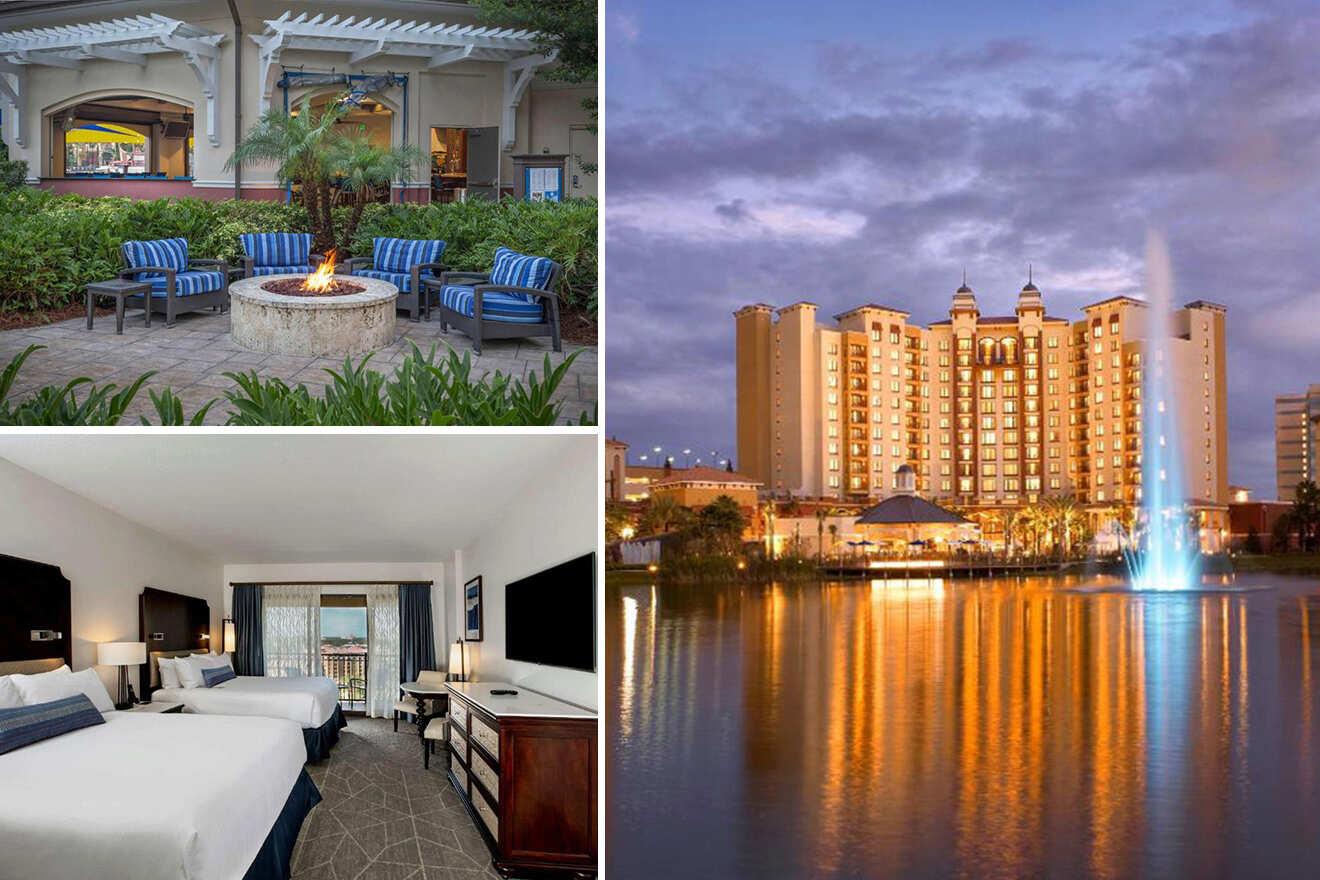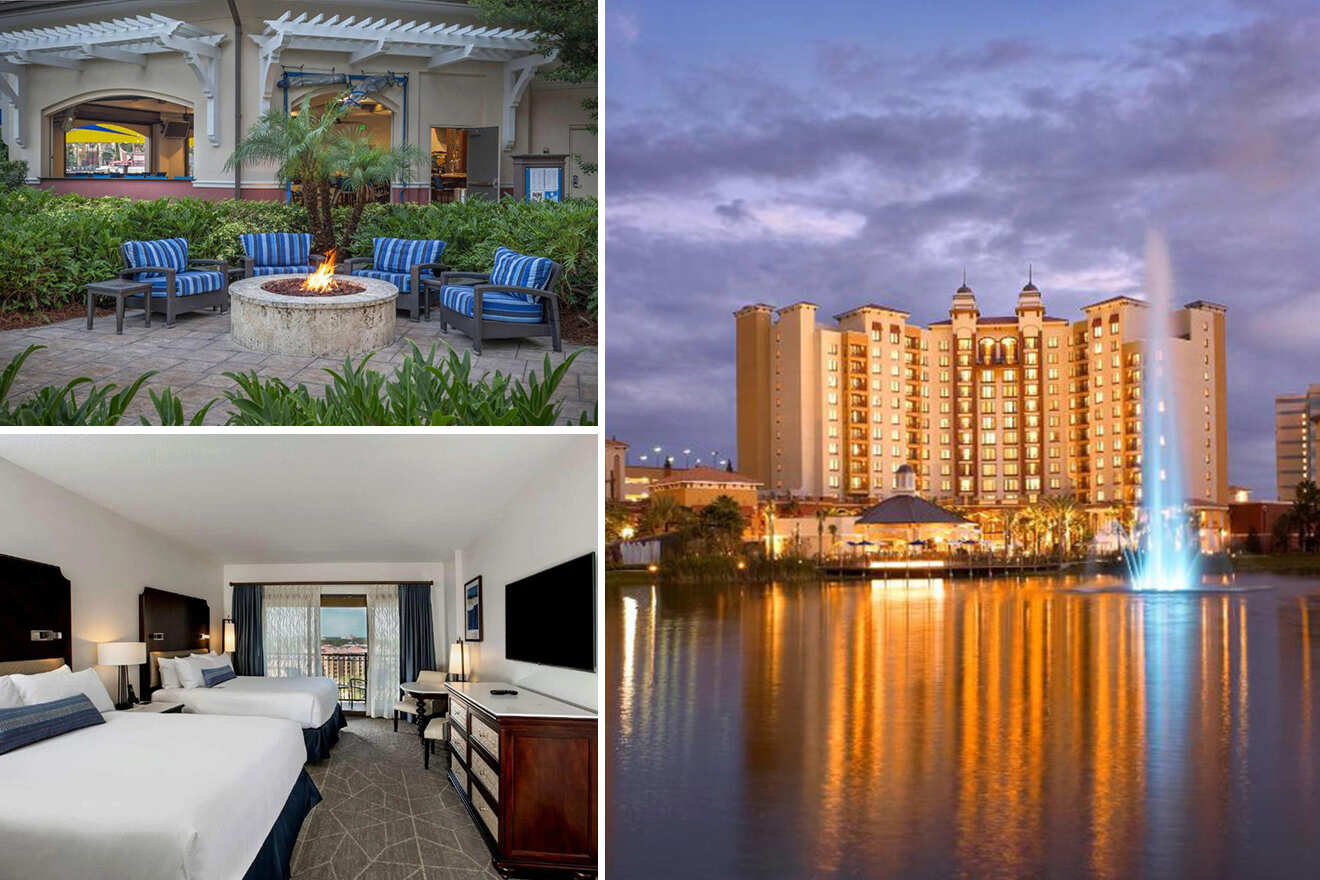 Tucked away between tropical trees, this lakeside Orlando hotel is only minutes away from the Disney World theme parks. All the rooms have a lovely Mediterranean-influenced décor that will put you in a holiday mood the moment you arrive here!
You'll get to enjoy the fine Florida sun with no less than 5 swimming pools, so make sure you bring lots of sunscreen! Some of the many cool amenities guests will have access to include a children's playground, a game room, and spa services which may be perfect for some parents who need a bit of me time!
Check availability
5. Hilton Orlando Lake Buena Vista – connected to Disney Springs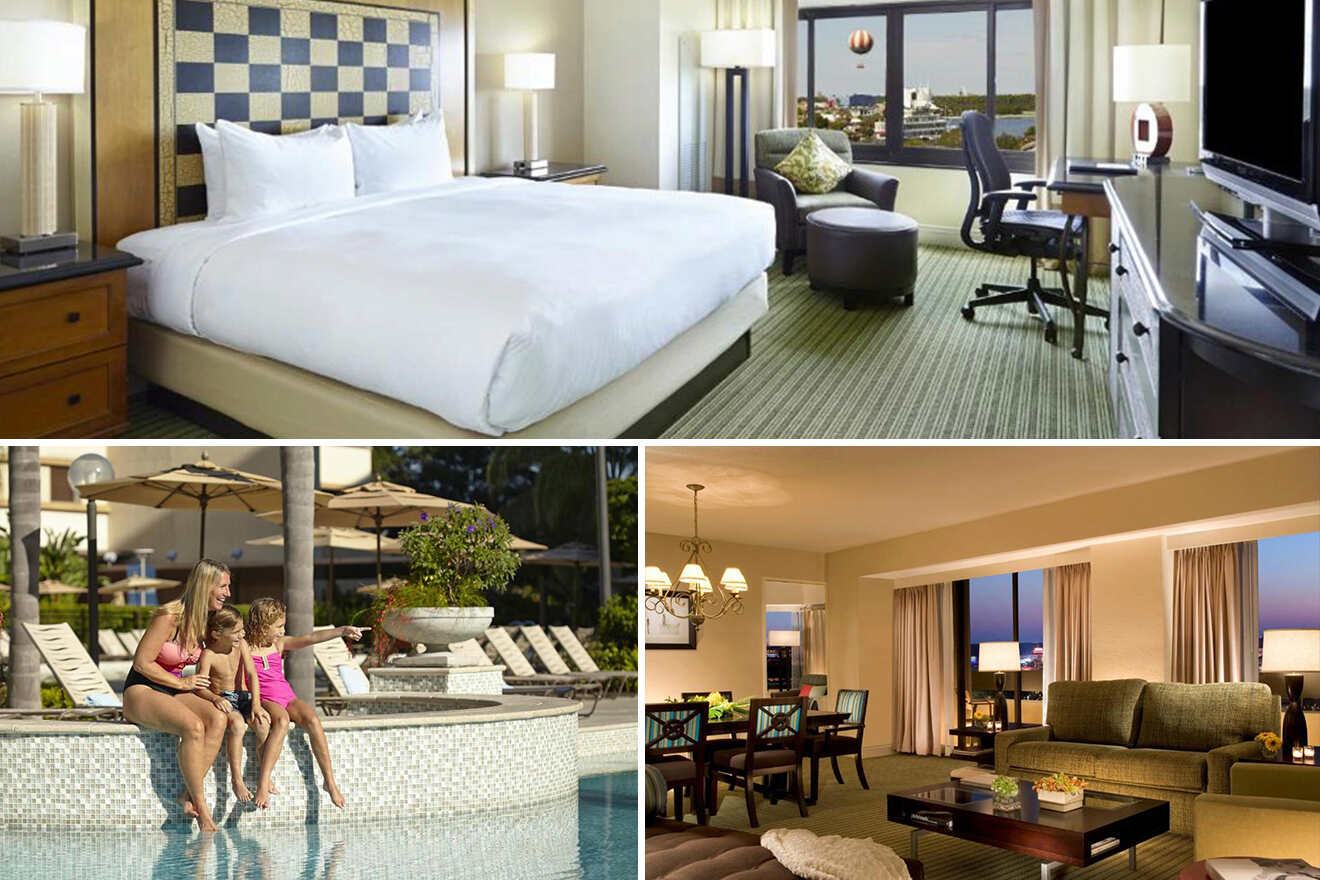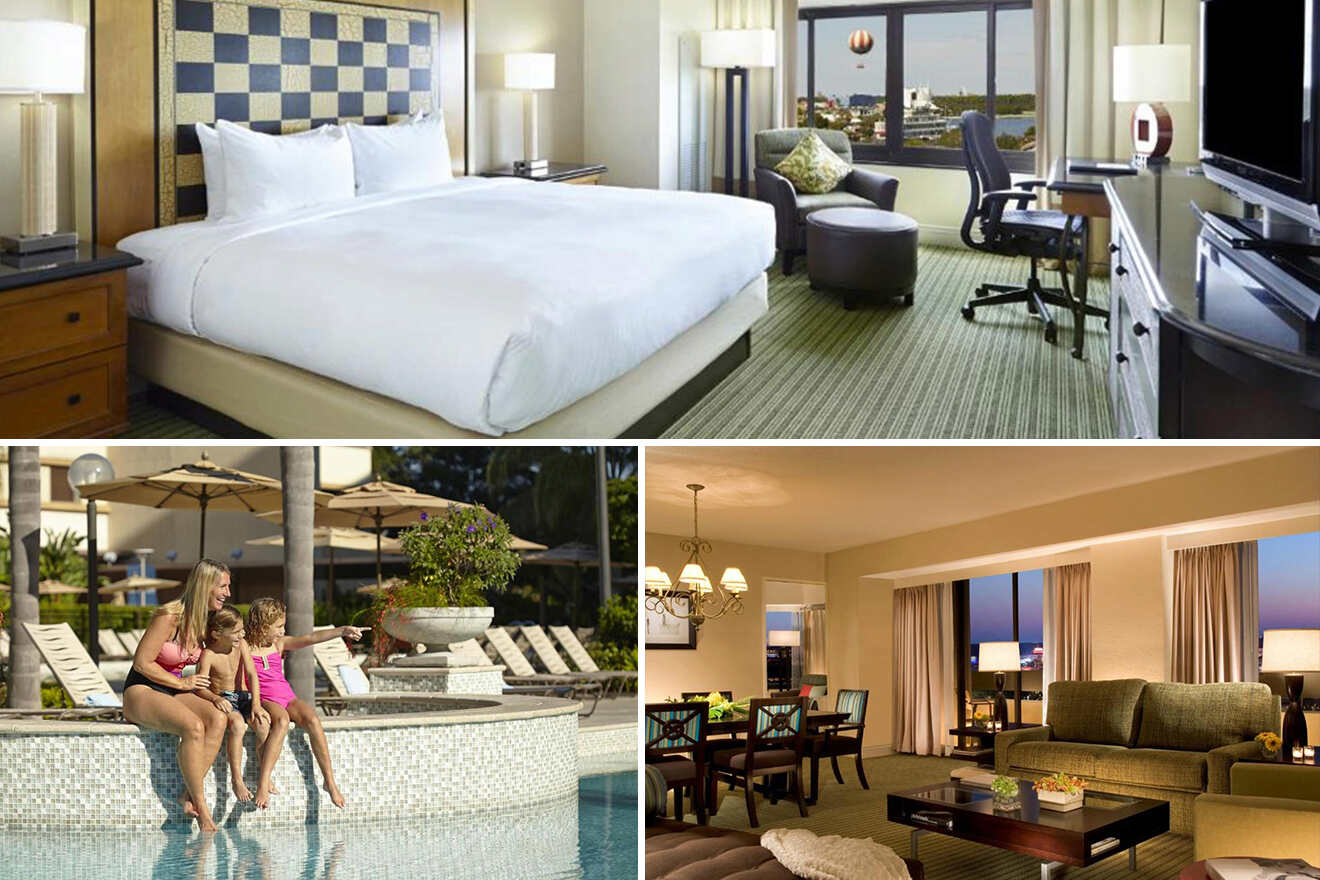 Located in the Walt Disney World Resort and connected to the Disney Springs via Skybridge, Hilton Orlando is one of the best Disney resorts for kids! As a guest you'll get a free shuttle bus to all the Disney parks plus access to many other fun facilities.
For when you're not out and about exploring Epcot or Hollywood Studios and just need a nice relaxing time without too many crowds, there are 2 swimming pools (one made especially for the kids and one for all ages), and also a games room which the little ones will love!
Check rates
Budget (up to US$250)
Traveling on a budget? I've got you covered! Below you'll find the best Disney resort for kids that offer many of the same amazing amenities as the ones below but at a much better price!
1. Legacy Vacation Resorts – homie hotel with a tennis court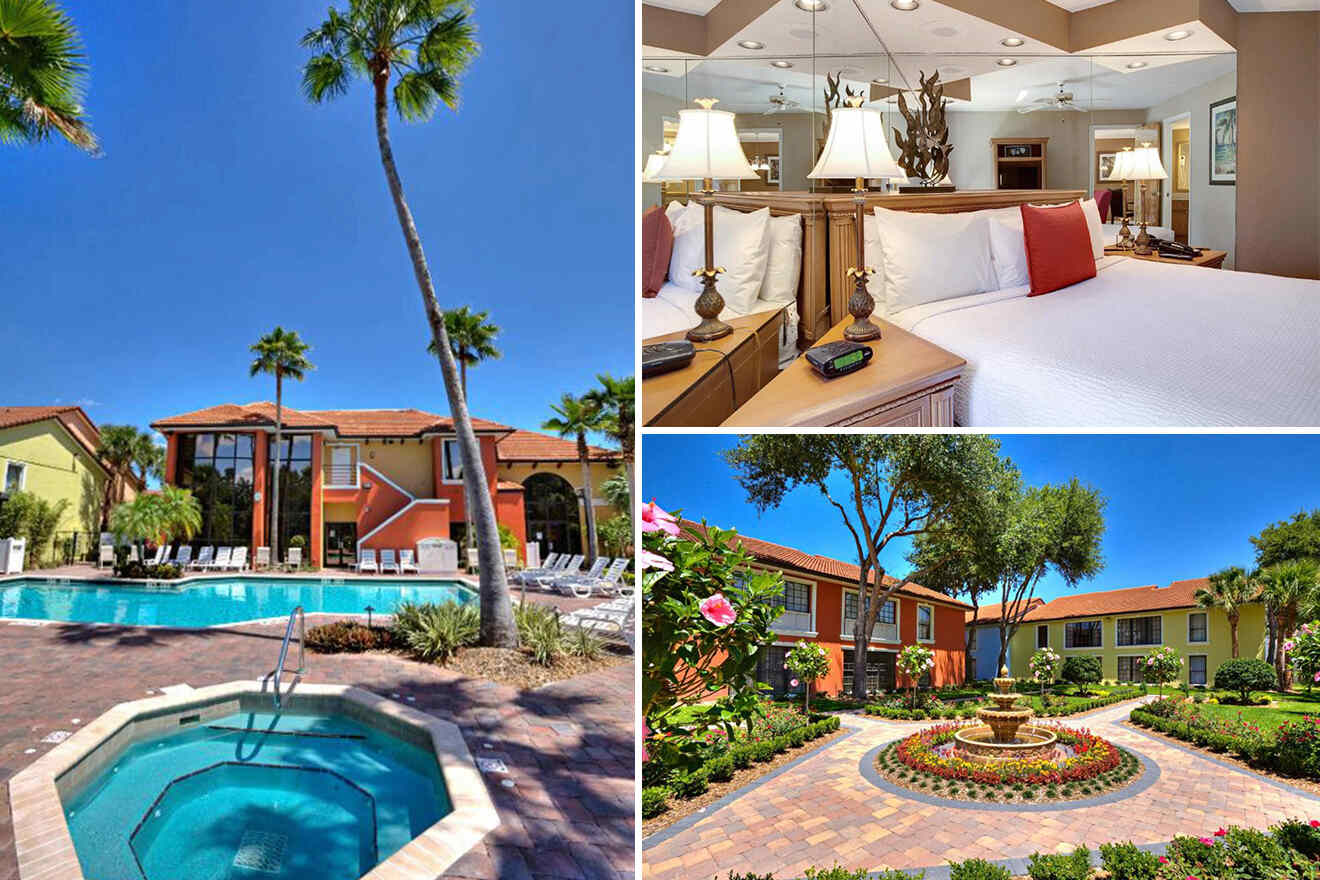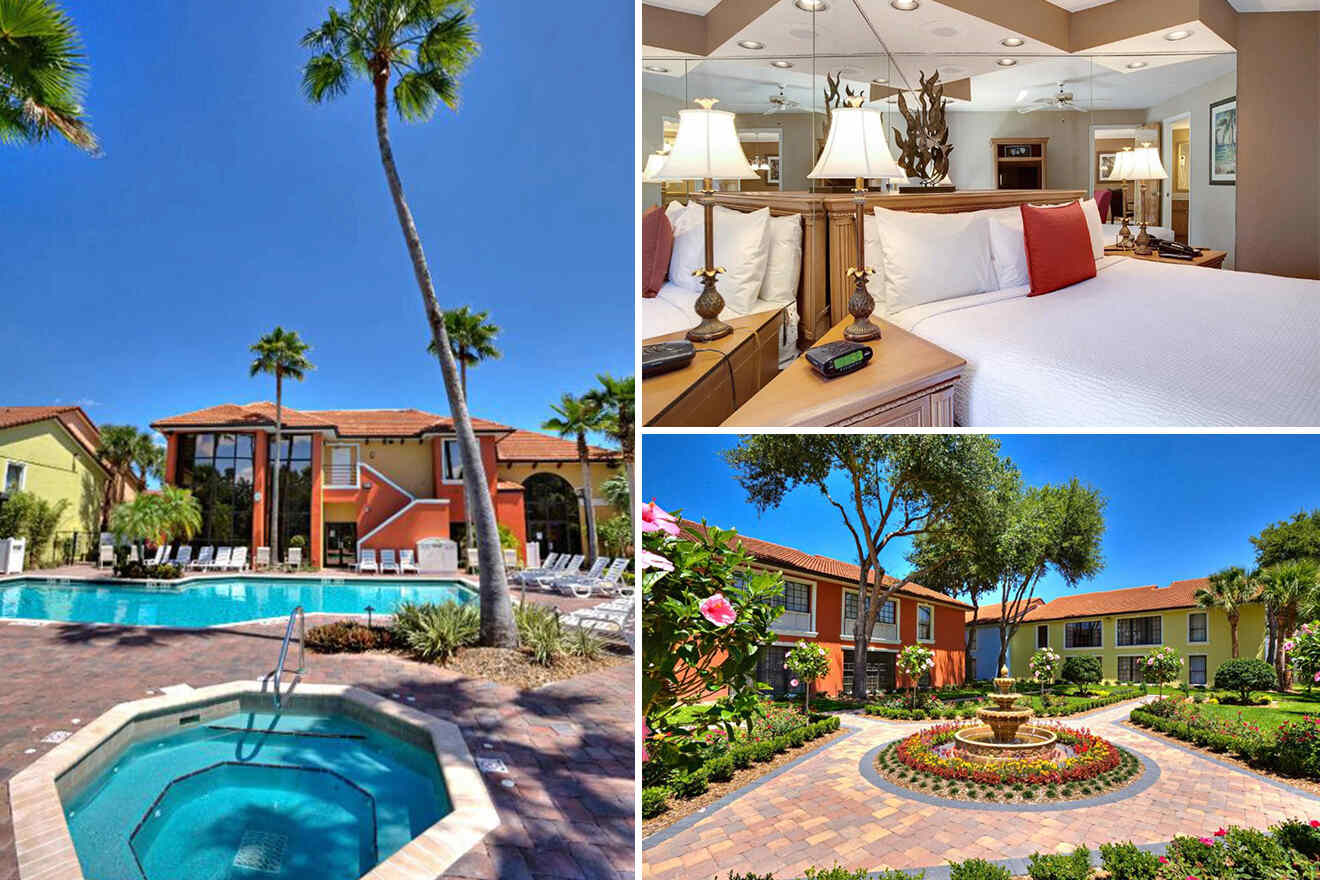 Kids, parents, dogs, cats, I'm sure everyone is in desperate need of a holiday (although the pets may have to stay at home), but hey it's your time to enjoy a few days in the sun doing nothing but playing in the Animal Kingdom Theme Park, and swimming in a big blue pool!
Am I right? If so, then you'll need a nice place to stay that will also be the right fit for the kids. This hotel has a large swimming pool equipped with many sun loungers, and a tennis court where you can play on all those days when you guys are not in the mood to hit Disney World.
Check rates
2. Wyndham Lake Buena Vista – with an aquatic playground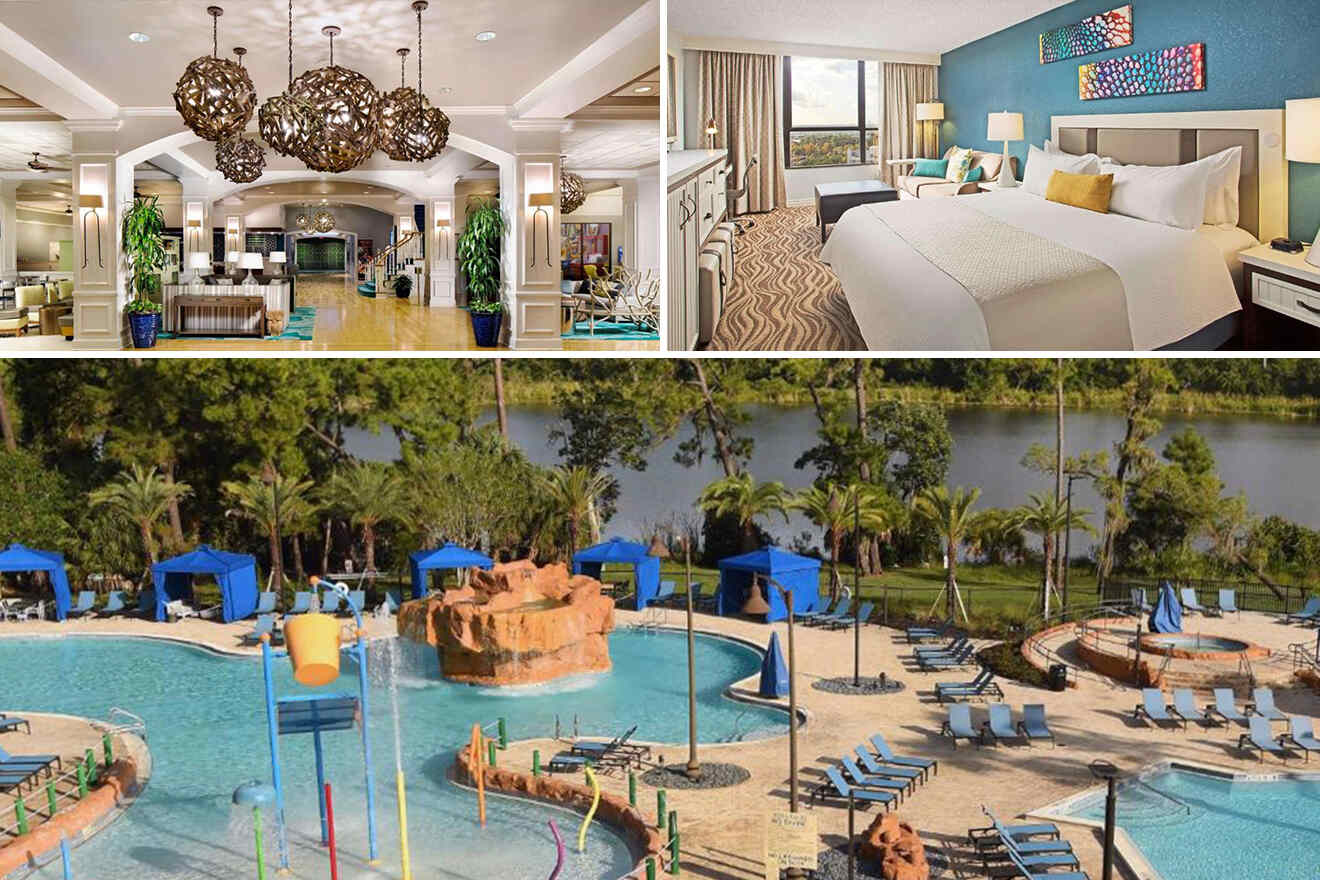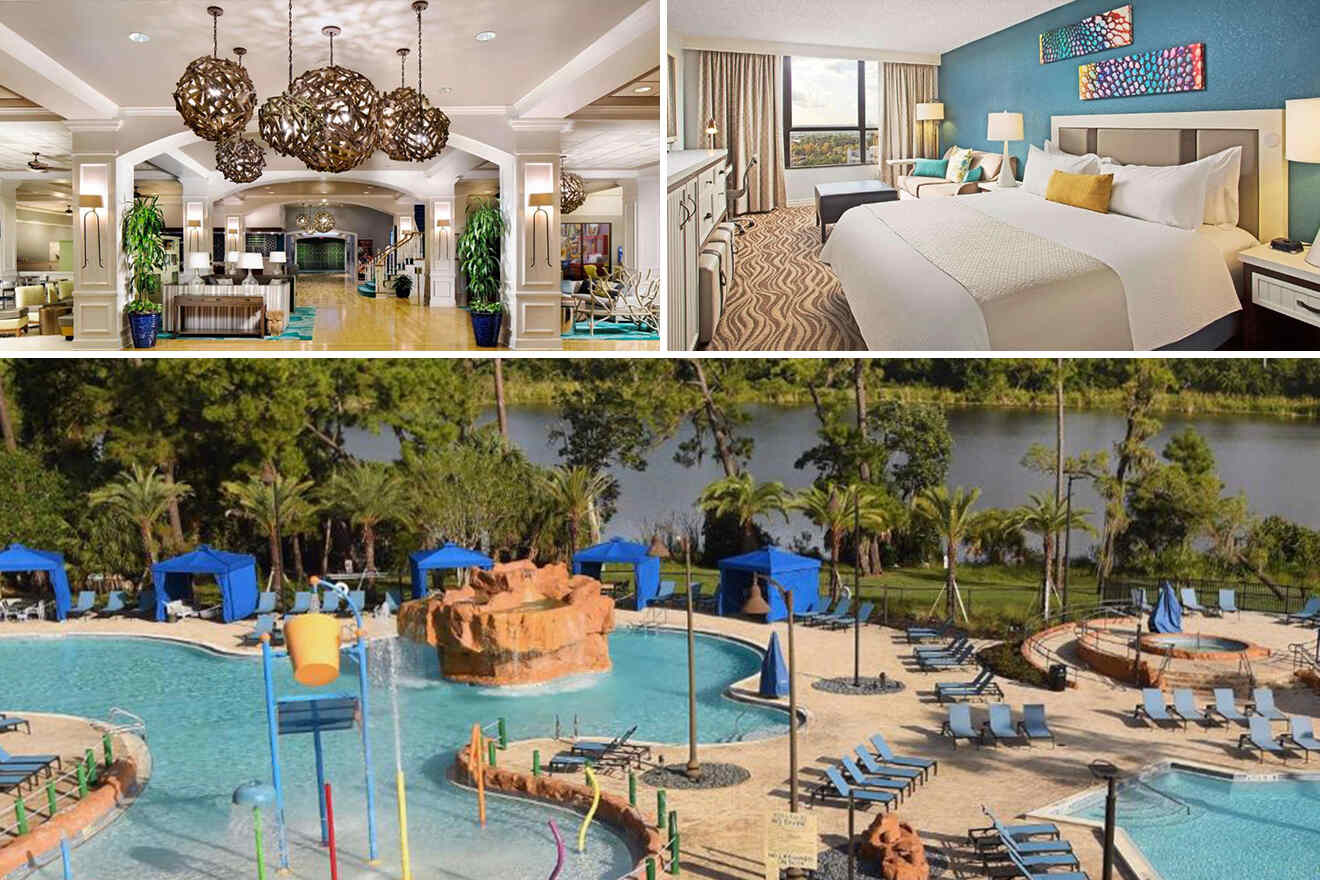 Palm trees, pools and lots of fun! That'd be the motto for this amazing Orlando trip! And this hotel that's located in the Disney Springs area of Walt Disney World Resort is just the missing piece of that puzzle!
Who fancies an aquatic playground? I can already see lots of hands raised! It sounds pretty amazing, and that's not it. The hotel also comes with a game room, a garden and an outdoor fireplace where you can drink hot cocoa at night and plan a whole day ahead to spend at Disney World!
Find available dates
3. Disney's Art of Animation Resort – value Disney themed resort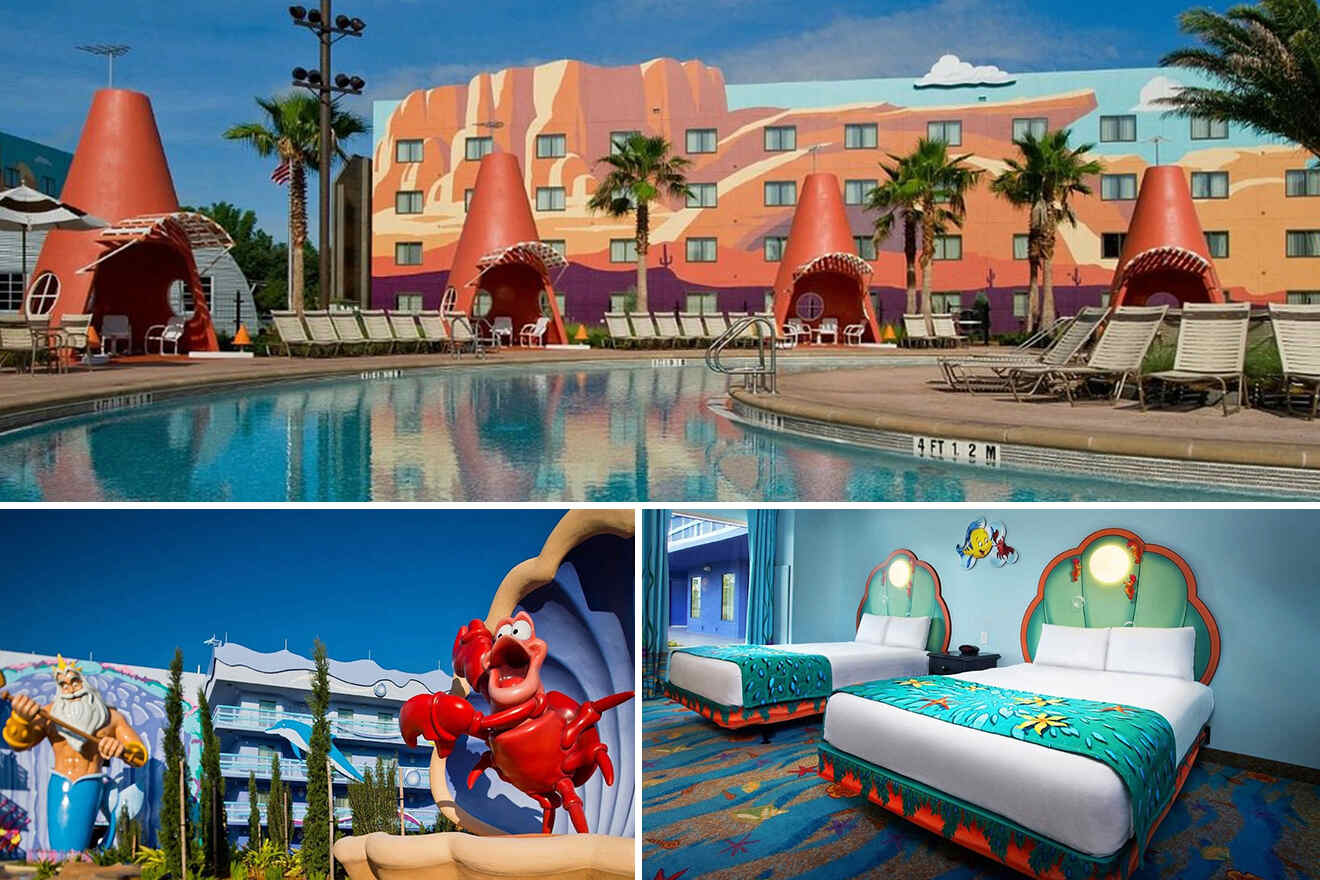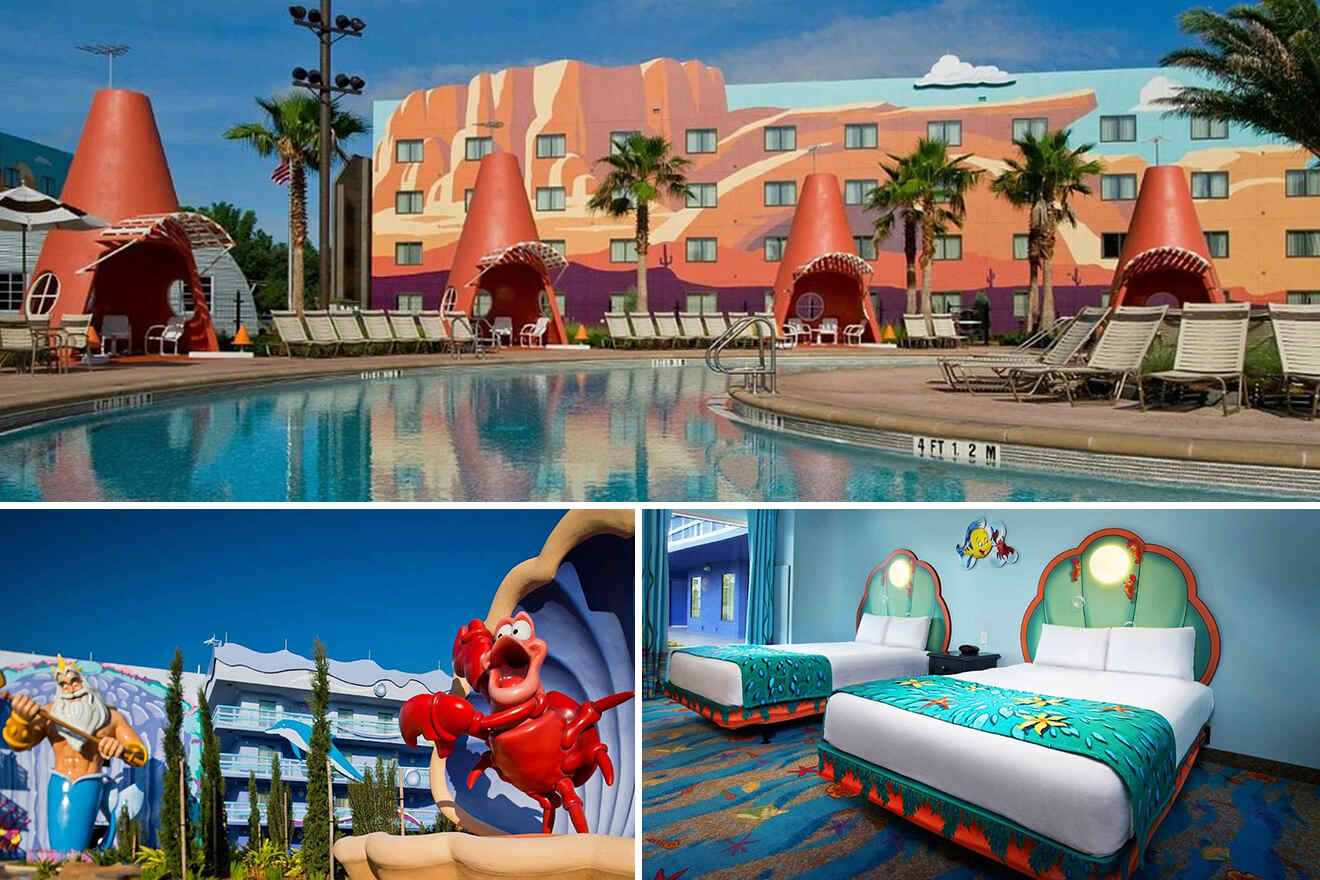 This value resort comes at a great price and it's one of the kid's favorite Disney hotels as it's designed with Disney references from movies like Finding Nemo and the Lion King!
To be more exact the Art of Animation resort is split up into four main themes: Finding Nemo, Cars, Little Mermaid and the Lion King! Sounds exciting? Stay tuned, because there's more, including a cool food court! All the suites also include a kitchenette, a couple of bathrooms and of course you'll have access to 3 swimming pools including the largest pool in the whole of Disney World!
Check rates
4. Disney's Pop Century Resort – Disney resort with a vintage playground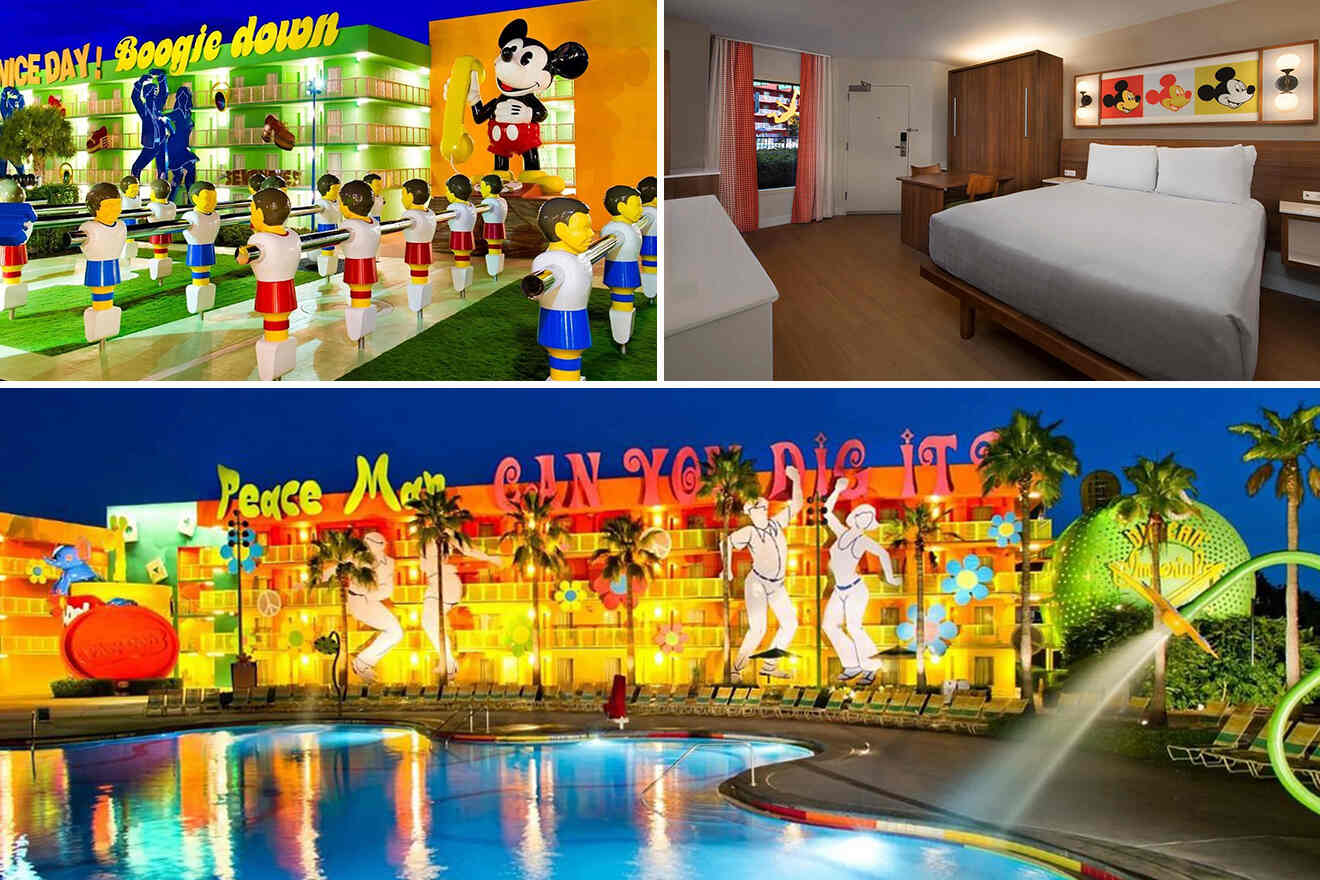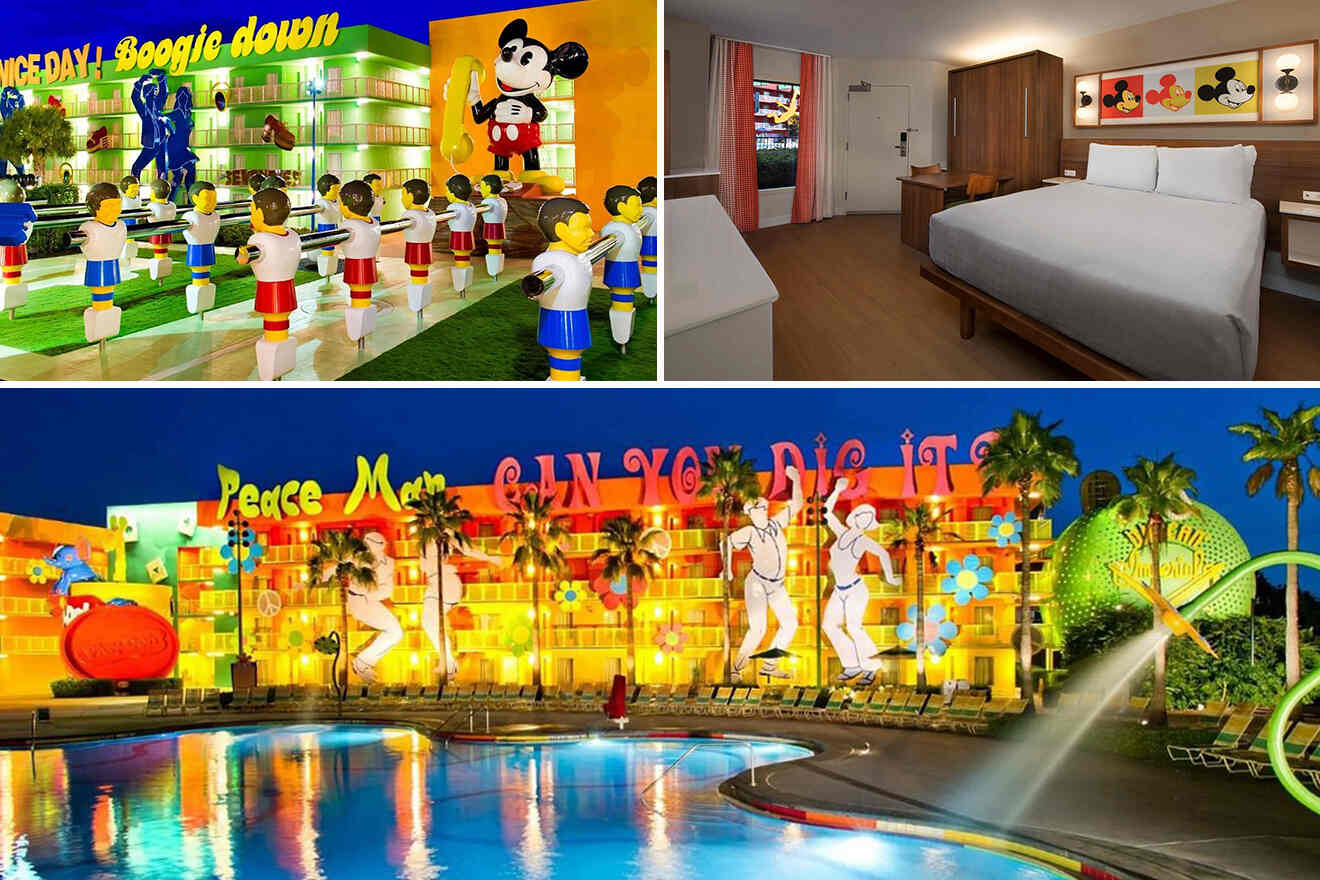 Another great Disney property which is actually located near the Art of Animation (which means if you stay here you can even make use of the food court at the Art of Animation). This is one of the best value resorts and it offers so many cool activities for the little ones!
Get them all excited because they'll attend pool parties, play different quizzes, and hang in a cool 70's playground where they'll find lots of things to keep them occupied and busy! And if they're not too tired by the end of the day you guys can even join an under the stars movie night which is a must thing to do while staying at the Disney World resort hotels!
Check availability
5. Disney's Grand Floridian Resort & Spa – deluxe resort with a kiddie pool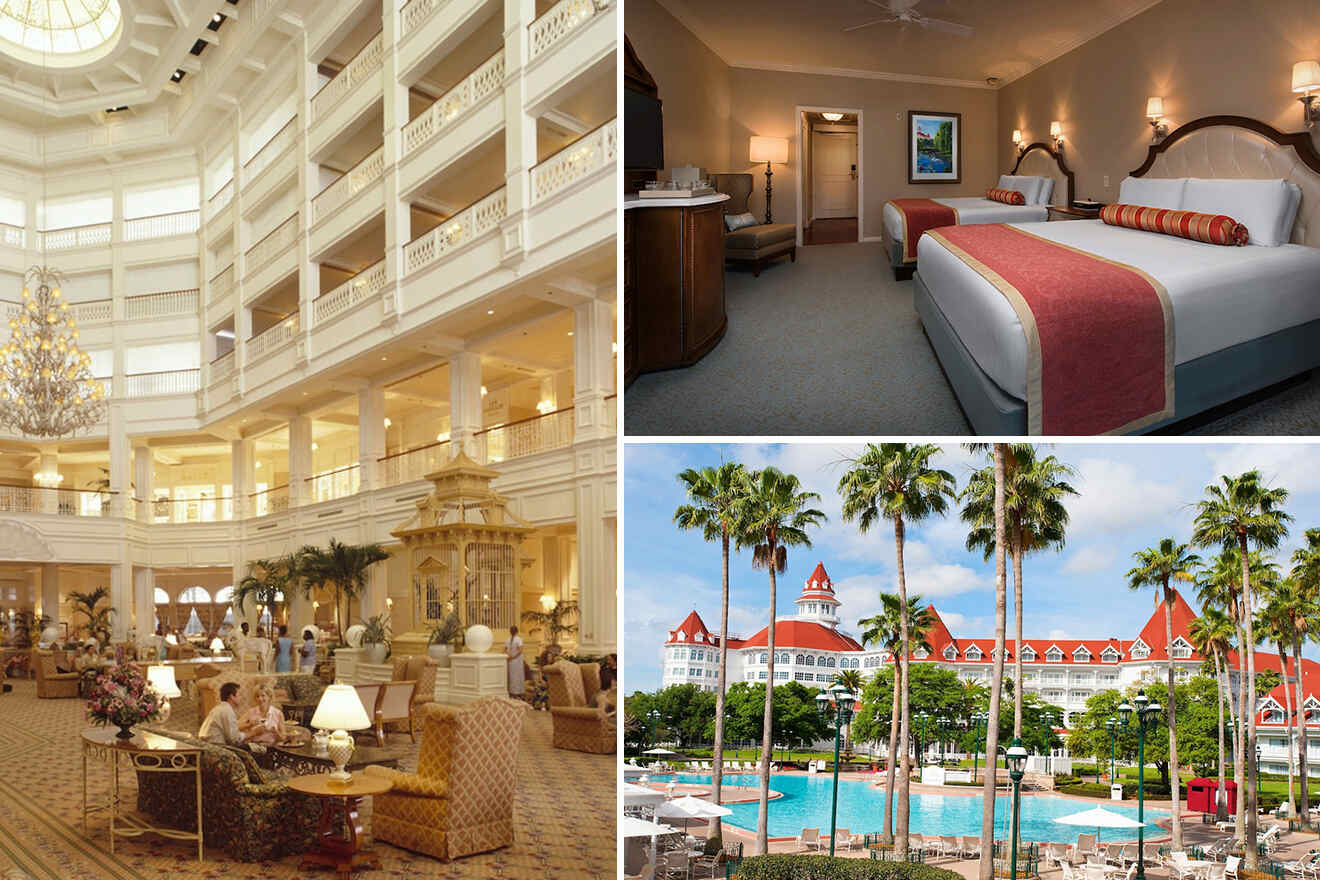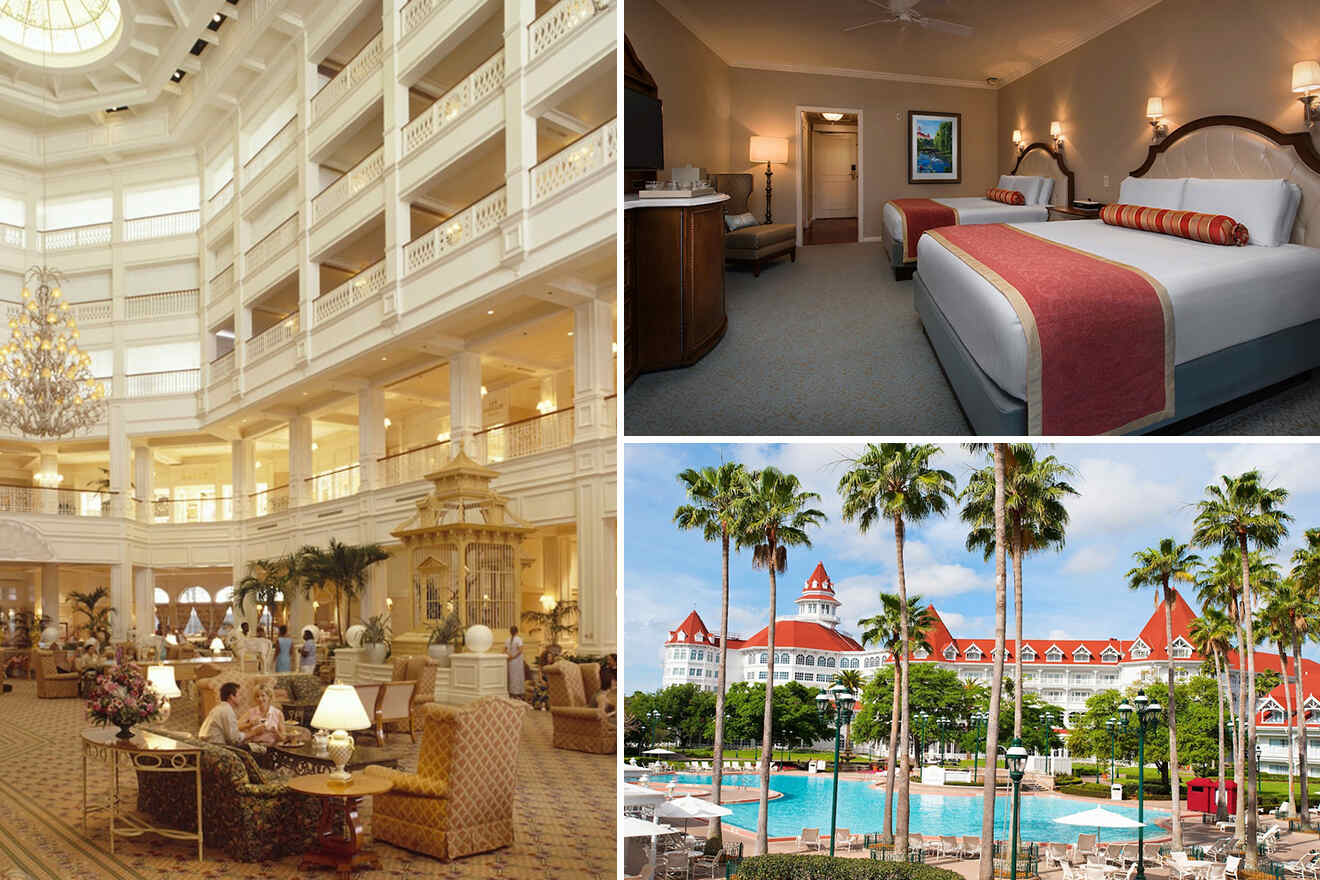 You'll definitely feel like you've landed in a Disney cartoon while staying at this deluxe resort! Set only a few minutes drive away from Walt Disney World and Magic Kingdom Park, this accommodation comes with some amazing facilities like boat rentals and basketball courts!
For the days when you just want to chill in the sun you can do so by the 2 outdoor swimming pools, and don't worry there's a kiddie pool for the little ones as well! But that's not all, there's a games room as well, plus a spa center when the parents need a bit of time off from all things Disney!
Find available prices
FAQs about Disney resorts for kids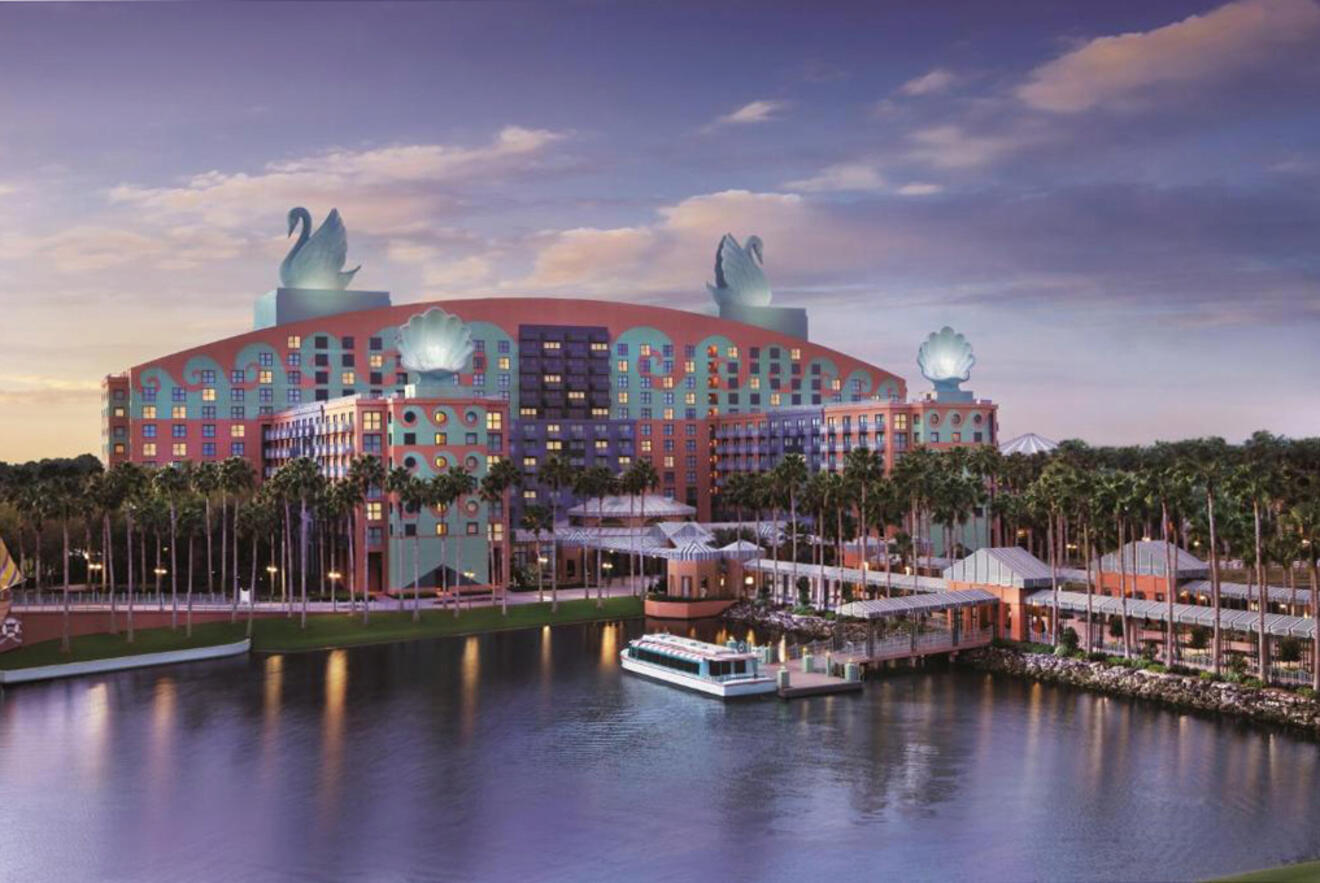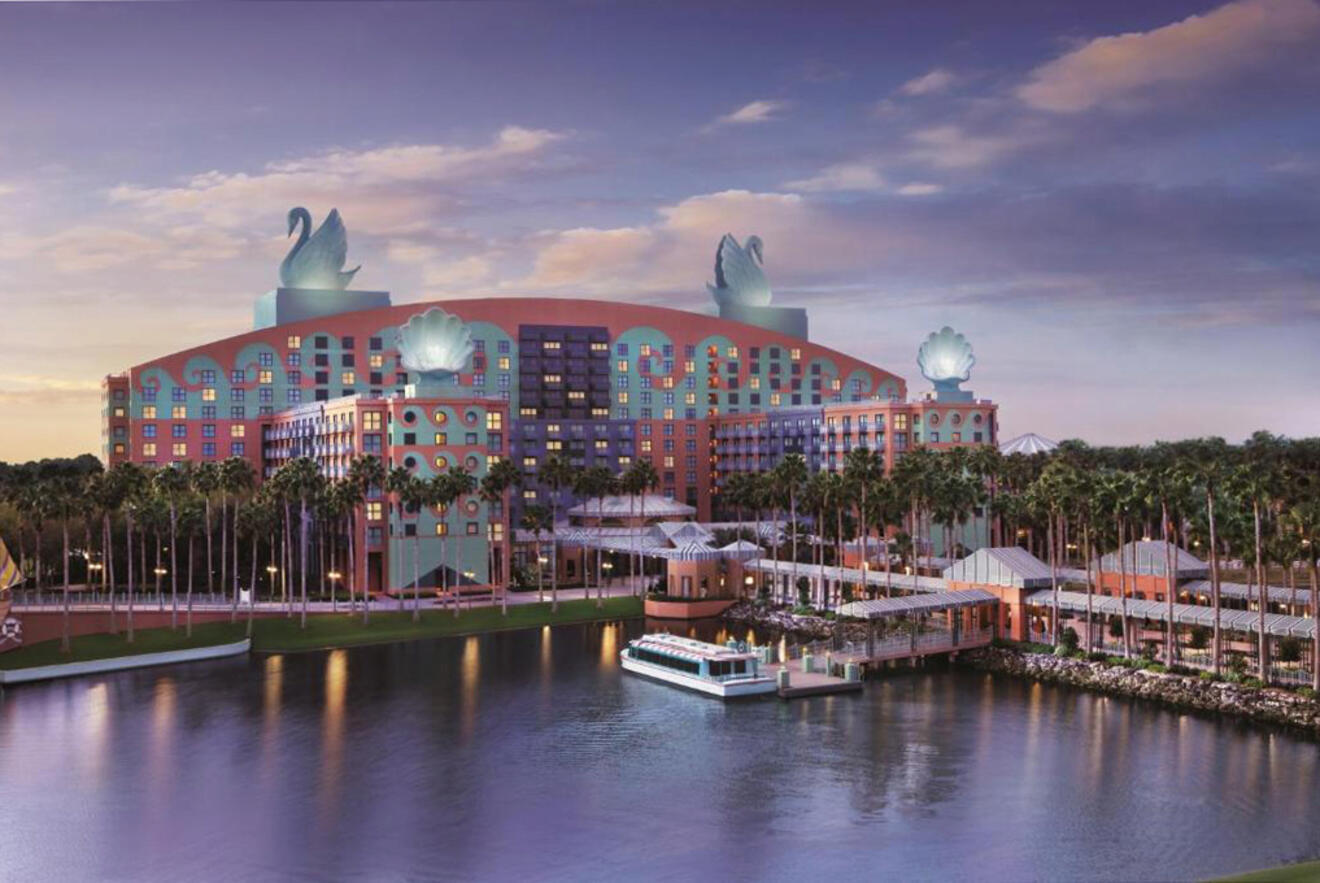 🏰 Which part of Disney World is best for kids?
The Magic Kingdom Park is one of the best theme parks for kids as it has many kid-friendly activities, plus they can meet some of their favorite characters there.
🏨 Which are the best Disney World hotels for kids?
👶 What is the best age for a first trip to Disney?
It definitely depends on the kids, but I think those who are 2 years old and older would enjoy their time at Disney World.
🎟️ Do you get free tickets if you stay in a Disney hotel?
No, you won't get free tickets to the theme parks if you stay in the Disney World hotels.
Conclusion/pic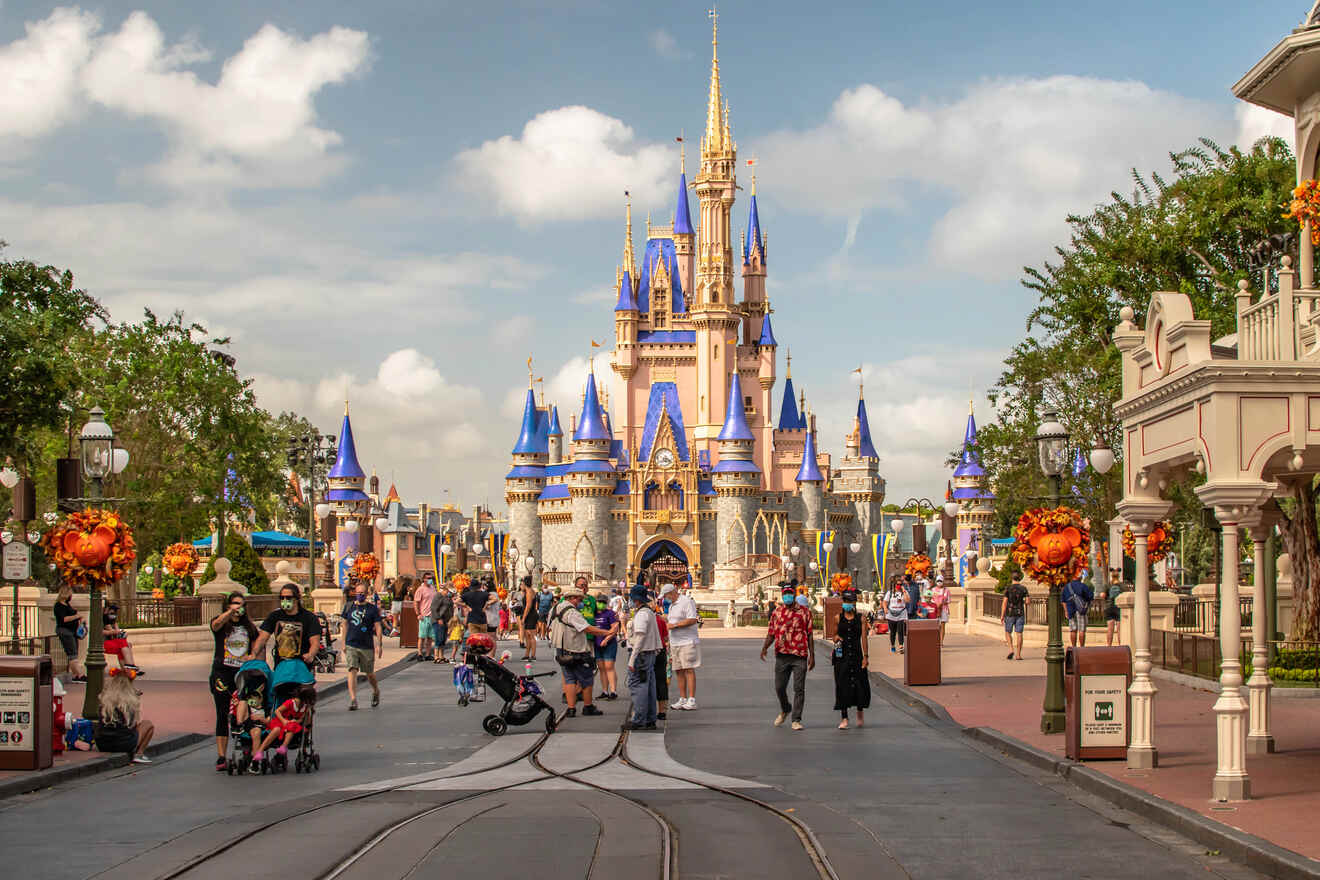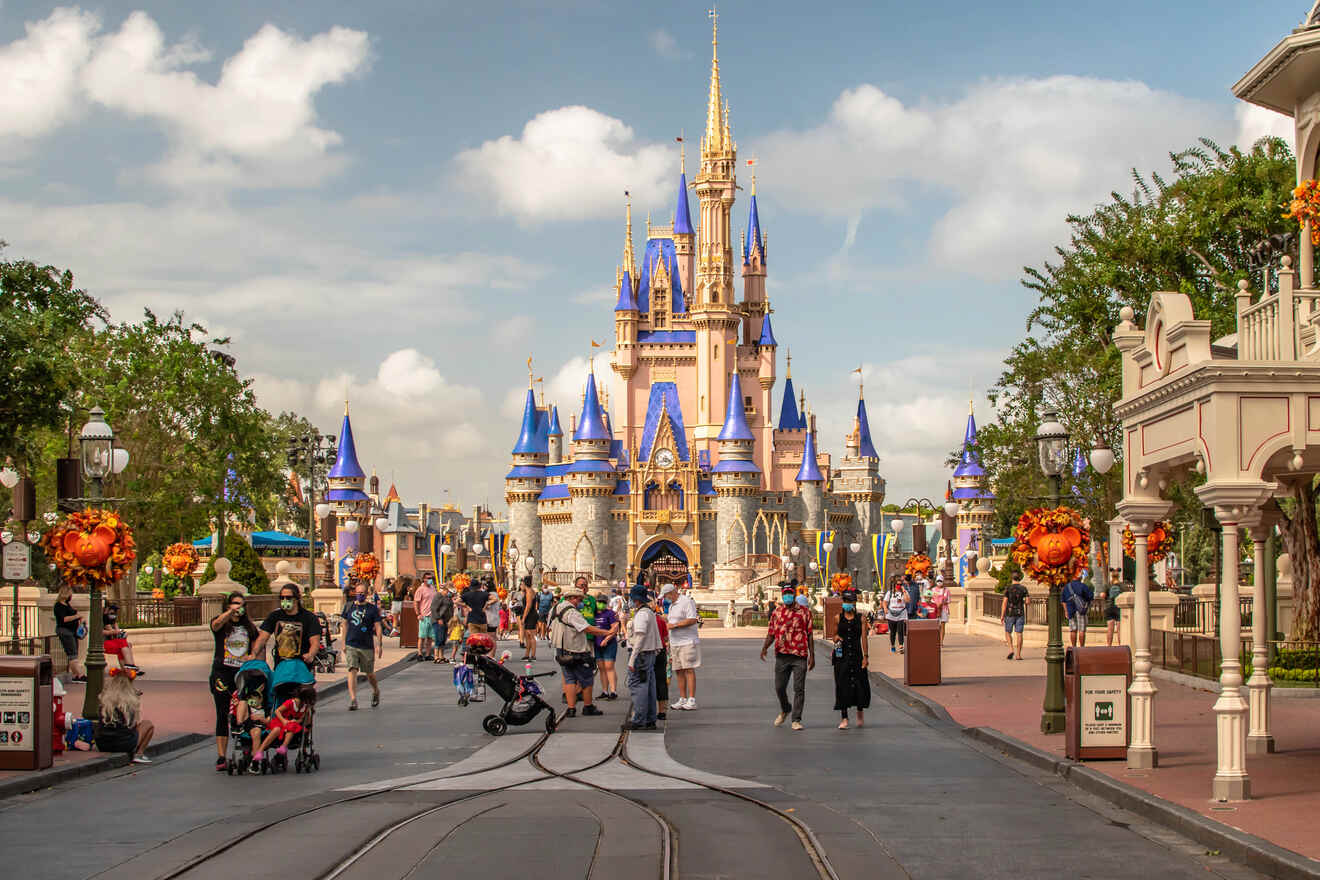 Already day-dreaming about the Magic Kingdom? Don't worry, we're all in the same boat here!
Now that we've gone through this list and hopefully you've found the best Disney resort for kids, we can wrap it up!
But not before I leave you with my 2 favorite Disney World hotels. Which I'm sure will help those of you who are still second-guessing which one to pick (they're all so good!):
There you have it! Now, you're ready to pack your bags and go meet Mickey! Just don't forget what I mentioned about these hotels and value resorts! Book yours early and you can rest assured that your spot is secure as beds fill up so quickly!
Have a wonderful trip and if you've got any questions about these resorts you can pop them below and I'll gladly help you!
Safe travels,
Victoria
---
Pin it for later!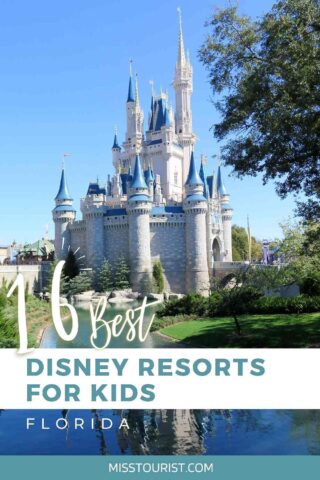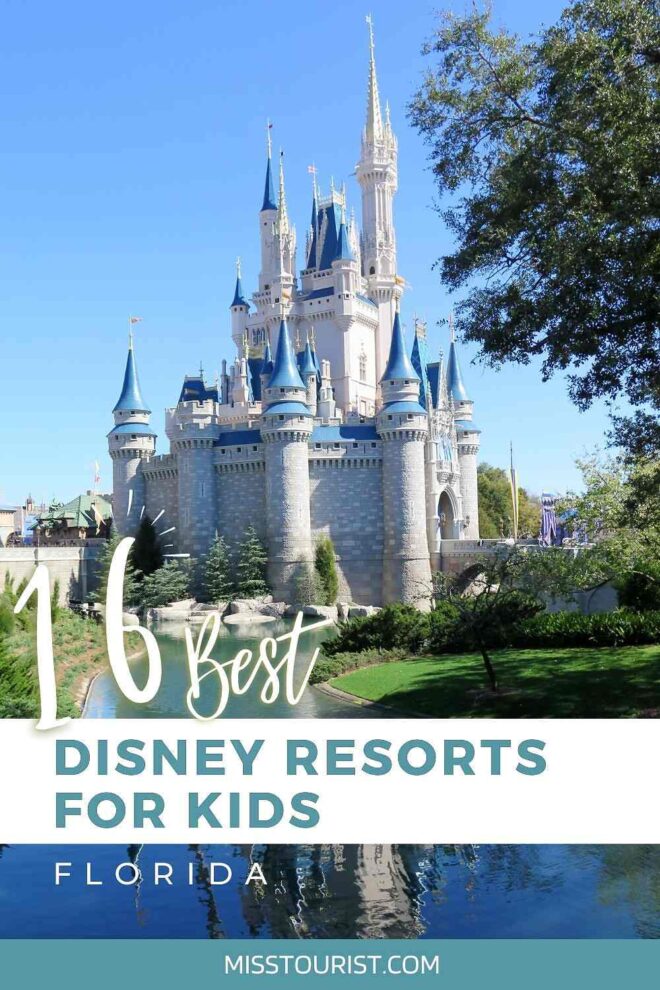 Pin it for later!