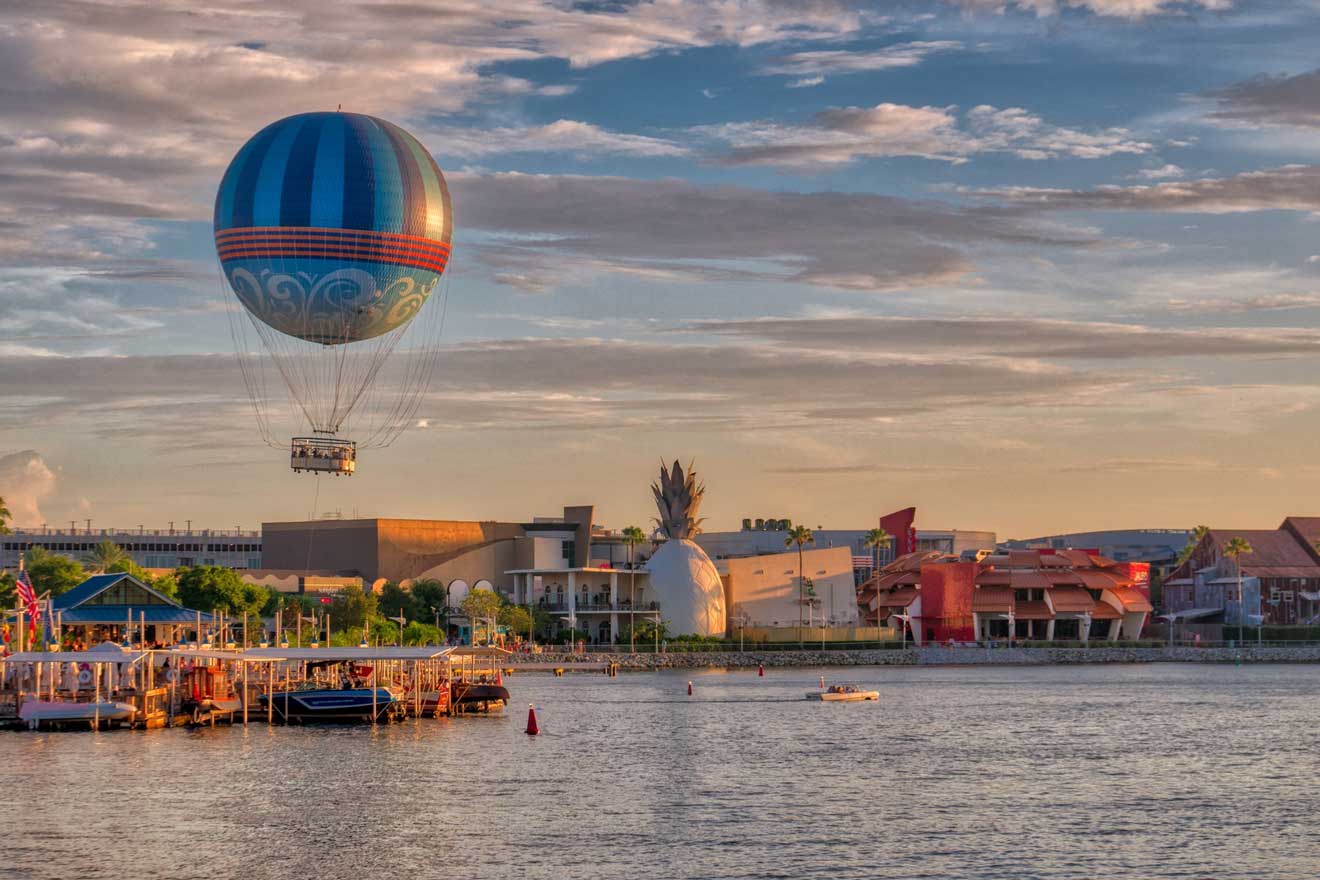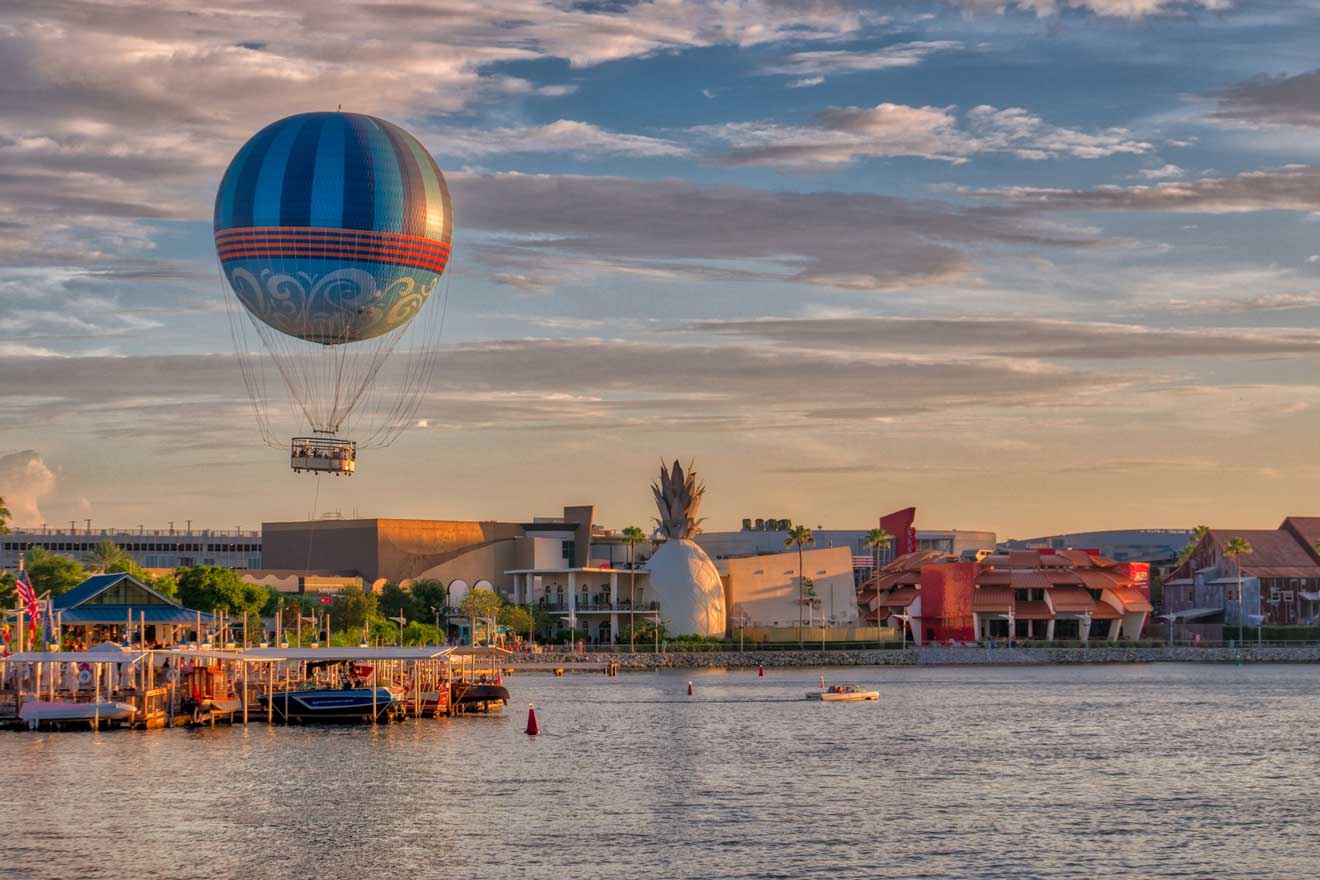 I am so excited about today's article because we're talking about my favorite place to shop and dine in Orlando: Disney Springs! Even as a local, I'm always willing to brave the crowds at this tourist hot spot – it really is that amazing. Add in free admission and free parking, and you've got an Orlando destination you do not want to miss!
Located within the Walt Disney World® Resort, Disney Springs is a massive, outdoor 120-acre (50 hectares) shopping, dining, and entertainment complex in Lake Buena Vista, very close to Disney's Typhoon Lagoon water park. There are 4 distinct areas to explore at Disney Springs: Marketplace, The Landing, Town Center, and West Side – you could easily spend a whole day hopping from restaurant to bar to shop, etc.
It's not all Disney-themed, either! Lululemon, Zara, and Anthropologie are just a few of the major brands you'll find there, as well as internationally acclaimed restaurants like Morimoto Asia and STK.
Disney Springs has so much to see and do, but I've narrowed down the list to the 16 best things to do in Disney Springs for adults and family-friendly fun, too, so there is something for everyone in this article.
Bibbidi bobbidi, let's do this!
If you are in a hurry
There are a few things at Disney Springs that fill up fast – you'll want to make sure you prioritize booking those ASAP!
1. Shop 'til you drop at Town Center in Disney Springs
If the last time you visited Disney Springs was back when it was still called Downtown Disney, you'd hardly recognize it today – specifically the Town Center district, which officially opened in 2016, and boasts some of the best shopping in the Orlando area.
There are 100 different shops at Disney Springs, from beloved jewelry brands like Pandora and Kendra Scott to popular apparel like Lilly Pulitzer, Free People, and Lululemon. For whimsical home decor and gifts, check out Sugarboo & Co. If you love shopping the latest viral TikTok styles, head to the super trendy boutique American Threads.
While Town Center is the main shopping area at Disney Springs, there are unique stores throughout. On the West Side, you'll find Star Wars Galactic Outpost, an unmissable store for Star Wars fans that carries merchandise from the legendary movies, as well as Disney Style, where your favorite Disney characters meet the latest fashion trends.
2. Go bowling at Splitsville Luxury Lanes™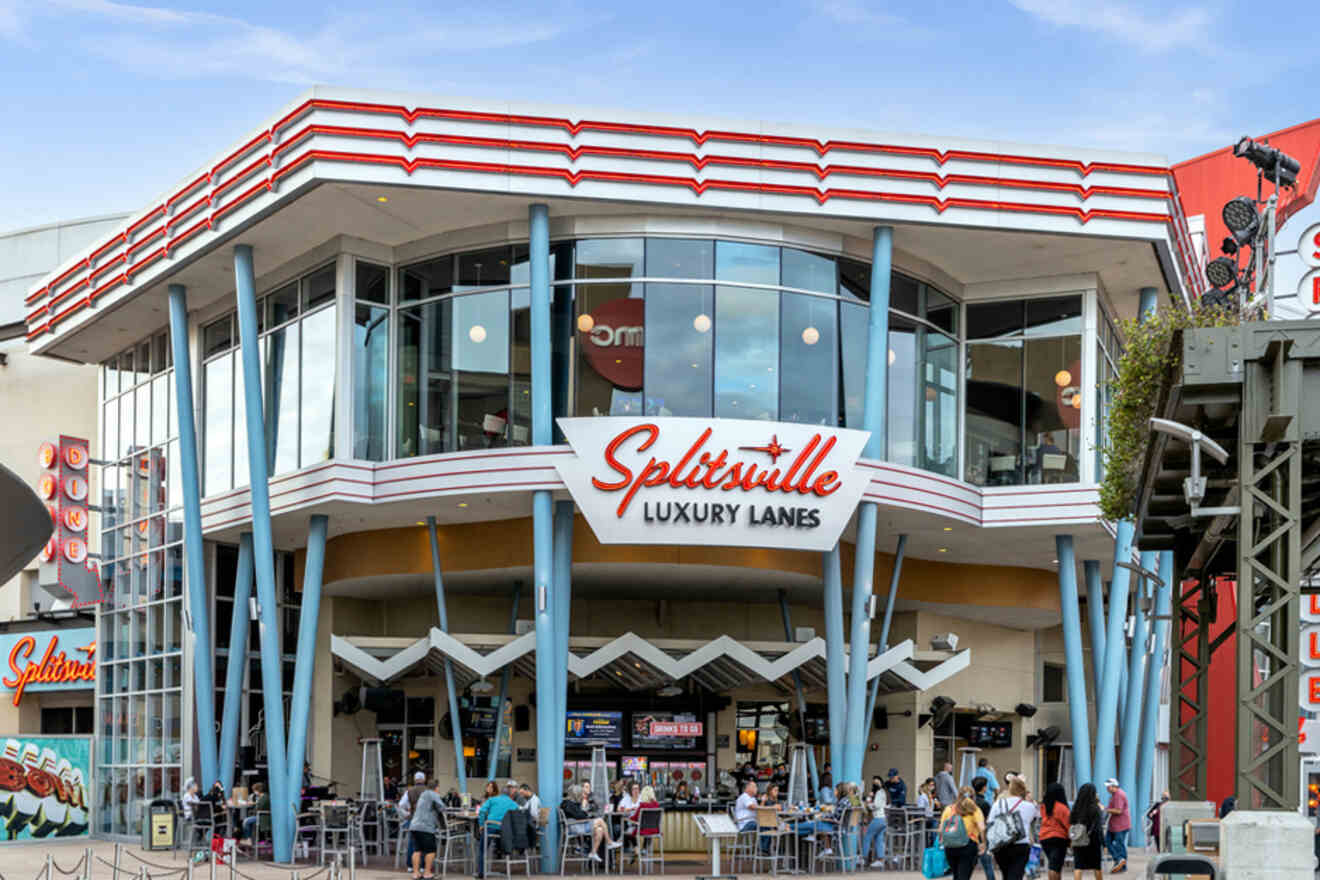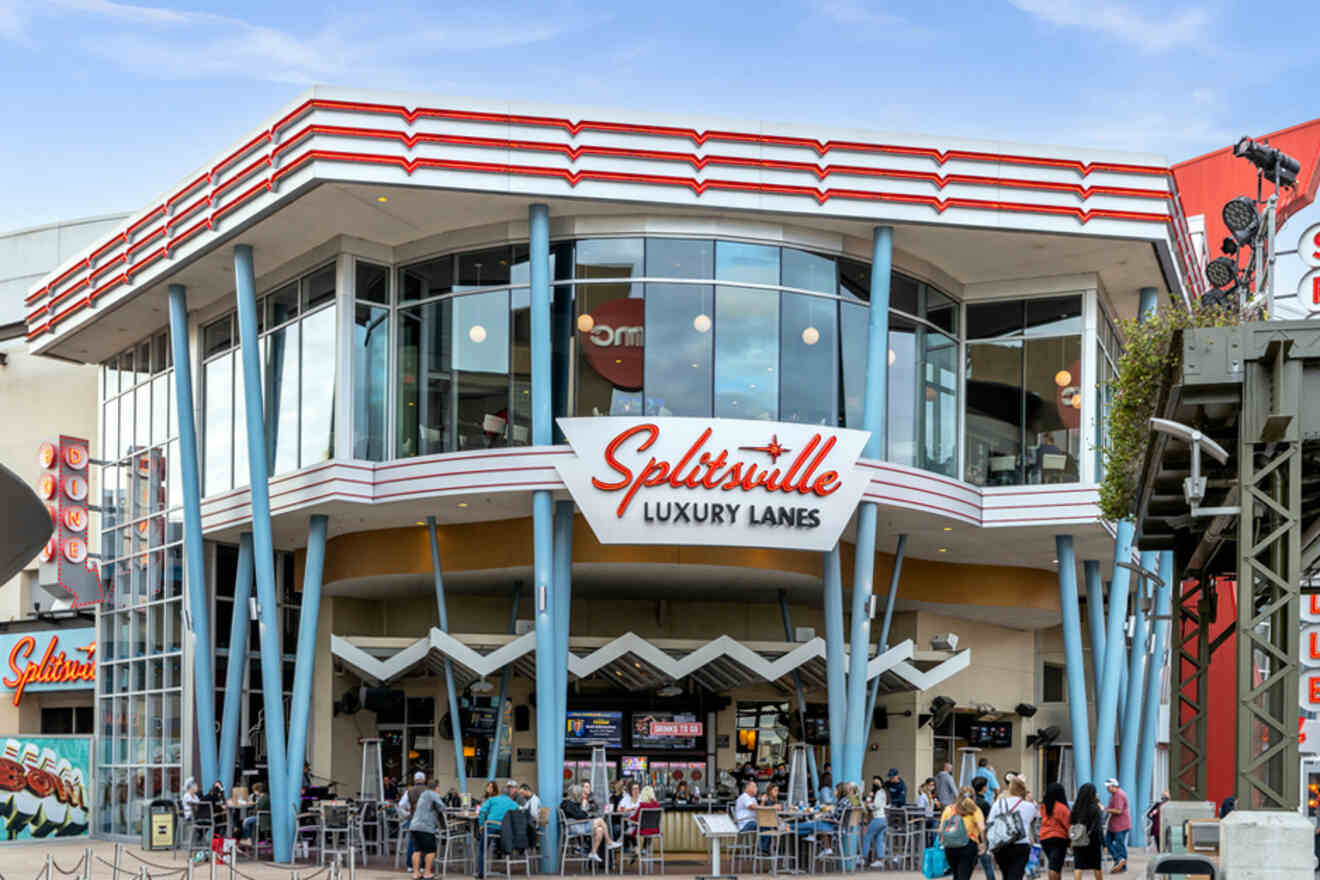 This is not your neighborhood bowling alley, that's for sure! Splitsville Luxury Lanes™ on the West Side of Disney Springs takes the beloved pastime of bowling and elevates it into some serious family-friendly fun!
In addition to renting an adorable retro lane at Splitsville and bowling your heart out, you can enjoy live music, delicious food, and tasty cocktails inside or al fresco on the patio, where they keep the frozen drinks flowing.
There's always such a great, lively atmosphere here, and the food is out of this world. We're talking huge, shareable portions of favorite foods like sushi, pizza, burgers, and more. They've also got a good amount of options for those with dietary restrictions, which is always a plus in my book!
Disney Springs gets very busy, so I highly recommend making a dining reservation at Splitsville online in advance.
PRO TIP: Already know you want to bowl? Reserve your bowling lane online to skip the wait!
3. Sample drinks at the Coca-Cola Store rooftop bar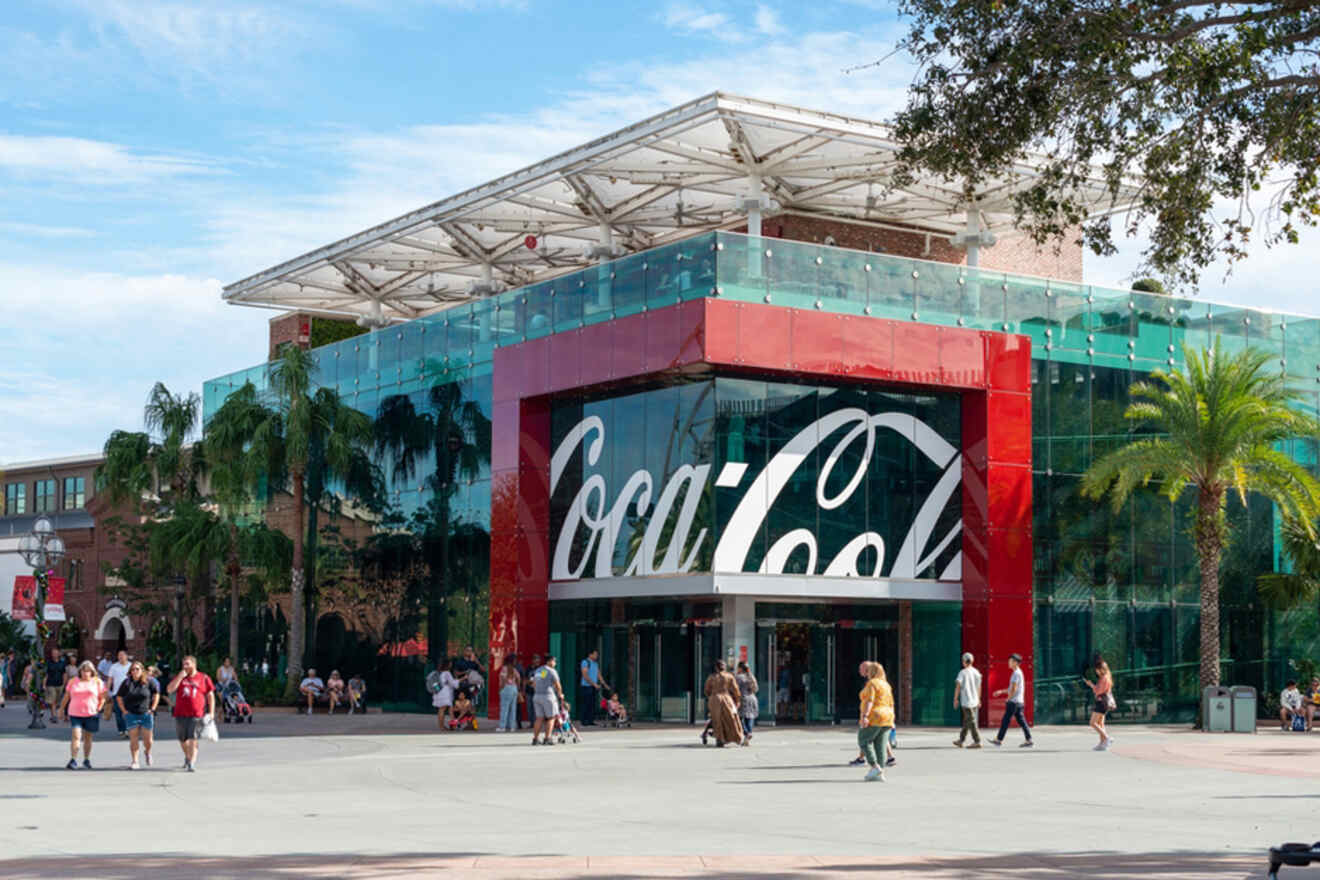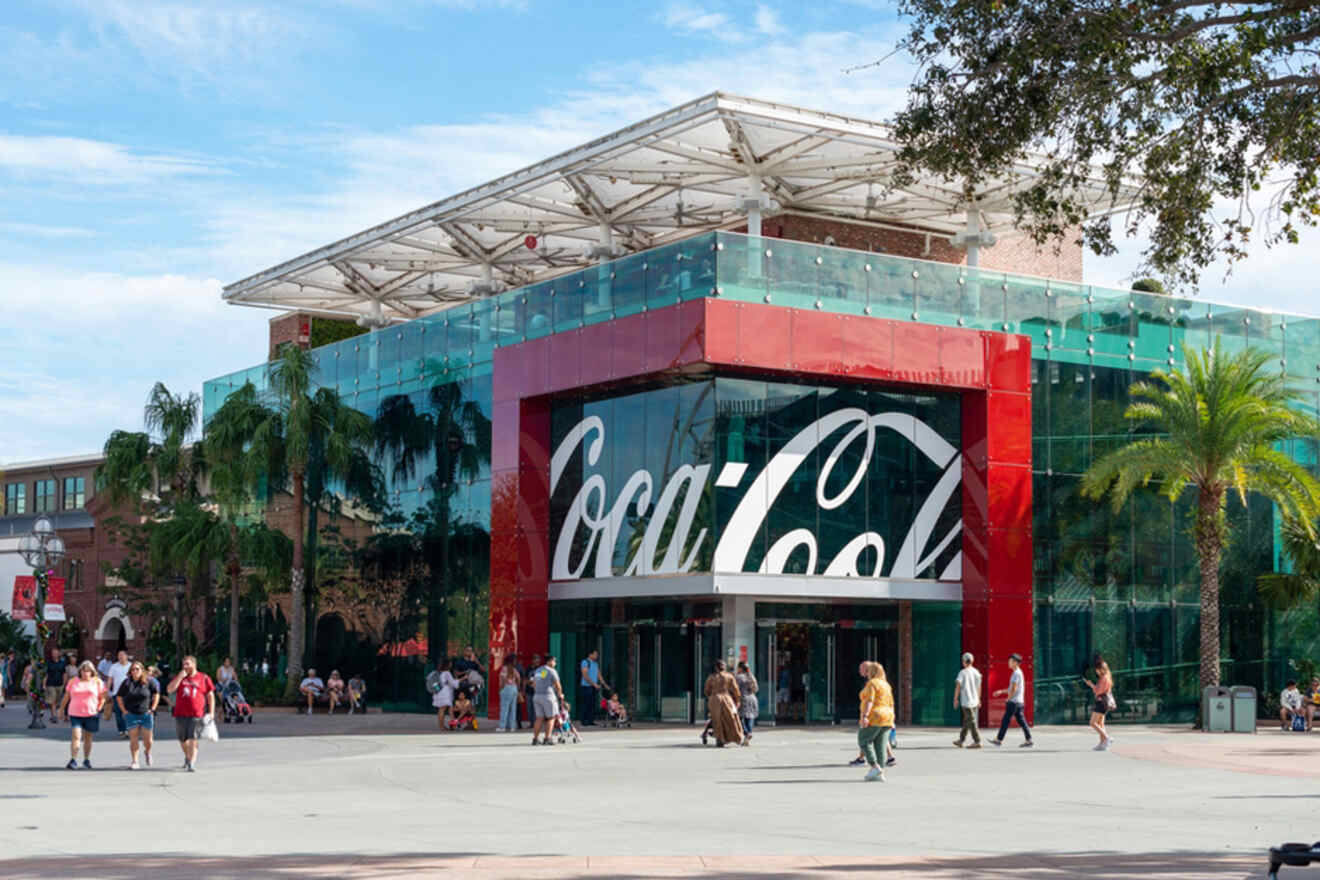 I'm obsessed with rooftop bars! Put me in a new city, and it's the first thing I'll search for. You can't beat good drinks with beautiful views and great company!
The Coca-Cola Store at Disney Springs has an awesome rooftop bar where you can enjoy refreshing beverages and stunning views. Their menu features coke floats, ICEEs, cocktails, and flights with 16 sparkling and flat beverages from around the world. It's a really fun spot to kick back, relax, and make memories. I recommend checking it out at sunset!
4. Visit the world's largest Disney store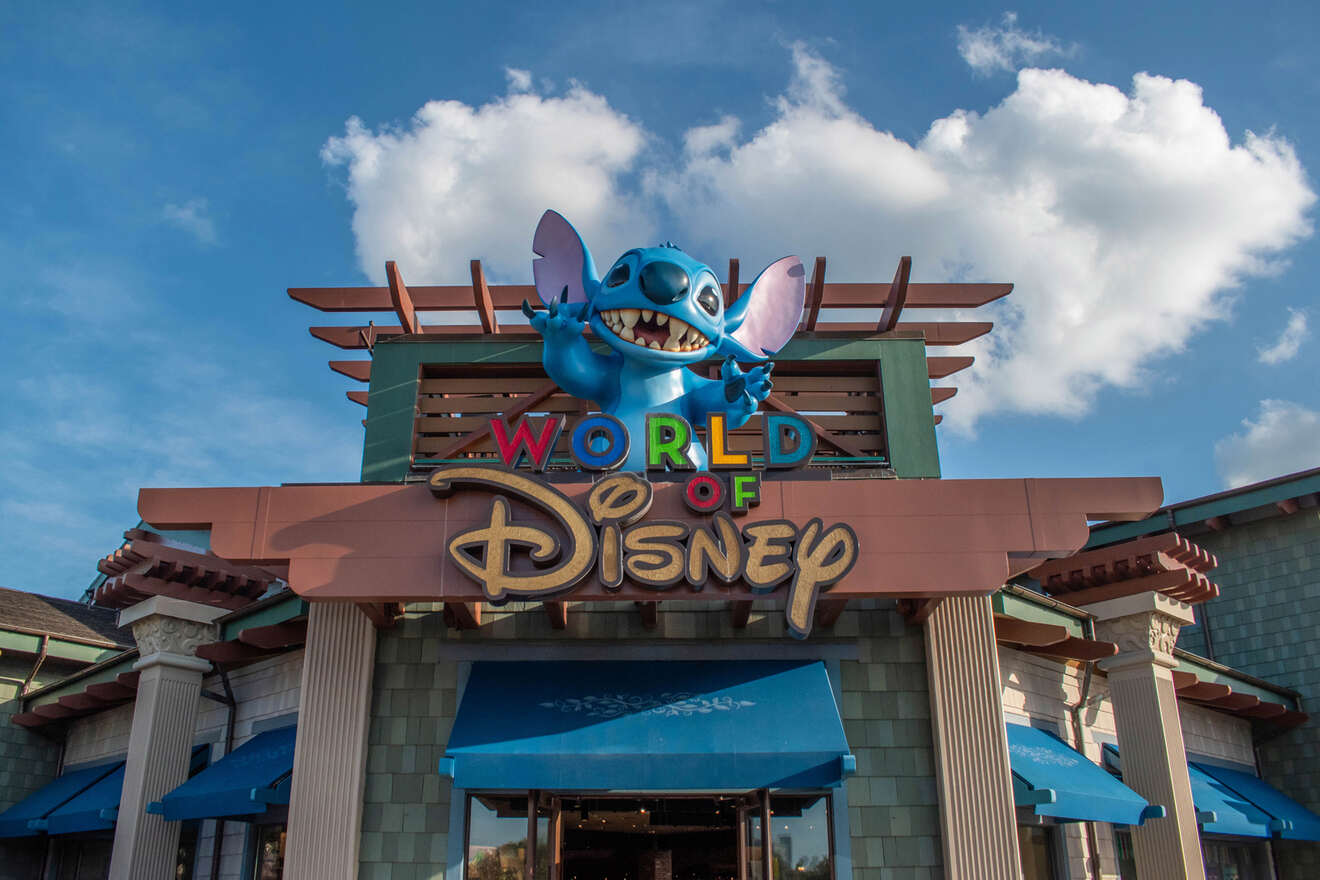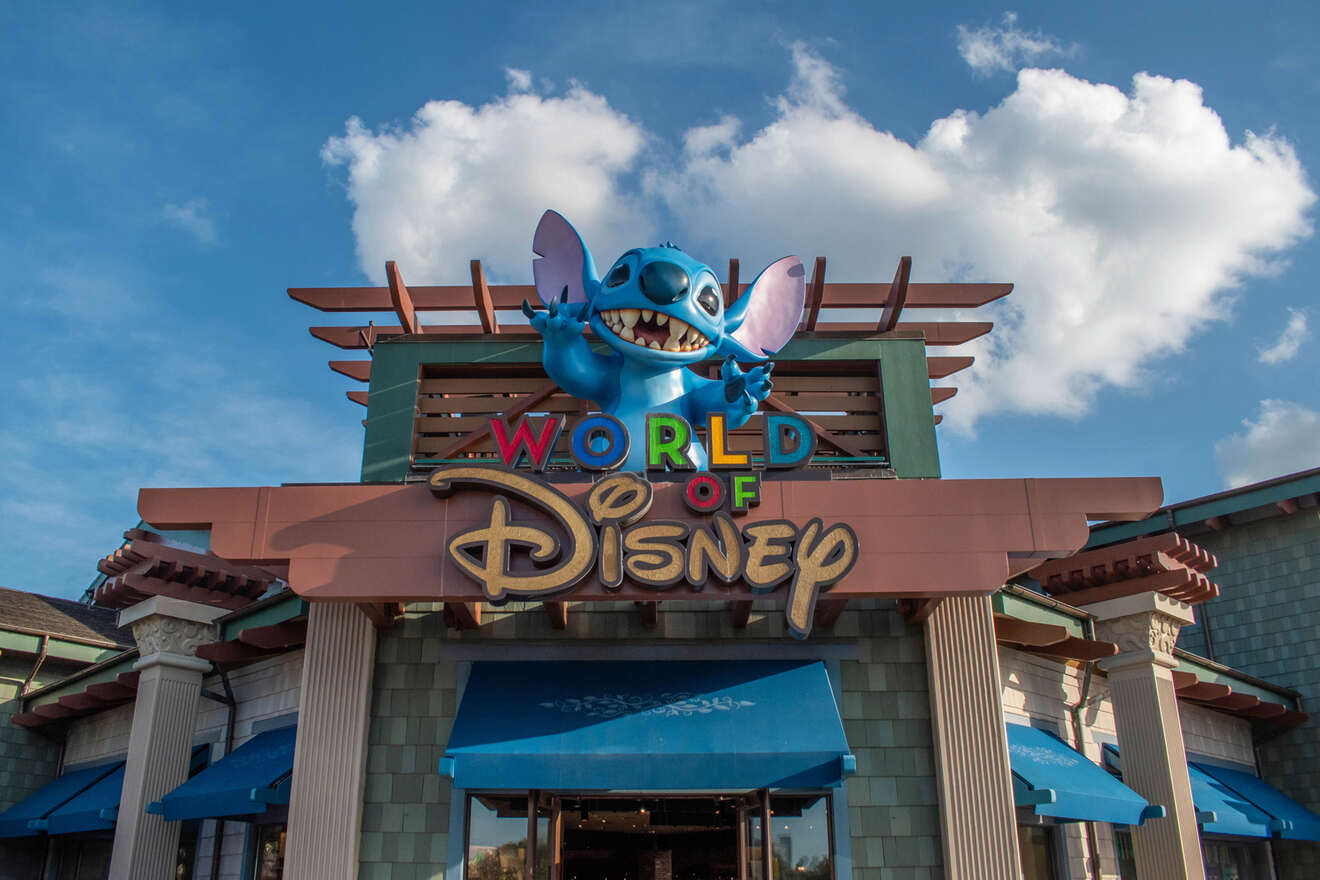 If you're visiting Disney Springs, you've got to check out the world's largest Disney store, World of Disney! With 12 rooms filled to the brim with the latest and greatest Walt Disney World® merchandise, it's the place to stock up on souvenirs. Presents for the kids? Check. T-shirts for the family? Check. A pair of Mickey ears for every day of your vacation? Check!
As a former cast member and current annual pass holder who's at the Disney Parks 3-4 times a month, here's a tip for your next Walt Disney World® vacation: pack light and plan a visit to the World of Disney the day of your arrival. That way, you can make the most of your purchases and wear them on your trip!
5. Explore The LEGO® Store Disney Springs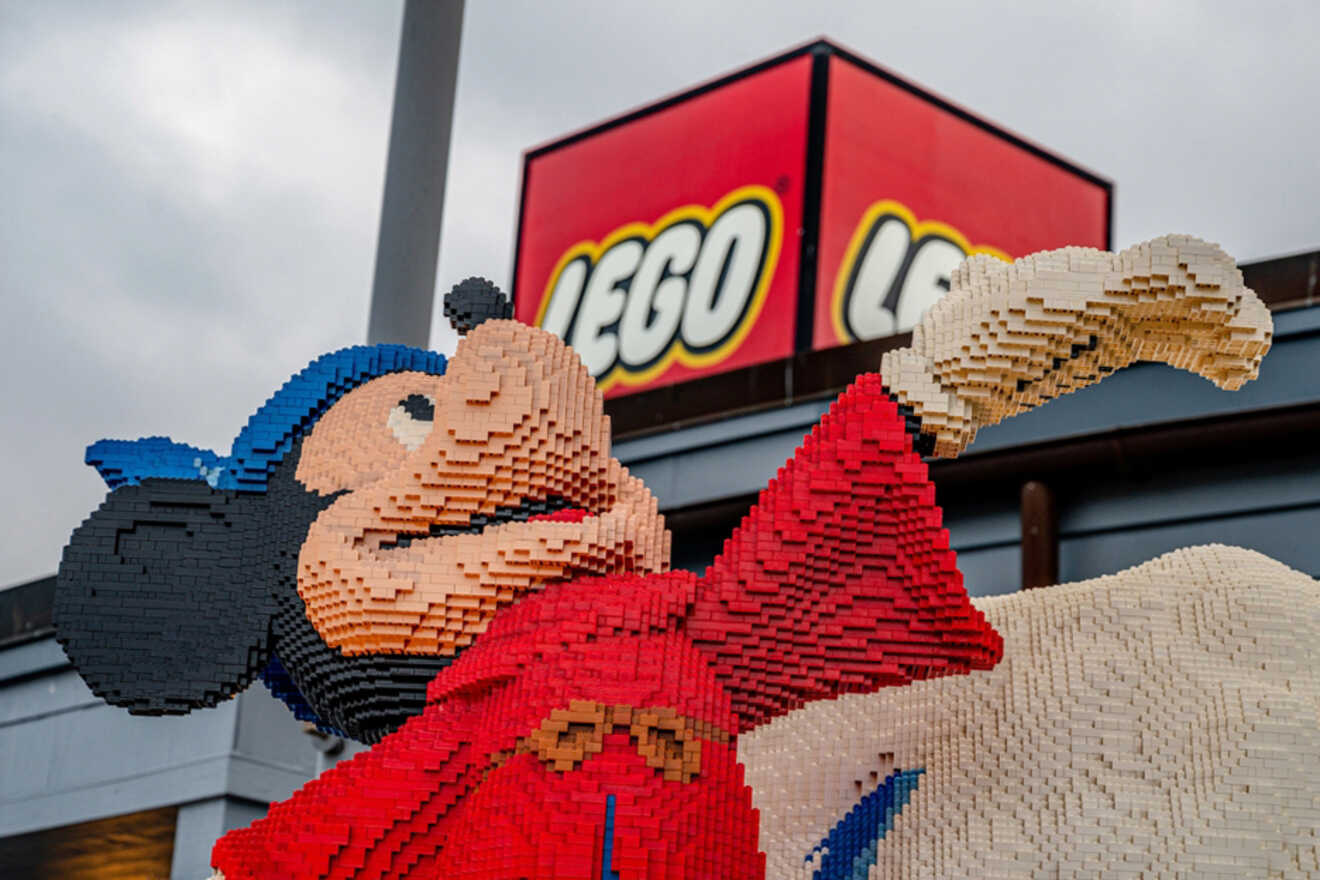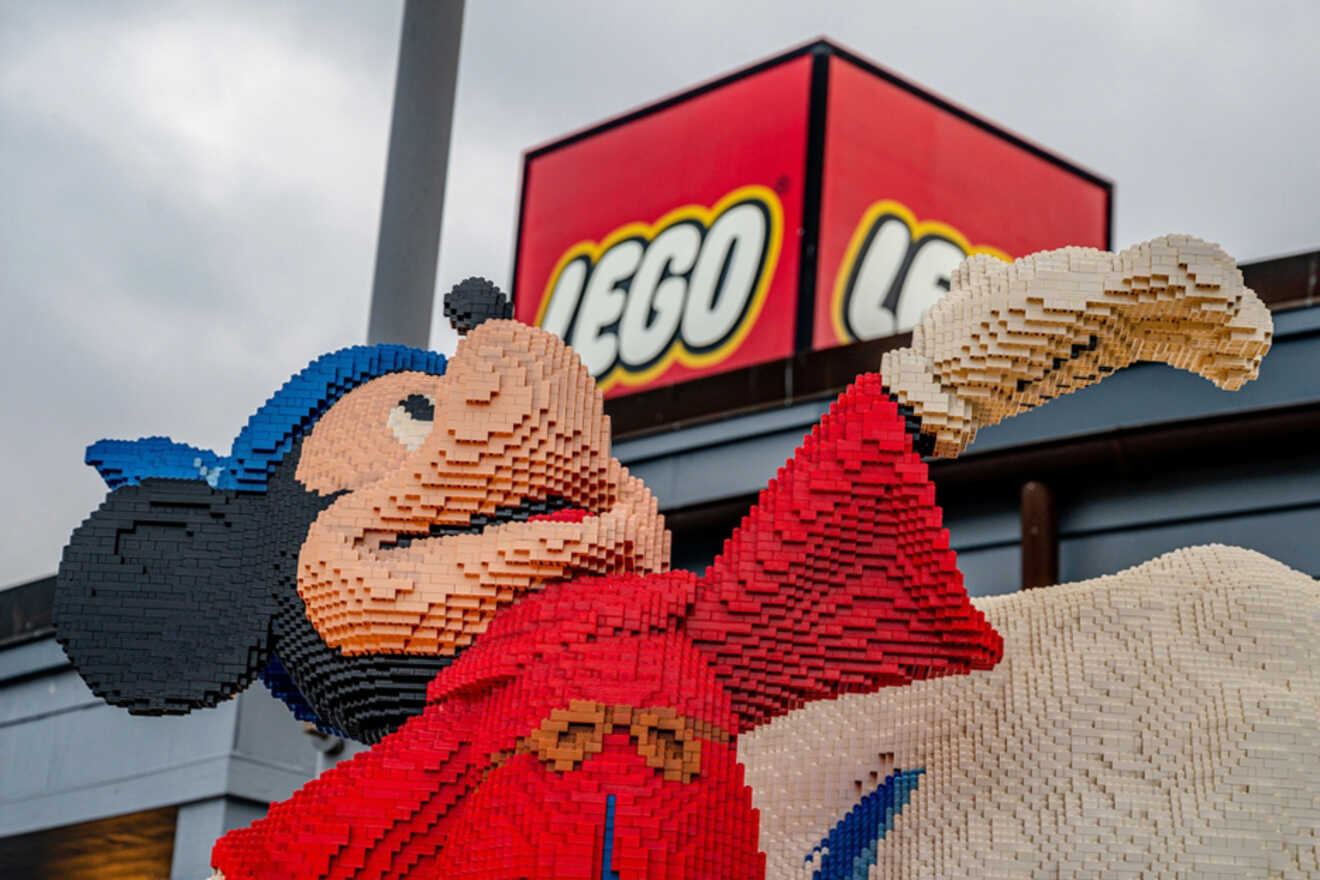 No matter how old you are, a visit to The LEGO® Store at Disney Springs will make you feel like a kid again! Here, you can shop all things LEGO®, from playsets to merchandise, Disney-themed, and beyond.
One of the coolest things to see here is the larger-than-life LEGO® statues of classic Disney and Star Wars characters! They make for a really awesome family photo opp. For an inexpensive but seriously unique souvenir, you can make a LEGO® mini figure of yourself here to take home!
6. Catch live entertainment at Waterside Stage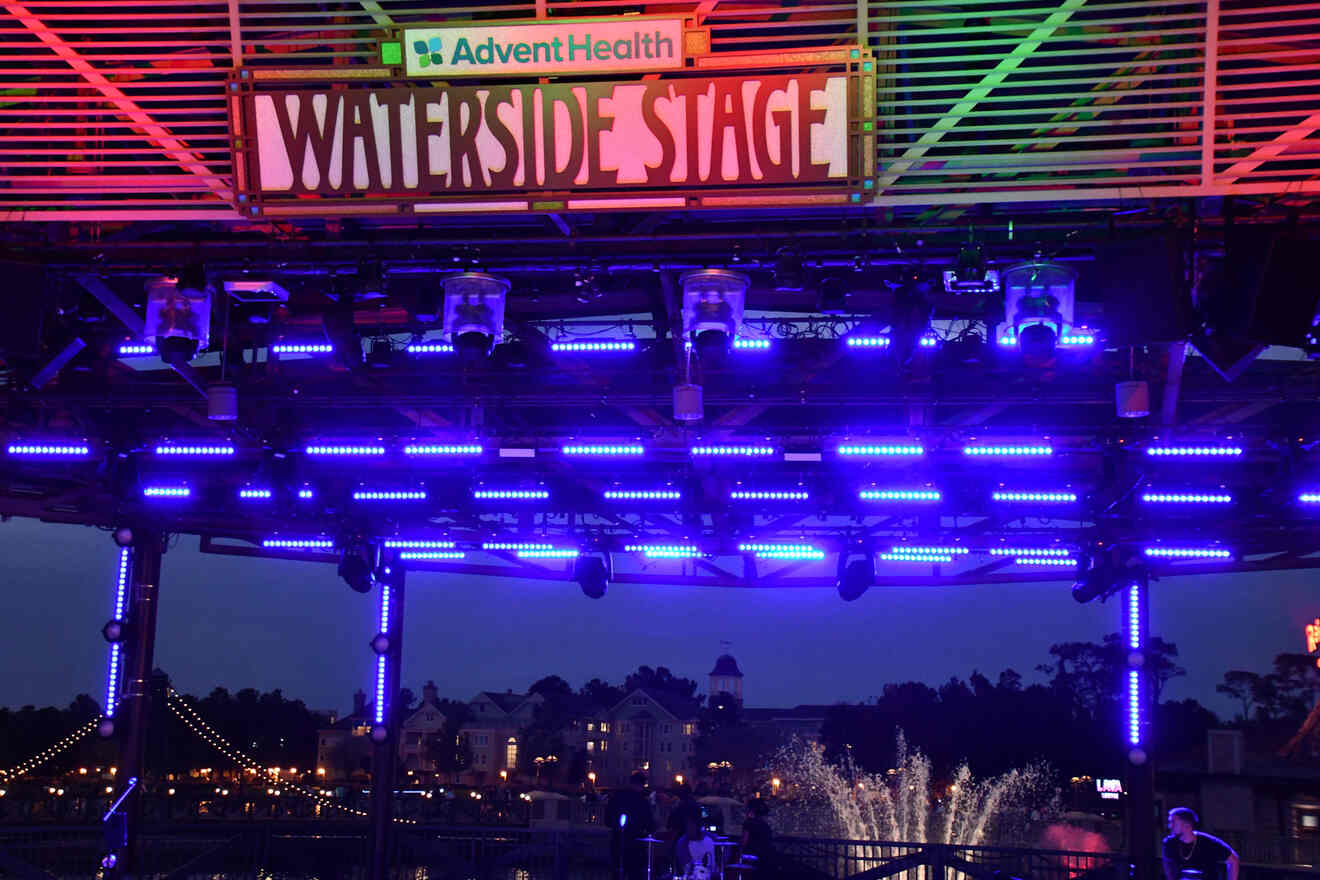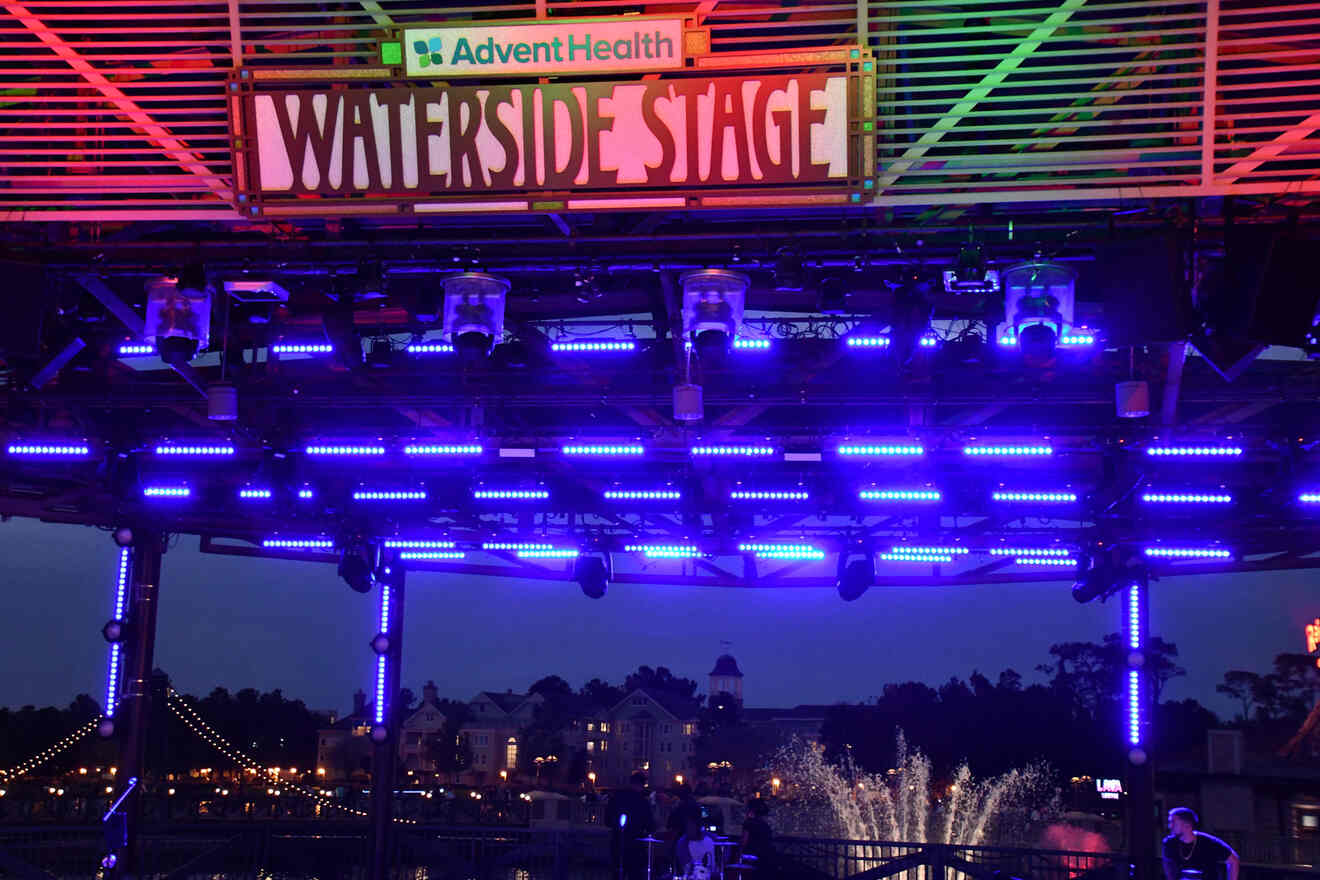 After you've done some shopping at World of Disney, head to Waterside Stage, just a few steps away. With sweeping views of Lake Buena Vista, Waterside Stage hosts live music, dancing, and entertainment every day and evening at Disney Springs.
The concerts and performances are free to attend – seating is first come, first served. You're allowed to have an open container of alcohol while walking around Disney Springs, so you can grab a to-go drink (or a snack!) from one of the nearby stands to enjoy while watching!
Wine Bar George has a to-go window called The Picnic Basket, where you can order wines and picnic-ready meats and cheeses. I love grabbing a bite here and taking it with me to Waterside Stage. Their Frozcato (a combination of Moscato and the iconic Disney parks snack, Dole Ship) is life-changingly delicious!
7. Take an amphicar tour of Lake Buena Vista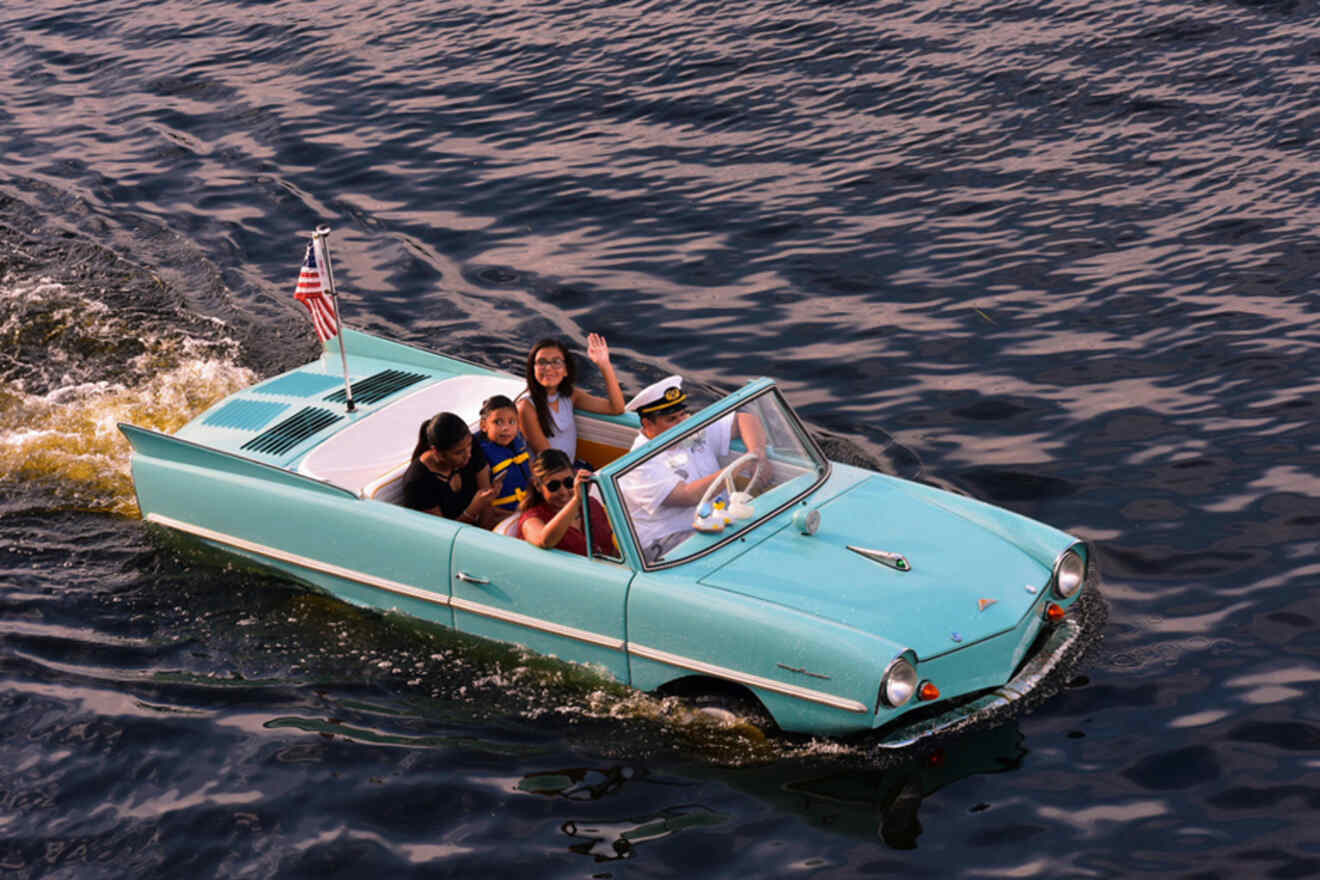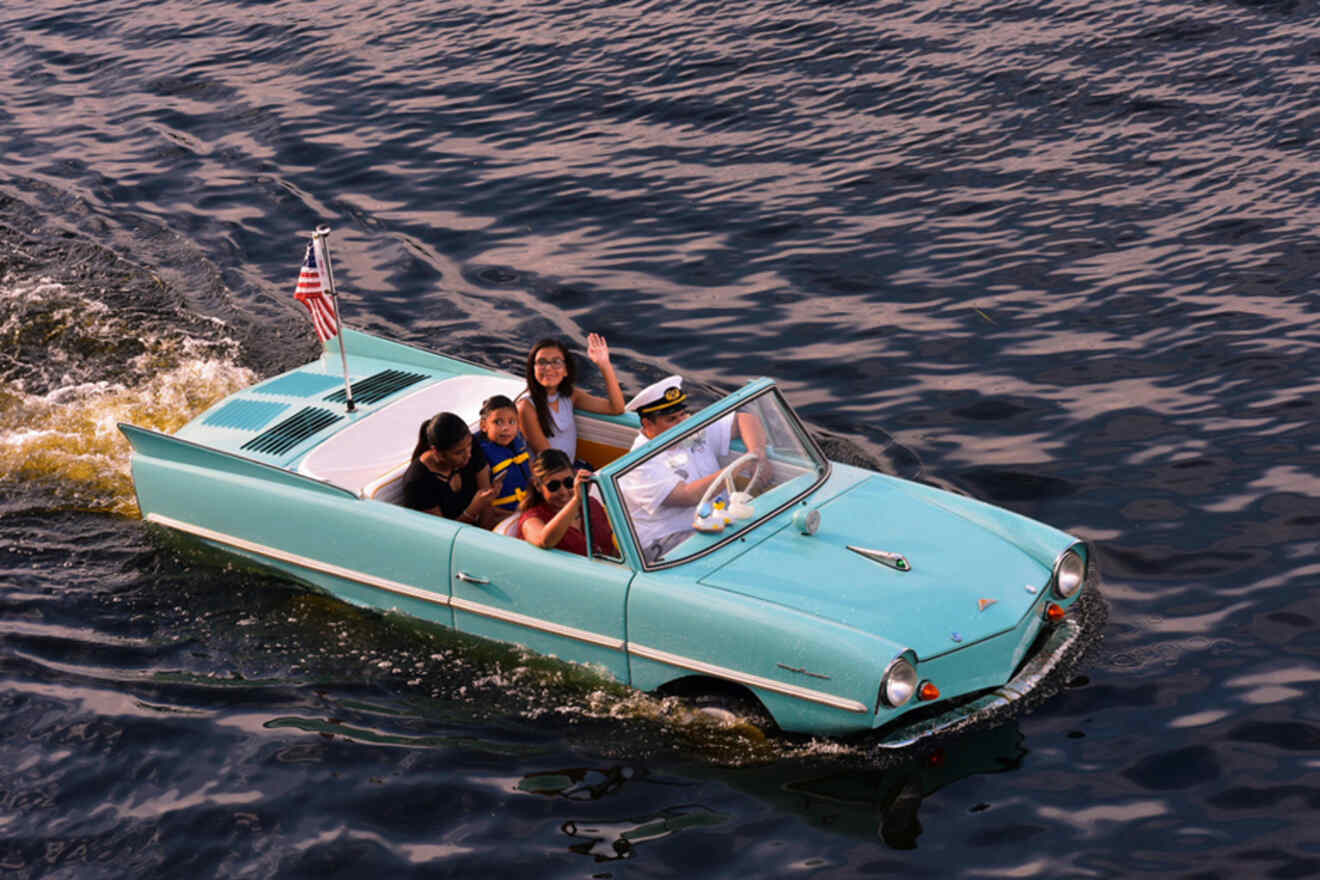 This is one of the most unique things to do in Disney Springs, and anyone looking for a one-of-a-kind experience on their next Walt Disney World vacation should definitely add this to their to-do list.
Climb aboard a vintage retro car that turns into a boat, and tour scenic Lake Buena Vista on this exciting 20-minute adventure the whole family will love. The amphicar tours leave from The BOATHOUSE®, one of my all-time favorite restaurants at Disney Springs and a great spot for al fresco dining and drinks on the water.
Amphicar tours must be booked in person, and you can do so by visiting The BOATHOUSE® Boatique, the gift shop adjacent to the restaurant. The tours run all day, from 10 AM to 10 PM.
PRICE: US$125 per car (accommodates 3-4 people)
8. Go to the movies in style at AMC DINE-IN Disney Springs 24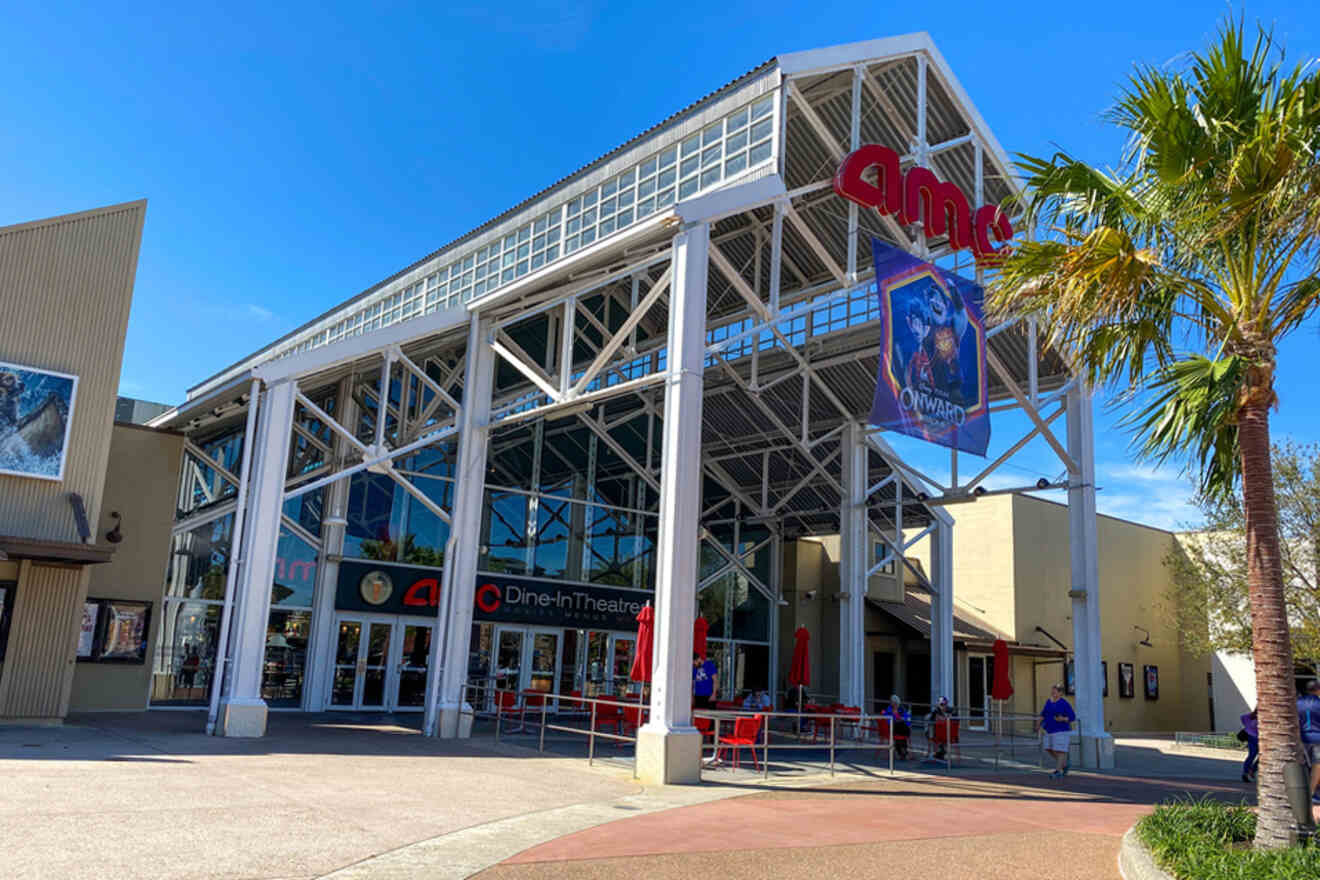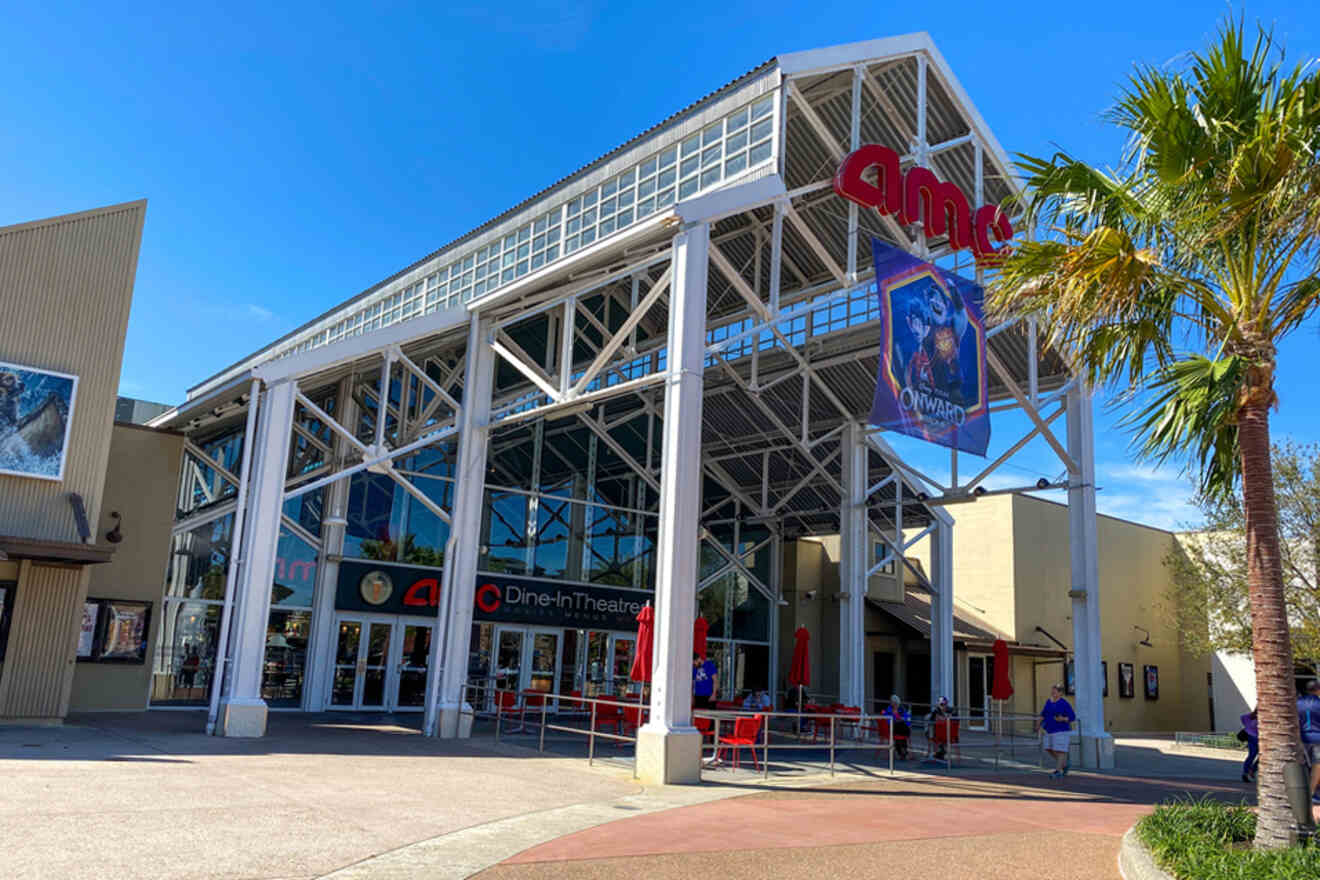 Even as a local, the AMC DINE-IN Disney Springs 24 theater at Disney Springs is one of my favorite places to catch a movie in Orlando. If you've never been to an AMC DINE-IN before, trust me when I say that when you go once, you'll never be able to see a film at a regular theater again!
With super comfy chairs and a delicious menu serving up food, cocktails, and sodas right to your seat, it's the ultimate movie-goer experience. Think of it like a movie theater meets a restaurant.
You can order food in advance on your phone too, which makes it even more convenient. That way, they'll be ready for you as soon as you sit down. Now that's what I call Disney magic!
9. See Disney Springs from the sky in a giant helium balloon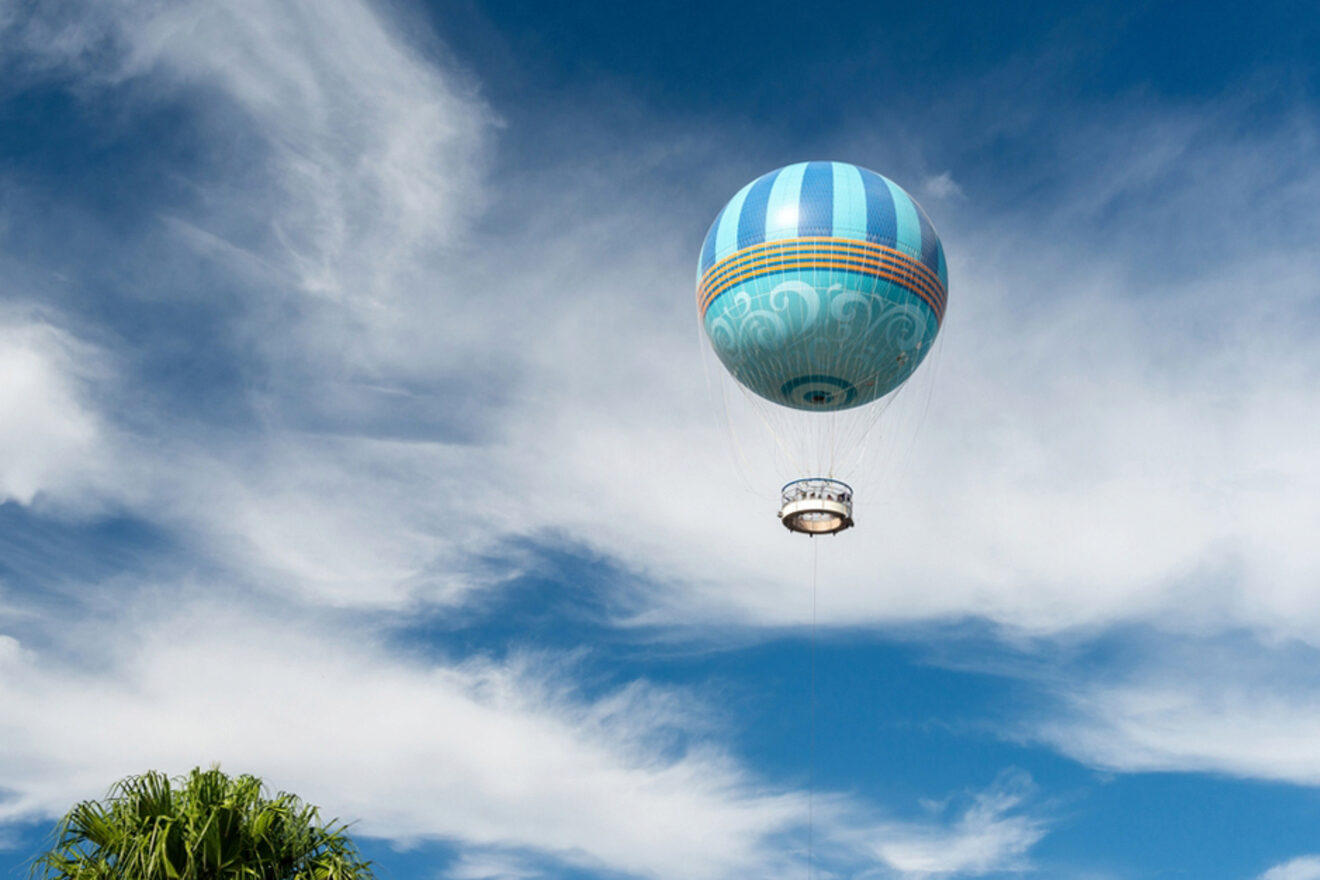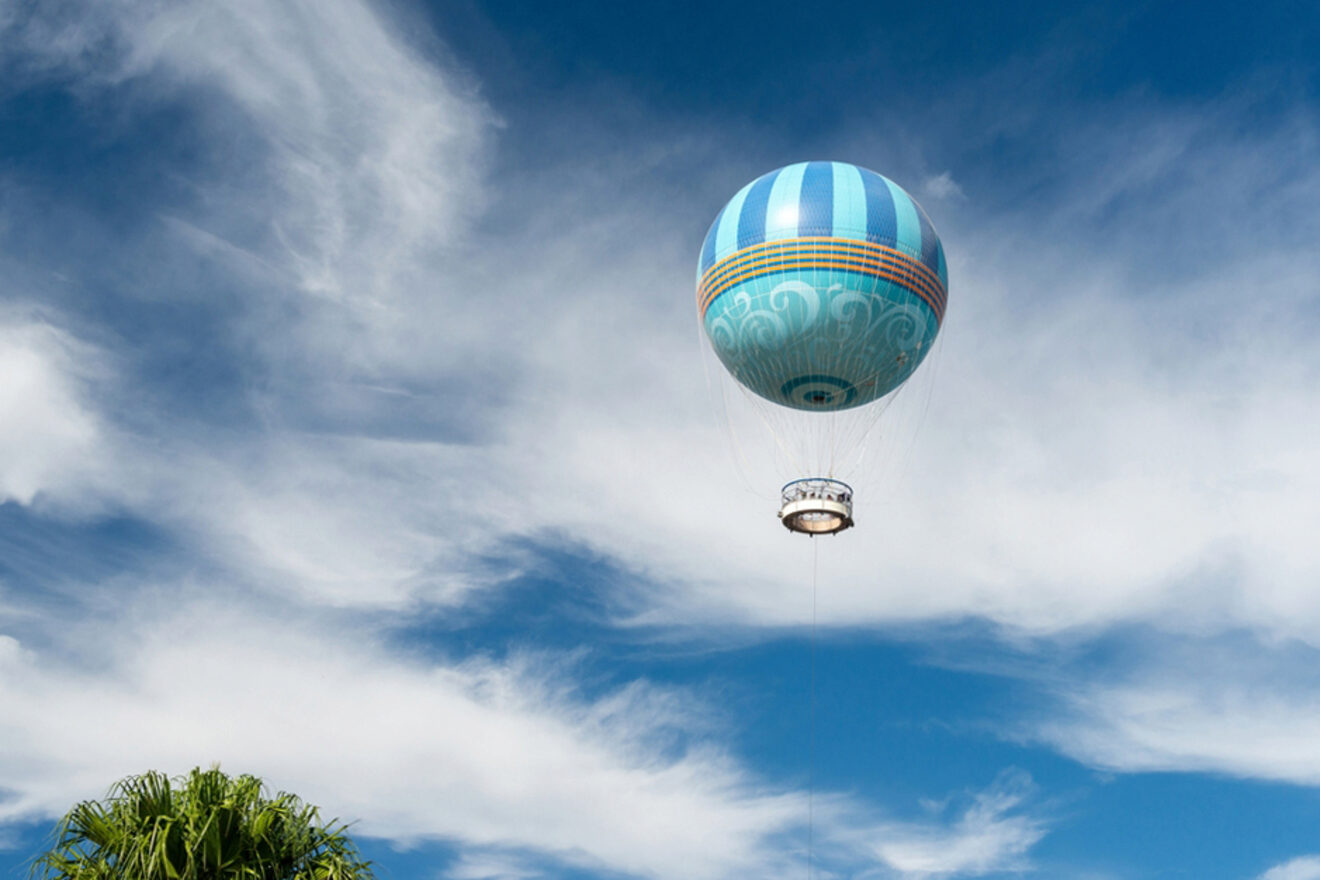 Another unmissable and unique experience at Disney Springs is a ride in the world's largest hand-painted helium balloon. Go on an 8-minute adventure 400 ft (122 m) up in the air on this tethered Aerophile balloon, custom-built for Disney in France!
As you can imagine, the views from up there are phenomenal! If you're leery of heights, know that an Aerophile-certified pilot goes up with you, so you have an expert on board at all times.
Rides on the balloon at Disney Springs are available on a first-come, first-served basis. If you can time it properly, try to take your ride during the Magic Kingdom fireworks for a magical view you'll never forget! You can check the fireworks times on the My Disney Experience app or online.
PRICE: US$25 for adults, US$20 for children, 3 and under are free
10. Have a unique Dole Whip® creation at Swirls on the Water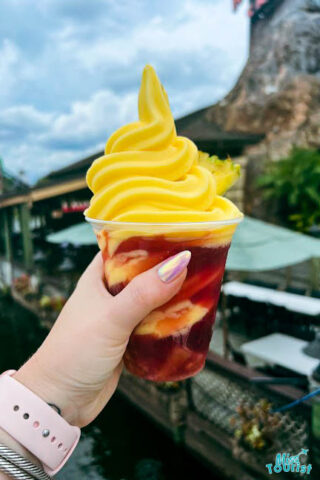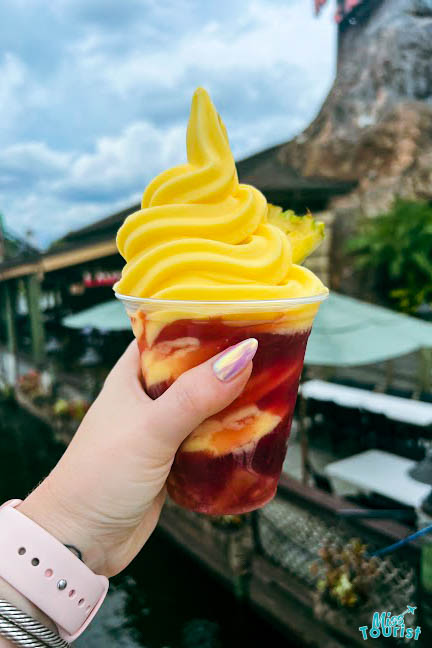 For the uninitiated, Dole Whip® is considered a staple Disney parks snack: refreshing pineapple soft-serve that was once available exclusively in Adventureland at Magic Kingdom. You don't need to buy a pricey theme park ticket just to try this sweet treat anymore, though! Swirls on the Water at Disney Springs, located in the Marketplace area, serves up Dole Whip® of all kinds right on the lake.
You'll find classic Dole Whip®, Dole Whip® floats, and even Dole Whip® topped with rum here year-round, as well as special offerings that change seasonally, like Dole Whip® flights and Dole Whip® nachos. If you can dream it, they can Dole Whip it. 😆 This is always a must-do for me anytime I visit Disney Springs.
11. Dine back in time at T-REX™ café
You really can't go wrong with any of the Disney Springs dining options, but I had to include a favorite of mine on this list: T-REX™ café.
Your little ones will love this unique dining experience, although I haven't met an adult who didn't feel the exact same way about it! Travel back in time to the prehistoric ages and eat among larger-than-life dinosaurs, including a 15 ft (5 m) tall Tyrannosaurus Rex in this fully immersive, interactive restaurant.
T-REX™ café is more than just its lively, fun atmosphere, though – although the sporadic rumbling meteor showers are just as cool as they sound. The food and drinks are incredible too! This is definitely a place you're going to want to make reservations for well in advance, and you can do so up to 60 days prior.
12. Experience Drawn to Life presented by Cirque du Soleil
Fans of Walt Disney Animation Studios won't want to miss this incredible collaboration between Disney and Cirque du Soleil! Drawn to Life is a spectacular show featuring the mind-blowing stunts and acrobatics Cirque du Soleil is known for combined with the magic of Disney animation.
Drawn to Life is an ideal date night or night out for the whole family. Kids and kids at heart will love the nods to Walt Disney classics, stunning visuals, and soundtrack! The show is very popular, so you'll want to buy your tickets online in advance. There are 2 shows a day from Wednesday to Sunday. I know you're going to love it!
PRICE: Starts at US$85 per person
13. Get a sweet treat from the Sprinkles Cupcakes ATM
Small, sweet, tasty, and topped with frosting, cupcakes are, in my opinion, the perfect food and the best post-dinner sweet treat. The only thing better than a cupcake from Sprinkles at Disney Springs is a cupcake from their pink cupcake ATM!
Step right up and place your order at this adorable cupcake-dispensing ATM. It operates 24/7, so this is where you want to be for a late-night snack. Sprinkles' red velvet cupcakes are my absolute favorite, and they make a gluten-free option as well! No matter which flavor you go with, you're going to fall in love with this charming little cupcake stop.
14. Explore the amazing M&M'S® Store at Disney Springs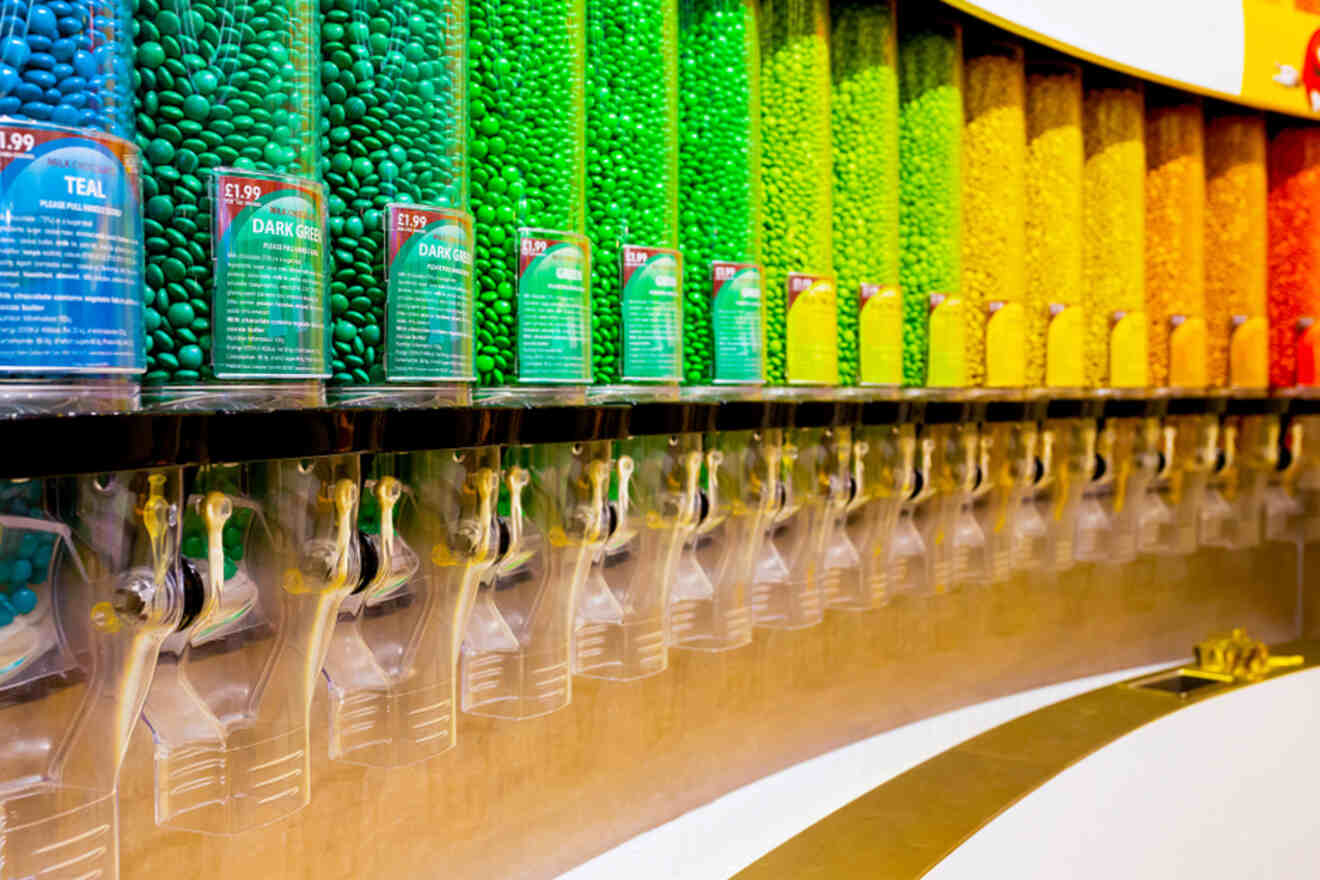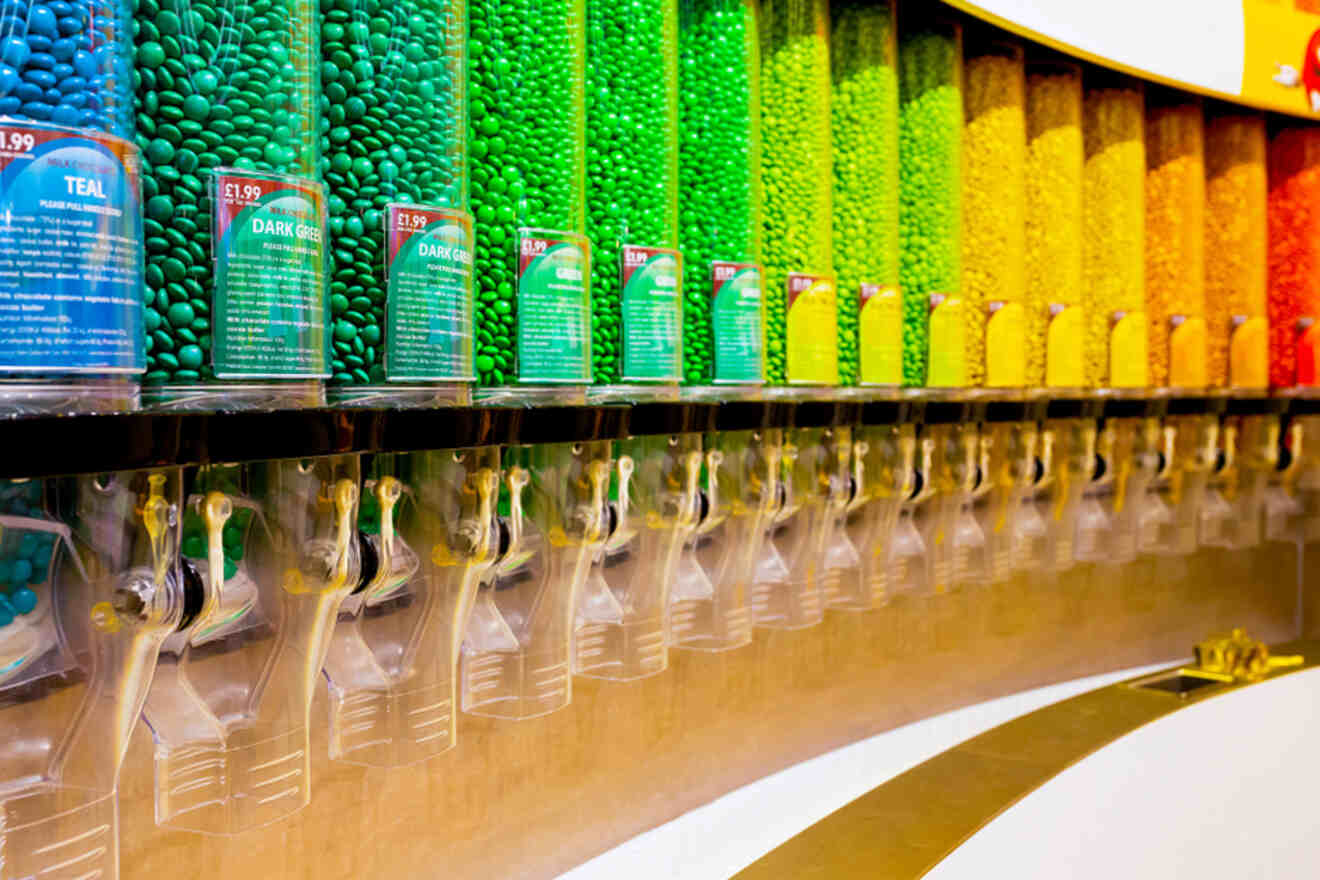 If a store full of M&M's sounds up your alley, wait until you see this place! A massive, 10,000 square ft (930 m²) candy store featuring all things M&M's, the store is packed with candy, clothing, and all the M&M merch you can imagine. It's bright, colorful, and lively inside, so even if you're not a die-hard M&M fan like myself, you won't be able to help but smile there!
One of the coolest things to do in Disney Springs is make your own personalized M&M's. At the M&M Store, you can put your own text or images on the tiny, delicious candies and take them home to enjoy. You can even select from their stunning color schemes. It's a great souvenir to bring back for someone!
15. See a show at House of Blues
House of Blues in Disney Springs is a hotspot for musicians and music lovers. You can dine and drink here, but if you're visiting Walt Disney Resort, you may want to stop by House of Blues for a concert!
There are concerts nearly every weekend, including a few during the week. You check the event schedule and purchase tickets online.
PRO TIP: Skip the line to enter the venue by spending at least US$25 per person on swag at the House of Blues store the same day – they'll validate your ticket, so you have early access. Some concerts are restricted from this, so just be sure to check with a cast member there.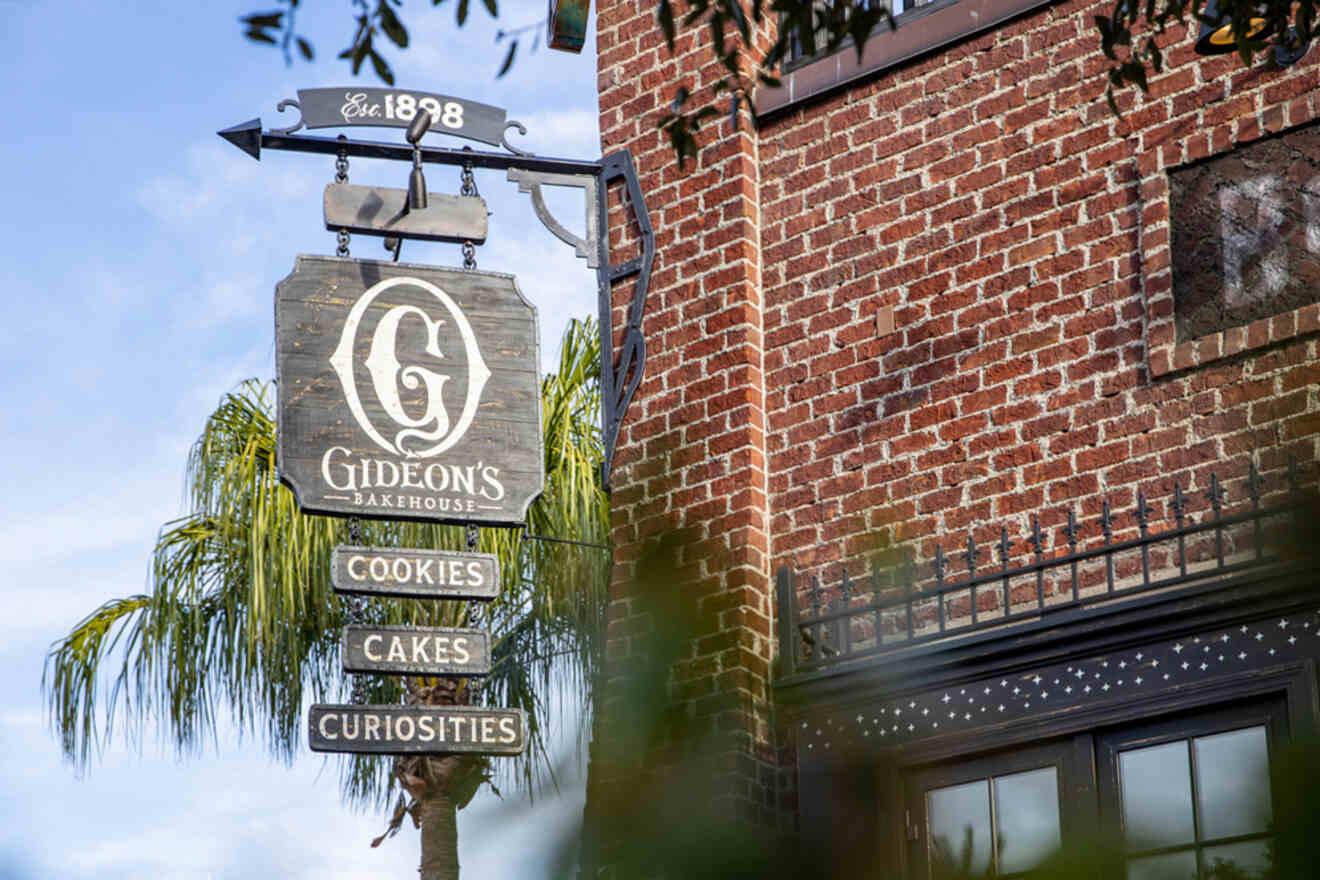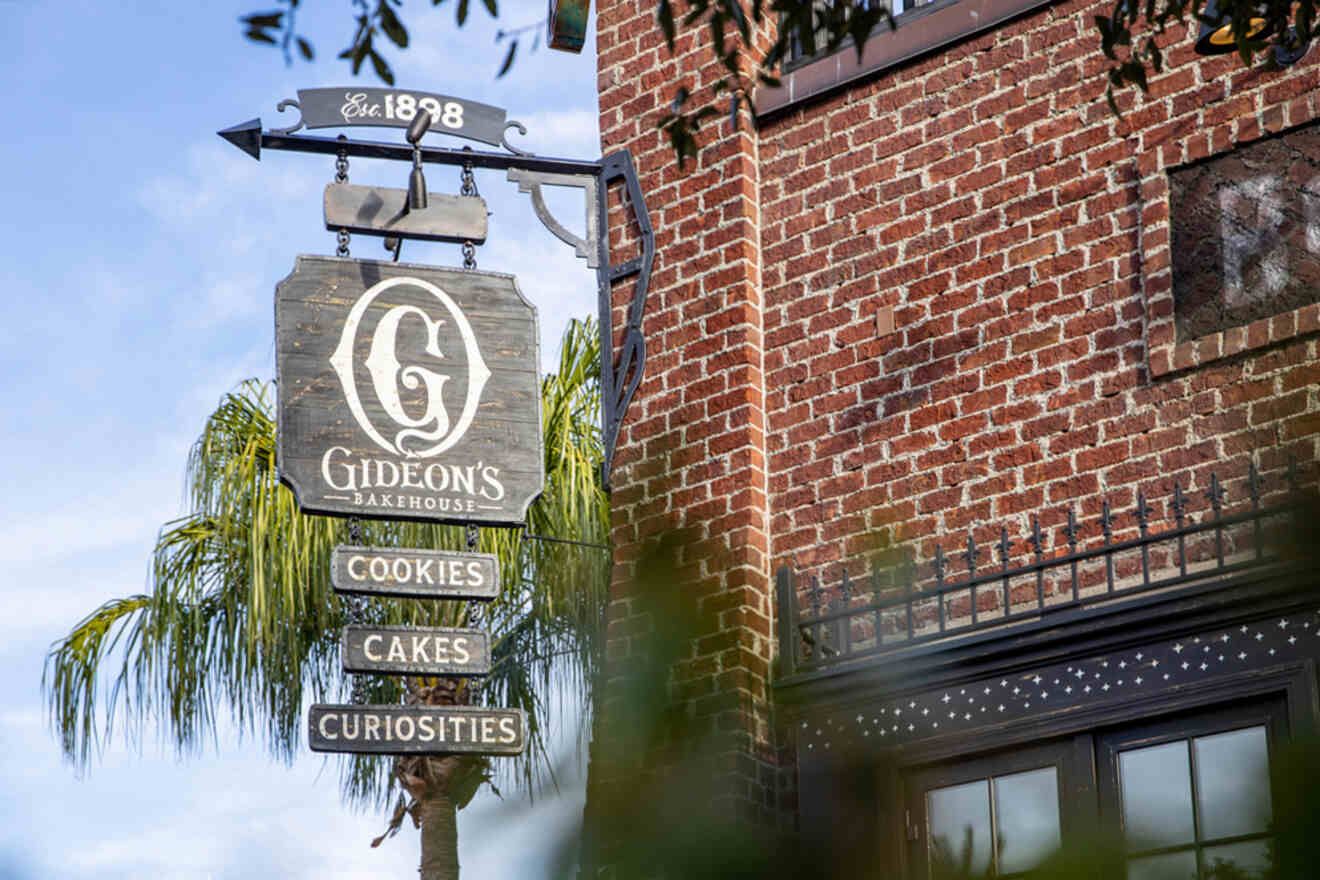 When you're in The Landing area of Disney Springs, it's hard to miss the long line forming outside one of the buildings there. Ooey, gooey, (almost) half-pound (230 gr) cookies make Gideon's Bakehouse at Disney Springs an absolute must-do! Try one of their super popular cookies that take nearly 24 hours to make or their giant slices of cake.
Gideon's Bakehouse is also known for its secret, first-come, first-served menu items, which you can find during certain times of the year. There is usually a long wait to get inside, but it's worth every minute.
HACK: If you're in Orlando for more than just theme parks, you may want to stop by the other Gideon's Bakehouse location near Winter Park. They accept online pre-orders, so you'll massively cut back your wait time!
FAQs about visiting Disney Springs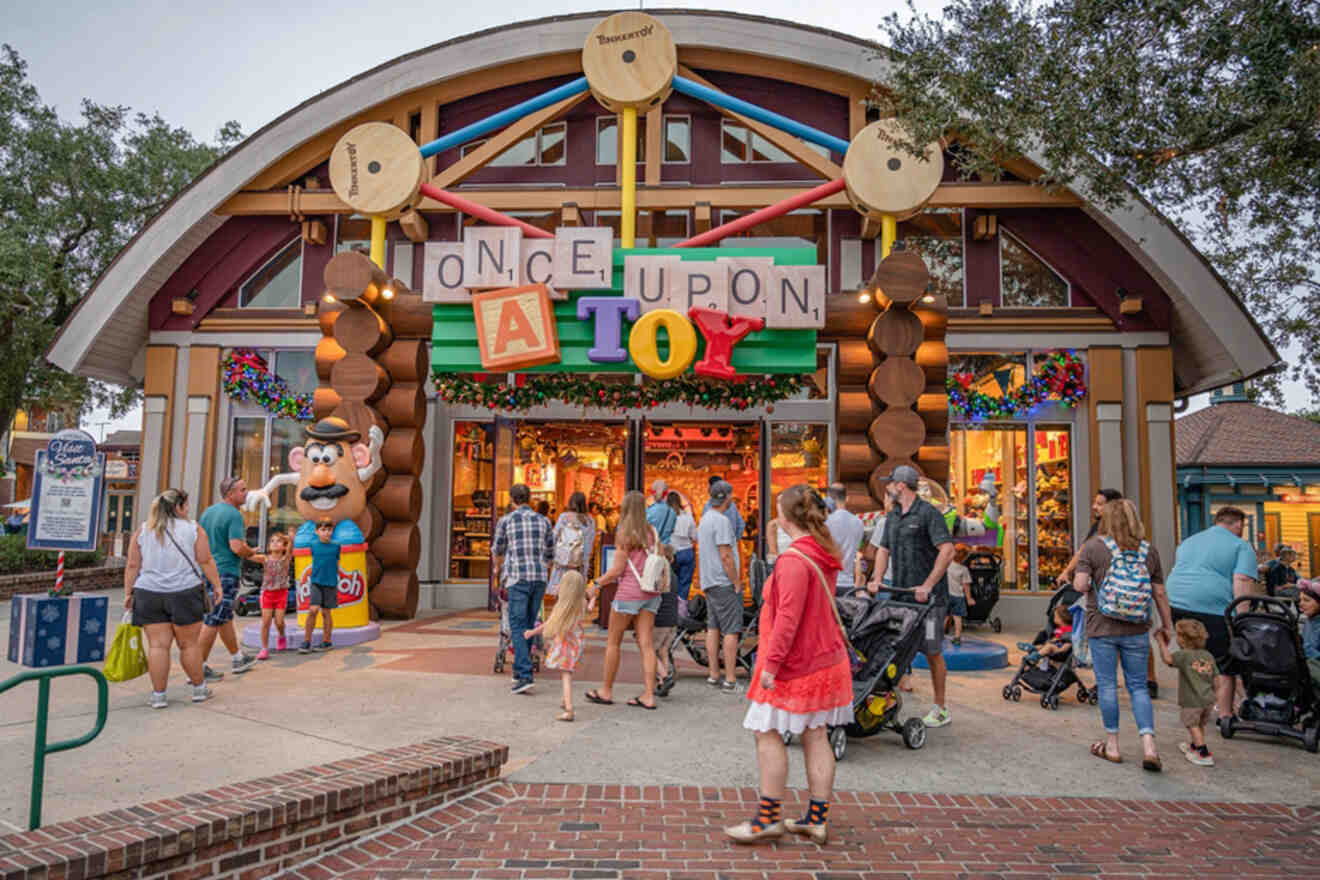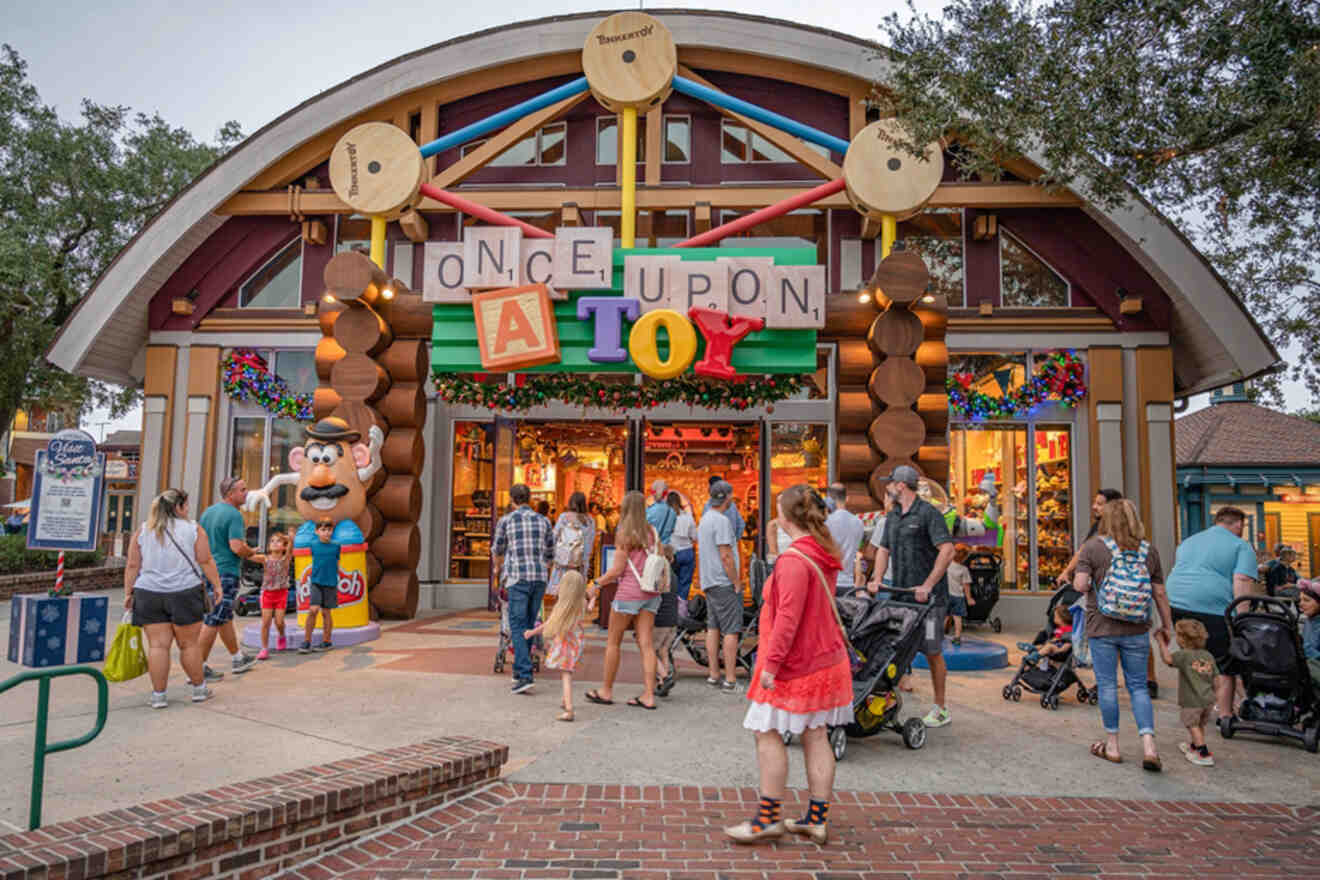 🎈 What attractions are in Disney Springs?
Disney Springs at the Walt Disney World® Resort is home to incredible restaurants and bars, shopping, entertainment, and unique attractions like amphicar tours of Lake Buena Vista and a ride in the world's largest hand-painted helium balloon.
✅ Is Disney Springs worth going to?
Absolutely! Disney Springs is one of the best things to do at Walt Disney World, and there is no cost for admission! Experience this 120-acre (50 hectares) waterfront shopping, dining, and entertainment complex with Disney magic around every corner.
☀️ Can you spend a whole day in Disney Springs?
Yes, you can easily spend a whole day in Disney Springs, with its abundance of shopping, dining, and entertainment. You'll definitely want to schedule a time to spend at Disney Springs on your next Walt Disney World vacation!
🚶‍♀️ Can you walk around Disney Springs for free?
Yes! Admission to Disney Springs and parking are both free.
Conclusion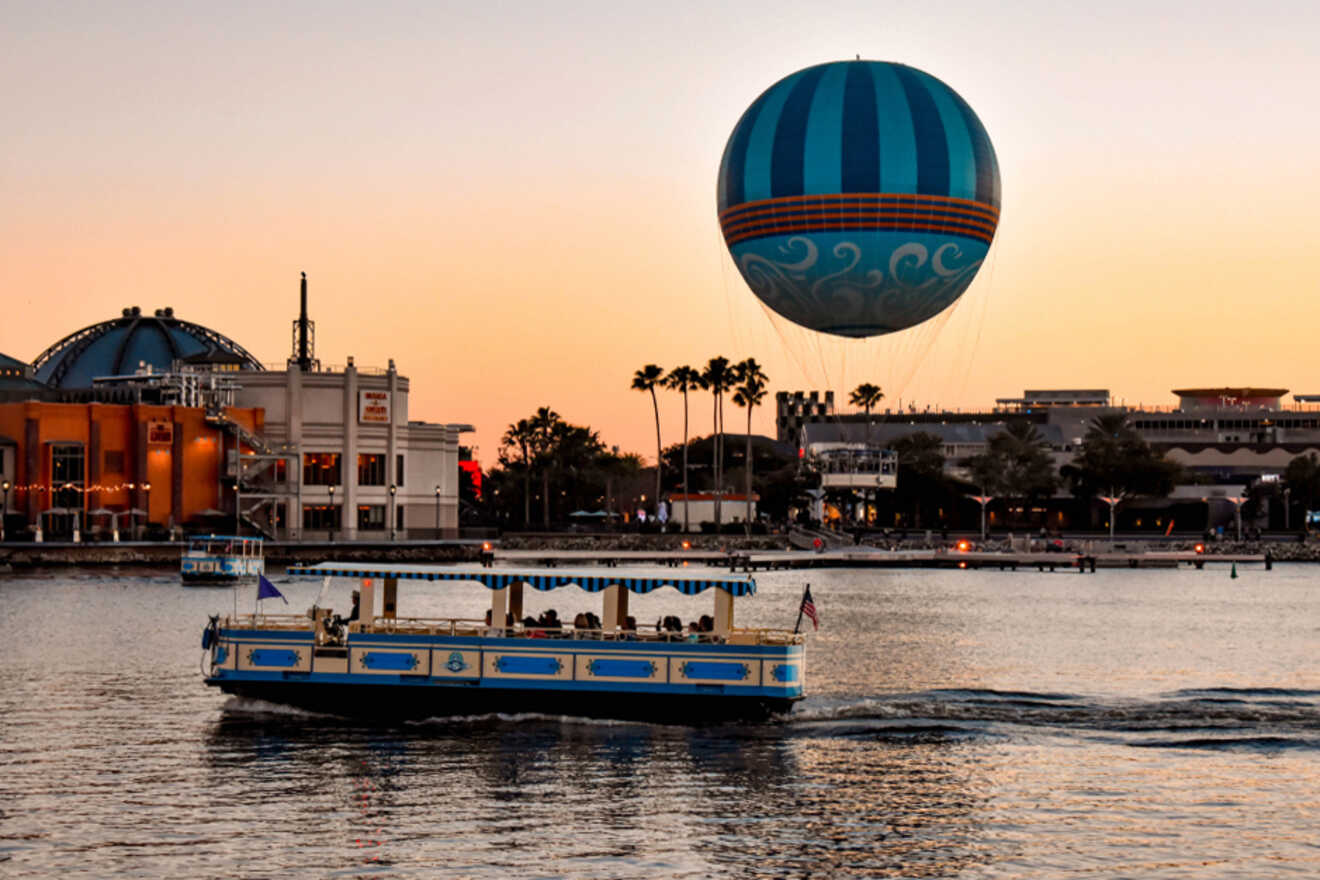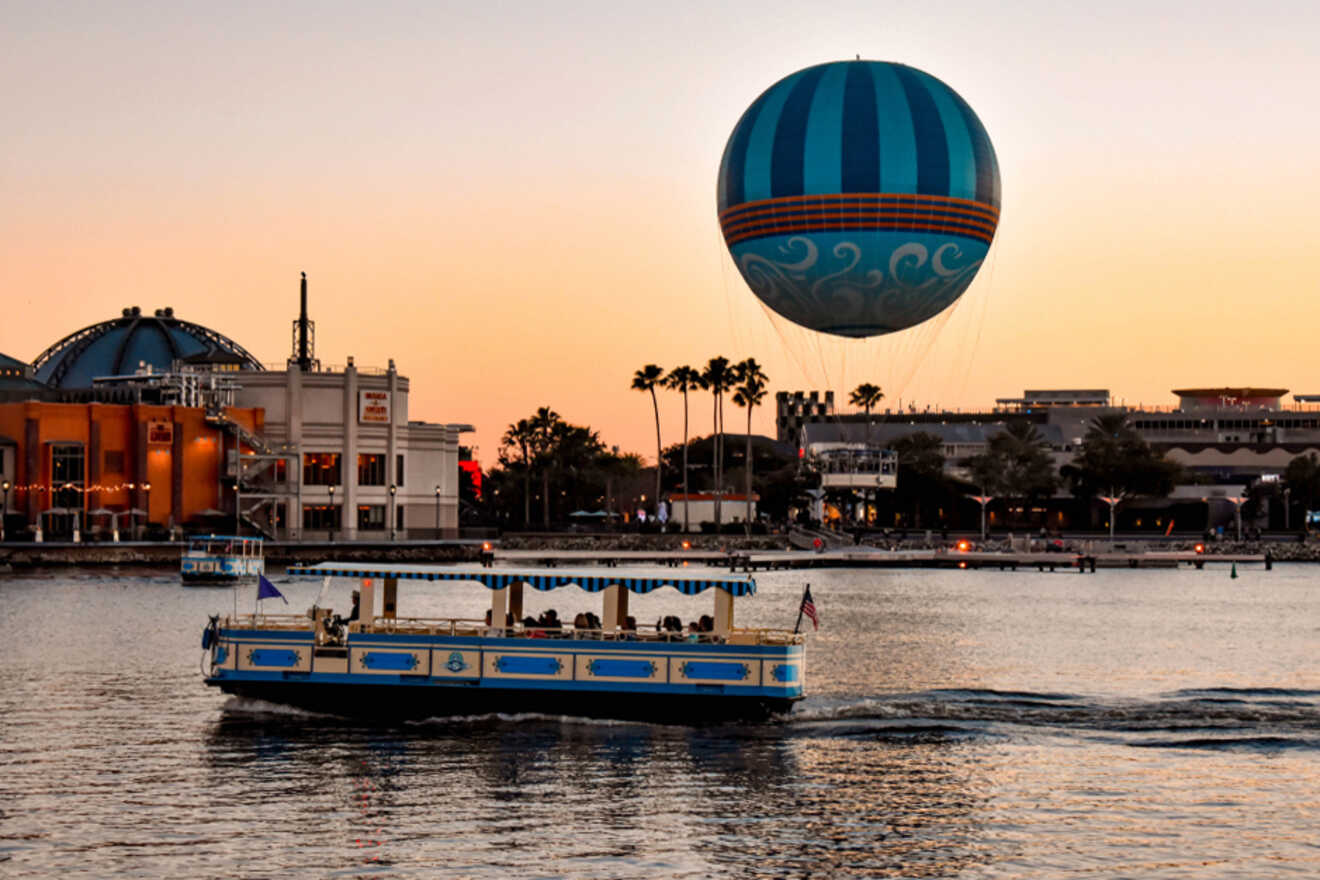 All of that with no admission and free parking!? Disney Springs truly is the definition of magic! As you can see, there are so many fun things to do, see, eat, and drink at Disney Springs – you definitely want to schedule some time (and book some of the top attractions in advance) there on your next visit to the Walt Disney World® Resort.
Thank you for taking the time to read this article! I hope my list of things to do in Disney Springs was helpful in your planning and has you excited about your trip. Let me know if you have any questions in the comments, and I'll get right back to you.
Happy travels!
Montana
---
Pin it for later!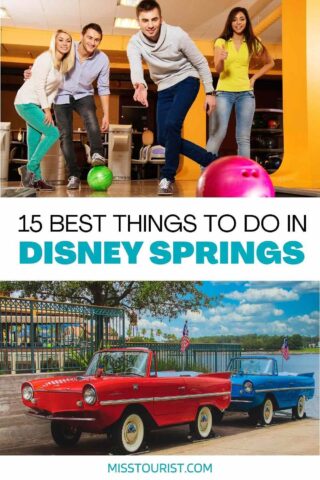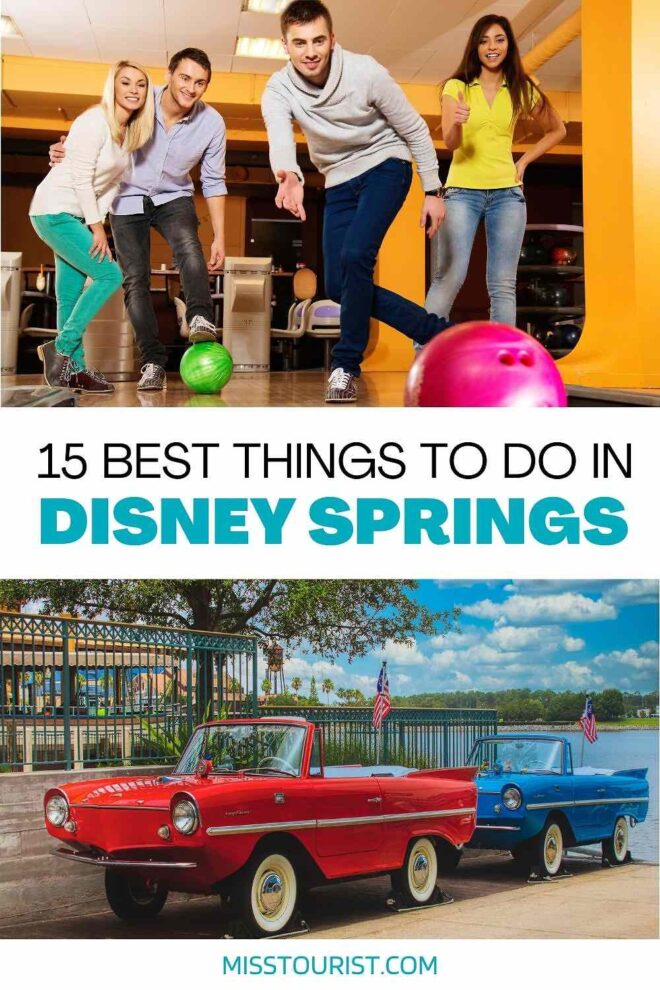 Pin it for later!