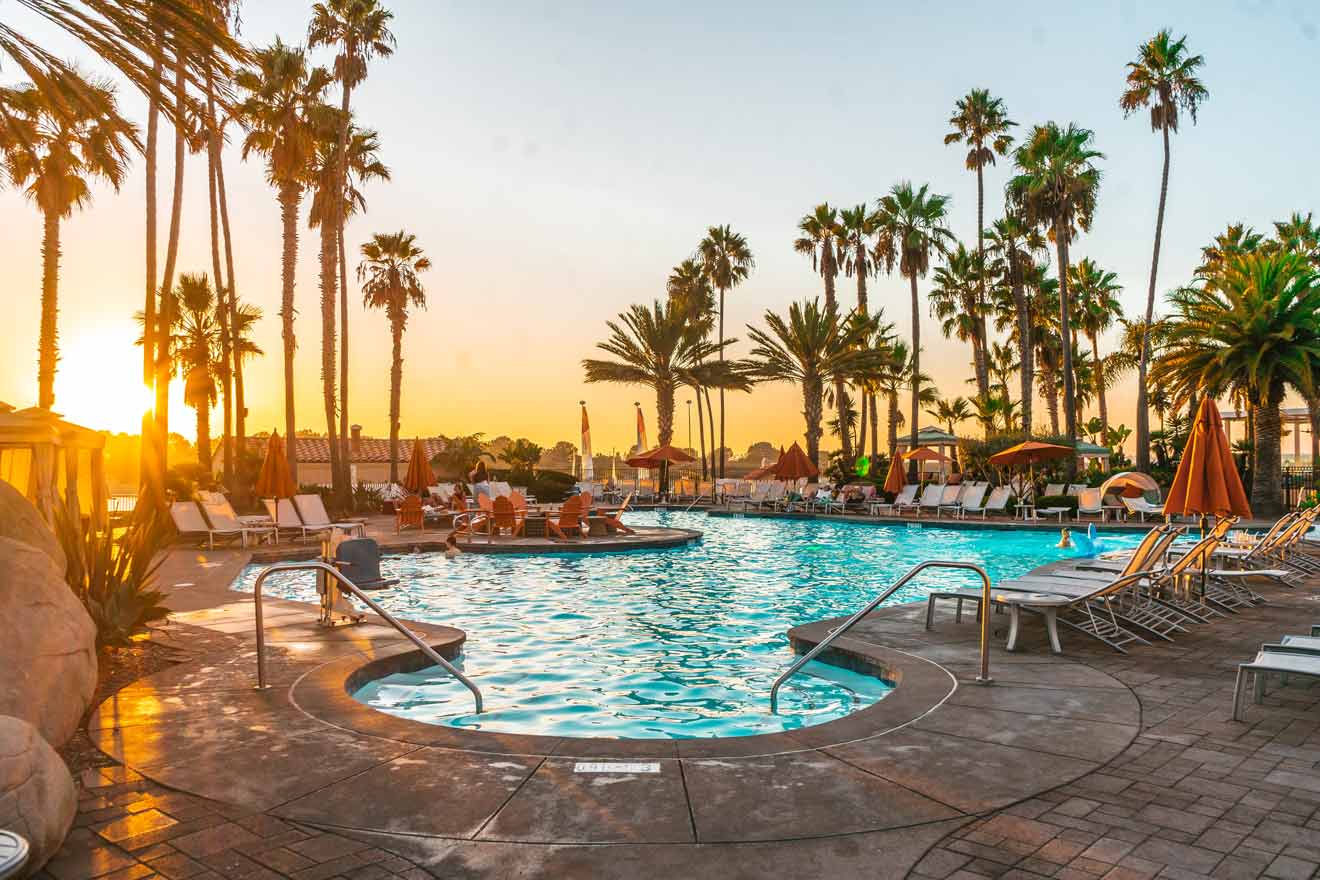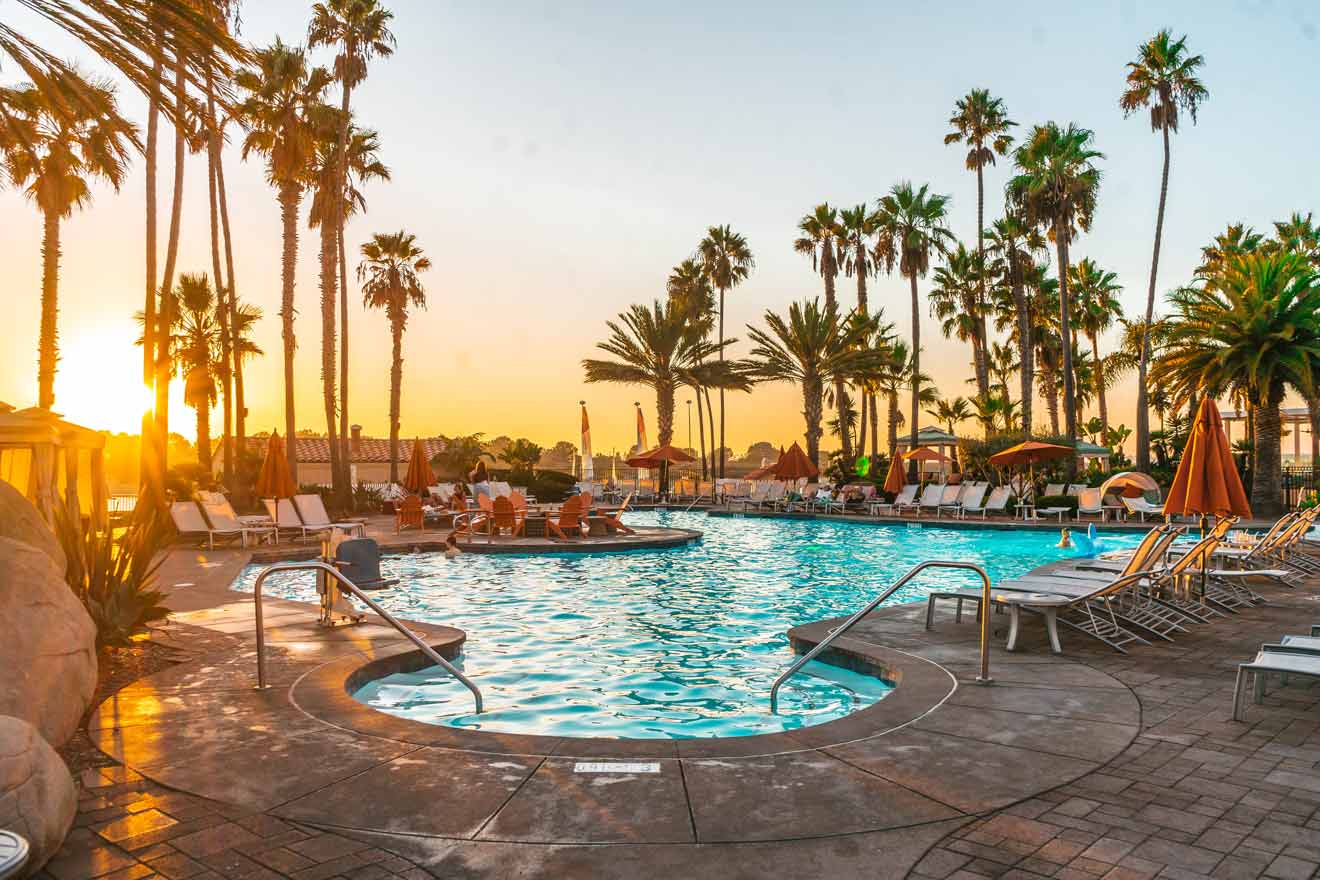 Fantastic beaches, fun attractions, and non-stop sunshine! Yep, San Diego sounds like a dream come true, and trust me you'll never want to leave this city, especially after you find the hotel of your dreams!
This is where I come to help you! In the next few minutes you'll get to see a list of the best boutique hotels in San Diego! I've looked and looked until I found the places with the greatest reviews! And since the city is pretty big and there are lots of places to stay at, I've also added 2 bonus sections, with the best beachfront hotels and some unique vacation rentals!
I know it seems like that's a lot! But trust me, in a place like San Diego, you'll want to have a wide range of options for 2 reasons:
Firstly, each place is so special and close to a cool attraction like Balboa Park or Petco Park, and secondly, all the good hotels will sell out super fast. That's why I always recommend booking early!
I know you're all excited so let's go!
If you are in a hurry
Here's a rundown of the best San Diego boutique hotels in case you don't want to go through the whole post:
1. Fairmont Grand Del Mar – unique hotel with golf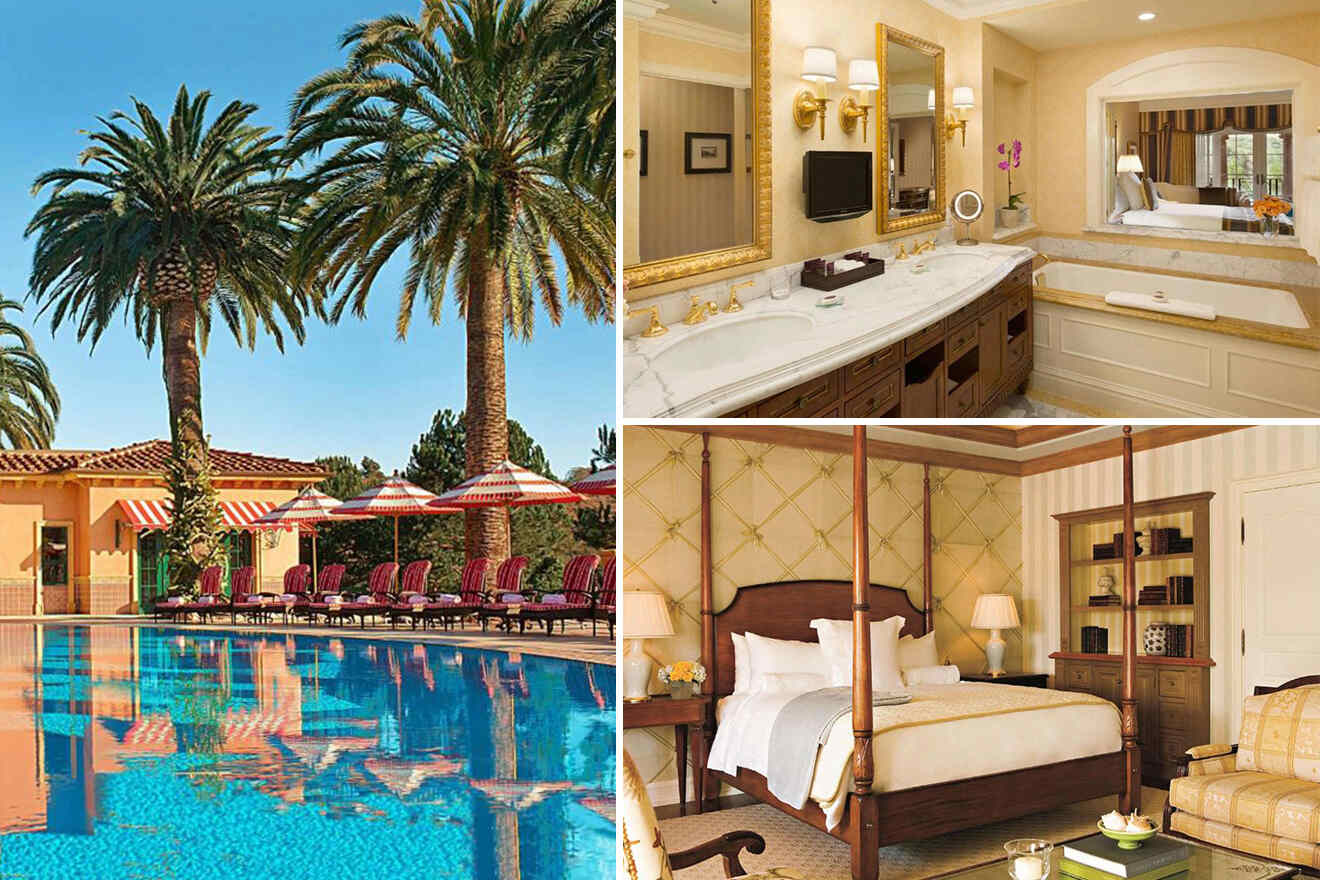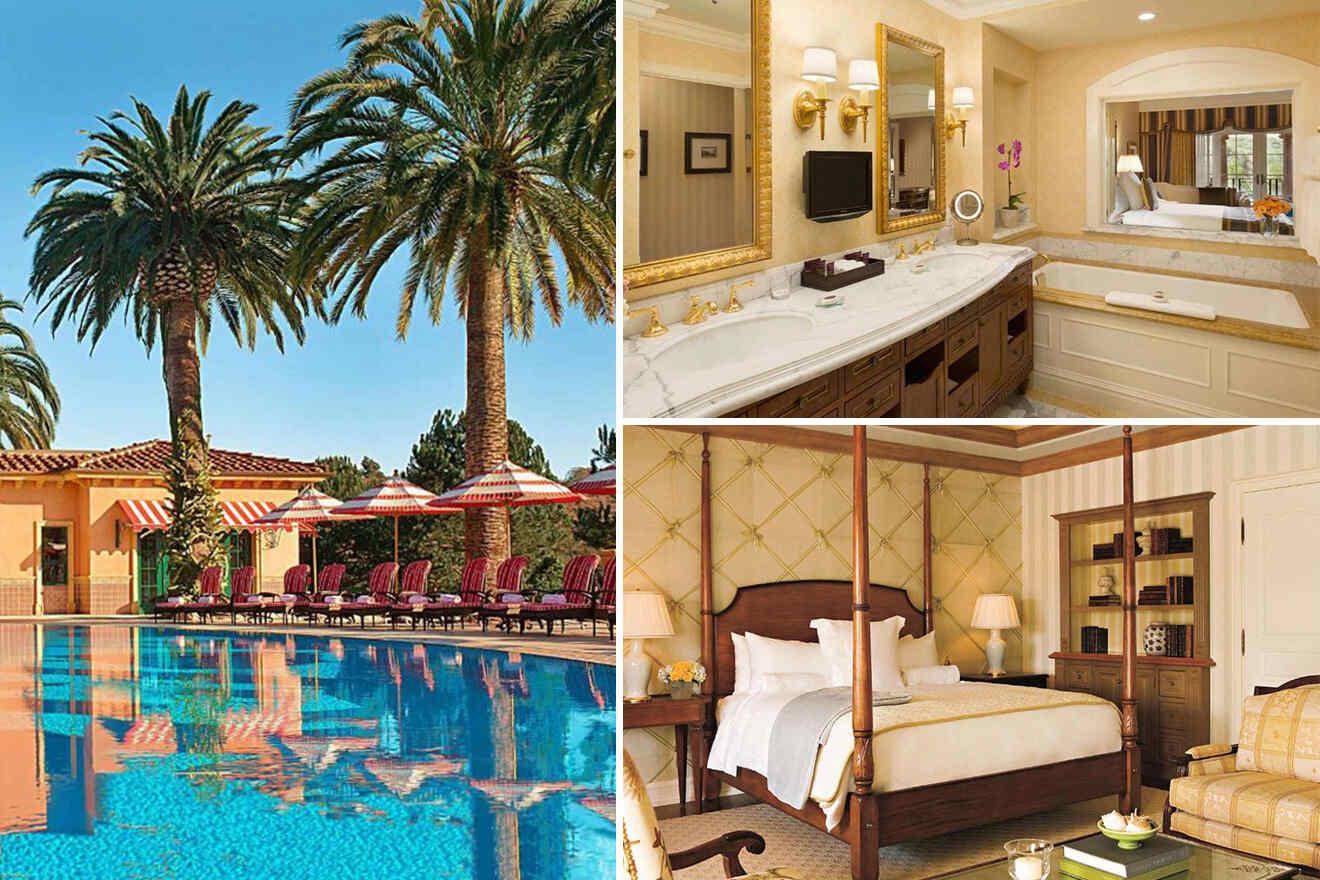 You really can't beat San Diego's boutique hotels! These places will make you feel as if you've landed in a palace or in an old luxury estate that once belonged to a duke! One such place is this palatial boutique hotel that has a Mediterranean-inspired design and an endless list of modern amenities.
Get ready for some lazy days spent under the Californian sun by one of the 2 outdoor pools, relaxing at the full-service spa and playing golf or tennis at their on-site courses and courts! And let's just say that the Mediterranean dishes served at their restaurant onsite will have you come back every night for more!
Check Current Prices
2. The Lodge at Torrey Pines – elegant hotel with a spa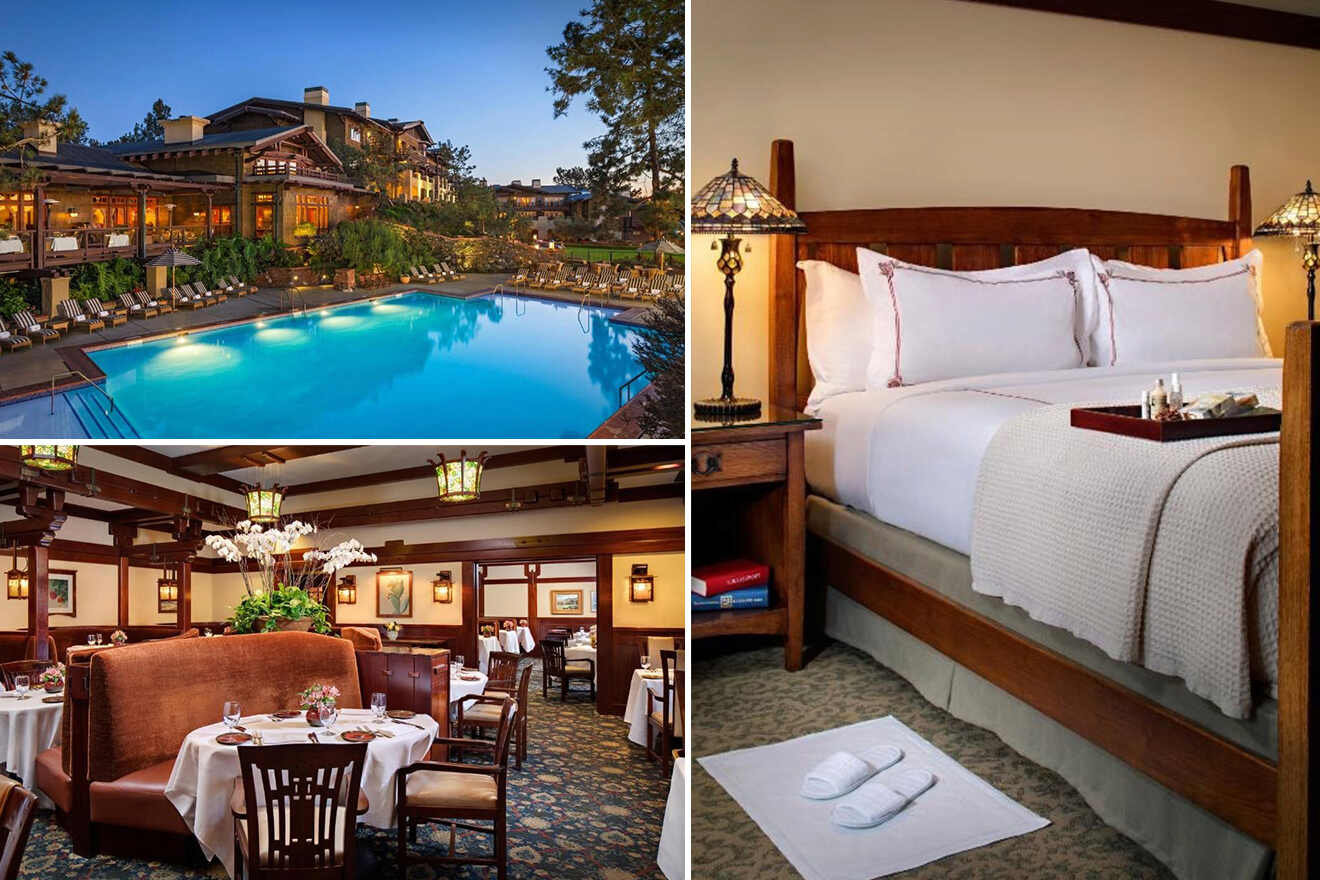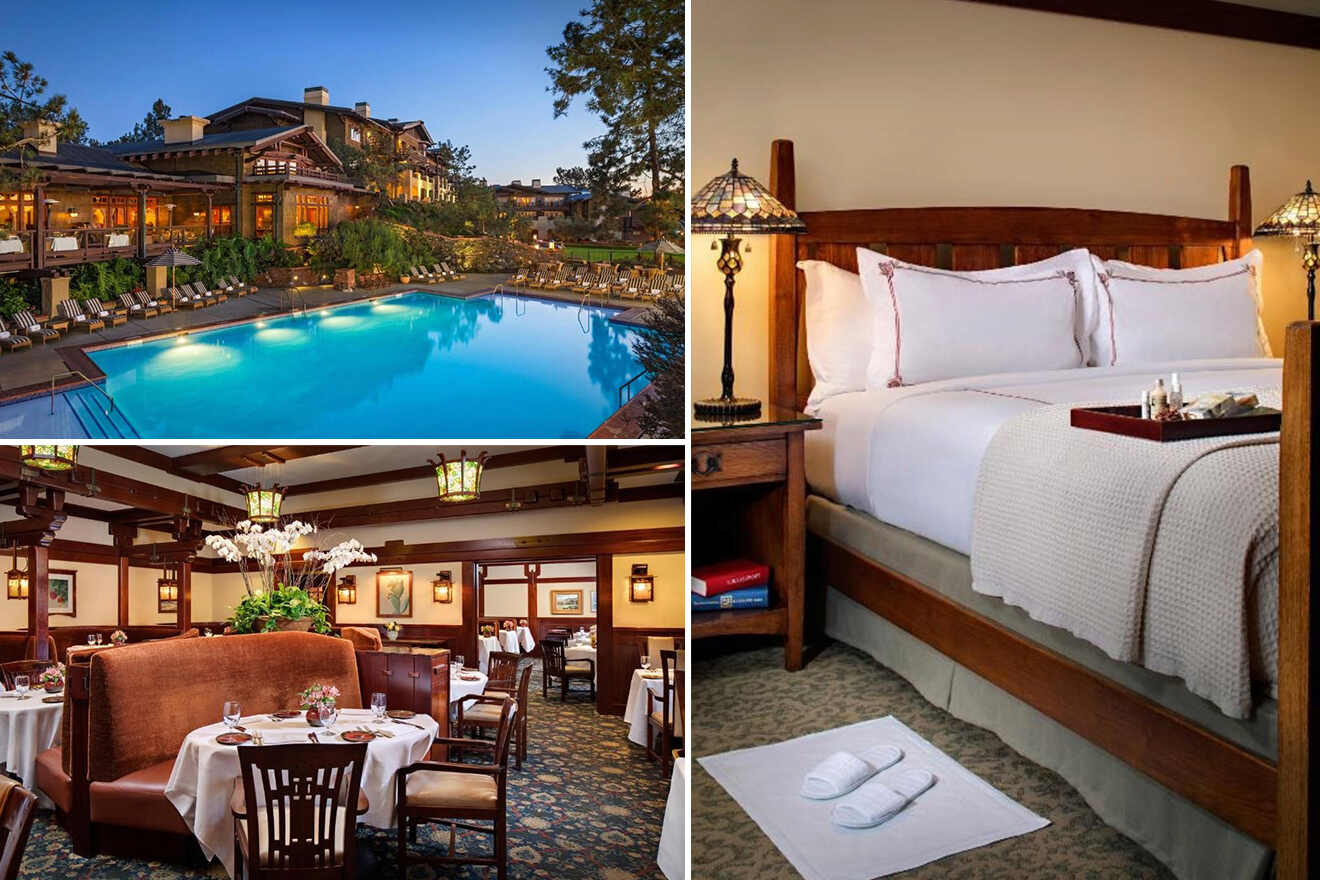 Overlooking a golf course, this trendy boutique hotel in La Jolla will offer you a tranquil and unforgettable stay in their fabulous guest rooms that have luxury linens, private patios, and marble bathrooms with an oversized bathtub.
Start your morning with some breakfast in bed or head to their fantastic restaurant which also overlooks the golf course and has an exhibit of original Valentien artworks (now, that's a must-see). When you're not out chilling on the beach you can enjoy all the amazing services that they offer at their spa or have a drink by the outdoor swimming pool!
Check Availability
3. Pendry San Diego – modern hotel with 3 restaurants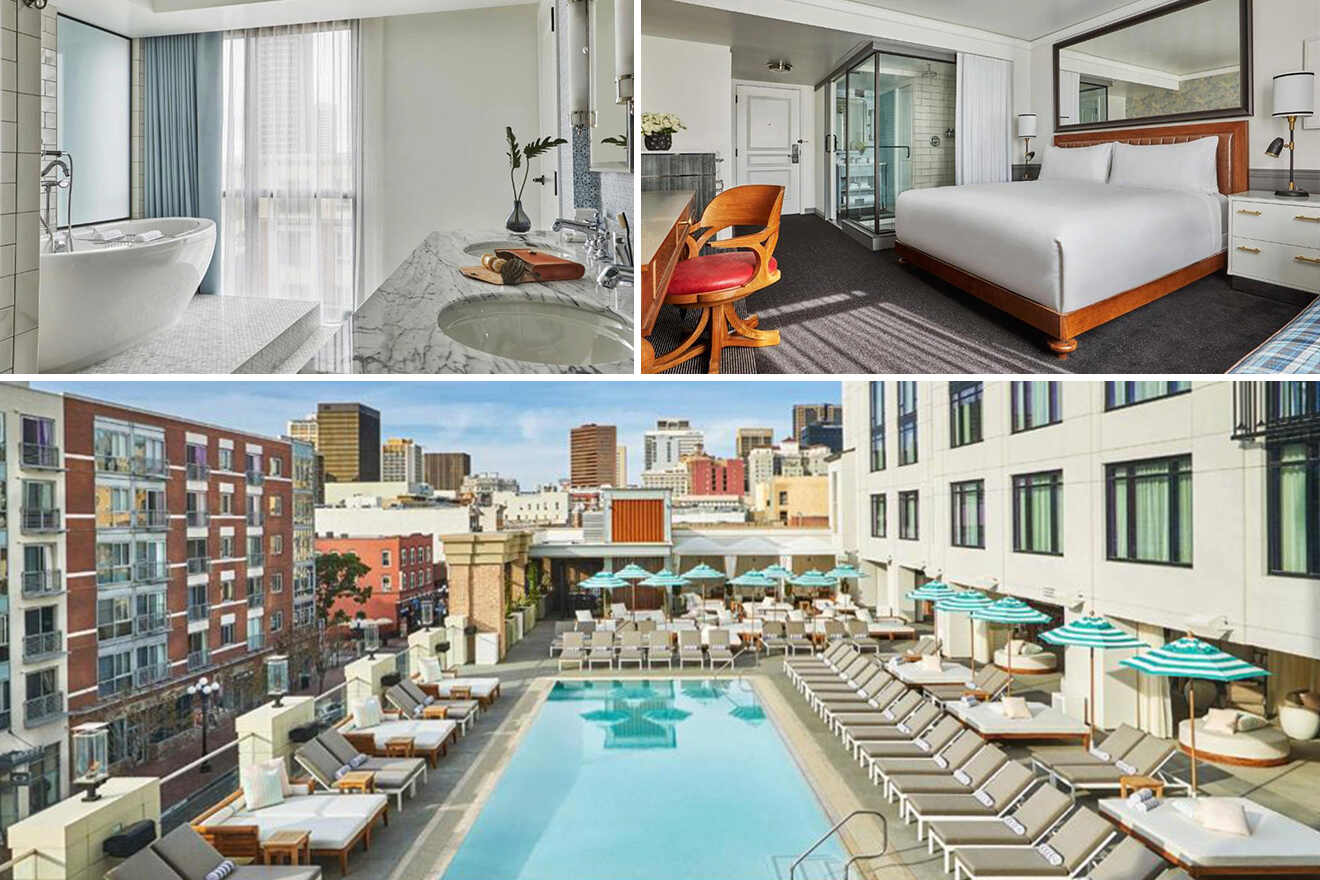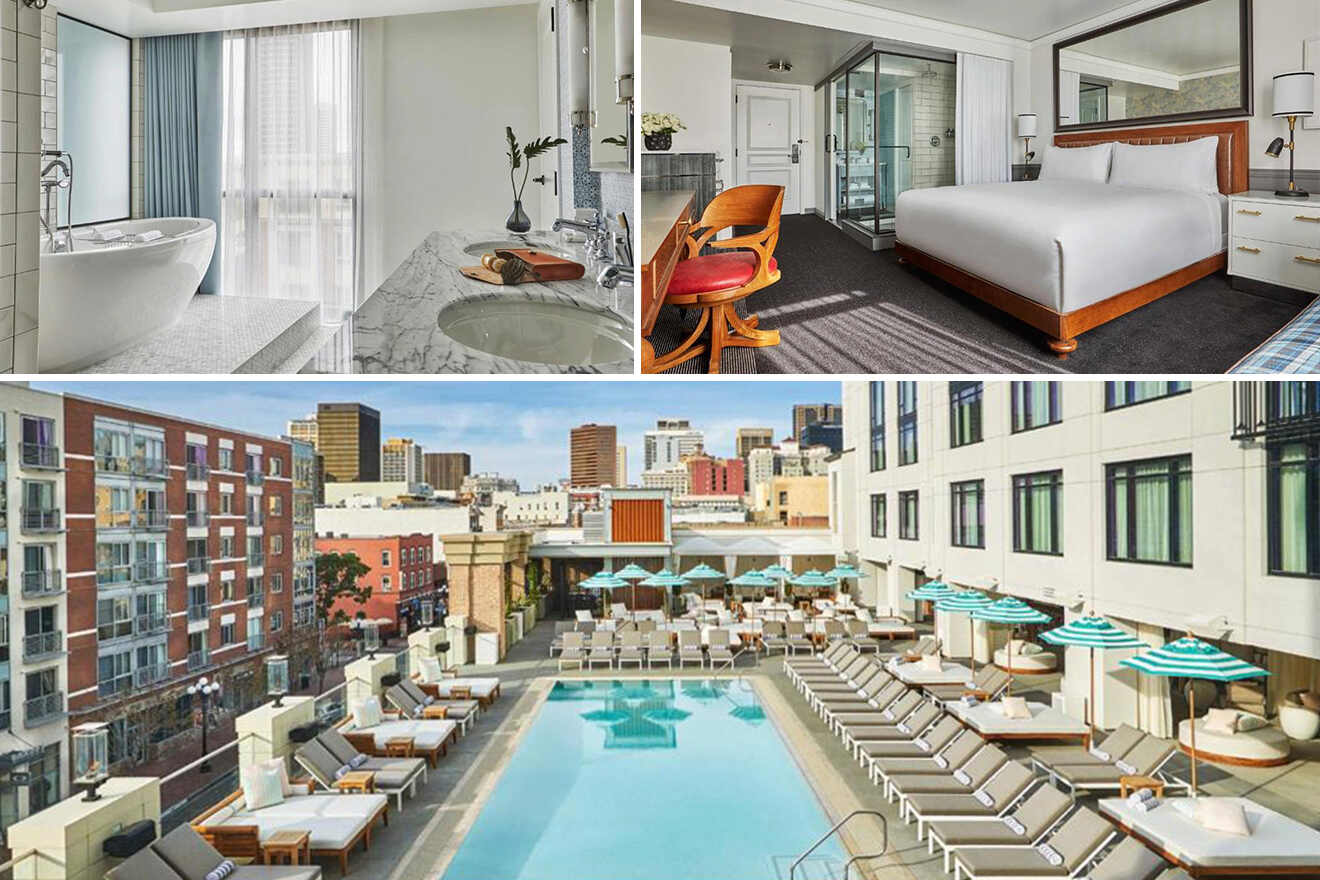 Set in the historic Gaslamp Quarter in a central location, this modern luxury hotel offers some incredible guest rooms with large windows, overlooking San Diego Bay! Although the Gaslamp Quarter and Little Italy, the neighboring area, are filled with great restaurants I do recommend trying one of the 3 restaurants on-site that I think you'll love!
Enjoy your morning coffee by the outdoor pool and then head to the spa to relax in the sauna or try some of their body wraps and massages! Don't forget that these are some of the best boutique hotels in San Diego so I highly recommend booking them in advance!
Find Available Dates
4. Estancia La Jolla Hotel & Spa – for a relaxing getaway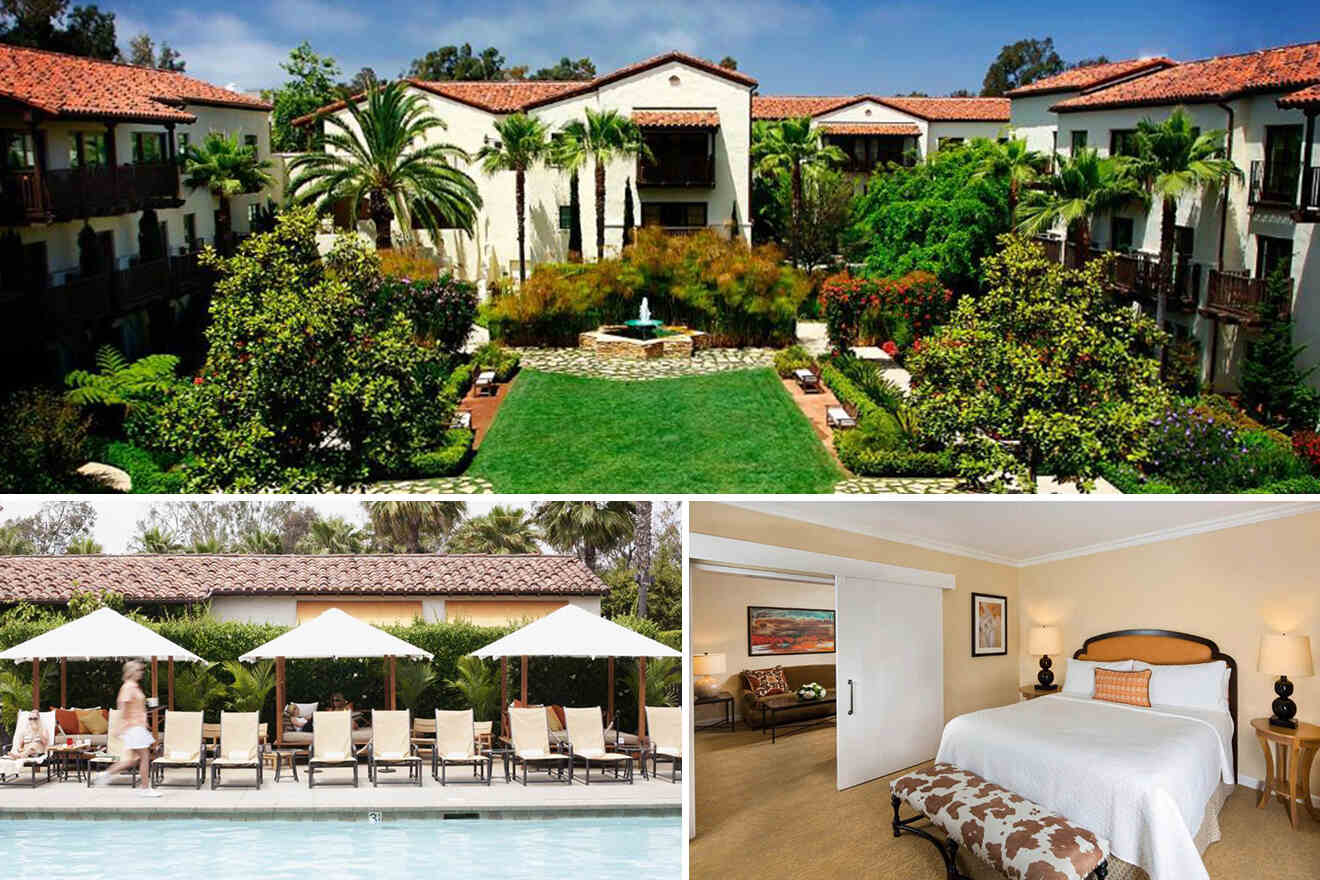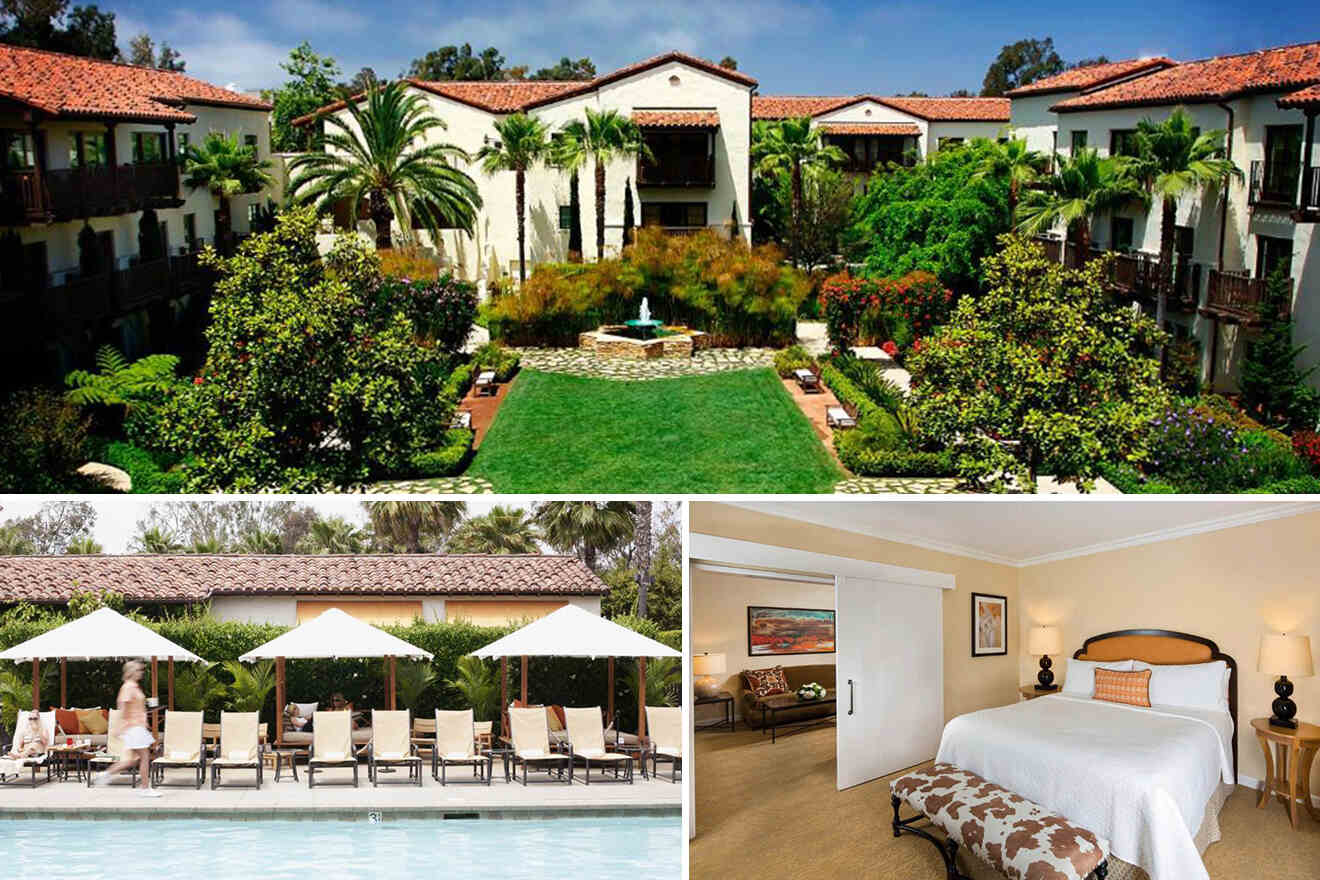 Surrounded by palm trees and lush greenery this hip hotel is set in La Jolla, just within walking distance of the beach! The hotel is decorated with soft colors and designed in such a way that will make you feel as if you've landed in a Mediterranean household.
On the days when you don't feel like heading to the beach or to Downtown San Diego and East Village to visit all the attractions, you can spend your time at the hotel, trying the different treatments at the spa center and going on walks around their small garden! Of course, there's also a pool, in case the weather gets too unbearable!
Check Current Prices
5. Hotel Republic San Diego – with a rooftop bar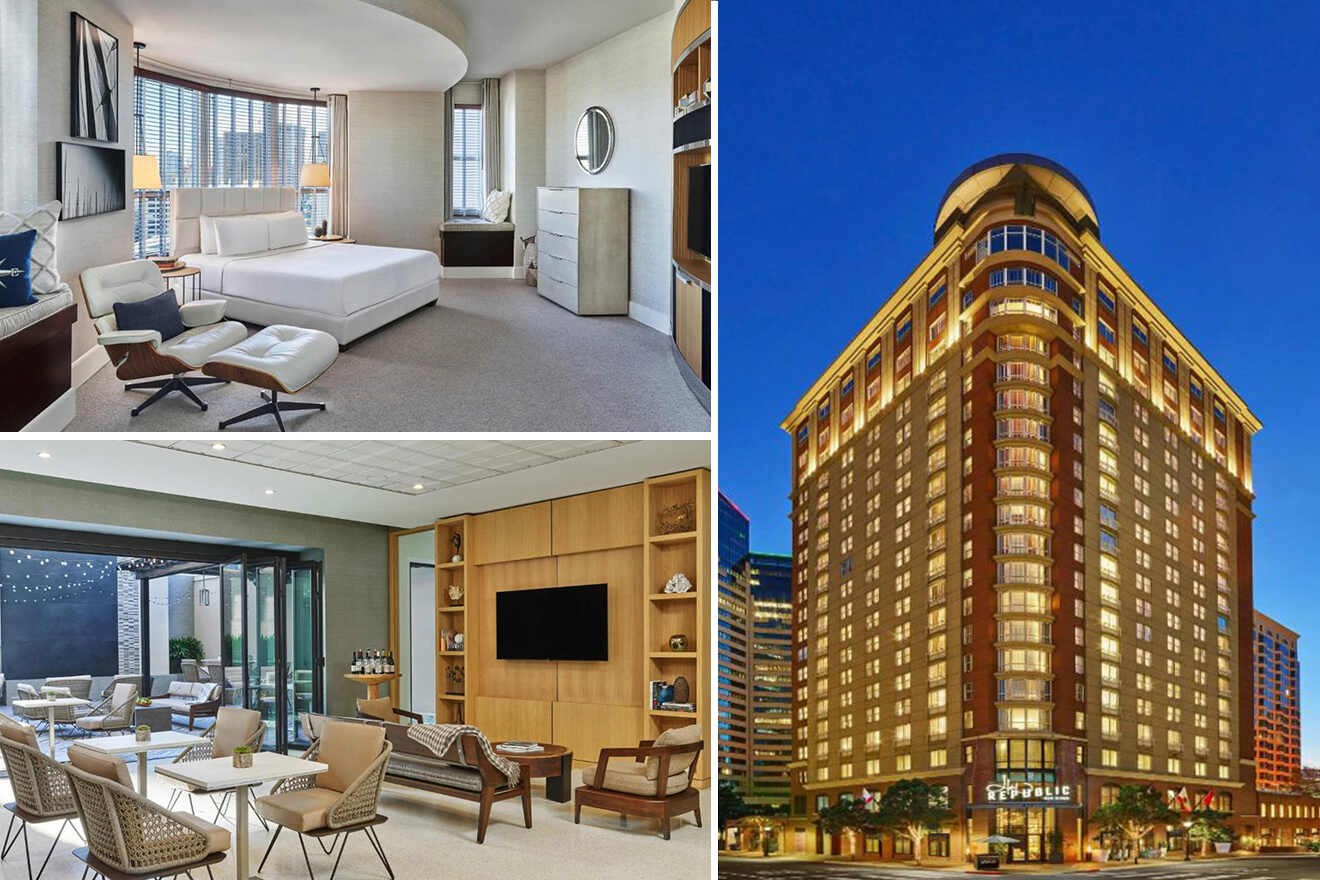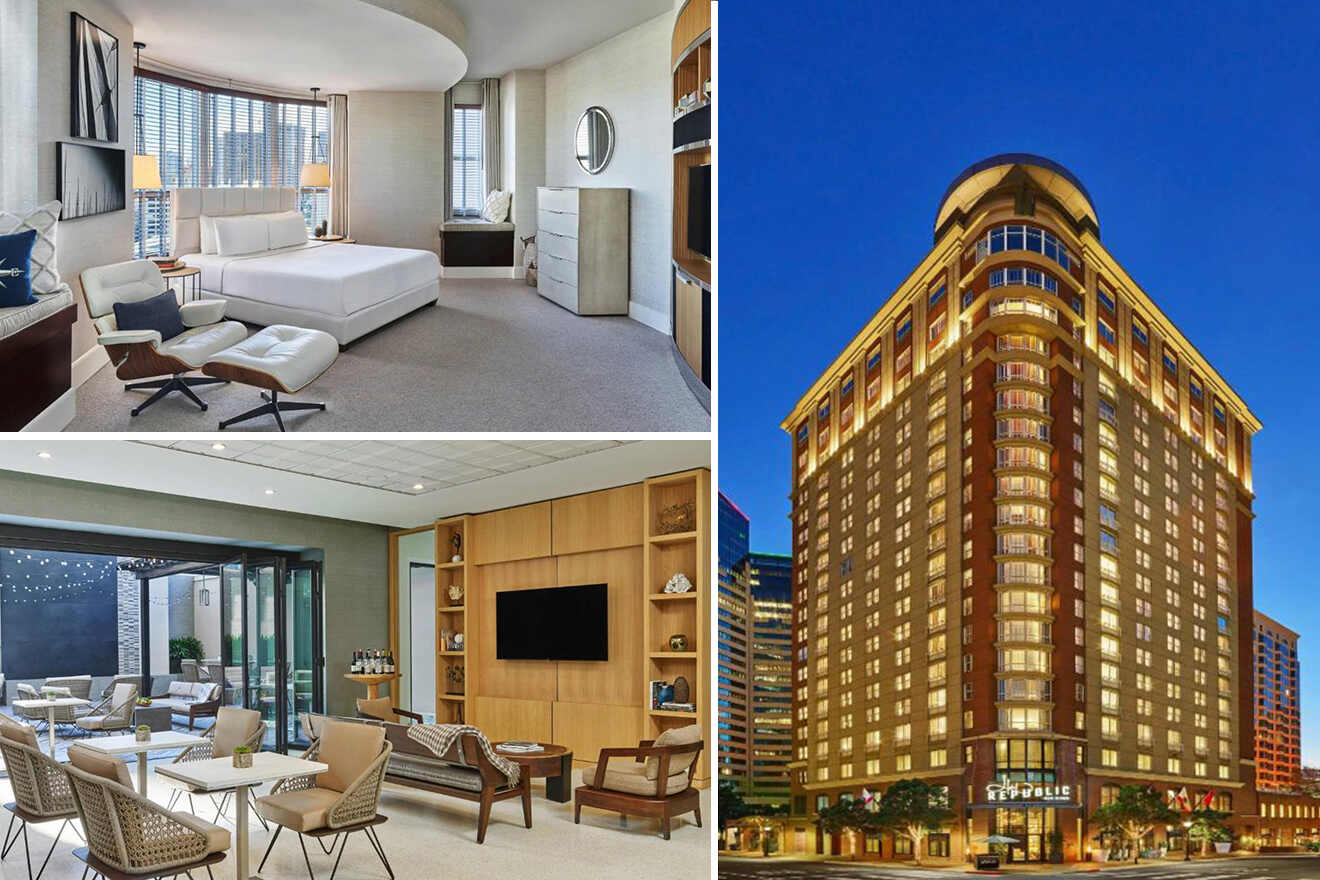 Say hello to one of the coolest hotels in Downtown San Diego! Close to all the big attractions and the Little Italy neighborhood, this hotel will become your favorite place in town! Just wait until you see the rooftop bar which offers incredible views and a sculpture of stacked beach chairs used for a nightly bonfire!
You can wine and dine at the rooftop bar, or at one of the other 2 restaurants on-site! The eco-rooms come with complimentary Wi-Fi and can accommodate pets. But I think the feature that most of you will love is their contemporary art gallery set right inside the hotel!
Check Availability
6. El Cordova – a Spanish-style hotel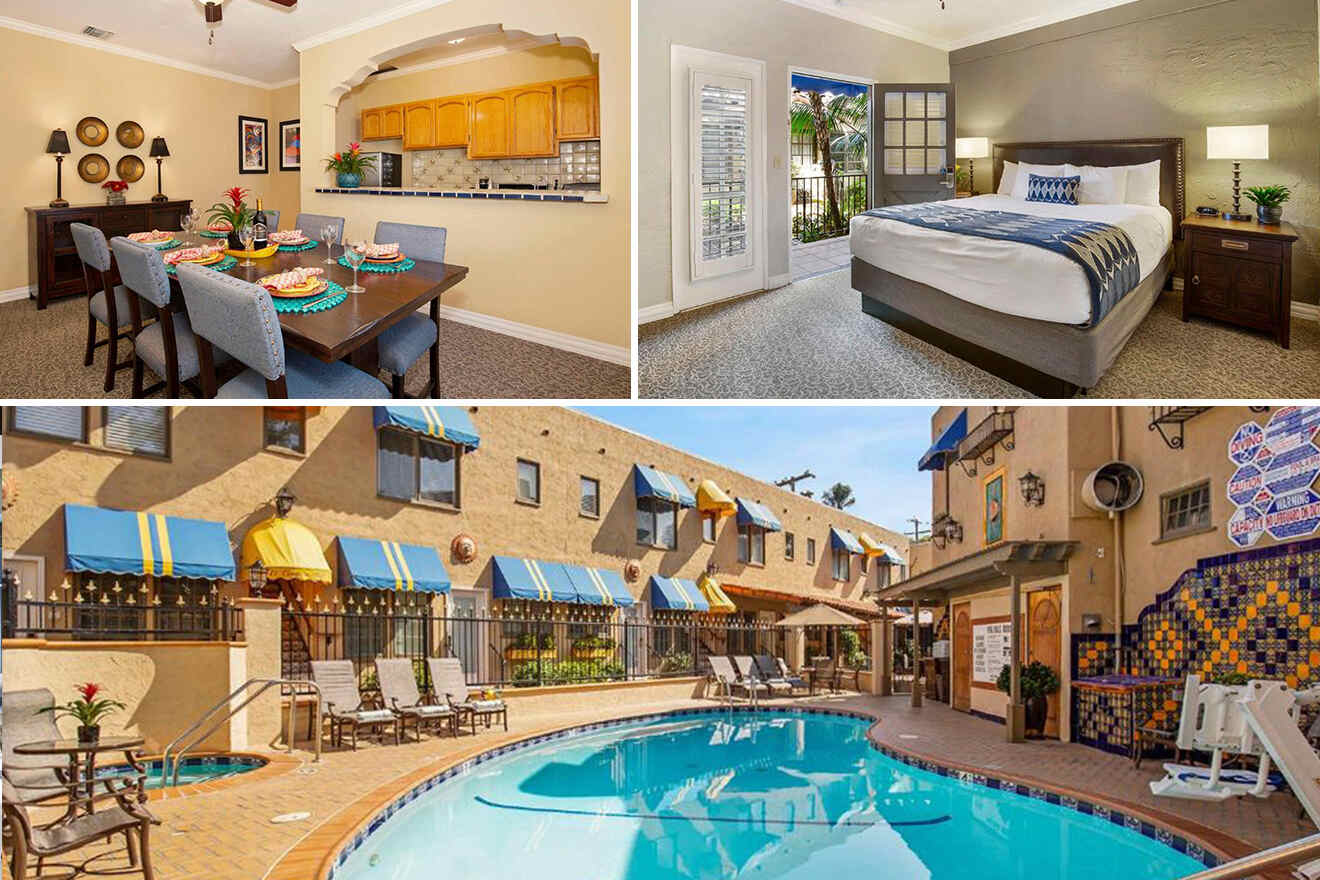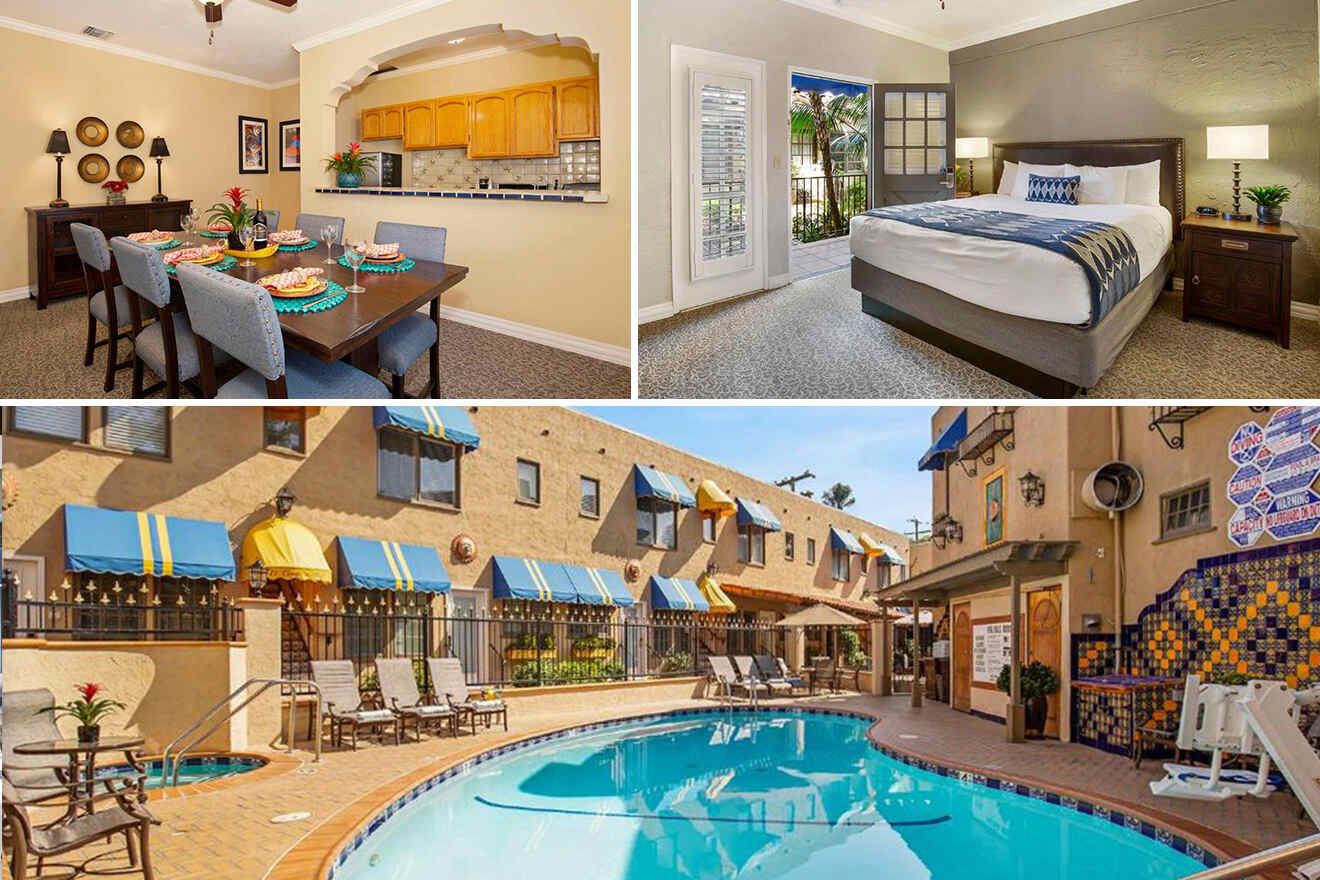 This boutique hotel is only a 10 min walk away from Coronado Beach and it's set in the former mansion of an industrialist! When you see the classic Spanish village style courtyard you'll probably want to spend most of your time there, reading or just chilling under the trees.
All the rooms at the hotel come with free wi-fi and coffee makers. But I doubt you'll spend too much time there when the sunshine will call you to hang out by the swimming pool outside.
The accommodation has 2 restaurants, and one serves seafood dishes while the other one serves Mexican cuisine.
Find Available Dates
7. Grande Colonial La Jolla – oceanfront hotel with pool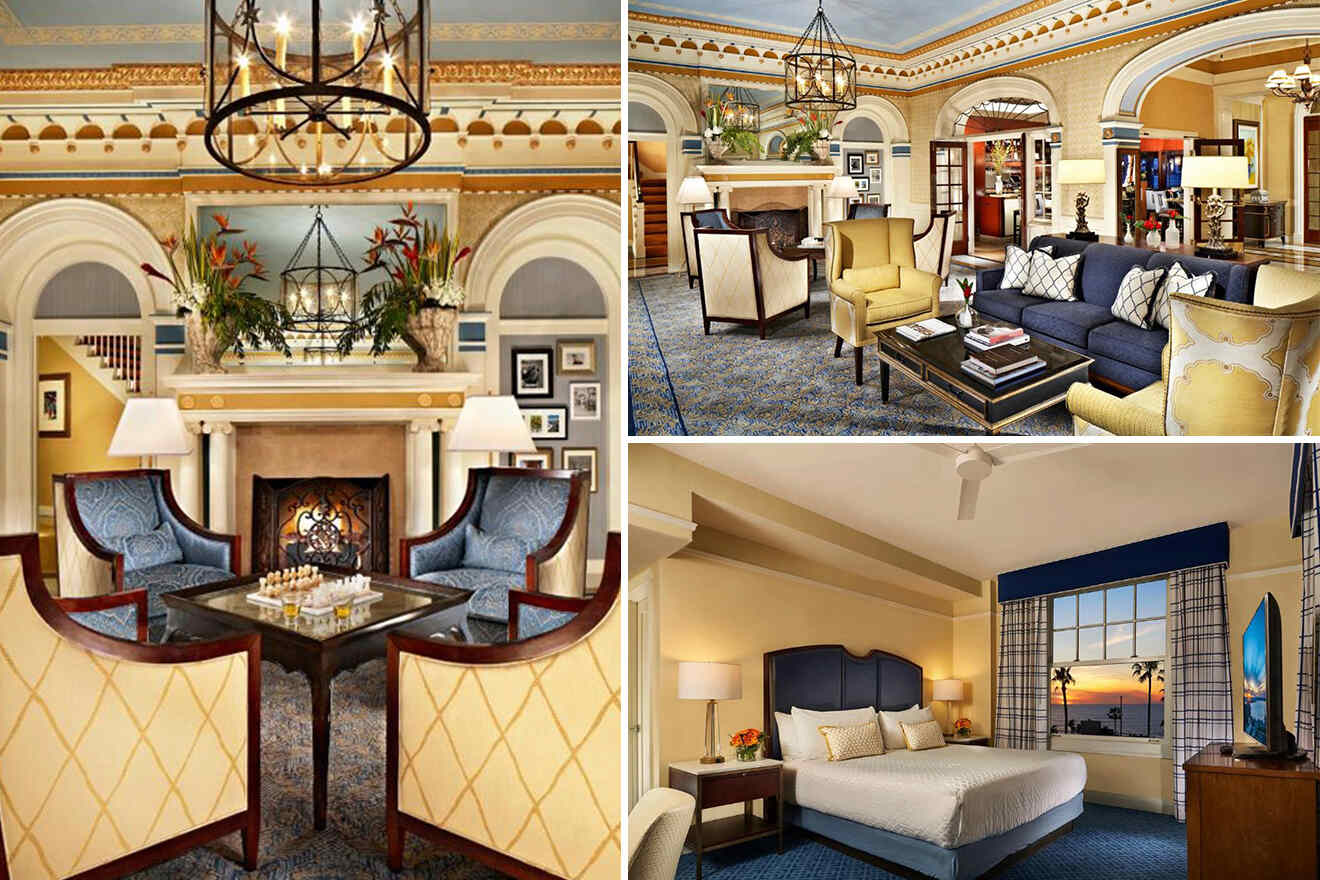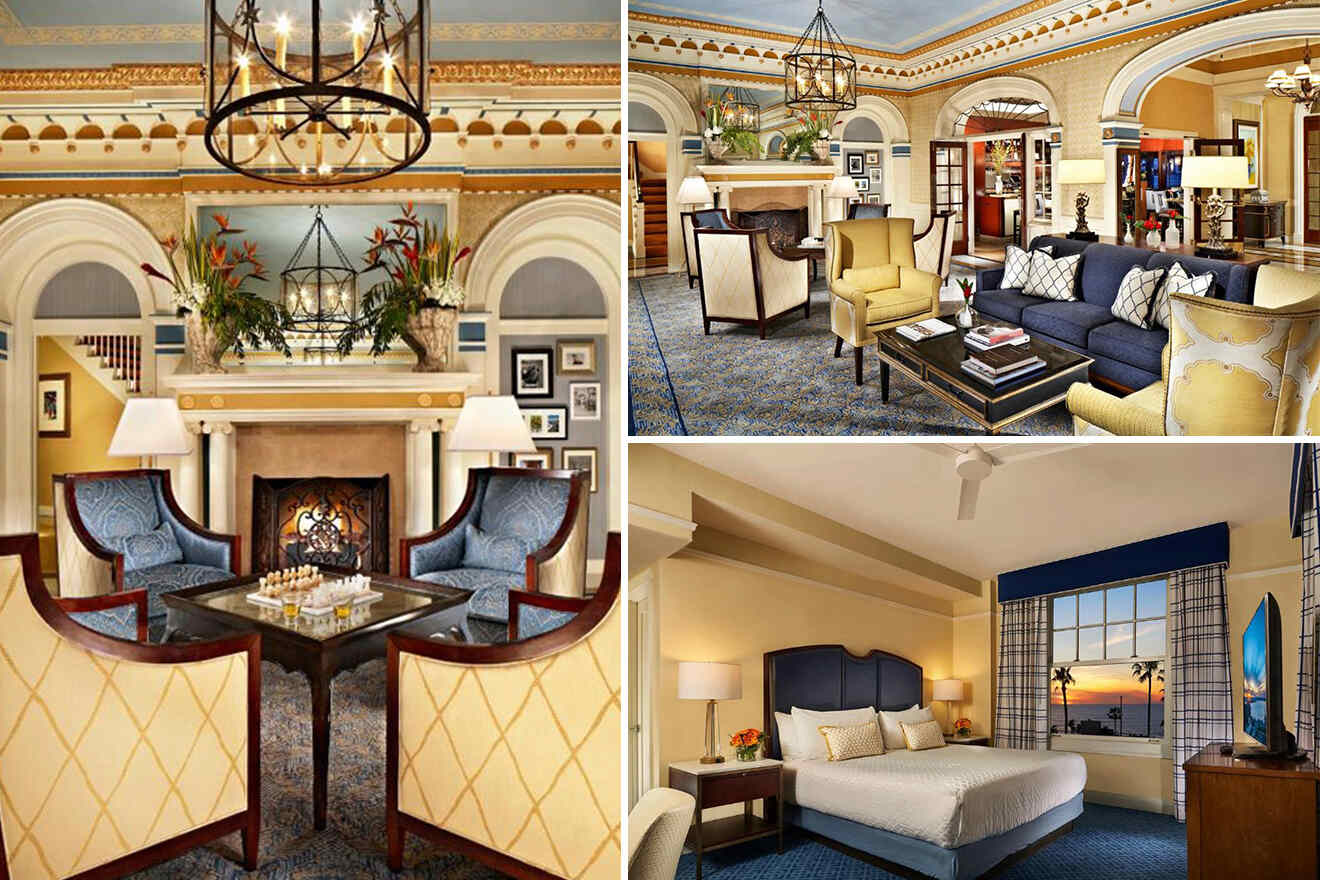 Wake up to a breathtaking view of the ocean at this La Jolla trendy hotel! All the rooms at this eco-friendly accommodation have gold and green color accents and come with a flat-screen TV and free Wi-Fi.
Once you are fully awake, you can head to their on-site restaurant and enjoy a yummy Californian breakfast or you can also order it up to your room if you want. In addition, there's also an outdoor pool and a garden where you can relax, sunbathe, read your book or just relish in the moment and the scenery.
If you, by any chance, feel stoked to explore around, there is an option to borrow some bikes!
Check Current Prices
8. Pacific Terrace Hotel – modern hotel with a spa tub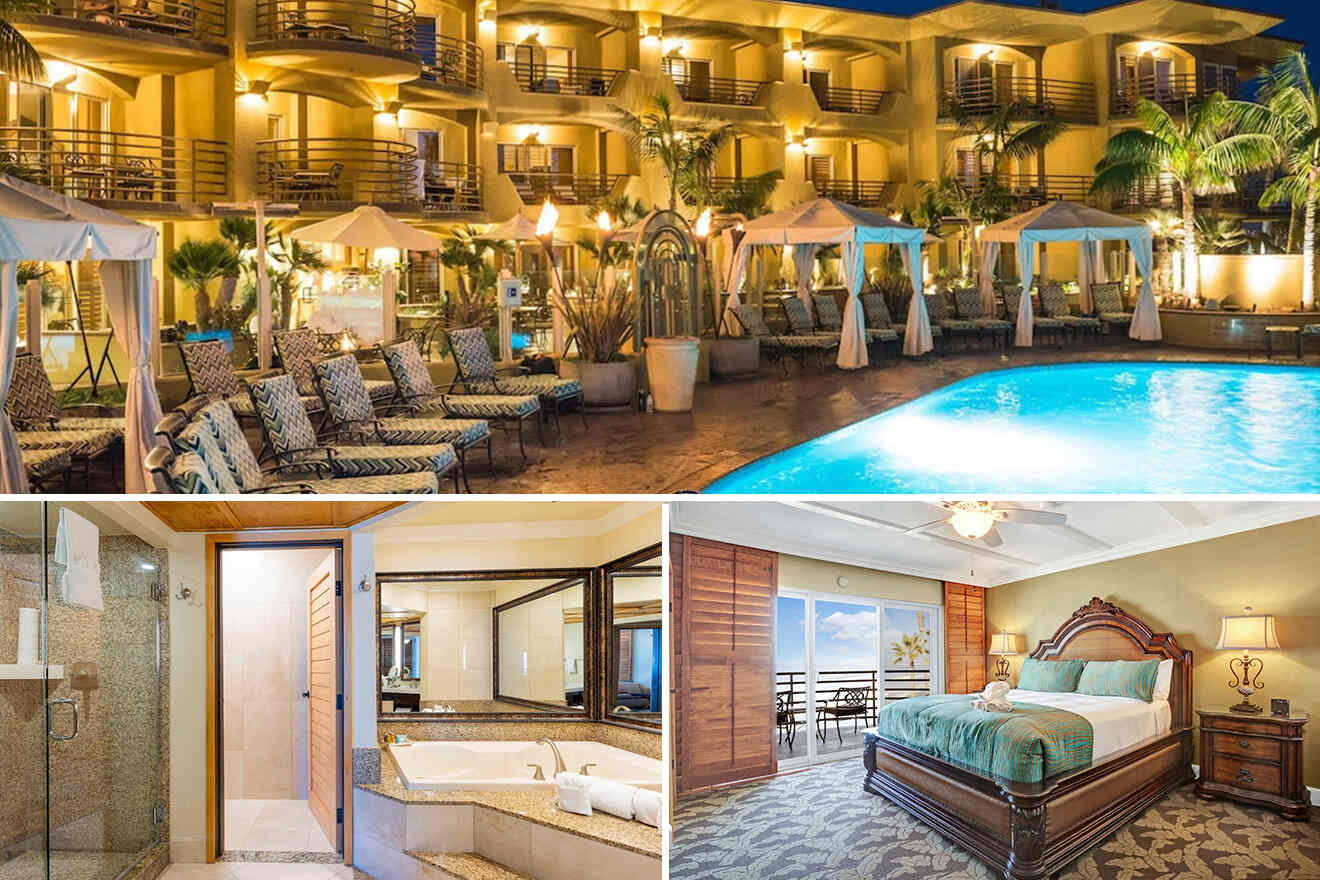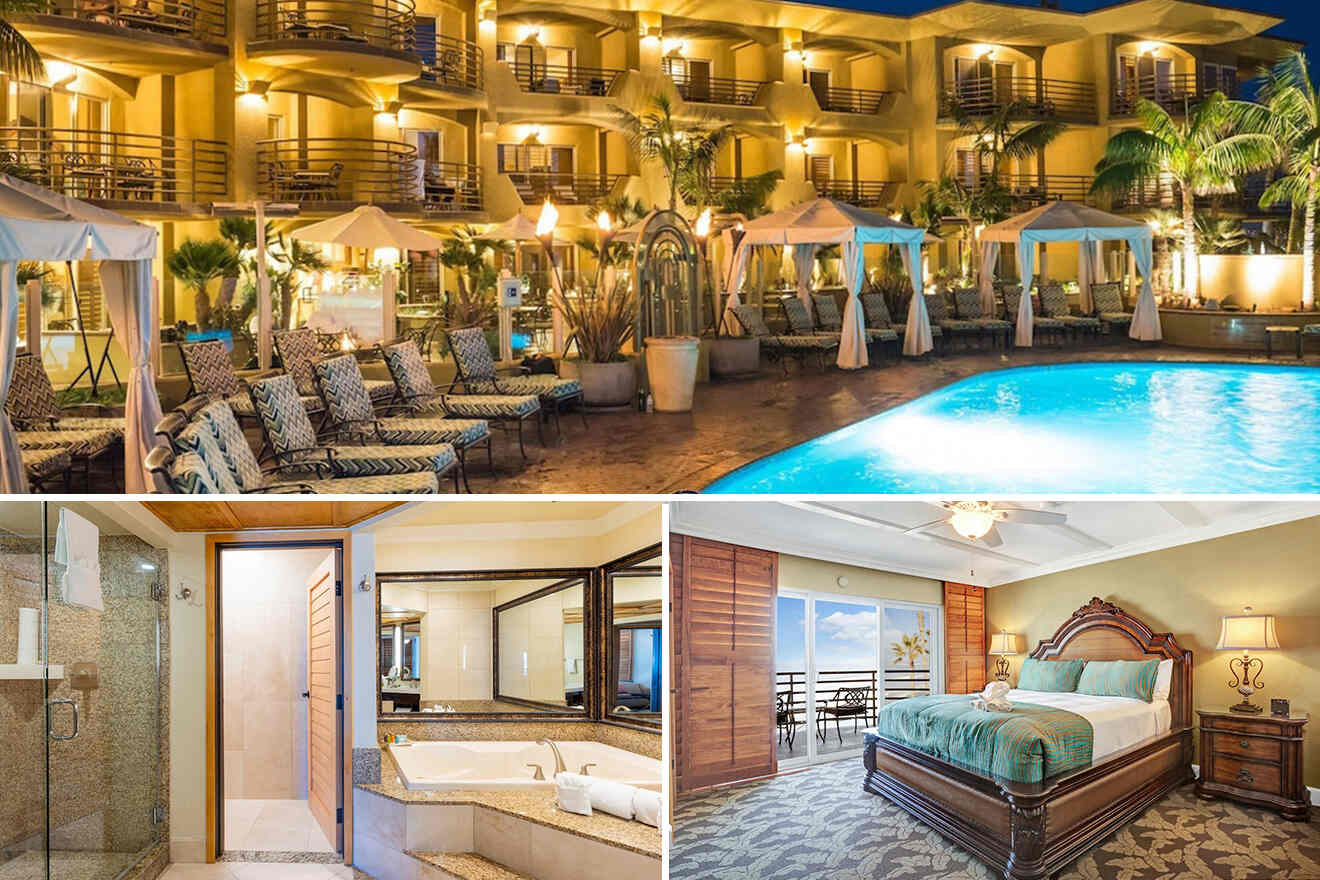 You'll love the location of this Pacific Beach hotel! Each morning you can enjoy your coffee on the balcony with a view of the ocean. All the rooms come with the necessary facilities including coffee and tea makers, a flat-screen TV, and free Wi-Fi.
Since you're super close to the beach I'm guessing you'll spend most of your time there or checking out other places like La Jolla Cove beach. However if you're looking to escape the crowds you can always linger at the hotel as there is also a fitness center, an outdoor pool and a spa tub to keep you entertained at all times!
Check Availability
9. Hotel Indigo – downtown hotel with a restaurant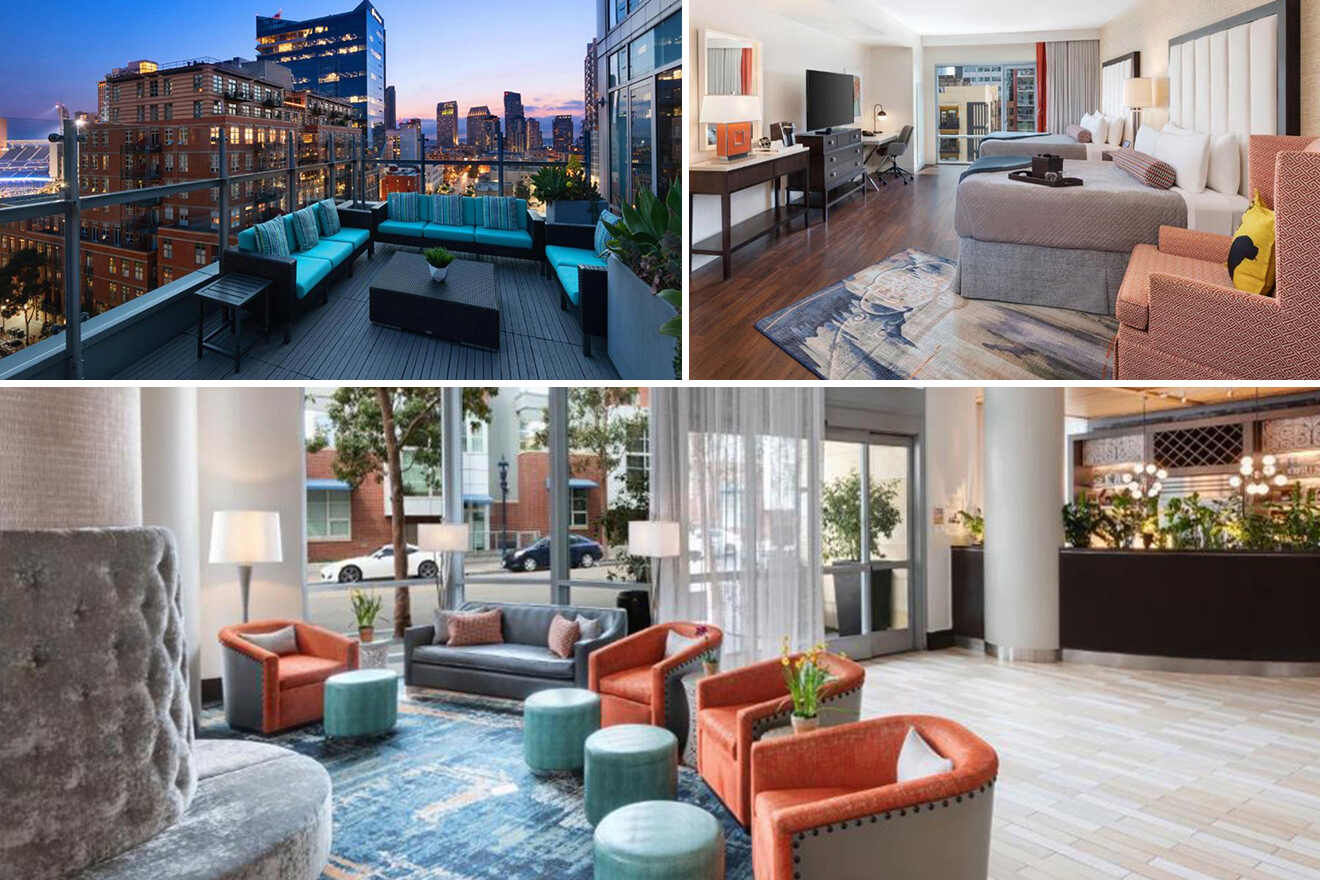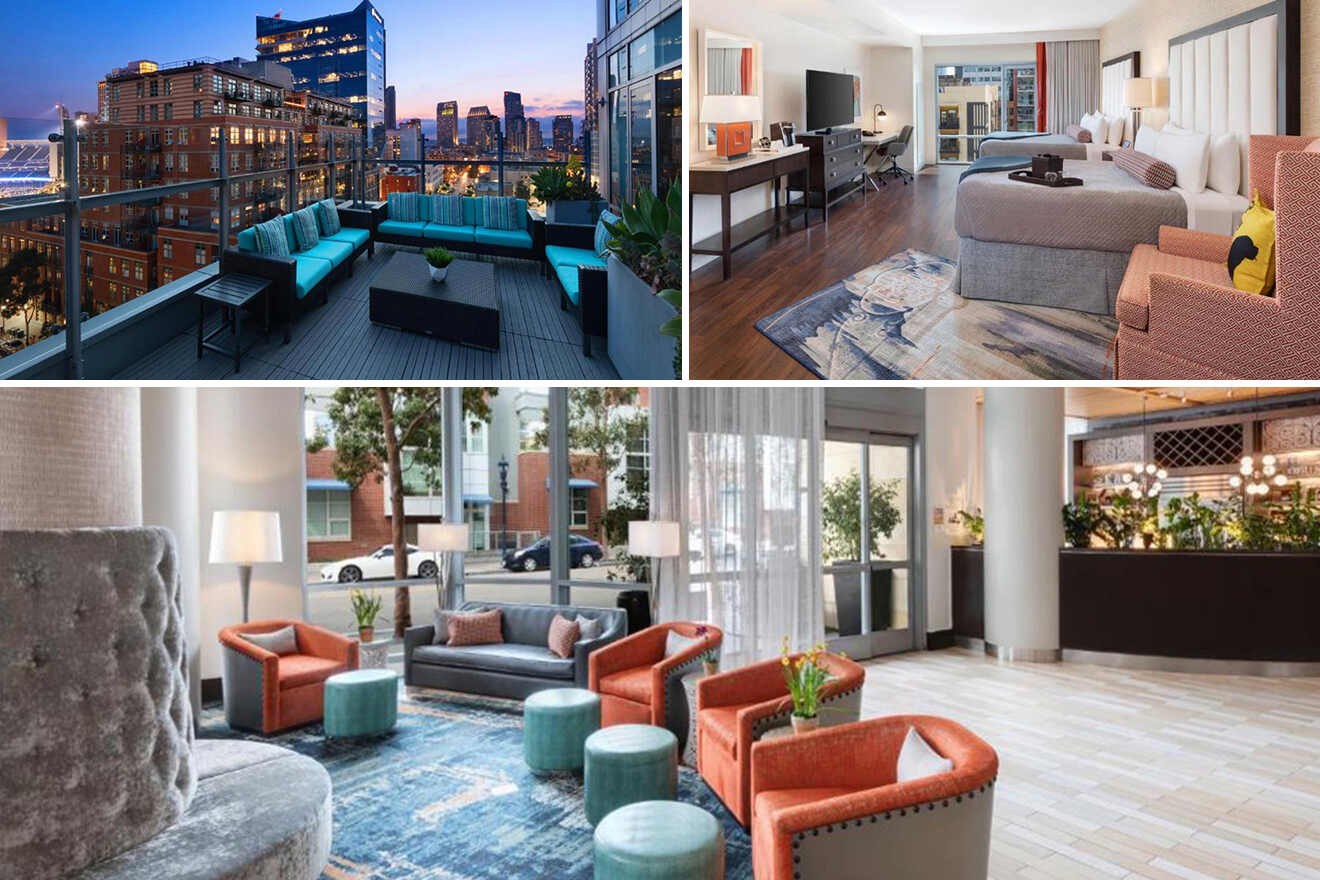 Book the best guest room at this fabulous Gaslamp Quarter district hotel! All the suites come with hardwood floors, comfortable beds, amazing city views, and all the amenities that you need for an unforgettable stay!
Enjoy visiting San Diego's main attractions like Balboa Theatre and the USS Midway Museum, and eating in all the fancy restaurants you have always imagined. And yes, that includes the in-house restaurant of this hotel which is definitely a must-try!
In addition, you will also have a fitness center and a bar at your disposal, as well as an outdoor fireplace which is just the perfect spot for a late-night cap!
Find Available Dates
10. Tower 23 Hotel – contemporary hotel with a view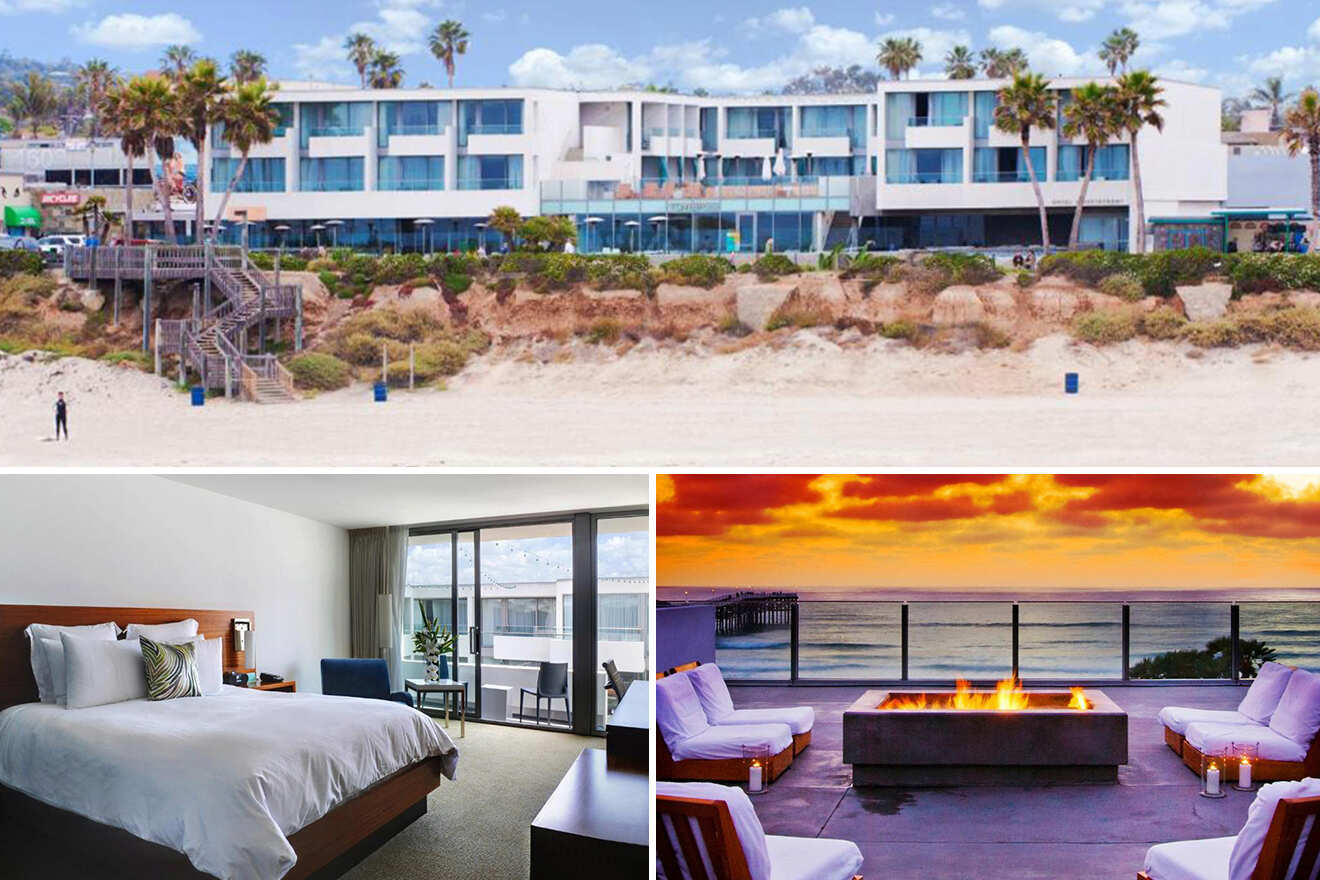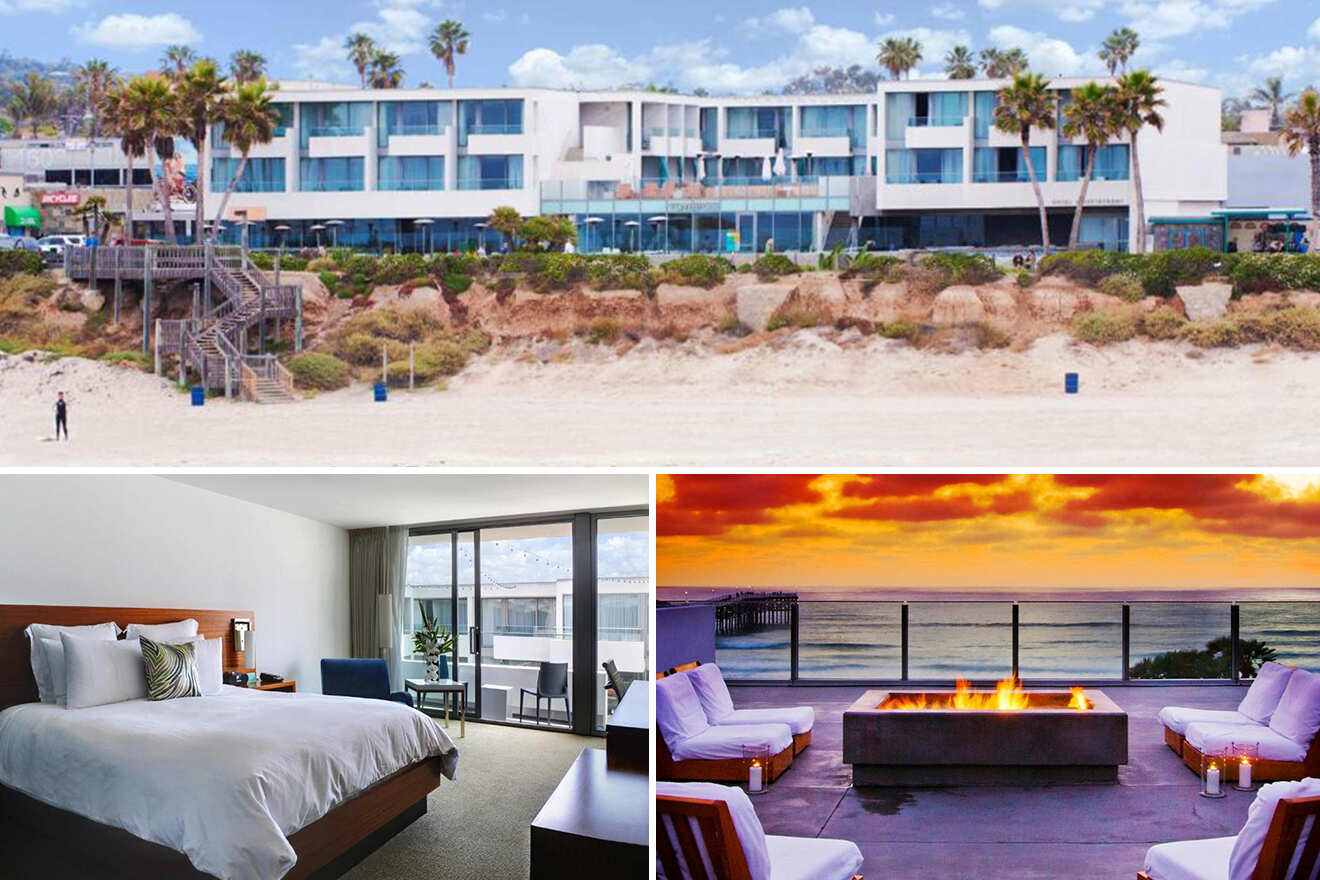 Don't want to stay away from the beach for a second? Then I think that this boutique hotel, which was named after the lifeguard tower 23 on Pacific Beach, is the right place for you! is one Located in one of the best areas in San Diego, featuring a minimalistic design with modern touches and an unbeatable view, this accommodation is a must-stay!
Some rooms come with floor-to-ceiling windows and a balcony that overlooks the beautiful Pacific Ocean. You'll find numerous things to do around the hotel from surfing, fishing, golfing, and going on whale watching tours! And after a day of being so active you'll love crashing on one of the little couches on the terrace around the outdoor fireplace while savoring a glass of the finest Californian wine.
Check Current Prices
11. The Guild Hotel – stylish hotel with a gym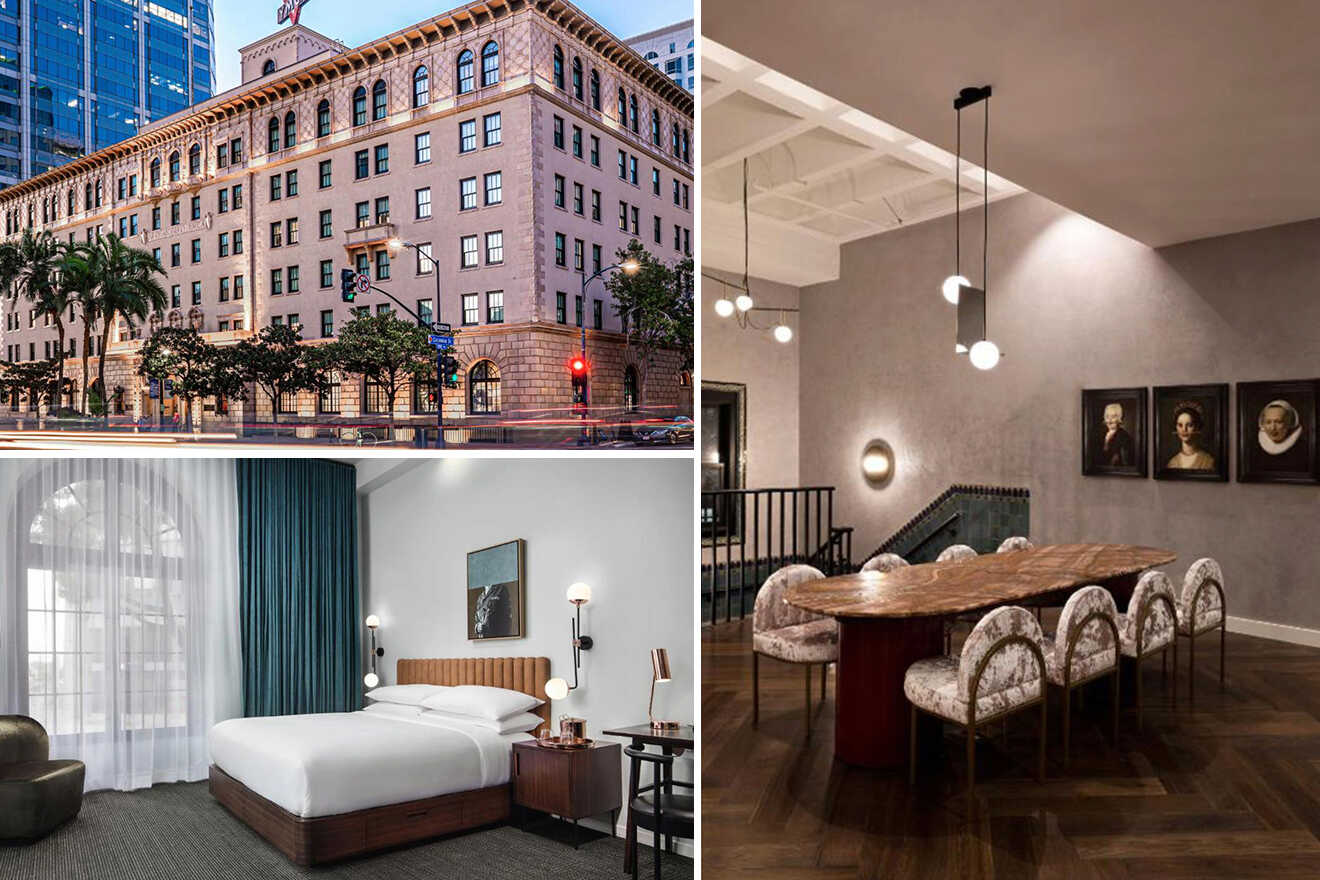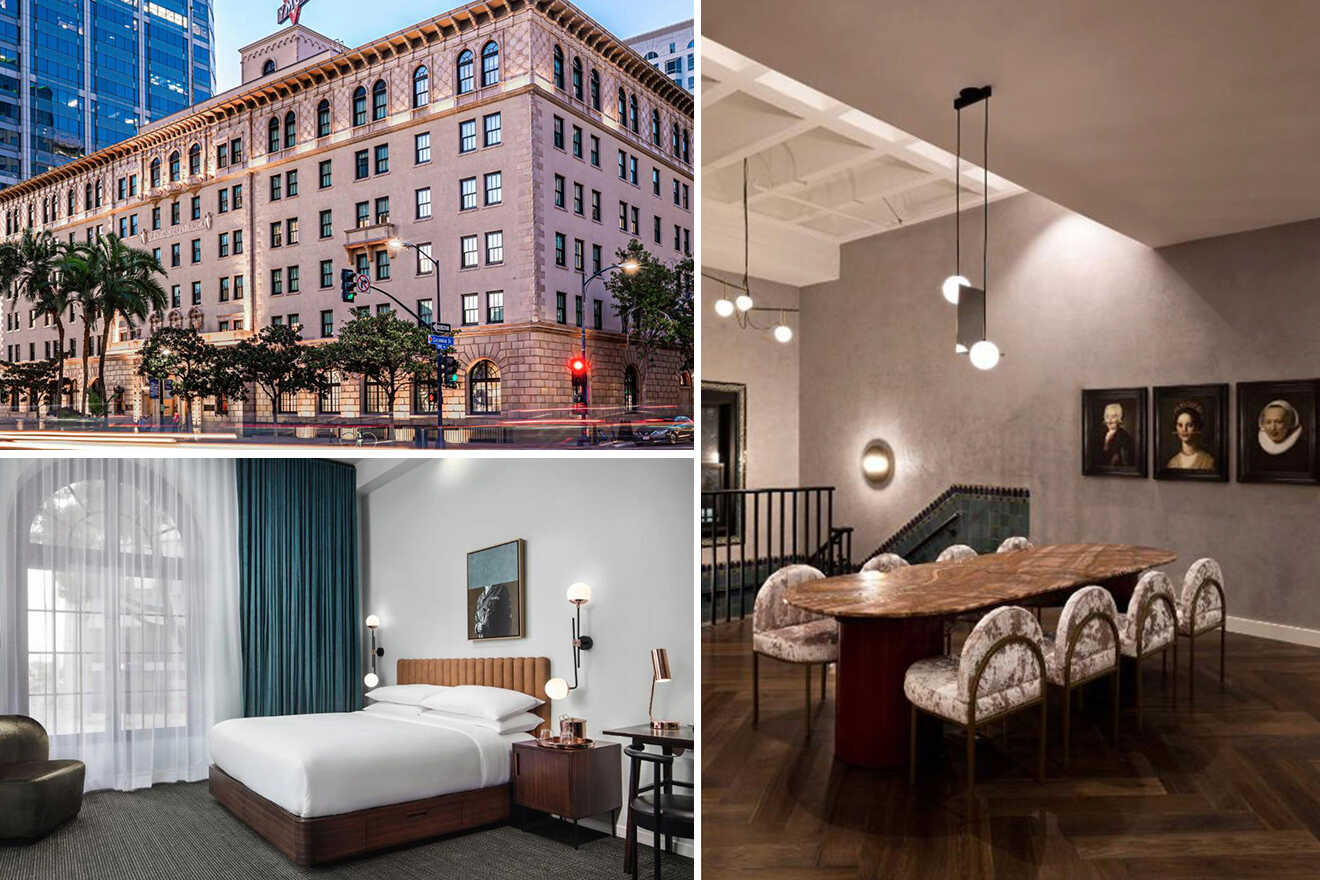 Gotta love a boutique hotel that has stylish decor, right? What I love about this one is the combination of different influences and aesthetics, which gives the place such a fresh look.
Set in Downtown San Diego, just a short walk from Little Italy, Petco Park and the San Diego Convention Center, this hotel offers a fitness center and free Wi-Fi.
And yet, la pièce de résistance is surely the European-designed courtyard, where you can enjoy a drink with your friends before heading to dinner at the hotel's on-site restaurant. The rooms have simple decor but they still keep high standards and offer lots of facilities including a private bathroom, flat-screen TV, and a coffee machine.
Check Availability
12. Hotel Marisol Coronado – with a historic Spanish flair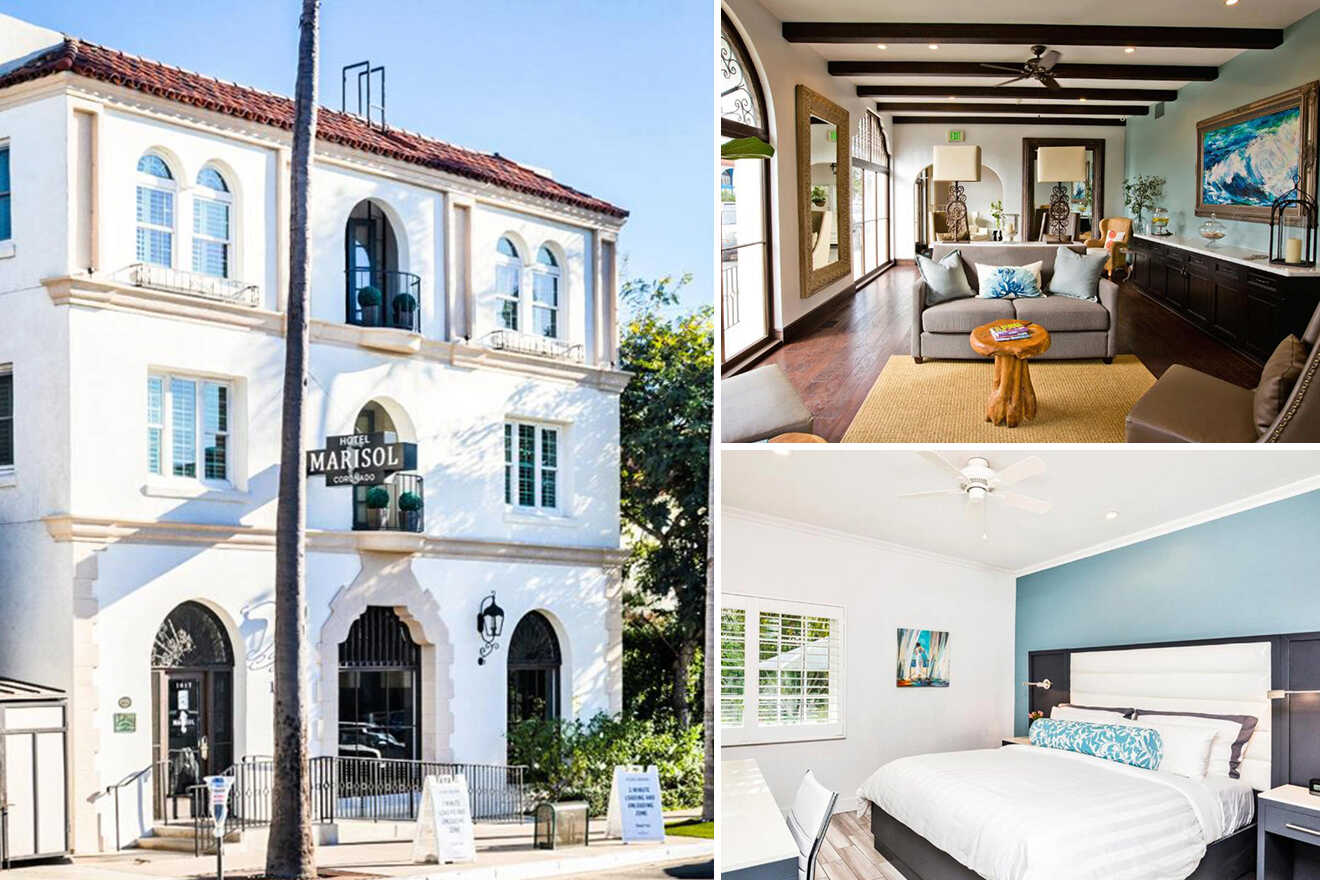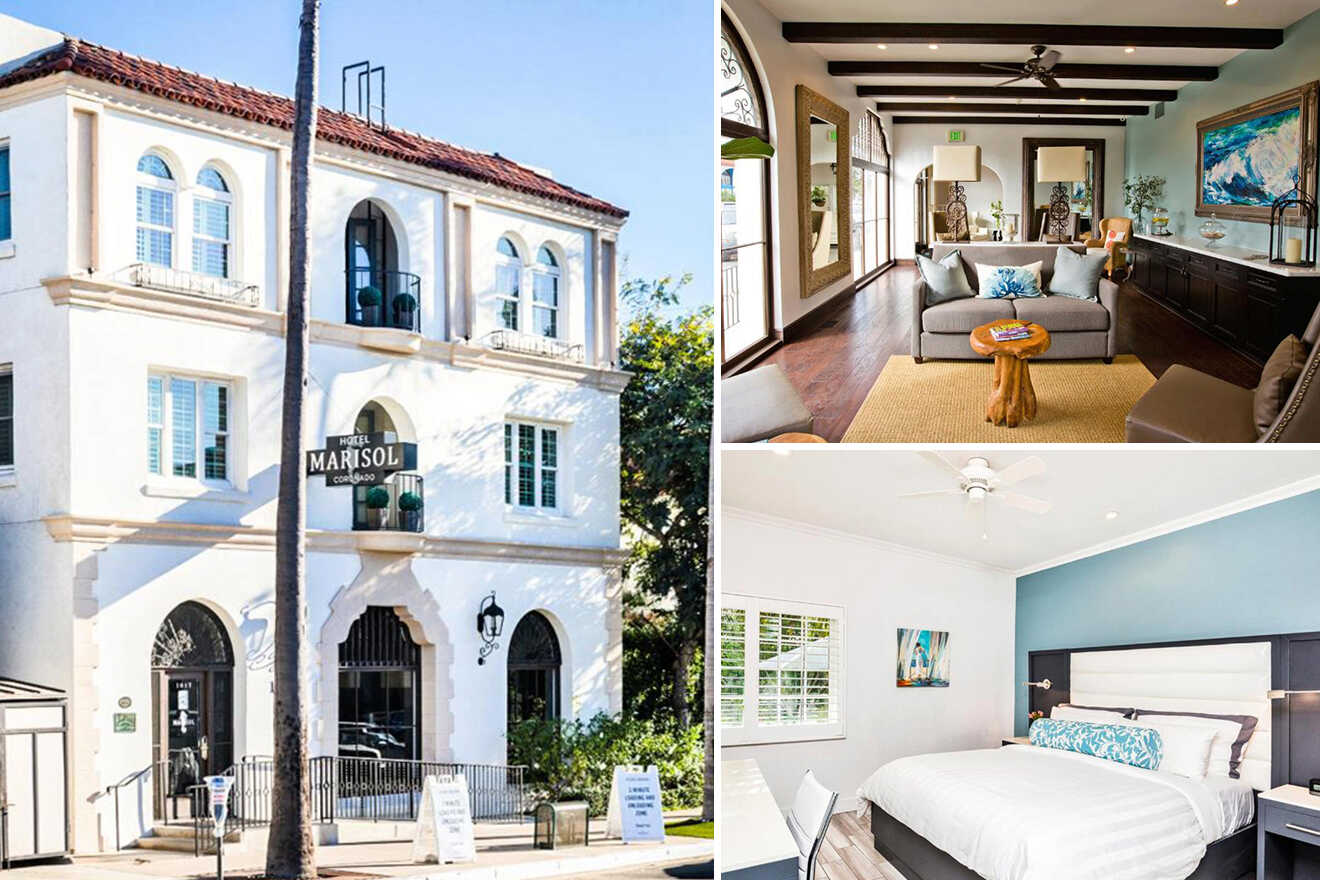 If you've wanted a taste of Europe then I think you'll enjoy staying at this historic boutique hotel near Coronado Beach! You can definitely see Spanish influences in the design of the hotel and all its decorations, from paintings to furniture.
Each room at the accommodation has air-conditioning, a flat-screen TV, and a coffee machine. Of course, the European courtyard is one of the highlights here. Although I'm sure some of you will be happy to know that the hotel offers free bicycles for guests who want to explore the area, as well as free beach towels and chairs.
Find Available Dates
13. Staypineapple, Hotel Z – quirky hotel with free bikes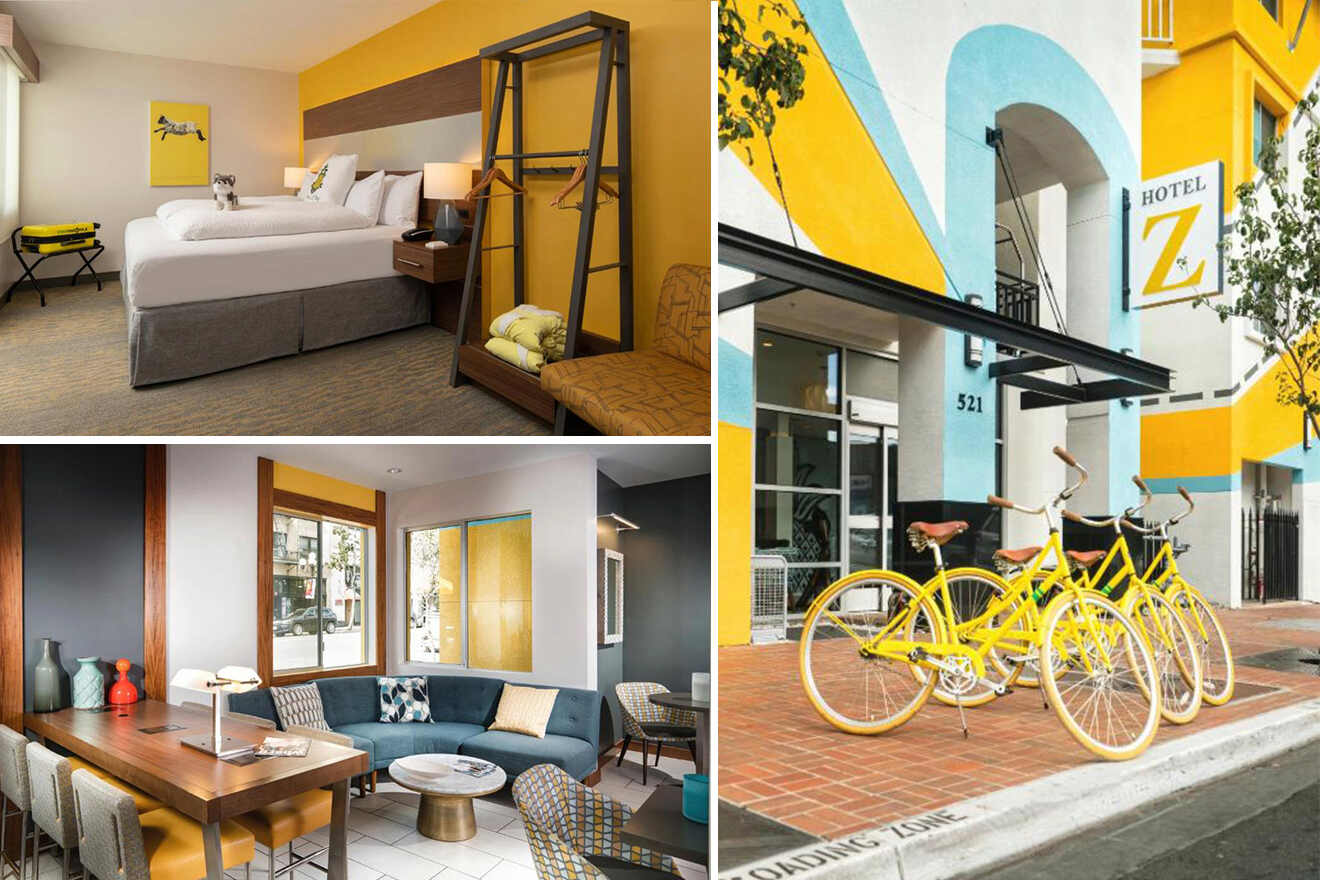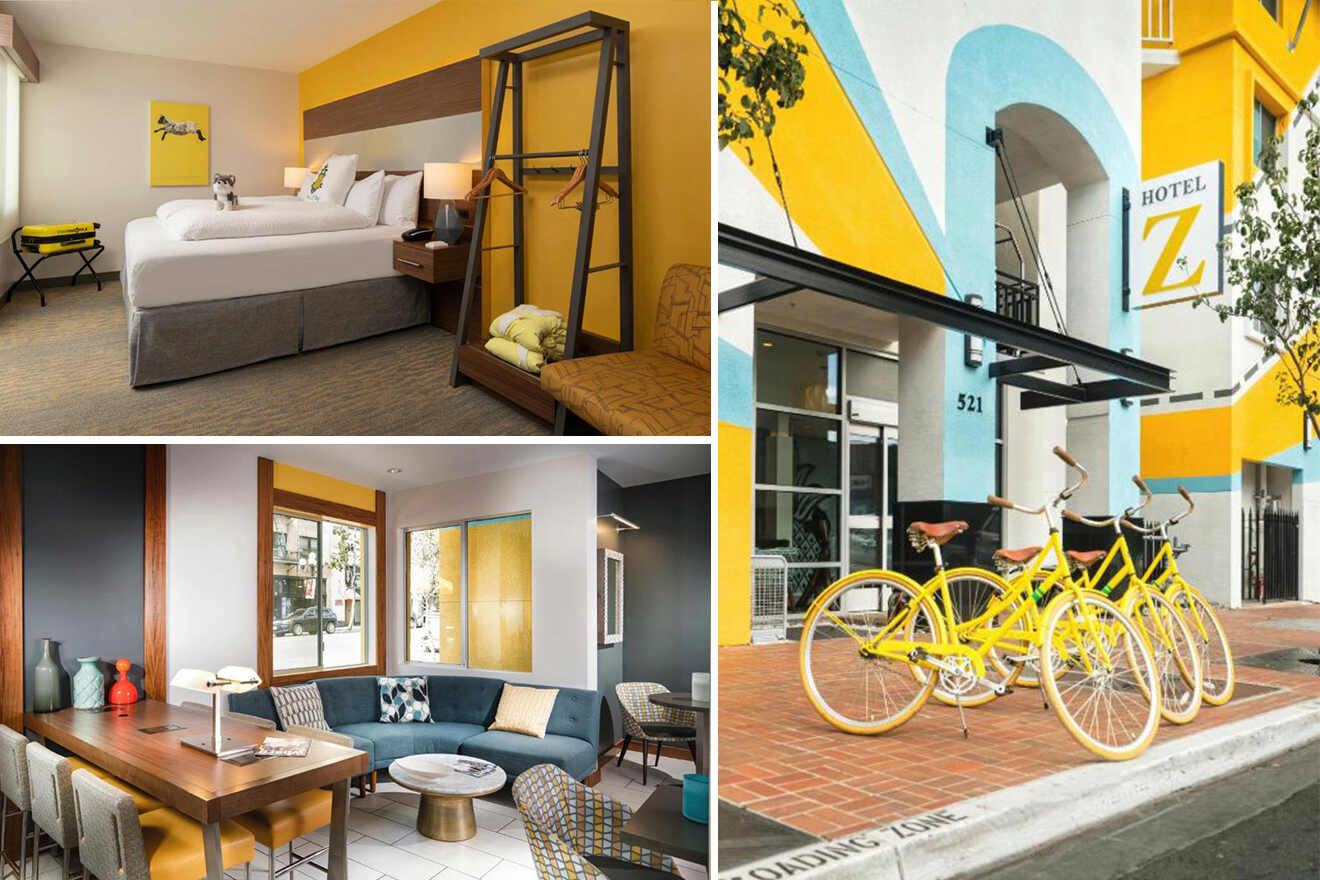 This Gaslamp Quarter boutique hotel has such a quirky design! And as you might've guessed from the name, yes, the decorations focus on pineapples! I like the bright colors of the rooms in particular, as I feel like they put one in such a good mood.
All the suites are equipped with tons of facilities, from a flat-screen TV, and a seating area to private bathrooms. After a day of exploring all the attractions in town like Petco Park and San Diego Zoo, I'm sure all you'll want to do is crash in the comfy bed! For those of you who like bicycles rather than walking, the hotel offers some free ones for all guests!
Check Current Prices
14. Pearl Hotel – cool hotel with a 1960's vibe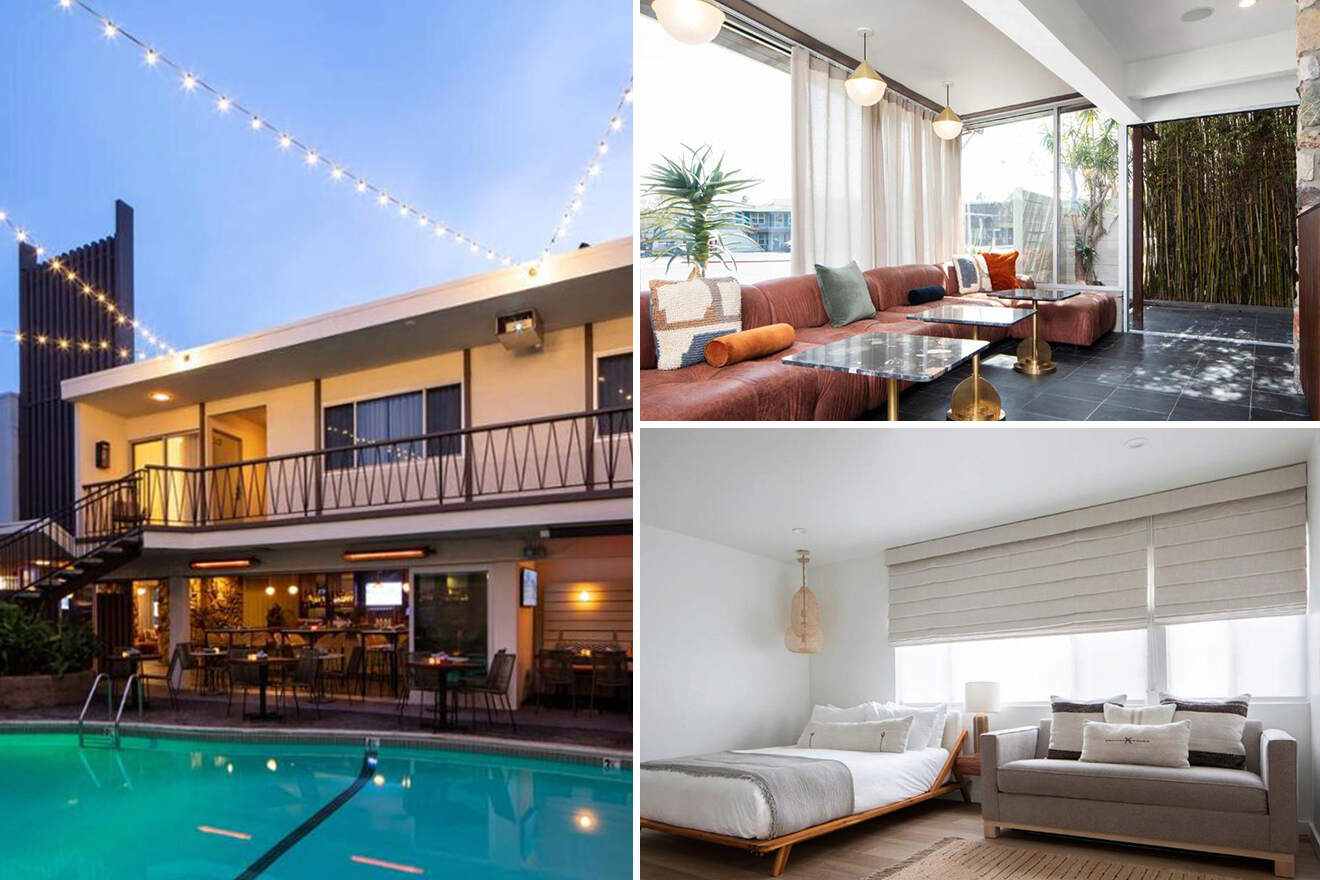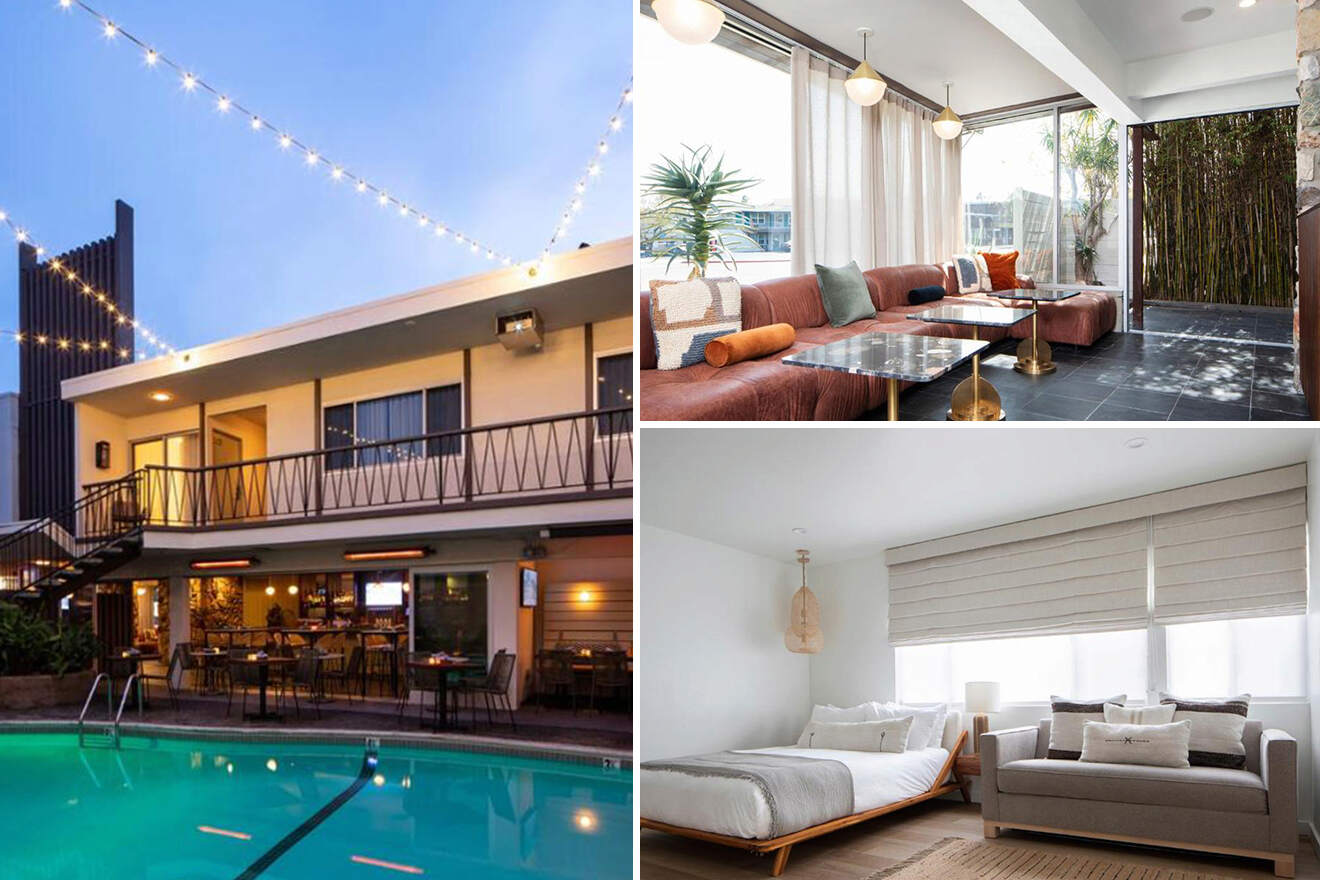 What a place! The hotel is set only minutes away from San Diego Bay and it has the coolest 1960's inspired design and so many other amazing features like a swimming pool, a bar and a restaurant.
Each room at the Pearl Hotel comes with a flat-screen TV, free Wi-Fi and super comfy beds! But I'm sure you won't spend that much time in front of the TV since there are so many things to explore in the famous Gaslamp District and the Pacific Beach area. What's more, each hotel in this district has a poolside theater where they organize movie nights you wouldn't want to miss!
Check Availability
15. Andaz San Diego – unique hotel with a rooftop pool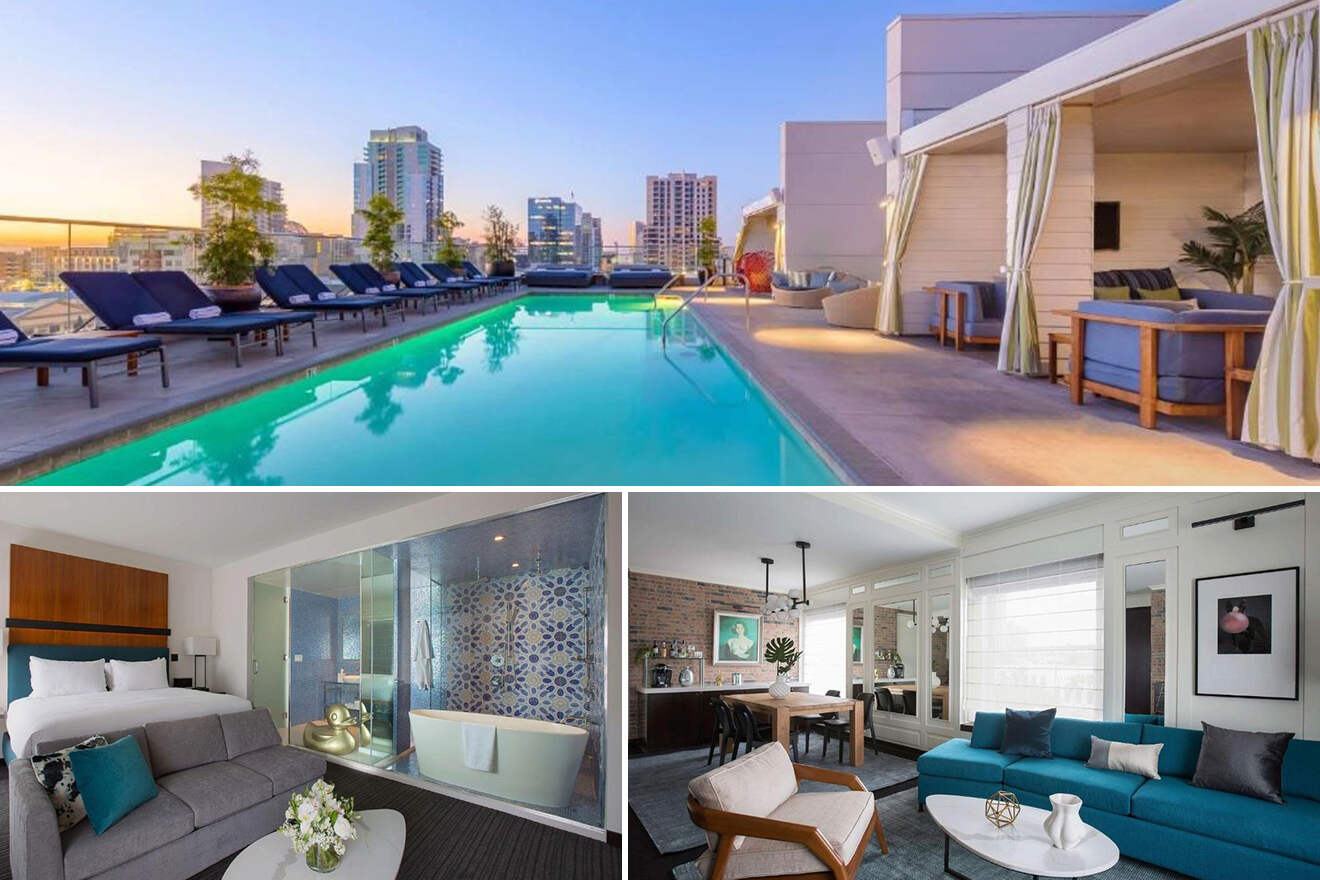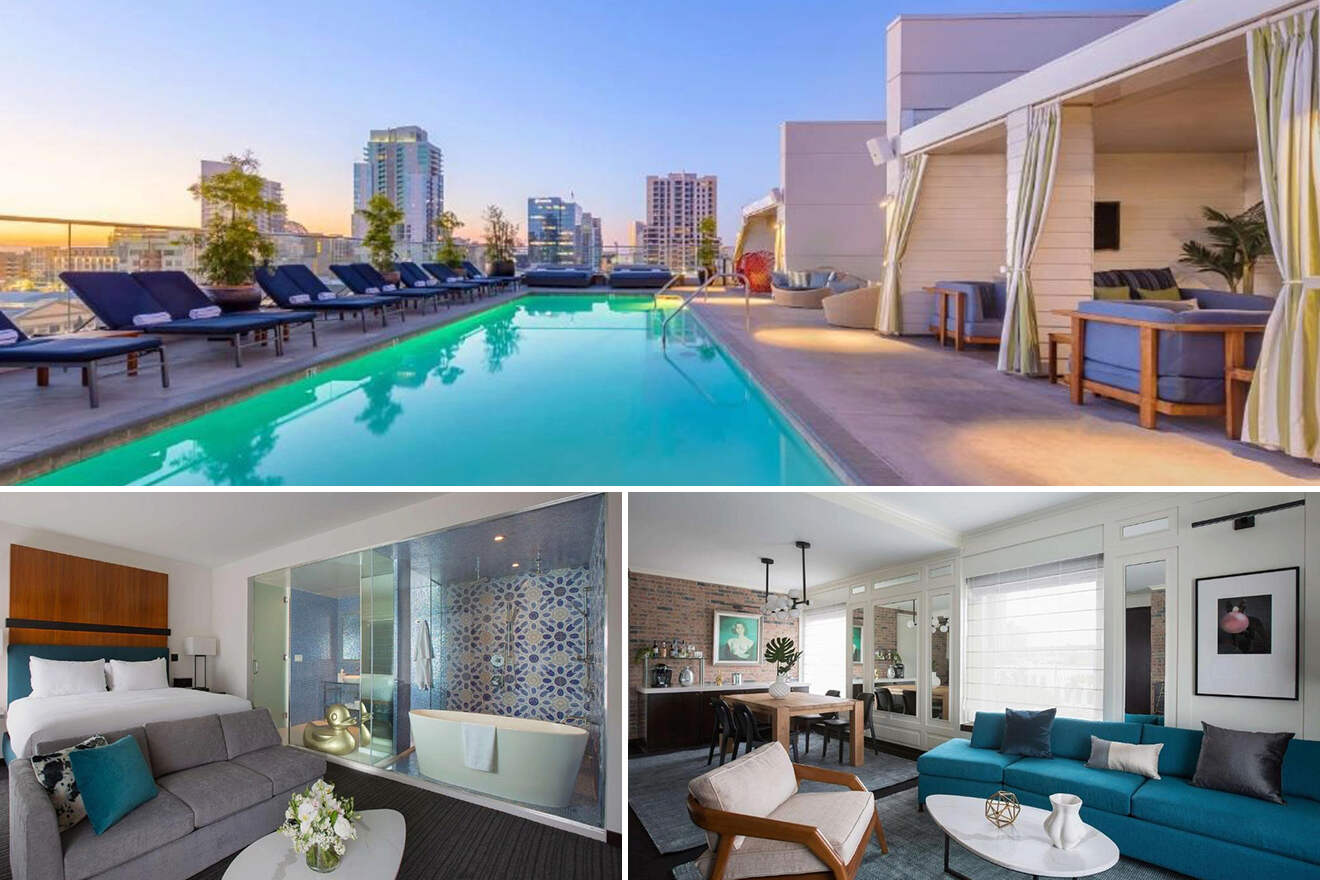 Downtown San Diego is such a fun area to stay while you're in the city, especially since that's where you'll find the famous Gaslamp District that all tourists love! If you're looking for a cool boutique hotel there I think you'll love this one!
Not only does it have the most amazing rooftop pool where you can sunbathe under the Californian sun and admire the breathtaking city views, but it also has a rooftop restaurant that's just perfect for romantic dinners with your loved one, and for having a drink with your friends!
In addition, all the rooms at the hotel come with an iPod docking station, a dining area, and a private bathroom.
Check Current Prices
16. The Westgate Hotel – elegant hotel with a spa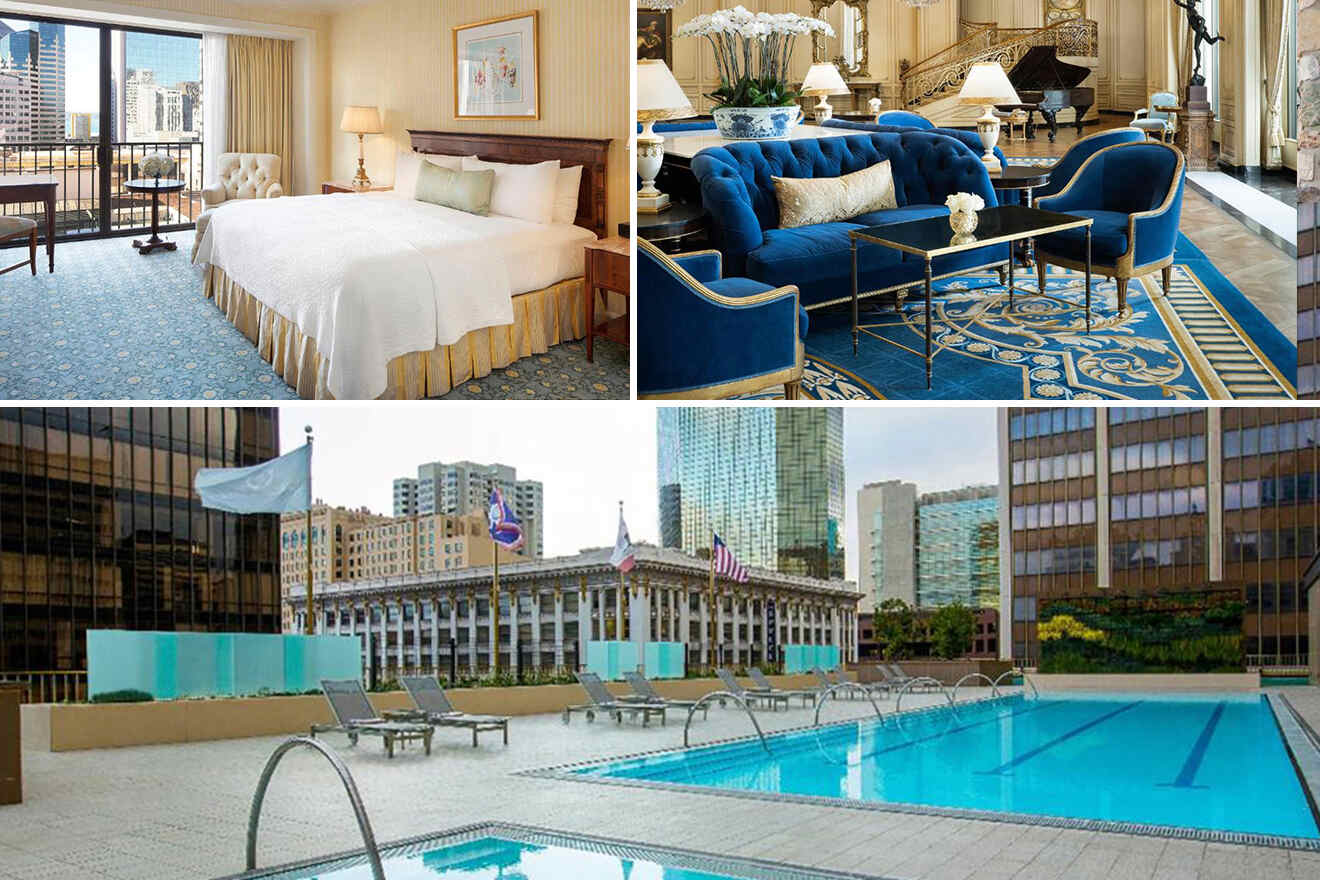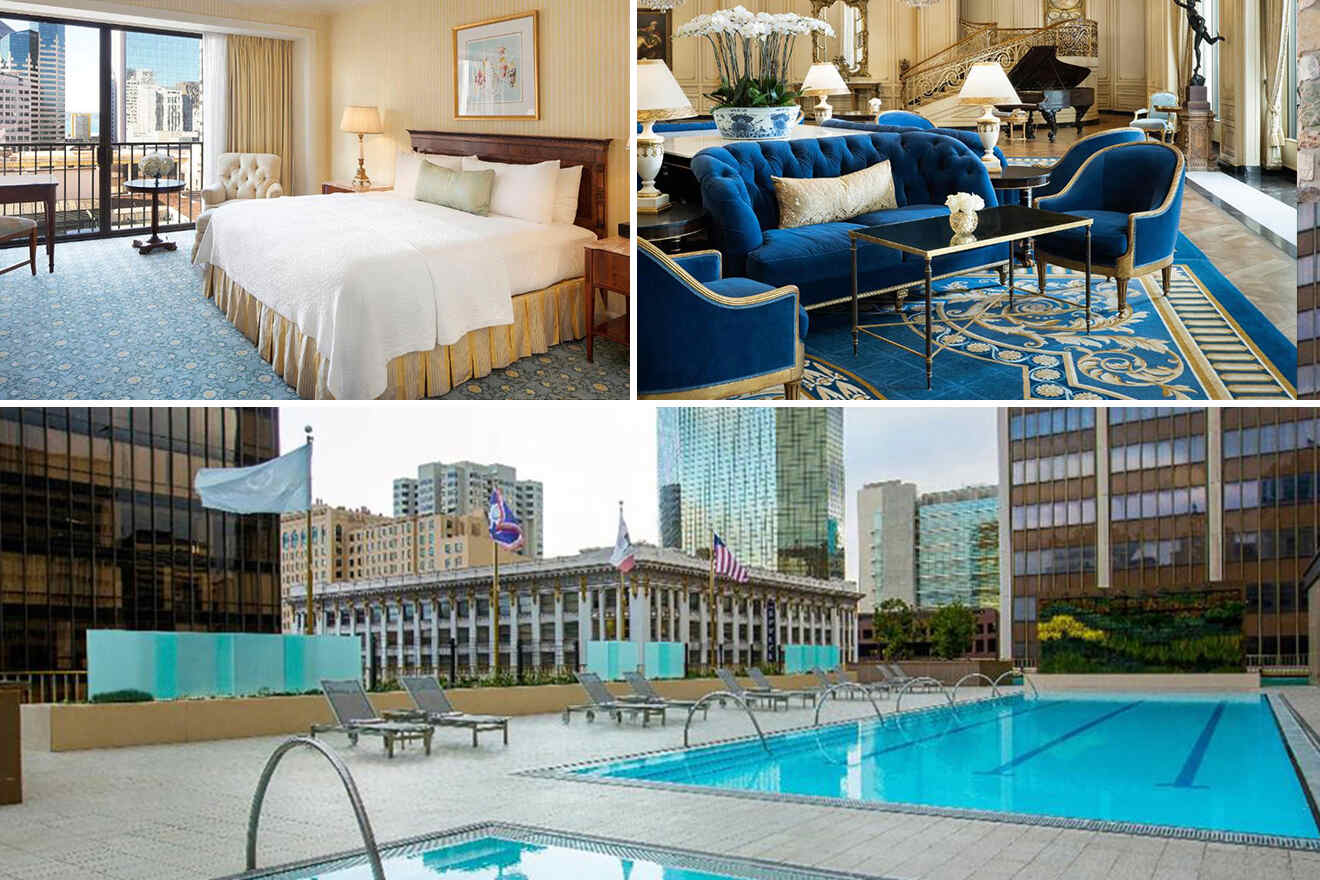 Elegant hotel with hand-crafted European furniture, a rooftop pool, and a fitness center – that's how I would describe the Westgate Hotel in a few words! And these are just some of the many amazing facilities that will be waiting for you at this boutique hotel in San Diego's Gaslamp District!
During your stay you can relax at the spa center (trust me, there's nothing like a long sauna sesh after walking around the city for hours), swim in the pool and enjoy the usual afternoon tea or cocktail hour at their on-site restaurant which sometimes offers live harp or piano music! The hotel suites are decorated with bright colors and some even offer great city views!
Check Availability
BONUS 1: Best beachfront hotels in San Diego
America's finest city is packed with incredible attractions and the beach is one of them! If you're coming here mainly to enjoy the salty air, swim, and surf then I think you'll need a hotel with easy beach access.
Am I right? If so, then check out the list below, which has the best hotels in San Diego that are beachfront: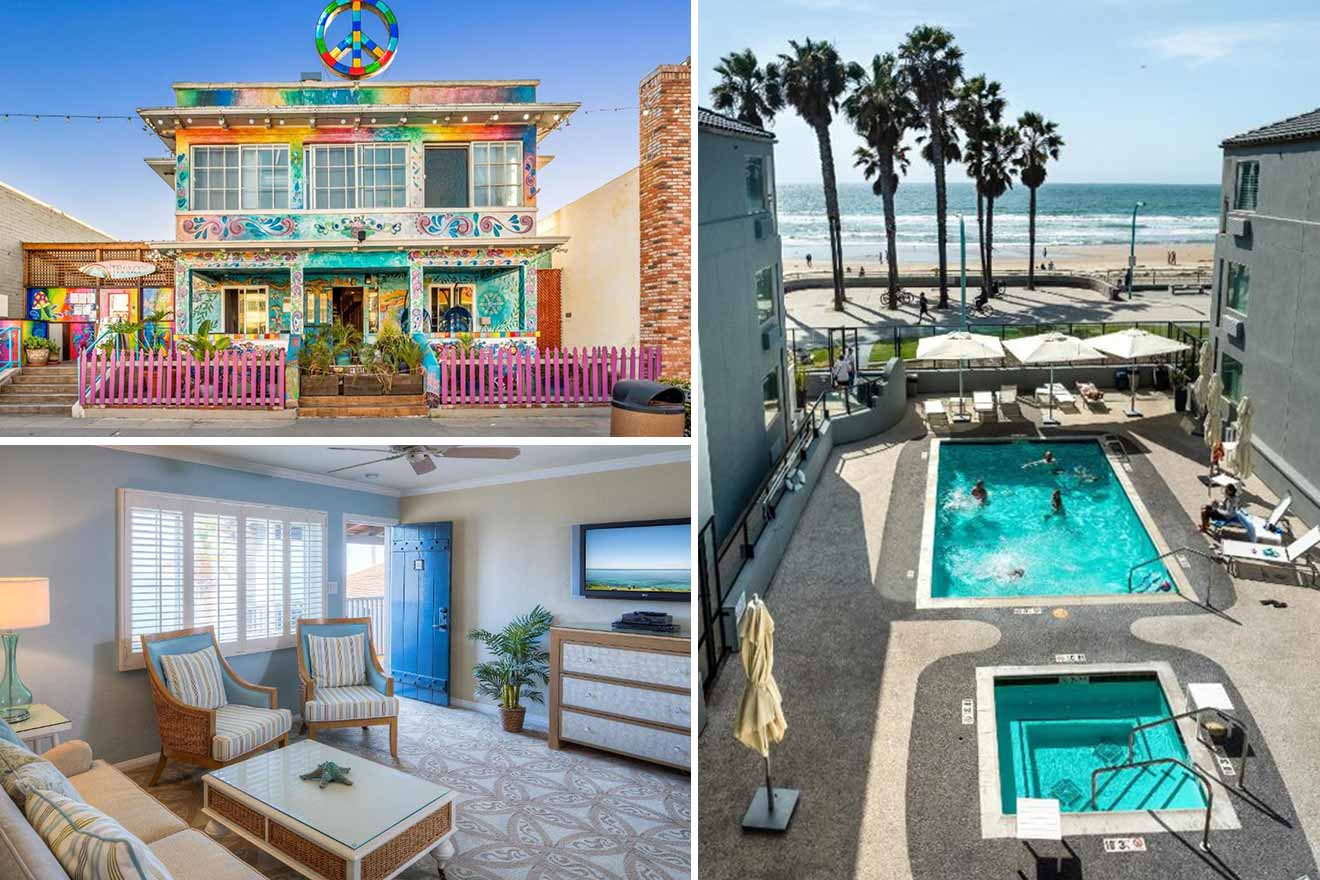 Luxury: Scripps Inn – A super cozy and comfortable inn with beach-themed decor, set in La Jolla, right near the ocean! Each morning you'll get to wake up to a stunning view of the Pacific Ocean in your spacious and well-equipped rooms which come with coffee makers, a flat screen TV, and ceiling fans.
Mid-Range: Ocean Park Inn – This wonderful hotel is located right near the Pacific Ocean Boardwalk! That means you can jump from your bed straight into the ocean (just make sure you change first). The hotel rooms come with a simple and modern decor and they have a flat-screen TV and free Wi-Fi.
Budget: Samesun Ocean Beach – Looking for something a bit more affordable? Then I think you'll love this hostel where everything is super colorful! That will probably put you in a good mood the minute you arrive! And just wait until you see the shared lounge and terrace!
BONUS 2: Unique VRBOs in San Diego
I know we all love boutique hotels but as you know San Diego is absolutely packed with incredible places to stay that aren't just hotels. There are lots of unique vacation rentals which I'm sure some of you may prefer.
That's why I thought I'd make a list with the best VRBOs in San Diego! So let's have a look: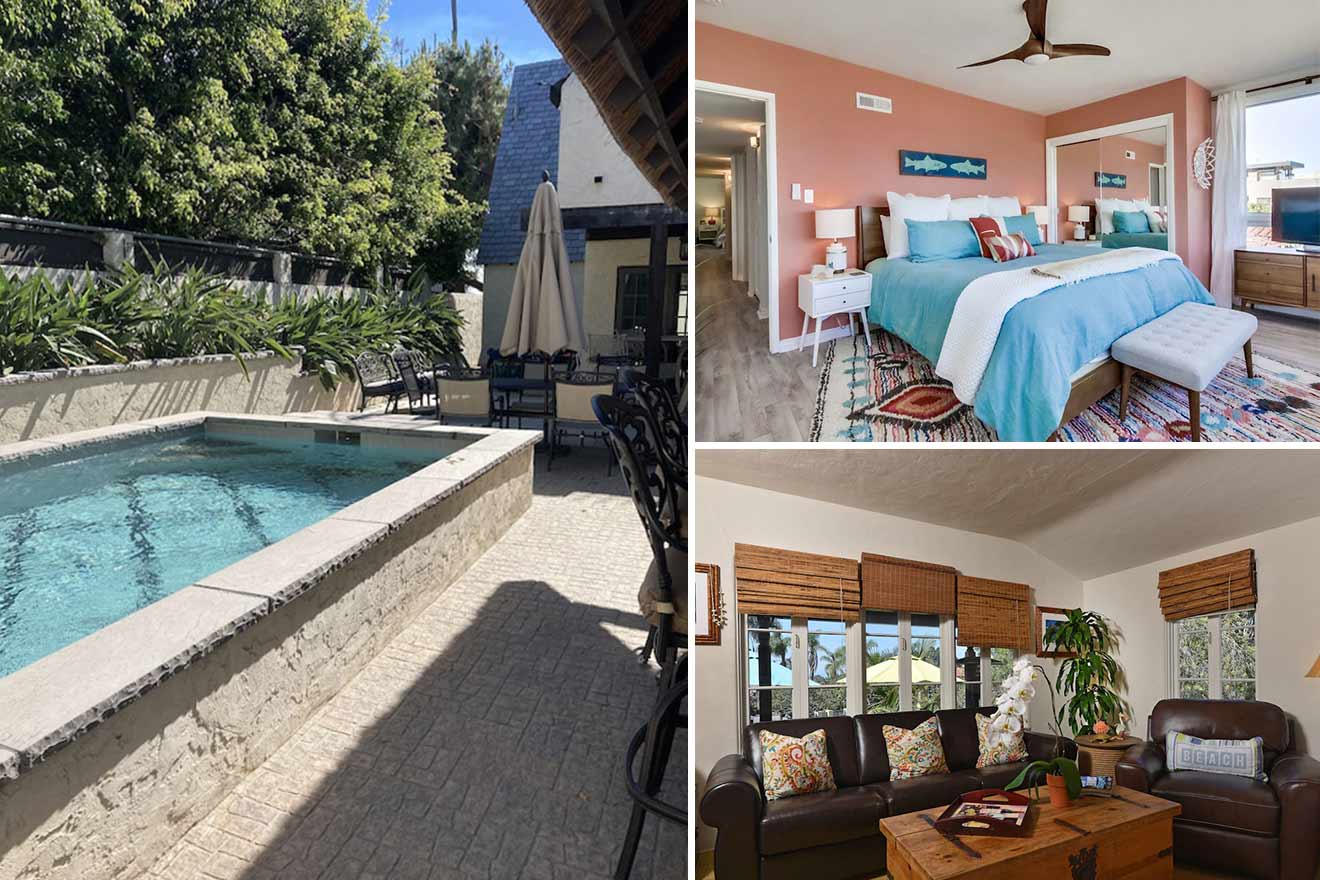 Luxury: Storybook House – They sure picked the name right for this place because it really does look like a house from a fable or story! The accommodation has wonderful decor with wooden ceiling beams, and stylish furnishings. It can accommodate up to 12 guests and comes with lots of cool amenities like a heated pool and a pool table! 
Mid Range: Beach Condo – How cool is this condo right near the beach? It has this easy-breezy atmosphere that I just love, especially when I'm on holiday! The accommodation has enough space for 7 people and all the amenities you need like a kitchen, a balcony and a TV.
Budget: Spanish Casita – You'll love this cute house! It's super cozy and it has room for 4 people. Of course its Spanish influence is super present in all the decorations and the accommodation also has a large terrace and a kitchenette as well.
FAQs about boutique hotels in San Diego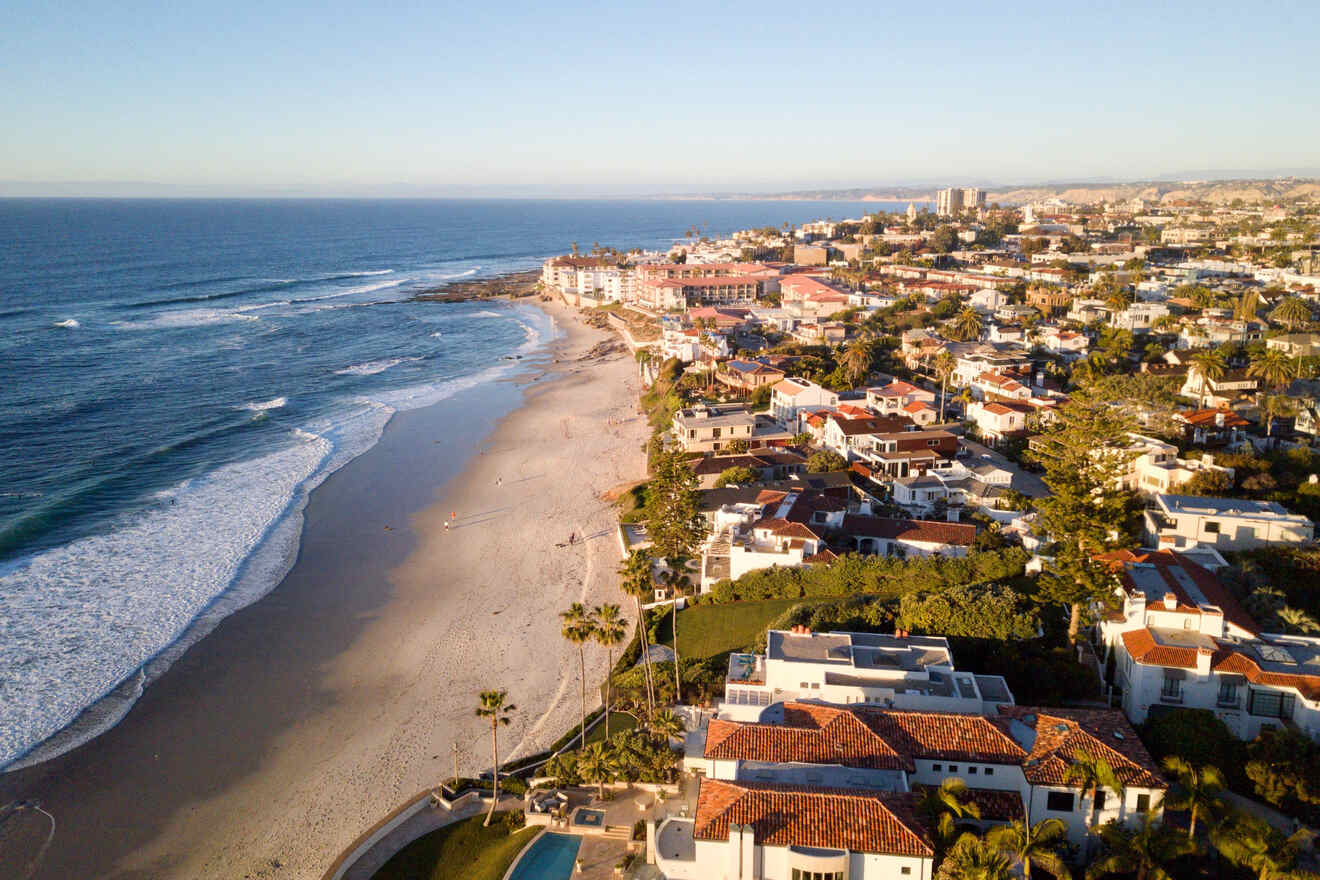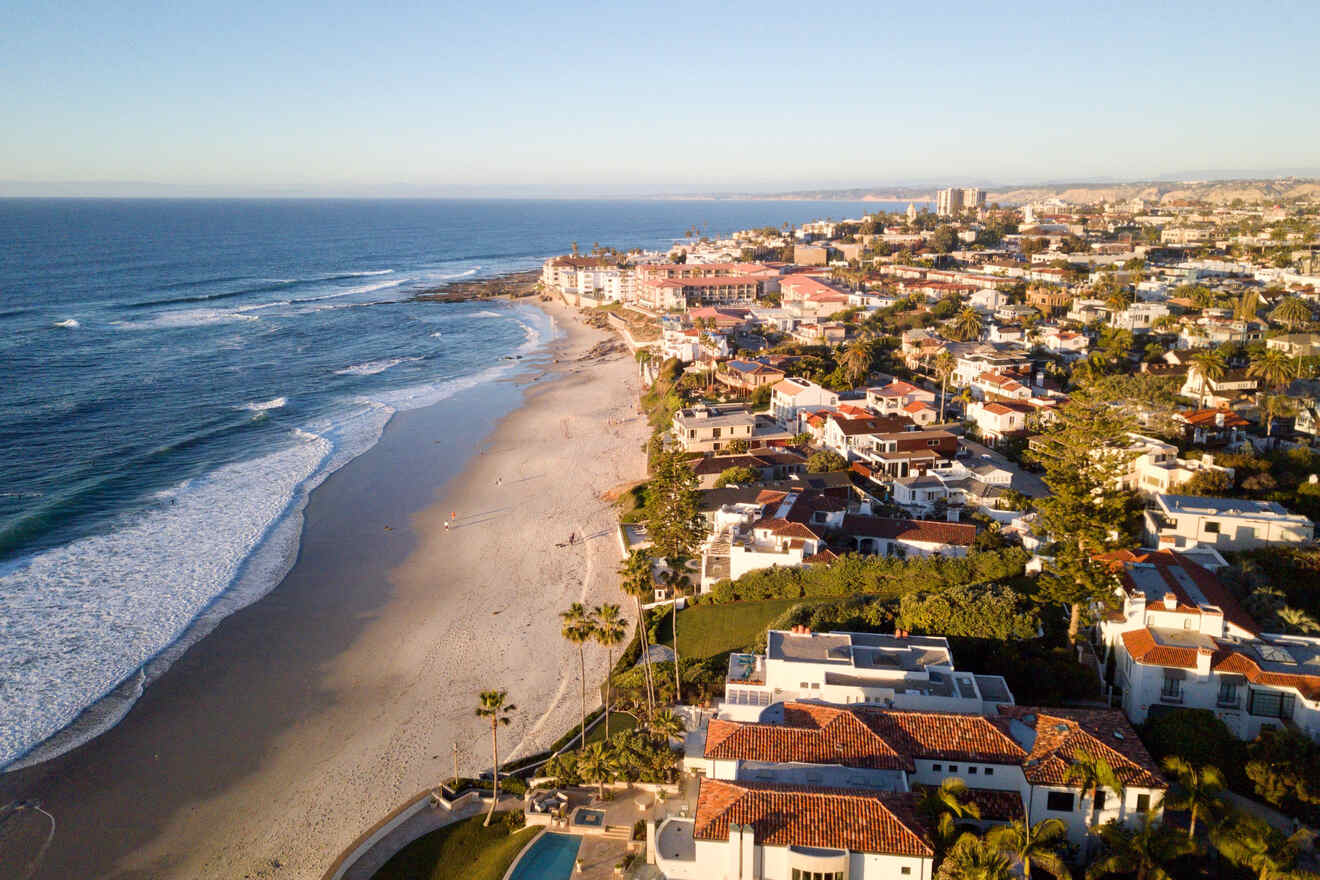 🏨 Which are the best boutique hotels in San Diego's Gaslamp District?
🏖️ Where can I stay in San Diego near the beach?
💌 Which are the top hotels in San Diego for couples?
📅 How many days do you need for San Diego?
I would recommend spending 4 to 5 days in San Diego! That will give you plenty of time to visit the famous attractions and areas like Downtown San Diego, Balboa Park, Pacific Beach, Point Loma and the San Diego Zoo.
Conclusion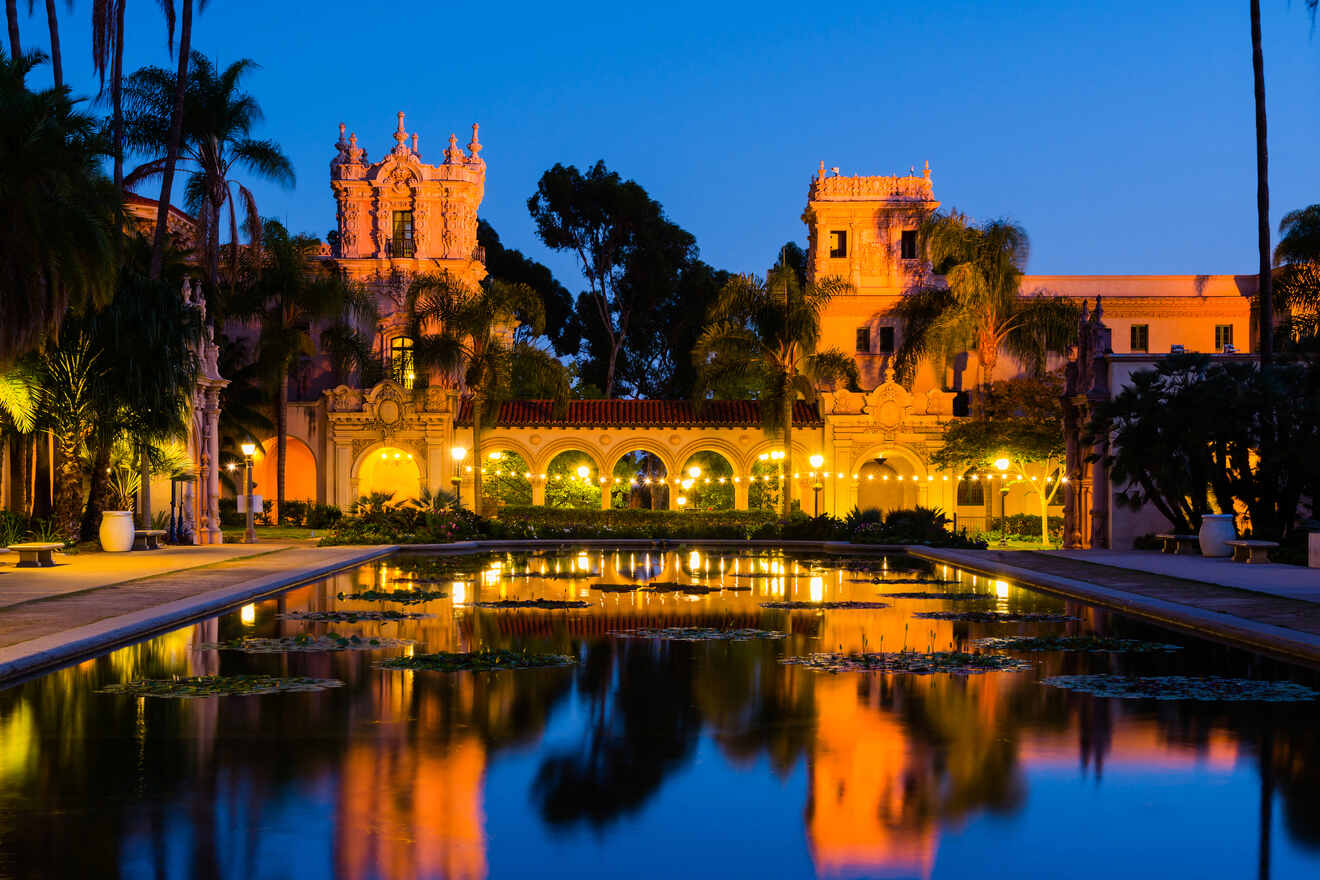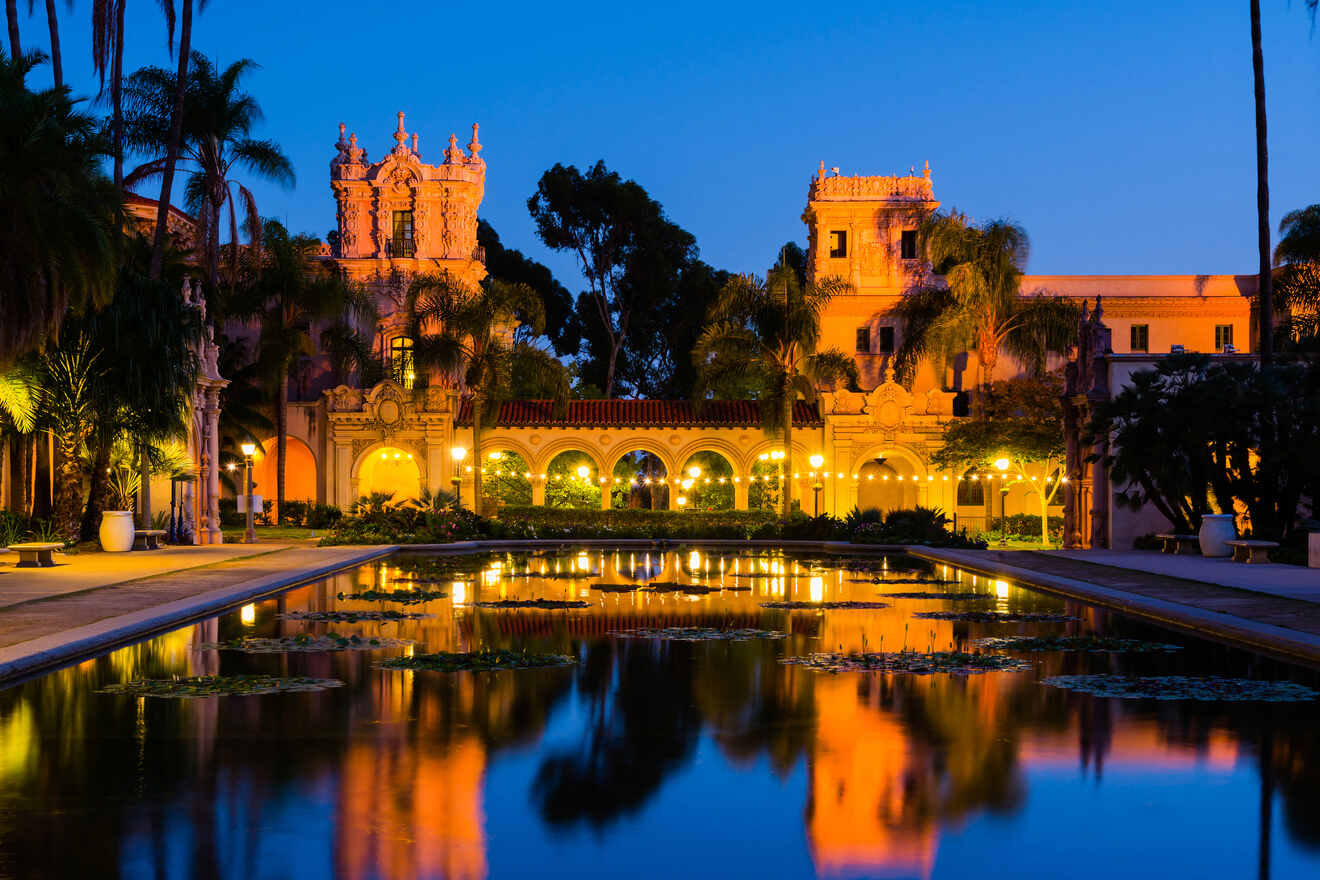 You really can't blame people who visit San Diego and want to move there! This city is unbelievable!
Before you run to buy all your tickets, I think a short recap is necessary since we've talked about a lot of things today. So this post has the best boutique hotels in San Diego, plus 2 bonus sections with some amazing beachfront hotels and unique vacation rentals.
I gave you so many options, I know but trust me, in the end, you'll appreciate that! Still, if you're having a hard time trying to decide, check out my 2 favorite options below:
Fairmont Grand Del Mar – You'll love the Mediterranean-inspired decor of this hotel that comes with 4 outdoor pools and tennis courts
The Lodge at Torrey Pines – One of the best hotels in San Diego which comes with a fabulous decor, an outdoor swimming pool and views of a championship golf course
Well, I guess now you're all ready to visit San Diego! But don't forget that regardless of whether you're business travelers or simply coming here on holiday – it's super important to book your hotels in advance here! These are the best of the best, so they'll sell out fast!
Time to say our goodbyes but remember that I'm just a comment away! So if you need any help or some extra guidance just drop me a comment below and I'll answer as soon as I can!
Happy Exploring,
Victoria
---
Pin it for later!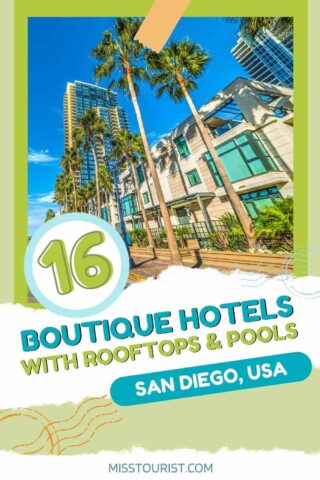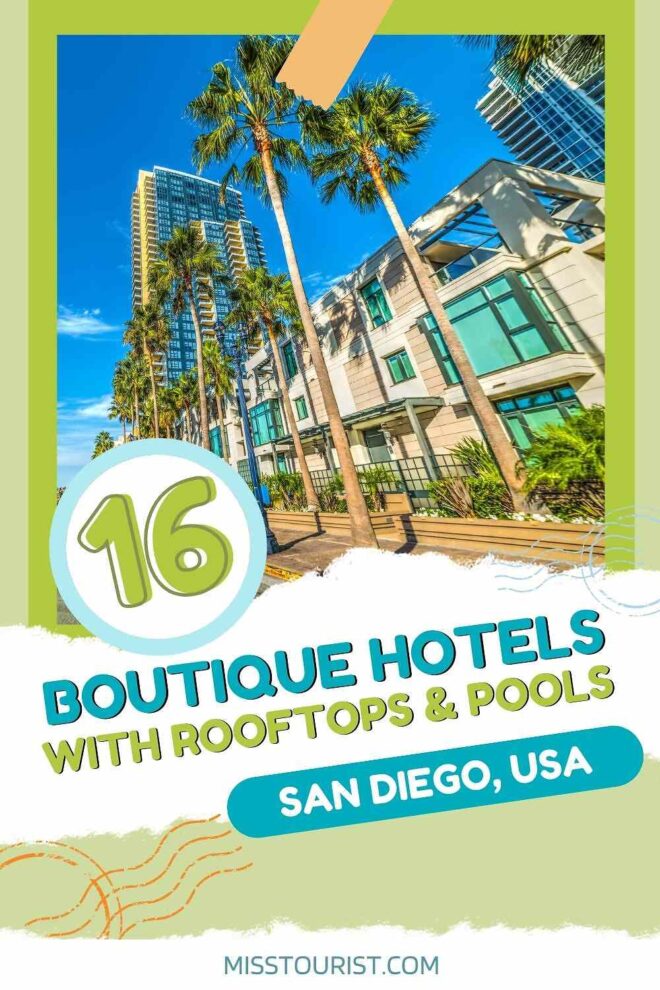 Pin it for later!