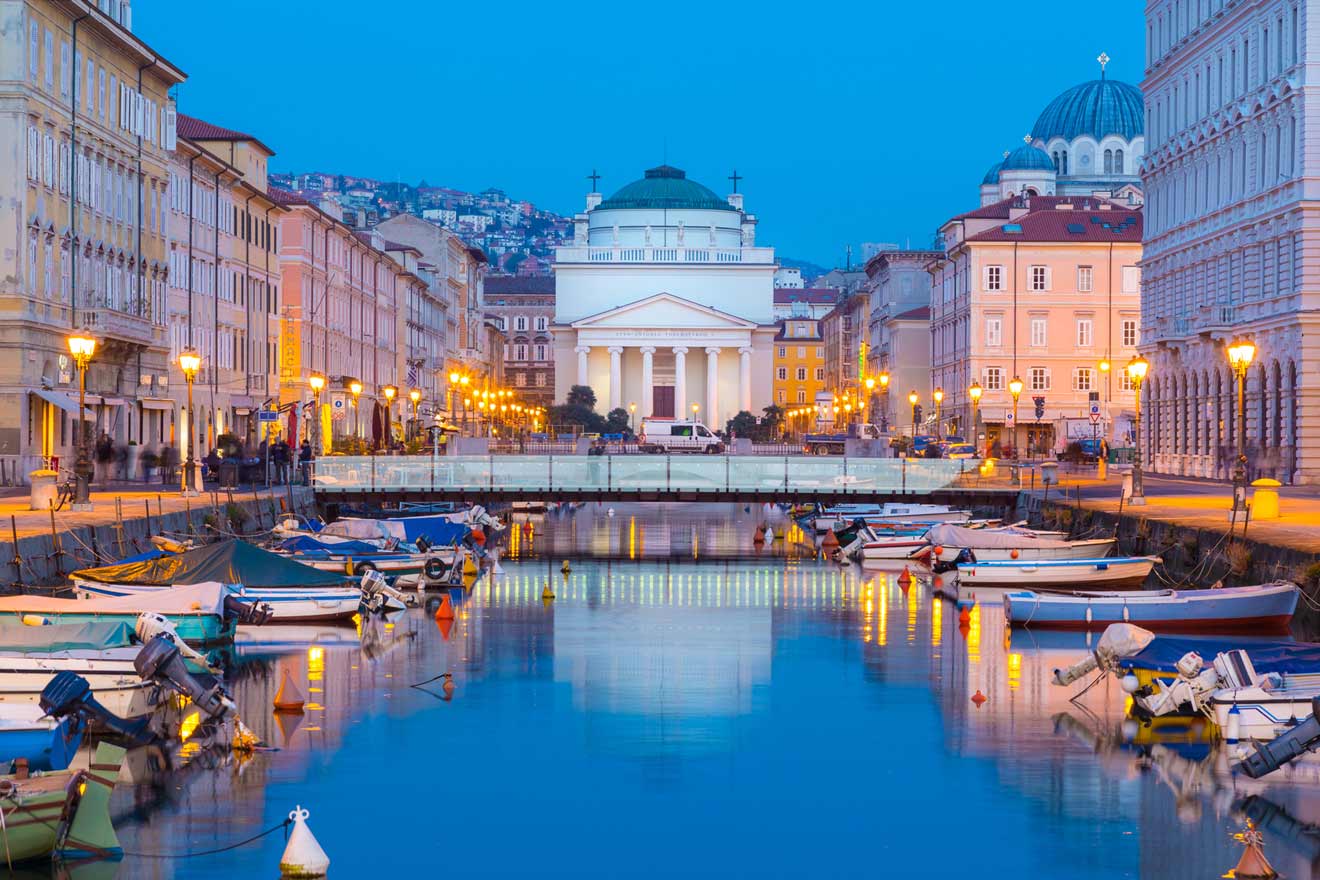 If you are looking for the best things to do in Trieste, Italy, the capital and the biggest city of Friuli Venezia Giulia region, you have come to the right place!
My grandparents live just 1 hour away from this unique city facing the Adriatic sea, so I have had the luck of visiting it many times… and I never get tired of it!
For this reason, I decided to share with you all the best things to do in Trieste, including all the top tourist attractions, historic cafes, charming squares, and even some amazing day trips…
So whether you're visiting for just one day or spending a whole vacation here, after reading this blog, you'll understand why I love it so much!
I also included some useful information about accommodation in Trieste, Italy, and the best restaurant in the city, so you have literally everything you need here.
And now, let's jump right in!
If you are in a hurry
If you don't have time to read about all the best things to do in Trieste, Italy, check out the quick list below:
Here are the main things to book in advance if you visit Trieste, Italy:
And here are the best hotels in Trieste, Italy: Savoia Excelsior Palace (luxury), Victoria Hotel Letterario (mid-range), Trieste 411 (budget)
Even though Trieste is a small city, some of it's best attractions are located a little outside the center, so here's a map to help you easily visualize where all the best things to do in Trieste, Italy, are located:
1. Discover Trieste on a private walking tour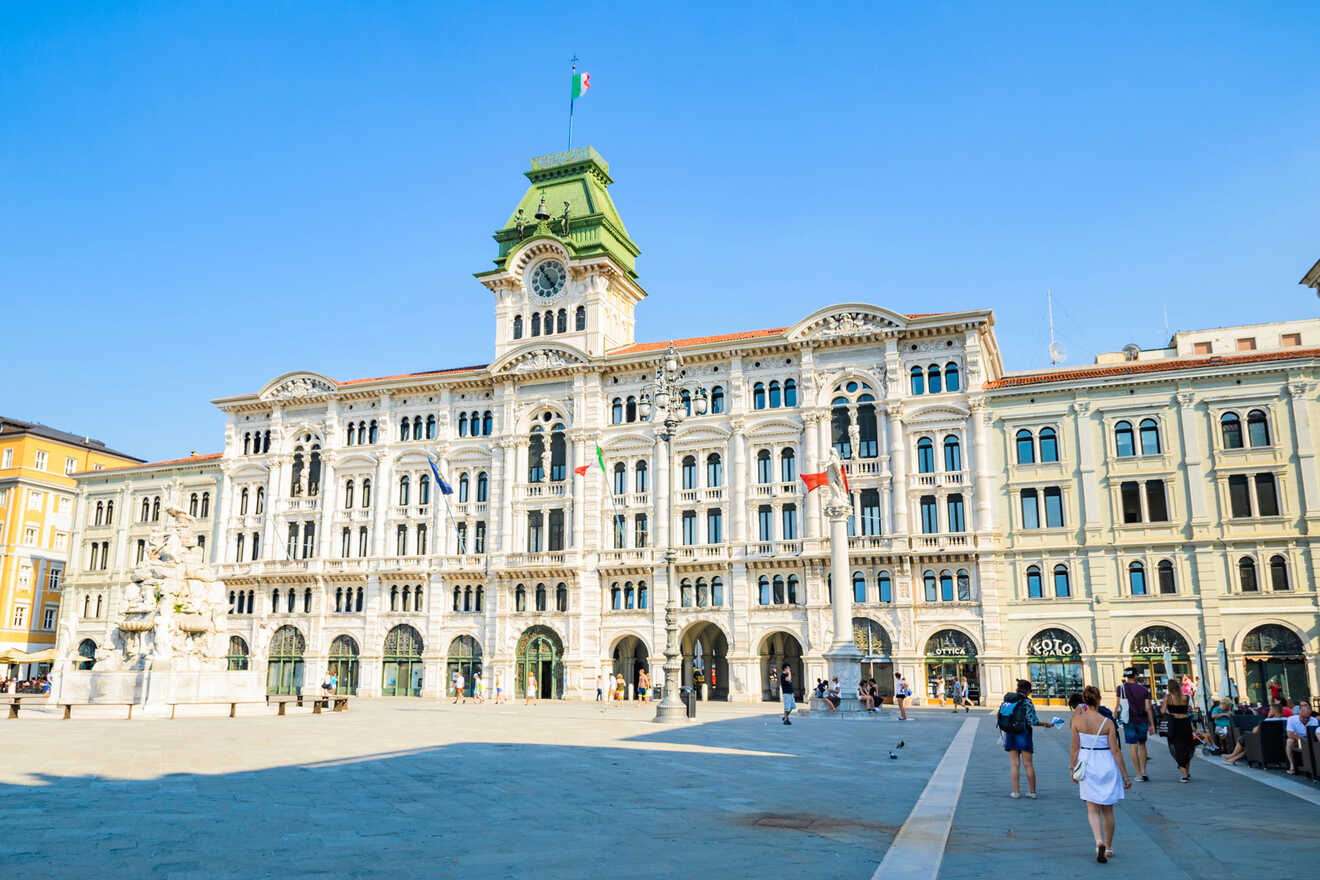 One of the best ways to get to know Trieste, Italy, is definitely to join this 2 hours private walking tour with a local guide through its main attractions, so you will have a general feeling of the city and know what to focus on for the next few days.
During the tour, you'll meet at Piazza dell'Unità d'Italia and explore the ancient streets of Trieste's historic old town, historical buildings like Trieste city hall, and the important Piazza Cavana, often hosting fruit markets and craft fairs.
PRO TIP: Around Piazza Unità, there are countless antique stores selling everything from vintage furniture, books, tableware, clothes, postcards, Christmas decorations, and much more. Check them out after your tour. Delikatessen is one of the most popular ones in the city!
But you will also see some of the incredible spots outside the city center, like the Cathedral and the Castle of San Giusto (check out section 2 to know more!), the Roman Theatre, the Church of Santa Maria Maggiore, and the Grand Canal!
PRICE: from €200 for 2 people
Go on a Private Walking Tour!
2. Take in the views from Castello di San Giusto (San Giusto castle)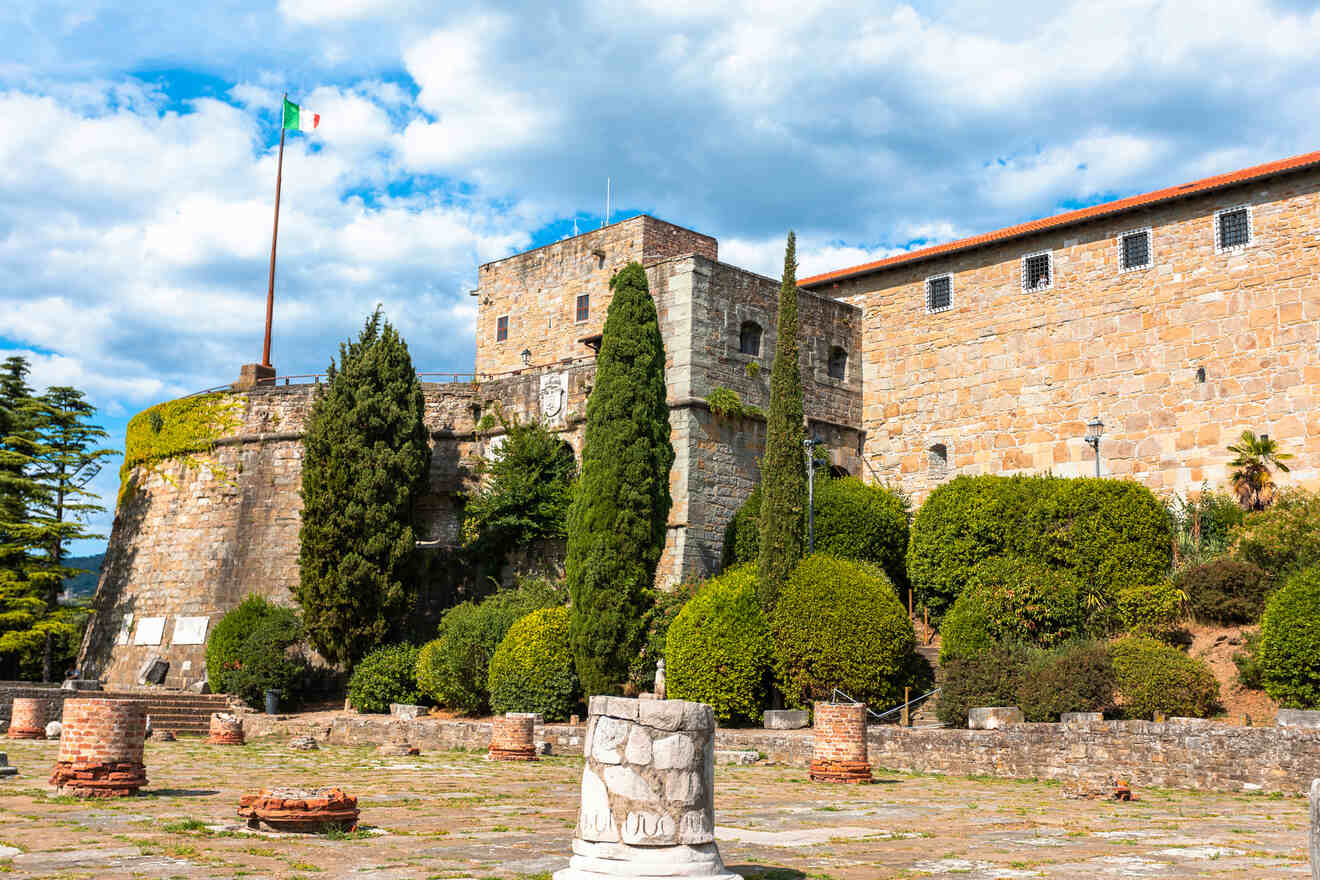 On the picturesque San Giusto hill, only 10 minutes walking from Trieste historic center; you will find Castello di San Giusto (San Giusto castle). This is the best spot to admire incredible views of Trieste, Italy, and the Adriatic Sea.
The ticket to Castello di San Giusto is very cheap and includes access to the fortification walls and bastions, where you can gaze at the panorama, and to the castle Museum hosting ancient artifacts, military banners, coats of arms and weaponry, and info about the history of the castle.
Don't forget to bring your camera with you… a picture here is one of the best souvenirs you can bring home from Trieste, Italy!
And on the same castle hill, right next to the castle, you will also find the Cathedral of Saint Giusto (the Trieste Cathedral): Trieste's most important religious building and definitely a must for history buffs and religious people (and the admission is completely free!).
The Trieste cathedral features a Romanesque and Gothic design (check out the beautiful Gothic rose window on the facade), the statue of San Giusto, the interiors with beautiful mosaics and frescoes depicting stories of the saint, and the cathedral bell tower.
PRICE: €5
3. Walk around Piazza dell'Unità d'Italia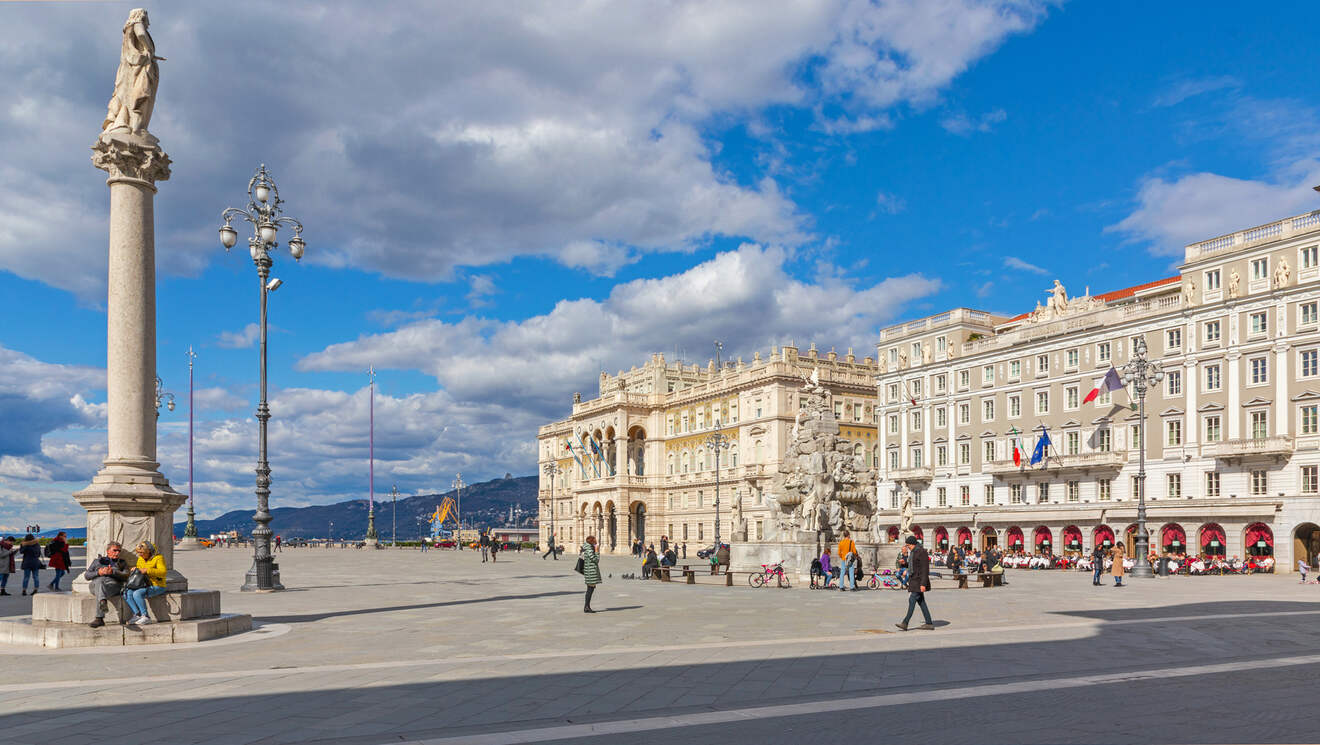 Overlooking the Adriatic Sea, Piazza Unità d'Italia (Unity of Italy Square) is Trieste's central square as well as the largest sea-facing piazza in the whole of Europe, which makes it definitely a must among this list of the best things to do in Trieste, Italy.
The square was actually called "Piazza Grande" (literally "Big Square") until 1919 for its huge size!
The best way to explore the square is simply to just walk around and take in its 3 sides which host magnificent buildings like the Trieste Town Hall, the Palazzo del Lloyd Triestino, and the Palazzo Pitteri. I just like to take a moment to gaze at their stunning design and architecture, as well as the statues and large fountain!
The square is the city's social hub and hosts countless cafes and bars where you can enjoy a coffee or a typical aperitivo kissed by the sun. The most famous one in Trieste is the Caffè degli Specchi… don't miss it!
FUN FACT: Piazza dell'Unità d'Italia was one of James Joyce' s favorite places. The poet lived in Trieste from 1904 to 1915. Today, you can see a statue commemorating him on one of the bridges that cross the Canale Grande, make sure you check it out!
But there are some other must-see squares in Trieste, so I gathered the main ones in the quick list below:
Piazza della Borsa: Located right next to the Piazza Unita Italia, the city's economic center during the 19th century, the Piazza Della Borsa is perfect for people watching and enjoying a delicious meal or snack in one of the many restaurants.
Piazza San Silvestro: Halfway up the Castle Hill, Piazza San Silvestro host the  17th-century church of Santa Maria Maggiore, with beautiful Baroque interiors
Piazza Cavana: Located in Trieste city center, this tranquil piazza host many colorful buildings and charming cafes
4. Visit Castello di Miramare (Miramare Castle)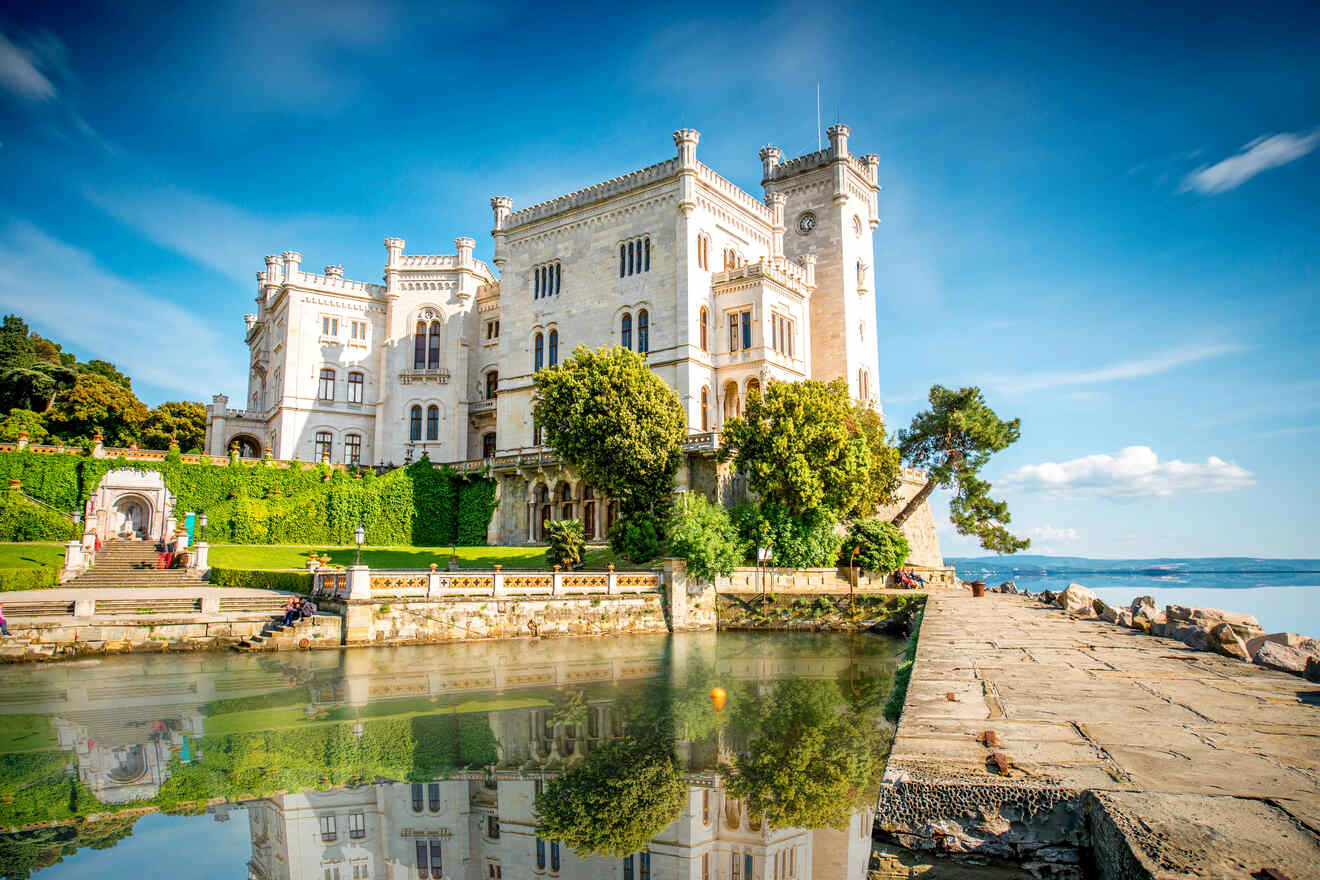 One of the best things to do in Trieste is to visit the stunning Hapsburg Miramare Castle, its extremely beautiful park, nestled on a rock above the sea, a short 20-minute drive from the city center.
In fact, the castle is surrounded by a huge 22-hectare park hosting rare plants and exotic tree species from Asia, America, Africa, and Europe, covered walkways, and charming statues.
DID YOU KNOW? This white fairy-tale palace, blending Gothic and Renaissance neo styles, was built in 1855-60 for Archduke Maximilian of Austria and his wife Charlotte of Belgium, right before they went on an expedition to become emperor and empress of Mexico!
You can visit the castle gardens, grounds, and terraces completely for free, and I honestly think it is the best part of the complex!
But if you want to also explore the Castello di Miramare interiors, you can! You'll just need to pay for a €10 ticket, which will give you access to many rooms with sea views, preserving the original 19th-century furnishings… History buffs will love it!
And if you want to avoid the lines, you can book this skip-the-line entrance ticket to Miramare Castle for €14!
If you want to visit both the castle interiors and the castle grounds and park, I would allow 3 or 4 hours in total, while for just the garden more or less 2 hours it's fine, so you have all the time to relax, enjoy the views and take some pictures!
Castle entrance: €10
Opening hours: every day from 9 am to 7 pm
Book Your Skip-the-Line Entrance Ticket
5. Take a picture with Faro della Vittoria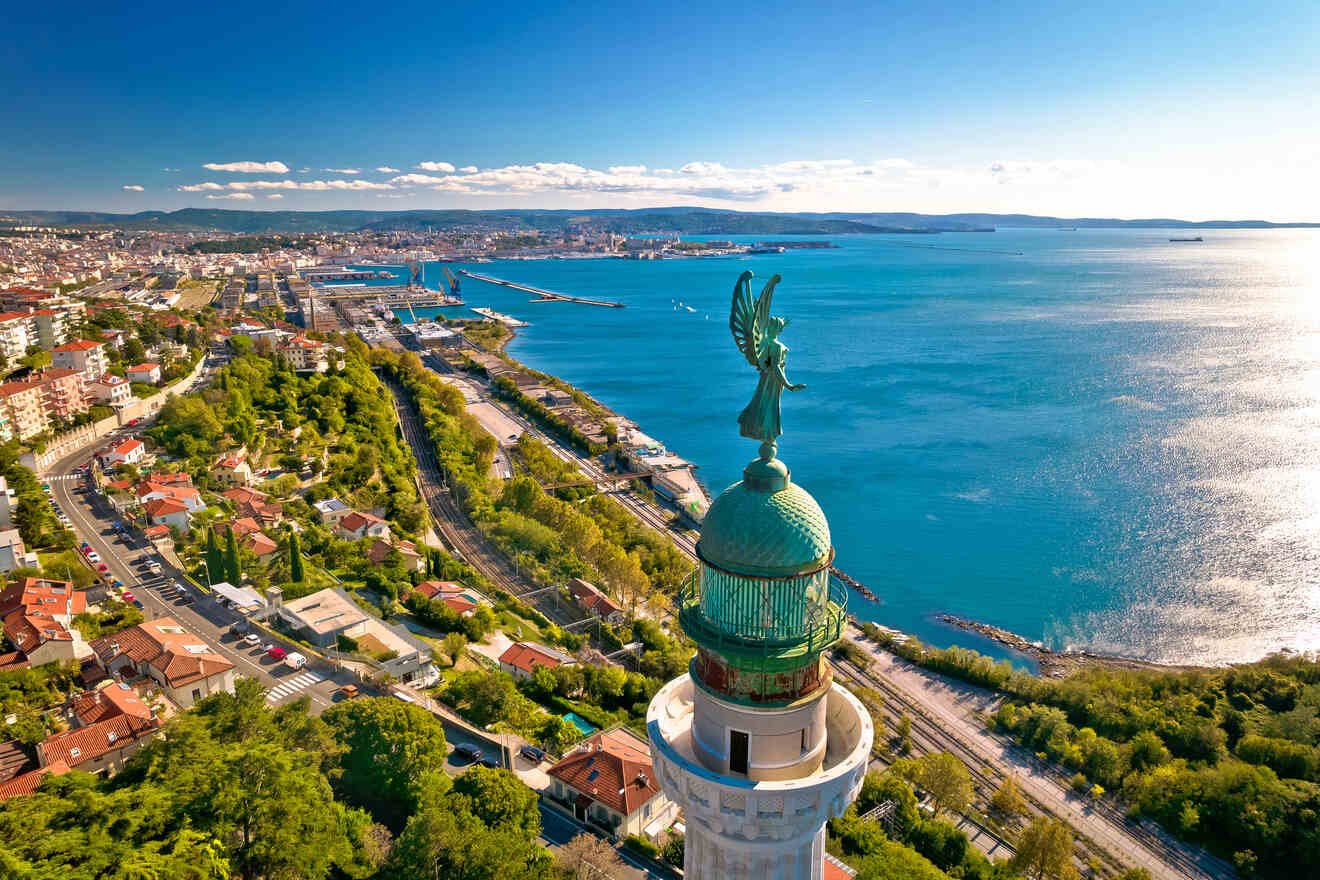 Located on a hill by the water, Faro della Vittoria is one of the tallest lighthouses in the whole world (223 feet), offering panoramic views of the harbor, the Adriatic Coast and of Trieste.
Faro della Vittoria was built right after World War I to commemorate people who had died at sea during the war and to celebrate Trieste's integration into the Kingdom of Italy after having been long under the Austrian Empire (the reason why there is a statue of a Winged Victory on its top).
Today, it is both a national monument and a working lighthouse, and you can actually visit it for free. You'll need to climb 300 steps to reach the viewing gallery, but it will definitely be worth it, offering breathtaking water views!
PRICE: Free
Opening hours: vary depending on the day and season. Check them out here!
6. Stroll along Trieste's Grand Canal (Canal Grande)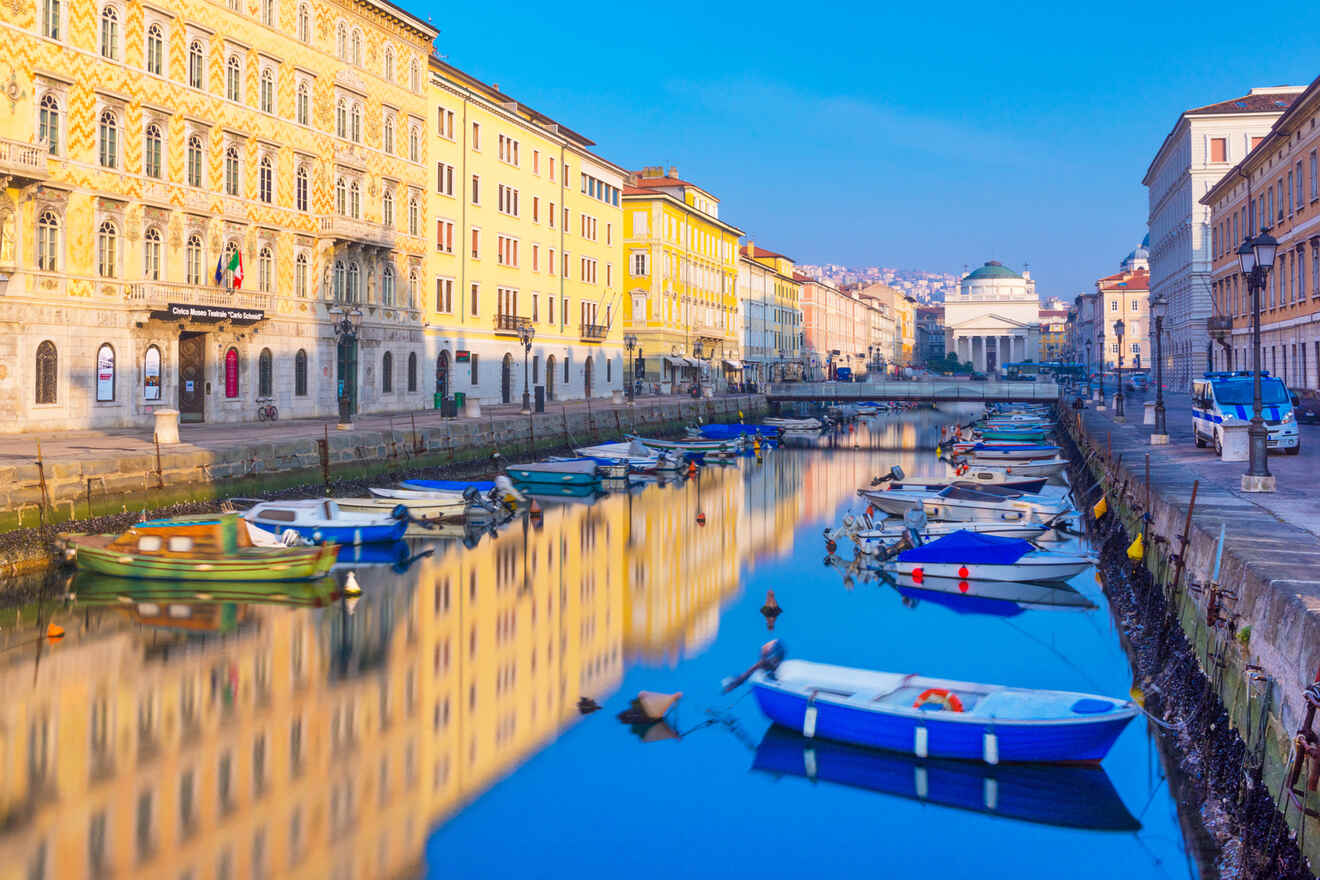 One of the most picturesque things to do in Trieste is to stroll around its iconic Canal Grande (the Grand Canal), featuring charming boats, historic palaces reflecting in the water, and churches like the Saint Spyridon Church, a Serbian orthodox church with beautiful blue domes.
The canal is surrounded by many bars, cafes, and restaurants, so it is a great place to just sit in one of the waterside terraces, relax, and enjoy the view at any time of the day.
PRO TIP: Make sure you check out the area at least once in the evening when the lights shimmer on the water!
And if you visit Trieste in December, you will find a lovely Christmas market with countless stalls right around the canal and the surrounding streets… the perfect place to buy some traditional souvenirs!
7. Have a coffee in a historic cafe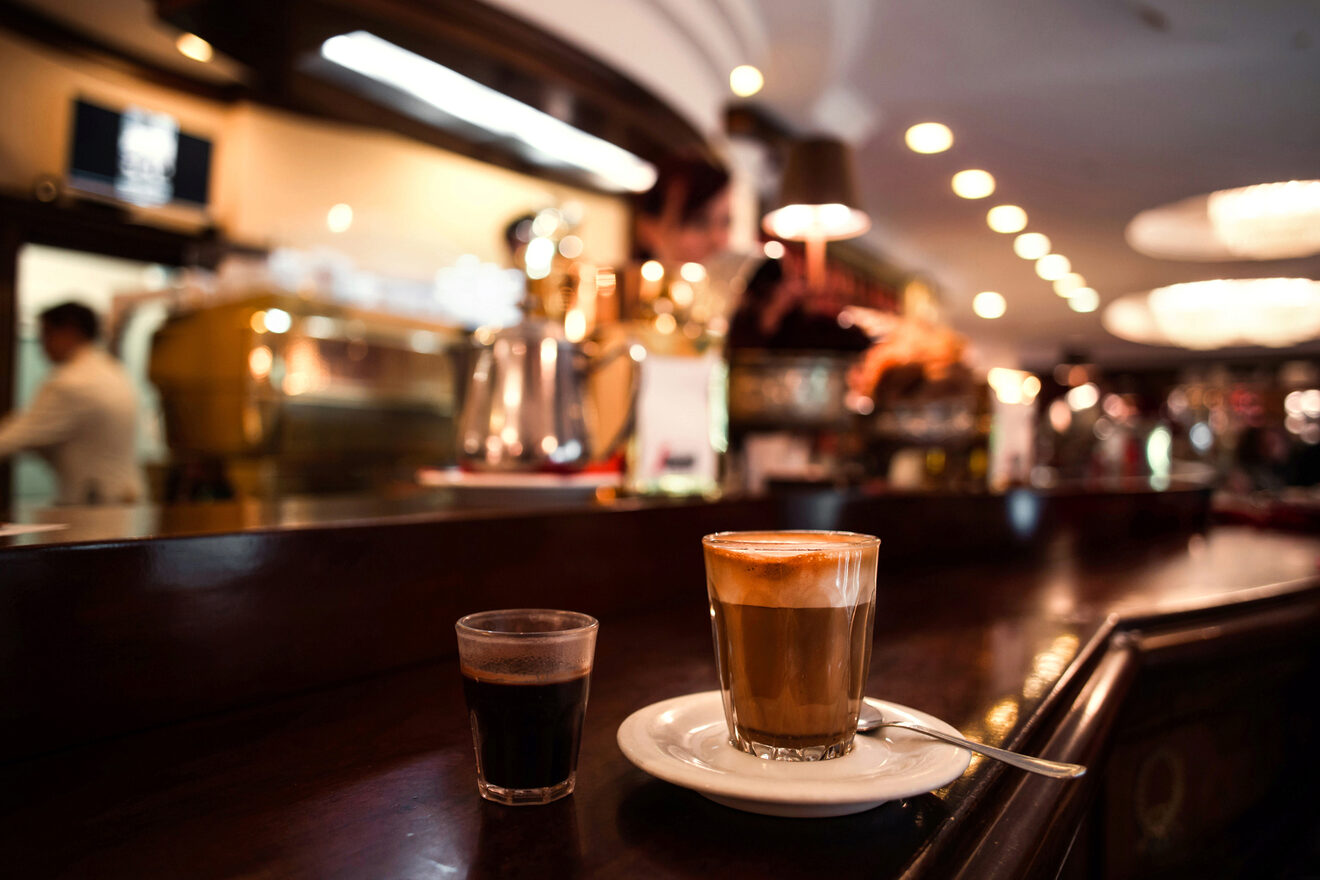 Some of the most iconic symbols of Trieste, Italy, are its historic cafes. In fact, the city is home of world-famous coffee brands like Illy and Hausbrandt, and is popular for its traditional Viennese style coffee places. In other words, the city is a real dream for coffee lovers!
Since the 18th century, Trieste has been a major coffee port of the Mediterranean and its cafes have been important gathering spots for artists, intellectuals, and writers… and they are still the heart of the city's social life.
There are countless of them in the city, but a must-visit is for sure the Caffè San Marco, dating back to 1914, offering delicious cakes and coffee in an old-style atmosphere. In fact, the place features high ceilings covered with coffee leaf decorations and even a bookshop!
Another one is the iconic Caffè degli Specchi, the oldest cafe in the city (founded in 1825) located on Piazza Unità d'Italia. It was once frequented by important people like James Joyce, and is now a fancy place where to have a coffee or a hot chocolate with traditional brioches.
If you have a sweet tooth, La Pasticceria La Bomboniera is the place to be, serving everything from Austrian-inspired krapfen to delicious strudels, chocolate pralines, flaky croissants, and much more… all to pair with a delicious coffee, of course!
8. Visit the Revoltella Museum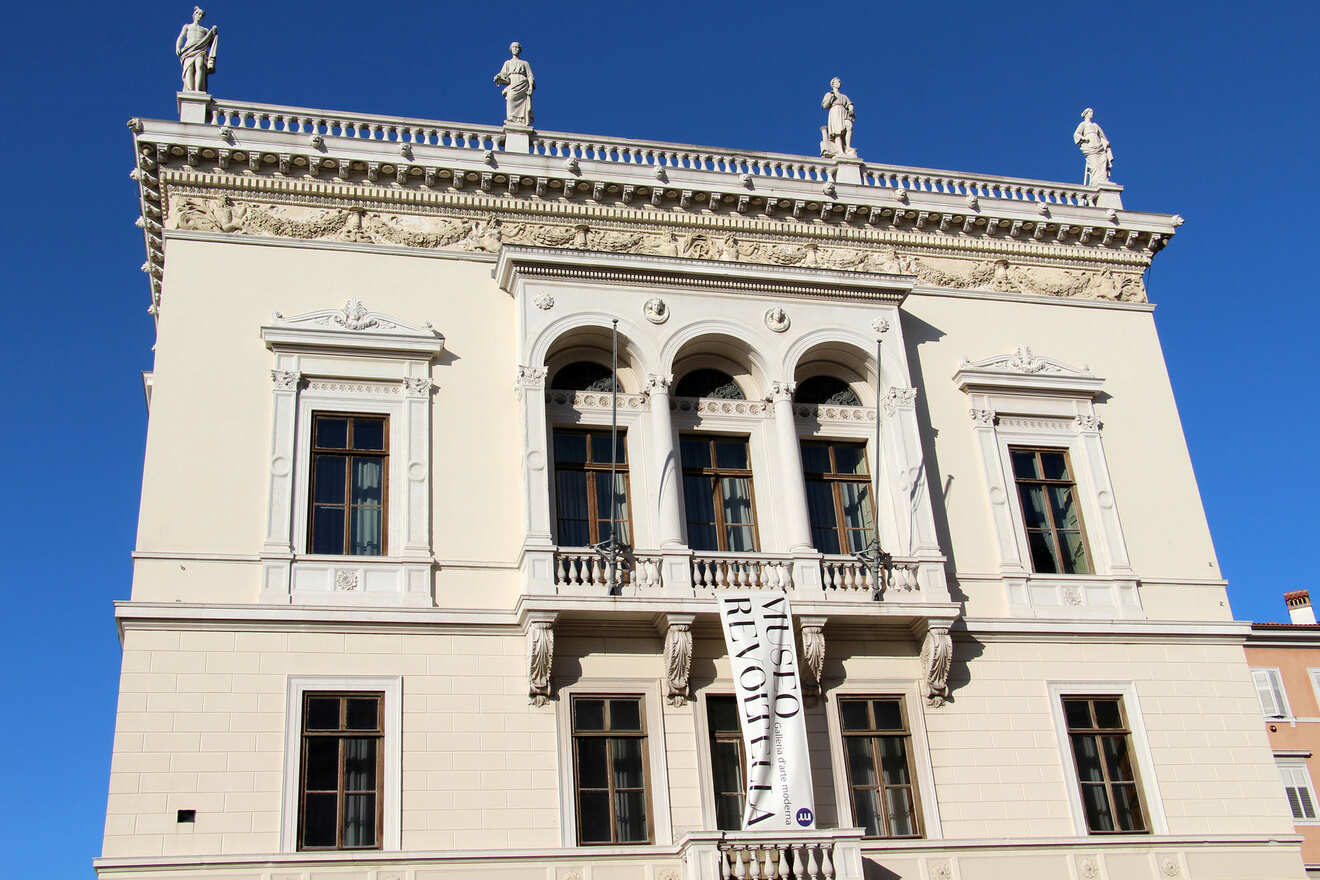 If you're into art you need to check out the Revoltella museum, set in a beautiful palace from 1858 in the heart of Trieste!
The museum hosts a big collection of modern art with over a thousand paintings, drawings, and sculptures from the mid-1800s through to the modernists (from both Italian and European artists)… a different way to explore the city's ancient history!
Apart from stunning art and interiors here you will also gaze at ancient furniture, some other of Baron Pasquale Revoltella and a breathtaking panorama of Triest from the museum's rooftop.
A visit to the Revoltella museum will take you around 1.5h and costs €7. Perfect for a cultural break while visiting the city!
PRICE: €7
9. Learn something new at the Museum Risiera di San Sabba
If you want to learn more about the city's history, located 10 minutes driving from Trieste city center you'll find the Museum Riseria di San Sabba, which goes through the heartbreaking period of the Nazi occupation of Trieste, during World War II.
The Risiera di San Sabba museum is set in a former rice processing factory that was used as a concentration camp where the Nazi police brought partisans, Jews, and political prisoners.
The entrance is completely free, with the option to get an extra audio guide for €2, that will guide you from one room to another with historical facts and confessions of the survivors. It's truly an extraordinary and emotional experience!
10. Travel back in time at the Roman Theater (Teatro Romano)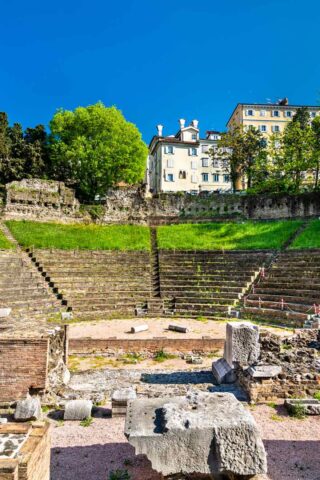 Located at Via del Teatro Romano, just a couple of minutes' walking from Piazza Unità d'Italia, you'll find the Roman theater.
This venue dates back to the early 1st and 2nd centuries A.D., under the empire of Emperor Octavius… you will travel back to the times of the Roman Empire as soon as you step inside!
FUN FACT: When it was first constructed, the Roman theater sat directly by the sea, while today the waterfront lies almost 400 meters away, right on the other side of Piazza Unità d' Italia!
Much of the original seating is still intact, and you'll see some Roman ruins there, but the majority of it has been restored and reconstructed so now it can host 6,000 spectators.
Nowadays, the Roman Amphitheatre is still used for concerts during the summer months, so if you're here in that period of the year, check out the events on the official website to know what is running on a specific day. This could be a great way to spend a summer night in Italy!
Otherwise, you can visit it for free at any time of the day, from Monday to Sunday.
11. Explore the Giant Cave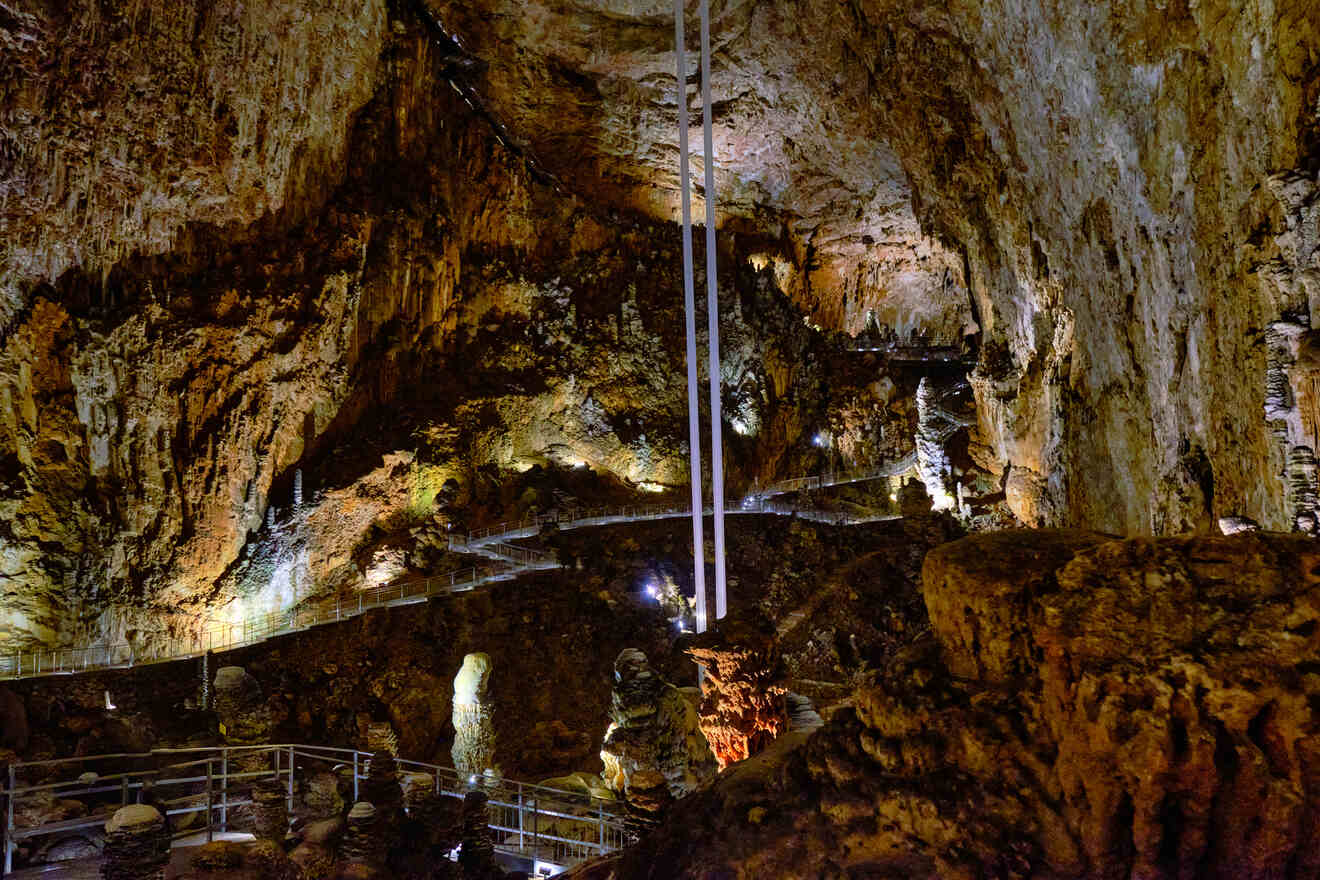 If you love to discover hidden natural wonders, only a 20-minute drive from the Trieste center there is the famous Grotta Gigante, one of the largest tourist caves in the whole world. It is several million years old, with many limestone columns, stalactites, and stalagmites.
FUN FACT: The giant cave has won a place in the Guiness Book of Records, and a hot-air balloon has even flown through it… can you believe that?
Even if an air balloon would be a fun way to visit it, the two ways to visit at the moment are either by yourself – it will take you around 1h and cost you €15 – or with a this half-day guided tour, combining a visit to the Giant Cave and the Duino Castle for €88.
The guide will give you a lot of interesting information about the cave history, and features of the stalactites and stalagmites, so it is definitely worth it.
PRO TIP: Make sure you bring a jacket with you. The temperatures underground are quite cold and wet!
PRICE: €88 
Take a Tour to The Giant Cave
12. Eat a delicious Italian gelato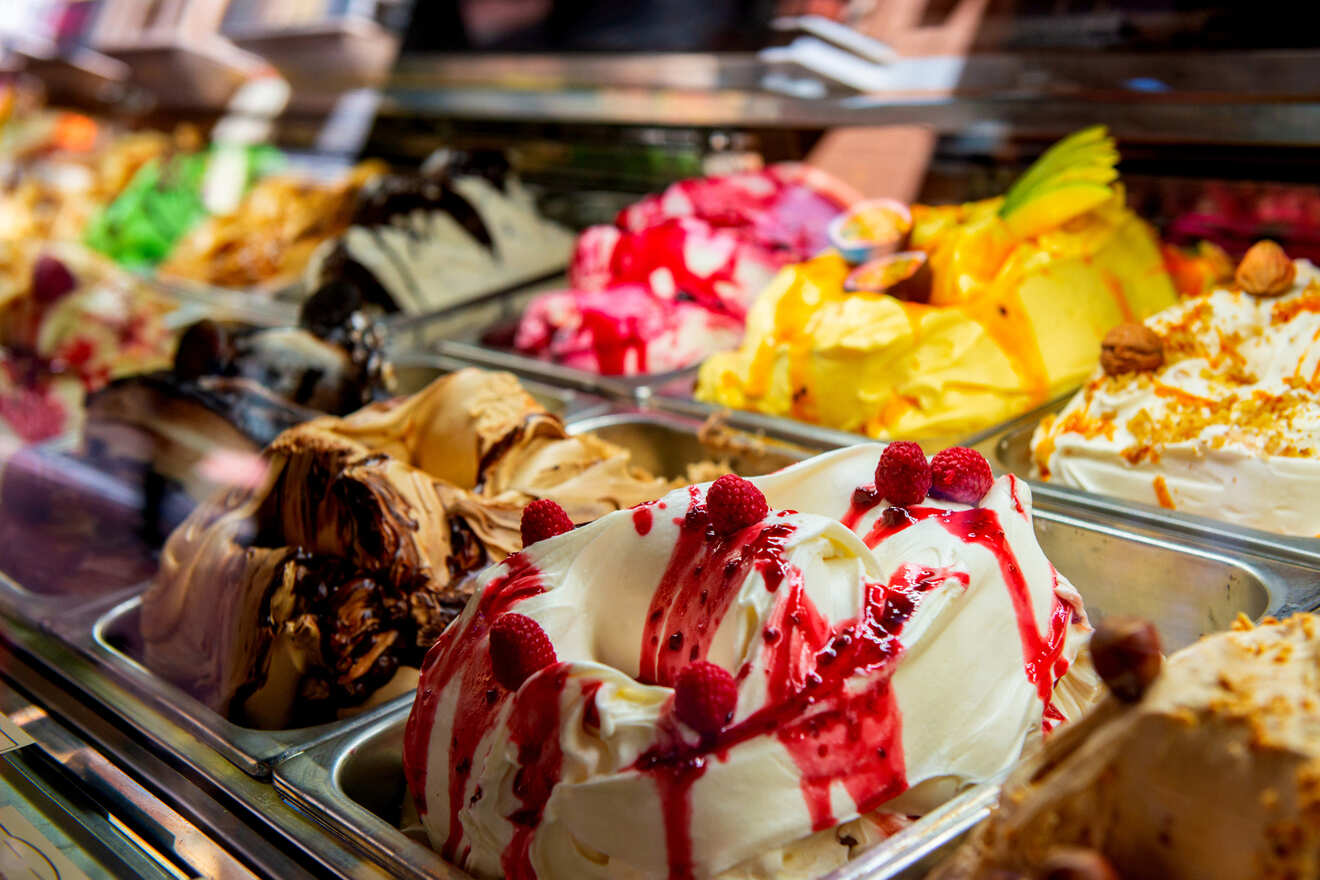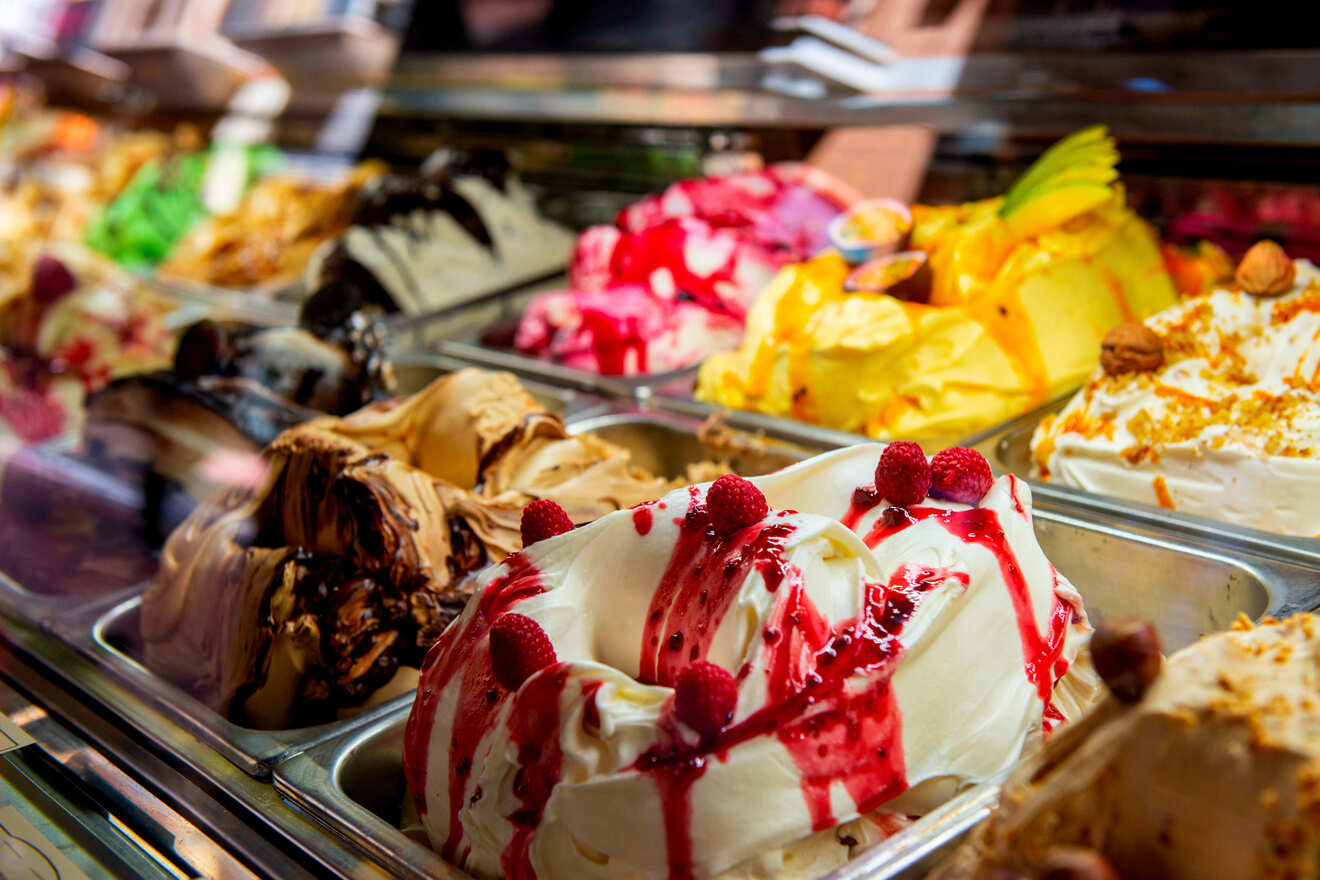 Who doesn't love gelato? Well, if you're in Italy you have to try a traditional one… and Trieste has plenty of delicious ice cream places for you to have a yummy break between one attraction and the next.
My 2 favorite ones are located right in the city center! Gelateria Jazzin is just by Piazza Unità d'Italia and has many unique flavors like basil and lemon ginger, as well as the more traditional fruity and nutty ones… pick up one and go enjoy strolling at the waterfront or the square!
The other one is Gelateria Zampolli, located just a couple of minutes from Giardino di Piazza della Liberta, offering flavorful ice cream made of fresh ingredients, as well as fresh granitas, cakes, coffee and breakfast!
Who's up for it?
13. See at a stunning sunset from Molo Audace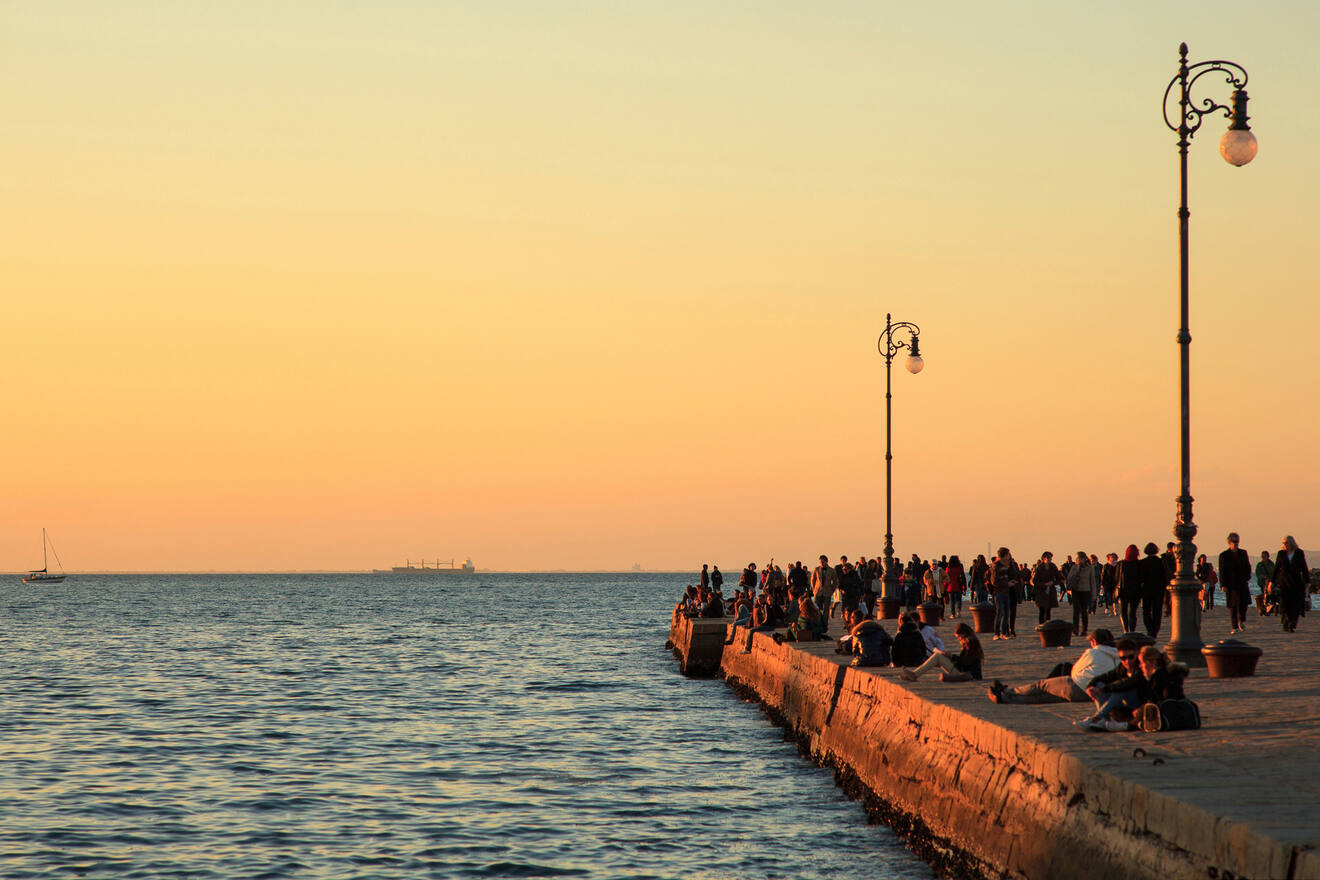 Trieste's waterfront is just by itself one of the best attractions in Trieste, with its 19th-century warehouses and charming palaces, wide boulevards, the old Trieste harbor with many boats, and the Molo Audace pier, at few minutes walking from Piazza Unita.
The Molo Audace also hosts a long walkway, extending 246 meters into the sea. A favorite place among locals and tourists to gather, catch the sea breeze and watch both the Adriatic sea and the beautiful city.
This is definitely one of the best places in town to just enjoy the coastal scenery, the breathtaking views of the sea and the gulf, and the best moment of the day to do that is at sunset, with the light signals of Faro Della Vittoria lighthouse as soon as it gets dark.
This will be a magical moment of your holiday in Trieste… don't miss it!
14. Try the traditional food with a local!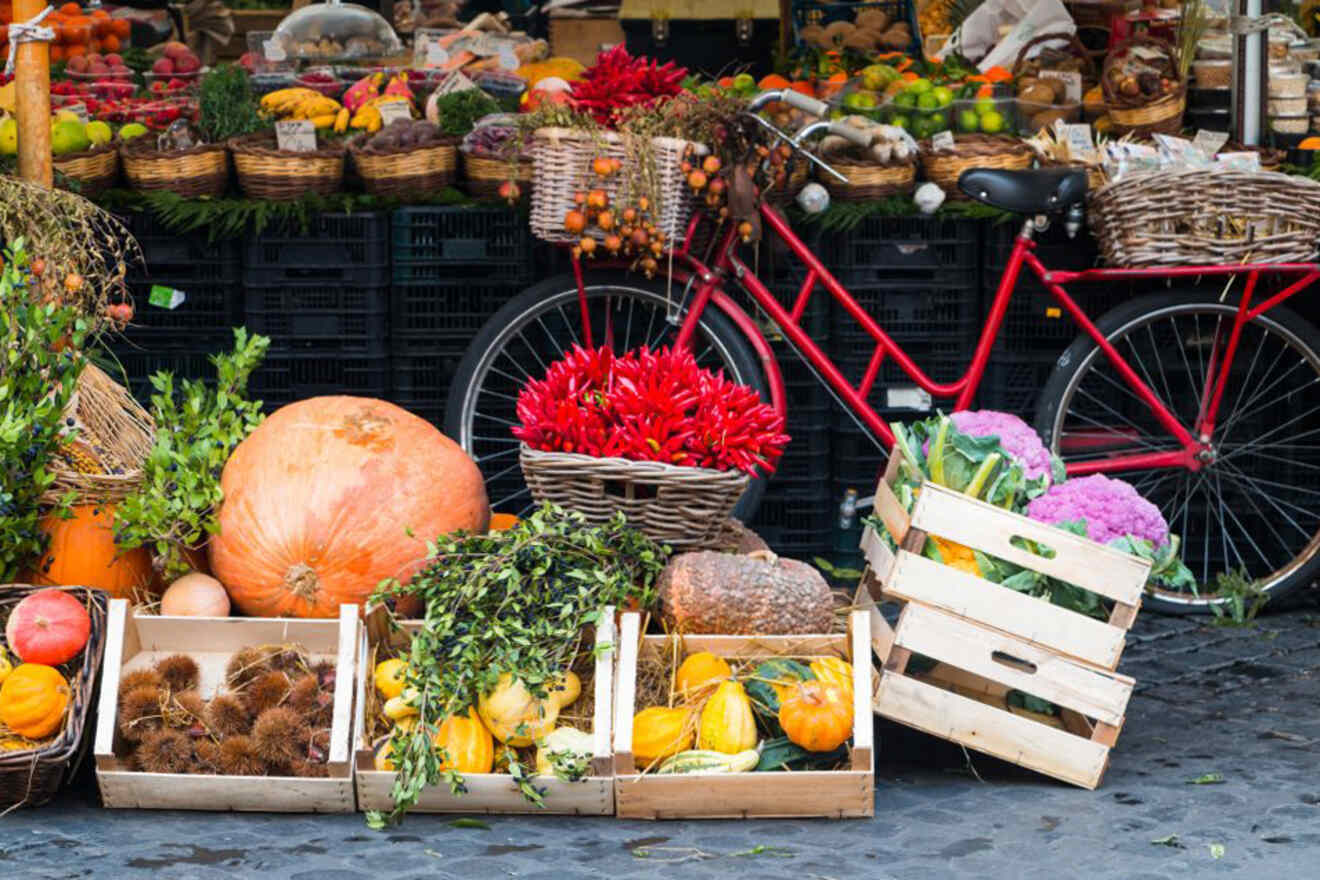 If you want to bring home an unforgettable experience as a souvenir from your holiday in Trieste, join this unique 4-hour market tour, during which you will explore the vibrant local market with a passionate local cook, who will show you how to recognize the best products from the land!
But that's not all… After that, you will immerse yourself in a private lunch or dinner in her local home, enjoy a private cooking demonstration (she will share the secret of her family cookbook while cooking right in front of you!), and taste local recipes with wines included.
Get ready to try one of the most delicious 4-course seasonal menus while feeling the warmth of Italian hospitality as you connect with local people… this experience is priceless, but they sell it for only €139 per person!
PRICE: €139
Go on a Market Tour with Lunch
15. Pass under Arco di Riccardo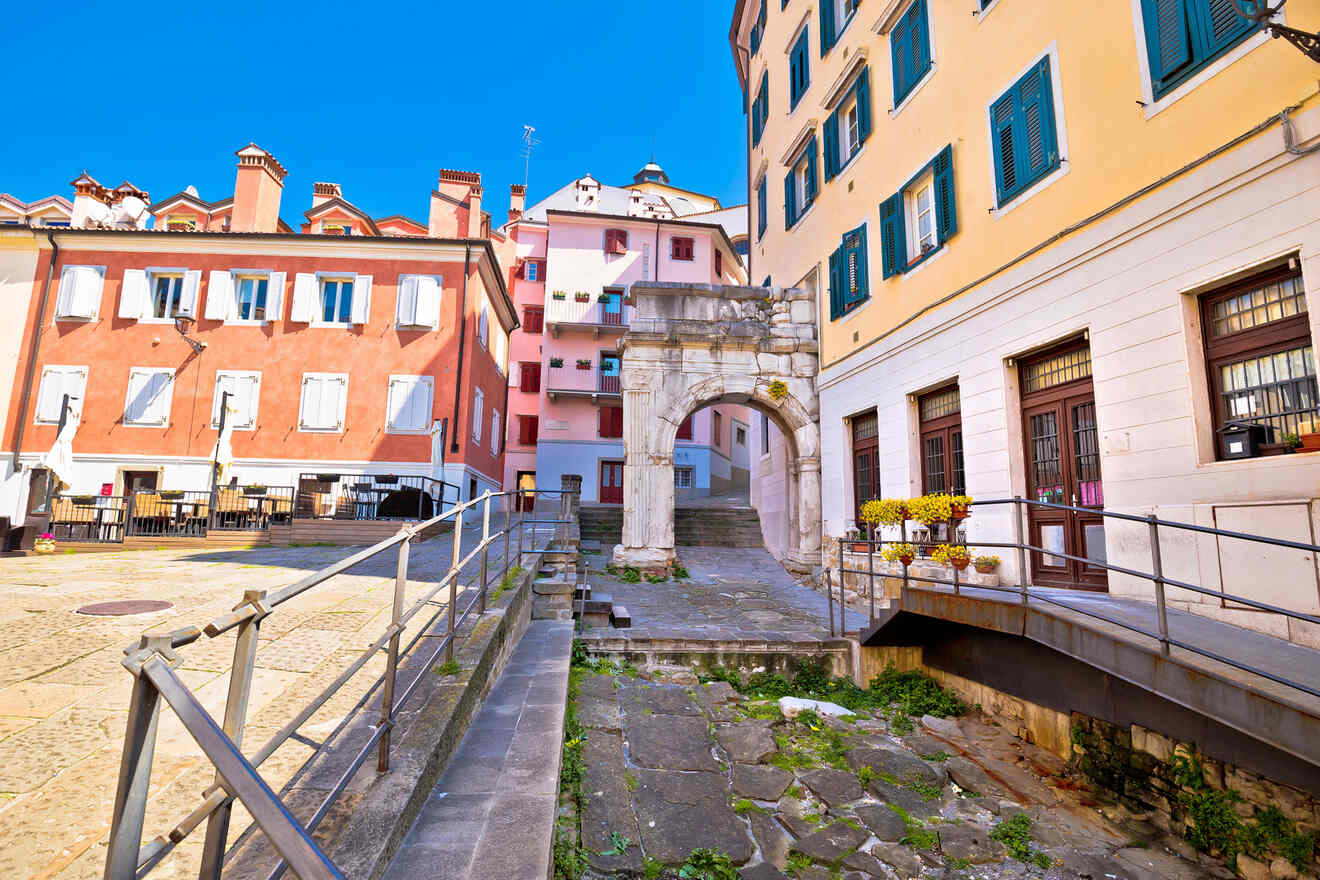 The 7 meters high "Arco di Riccardo", dating back to the 1st century AD, is the arch of the most important monuments in Trieste.  Made of white stnes coming directly from Aurisina cave, it is definitely a must-see on your list of best things to do in Trieste!
The arch is located on the way up to the San Giusto castle, the way that connects the sea to the hills, and it was used as a Roman gate in the city walls at the times when the emperor Augusto established Trieste as a Roman colony (back then it was called Tergeste).
Today the Roman arch is surrounded by colorful modern buildings, which creates a beautiful contrast between old and new, and Trieste's ancient and modern history. Think about this when you pass under it… it will be a symbolic experience.
And of course, don't forget to take a quick picture!
16. Spend a beach day in Sistiana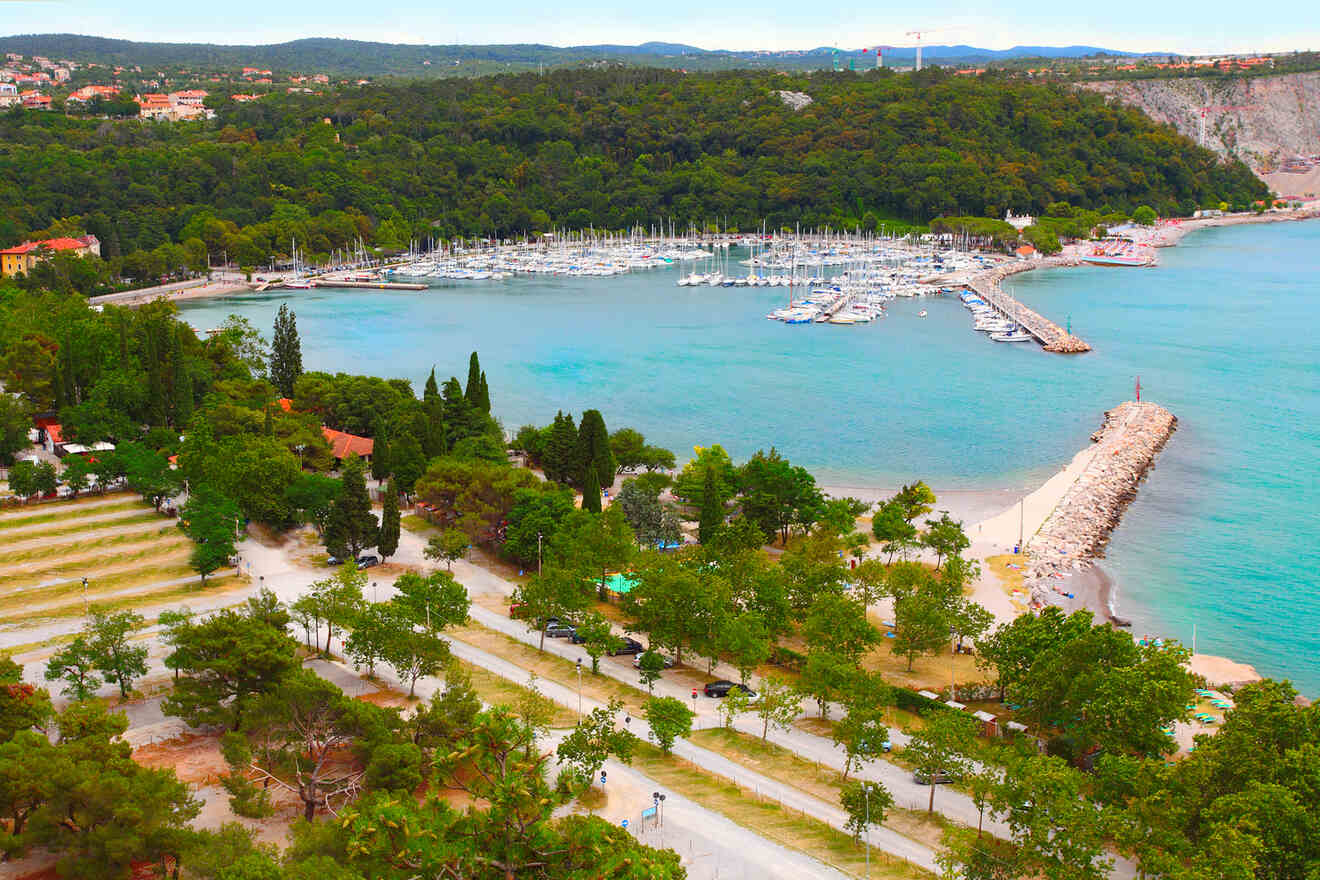 If you want to have a break from the city, only 20 minutes driving west of Trieste you'll find the charming Sistiana Bay, a coastal resort town hosting a harbor and many beautiful beaches with clear turquoise waters.
The place is perfect to just stroll around, enjoy the fresh sea breeze, have a meal or an aperitif in one of the many waterfront bars and restaurants, or buy souvenirs in one of the cute beach shops!
And of course, if you come here during the summer months, take the occasion to spend a lazy day at the Sistiana pebble Beach (Bagno Castelreggio), sunbathing and splashing in the crystal clear waters. It has free access and is fully equipped with sun chairs, showers, and bars making it the perfect place to recharge your batteries!
Sistiana is also a great place to spend the night, so you can fully enjoy the beach one day and explore the town the next. Check out the luxury Falisia Resort or the more affordable Bonavia B&B, both great accommodations for any kind of traveler!
| | |
| --- | --- |
| 🤩 Range of activities: | Average |
| 🏛️ Best museum: | Riseria di San Sabba |
| 🚶🏽‍♂️ Best free activity: | Stroll around Grand Canal |
| 👧 Best attraction for kids: | Postojna Cave |
| ⛲ Best square: | Piazza Unità d'Italia |
| 🍴 Top restaurant: | Buffet da Pepi |
BONUS 1: Best day trips to Slovenia from Trieste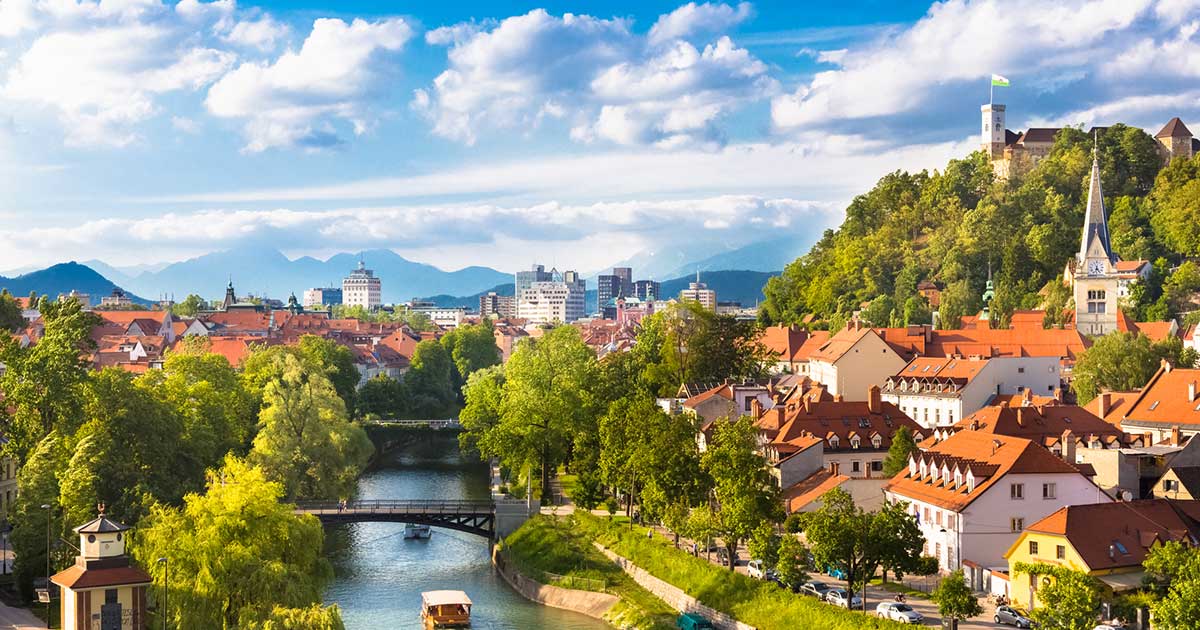 Since Trieste is located only a 20 minutes drive from the beautiful Slovenia country, it is definitely worth  taking a day trip to explore another countries' incredible attractions and natural landscape!
In fact, from giant caves, to glacial lakes and charming cities, Slovenia has it all…it even hosts the region where prosecco is made!
And the best thing is that most people don't need a visa to cross the border. If you're from an EU country, or from the United States, Canada, Australia, New Zealand, the UK or Japan you can travel to Slovenia visa-free!
NOTE: The entry requirements can change without notice so please double check here before you go just to be sure!
So let's check out together the best day trips to Slovenia from Trieste:
1. Explore the region of Prosecco Wine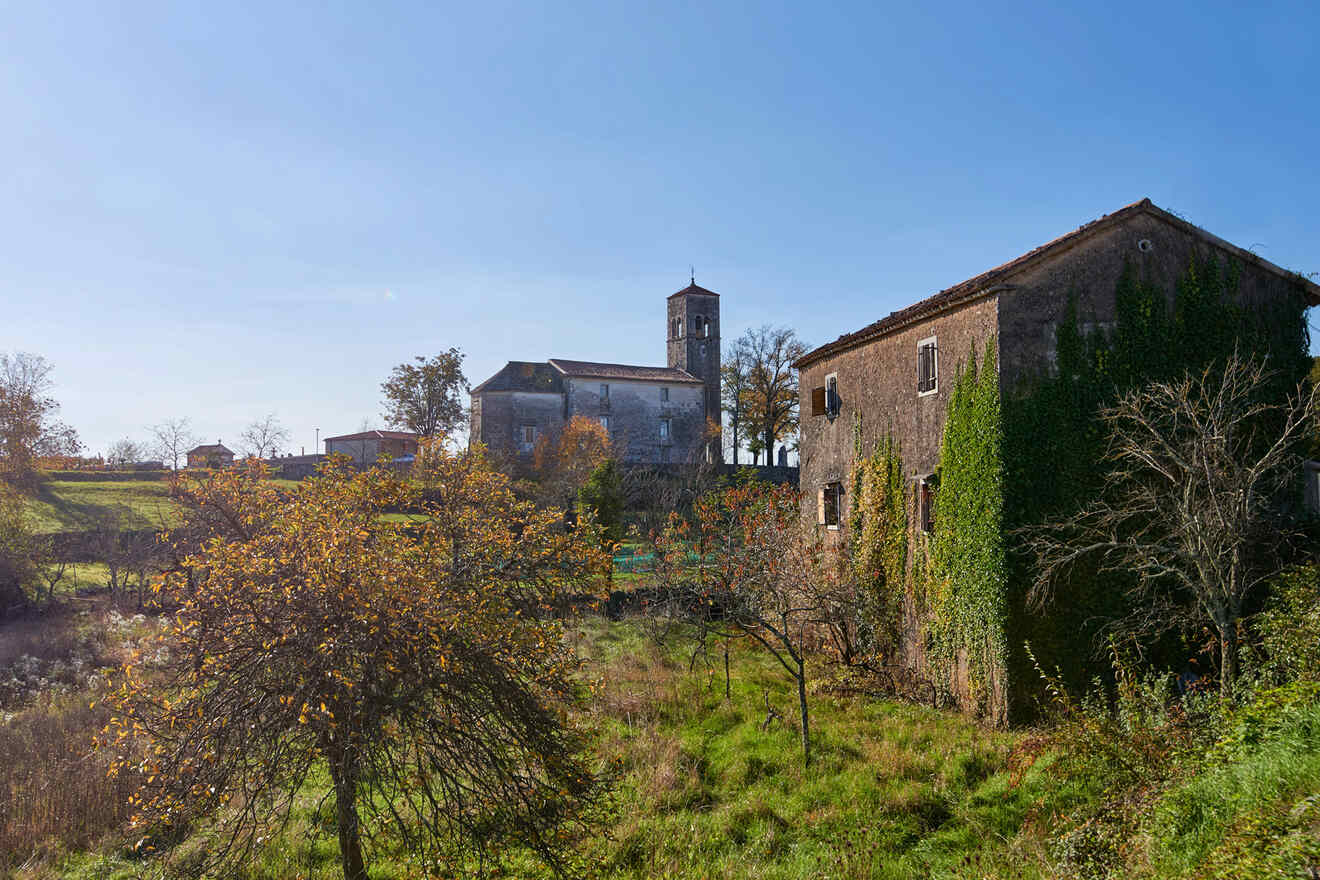 Are you, like me, passionate about Prosecco sparkling white wine? Then you should definitely take the opportunity to go explore the region where it is made, in Slovenia!
Even though it's in a different country, the under-explored region of Karst is only about a 20 min drive from Trieste.
On this day tour, they will collect you from your Trieste accommodation and bring you directly to the region of Prosecco, where you'll get to know everything about this amazing wine, visit the area's most historically significant vineyards and do some tasting in an exceptional winery.
After you will go to the medieval village of Štanjel, located atop a scenic hill, from where you can gaze at panoramic vistas, visit the Ferrari villa of Maks Fabiani, an influential architect and mayor of the village during the war world II, and try local ham, cheese and wine… all this for €126!
PRICE: €126
Explore the Prosecco Region!
2. Visit Predjama Castle and Postojna Cave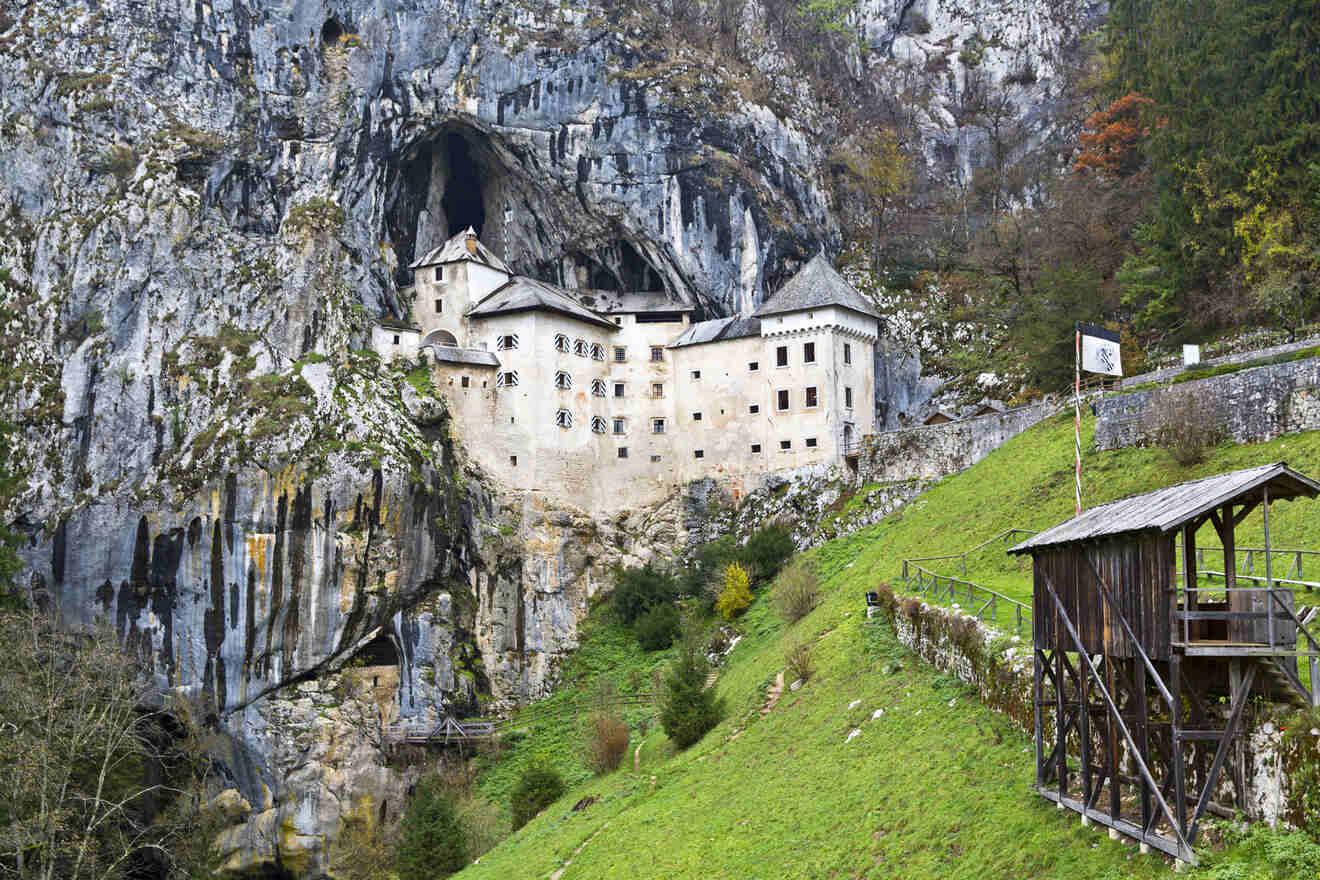 Another one of the best day trips you can take from Trieste is definitely to visit the 800-year-old Predjama Castle, the only preserved cave castle in Europe, and to the Postojna Cave, the best-known giant cave in the world.
Even if the two attractions lie in Slovenia, they are only 1 hour's drive from Trieste, but what I suggest you do is visit them with this half-day guided tour, combining the two of them.
During this amazing tour, you will take a ride on the underground electric train through the tunnels, passages, galleries, and halls of the cave, meet the most famous inhabitant of the cave (the Proteus) and learn about the romantic history of the Predjama Castle, built on a 123-meter high vertical cliff (the perfect defensive position in the past).
The tour includes transportation to and from Trieste, and a live guide in Italian, English, or German for €113… this is definitely one of the best things to do in Trieste with the family!
PRICE:  €113
Join a Tour to Predjama & Postojna Cave
3. See the beautiful Lake Bled and Ljubljana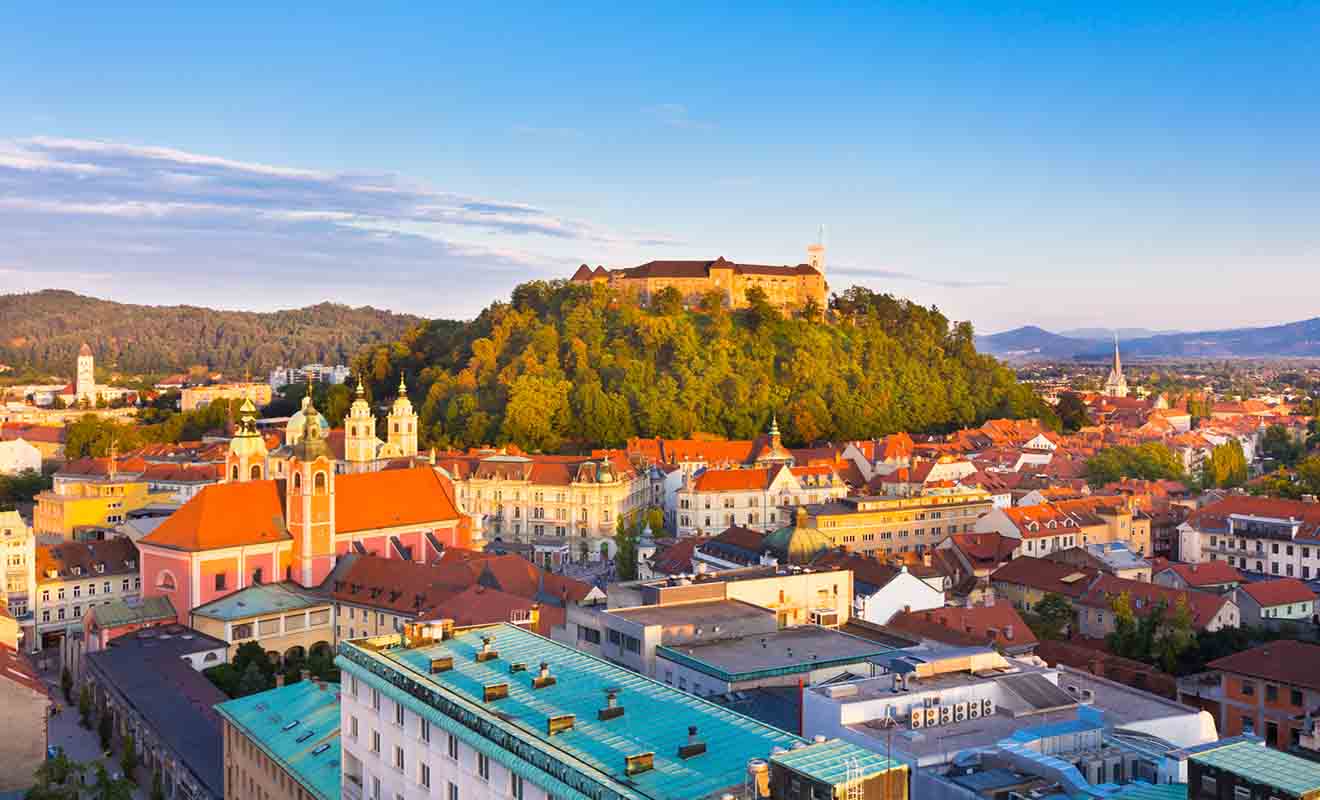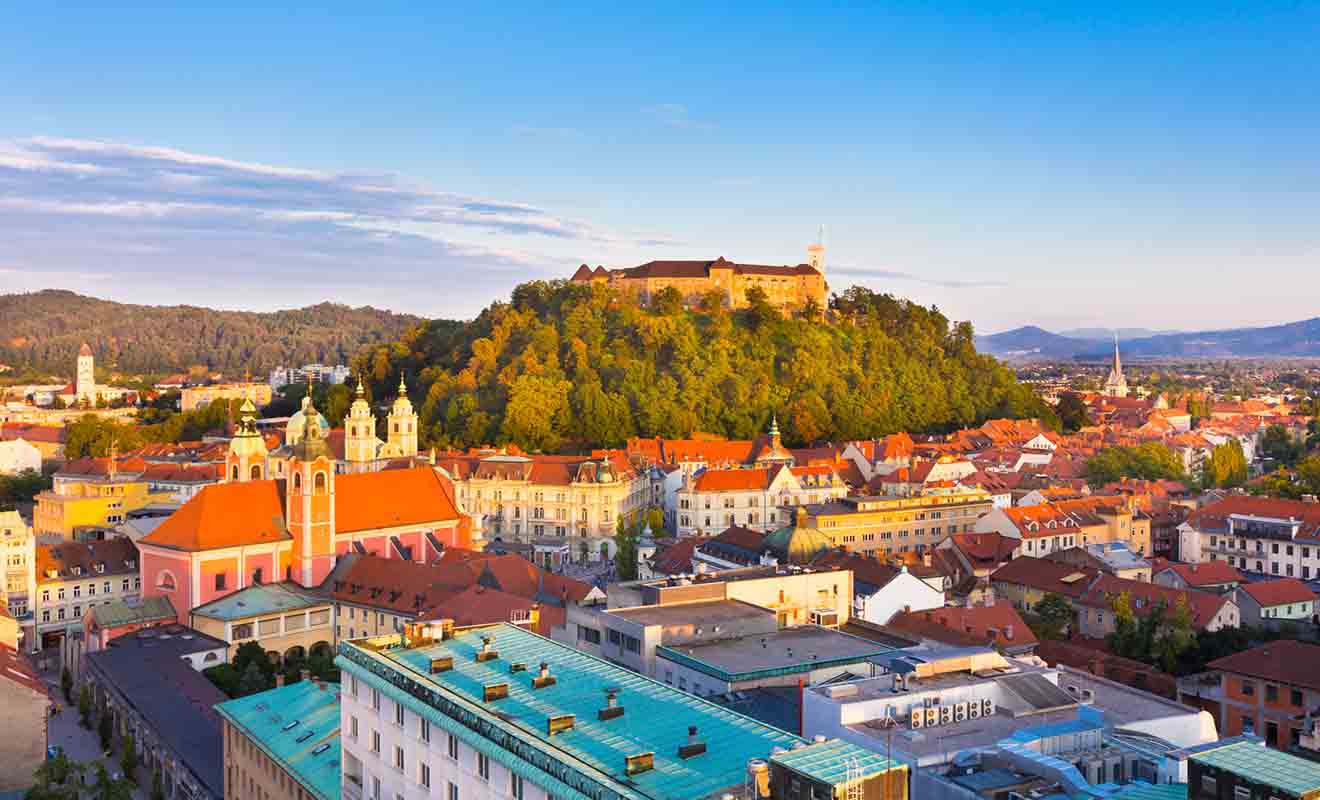 Only a 2 hour drive from Trieste you will find two of the most popular spots in Slovenia: the magical Lake Bled, a glacial lake surrounded by a picturesque mountain range and hosting a church-topped island, and the capital city of Ljubljana, with its beautiful architecture.
The best way to combine a visit to both of them is this guided day trip, during which they will pick you up from your hotel in Trieste (or the harbor), ride through the Slovenian countryside and bring you to explore Ljubljana on a guided walking tour.
You'll see famous landmarks like the Ljubljana Cathedral, Prešeren Square, the Town Hall, and many more… check out other incredible must-sees in Ljubljana in this post!
After that, you'll travel to the stunning Lake Bled, where they'll give you time to walk along the shore, and explore the pretty village along its wooded shore and the charming island set right in the center of the lake.
This is a great occasion to spend some tranquil time nestled in nature and see another European country just in one day… Are you up for it?
PRICE: €115
Go on a Day-Trip to Lake Bled and Ljubljana
BONUS 2: Best restaurants in Trieste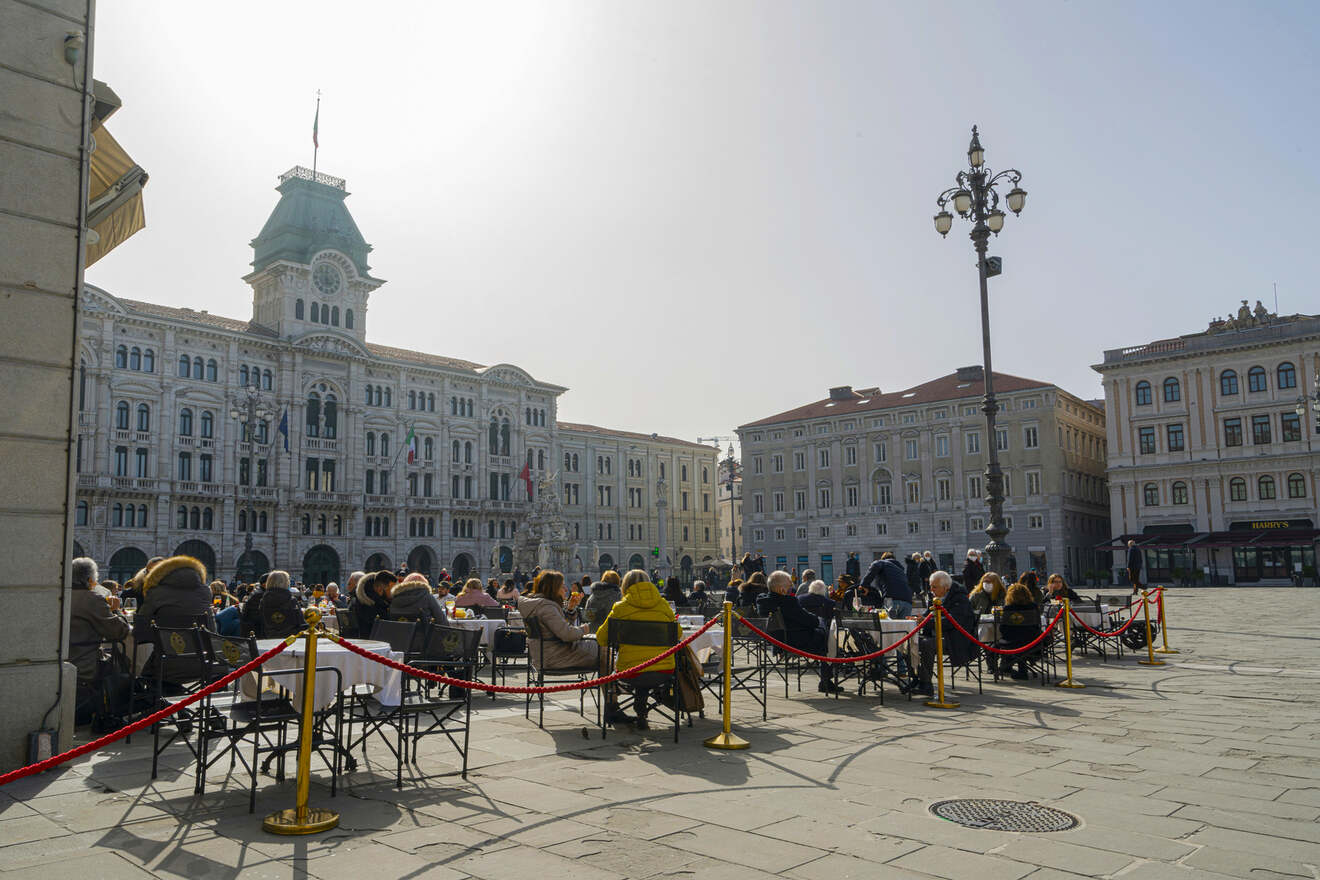 One of the best things to do in Trieste, and in general anywhere you go on holiday, is try all the traditional food at the best restaurants… Do you agree with me?
If so, check out the list below with the best restaurants in Trieste, Italy, where you can try the local dishes, and have a typical aperitif and delicious wine… I also included an option for vegan/vegetarian and the best pizza in town. Check them out:
Buffet da Pepi (€€) – If you love meat, this local restaurant located at few steps from Piazza Della Borsa is for you, offering amazing cuts of boiled meat (a typical dish of the region) served with fresh bread, sauerkraut, mustard, horseradish and beer of wine.. Perfect for lunch or dinner!
Hostaria ai 3 Magnoni (€€) – If you want to try some of the most delicious seafood dishes in town, check out this incredible restaurant. It is located 10 minutes by car from the city center, but it is definitely worth it! The place also serves some insane pastas… the ricotta gnocchi with cheese fondue, scampi, and fresh truffle is to die for!
DiNapoli (€€) – No trip to Italy is complete without having a good pizza, and the best one in Trieste is at DiNapoli, located a few steps from the Triest pier. Here they serve real Neapolitan Pizza (with a thick crust) as well as delicious pastas… my tip? Start with the mixed bruschettas as an entree, you will love them!
Urbanis (€€) – This cool bar in Piazza della Borsa is one of the top places in town if you want to have a traditional Italian Aperitif (Aperol/ Campari or Hugo Spritz)! They will serve it with some delicious snacks like chips, small pizzas, and sandwiches… perfect to have it on the outside terrace surrounded by locals.
Hostaria G. Strehler (€) – If you want to have a cozy lunch or dinner for very cheap prices, this family-run restaurant is for you, serving delicious and traditional dishes. Here you can order everything from pastas to the traditional frico (made of cheese and potatoes), and they even have many vegetarian and celiac options!
Genuino (€€) – This is the place to be if you want to have a healthy meal with fresh ingredients and very original combinations of spices and herbs! They serve salads, sandwiches, pastas, desserts, and more… and they offer many vegan options on the menù. You will love it!
Where to stay in Trieste, Italy
Wondering where to stay in the city to have access to all the best attractions and things to do in Trieste that we have just been through?
No worries, just check out this quick list of the best hotels located in the historic center: I divided them by price range so there is something for any budget! Check them out: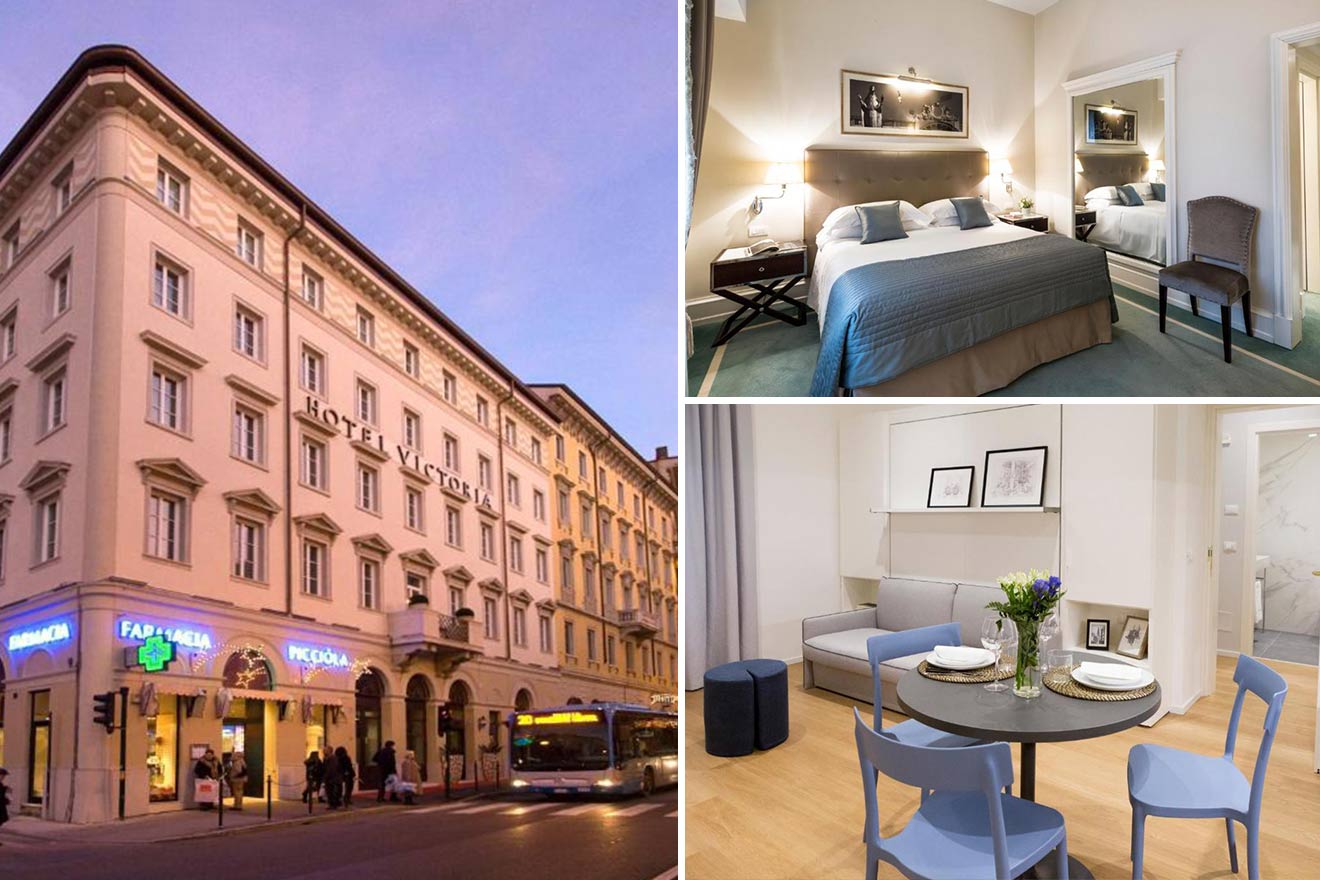 Luxury (€160 and up): Savoia Excelsior Palace Trieste – This luxurious hotel overlooks the Bay of Trieste and is set in a historic building with 19th-century architecture, impressive columns, mirrors and Italian marble. Here you'll have access to elegant rooms with marble bathrooms, a fitness center, and a spa!
Mid Range (€100 – €150): Victoria Hotel Letterario – Check out this amazingly modern and elegant hotel located right in the center of the city, a 10-minute walk from Piazza dell'Unità d'Italia: the perfect location for visiting Trieste. Start your day with a delicious breakfast and finish it with some relaxing treatments at the wellness center!
Budget (up to €70): Trieste 411 – Rooms & Apartments – If you want to save some money during your holiday in Trieste, check out this pet-friendly hotel located 15 minutes' walking from Piazza d'Italia. The property offers spacious family rooms, free parking, and free wifi, at great value for the price!
Check the rates here
FAQs about things to do in Trieste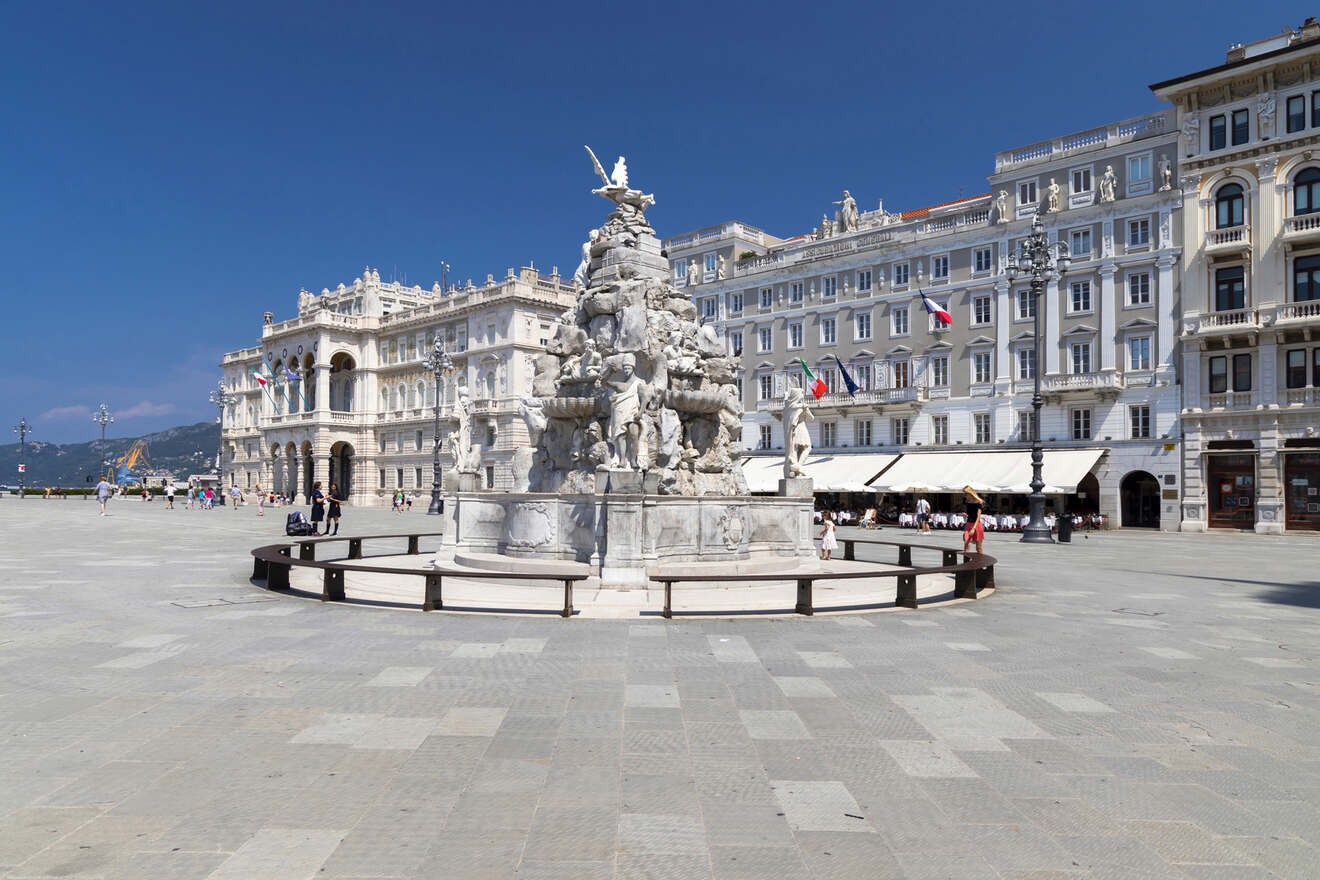 🤩 Which are the best things to do in Trieste, Italy?
The best things to do in Trieste, Italy, are visiting the Trieste Cathedral with its beautiful bell tower, strolling around the Grand Canal and Piazza Unità d'Italia, and going on a half day trip to Miramare Castle.
👨‍👨‍👧‍👧 Which are the best things to do in Trieste, Italy, for families?
🚗 Which are the best day trips from Trieste, Italy?
🚶🏽 How to get around Trieste, Italy?
The best way to get around Trieste is just walking: the city is pretty small and all the attractions are within walking distance from each other. If you want to go on a day trip, the best way is definitely to join a tour with transportation included, like this one.
🚅 How to get to Trieste?
The easiest way to get to Trieste is flying to Venice and then either take the train (the fast train Italo or the regional train Trenitalia), or rent a car for about €50 a day and drive there. Both will take you only 2 hours.
Conclusion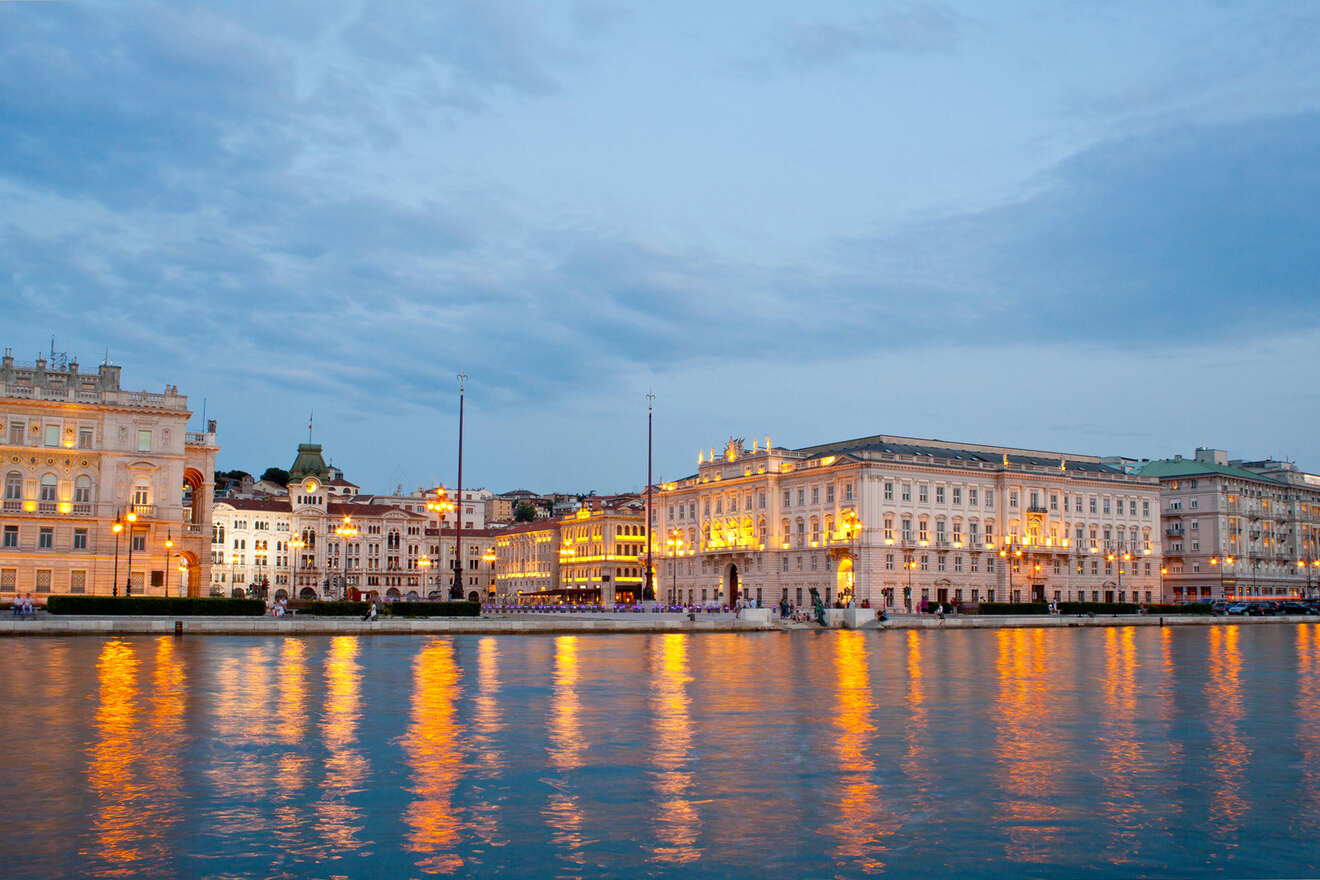 Here we are at the end of this extensive travel guide about the best things to do in Trieste, Italy: the capital of Friuli Venezia Giulia region and a city of rich history and many attractions.
We saw some absolute must when visiting Trieste: the best landmarks, restaurants, accommodation, and even some cool day trips like the one to Lake Bled and Ljubljana, in Slovenia.
By the way, if you are interested in other cool things to do in Ljubljana, the capital of Slovenia, check out this post!
And if you have something more to add to this list of Trieste attractions, or if you simply have any questions for me, please share them in the comments below. I am looking forward to answering you!
Have a great holiday!
Elena
---
Pin it for later!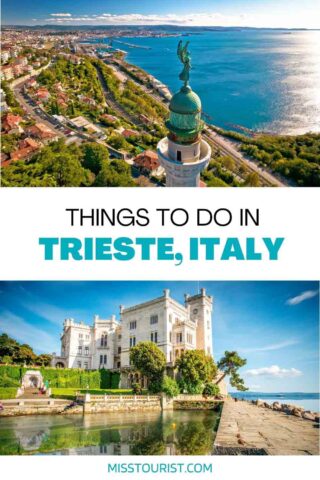 Pin it for later!