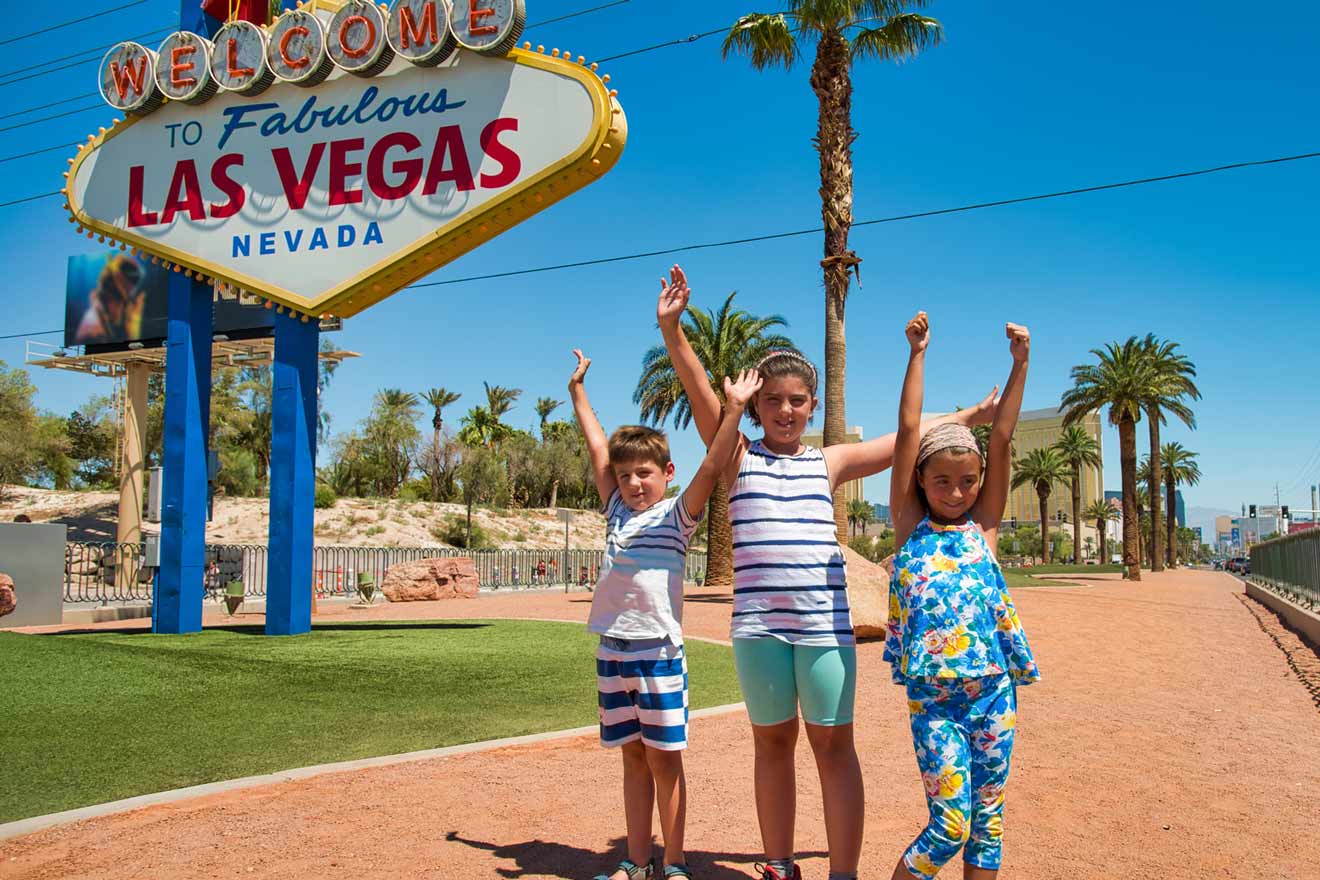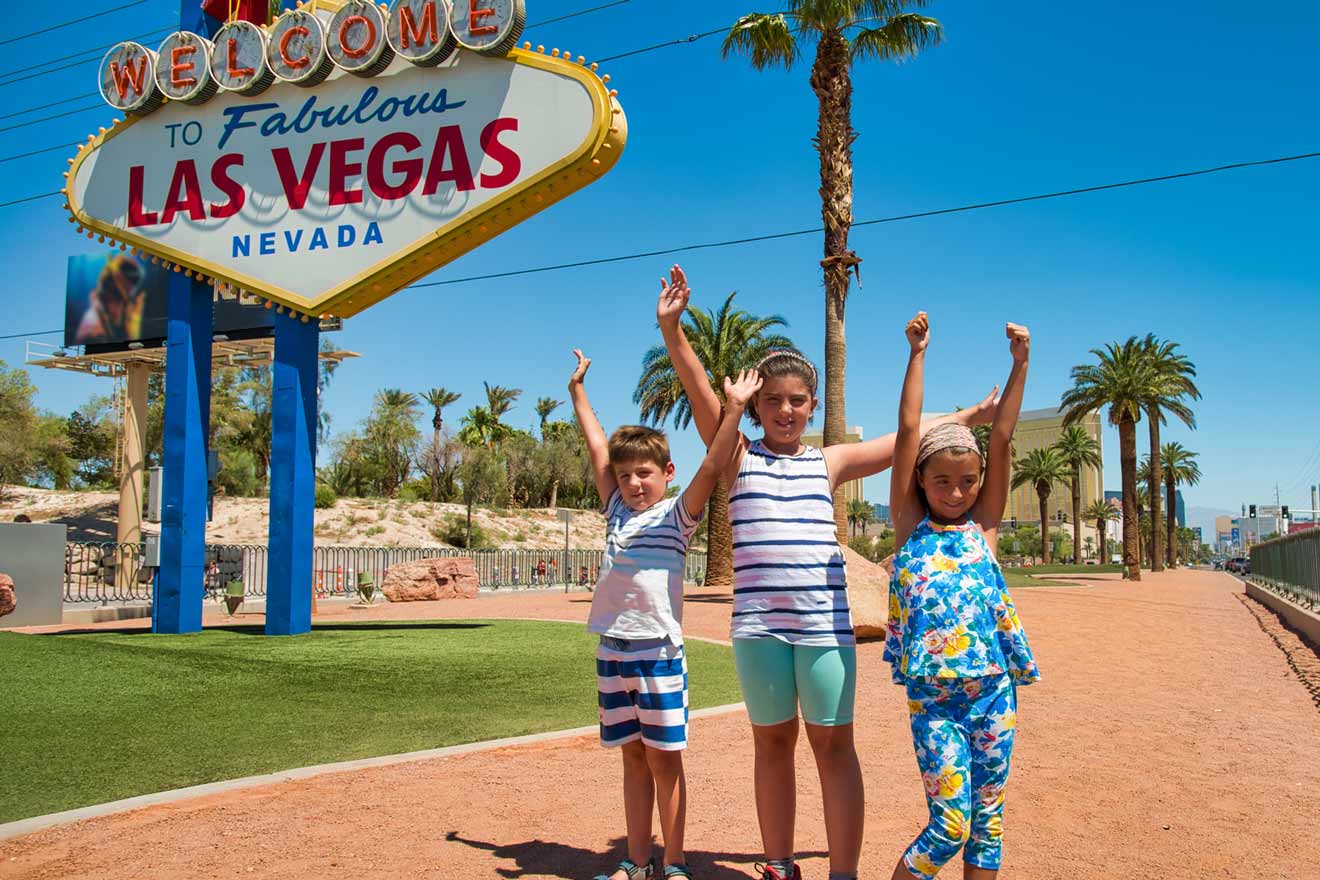 Who's eager to spend some fun day together with the kids in Vegas? I'm sure everyone, but I guess you're all dreading the moment when you have to look for some kid-friendly Vegas hotels.
Well, you're in luck because today I'll help you find the best family-friendly hotels in Las Vegas! I've searched on the web and honestly, I found some amazing options, which I'm eager to share with you!
And since there were so many cool ones I decided to add 2 extra bonus sections for my readers! One with the best kid-friendly hotels off the Vegas Strip and one with some VRBOs for families.
But before we get into that you should know that hotel prices change dramatically in Las Vegas depending on what type of room you want to book, the hotel's popularity, and even because of the events that happen during your visit. And since there's always a show, a festival, or lots of other events in Vegas, I couldn't offer you the accurate price ranges for this article. Instead, I ordered all the kid-friendly hotels by stars to help you choose something in your price range.
This may even work in your favor, especially if you're flexible with your dates, because you may find a luxurious hotel that has a mid-range or budget price!
Now let's find those amazing hotels! I guess by now you understand how important it is to book your hotels in advance. As I mentioned, the prices change so fast, and booking in advance can only guarantee you'll find the cheapest option.
If you are in a hurry
I've got you all covered! If you just want a short list of the best family-friendly hotels in Las Vegas, check out the list below:
Luxury (5 Star)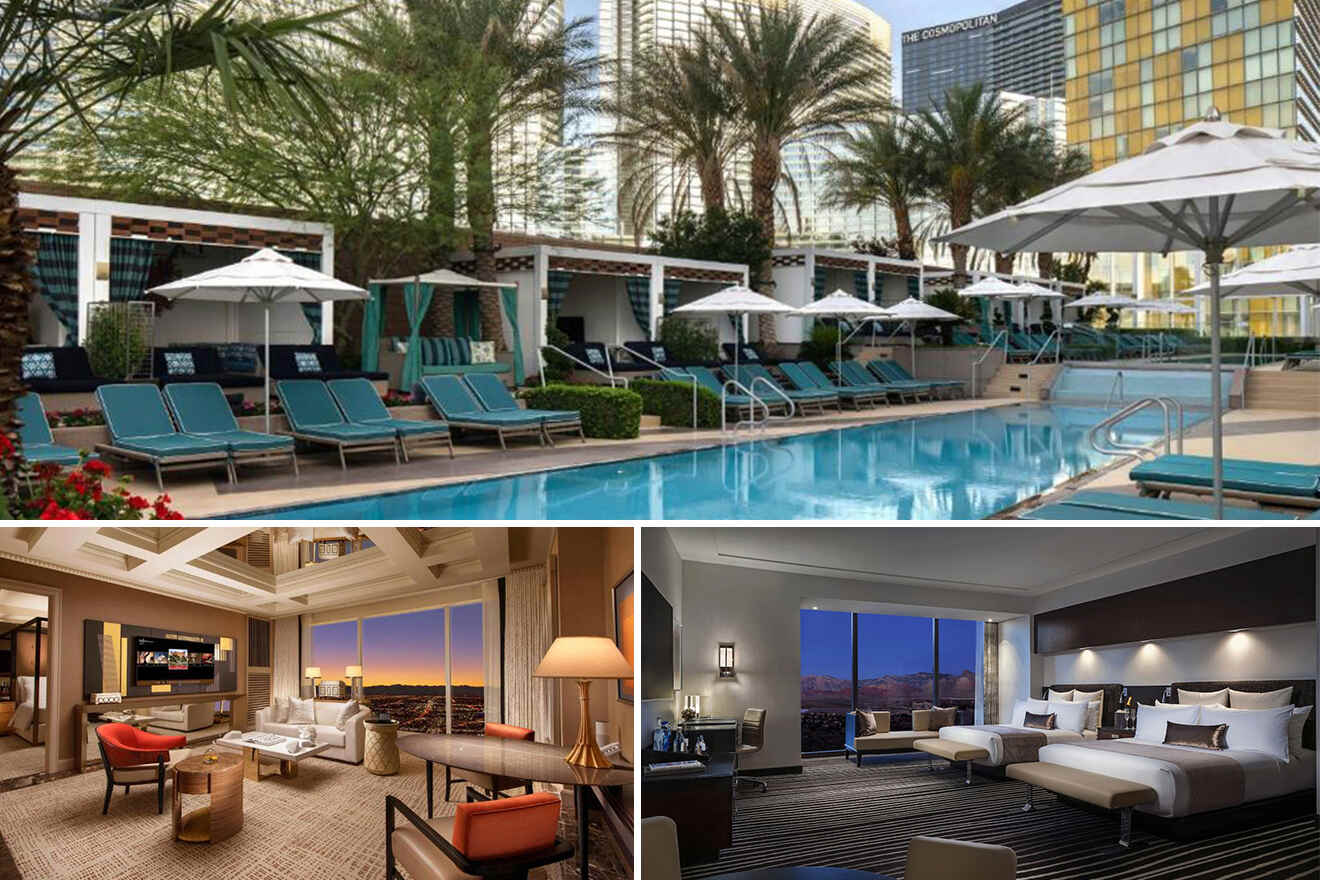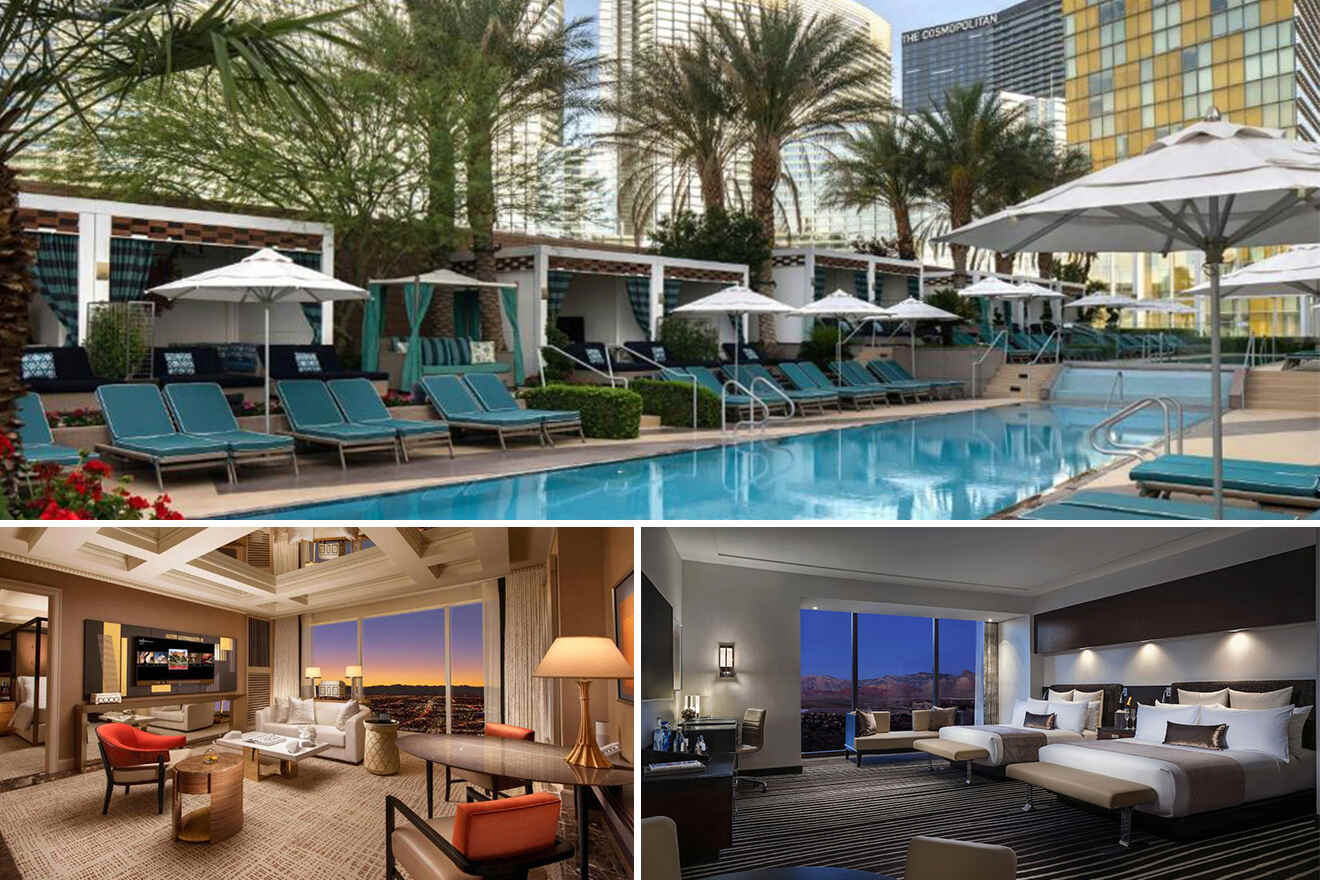 Red Rock Casino Resort & Spa – Although not everyone would think of Vegas as a family-friendly destination, there are lots of attractions that your kids will love! And just as many cool hotels, like this one, which comes with a movie theater, arcade room, and a bowling alley! There are plenty of things to do around, and when you need some time off to chill by the hotel pools or at the spa center, you can take the little ones to the kids club!
Wynn Las Vegas – Planning your family vacation in Las Vegas? Well, then I think you'll love this hotel set on the famous Vegas strip that has a full-service spa, oasis-style pools, and over 10 restaurants (one for each day of your stay)! Don't forget these are some of the best Vegas hotels, so I highly recommend booking them in advance if you don't want to risk losing your favorite!
Waldorf Astoria Las Vegas – Set on the Las Vegas Strip, this awesome hotel offers services such as babysitting as well as laundry services. And let's just say that the whole family will fall in love with what looks like a whole pool complex, and that includes a 2 lap pool, 2 hot tubs, and 1 plunge pool! Plus a super fancy two-floor spa center that offers some of the most amazing treatments you'll ever try!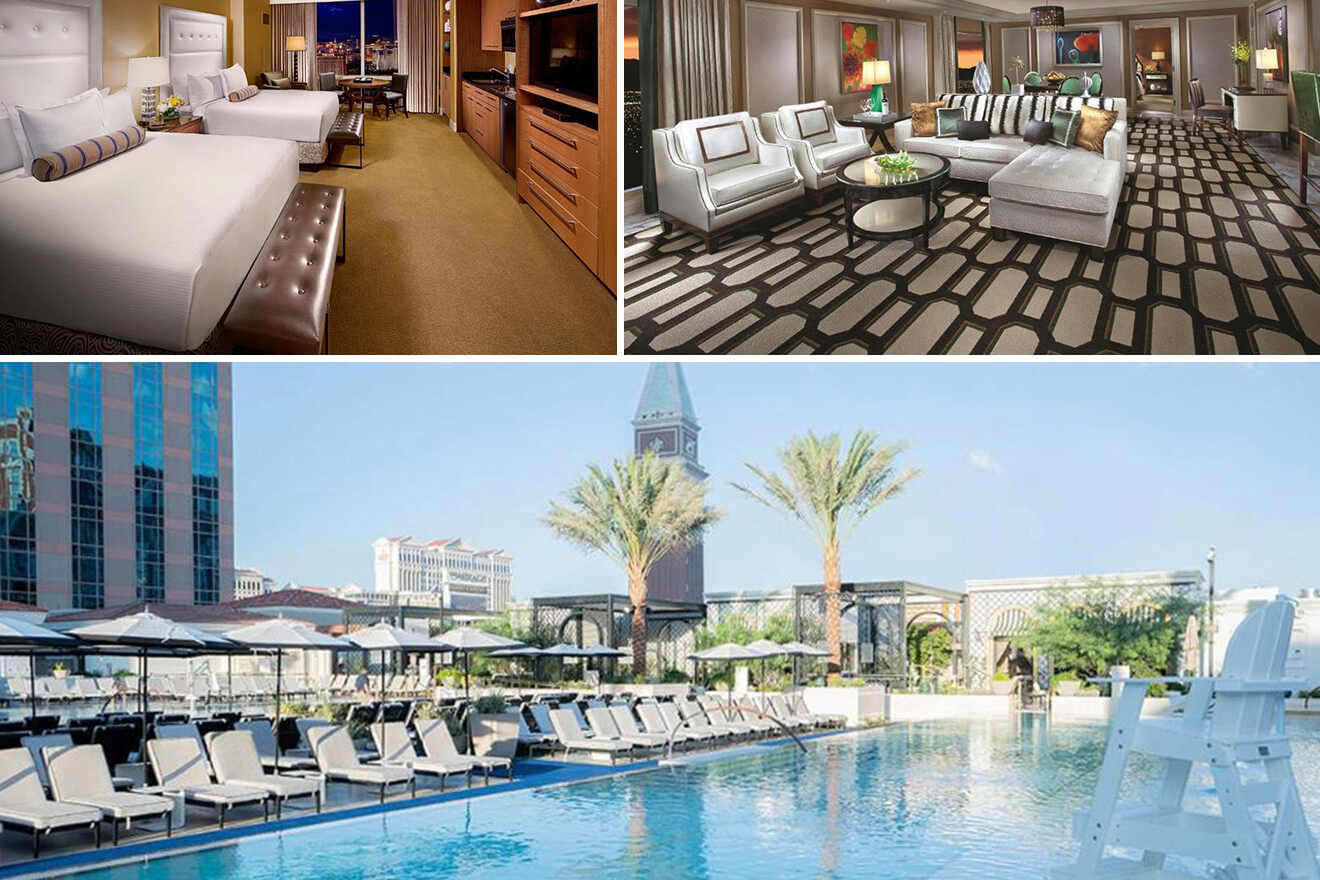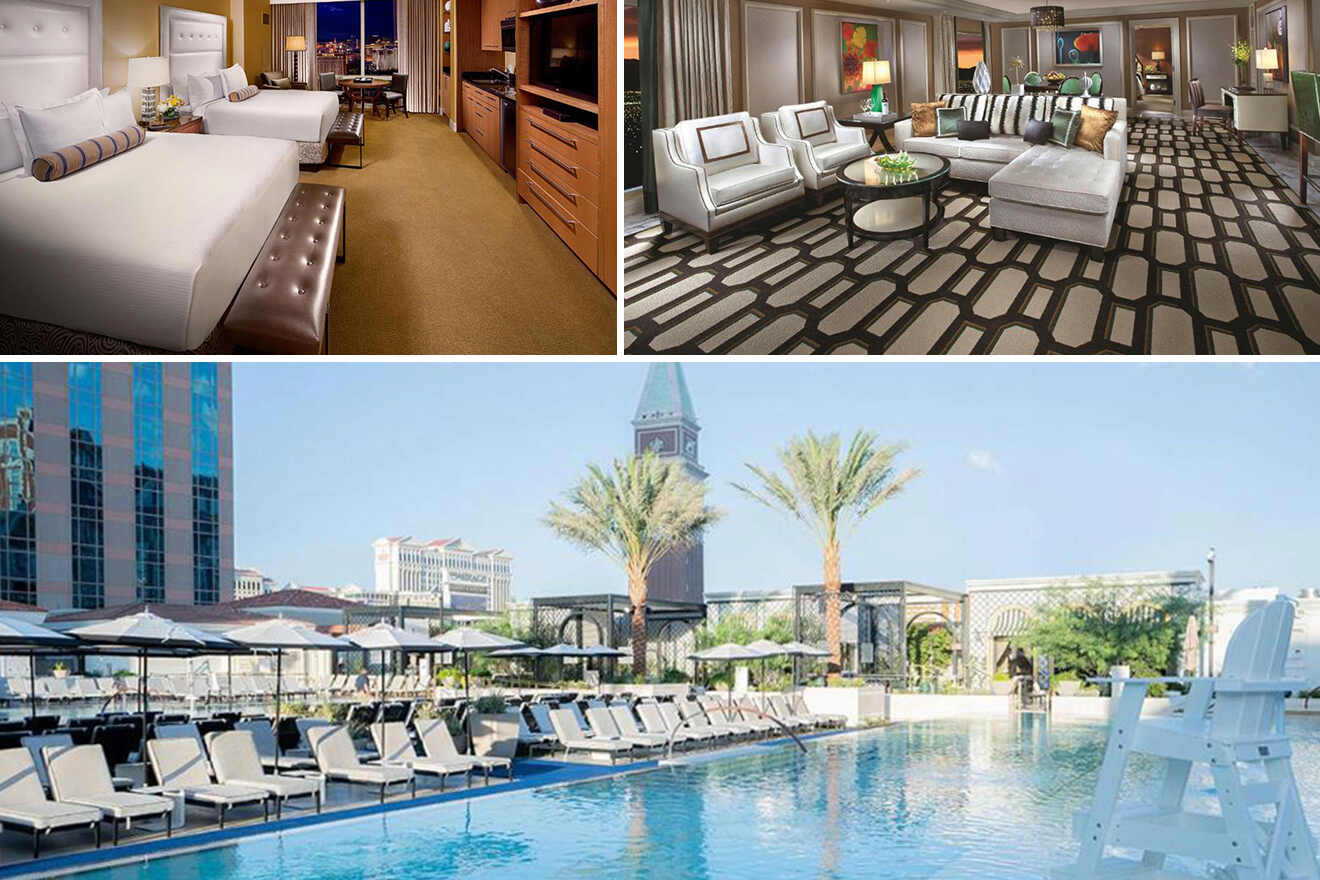 The Venetian Resort Las Vegas – Welcome to one of the most amazing places in Vegas Venetian Las Vegas has over three swimming pools accessible for all ages and around 14 restaurants that offer kid-friendly menus! Besides these cool things, the little ones can see a wax museum and shows too! The hotel is connected to its sister property the Palazzo, which offers even more places to eat, drink, and entertainment.
Bellagio Hotel – Known for its impressive fountain show this cool hotel set on the famous Las Vegas Strip will impress even the youngest members of the family! Home to a botanical garden and lots of kid-friendly activities including an on-site arcade, this hotel is definitely one of the top ones! And the best thing is that you can even order gaming consoles up to your two-bedroom suite and play with the kids!
Trump International Hotel Las Vegas – Floor-to-ceiling windows, spacious suites that can fit your whole family, and room service! This cool hotel definitely has everything you need for your stay! Including a big outdoor pool where you and the kids can play all day long, a restaurant, and a spa center (for the days when you need a short break from parenting)!
Mid Range (4 Star)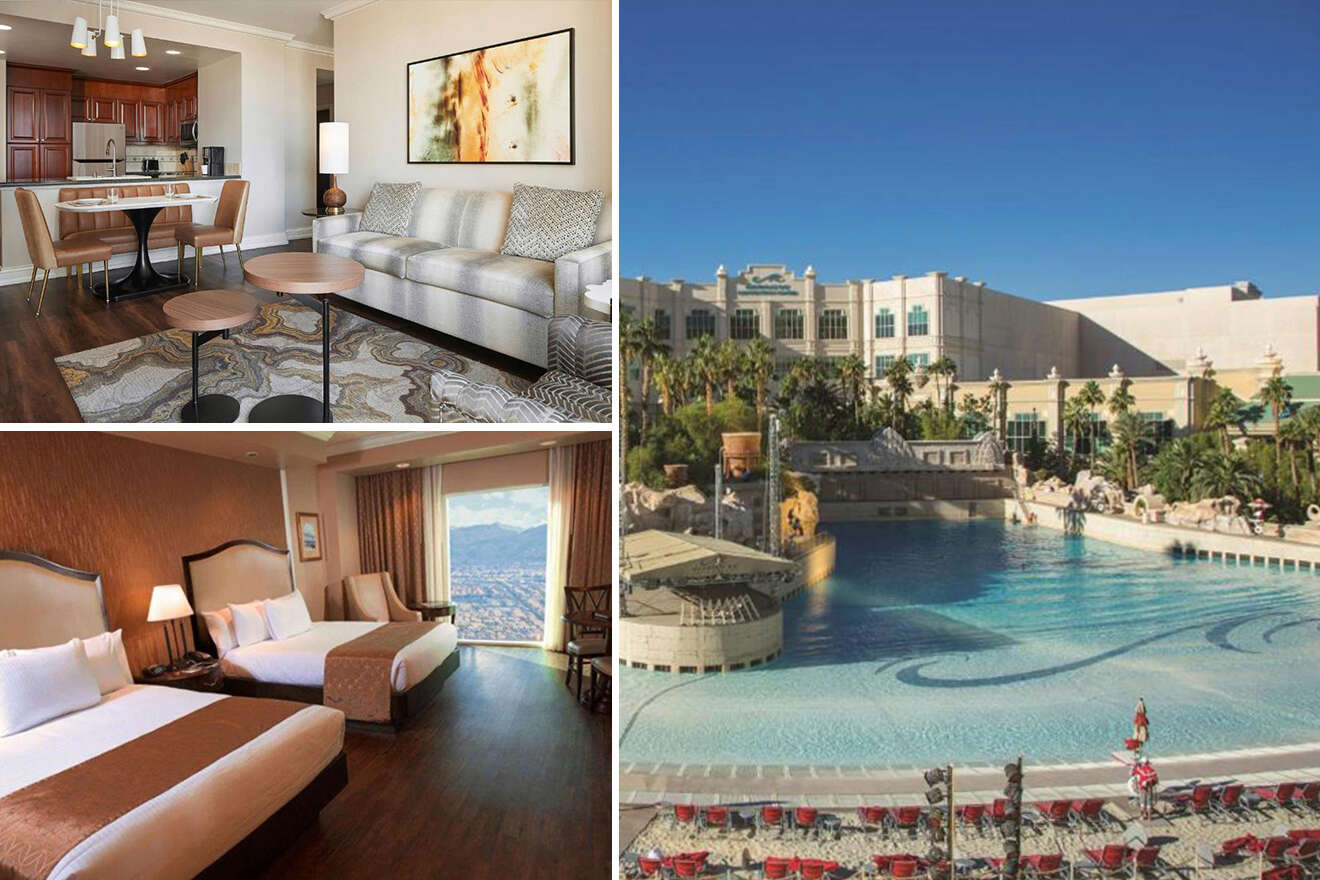 South Point Hotel Casino-Spa – Book your hotel rooms at this amazing hotel for your family vacation and enjoy some of their coolest facilities like a movie theater and even a bowling alley! There are also some things just for the adults like a casino and a spa center. When you're not out visiting all the Vegas attractions like the Shark Reef Aquarium or Hershey's Chocolate World, you can hang out by the kid-friendly pool!
Hilton Grand Vacations Club – Still looking for some Vegas hotels that will please your whole family? I know, it's hard to find the perfect one but I think even the younger kids will like this place which has a game room, a large outdoor pool, and super big suites equipped with all the necessary facilities and yes, even a TV for the nights when you just want to stay in and watch something with the whole gang!
Mandalay Bay Resort – A resort with a private beach in Vegas? I'm so in! Welcome to one of the best places in the city which has features that your entire family will love! Fancy a lazy river, or maybe a wave pool? I sure would! And that's not all! The accommodation also offers many restaurant options (including a food court), outdoor swimming pools, and even a spa center!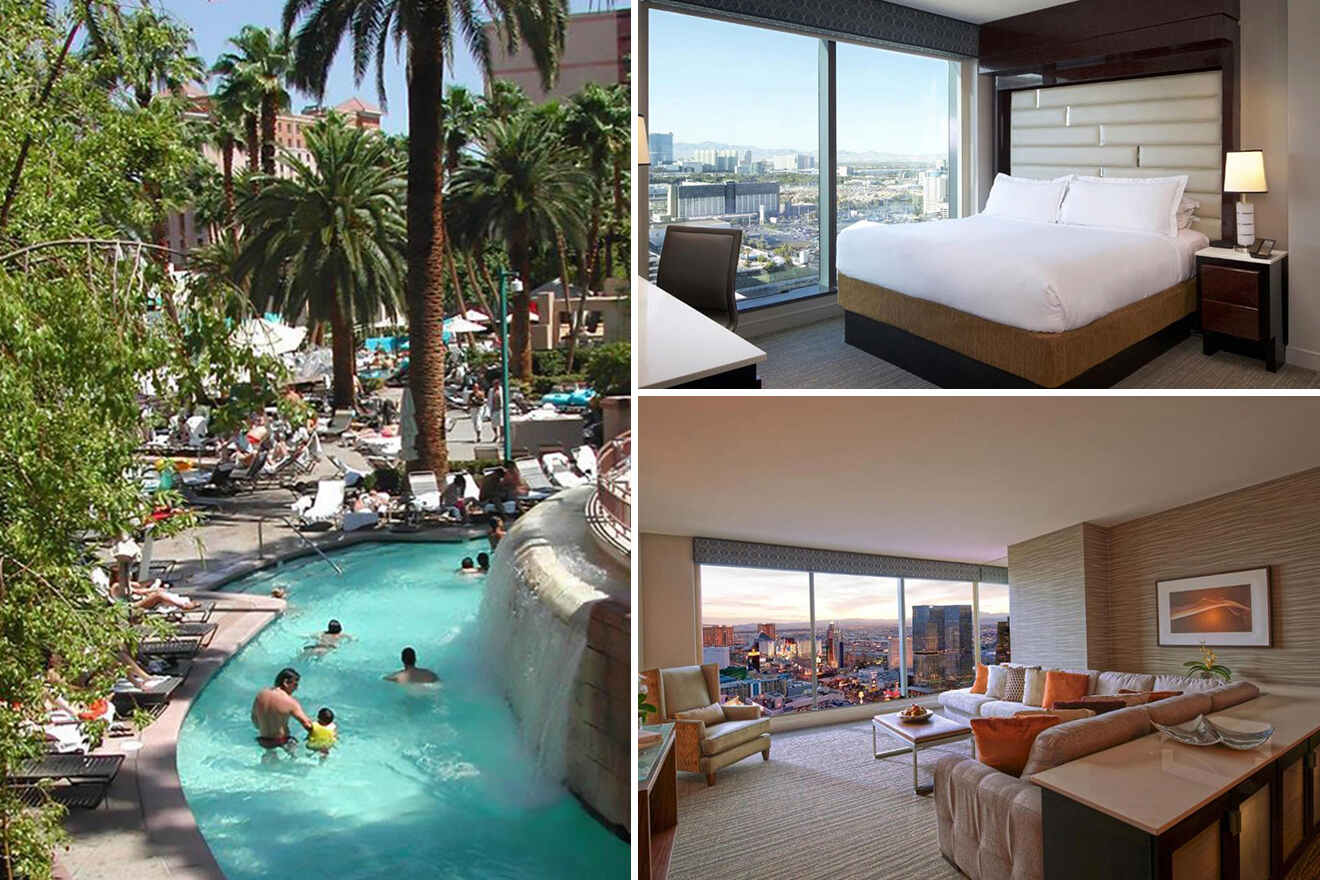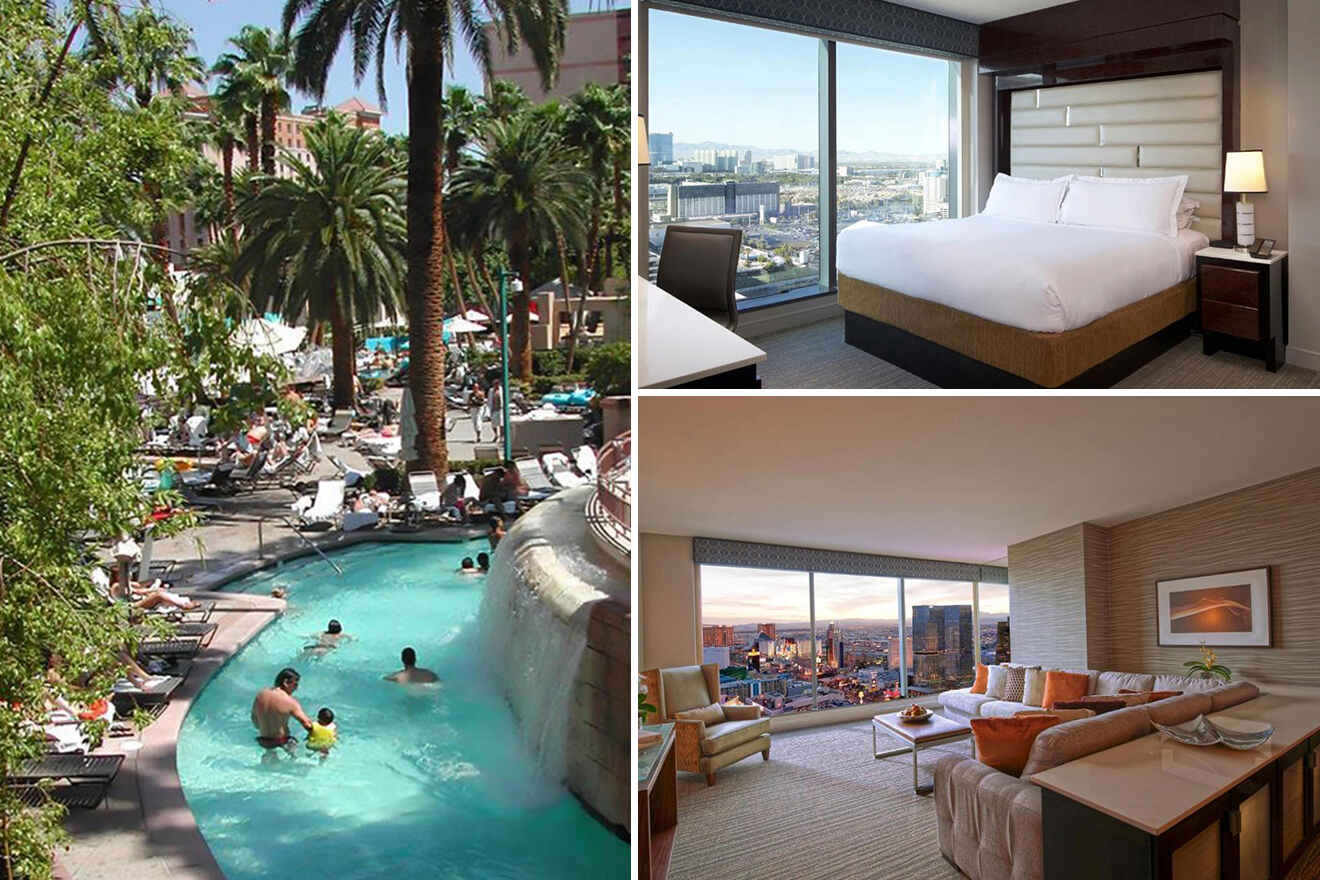 MGM Signature – Sure, there are lots of family-friendly attractions in Vegas, but trust me, when the kids see the waterpark at this hotel, they'll never want to leave! You'll also like the suites at the hotel which are super big and even have a small kitchen and a flat-screen TV as well. And, of course, there are so many amazing things going on here like themed dinners, live music performances, and sometimes stand-up comedy shows!
Hilton Grand Vacations Club Elara – The famous Las Vegas Boulevard (the Strip) is packed with amazing hotels for families and attractions. Just like this one, which has a tropical outdoor pool and even a gift shop (which the kids will probably love). But something that I think you'll really like is the fact that they rent out bicycles so that you can take the kids out and about to see another side of the city!
Budget (3 Star)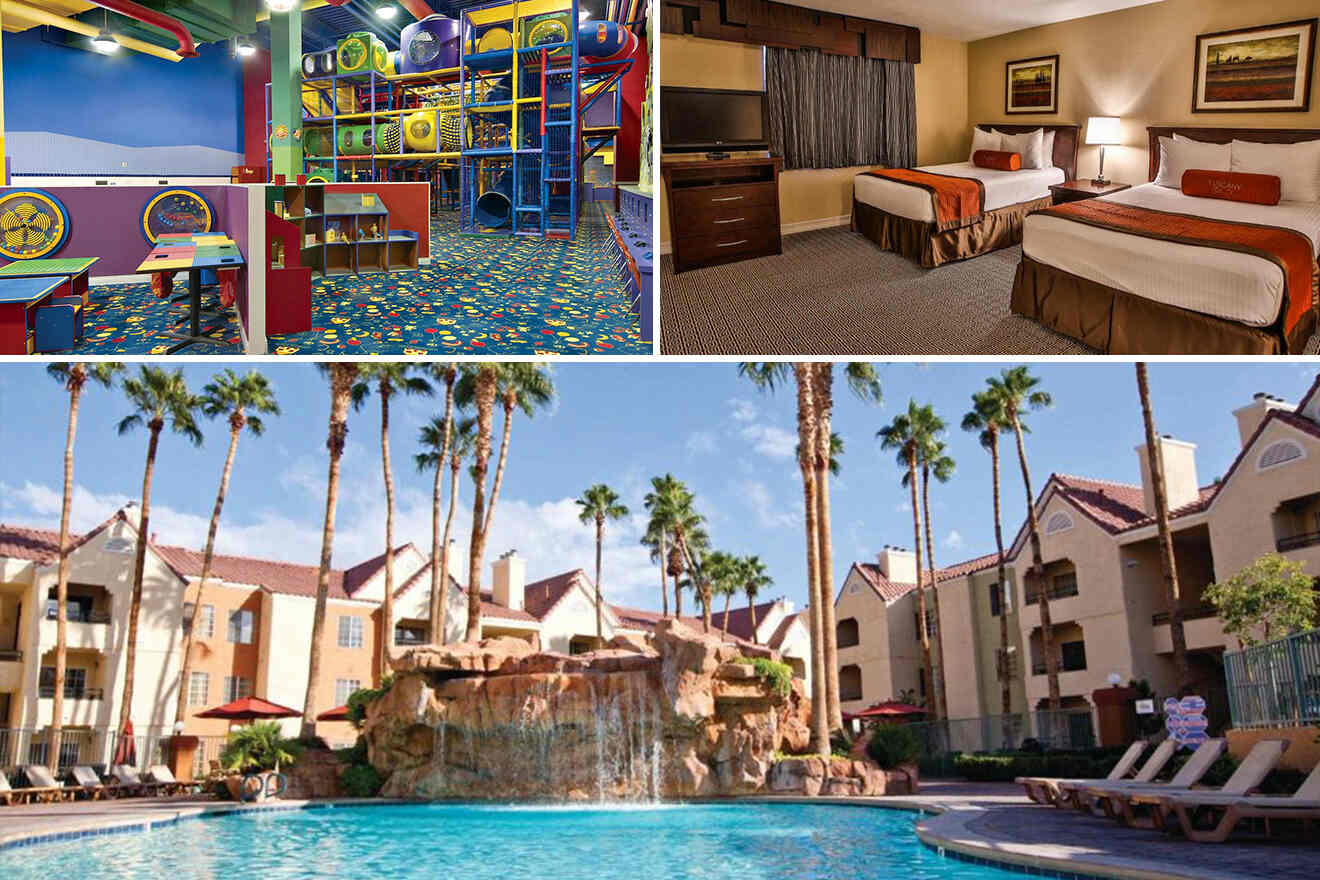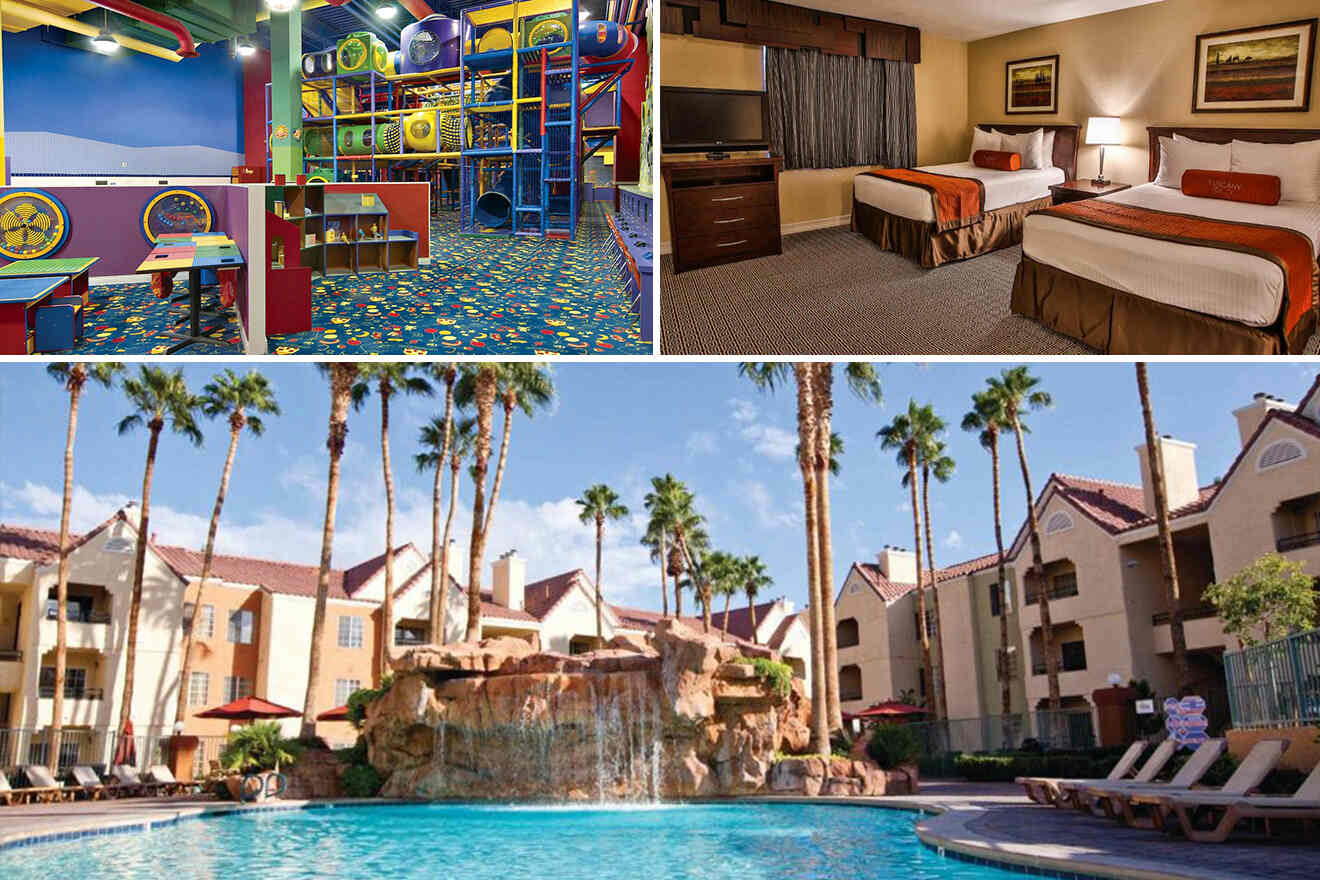 The Orleans Hotel & Casino – Looking for some affordable kid-friendly hotels in Vegas? I know it's not the easiest task but I've found a great place near the Las Vegas Monorail which is not so expensive and offers lots of kid-friendly attractions like a bowling alley, a games arcade, a movie theater, and a few kid-friendly pools spread out throughout the resort! Plus they offer a shuttle service for families to anywhere in the area!
Tuscany Suites & Casino – Start your morning with some room service and a family breakfast in the cozy suites of this hotel which have a flat-screen TV, coffee makers, and free Wi-Fi! The hotel has 2 outdoor swimming pools where you can hang out with the kids when you're not out and about visiting all the attractions in Vegas. In addition, there's also a restaurant, a garden, and an outdoor fireplace where you can gather at night!
Holiday Inn Club Vacations at Desert Club Resort – With five outdoor swimming pools, a game room, and so many other incredible kid-friendly things, this hotel is definitely a keeper! I'm sure you'll also love the rooms which are super spacious and also come with a small kitchen and a seating area as well.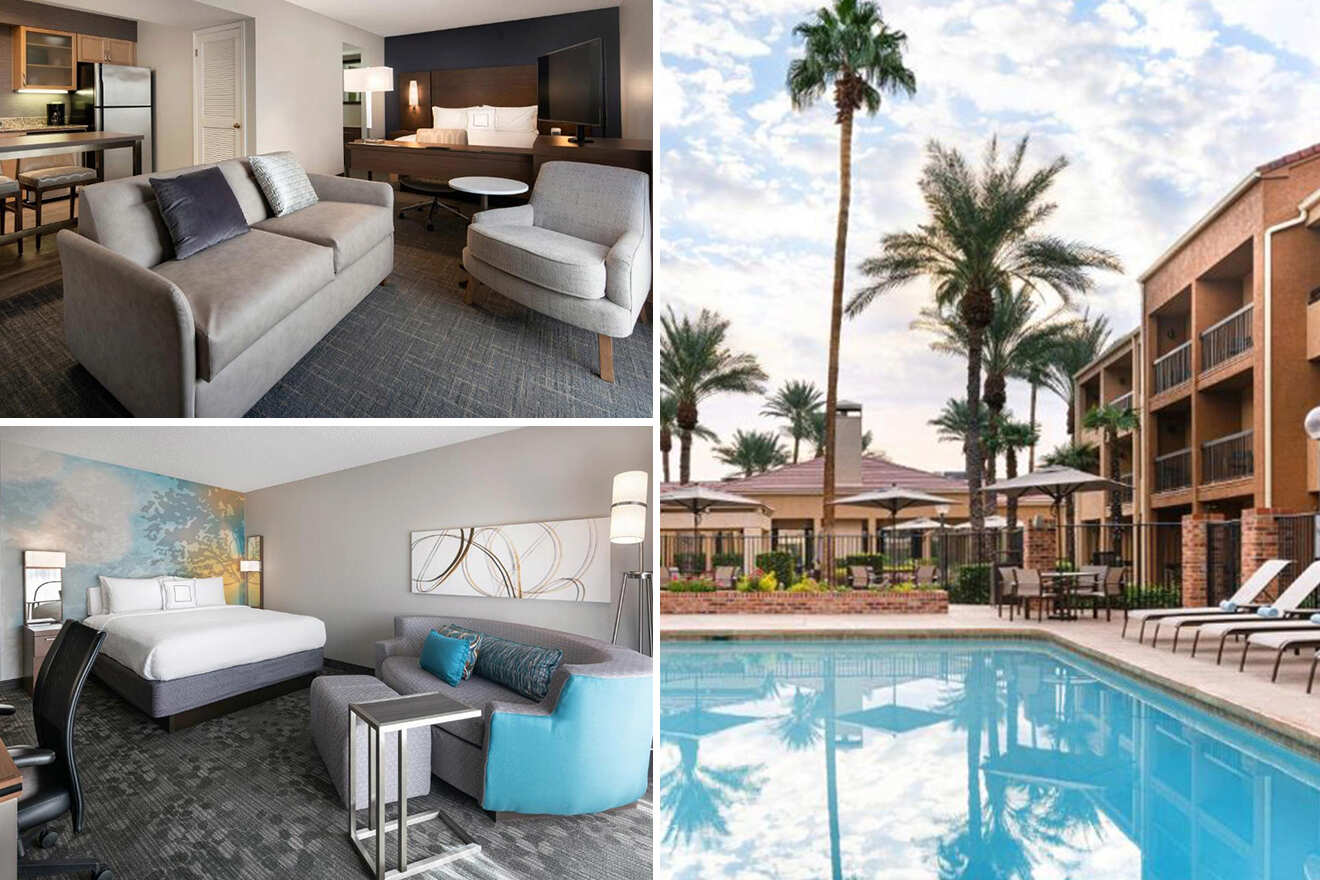 Residence Inn by Marriott Las Vegas – If you want a place that feels super homely and comfortable, then I think this hotel is the right one for you and your family! It has a simple yet modern design, 2 outdoor pools, and family suites. There are also some kid-friendly things to do here like playing tennis and renting bikes to explore the area with your little ones.
Courtyard by Marriott Las Vegas – I know some families will prefer a more tranquil place, and truth be told the Las Vegas Strip is a bit noisy. So, a good solution would be to book a place that's not too far from all the attractions but far enough to give you some peace and quiet. And this one is really cool (and close to the Strip)! It comes with family rooms, a fitness center, and a hot tub!
Check the rates for your dates
BONUS 1: Best hotels for families off the Strip
I know that some families will want to stay where all the action is while some will probably want to enjoy some tranquility as well. If that's the case for you then this bonus section will come super in handy!
I've gathered a list of the top kid-friendly hotels off the Las Vegas Strip that I think will be perfect for you! So let's have a look: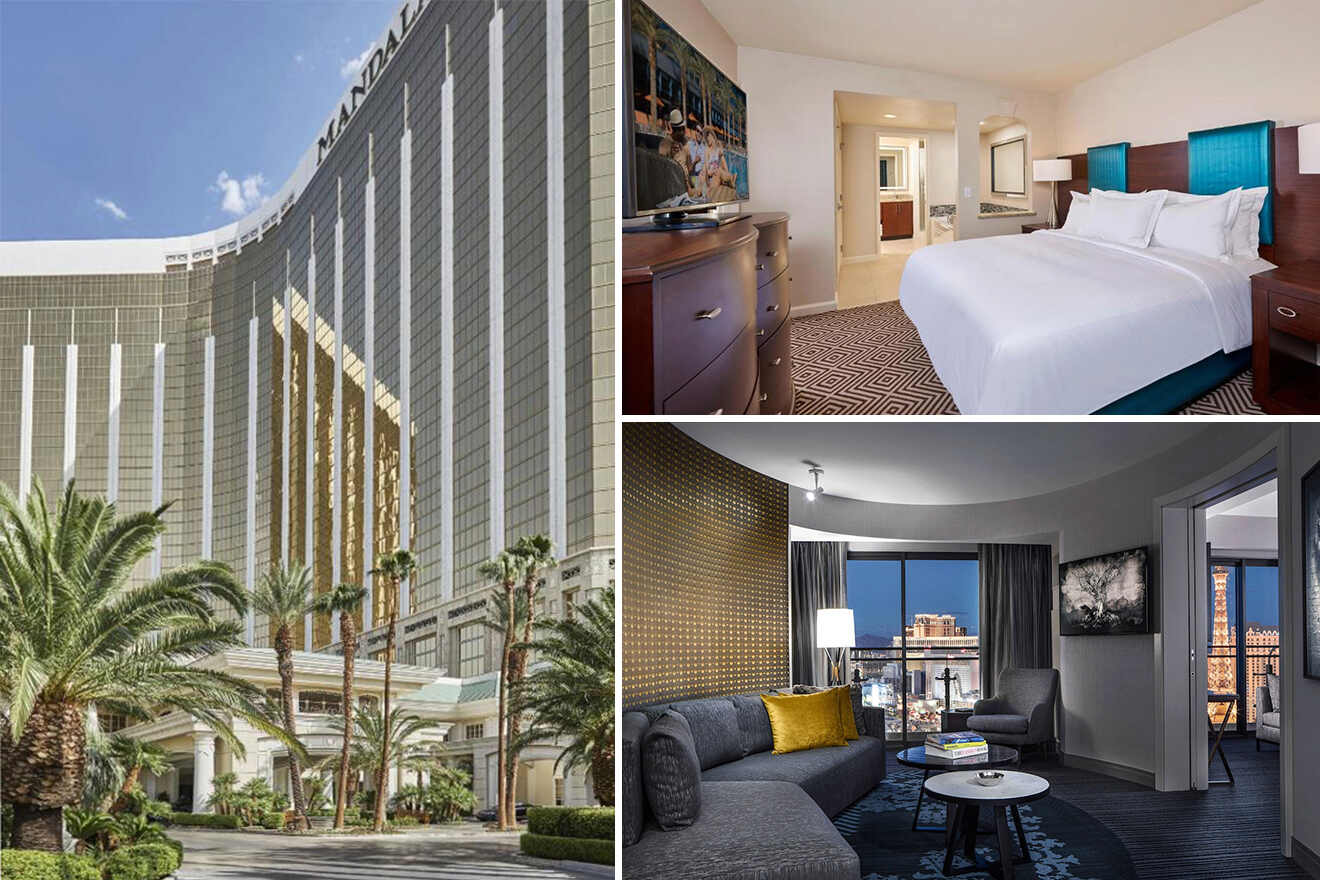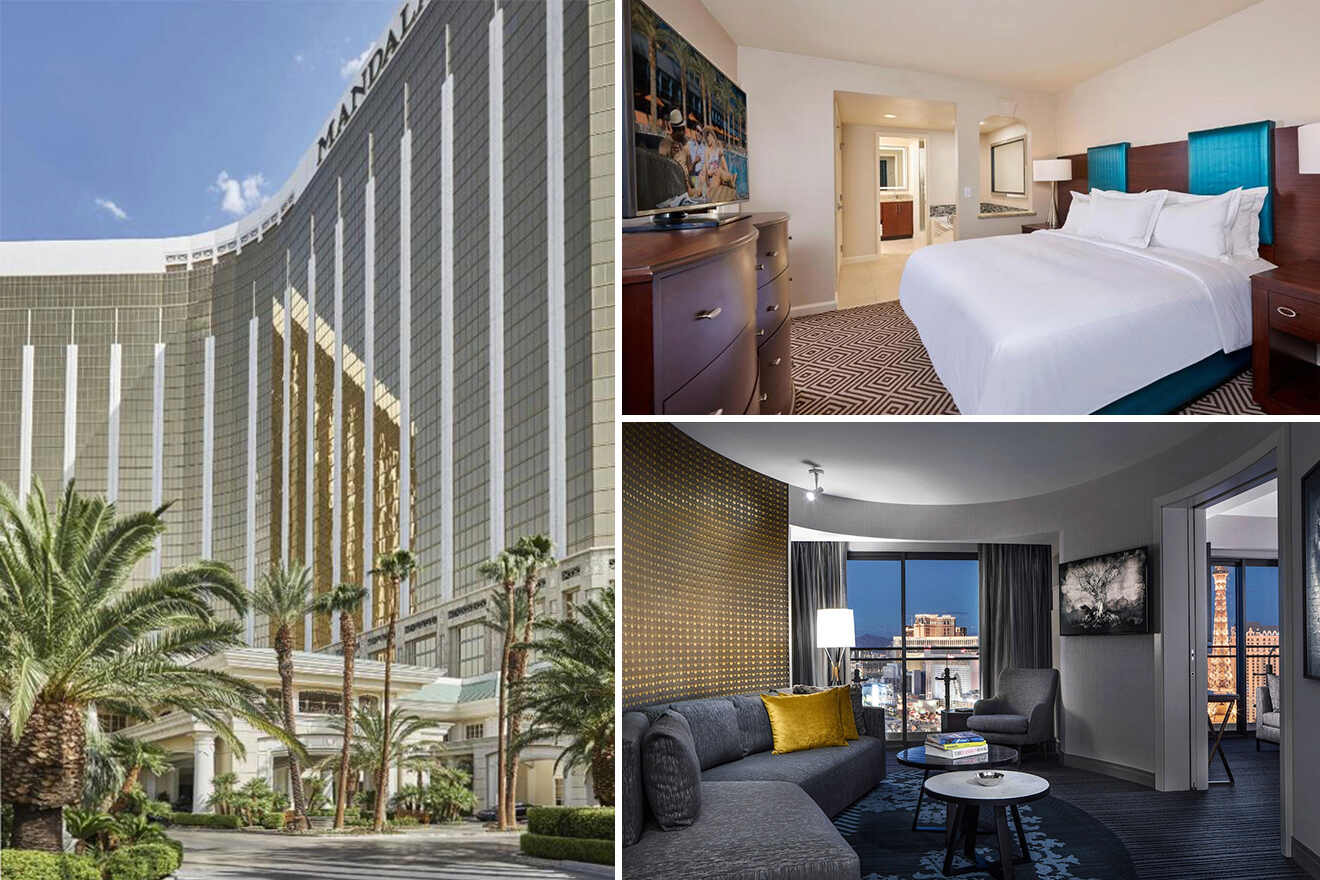 Luxury: Four Seasons Hotel – Trust me, your little ones will probably love this Las Vegas hotel as it's just a 10 min walk away from a famous kid-friendly attraction in Vegas, the Shark Reef Aquarium! And that's not it, the accommodation also offers an outdoor pool, board games, and even babysitting services for the days when you need a break to relax!
Luxury: The Cosmopolitan of Las Vegas – A cool hotel in Sin City, just a few miles off the Vegas Strip. Featuring around 20 restaurants which offer a kids's menu, tennis courts, and a swimming pool, this accommodation is perfect for a tranquil Vegas getaway.
Mid Range: Hilton Grand Vacations – Set only a 5 min drive away from the Las Vegas Strip this hotel comes with an outdoor pool and a fitness center. And (drum roll please) a game room which I'm sure will be your children's favorite feature!
BONUS 2: Best VRBOs for families
Since Vegas gets many tourists, it has lots of accommodation options and you know that I like keeping you as informed as possible! So in case you're looking for something a bit different in terms of accommodation that's maybe cheaper or more spacious, check out this bonus!
It has a list of the best VRBOs in the city for families!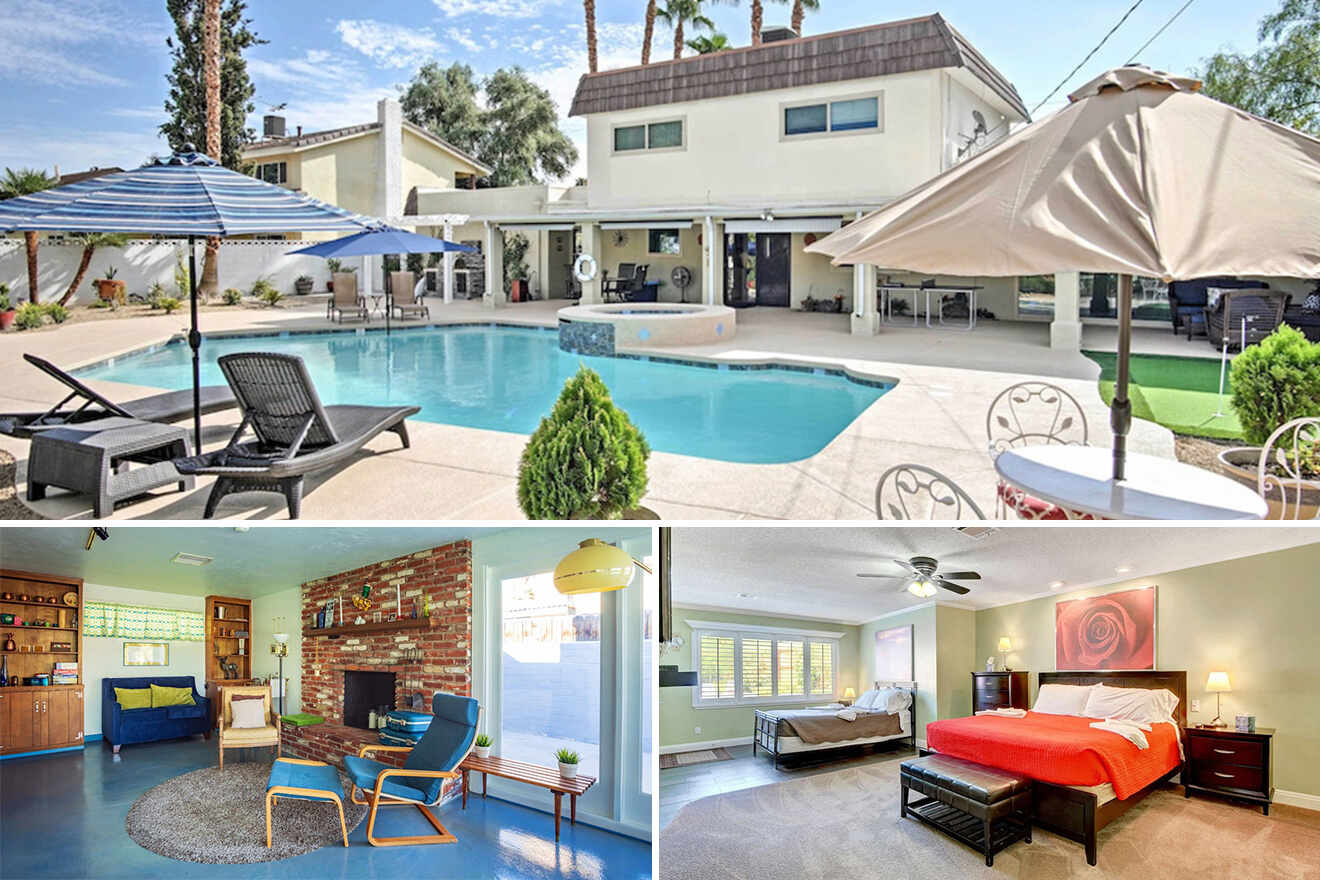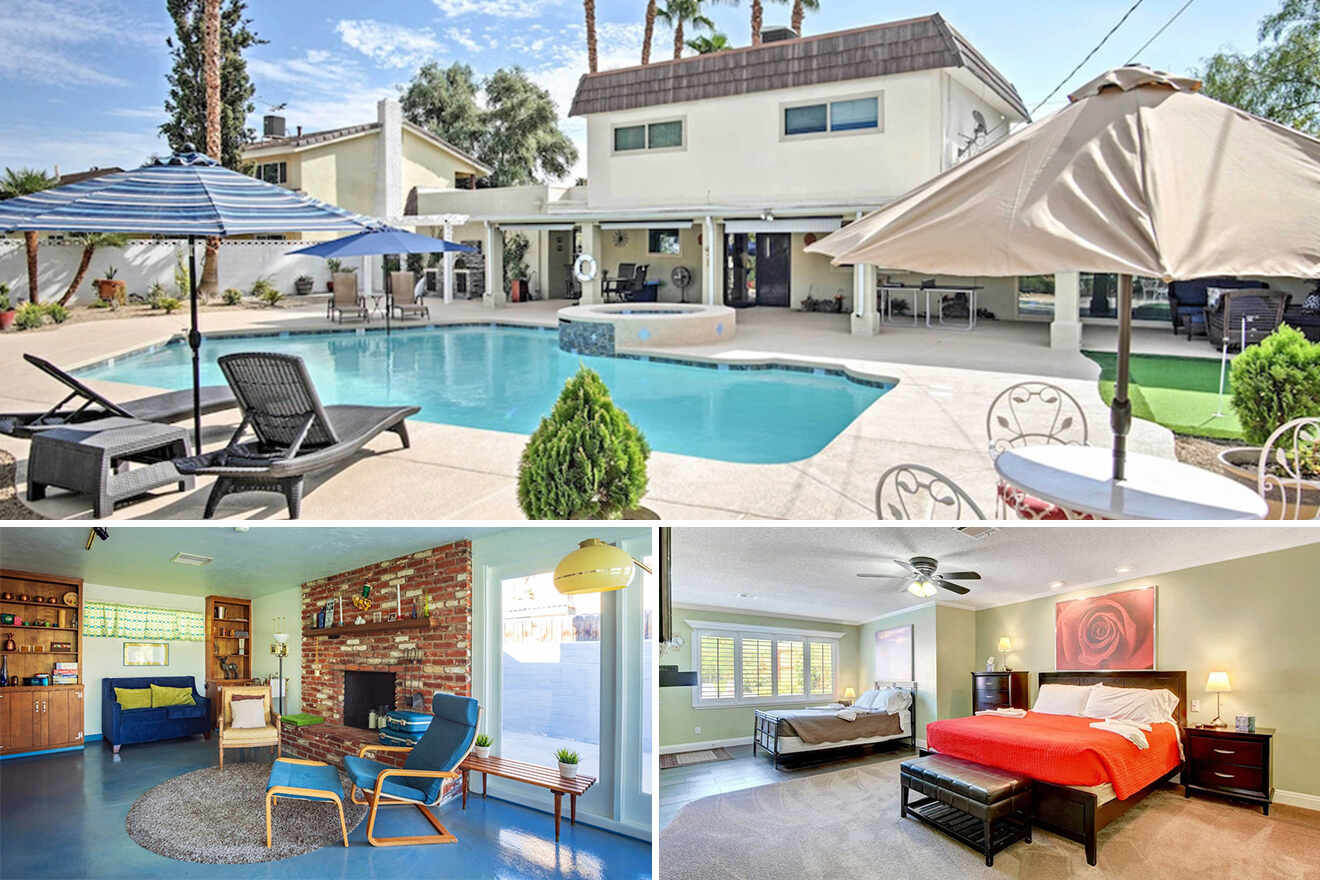 Luxury: Private Oasis – Such a comfortable home that's equipped with everything you need for your stay including a large kitchen, a patio, and a washing machine. The accommodation can fit up to 7 people and it even has an outdoor pool with sun loungers where you can relax with the kids.
Mid Range: Cool House – Gotta love a place with such a stylish terrace and BBQ facilities, am I right? This house can fit up to 8 people, and it has a kitchen, a living room and an outdoor play area for your little ones!
Budget: Vintage Gem – A super trendy house just a few miles away from the Las Vegas Strip that can accommodate up to 6 people. The accommodation comes with an outdoor pool, a kitchen and a living room, too.
FAQs about family-friendly hotels in Las Vegas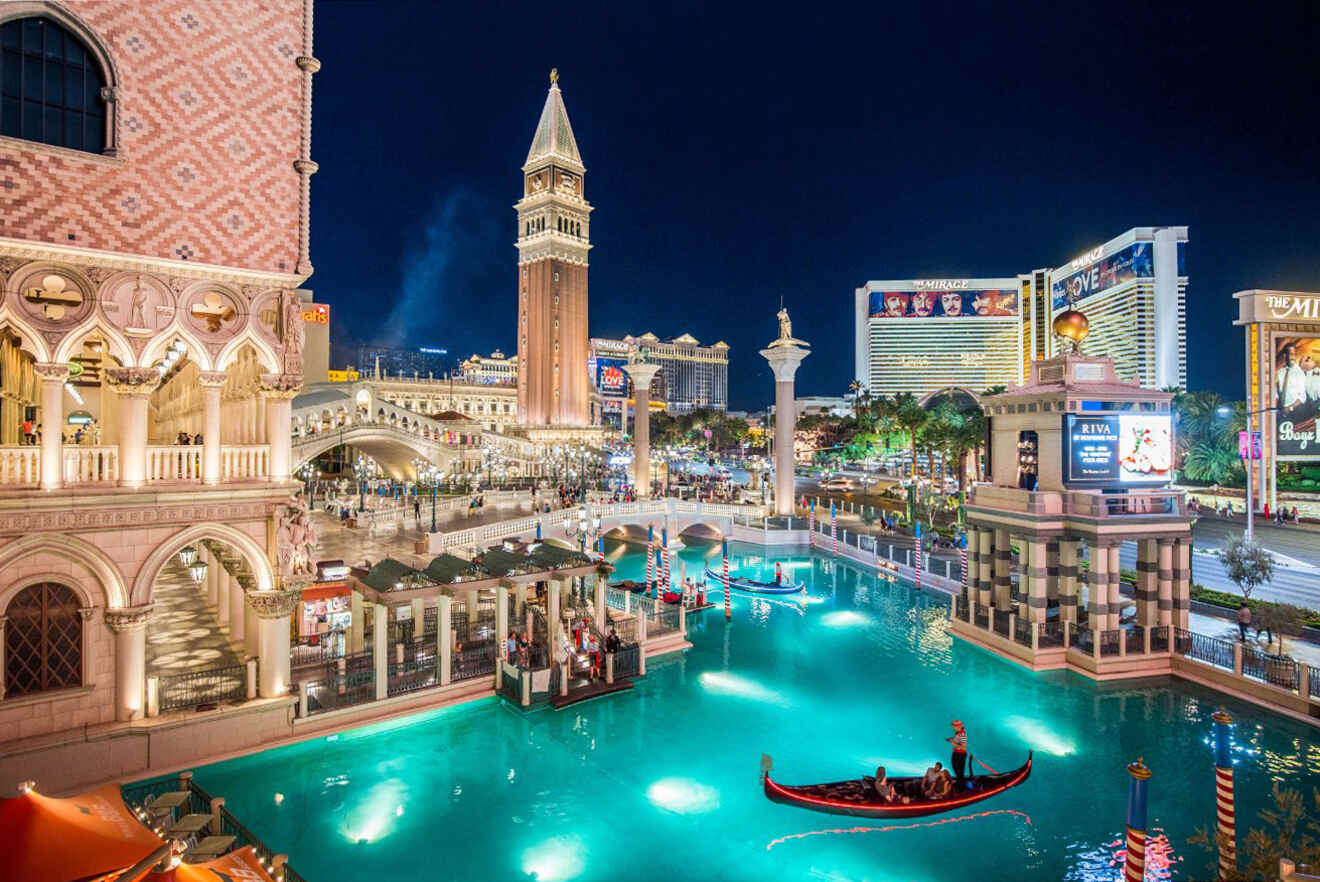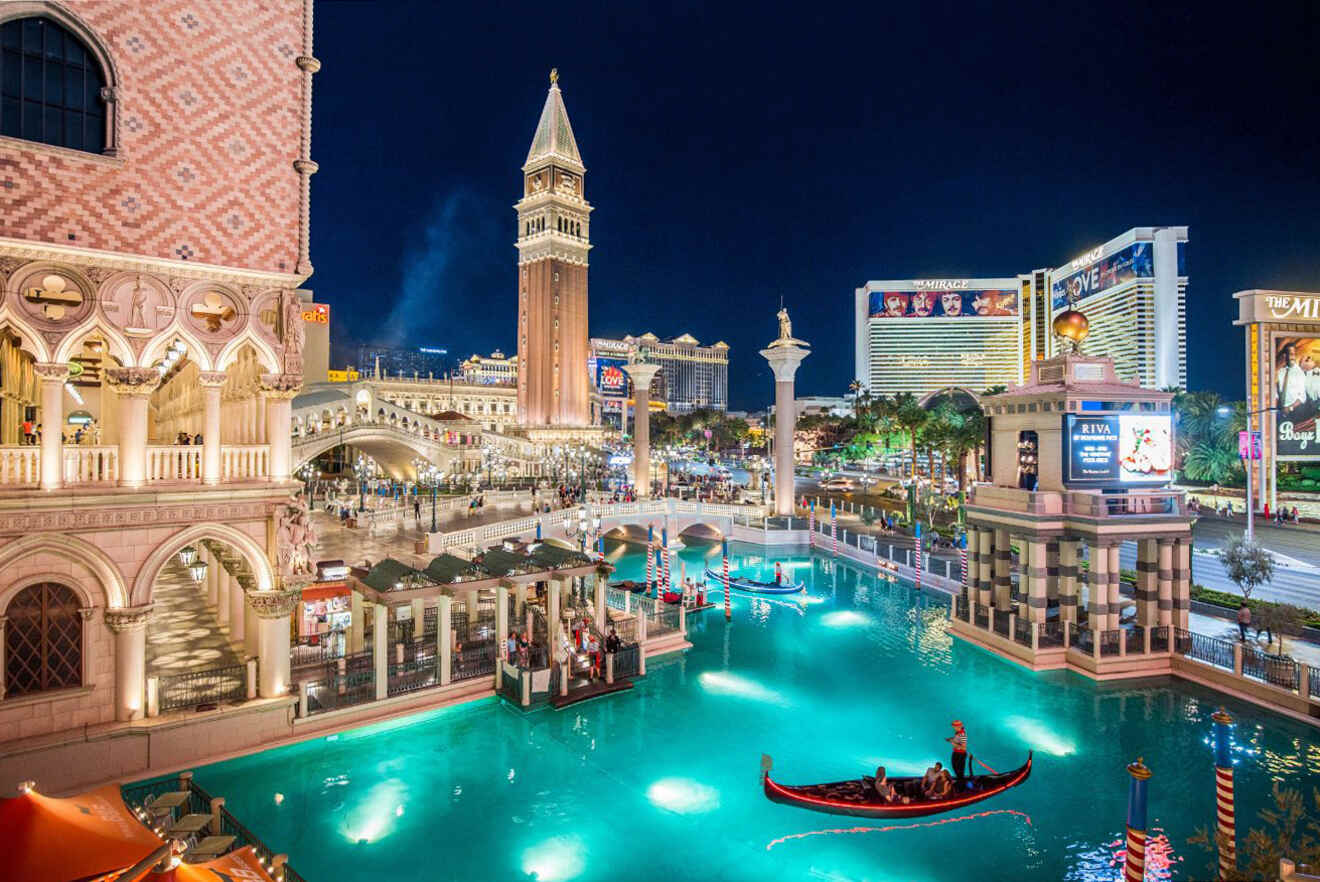 👪 Which are the best hotels for families in Las Vegas off the Strip?
🧳 Is Las Vegas a good place to go with family?
Yes, there are lots of amazing things to do in Las Vegas with your kids including attending some family-friendly shows, going to museums, and aquariums.
👶 What are the best family hotels in Las Vegas?
🤔 Is it better to stay on the Vegas Strip or off?
It depends on what you're looking for. It's more expensive to stay on the Vegas Strip but you're close to all the attractions. However, if you're looking for something a bit more tranquil I'd recommend staying off the Strip.
Conclusion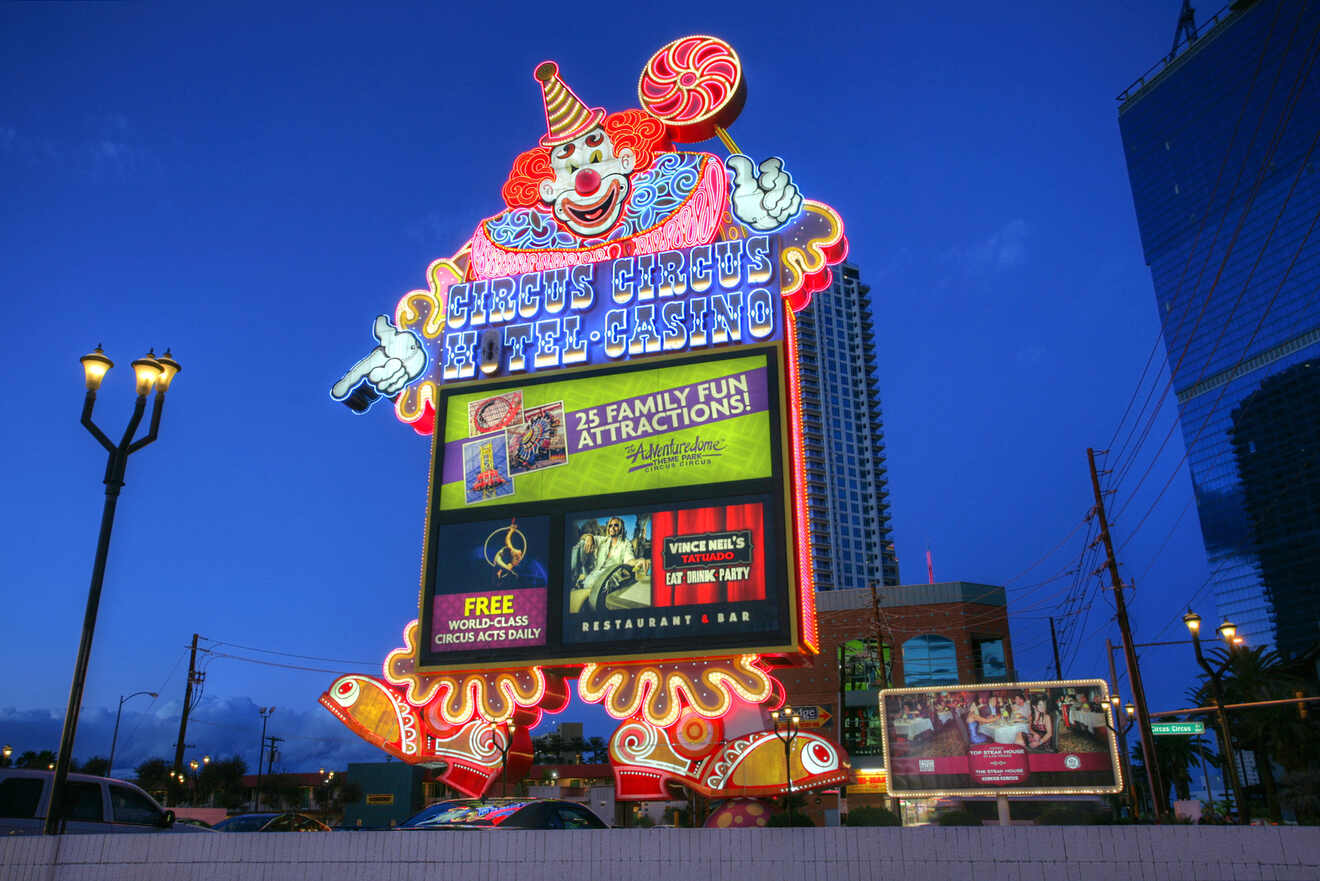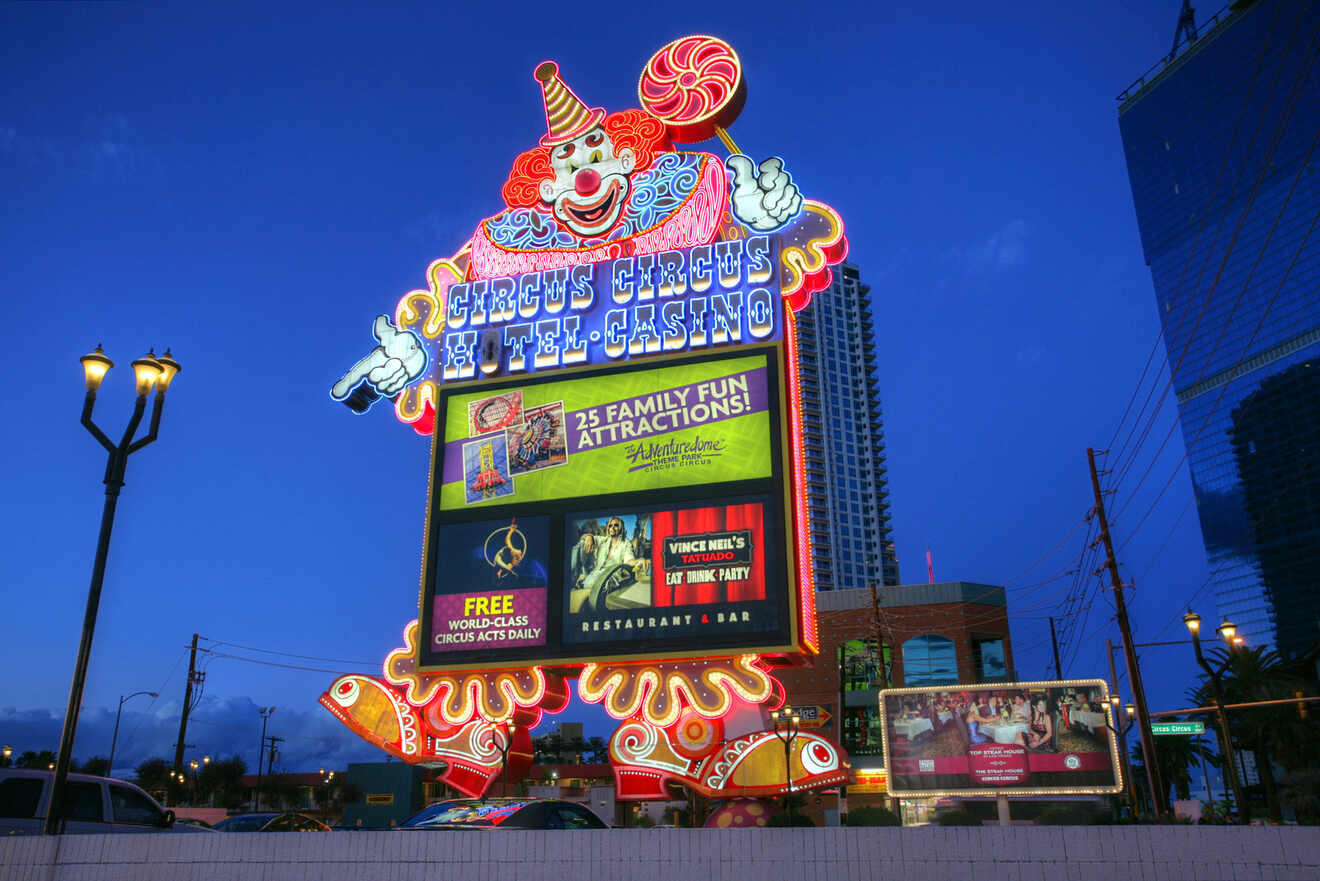 Who's feeling much more confident about finding the right hotel for your family trip to Vegas? I hope most of you!
And since we've talked about many things today, I think it's time to do a fairly basic recap!
This post has the best family-friendly hotels in Las Vegas, plus 2 bonus sections with the best kid-friendly hotels off the Las Vegas strip and some great VRBOs for you and the whole crew.
The only downside of having such a long list of places to review is that it may be a bit harder to pick your favorite. But trust me, I'm sure you'll get a gut feeling about which one is the best!
If you don't, then check out my 2 favorite options below for inspiration:
Rock Casino Resort & Spa – One of the best kid-friendly hotels in Las Vegas that comes with a movie theater, an arcade room and a bowling alley
South Point Hotel Casino-Spa – This cool hotel offers free parking and it has some great family rooms and a games room
Just remember what I said about the prices and how quickly they can change. Booking early can guarantee that you find the cheapest options on your favorite family-friendly hotels in Las Vegas.
It's been such a thrill to talk about this iconic tourist destination! I'm sure you'll have a wonderful time here visiting all its attractions like Hershey's Chocolate World and Big Apple Coaster!
Don't forget I'm always around if you need some advice or extra guidance. Just drop a comment below and I'll answer as quickly as I can!
Safe travels,
Victoria
---
Pin it for later!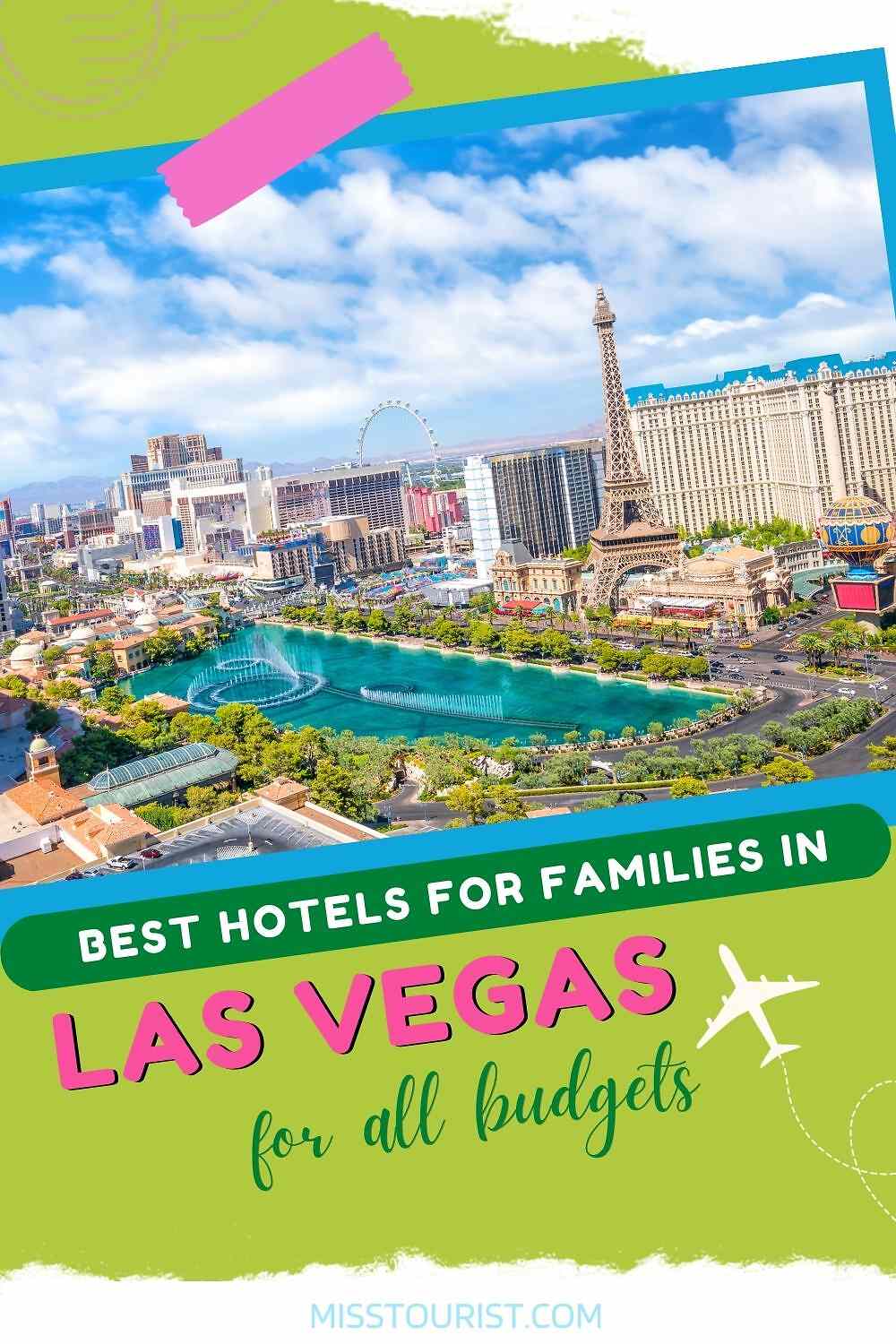 Pin it for later!