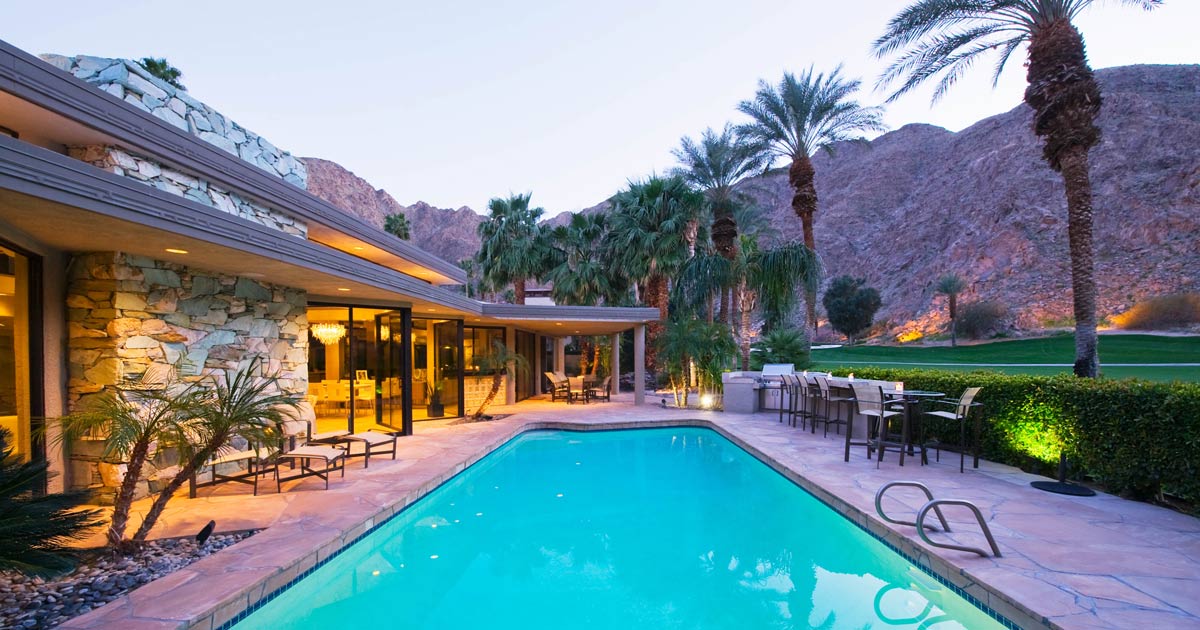 Hola travelers! Long time, no vacation, right? Well, if you're here then you're probably planning your trip to Palm Springs and you need some travel tips on where to stay there!
Then follow me as today I'll give you a fabulous list of the best boutique hotels in Palm Springs! If you like desert modernism and can't say no to a cozy outdoor fireplace and sparkling pools then you'll love it here!
I've looked on the web for hours, and I've decided to also add 2 extra bonuses with the best romantic hotels in the area and top hotels with a hot tub!
I just couldn't keep all these places to myself as I knew all my readers would want to know about them. But just as a heads up, book your hotels early! Palm Springs and its neighboring areas, like the upscale resort town of Indian Wells, are super famous (as you may know) and trust me, everything sells out fast!
That being said, let's get this show on the road!
If you are in a hurry
Here just for a quick solution? Then check out the list below, it has the best boutique hotels in Palm Springs:
Luxury (US$400 and up)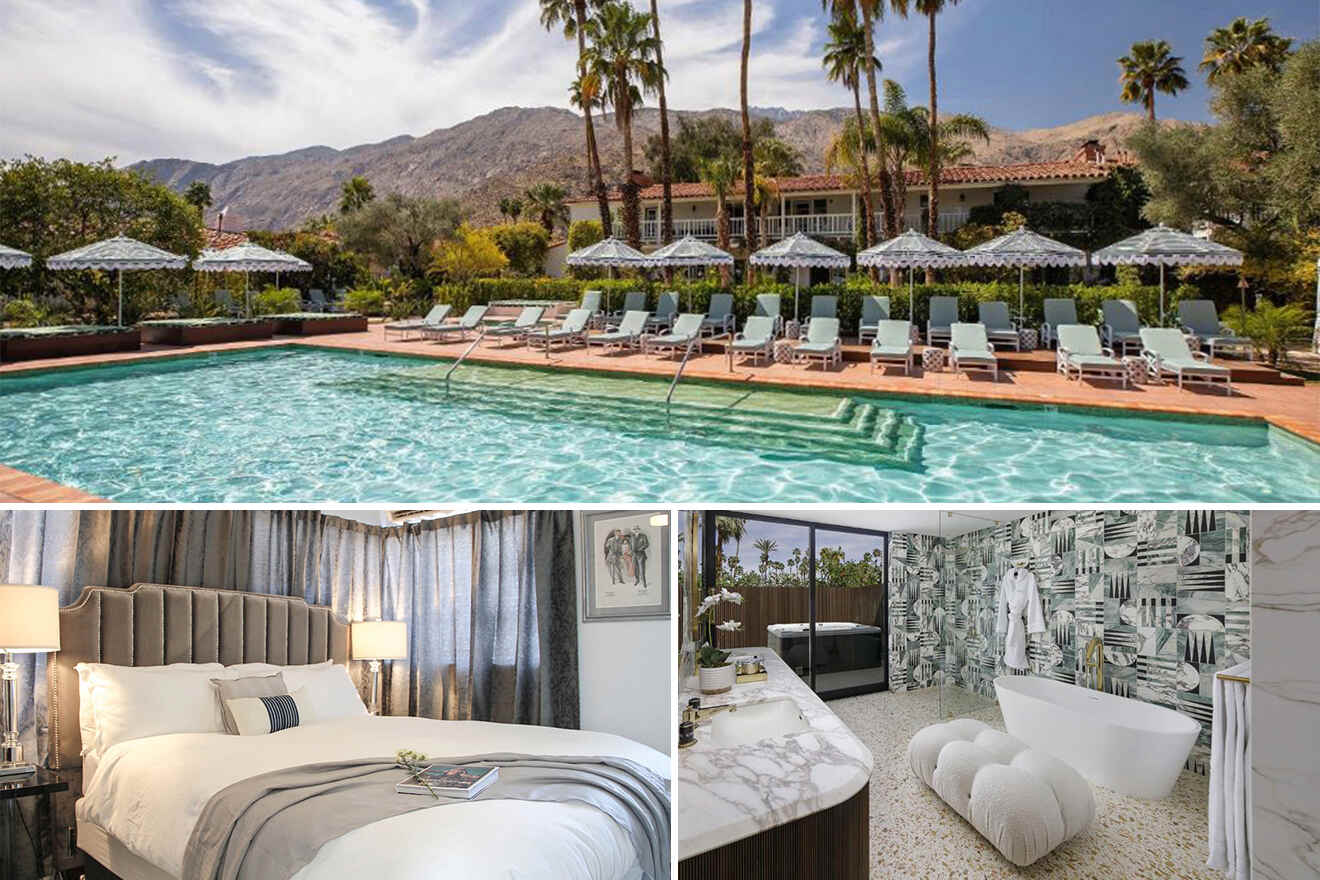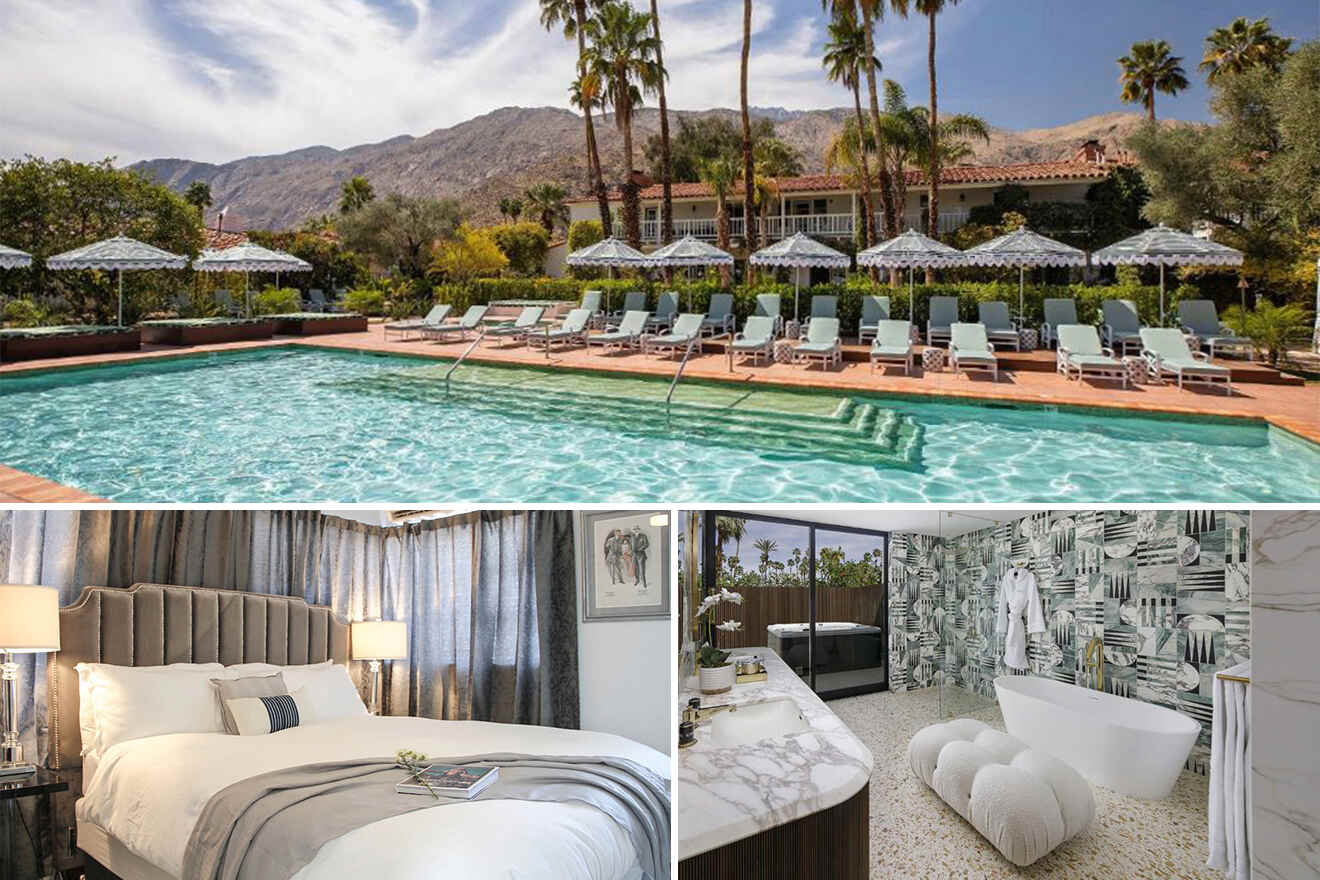 L'Horizon Resort & Spa – Planning a weekend getaway to Palm Springs? Then you'll need a top notch hotel! This resort that was frequented by stars like Marilyn Monroe offers a dreamy setting with mountain views! All the rooms are beautifully-decorated and some come with a swimming pool view! Definitely make sure to check their on-site restaurant!
The Colony Palms Hotel and Bungalows – Conveniently located in Downtown Palm Springs, this adults only hotel has the most fabulous lush gardens! Start your days with a cup of coffee on the private balcony of your room and then head to the outdoor pool for a quick wake-up swim! The hotel also offers a spa center, and free bikes to explore the Palm Springs areas!
The Westcott – A charming hotel with such cool Art Deco decor that will make guests feel like Hollywood Stars. This luxury boutique hotel is set only a 2 min drive from Downtown Palm Springs and its rooms come with a small kitchenette and California king beds. When you're not out exploring the area you can relax with a cocktail by the freshwater pool or by the fire pit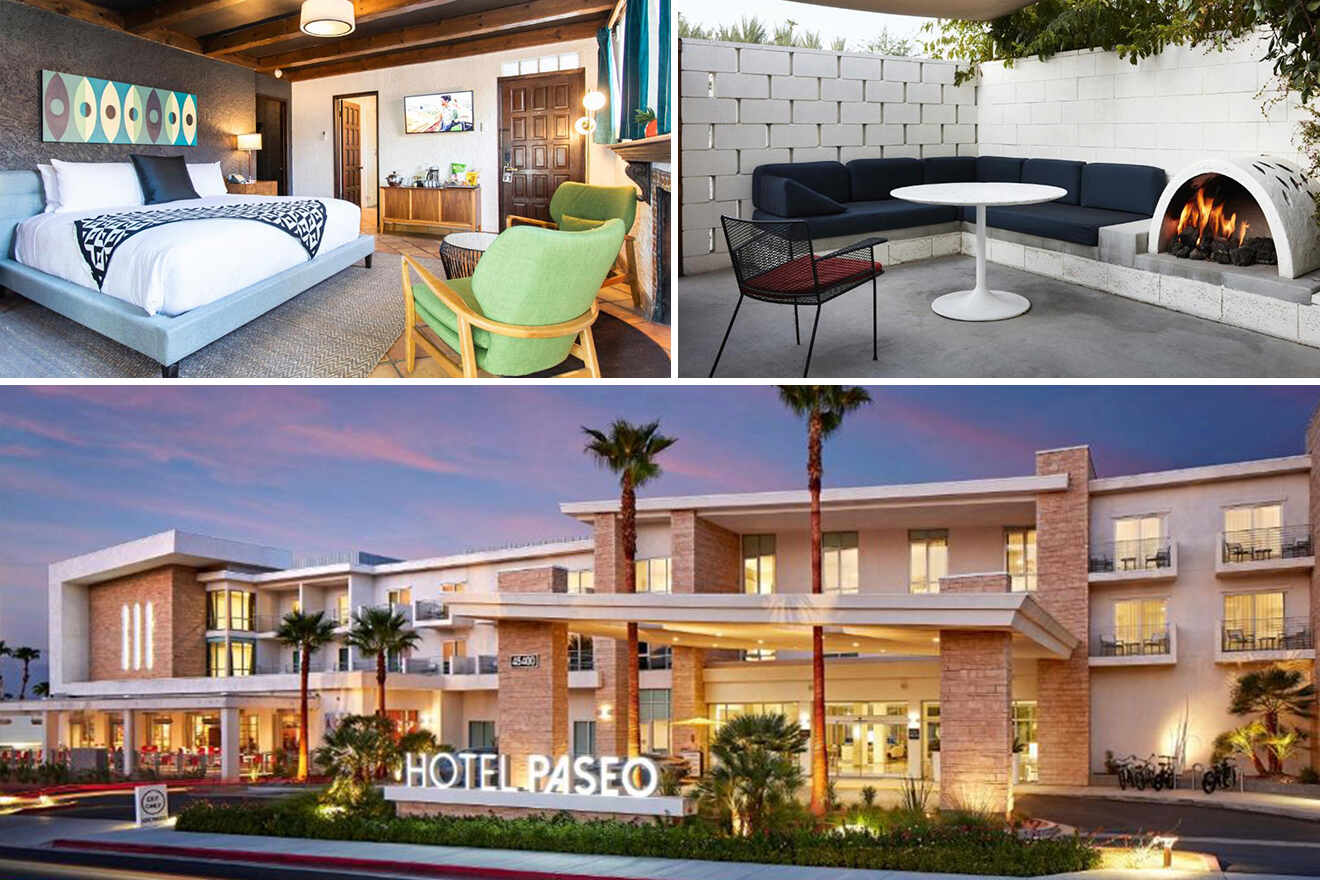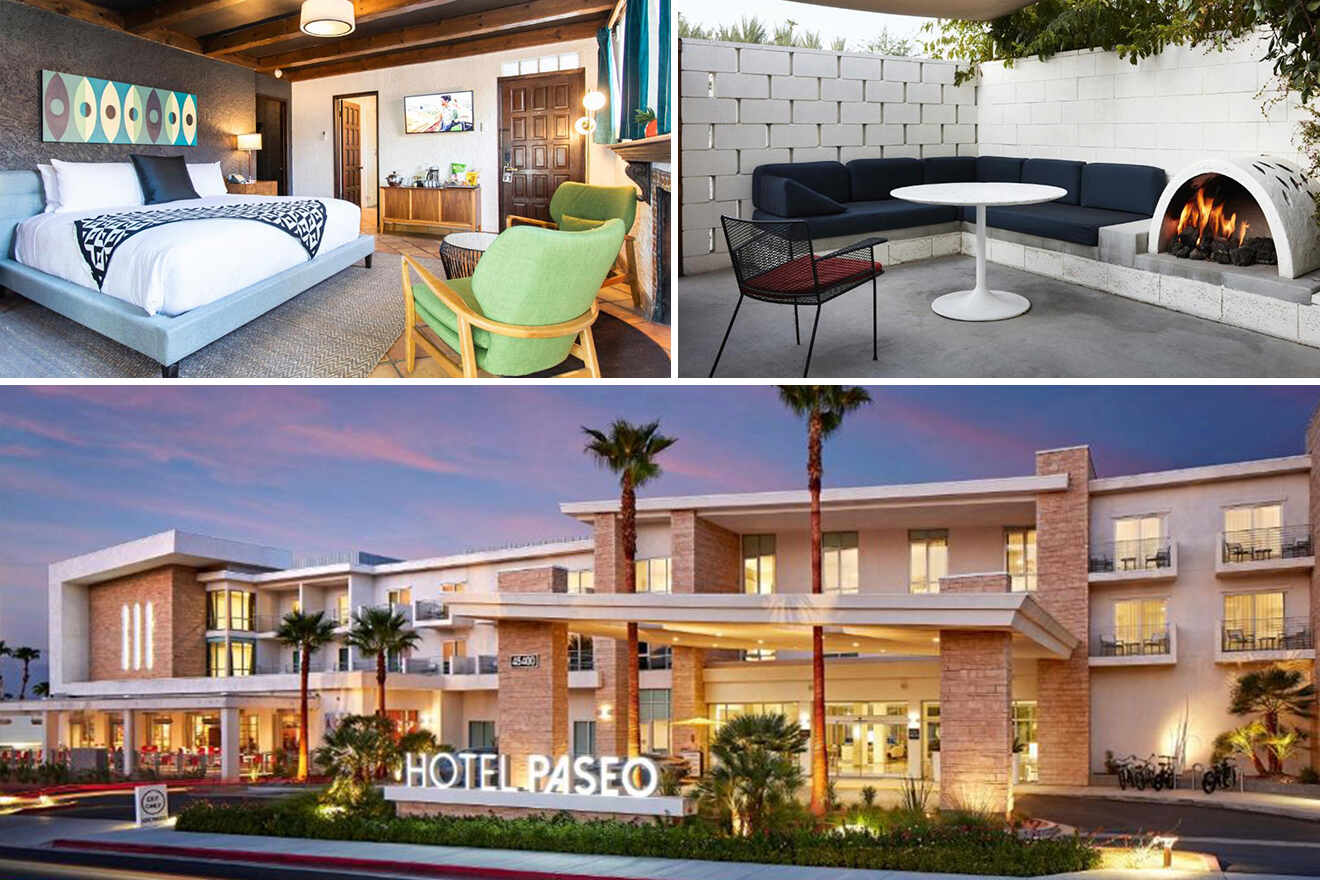 Hotel Paseo – You'll love the simple yet super elegant guest rooms at this boutique hotel that's set 11 miles (18 km away) from Palm Springs International Airport. Equipped with everything you need from a full-service spa (where you can relax after your flight) and a bright blue outdoor pool, the hotel is the perfect option for your trip!!
Villa Royale – Loving the combination of different styles and designs at this Palm Springs hotel. Most rooms have antique wooden furniture, colorful wallpapers, and large prints. And of course the vibe is just perfect! As well as the views of the San Jacinto Mountains, which go perfectly with the 2 outdoor swimming pools. 
Ace Hotel and Swim Club – Enjoy your stay at one of the best Palm Springs boutique hotels that comes with 2 outdoor pools, free parking and incredible views of the San Jacinto Mountains! Ace Hotel and Swim Club has a contemporary decor, and its rooms will make you feel so at home. During your trip you can rent bicycles to explore around and cozy up by the outdoor fireplace with a drink at night!
Mid Range (from US$300 – US$400)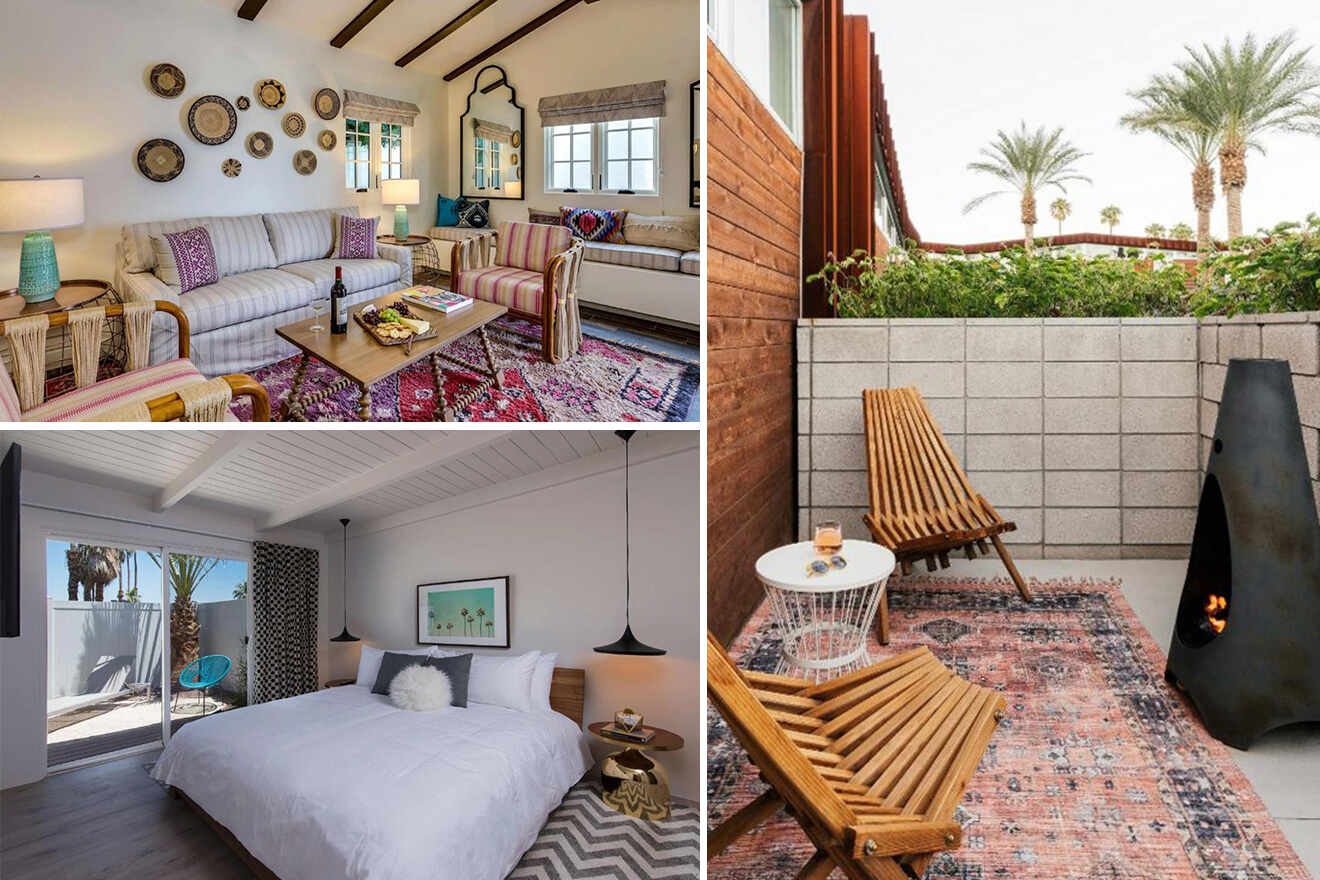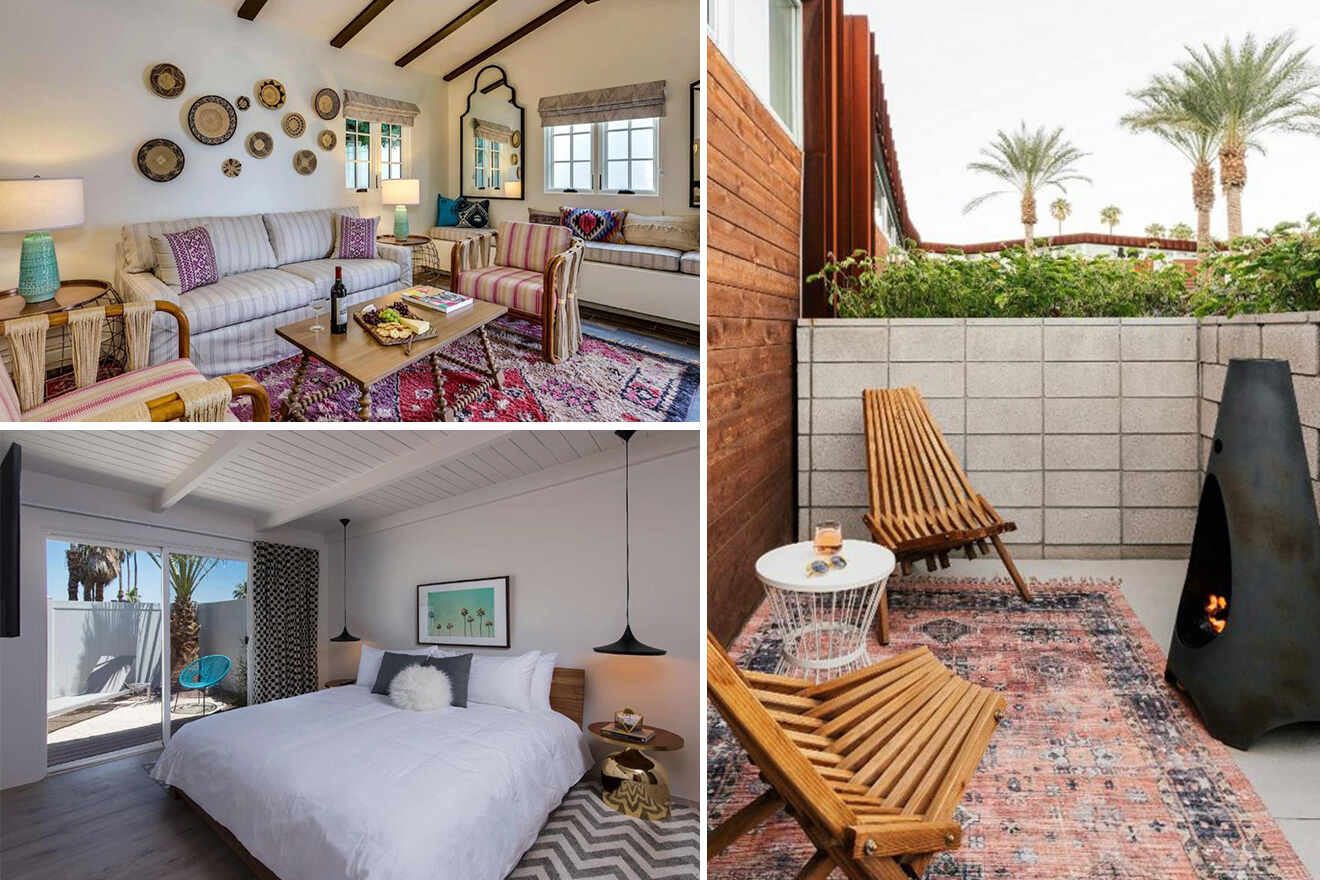 Arrive Palm Springs – Start your days in true Californian style with a morning yoga class! This boutique hotel in Palm Springs is prepared to offer you an unforgettable stay! Most rooms here come with a private patio (perfect spot to enjoy some quiet time) and bathrooms with a rain shower. Before the day ends, enjoy a late night swim or a drink by the fire pits!
La Serena Villas – Gotta love this boutique hotel which has a fabulous Spanish style! Wooden-beamed ceilings, unique furnishings, and hardwood floors! Can you already picture that? Yep, this is a good one! And just wait until you see the outdoor swimming pool, and the spa center where you can relax in the hot tub for hours or enjoy a nice long massage!
The Weekend Palm Springs – Oh yes, this boutique hotel is just perfect for a weekend escape to Palm Springs! Featuring guest rooms with a seating area, a flat-screen tv, and a furnished patio where you can admire the sunsets, the accommodation is set within walking distance of Downtown Palm Springs. Every morning you can start your day with a strong cup of coffee and a swim in the pool!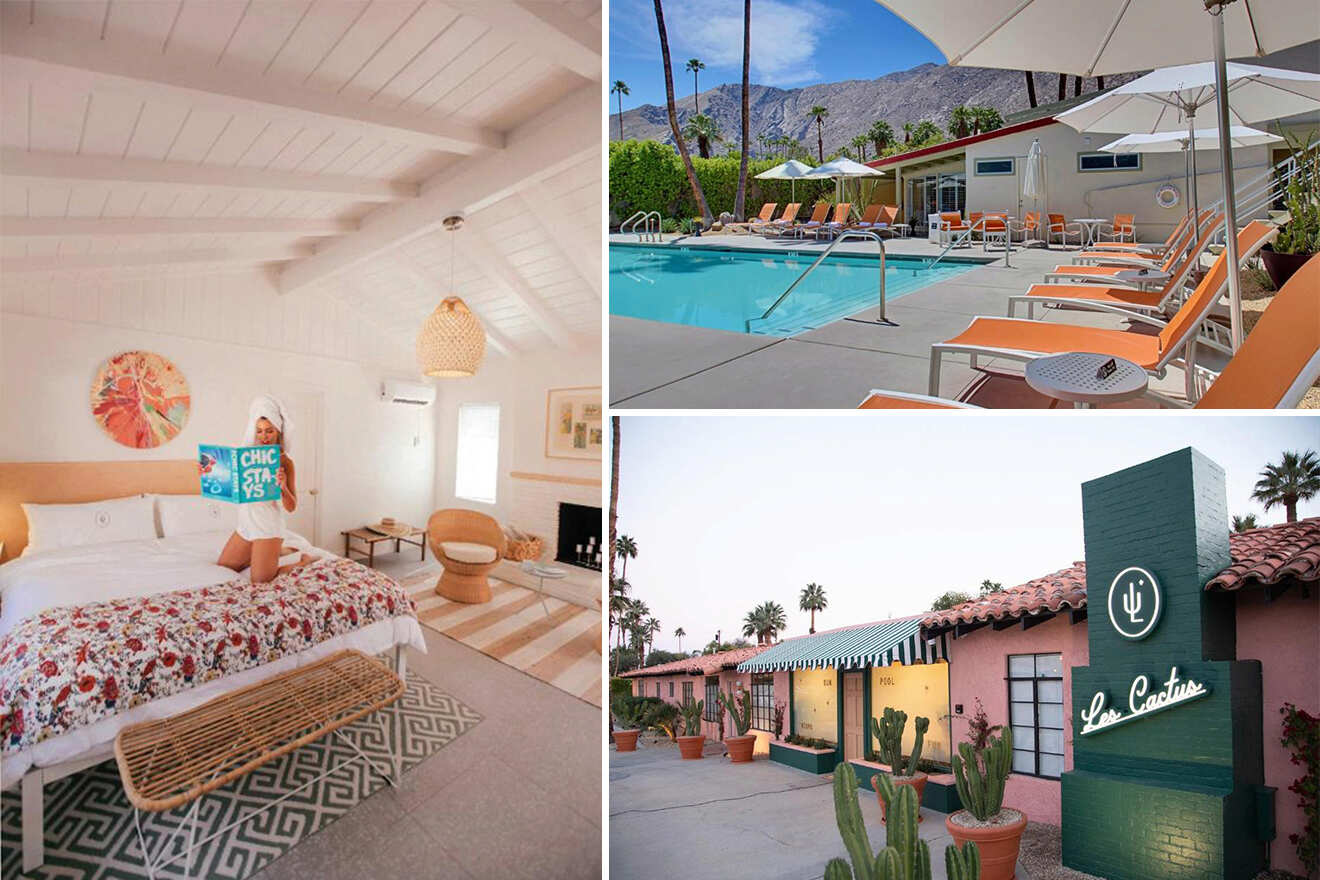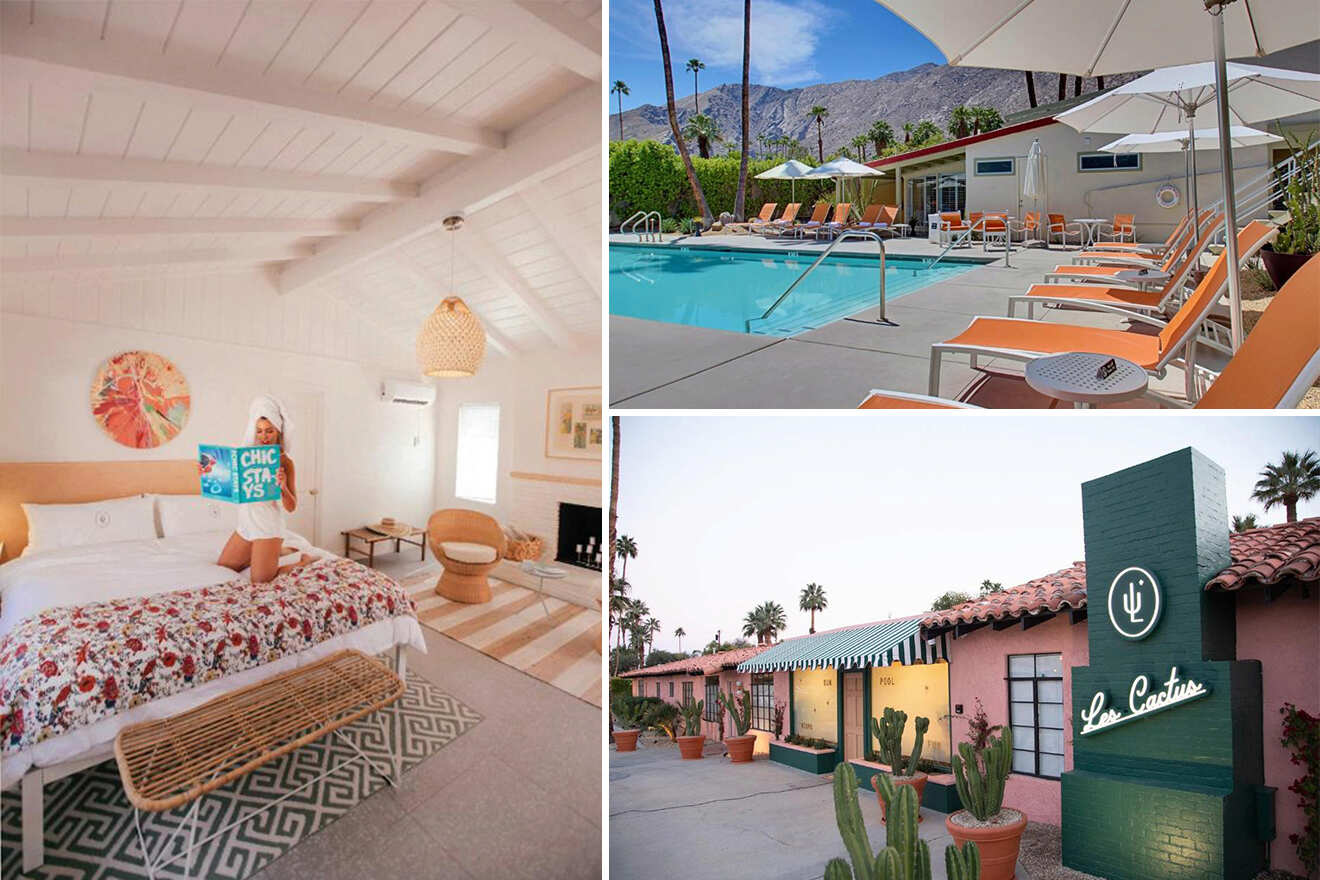 Les Cactus – All the Palm Springs boutique hotels are like heaven for people who love aesthetically pleasing decorations! And this accommodation is the perfect example of that! Featuring the perfect color palette, lots of modern furnishings and some hammocks which look like the perfect nap place, Les Cactus should definitely be in your top options.
Del Marcos Hotel – If you'd prefer an adults only experience while staying at one of these Palm Springs boutique hotels, then I think you'll really like this place and its mountain views by the heated outdoor saltwater pool. All the rooms here come with a king bed, a small kitchenette, and a small furnished patio that looks so cool!
Budget (up to US$300)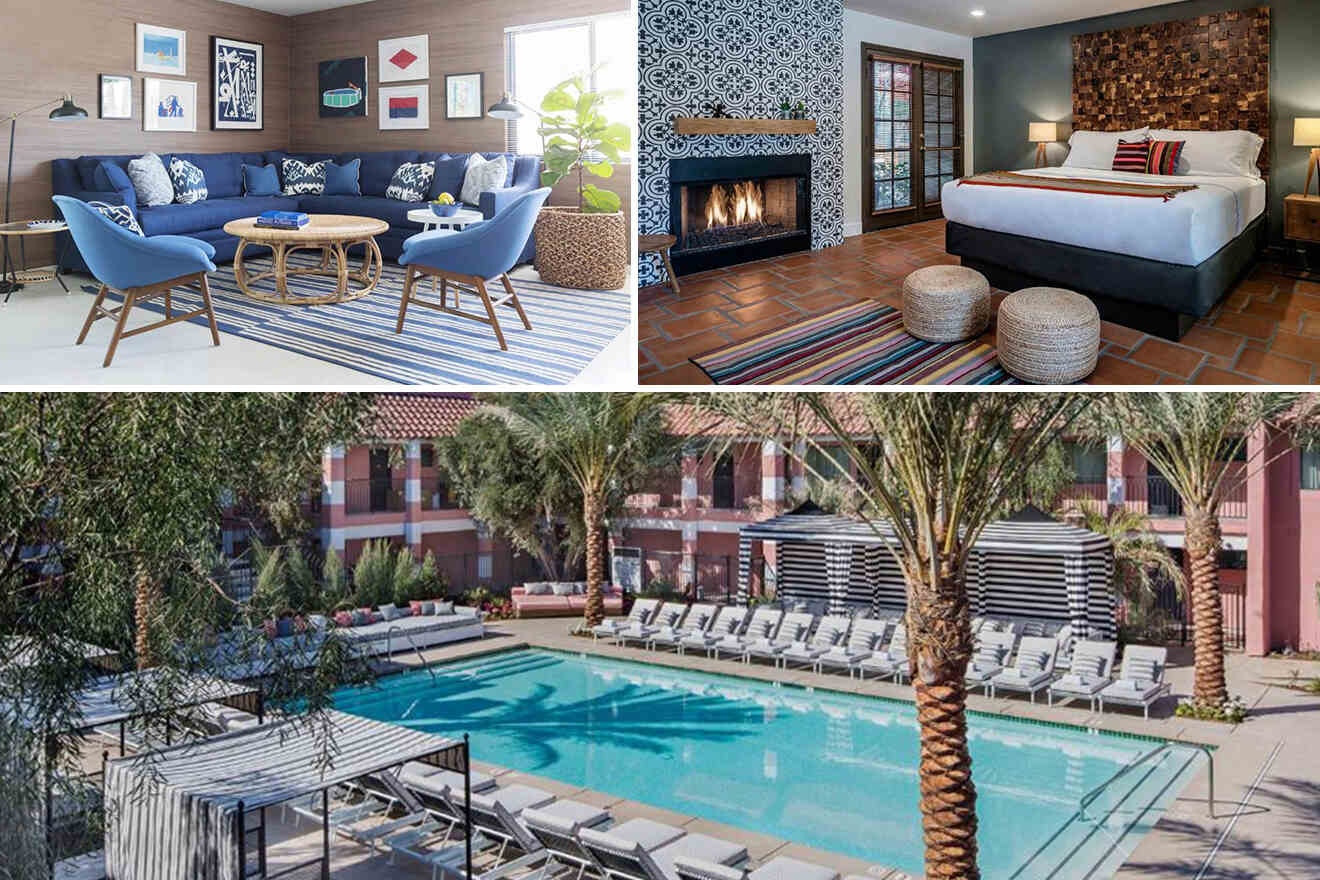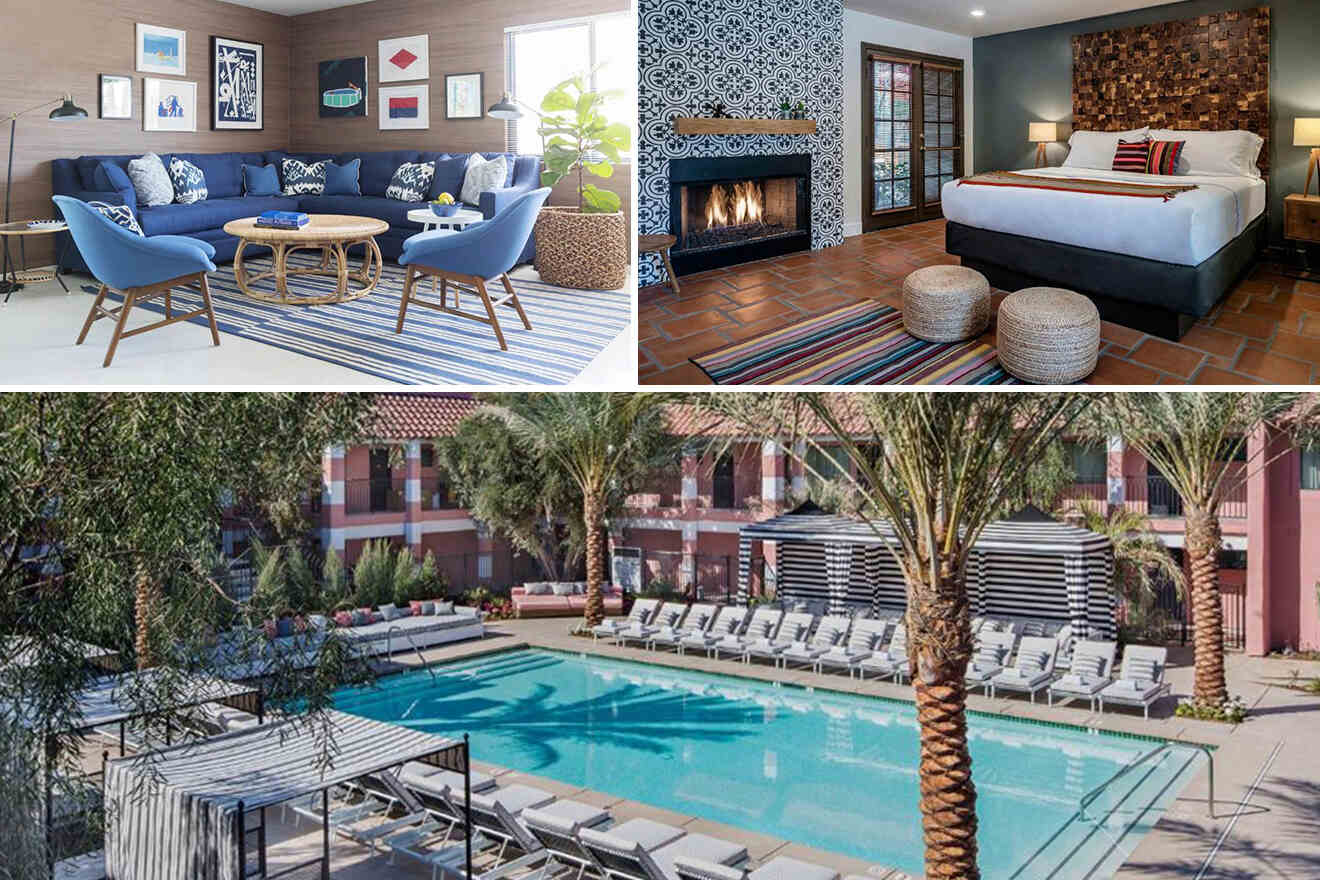 Holiday House Palm Springs – They sure picked the name right for this hotel which puts you in a holiday mood the minute you step inside! The rooms feature custom textiles by Mark D. Sikes and a lot of blue! During your stay I'd definitely head for dinner at the onsite restaurant and grab some drinks at the wet bar.
Sands Hotel & Spa – Welcome to the ultimate Greater Palm Springs location! Crazy colorful decor, intense colors and lots of prints! This all creates a super fun vibe! And just wait until you see their Pink Cabana restaurant which has this old American fancy dinner atmosphere. Some rooms at the hotel come with private patios, a pool view, and a flat screen tv.
Santiago Resort – Enjoy your days in Palm Springs while drinking wine by the fire pits with your friends, swimming in the pool, and chilling at the spa center of this cool hotel! Set on lush grounds, this LGBT-friendly accommodation offers bicycle rentals and lots of other activities like local tours, hiking around the area, and bowling!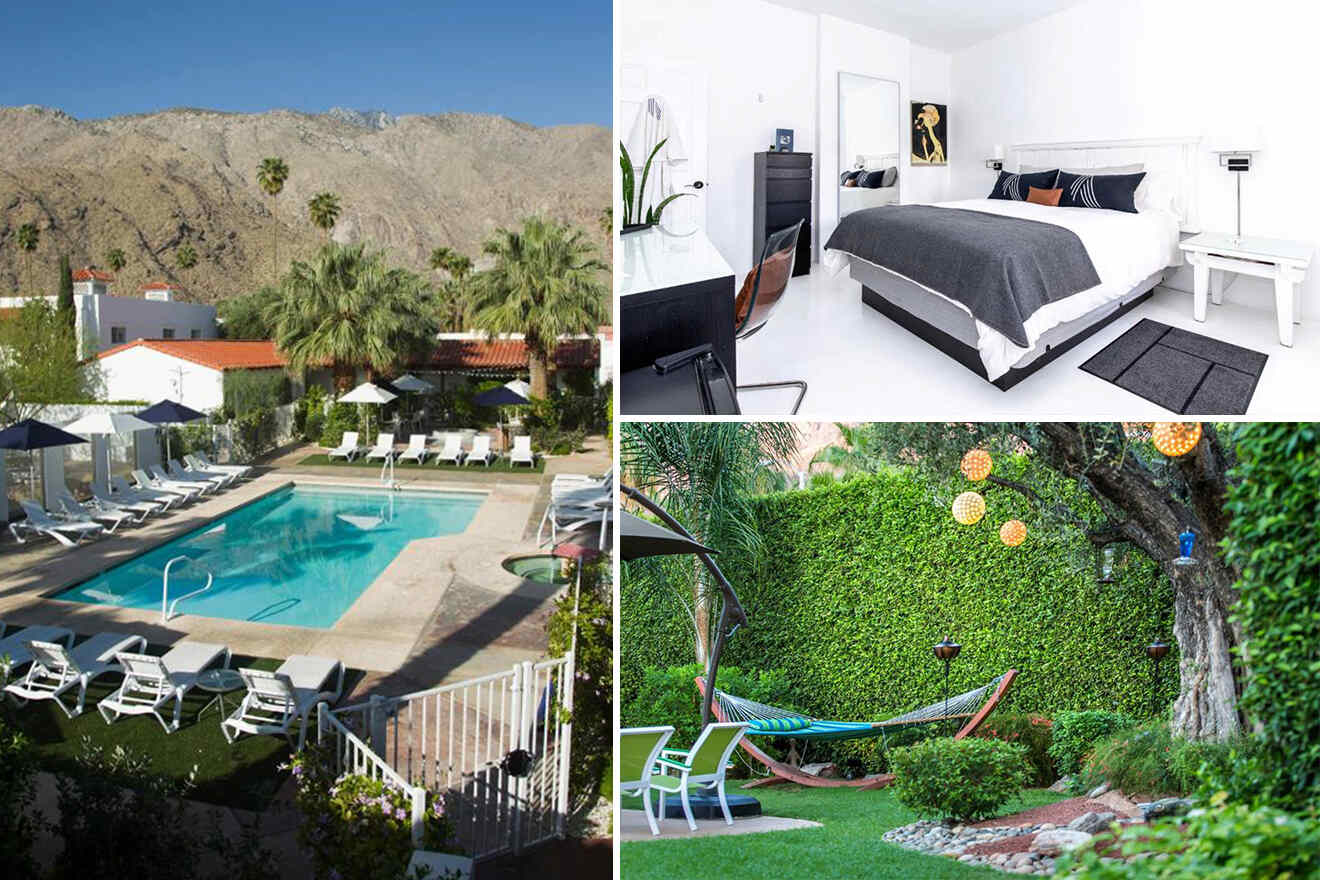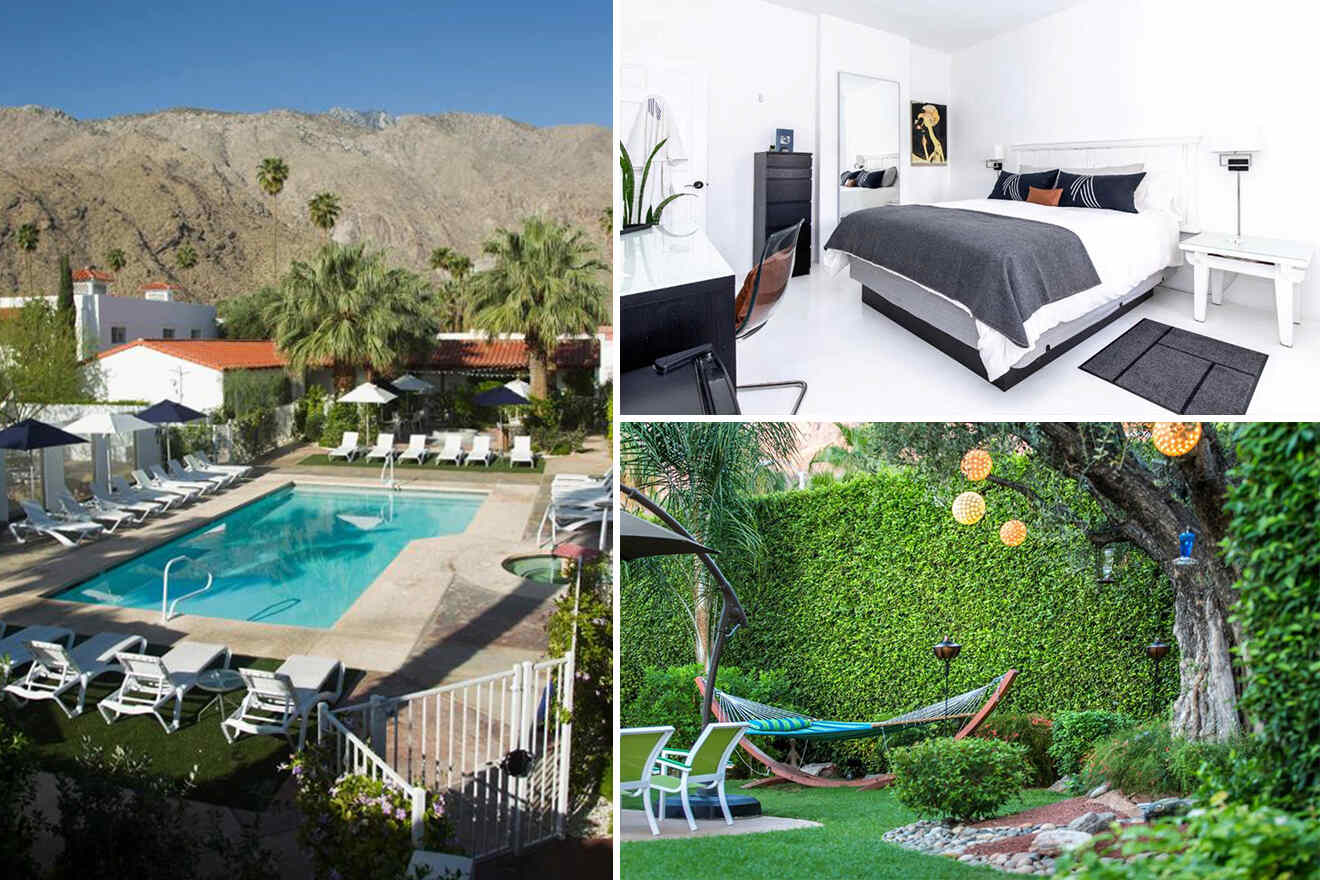 Desert Riviera Hotel – Looking for something a bit more affordable in Palm Springs? I know it's kind of hard but I think this boutique hotel fits that description well. Tucked away between olive trees, the adults-only hotel comes with an outdoor pool with sun loungers and fire pits.
Alcazar Palm Springs – A modern hotel which has some lovely Spanish influences that we all love! Although simple, the all-white room decor looks really cool and I'm sure you'll be happy to know that some even offer mountain and pool views. Their saltwater pool is definitely a favorite of the guests, as well as the 2 restaurants on-site.
BONUS 1: Most romantic hotels in Palm Springs
Planning a romantic holiday in Palm Springs? Well, as you've seen in the previous sections there are a lot of adults-only hotels here, but I'm guessing you may be looking for something a bit more specific.
If so, come along as I've found 3 amazing options for all budgets: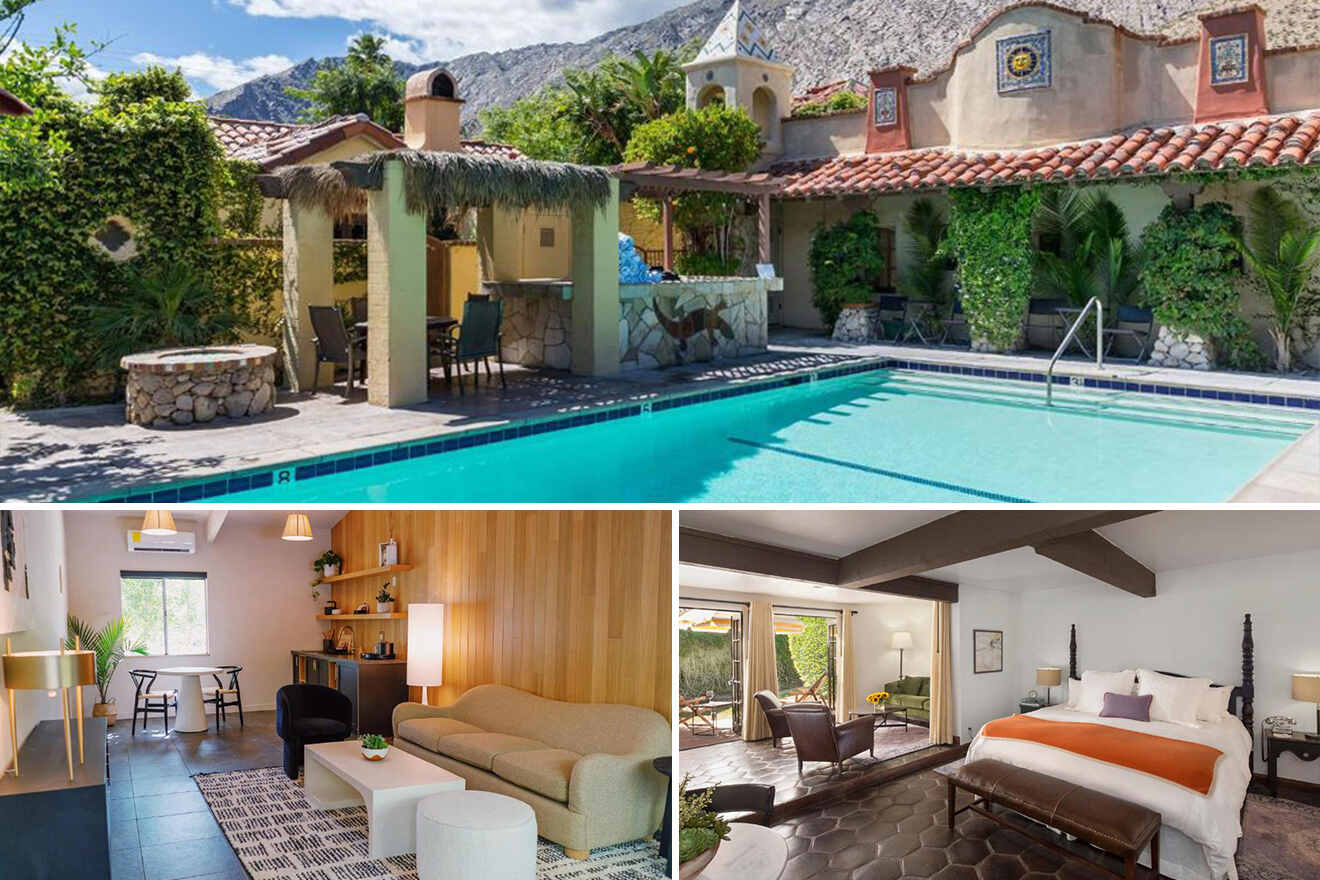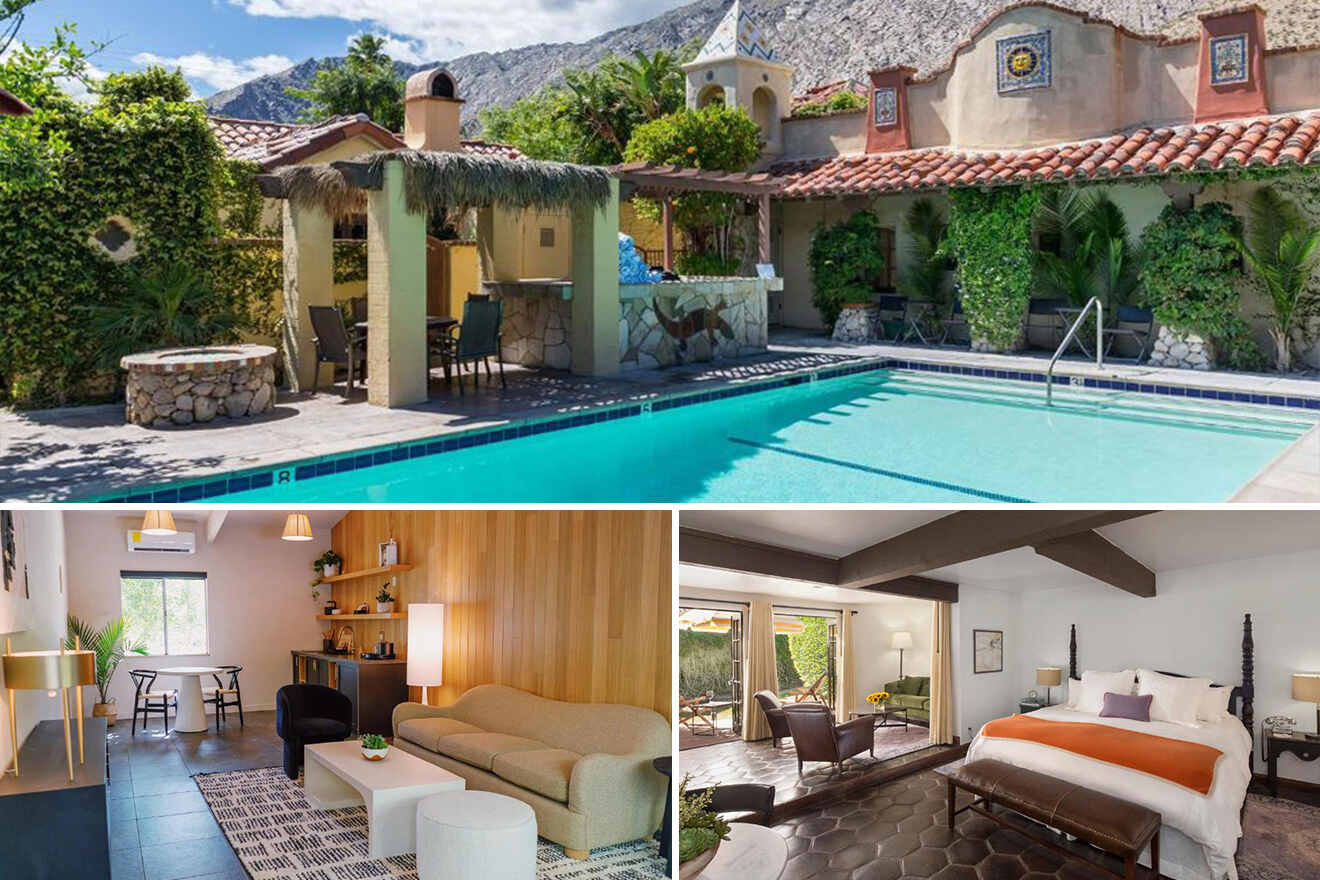 Luxury: Andalusian Court – This place is definitely giving me Spanish court vibes! I love their gardens with fairy lights which look like the perfect place for a romantic promenade! The rooms are also pretty unique and come with wooden furnishings and some even have a balcony and a fireplace where you can enjoy some wine!
Luxury: Ingleside Inn – A tranquil atmosphere and beautiful surroundings will be waiting for you at this adults-only hotel in Palm Springs. The accommodation is beautifully-decorated and it features an outdoor fireplace and a swimming pool. And of course a fabulous restaurant where you can enjoy some romantic candle-lit dinners!
Mid Range: Azure Sky Hotel – Perfect for a romantic getaway in Palm Springs, this adults-only hotel will offer you all the privacy you and your partner need! The rooms and studios are super spacious and lead towards the shared courtyard, where you'll also find some lovely fire-pits where you can relax after a day out!
BONUS 2: Best hotels with a hot tub
If you're looking for some great Palm Springs hotels that have a fabulous hot tub where you can relax for hours then you've reached the right place!
I've gathered 3 awesome options below that you're going to love. Let's check them out: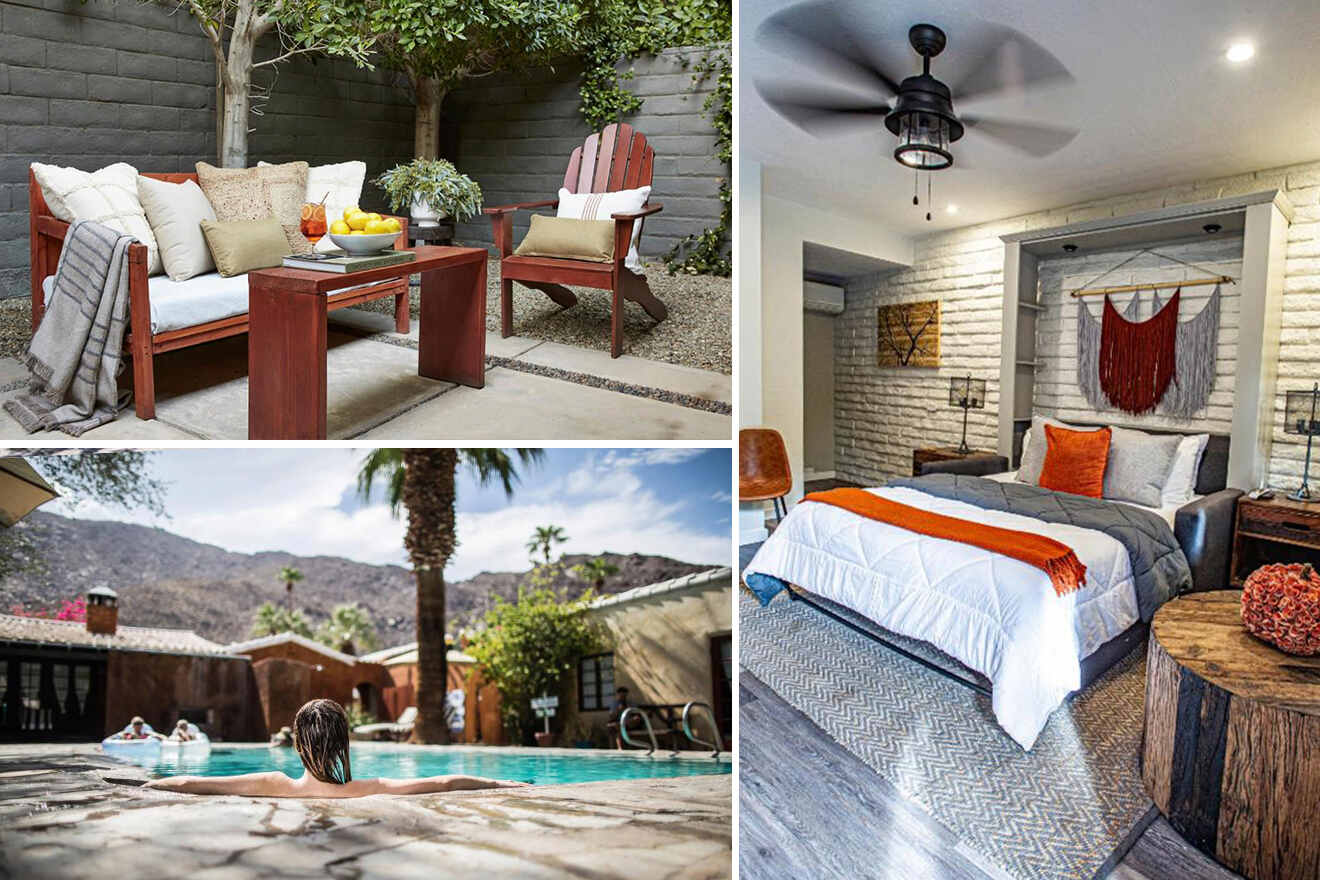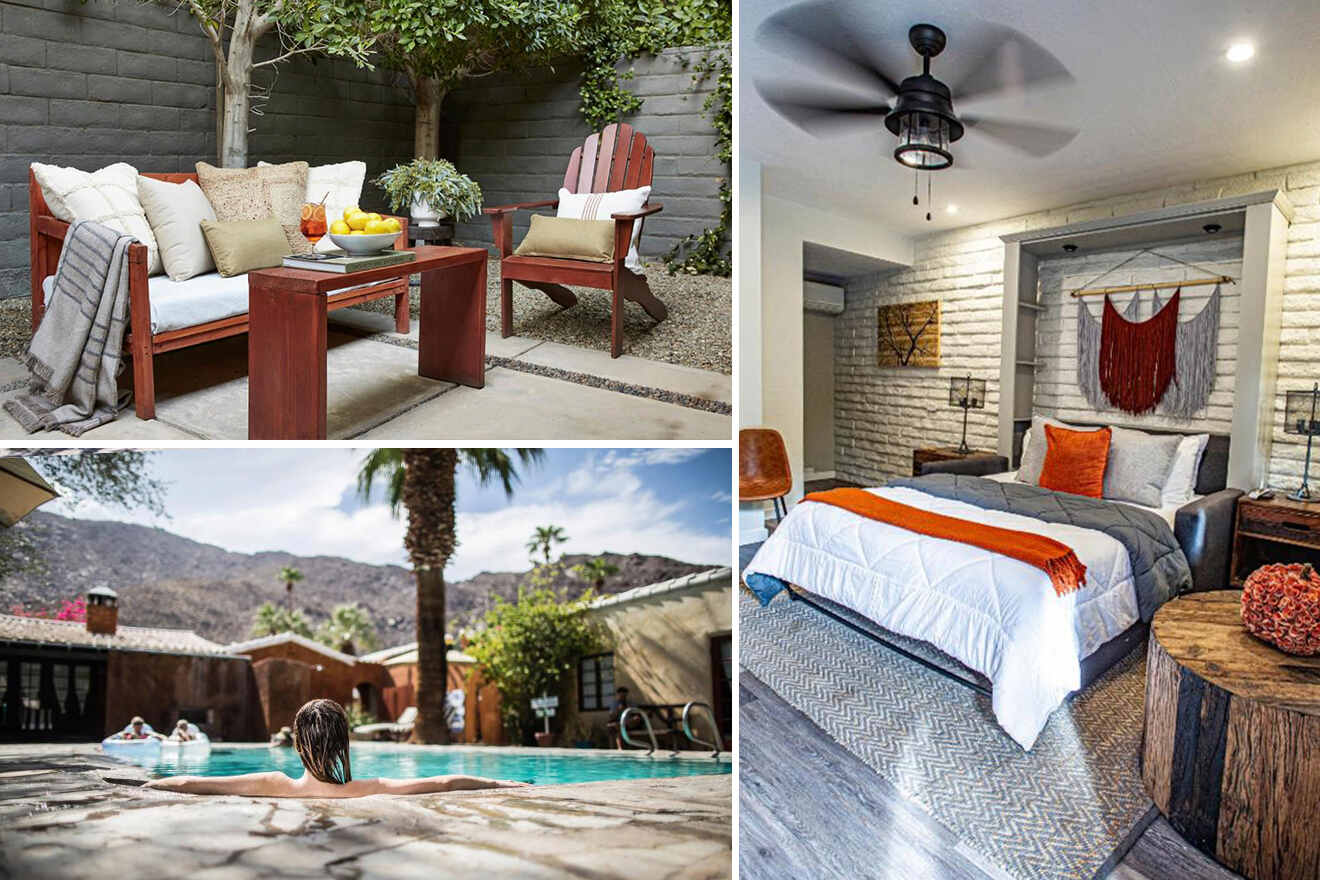 Luxury: Sparrows Lodge – Can't beat the mix of decor and designs of the Sparrows Lodge! Their cozy rooms with exposed beam ceilings, stone floors, and horse trough bathtubs will make you feel as if you've landed in an Art Digest magazine. Of course, you'll also get a poolside hot tub and a restaurant, called the Barn Kitchen.
Mid Range: Korakia Pensione – These Palm Springs boutique hotels have a bit of everything in their designs! Italy, Spain and now Morocco! Set at the base of the San Jacinto Mountains, this hotel has a private patio, a traditional Moroccan courtyard and a hot tub.
Budget: Hotel California – Is this song already playing in your head? Because same! This beautiful hotel in Palm Springs is surely a keeper and it offers a hot tub, a games room for the days you don't feel like going out, and an outdoor fireplace!
FAQs about boutique hotels in Palm Springs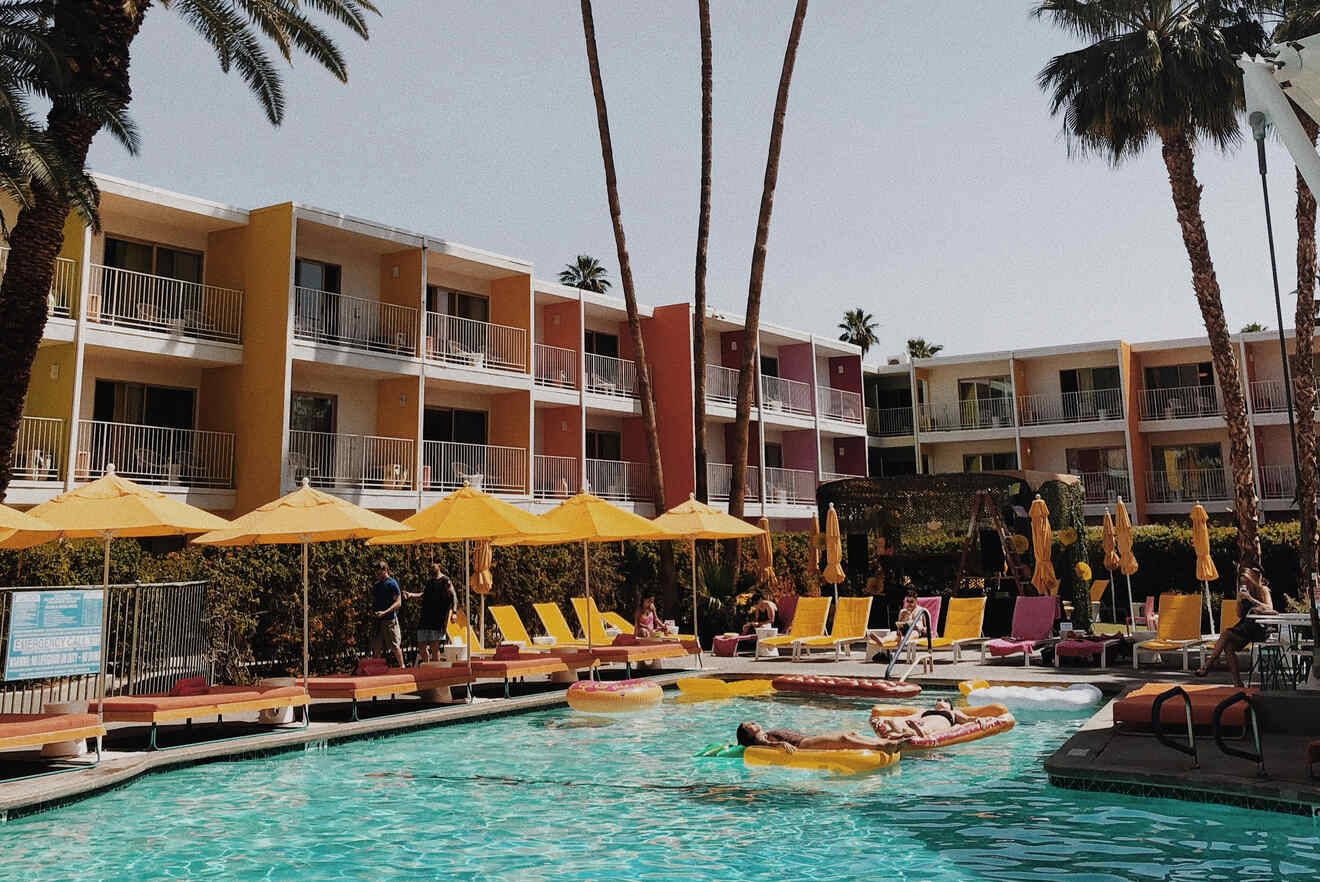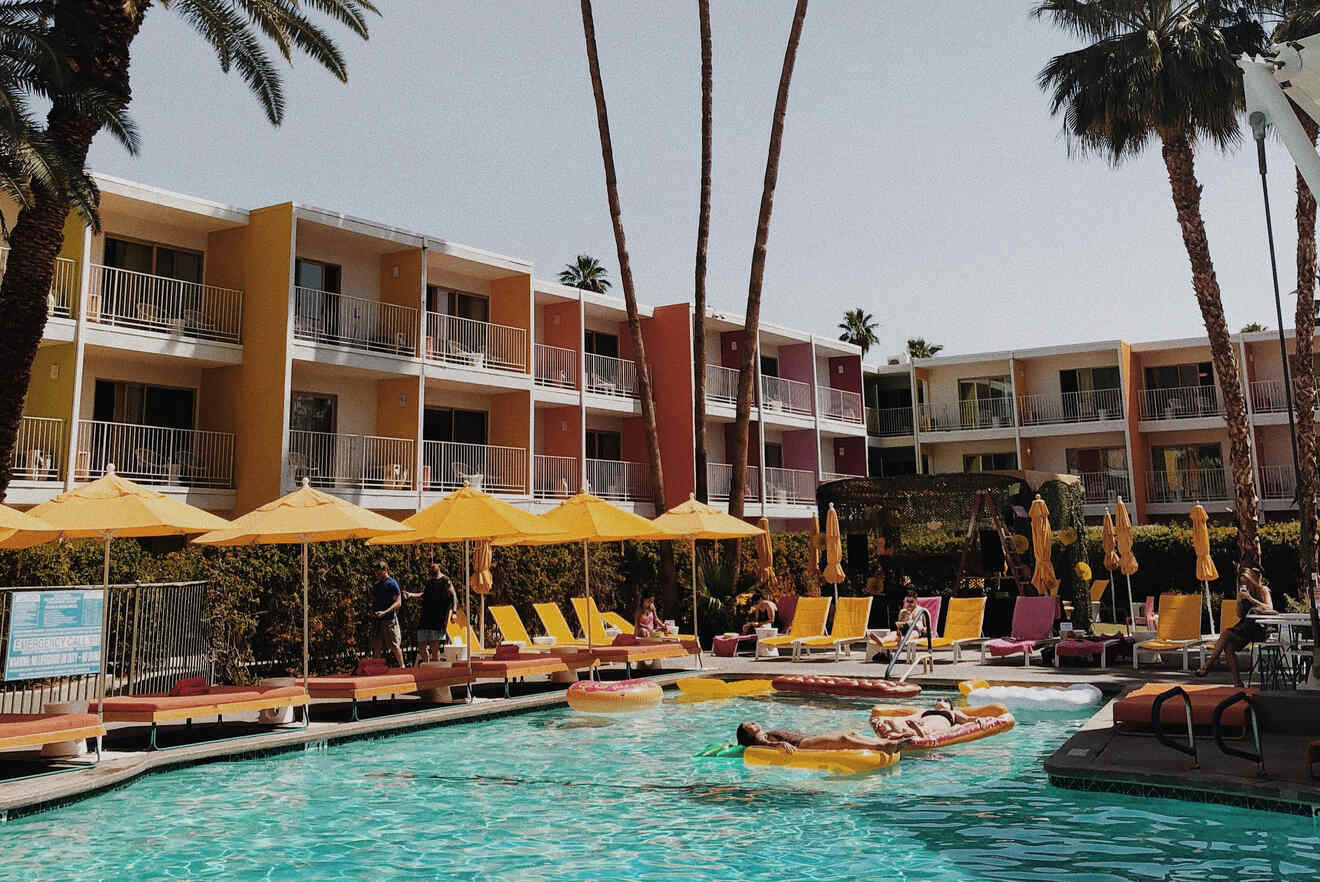 🏨 Which is the most luxurious boutique hotel in Palm Springs?
L'Horizon Resort & Spa is one of the most luxurious boutique hotels in Palm Springs. The accommodation offers mountain views and rooms with a private outdoor patio.
♨️ Which are the best boutique hotels with a hot tub in Palm Springs?
Sparrows Lodge and Korakia Pensione are 2 of the best boutique hotels in Palm Springs with a hot tub and lots of other facilities like fire pits and courtyards.
💌 Which are the best romantic boutique hotels in Palm Springs?
Andalusian Court and Ingleside Inn are some of the best boutique hotels in Palm Springs for couples. Both hotels offer an intimate atmosphere and cool amenities like outdoor fireplaces.
⏰ How long do I need in Palm Springs?
Spending 3 to 4 days in Palm Springs should give you enough time to explore around and visit some attractions.
Conclusion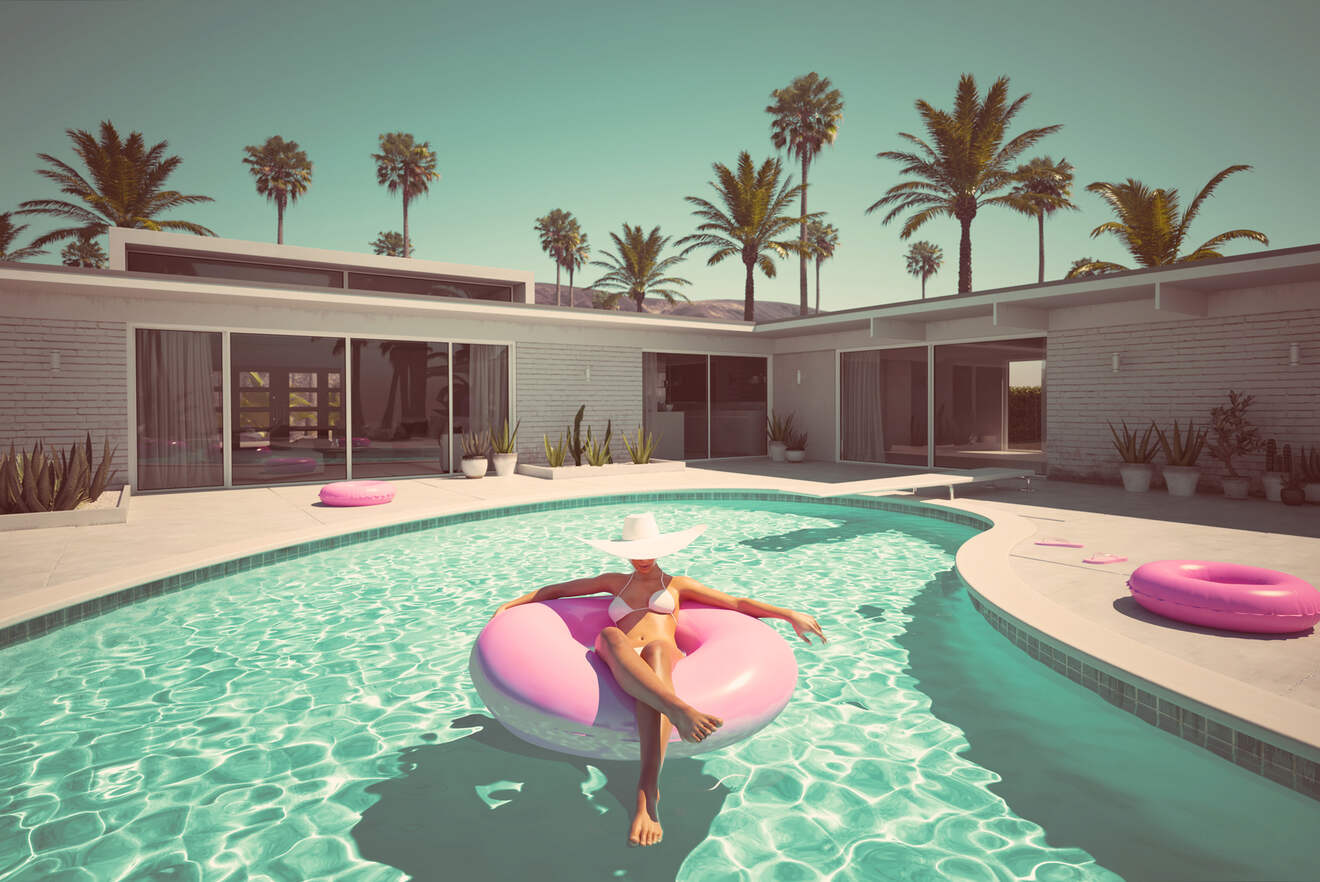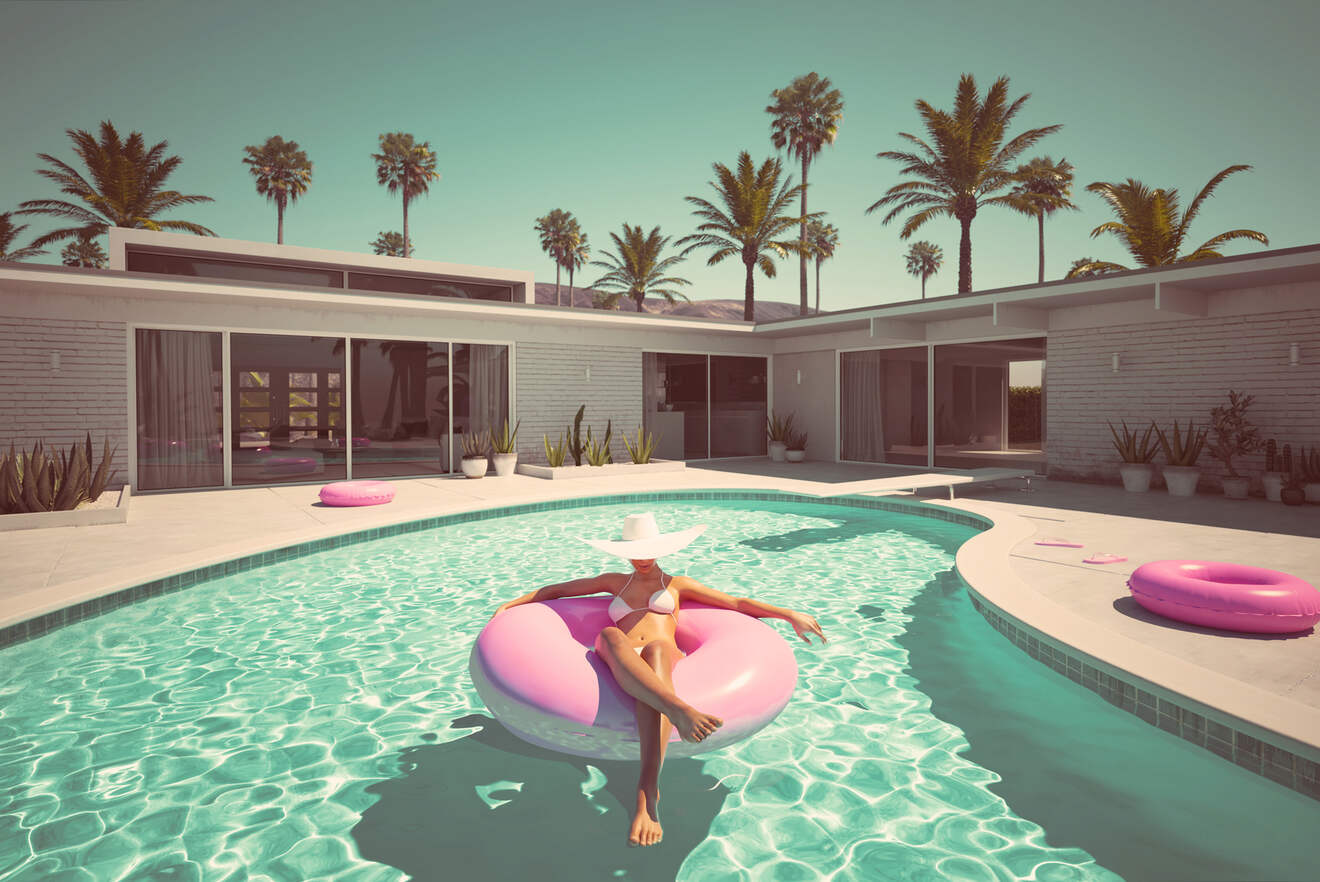 No one does boutique hotels quite as well as Palm Springs! Honestly, you'll want to change the decor of your house after staying here!
We've reached the end of our fun virtual trip where we saw the best boutique hotels in Palm Springs, plus 2 bonus sections with some awesome romantic hotels and top accommodations with a hot tub.
You probably know by now which hotel is just perfect for you. However, if you're having second-thoughts and can't really decide, check out my 2 favorite boutique hotels in Palm Springs:
L'Horizon Resort & Spa – A stunning hotel with a fabulous central pool that offers mountain views and fire pits
Arrive Palm Springs – This modern hotel set near the Old Las Palmas area comes with a bar, a swimming pool, and a sun terrace
Don't forget what I said! These are the best boutique hotels in Palm Springs, which means that they'll disappear from the booking sites pretty fast. That's why I recommend booking your stay super early to avoid any inconvenience!
Well everyone, I'm sure you'll spend some unforgettable days in Palm Springs! If you need some extra help with the hotels or planning the trip there, just leave me a comment below and I'll help you as soon as possible!
Safe travels,
Victoria
---
Pin it for later!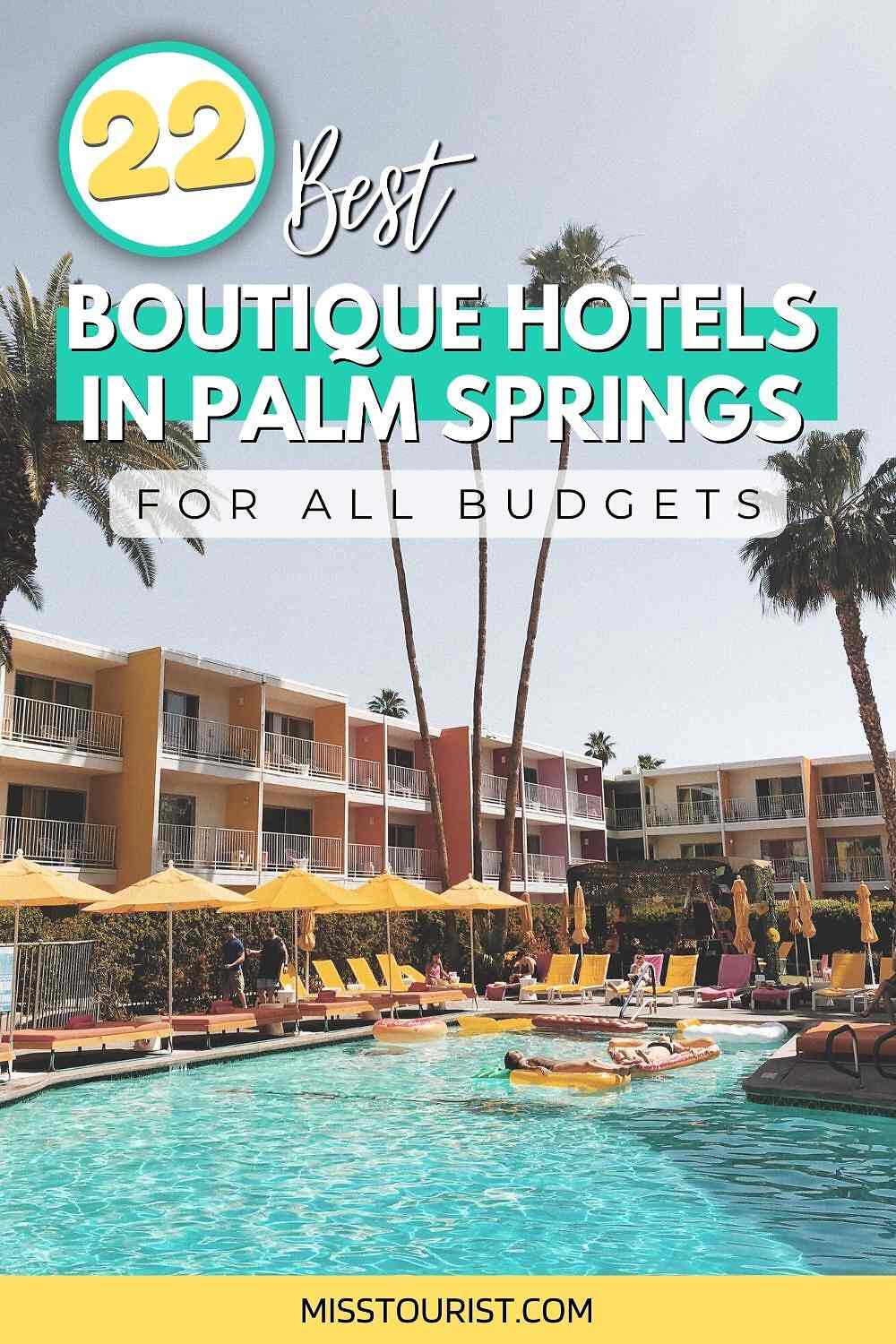 Pin it for later!