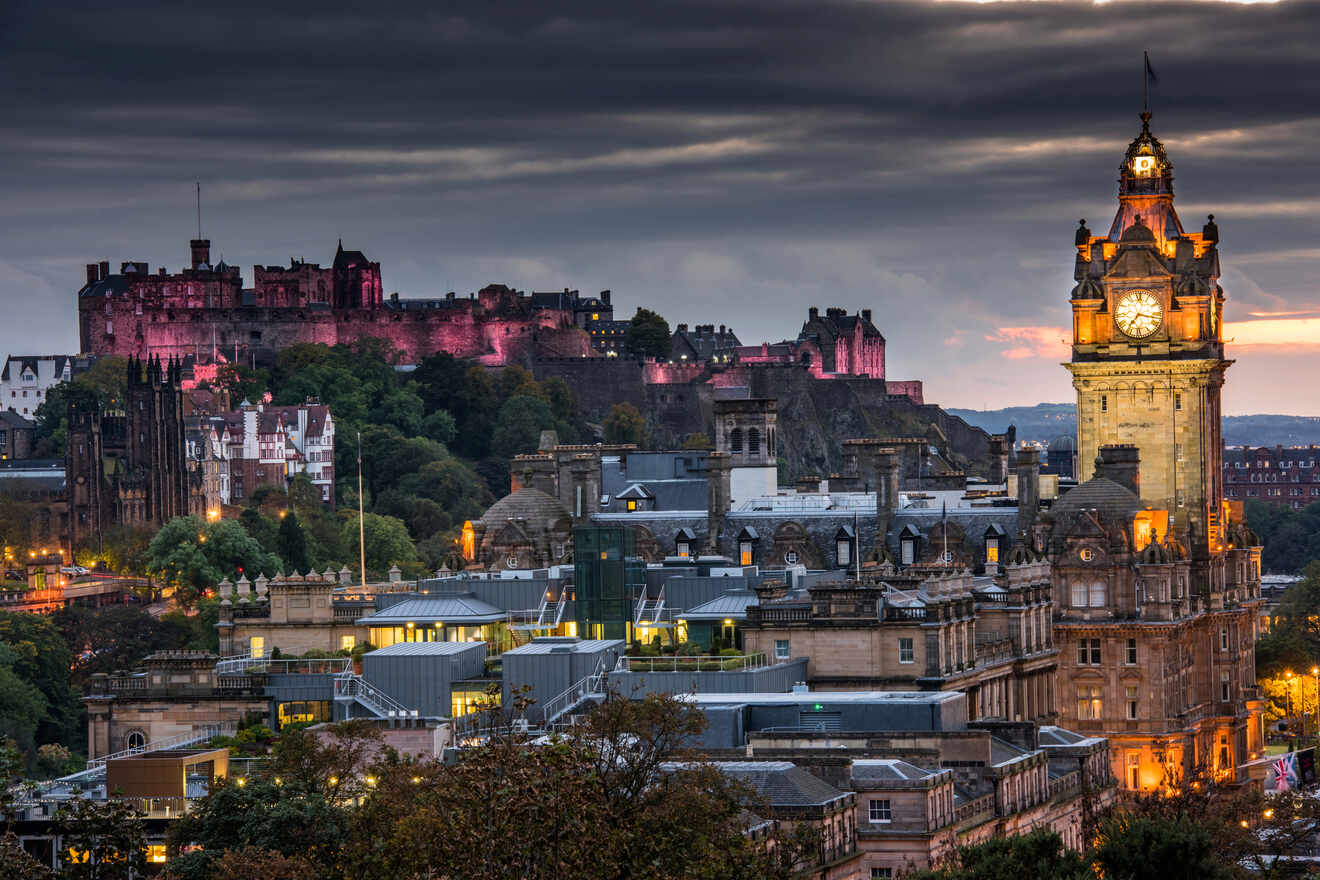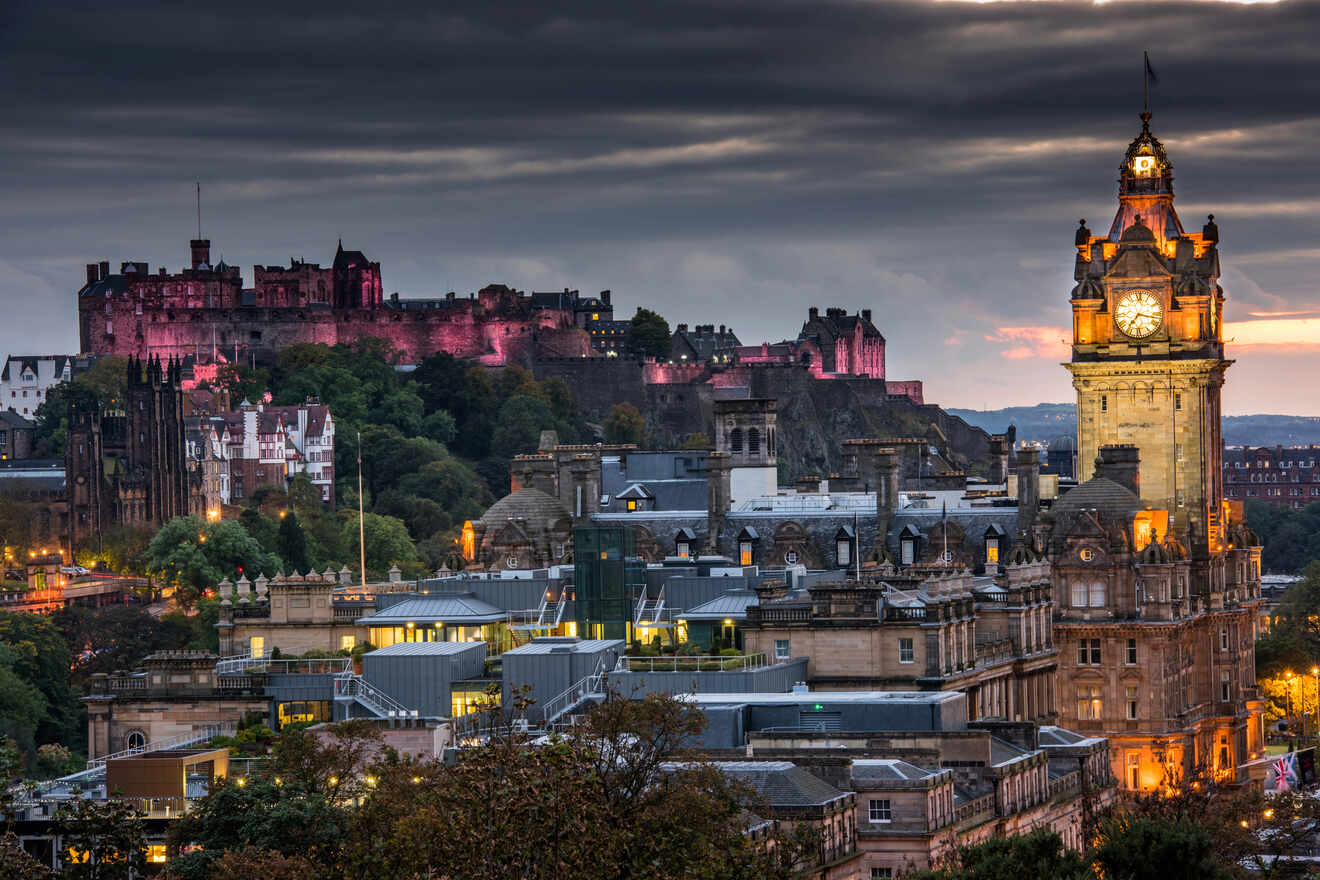 Welcome to the mystical lands of witches and wizards, fairies and gnomes! I hope you're ready for an unforgettable trip to one of the most fantastic cities in the UK! But first, you'll need a proper plan, and that's why I'm here today!
In this post you'll find the best things to do in Edinburgh! I visited the city just recently and fell completely in love with Scotland. Now I can't wait to go back (I'm sure it'll have the same effect on you too). But I've also gained so much insight on which are the most exciting Edinburgh attractions and gathered so many practical tips that will help you plan your trip to the Scottish capital.
The first and most important one would be to book all your attraction tickets and hotels in advance. Edinburgh gets a lot of visitors (especially during the summer) and also the hotels get super expensive the later you book your dates. So make sure you book fast!
Alohomora!
If you are in a hurry
If you're ready to book some fun activities and tours in Edinburgh, then check out the list below, with the main tours in the area:
Here are the main things to book in advance:
And here are the best hotels in Edinburgh: The Balmoral Hotel (luxury), The Inn Place (mid-range), High Street Hostel (budget)
1. Explore Edinburgh Castle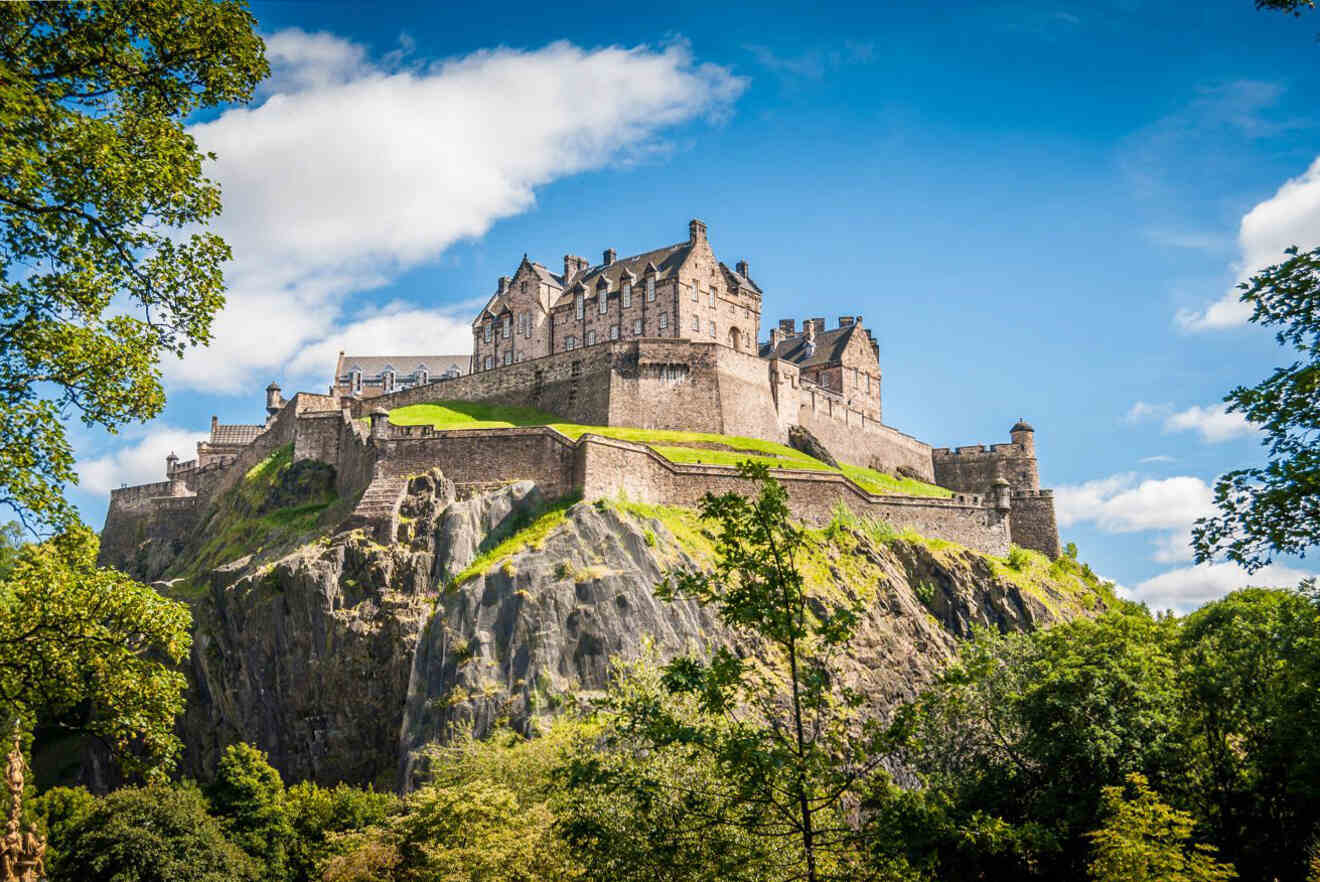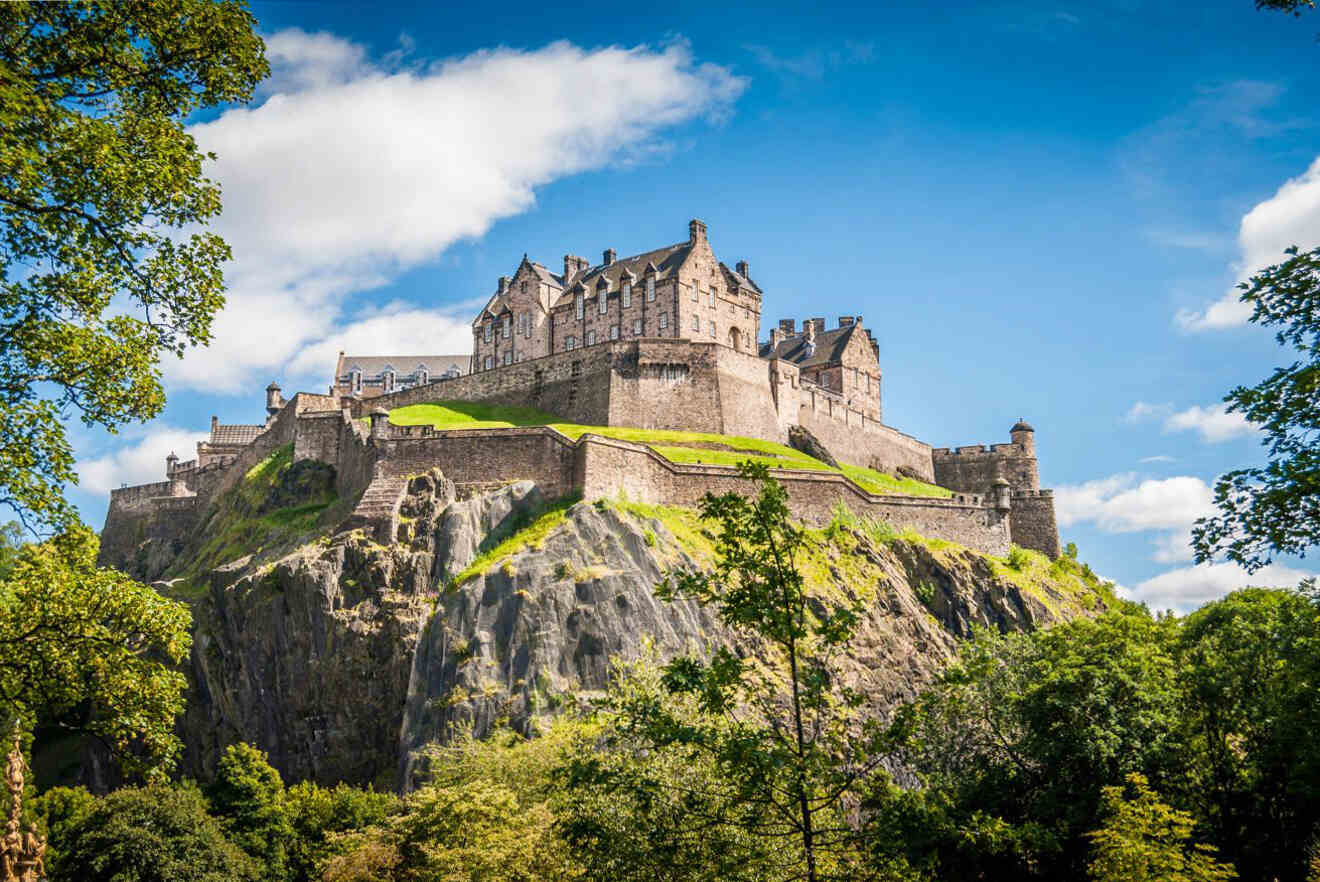 You can easily notice the grand Edinburgh Castle from most places around Edinburgh! Its location on top of a hill (which is actually an extinct volcano), gives the castle a certain allure, and you only need to look at it once and you'll get transported to a whole other universe.
One where royal life is still at its peak, and where battles, witch-trials and sieges are still going strong. That's basically what happened over the centuries here. Now, Edinburgh Castle has been transformed into different museums, mostly military ones, where you can learn Scotland's history.
NOTE: I recommend buying your tickets in advance for this attraction as it gets hundreds of visitors, especially during the summertime.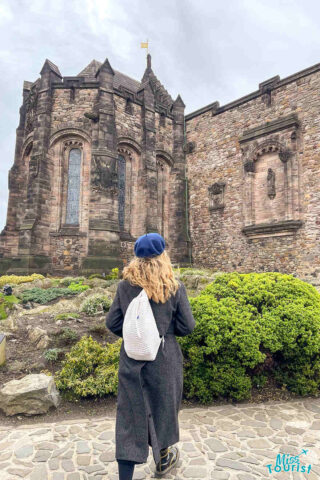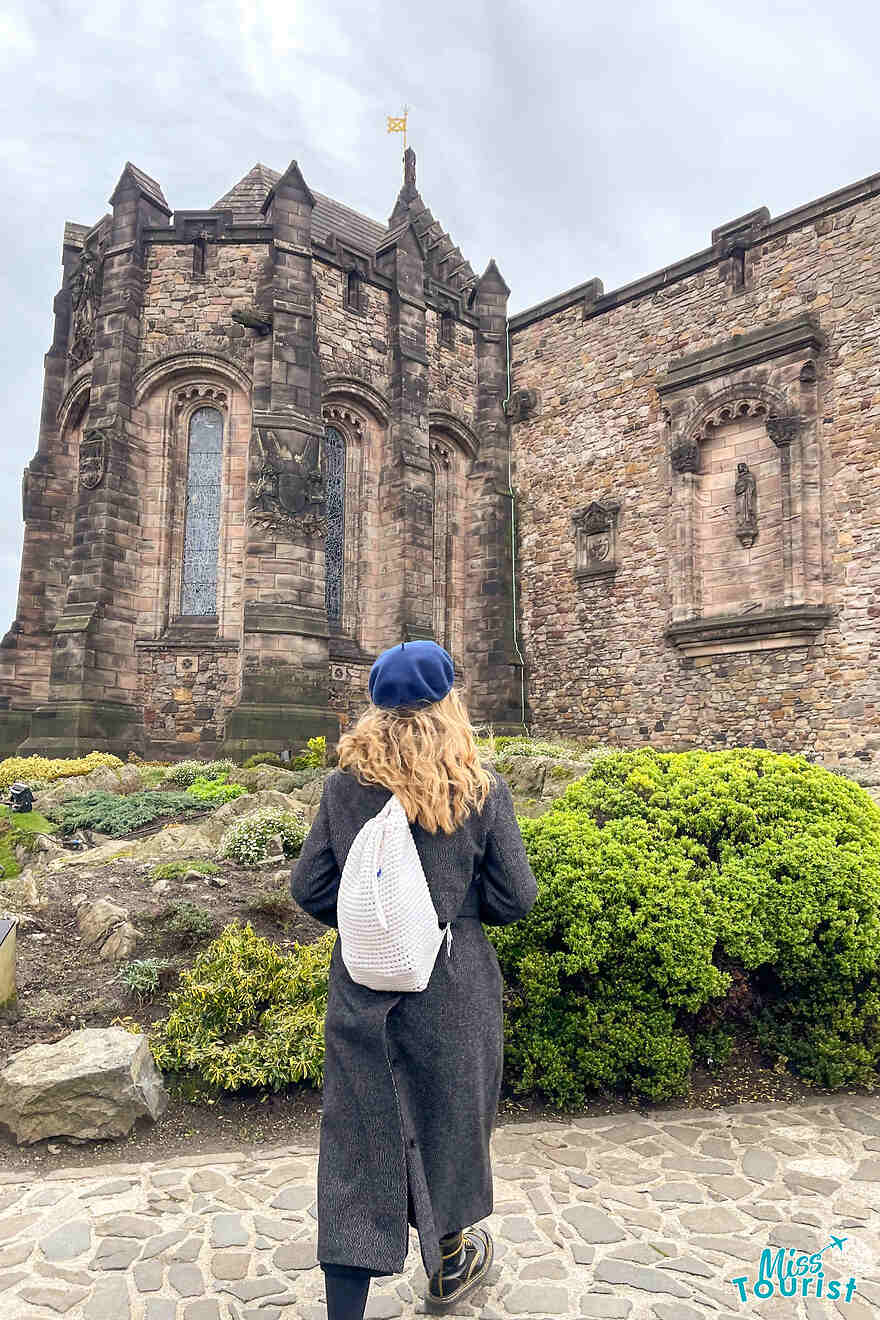 PRO TIP: If you end up not buying your tickets in advance, you can buy them on your phone when you get to the castle and then print them at the ticketing machines there. But definitely avoid paying at the entrance as they're more expensive.
I enjoyed my visit here to the fullest! And although military things are not really my piece of cake I loved walking around the Castle which is absolutely huge and learning more about Scottish history.
You can spend some time admiring the views of the whole city, which are breathtaking, and if you get tired (or a bit cold) there are some cafes where you can chill like The Tea Rooms and Red Coat Cafe.
You can buy a ticket and explore yourself, but if you want to really learn all there is to know about this magical city, I recommend joining a walking tour of the Edinburgh Castle.
PRICES: 
Entrance – £18
Entrance & tour – £33
Take a Walking Tour of Edinburgh Castle
2. See the National Monument on Calton Hill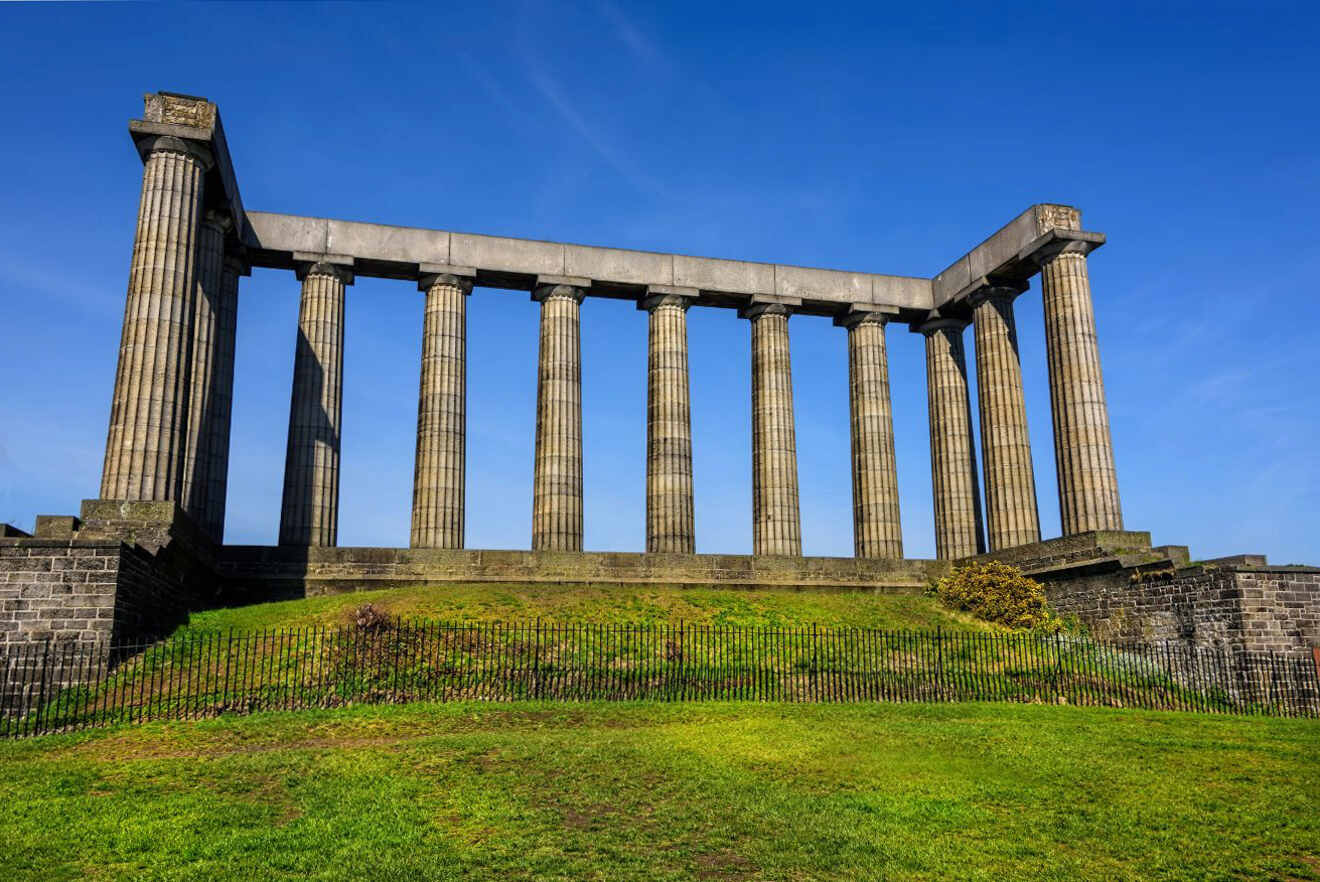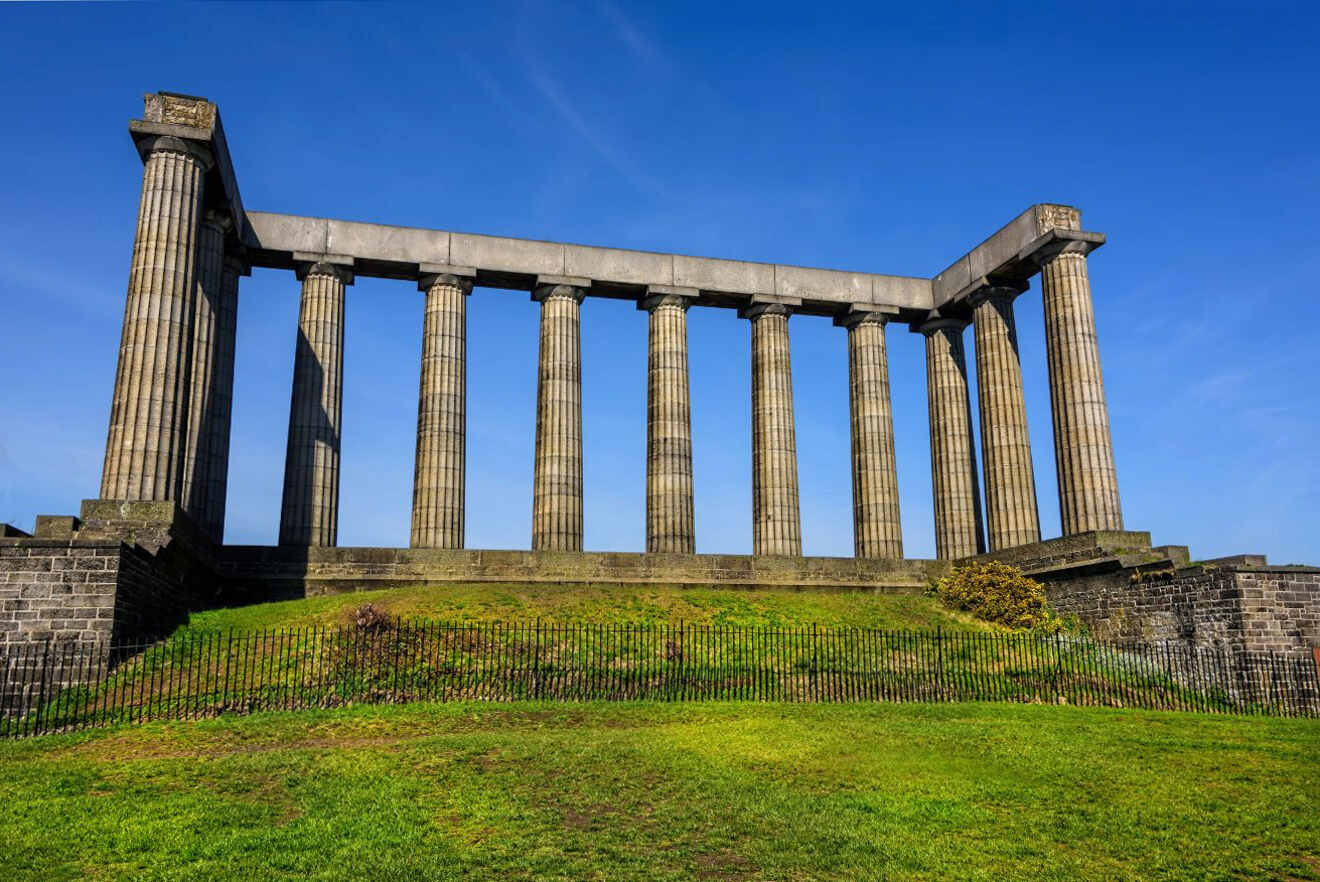 If you're searching for the perfect view to snap your Edinburgh pic, then you'll be happy to know that there are lots of hills in town where you can do that!
One of them is Calton Hill, where you'll also find the Nelson Monument and the National Monument, which was built to commemorate the Scottish soldiers who fought in the Napoleonic Wars.
PRO TIP: I would climb Calton Hill at sunset since the views are even more spectacular around that time!
If you leave from the Old Town it'll take you around 15 min to walk to Calton Hill.
3. Go for a walk on the Royal Mile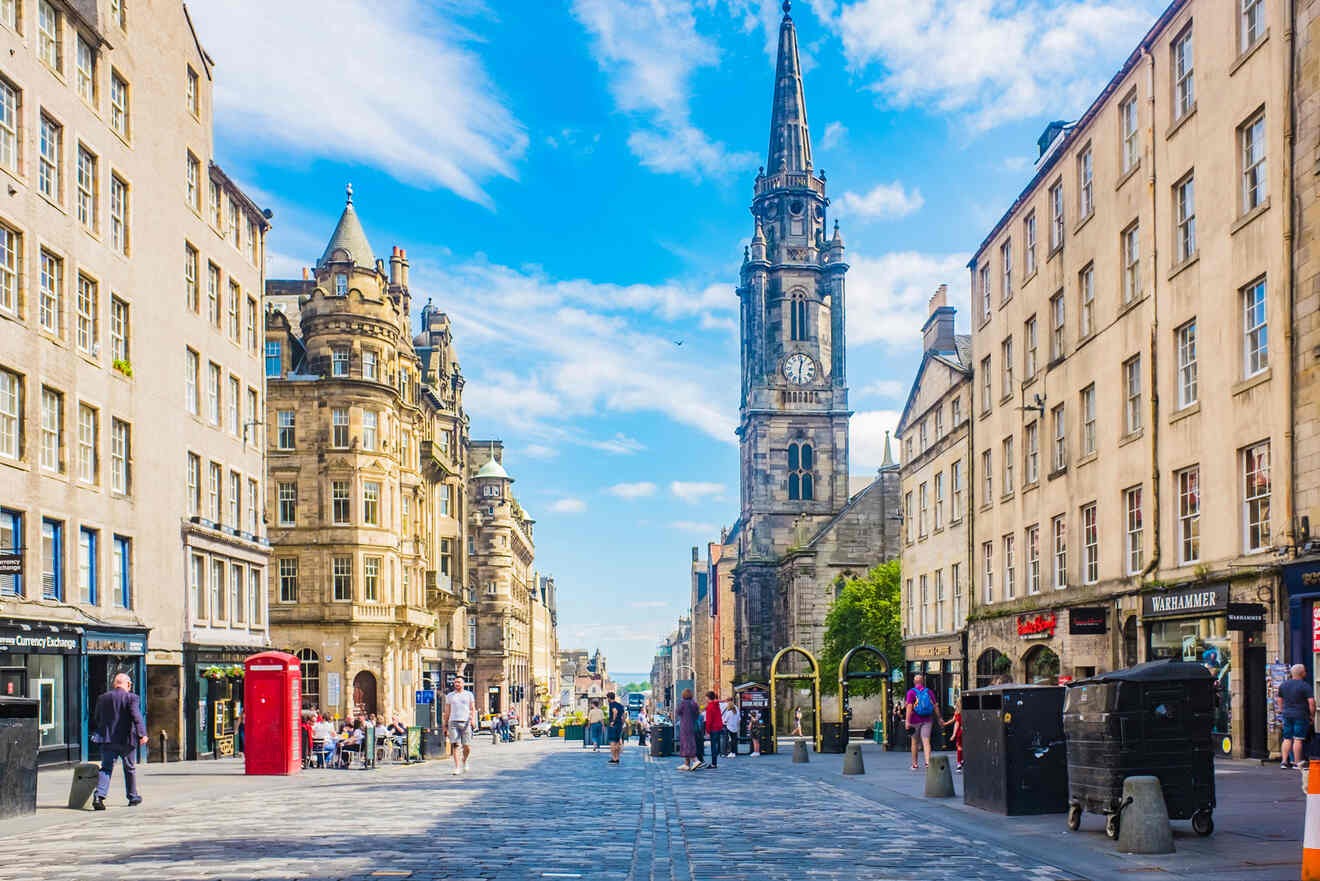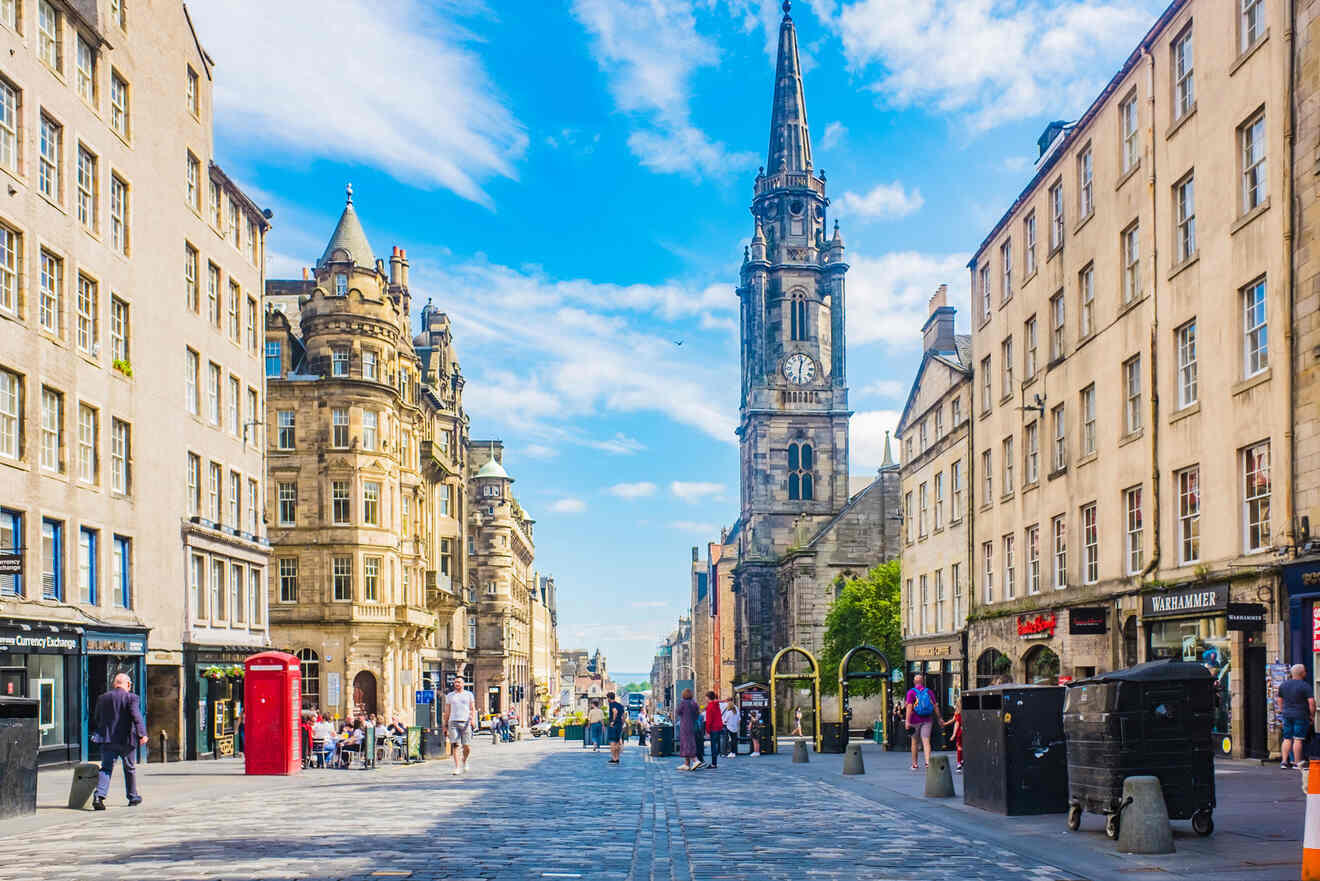 This iconic street in the Old Town stretches down from Edinburgh Castle to the Holyrood Palace and it's absolutely filled with souvenir shops, whiskey and fudge stores, and other big attractions like St. Giles Cathedral and the Heart of Midlothian.
The Heart of Midlothian is placed where the 15th century building, Old Tolbooth used to be. Apparently the building was used to run the city and it was also a prison and execution site. Because of that, over the years, people started spitting on the heart to show their contempt for the prison, but now if you do it, it is said to bring good luck!
It's surely one of the most charming streets in town and it's such a pleasure to just walk and admire the super old architecture, and of course catch someone playing the bagpipes!
NOTE: If you're looking for some cool places to buy souvenirs I recommend the Wyrd Shop and Two Skies where you'll find the most unique pieces of jewelry.
The Royal Mile is also the place where they hold the Edinburgh festivals. If you're traveling during the summer make sure you check the dates for the Edinburgh Fringe Festival (also known as Edinburgh International Festival), which is the world's largest arts and media festival, that's usually held throughout August.
Lots of tours are held on the Royal Mile and probably the most popular one is the free walking tour, which you can book online or directly on the Royal Mile.
4. Shop until you drop on Princes Street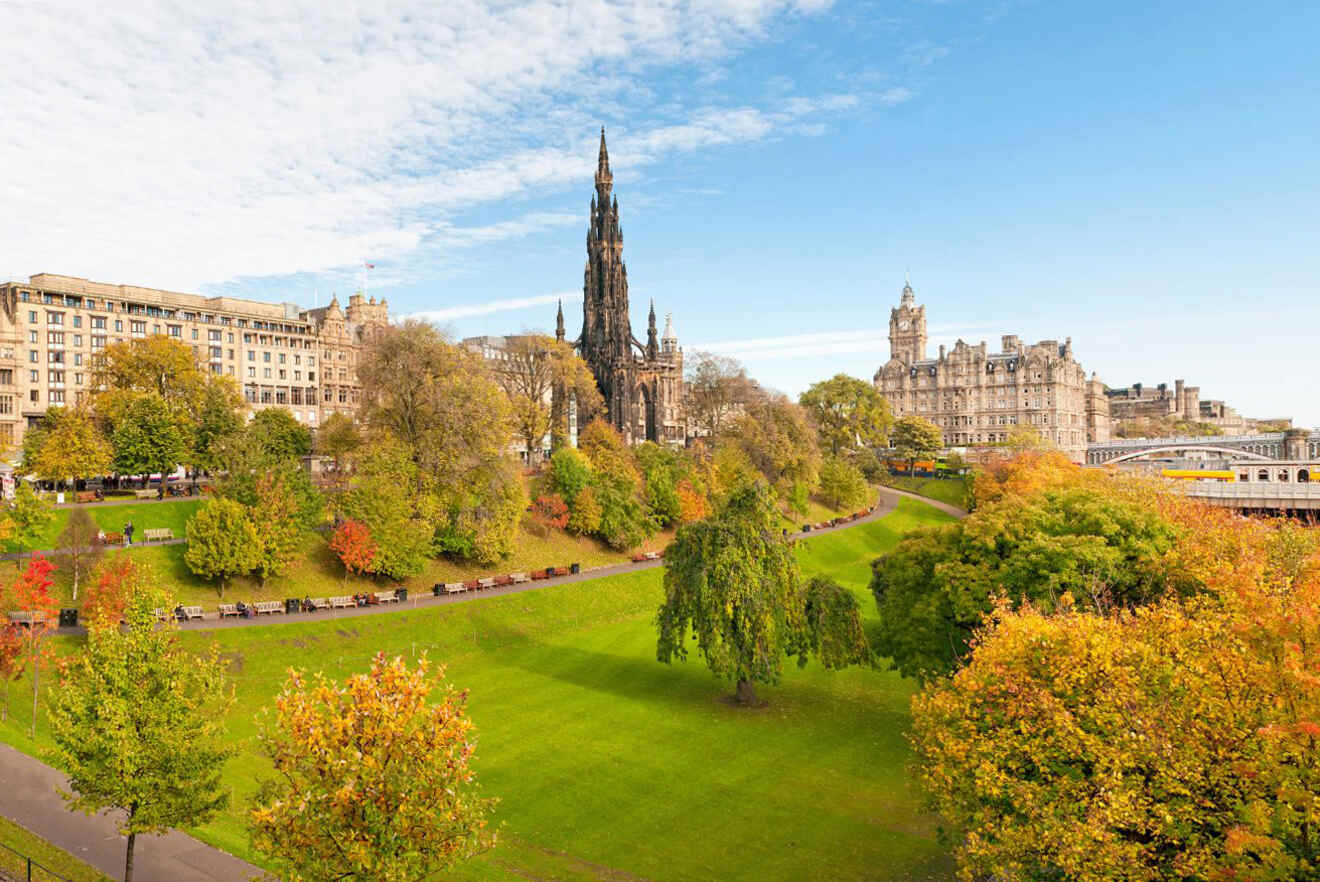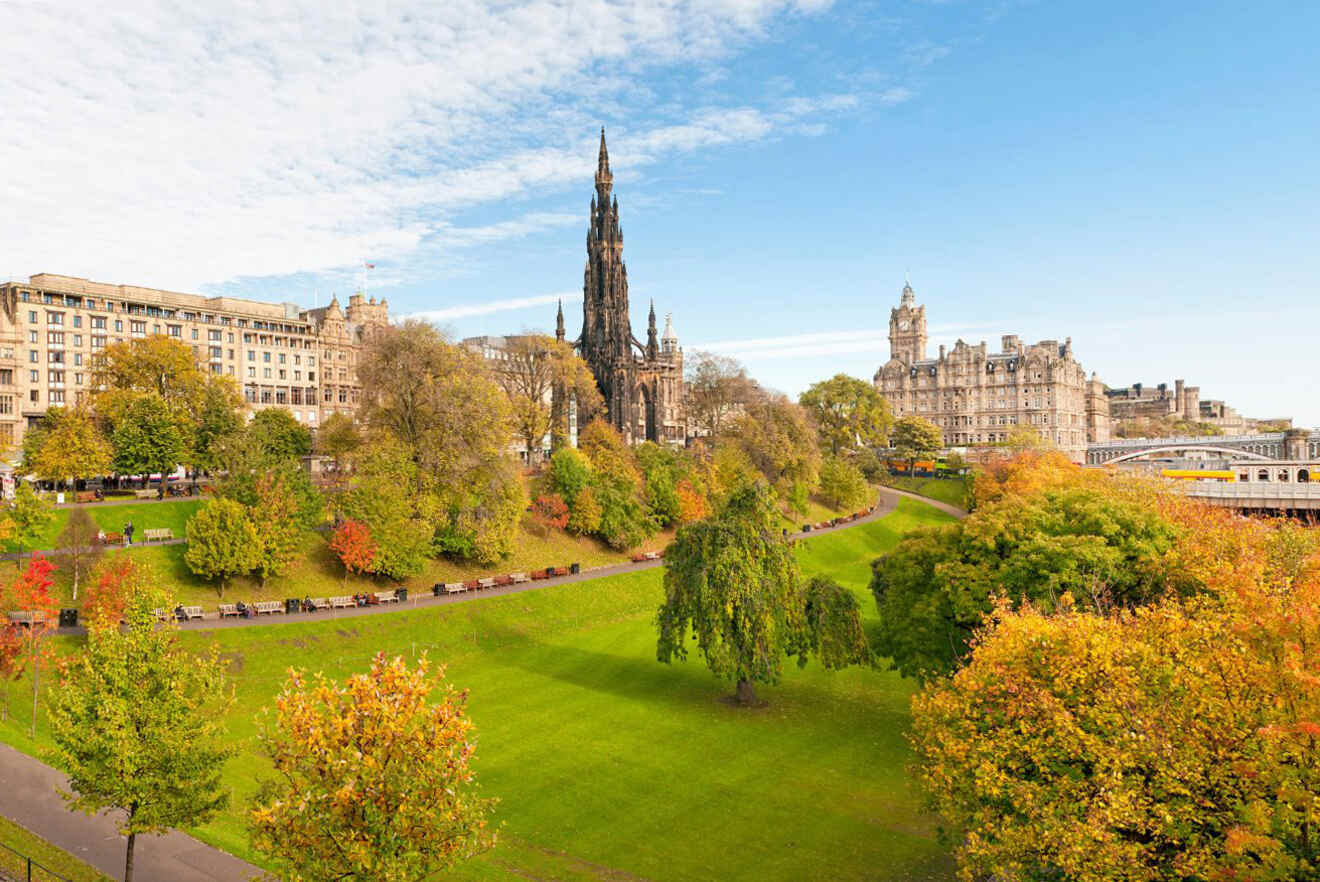 I personally spent most of my time in the Old Town as that is where I stayed in Edinburgh, but I did take some trips to the New Town, just to explore the area and also do some shopping on the famous Princes Street.
A warning though, if you're not a big fan of crowds avoid this street around 5 PM or 6 PM, as it's absolutely packed with people going home from work, children and tourists, even during the low season (I went in November and it was so full).
It takes around 15 min on foot to reach Princes Street from the Old Town, and the walk is pretty cool as it follows cobbled streets and also the Princes Street Gardens which look so beautiful, especially during autumn (there you can see a small monument dedicated to writer Robert Louis Stevenson).
You'll find mostly high-street brands on Princes Street, not so many souvenir shops since most of those are set in the Old Town.
5. Spot some famous names in Greyfriar Kirkyard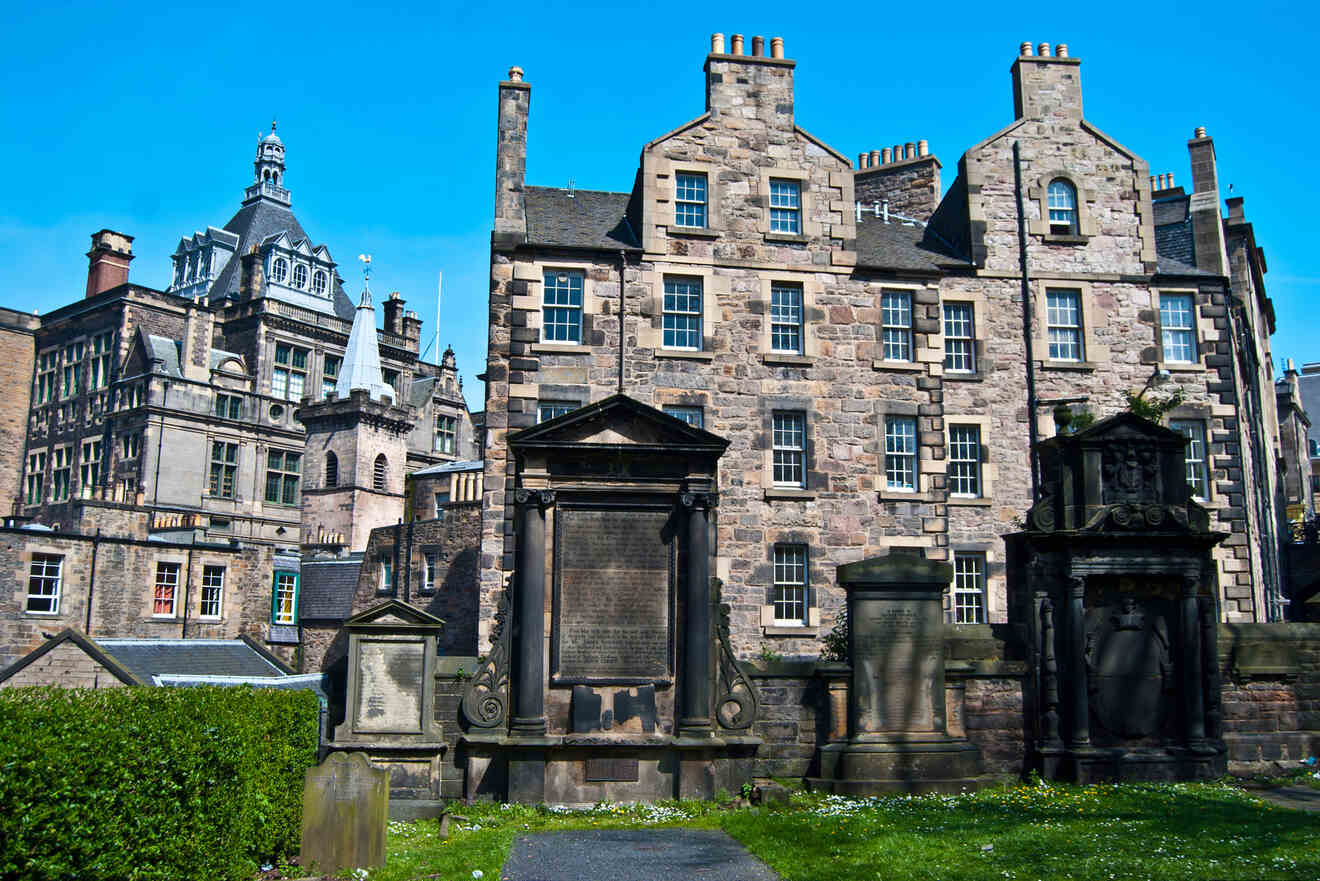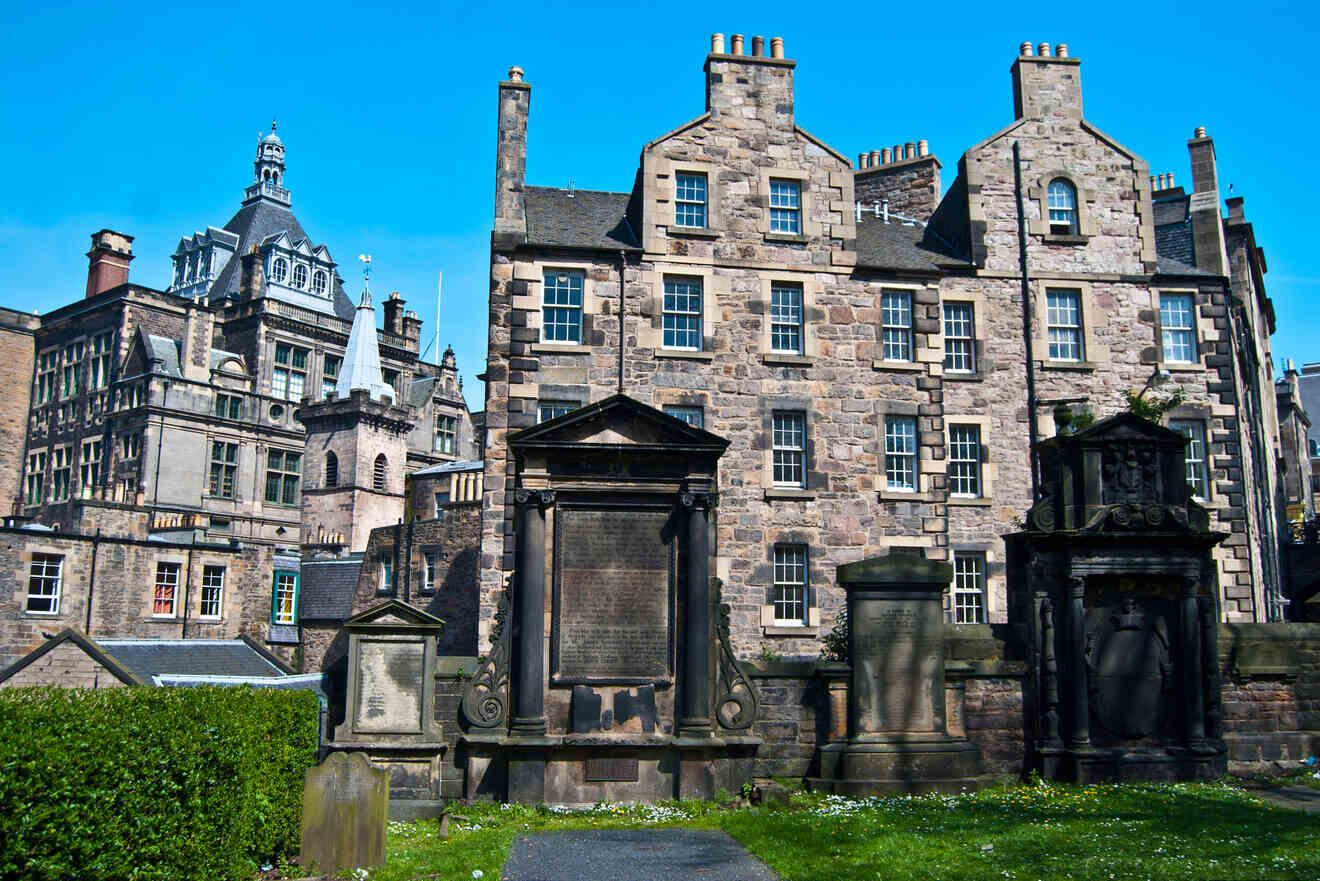 Harry Potter fans, I'm sure you probably know that many places in Edinburgh served as an inspiration for J.K Rowling while she was writing the books. If you go to Victoria Street, you'll feel like you've teleported to Diagon Alley or visit George Heriot's School if you want to see the real-life Hogwarts!
And honestly, when you visit the city you'll understand why it inspired the Harry Potter books! Edinburgh has such a magical atmosphere, and I felt it in many spots!
However, there are certain precise locations that are known for sure to be the places that Rowling frequented when she embarked on this wicked journey. And one of them is Greyfriar Kirkyard.
This graveyard is so famous now because it's filled with names from the Harry Potter movies. The author actually came here and found all these names that she used, but changed them up a bit.
All graveyards give you the chills, but to be honest this one definitely tops all the ones I saw. I definitely felt a vibe as I was walking along and I even discovered how old some of those tombs were with many dating from the 1600s.
Now let's get back to the names! You should definitely look for the names Potter, McGonagall, Charles Black, and the famous Thomas Riddell!
Everything sounds super familiar right?
Also if you want to dive deeper in the Harry Potter world, there are a bunch of tours around the city that you can take. Like this Harry Potter Magical Guided Walking Tour where you can learn more about the locations, play fun games and find out which Hogwarts house you belong to!
Join a Harry Potter Guided Walking Tour
6. Take a day trip to the Scottish Highlands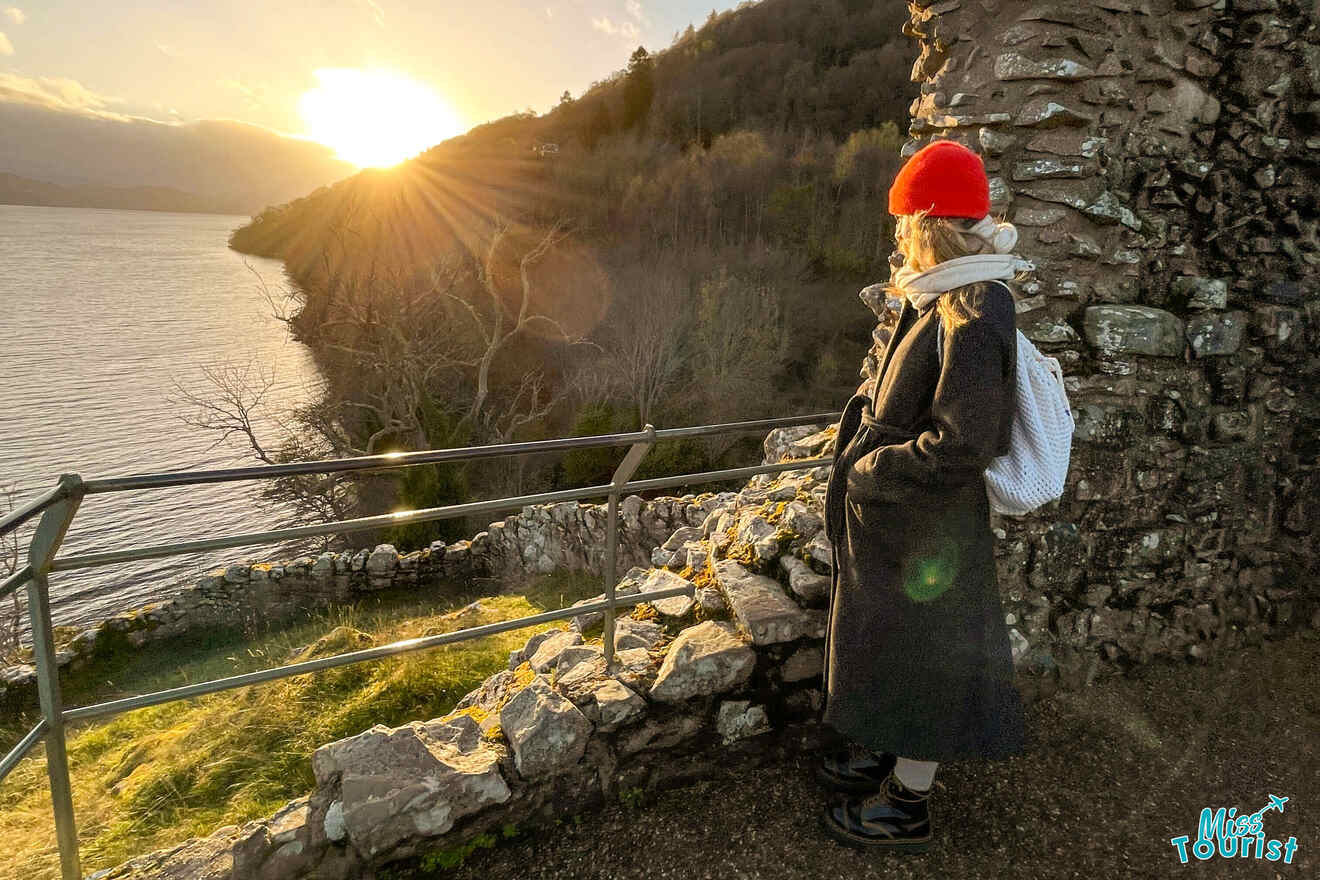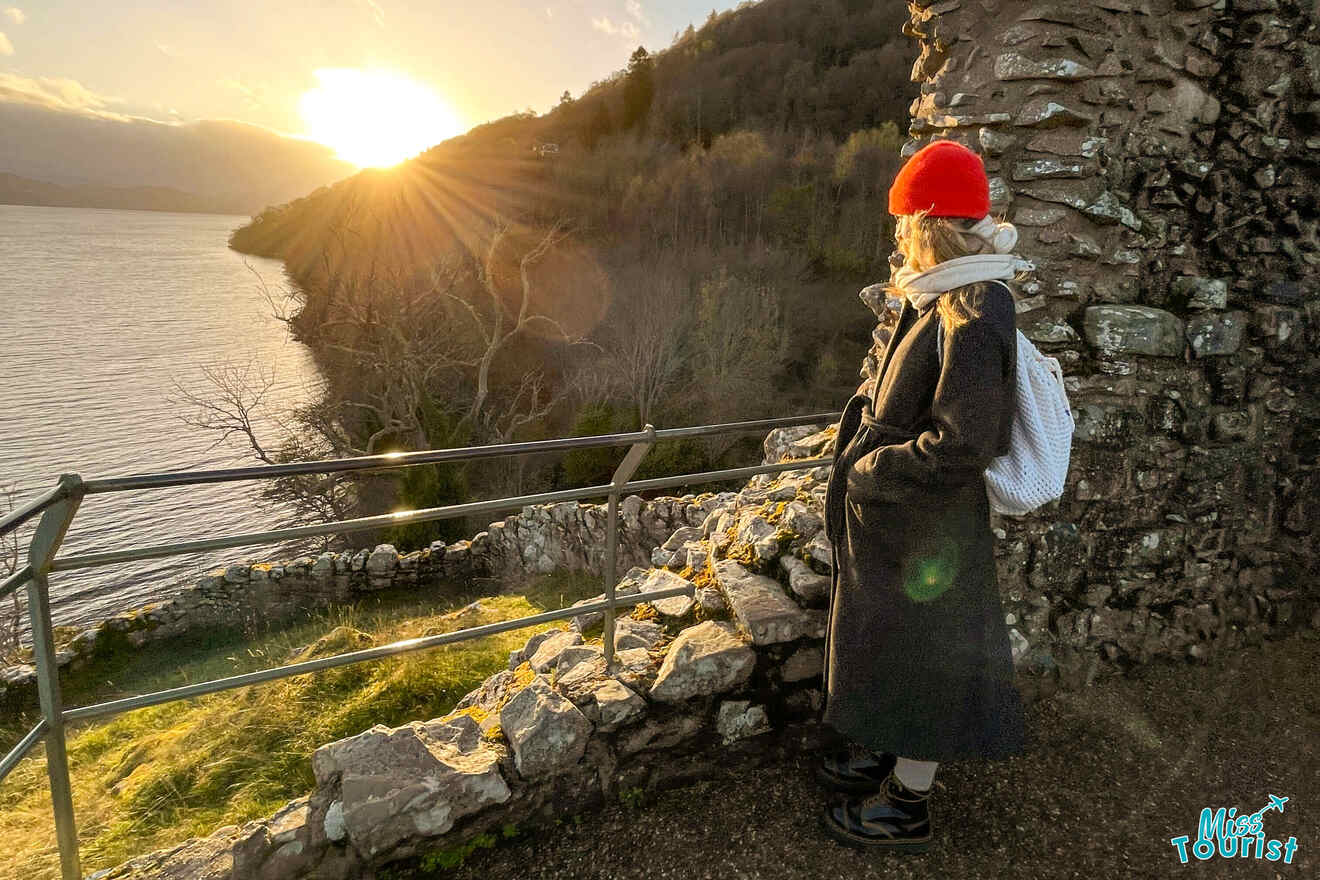 Now this is something that I recommend to anyone who's coming to Edinburgh and Scotland in general! A tour of the highlands!
Although I visited Edinburgh in November, I knew nothing would stop me from seeing the famous Highlands, even if it was cold and rainy! Just like many other Outlander fans (check out the books and tv series if you haven't, they're amazing) I wanted to see those stunning landscapes!
So I went on this day trip tour and it was really fun! Although we drove a lot, we had a super entertaining guide who told us so many interesting things and made the whole trip so much better!
You'll stop in some scenic locations including Kilmahog, Glencoe, Fort William for lunch and then Loch Ness, where you can choose if you want to visit Urquhart Castle and go on a boat ride. That's what I did and I really enjoyed it. The castle offers some amazing views and although it's in ruins there are lots of things to see.
However, if you don't want to do those things then I don't recommend this tour because you'll have to wait around in a cafe for around 2h, which to me it kind of seems like a waste of time.
Join a day trip tour of the Highlands
7. Climb to Arthur's Seat and enjoy the city skyline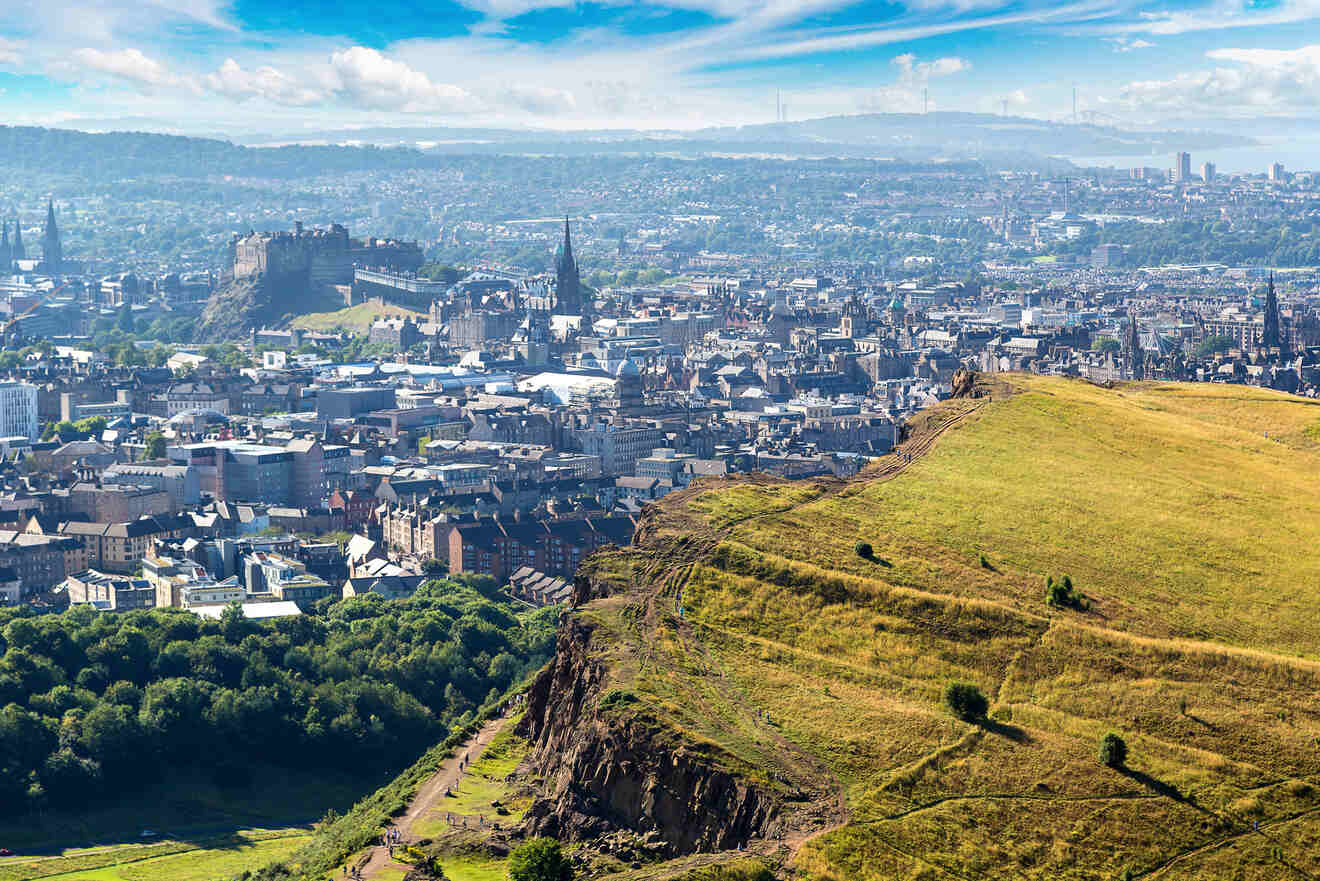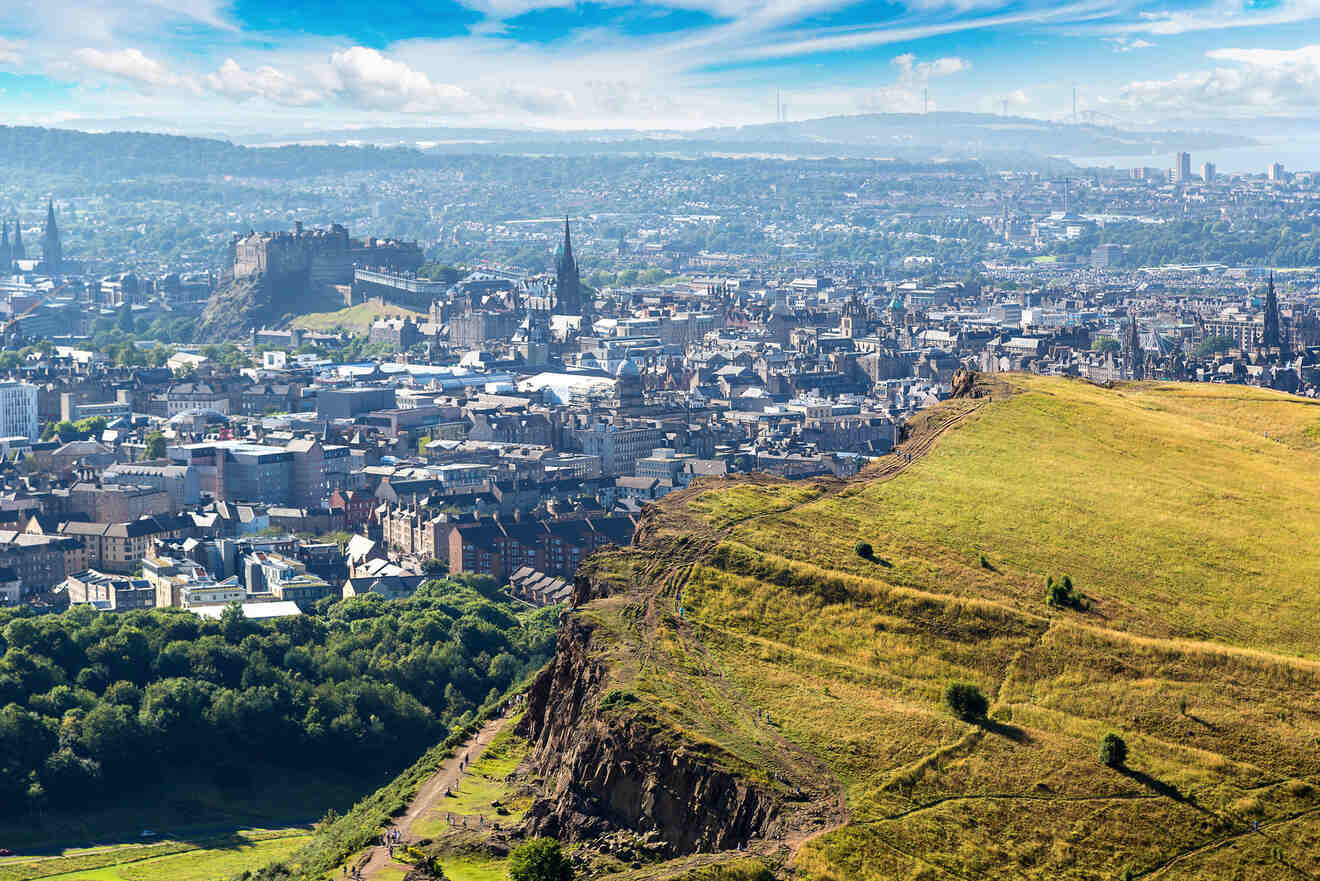 When I say Edinburgh has it all, I'm not kidding! The history, the food, the fascinating culture make this city the perfect tourist destination.
And one thing that I have to say is that it's an absolute paradise for outdoor lovers! I mean we know that the Scottish Highlands are super amazing but I love the fact that you can do outdoorsy things in the city too.
Like climbing Arthur's Seat in Holyrood Park, which forms the largest part of the big extinct volcano that once stood in Edinburgh (with the other parts being Castle Rock and Calton Hill). This is such a unique chance as there are few cities that have a dormant volcano right in the center.
Arthur's Seat is thought to be the possible location for Camelot, the legendary castle of King Arthur!
Sounds pretty exciting right? The hike isn't so bad either, but I recommend wearing comfortable shoes and thick clothes as it can get super windy. It takes around 50 min of walking to get to the top of Arthur's Seat from Old Town Edinburgh.
PRO TIP: I recommend combining your climb with the visit to Holyrood Palace since they're basically in the same place. That way you can rest a bit around the palace before heading up. And since you're in this part of town you can also walk or take a bus to Leith to see the Royal Yacht Britannia!
8. Learn more about Scottish history in Dean Village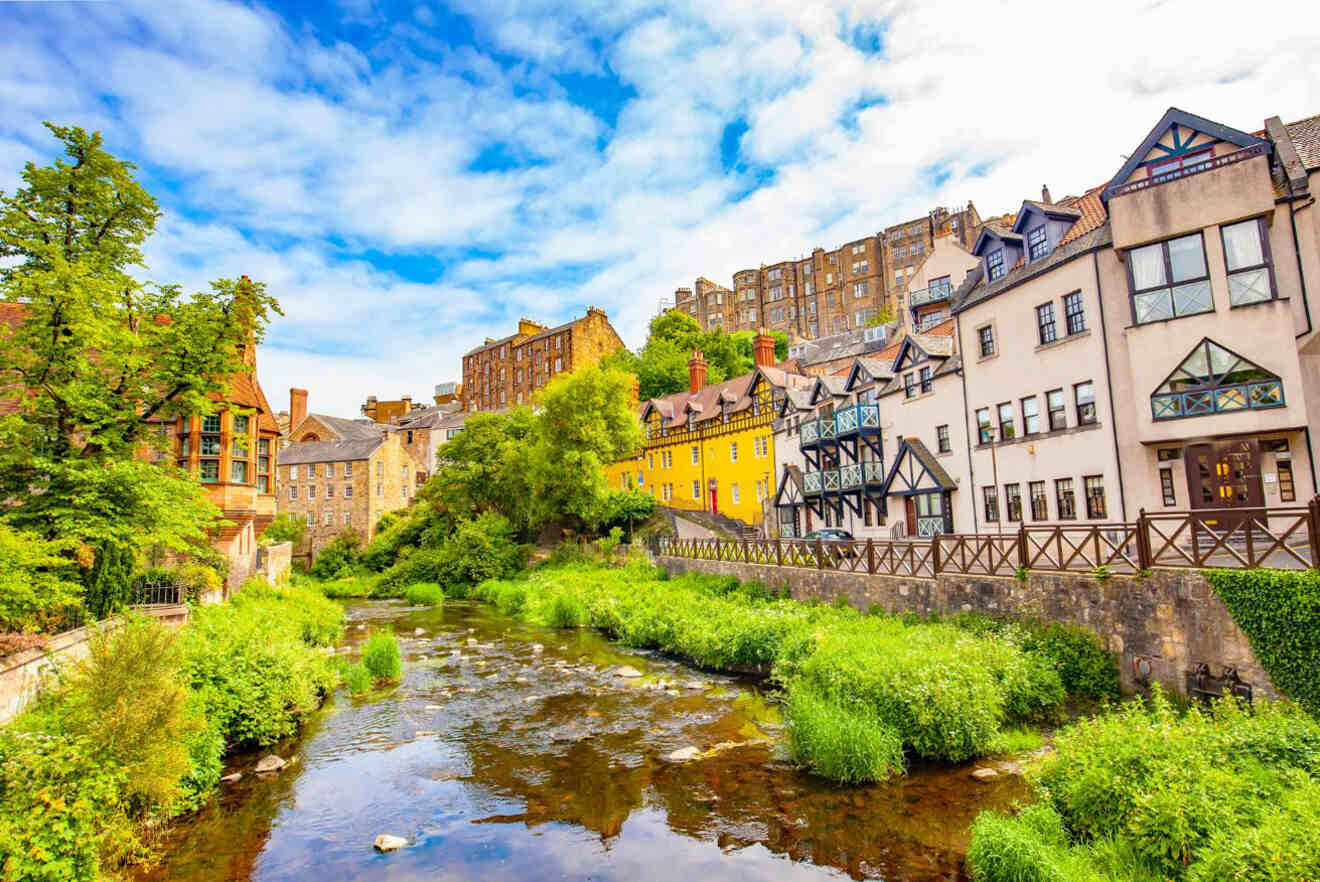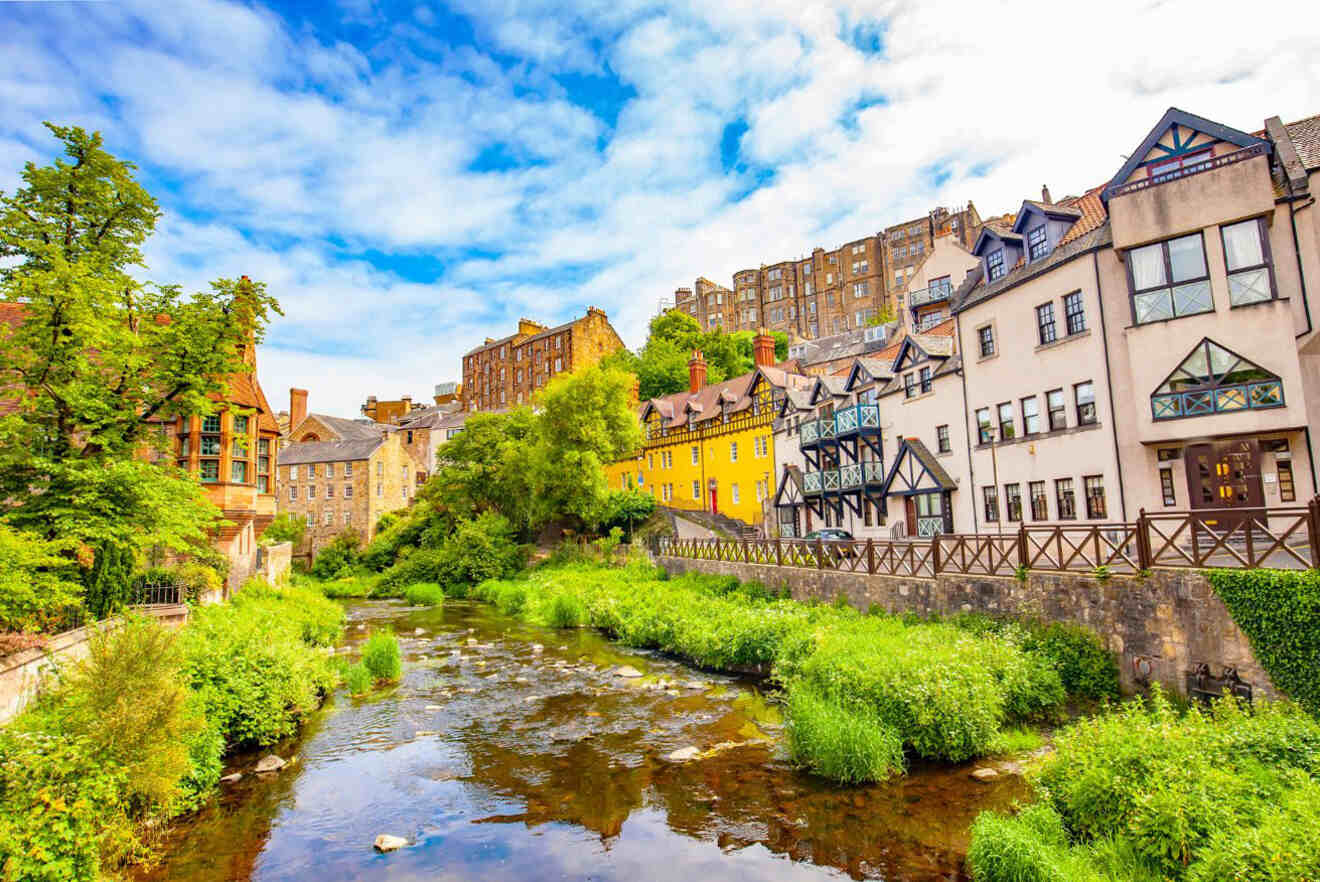 If you've exhausted all the attractions in town, then you'll be happy to know that there are numerous other places right near Edinburgh which you can explore.
One of them is Dean Village, which is located just a 30 min walk away from Old Town Edinburgh.
As you walk around the little village which is so picturesque, you'll fall in love with its uniqueness, especially once you reach the Water of Leith. Dean Village played a key role in Edinburgh's milling industry and you'll probably see that as you explore the area.
If you're looking for some specific places to visit here, make sure you drop by the Well Court, a 19th century house that has kept its original appearance and St Bernards Well, which is such a beautiful piece of architecture!
9. Join a tour of Mary King's Close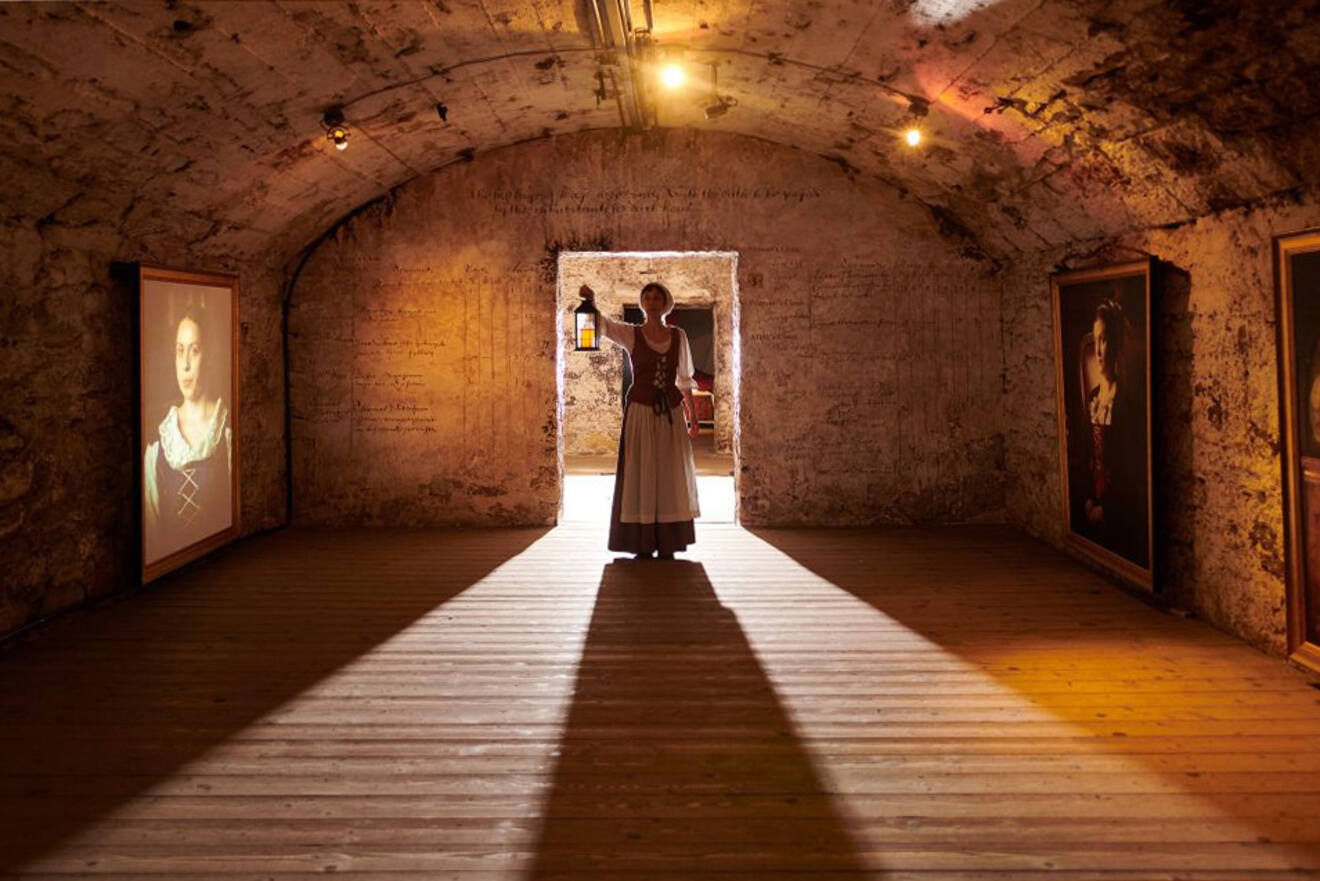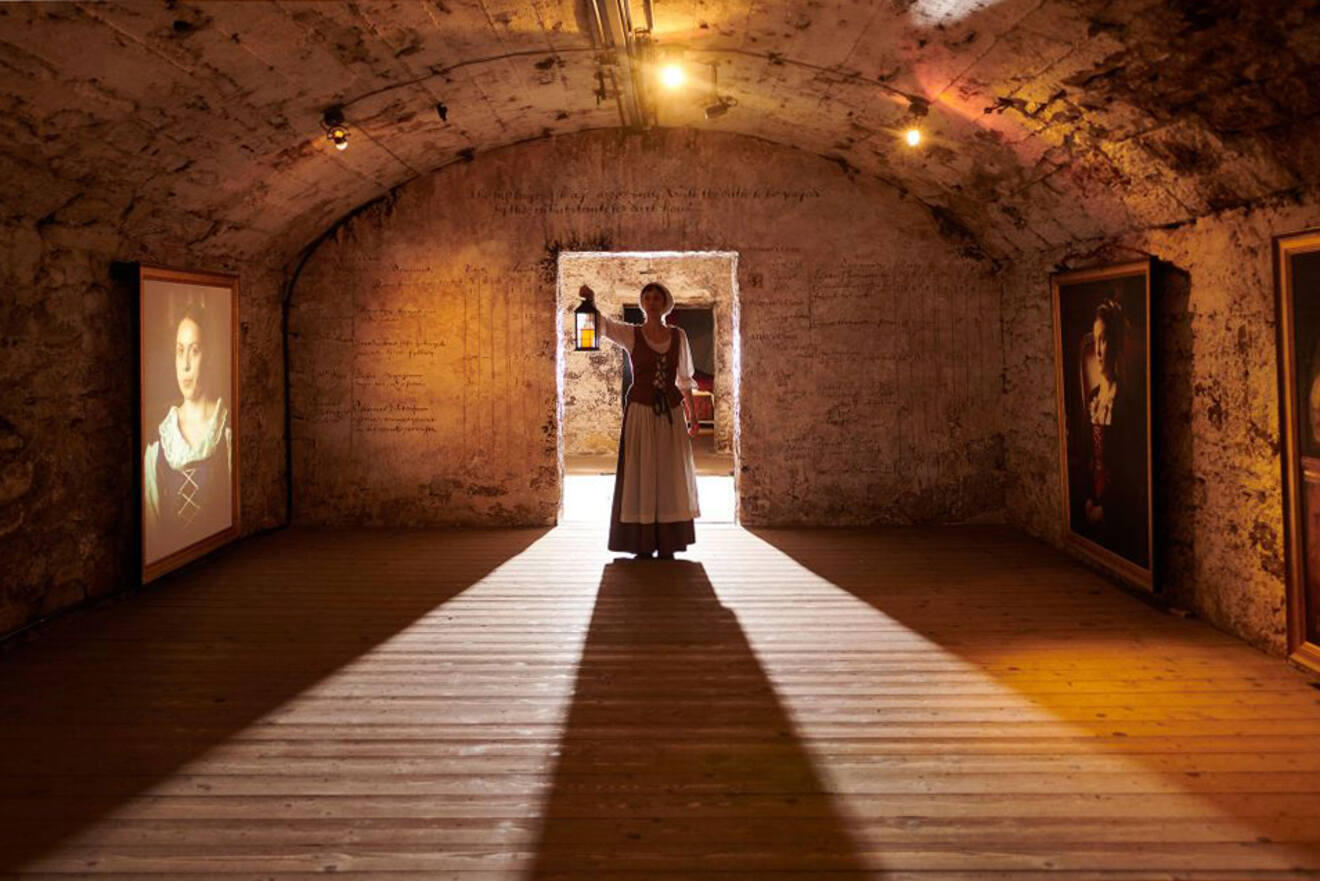 If you're interested in Edinburgh's history and want to learn more about its past then I'd definitely recommend exploring Mary King's Close. If you don't know what this is, it's actually some streets and underground passages dating back to the 17th century in the Old Town which were almost destroyed.
Luckily for us they weren't! And now you can actually walk around these narrow alleyways which are called "closes"!
Although you can do that by yourself I would recommend going on this guided tour where you can actually learn super interesting stories about these iconic streets!
Book the Real Mary King's Close tour
10. Admire the art at the National Galleries of Scotland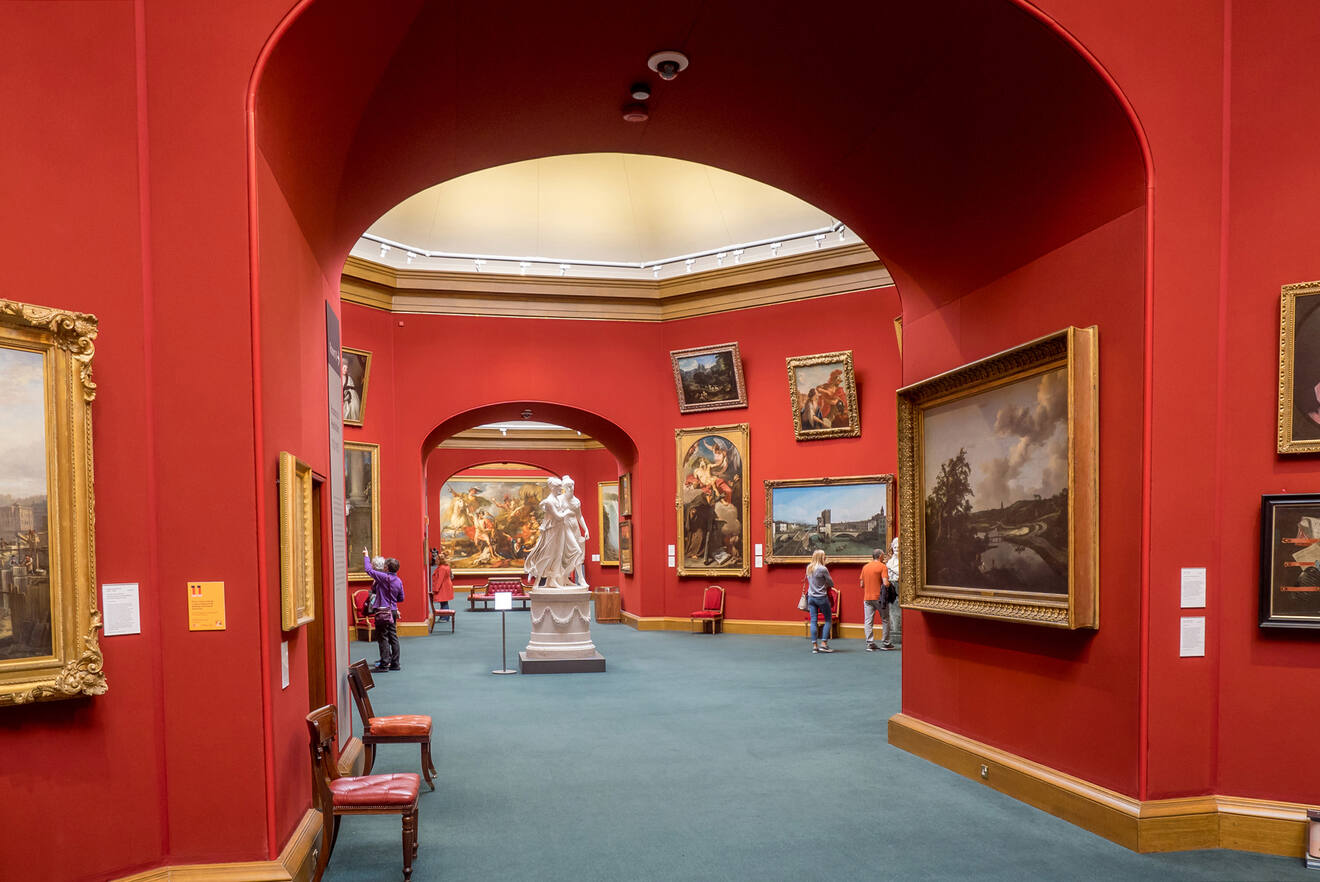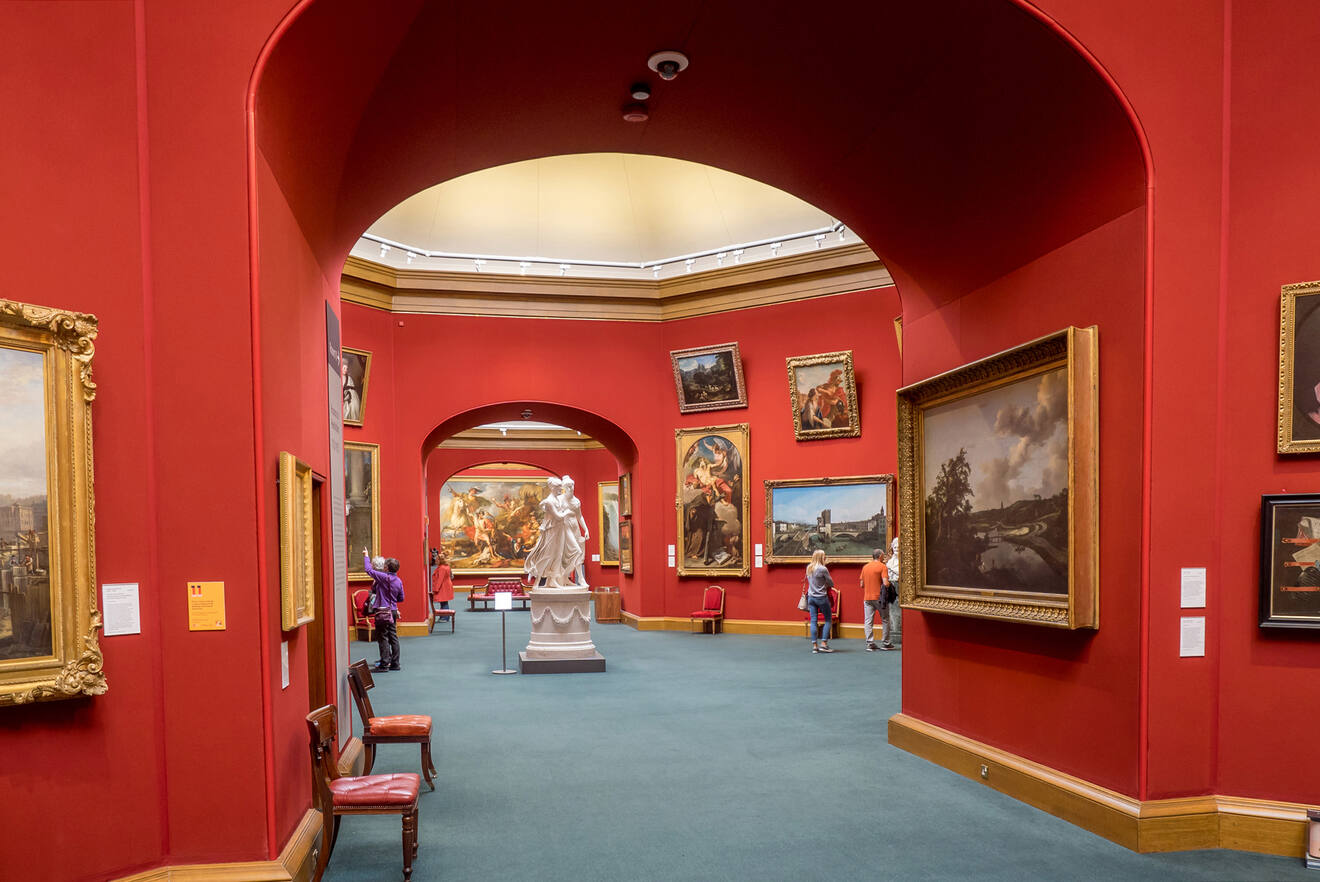 Fancy seeing some beautiful art? Then follow me and let's discover the main 3 places where you can do that in Edinburgh for free!
10.1 Scottish National Gallery
This is the art gallery that I visited and I loved seeing all the pieces by Botticelli, Raphael, Velázquez, Rembrandt, and by some Scottish artists like Ramsay, Raeburn and Wilkie as well.
The Scottish National Gallery isn't super big and it's located right near Princes Street so you can combine it with your shopping trip there.
PRICE: Free
10.2 Scottish National Gallery of Modern Art
Made of 2 buildings; Modern 1 and Modern 2, this museum is home to Scotland's national collection of modern art and contemporary art!
The Scottish National Gallery of Modern Art hosts works of art by Picasso, Matisse, Peploe, and Fergusson.
PRICE: Free
10.3 Scottish National Portrait Gallery
Located in one of the most beautiful buildings in Edinburgh, the Scottish National Portrait Gallery was opened in 1889 as the world's first purpose-built portrait gallery.
Now it showcases some beautiful paintings of important Scottish figures like Robert Burns, Sir Walter Scott, Mary Queen of Scots, and Prince Charles Edward Stuart (the famous Bonnie Prince Charlie).
PRICE: Free
11. Buy cool souvenirs from the Museum of Context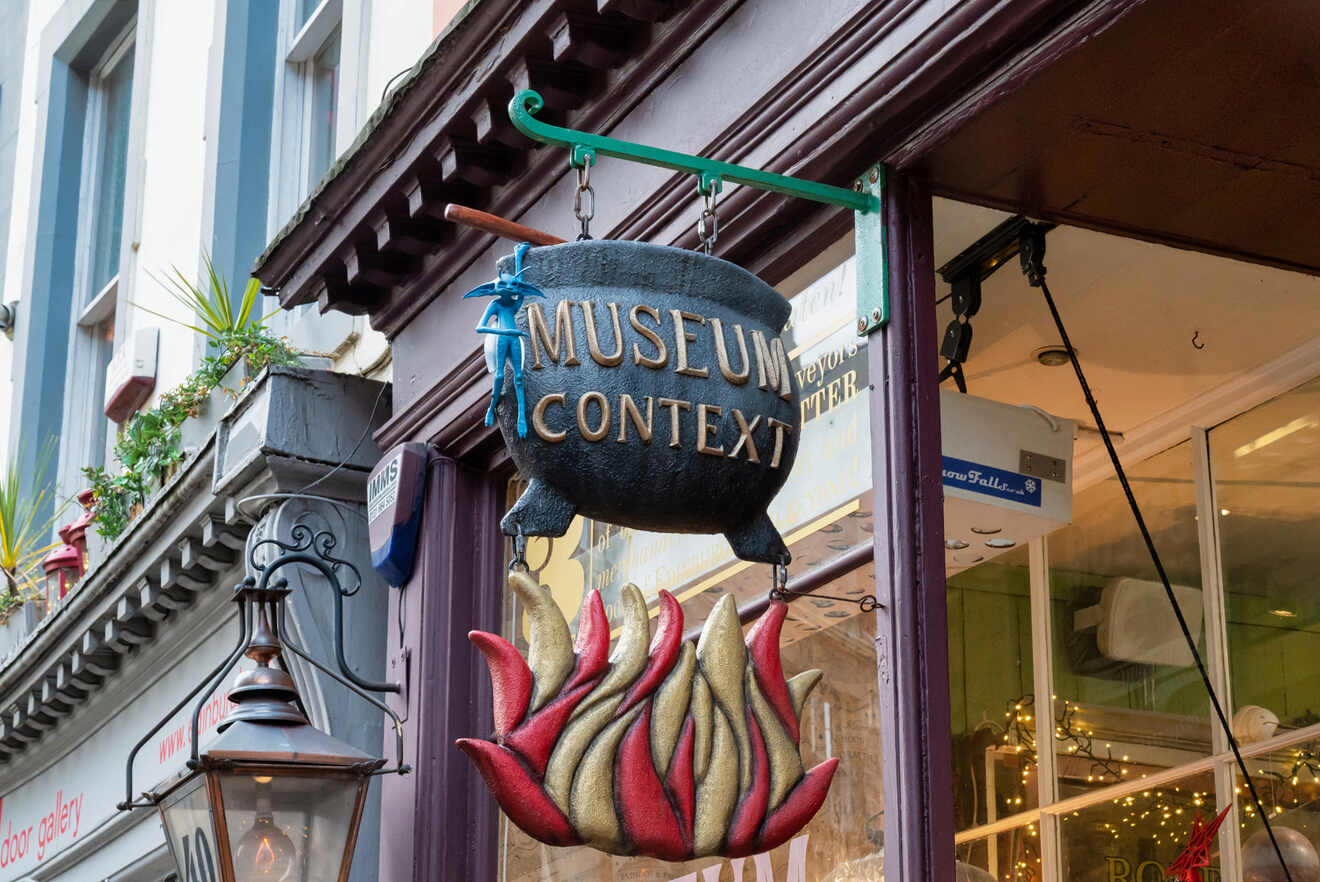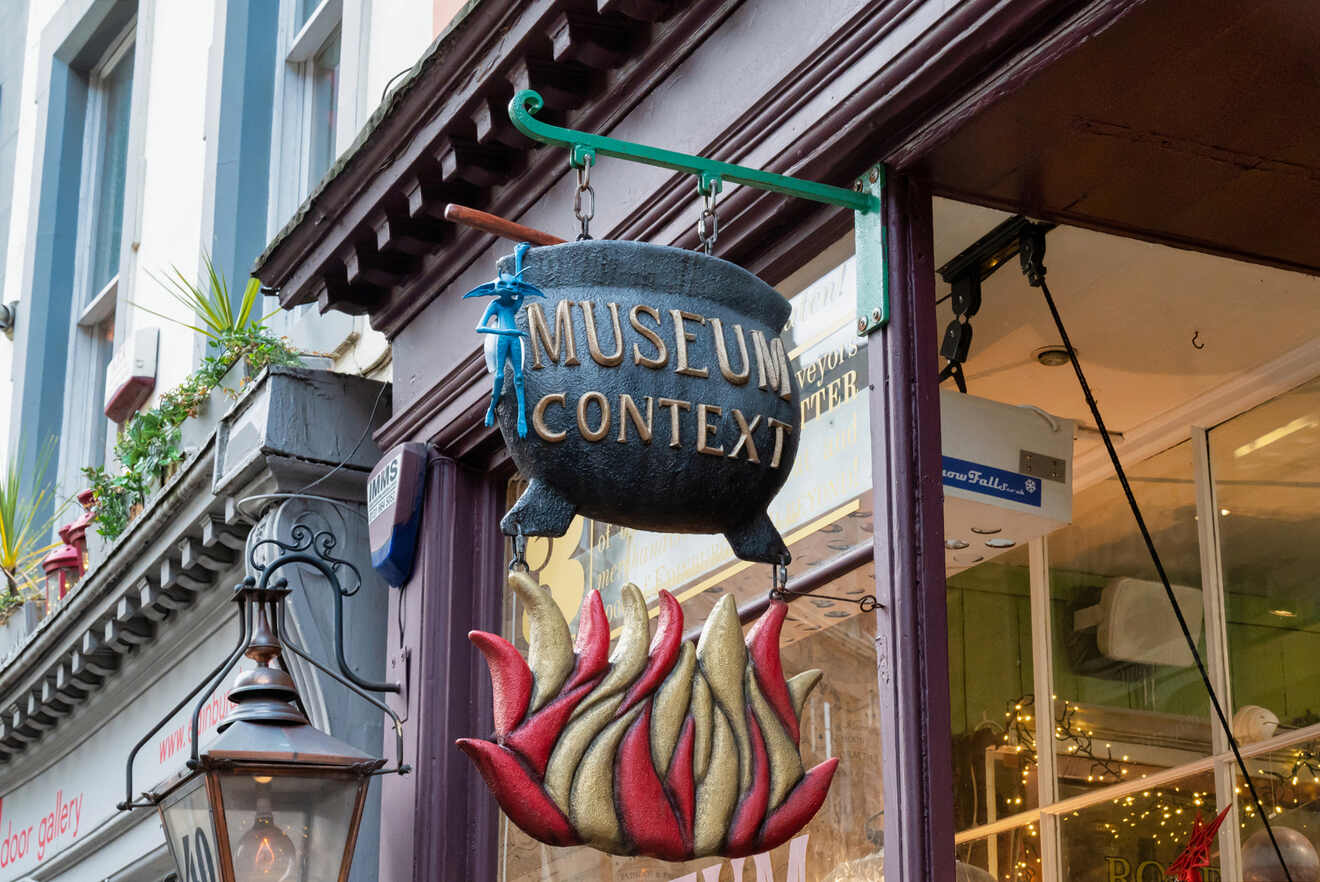 You can't leave Edinburgh without paying a visit and maybe buying something from the Museum of Context, which is basically a gift shop filled with Harry Potter stuff!
Locked on Cockburn Street, this shop is an absolute paradise for anyone who's into the Harry Potter books and movies! Packed with wands, owls, books and lots of wicked things, this store is unmissable!
It kind of reminds me of all the cute stores and shops on Diagon Alley and it surely has a special vibe! I loved seeing all the Harry Potter merchandise and the spectacular wands (although nothing happened when I picked one up, but maybe I should've tried the other ones too!)
12. Stop by St. Giles Cathedral on Royal Mile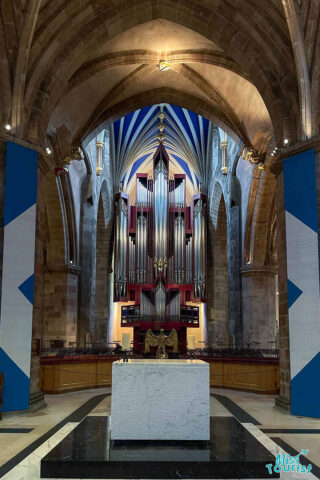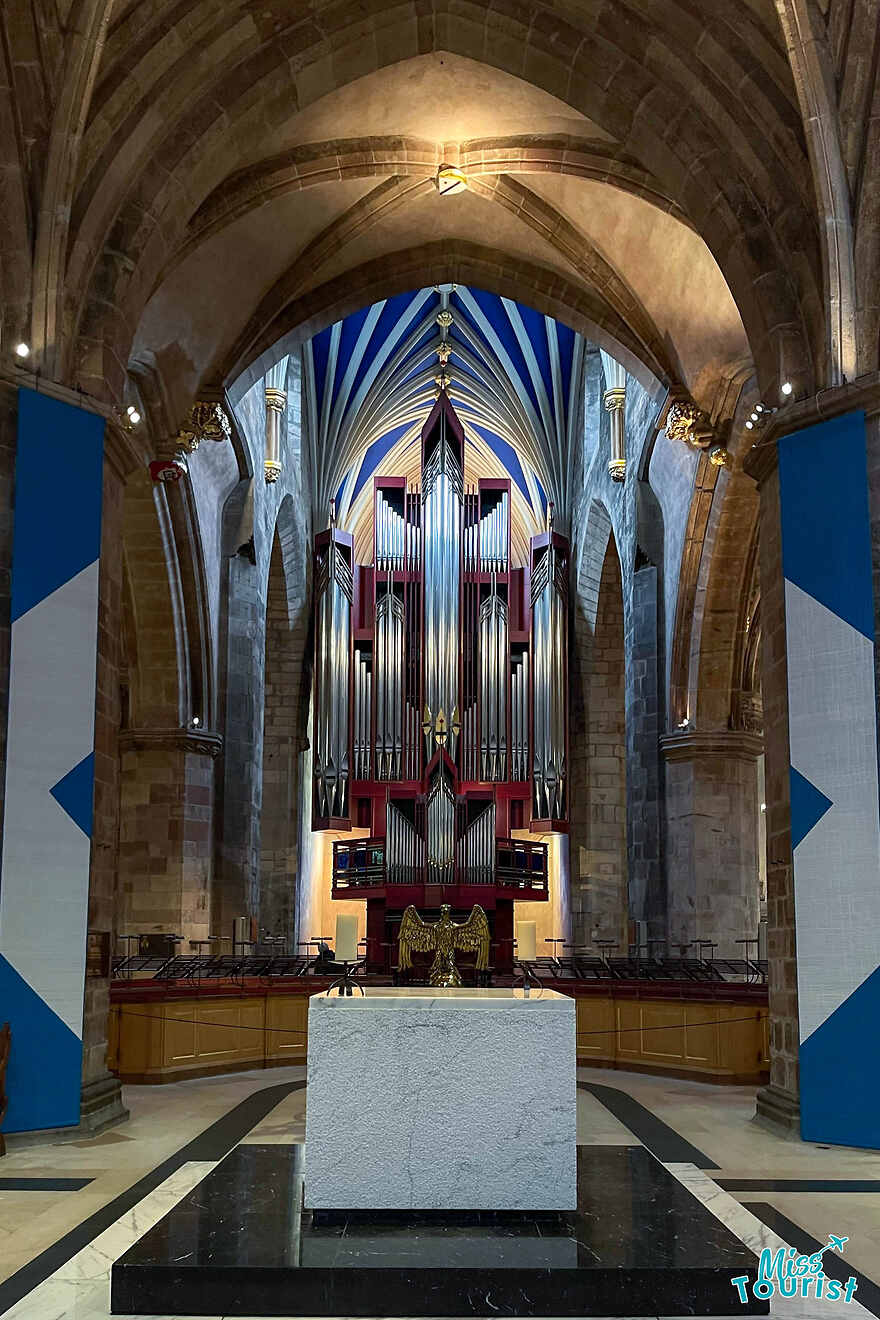 Looking for some free things to do in Edinburgh? Then, make sure you visit St. Giles Cathedral, the major church in the city and a great place where you can learn more about the local history.
You'll easily spot the Cathedral as you explore the Royal Mile. Its Gothic architecture which is so common to Edinburgh and grandiose, will convince you to step right in!
I loved walking around it and going inside, where you can even sit for a bit and admire the interiors as well, which are just as spectacular!
While you're inside, make sure you check out the Thistle Chapel, which was built to commemorate the Order of the Thistle, a 17th century organization of knights who protected Scotland!
13. Visit Rosslyn Chapel (for the Da' Vinci Code fans)
Oh yes! If you've read or watched the Da Vinci Code then you probably know this place! If you haven't, then first I recommend doing that and then visit the chapel when you're coming to Edinburgh!
To give a bit of background, the Rosslyn Chapel is set just a 40 min drive away from central Edinburgh. It is easily reached by several buses (like 37, 47 and X62) that go straight there, but if you want all the convenience you can take a tour from Edinburgh to explore the Chapel and its surroundings.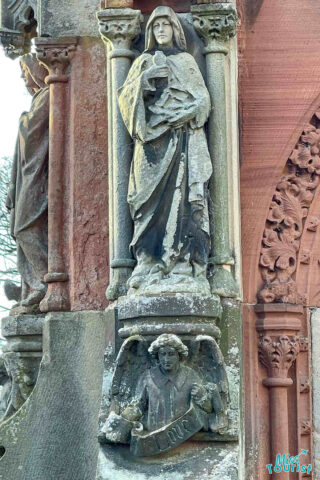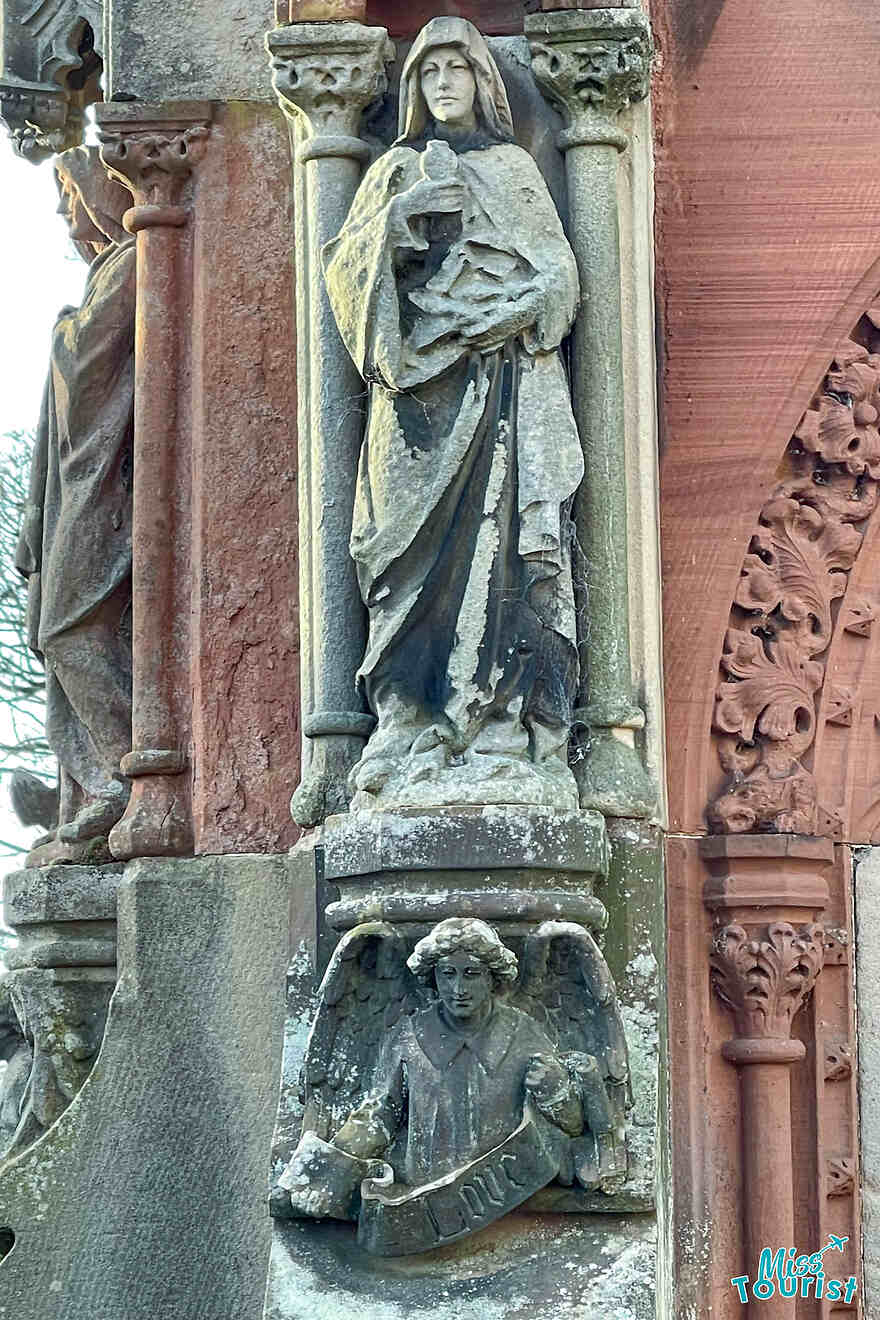 Built-in 1446 by Sir William St Clair, the Chapel has attracted numerous painters, writers and individuals over the years.
Somehow it became popular with the general public when Dan Brown included it in his iconic book and later in the movie. They actually filmed the scenes in the Chapel, which makes it even more amazing!
The place is absolutely unbelievable. Everything from the architecture to the history (the controversial connection with the Knights Templar) make this place a must-see while you're in town.
I absolutely loved it here! I mean the interiors are just as fascinating as the exteriors and you can spend hours analyzing the symbolism and all the carvings!
NOTE: I recommend buying your tickets in advance, just because it gets so many visitors.
PRICE: £10
Take a Tour to Rosslyn Chapel
14. See the pretty flowers at the Royal Botanic Garden
With so many fun things to do in Edinburgh, it's easy to miss out on some of the attractions. But don't worry, if you go by this list, I'm sure you'll enjoy your trip to the fullest!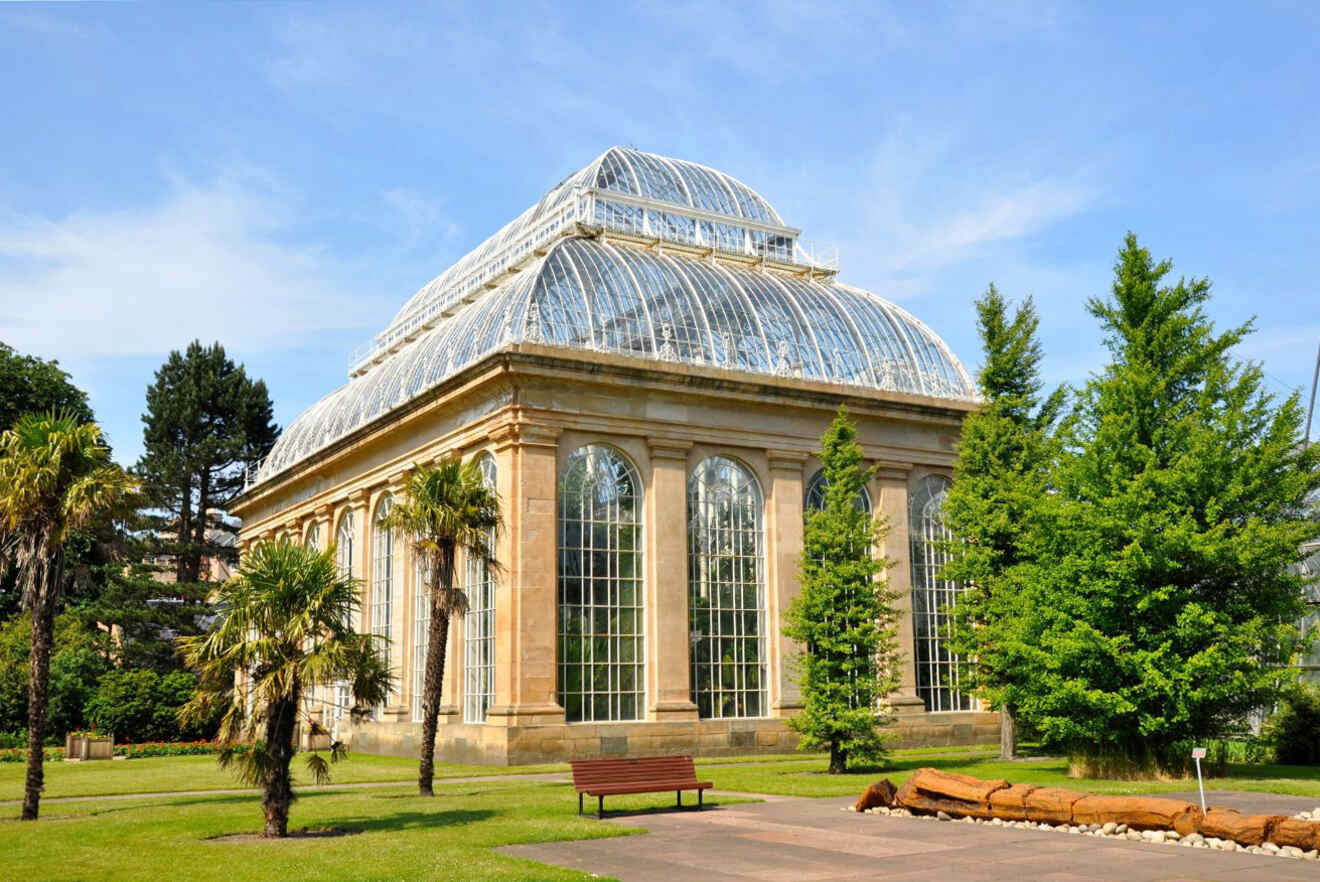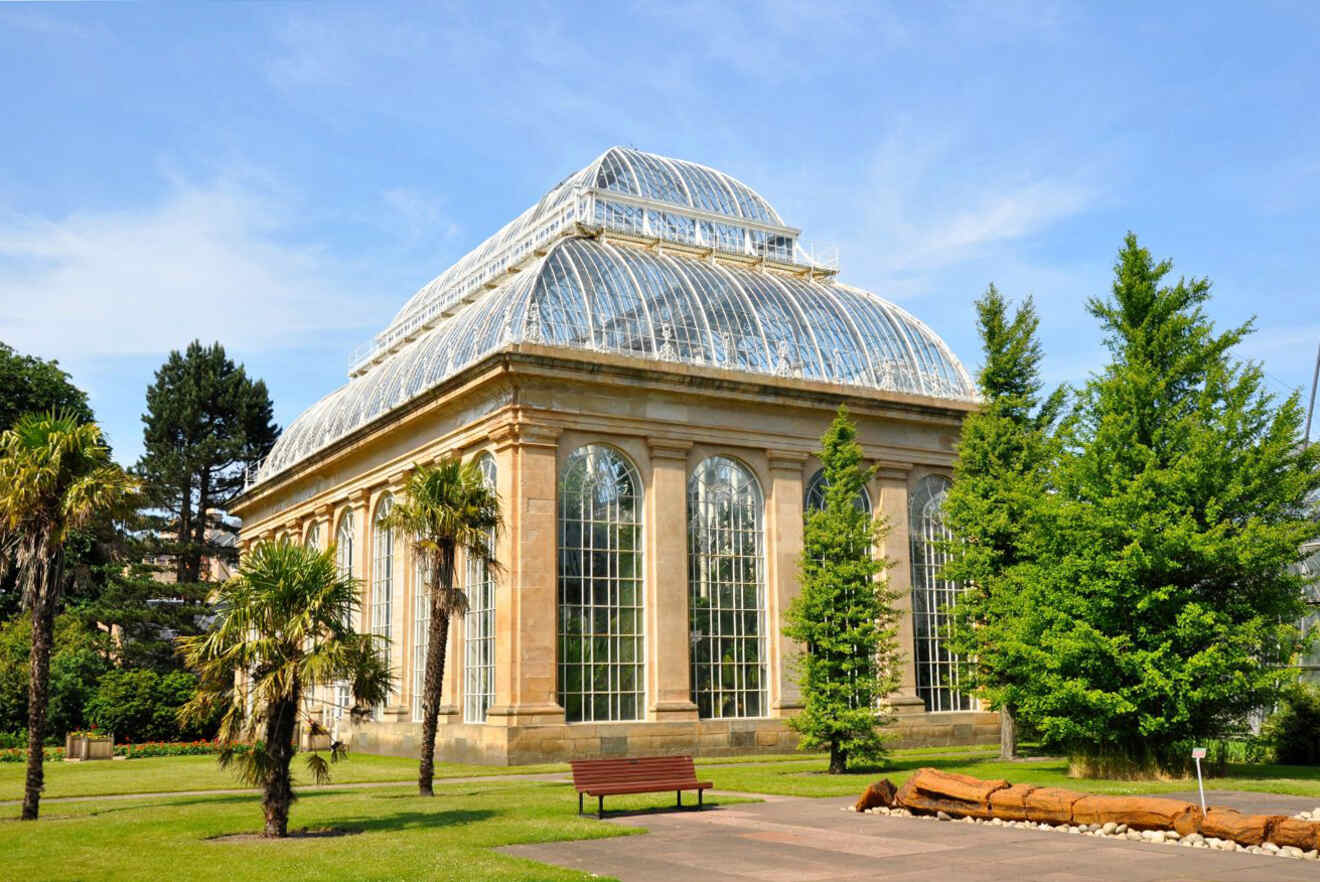 I couldn't exclude the beautiful Royal Botanic Garden, which is located a 20 min walk away from the New Town.
Built-in 1670 with the purpose of studying plants, the Royal Botanic Garden is nowadays used for the conservation of certain species, learning, and of course as a tourist attraction!
The extensive grounds are home to the garden which hosts around 275,000 plants and also to an art gallery set in an 18th-century mansion called Inverleith House!
PRICE: Free
15. Visit the Holyrood Palace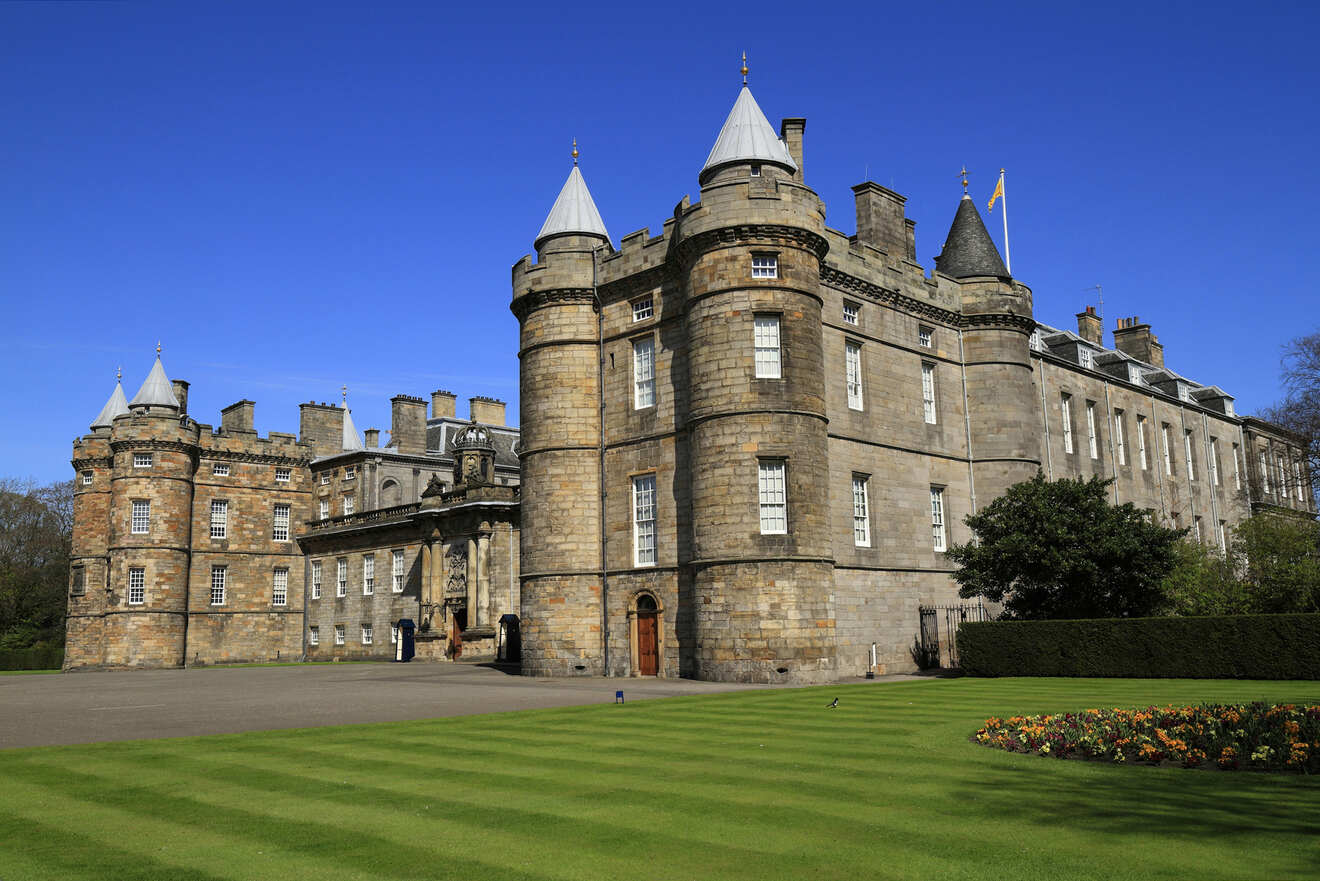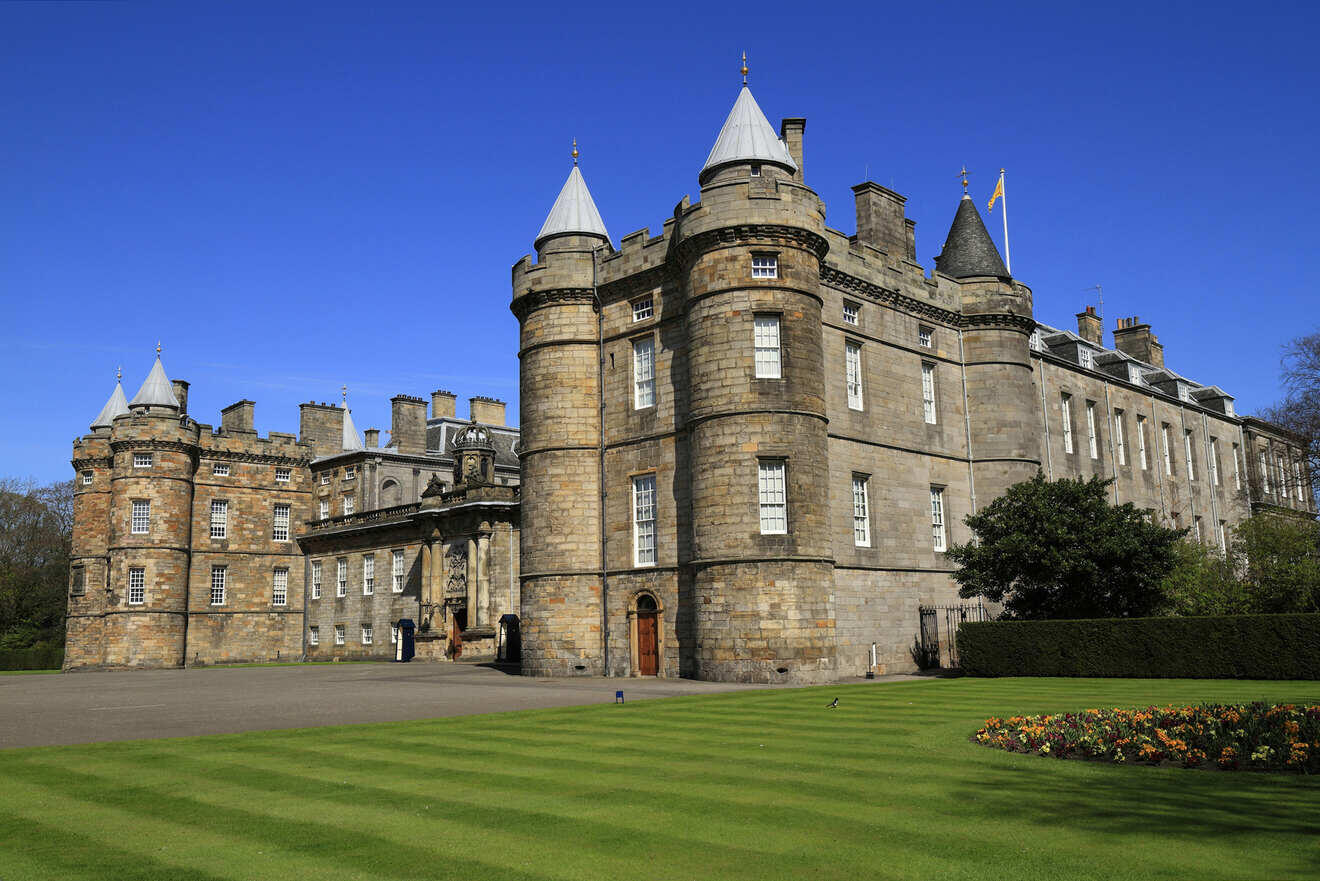 Welcome to the Scottish residence of the British Monarchy! Located not too far from the Scottish Parliament, right near Arthur's Seat. The palace is surely a must-see for history buffs or for those interested in Scottish history!
Fun Fact: Apparently the Palace is haunted by numerous ghosts including one of the ladies-in-waiting of Mary Queen of Scots and Agnes Sampson, a woman who was accused of witchcraft.
And there were people who said they actually saw some of these ghosts! I personally didn't spot anything but there was definitely a weird atmosphere in this place!
While you're here (if you're not too distracted by the ghostly stories), make sure you see the chambers of Mary Queen of Scots who lived here between 1561-1567 and the almost demolished abbey which was used as a location for the Scottish Parliament from the 13th to the 15th centuries.
PRICE: £18
Get tickets to Holyrood Palace
16. Grab a coffee at the Elephant House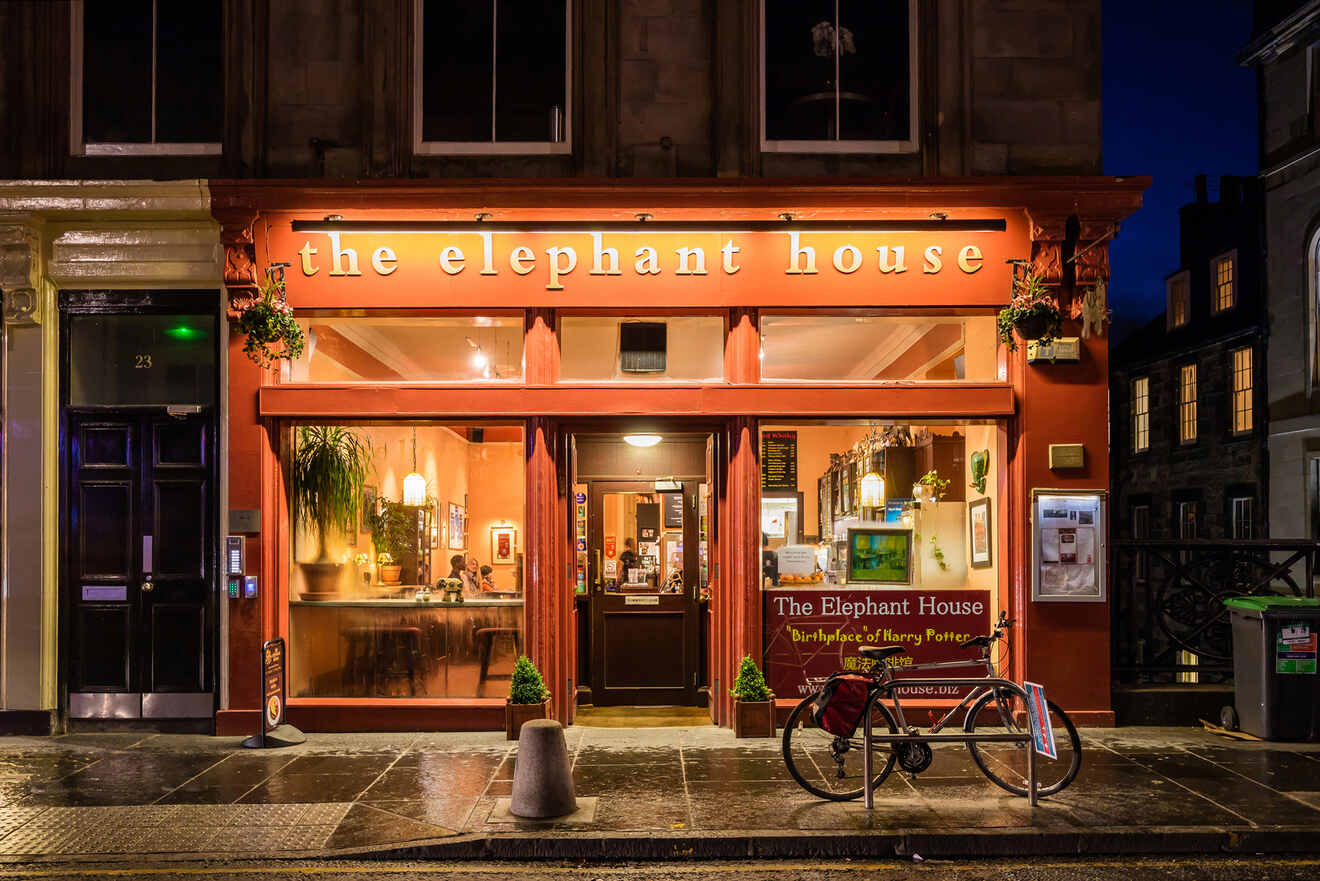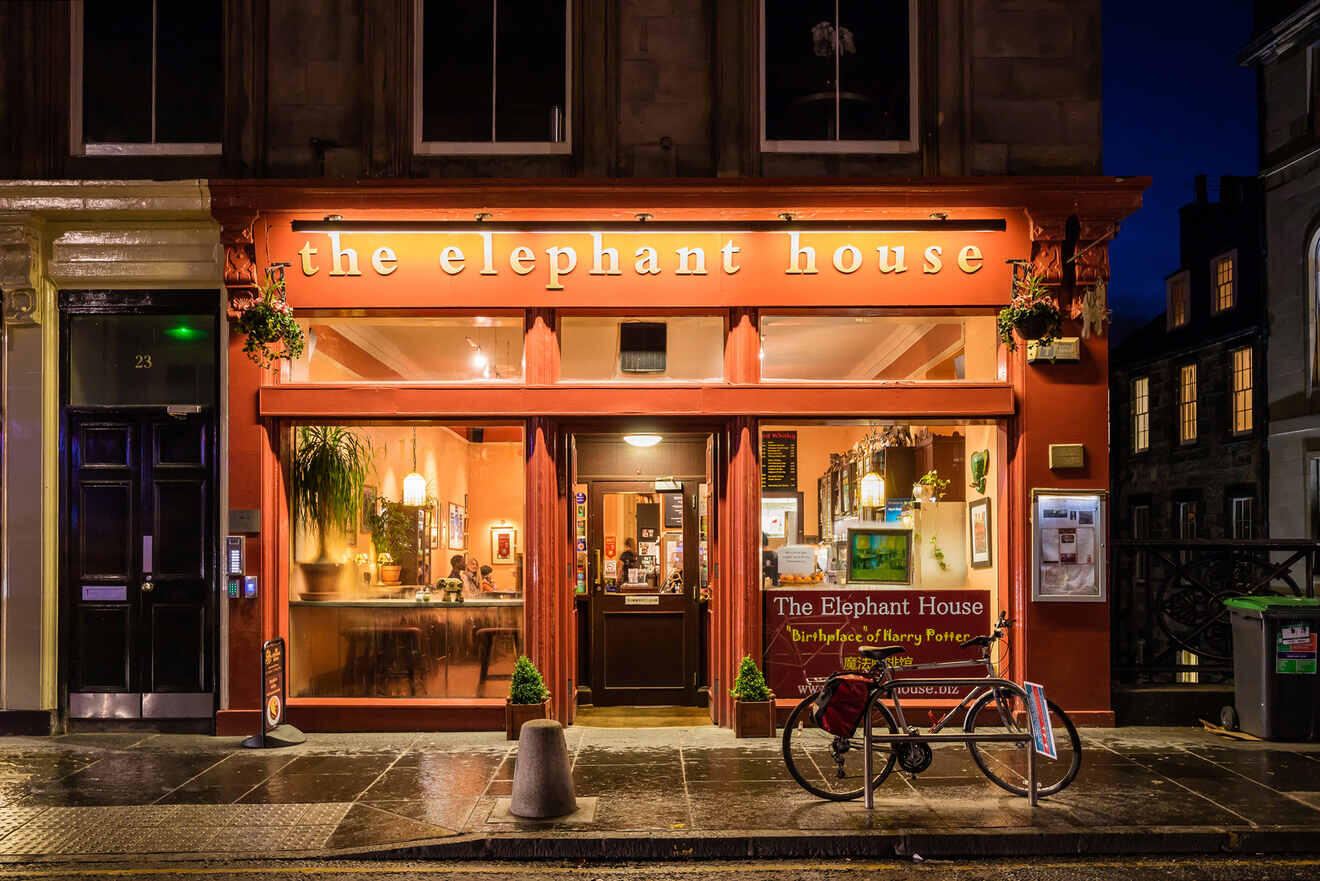 Known as the birthplace of Harry Potter, this cafe on George IV Bridge street is the place where JK Rowling wrote some of her books!
NOTE: At the moment the cafe is temporarily closed so make sure you check before heading there
I personally didn't get to visit it as it was closed, but I think it's such a cool place to see while in town!
17. Travel back in time at the Georgian House Museum
Edinburgh is like a chest full of gems for historians! There's no end to the list of attractions here and I think some of you will really love this one!
The Georgian House Museum offers a glimpse into the past, where you can see how the rich people of Edinburgh used to live during the 18th and early 19th in the New Town.
Right next to the museum, at Number 6, Charlotte Square you'll find the official residence of the First Minister for Scotland!
But while you're exploring the Museum make sure you look for the extensive collection of furniture, porcelain, and the stunning chandeliers that were used during that period!
PRICE: £10
18. Pay your respects at the Witches Well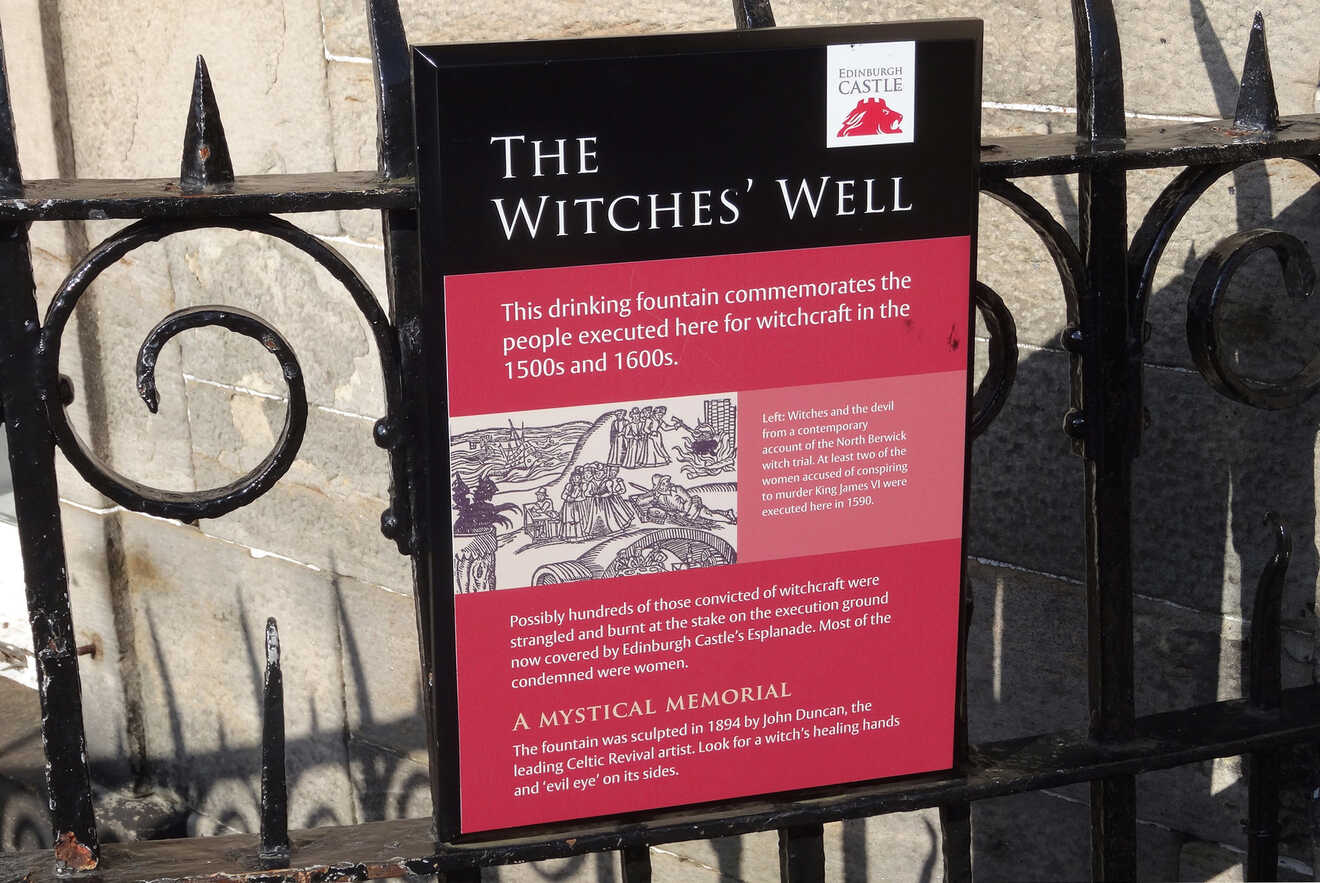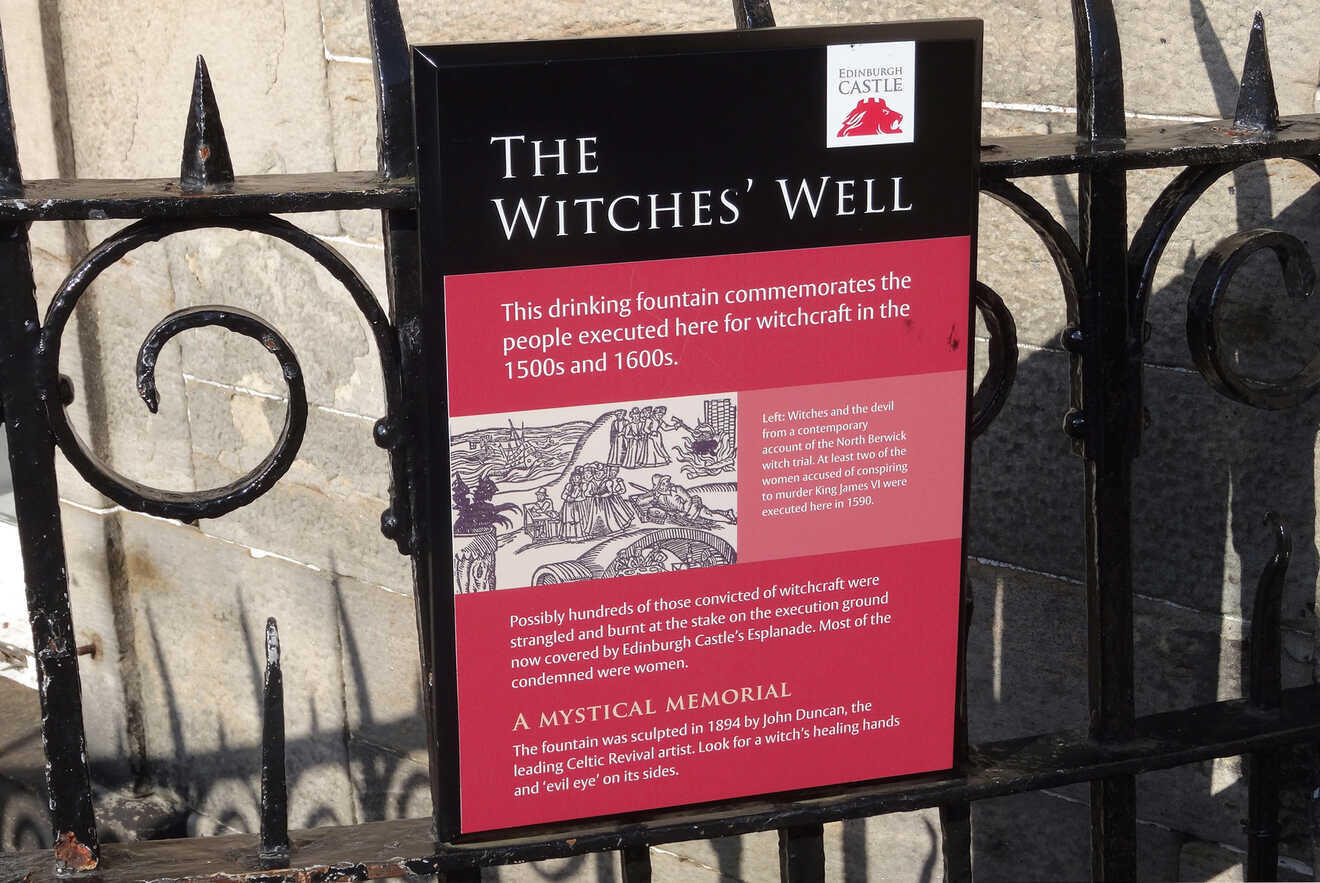 A few centuries ago many women were killed during the witch trials that took place all over Europe and in other places off the continent like Salem!
That put a big black mark in women's history and unfortunately, Scotland also saw the deaths of many who were usually midwives, herbalists, and wise old women.
Most of them were killed during the reign of King James VI, usually at Edinburgh Castle. Now, there's a small fountain there that commemorates the lost lives of 300+ women who died hanged or burned to the stake.
Called the Witches Well, the little fountain is beautifully designed and usually has a bucket of flowers!
19. Go on a whisky-tasting tour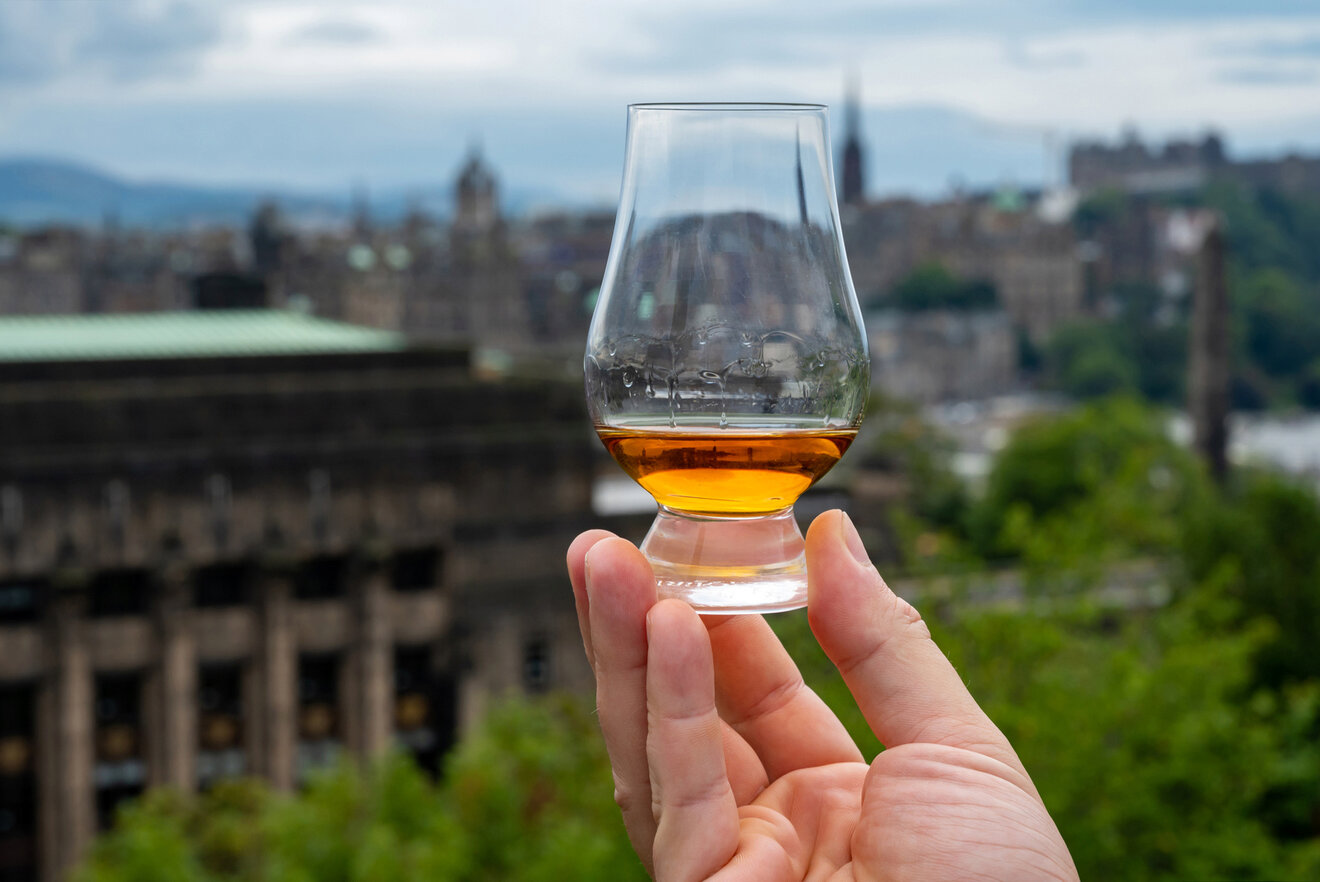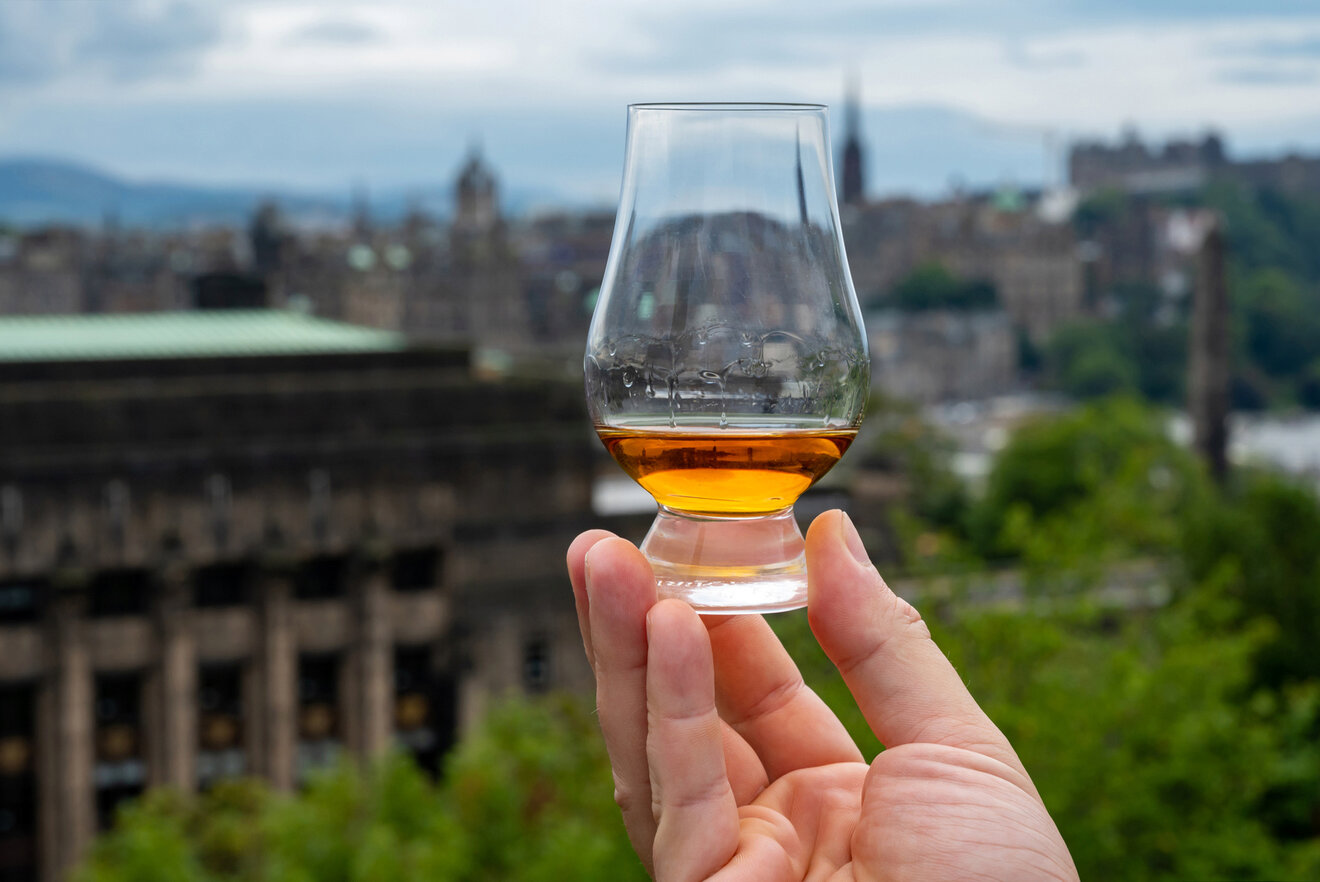 If you've searched some facts about Scotland you probably know they are one of the biggest producers of whisky in the world! And they take that very seriously!
I'm not a big whisky fan but honestly the ones that I've tasted before don't even compare with the ones in Scotland!
That's why I recommend going for the scotch whisky experience tasting tour where you can try different types of whiskeys from different regions in Scotland!
During the tour you'll also learn about how they produce the whiskey, what goes in the process, and then you'll taste and compare all the different types. Just make sure you grab something to eat before!
Join a whisky tasting tour
20. Snap a pic of the Scott Monument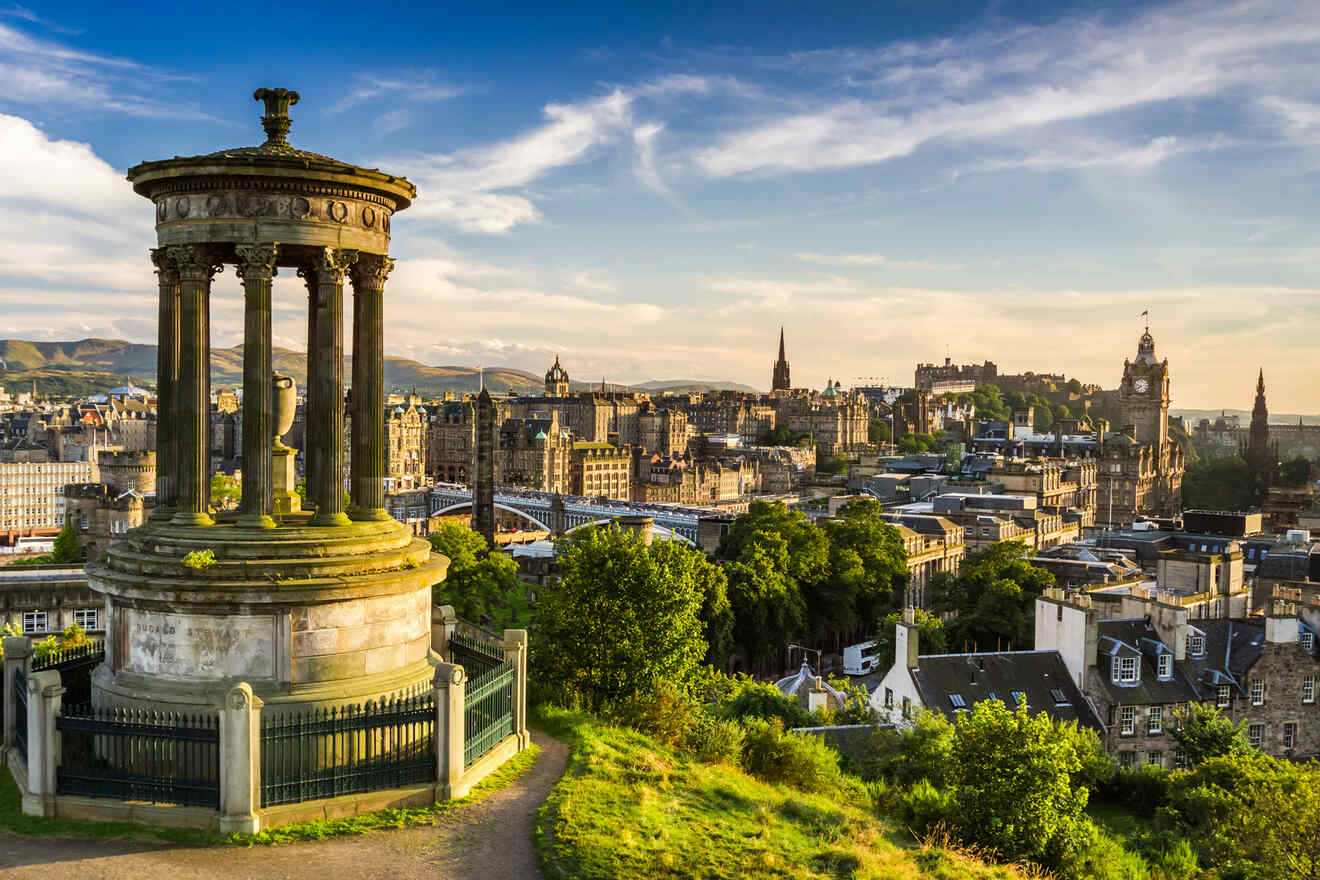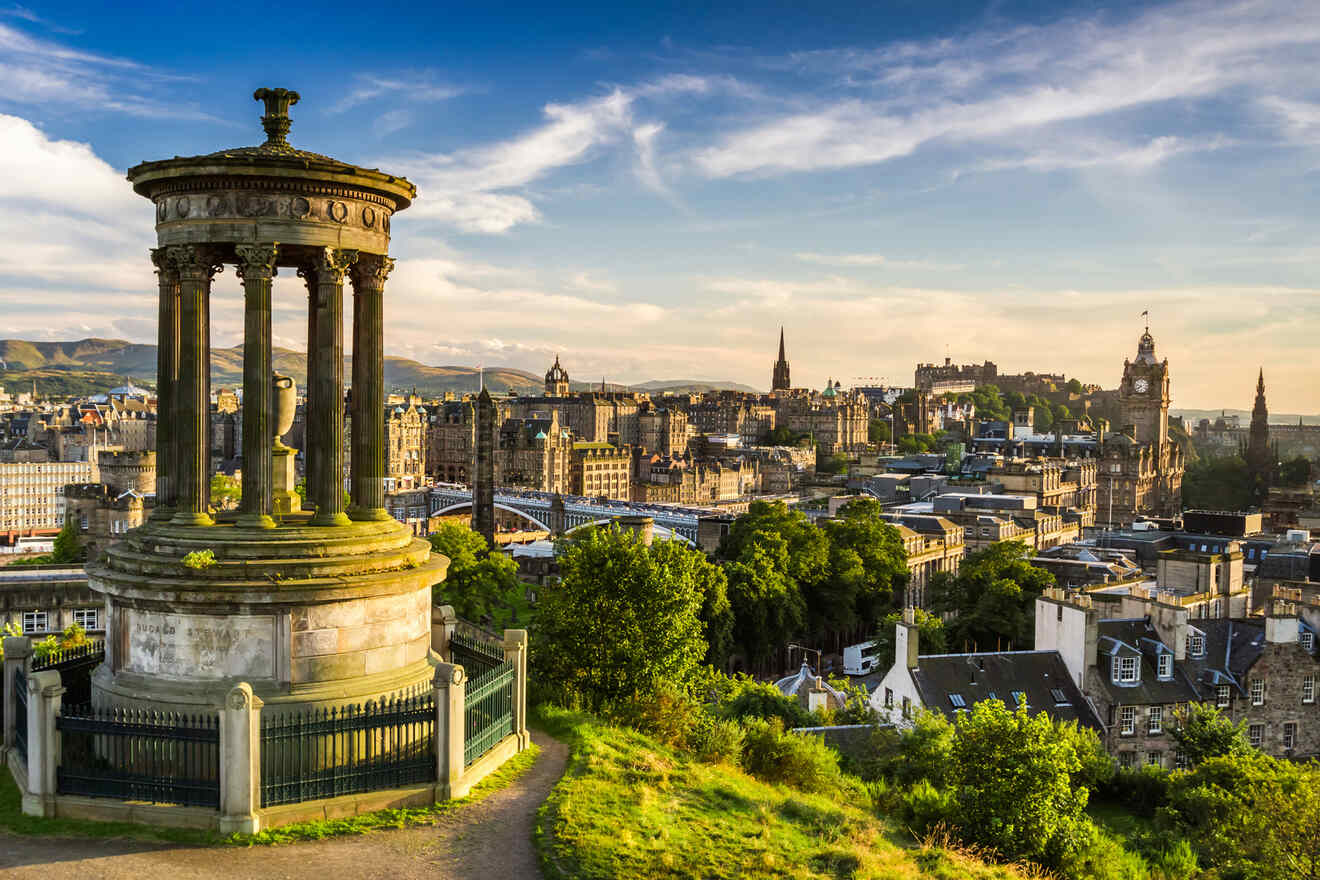 Set in the New Town by Princes Street, the unmissable Scott Monument was built in 1844 to commemorate the famous Scottish writer Sir Walter Scott.
The Scott Monument is the world's biggest statue dedicated to a writer and besides the main one dedicated to Scott, there are 68 smaller statues which portray other important figures like Mary Queen of Scots, Robert Burns, Lord Byron, George Buchannan and others.
21. Take the kids to the Edinburgh Zoo
If you're still looking for some cool things to do in Edinburgh with the kids then I'd recommend a visit to the Zoo!
Located a bit further away from the city center (around 20 min by bus), the Zoo is the perfect place to spend a fun afternoon with the little ones and make some new non-human friends!
There are lots of experiences that you can sign up for like interactive tours and daily talks!
PRICE: Adults £20, Kids £13
Buy tickets for Edinburgh Zoo
22. Visit the National Museum of Scotland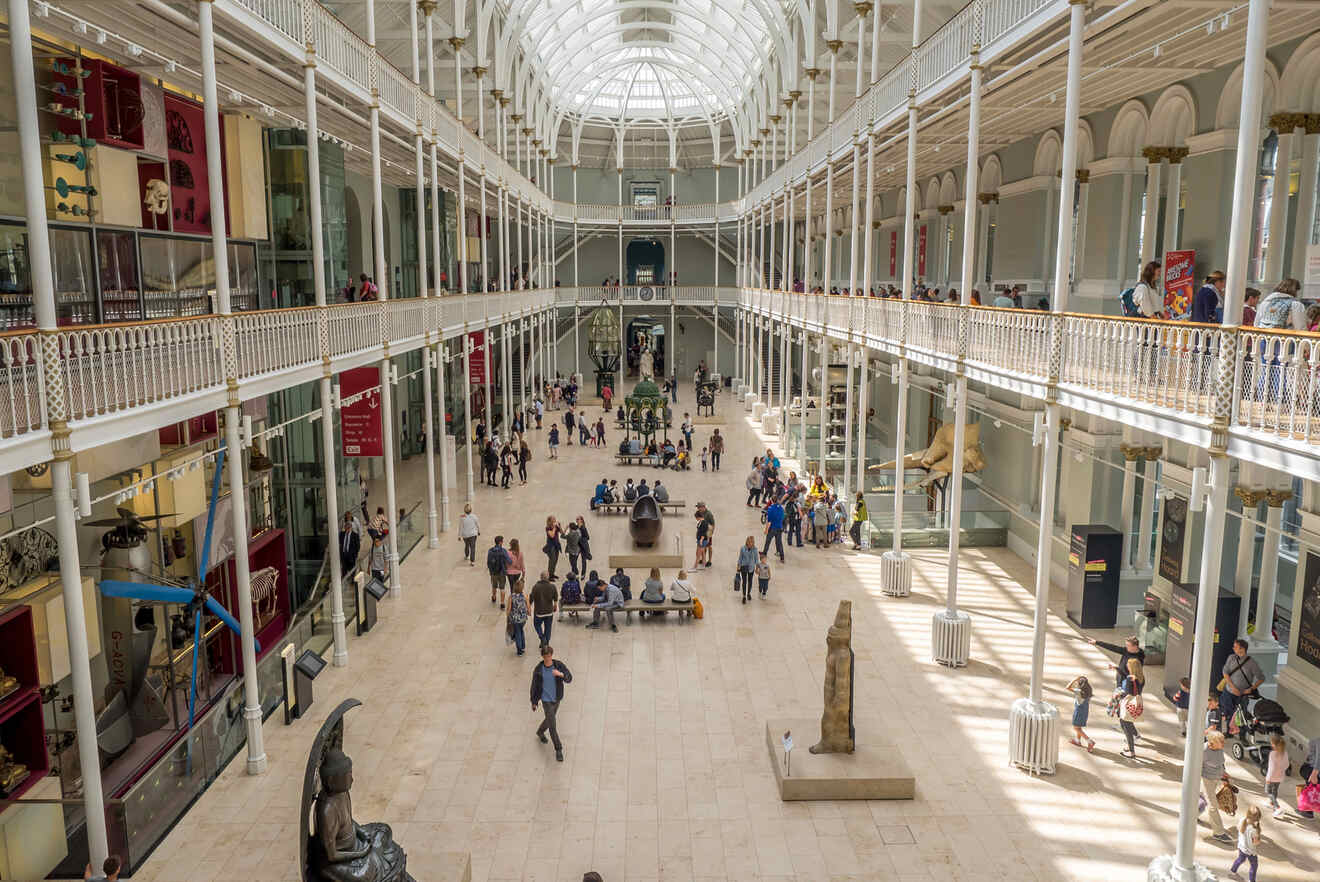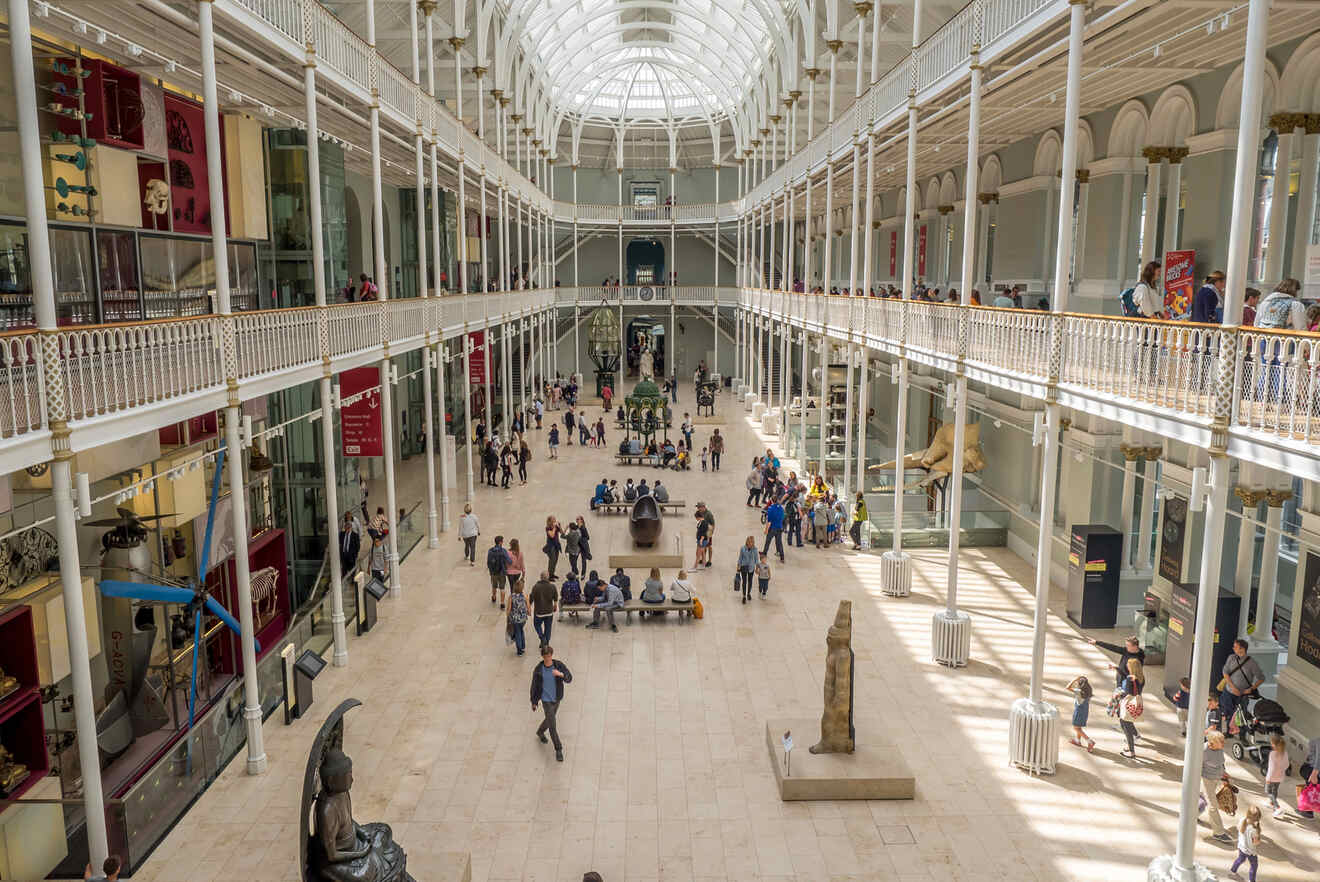 Want to learn more about Scottish culture and history?
Then I recommend a visit to the National Museum of Scotland, which is located near the Edinburgh Festival Theatre. You'll find lots of cool artifacts and peculiar things at the museum like Dolly, the first successfully cloned sheep!
PRICE: Free
| | |
| --- | --- |
| 💯 Top attraction: | Edinburgh Castle |
| 🌇 Best free activity: | Climb to Arthur's Seat |
| 🚌 Best day-trip tour: | Scottish Highlands Tour |
| 🛍️ Top shopping place: | Royal Mile |
| 🦉 Best family attraction: | Edinburgh Zoo |
| 👻 Spooky attraction: | Holyrood Palace |
Practical Information about Edinburgh
Now that I've gone through this long list of things to do in Edinburgh, Scotland, I think it's time that I also give you some useful tips for your stay in Edinburgh, from which hotels you should pick and how to get to the city!
Where to stay in Edinburgh
I've gathered a list of the top hotels in the city from the most unique accommodations to affordable ones. But make sure you book them in advance, because I tell you from experience, the prices here go up from day to day!
Luxury: The Balmoral Hotel – An iconic place named after Balmoral Castle (one of the Scottish residences of the Royal Family) that is beautifully decorated and offers views of Edinburgh Castle.
Mid Range: The Inn Place – Set in Old Town Edinburgh, just a short walk from Edinburgh Castle, this cozy hotel has a modern design, family rooms, and a bar.
Budget: High Street Hostel – Looking for something super affordable in Edinburgh, Scotland? Then check out this hostel set in a 1564 historic property near the Royal Mile, that has shared and private rooms with access to bathrooms.
Check the rates here
How to get to Edinburgh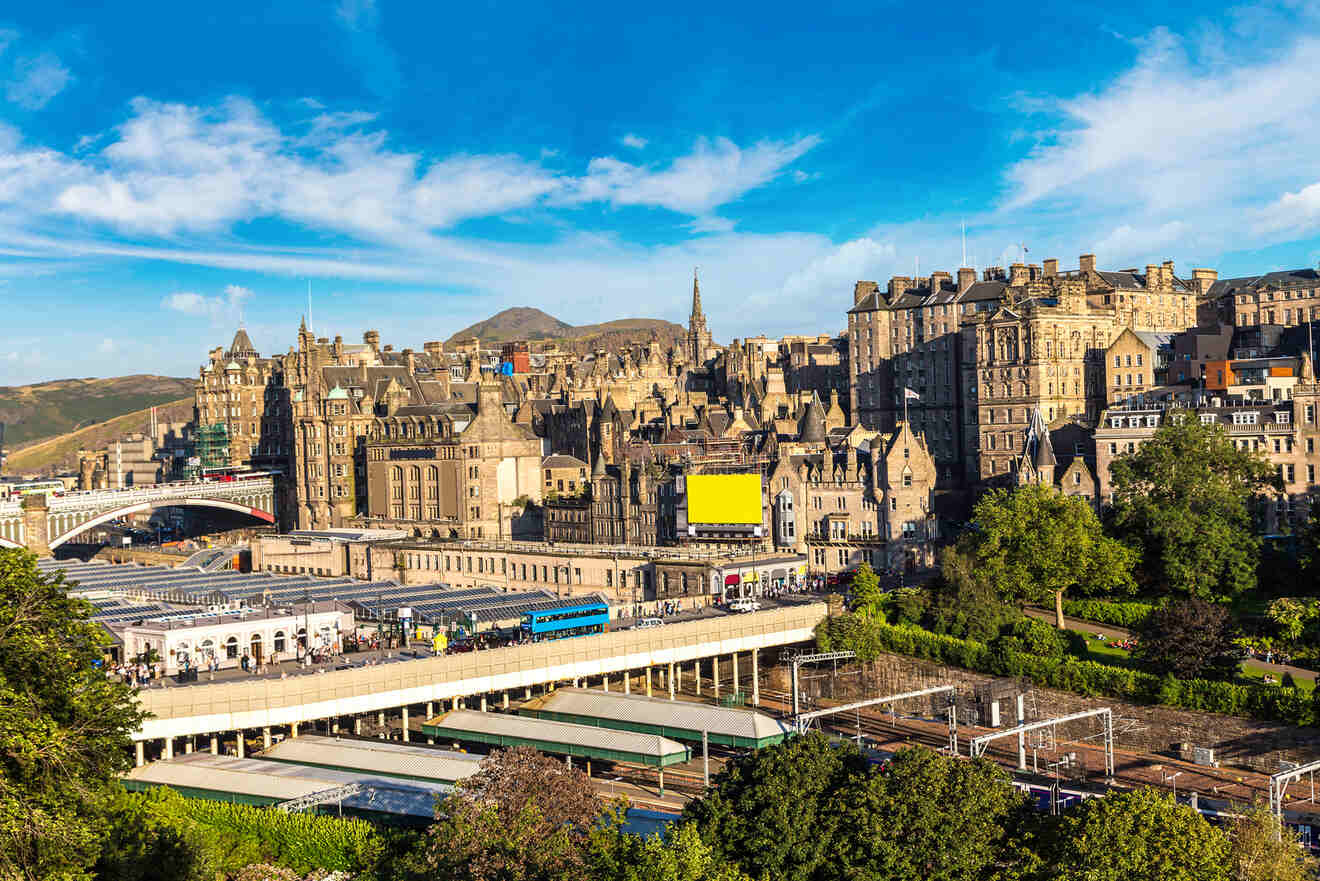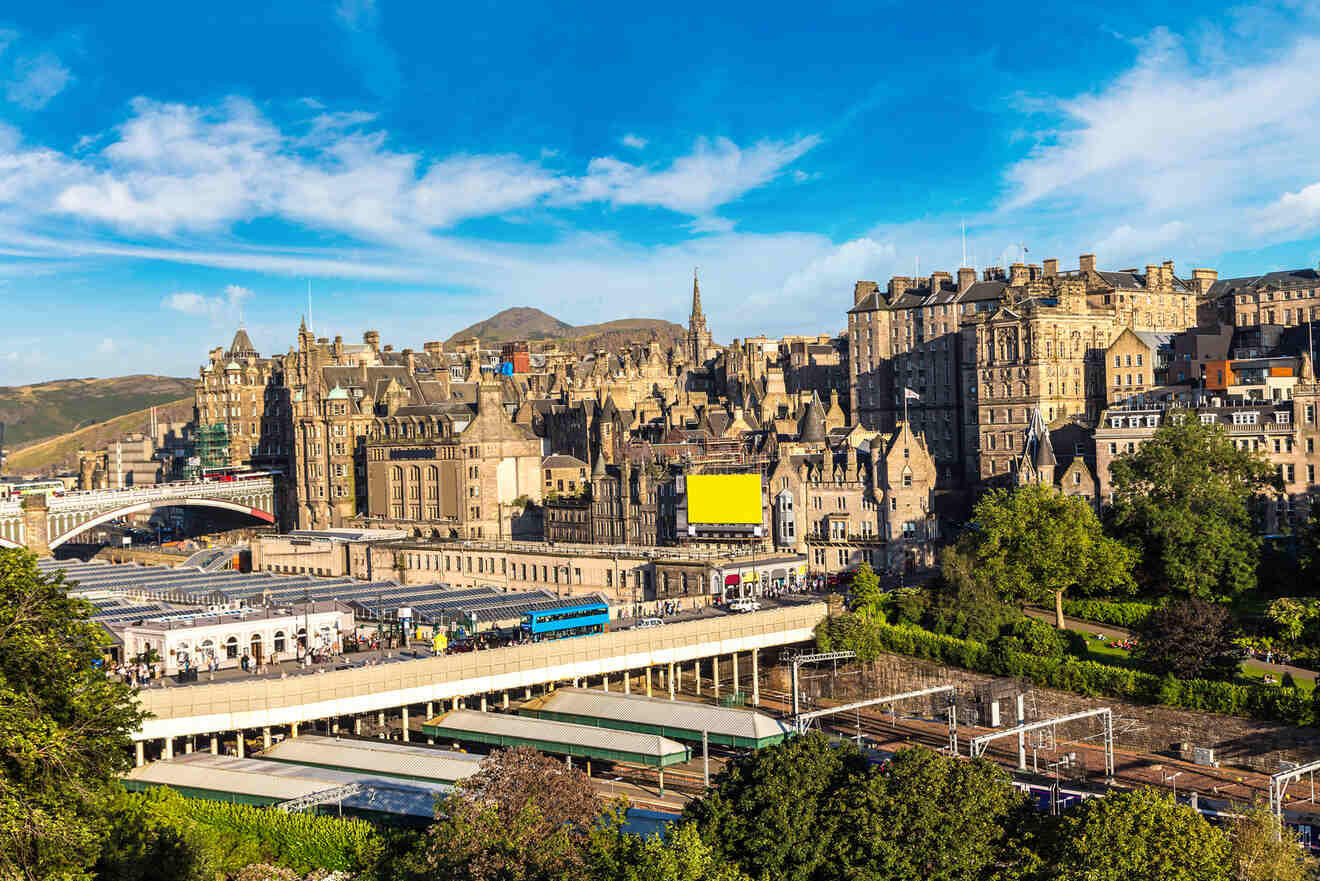 Well, there are different ways that you can travel to Edinburgh, and I thought I'd give you all the options below so you can pick the most convenient one for you!
By bus: This is definitely the cheapest option if you're traveling from somewhere in the UK. You can check FlixBus and National Express as they run many services from most towns from as low as £1! 
By train: This is what I used when visiting Edinburgh. I took the train from London as the ride there is pretty scenic but the one thing I didn't consider is that it would turn pitch-black super early, so I didn't see that much, but it was definitely worth it! For a single trip from London's King Cross to Waverley Train Station I paid £50.
By plane: Of course, you can take a plane to Edinburgh Airport which is pretty close to the city, around 20 min by car (the Uber is around £20), but it varies depending on the time of the day that you're traveling
Frequently asked questions about Edinburgh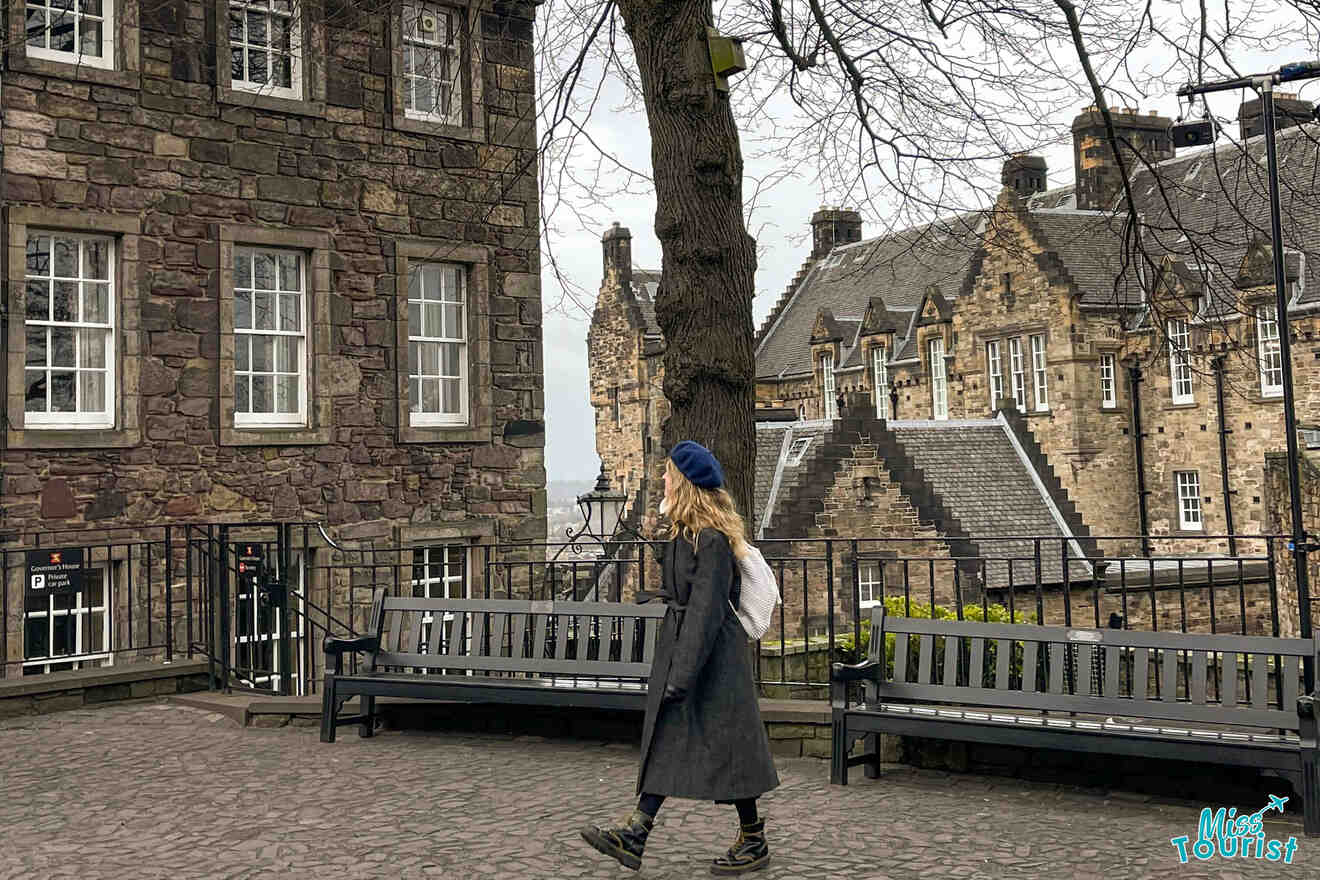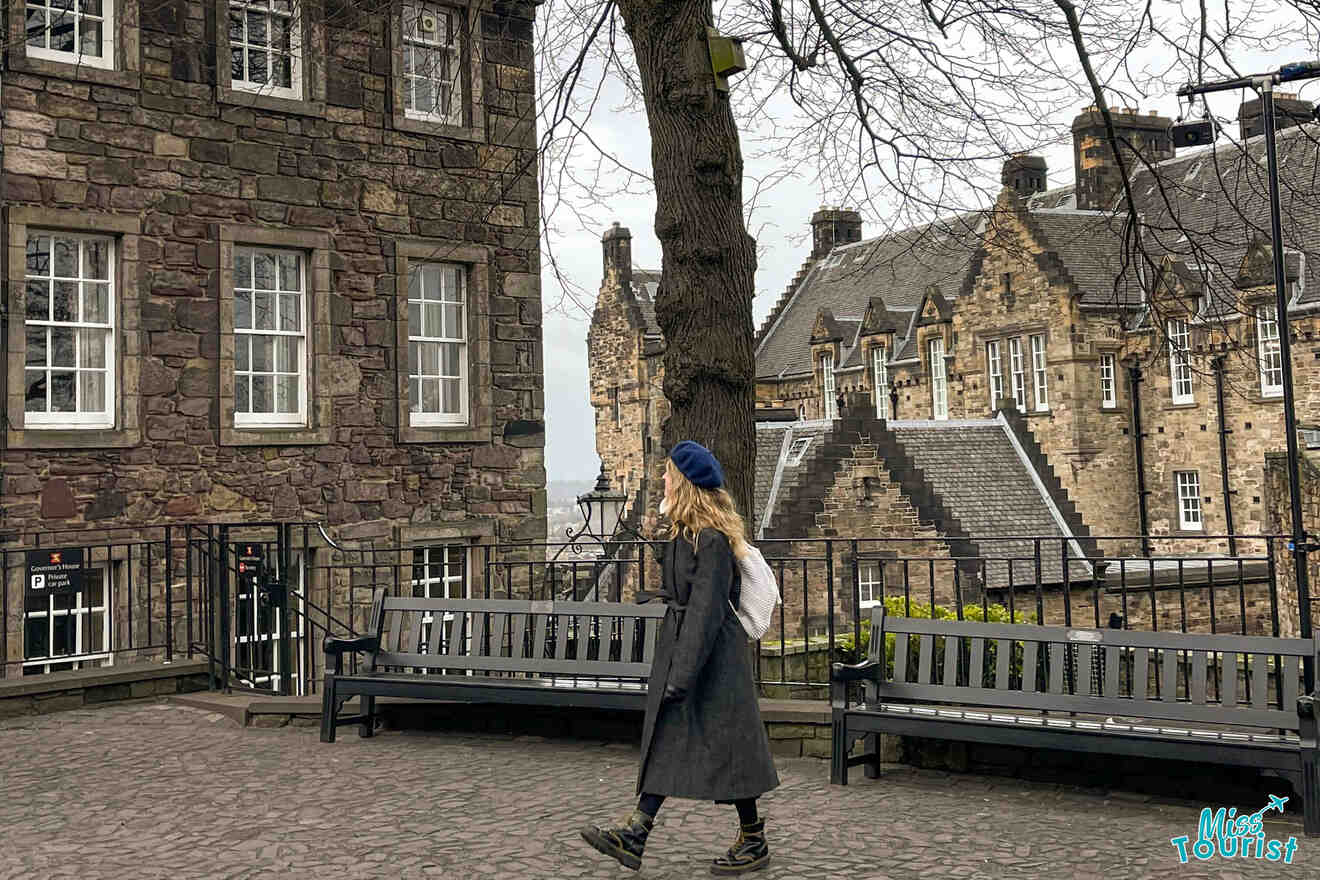 🤩 What is not to miss in Edinburgh?
🤔 Is 3 days in Edinburgh enough?
Yes, but I think you should prioritize the things to do in Edinburgh and also build an itinerary so you can hit multiple attractions at once (like Holyrood Palace and Holyrood Park with Arthur's Seat).
🚌 Which are the best day trips from Edinburgh, Scotland?
🐿️ Which are some fun things to do in Edinburgh with kids?
Conclusion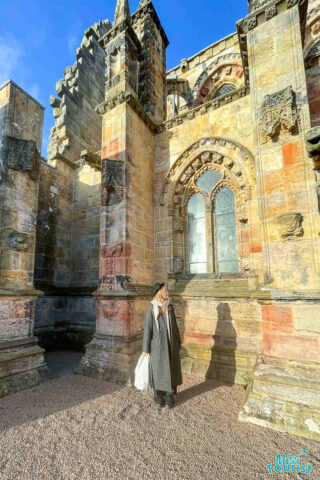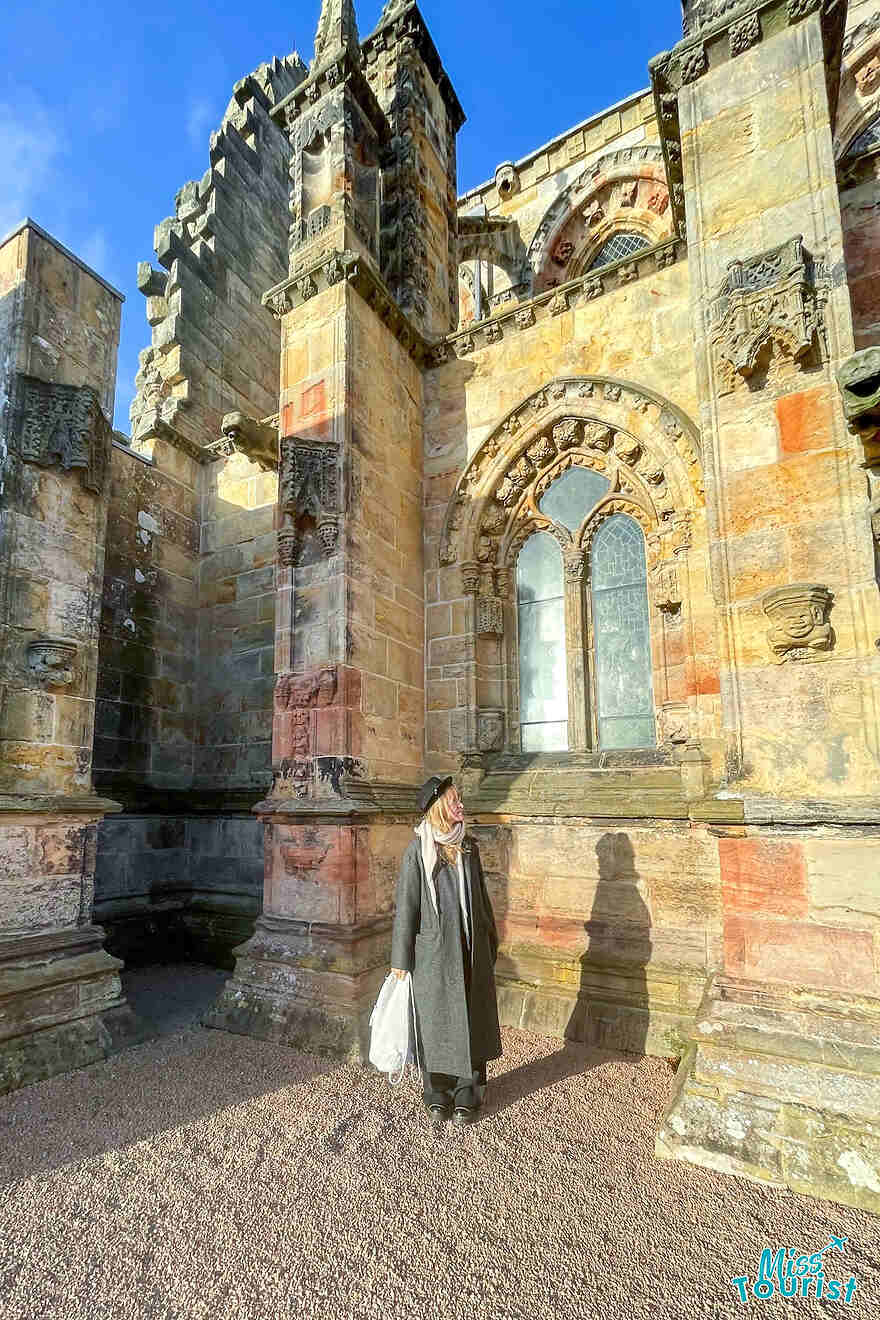 I'm guessing everyone is already planning their trip to this medieval city!
Now that we've gone through this whole list of things to do in Edinburgh, and also found the best hotels in town plus and the most convenient ways to get there, I'm sure you're more than prepared for your holiday!
But don't forget that you should get your tickets for the attractions and hotels in advance! This place gets packed with tourists like most capitals, so most places will be sold out or the prices will get super high!
And if you need some help in deciding what to book first, here are the main 2 things I recommend:
It's been so fun to tell you all about this special city! And I hope you enjoy your time here as much as I did.
If you've got any questions on which are the best things to do in Edinburgh or anything else just let me know in a comment below and I'll help you ASAP!
Safe Travels,
Victoria
---
Pin it for later!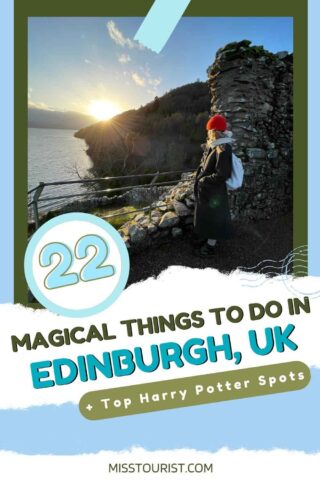 Pin it for later!