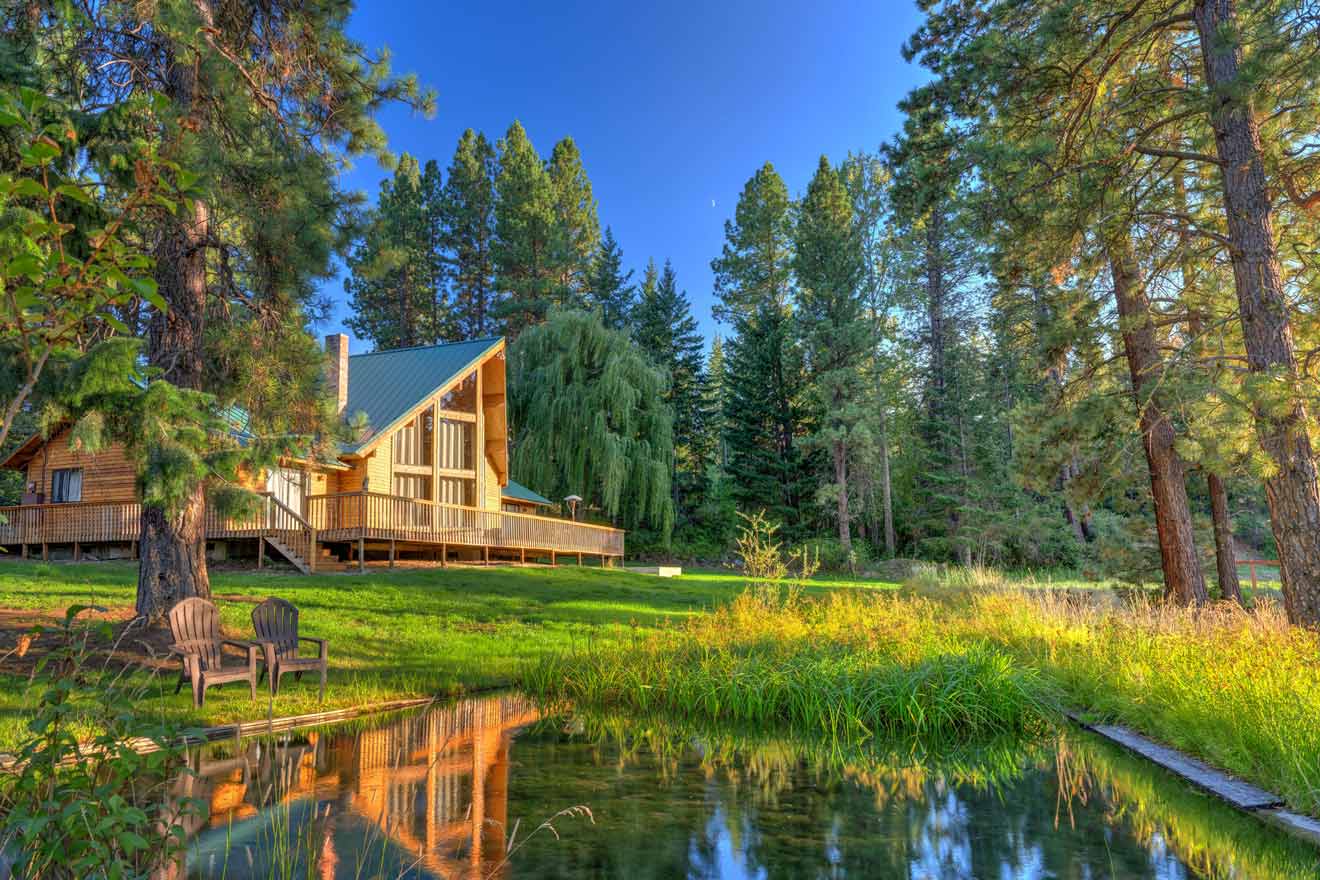 If you've decided to take a trip and explore Pennsylvania's forests and rolling hills then hop on, as we're going to find some of the best places to stay near state parks and lakes!
In this post, you'll find the best cabin rentals in PA, that I listed from most to least spacious so you can easily pick your favorite, depending on how many people you're bringing. Finding the perfect cabin rental in such a big area is dreadful, I know, but I've spent quite some time searching the web, and I've made sure to only add the ones that everyone raves about!
Since there are lots of cabins to rent out, I've also added 2 bonuses, one with some secluded lakefront cabins, and the other has the best cabins with a hot tub.
Many exciting things to see today, but before we get into that, I want to mention that it's super important to book your favorite cabin rental in advance. These are some of the best ones, which means they won't be available for too long!
Let's hit the road!
If you are in a hurry
Here just to see the best Pennsylvania cabin rentals? Then check out the list below with the top ones:
Large Cabins (for up to 30 people)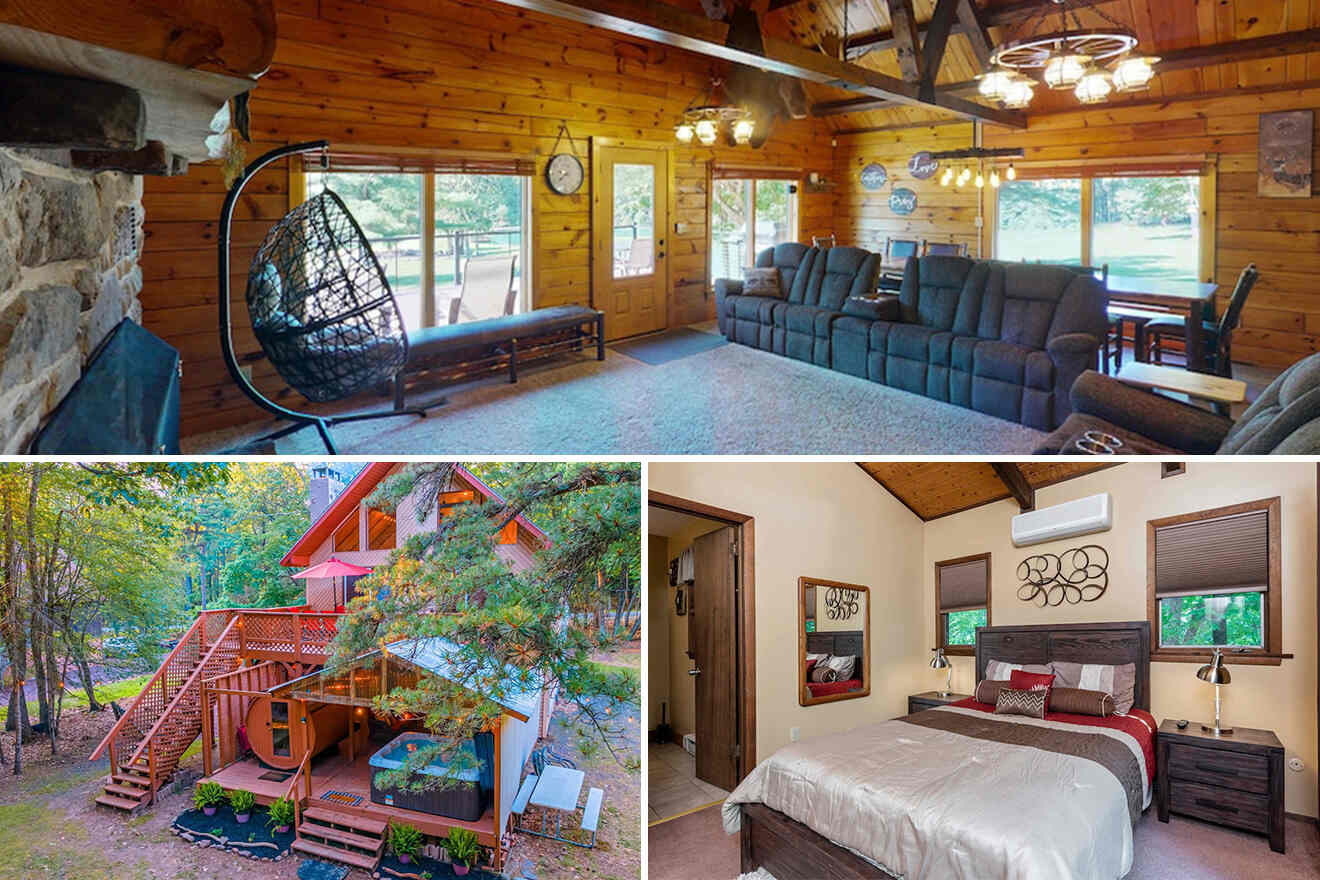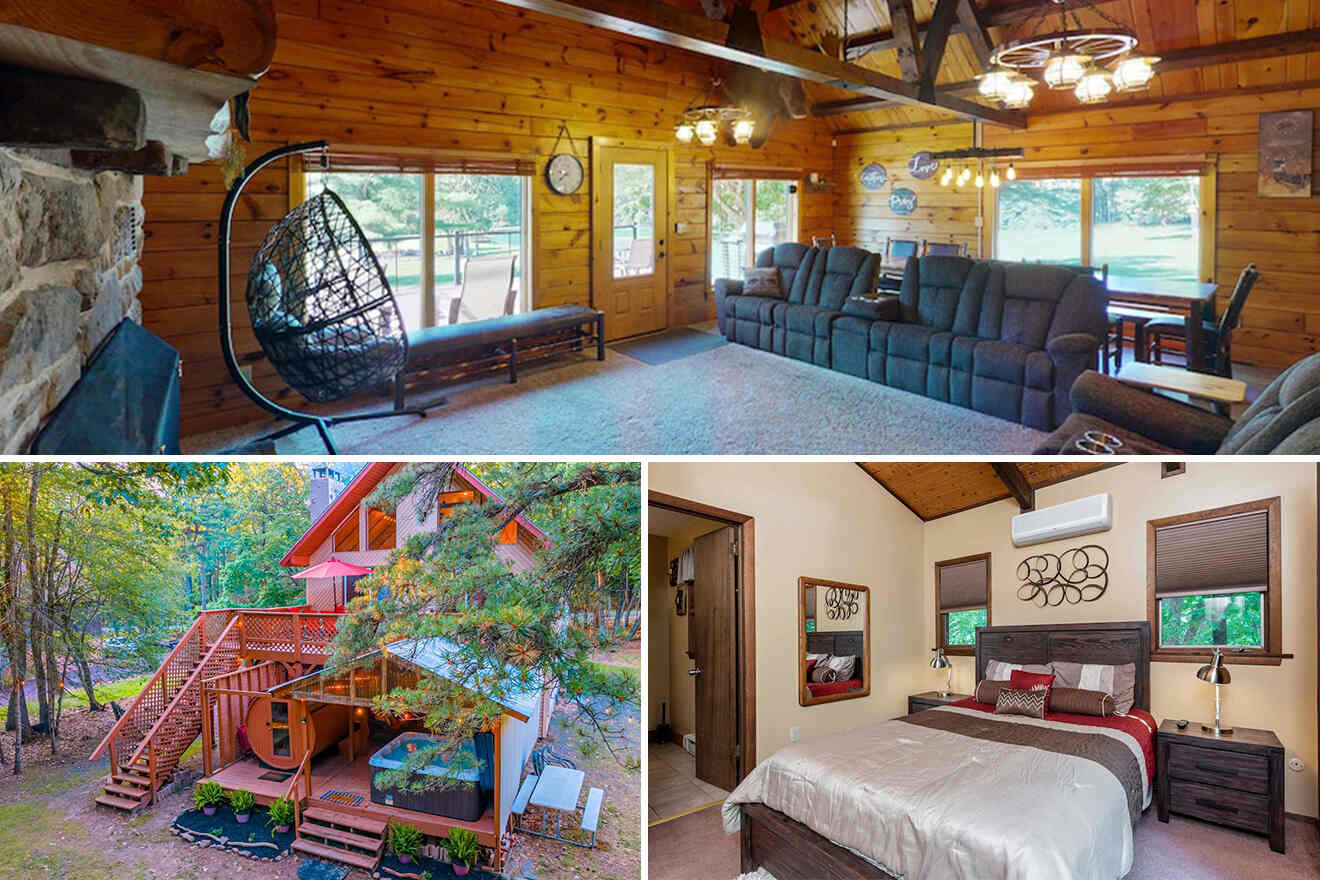 Cozy Cabin – Who's up for a long holiday in one of the best travel destinations for nature lovers? Set near Bald Eagle State Park, this incredible cabin is perfect for those who love exploring the hiking trails and going off the beaten path! With room for around 30 people, the cabin comes equipped with a kitchen, a living room, an outdoor play area and a swimming pool as well!
Mountain Chalet – Set just a short walk away from Lake Harmony, this wooden cabin offers a super cozy setting and room for 14 people. The accommodation has lots of modern amenities including a hot tub, a sleeper sofa, and flat screen TVs! During your stay you can play some board games and, of course, go on hiking adventures!
Rustic Cabin – Wake up to the sound of the birds singing by your window at this beautiful pet-friendly cabin that has all the amenities you need including a fully-equipped kitchen. The accommodation has room for 12 people in its 4 rooms that have queen and bunk beds. Offering a pool table, a swimming pool and outdoor space, this place is surely unmissable!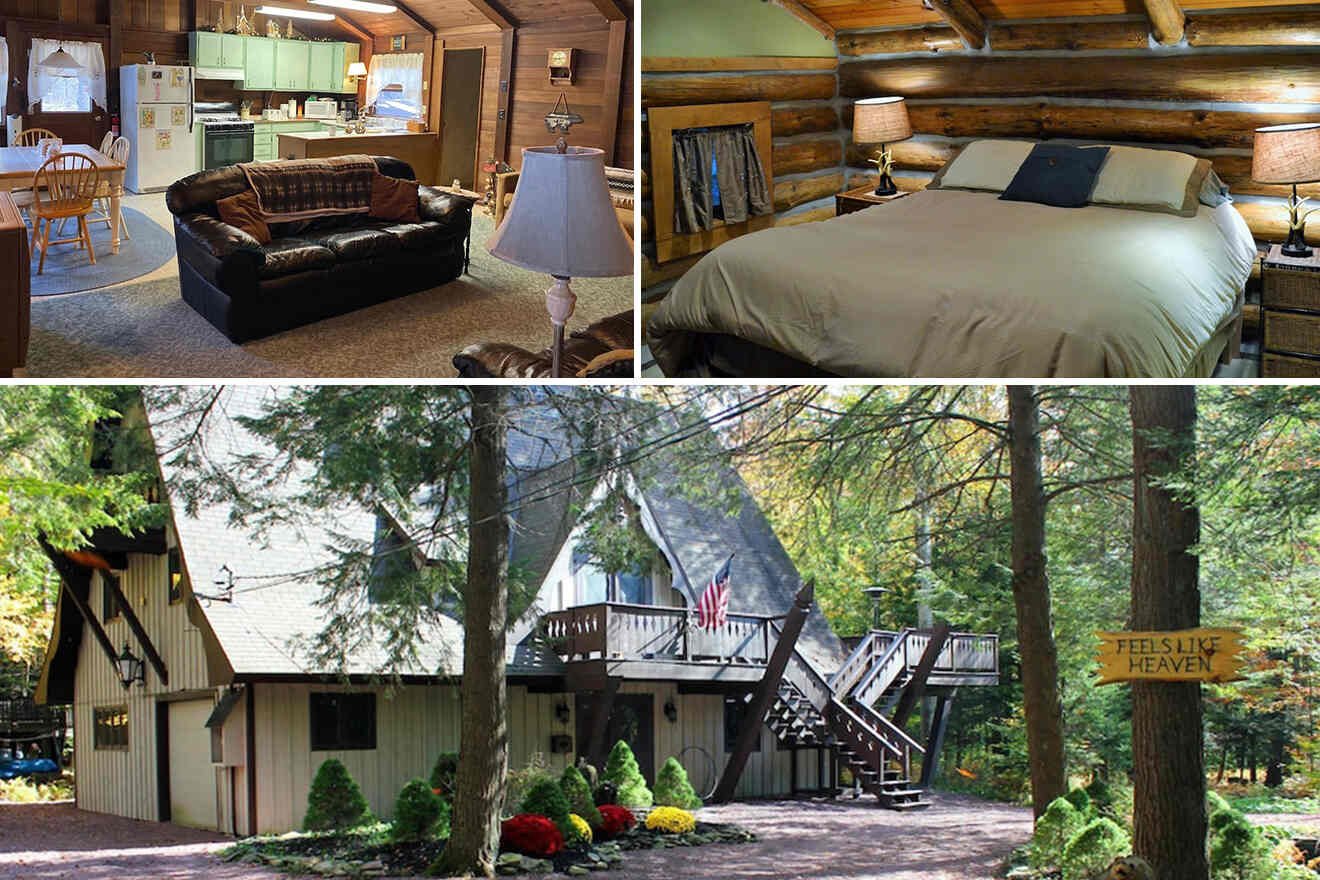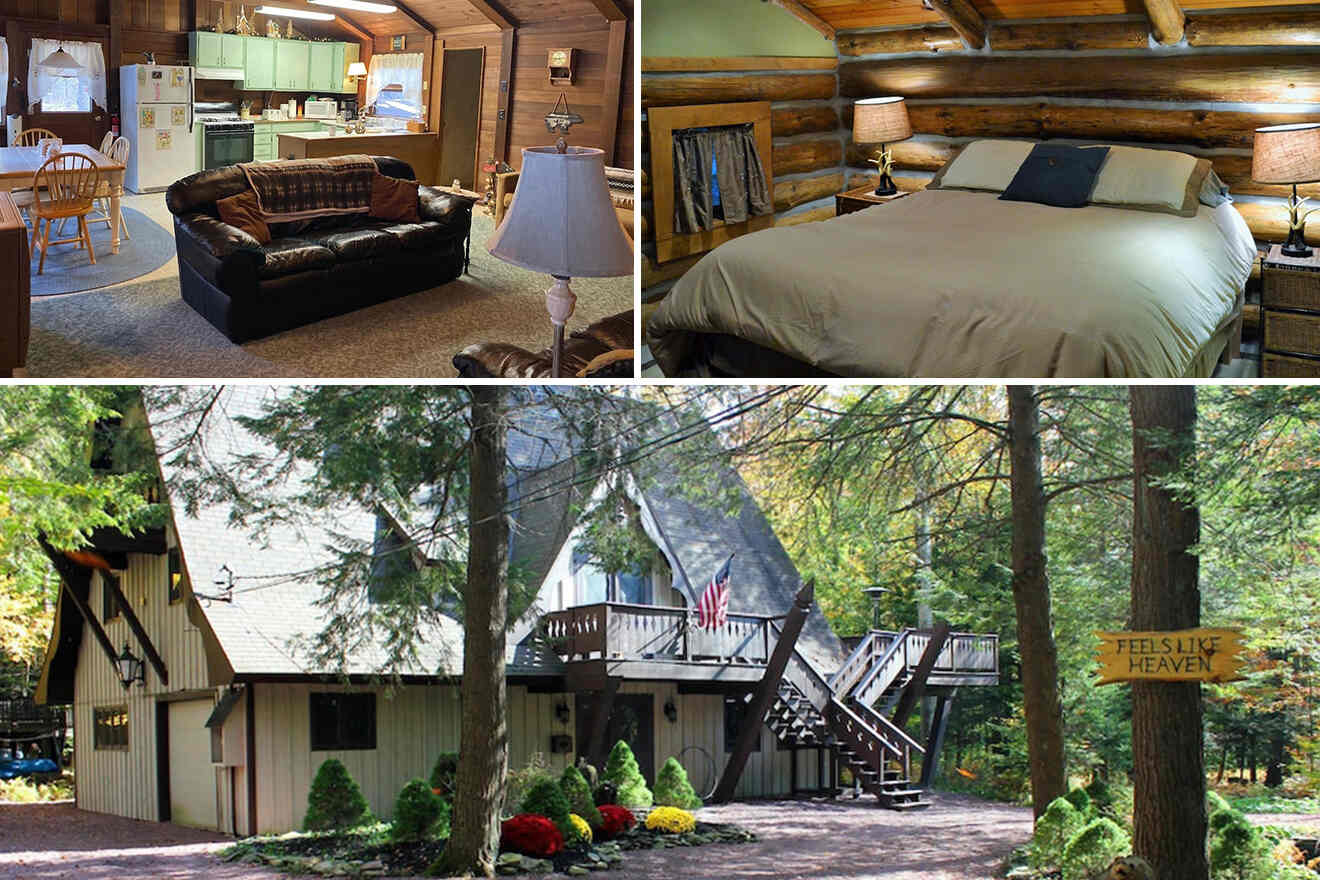 Unique Chalet – Looking for your next vacation spot? Here's a stunning chalet near Lake Naomi, where you can disconnect from everything! Hosting up to 10 people, and featuring lots of cool amenities like a picnic table, a fire pit, and a game room (that everyone will love), the cabin offers a prime location which is perfect for a relaxing getaway! Make sure to book your cabin fast, because the good ones always go first!
Secluded Cabin – Do you ever feel like leaving everything and taking the whole family on a spontaneous trip into the woods? If so, then I've got just the place for you! This secluded cabin that's up for rent has all the modern conveniences you need and lots of room for about 8 people. Designed with wooden furnishing, the three-bedroom accommodation comes with balconies, a hot tub, and a fireplace.
Hemlock Hideaway – Guests staying at this dreamy three-bedroom cabin will be super close to many state parks, the closest being Denton Hill State Park. But that's not the only perk! If you rent the cabin you'll get to enjoy a few days of tranquility in a comfortable accommodation, with space for up to 8 people, that has amazing amenities like an outdoor play area, games and many others!
Medium Cabins (for 6 to 7 people)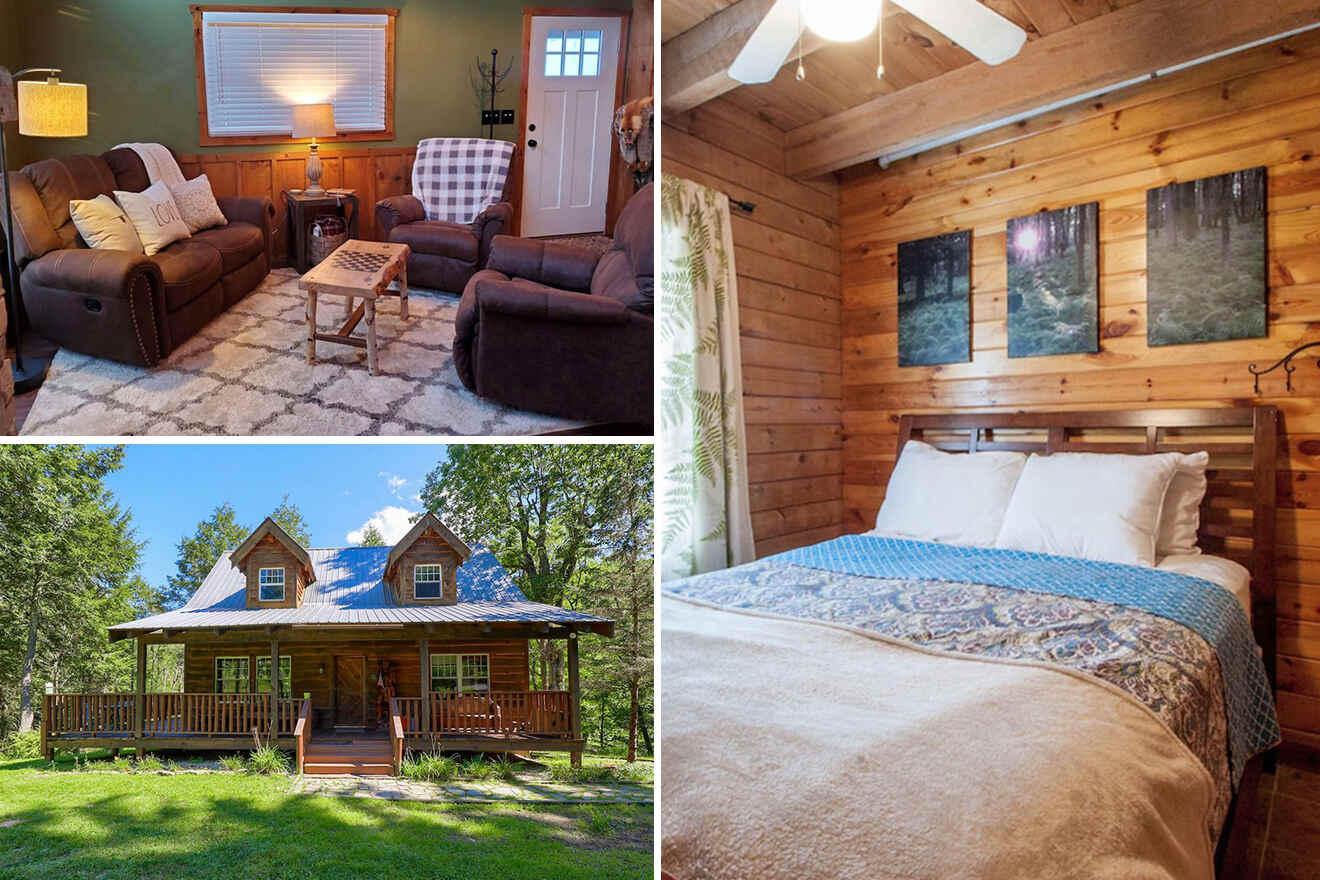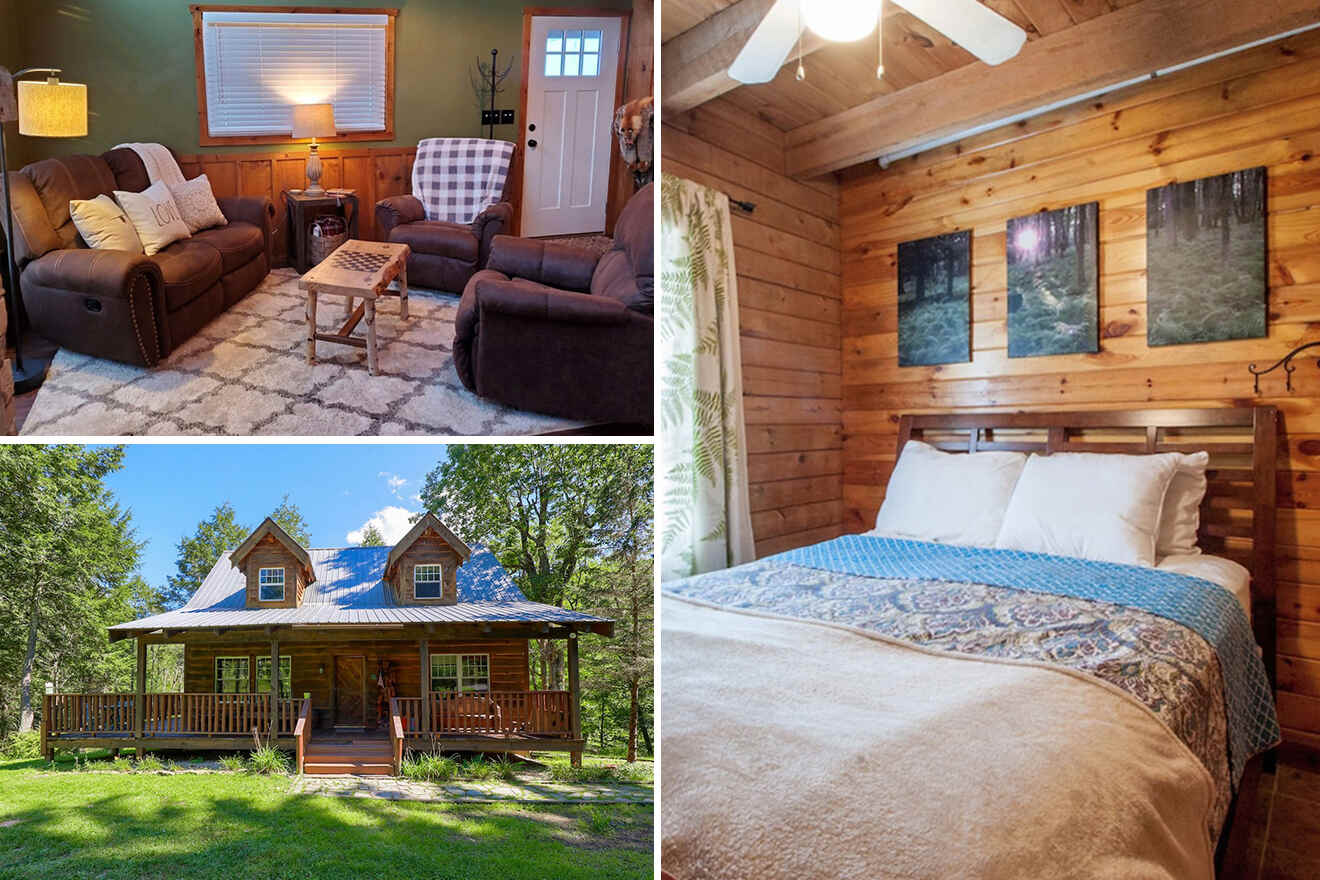 Stylish Home – Still looking for the perfect Pennsylvania cabin? Here's another one that's set near Lehigh Gorge State Park and can fit up to 7 guests! Offering a beautiful decor with carved furnishings, and facilities like air-conditioning and free Wi-Fi, the rustic cabin has a great location where you can do all sorts of outdoor activities like hiking, fishing and swimming in the pond!
Woods Cabin – Here's a beautiful secluded PA cabin perfect for a family vacation or a getaway with friends, that has three bedrooms that can fit up to 6 people, outdoor space and a BBQ grill as well! Set near the Ricketts Glen State Park, the accommodation is super homey and has lovely wooden furnishings and amenities like a kitchen, a fire ring and free Wi-Fi.
Vista Getaway – Get all cozy in front of the fireplace after a day of exploring the hiking trails nearby at this Pennsylvania cabin that has modern amenities and three bedrooms with space for 6 people. Enjoy your morning coffee in the little patio while admiring the views, grab some home made breakfast in the beautifully decorated kitchen and jump in the outdoor hot tub for a bit of relaxation!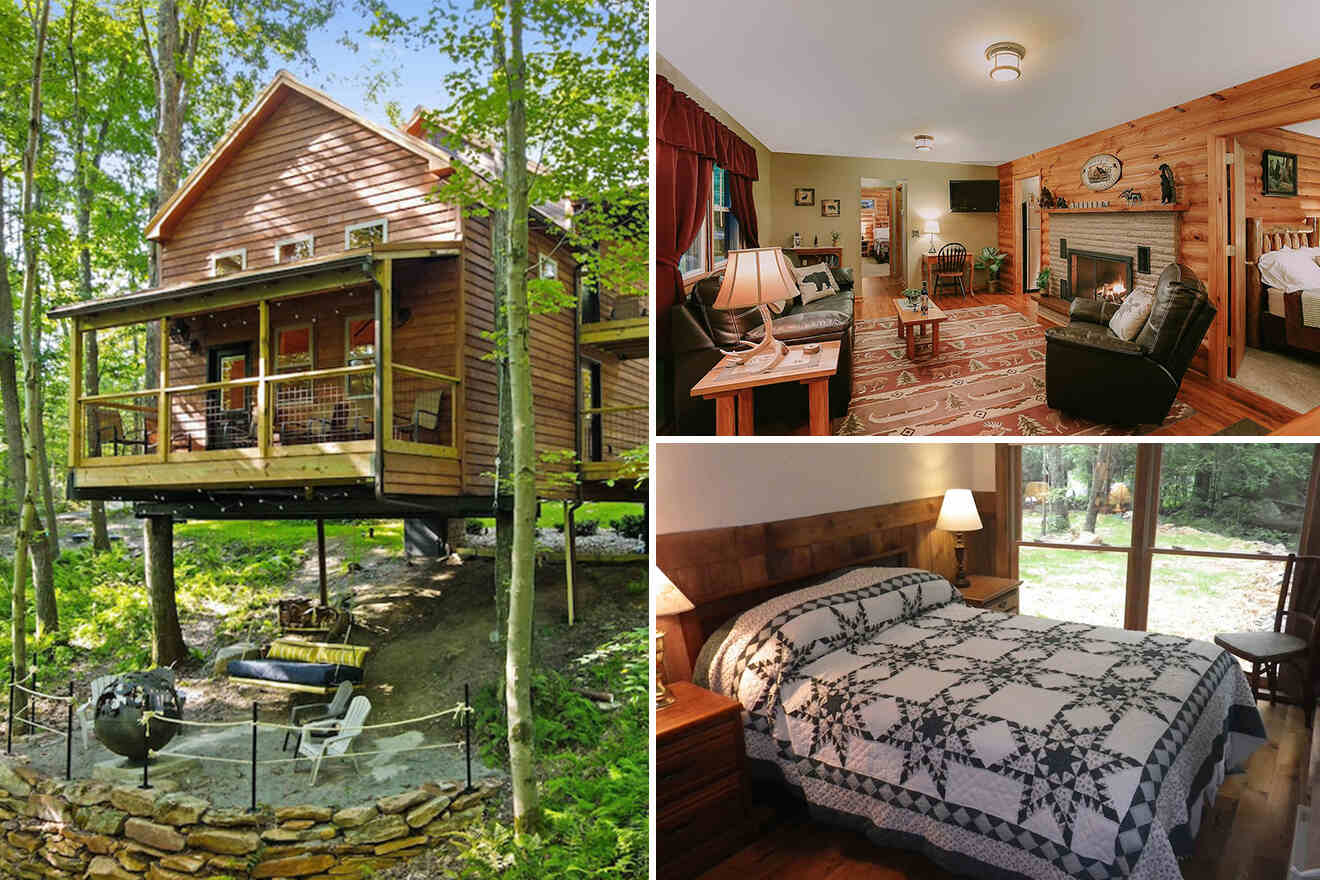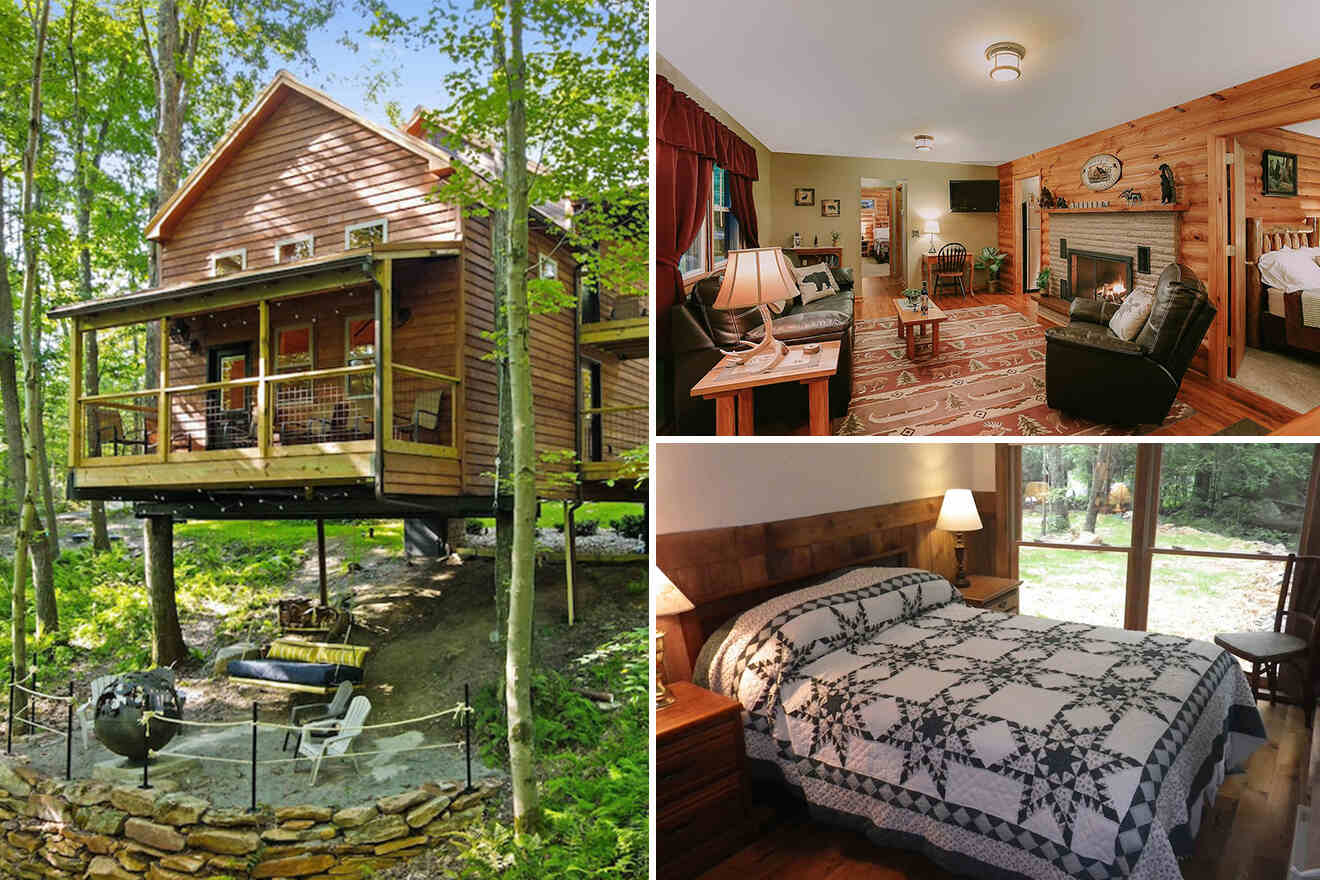 Ohiopyle Cool Treehouse – Ever wanted to live in a treehouse? Me too! This idyllic Pennsylvania cabin is so beautifully built and it has so much space! Equipped with all necessary facilities like a kitchen, free Wi-Fi and air-conditioning, this treehouse with two bedrooms and space for 6 people is definitely a keeper! Plus, it even has a nice spa bath where you can relax after a day out!
Creekside Cabin – Bring lots of books and comfy clothes as you'll spend a lot of time relaxing at this beautiful PA cabin that's set near the Blue Mountain Vineyards. Spend your days going off the beaten path and the nights by the outdoor firepit, stargazing! The accommodation has two bedrooms that can fit 6 people, a kitchen and lots of board games that will keep you busy on rainy days.
Streamside Cabin – Set right next to a creek and offering two bedrooms with great views of the water, this little Pennsylvania cabin is perfect for a getaway of up to 6 people! Firstly, because it has a great location in Adams County, not too far from several golf courses and wineries, and secondly, because it's super cozy and has many facilities including Wi-Fi, a kitchen and a parking space.
Small Cabins (for 2 to 5 people)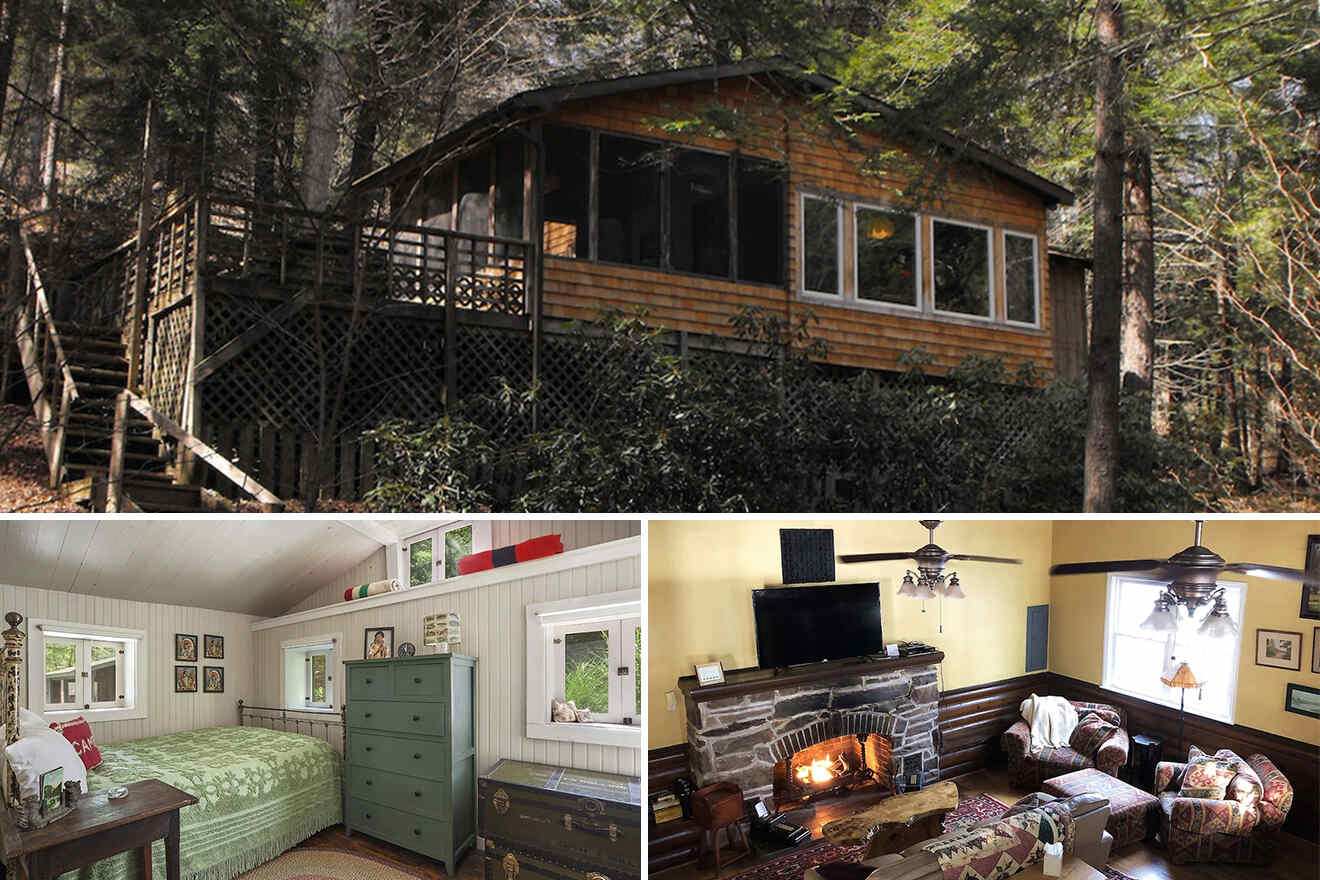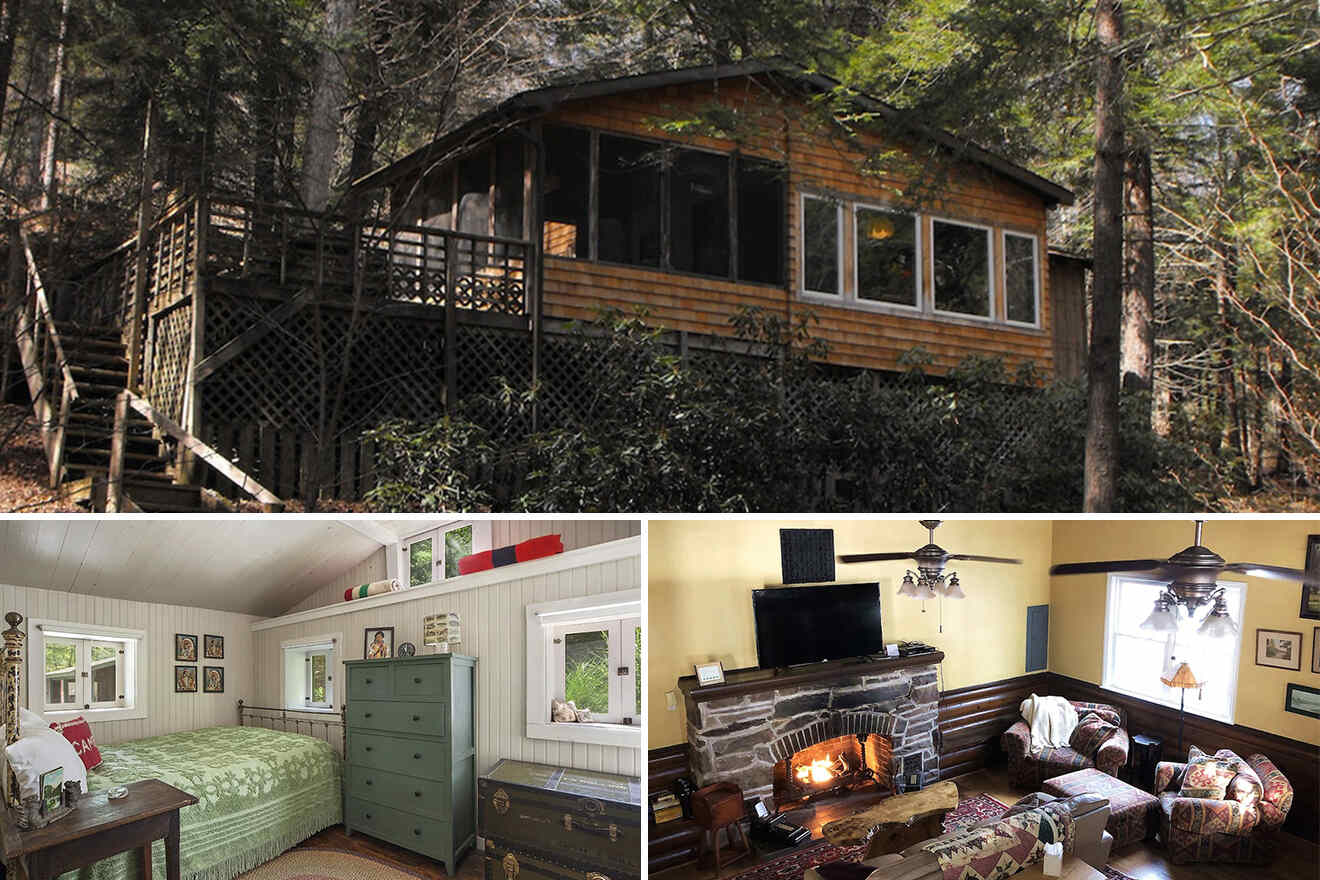 Creek House – Such a serene spot! Who doesn't want to stay right next to a creek and hear the water running all day long! This beautiful one-bedroom cabin can fit up to 3 people, and it has a fabulous private hot tub where you can chill whenever you want. And, of course, all the facilities you'll need for your stay like a kitchen, Wi-Fi, and a fireplace.
Little Cedar – If you really want to disconnect from everything and everyone then check out this unplugged PA cabin rental that doesn't have any Wi-Fi or TVs. The accommodation is perfect for those who want a quiet time in the woods but don't worry, it comes with everything you'll need including a kitchen, air-conditioning, and one bedroom with space for 4 people.
Peaceful Cabin – Feel at home in this super comfortable PA cabin that's located near Clarke Lake and just an hour away from Baltimore. Perfect for a small group of 4 the accommodation has an indoor fireplace right by the TV, and an outdoor fire pit as well, where you can relax at night! Plus the usual facilities that most top rental cabins have like a kitchen, a patio, and a parking space.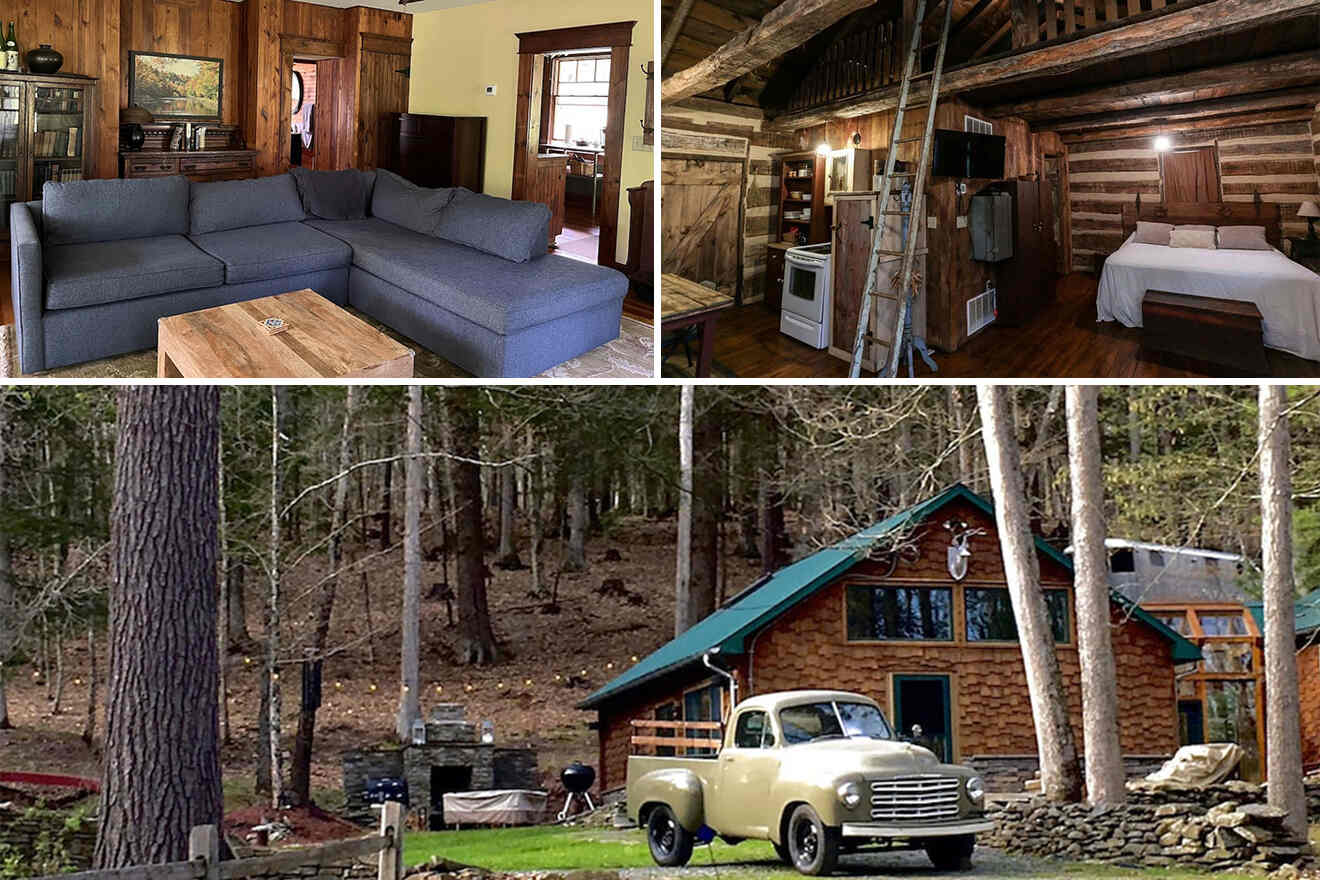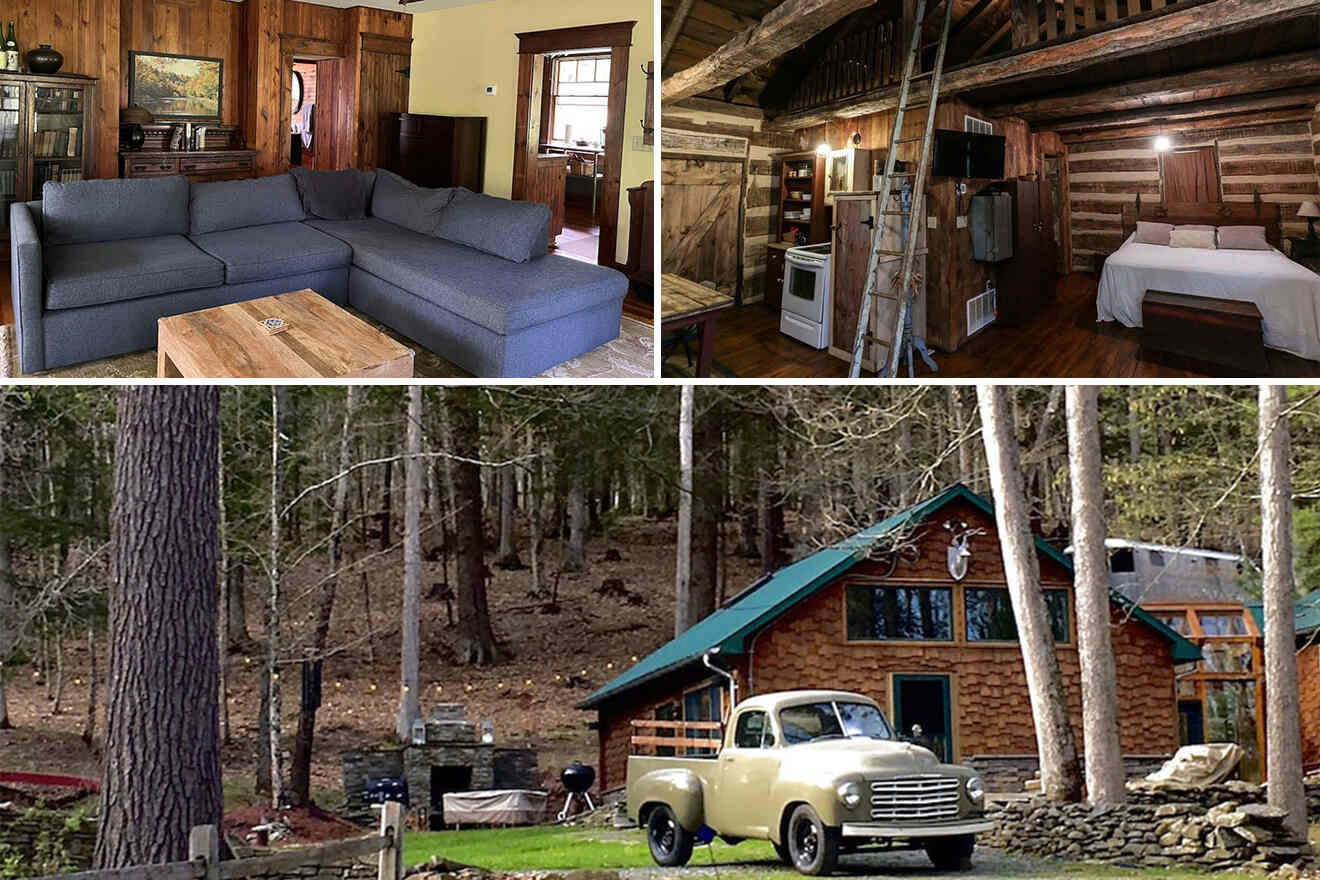 The Lehigh Lodge – Located in Stoddartsville, a secluded 1800's milling village, this cabin rental that can fit up to 4 people, was featured in Philadelphia Magazine as one of the best cabins in the area! And once you see the lovely location, the cozy fireplace and the beautiful decorations you'll know why! The whole set up including the gorgeous porch will put you in a holiday mood the moment you arrive here!
Chic Cabin – Loving the combination of rustic and contemporary styles of this cabin rental that's set right by the Upper Delaware River. Perfect for just 2 people, the accommodation offers a spacious outdoor area with a small pond and a BBQ grill. Inside you'll find a spacious kitchen, one bedroom, and a bathroom with a nice tub (which is just perfect for long bubbly baths)!
Log Cabin – How cool is the vintage look of this 1800's restored cozy log cabin? It kind of looks like it was taken out of a movie set! Although it is a tiny house, the accommodation is packed with facilities. Including a small kitchenette, a fireplace, and a hot tub as well. With room for just 2 people, this place is perfect for a romantic getaway in the woods!
BONUS 1: Secluded lakefront cabins
Looking for the best cabin rentals in PA that offer you all the privacy and tranquility you need, and are also set in a beautiful location by a lake? Well, my friend, you're in luck, because I've found some amazing options that I can't wait to share with you.
I've listed these cabin rentals in Pennsylvania from most to least spacious so you can quickly browse through the list and look at your favorites: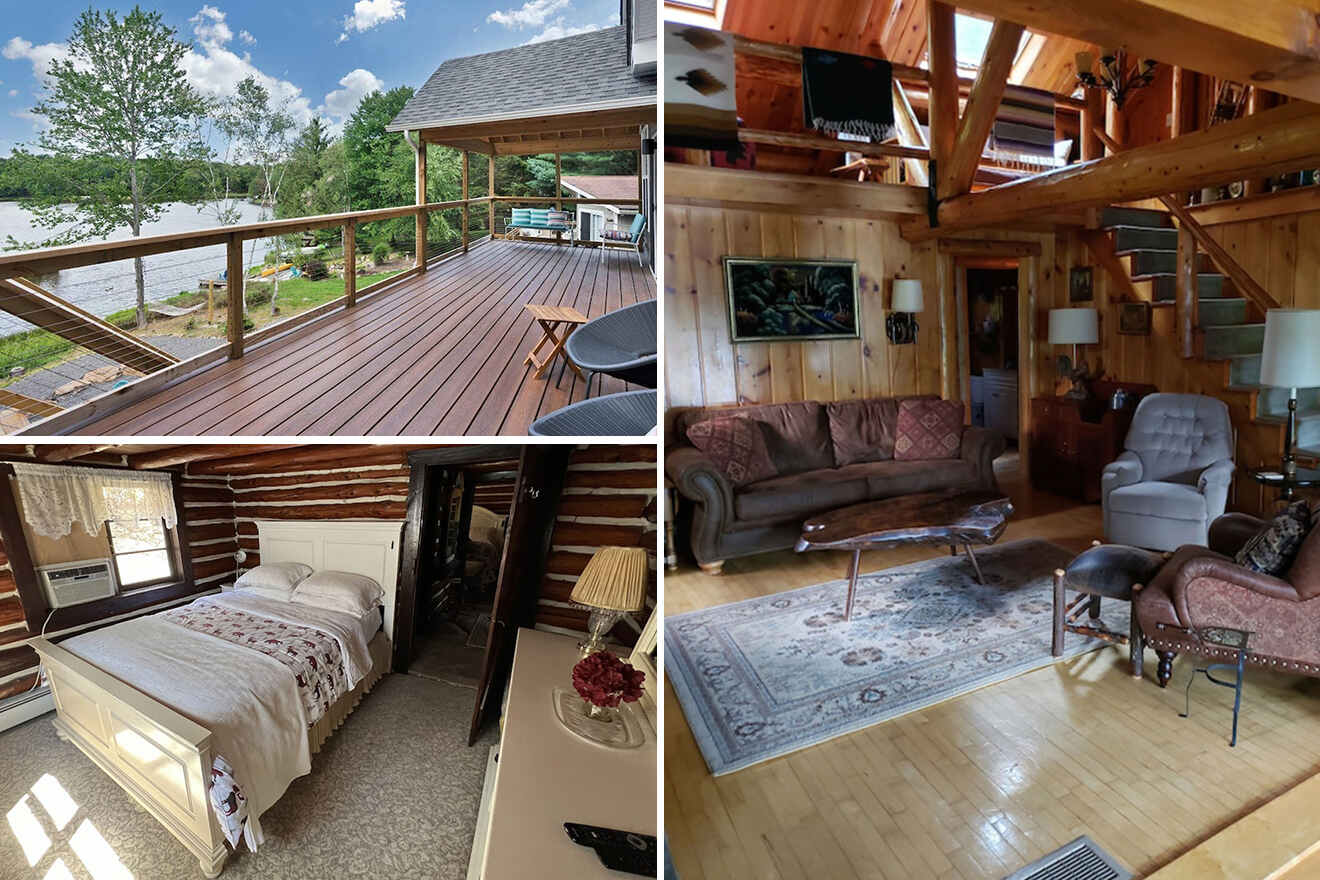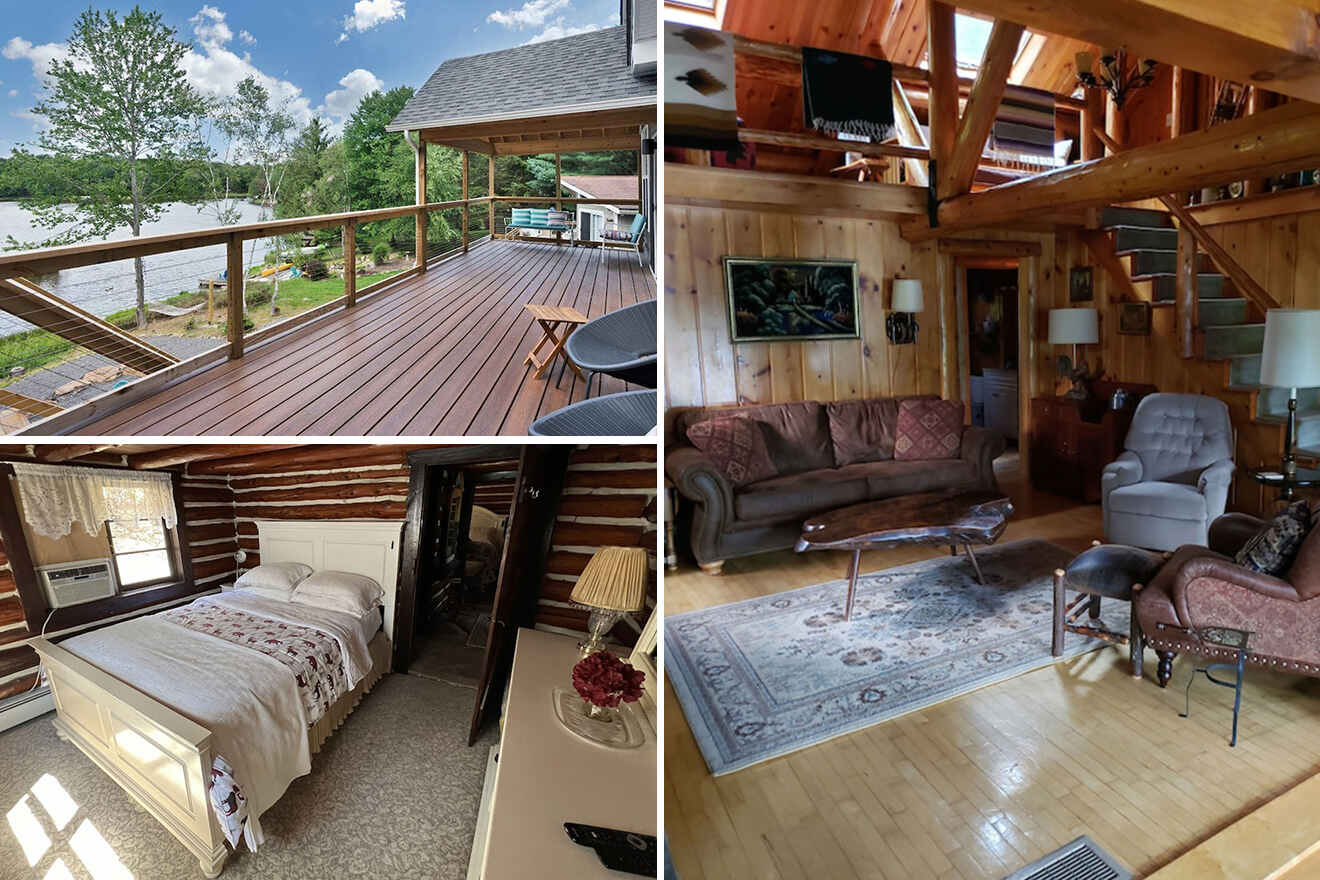 Pocono Lakefront – You'll never want to leave this cabin rental once you see its interiors and location, right by the Arrowhead Lake. Featuring an all-white decor and modern furnishings, the cabin which can fit up to 10 people has a living room, a fully-equipped kitchen with new appliances, a games room, and an outdoor fire pit with seats by the lake!
Log Cabin – Go full rustic during your stay in Pennsylvania, and rent this cabin that's set by Lake Wallenpaupack. Wake up in the morning with a beautiful sight of the lake and trees, and head to the patio to enjoy a breath of fresh air! The accommodation has room for 8 people and it comes with a kitchen and a lounge area with a fireplace.
Rustic Cabin – Leave the agitation of a city life behind you and immerse in the solitude of the woods while staying at this log cabin that has space, comfort and basically all you need for an unforgettable holiday! With plenty of space for 6 people and a beautifully-arranged outdoor play area, this place shouldn't be missed!
BONUS 2: Best cabins with a hot tub
The Pennsylvania mountains are the perfect place to unplug, relax and unwind! We all need a bit of time off once in a while, and these cabin rentals in PA offer the perfect setting and facilities for that. Some come with amazing hot tubs which I know everyone loves!
That's why I made this short bonus with the top cabin rentals in Pennsylvania that have hot tubs, so let's have a look!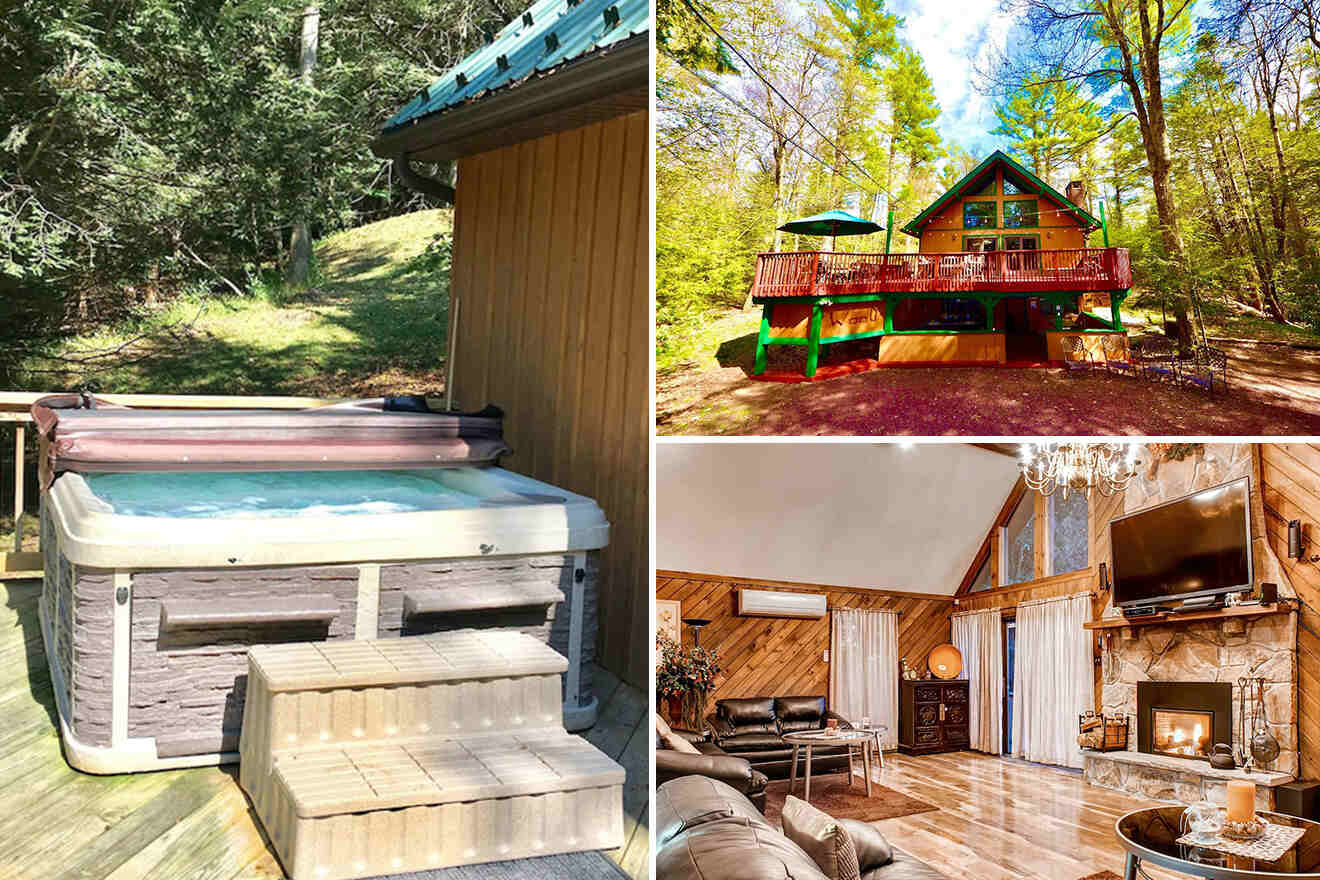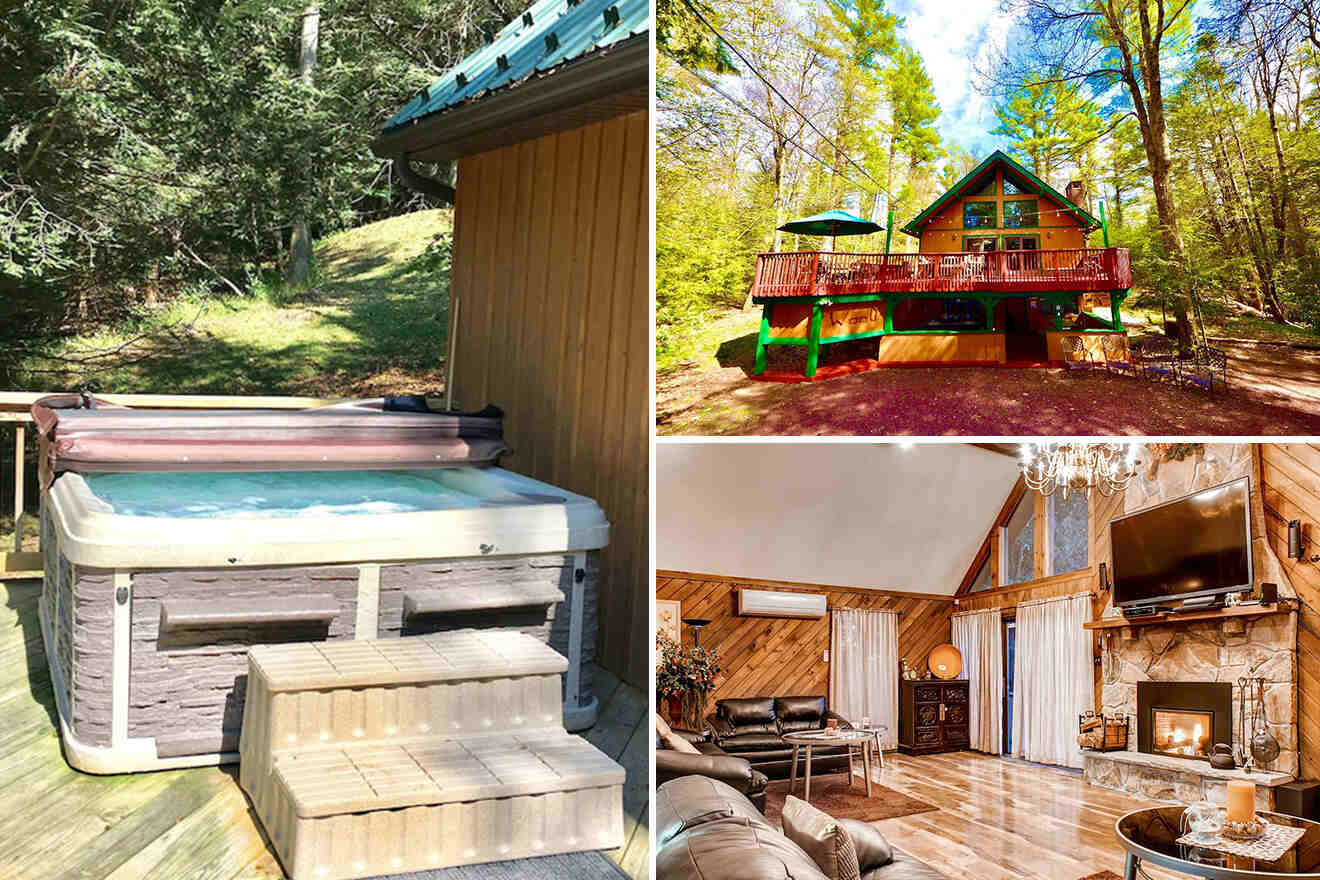 Lake Harmony Cabin – Sure, an indoor jacuzzi is cool but what about an outdoor hot tub set on the terrace with a view of the mountains? I'm sold! This cabin rental offers just that, plus many other amazing facilities including a spacious living room, a kitchen and a fireplace. The accommodation is pretty big and it can fit up to 21 people.
Maplewood Lodge – What's to do after a day of hiking and exploring? I think a quick sesh in the outdoor hot tub sounds just about right! Or you could also enjoy a glass of wine by the fire pit with your friends. This beautiful lodge which has a kitchen and a living room, is set near Lake Naomi and it has space for 6 guests.
Log Cabin – Enjoy your outing in the woods in this beautifully-decorated log cabin that's surrounded by nothing but trees and greenery. The accommodation has room for 8 people and such a stunning lounge area with a fireplace where you can relax, take naps and read! You'll also find an outdoor play area (perfect for families) and a hot tub.
Cozy Cabin – Pack some marshmallows with you and enjoy them at night when you're sitting with your friends, or family by the fire pit of this lovely cabin that can fit up to 4 people. The accommodation offers a tranquil location where you'll get to do lots of activities like hiking, fishing, and bird watching!
FAQs about cabins rentals in PA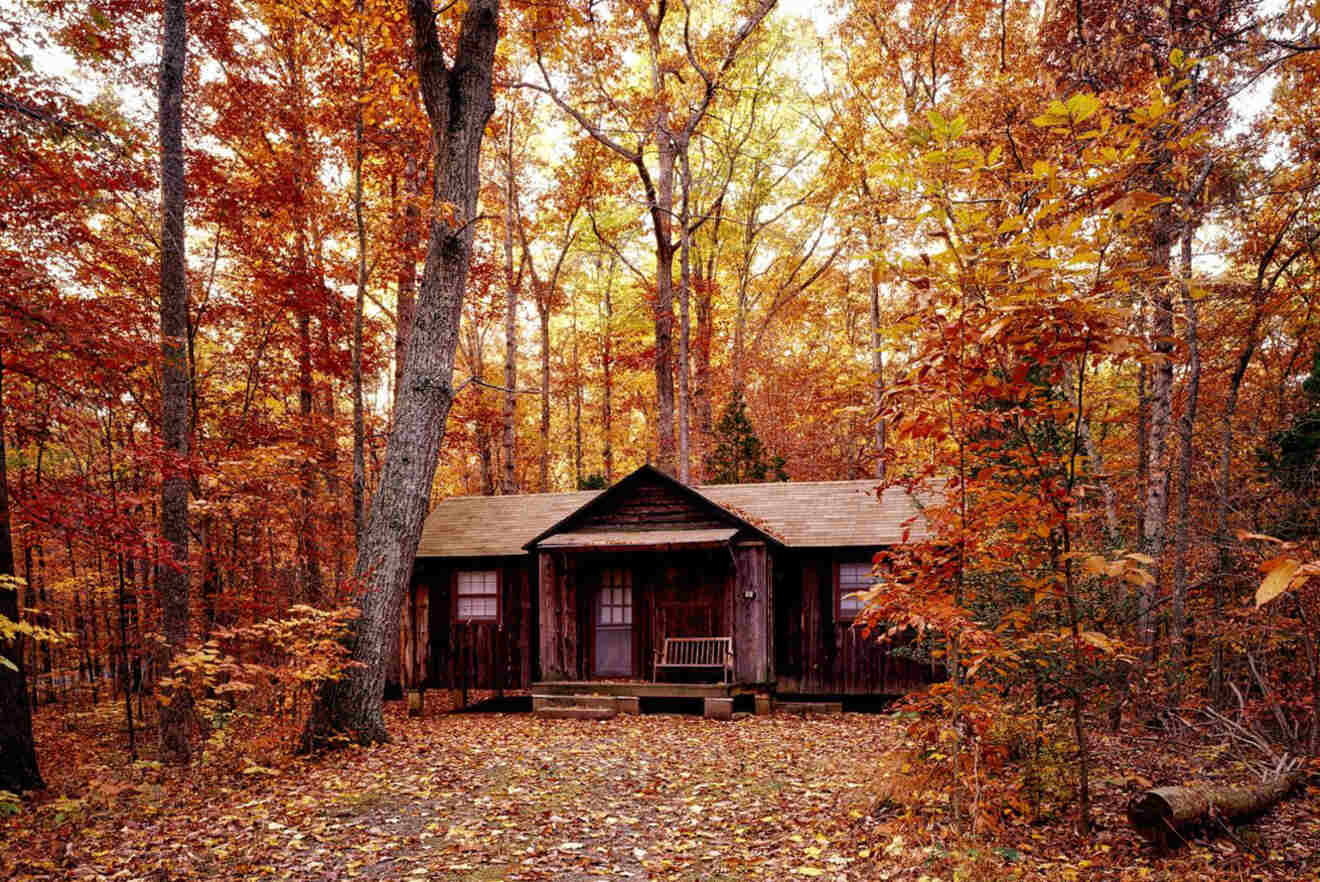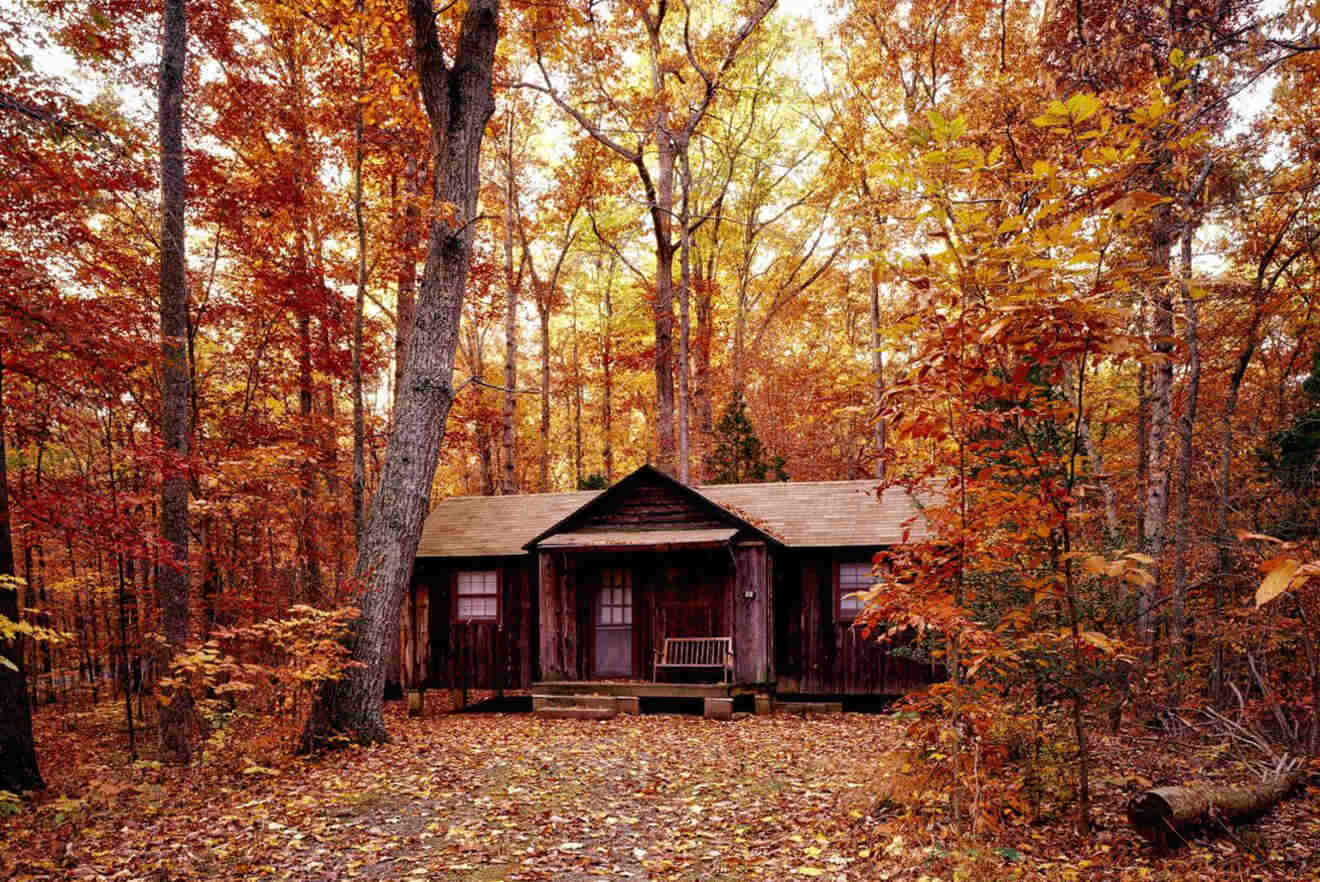 💘 Which are the best romantic cabin rentals in Pennsylvania?
Some of the best romantic Pennsylvania cabins to rent out where you can enjoy all the privacy you need are Creek House and Log Cabin.
🏡 What are some great cabins in Pennsylvania?
The Cozy Cabin and the Mountain Chalet are 2 amazing cabins to rent in Pennsylvania that have a lot of space and all the facilities you need.
🌊 Which are the top secluded lakefront cabin rentals in Pennsylvania?
Pocono Lakefront and Log Cabin are some of the best lake house rentals in Pennsylvania. They offer incredible waterfront views and great amenities.
🐕 Are there pet-friendly cabin rentals in Pennsylvania?
Conclusion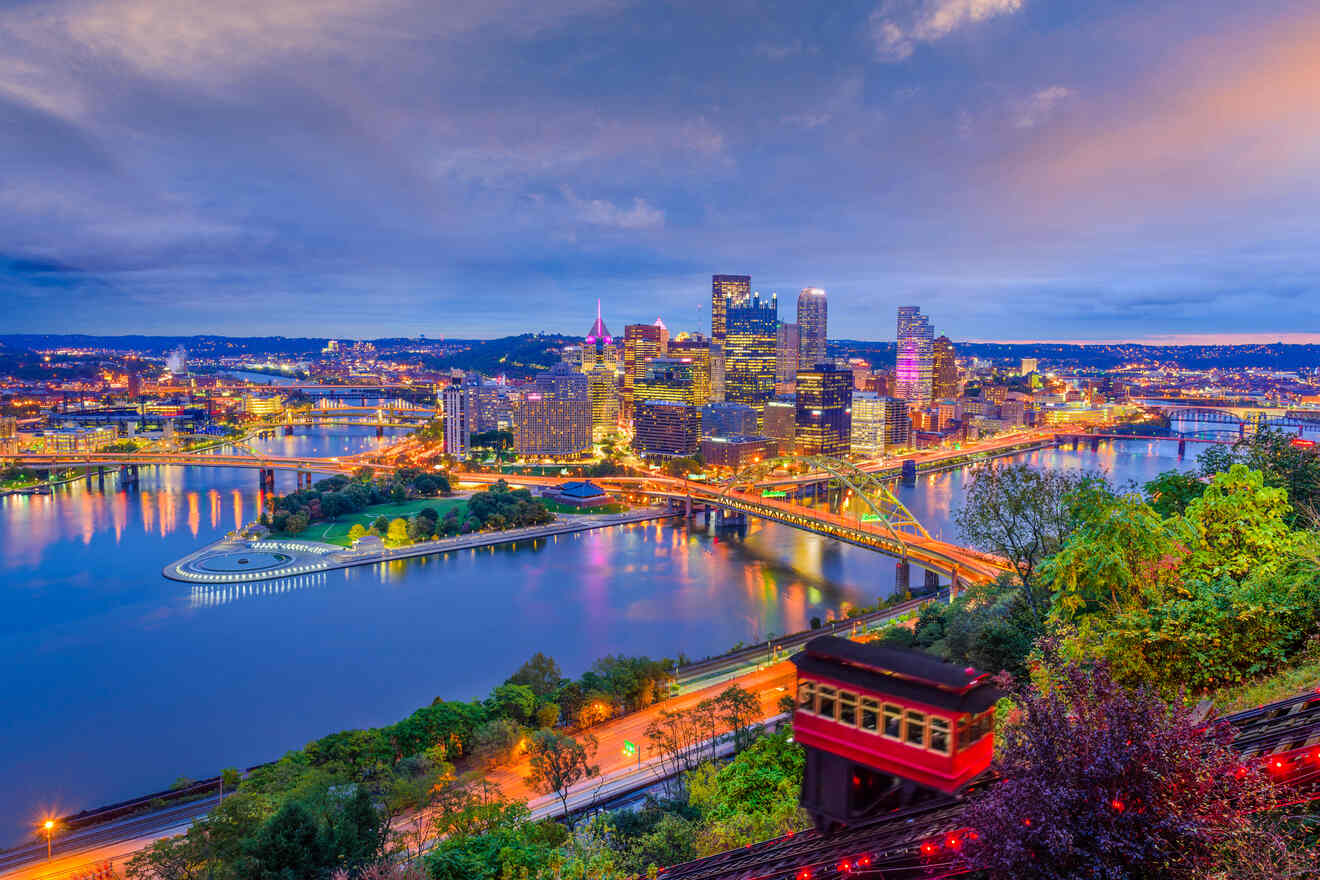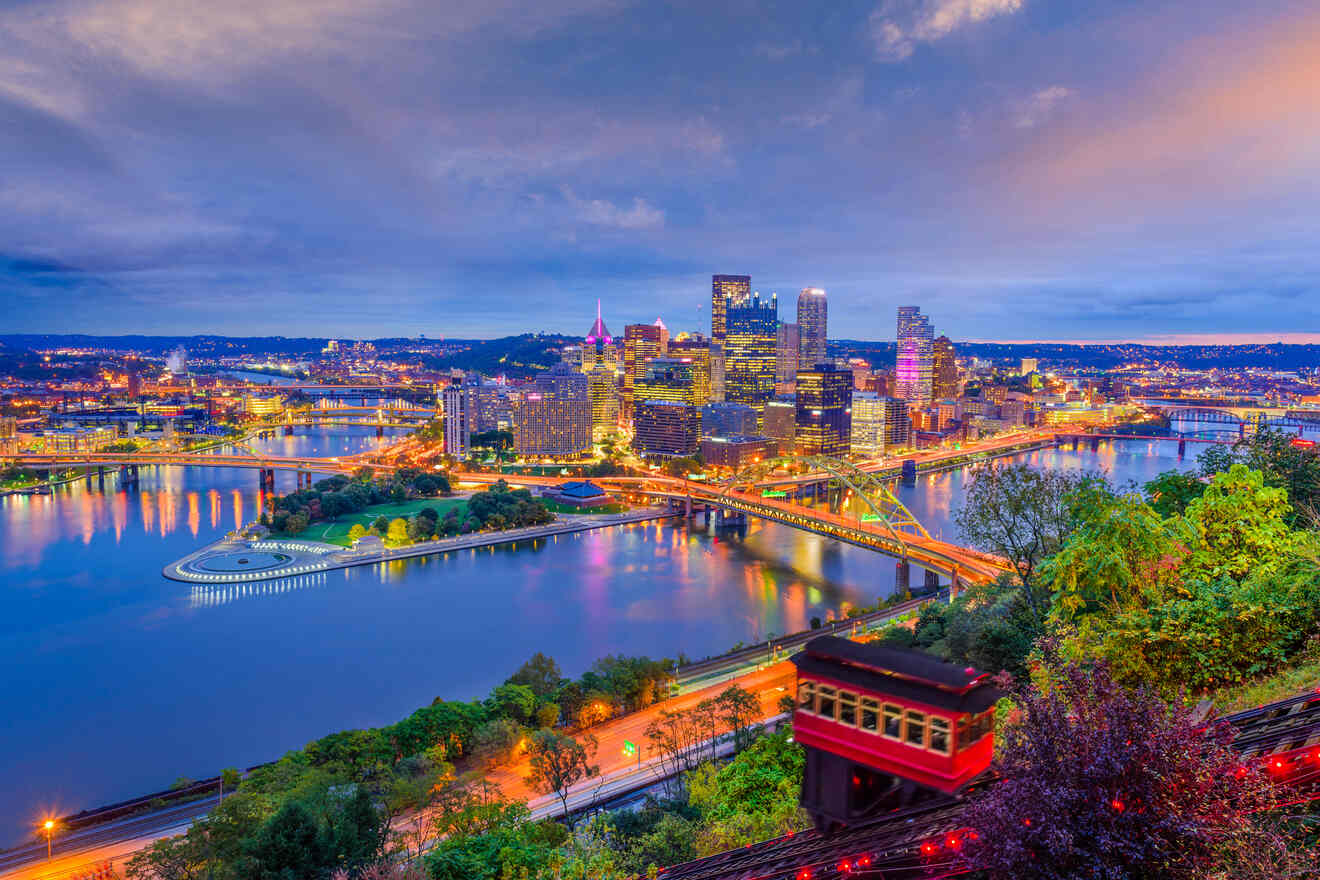 Northwestern Pennsylvania and its rolling hills are something to see at least once in this life. I mean the whole state is filled with incredible forests and wildlife!
And now that we've gone through this list of the best cabin rentals in PA including some great secluded lakefront cabins, and lodges that have a hot tub, you can pack your bags and hit the road!
However if you're still undecided about which cabin to rent then check out my 2 favorite options below:
Cozy Cabin – Set near central Pennsylvania this super cozy cabin to rent out in the mountains has a spacious lounge room, a fireplace, and a swimming pool
Stylish Home – Feel right at home in this great cabin rental near Lehigh Gorge State Park that has a pool and a patio
Just don't forget to book your favorite cabin rental in advance. The good ones will always go first, and the ones listed here are the cream of the crop.
So, enjoy your holiday up in the woods, and if you've got any questions just drop me a comment below. and I'll answer ASAP!
Safe travels,
Victoria
---
Pin it for later!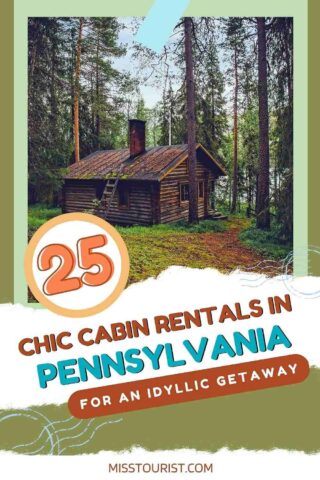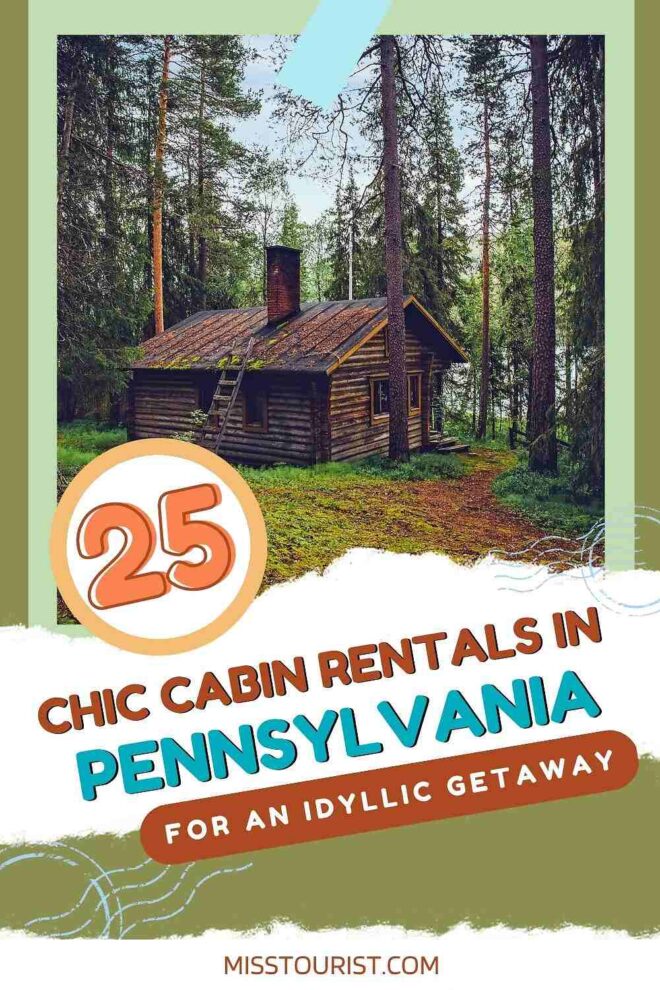 Pin it for later!