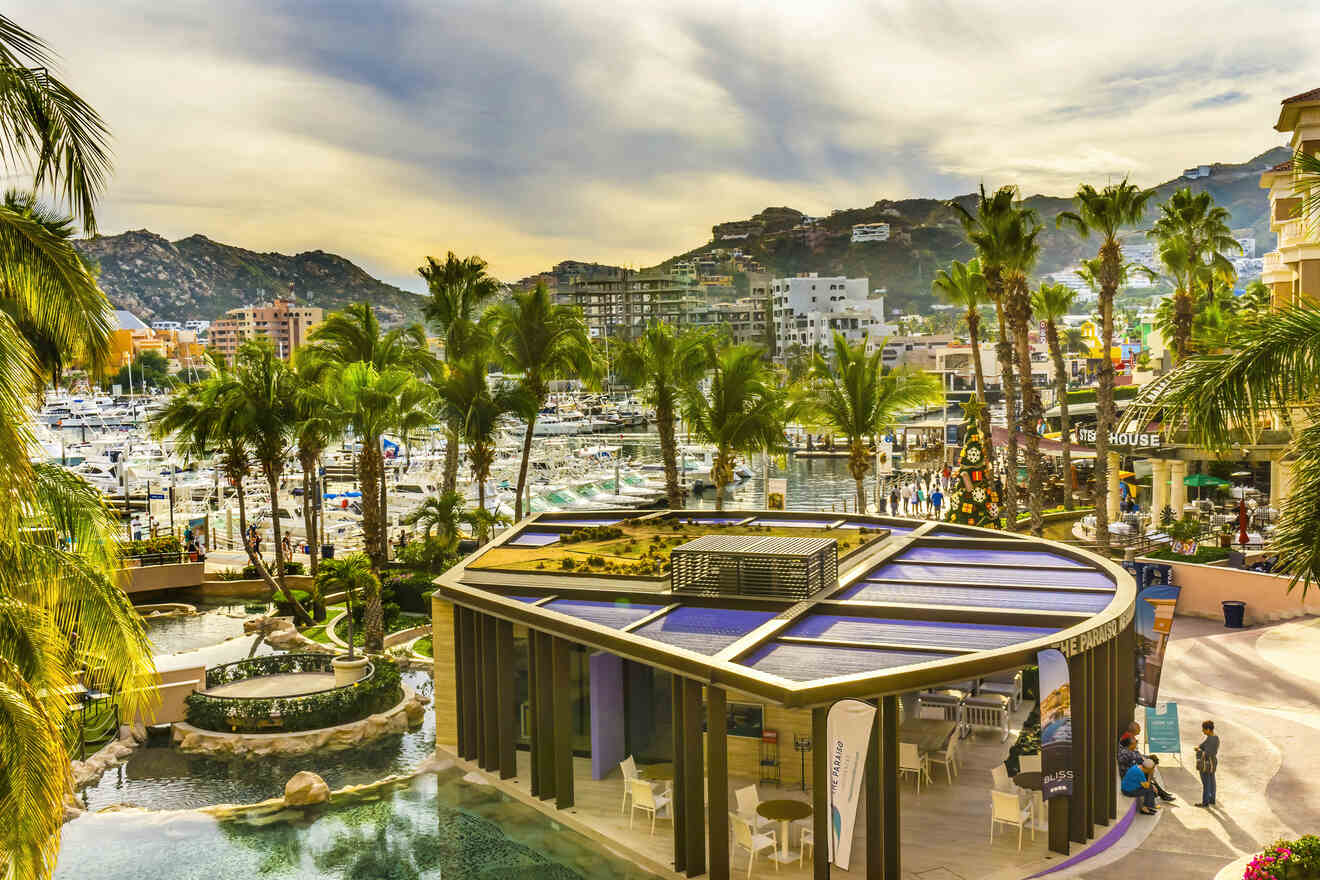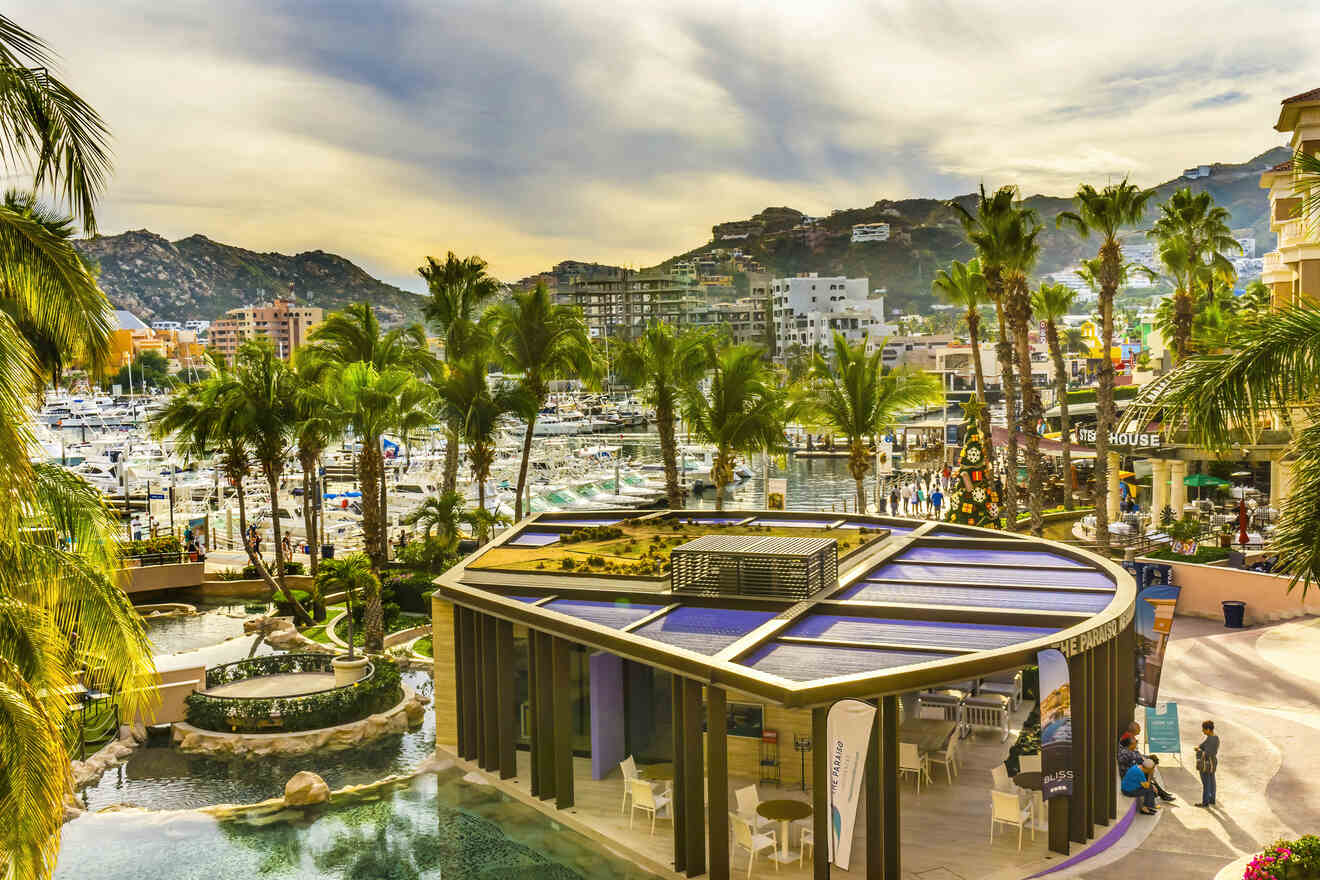 Heading to the beautiful Cabo san Lucas in Mexico soon? I'm sure you already know that you're in for a treat, but why not treat yourself to the most beautiful and relaxing boutique hotel in Cabo that you can find?
Well you're in the right place… To help you find the ONE, I have compiled a list of the top boutique hotels where you can have the relaxing, stylish and comfortable vacation you deserve.
Whether you're looking for a private balcony, uniquely designed rooms, extra cool facilities, a huge fitness center, or a private beach, you will find it in this list. I have added the hotels in price order from most to least expensive so you can easily find one to fit your budget.
But remember, since these are the best and most popular boutique hotels in Los Cabos, they are bound to book out months in advance. So please do yourself a favor and book as soon as you choose! I don't want you missing out on your dream vacation in such luxurious surroundings!
Alrighty, let's go!
If you are in a hurry
If you don't have time to read the whole post, here is a quick list of the best of the best boutique hotels in Los Cabos.
1. Esperanza – where celebrities stay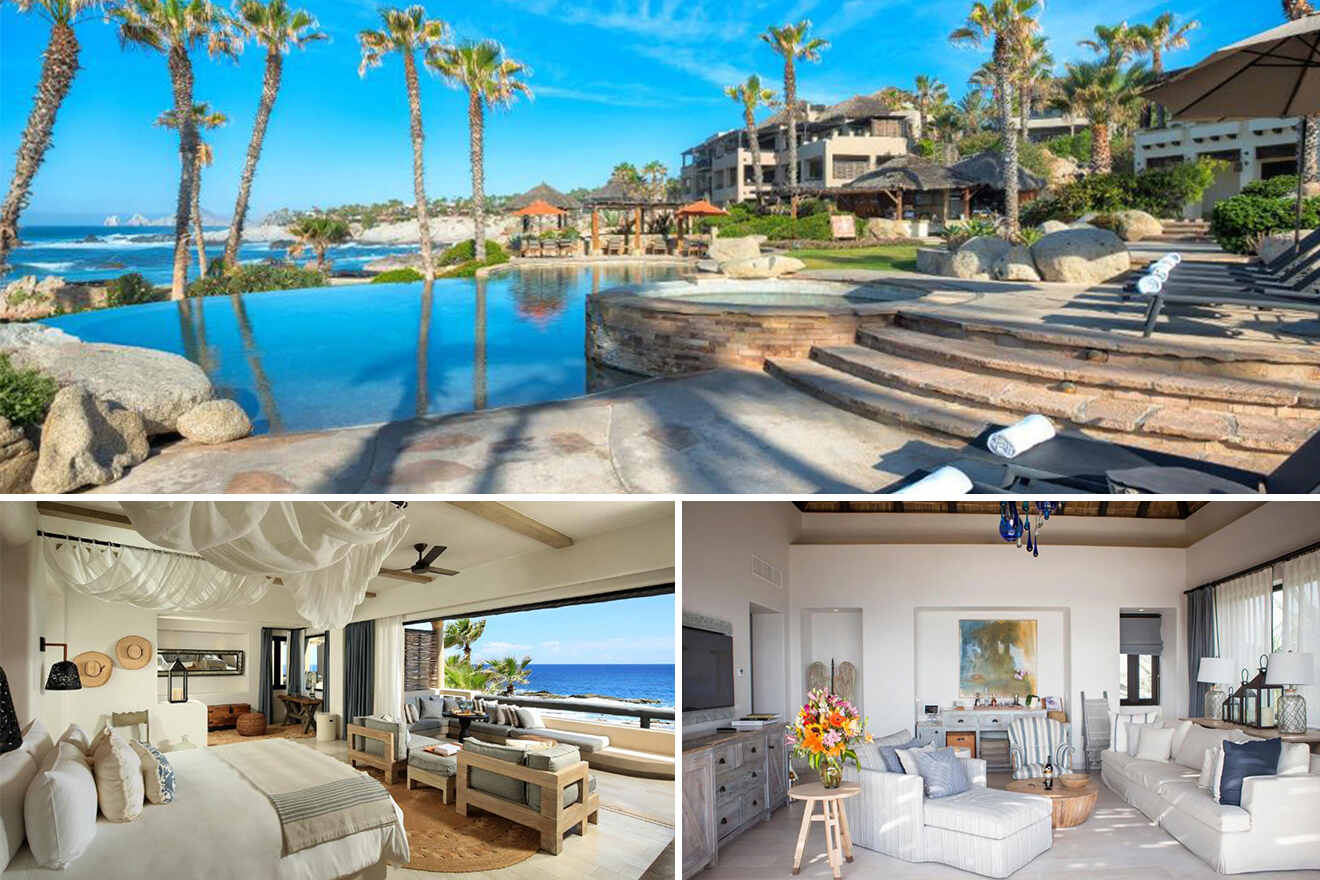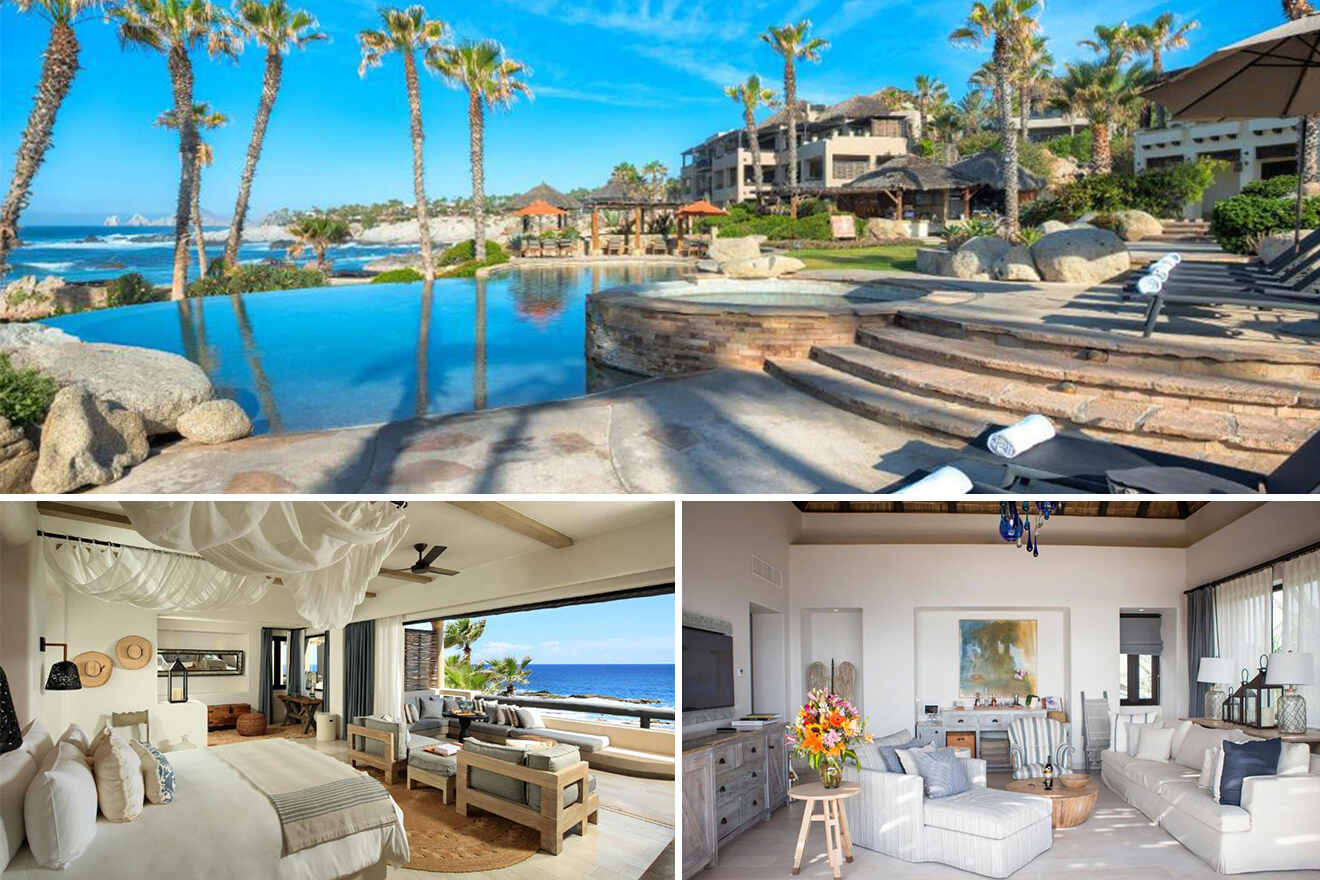 This beautifully designed hotel is perfect if you are looking for privacy and seclusion without renouncing world class facilities and an incredible beachfront location! Don't believe me? Just as celebrities like Fergie, Courtney Cox, Sheryl Crow or Will Smith who all love staying here!
Who could blame them? The individually decorated cabana style rooms afford all the privacy of your own space while still granting access to an elegant spa, beachfront Infinity pool, a private beach with concierge service and the spectacular seaside restaurant, Cocina del Mar, which is partially carved into a cliff! If that's not enough, some of the rooms even feature private pools looking out over the beautiful Pacific Ocean!
Check Availability
2. Chileno Bay Resort – a wide range of room choices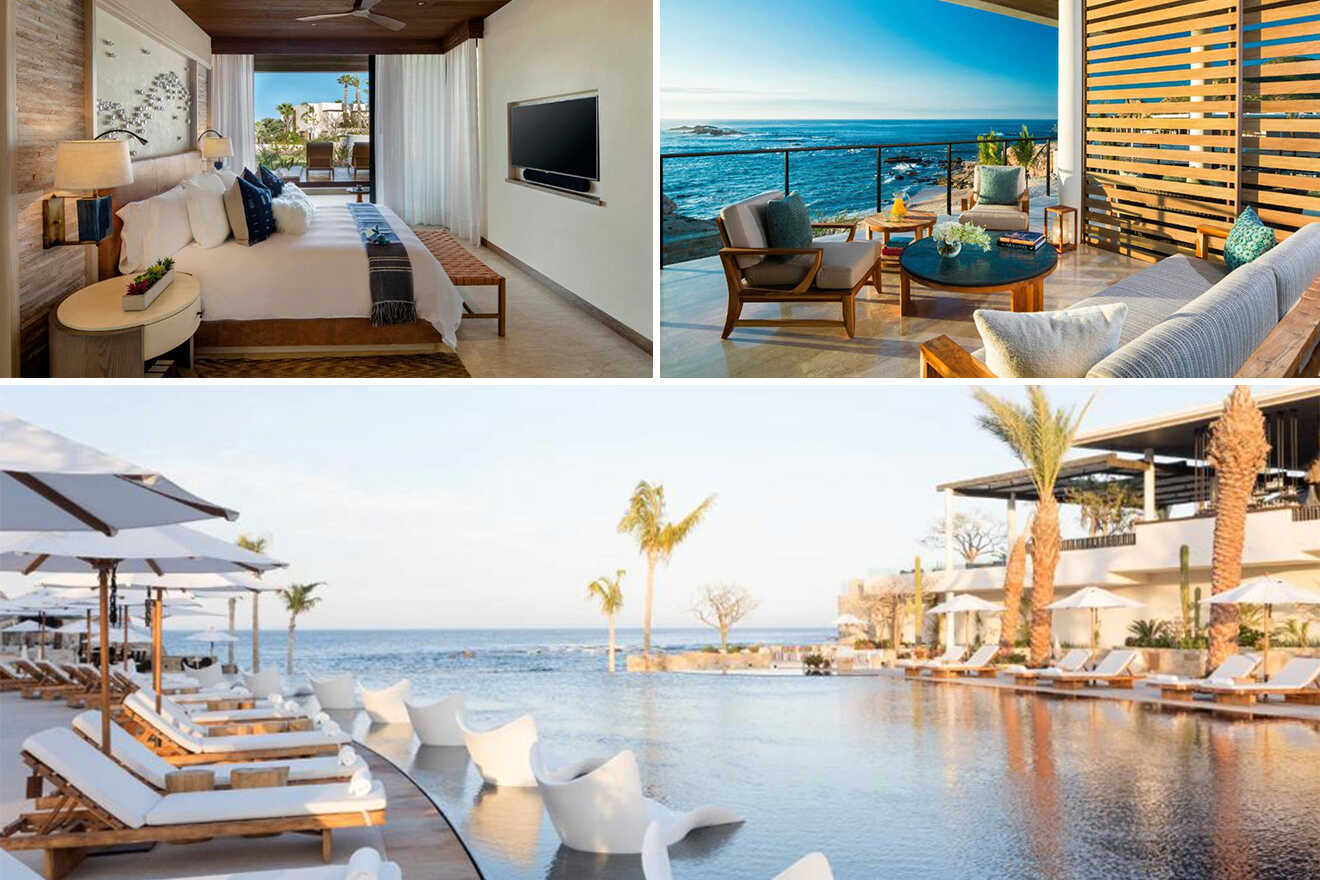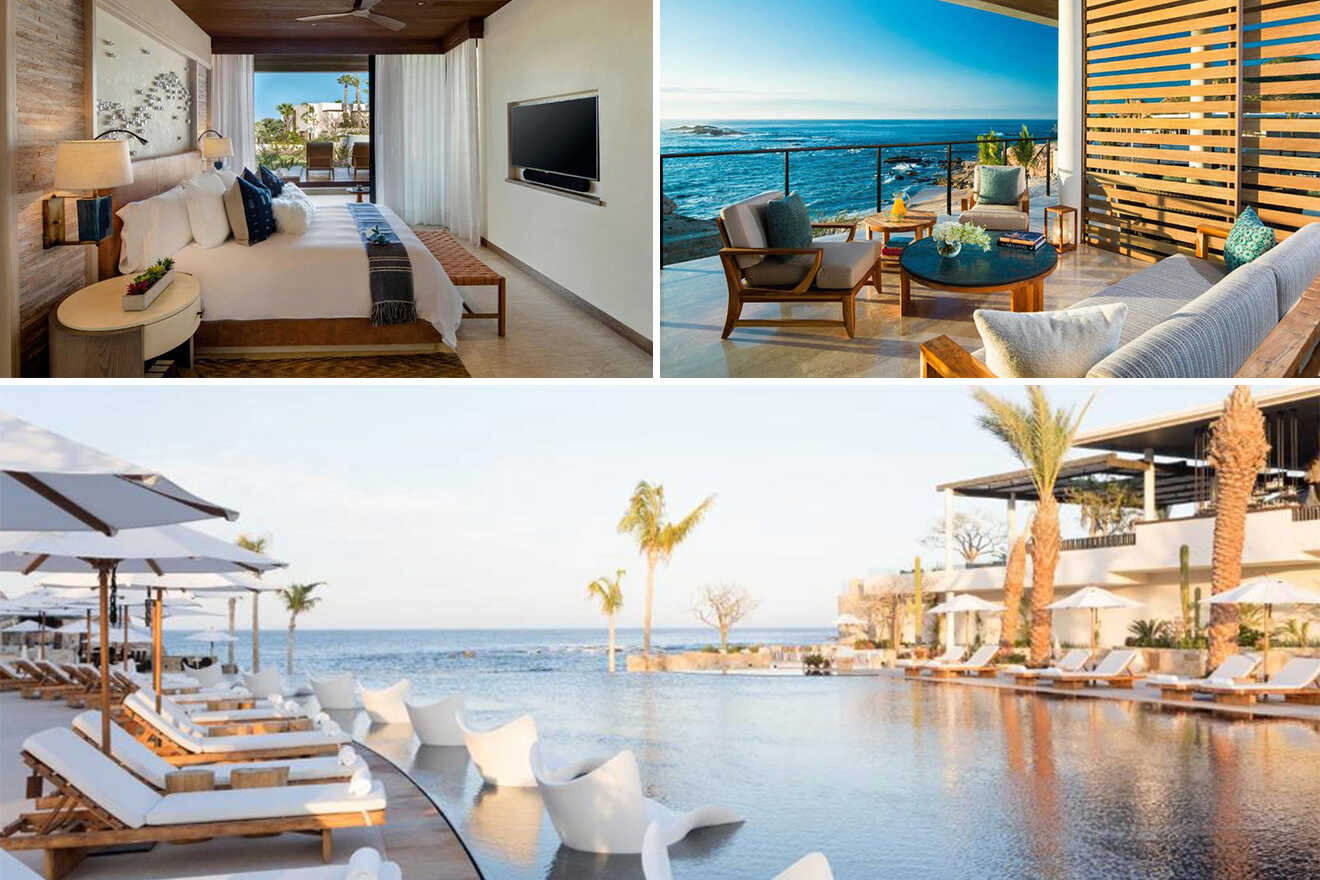 Just a few steps from El Chileno Beach, this beautiful boutique resort boasts the most beautiful day beds surrounding the pool. I could simply relax here all day long! The wide range of spacious suits available mean it's super easy for you to find the perfect room to fit your needs. But know that whichever you choose, it will feature huge floor to ceiling windows which open up to invite the gorgeous outdoor sea breeze in! (I would totally choose the one with the private balcony and hot tub though for the perfect indoor outdoor ambiance!)
While some of the rooms even have a private pool, all guests have access to the shared outdoor swimming pool and a large fitness center, plus a shuttle service and free Wi-Fi all throughout the property!
Check Current Prices
3. Montage Los Cabos – for a personalized experience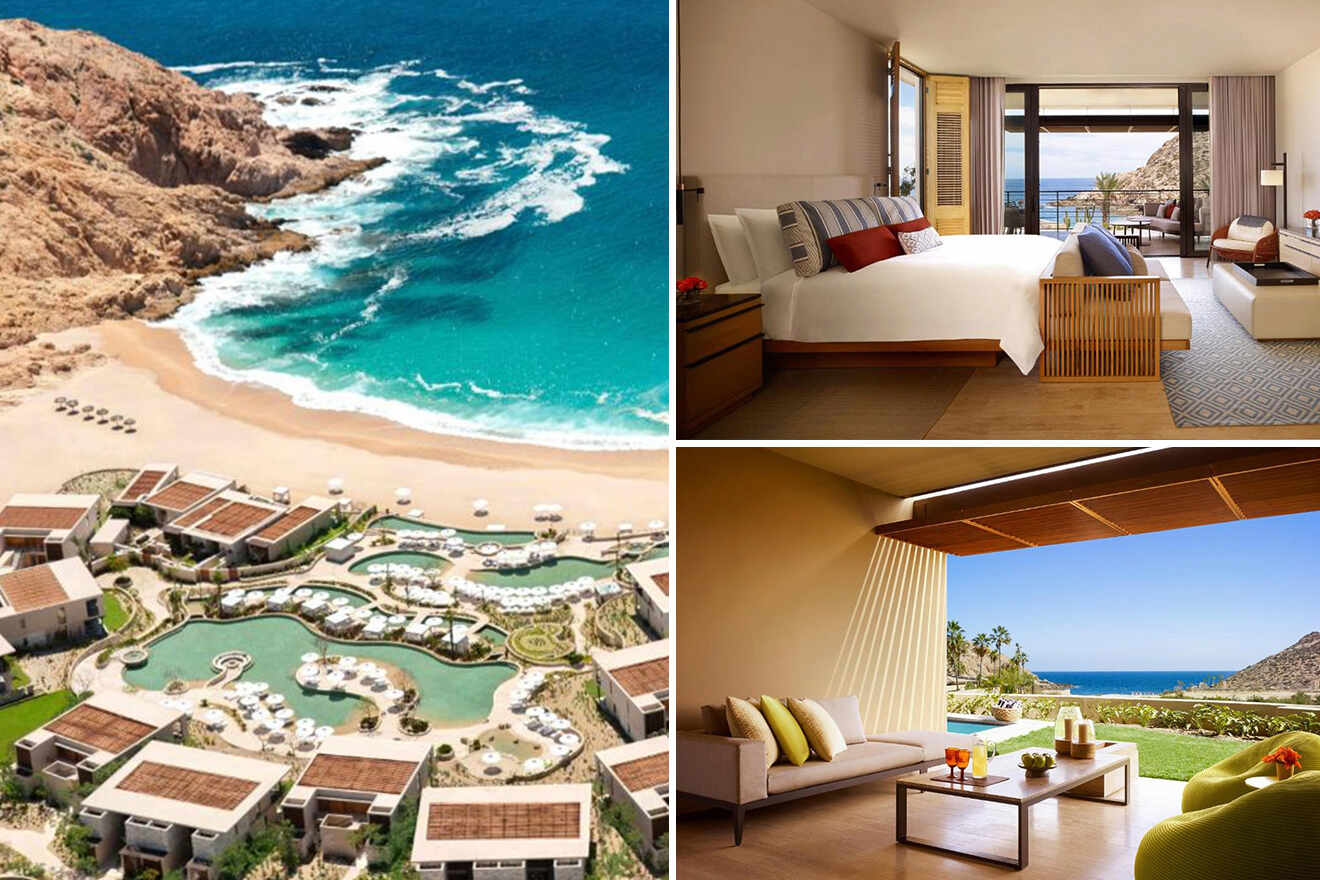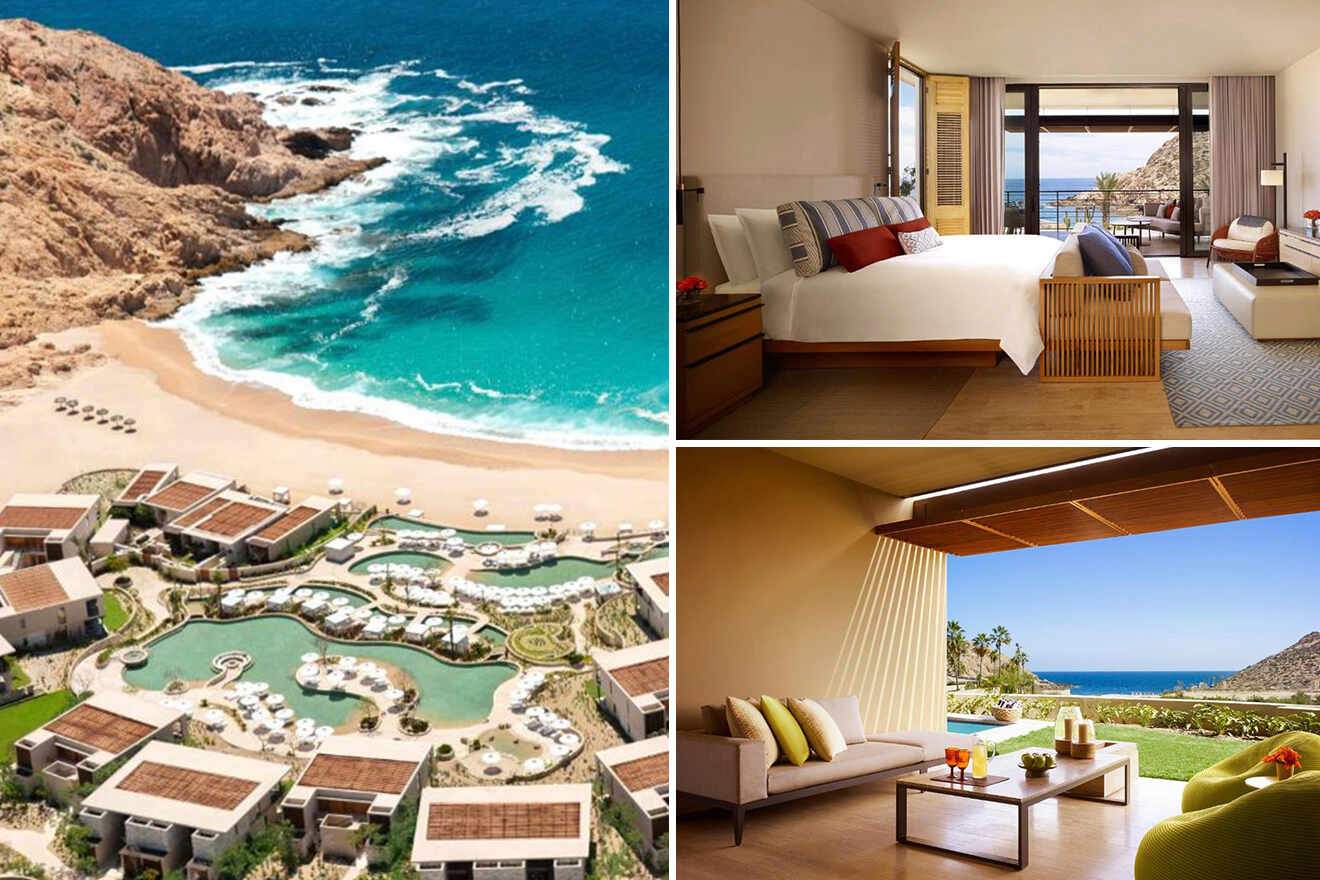 There are so many pools to choose from at this resort you could probably lounge by a different one every day of your trip! Personally, the outdoor pool with a swim up bar overlooking the ocean appeals to me!
But of course this boutique hotel offers so much more than that… Located on a private beach in Santa Maria Bay, Montage also offers access to countless fun watersports, which one will you try first? The friendly staff at Montage Los Cabos are also praised for offering a super personalized service, being ready to help with airport transfers to Los Cabos International Airport, advice and assistance at all hours!
Find Available Dates
4. Hacienda Beach Club – in the center of Cabo san Lucas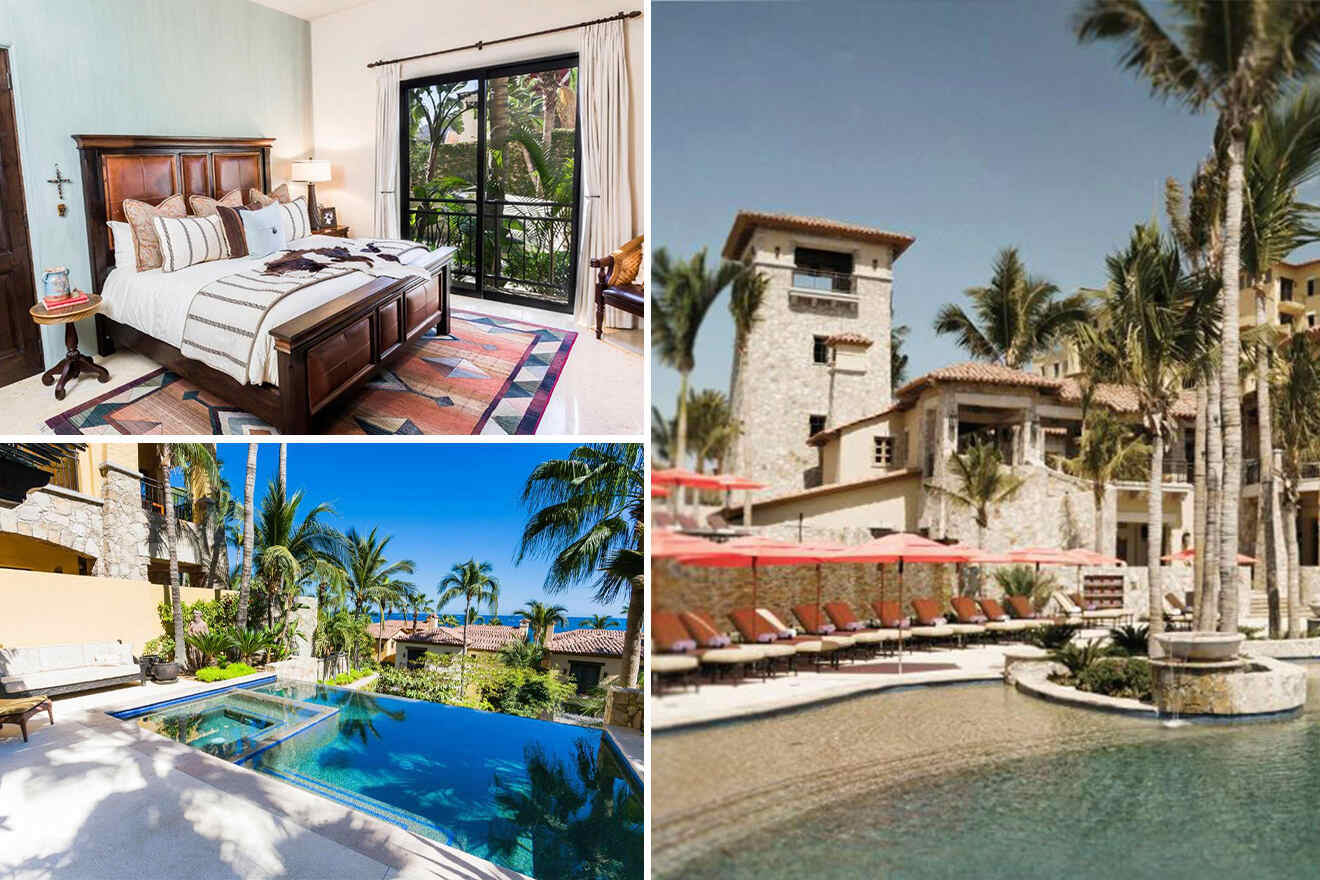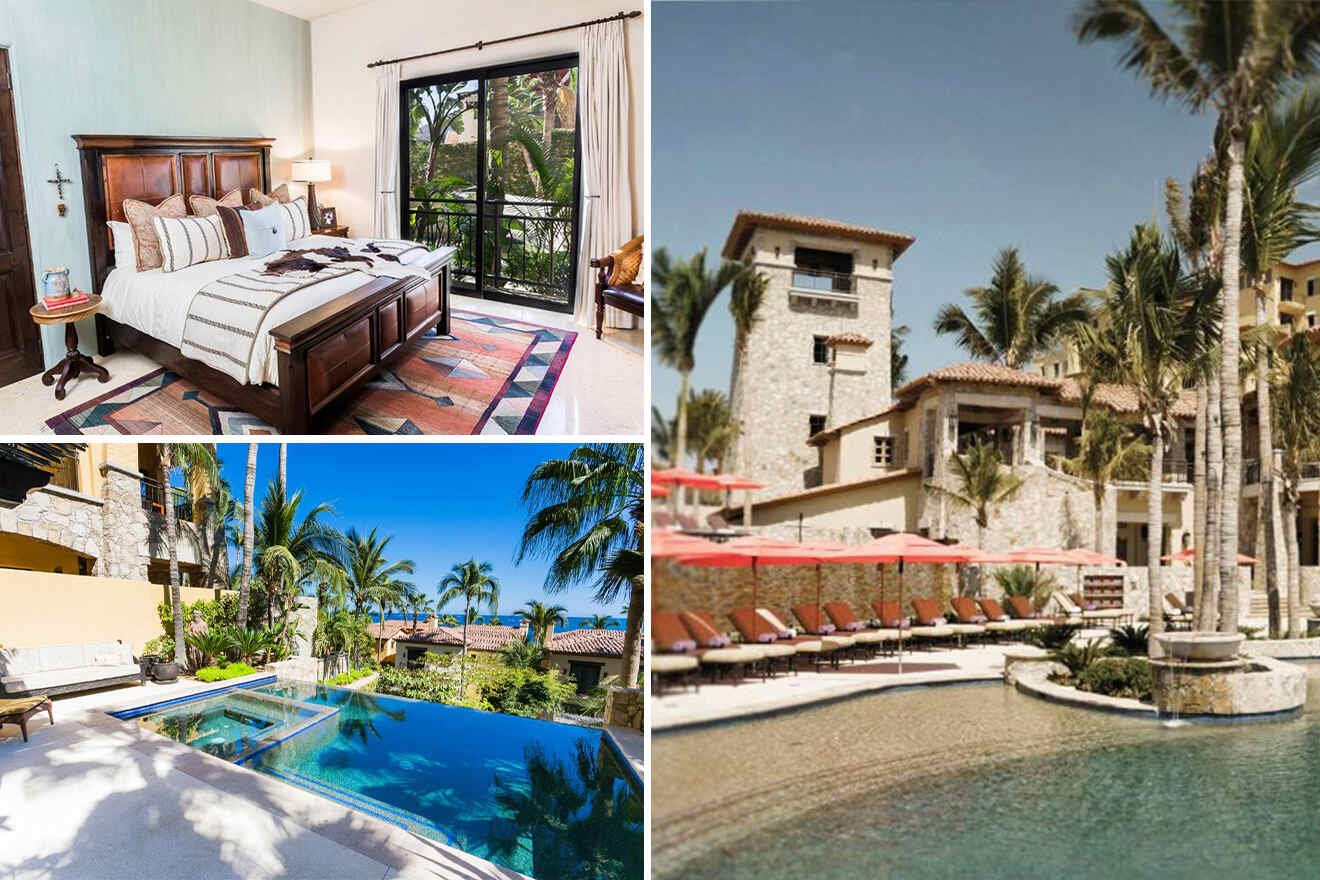 With an unbeatable location right in the heart of Cabo San Lucas, the Hacienda Beach club and Residences is located in a gated community, very close to Medano Beach (a swimmable beach)! So if you're an adventurous traveler who likes to explore outside of the resort on your vacation, this one's for you!
But saying that, I could understand if you never want to leave this incredible boutique hotel. With villa style suites (each with a spa tub) and the option of private hot tubs, there's a chance I wouldn't even leave my room here! Surrounded by palm trees, it would be easy to think you're at a villa in Bali, but the dramatic views of the rocky cliffs of the Sea of Cortez found from the outdoor pool and throughout the property are sure to remind you where you are!
Check Availability
5. The Cape, a Thompson Hotel – with an outdoor spa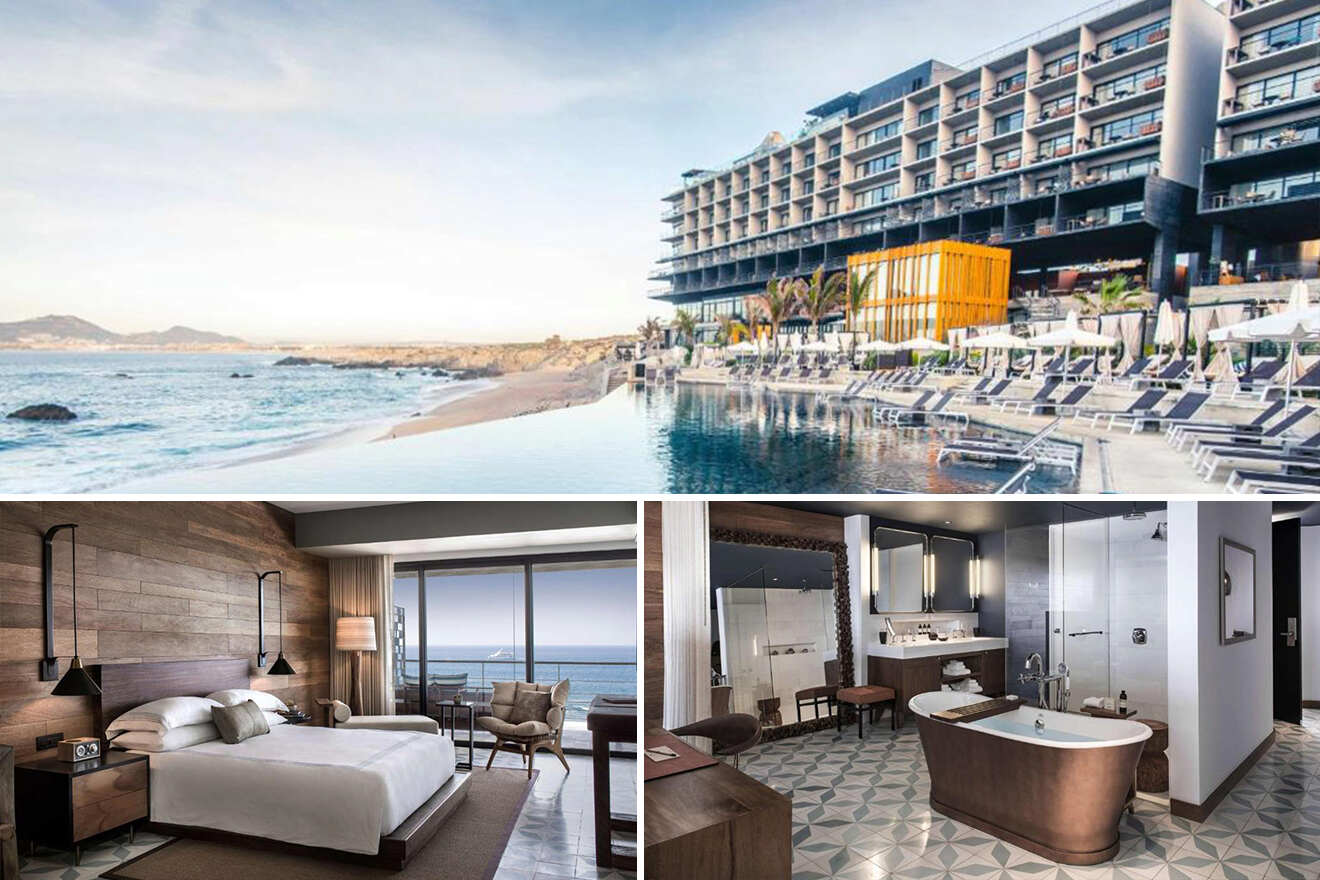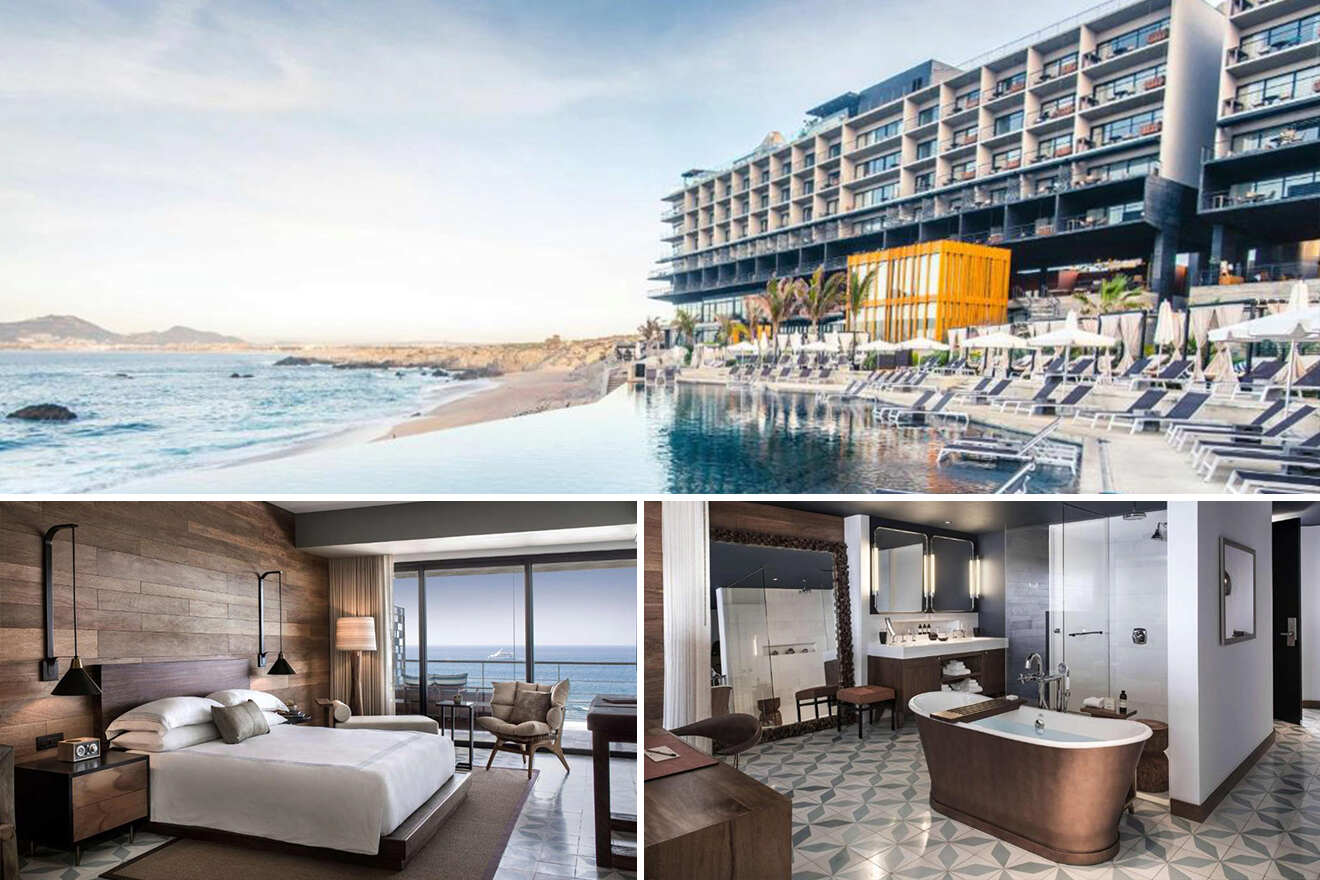 If you're someone like me who loves to be outdoors as much as possible, you can stop right here! The Cape does an amazing job at bringing the outdoors in with huge glass windows and walls, private patios and even an outdoor spa!
Located opposite Medano Beach at the far end of the tourist corridor, The Cape features a modern, minimalist design where the rooms here really allow the ocean views to be the focal point of the room! But when you enter the bathroom you can't help but admire the freestanding copper tub dominating the space. What a perfect place to relax and unwind on your vacation! What's more, the Cape has so many additional spaces available like 2 onsite restaurants, a rooftop bar and an events space, perfect for an intimate wedding!
Check Current Prices
6. Cabo Surf Hotel – relaxing boutique hotel for surfers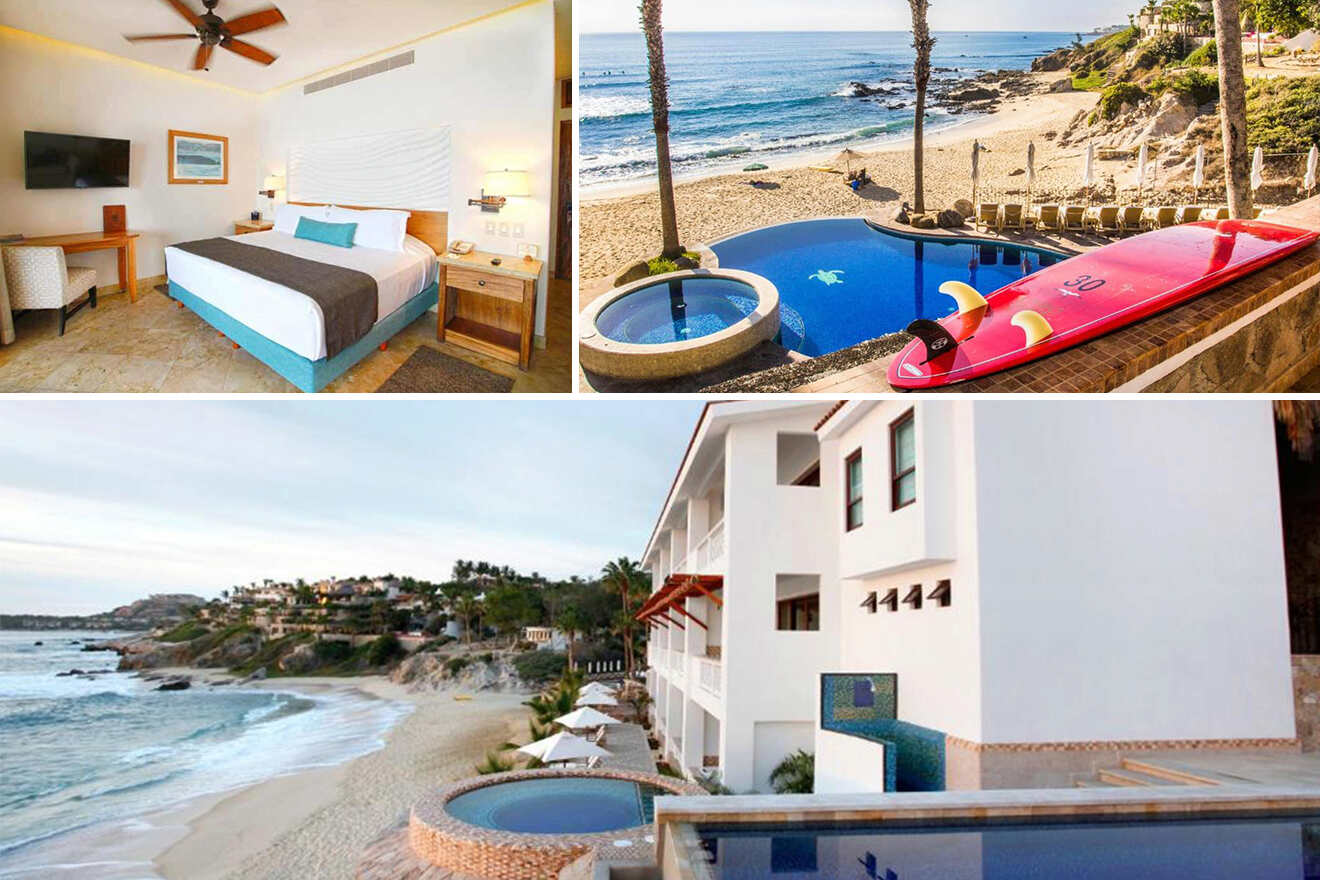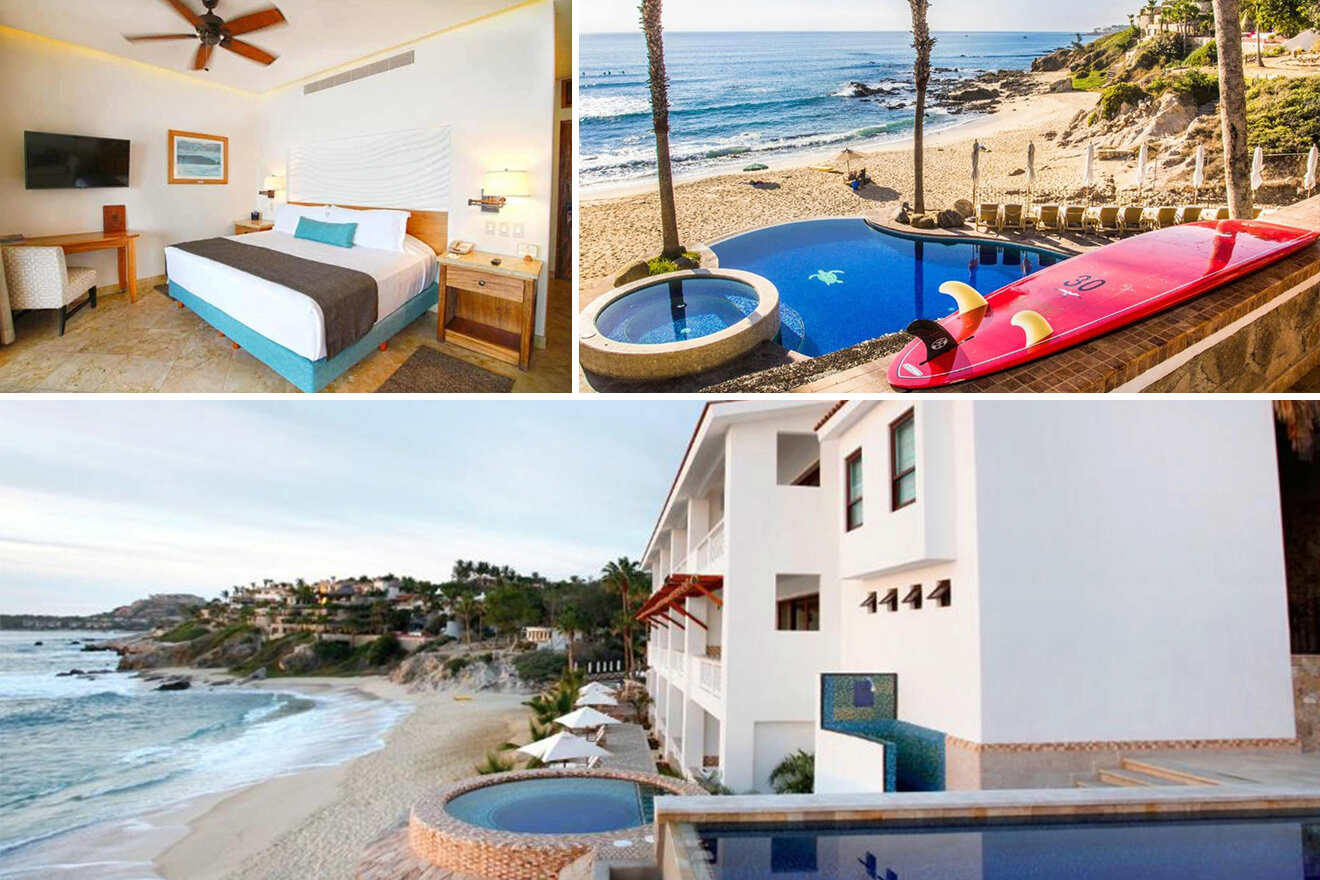 Found on Acapulquito Beach, one of the most popular surf beaches in Cabo, Cabo surf hotel offers the ultimate escape for passionate surf lovers! Other than being steps from the best breaks on a beautiful beach full of palm trees, this boutique hotel offers calming vibes thanks to the natural tones, as well as all the amenities needed to relax your muscles after a long day in the ocean.
Get a massage at the spa, relax in the hot tubs, work out in the fitness center, or catch the sunset from either of the two infinity pools… How you choose to spend your evening is up to you, but I definitely recommend indulging in a meal or two at the onsite restaurant which serves Mediterranean and contemporary Mexican cuisine!
Find Available Dates
7. Hotel El Ganzo Adults Only – the most unique luxe amenities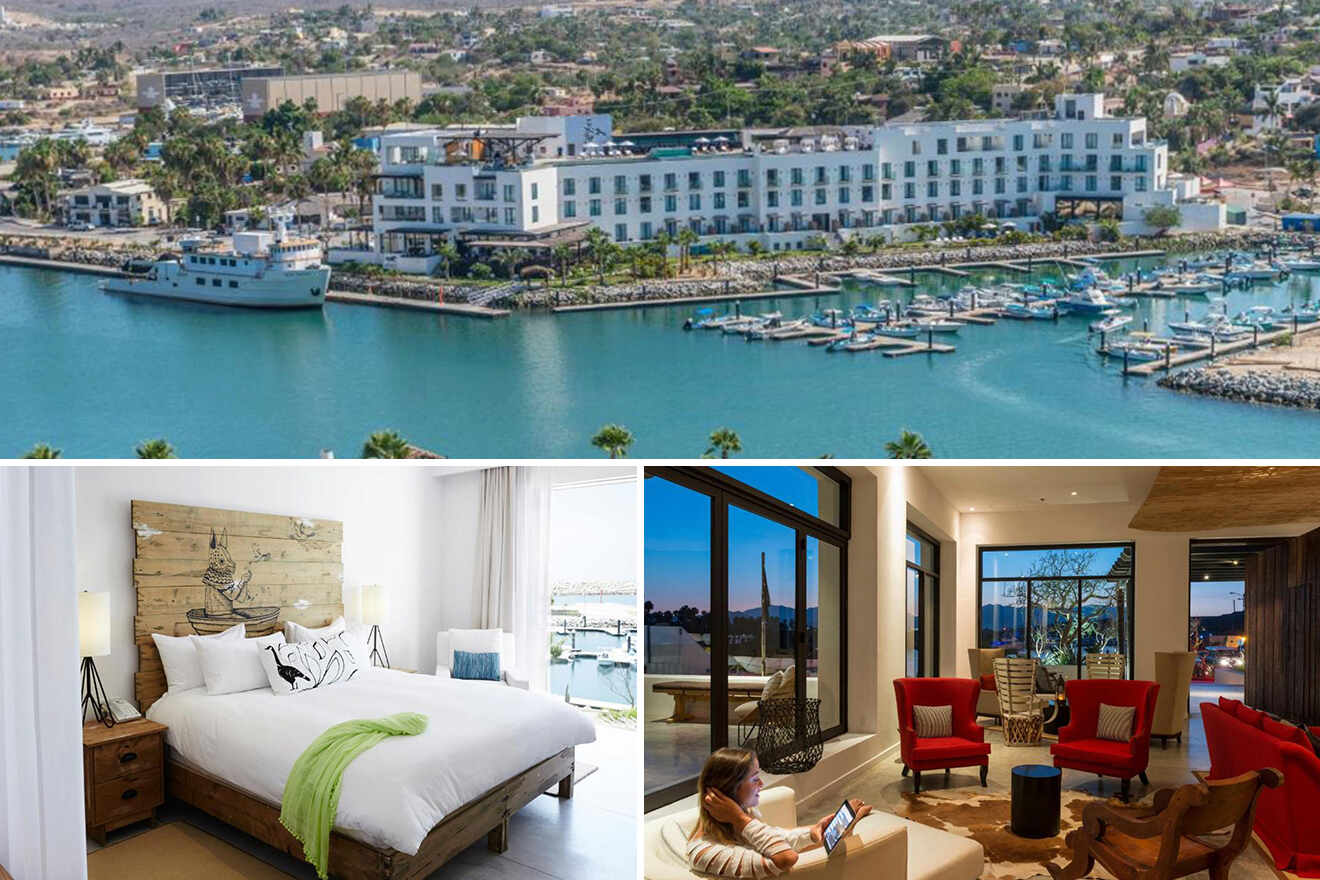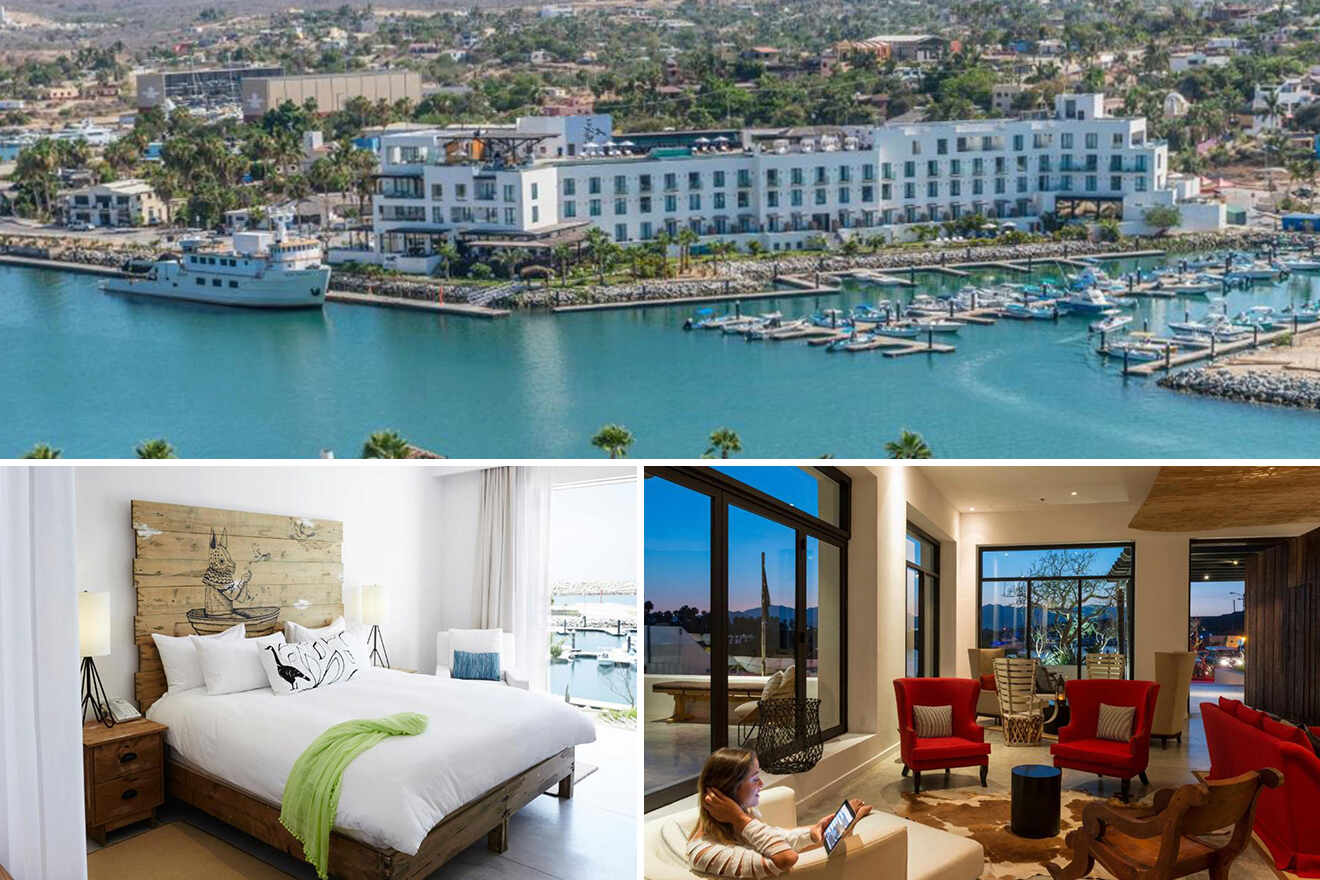 With a long list of unique facilities that you won't find in most hotels, Hotel El Ganzo certainly stands out amongst this list as a great place to find new passions! Featuring an onsite recording studio, private beach and marina, free minibars, library, art program and a delicious rooftop sushi restaurant, it's no surprise that celebrities such as Charlie Sheen and Sean Penn choose Hotel El Ganzo for their Cabo getaway!
No matter what relaxes you, you'll find it here with a full service spa and wellness center featuring treatments, sauna and solarium, a fully equipped fitness center and countless pools! (Check out the one with glass walls!) What's more, the beautiful, light rooms here each feature air conditioning and quirky artworks which are sure to make you smile!
Check Availability
8. Bahia Hotel & Beach House – an affordable boutique hotel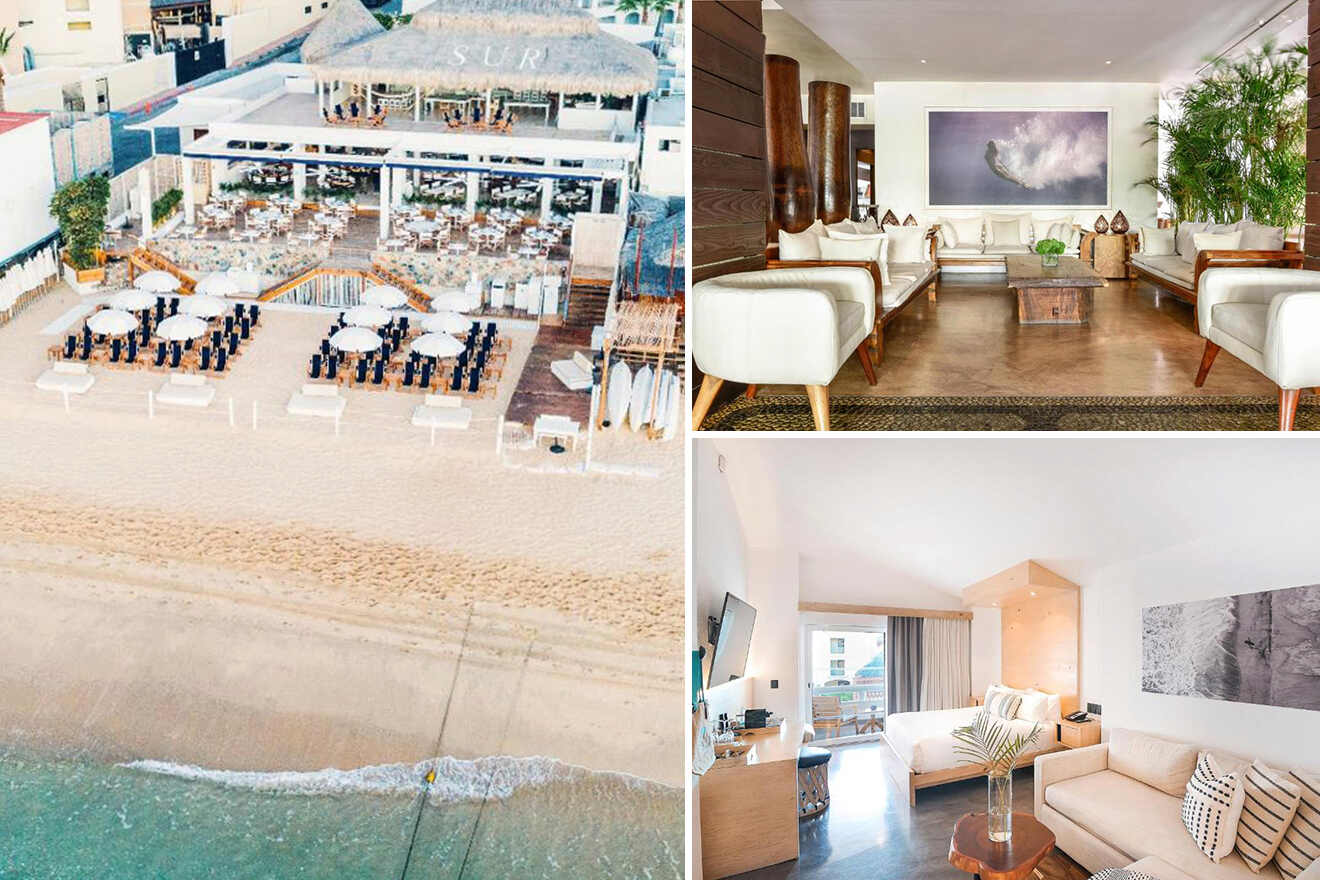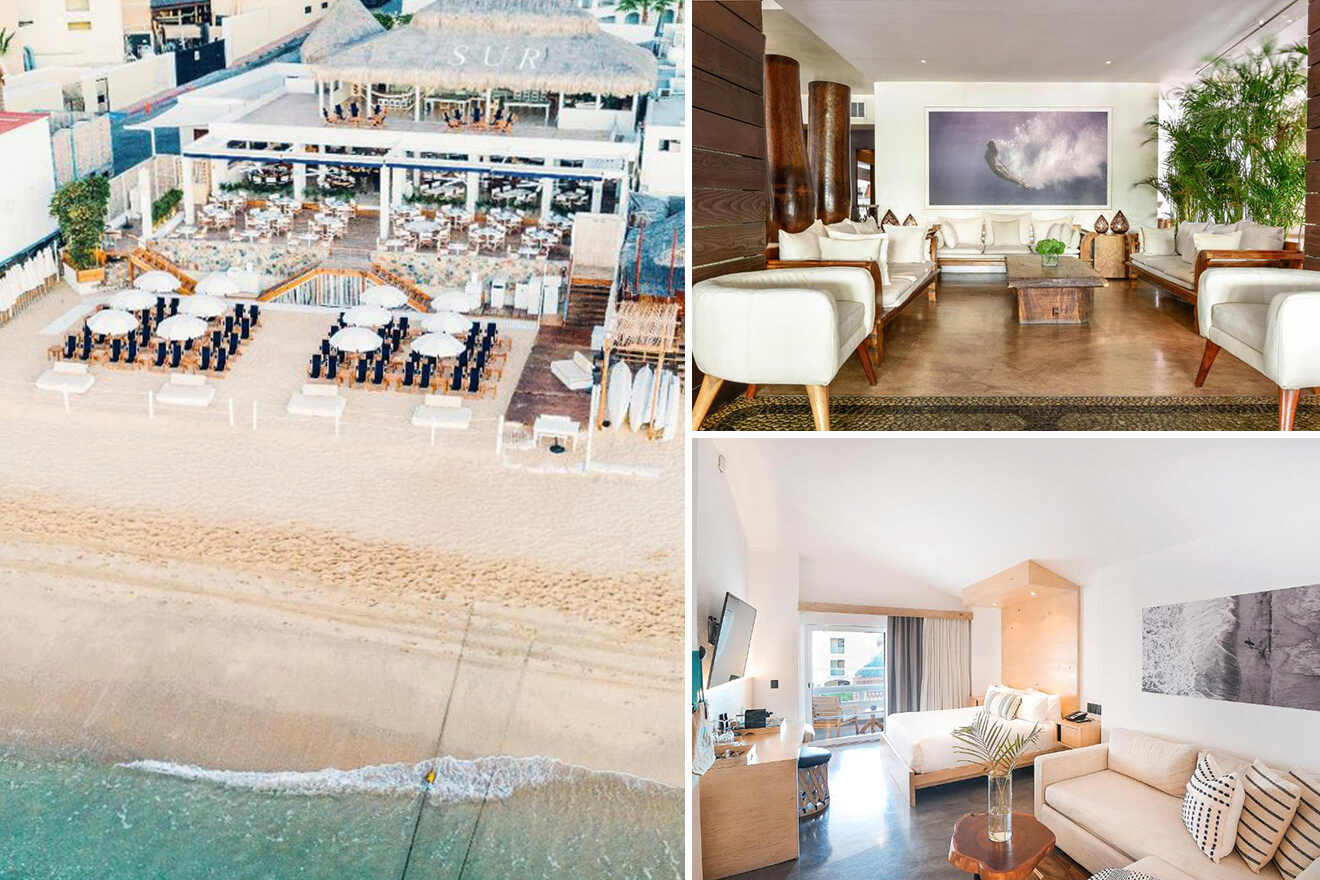 If you're searching for a beautiful 4 star hotel with elegant rooms and all the facilities, but not wanting to spend a fortune, I've found the perfect place for you! The breezy, modern rooms are the epitome of calm with many ways to relax including an indulgent bathroom, private terraces and hammocks, but the swim up bar is where you would find me!
Get ready to spend days lying at the nearby beach, brunching on delicious food, and splurging at the fine dining restaurant onsite. Note that the nearby beach club associated with Bahia Hotel is actually a little walk up the road but as a guest you will receive full access. Plus, if you want to save a little money, you can easily wander into town to eat at any of the other a la carte restaurants around as this hotel is located in one of the best areas to stay in Cabo!
Check Current Prices
9. Sirena del Mar – great boutique hotel in Cabo for families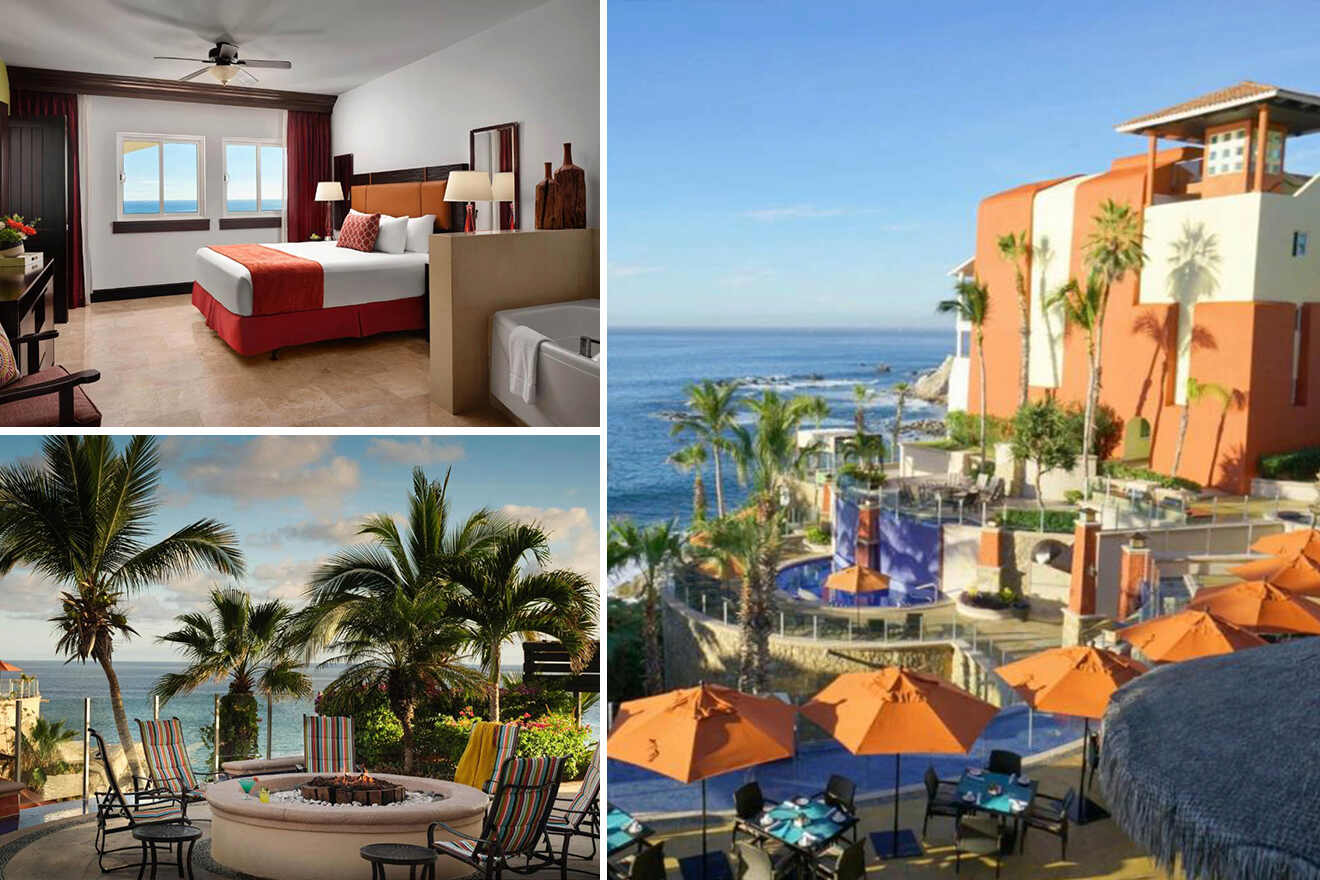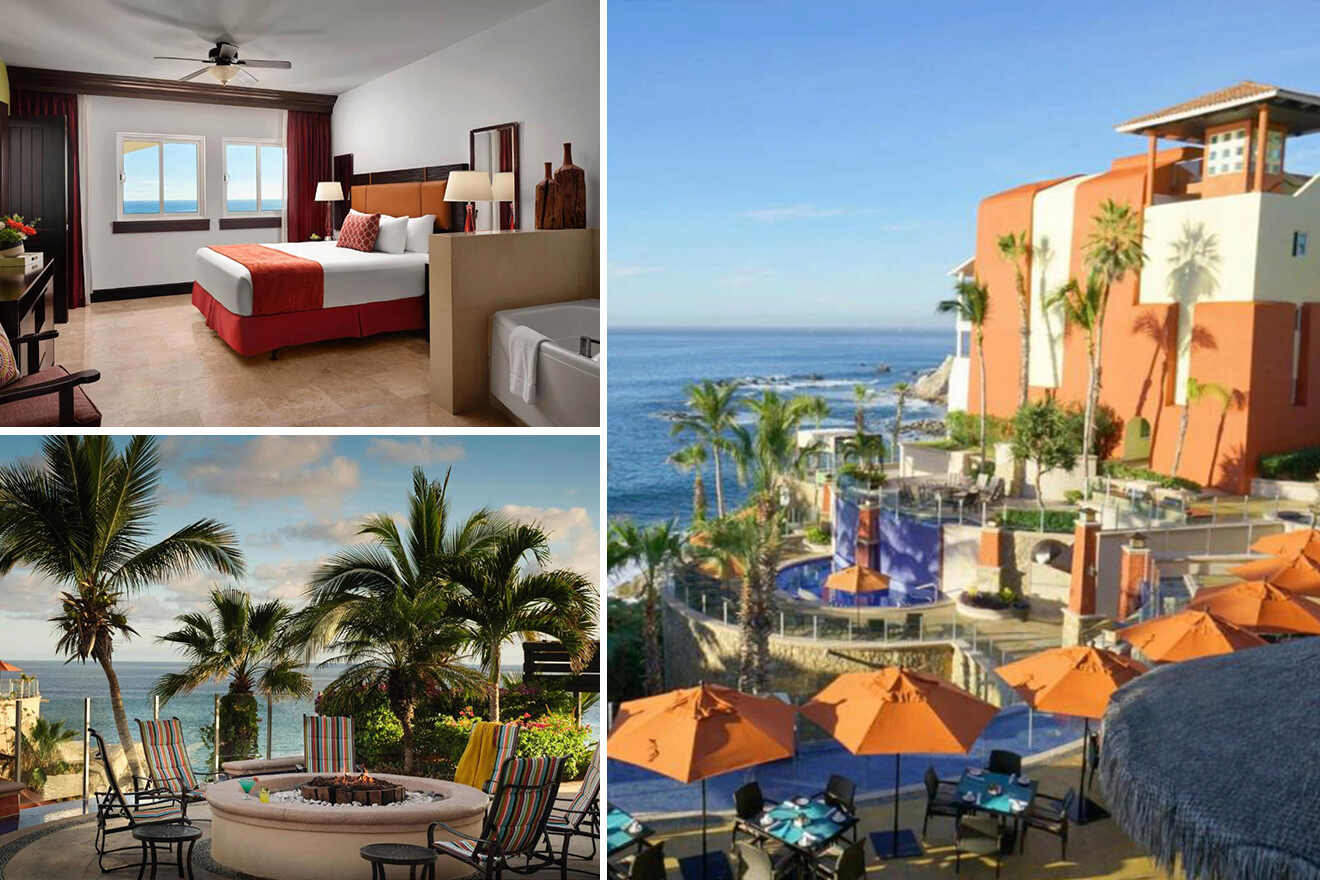 Boasting unbeatable value for money, Sirena del Mar is the perfect place to stay if you are looking for a fun boutique hotel without breaking the bank. With many onsite activities such as snorkeling, spanish lessons, cooking classes, ping pong tournaments and guitar hero challenges, the whole family is bound to have a good time here!
Here you will also have many options to choose from when deciding on room size and design, pools where to relax and comfy places to hang out at night such as the cliffside fire pits, games rooms and sun loungers!
Find Available Dates
FAQs about boutique hotels in Cabo san Lucas, Mexico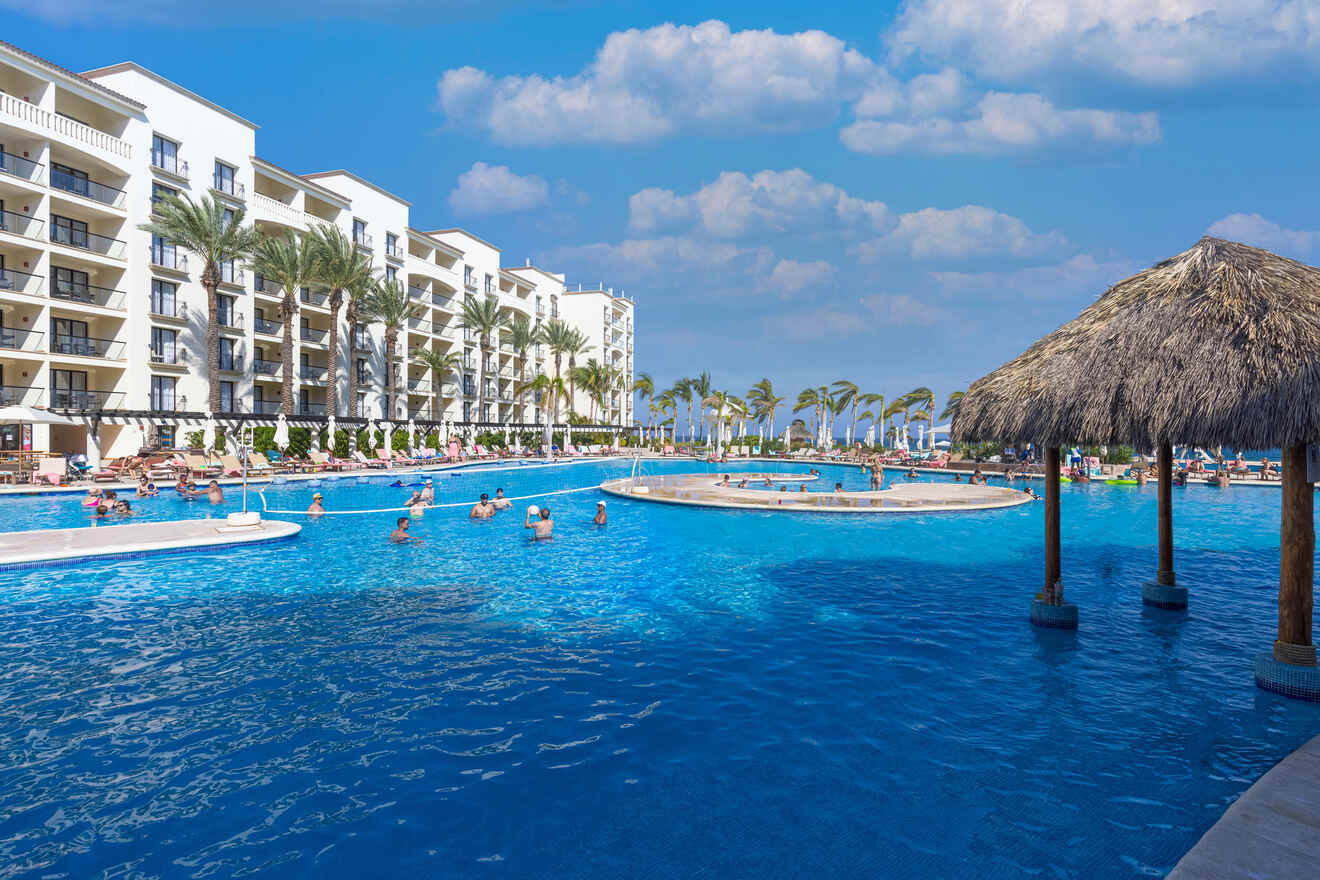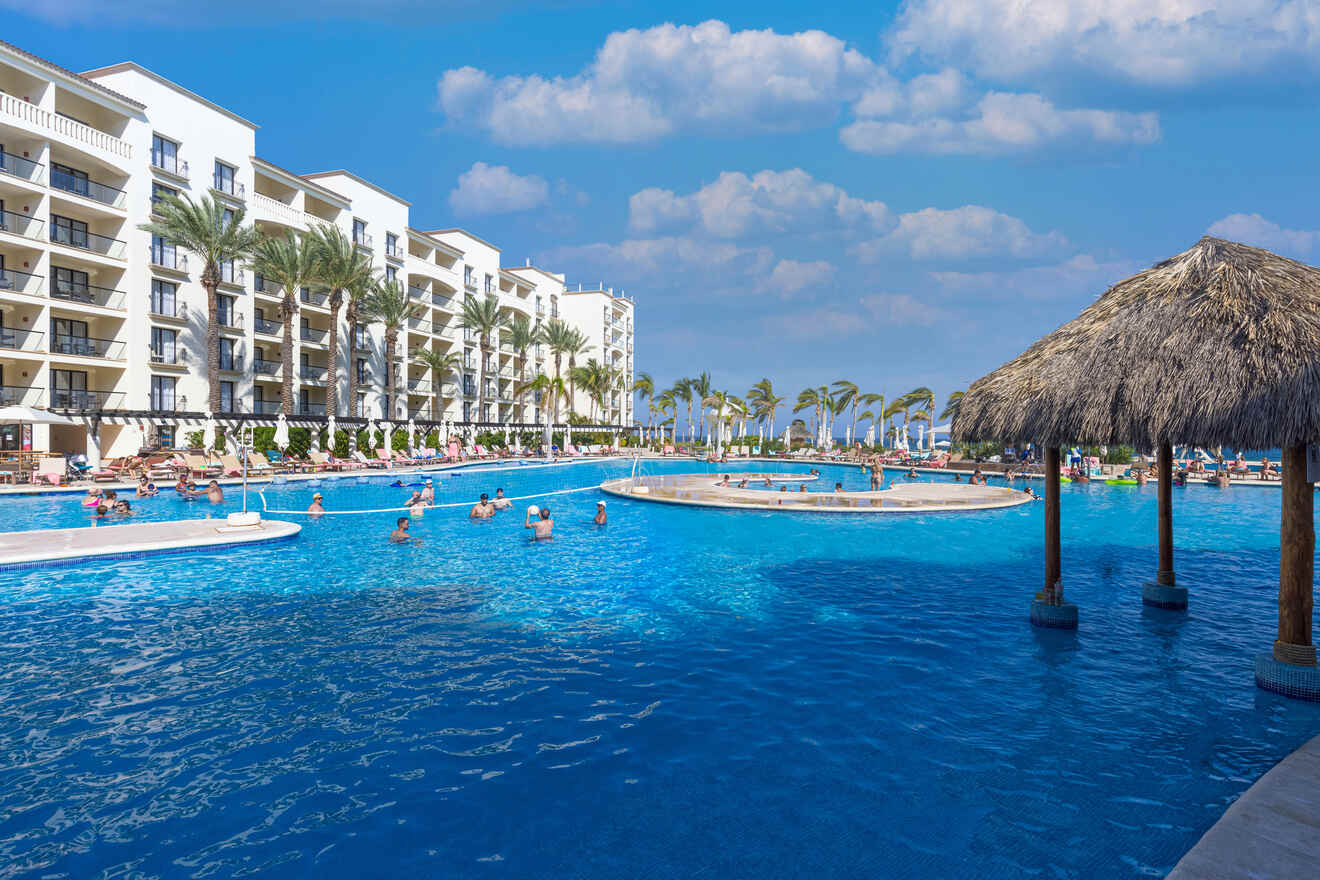 💲Are there affordable boutique hotels in Cabo San Lucas?
Yes, Sirena del Mar is an affordable boutique hotel in Cabo, perfect for anyone looking for a beautiful stay for more mid range prices. Alternatively, The White Lodge is another great option that is even cheaper.
🏖️ Which is the best all inclusive boutique hotel in Cabo?
Breathless Cabo San Lucas is the best all inclusive boutique hotel in Cabo, located on one of the only swimmable beaches in the area.
🛎️ What is the best boutique hotel in San José del Cabo?
Casa Natalia Boutique Hotel is a great boutique hotel in San Jose del Cabo, featuring individually decorated rooms with local artwork located at the end of the tourist corridor.
👨‍👩‍👧 Which is the best boutique hotel in Cabo, Mexico, for families?
The best boutique hotel in Cabo for families is Sirena del Mar, offering many different activities for all interests and affordable prices.
Conclusion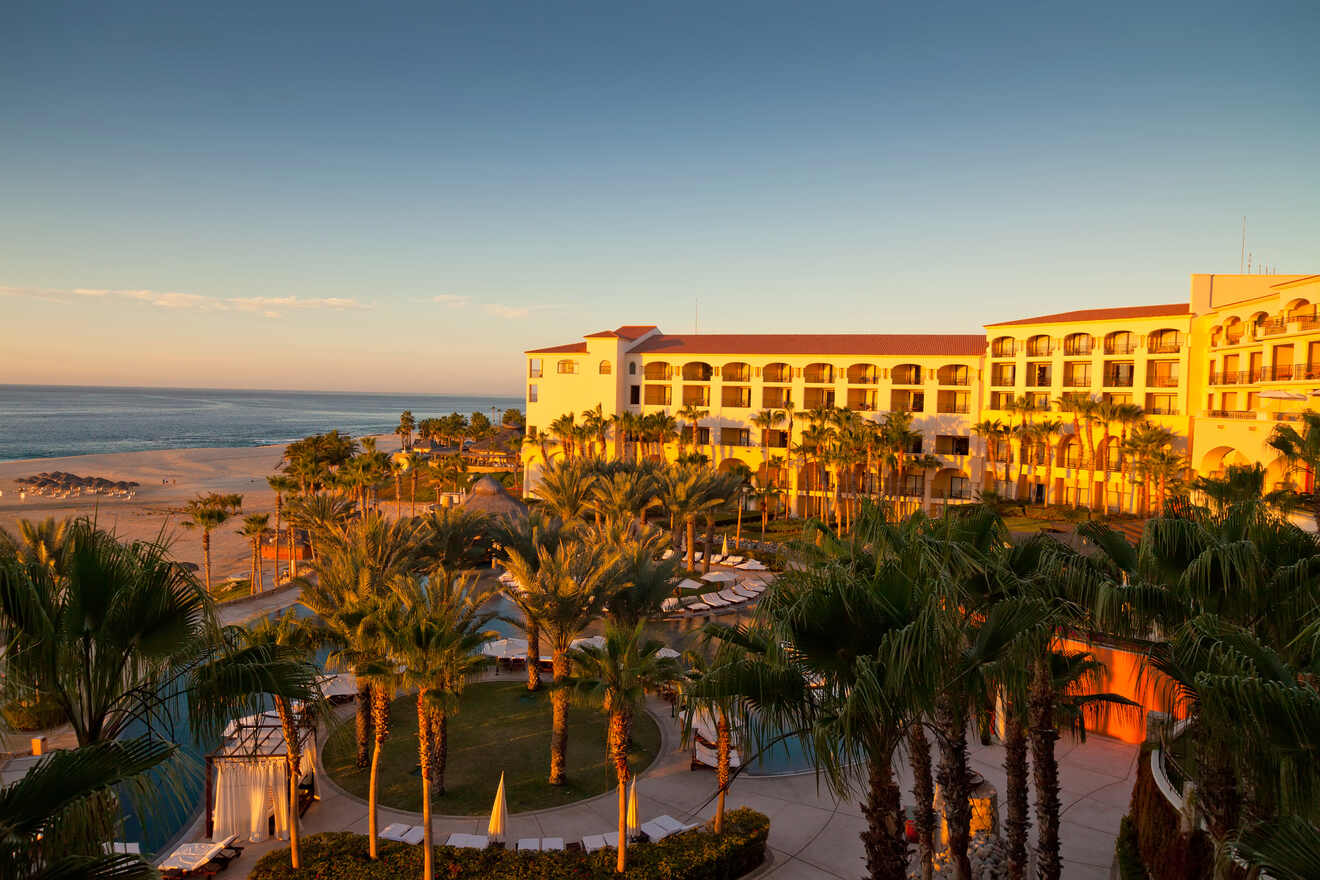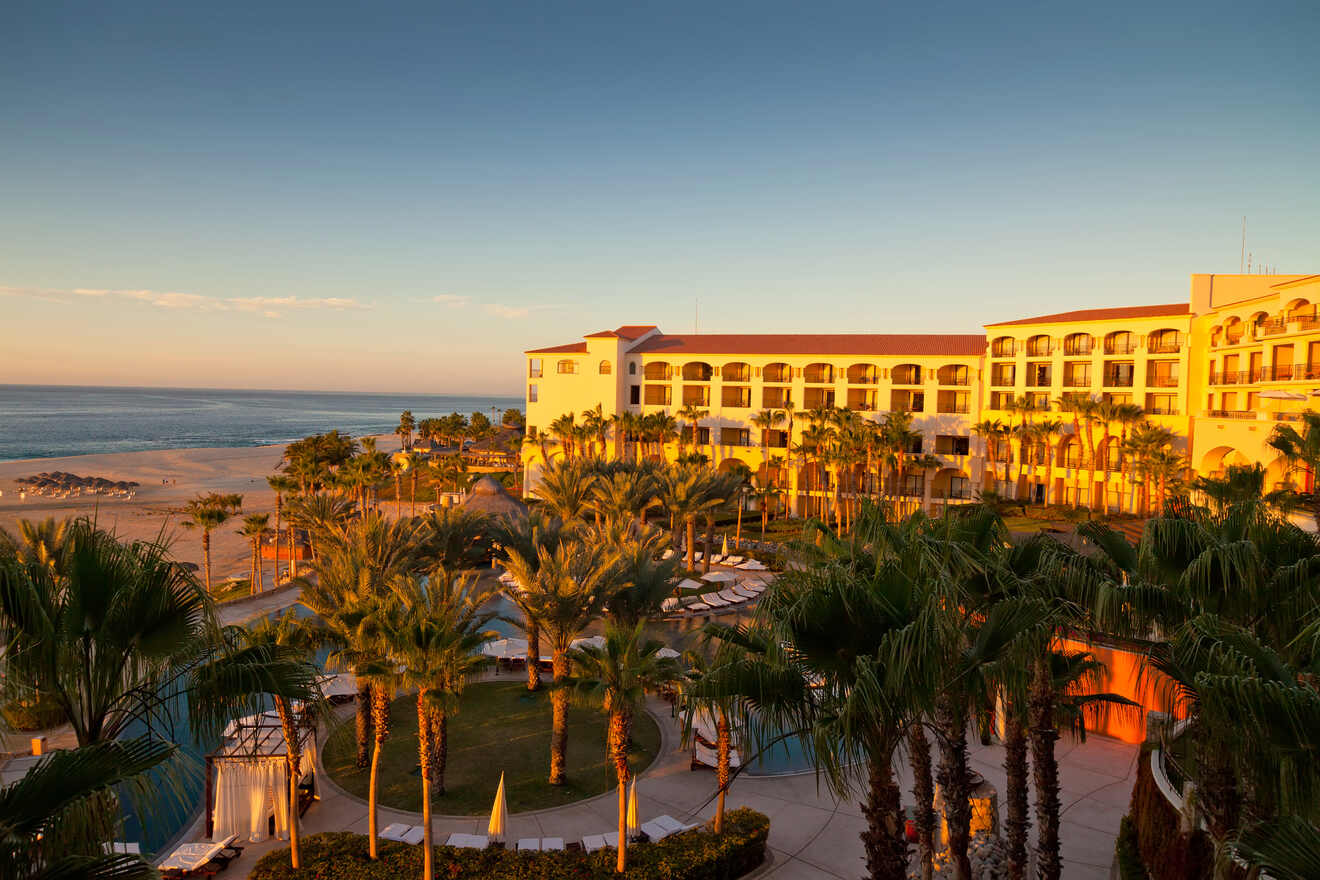 Well, there you have it, the best boutique hotels in Cabo san Lucas, listed from most to least expensive. Remember that it's imperative to book as soon as you have decided on your perfect hotel as places at these resorts book out super quickly!
In case you still can't decide, here are my 2 absolute favorites:
Esperanza – this 5 star hotel is one of the best boutique hotels in Los Cabos, loved by celebrities and for good reason, it boasts incredible facilities and views!
Hotel El Ganzo – with super unique extras like a recording studio and library, any interest will be met here and you might even return home with a new hobby.
I hope that you found your dream hotel in this list and that I answered any questions you may have. If you still need help or want to recommend any other boutique hotels to add to the list, feel free to leave a comment below!
Have a great holiday,
Kate
---
Pin it for later!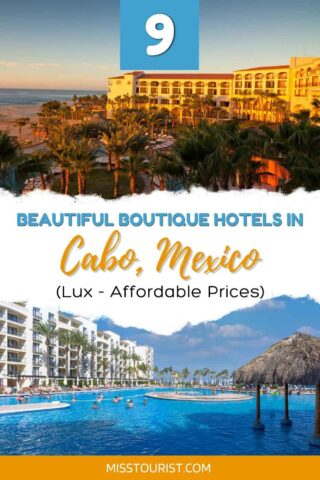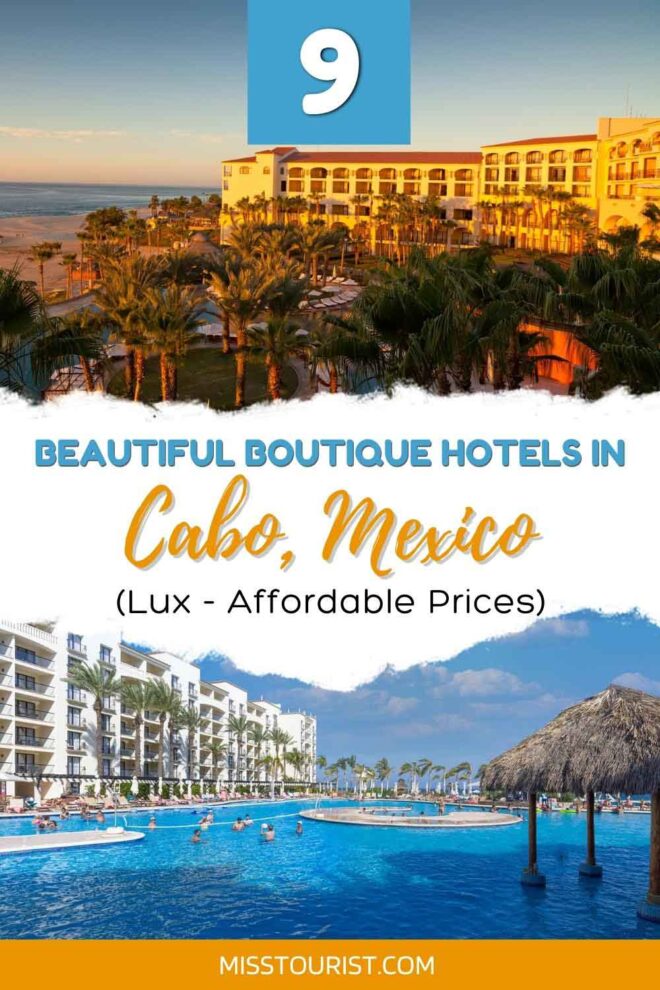 Pin it for later!