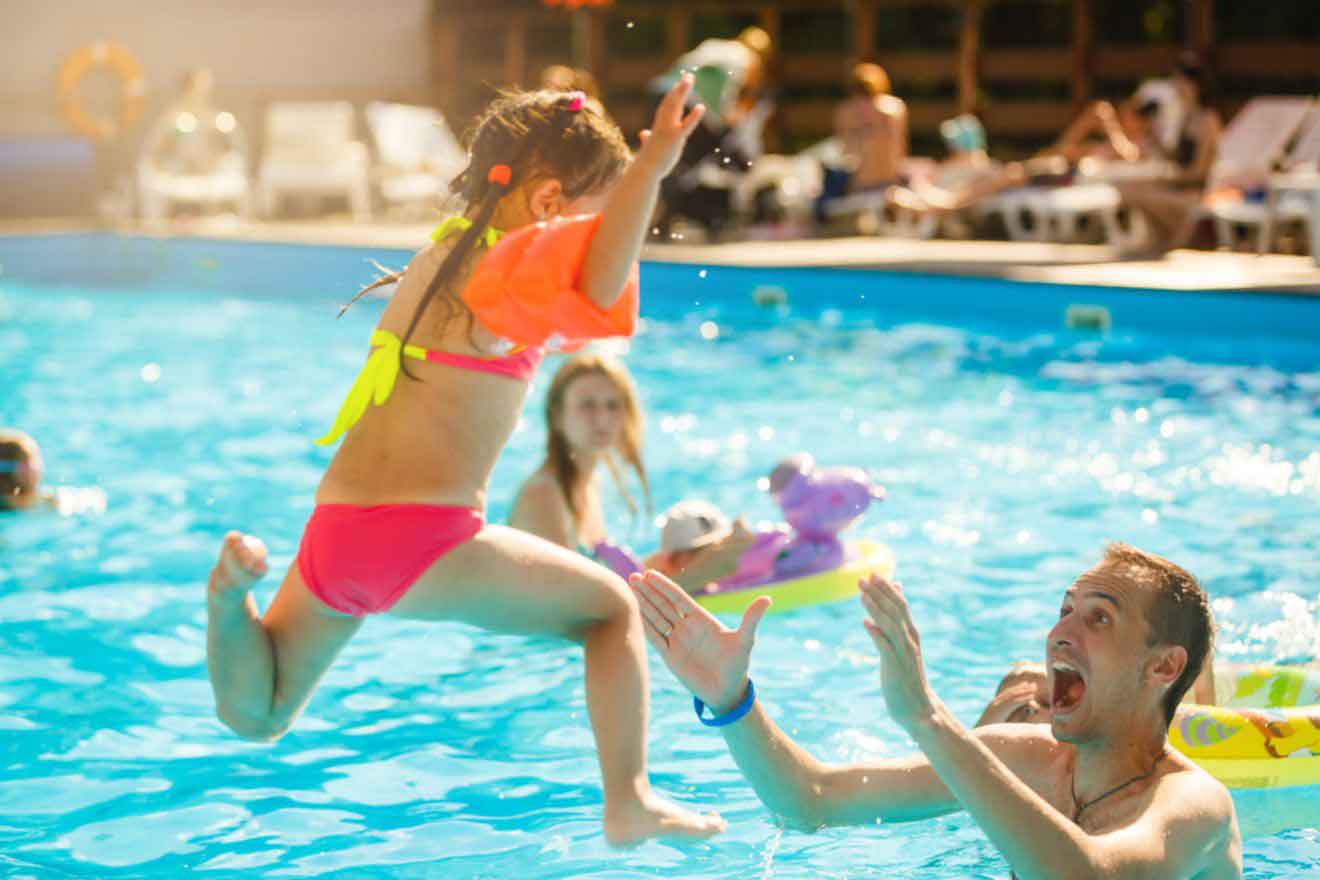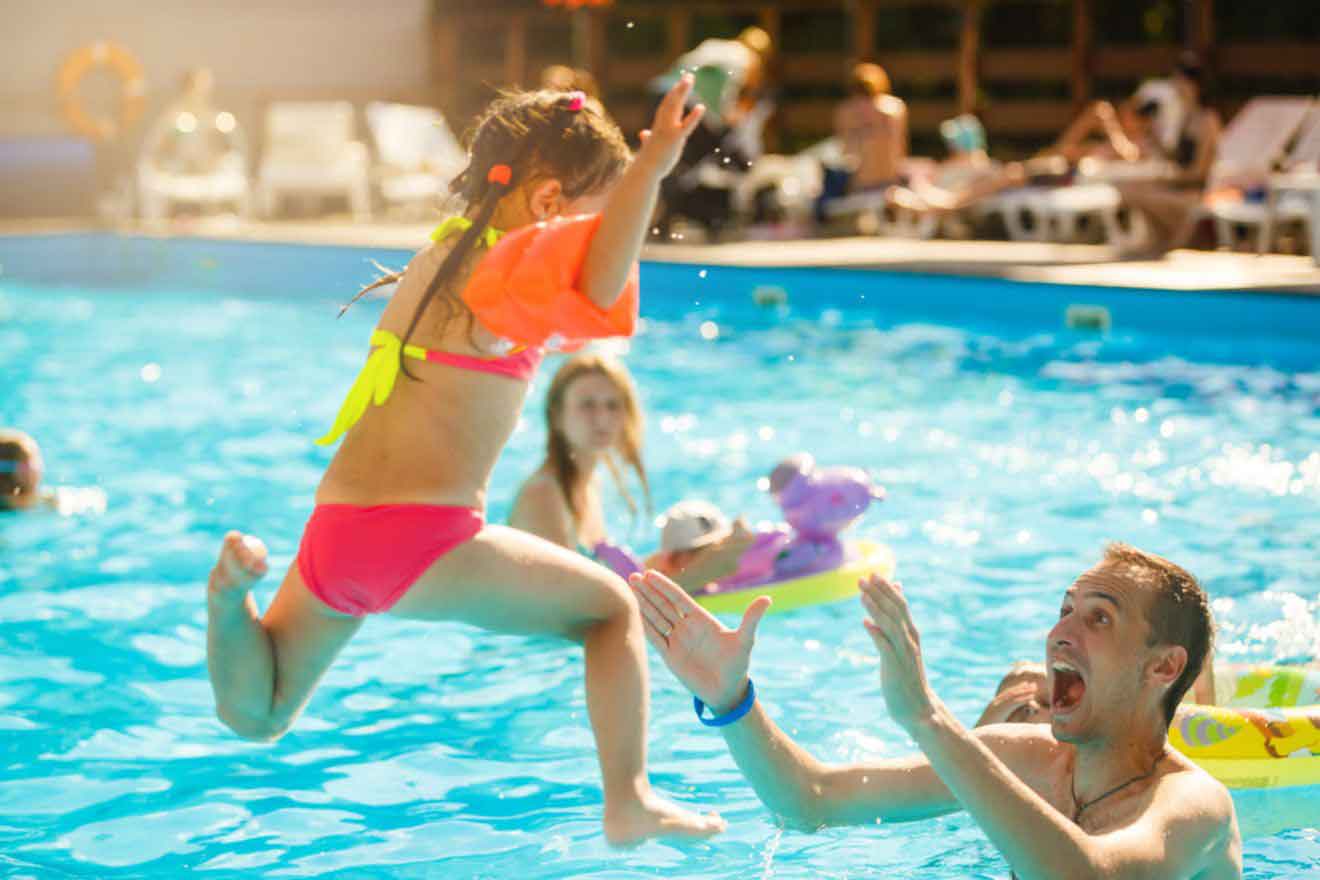 This post is for all the families who are having a hard time finding the hotel of their dreams for their next holiday! If you're going to Antigua with your young kids or teenagers, then you'll want to stick around!
In this article, I'll talk about the best Antigua all-inclusive family resorts which I ordered from most to least expensive so you can quickly choose your favorite! Since I've spent a lot of time browsing the web, I've also decided to make a bonus section with some incredible, luxurious hotels for families, which I think you'll love!
I recommend this to everyone who comes across our articles, and I'll do the same for you! Book your favorite resort in advance, especially if you're going for the all-inclusive ones, which are rare in this destination.
Ready to get started?
Vamonos!
If you are in a hurry
Don't worry if you can't make it through the whole post. That's why I made this short list of the best family resorts in Antigua:
Since we're talking about a whole island, I've decided to give you a bit of guidance and make this map with all the locations of the best family resorts in Antigua:
1. Carlisle Bay Antigua – oceanfront property with a kids club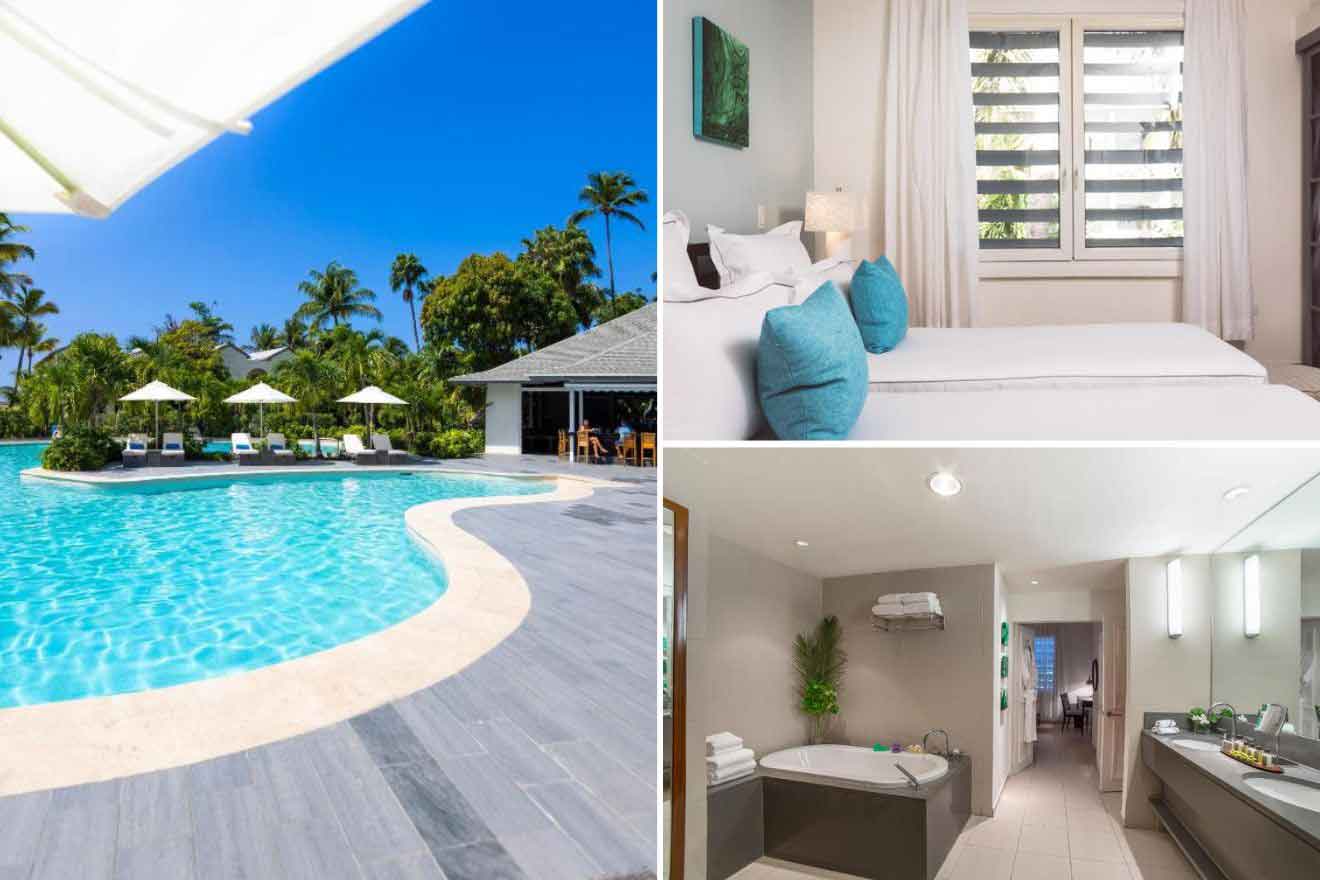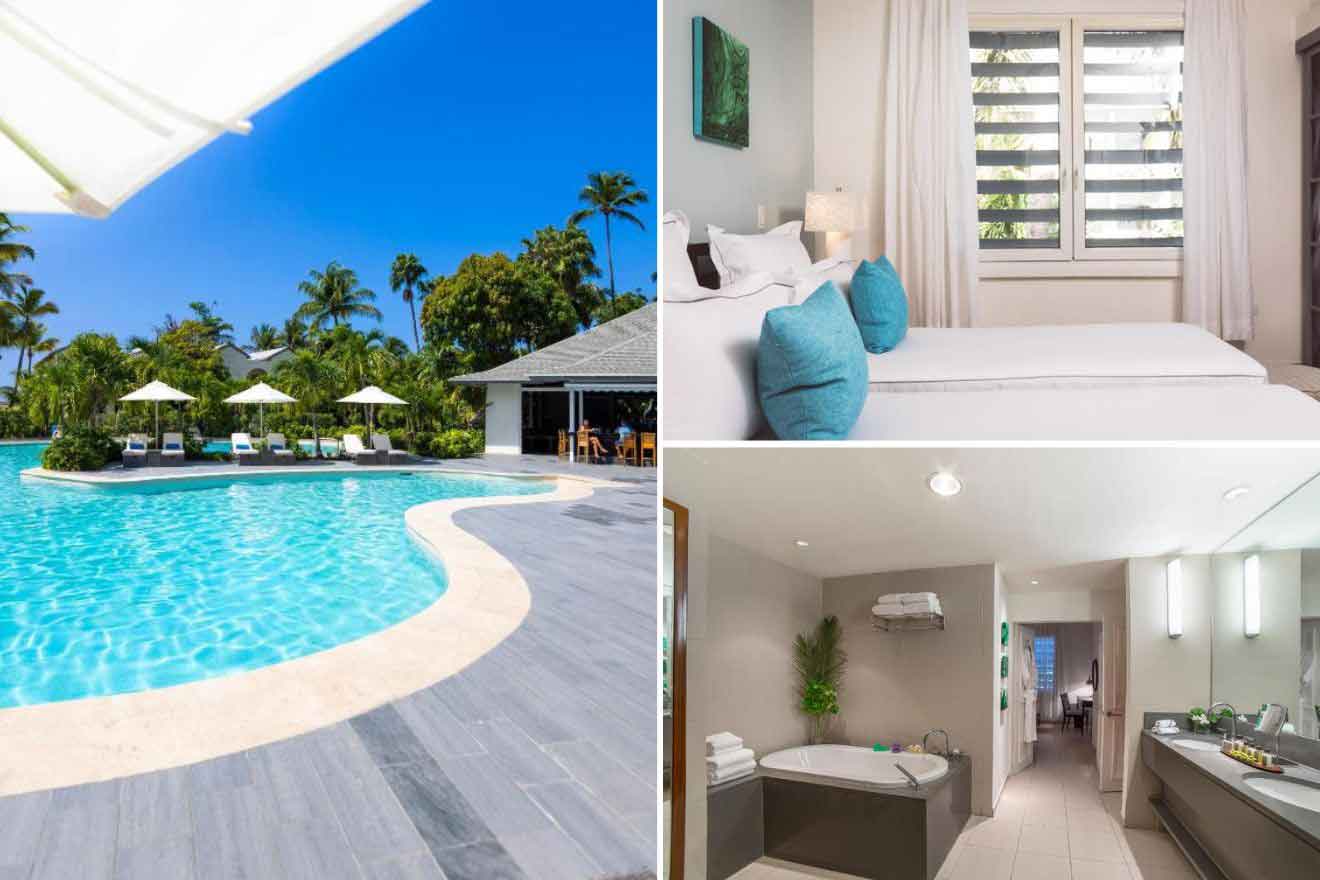 Planning a vacation for the whole family where you can play with your little ones on white sand beaches and swim all day long? Then check out this place located in Carlisle Bay that offers a cool kids club, 3 onsite restaurants where you can indulge in the most delicious meals, and lots of water sports that'll keep you busy as bees.
The rooms here are super spacious, and they come with a balcony overlooking the Caribbean Sea and a flat-screen TV. Of course, there's a spa center where parents can relax and lots of other kid-friendly facilities like a game room, a playground, and activities like horseback riding and nature hikes.
Check Rates
2. Jumby Bay Island – a stylish resort with private pools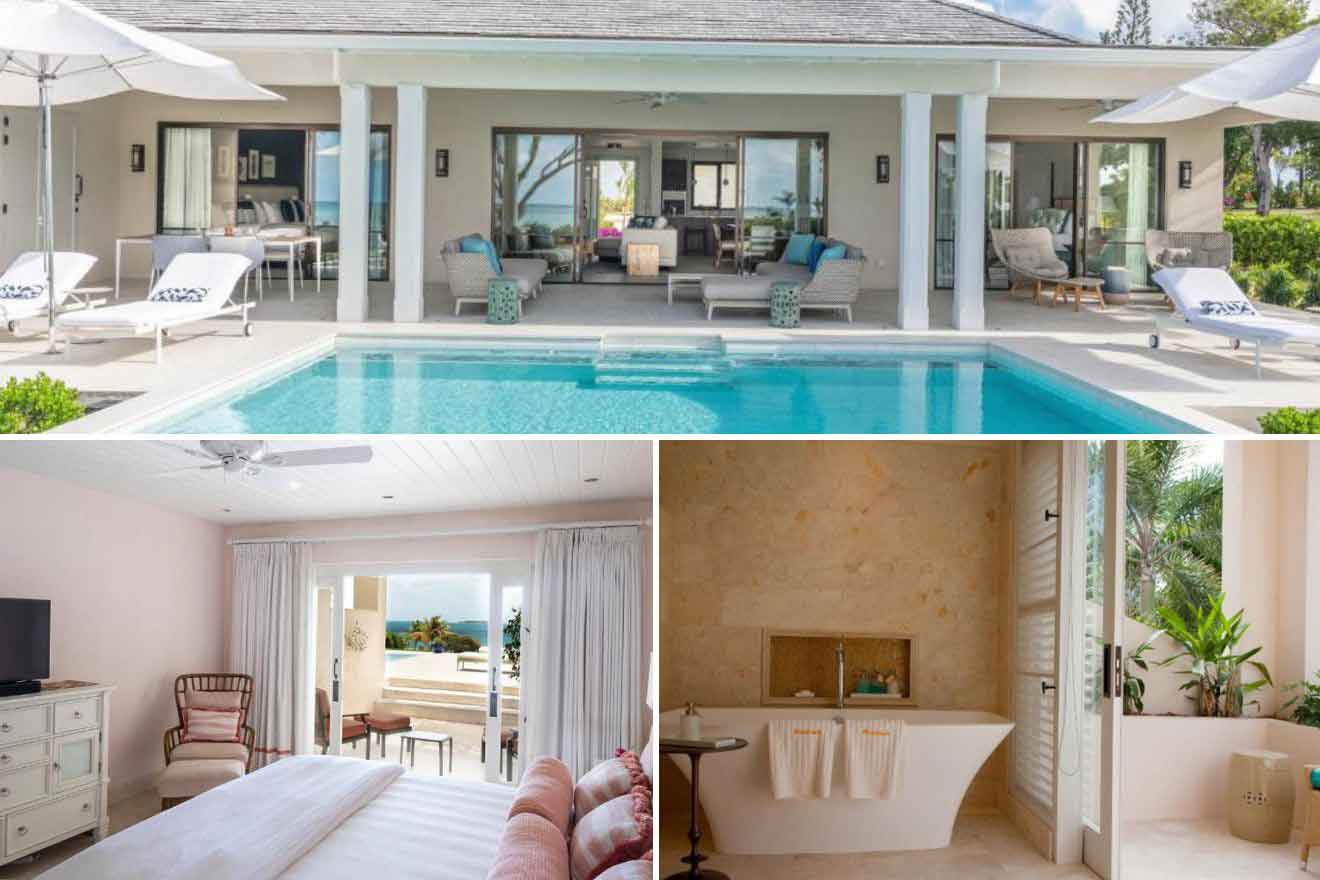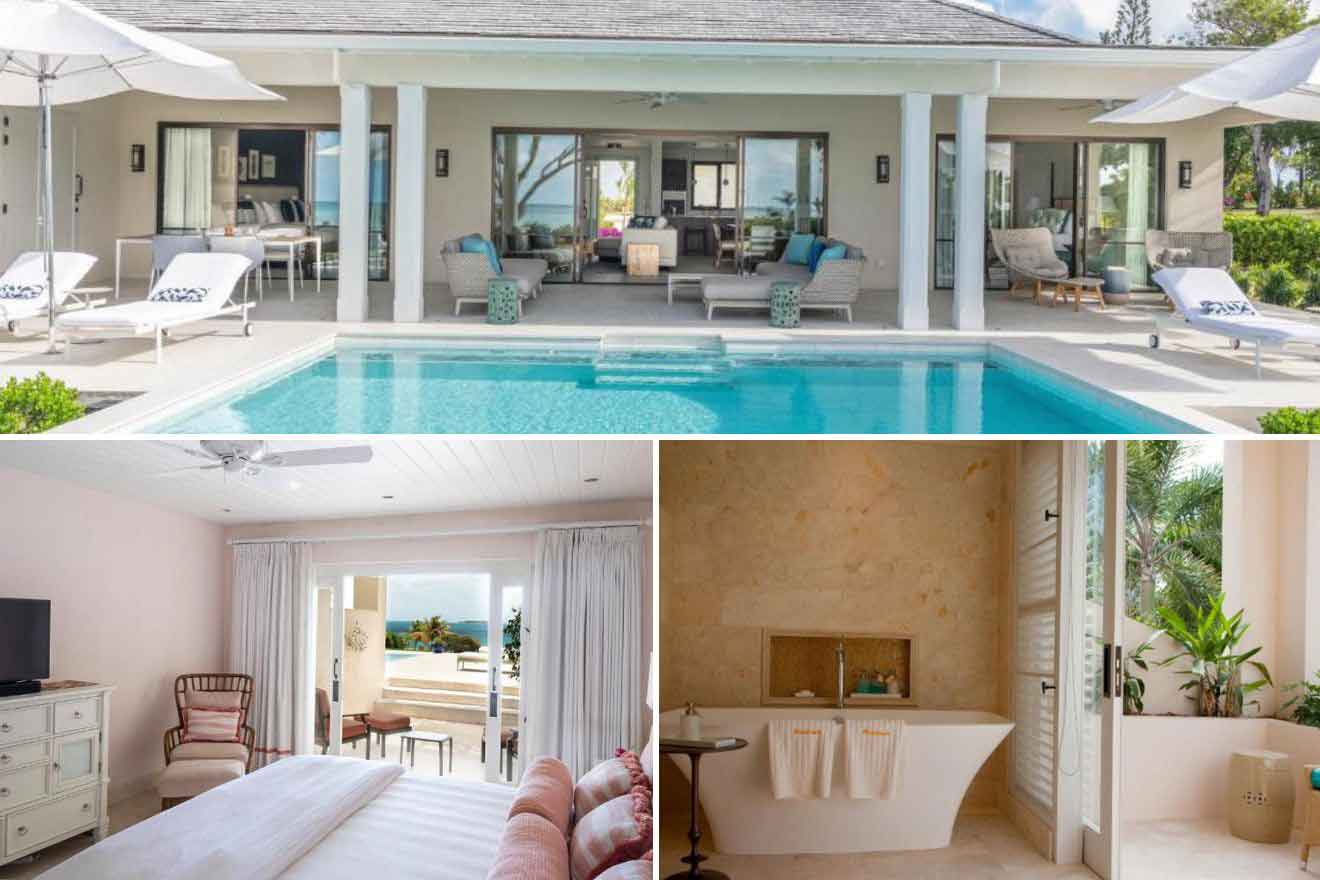 If you're looking for a resort on this beautiful Caribbean island that offers family-friendly activities and all the amenities you need for your trip, then I've got a great place for you! This one is set in Saint John's, and it has such a bright and airy decor that will put you in a holiday mood the moment you arrive!
Offering pool access, a kids club, many water sports, and a lush garden where you can enjoy your morning, this place is surely a keeper! The accommodation also has a spa center (and they even offer children's treatments), 4 restaurants, and hosts nightly entertainment for the entire family and movie nights!
Find Available Dates
3. Curtain Bluff – a modern resort with great views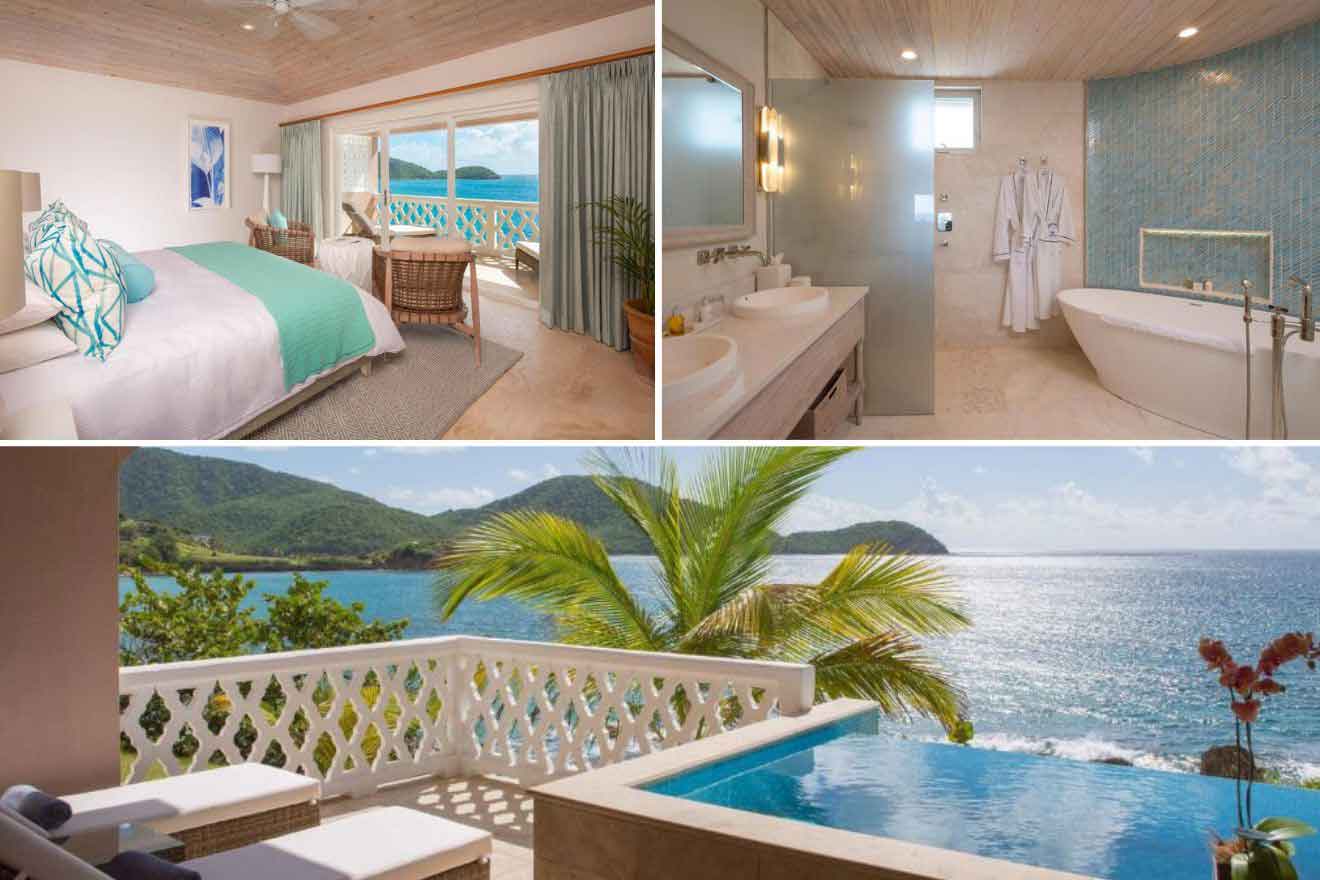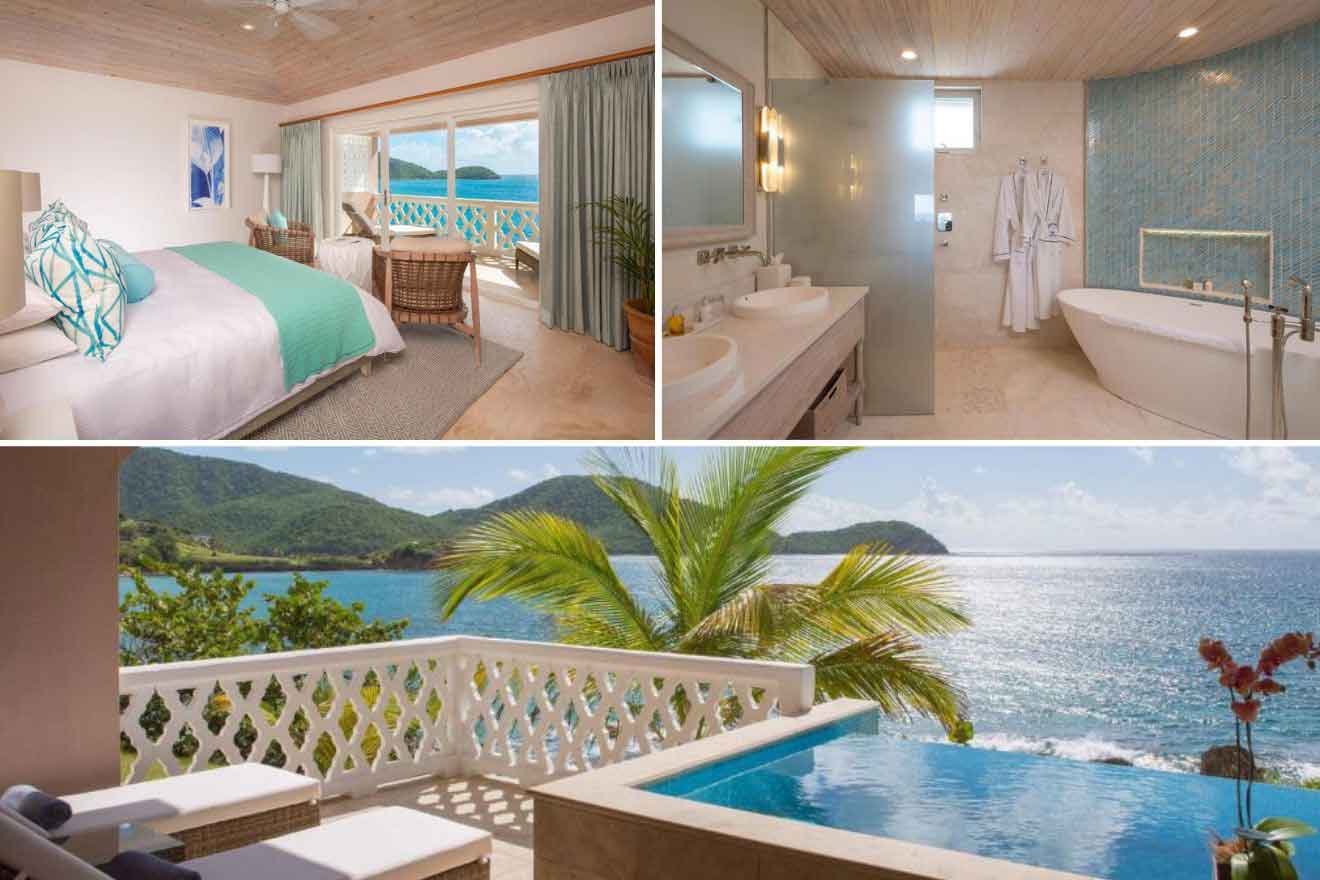 Ready to spend your next family vacation on the powder-soft beaches of this island and go on outdoor excursions? Who wouldn't be? Especially after staying at a hotel like this one that's located in St. John's and offers activities for everyone, from cooking classes to water sports and beach access, obviously!
They also have babysitting services in case you need some time for yourself to relax at the spa, work out in the fitness center, or enjoy a romantic dinner with your partner. And don't worry, the little ones will have lots of things to do, from hanging in the kids club, to playing some board games or on the tennis court.
Check Rates
4. Blue Waters Resort and Spa – for a tranquil getaway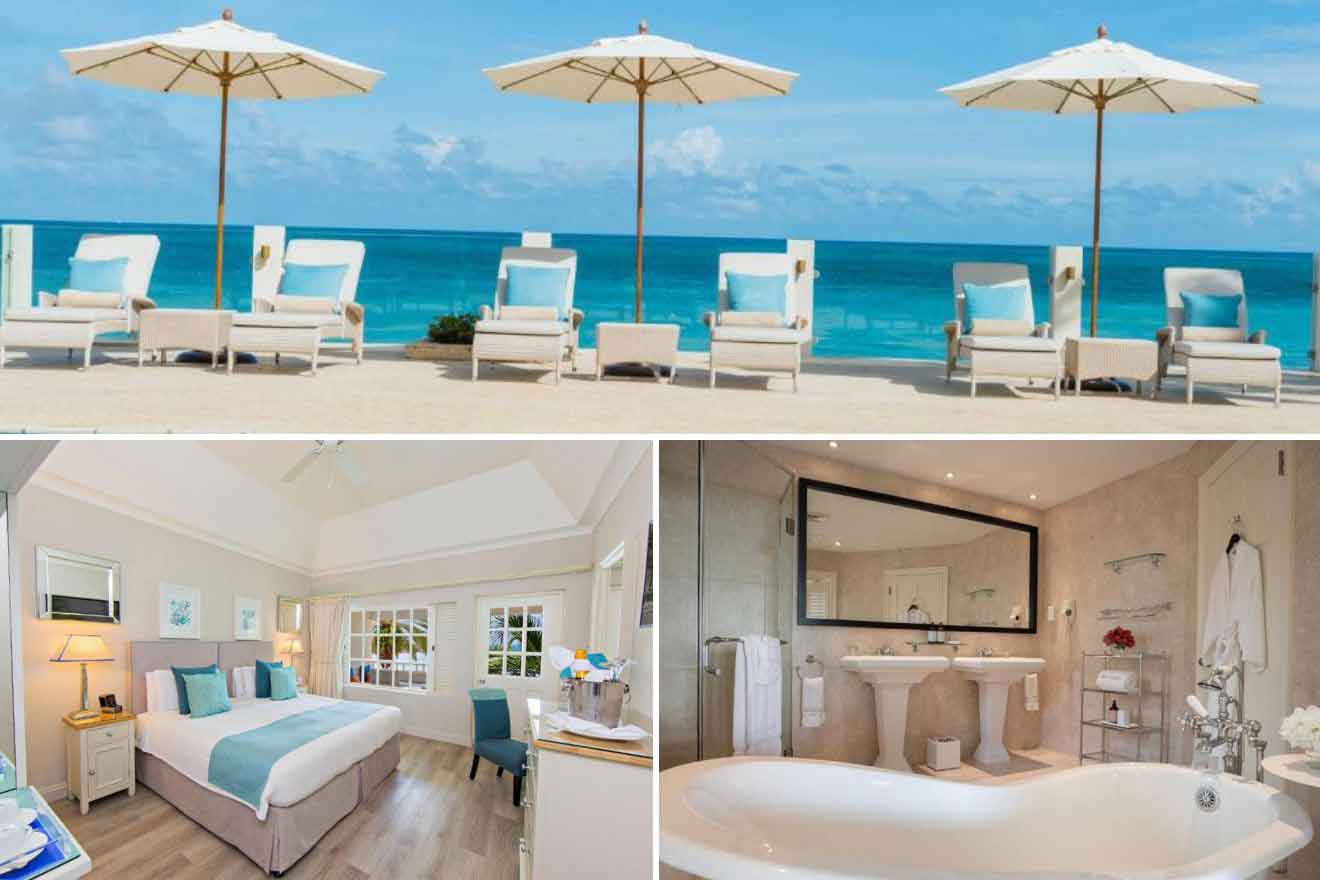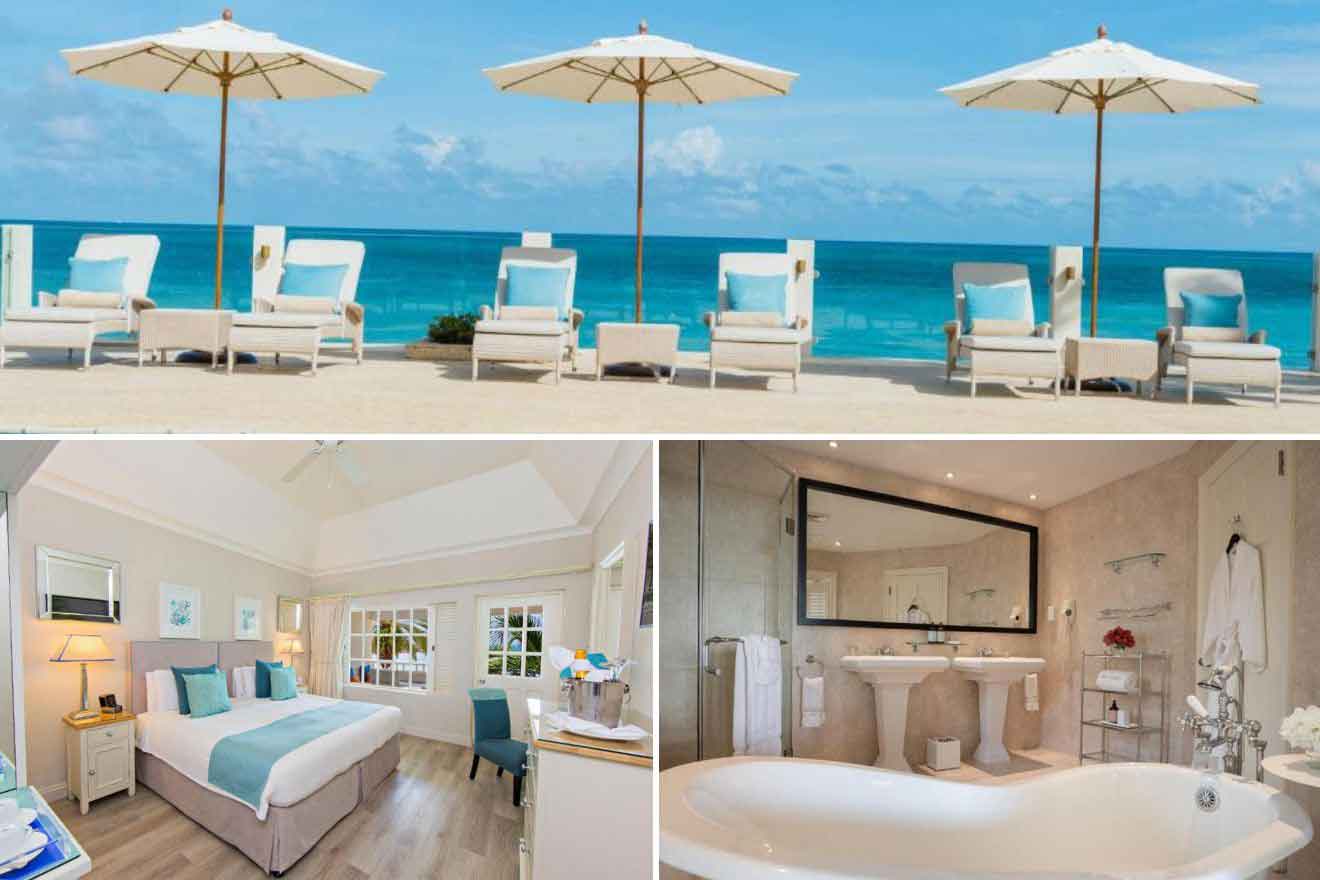 I'm sure the whole family will love this Caribbean vacation! This great resort in St. John's will make the trip even more amazing with all its perks! Guests will have access to two white sand beaches, 3 swimming pools (plus some private infinity pools), a fine dining restaurant, and some super fun activities that I'm sure the little ones will love (especially at the kids club).
Start your morning with free breakfast, or order room service in your spacious deluxe beachfront rooms or the connecting rooms as well if you want to gather for a family breakfast. The rooms overlook the ocean, which will set you in the mood to try all the water sports, play some tennis or relax at the spa center. The hotel also has babysitting services if you need someone to watch over the kids while you enjoy an intimate evening with your partner.
Find Available Dates
5. St. James's Club Resort – for a fun-filled holiday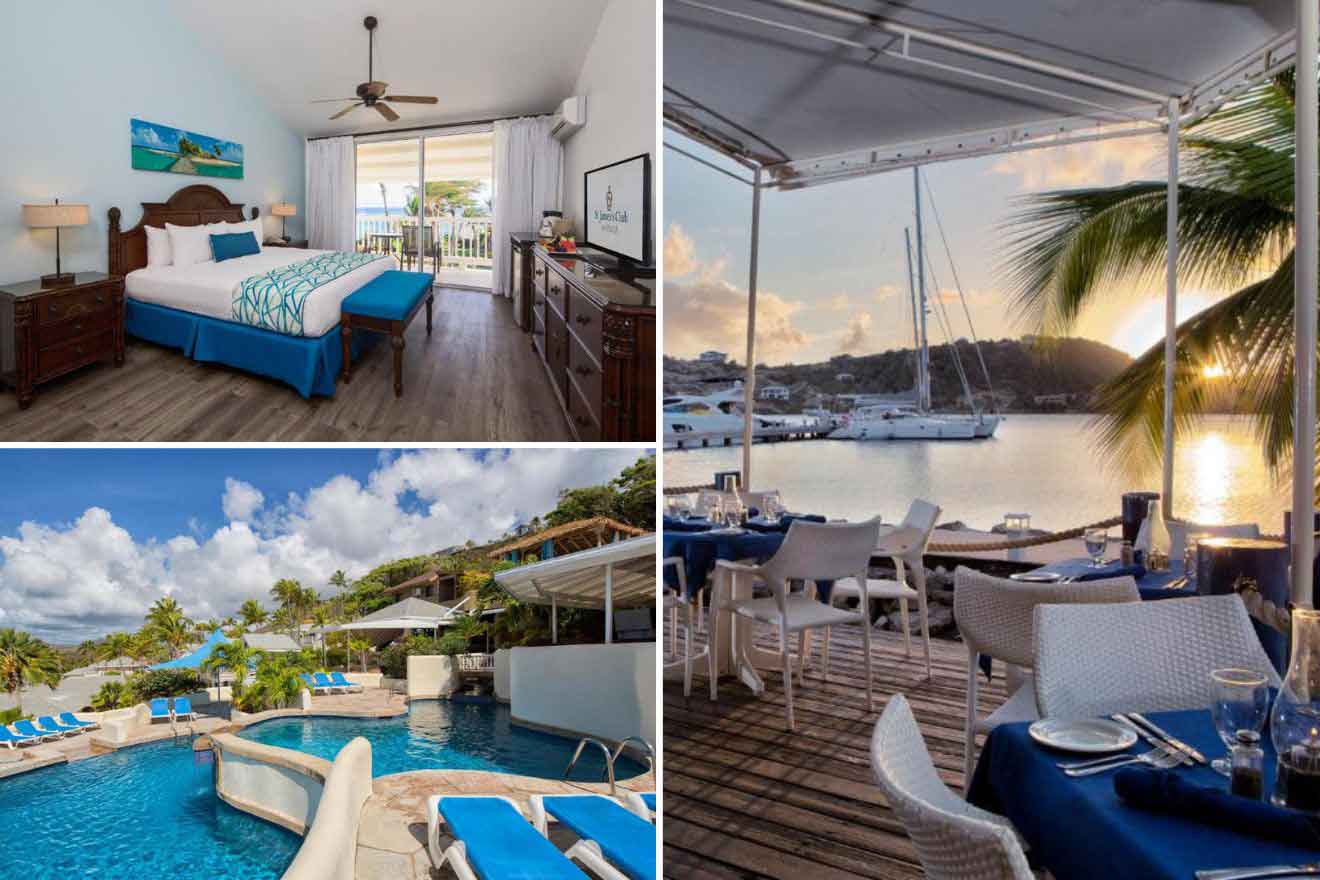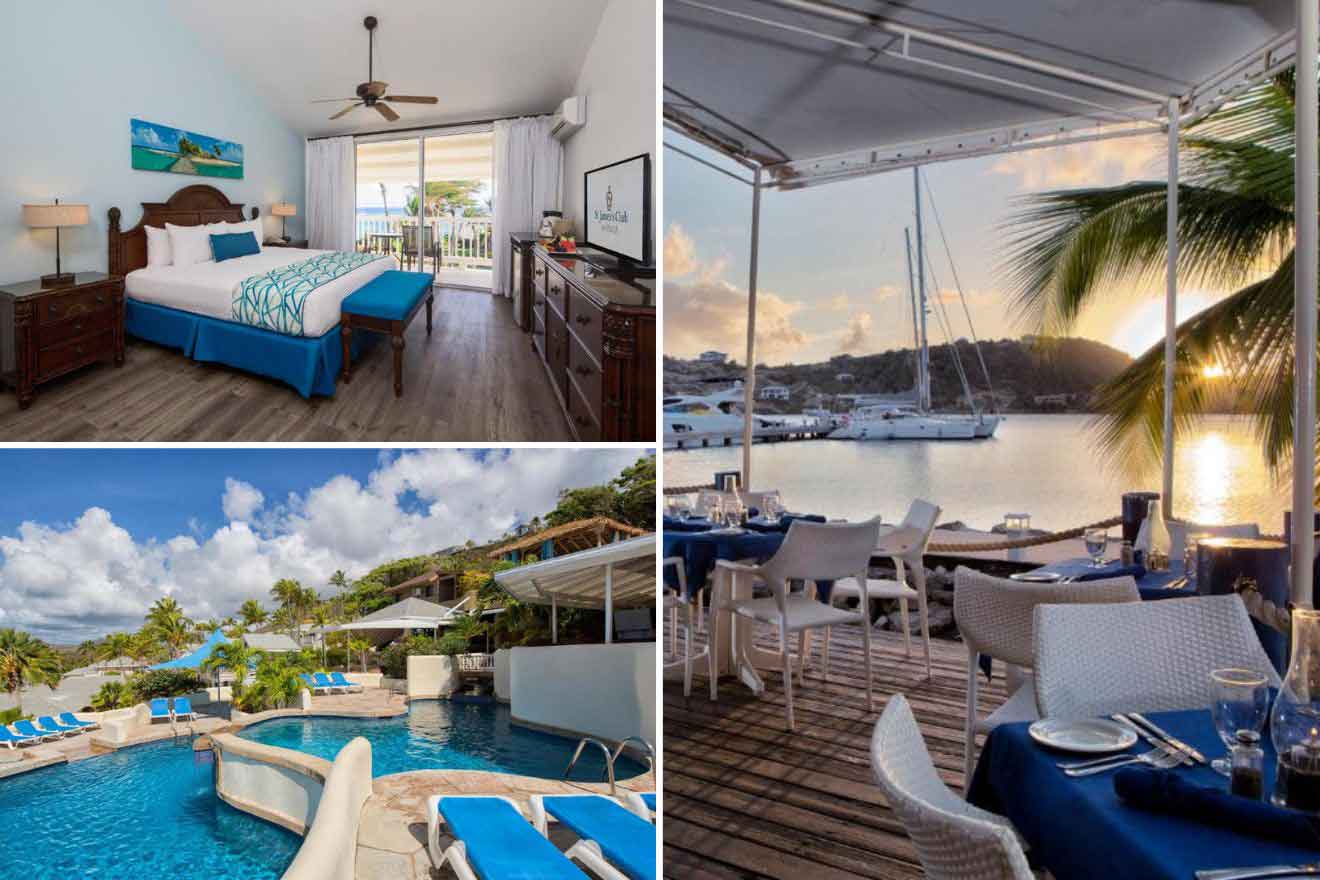 This all-inclusive resort located in English Harbour Town has it all! Two private beaches, oceanfront suites, a movie theater, five restaurants (which include a kids' menu), and 4 swimming pools! This family vacation will be like none other since it'll be filled with fun adventures, lots of play at the kids club, and other things that will keep the entire family entertained.
There's also a spa center which I guess is more for the parents who I'm sure will enjoy the long massage after that flight! Afterward, you'll be all ready to try all the water sports like snorkeling or diving! Don't forget to book your all-inclusive resort early, as these ones will most likely sell out very early!
Check Availability
6. The Verandah Resort & Spa Antigua – great for beach lovers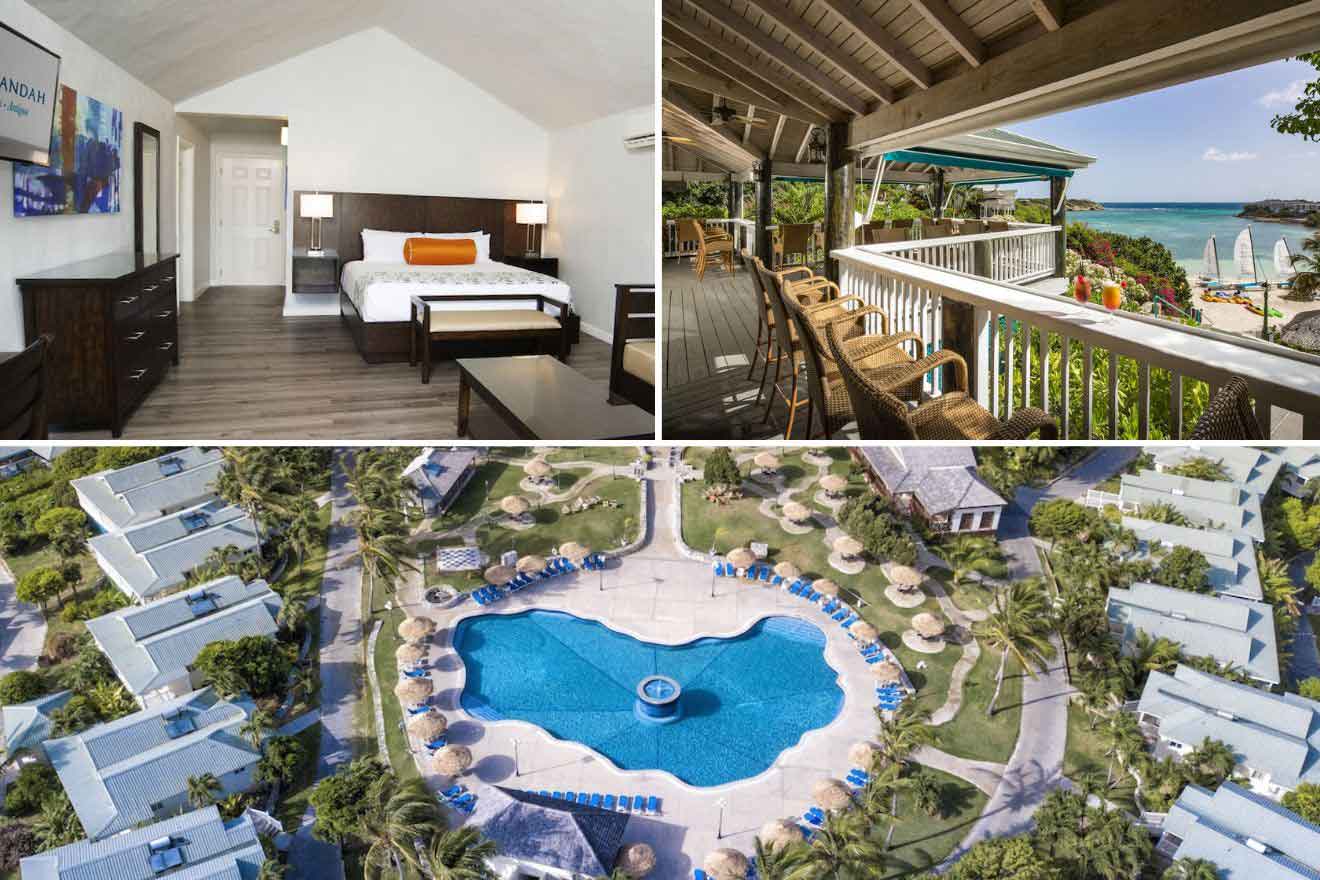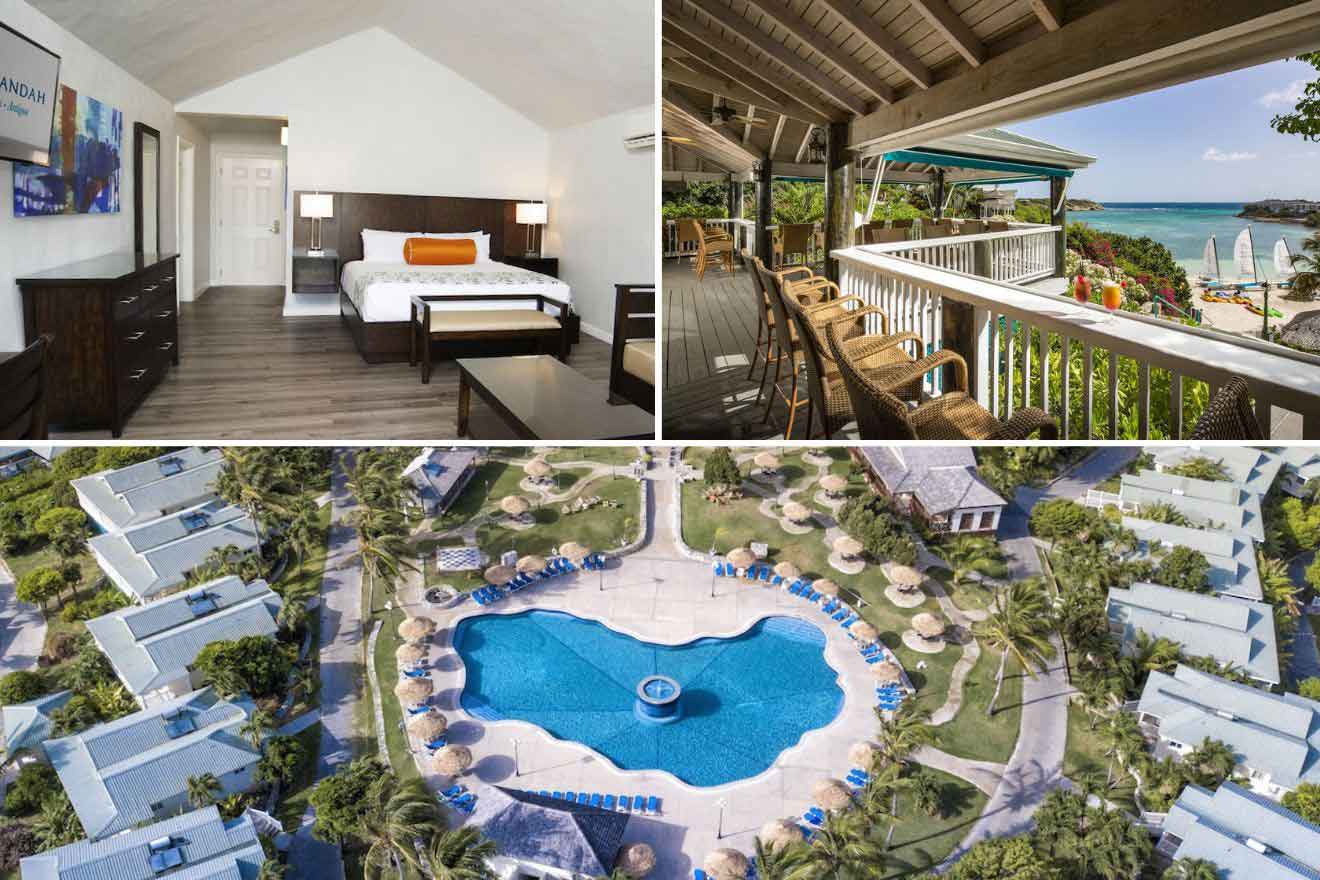 Wake up to a beautiful view of this Caribbean Island while staying at this all-inclusive resort that has family rooms with balconies! Set in St John's, on the island's southeastern coast, the accommodation has a private beach area with 2 beach bars, 5 outdoor pools (which I'm sure will make the little ones so happy), and a teen lounge.
As for the parents, they might enjoy yoga classes or a nice Swedish massage at the spa center or the mini-golf course. There are 5 restaurants on-site, so you can try a different one every day. And when you're not too busy exploring the secluded beach coves and other attractions, you can entertain yourself with some kayaking or other water sports offered at the resort.
Check Rates
7. Jolly Beach Resort & Spa Antigua – with a scenic location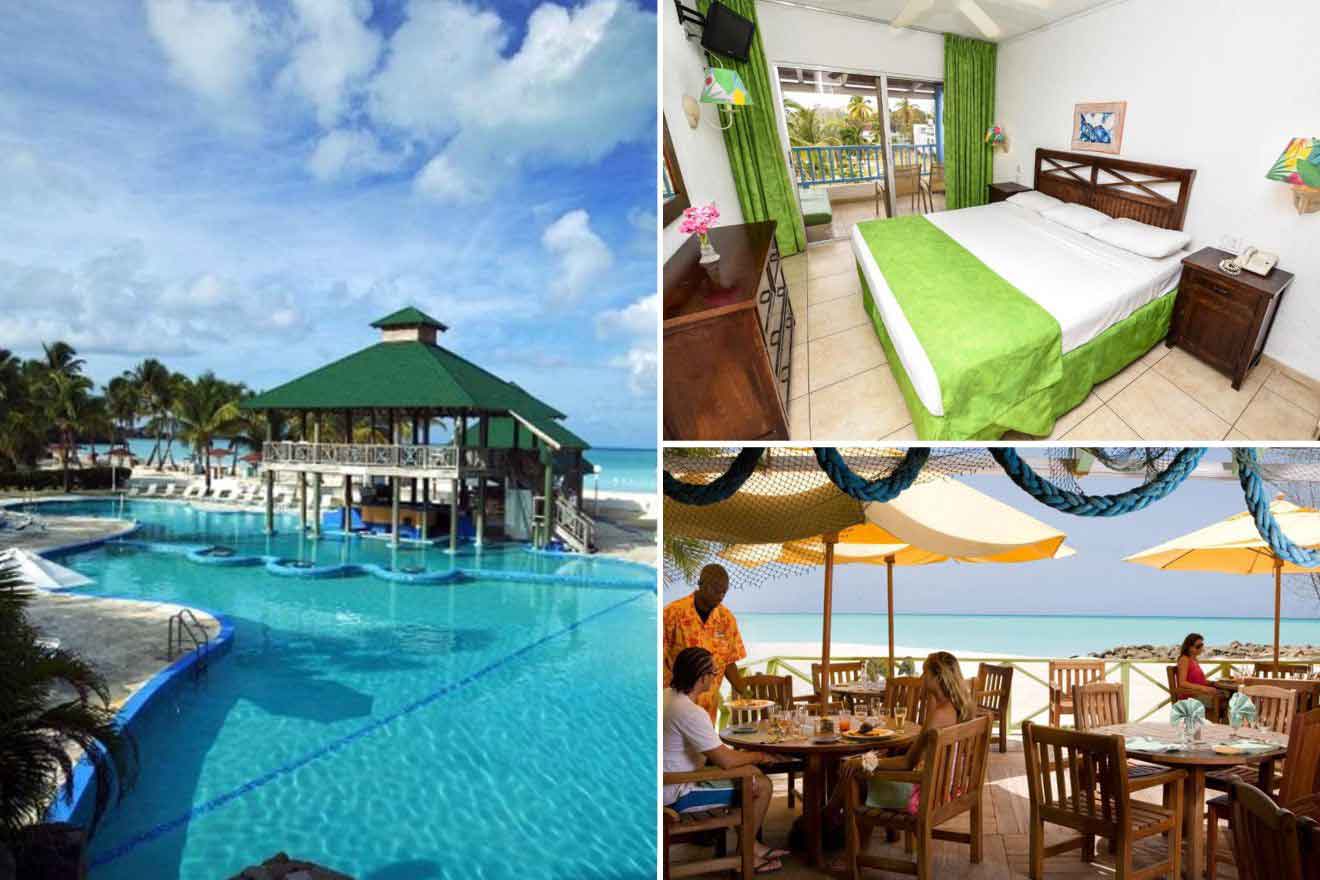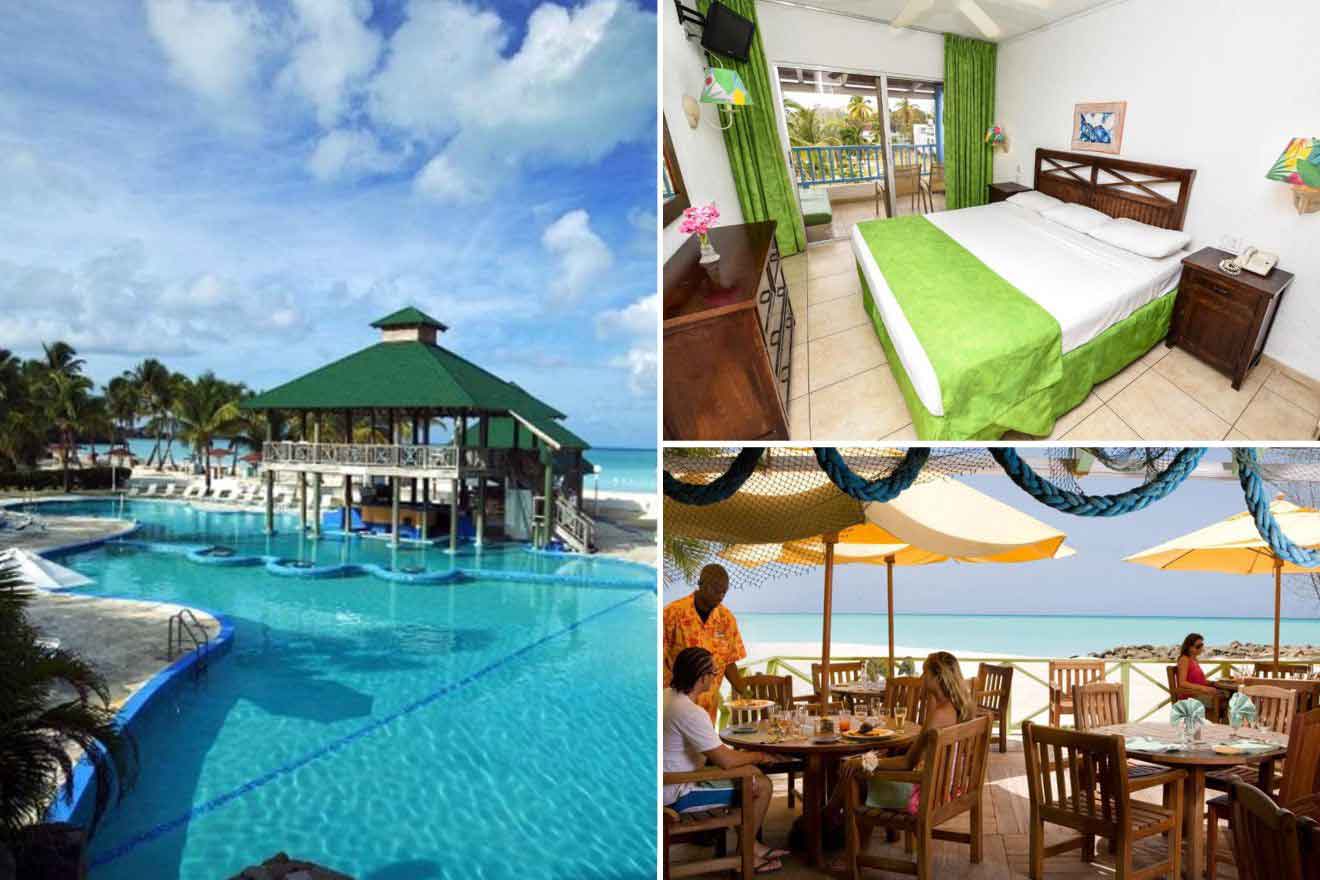 Located in Saint Mary, this all-inclusive family resort offers rooms with ocean views, spaces to relax, fire dancers, and lots of fun activities like art classes that will keep even the younger children entertained! Start your days with some breakfast at one of the 4 restaurants on-site before you jump into the pool for a swim!
That's if the little ones don't want to stop first at the kids club for some play time! They might want to hold on to that energy, though, as there are lots of water sports like snorkeling, a tennis court, and even a games room.
Check Availability
BONUS: Best luxurious family resorts in Antigua
Well, we've gone through all the all-inclusive properties, and as you've seen there aren't so many so it's super important to book your all-inclusive Antigua resort early! But since I know that's not possible at all times, I've decided to make a bonus section with some luxurious family resorts on the island.
That way, if all fails, you'll have a second option! I've ordered the hotels from most to least expensive (US$600 – US$200) so you can pick the one you like easily: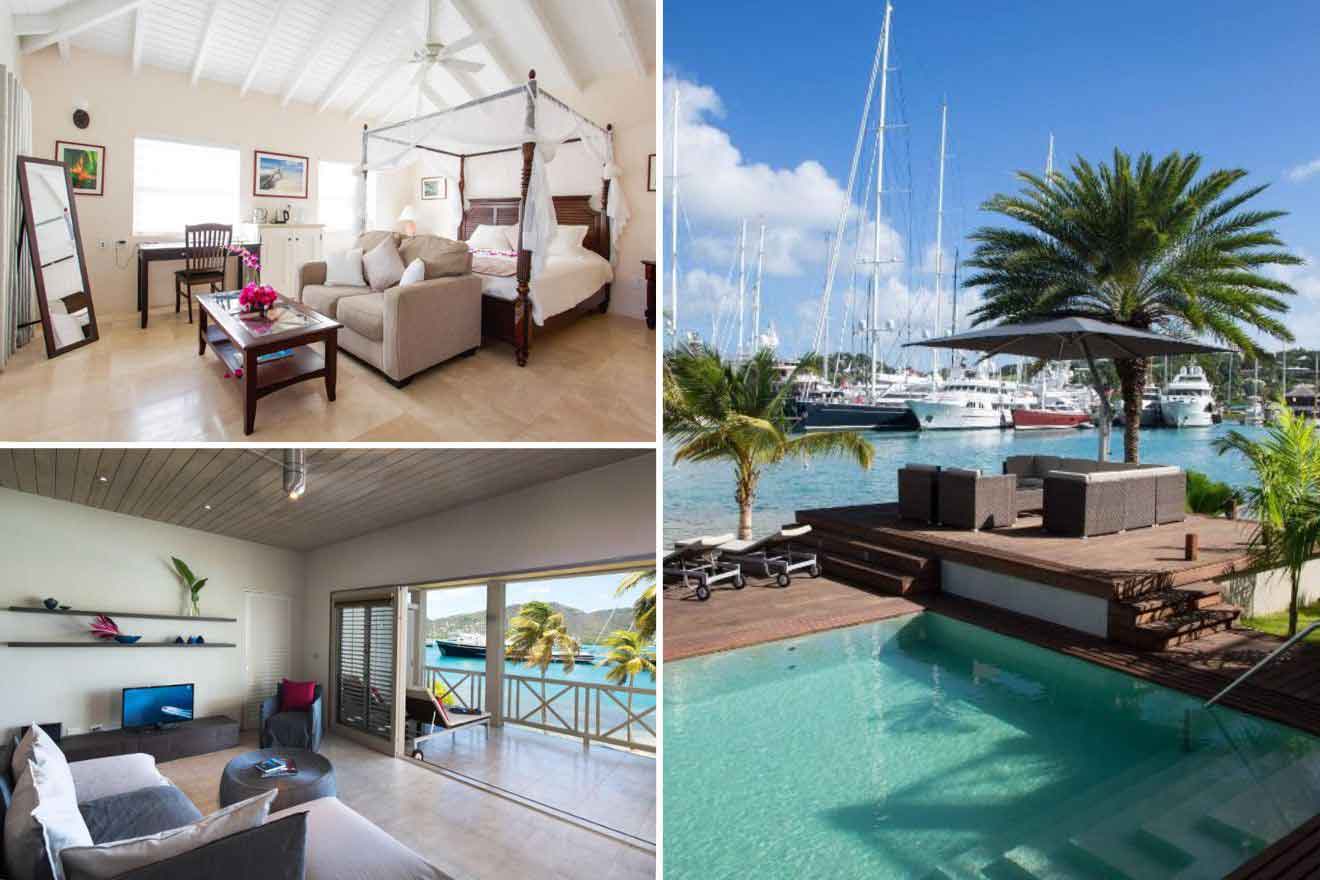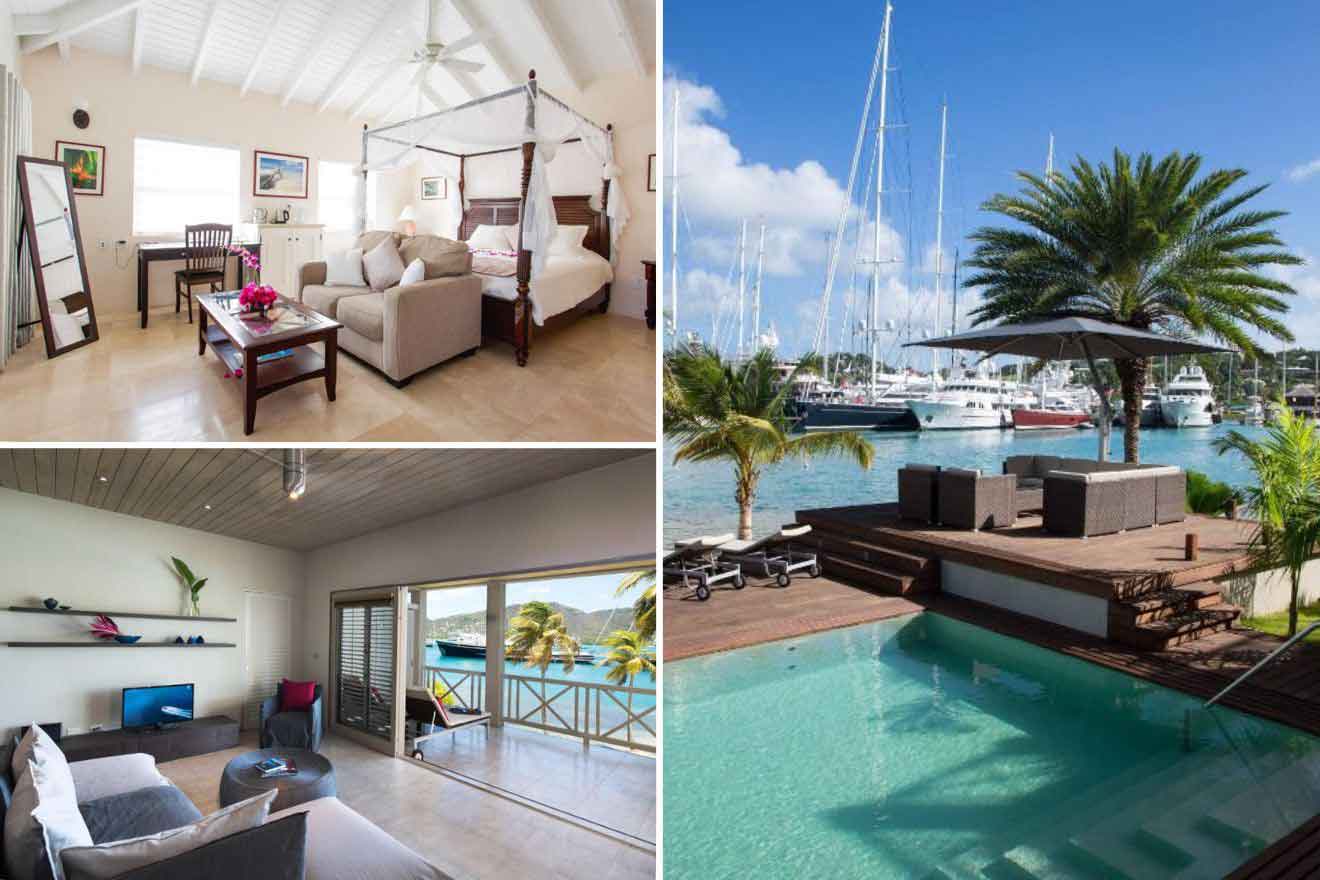 Gunpowder House & Suites -Tropical holidays are the best! And if you're still looking for a great hotel for you and the family, then check out this one which has a private beach area, family rooms, and a swimming pool. Enjoy a yummy Caribbean meal at the restaurant on-site and then head out to try some water sports or go on some walking tours.
South Point Antigua – Surrounded by palm trees and the Caribbean Sea, this hotel in the English Harbour comes equipped with everything you need for your holiday, including a restaurant, family suites, and even board games for the days you don't feel like doing anything but chill in your hotel room.
Copper and Lumber Store Hotel – Here's another cool boutique hotel that has family rooms with such cool decor! The accommodation is located in the English Harbour, and it offers 2 restaurants, a beautiful lush garden where you can relax, and lots of hiking and walking tours around the island which is absolutely packed with incredible sights!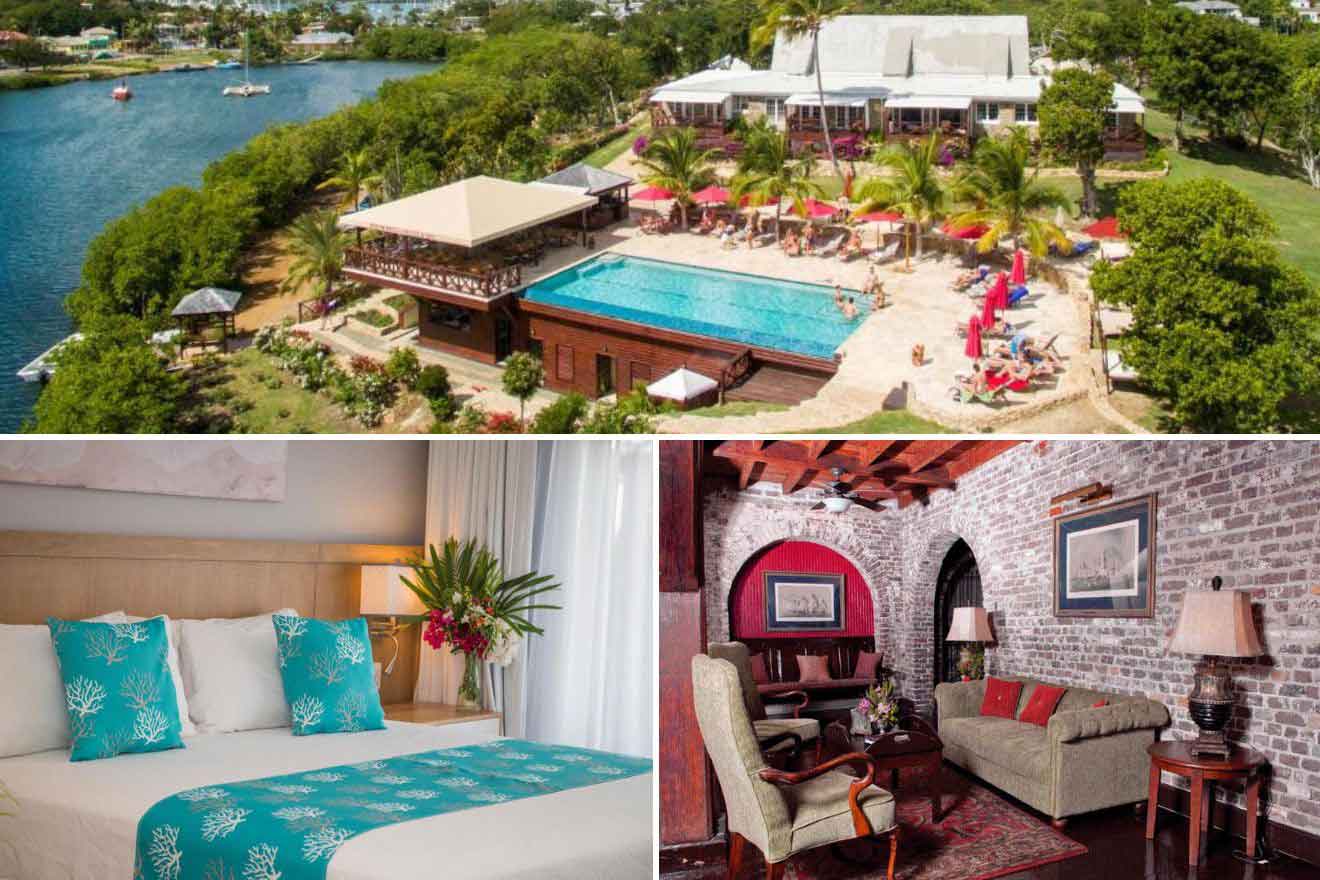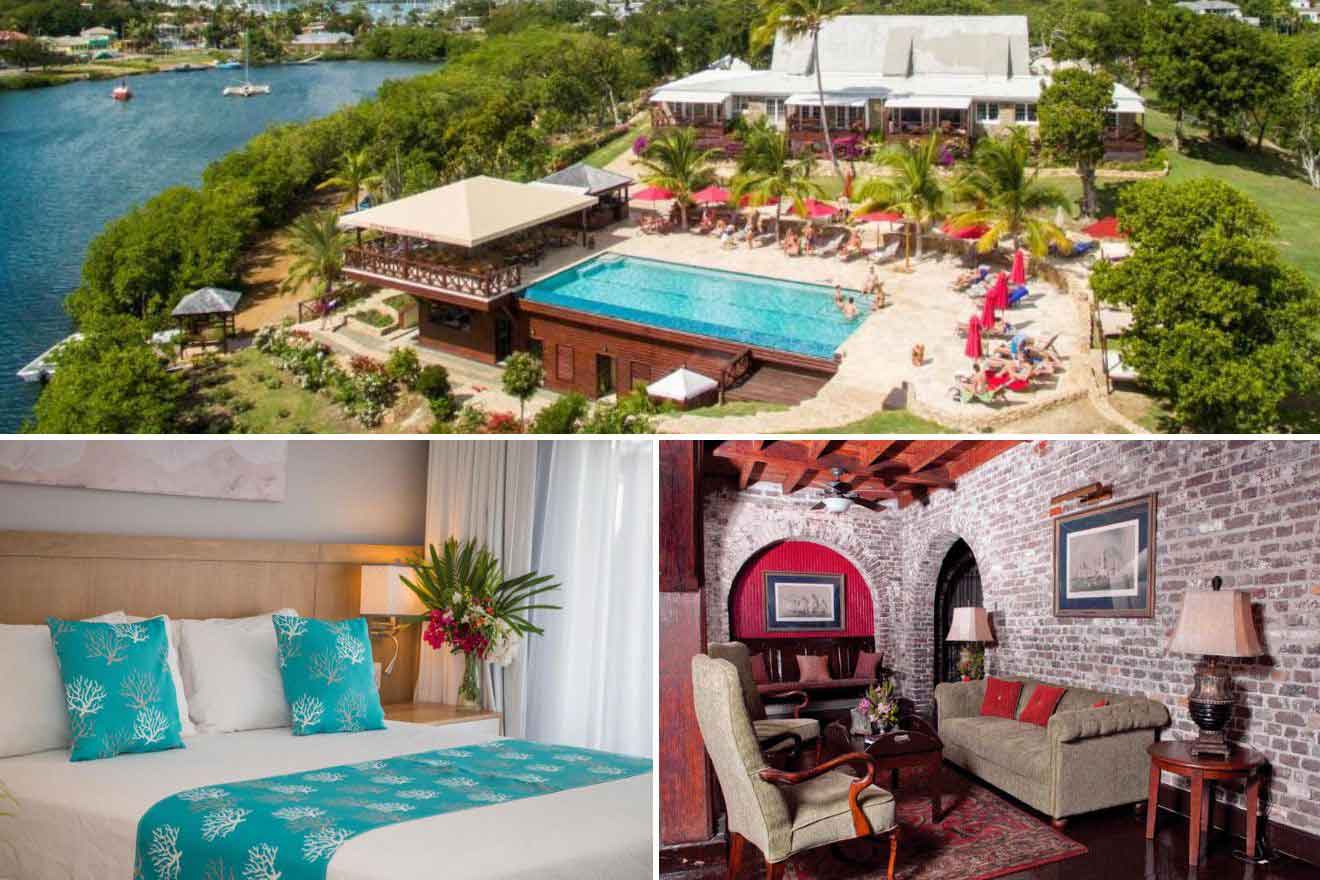 Siboney Beach Club – Jump from your beds straight into the ocean at this fabulous beachfront hotel that has a modern design and spacious suites. During your stay, you can have fun snorkeling, browsing their on-site library, and relaxing with a massage at their spa center. And of course, eat at their restaurant that serves Caribbean cuisine and features locally caught seafood but don't worry, they also have vegan and vegetarian specialty dishes.
Admiral's Inn and Gunpowder Suites – Set in an 18th-century building in the English Harbour Town, this stunning hotel is surrounded by lush gardens and a beautiful backdrop of the island! Perfect for a family getaway, the hotel offers an infinity pool, free bikes to venture around the island, and a private beach where you can try all the water sports.
FAQs about Antigua all-inclusive family resorts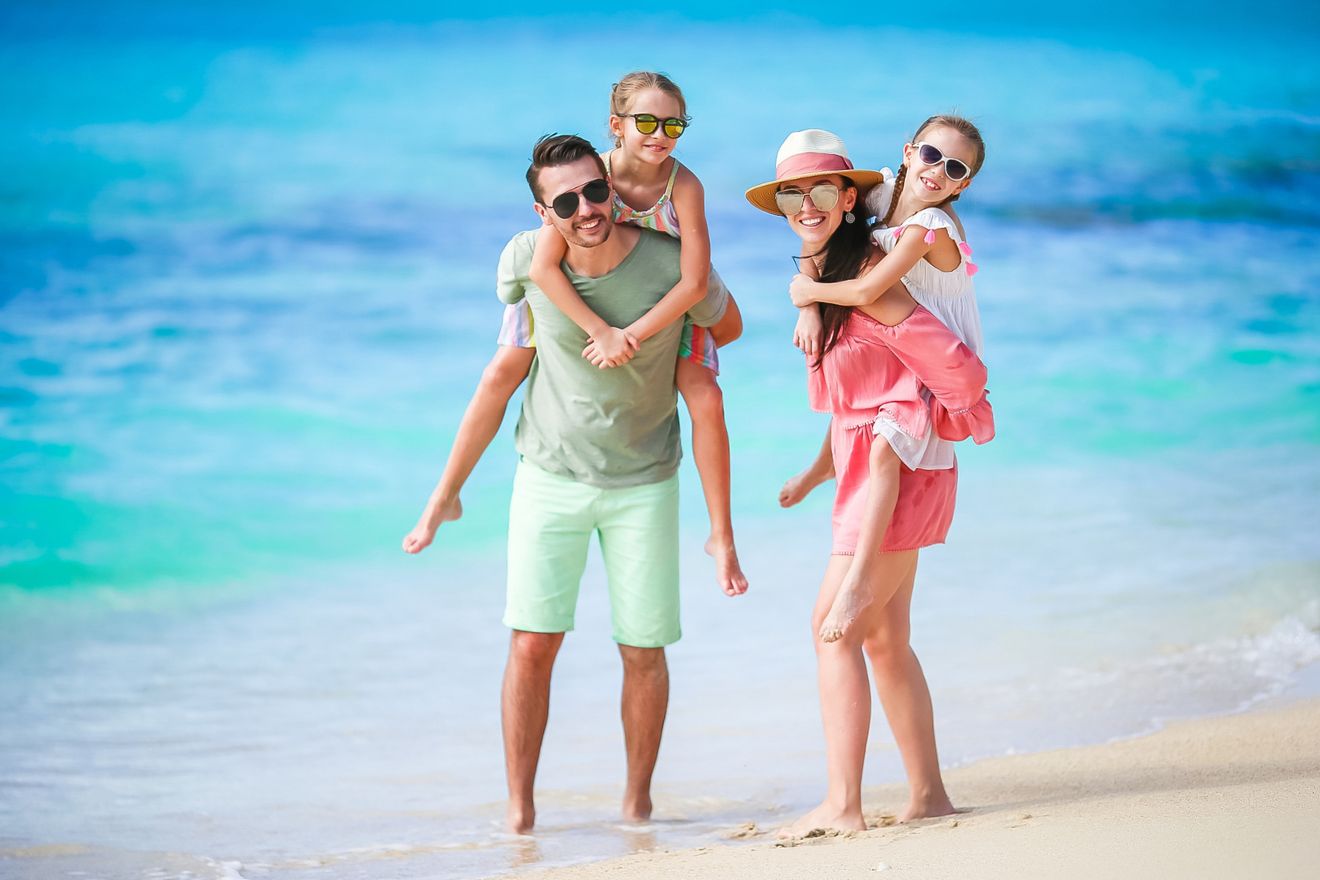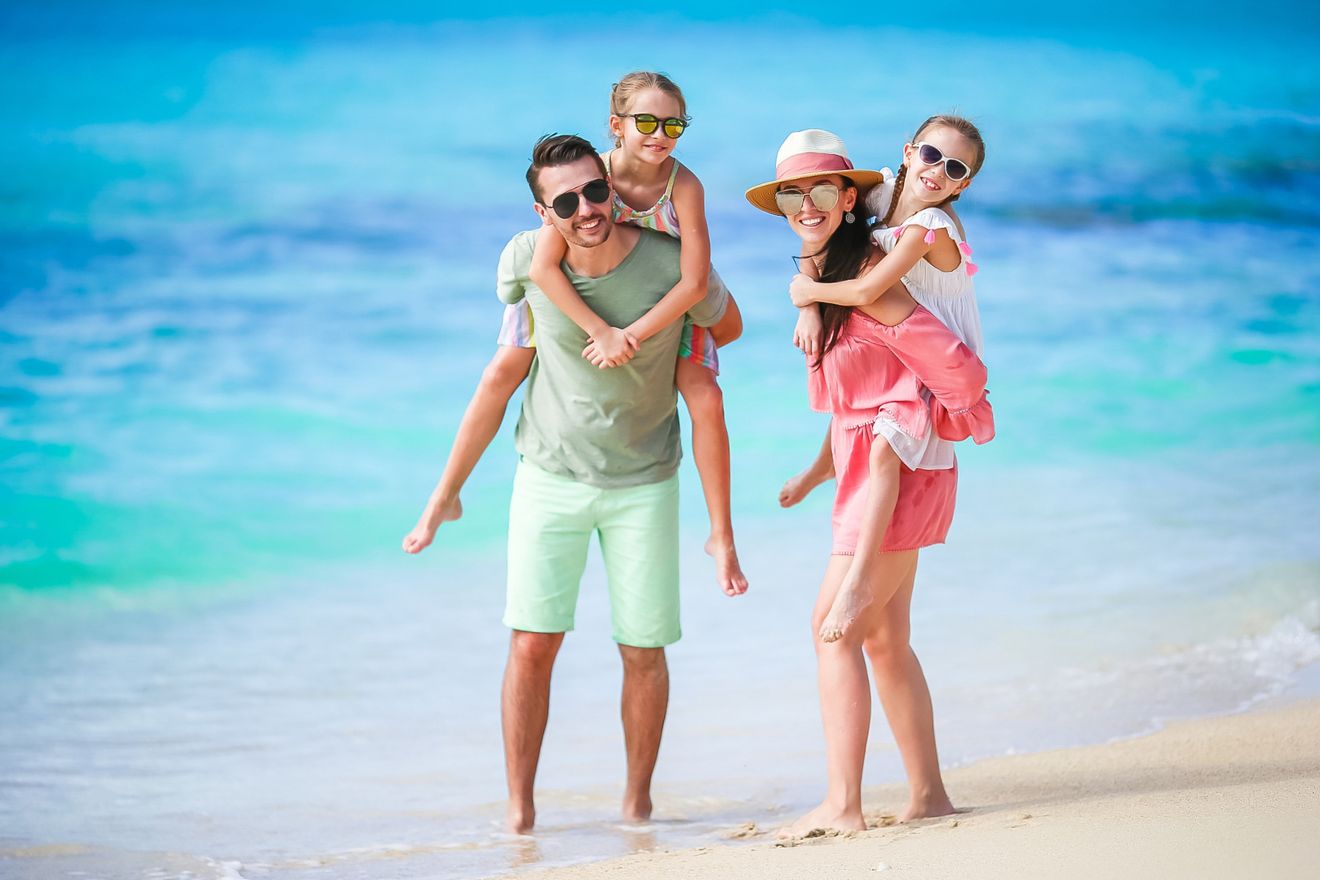 👪 Is Antigua a good place for a family vacation?
Yes! Antigua is a great destination for your next family vacation as it offers so many fun things to do like snorkeling, and playing beach volleyball and it has the best all-inclusive resorts for families like Blue Waters Resort and Spa.
🤔 Which side of Antigua is best to stay in?
🏨 Which are the best all-inclusive family resorts in Antigua?
Carlisle Bay and Blue Waters Resort and Spa are some of the best all-inclusive family resorts in Antigua! These places offer activities for all kids ages, like kids' clubs, swimming pools, and easy access to beaches.
📅 What is the best time to go to Antigua?
The best time to plan your trip to Antigua is from mid-December through April. That's when the temperatures are at their best.
Conclusion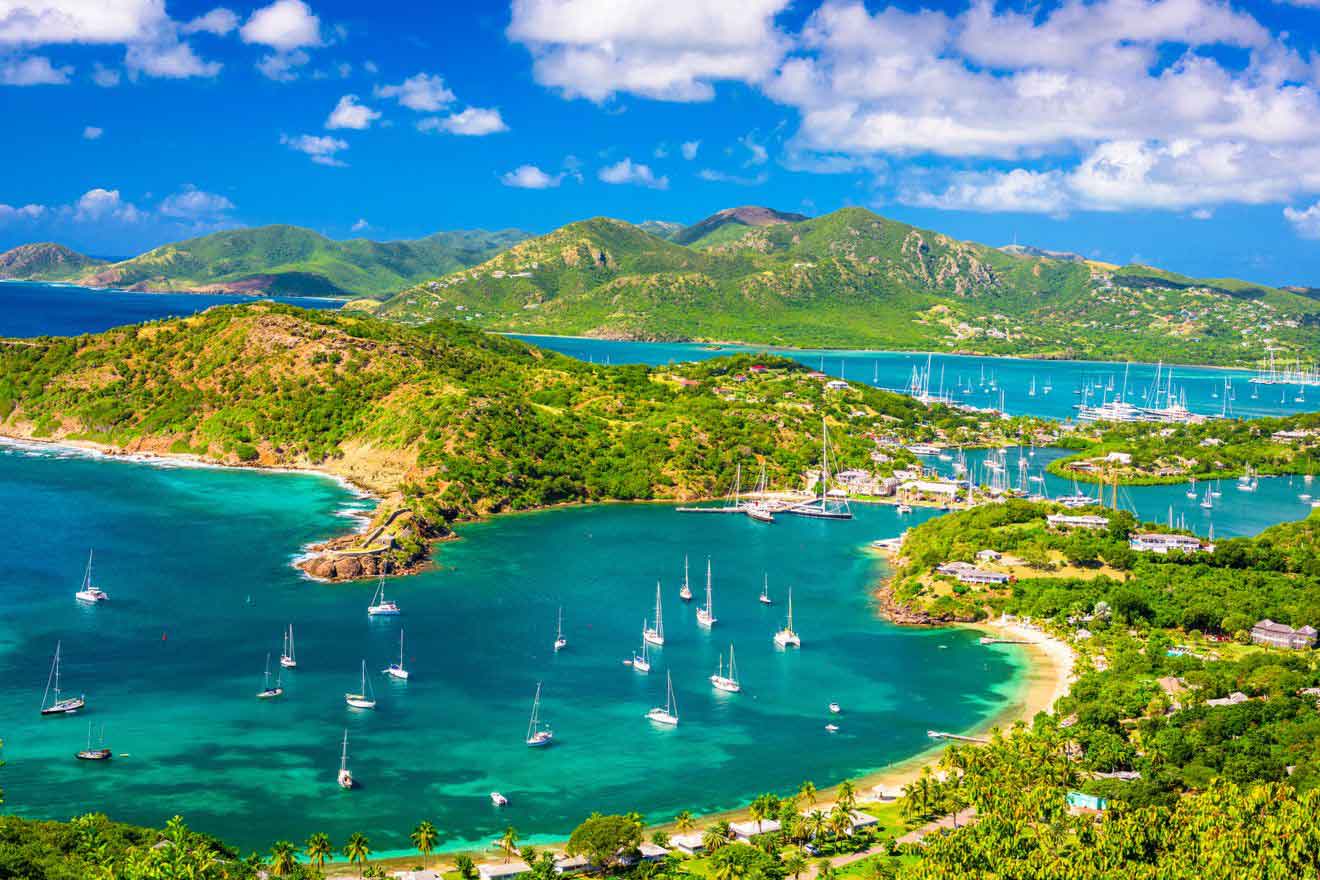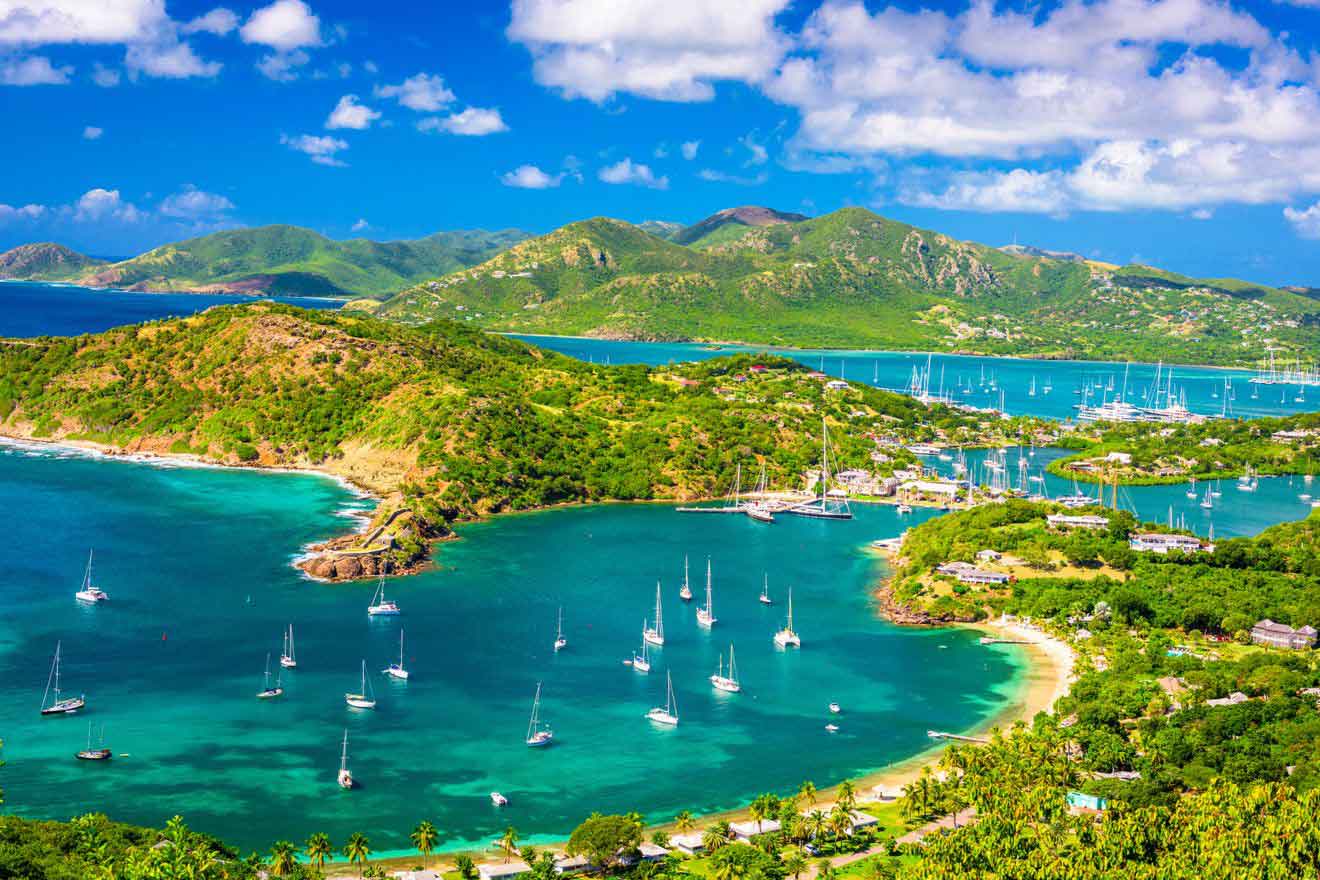 What a dreamy place! Antigua is such a wonderful holiday destination.
And now that you've seen the best Antigua all-inclusive family resorts, and an extra list of luxurious family hotels, I think you'll feel much better about this trip!
But as I mentioned, it is super important to book your family resorts in Antigua in advance. Especially if you're going for the all-inclusive resorts, which will sell out super fast.
I like leaving my readers with something to look forward to, so below you'll find my 2 favorite all-inclusive resorts for families in Antigua:
Carlisle Bay – Set on a beautiful private beach, this Antigua resort offers a kids club, 4 restaurants, and lots of water sports
Blue Waters Resort and Spa – One of the best family resorts in Antigua that comes with 3 freshwater pools, a spa, and 4 restaurants
Well, our journey ends here, but yours is just about to begin!
If I've left anything out or if you've got any questions, just drop me a comment below, and I'll make sure to answer as soon as I can!
Safe travels,
Victoria
---
Pin it for later!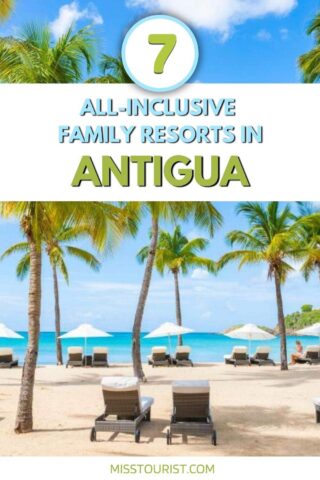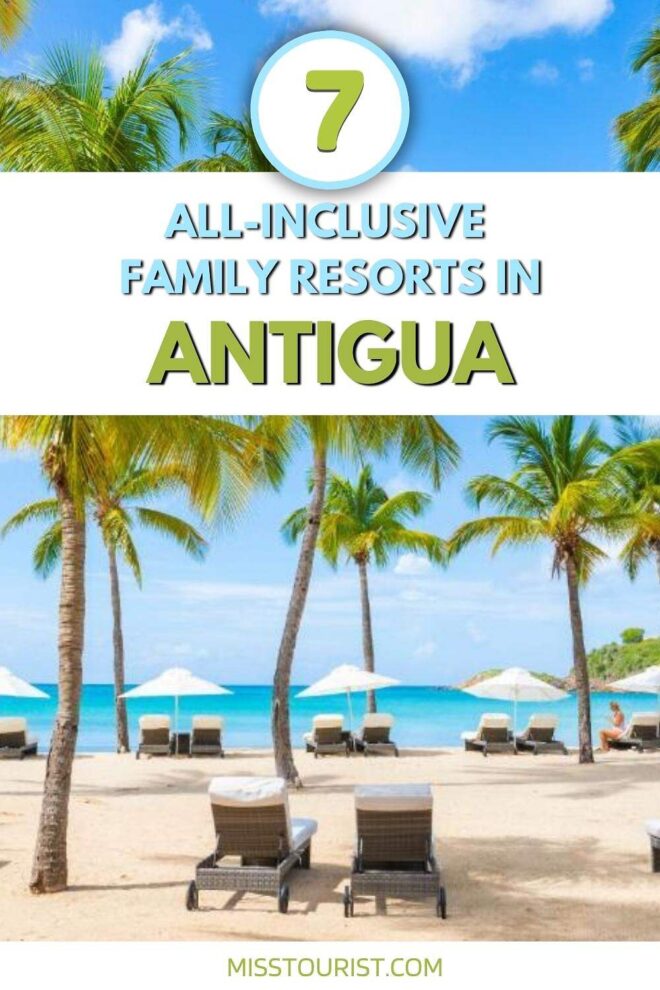 Pin it for later!