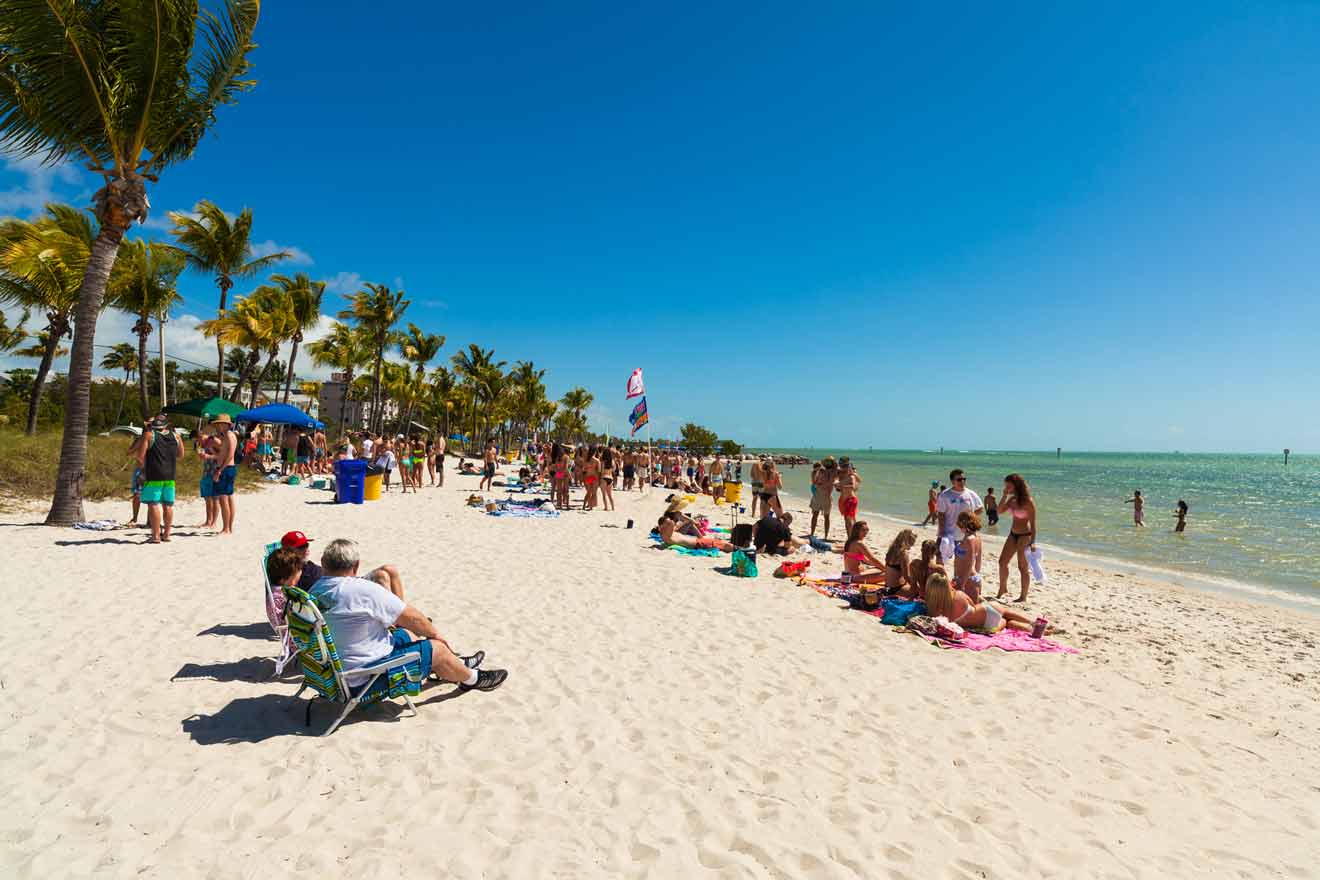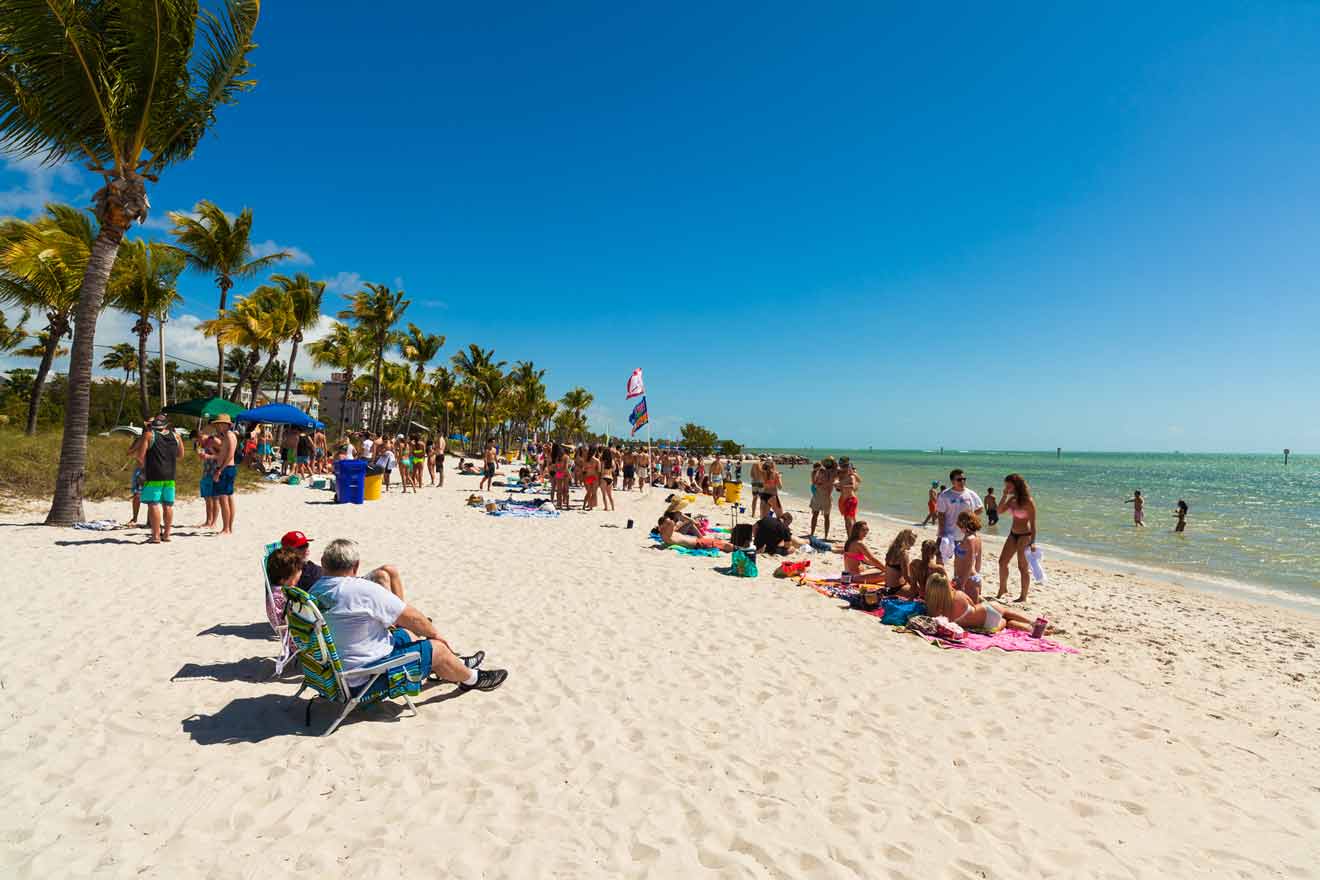 The Florida Keys are arguably one of America's best destinations. With hundreds of small islands to explore and vast untouched beauty, the Keys are truly a remarkable feat of nature.
Key West, the southernmost Key, is well known for having that "Old Florida" vibe that tourists and this Florida local can't get enough of.
Even though Key West is not a huge island, there are all sorts of different beaches for everyone's enjoyment. You can find lively beaches with a variety of activities, beaches for families where the water is shallow and calm, the best beaches for water sports, and even a dog beach for those who just can't leave Fido behind!
In this article, I let you in on all the local secrets of which beach to go to and why! Plan ahead and make the most out of your time in the Keys by figuring out what beach vibe is most aligned with your trip! Depending on what you are looking for, it goes without saying that Key West has something special in store for you.
So let's dive into this list of the absolute best beaches in Key West – from a local!
If you are in a hurry
Beaches may be free but there are some activities that you can do on each beach that are really popular and need to be booked in advance, like the ones below:
1. Spend time with the family at South Beach, Key West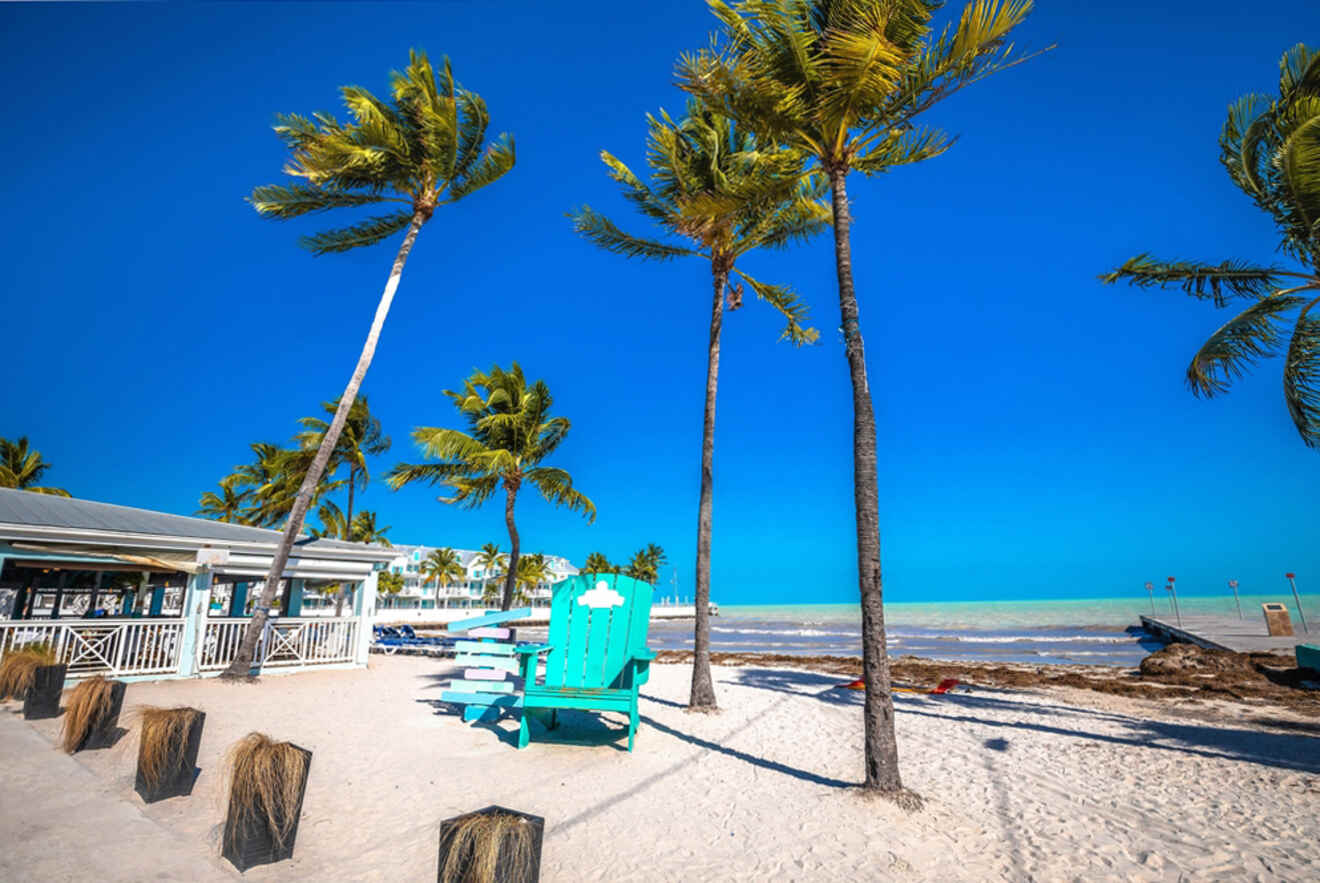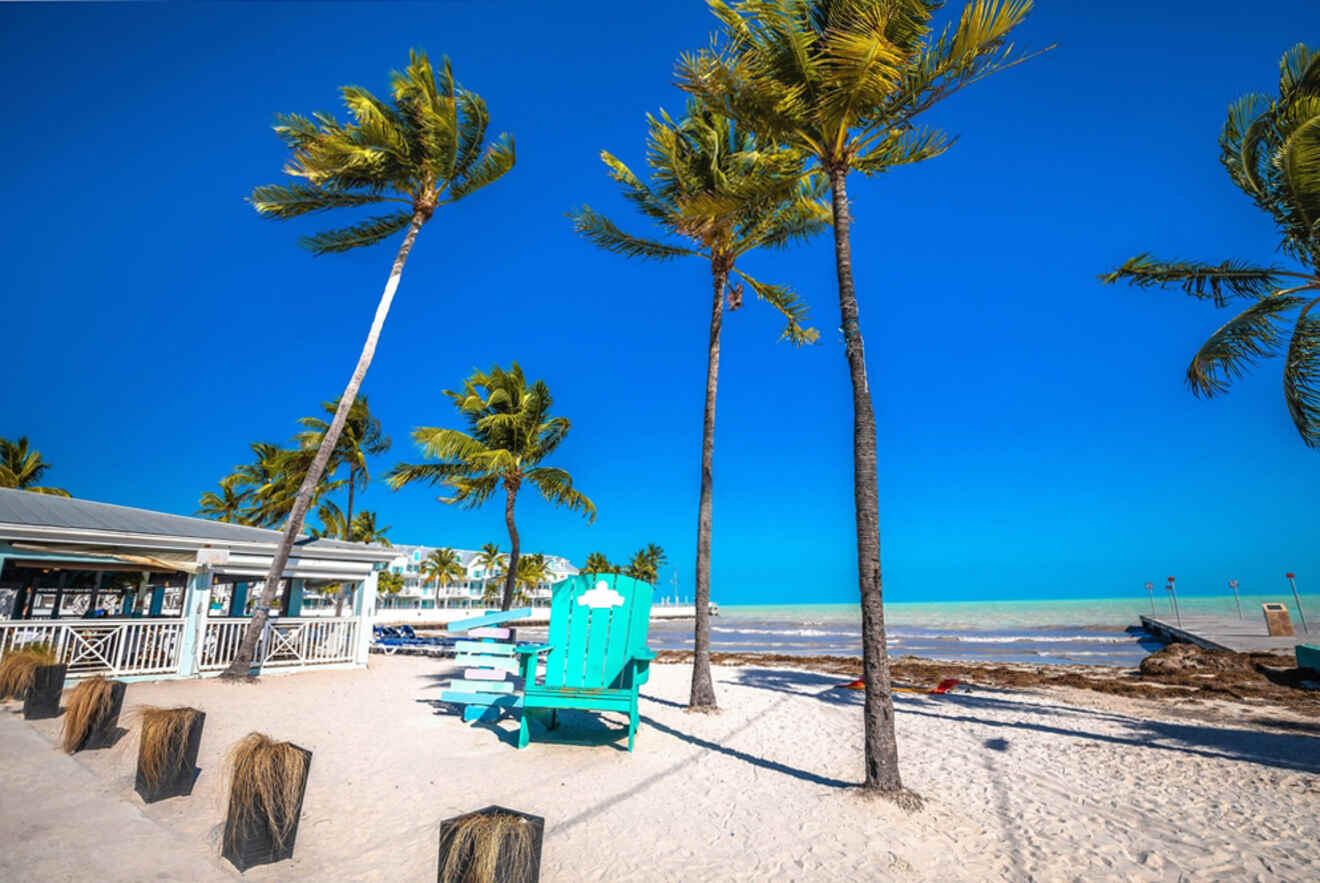 South Beach in Key West is a family favorite due to the beach's calm, shallow waters. This beach is the perfect environment for the little ones to splash around in safe, calm waters while the adults unwind and soak up the sun with an incredible view.
Some of the amenities this beach has to offer are some beachside refreshment stands, lounge chair rentals, and, in case you forgot towels, you can even rent some at South Beach. There are water fountains on-site and even a small cafe to grab a quick bite at.
While families love this beach, it is also an excellent beach for anyone who is looking for a laid-back and relaxing atmosphere, excellent water for swimming, and gorgeous views.
For families with young kids, the only real drawback is the lack of public restrooms. However, some of the nearby establishments are very welcoming and kind when it comes to using their bathrooms.
PRO TIP: If you happen to be at South Beach in Key West later in the day, don't miss the sunset from Emma Carrero Cates Pier, which is located on the West side of the beach.
2. Enjoy crystal clear water at Smathers Beach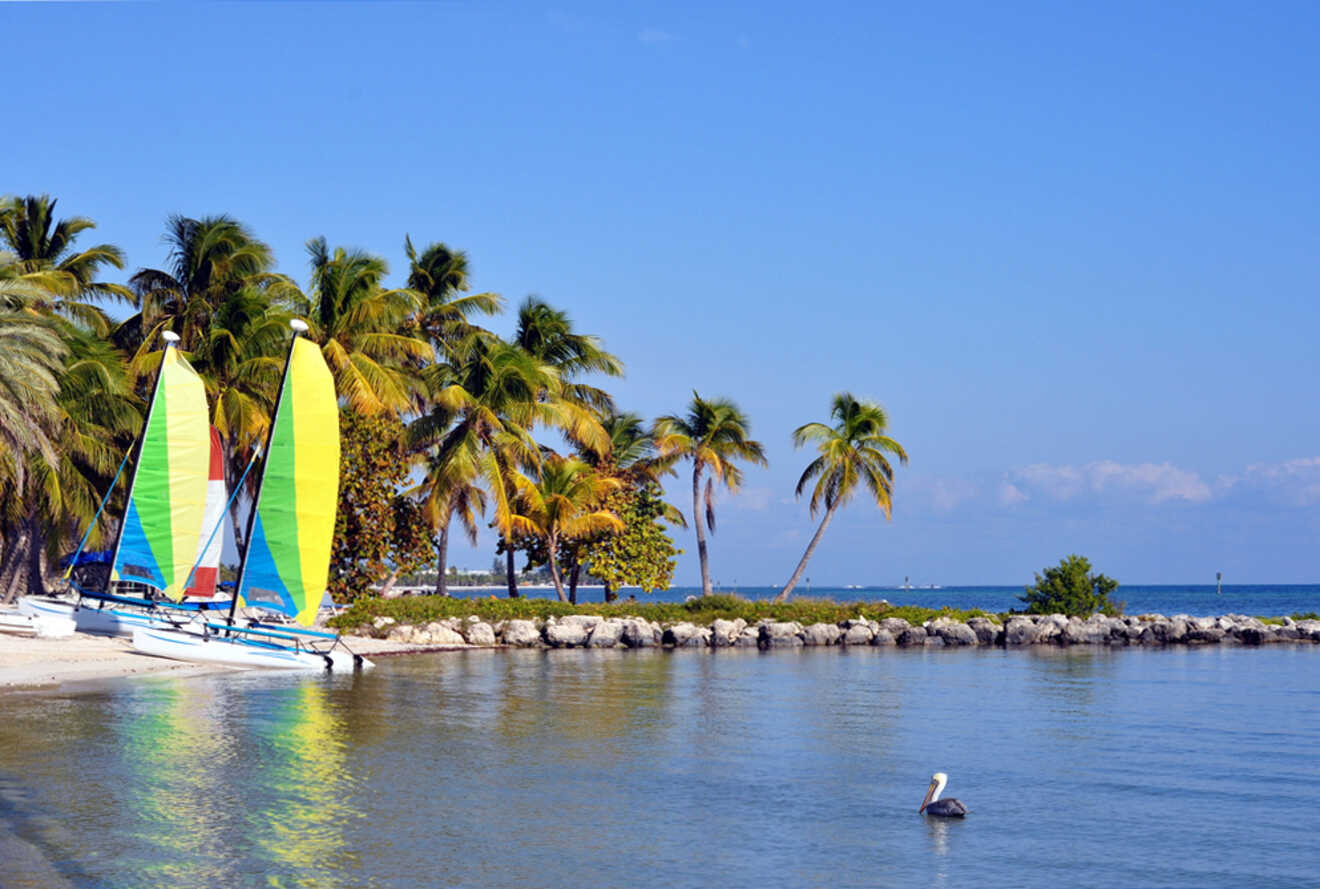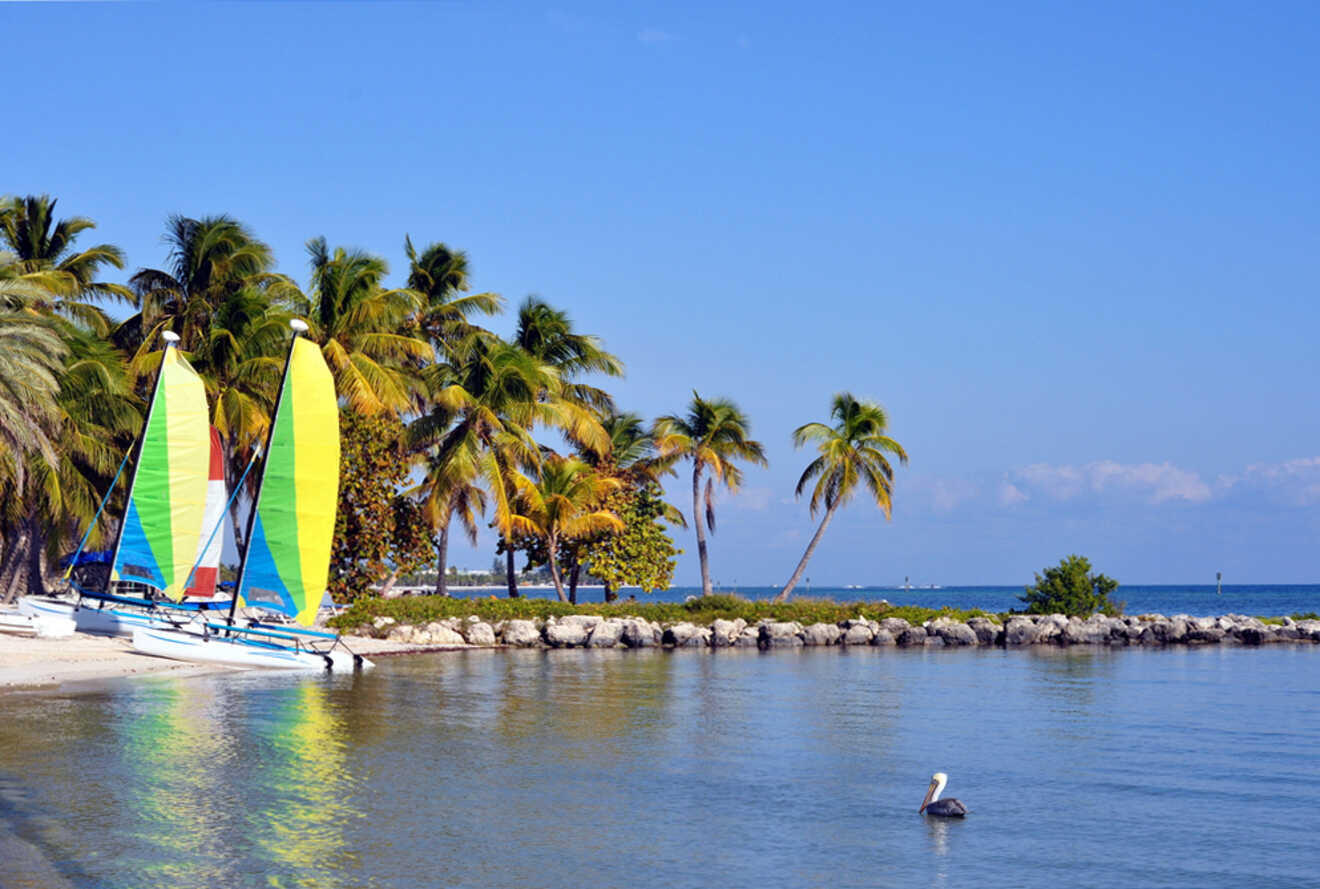 Smathers Beach is one of the most popular and well-known beaches in Key West. It is also one of the largest beaches in Key West, so it can get pretty crowded at times.
Smathers beach is loved by families and all sorts of travelers for its excellent swimming conditions. The shoreline has a gradual slope which allows you to walk pretty far out without going too deep.
Smathers Beach boasts 2 miles of pristine white sandy shores, gorgeous views, and incredible water to splash around in. It also offers plenty of amenities, including the basics, like showers, bathrooms, volleyball courts, and all sorts of vendors.
Smathers Beach has so much to offer beachgoers. Along the beach, you will find several water sport rental vendors, where your next water adventure awaits! Some of the rentals available to you are lounge chairs, umbrellas for shade, snorkels, jet skis, kayaks, as well as all sorts of other water sports equipment.
You can also go parasailing! This incredible parasailing tour at Smathers Beach is SO much fun, and you can choose between 1, 2, or 3 seats so you can also go together with your partner or friends!
PRO TIP: It can get a bit crowded at peak times of the day, so I would recommend getting there early to stake out your beach spot before the crowds roll in.
3. Escape the crowds at Simonton Beach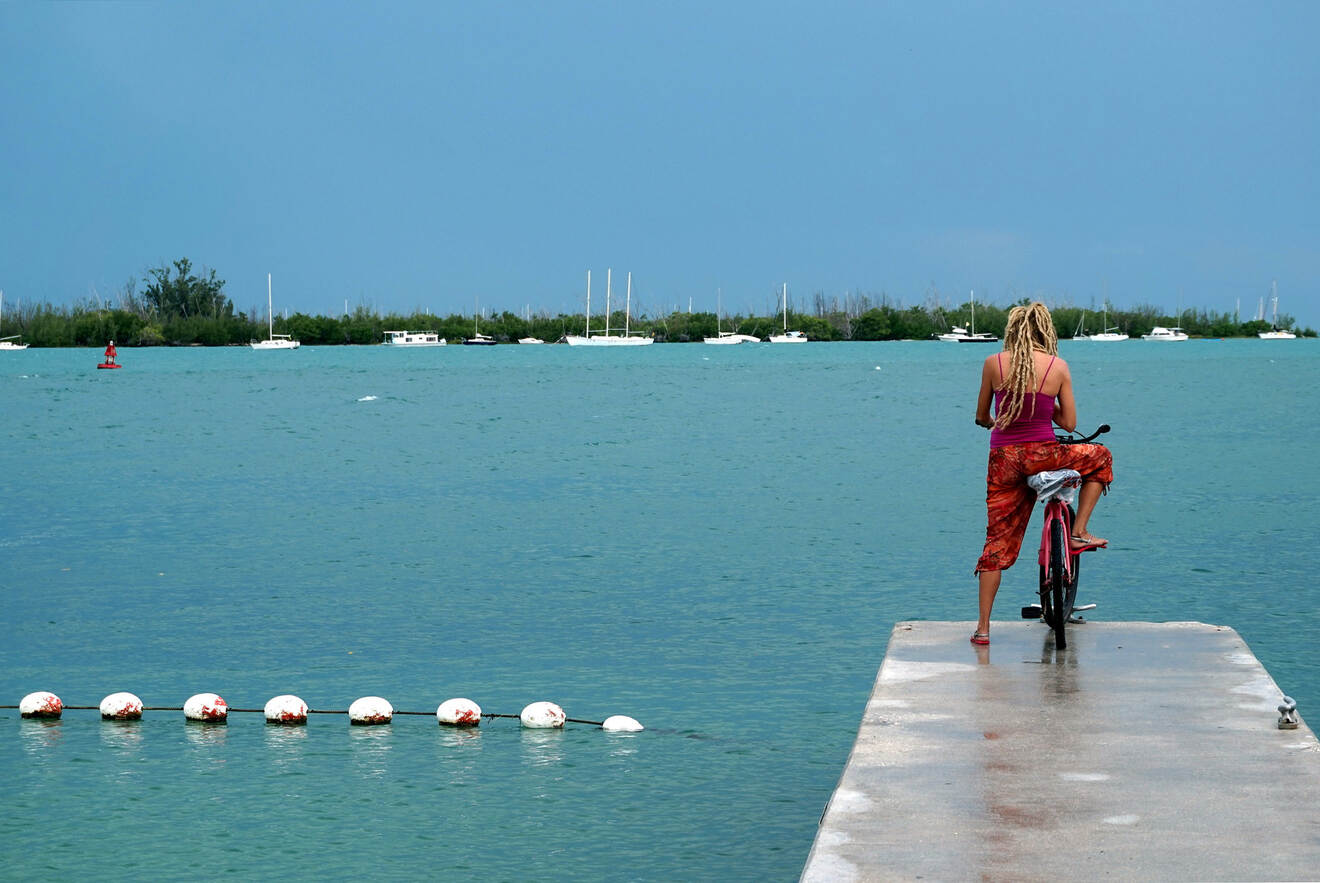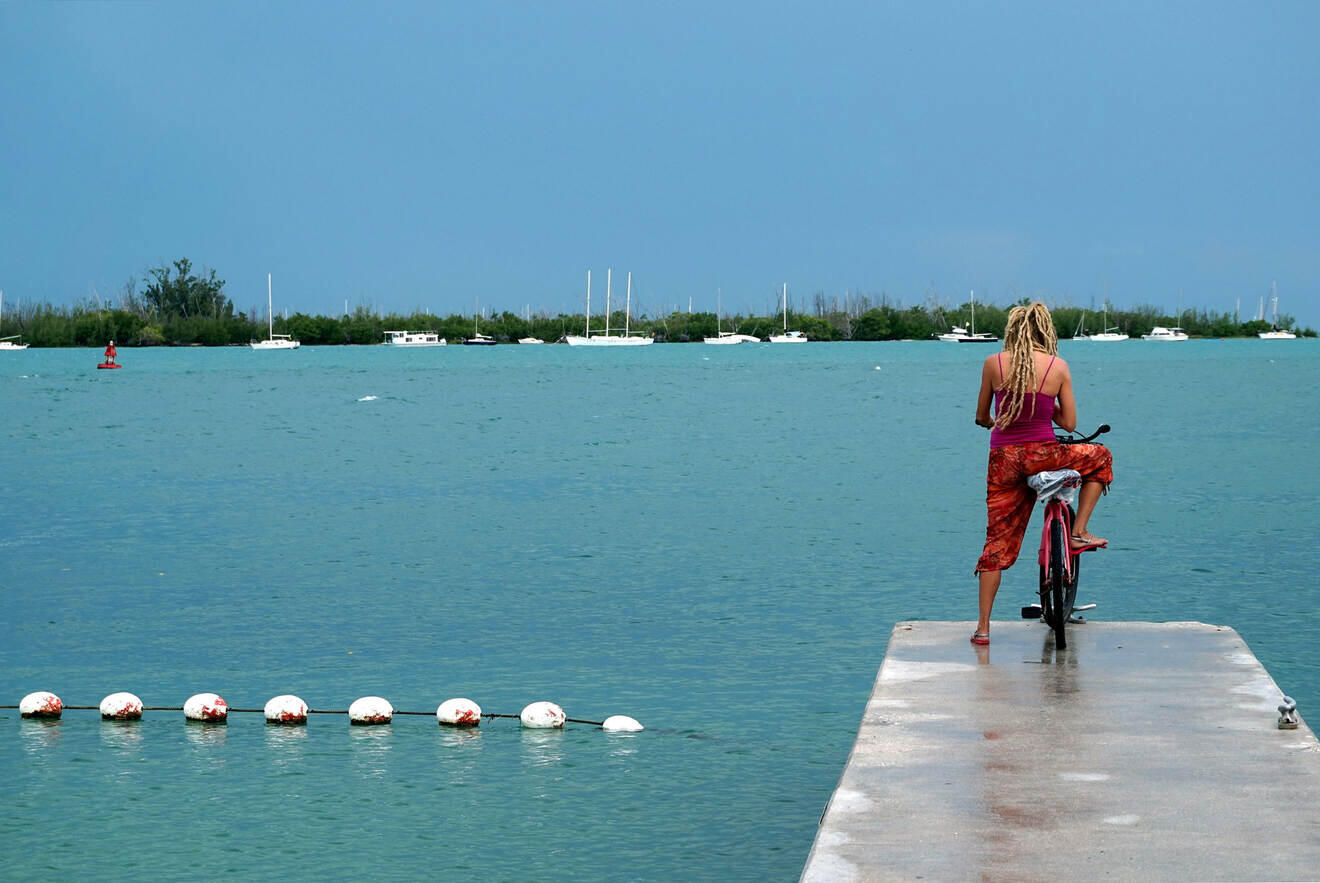 Simonton Beach is one of the many stunning beaches in Key West. This quaint beach is the perfect place for folks to go who are looking to avoid crowds and have a peaceful and secluded beach day.
Located on the gorgeous Gulf side of Key West, it's well known for being one of the only public beaches in downtown Key West.
Only steps away from Mallory Square, this small, pet-friendly beach is one of the best beaches in the Florida Keys. Since the beachfront is pretty small at Simonton Beach, it is advised to get there early to secure your beach spot. Even though it doesn't get as crowded as other beaches, the size makes it, so it fills up pretty quickly.
While this beach is pretty small, there is no shortage of amenities. Simonton Beach has a boat ramp, on-site equipment rentals for umbrellas and chairs, as well as a small picnic area and public restrooms. There is also usually a food vendor on-site.
There is also a restaurant right next to the beach that offers a plethora of water sports rentals if you want to take your beach day to the next level. Among the rentals are jet skis, boats, charter tours for snorkeling, dolphin watching, fishing, island tours, and sunset cruises.
NOTE: While the beach has luscious soft-white sand, the water can be a bit rocky, so it is advised to bring some water shoes or swim with caution.
Want to visit Key West but don't want to drive? Book a day trip from Miami to Key West with optional activities included!
4. Spend the day at Clarence S. Higgs Memorial Beach Park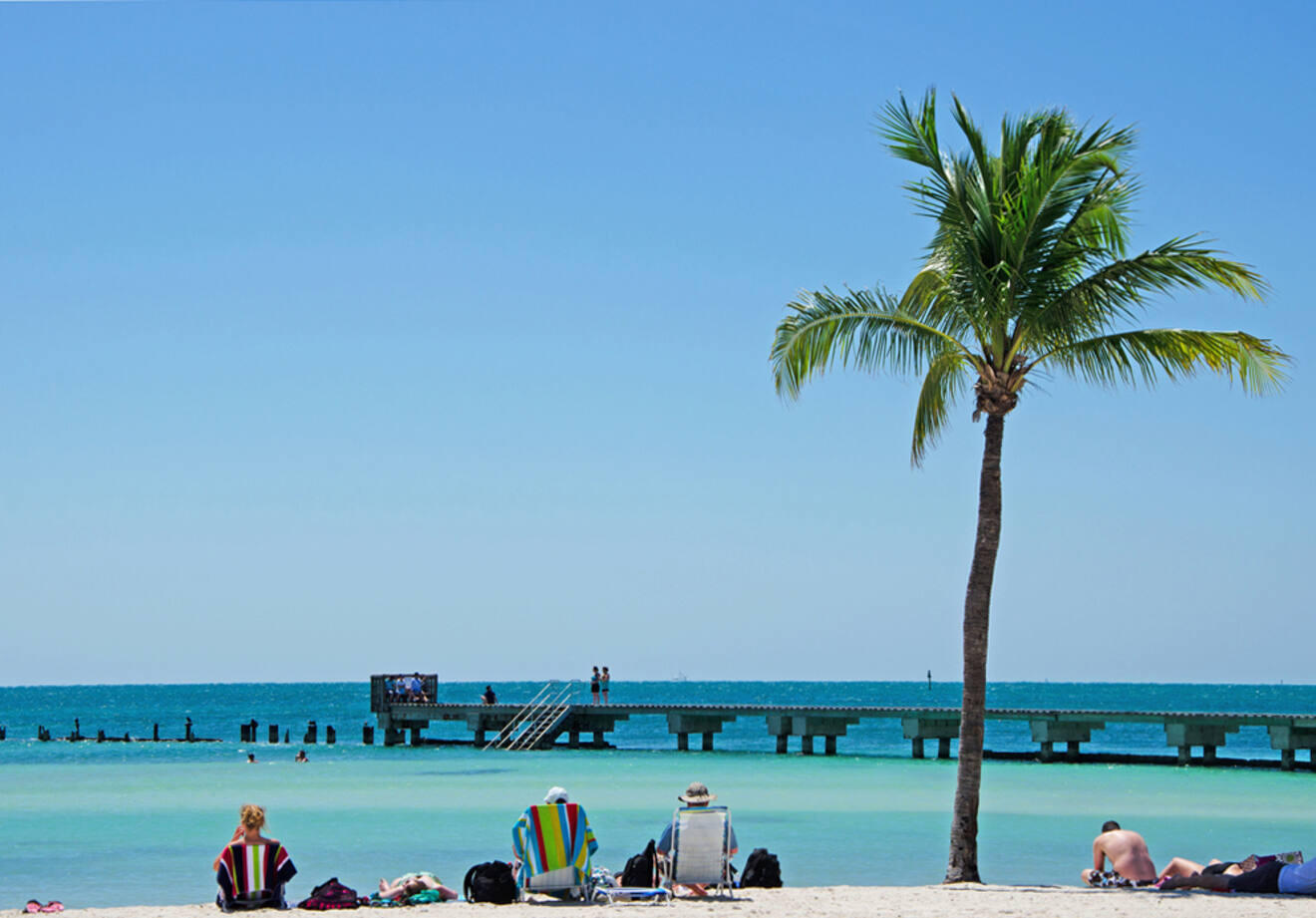 Known locally as Higgs Beach, this beach and the surrounding park have so much to offer. It is easy to spend the whole day exploring and lying in the sand at Higgs Beach.
If you want to spend the day at Higgs Beach, with the various rental shops, you can rent beach chairs and umbrellas, volleyball nets, snorkeling equipment, and all sorts of water sports rentals.
Higgs Beach is another one of the best beaches for families in Key West, with shallow, safe water and a stimulating playground located right on the beach. There is also a dog park for your fur babies to enjoy!
Higgs Beach also has showers, public restrooms, and free parking. Key West's Higgs Beach also has historical significance. As you wander around, you may notice some plaques as well as an unfortunate but historically significant former 19th-century graveyard where the enslaved were laid to rest.
There is also a beautiful pier at Higgs Beach for fishing, enjoying the sunset, and all sorts of wildlife viewing!
5. Snorkel at Fort Zachary Taylor Beach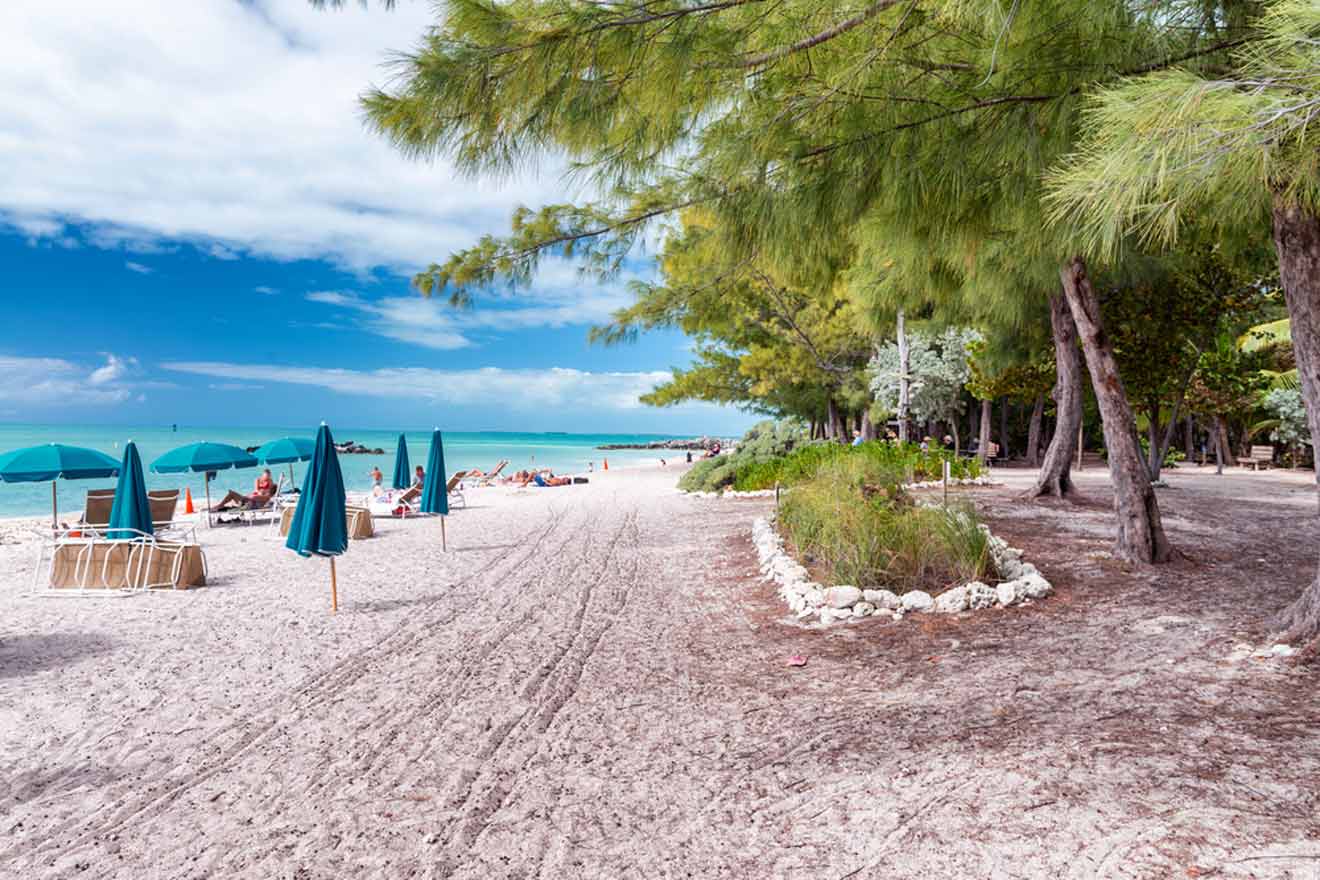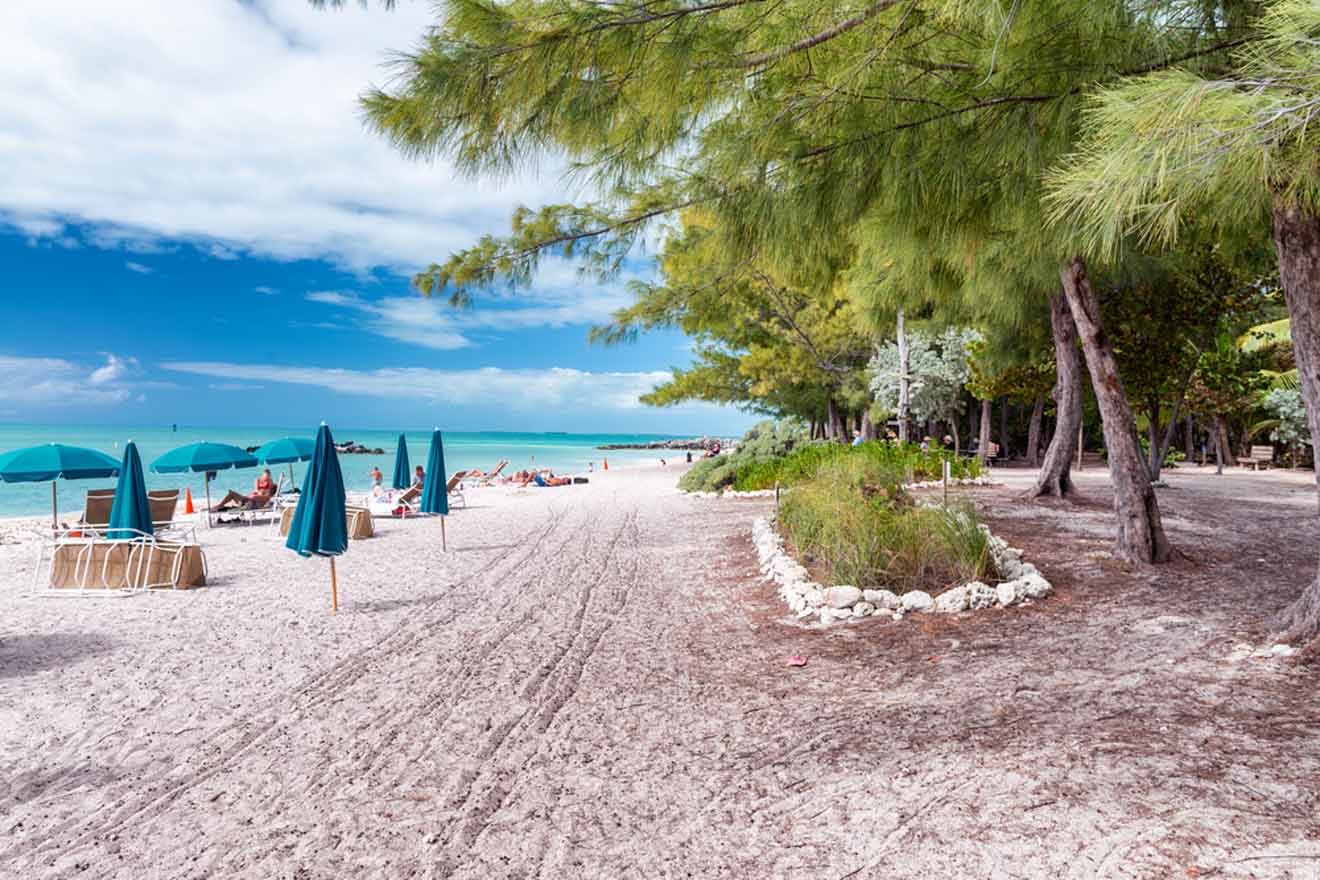 Fort Zachary Taylor Beach is well known as one of the most authentic beaches in Key West. It has this title due to its natural shoreline of coral rocks instead of imported sand.
Fort Zachary Taylor Beach is one of the best beaches for nature lovers in Key West. It's well known for its abundant wildlife and foliage, both on land and underwater!
This Key West beach is one of the best beaches for snorkeling in Key West. Snorkelers will see all sorts of marine life, from schools of fish to sea turtles, massive grouper, dolphins, and so much more!
If you need a break from the sun, take advantage of the various nature trails that Fort Zachary Taylor Beach has to offer.
Another option is to take a ranger-guided tour of the part and see some of the Civil War-era fortifications. This is a great beach in Key West for both nature lovers and history buffs alike!
6. Go camping at Bahia Honda State Park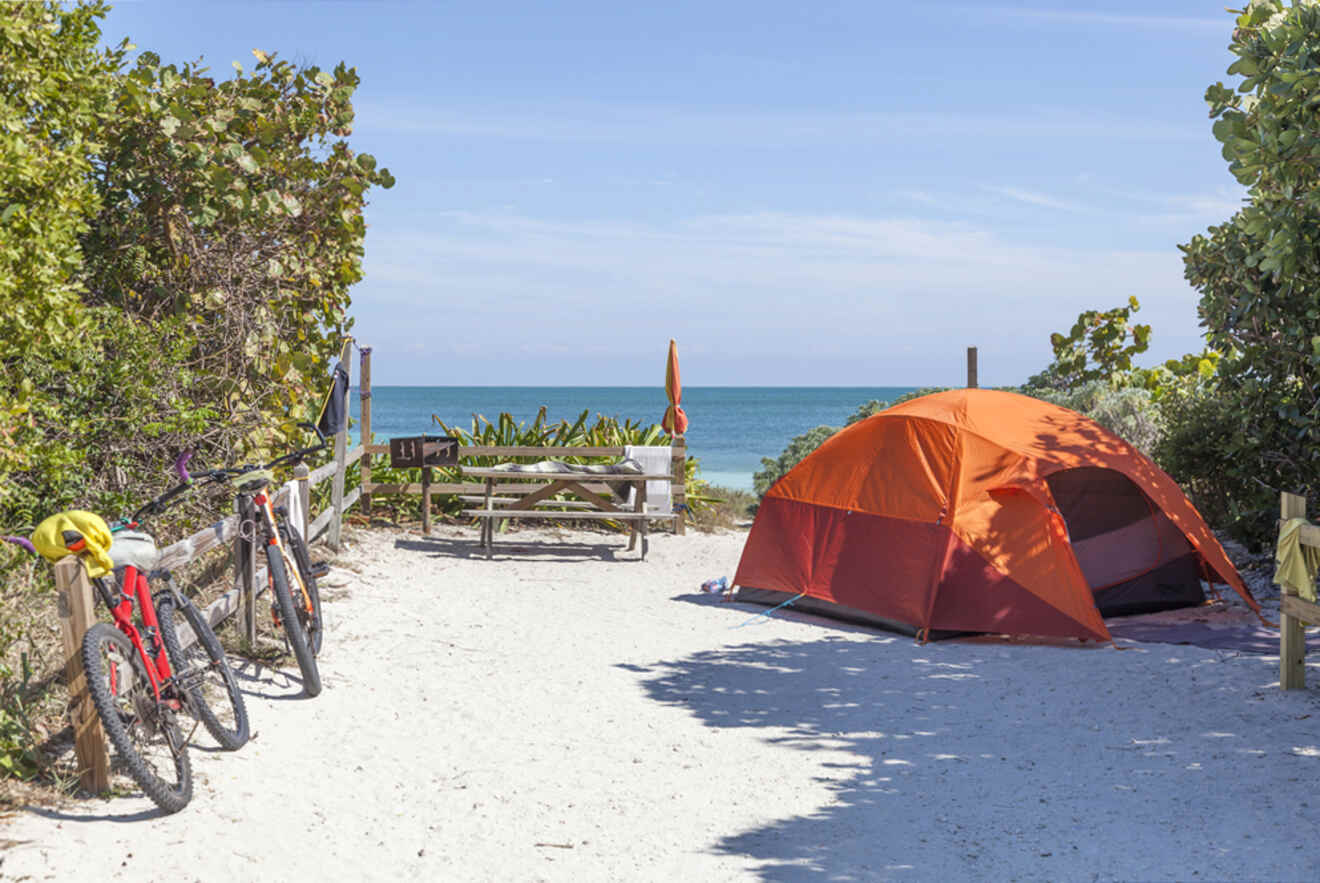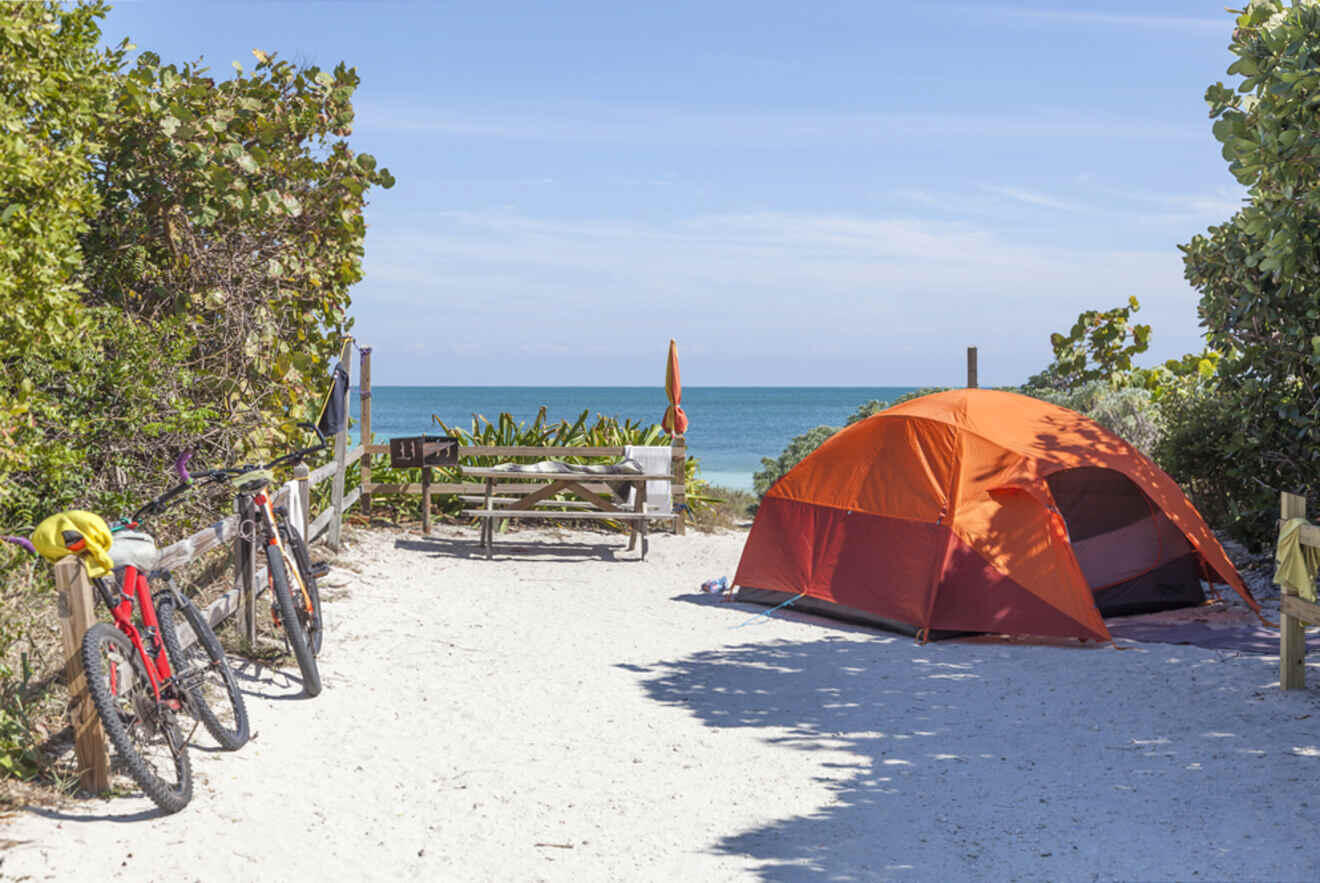 Bahia Honda State Park is one of the best beaches near Key West for camping and experiencing the gorgeous nature that the Keys have to offer.
Bahia Honda State Park is a true Florida gem that you are not going to want to miss out on your trip to Key West.
For anyone who can't get enough of the gorgeous Florida Keys, camping is an excellent option, and Bahia Honda State Park is the best place to do it! Some of the practical camping amenities are electricity, water, as well as a concession stand open during the day.
Some of the incredible marine life you can expect to see on your trip to Bahia Honda State Park includes little reef fish, nurse sharks, barracuda, sea turtles, and so much more! This is a super popular destination for snorkeling, enjoying nature, relaxing, exploring, and a variety of other beach and island activities.
Bahia Honda State Park is also home to the endangered Miami Blue butterfly that was once thought to be extinct! If you get lucky, you might be able to spot this gorgeous tiny little blue butterfly.  
Want to do some dolphin viewing while you're in Key West? Hang out with bottlenose dolphins in their natural habitat for the ultimate cruise experience!
7. Get some rest at Rest Beach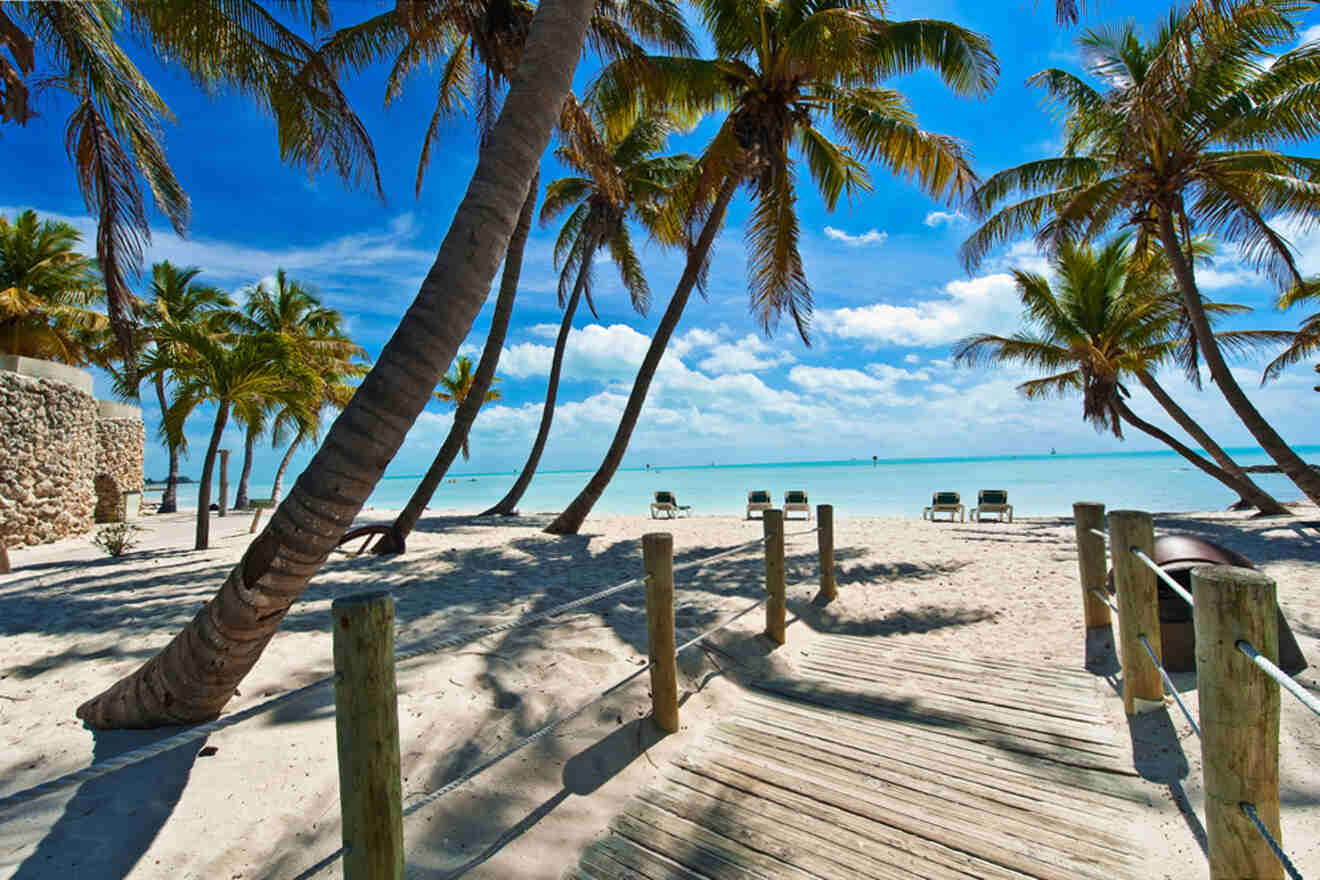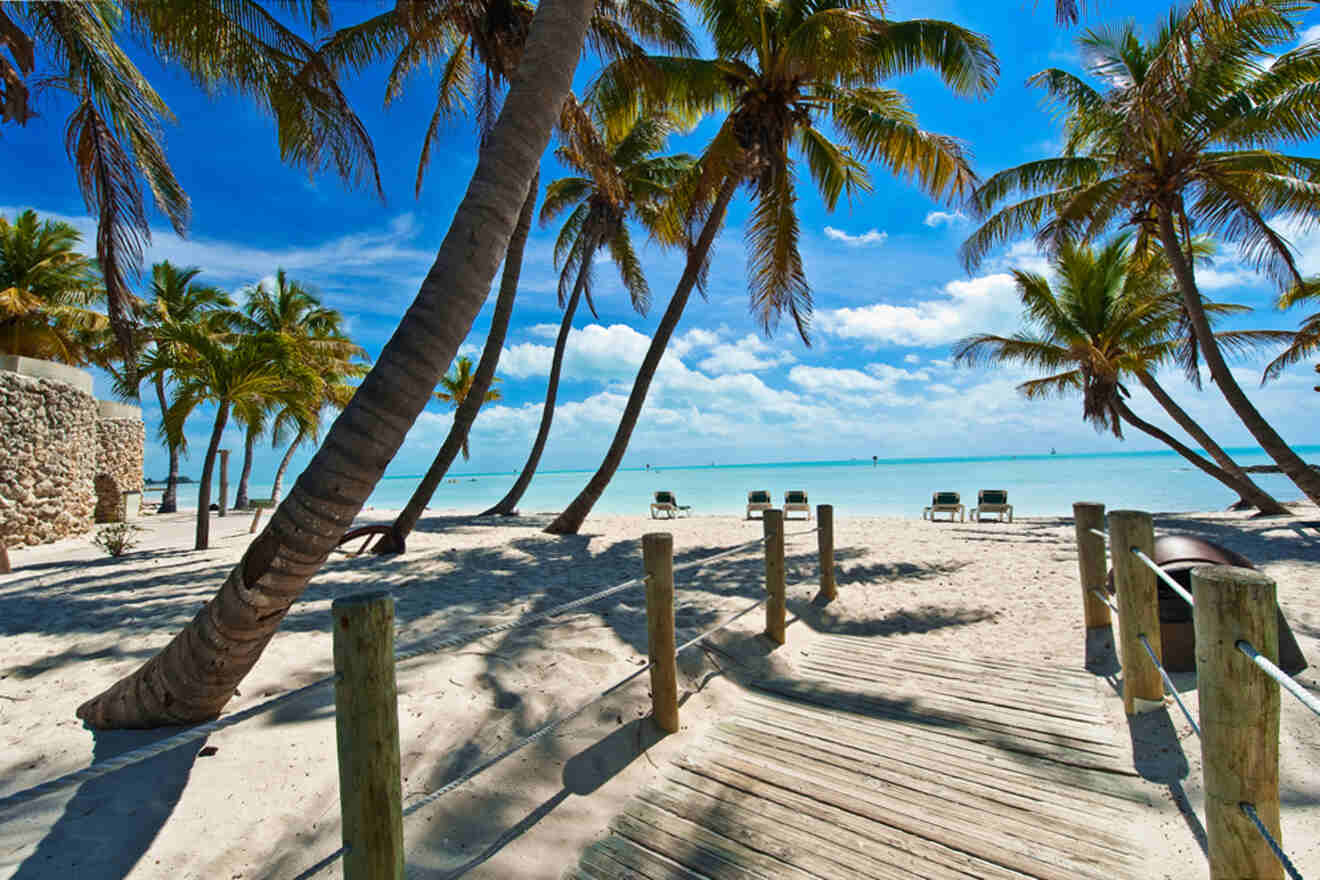 Rest Beach is located within the same park as Higgs Beach and is a lovely small beach perfect for sunrise and sunset viewing.
This Key West beach can sometimes fill up and get a bit crowded due to its small size. Regardless, it is a lovely beach well worth checking out on your trip to Key West.
If you are looking for a place to view the sunset in Key West but want to get away from all the Mallory Park sunset festivities, Rest Beach provides the perfect tranquil environment for you to watch the sunset and unwind.
Rest Beach even has a dedicated Yoga Deck, where you can find morning and evening yoga classes with incredible views.
Want to chill on a sandbar and explore the coral reefs by kayak? This is an awesome tour I did on my trip to Key West, and I highly recommend taking advantage of it. Sandbars are always super fun to relax and splash around in! This tour also comes with lunch and drinks!
8. Explore Florida's no.1 beach at Dry Tortugas National Park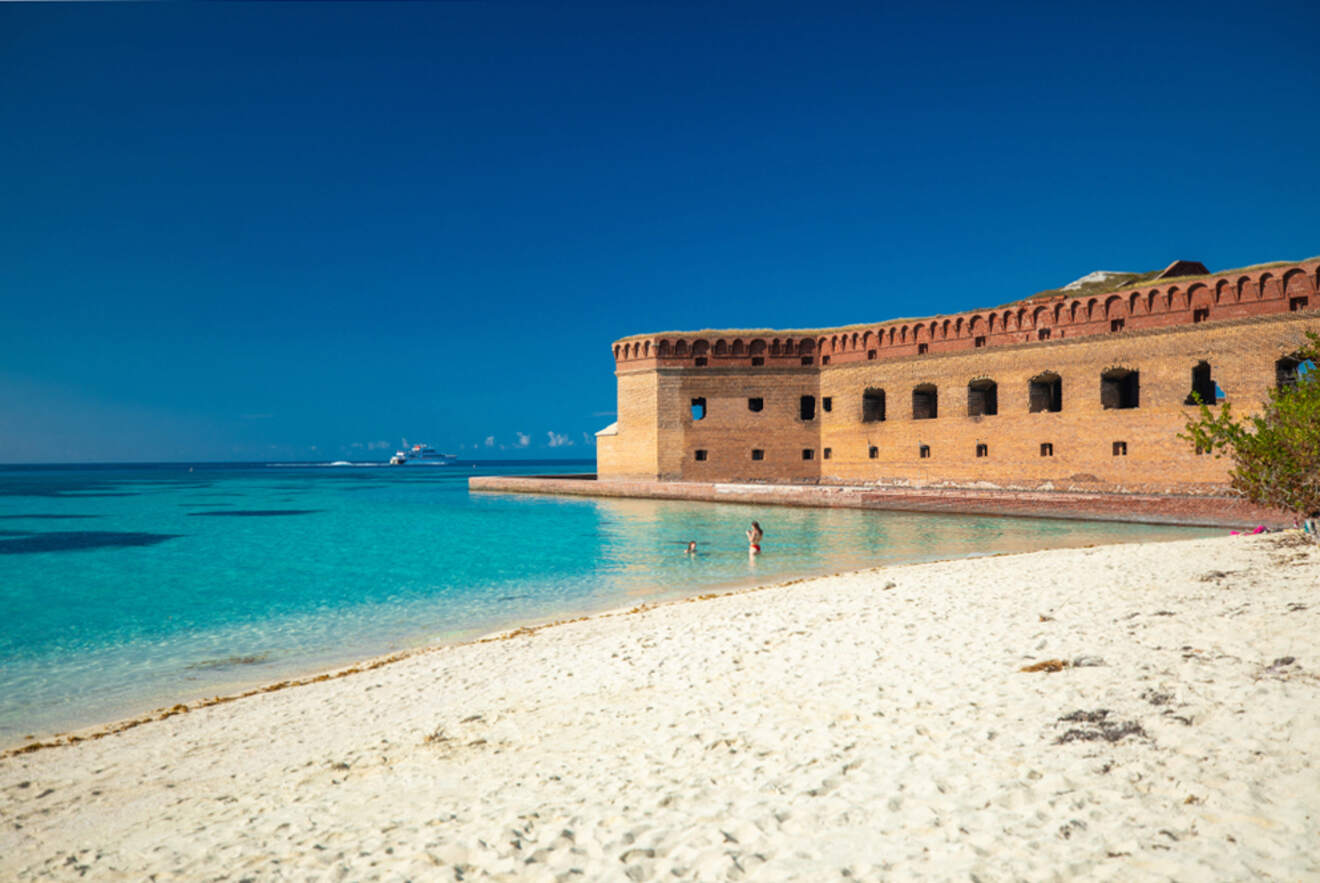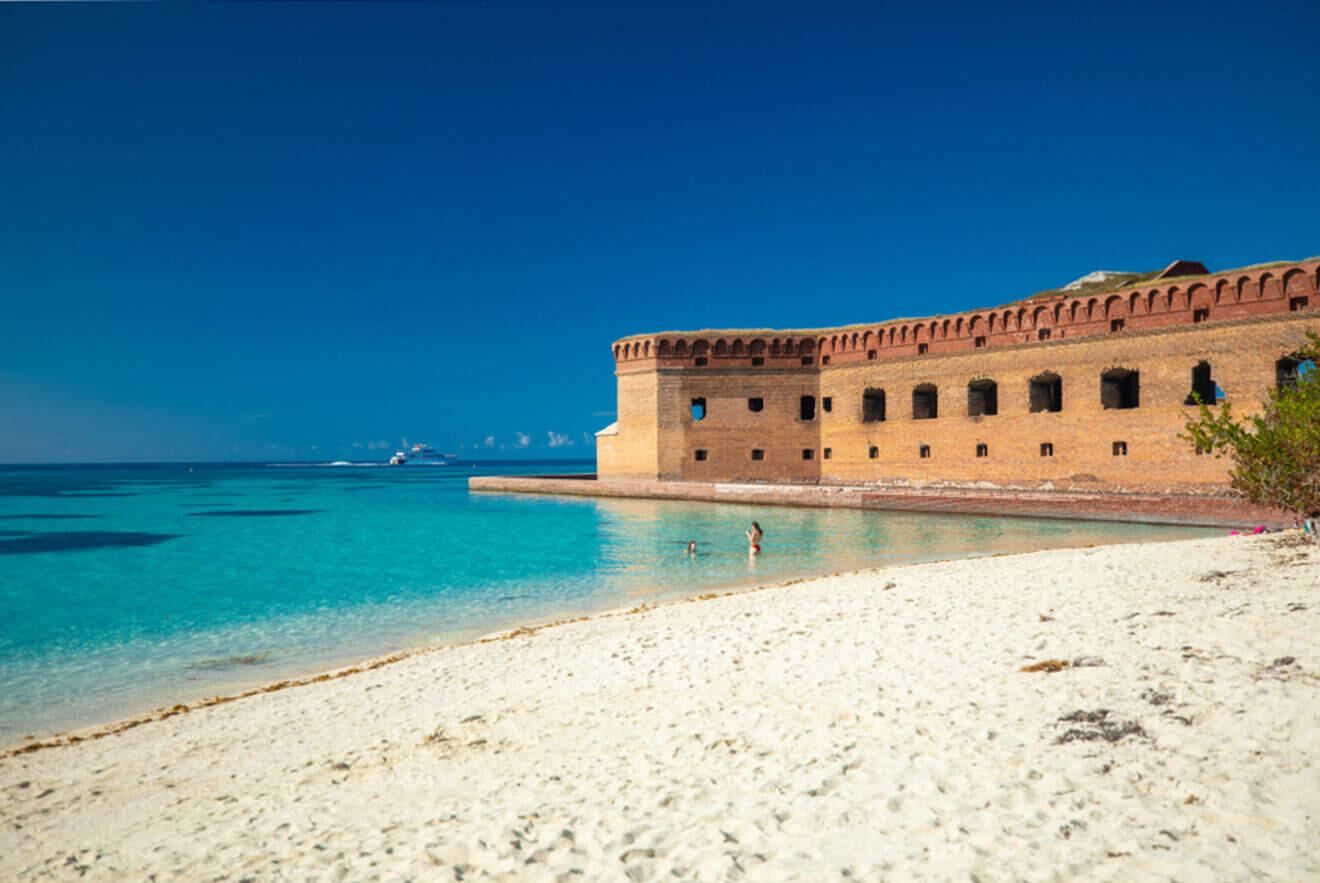 Dry Tortugas National Park is a super famous destination in the Florida Keys due to its abundant nature, impeccable views, and amazing beaches.
This is truly one of the best places to visit in the Florida Keys and, frankly, all of Florida. People travel far and wide to view this incredible national park with picturesque views of an old wartime fort.
Although Dry Tortugas is a bit of a ways away from Key West, it is still considered one of Key West's seaside offerings that are well worth checking out. Dry Tortugas National Park is only accessible by boat, and conveniently enough, you can catch the Dry Tortugas Ferry right from Key West.
Make sure you plan a whole day to visit Dry Tortugas National Park. There is so much to explore here, and you have to consider the time it takes to get to and from the island on a ferry. The beach is truly a tropical paradise lined with palm trees and absolutely breathtaking views of crystalline Caribbean waters.
This is a great place to soak up the sun, explore, go snorkeling, swim in calm shallow waters, and explore the expansive coral reef system that this beach has to offer.
Due to the presence of a stunning and robust coral reef, snorkeling is the number one water activity that guests can enjoy when visiting Dry Tortugas National Park. You can book some tour excursions through your ferry tickets as well.
Dry Tortugas also offers camping with very limited availability for those who just can't get enough. If you're feeling more adventurous, you can take a seaplane to get to Dry Tortugas instead of taking the ferry.
PRO TIP: There are no stores on the island, so be sure to pack some food if it is not included in your tickets!
9. Take your pup to Dog Beach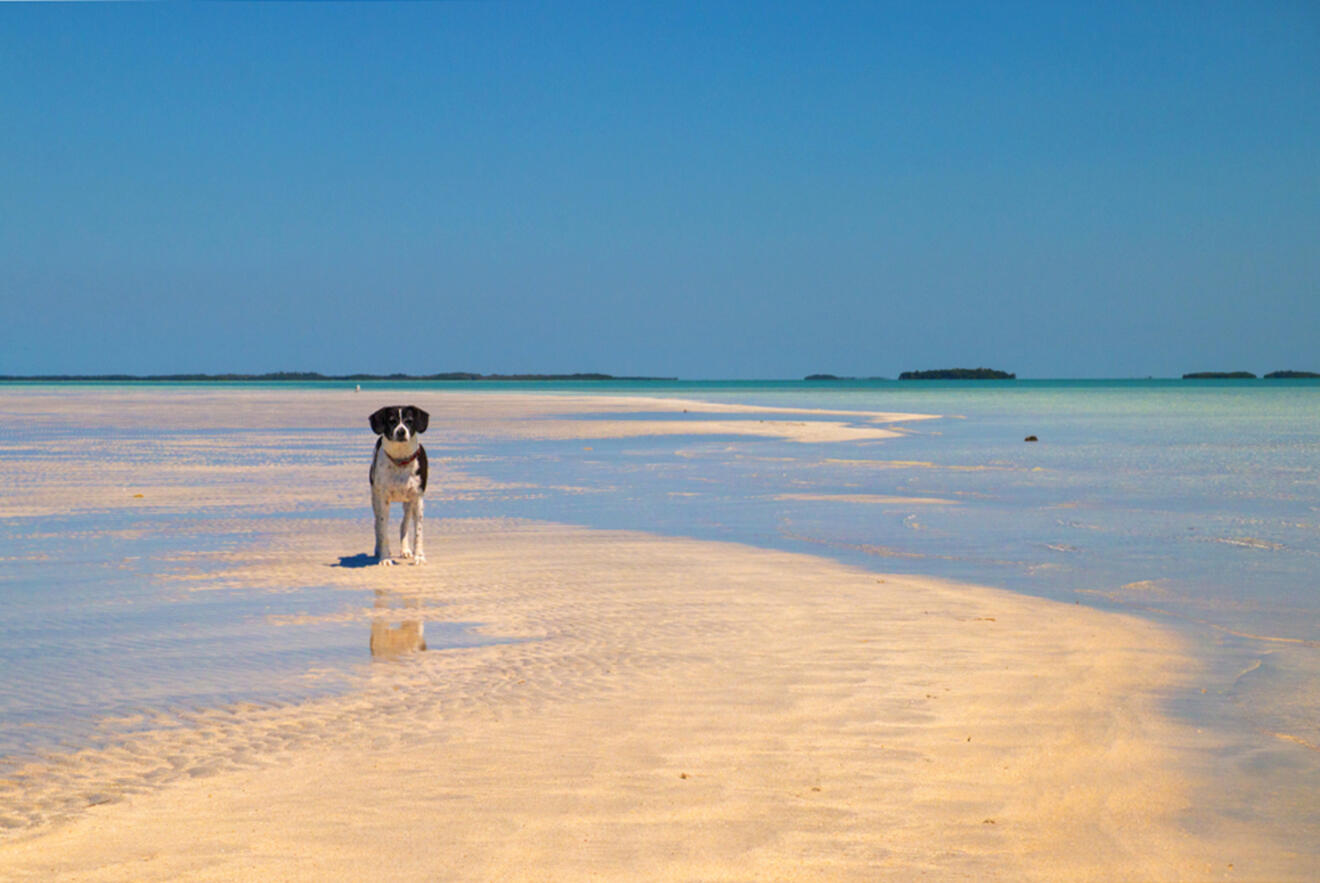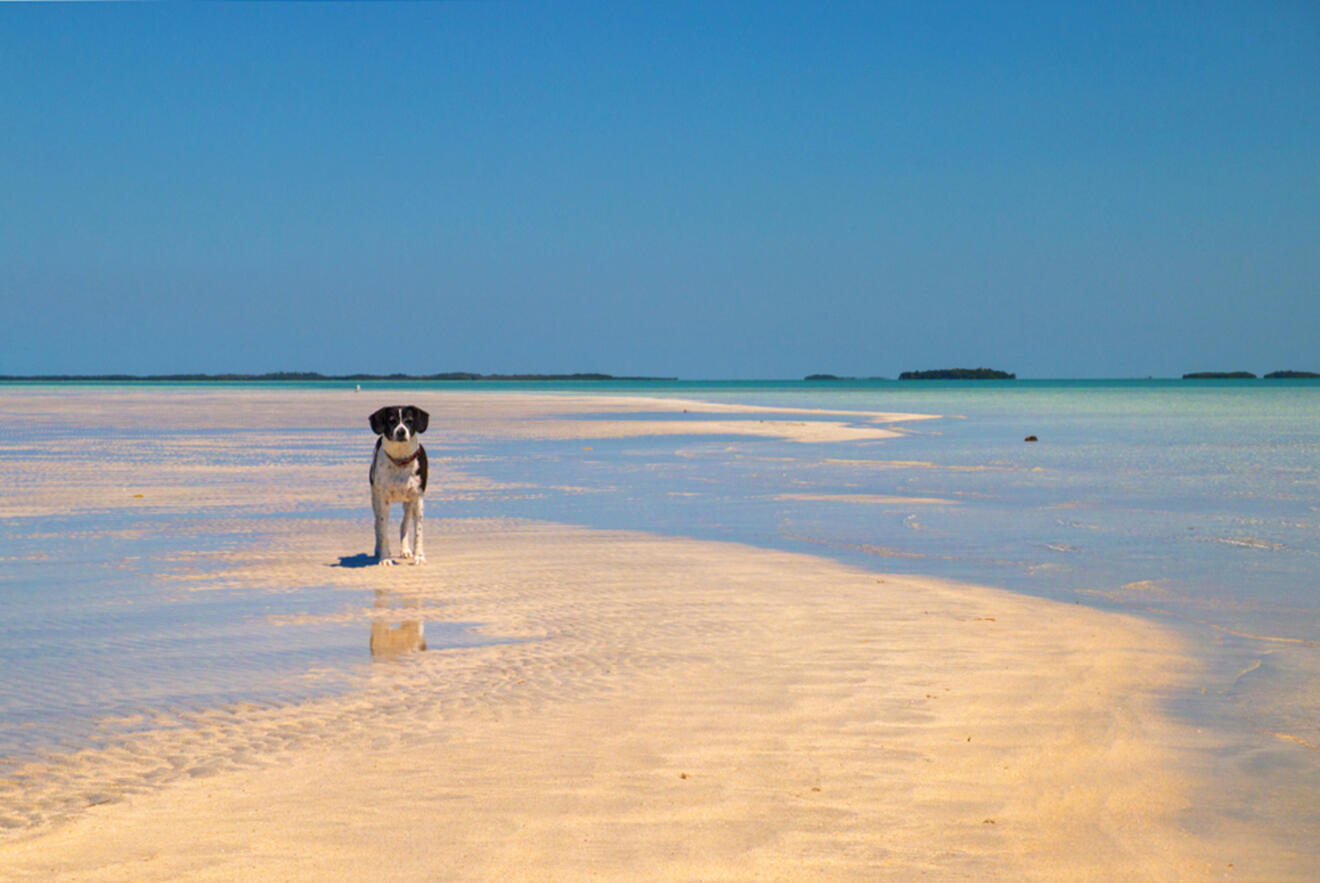 While Dog Beach is a really tiny beach, pet parents absolutely love it as it is the only place in Key West where your pups can run freely on the beach!
Both locals and visitors with furry friends love going to this beach with their dogs. Dog-friendly beaches are one thing, but being able to let your dog off the lead is a whole other experience that your fur baby will absolutely love!
This is the only beach that allows pups to run freely on Key West. Pups big and small can enjoy this super fun beach and splash about while their parents chase after them making sure they don't shake off some seawater onto a nearby sunbather just trying to enjoy the beach!
Your pup can play in the water, sniff around the coral, run freely, and play with other dogs, all in the gorgeous setting of Key West!
NOTE: It may be somewhat hard to find Dog Beach. If you happen to miss the small sign, just step into the nearby restaurant, Louie's Backyard, a dog-friendly restaurant, and someone will point you in the right direction.
10. Soak up the sun at County Beach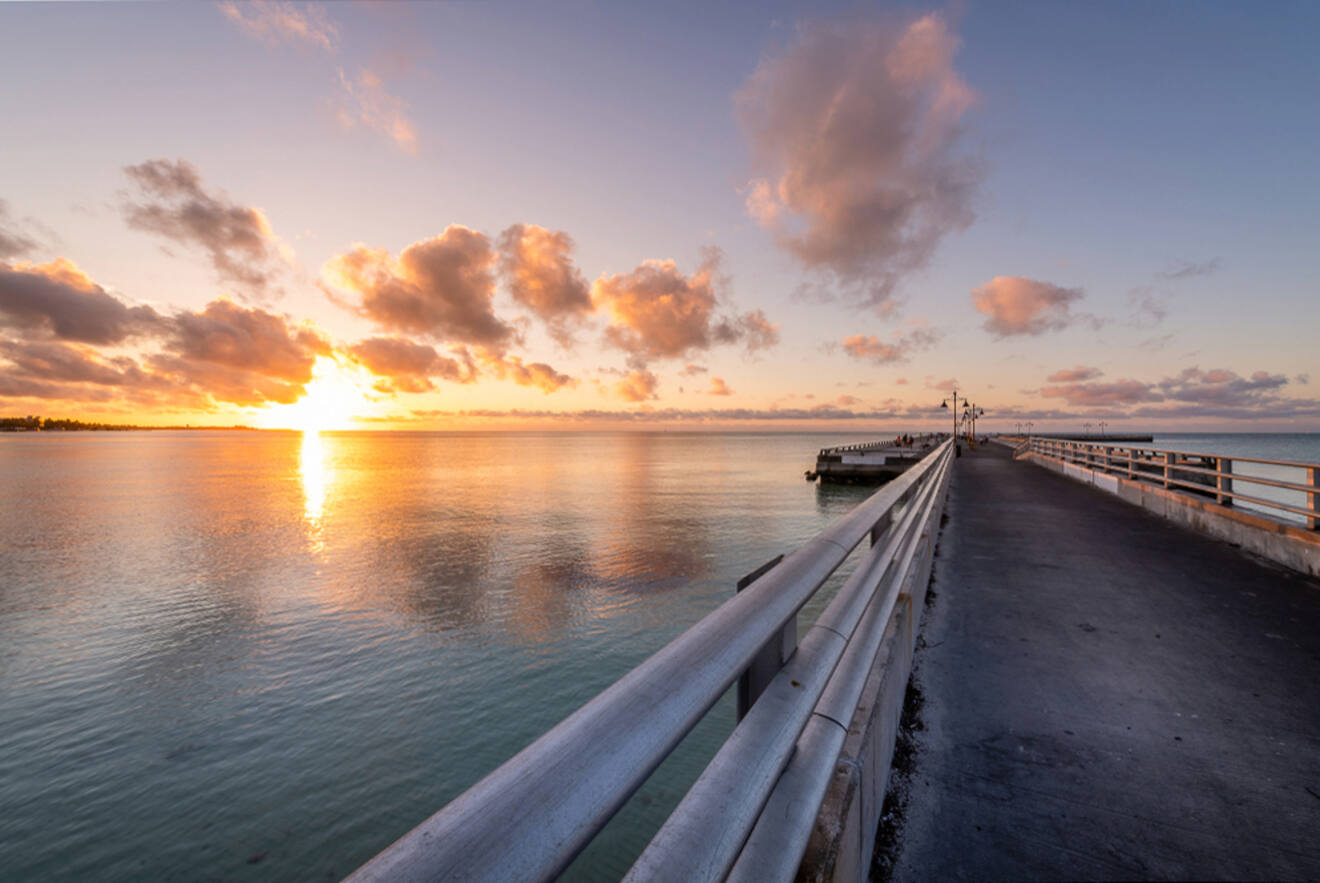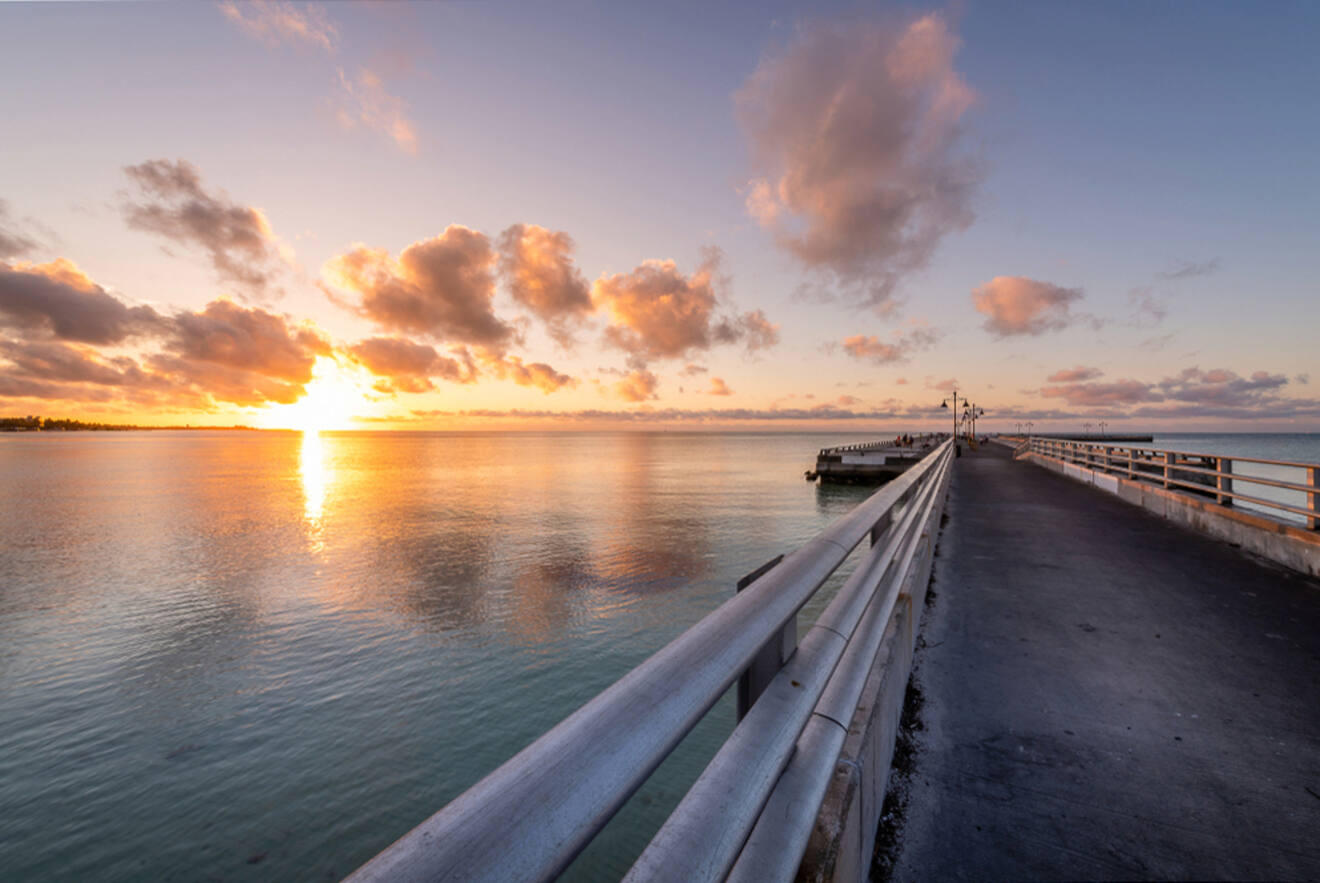 County Beach is a great option for those who are looking to soak up some sun but not necessarily go swimming.
This is not the best swimming beach, but it is an incredible beach for soaking up some rays and melting into your towel as your worries are washed away by the healing powers of the sun.
County Beach is right between Rest Beach and Higgs Beach. If you do want to go swimming, just hop on over to one of the neighboring beaches that are great for swimming and splashing about!
This destination is also extremely photogenic, as it backs up to the West Martello Tower. Perfect for photographers and those looking for instagrammable scenery!
FAQs about best beaches in Key West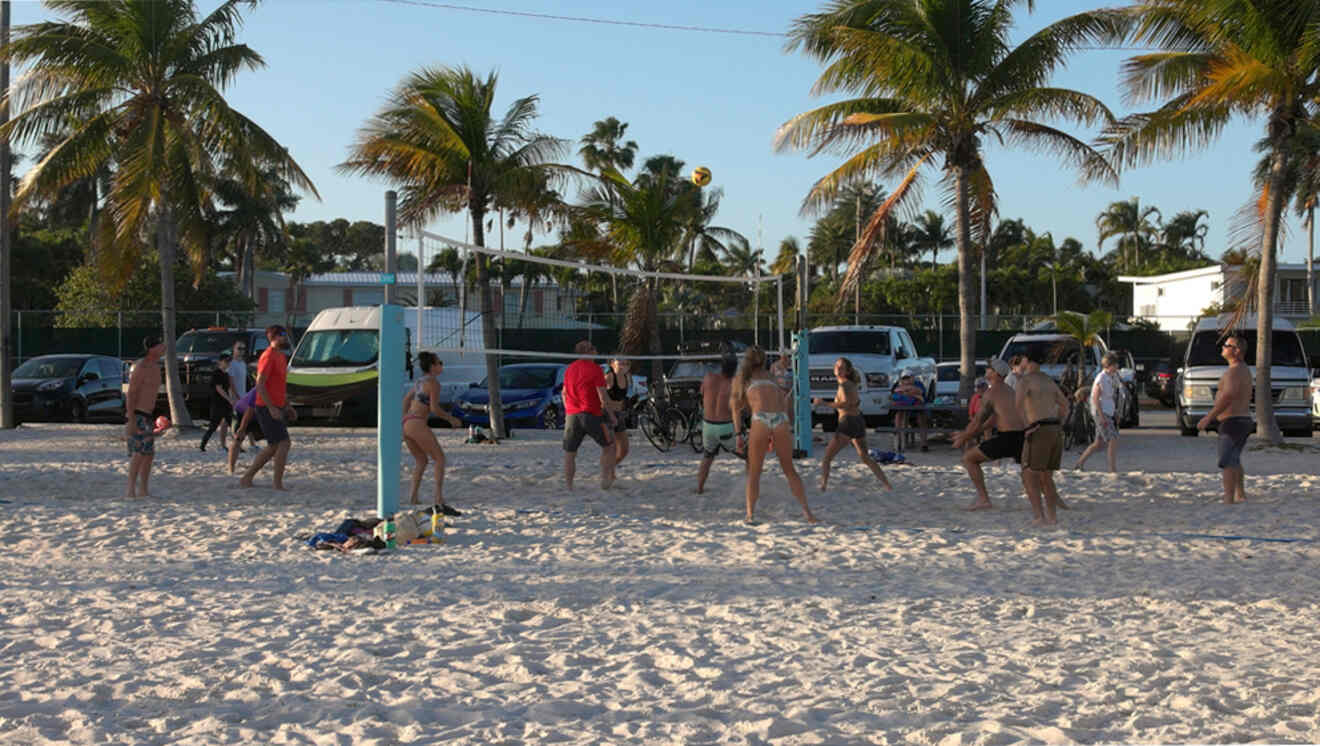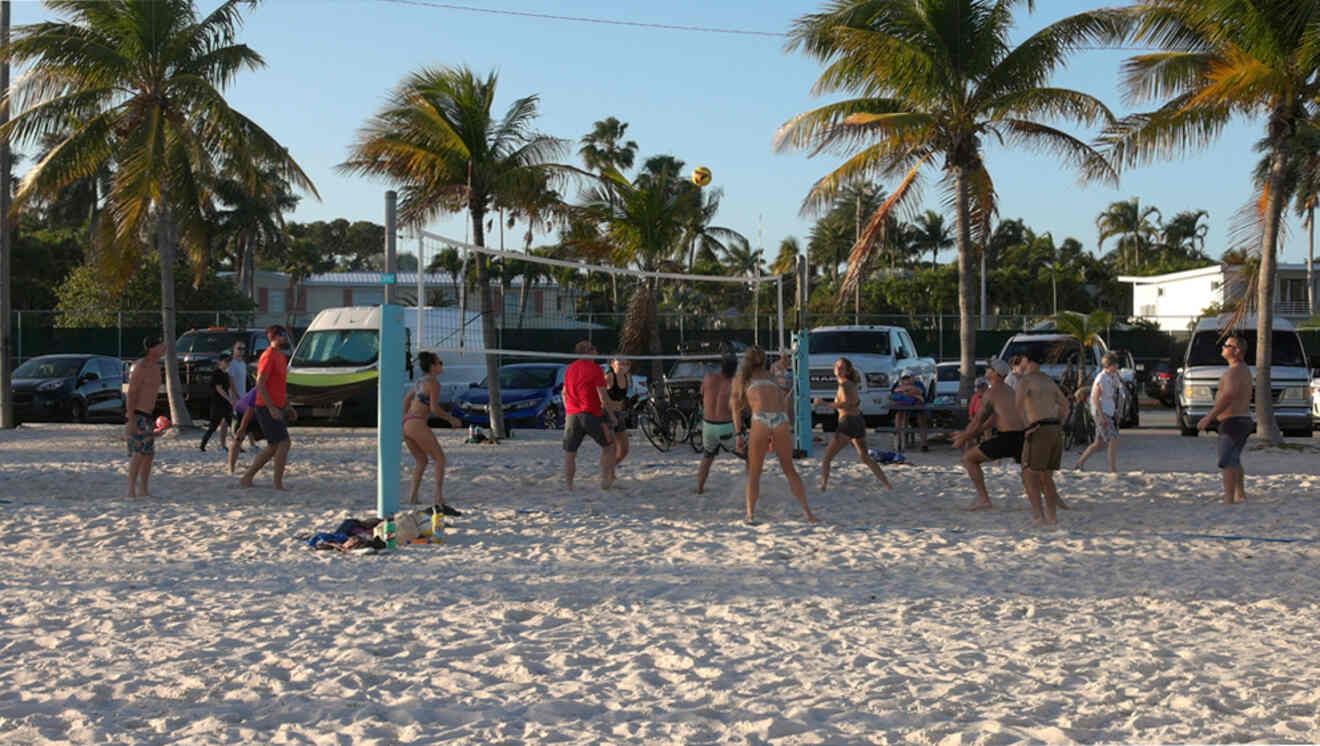 🏊 What are the best beaches in Key West for swimming?
Some of the best beaches for swimming in Key West are Smathers Beach, Higgs Beach, Dry Tortugas, Bahia Honda, and Fort Zachary Taylor.
🐠 What are the best beaches for snorkeling in Key West?
🏝️ What beach has the clearest waters in Key West?
Pretty much every beach in Key West has perfectly clear and pristine waters; however, Fort Zachary Taylor is known for having some super clear crystalline beaches.
🌊 Does Key West have swimmable beaches?
Yes! Key West has plenty of swimmable beaches with calm and clear waters that just make your mouth water!
Conclusion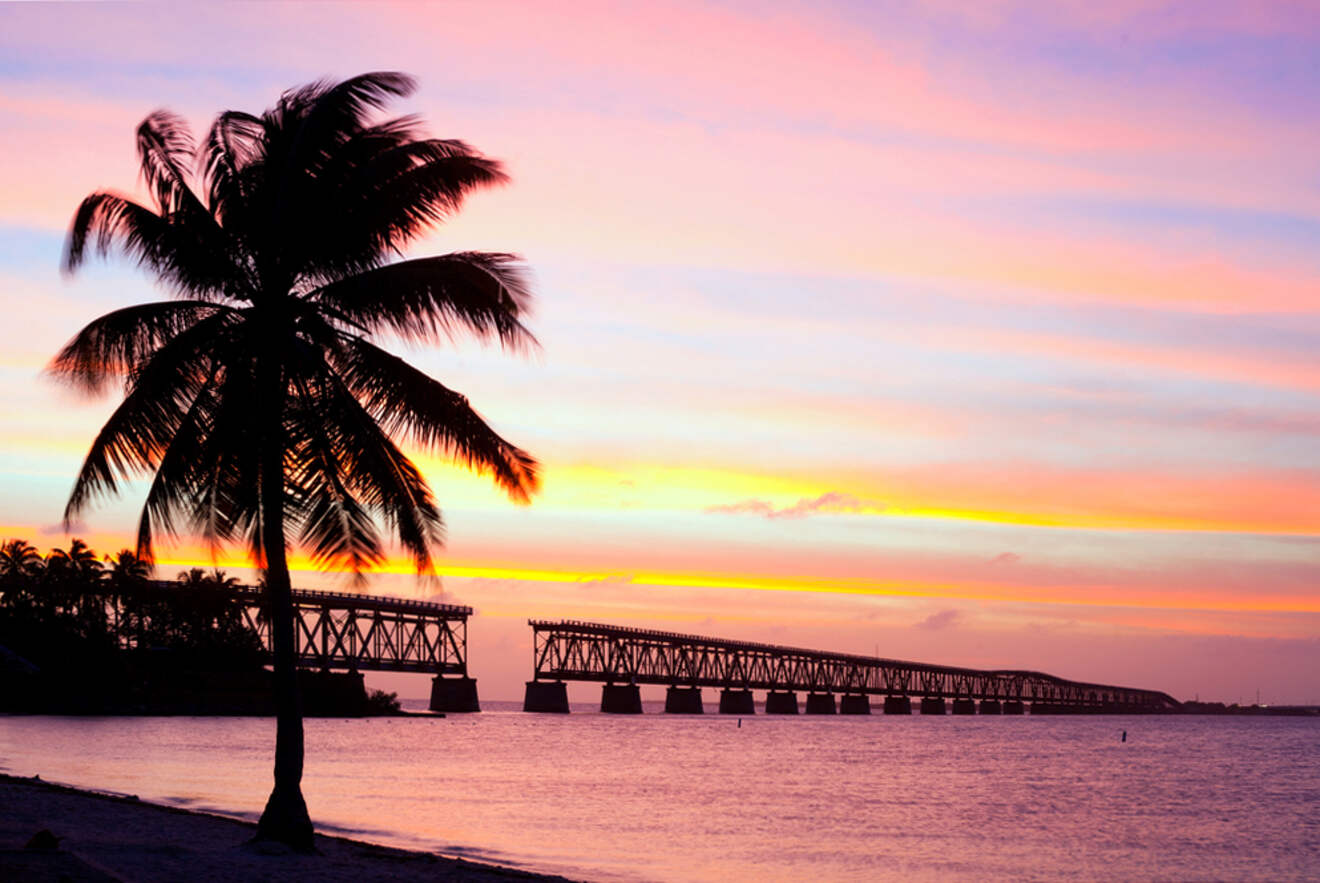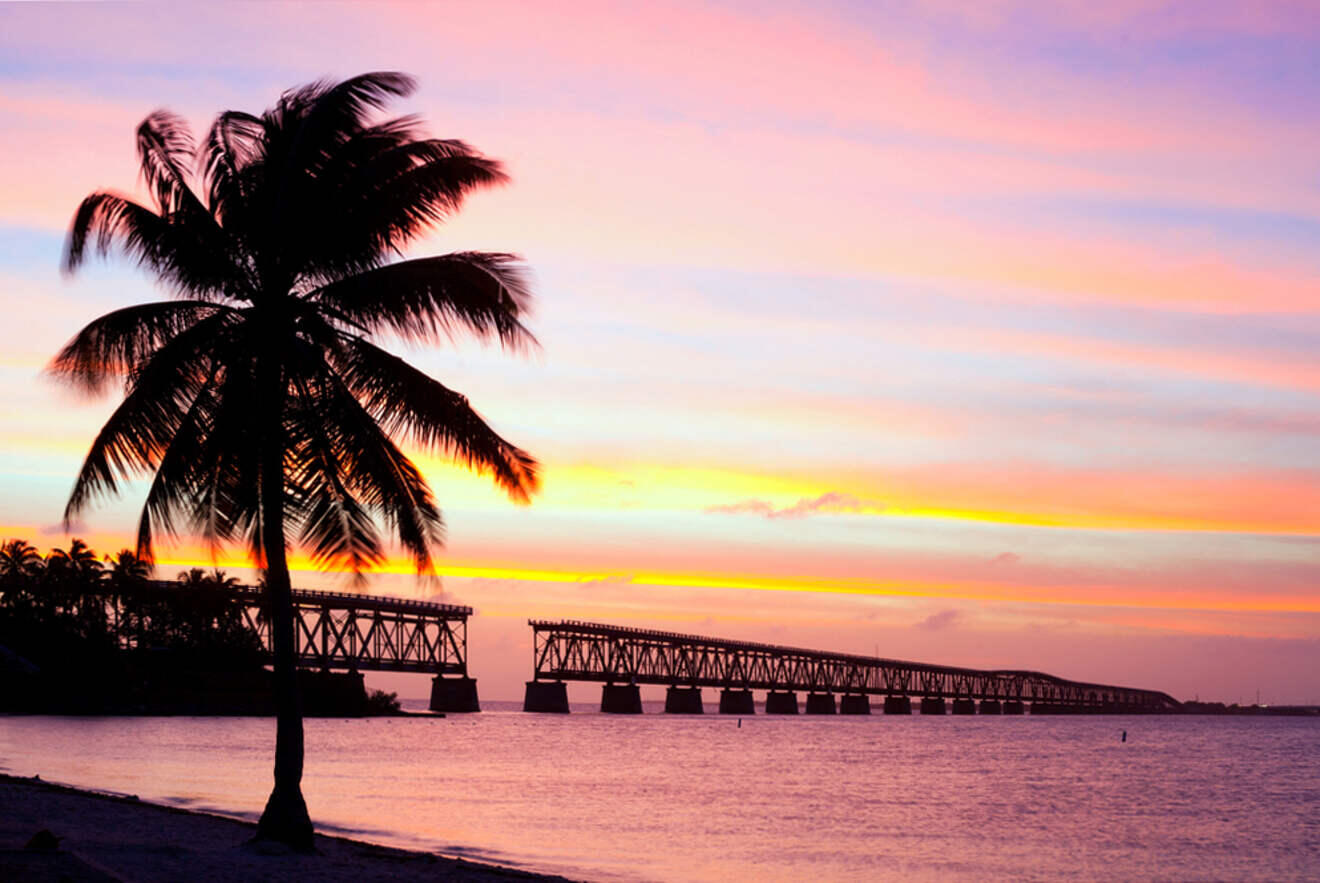 Key West has so many incredible beaches that it is really hard to choose. However, as a Florida Keys expert, I wanted to give you the best beaches for swimming, snorkeling, sunbathing and just enjoying the pristine waters in Key West.
Key West is such an incredible feat of nature. Anywhere you go is going to be a beautiful sight to see, with so much to offer! These are some of my favorite beaches in Key West, and I hope you enjoy them as much as I do!
With love and gratitude,
Amira G.
---
Pin it for later!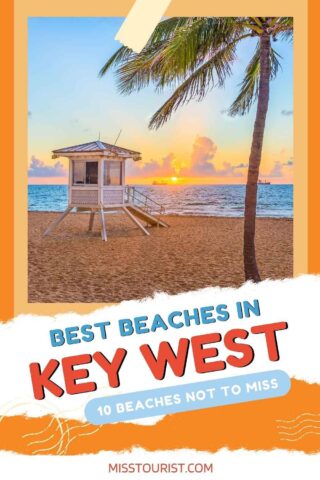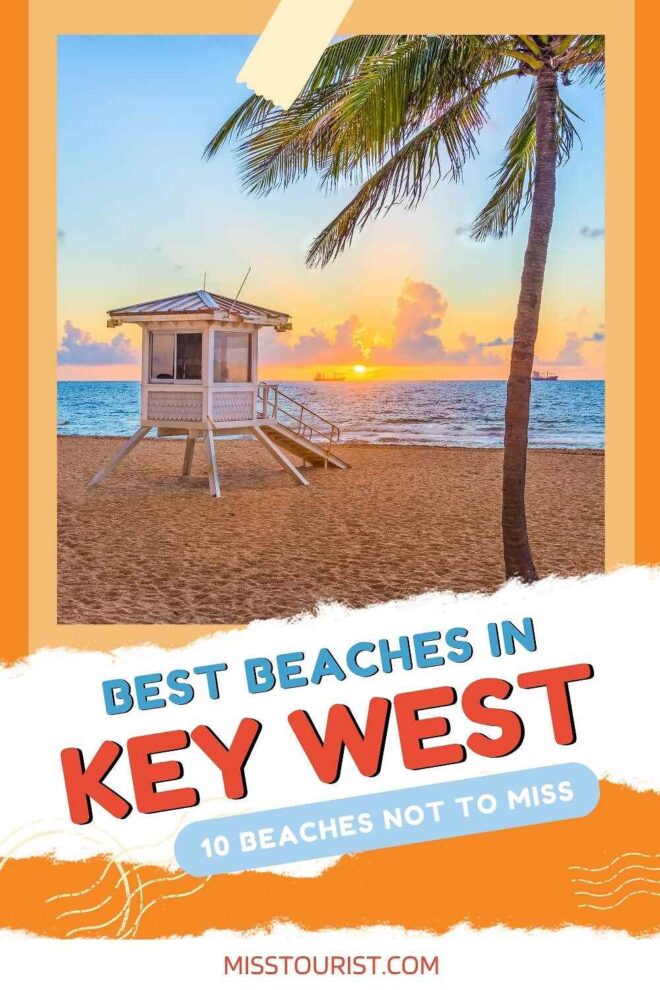 Pin it for later!