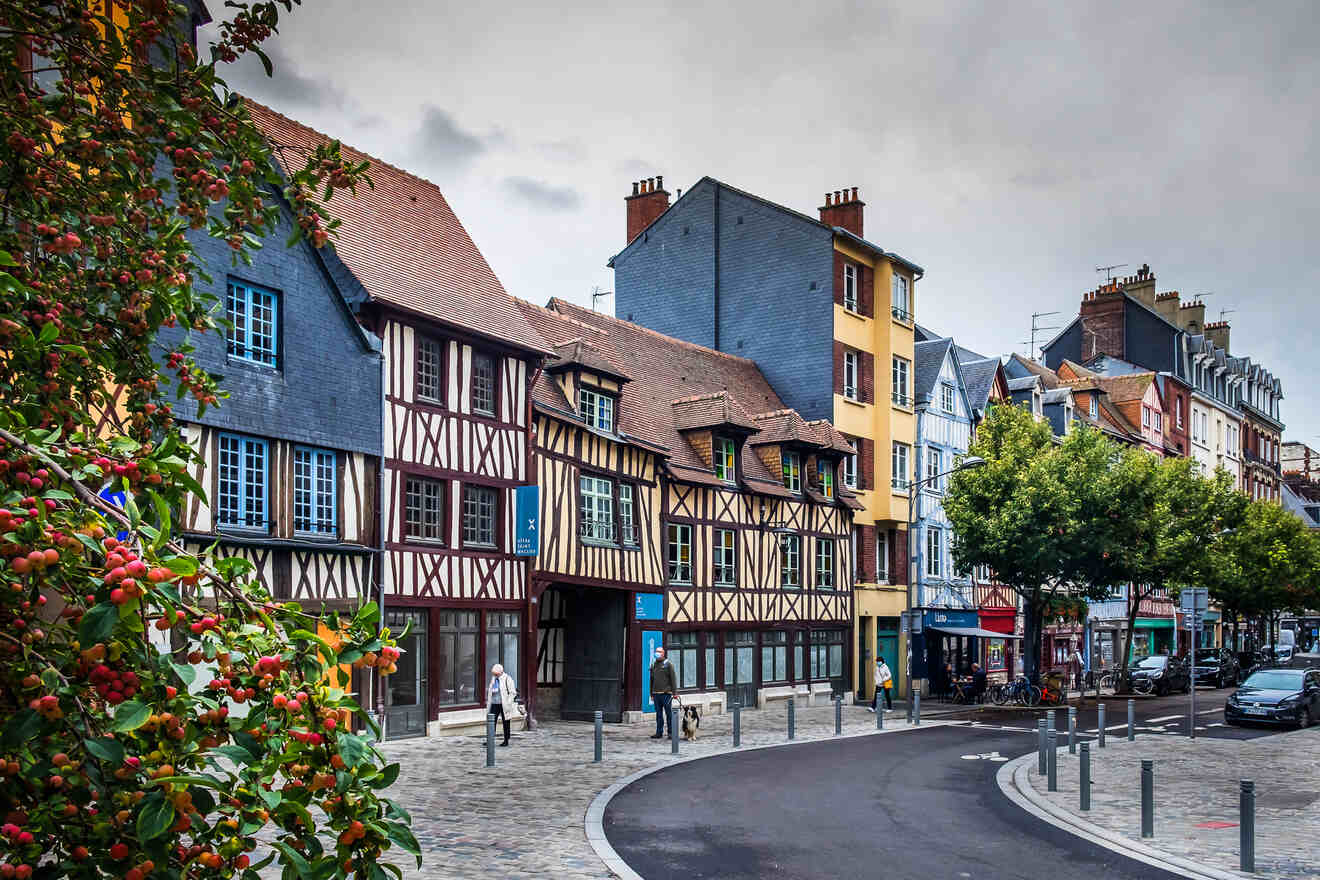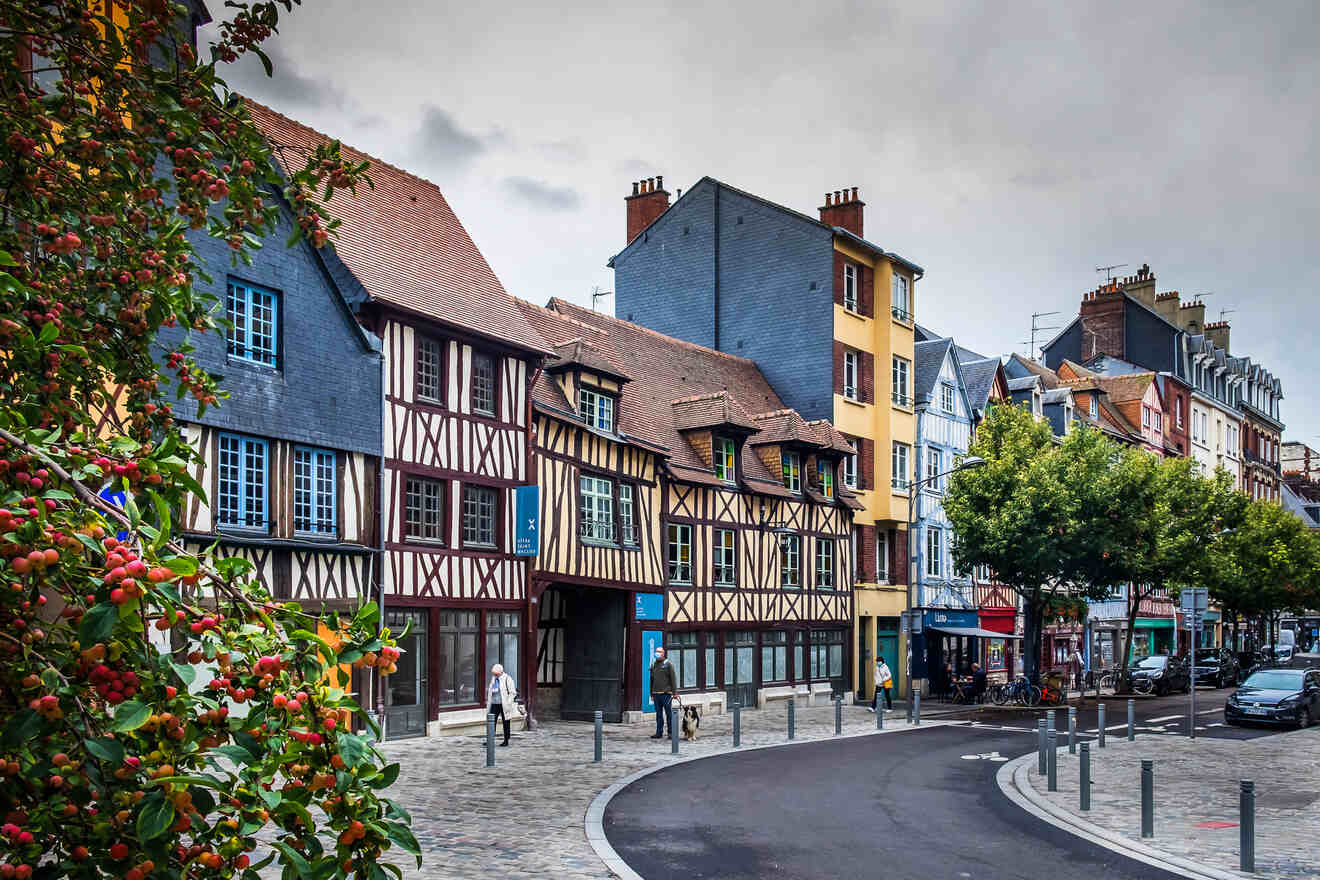 Home to some of France's most treasured historical and cultural gems, Rouen is perched atop the northern passage of the River Seine and makes for the perfect quiet vacation spot.
There are some absolutely gorgeous hotels, apartments, and B&Bs here in Rouen, many of which are deep in the heart of Rouen's historic centre and provide a keyhole view to centuries-old stories of long-gone English kings and great historical figures like Joan of Arc.
To help you make the most out of your trip, in this post I'll give you a list of all the best hotels in Rouen. Whether you're honeymooning, traveling with family or friends, or a solo traveler looking for adventure, you'll find something for you in this quaint little town-city in the heart of French Normandy.
To give you a general idea of the prices, most hotels here are between €150 – €250. I'll go through them most-to-least expensive! Don't forget to book in advance – all the best hotels get booked out quickly!
If you are in a hurry
If you're just here to grab the best Rouen hotels and go, here are the very best options in Rouen, France:
1. Hotel de Bourgtheroulde – most luxurious hotel in Rouen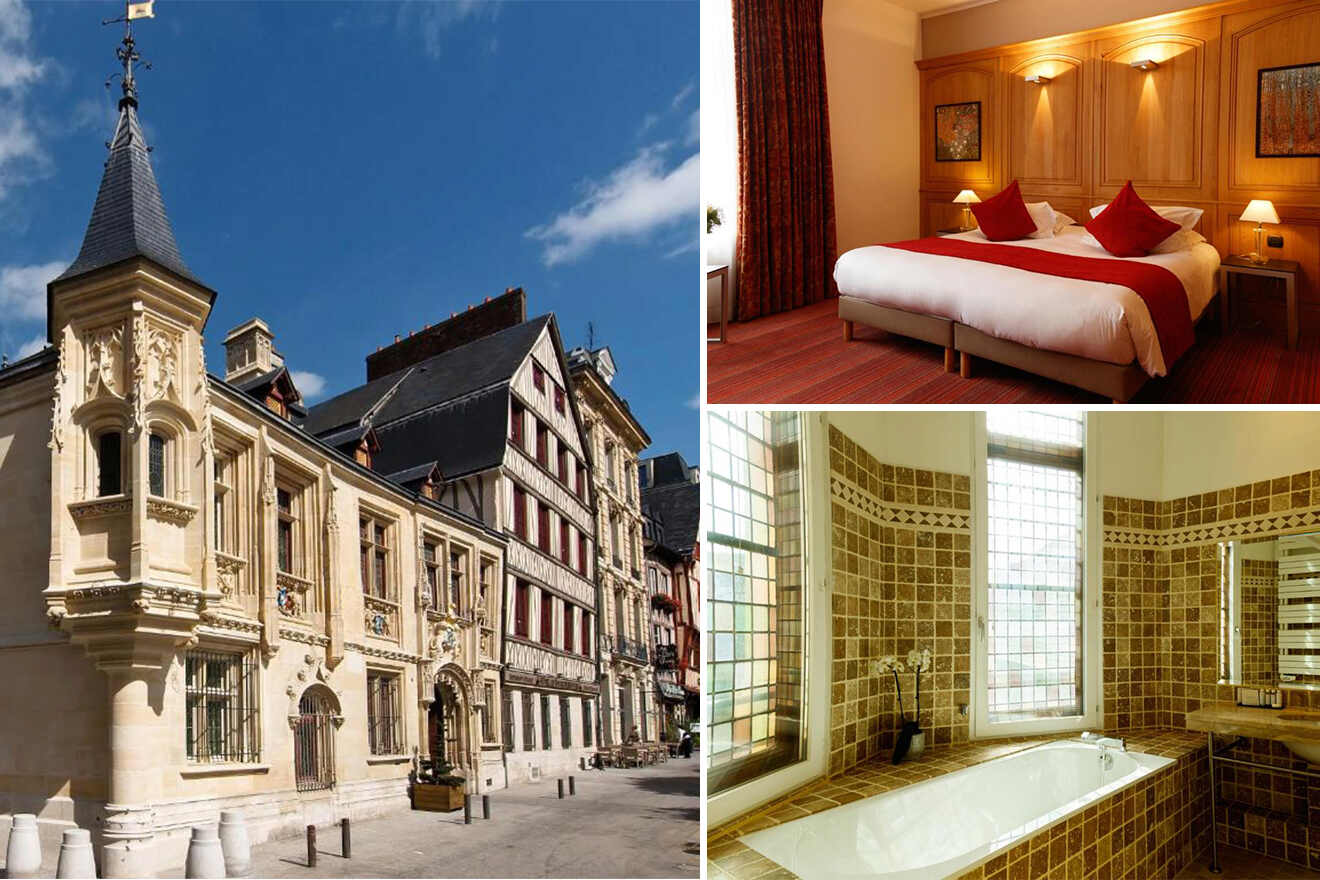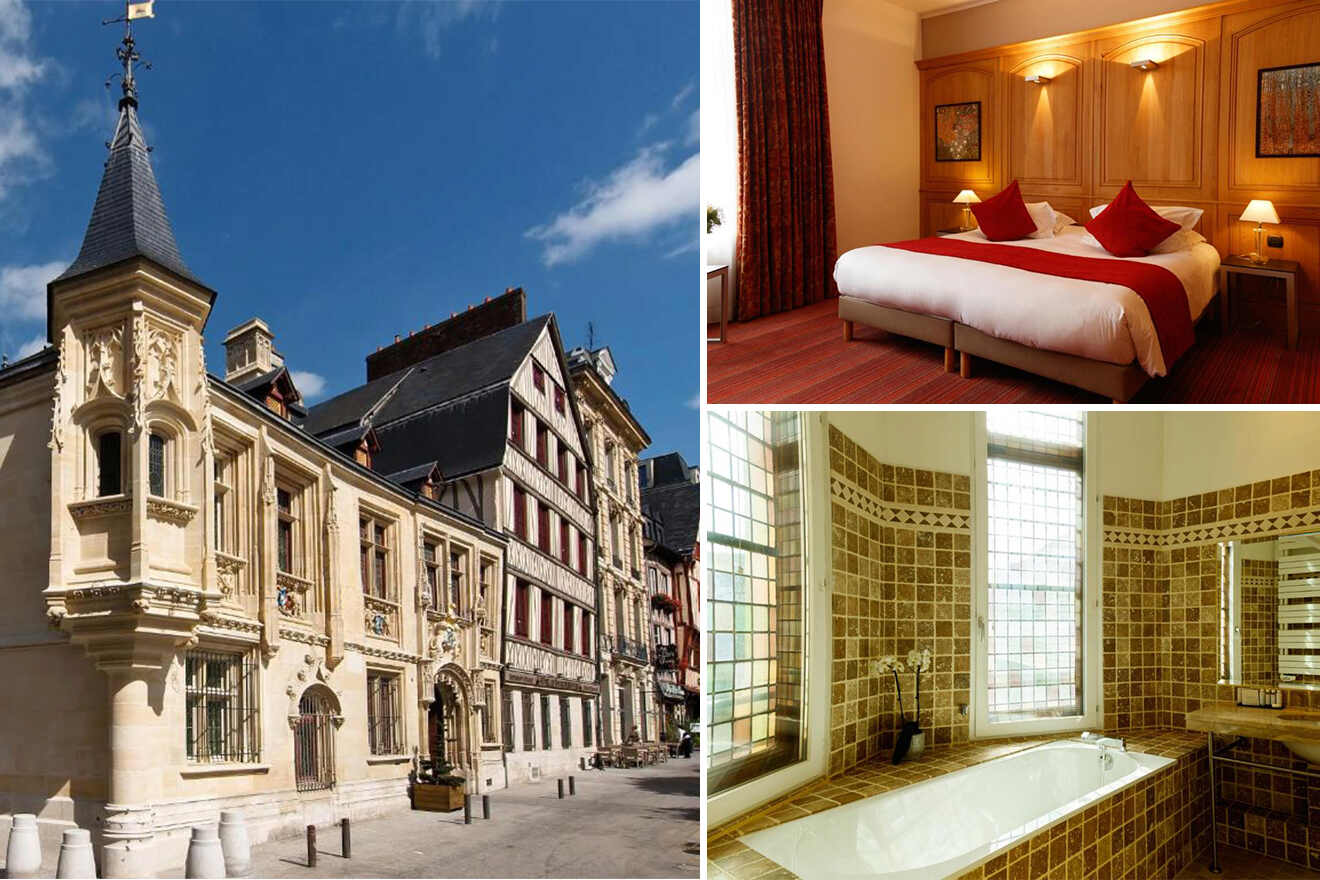 If you're looking for luxury, look no further than this! The design will make you feel like royalty and they are well-known for top-notch service and traditional, cozy rooms with every amenity you'll ever need. I LOVE this place!
Nestled in the historic city centre near the river banks, Hotel de Bourgtheroulde has classic rooms, a traditional brasserie, and a 700 m² spa that will make your jaw drop! You can spend time in the dedicated hammam room or sauna, have a well-deserved massage, or just enjoy their luxurious pool.
Check Availability
2. L'Atelier 1742 – best hotel in Rouen for couples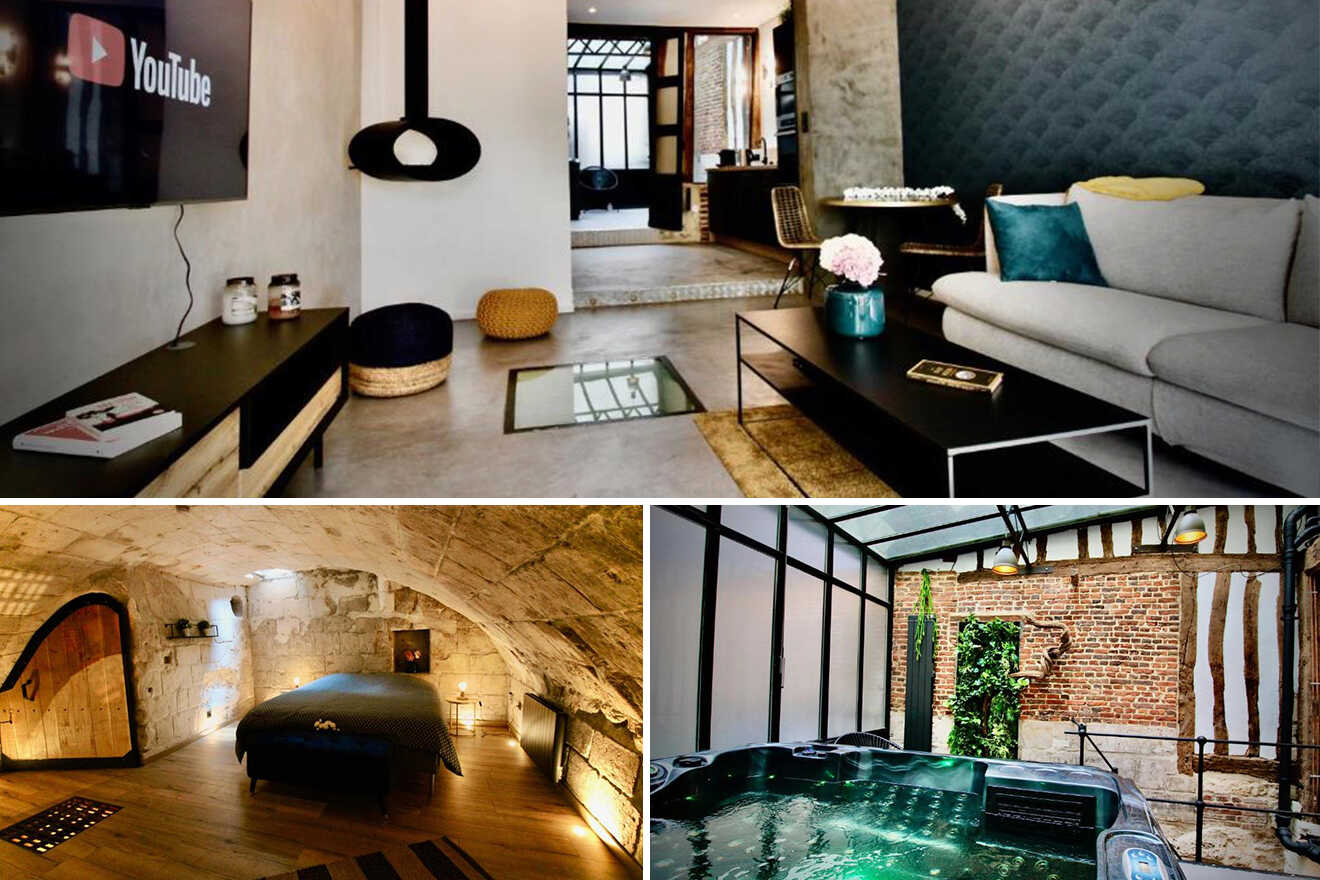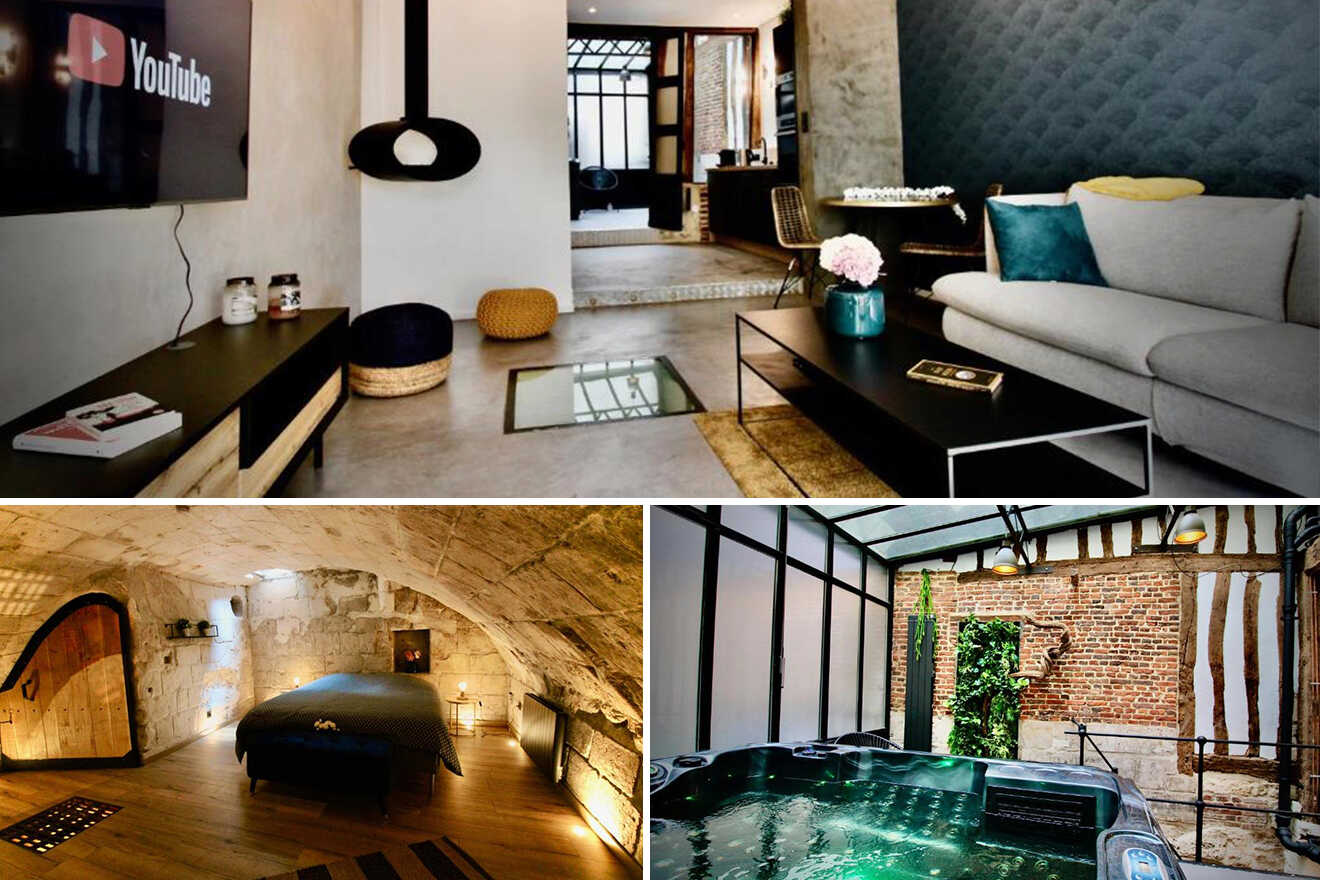 Located right in the center and less than 10 minutes walk from the Notre-Dame Cathedral of Rouen, L'Atelier 1742 is a veritable haven for those looking for a little bit of Normandy romance. I'm not joking, it's the most charming, exotic place you've ever seen!
The cave-like rooms provide peace and privacy, there's a jacuzzi in a little atrium next to the living room, and there's even a teeny tiny wine cellar! ALL YOURS – you don't have to share the space with anyone. Sounds like a treat to me!
Find Available Dates
3. Radisson Blu – best for city views and comfortable beds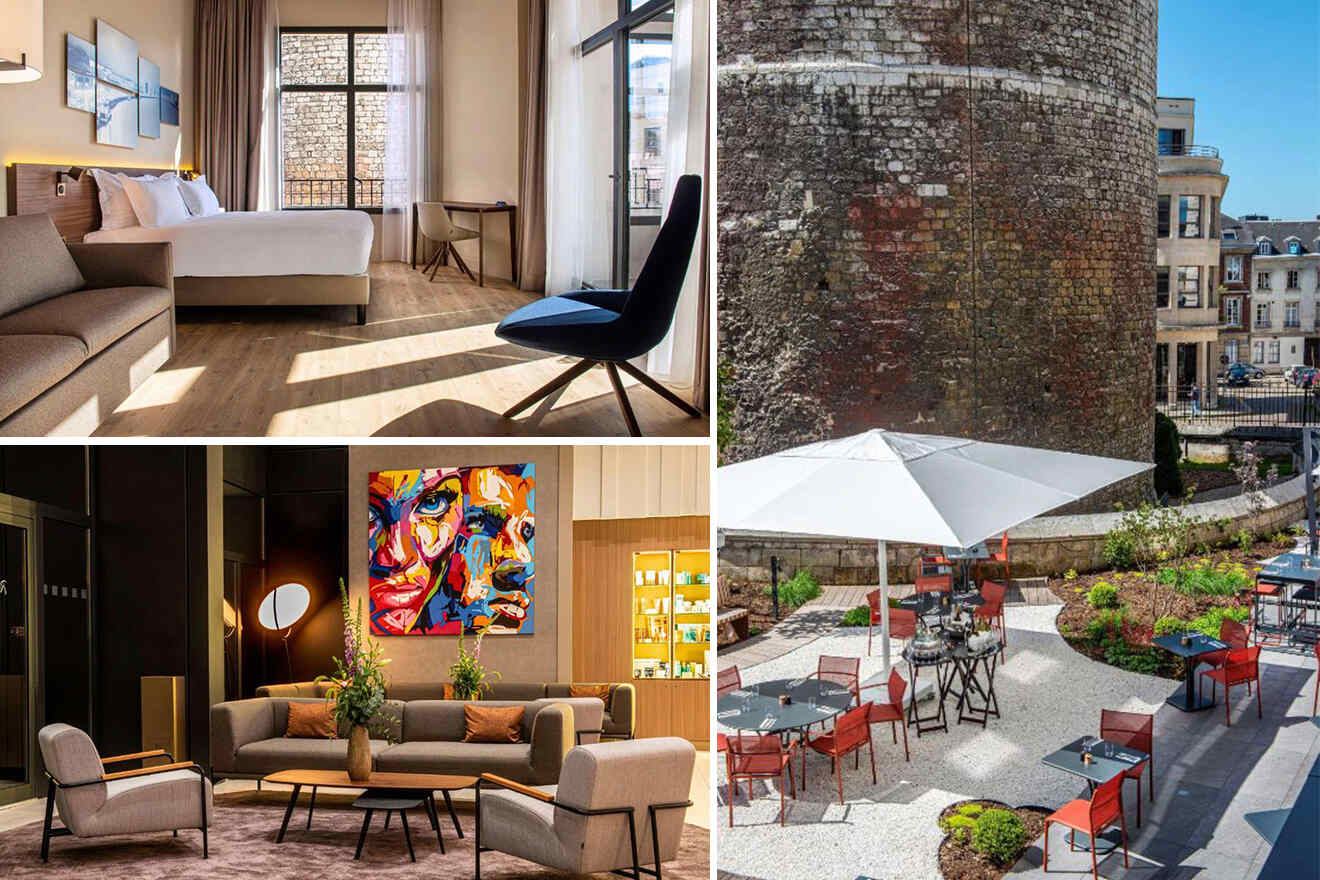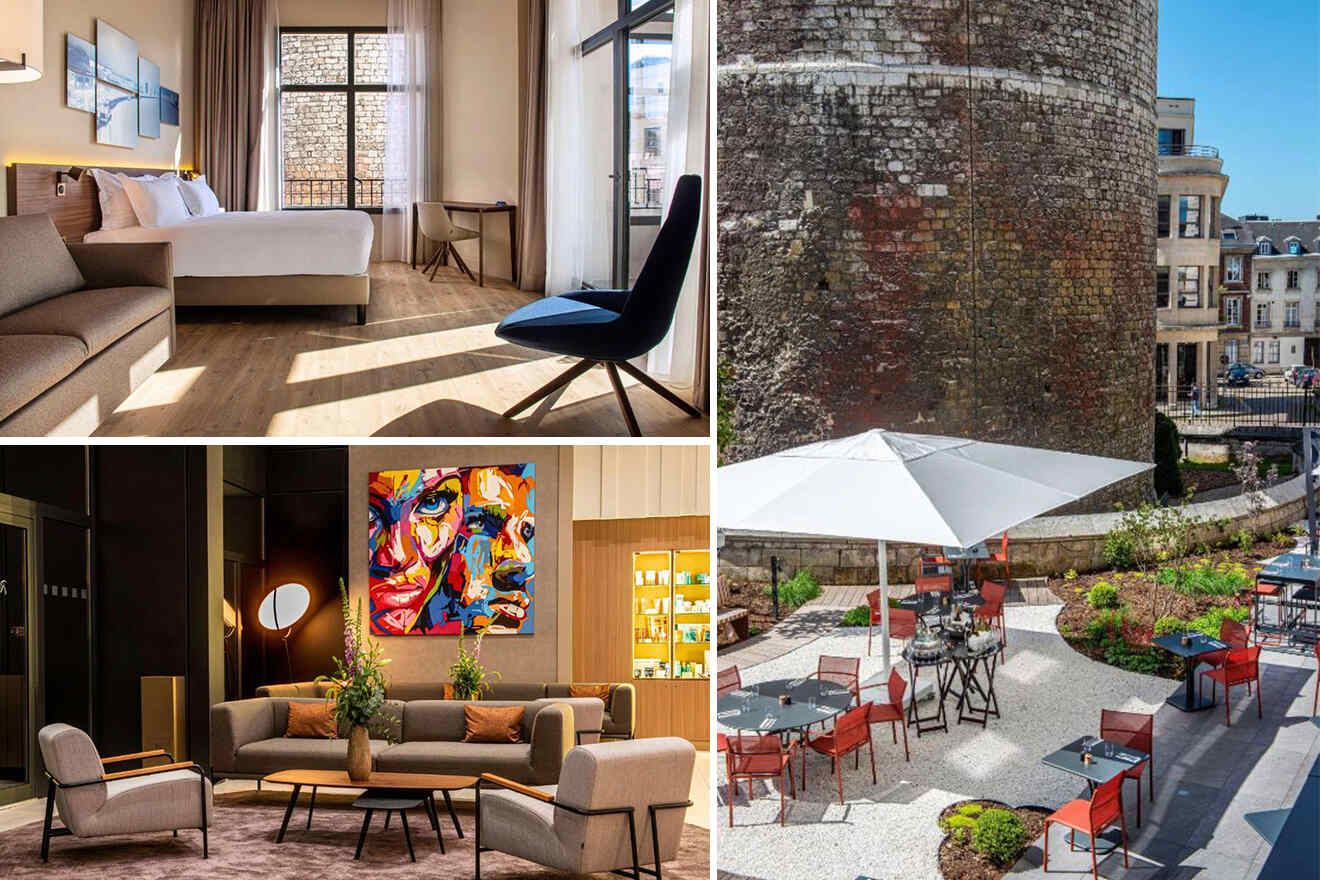 Away from the hustle and bustle of Rouen's historic town center, the Radisson Blu is a little corner palace complete with a spa, cocktail bar, and a restaurant to die for!
This hotel is an excellent choice if you enjoy your Sunday brunch-time mimosas! Local, seasonal food reigns king at the Radisson, so prepare for satisfaction! Their beds are also HUGE, so you may not want to get out of bed – although you must explore Rouen, it's such a beautiful city!
Check Current Prices
4. Hotel Littéraire Gustave Flaubert – for book lovers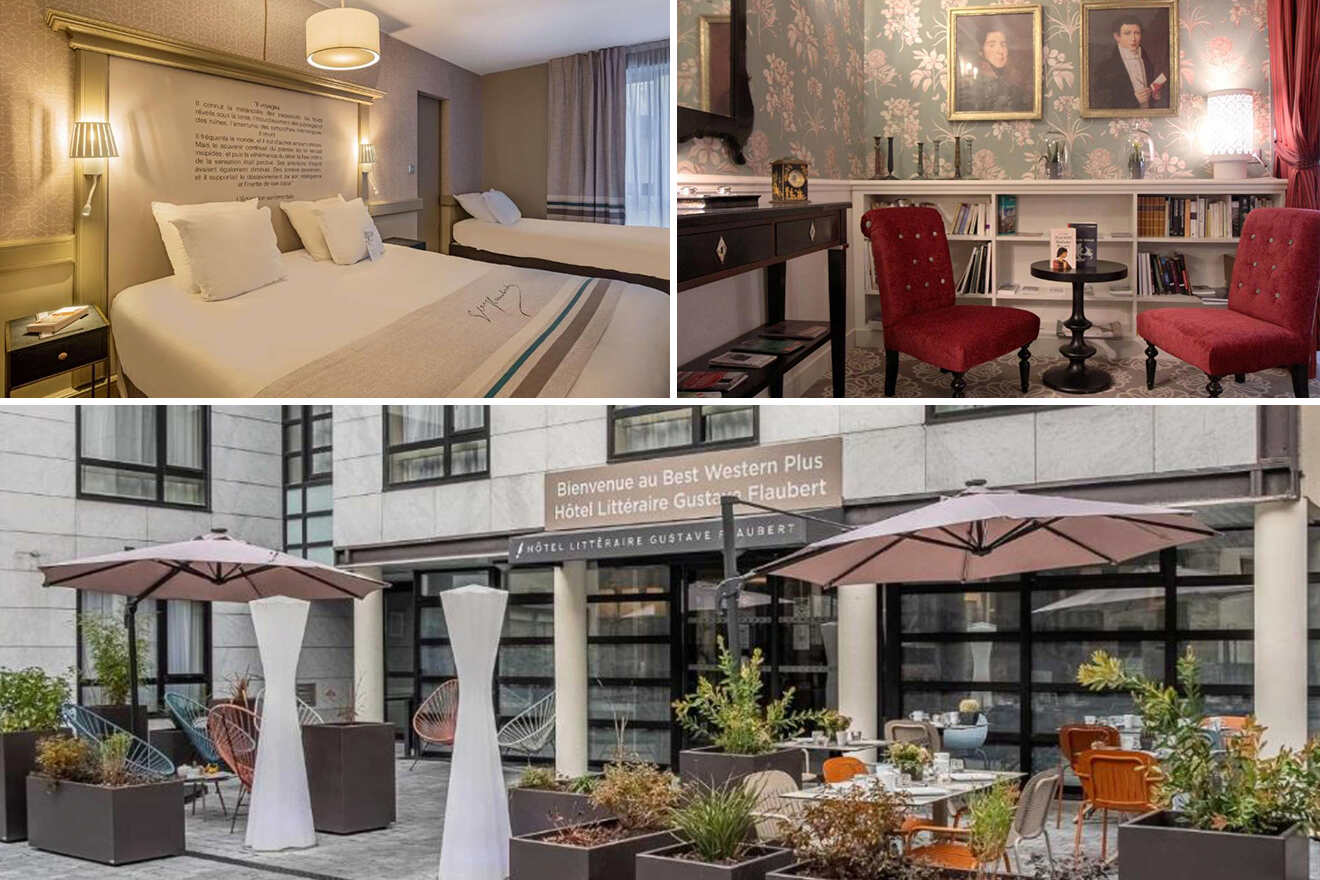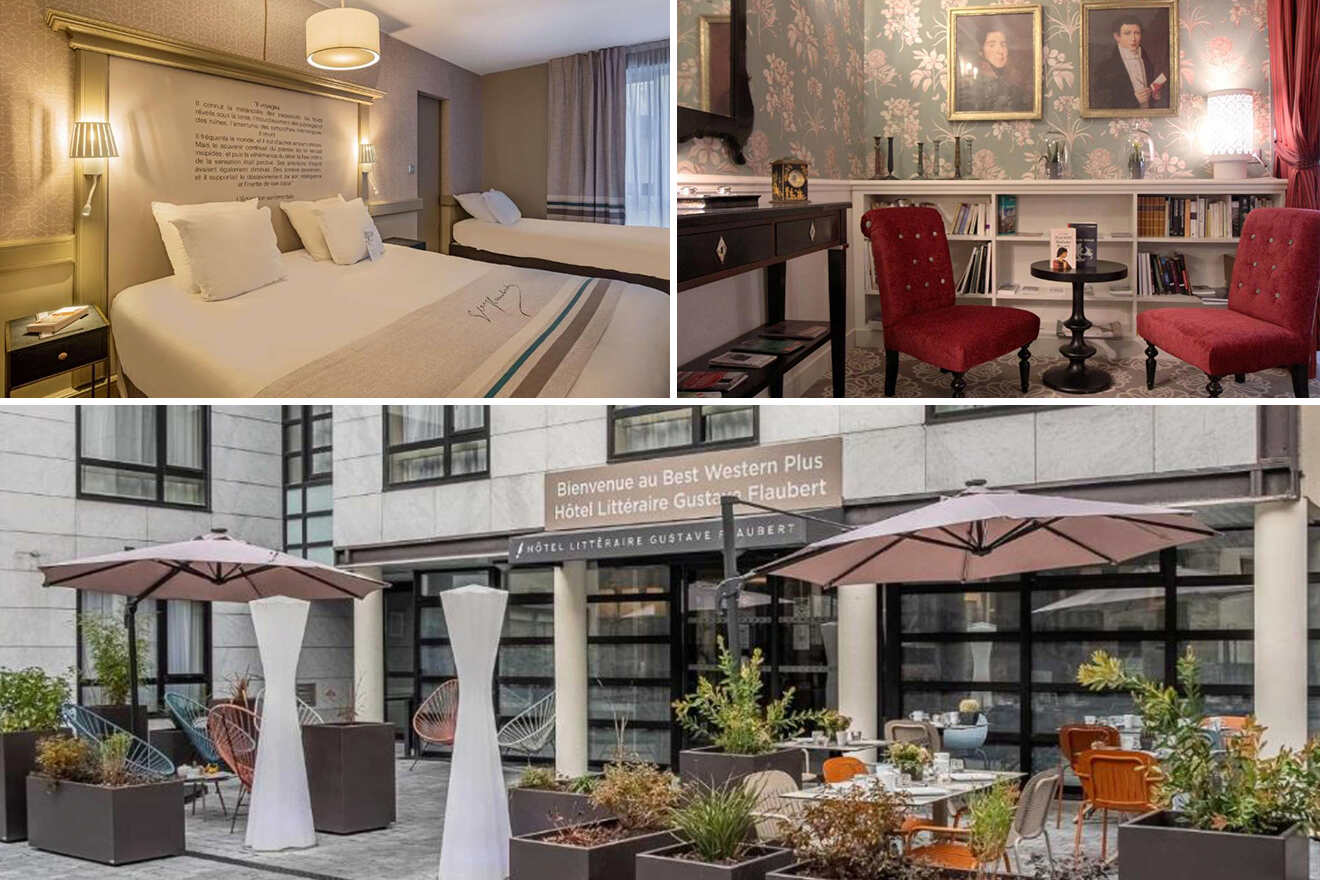 This is a Best Western hotel, but it's not your typical Best Western! This themed hotel is dedicated to the life of the celebrated writer Gustave Flaubert, and they have a lovely library where you can read your favorite novel in peace. They even have a coworking space!
Located right in the town center, this 4-star hotel even offers a cultural tour of Rouen, where you can discover its rich history and all the places Flaubert found inspiration during his life – perhaps you'll find a little inspiration yourself!
Check Availability
5. Centre Historique L'Authentique – for relaxation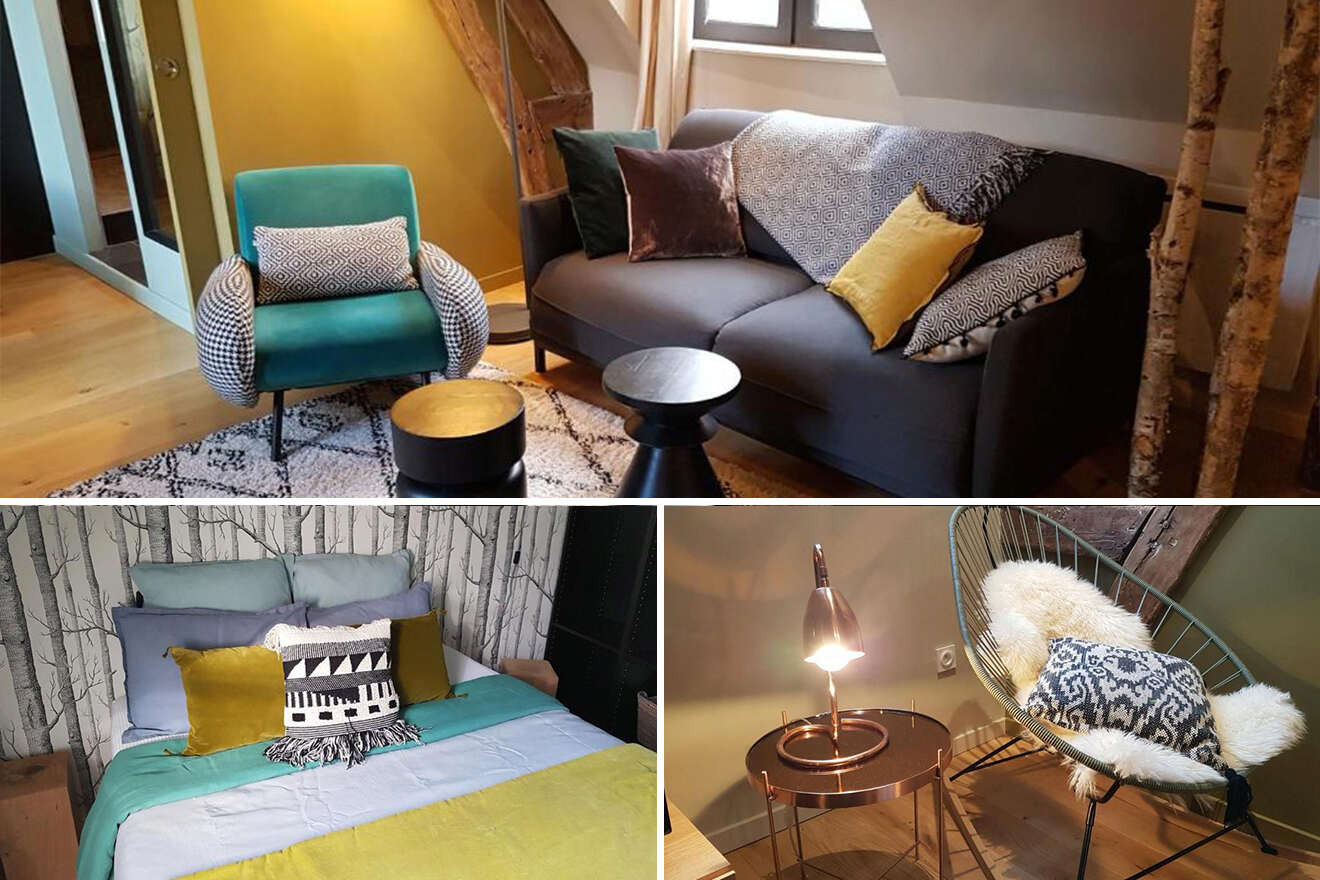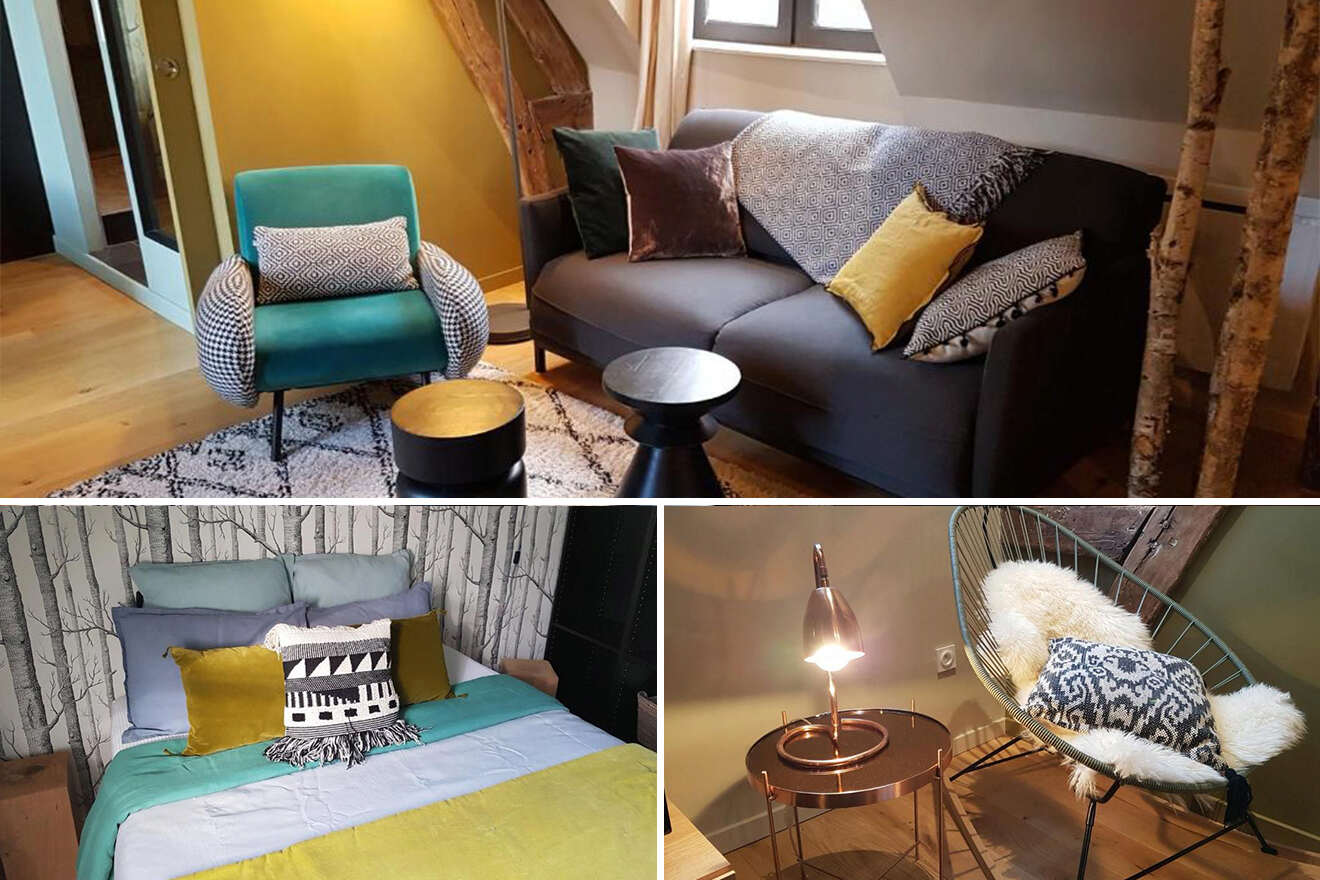 This little apartment is a calm, delightful retreat in the city center. It's surrounded by lovely shops and restaurants, and you have all the main attractions on your doorstep, but once you're inside, you're away from the world in your own little nook!
From your bedroom window of this attic apartment you'll have astonishing views of Rouen Cathedral, and the quaint, old-fashioned style of the entrance courtyard will take you back in time.
Check Current Prices
6. La Voûte Rouennaise – best for privacy on a budget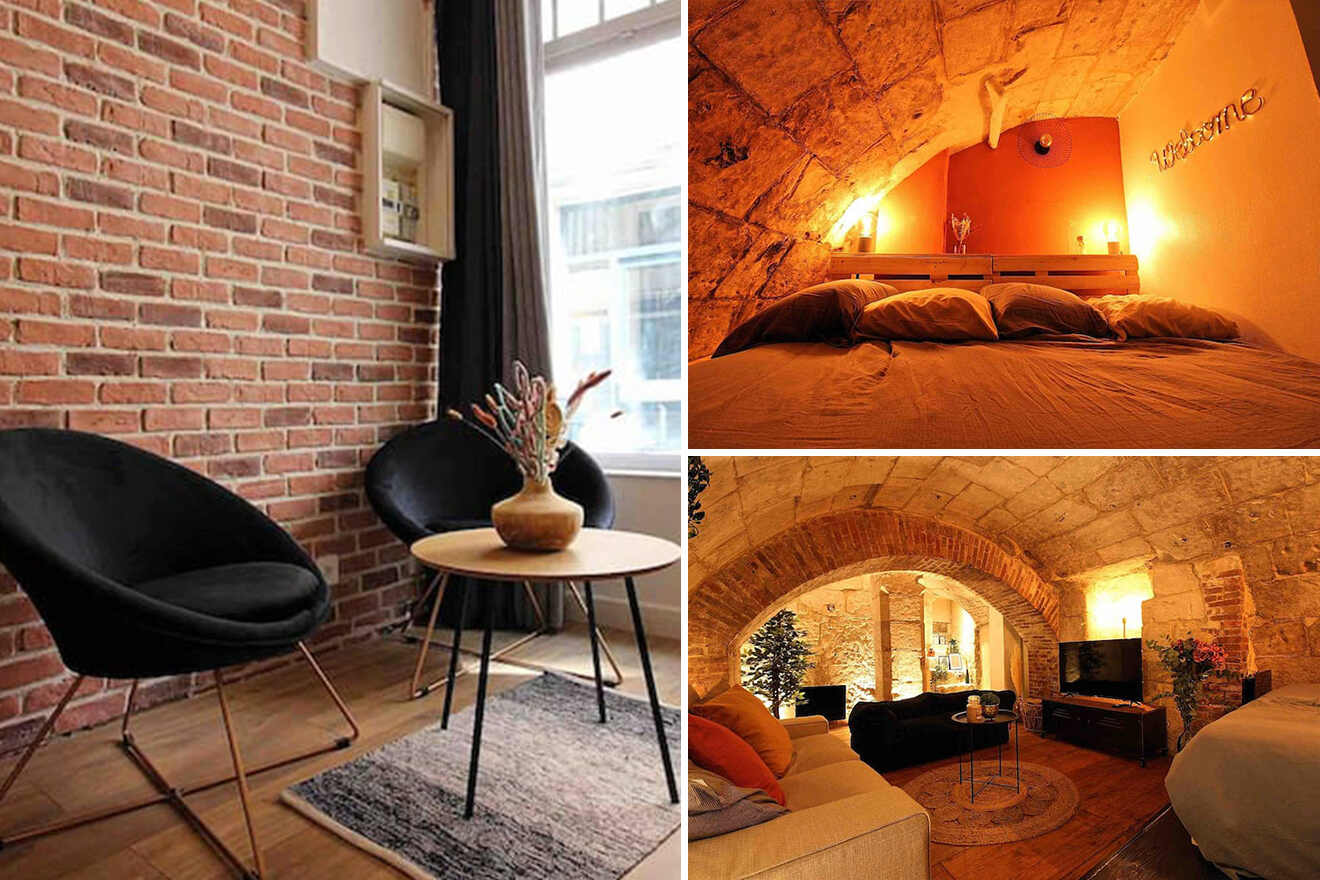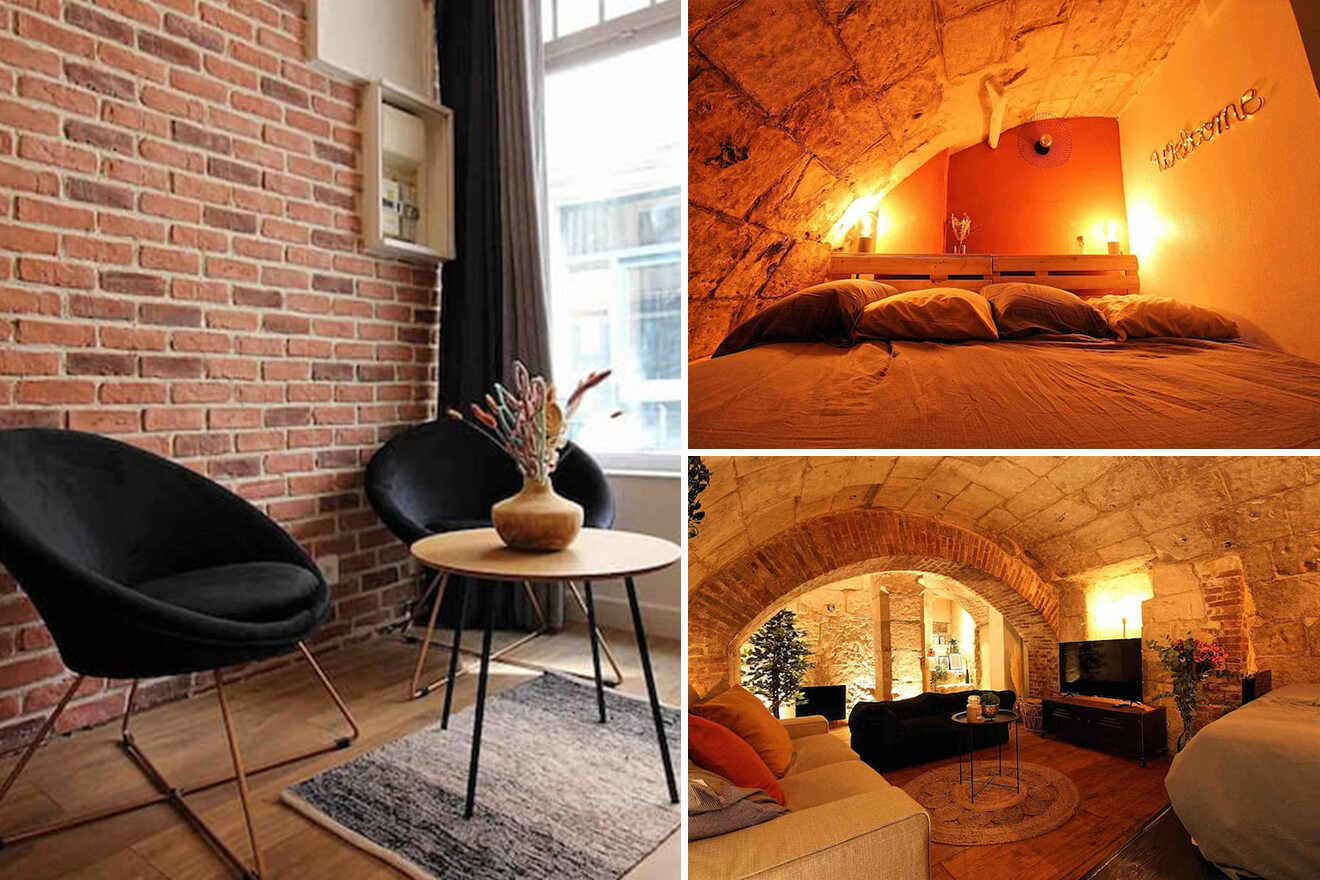 You don't have to sacrifice the integrity of your wallet to find privacy in Rouen – just stay in this gorgeous cave-cellar apartment! You have everything you need here, including a king-size bed, a fully-stocked kitchen, and the lamp-lit living room of your dreams.
Located on a picturesque street in the heart of old town Rouen, this place is super unique and perfect for those on a budget. There's also a little market down the street!
Find Available Dates
7. Chambre D'Hôtes le Phenix – best hotel in Rouen for families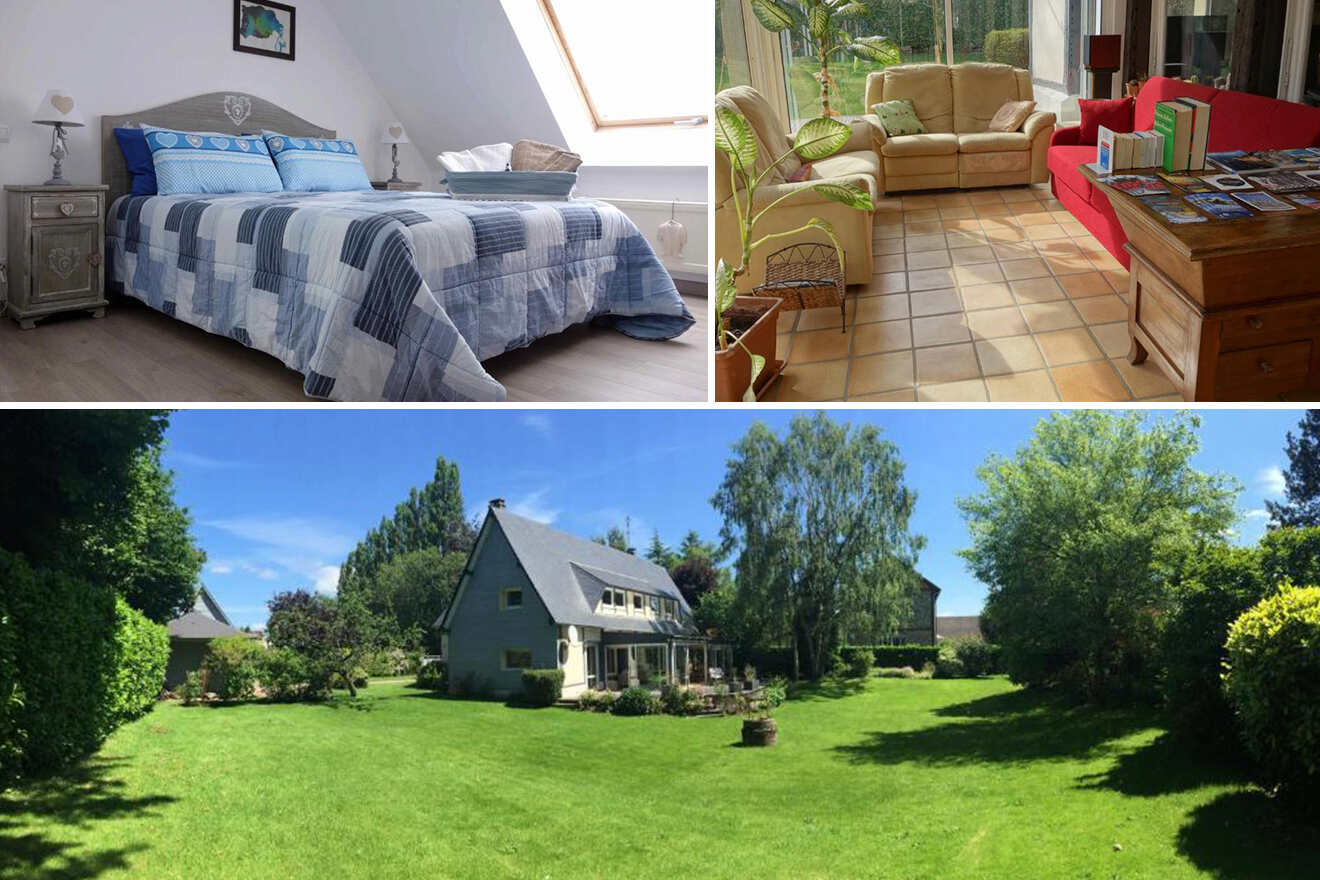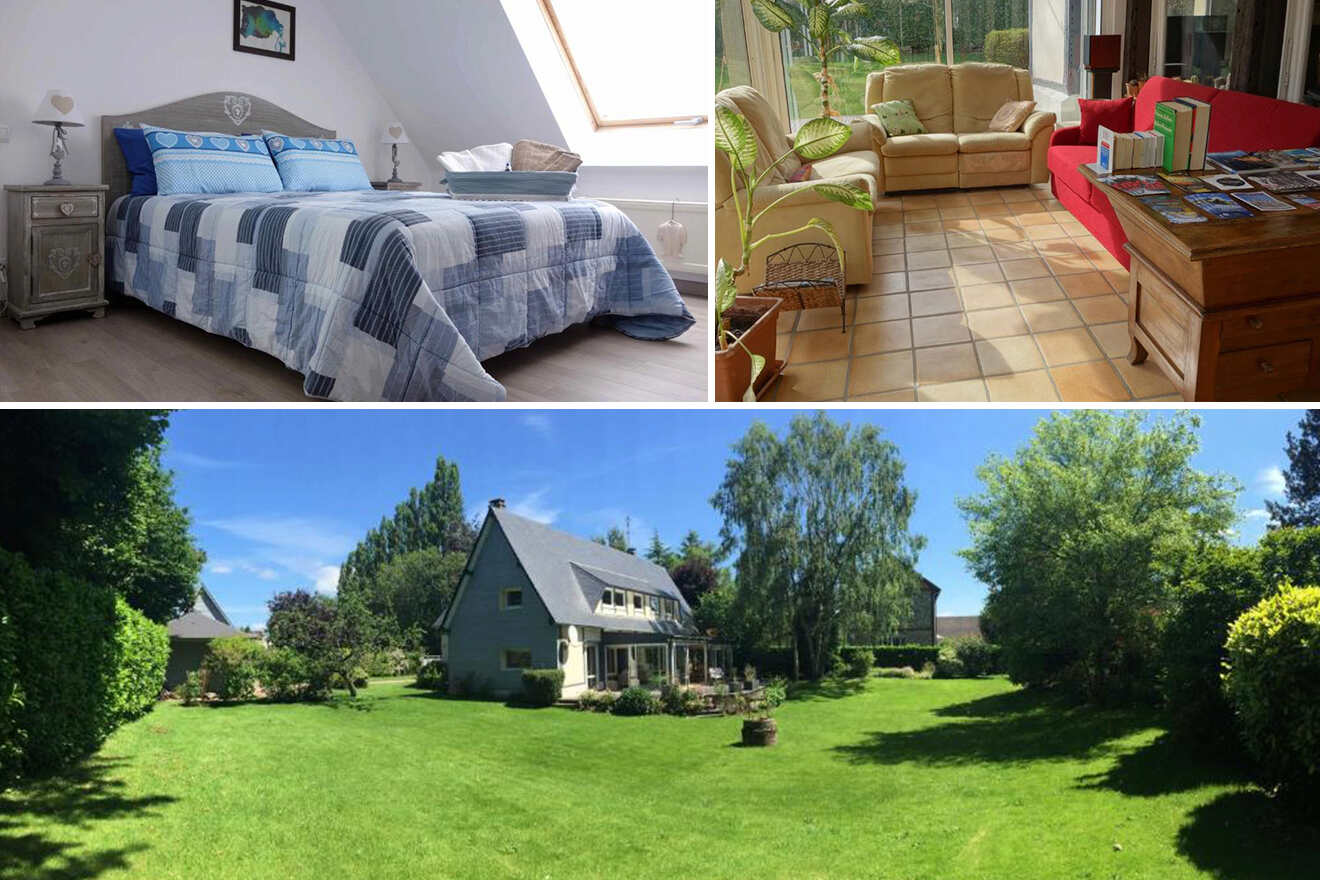 If you're on a city break but prefer the quiet of rural living, this hotel just on the outskirts of the main town is the perfect choice. Inspired by Italian living, this tiny boutique hotel has rural country bumpkin vibes and 3 beautiful themed suites to choose from.
This French accommodation is perfect for families with kids who want the luxury of wide, open spaces away from the crowds. Getting to the town is easy, it's just 10 minutes' drive from the center of Rouen!
Check Availability
FAQs about hotels in Rouen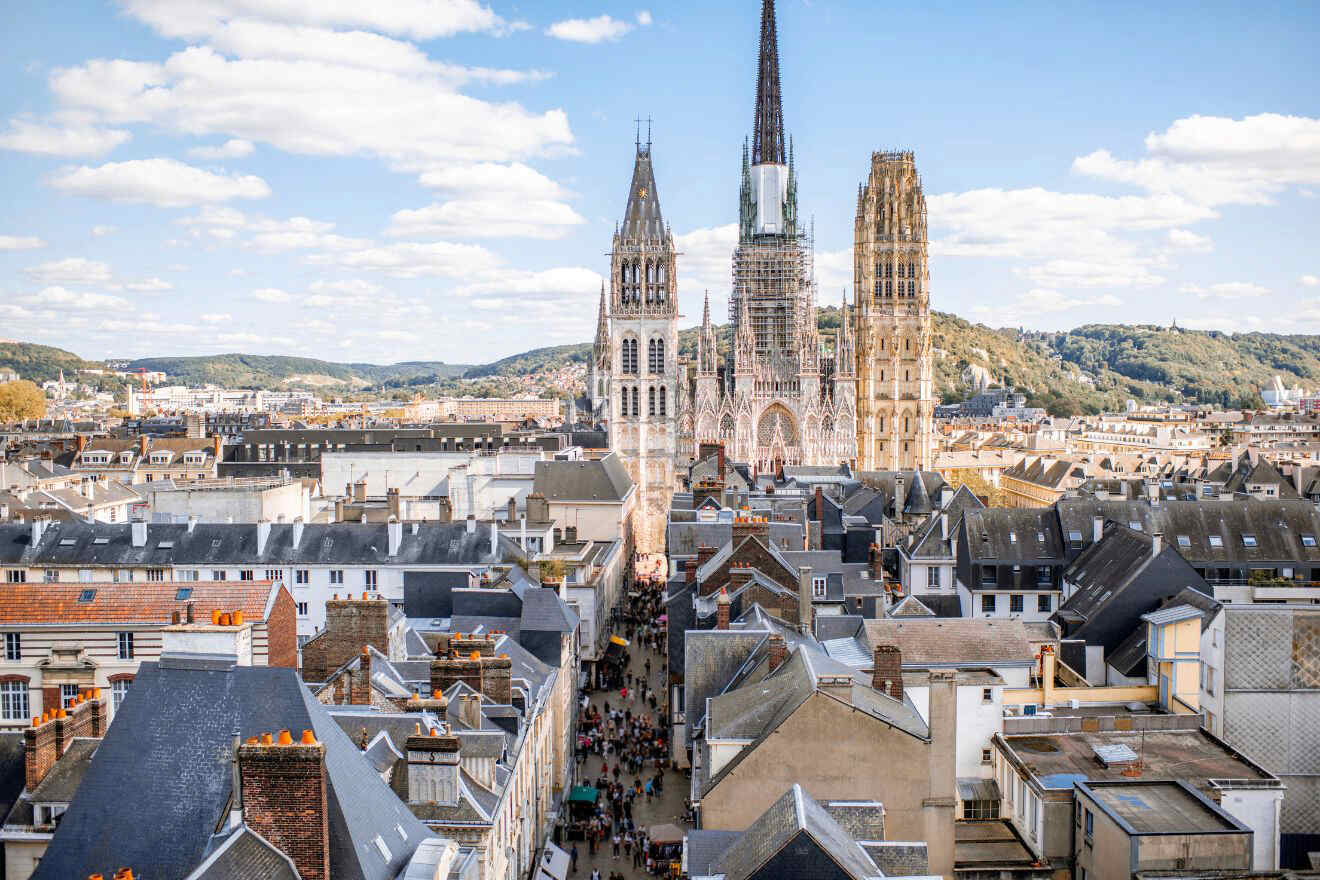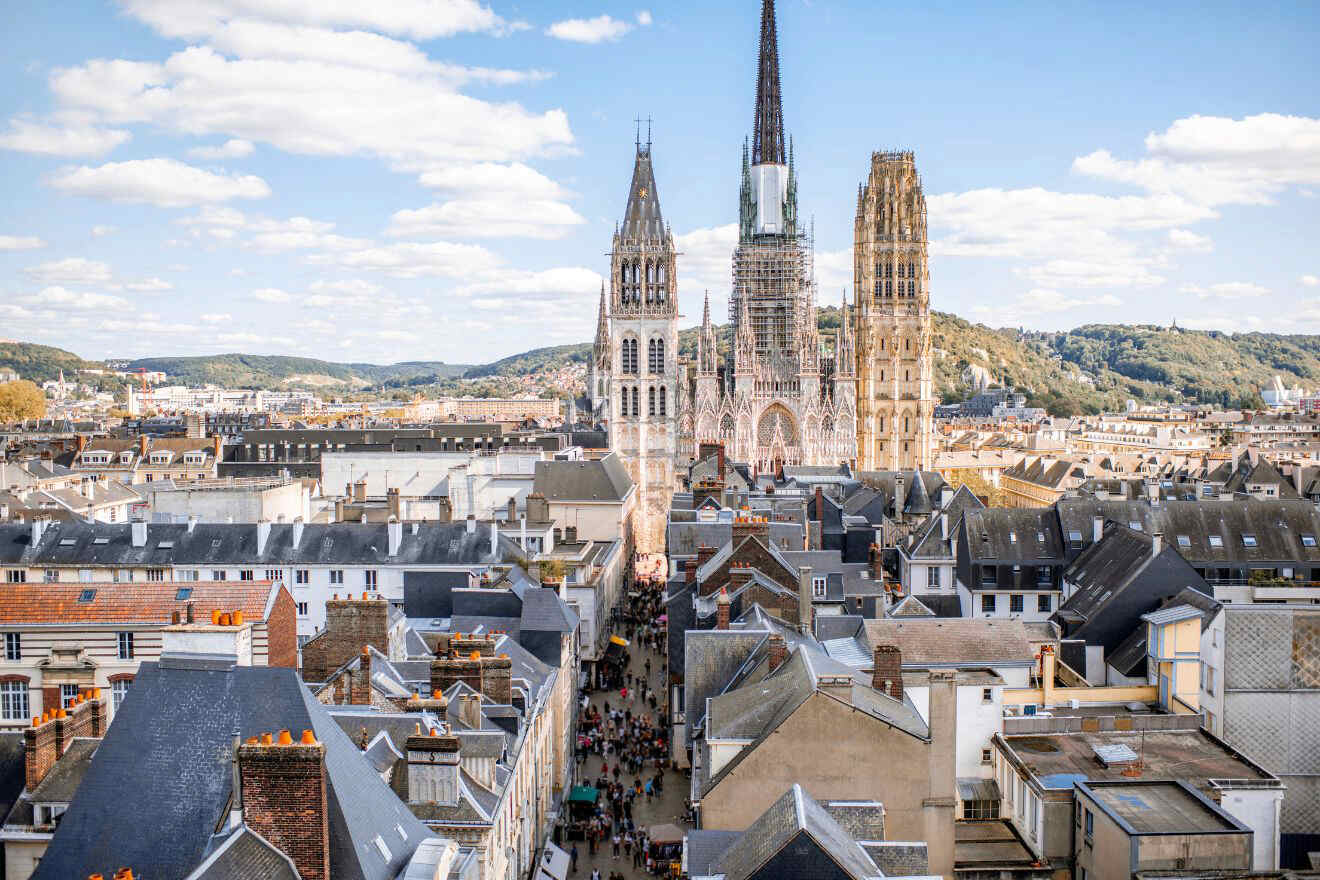 🤑 What are the best cheap hotels in Rouen?
🐶 What are the best dog-friendly hotels in Rouen?
🧑🏾‍🤝‍🧑🏻 What are the best hotels in Rouen for families?
🚗 Are there any hotels in Rouen with parking facilities?
Conclusion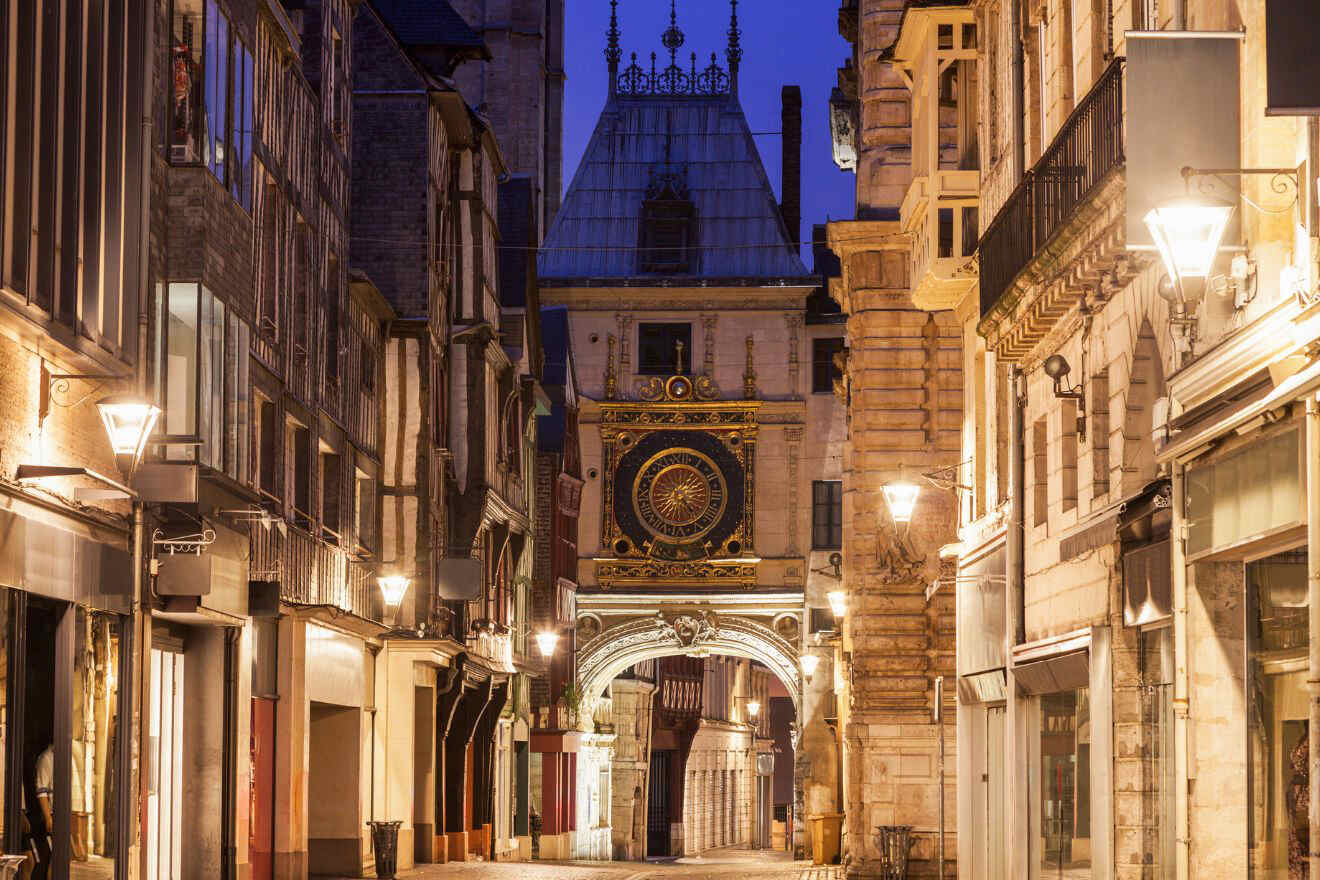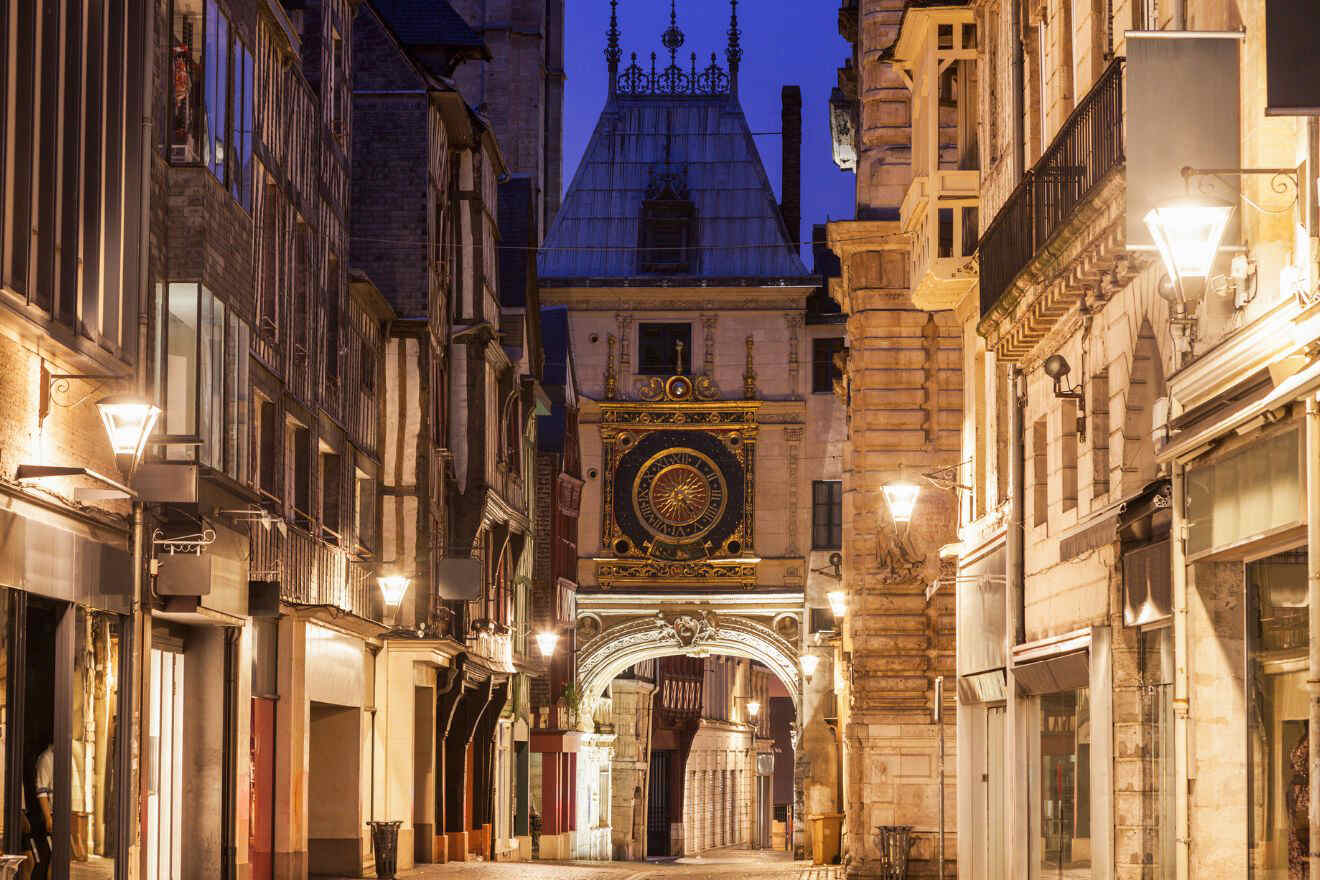 So that's it! These are by far the best hotels to stay in Rouen, and there's something here for every budget. France is beautiful, so it's well worth a visit!
I've given you so many good options, but here are a couple of my absolute faves:
Rouen isn't the most touristy city in the world, but there aren't too many hotels so everything gets booked up super fast. Get booking quickly to avoid disappointment!
Hope you have an amazing trip! Let me know if you have any questions in the comment section and I'd be happy to help you out 🙂
Bon voyage mes amis!
Lizzie
---
Pin it for later!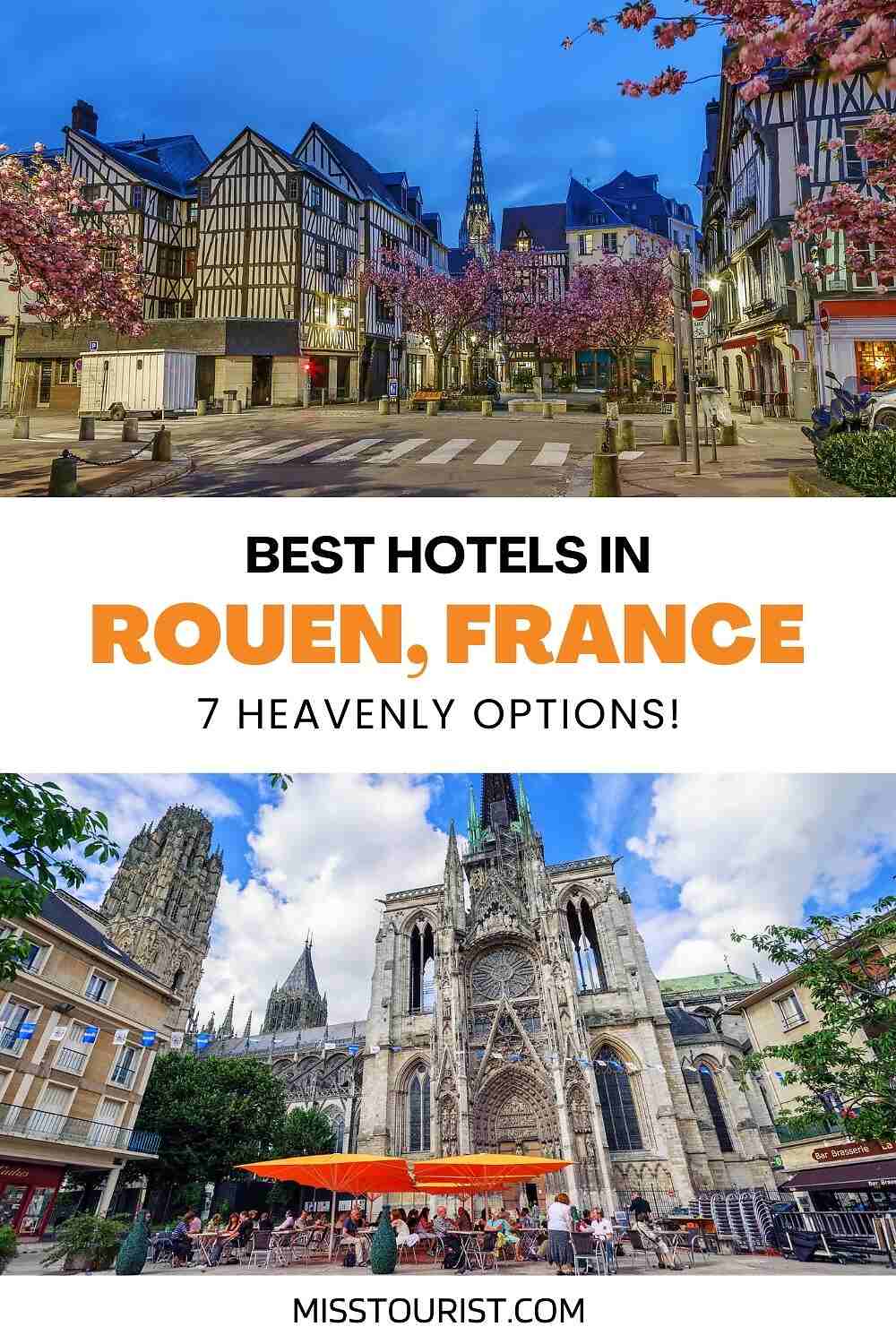 Pin it for later!