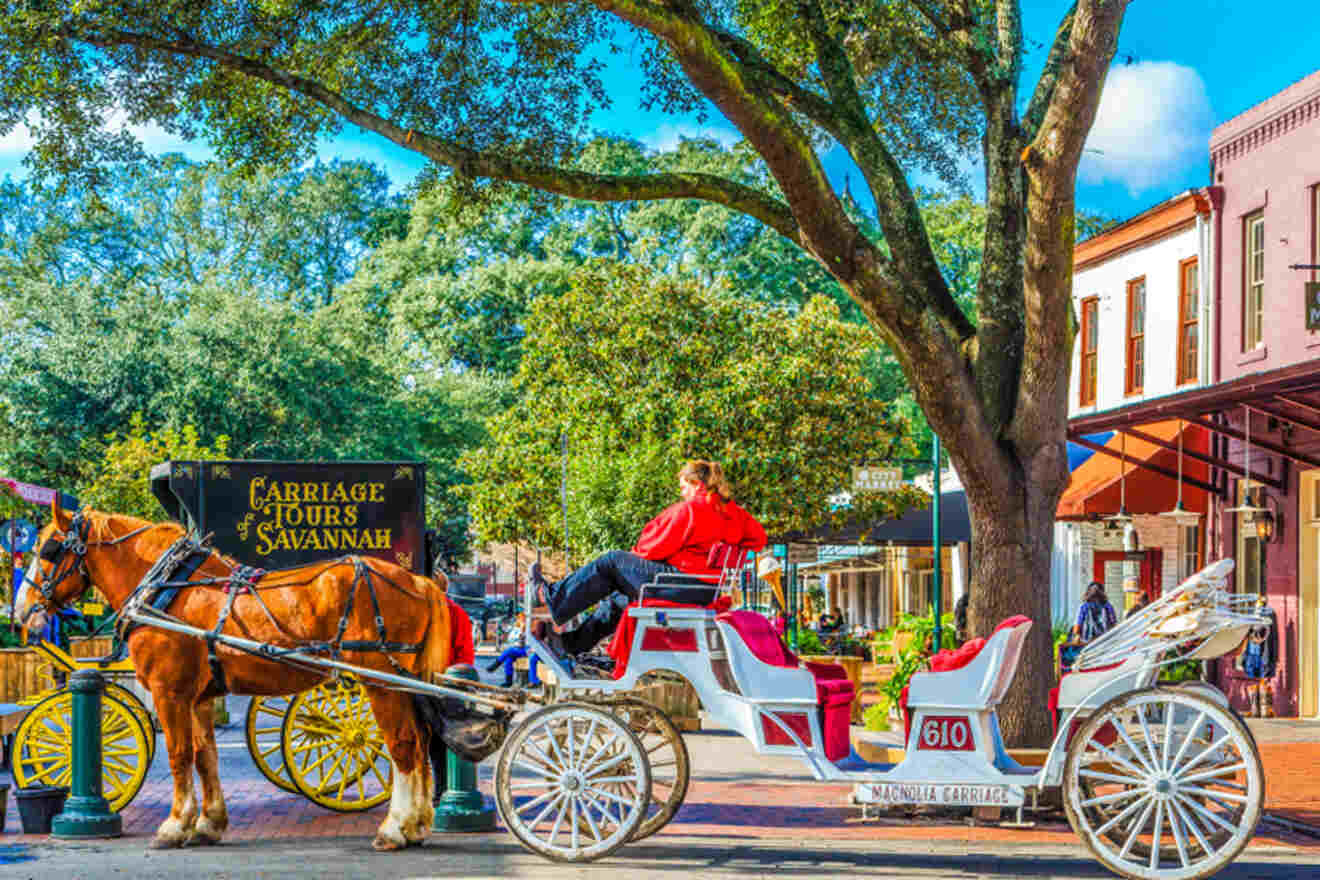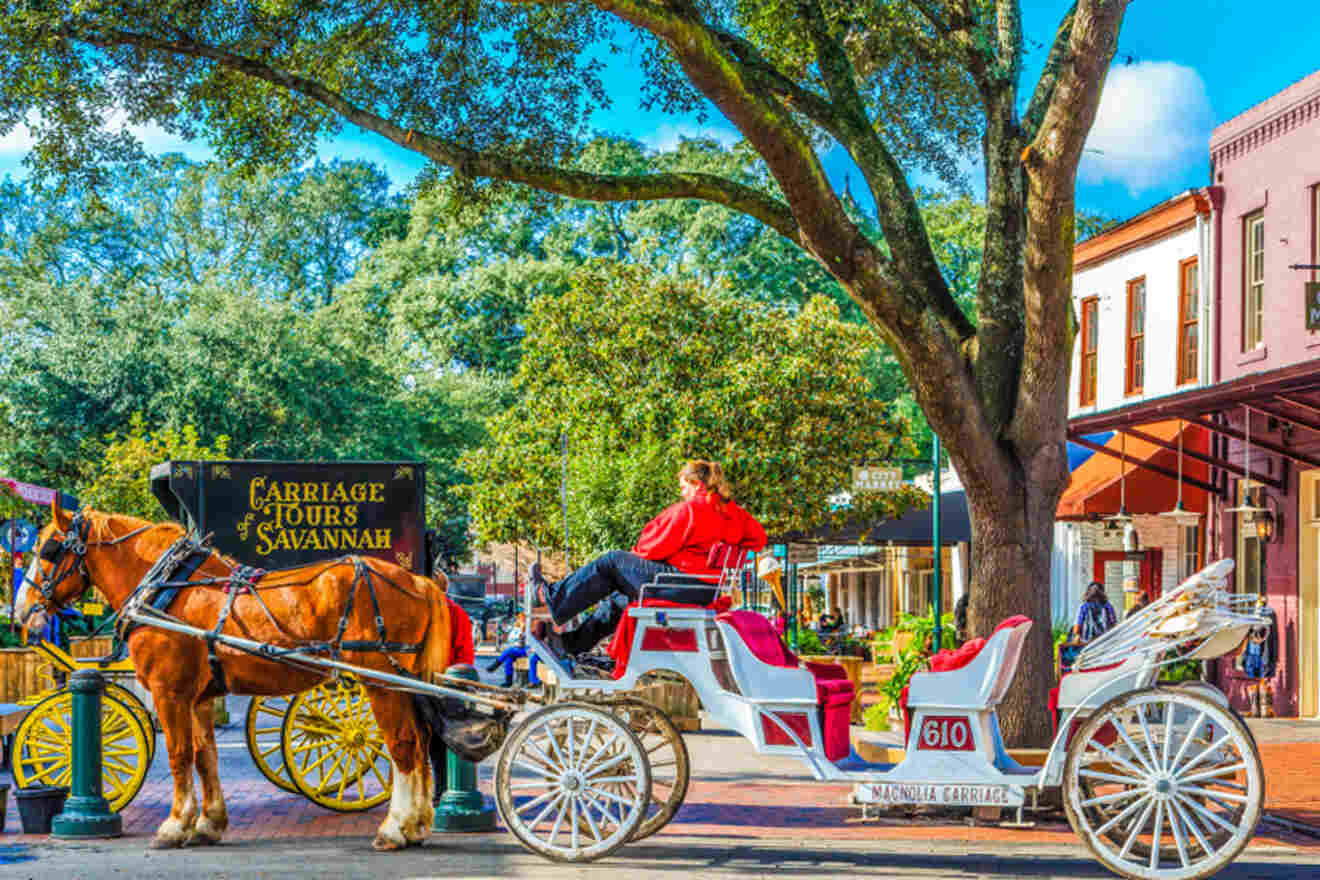 It's time to discover the best tours in Savannah, a beautiful city where history and mystery collide in the most delightful ways possible. With its cobblestone streets, Spanish moss-draped trees, and charming architecture, Savannah is a city that oozes Southern charm and allure.
And what better way to explore this enchanting city than through one of its many fascinating guided tours? From spooky ghost tours to personalized private tours, leisurely walking tours, and tasty food tours, Savannah has something for everyone. Explore the city's haunted past, immerse yourself in its culture, or simply take in its picturesque beauty.
As a lover of all things spooky, this city particularly sparked my interest, and I made sure to do a fair amount of research to bring you the list of the best Savannah tours you can find.
But be warned, these tours are so popular that they fill up fast, so make sure to book in advance to secure your spot.
With all that being said, let's dive in!
If you are in a hurry
If you don't have time to read the whole post, check out the main tours to book for your trip to Savannah:
1. Join a walking tour of Savannah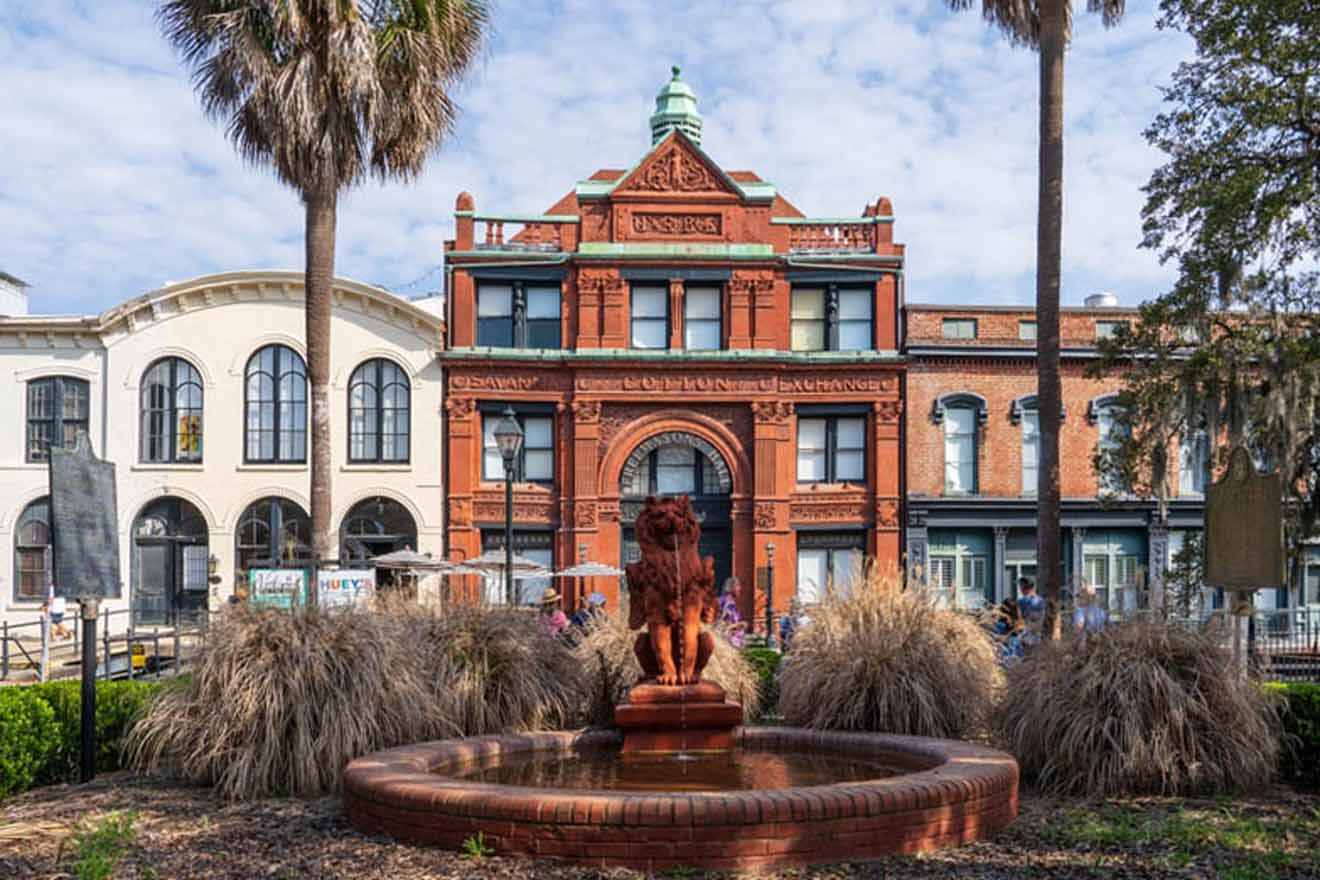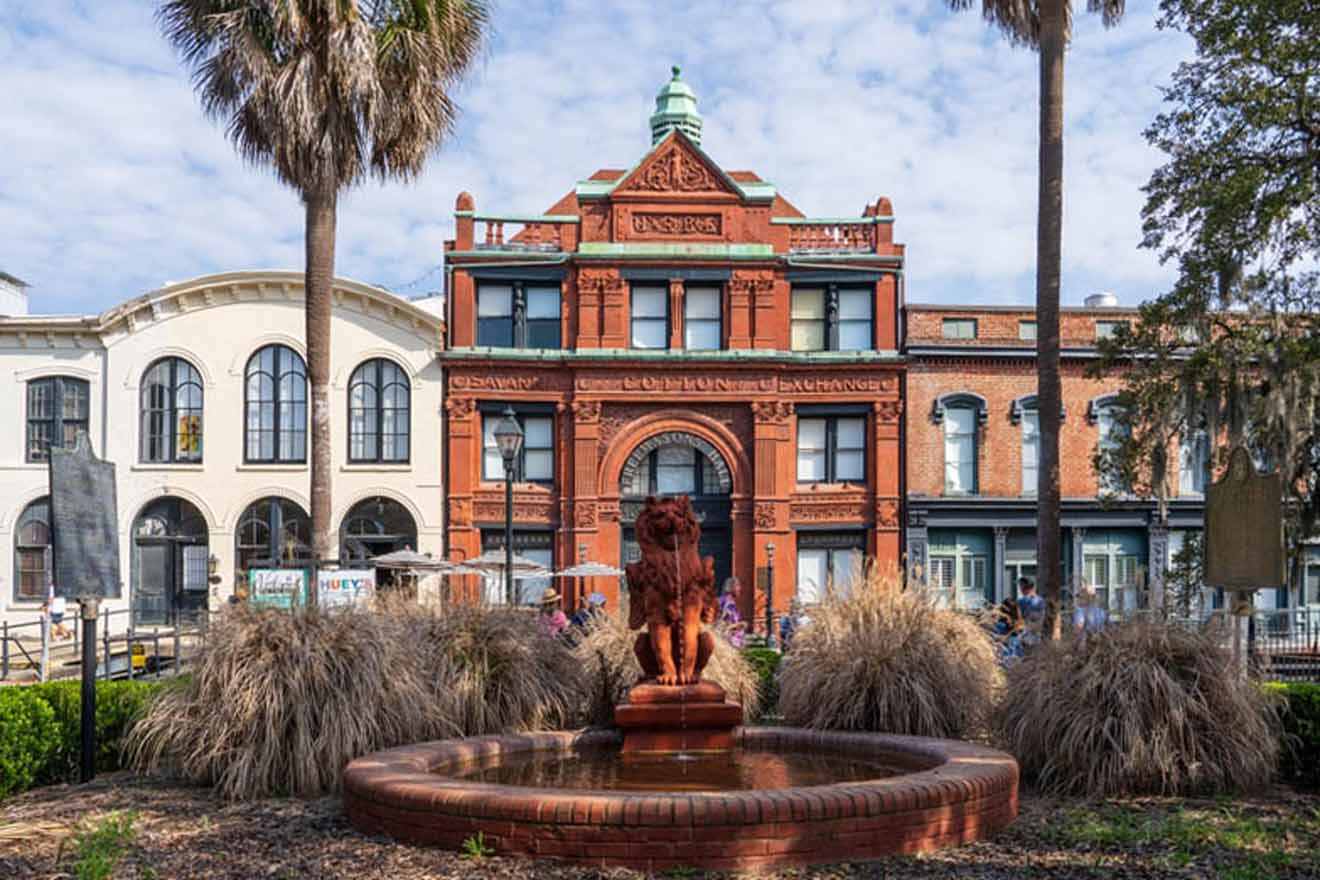 Welcome to the charming city full of boutique hotels, amazing architecture, history, and tours to see it all! So, if this is your first time in Savannah, step out and take a 2-hour group strolling tour through the picturesque squares and streets of historic downtown Savannah.
You'll also visit the very buildings that witnessed the war years of the 1860s, and your knowledgeable guide will regale you with fascinating stories of Savannah's history.
If you want to get a little buzzed along the way, this tipsy walking tour is perfect for you. With each sip, you'll learn about Savannah's fascinating history and the stories behind each iconic landmark you pass.
For those who like to keep it exclusive, there is a private tour that not only explores the Savannah Historic District but also takes you to the breathtaking Bonaventure Cemetery. And history buffs on a budget, fear not! A free tour that will still give you a taste of Savannah's rich history and culture
Check Availability
2. Get spooky with the gravestones trolley tour
Hop on board the 80-minute trolley ride for a spooktacular tour of old Savannah. As you explore the streets, you'll pass former battlefields, cemeteries that date back centuries, and historic homes that are positively crawling with supernatural activity. And don't forget to take advantage of River Street at night, where wandering spirits congregate.
Your guide will tell you stories of nefarious characters and sinister deeds of Savannah along the way, but don't worry – this isn't your typical bone-chilling ghost tour! You'll laugh, you'll scream, and you'll have a frighteningly fun experience aboard the "trolley of the doomed."
You'll also get a nighttime pass into the Andrew Low House and River Street's Perkins and Sons Ship Chandlery. You can learn about murders, mayhem, and other mysterious happenings in the haunted city while laughing your way through Savannah's darker side.
Book Your Trolley Ride
3. Savor Savannah's cuisine on a food tour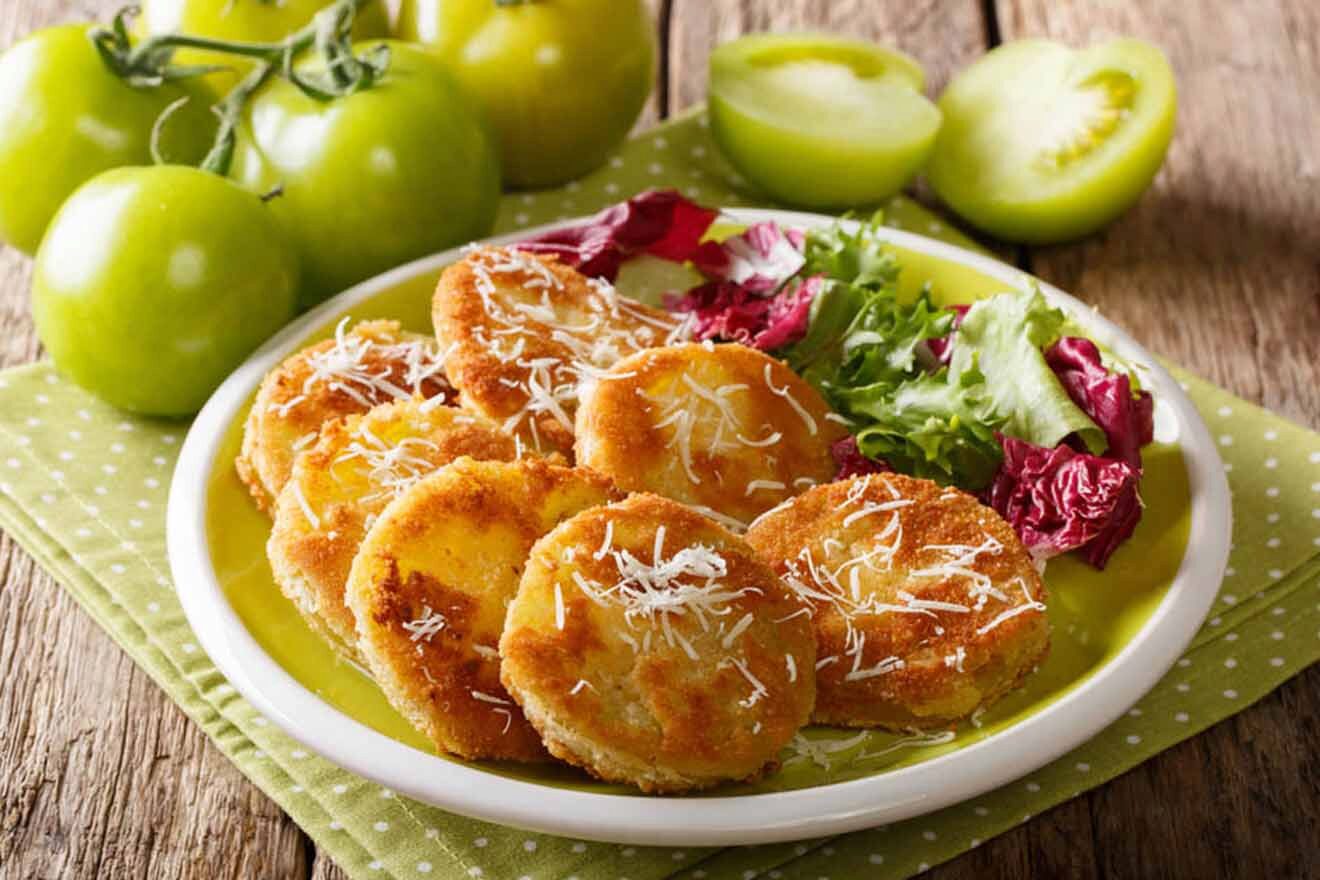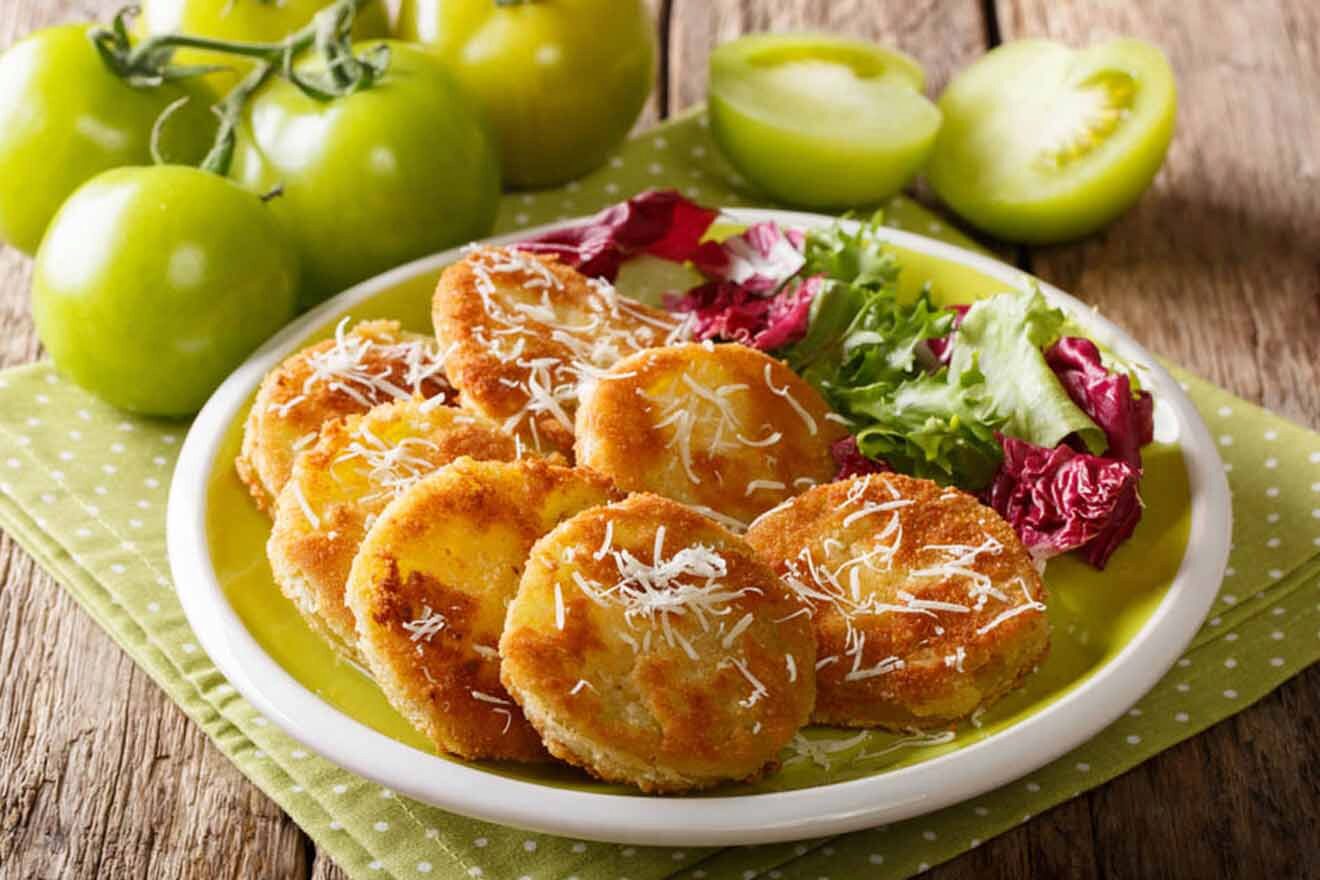 Get ready to explore Savannah like never before on a first square food tour that will tantalize your taste buds and captivate your senses! You'll indulge in delicious treats at some of the best restaurants and specialty gourmet shops in town.
Prepare to feast on mouth-watering local favorites like shrimp and grits, pork belly donut sliders, and unique honey that you won't find anywhere else. With up to 6 stops on tour, you'll get a true taste of the South and an authentic Southern meal that will leave you feeling satisfied and smiling.
Do you have a sweet tooth that just won't quit? This dessert food tour is here to satisfy all your sugar cravings! Perfect for those short on time but big on flavor, this tour takes you through Savannah's Historic District to indulge in some of the city's most delectable treats.
Book Your Food Tour
4. Spook yourself in paranormal adventure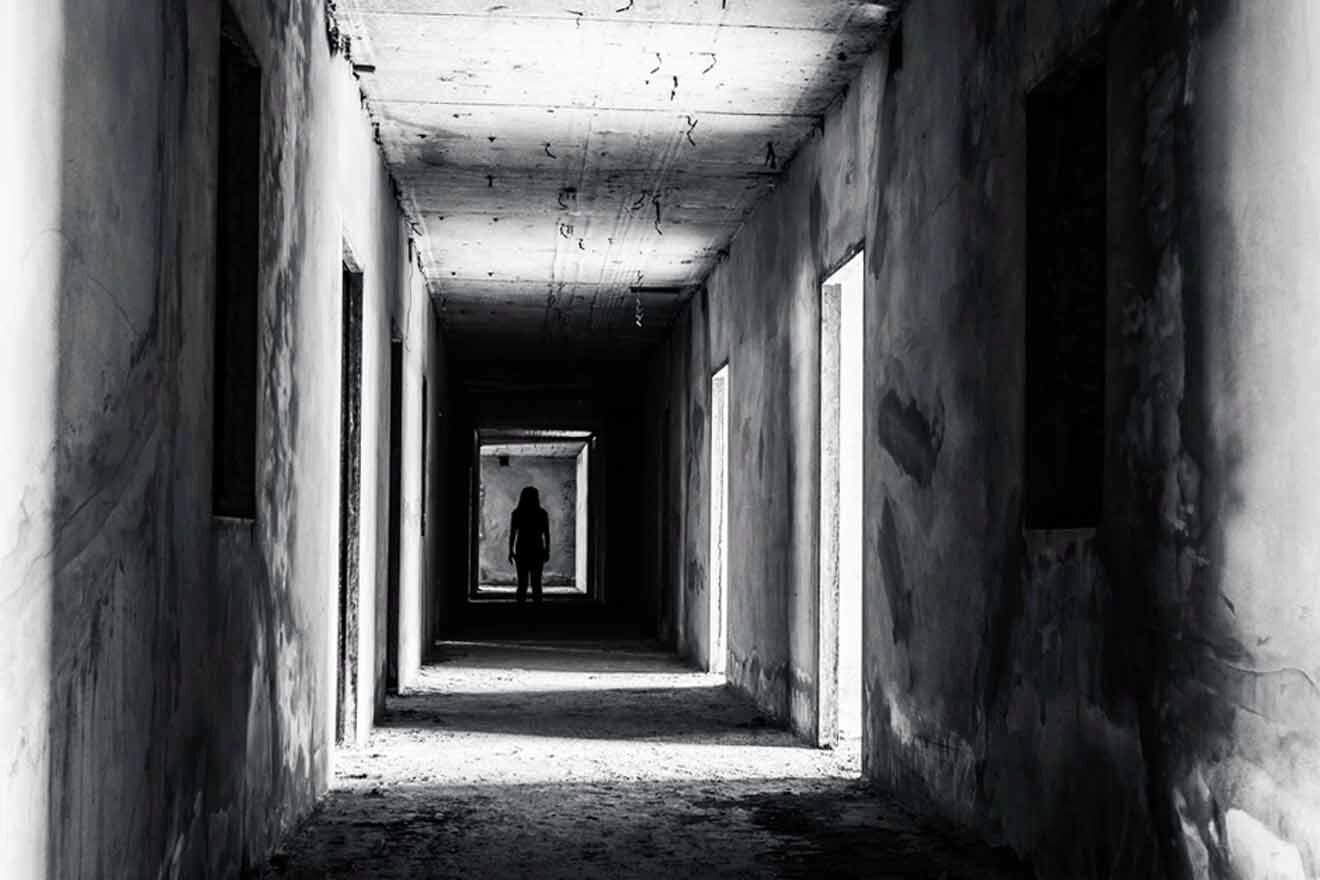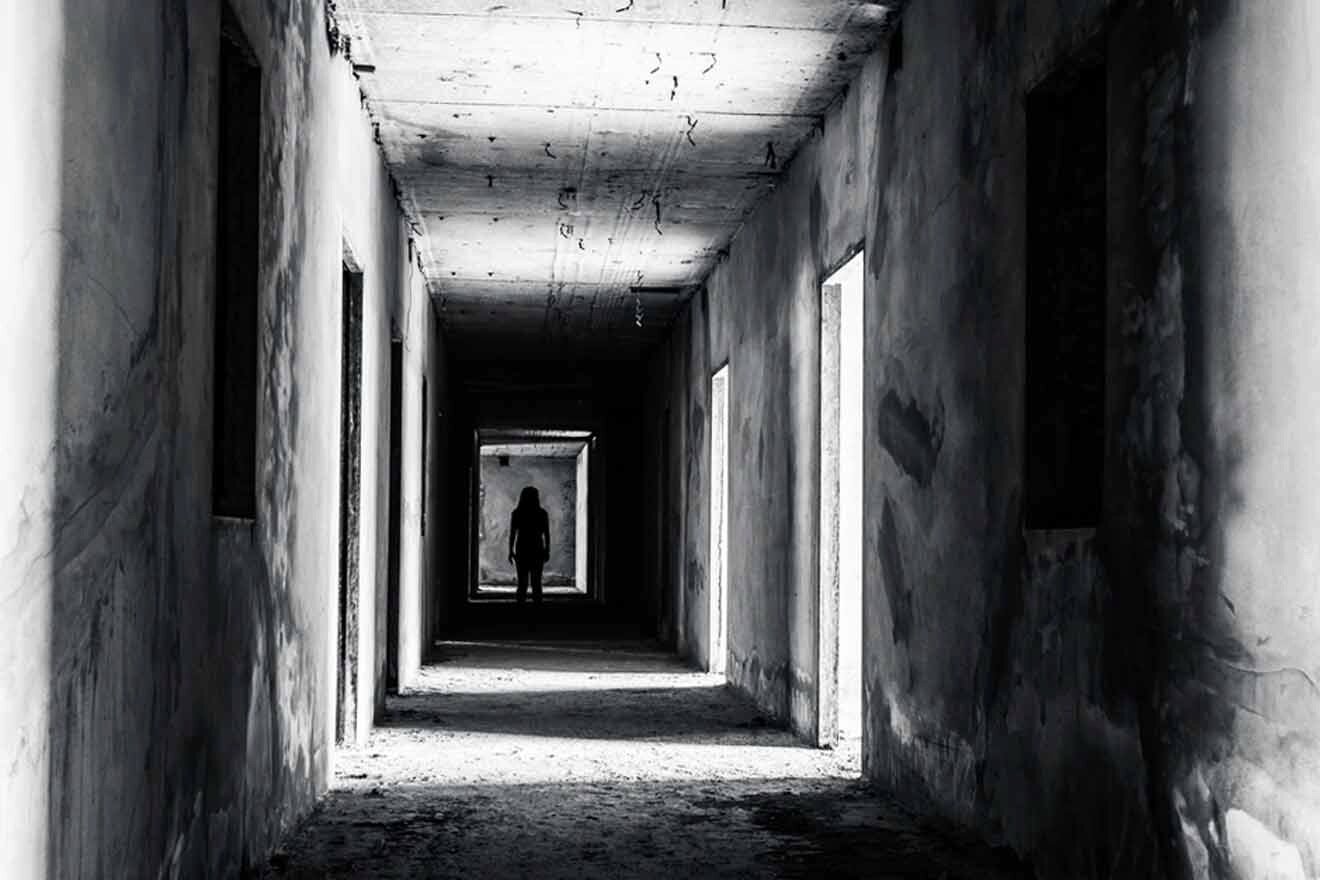 Welcome to the thrilling paranormal mystery tour of Savannah! Led by a team of passionate enthusiasts in paranormal research, occult studies, and Savannah history, this is not your ordinary tour.
Guides are psychics and paranormal sensitives who are eager to share their knowledge and experiences with you. Explore Savannah's oldest neighborhood and uncover mysterious phenomena that will leave you intrigued.
Tour operators collected ghost stories from local residents and visitors and meticulously compiled them into this tour, so you're guaranteed to learn something new. Whether you're a believer or a skeptic, this 2-hour tour will surely spark your interest.
Who knows, you might even hear from the ghosts of Savannah themselves!
Get More Info
5. Embark on a river cruise sightseeing tour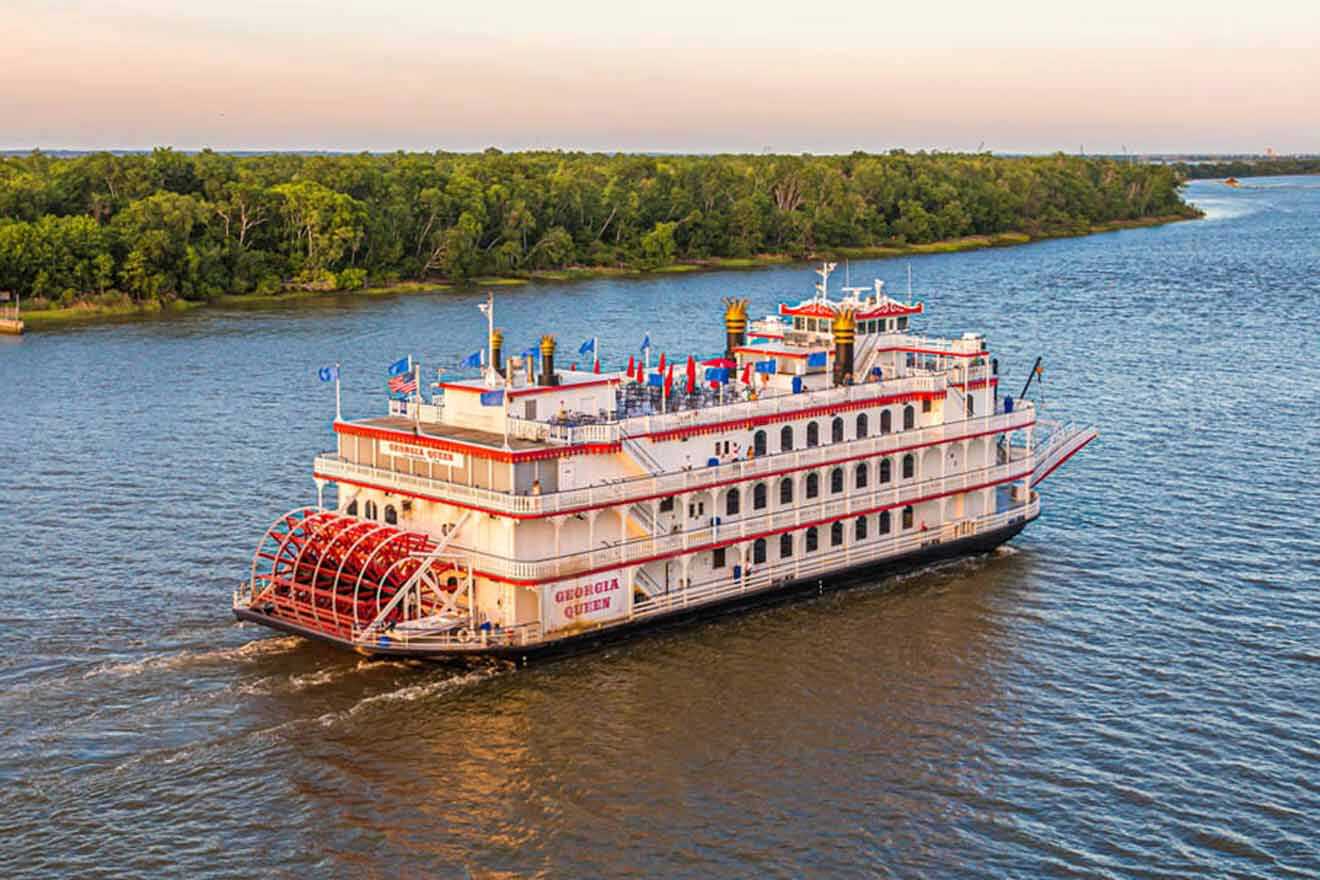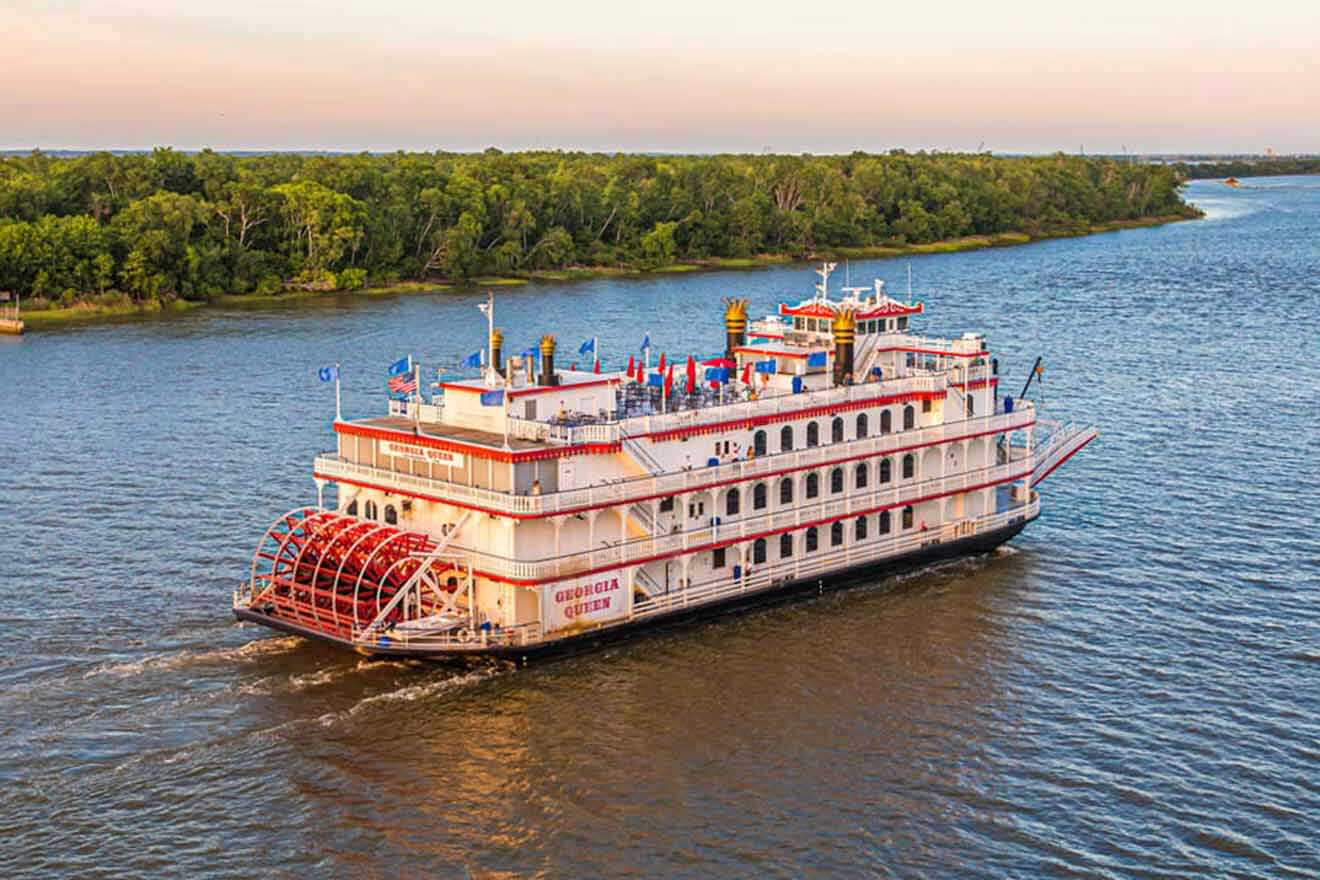 All aboard the Savannah Riverboat Cruise! Get ready to experience the very heart and soul of Savannah – the majestic Savannah River! For 1-2 hours, let Captain regale you with fascinating tales and historical facts about the bustling modern port and the awe-inspiring ships that visit Savannah from all corners of the world.
And if you prefer to admire nighttime sights, a 2-hour dinner cruise will have you kicking back and relaxing in no time! Indulge in a delectable buffet dinner that features the freshest and most delicious local ingredients. After dinner, get ready to dance the night away to some groovy tunes performed by riverboat entertainers.
If you're looking for a delightful mashup of trolley tours and riverboat cruising, then boy, do I have the tour for you! Experience Savannah's stunning sights from not just one but 2 completely unique viewpoints.
Book Your Cruise Tour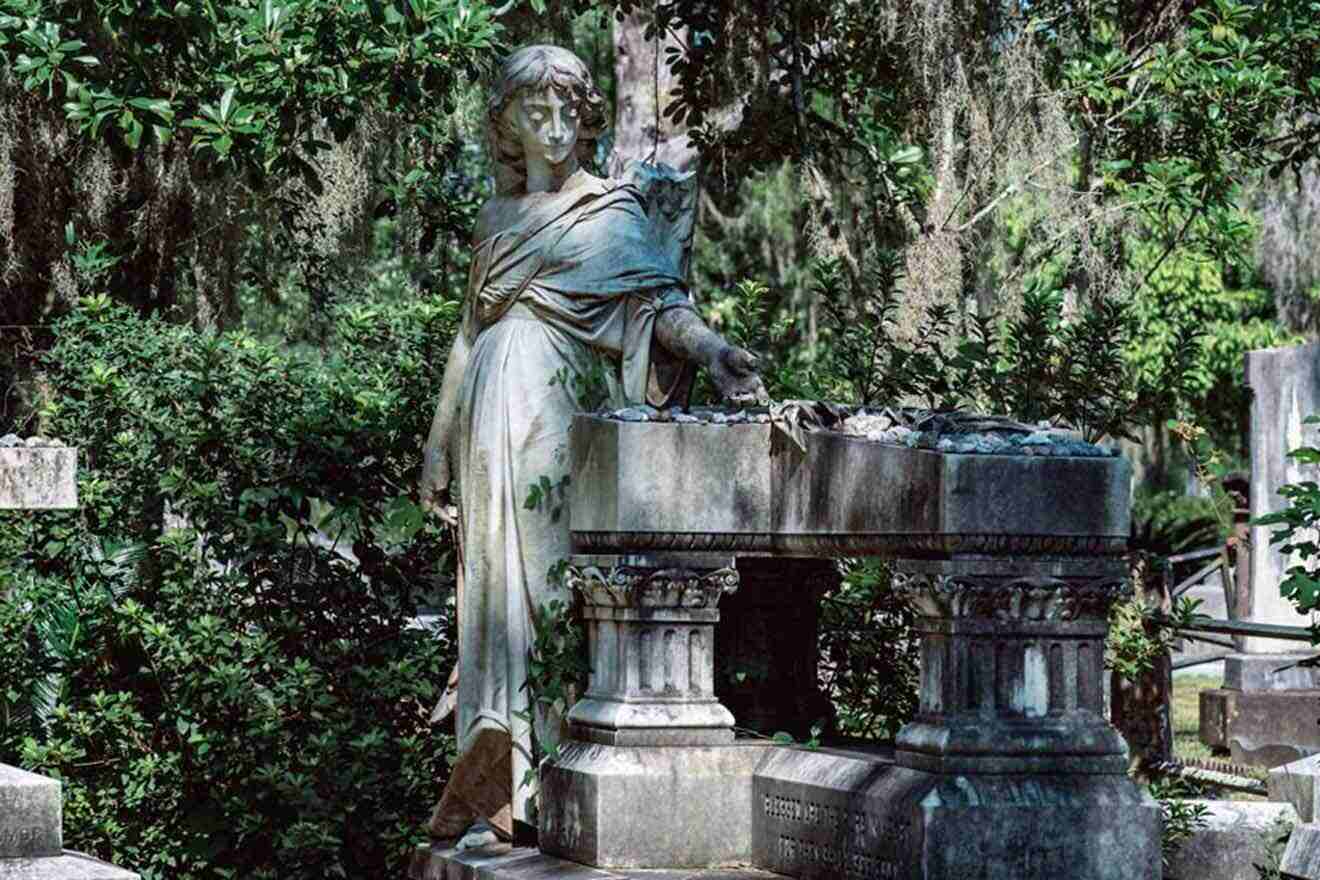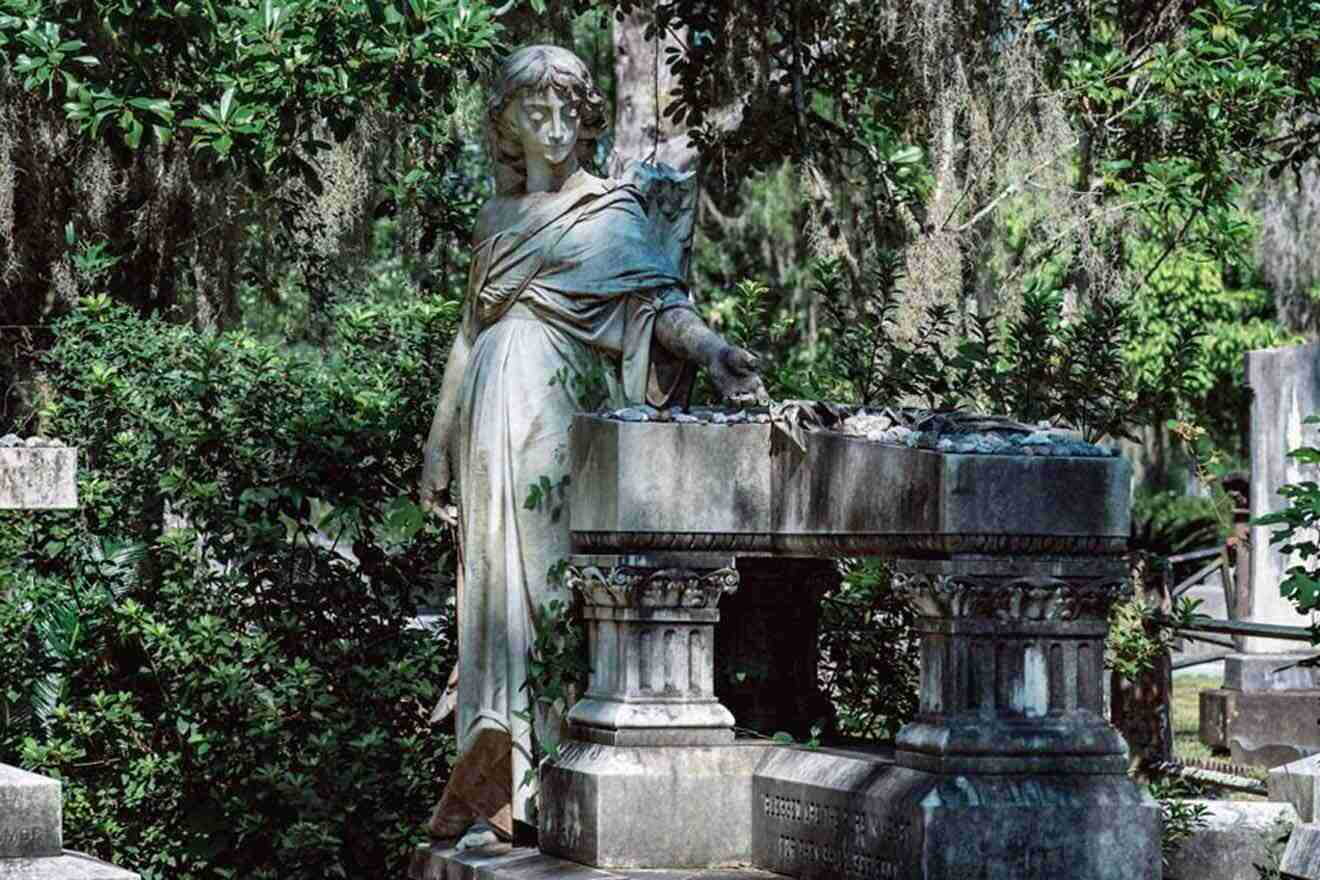 When I talk about Savannah tours, I have to mention one of the most historic cemeteries-Bonaventure!
With Shannon Scott by your side, you'll discover all the important aspects of this cemetery and its many layers. From the 18th-century plantation era to the Victorian cemetery and all the art and traditions in between, on this 2-hour tour, you'll come to understand what makes Bonaventure such a special place.
From famous residents like "Crooner of 1500 Songs" Johnny Mercer and writer Conrad Aiken to lesser-known but equally fascinating figures, you'll get a history lesson about some of Bonaventure's most interesting residents.
Bonaventure is known for its great works of art, and on this tour, you'll see pieces from some of the greatest artists of their time. You have a 3-hour night tour option as well! But beware, the mosquitoes are out in full force, so make sure to arm yourself with some bug spray.
Book Your Spot
7. Join a drag queen in a pub crawl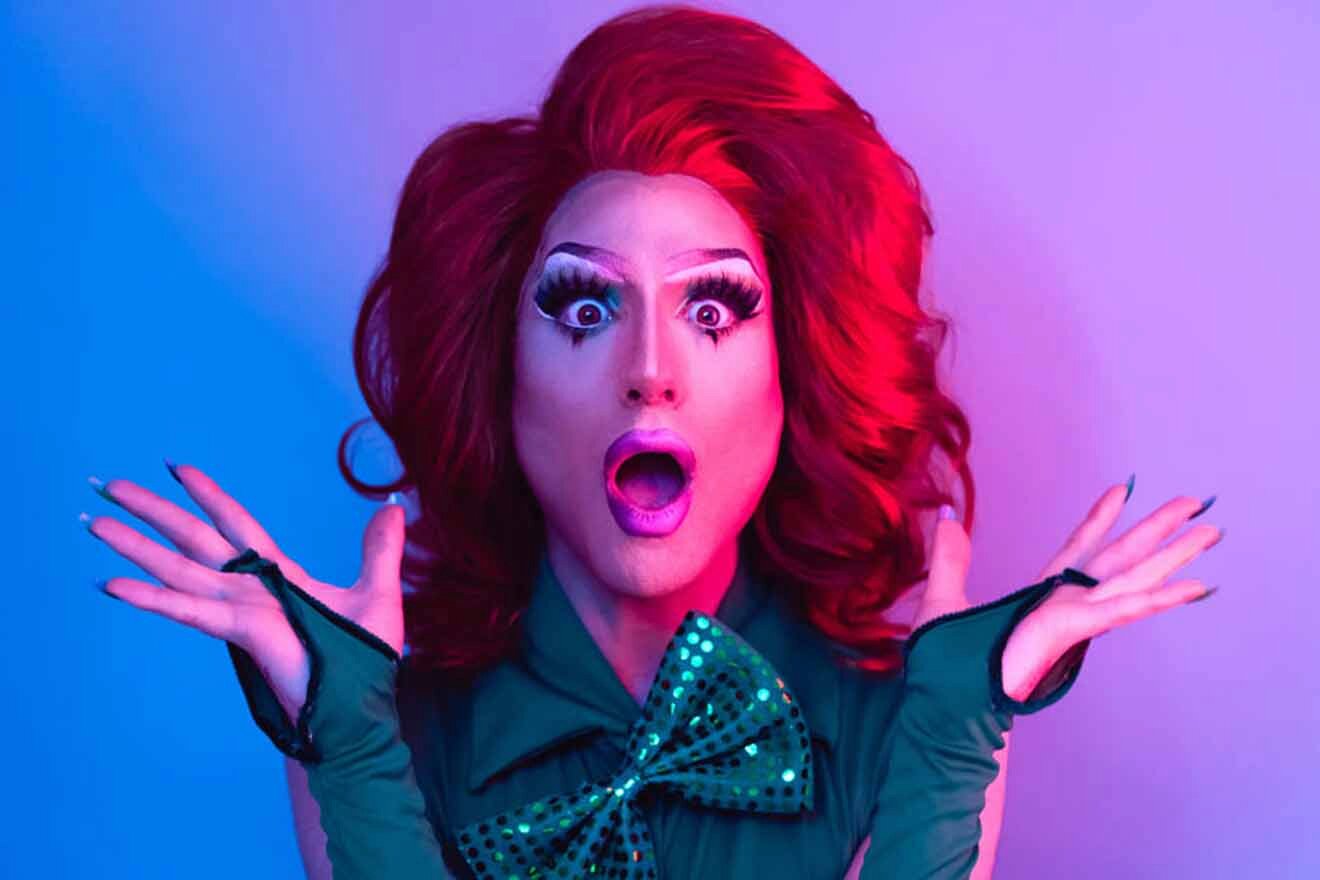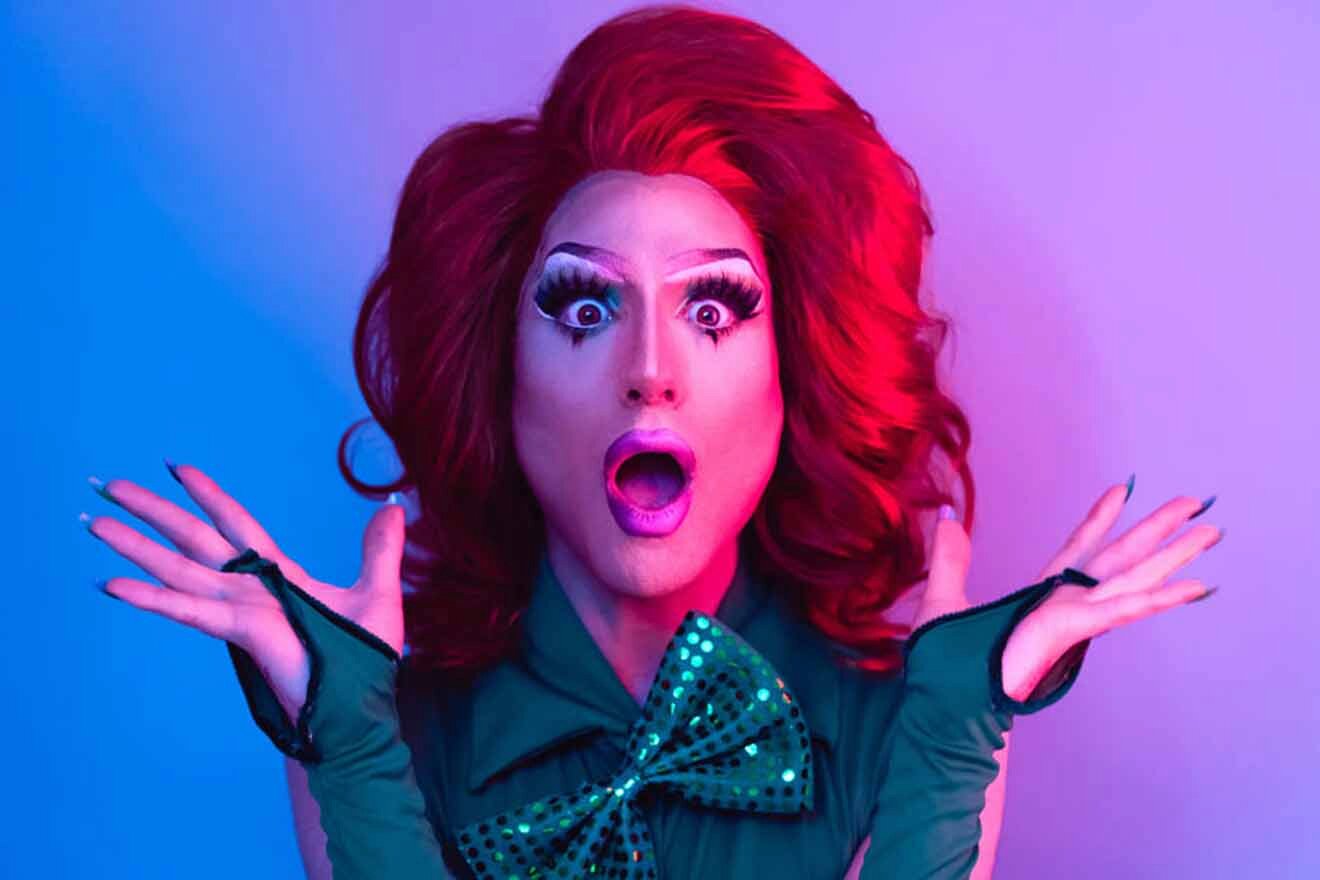 When looking for the best city tours in Savannah, you shouldn't miss out on a world-class drag queen-guided tour.
The tour takes a maximum of 60 travelers and is about 2 hours long. Join a drag queen as she leads you through the Historic District on an unforgettable Savannah haunted pub crawl. Dance your heart out, enjoy amazing drink specials, and belt out your favorite tunes during a night of karaoke.
And for true crime fans, join your guide for a spine-tingling 1-hour city pub crawl of the most haunted bars to explore the infamous crimes, scandals, and murders that once plagued this historic town. As you wander through downtown Savannah streets, you'll visit some of the city's most haunting landmarks, like the Colonial Park Cemetery, where restless spirits are said to roam. And don't worry, you can take your drinks with you!
Save Your Spot
8. Segway through Savannah's secrets
Choose from 60 or 90-minute guided segway tours and prepare yourself for an adventure like no other!
Your safety is the top priority, so before you begin, you'll receive a thorough training session on how to operate a segway, as well as a helmet and radio for communication with your experienced guide.
During the tour, you'll have the opportunity to walk in Forrest Gump's shoes and sit on the famous bench where he shared his chocolate box. You can even reenact the iconic bus scene from the movie! And if you're lucky, your guide might share some insider secrets about Hollywood that only locals know.
But that's not all! The movie tour will take you to famous movie locations, including Something to Talk About and The Conspirator. And don't miss the Mercer-Williams House from Midnight in the Garden of Good and Evil, where you'll learn the true story of Mr. Jim Williams.
Opt for the 90-minute tour, and you'll have the chance to visit either the Harper Fowlkes House or the Webb Military Museum, providing you with an even deeper understanding of Savannah's rich history.
Book Your Segway Ride
9. Get on board for a hop-on/hop-off trolley tour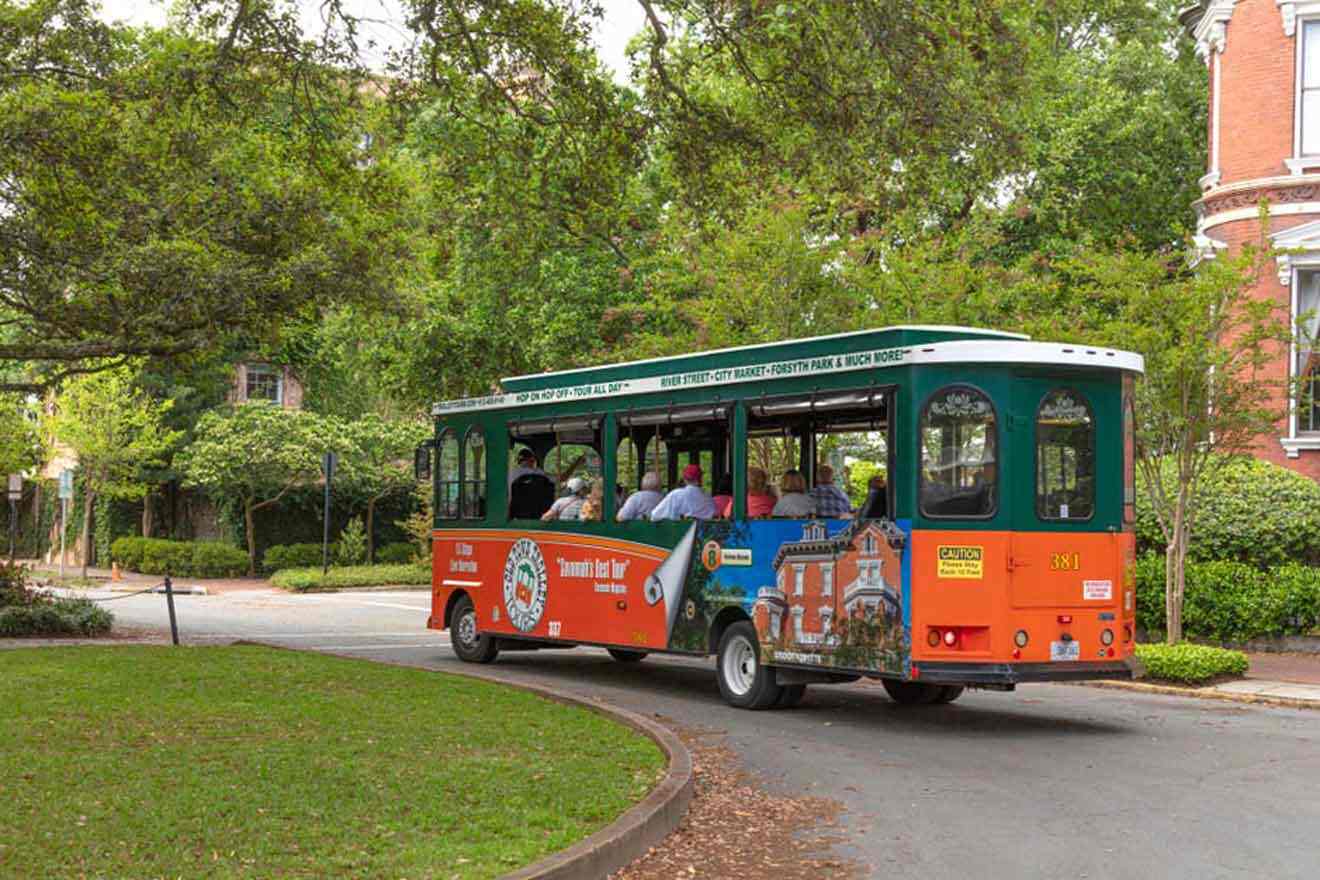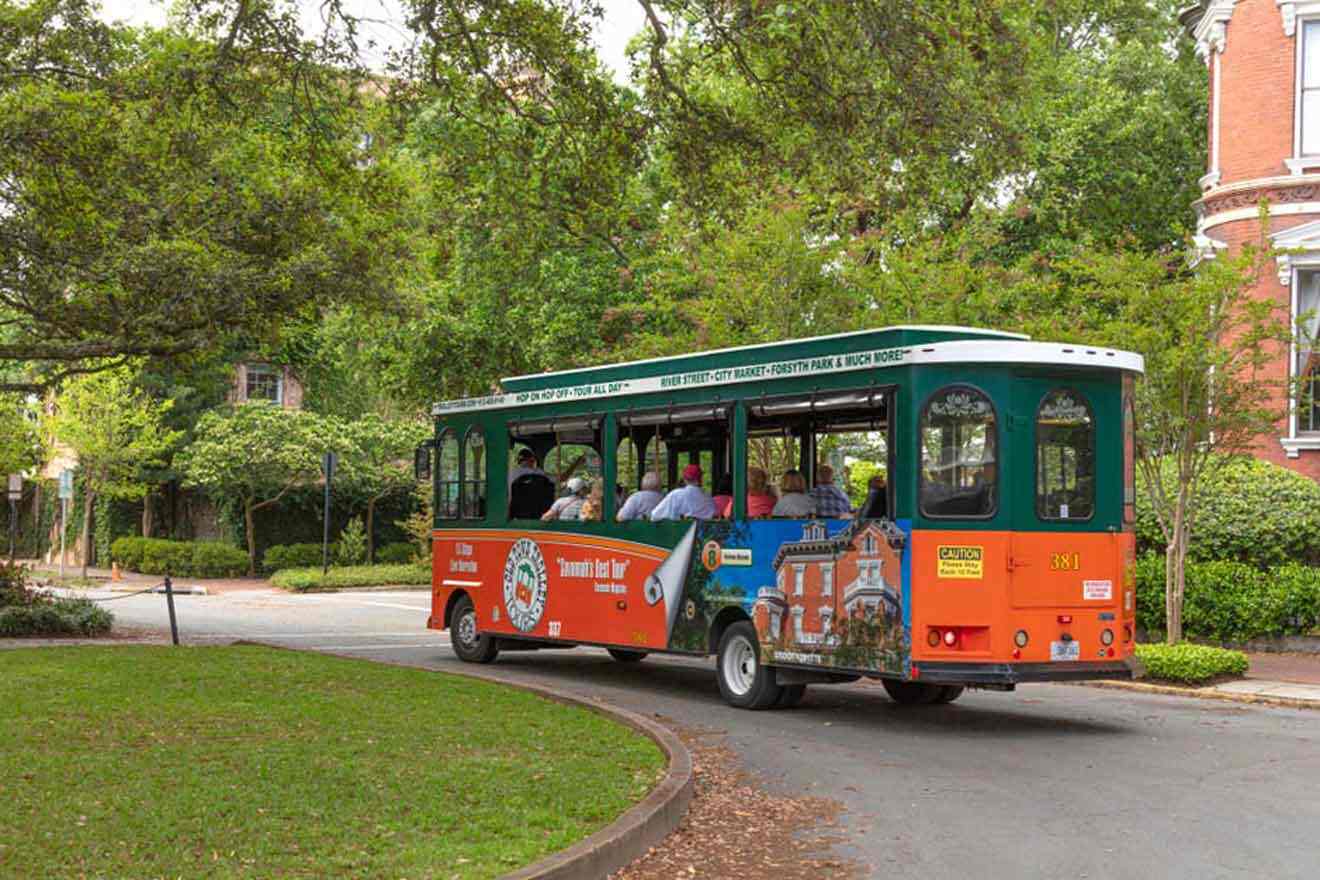 Step right up and experience the ultimate way to explore Savannah! Hop aboard the charming trolleys and get ready for a delightful combination of transportation and entertainment. With friendly conductors narrating the tour with a fun mix of trivia, facts, and hilarious stories, you're in for a ride full of laughter and learning of local history.
See Savannah's breathtaking beauty with stops at 15 locations, including the Juliette Gordon Low Historic District, Coastal Georgia Botanical Gardens, and Reynolds Square. Jump off the trolley to explore the historical sites that interest you, like the bamboo collection at Bamboo Farm or the magnificent mansions lining the cobblestone streets.
Travel through majestic avenues adorned with magnolia trees cloaked in Spanish moss and get lost in southern hospitality that attracts millions of tourists to Savannah each year. With the freedom to stop and go at your own pace, you'll discover why one of the most haunted cities is a true gem.
Check Prices
10. Join a paranormal lockdown at Historic Savannah Theatre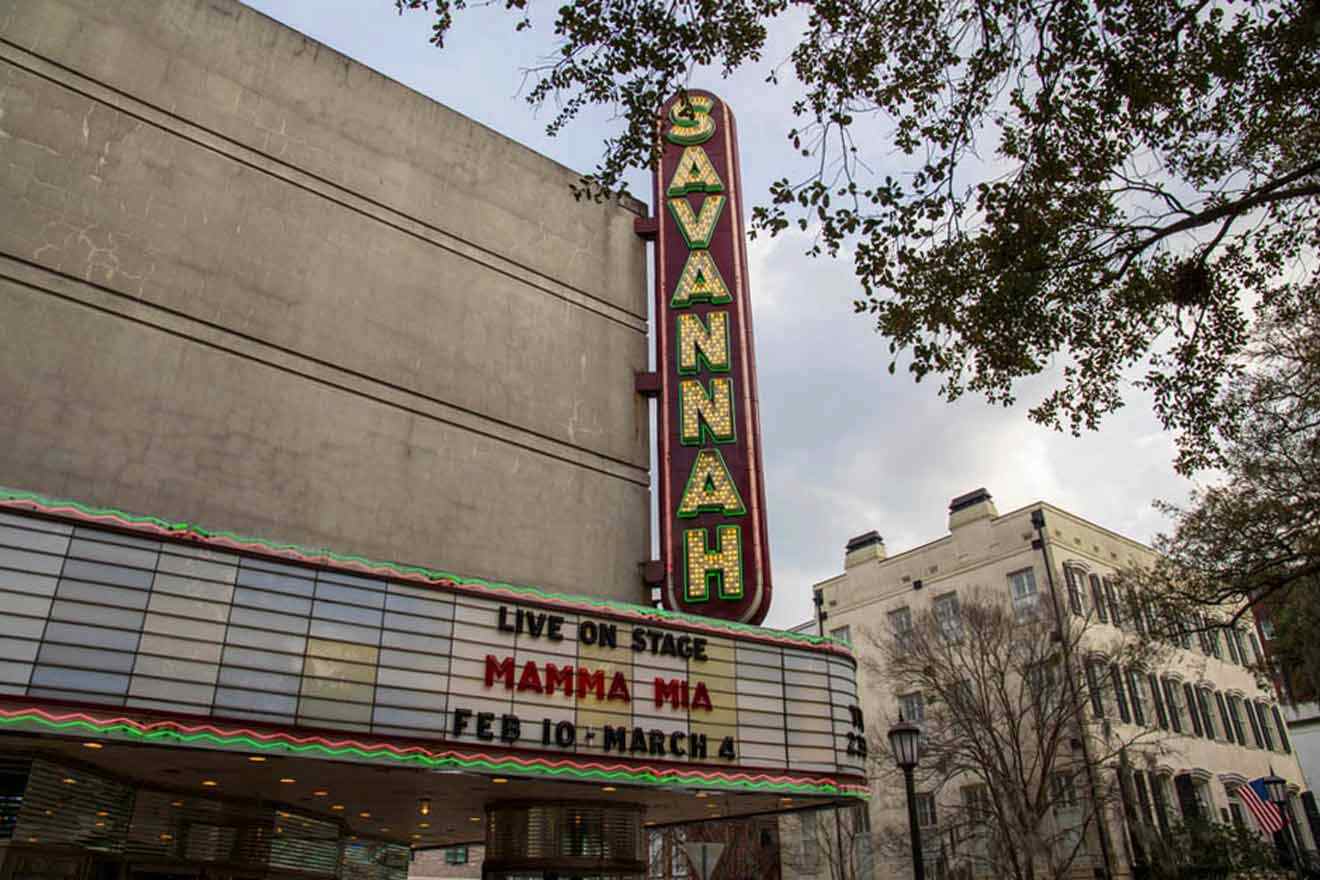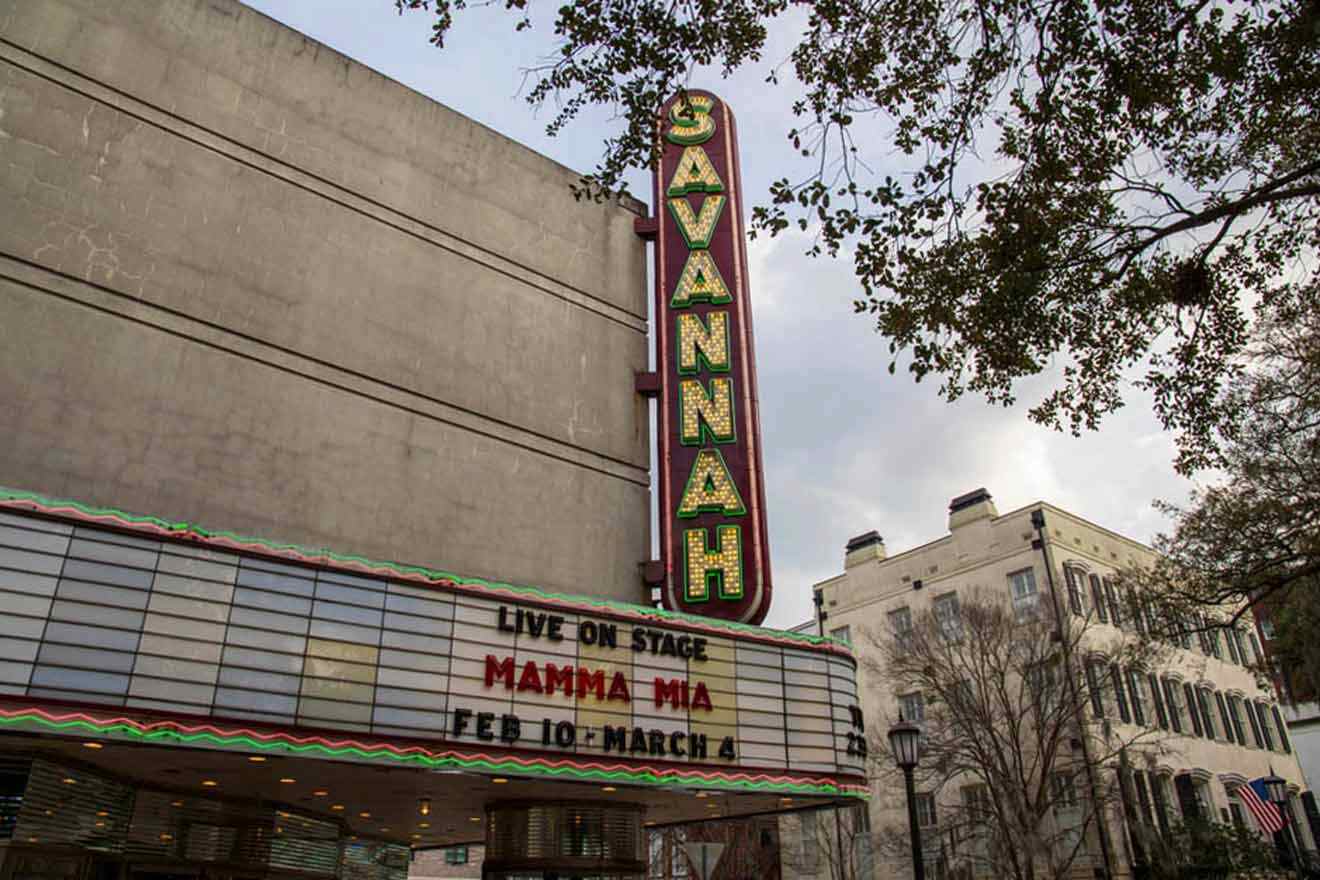 Want to experience a thrilling night exploring one of the most haunted places in Savannah? Join a full-on Paranormal Lockdown at the Historic Savannah Theatre!
This 200-year-old landmark has seen its fair share of tragedies, including 2 great fires, and is said to be home to several restless spirits. Using high-tech ghost-hunting equipment worth over US$10,000, including thermal cameras and EMF detectors, you'll be part of a real-life investigation to uncover any paranormal activity lurking within the theater's walls.
You'll get an in-depth look at the history of the Savannah Theatre, one of the longest-running theaters in the United States. Plus, with a duration of around 3 hours, you'll have plenty of time to immerse yourself in the experience and really explore the theater.
So gather your friends and join this tour for a night of spine-tingling excitement at the Historic Savannah Theatre.
Book Your Spot
11. Sip on history at the American Prohibition Museum
Step into the 1920s-style speakeasy, Congress Street Up, and learn how cocktail culture was born during Prohibition. Join expert bartenders and discover how bartenders started combining mixers with potent alcohol to make it more palatable.
In this 2-hour class, you'll get your hands on authentic bar equipment and learn how to make proper Prohibition-era cocktails. Sip on 2 custom-made cocktails and sample 3 classic drinks while diving deeper into the fascinating history of this era.
Who knew learning could be this fun and delicious? Don't miss this unique and hands-on experience at the American Prohibition Museum!
Book Your Cocktail Class
12. Pedal through the city's history
Attention all bike enthusiasts! Don't be fooled into thinking that there aren't any Savannah bike tours for you because, boy, are you in for a treat!
Picture this: you arrive and are welcomed by a licensed guide who will not only set you up with a bike but will also provide you with refreshing water, bug spray, and/or sunscreen (because nobody wants sunburn or insect bites!).
This ain't no ordinary civil war history lesson, my friend – you'll hear stories about Savannah's rich past, including the Colonial, Antebellum, Civil War, and Victorian eras. The guide will hook you up with the best recommendations for post-tour eating and drinking spots in a "rolling concierge" fashion. And don't even think about leaving without snapping a few photos in front of the famous Forsyth Park.
Book Your Bike Tour
13. Laugh your way on a bus through Savannah's history
Who says Savannah is only spooky and no fun without booze? Not me! That's why I'm thrilled to offer you the hysterical history tour – a family-friendly tour that's packed with laughs and excitement.
Join this quirky trolley tour through historical locations, where you'll hear hilarious anecdotes from your expert tour guide. This all-new comedy tour is a perfect blend of humor and history, providing an entertaining and educational experience for guests of all ages.
Whether you're a history buff or a family just looking for a good laugh, this tour is the perfect way to discover the sights of Savannah in a unique and memorable way. Don't miss out on this family-friendly adventure!
Get more info
14. Go dolphin watching with Tybee Island Tour
Are you looking to visit Tybee Island from Savannah but don't have your own car? Then this 6-hour guided tour is the perfect solution!
This tour provides comfortable private transportation, eliminating the hassle of dealing with parking at Savannah's most popular nearby beach. Upon arrival, you'll have the opportunity to enjoy free time and a dolphin-watching cruise for an unforgettable experience.
As Savannah's most popular nearby beach, Tybee Island makes for a great day trip. You'll have plenty of time to relax in the sun, surf, and sunbathe. And with the dolphin-watching cruise, you'll have the chance to see some of the area's wildlife and landmarks. Be sure to take a picture of Tybee Island Lighthouse.
In addition to providing transportation and the dolphin-watching cruise, the tour includes pickup and drop-off from downtown Savannah. So don't let the lack of a car hold you back from experiencing Tybee Island.
Check Rates
FAQs about best tours in Savannah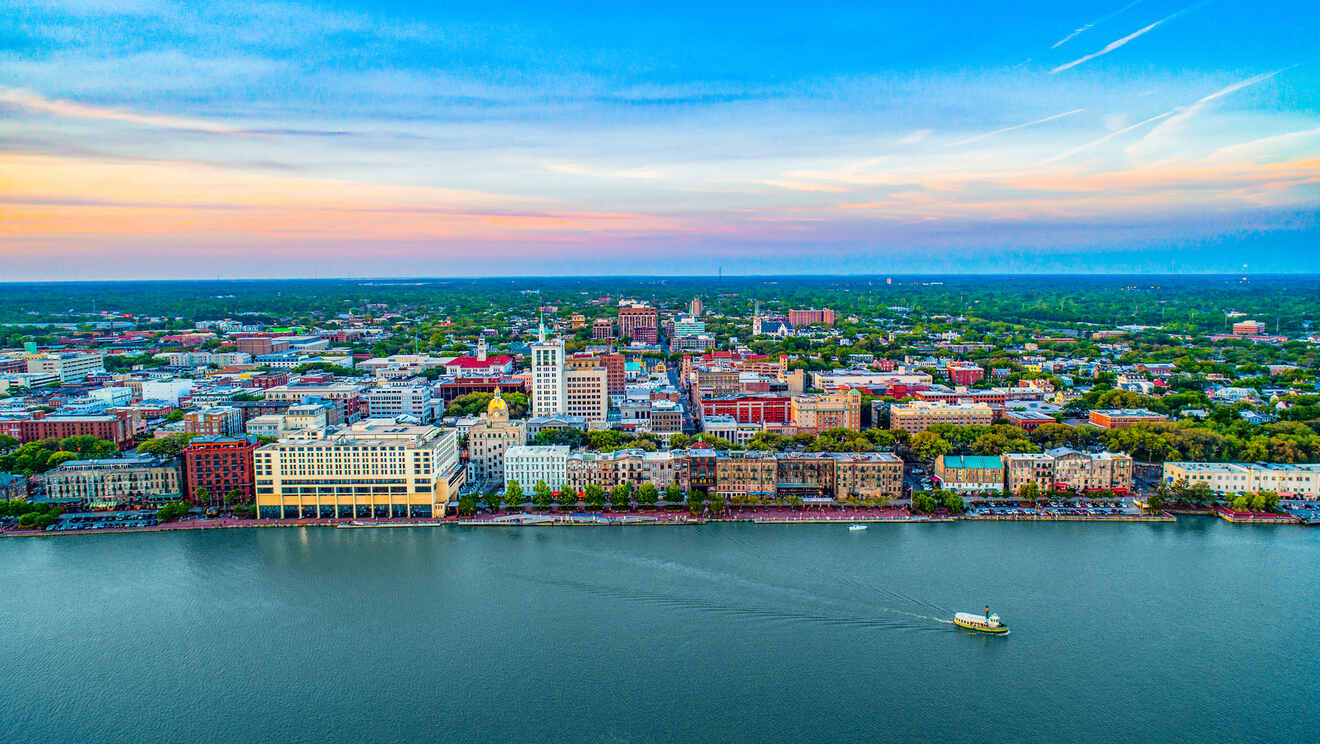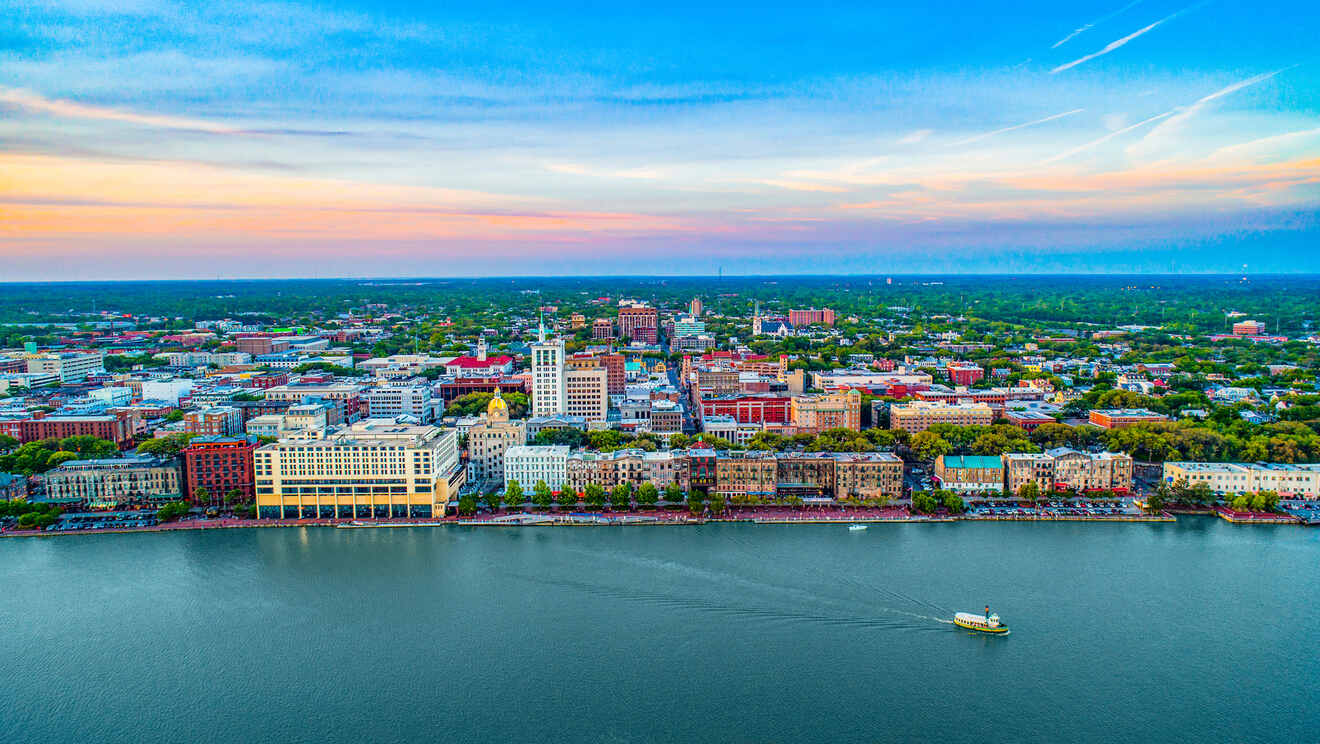 📅 How many days do you need to see Savannah?
🚶‍♀️ What is the best way to get around Savannah?
Walking tours are a popular and enjoyable way to get around Savannah's historic district, but there are also trolley tours and bike tours available.
🌲 What is the best time of year to visit Savannah?
The best time to visit Savannah is during the spring (March-May) or fall (September-November) when the weather is mild and the crowds are smaller.
🍲 What are some must-try foods in Savannah?
Some must-try foods in Savannah include shrimp and grits, fried chicken, she-crab soup, and pecan pie. You can try them on a cruise dinner tour or during a food tour.
Conclusion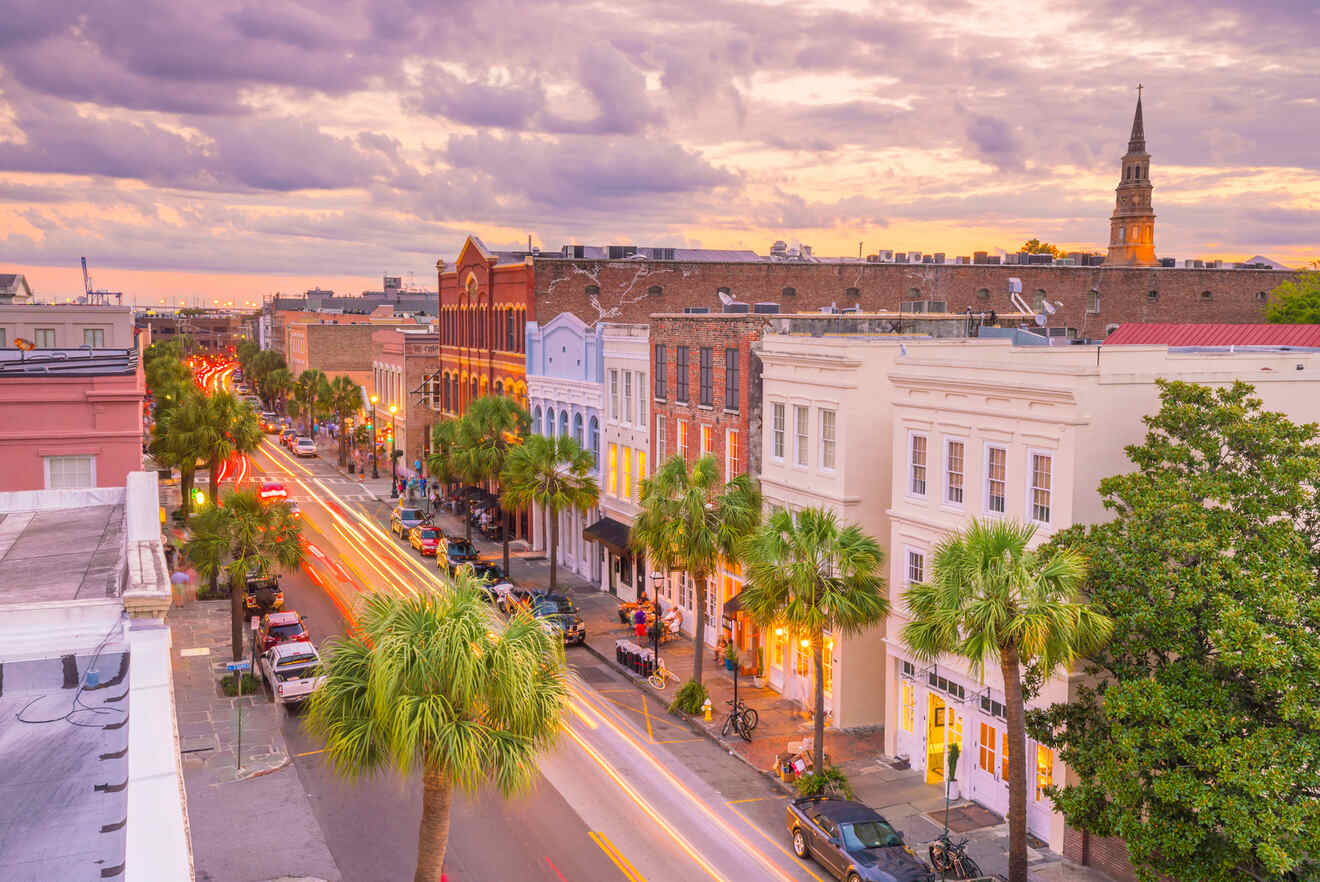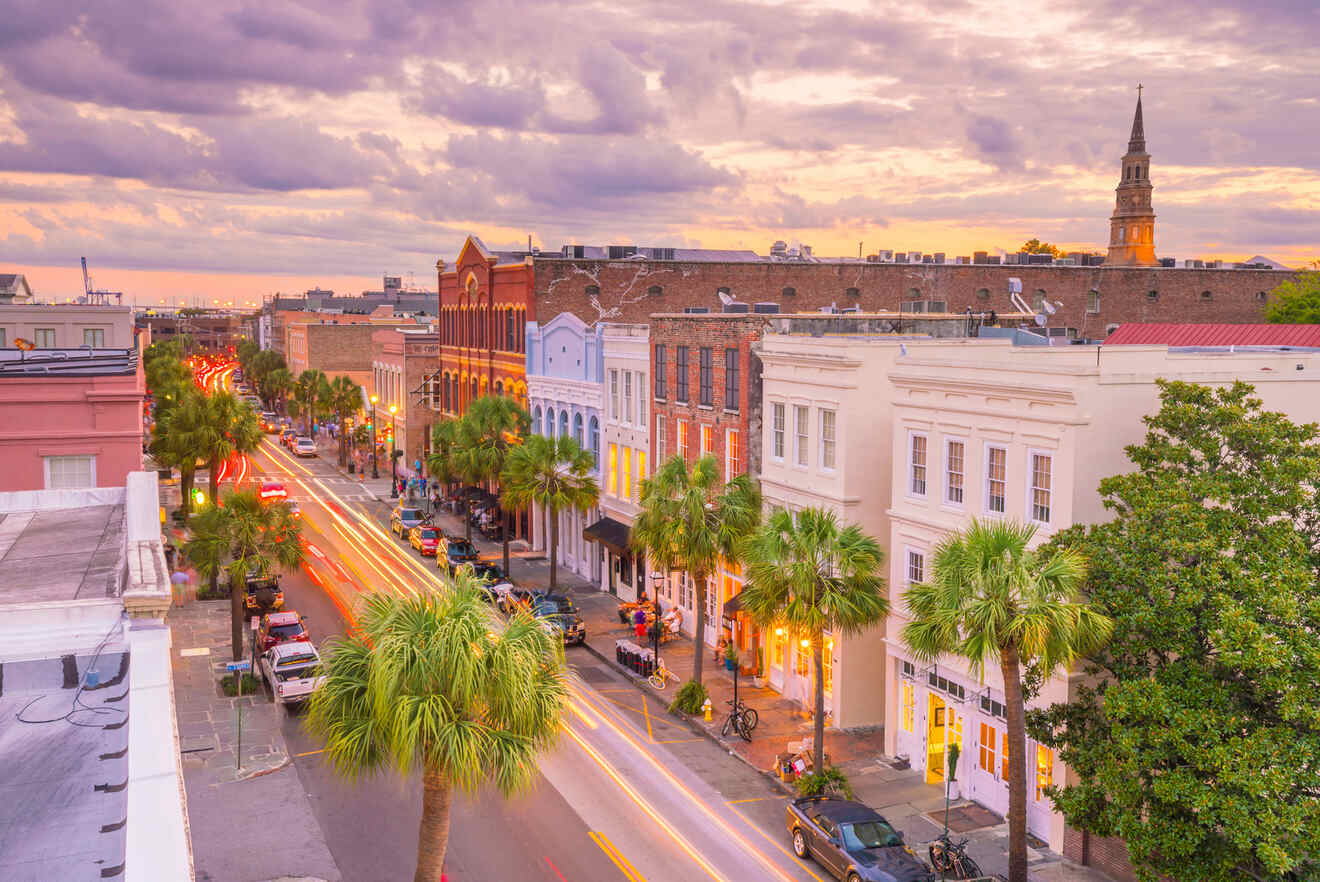 I hope you've enjoyed this roundup of the best tours in Savannah!
Whether you're a first-time visitor or a seasoned traveler, these tours are sure to leave you with unforgettable memories of this historic city.
No matter if you prefer cemetery tours, hop-off tours, old-town trolley tours, or a spooky night tour, Savannah is full of hidden gems just waiting to be discovered. And don't forget to book in advance! With so much demand for these tours, spots can fill up quickly.
Have you been on any of these tours before? Or do you have another favorite tour in Savannah that I didn't mention? Let me know in the comments below!
Happy traveling, my spooky lovers,
Angelina
---
Pin it for later!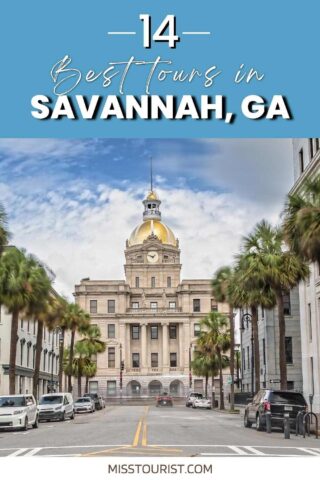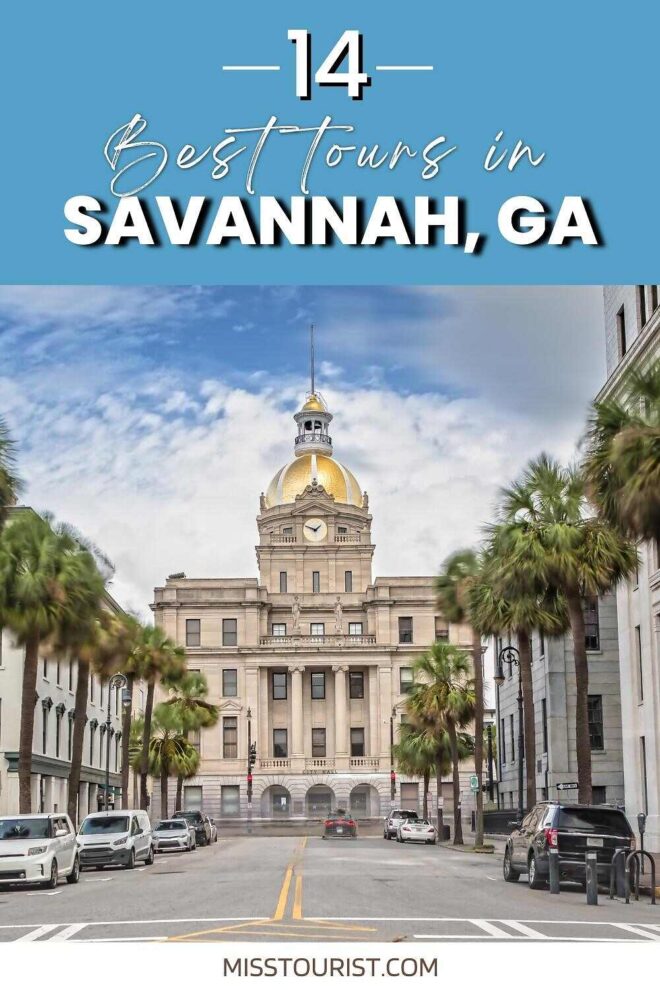 Pin it for later!