Good day to you lords and ladies! Are you ready to visit one of the most fabulous palaces in the UK which monarchs like Queen Victoria and the late Queen Elizabeth II called their home?
I'm a bit of a royal history geek so I did my best to gather all the information you need before buying your Buckingham Palace tickets. I've combined all the knowledge I have on London (a city that I was lucky enough to call home for a while) and everything I found searching the web for hours and came up with the ultimate visiting guide!
You'll find tips on where you can find the most convenient tickets, how to get family discounts, plus a whole section with things to know before you visit the King's official London residence.
I'm very excited so I don't want to drag this for too long, but I do want to give you a heads up about the tickets. Since the Palace is only open a few months a year (in the summer and in winter), I recommend buying your tickets well in advance as they will sell out fast.
Okay, we're ready to go!
If you are in a hurry
If you are here just to get your tickets, here are the best links to do so:
| | | | | | |
| --- | --- | --- | --- | --- | --- |
| | Adult Entrance | Kids Entrance  | Family Pass | Cancelation Policy | |
| Official Website | £30 | £17 | < £24 discount | No Refund  | Book tickets |
| GetYourGuide | £30 | £17 | – | >24h free cancellation | Book tickets |
| Viator | £68 (tour) | £63 | – | >24h free cancellation | Book tickets |
| Tiqets | £30 | £17 | – | >24h free cancellation | Book tickets |
Why buy in advance?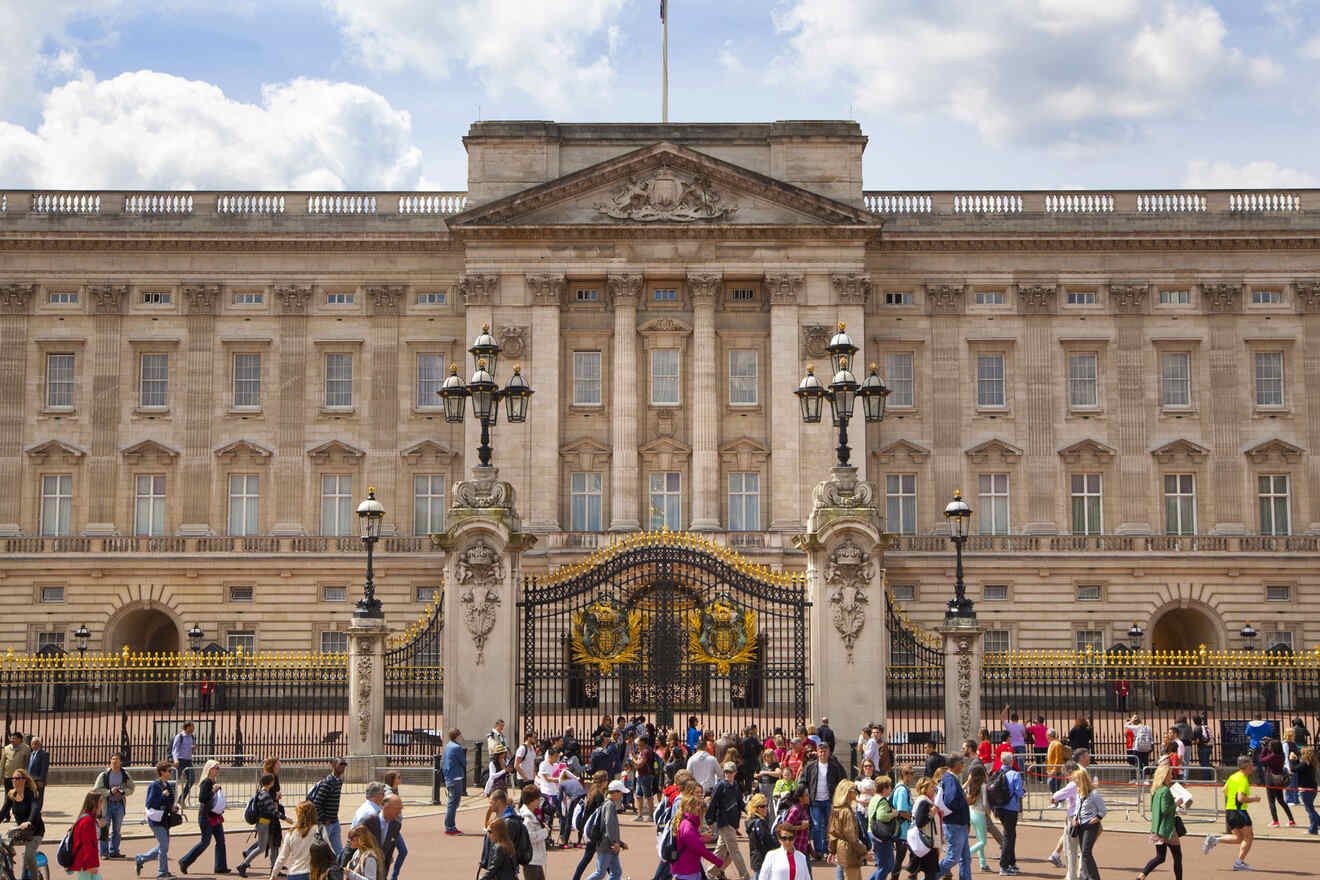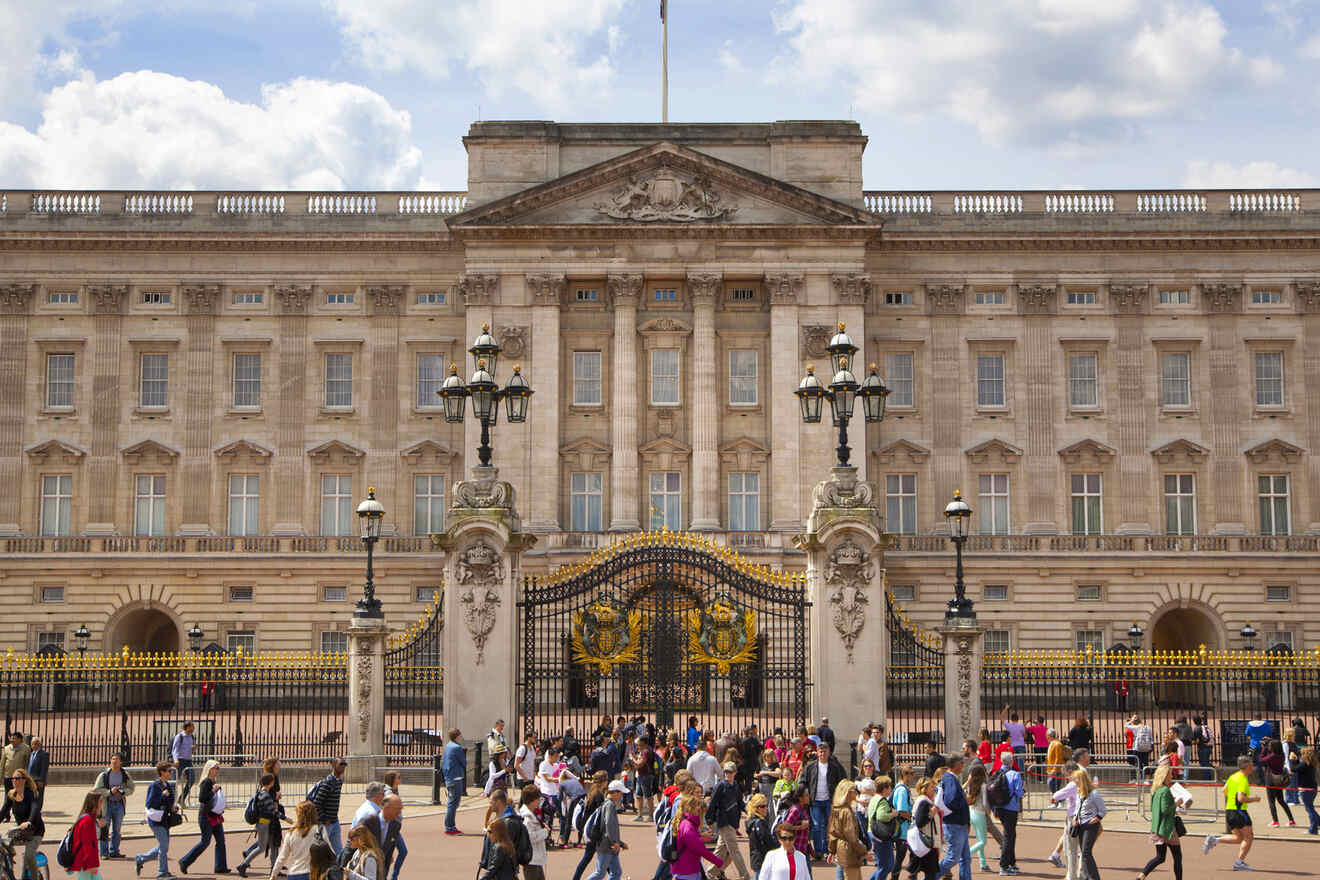 If you'd like to pay less for your Buckingham Palace entrance ticket and make sure you don't waste time heading all the way to the royal London residence just to find out that all the tickets are sold out, then I recommend booking in advance!
As you'll find me mentioning a lot throughout the text, the palace is only open for the public during the summer months (July to September) and only for tours in winter (November to February). That means that during those times, especially in summer, everyone will go there. So the tickets will sell out immediately.
If you want to secure your spot I think it's wise to book a month in advance. That way you can rest assured that come rain or shine you'll get inside one of the most famous palaces in the world where all the great monarchs of this country lived!
Get your tickets to Buckingham Palace
1. Different types of Buckingham Palace tickets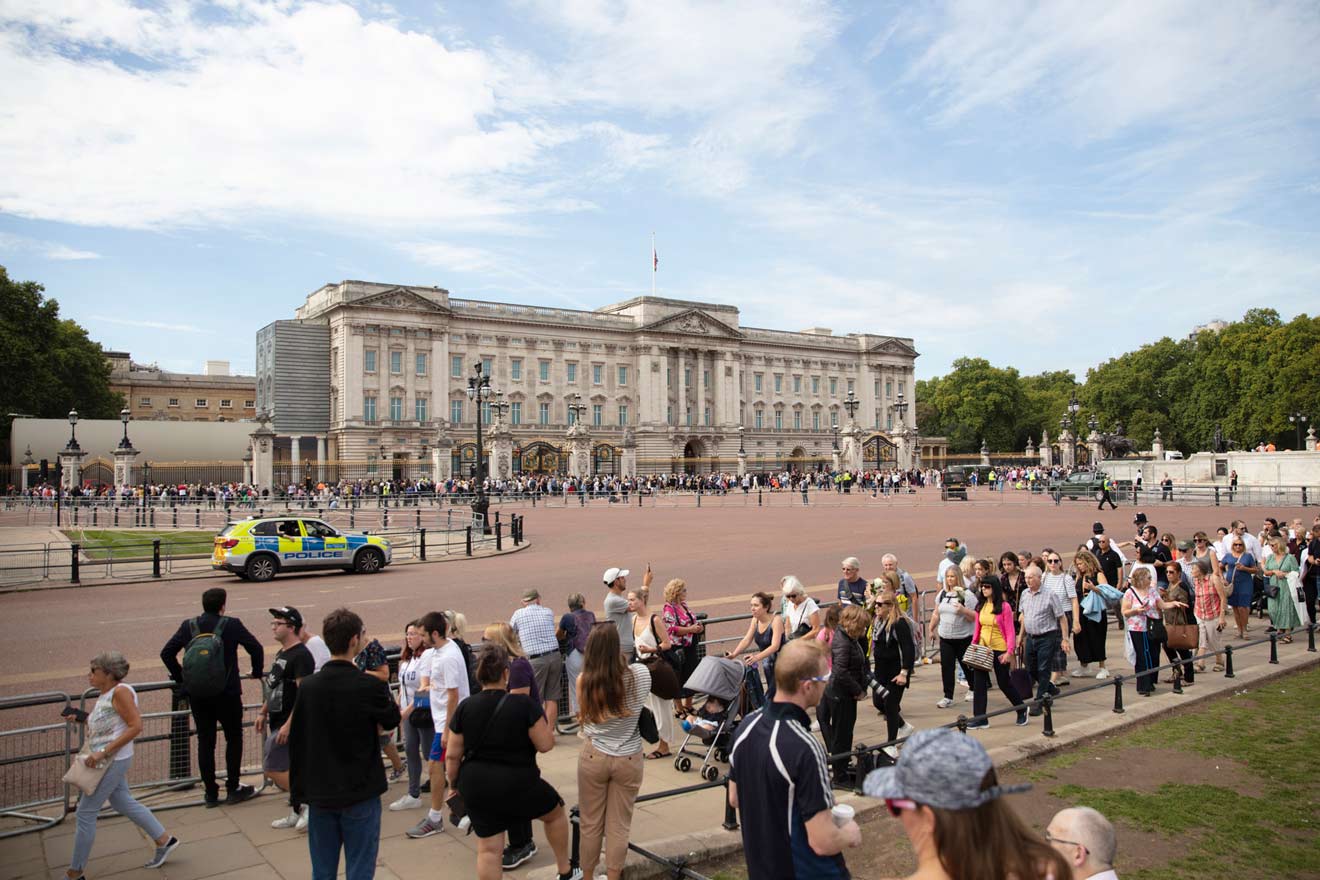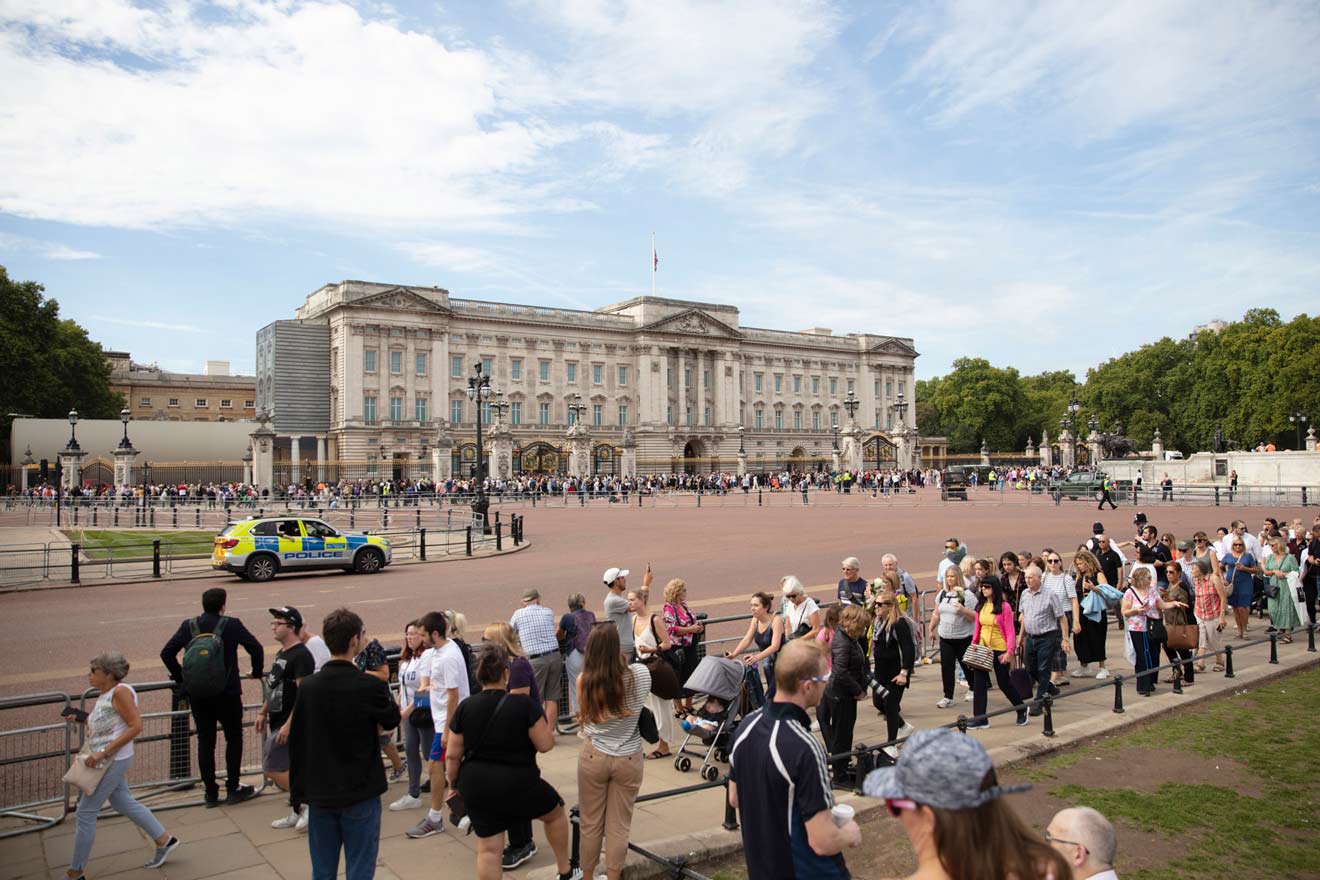 Before we get into all the details and I start talking about all the tickets that you can get when visiting Buckingham Palace, there's something important that all tourists who want to visit the palace should know.
Technically Buckingham Palace (which is a fully working royal palace, housing not only the King, but serving as the administrative headquarters of the Royal Household), is only officially open for all tourists during the summer when the monarch takes time off. The dates differ from year to year but usually you can book your visit from the beginning of July until the end of September.
Fun Fact: Queen Victoria was the first English royal to live at Buckingham Palace!
However, the palace also offers some guided tours usually from November until February, when the Palace isn't open to the public. But these ones are a bit more expensive and usually sell out months in advance so I'd recommend grabbing yours early!
PRO TIP: If you're living in London or you're planning to visit the city again within a year, you can ask one of the Wardens at the palace to stamp your ticket. This will convert it into a 1-Year Pass so you can enjoy free entry to Buckingham Palace for a year! For that you'll have to print out your tickets so they can stamp it for you!
Alright, let's check out the different ticket types…
Buckingham Palace tickets (Summer)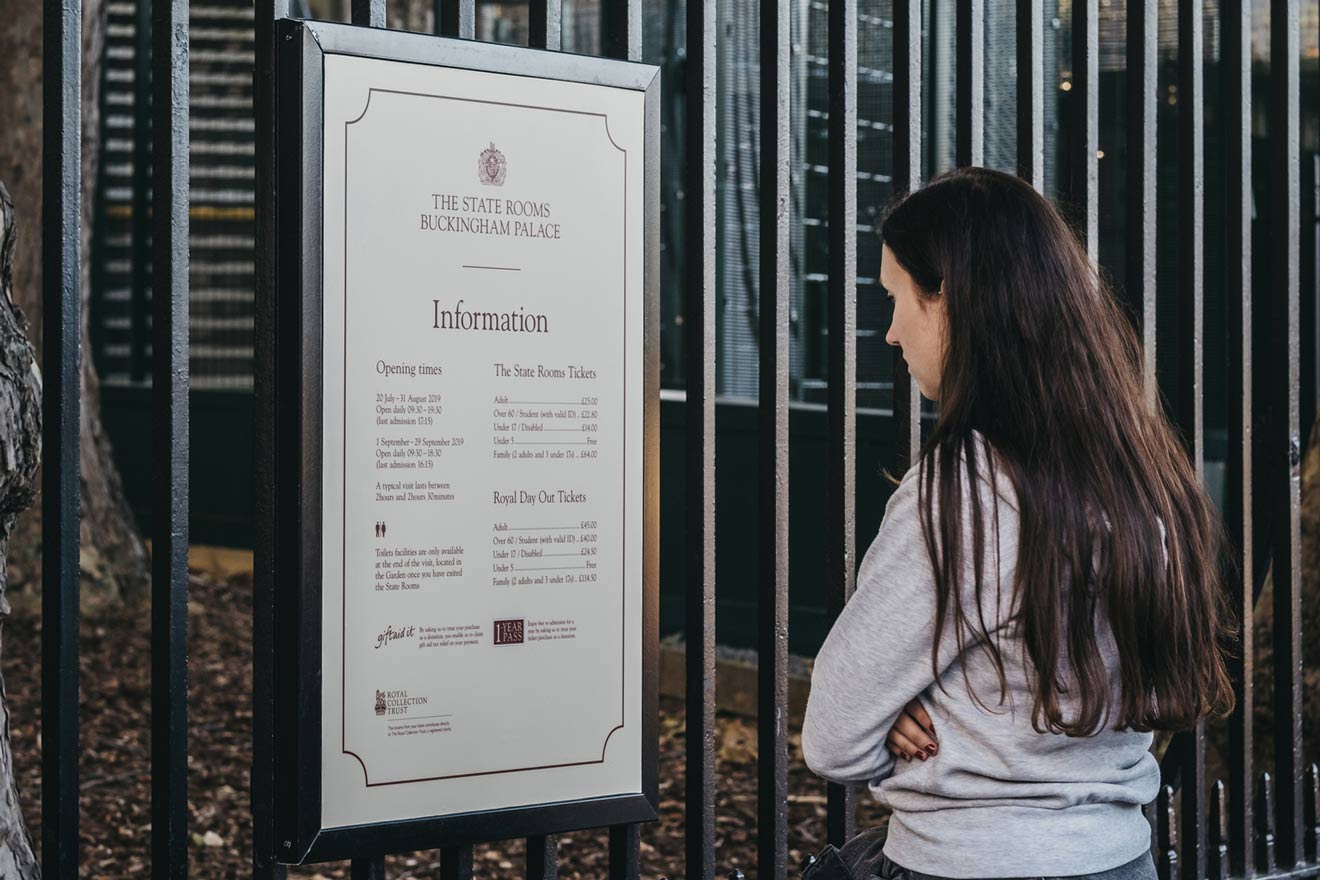 As I mentioned earlier, the official season when Buckingham Palace is open to the public is during summer (from the beginning of July until the end of September).
These entry tickets offer entrance to the State Rooms, which are basically the public rooms of the palace where the monarchs receive, reward, and welcome subjects and visiting dignitaries, plus a multimedia guide.
Fun Fact: In one of the State Rooms (the White Drawing Rooms) there's a hidden door to the Royal Family's private apartments! Let me know if you can spot it!
I recommend you buy these tickets from GetYourGuide, as they are the same price and offer the same things as the tickets that you'd find on the official website, but a much better cancellation policy! If you get your tickets through GetYourGuide you can cancel up to 24h before the entry time printed on your tickets and still get every penny back!
On the other hand, the official website offers no refund if you cancel.
If you've decided and these are the right tickets for you, then you'll have to pick a time-slot. Here things are a bit different on each website. Naturally, the official website offers more time-slots which start at 9 AM and run every 15 minutes until 5:45 PM, whilst GetYourGuide has only 5 time-slots (10:15 AM, 3:15 PM, 3:45 PM, 4 PM, 5 PM).
Depending on which one you pick, that's the designated time to be at the palace entry ready to present your ticket, so make sure you're not late because otherwise you won't be allowed to enter, no matter which ticket you buy. They recommend that you arrive 30 mins before your designated time.
Price: Adults £30, Youth £20, Children £17
Buy Buckingham Palace tickets
P.S.: If these tickets are sold out you can also look on Tiqets.
Family tickets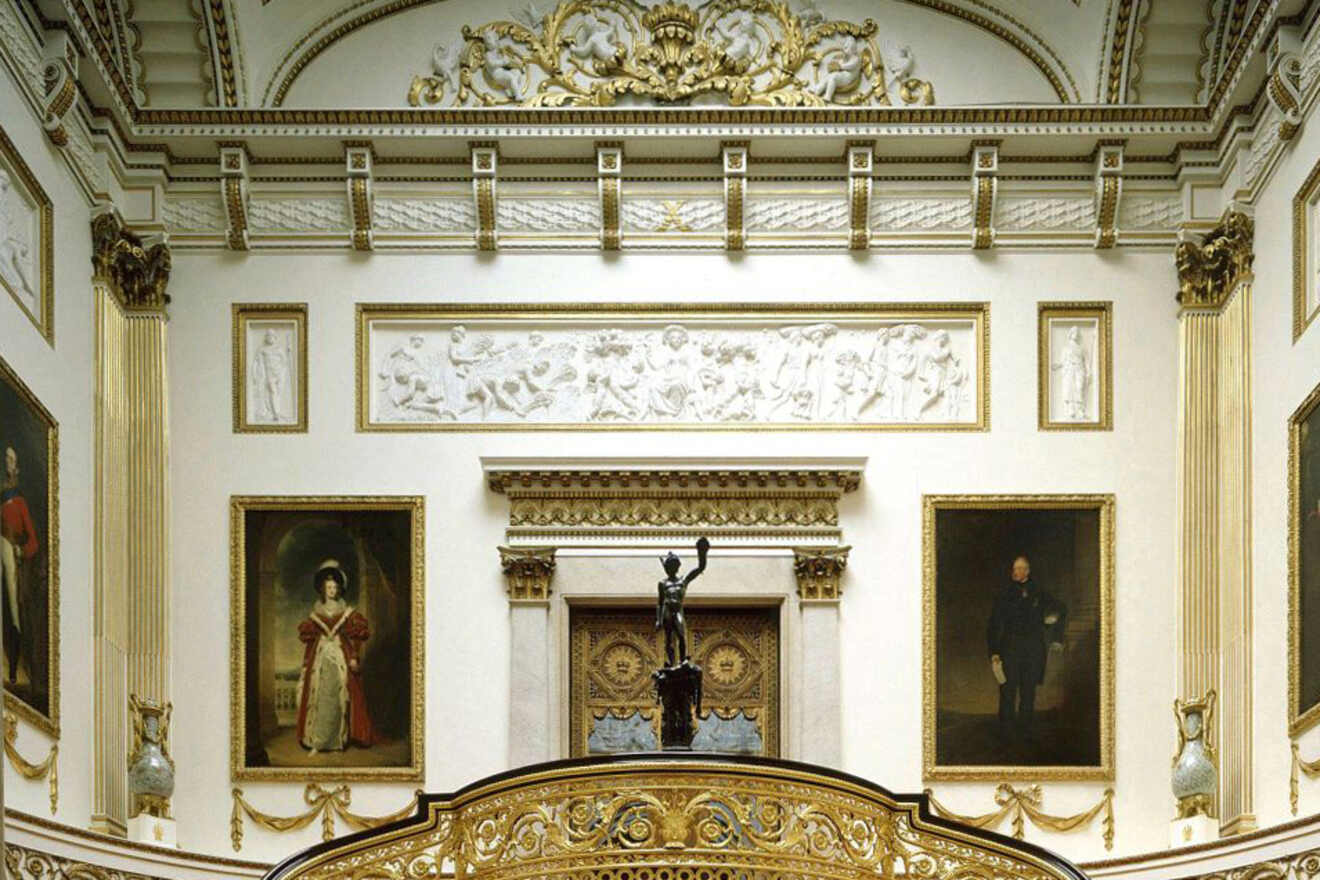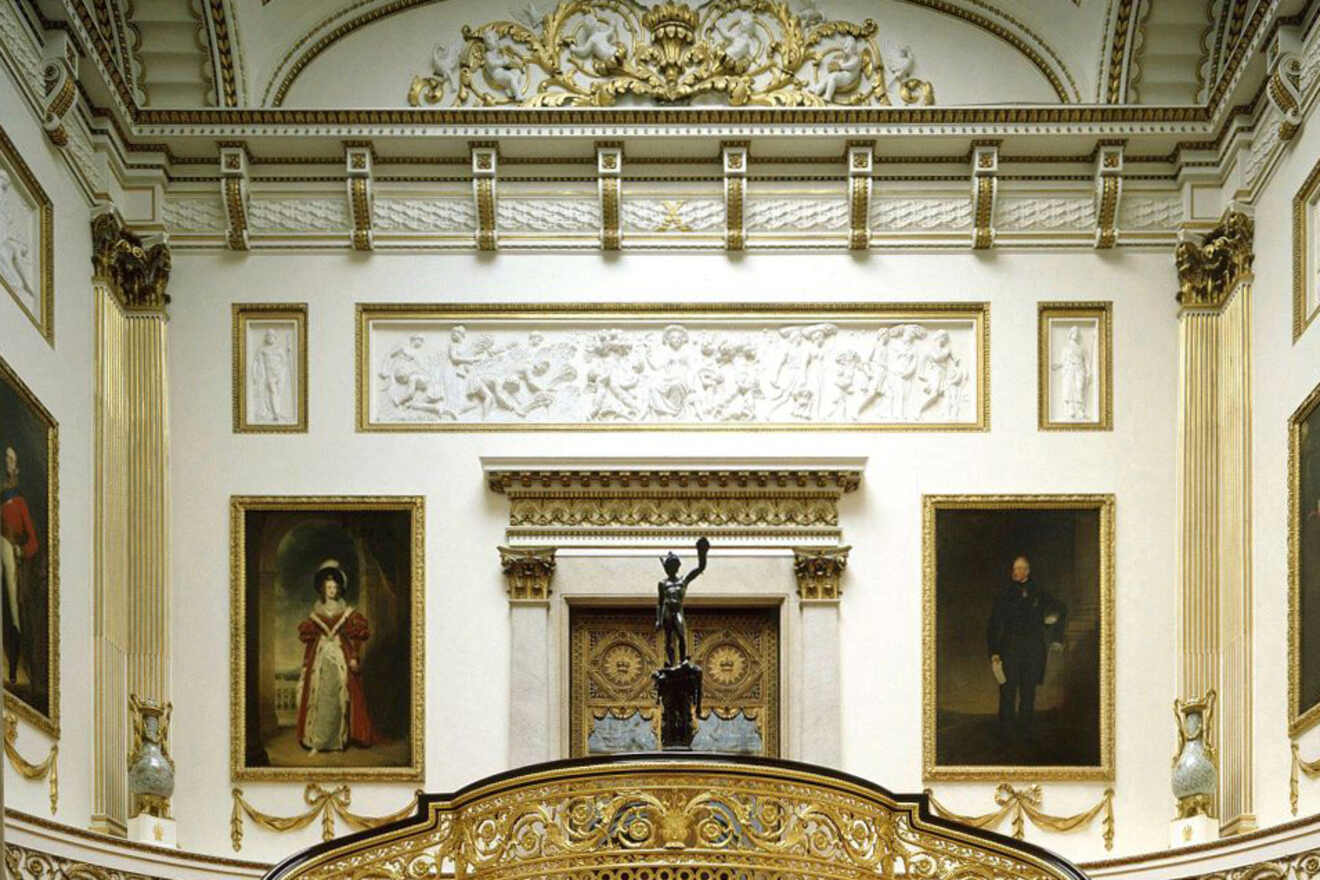 If you're planning to visit with the whole family then know that if you get your tickets from the official website you can get a pretty big discount!
Fun Fact: It's not only the members of the Royal Family who live in the Palace. Around 800 staff members call Buckingham their home!
As you'll notice, there isn't a specific family ticket. However, if you're buying the tickets for your family and you select either 1 adult + 2 kids or 2 adults + 3 kids, then you will see an automatic discount and save up to £24.
NOTE: Usually the discount doesn't apply if you're adding more than 2 adults.
Queen's Gallery ticket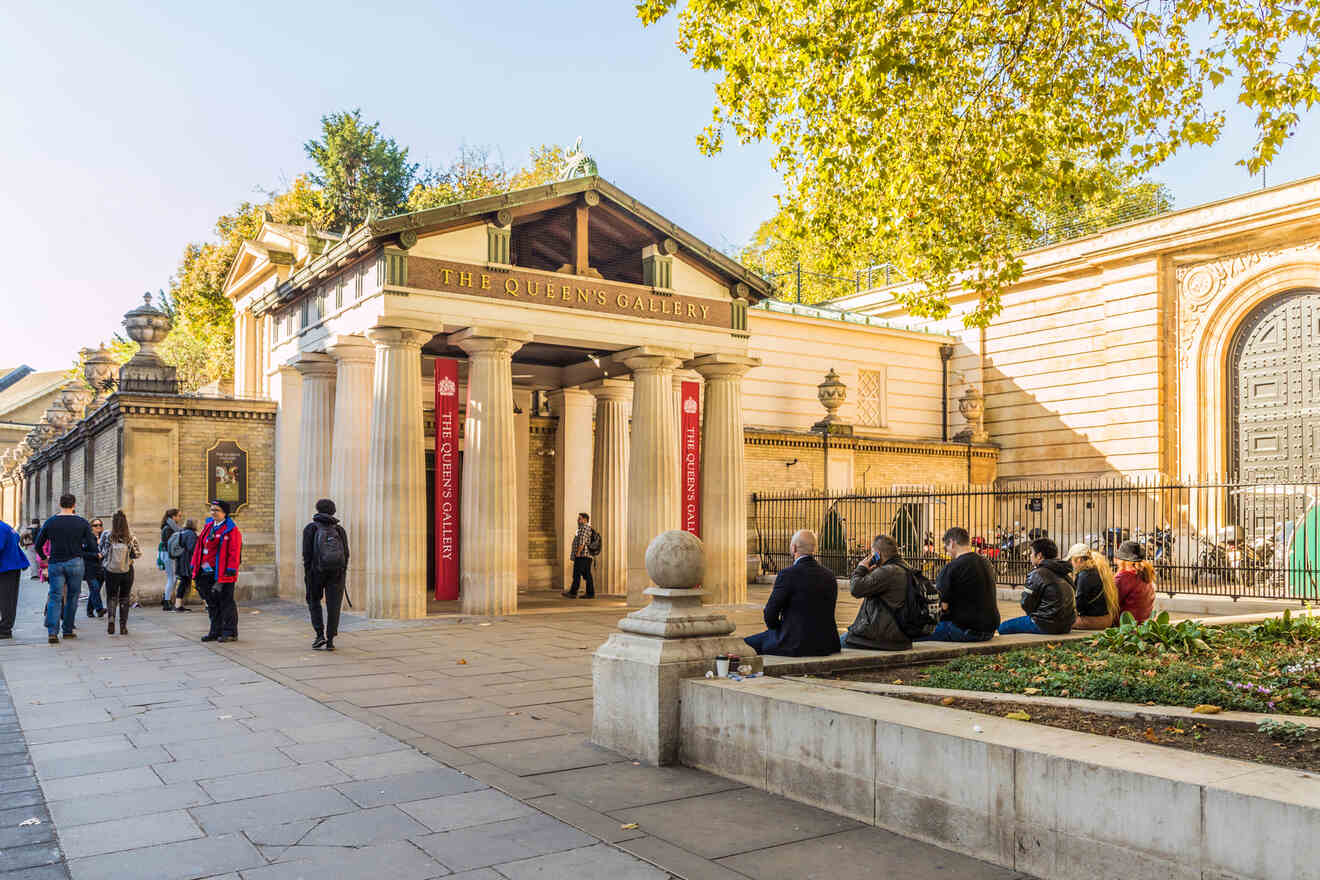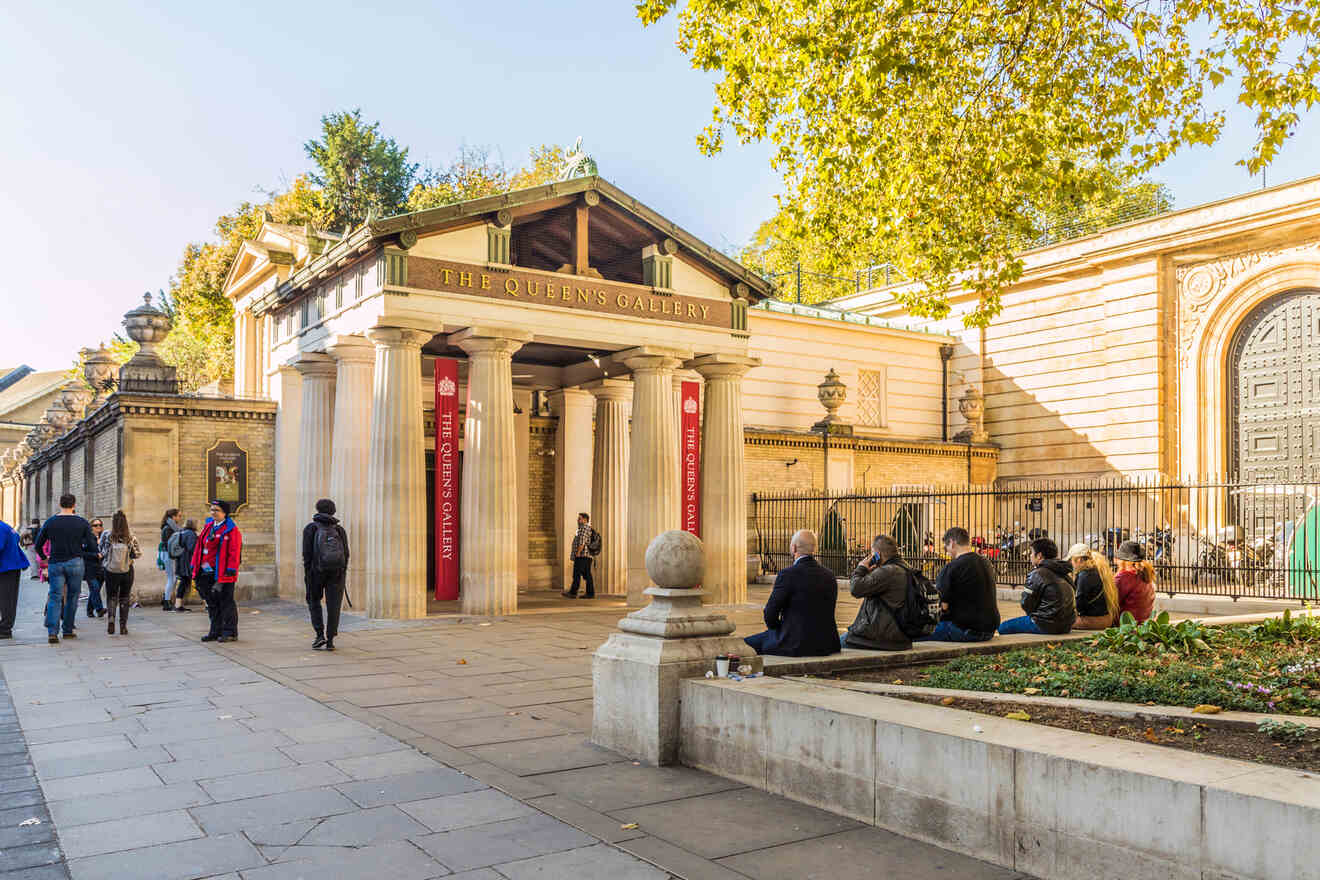 Royal collections are pretty amazing, with works of art from antique furniture, old paintings, and many other unique pieces.
At Buckingham Palace you can see the official royal collection at the Queen's Gallery where they hold different exhibitions but you will need a different ticket to the regular Buckingham Palace ticket.
NOTE: Although the Gallery is open throughout the year from 10 AM to 5:30 PM, Thursday to Monday, I would recommend checking the website when you want to visit as they may close it on a short notice for various reasons like when they install new exhibitions.
Price: Adult £17, Youth £11, Child £9
The State Rooms & Garden Highlights group tour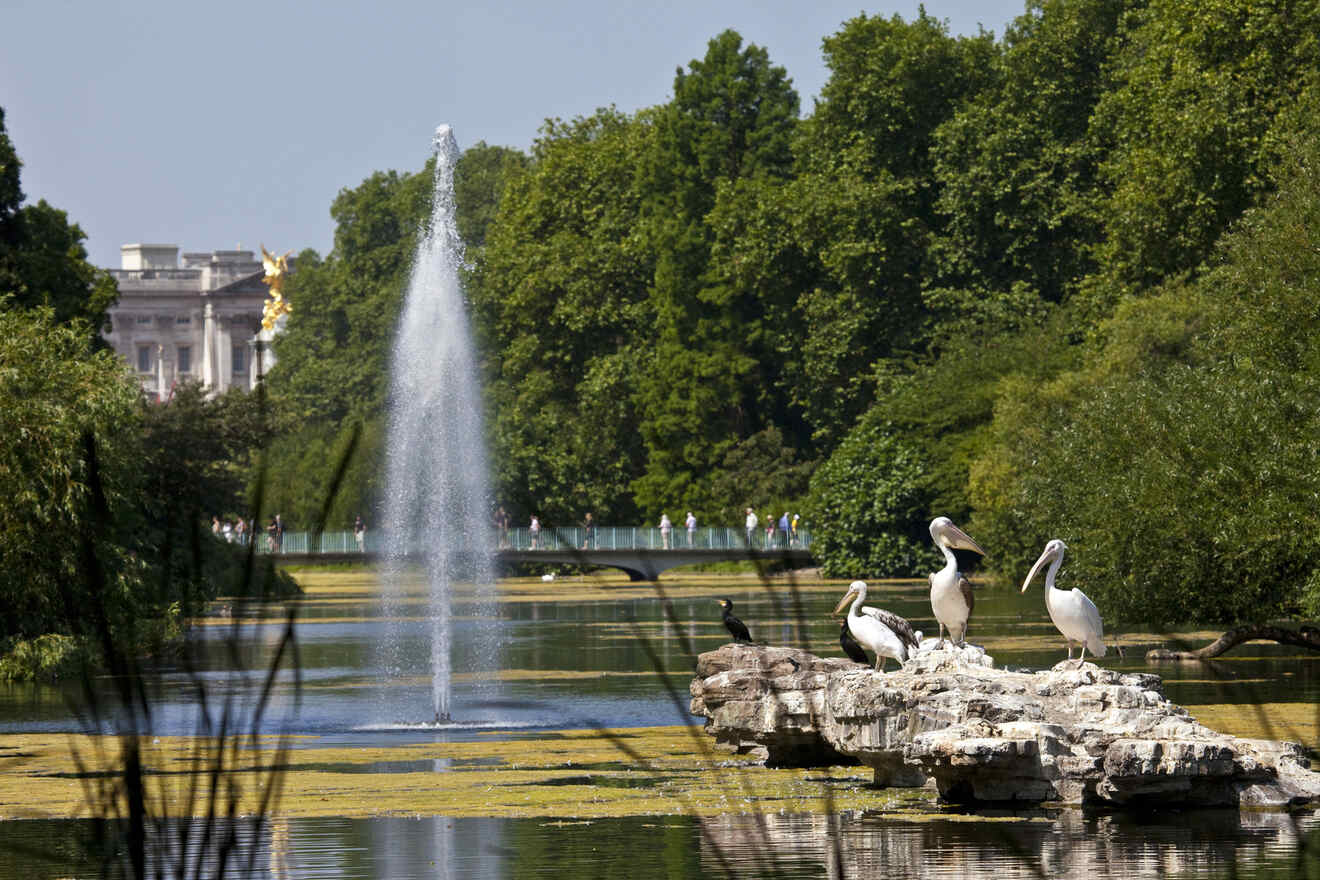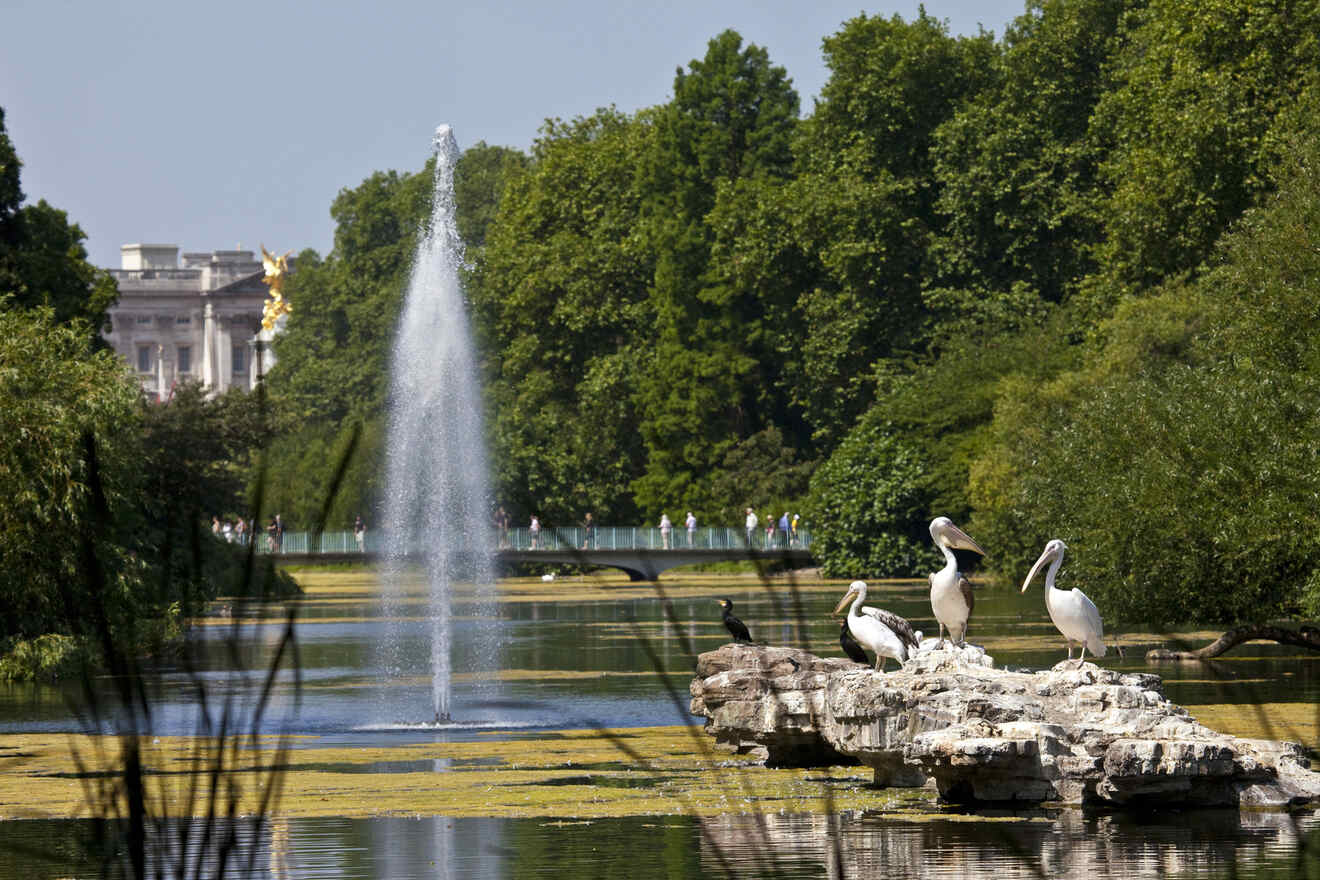 Planning to visit Buckingham Palace with a group over the summer? Well, if you're coming with at least 20 people (and no more than 26) you can book this awesome tour which will take you around the State Rooms and through the Palace Garden.
Fun Fact: During World War I, the Palace remained unharmed. However, during World War II it was bombed on several occasions, destroying the palace chapel in 1940.
You'll get to explore the State Rooms on your own accompanied by just your multimedia guide, but as you wander around the Palace Garden, an official tour guide will take you to all the amazing spots and tell you all the fascinating stories about each.
NOTE: These tours run in the summertime, all week except Tuesday and Wednesday from 10:45 AM to 13:15 PM. The entry time is only for the State Rooms where you'll spend 2h and 15 mins, after which you'll start your garden tour that will last 45 mins.
The Royal Mews tickets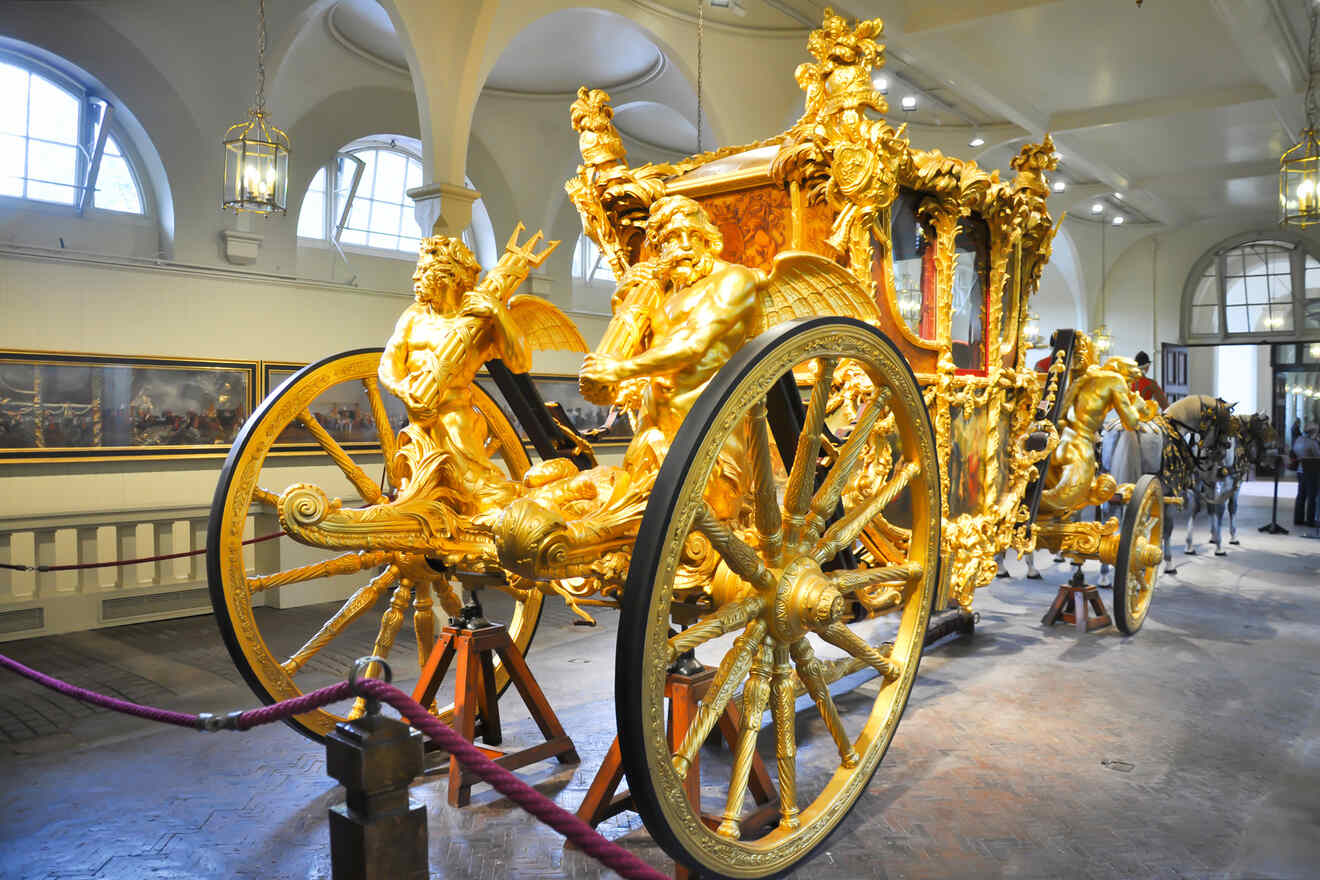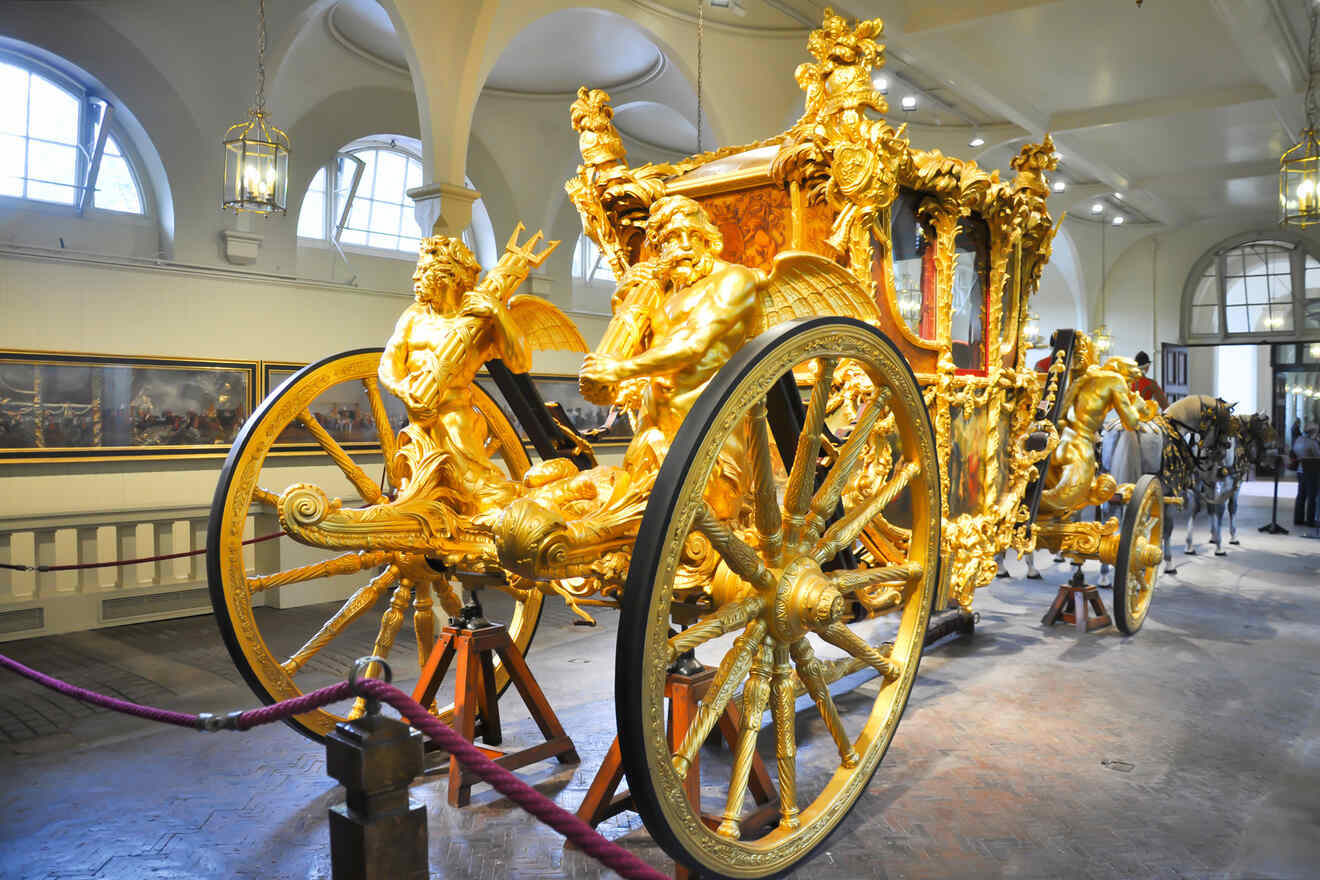 Remember those fancy carriages and the pretty horses during the official ceremonies? Well, now you can see them while visiting the Royal Mews at Buckingham Palace!
The Royal Mews are responsible for all the road travel arrangements for the King and members of the Royal Family, and during your time here you can see how everything works at these famous stables in London!
The best place to buy your tickets for the Royal Mews is from Headout, as they cost the same as the official website but again, their cancellation policy is much better for you. Headout tickets can be canceled up to 24h before your visit and get a full refund!
NOTE: Just like most sites on the Buckingham Palace grounds, the Royal Mews are open seasonally, usually from March until October, but I recommend double checking as this may change, and also check for short notice closures as that's possible.
Price: Adults £17, Youth £9, Child £8
Get tickets for the Royal Mews
Royal Day Out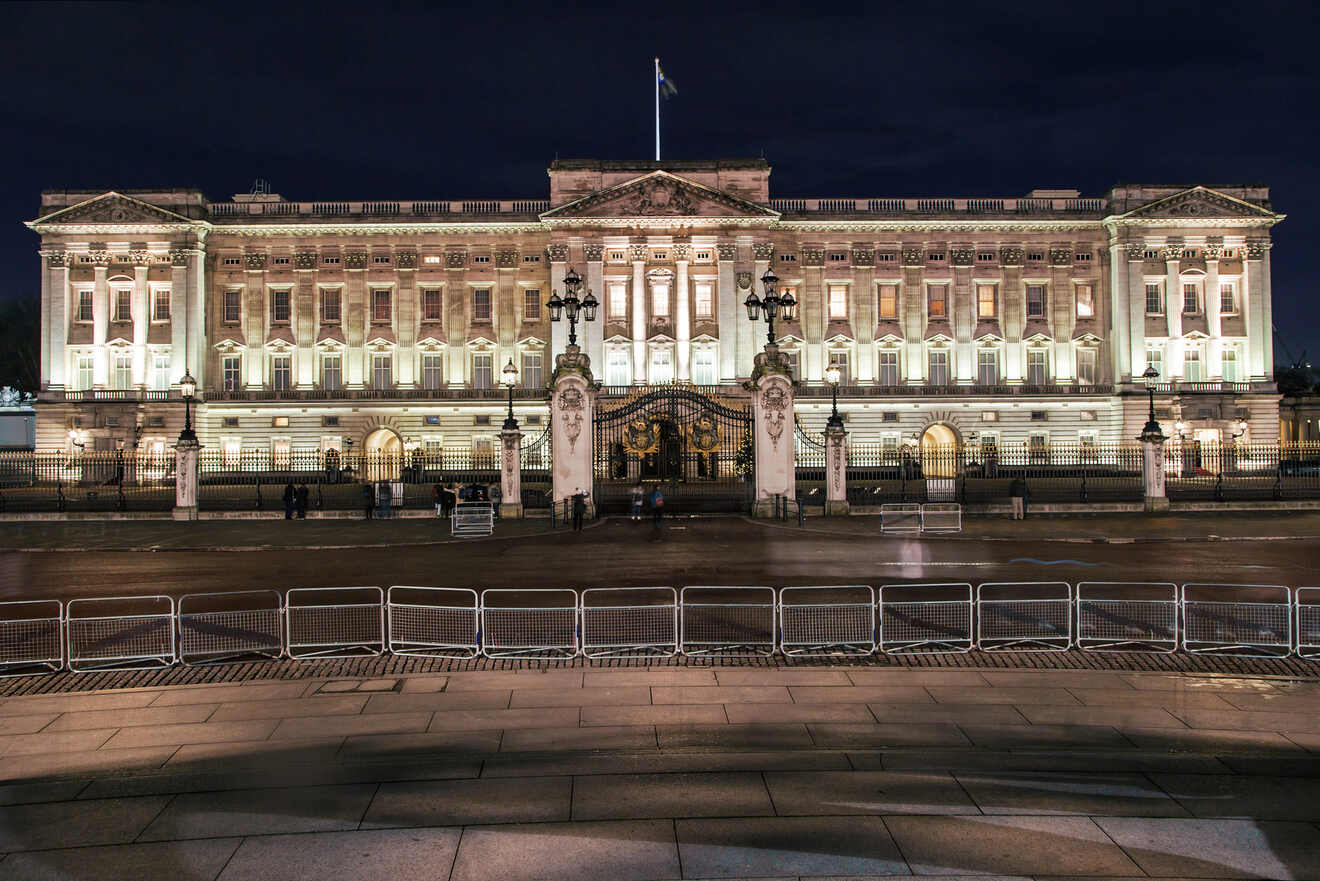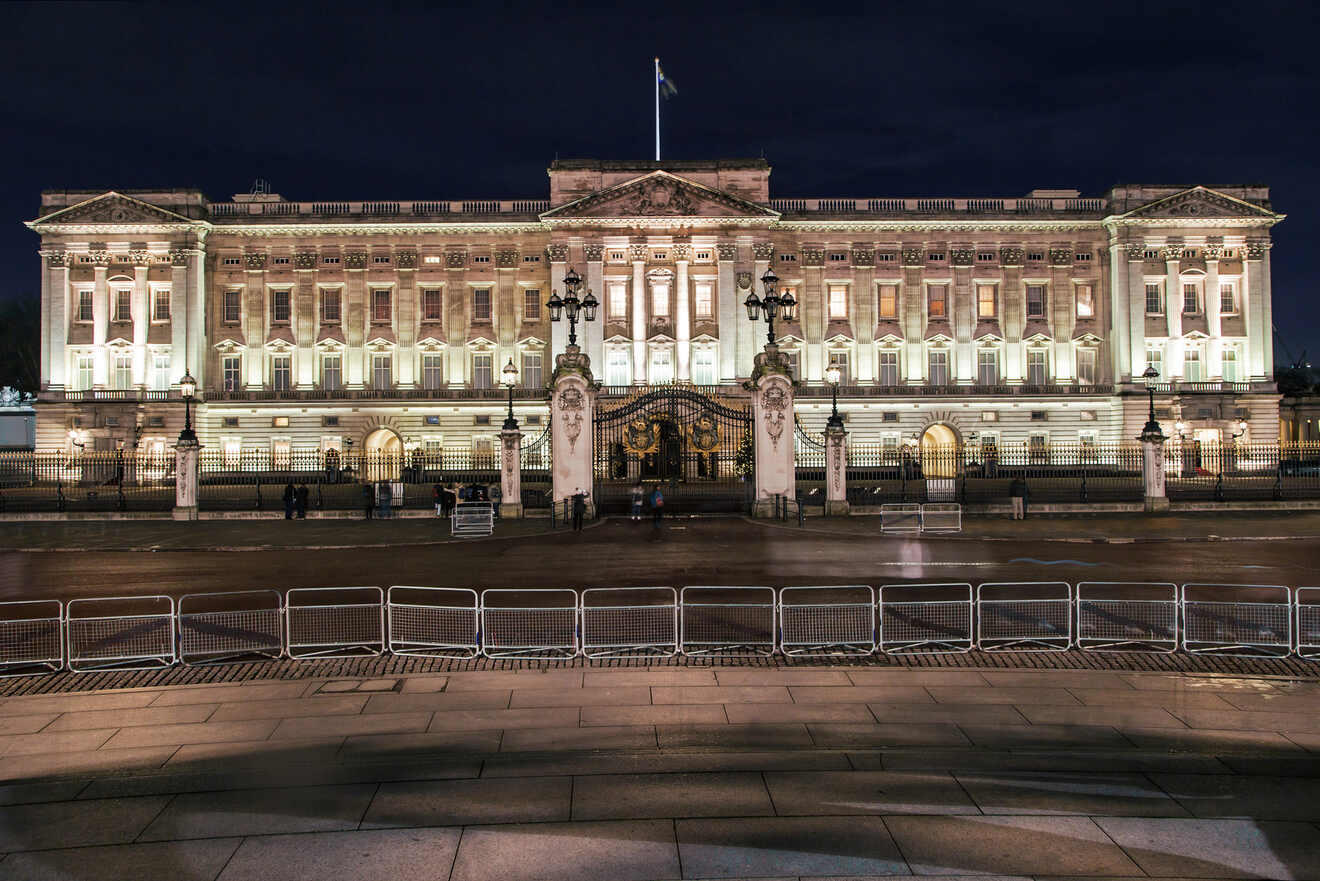 If you're keen on visiting all the sites at Buckingham Palace that are open for the public, then I think this ticket is for you!
With this ticket, which you can buy from the official website, you'll get to see the Queen's Gallery, the Royal Mews, and of course the State Rooms at Buckingham Palace.
NOTE: The Royal Day Out ticket is available every day of the week except Tuesday and Wednesday during summertime (July to September).
The Buckingham Palace tour will last around 4.5h and it will start at the Queen's Gallery, followed by the Royal Mews, and last but not least the State Rooms.
Price: Adults £56, Youth £37, Child £31
2. Add-ons for Buckingham Palace tickets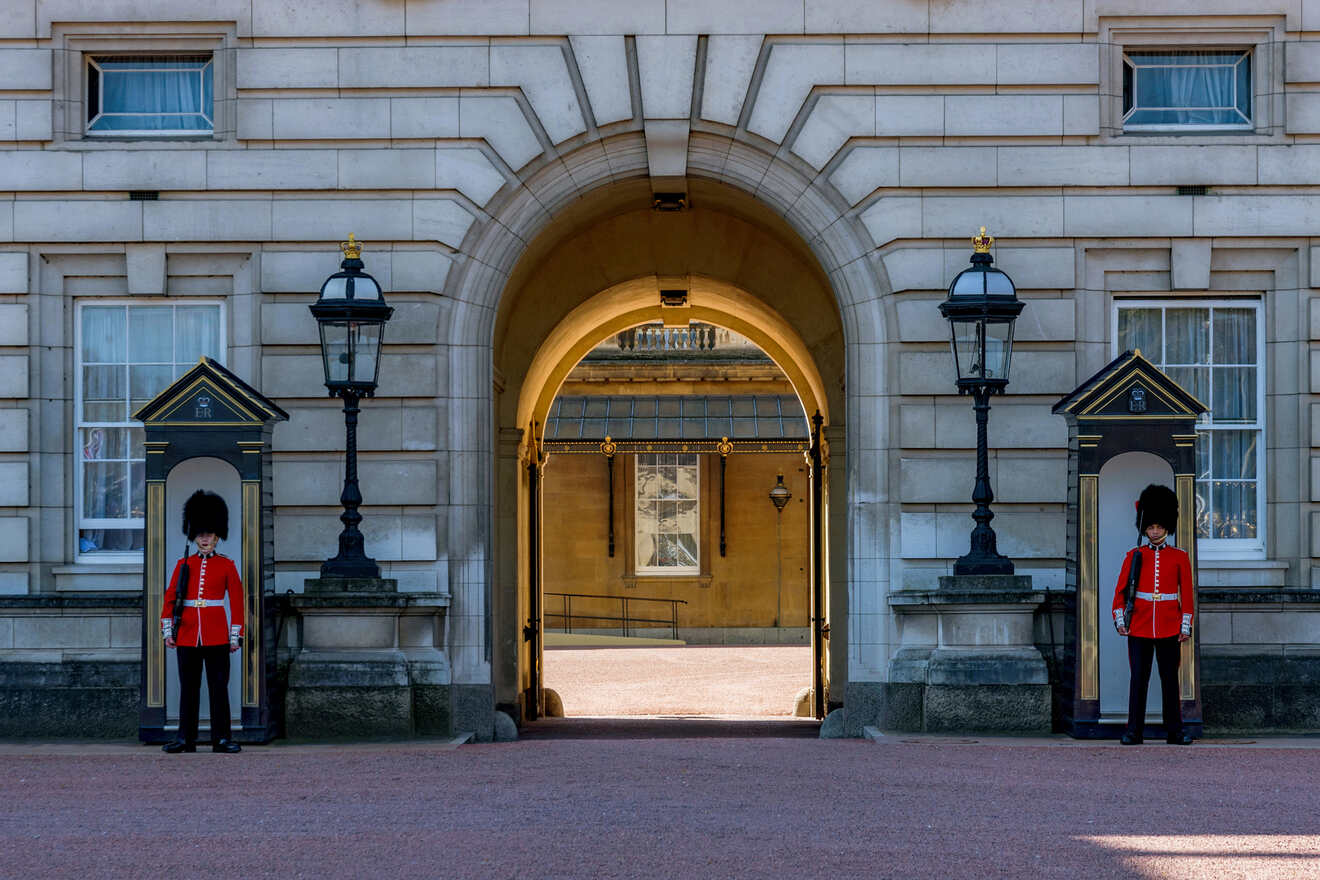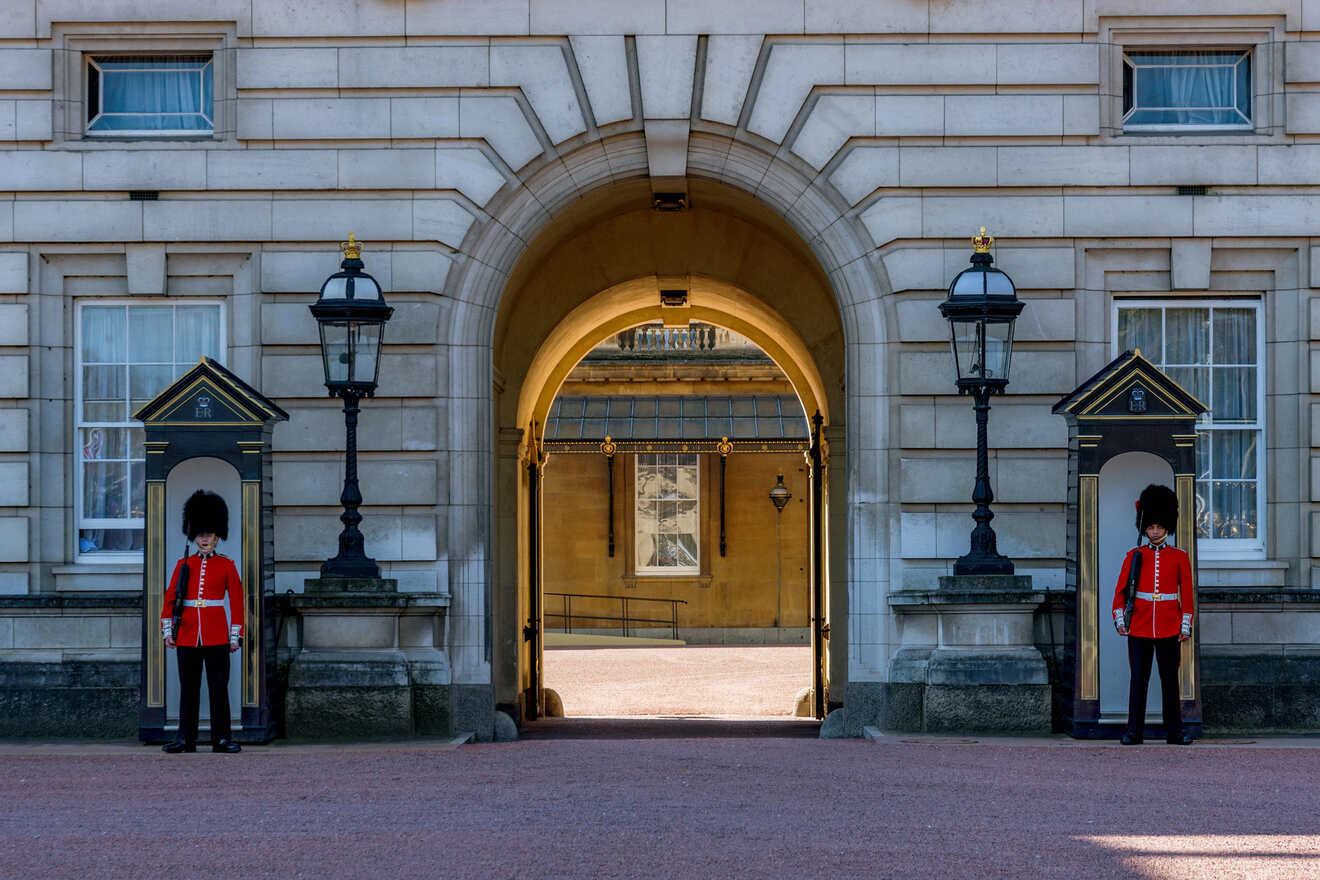 If you end up buying your tickets from the official website then know that you can find some cool add-ons which you'll get when visiting the palace and can keep as souvenirs. You can add them right after picking the date and time.
Let's check them out:
Buckingham Palace: The Official Souvenir Guide
Perfect for those who want to learn interesting facts about the British Monarchy or Buckingham Palace and how it became one of the country's greatest treasures. This cool guide has lots of illustrations showcasing the beautiful interiors of the palace and all the amazing works of art.
The guide is available in English, Chinese, German, Italian, Japanese, Russian and Spanish.
Price: £6
Buckingham Palace: A Royal Garden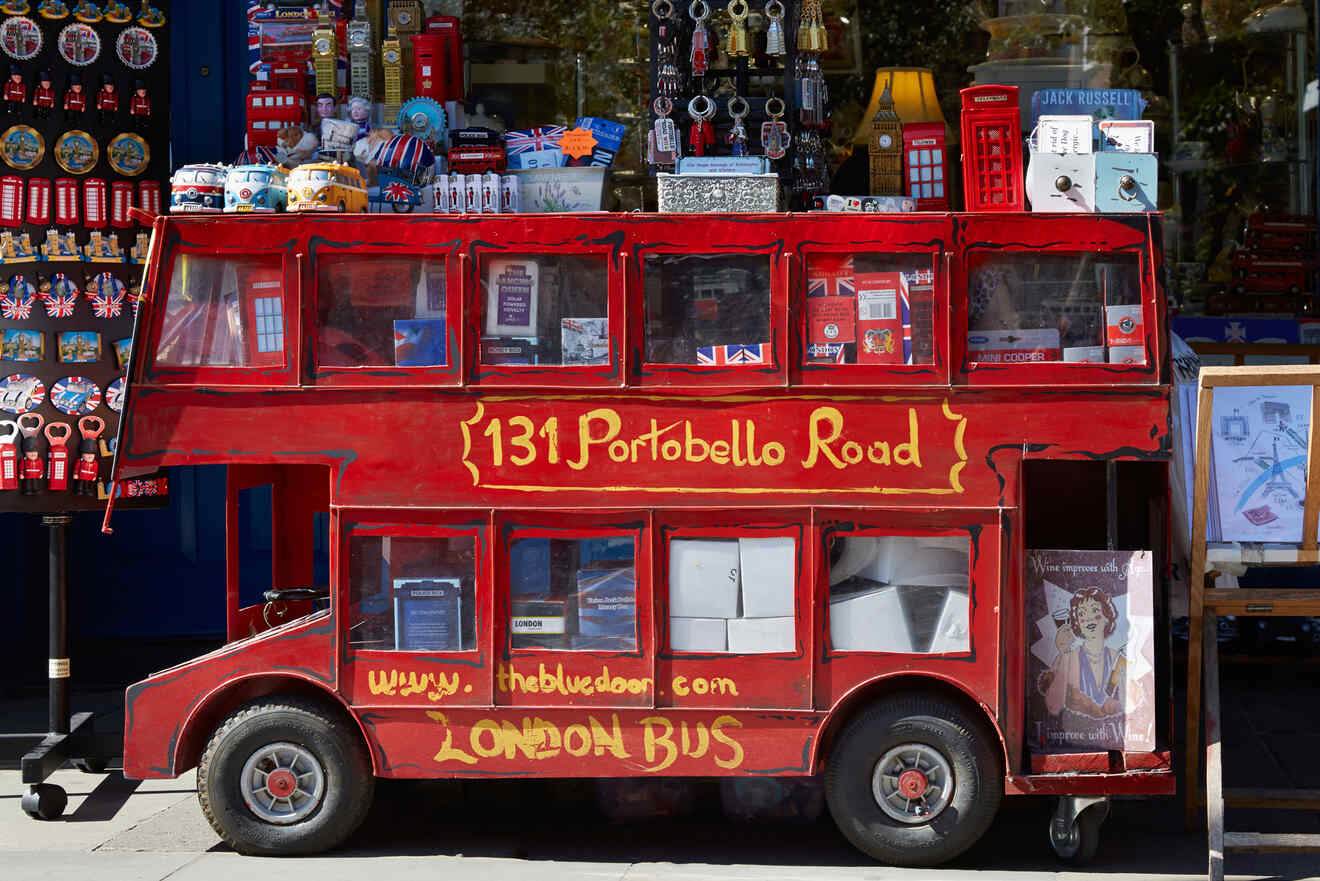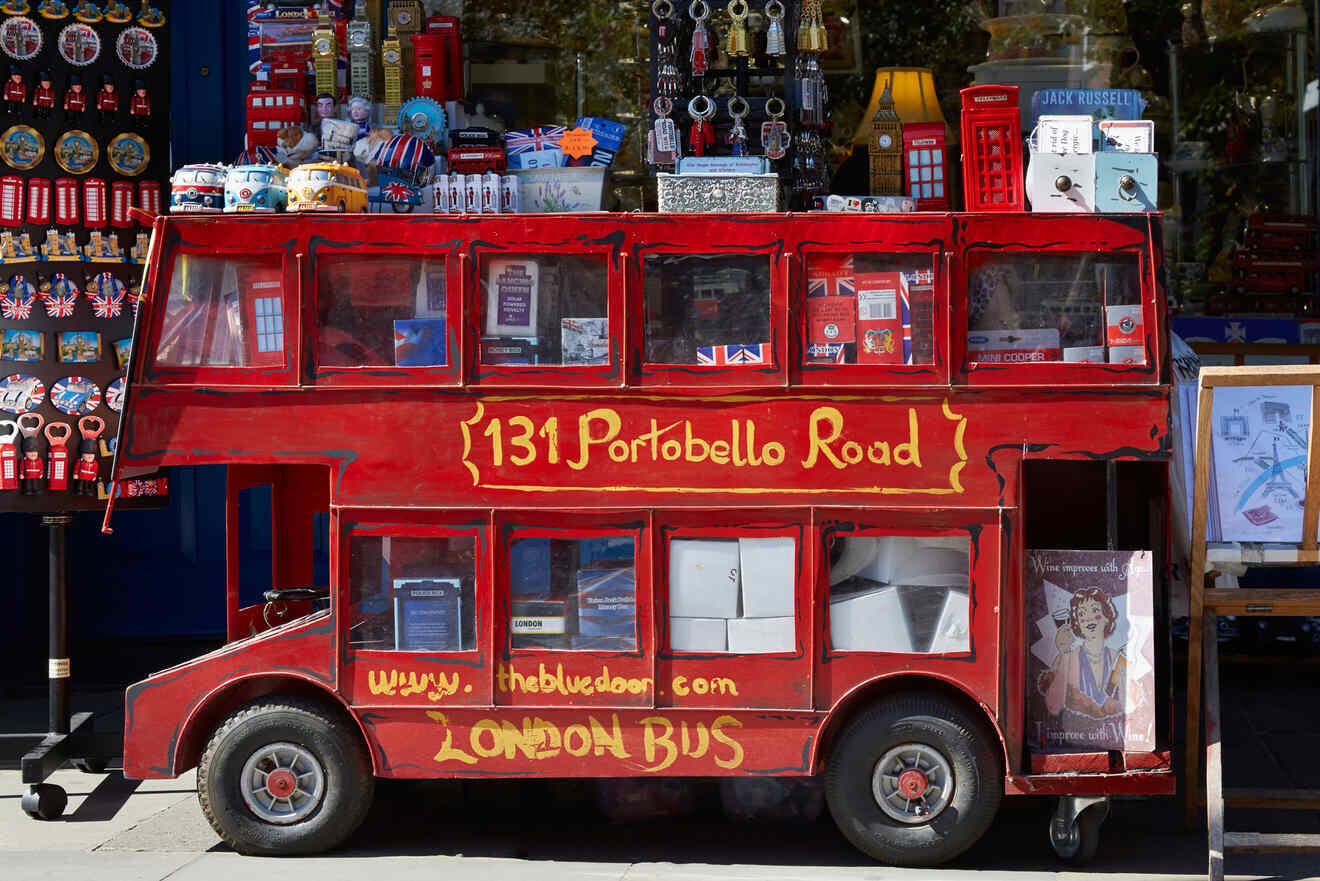 If you like gardening, pretty flowers, or just want to know how the mesmerizing royal garden at the palace is kept so lush, then you might enjoy this book which follows a year in the life of the royal garden. The souvenir book has tips and tricks from the head gardener, Mark Lane, plus lots of lovely pictures from the garden.
Price: £15
3. Take a guided tour of Buckingham Palace in winter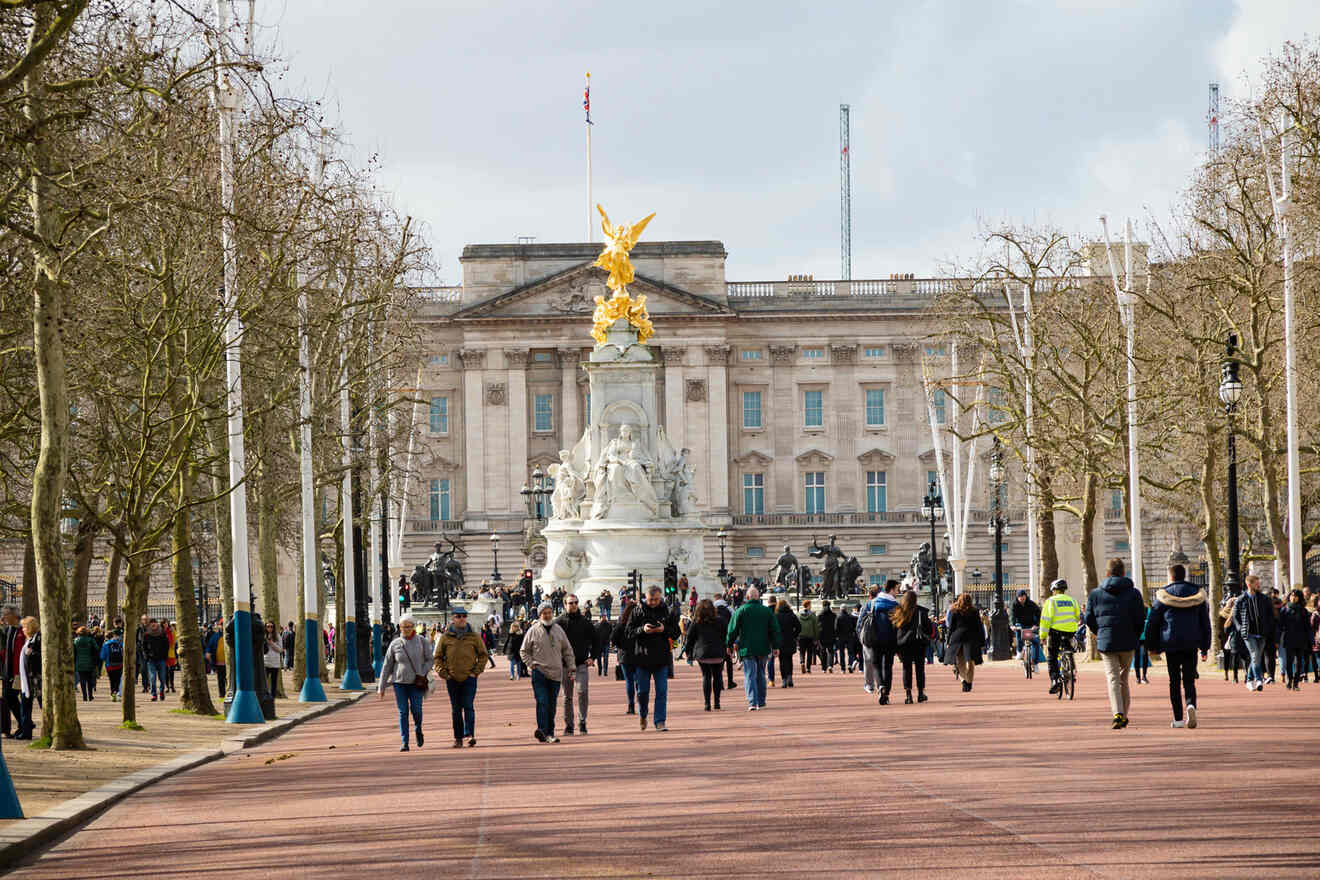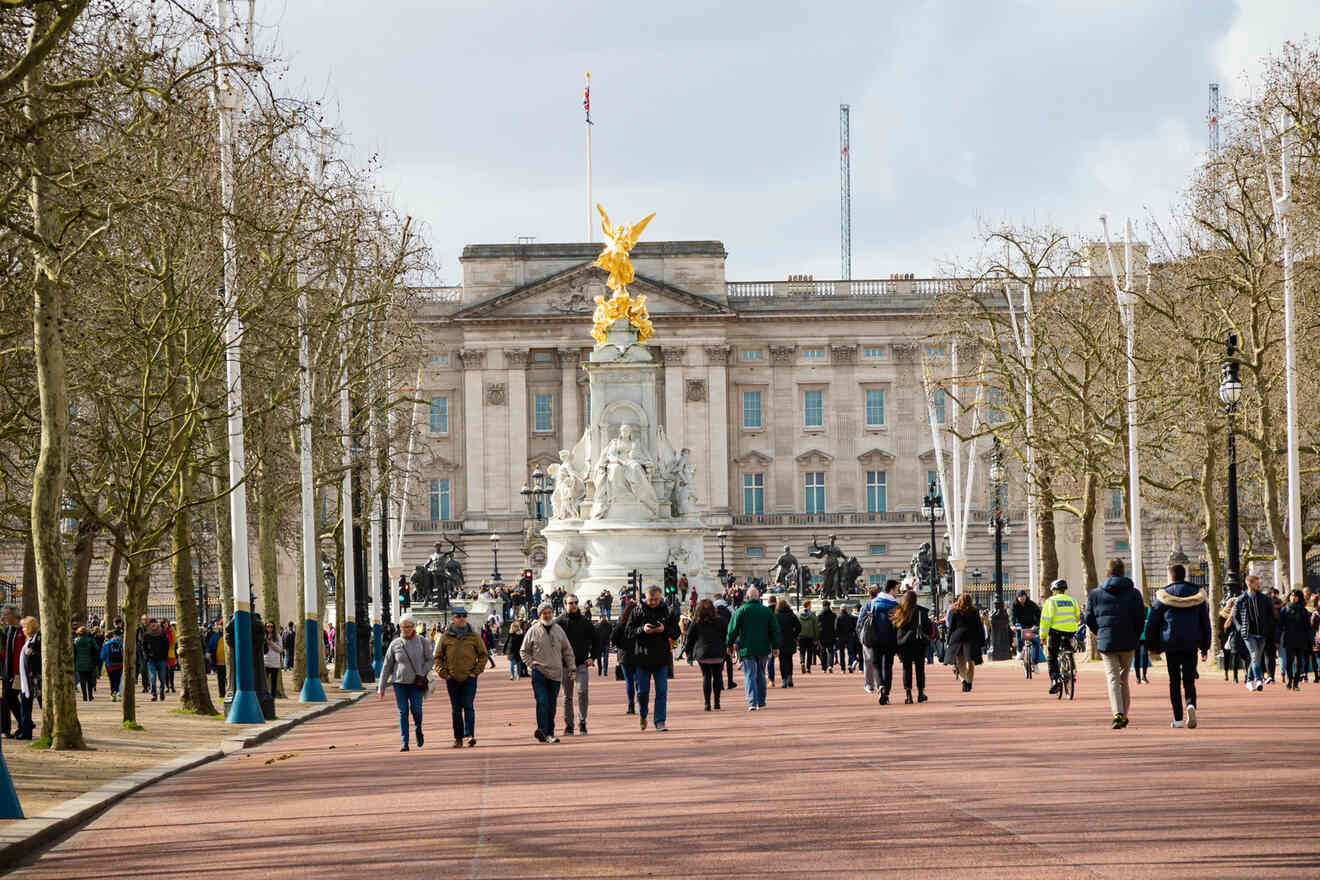 If you're planning to visit London anytime from November to February and you're keen on visiting the royal residence (although it's not yet open to the public) then you might consider booking Buckingham Palace tour tickets.
These can only be bought on the official website, and I would recommend booking the Buckingham Palace Tours early as they sell out pretty fast, and it's the only way you can go inside the Palace when it's not open to the public.
If you miss out on a spot, the Changing of the Guard happens every day of the year and is a traditional ceremony you can watch for free. During the event, soldiers in bearskin hats march towards Buckingham Palace while changing shifts with the new soldiers on duty.
There are two types of tours you can book, let's look at both.
Private View Tour
During this 90 min tour you will explore the precious State Rooms at Buckingham Palace accompanied by a guide who will take you around each room and tell you all about them!
Available only to 30 people per group, this tour runs every Friday, Saturday, and Sunday, from November until February. But this may change every year so I'd recommend checking their official website before booking your spot.
Price: £90 per person
Family Guided Tour
Taking the whole family to see the royal residence? Well you can now book a tour which is designed for kids and their parents. The guide will walk you around the State Rooms at the palace while telling you fun anecdotes and stories about this iconic place.
This tour lasts around 1h and it runs every Saturday and Sunday from November until February.
Price: Adults £90, Kids £50
4. Combo tickets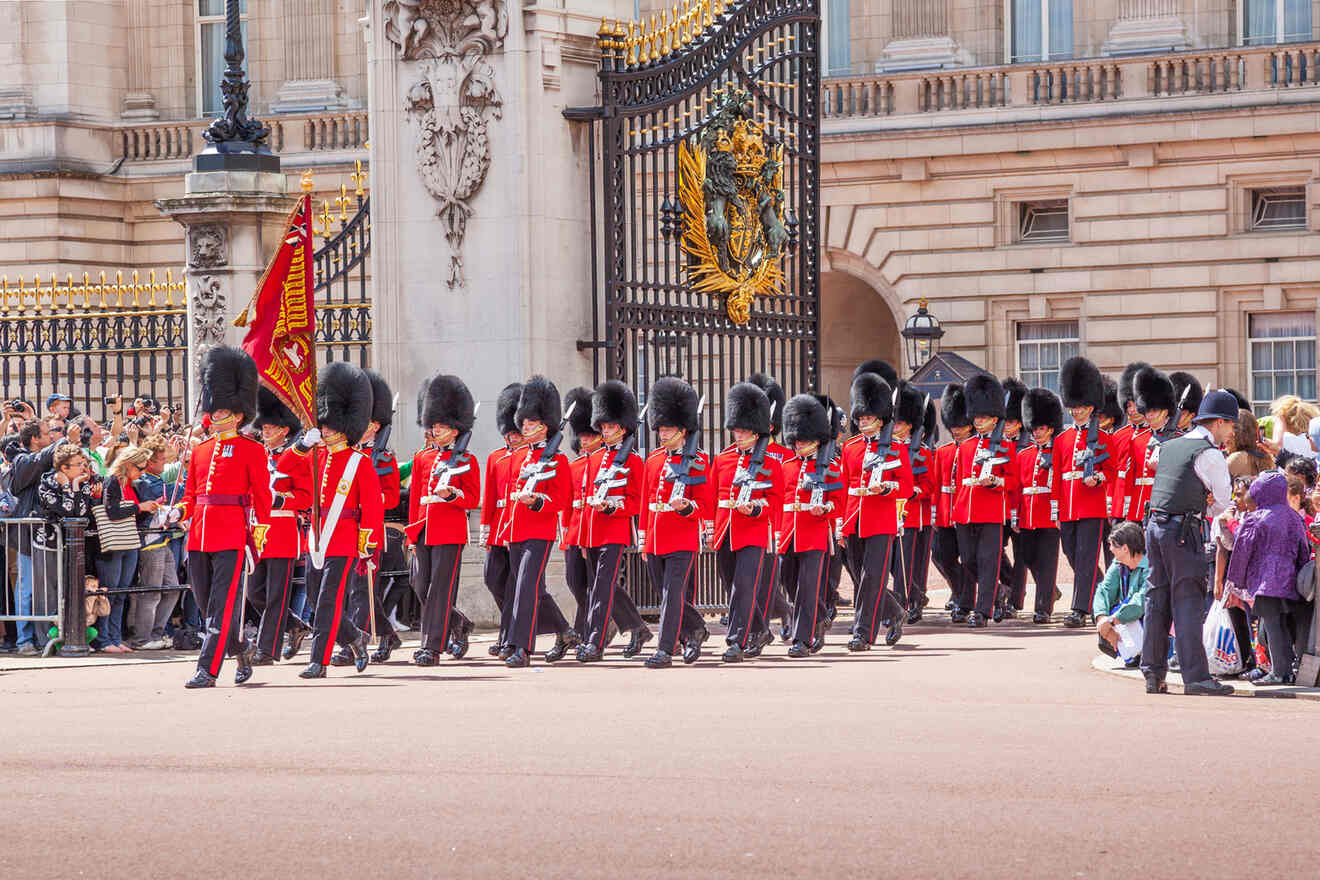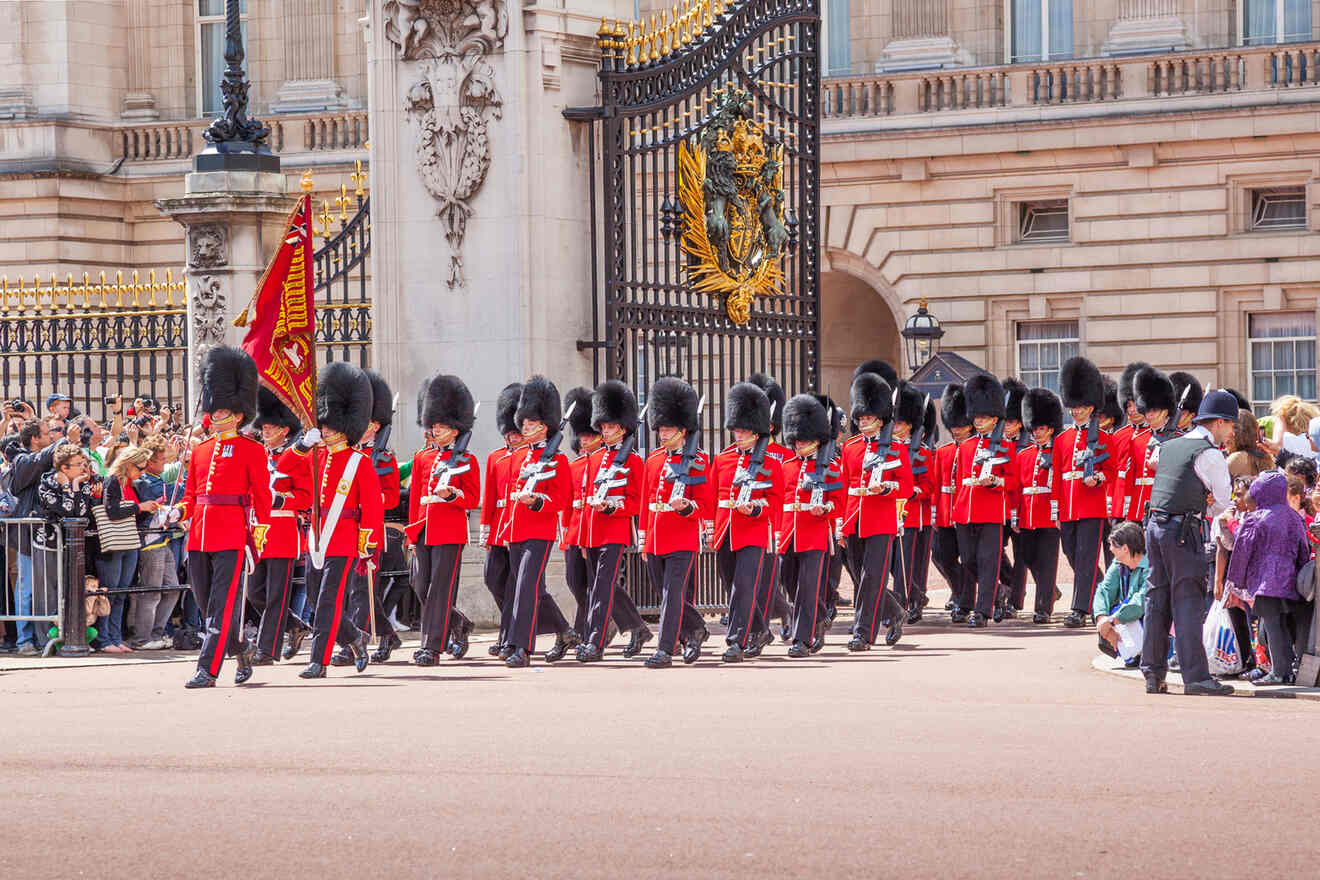 London is absolutely packed with fabulous attractions, which I'm sure you'll be eager to discover! And if you're looking to combine some of these attractions then check out this short list I've made below.
With just a few clicks and no time wasted you can buy a single ticket for 2 or 3 things to do in London! So let's check them out:
Buckingham Palace ticket + Changing of the Guard Walking Tour – With this ticket which costs £68 you'll visit one of the most famous palaces in the world and follow in the footsteps of kings and queens, then go with your tour guide to see the iconic changing of the guard ceremony.
Although you can watch the ceremony for free, a walking tour is really great for those who want to find the best spot to watch it.
Buckingham Palace and Windsor Castle Day Trip – You can't finish your stay in London without a visit to these 2 places. You'll get picked up in central London by your coach and head first to Buckingham Palace where you'll see the State Rooms.
Then hop back on the coach and head to Windsor Castle for another magical visit and return to London by coach. The whole day trip costs £117.
Buckingham Palace + Vintage Bus Tour + Thames Cruise – Enjoy a ride around the city and see some of the most important sites like Big Ben and Westminster Abbey in a vintage bus! Then hop on a Thames cruise and admire more stunning views! You'll end your day with a visit to the amazing State Rooms at Buckingham Palace. The full ticket costs £78.
5. Buying tickets at the entrance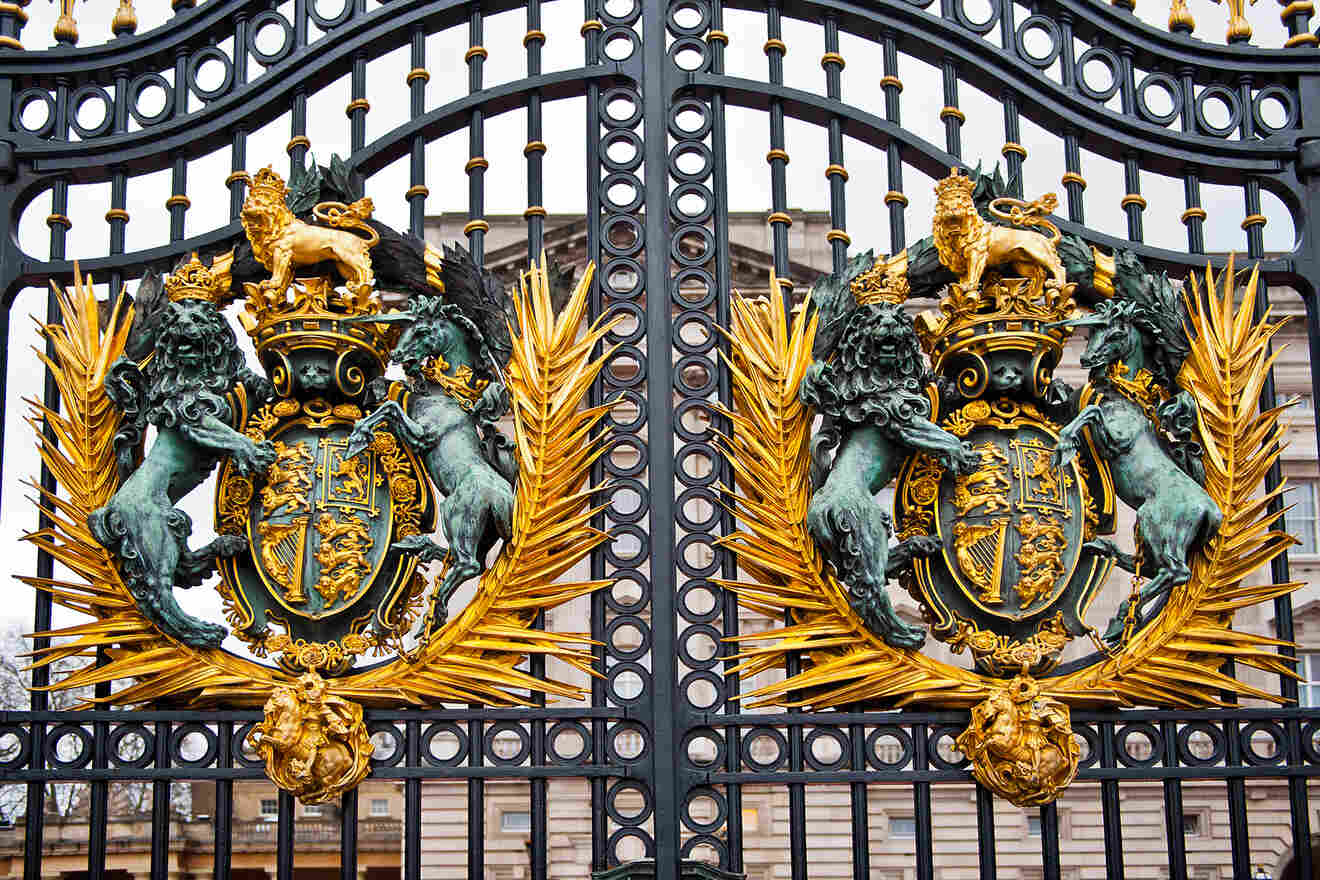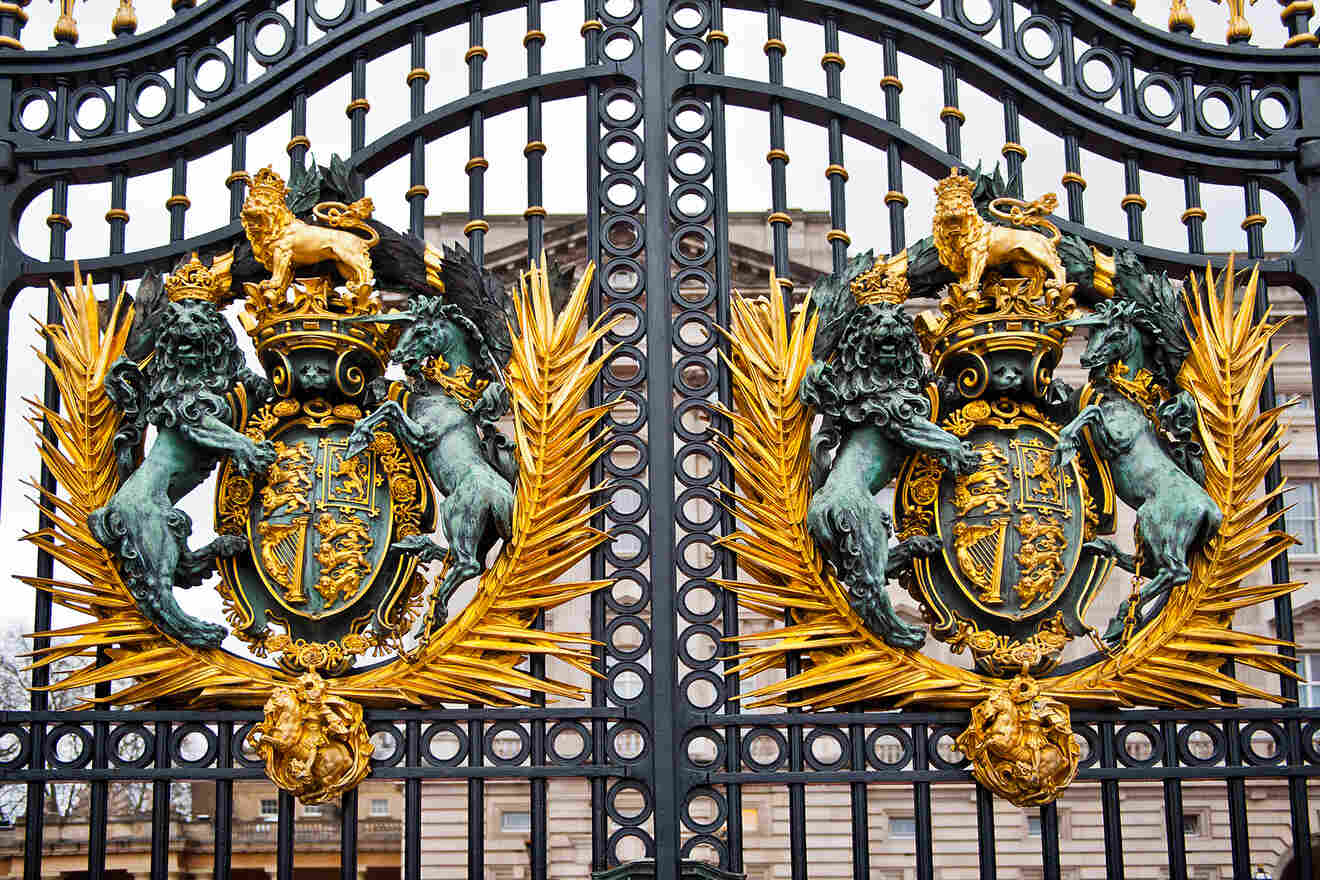 The quickest answer to this would be that it's not worth it. Unless you're a fan of paying more and waiting in a queue!
However, if you do want to leave it all to the last minute and risk buying your tickets for Buckingham Palace at the entrance, you'd have to pay an extra £3. That would be 1 issue but the other is that you'll risk not getting inside the Palace.
Fun Fact: If you want to know if his Majesty the king is inside the Palace you can look to see if the Union Jack flag is up. That means his Majesty the King is currently inside Buckingham Palace!
I'd personally avoid buying a ticket at the entrance at all costs, but hey, we all know that sometimes spontaneity hits us. So if you're taking an impromptu trip to the Palace and all the tickets on the official website are booked out I'd recommend looking on GetYourGuide, Viator and Tiqets as you might find something there!
Practical Information about Buckingham Palace
Now you know where you'll be getting your tickets, here's some essential information so you know what to expect for your trip.
1. Things to see inside Buckingham Palace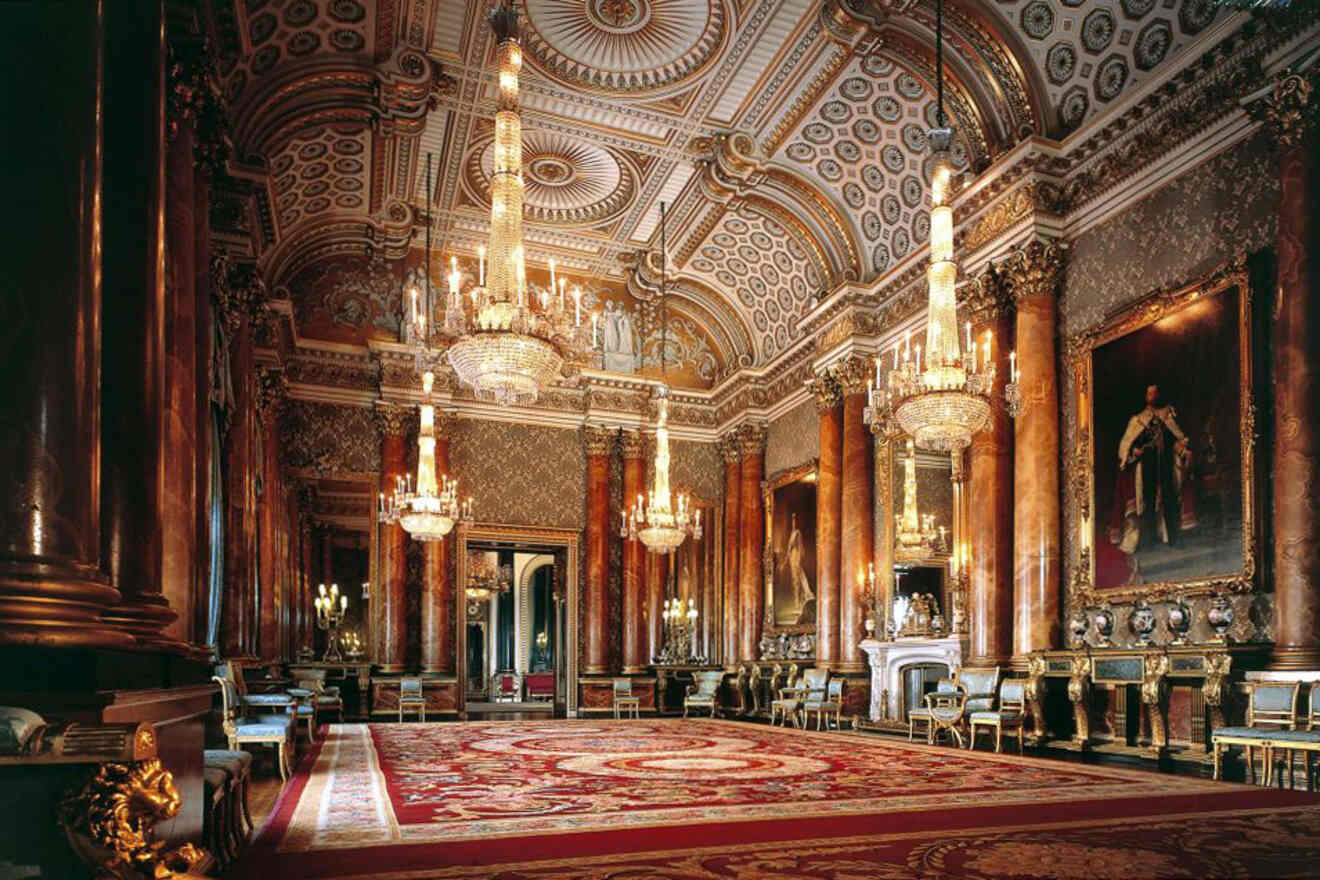 I know I mentioned the State Rooms a lot throughout this text since they're the main areas that you'll explore during your visit – but I know not everyone is familiar with what exactly you'll find there.
So to get you even more excited for your visit I've added all the sites that you'll see during your visit below:
The largest State Room is the Ballroom, which apparently can hold 84 double decker buses!
Throne Room – One of the main attractions at the Palace that is used for official photographs. You'll see 3 thrones (the smallest one belonged to Queen Victoria as she was quite short)
Ballroom – The largest room in the Palace that is used for state banquets or official visits from a head of state
White Drawing Room – This beautiful room is so aesthetically-pleasing that you'll never want to leave and apparently it has a secret door!
Marble Hall – Get ready to spot some regal furniture, decorative arts, and unique statues from the Royal Collection made by artists like Canova, who has a few sculptures including the Roman god of war Mars, with Venus, goddess of love
The Green Drawing Room – Check for the artistic paintings in this room, there's one of King George III's three youngest daughters
The Picture Gallery – Built for King George the IV who wanted to show his extensive collection of art, this room has paintings by artists like Titian, Rembrandt, Rubens and Van Dyck
Music Room – Look for the beautiful blue columns which may look as if they're made out of stone but they're actually made out of a type of blended plaster so it looks like stone (in this case lapis lazuli). Since the bombing of the palace chapel in World War II, royal christenings have sometimes taken place in this room
2. How far in advance do you need to buy your tickets?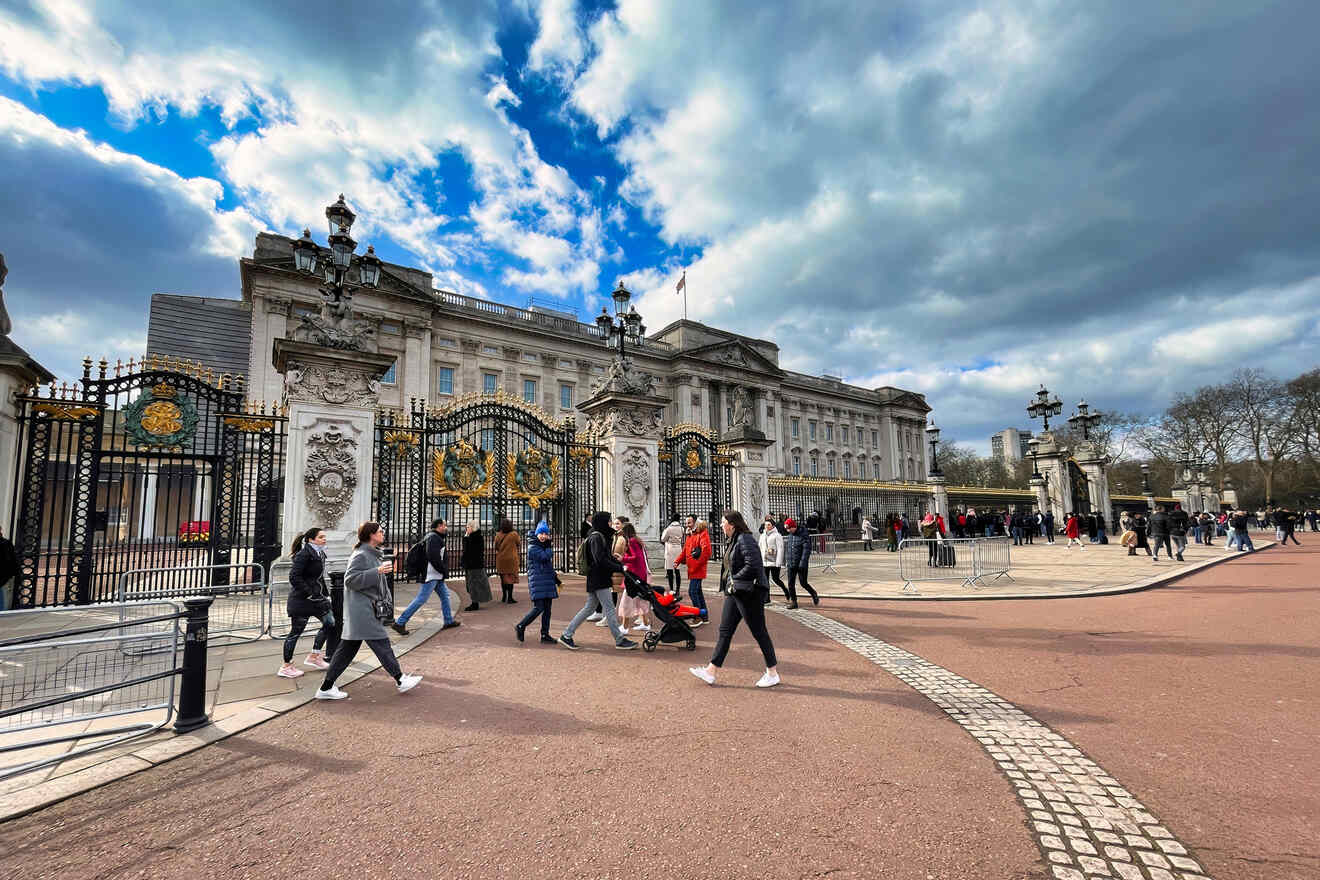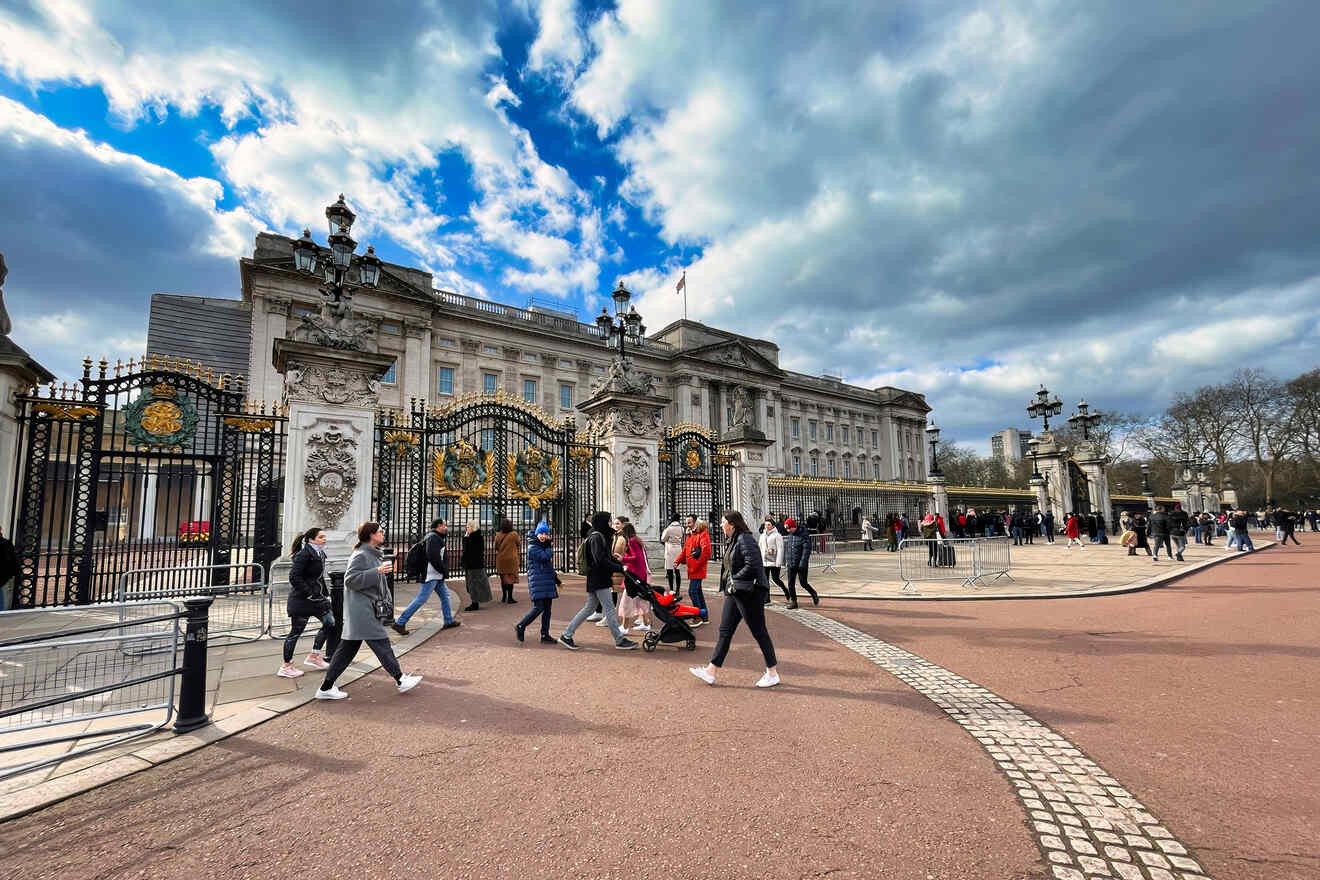 As early as you can!
For both the summer season (July to September) which is the main time when the Palace is open to the public, and the winter season (November to February) when they only run guided tours, I would recommend buying them 1 or 2 months in advance.
3. Opening hours
Here are the opening hours for each season:
Summer
● Mid July to end of August – 9:30 AM to 19:30 PM (last admission 5:15 PM)
● September – 9:30 AM to 18:30 PM (last admission 4:15 PM)
Winter (only tours – mid November to end of February)
● Fridays at 16:00 and 16:30
● Saturday & Sunday at 11:00, 11:30, 13:30, 14:00 and 14:30
4. How to get to Buckingham Palace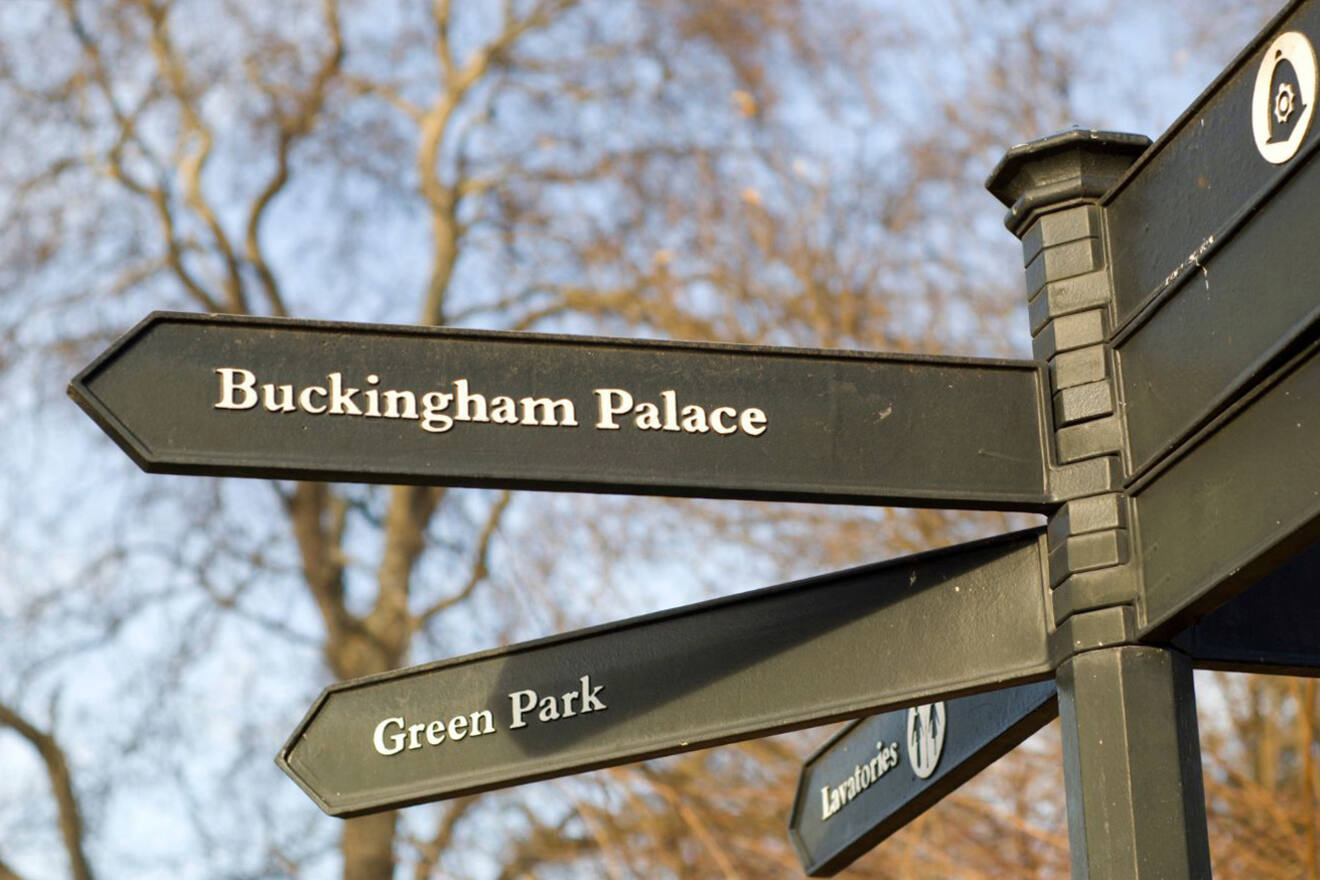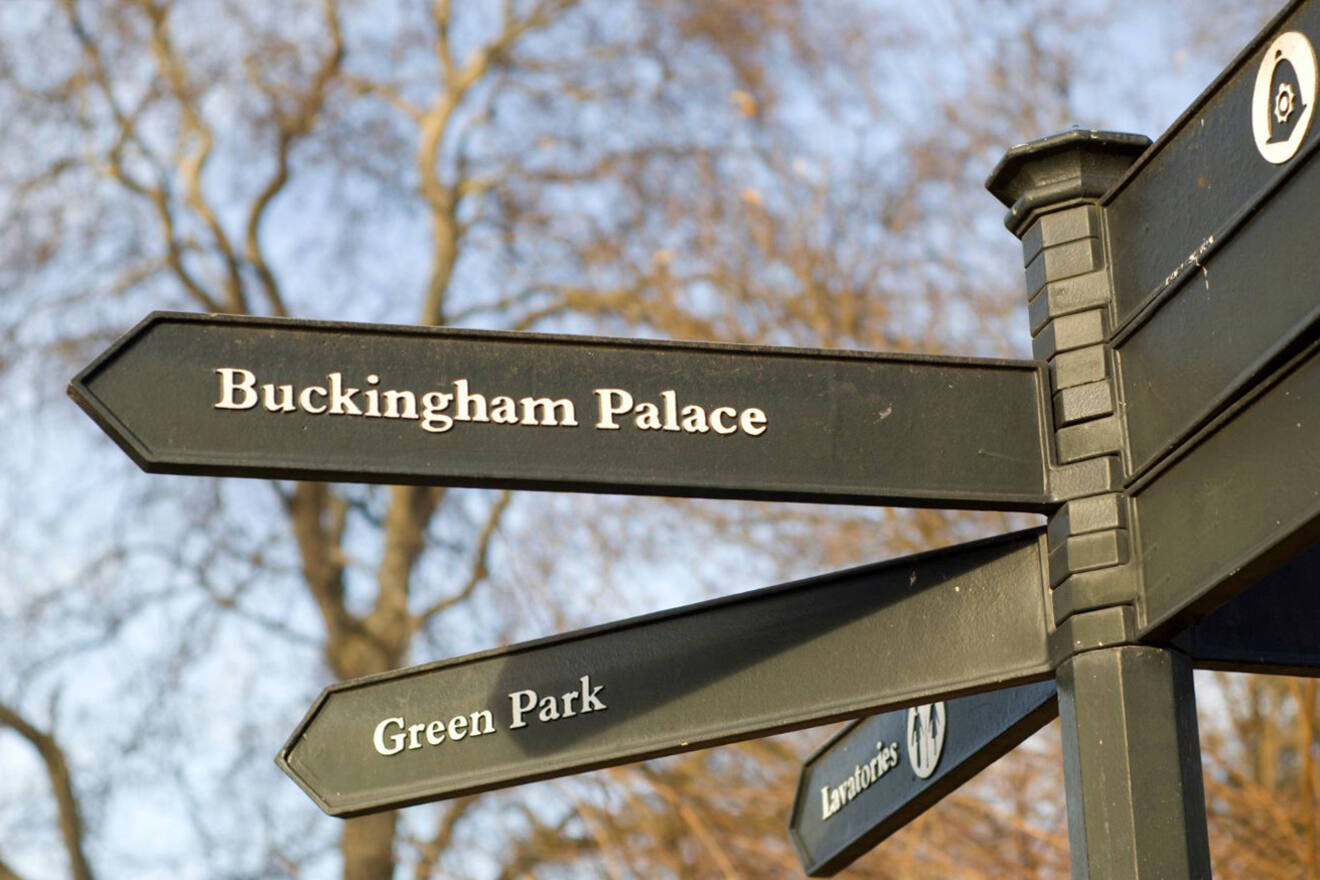 Although it's fairly easy to get to Buckingham Palace as it's located in central London, near one of the most famous streets in the city (The Mall), I know the city's transportation system can be overwhelming for first time tourists and locals (I lived there for a while and I was still pretty confused at times).
So that's why I added this quick section with all the ways that you can use to reach the Palace:
By tube: You can stop at Victoria (or Victoria Coach Station if coming from another city), Green Park, St. James's Park and Hyde Park Corner stations as they're all around a 10 min walk away from Buckingham Palace.
By bus: Buses 11, 211, C1 and C10 all stop on Buckingham Palace Road and then there's a 10 min or less walk to reach the Palace.
By car: You won't find a parking lot at Buckingham Palace, but there's one just a 15 min walk away called Q-Park Victoria and it costs around £17 for 2h.
5. What to bring (and not bring) to Buckingham Palace
With your mind preoccupied by a million other things, I know you might forget all about what things you want to bring with you at Buckingham Palace.
That's why I've created this short list where you can check all the things you can take or not with you when visiting the palace:
✅Tickets – You don't have to print out your tickets, you can just present them on your phone
✅Drinks – You can only take bottled water with you inside the Palace
❌Camera – Photography is not permitted inside Buckingham Palace, but you can take pictures in the gardens
❌Food – No food is allowed inside Buckingham Palace
❌ No large items – Bags and suitcases larger than 45cm × 20cm × 30cm cannot be taken into the Palace at all
❌Animals – Animals, other than guide, hearing, or assistance animals, will not be admitted to the Palace
6. Facilities inside the attraction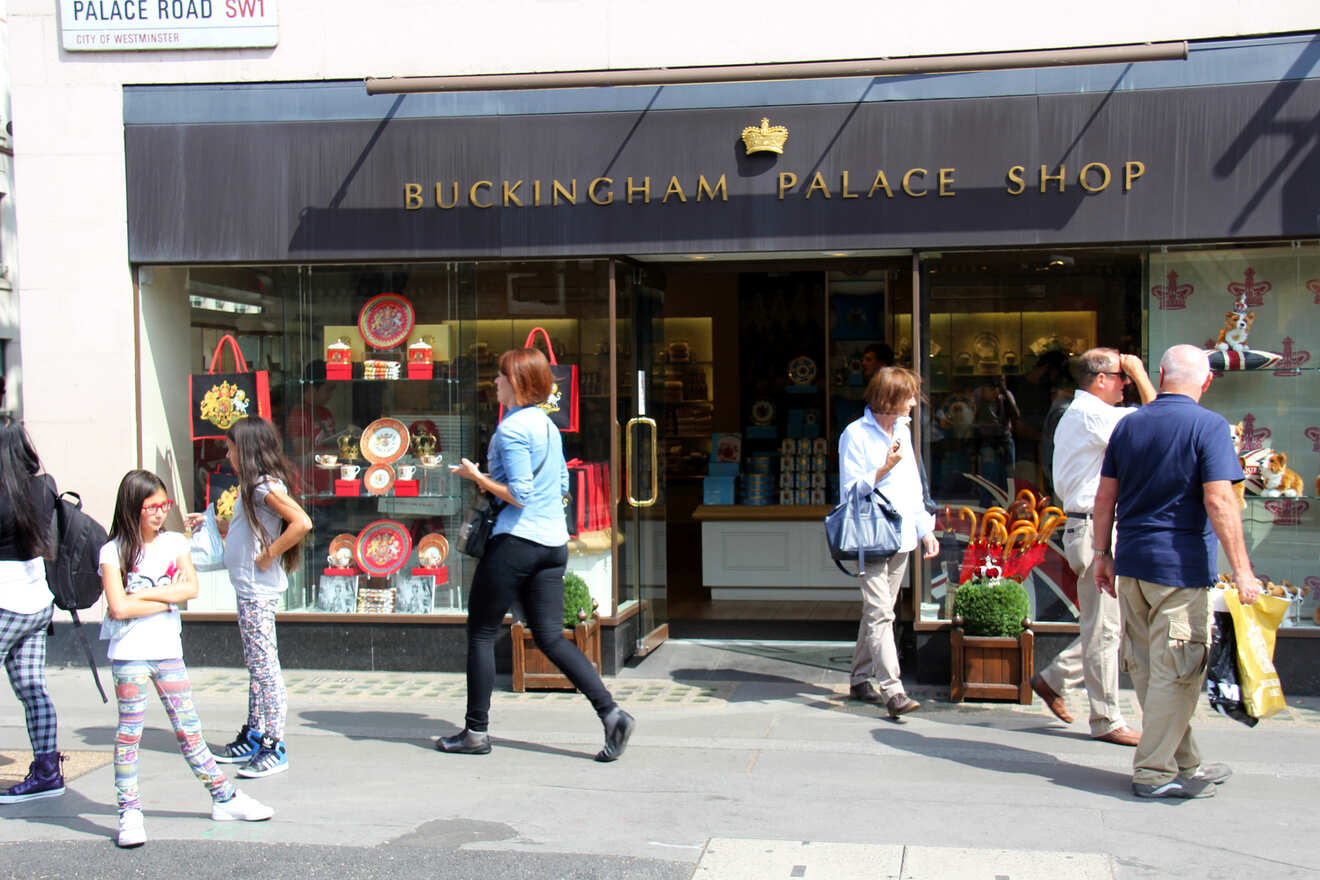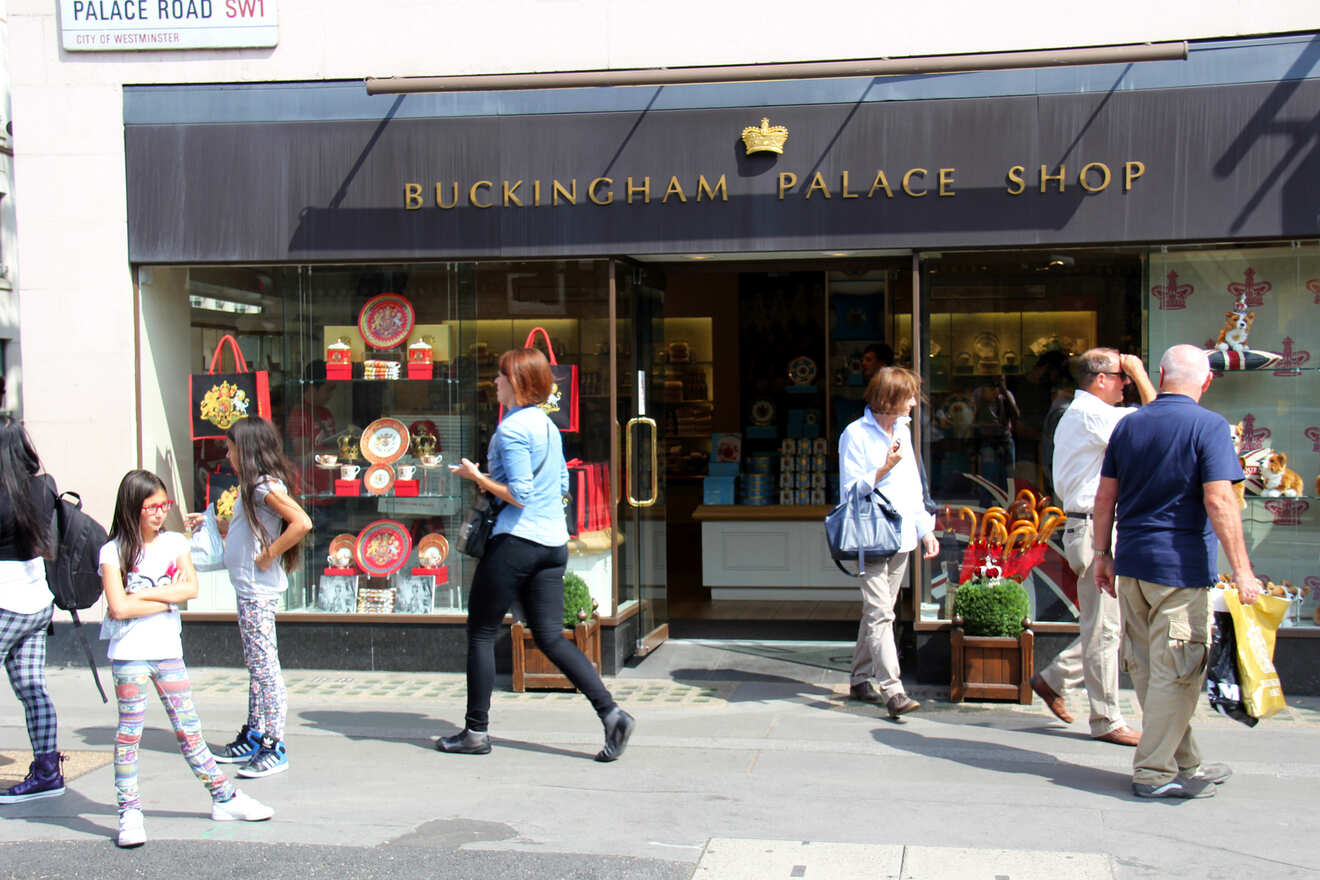 Toilets – You'll find toilets and baby-care facilities in the garden, at the end of the route through the Palace.
Accessibility – The areas open to the public are all accessible and they also offer wheelchairs free of charge for the duration of your visit.
Cloakroom – There is no cloakroom or luggage room at the Palace.
Gift Shop – You'll find the Buckingham Palace Shop and The Queen's Shop not too far from the Queen's Gallery.
Cafe – During the summer the Garden Café is open for all tourists visiting the Palace.
7. Security at Buckingham Palace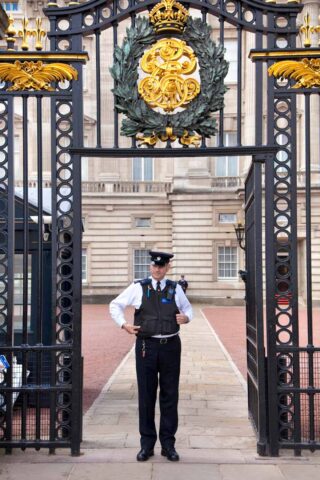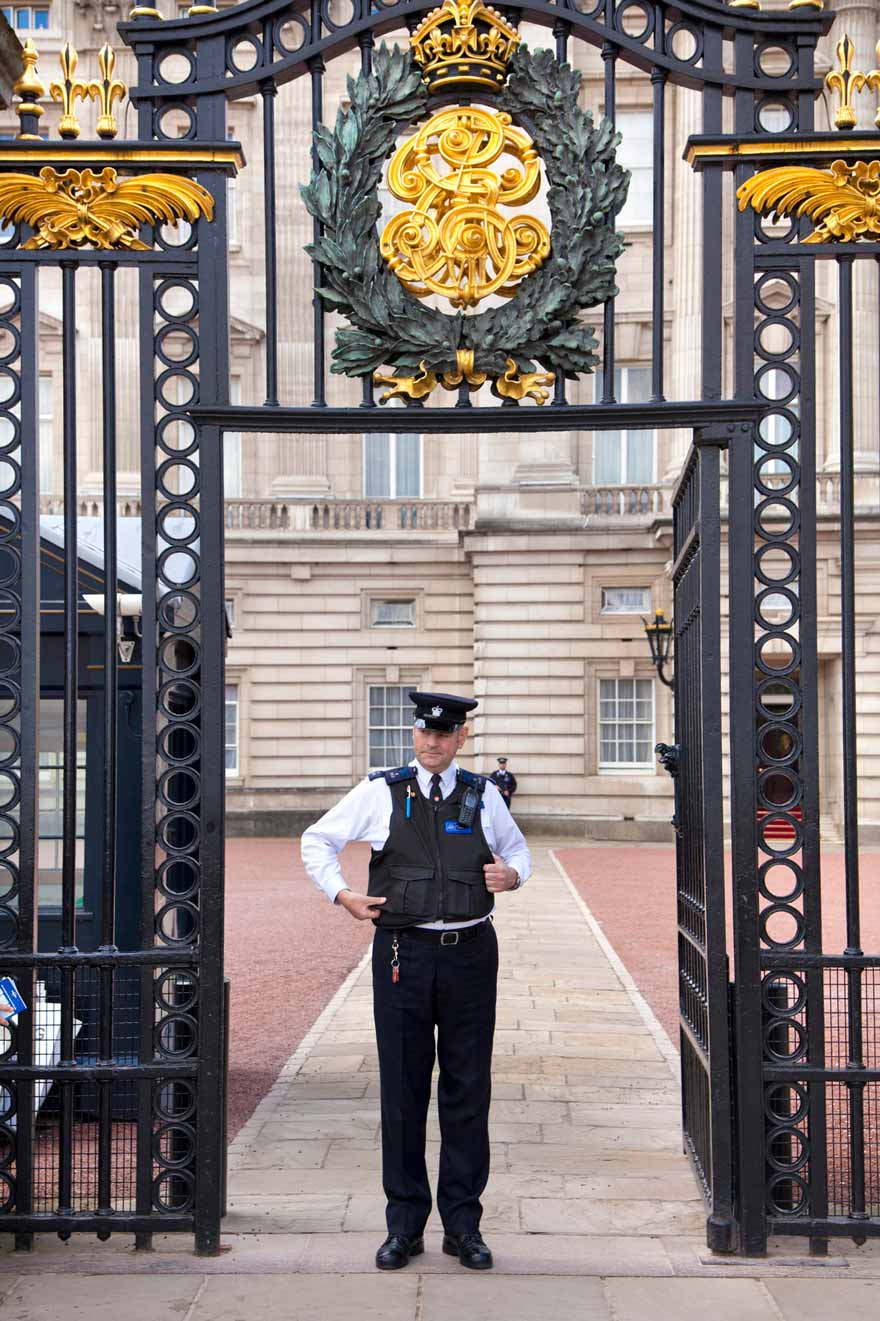 Since this is a working Palace and basically the official London residence of his Majesty the King, security is taken super seriously and it's just as thorough as an airport-style security check.
You and all your belongings will go through the security screening and for safety reasons they recommend taking as little as possible with you, but hey, I know that's hard when you're out and about for the whole day. Just make sure you check the list above so you won't bring anything prohibited.
Make sure you remove all belongings from your pockets before going through the security arch and place anything you carry with you, like cameras, in your bag.
FAQs about Buckingham Palace tickets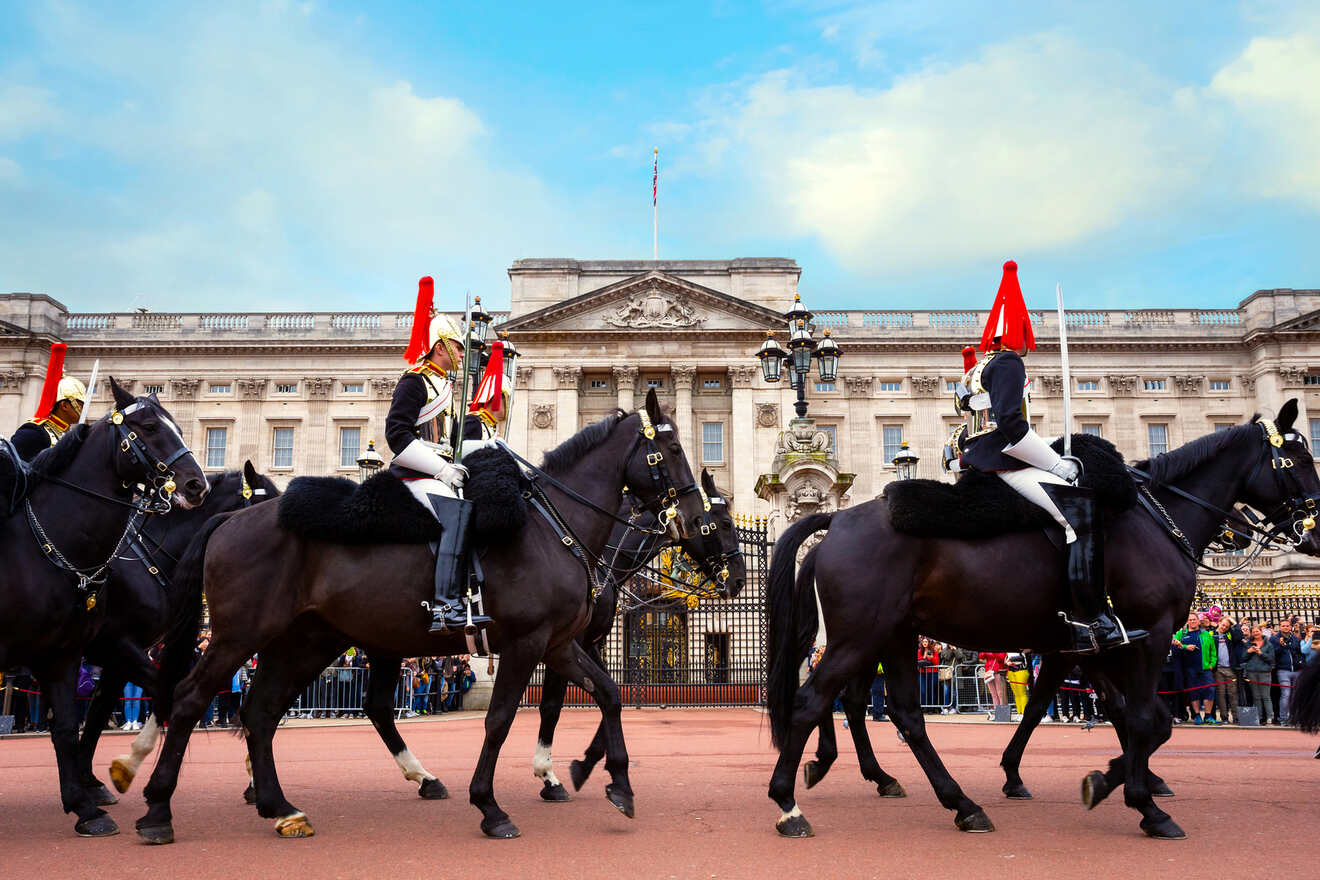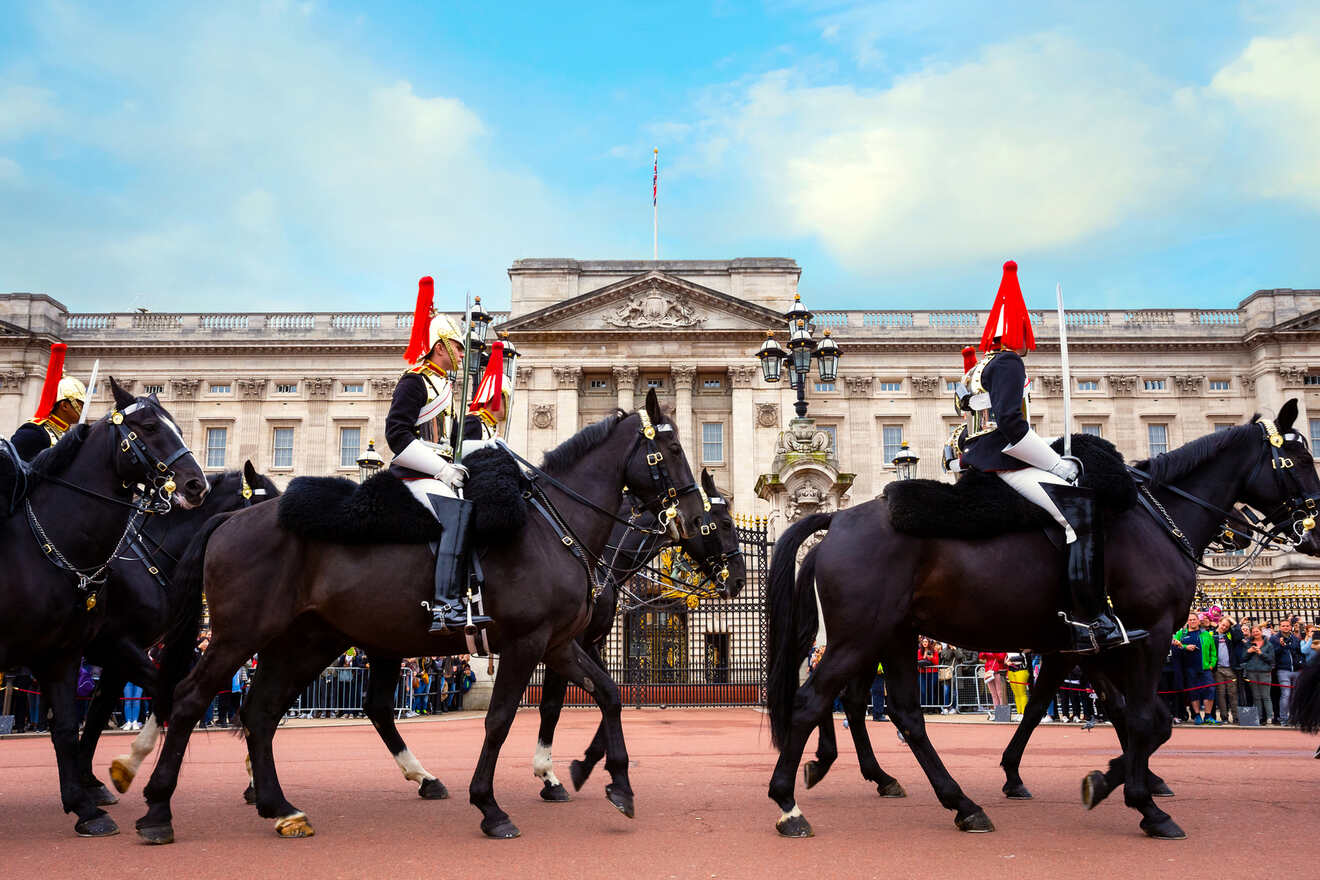 💰How much does a ticket to Buckingham Palace cost?
If you buy it in advance, a ticket to Buckingham Palace costs for adults £30, youth £20, children £17.
👑 What does the Buckingham Palace ticket include?
There are different types of tickets for each of the sites opened to the public. You can buy one to visit the State Rooms, one to visit the Queen's Gallery, one for the Royal Mews, and one with access to all 3 of these places.
⌚ How long does the Buckingham Palace tour take?
The official guided tours of the State Rooms at Buckingham Palace, take around 1h to 90 min, so I'd recommend wearing comfortable shoes.
🎟️ Do you need to buy tickets in advance for Buckingham Palace?
Yes, it's recommended to buy your tickets in advance when you visit Buckingham Palace as they are more expensive when bought on site, and you also risk not getting inside, as they have a very strict system for tourists.
Conclusion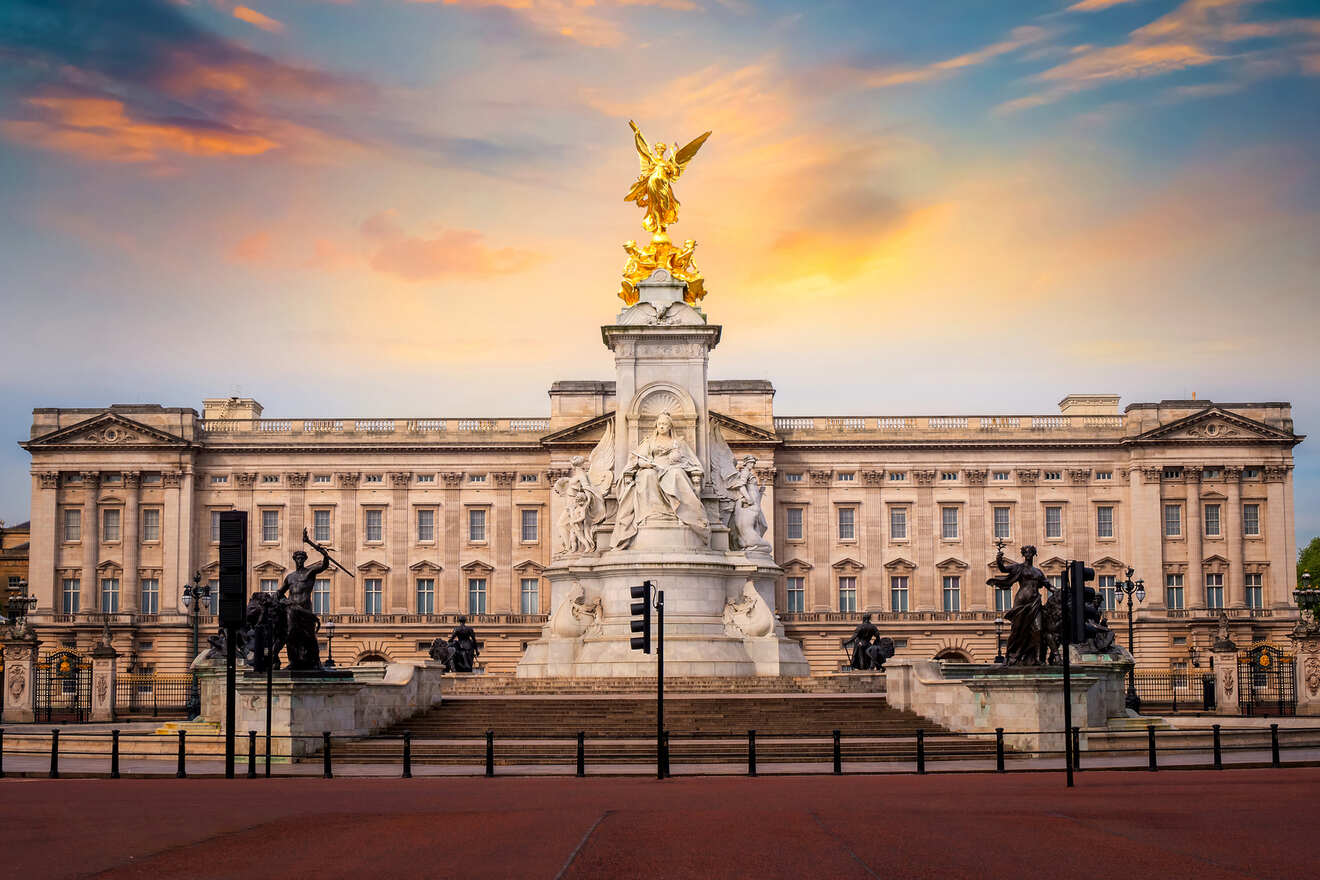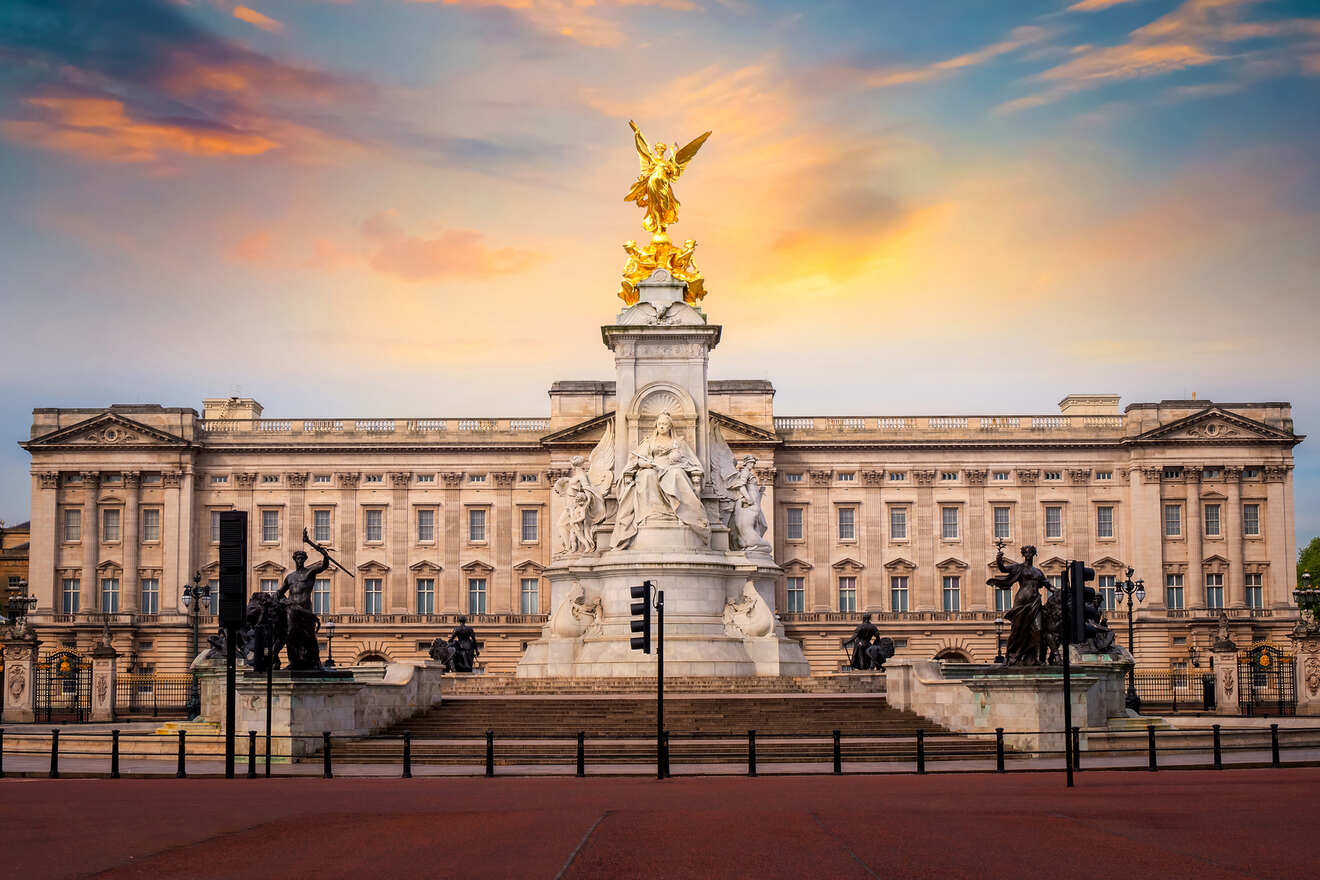 What a place! Buckingham Palace is surely one of the most fascinating things to see in London, as is Westminster Abbey and all the other iconic attractions, and I'm sure you'll love it there!
Now that we've gone through all this information on the Buckingham Palace tickets we can wrap it up!
But not before I give you a short run down of the post. You can buy the most convenient tickets for the Buckingham Palace State Rooms from GetYourGuide, for the Queen's Gallery from Headout, and for the Royal Mews from Headout, which have a much better cancellation policy than the ones on the official website.
For guided tours you'll have to stick to the official website as that's where you'll find them.
And don't forget to book fast! The palace is open only a few months a year, so everyone will visit during the same time period as you!
Have a fantastic trip everyone! And hey, if you need some advice or you're confused by something, just drop me a comment below and I'll happily help you!
Happy exploring,
Victoria
---
Pin it for later!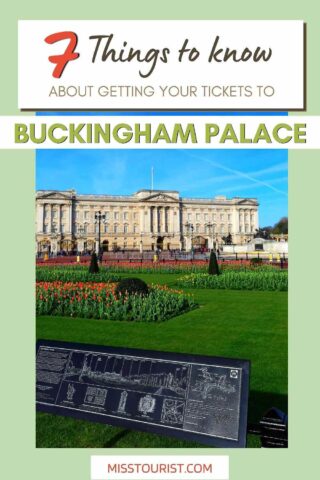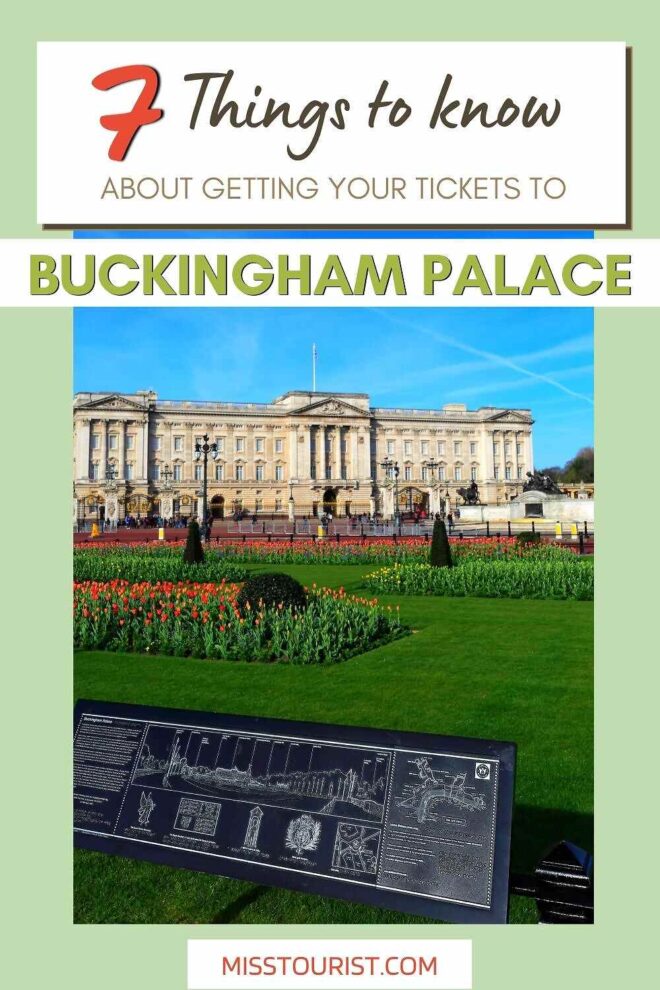 Pin it for later!