How One Iconic Aussie Designer Got Her Start
Written by: Amanda Chung
|
Published on: February 21, 2023
Fashion editor: Sandra Slusarczyk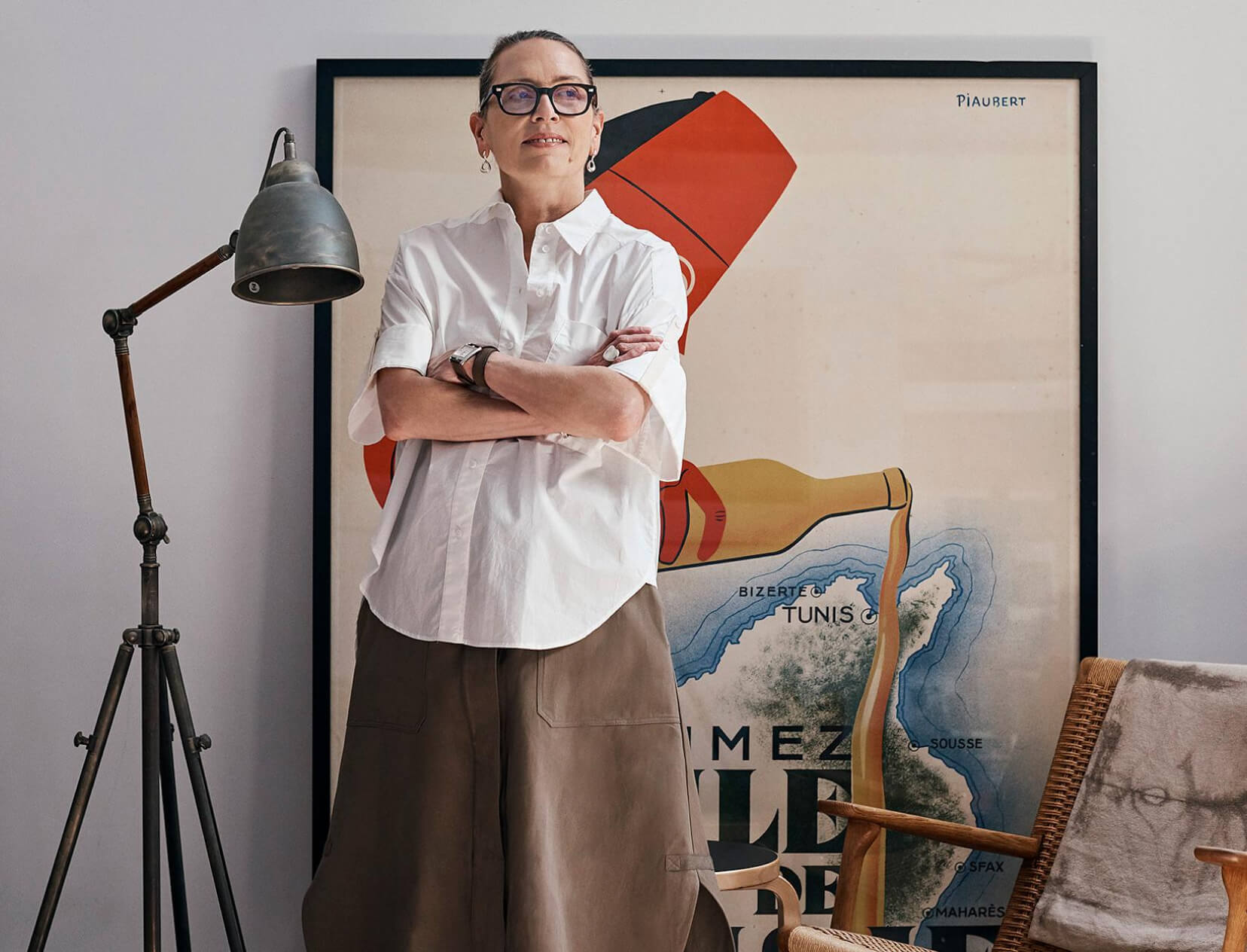 Photo courtesy of Hugh Stewart
Lee Mathews didn't set out to be a designer. "I had always made my own clothes," she says. "My grandmother was a seamstress, and I used to sit around watching and making things on her Singer sewing machine, but I never really considered it as something I would do for a living."
An illustrator and art director for Vogue Australia, Mathews made herself the pieces she wanted to wear and couldn't find in stores. As it turned out, those were also the pieces other people wanted to wear, and soon Mathews found herself making clothes for friends, and then friends of friends. In an effort to streamline, she decided to make a bunch of one thing—hand-dyed silk skirts—and sell them at a champagne party in a friend's garden. She would use any profits to finance the next one. And eventually, as word of the parties—and the clothes—spread throughout Sydney, retailers came knocking.
"That was a whole other level of chaos, to go from getting ready for your own little event to producing garments for someone on the level where you're happy to hand it over for them to sell on your behalf," she says. "I'd be up at midnight sewing buttons on, just to throw things in a car the next morning to get them to a store by 8:30. That was the turning point at which I thought, I have to decide whether I'm going to really do this or not, because it's not tenable to keep trying to operate in this fashion."
So she bought a small space in Newport, painted the windows, and put her name on the door. Inside, there was a single rack of finished clothing; the rest of the space was used as a cutting room. "In those days, I was doing lots of hand embroidery and smocking," says Mathews. "There was an Anglican church just behind us, and we used to employ all the lovely ladies from the church who knew how to do all of that. They'd come and pick up their bits, go home, and embroider it. It was fun. It was great."
Lee Mathews

SKIRT

goop, $360

SHOP NOW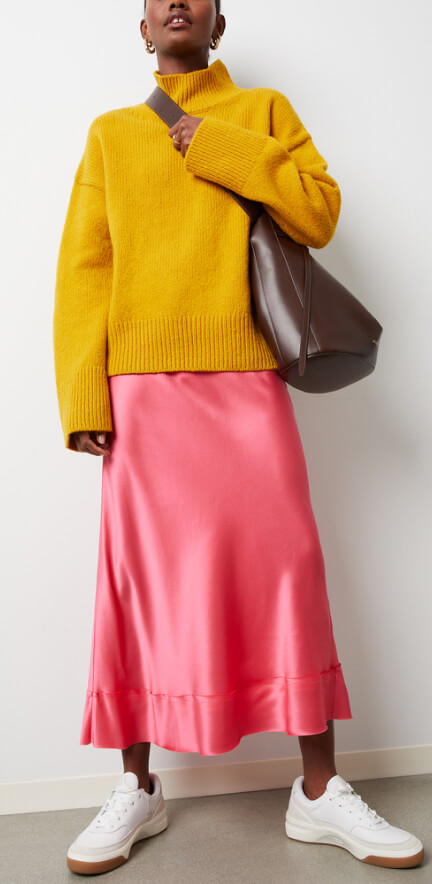 One store turned into two (then three, four, five). Mathews grew her team. And her feminine yet unfussy, trend-agnostic designs fueled the kind of long-term growth most brands can only dream of. Her eponymous label—which has helped define the Aussie aesthetic—is now in its 23rd year of business. But her success, Mathews will tell you with characteristic humility, has been fortuitous: "The right people were around at the right time," she says. "There is a moment of synchronicity where everything kind of lines up: I had really great girls working with me who were talented and smart and fun to work with. And the result was that we got to make nice clothes that everybody was into."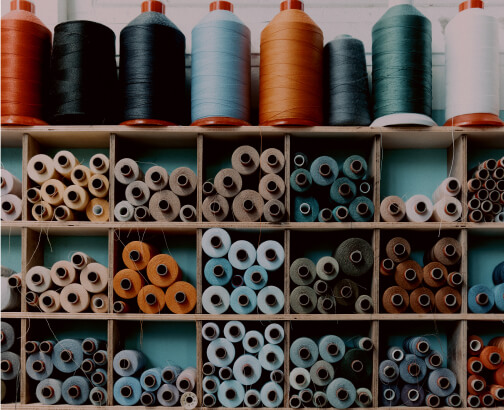 A Q&A WITH LEE MATHEWS
Hometown?
I was born in Belfast, Northern Ireland, but I was only there for a year before we moved to Canada. I grew up in British Columbia until I was 12, and then I moved to New Zealand. Sorry, that's a long answer.
First job?
Pool attendant in New Zealand—I used to be a competitive swimmer.
On my feet you'll always find…
If it's really hot, probably Suicokes. If I have to be grown-up, then it'll be my Hereu sandals.
Suicoke

sandals

Farfetch, $122

SHOP NOW

Hereu

sandals

goop, $480

SHOP NOW
Last thing you listened to?
Hidden Brain, which is one of my favorite podcasts. I like to podcast-hop when I'm cleaning the house or walking my dog, Ted.
How would you describe the Lee Mathews woman?
She's pretty independent. Has a slightly satiric approach to dressing. Likes color. I think the fact that we do color and print and architectural shapes appeals to women that like to dress but not dress up. A lot of them are my friends—they're gallery owners or landscape architects or, you know, interesting women doing interesting things—and it gives me great pleasure to see them wearing things from the collections over the years.
Lee Mathews

dress

goop, $600

SHOP NOW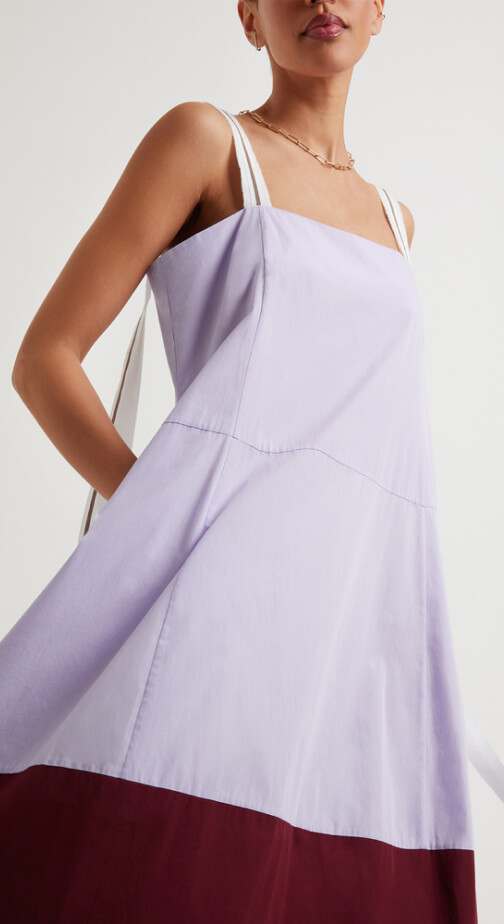 Inspiration behind your current collection?
Irving Penn's poppies. There was a great exhibition that I went to in New York—it was just before the pandemic, maybe four years ago—and I bought the book. I'd never seen any of those photographs in real life before. It was astounding. One day, we were discussing prints and how I wanted something a bit more statement. We started going through all our books and were like, Oh my goodness, how would we do something with this? Then we started to look at what everyone was wearing during the time that he was photographing all that stuff, like those lovely suits. This is our first season where we've introduced soft tailoring, which I'm excited about because we have been wanting to do it for a while.
Lee Mathews

Top

goop, $370

SHOP NOW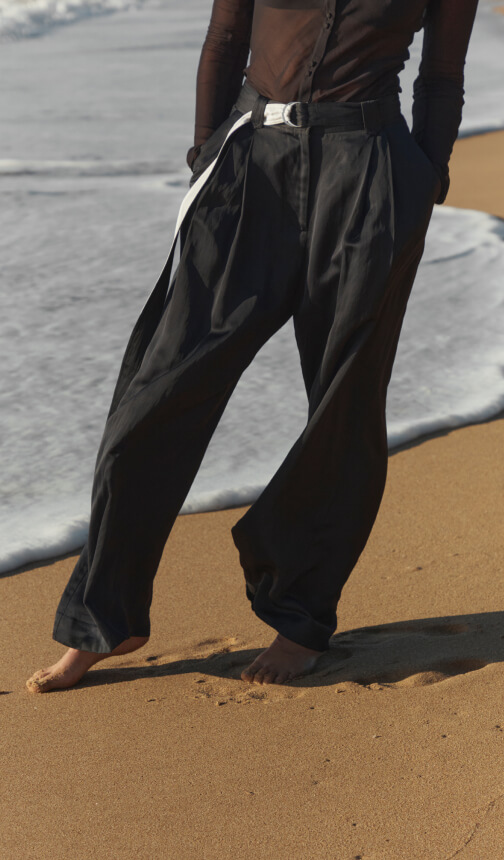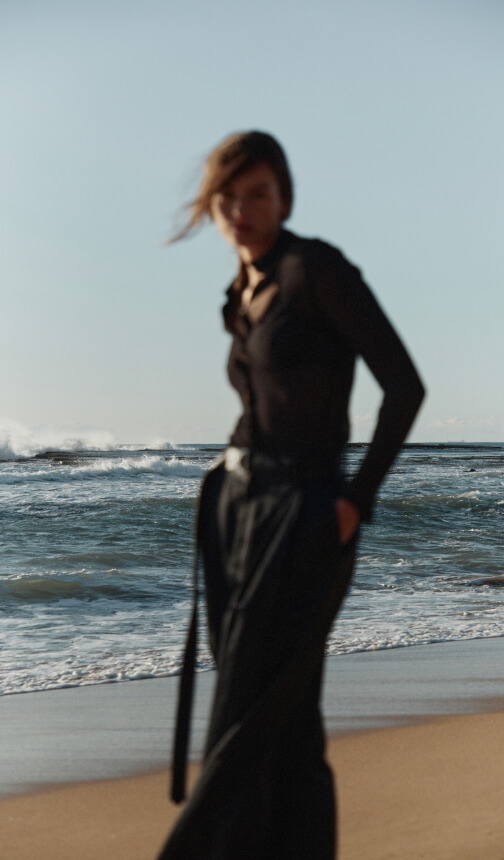 Lee Mathews

Pants

goop, $550

SHOP NOW
Biggest career lesson?
One is never assume. Two would be stick to your lane. And then my personal mantra is: trust. If you trust the people you are working with and you can say that, hand on heart, then that's a very good start.
Favorite style icon?
I know it's a bit predictable, but I do love Georgia O'Keeffe. Or Rei Kawakubo. I like that austerity.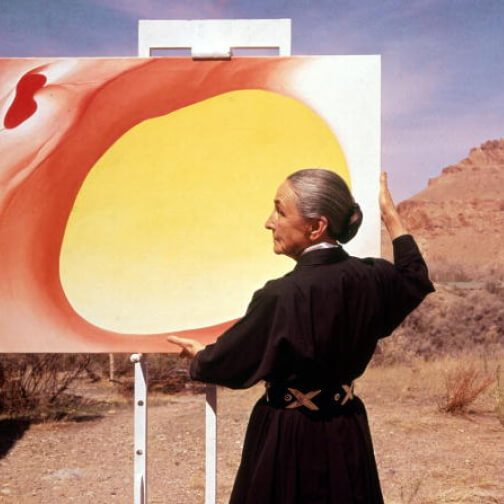 Always start your day with?
And end it with?
A glass of wine with dinner.
Emporio Sirenuse

Glasses, Set of 2

goop, $336

SHOP NOW
Any other daily rituals that you adhere to?
I have a corgi, so getting up and going for a walk with him is a daily ritual. At the moment, I am having acupuncture every day to try to keep me calm. But I don't really have many. I walk Ted, I have a coffee, I come to work. That's my daily ritual.
Go-to weeknight recipe?
One thing I love to have is Milanese risotto. I've become addicted since I heard Stanley Tucci talking about it on the River Café podcast. His Milanese risotto is, without a doubt, the most outstanding one of all the Milanese risottos I've tried. I make it at least once a week. It's so delicious.
Stanley Tucci

The Tucci Cookbook: Family, Friends, and Food

Bookshop, $32.55

SHOP NOW

goop Home

casserole

goop, $150

SHOP NOW
Best way to spend a Sunday afternoon?
My kids usually come over on a Sunday night. That's become our routine. Cooking has always been the thing for us—it sounds a bit hokey, but it's not really. We had a big garden when we lived up in Church Point on the Northern Beaches for 12 years, and I honestly think that 70 percent of the produce we were eating came out of that garden. The kids knew that you planted it, it grew, you picked it, you cooked it, you ate it—that rhythm of life was something that they were very attuned to.
A trend that you love?
I love that there's more awareness around more conscious decision-making, whether it's what you eat or what you wear or what you purchase. Is that a trend, though? I'm not sure. Maybe it will turn out to be a trend.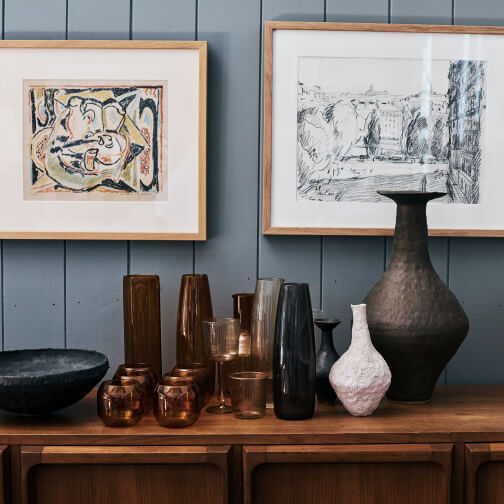 R+D.LAB
carafe
goop, $165

SHOP NOW
Favorite Instagram account to follow?
@pastagrannies. I mean, there's lots that I like to look at, but that is really good.
Best piece of advice you've ever gotten?
Make good things. It came from a woman I met many, many, many years ago, and it's an easy little mantra to come back to when I lose my way. It just calms me down and I can get a bit of clarity and keep moving forward. I'd love it if it was more philosophical, but that's the best I can do.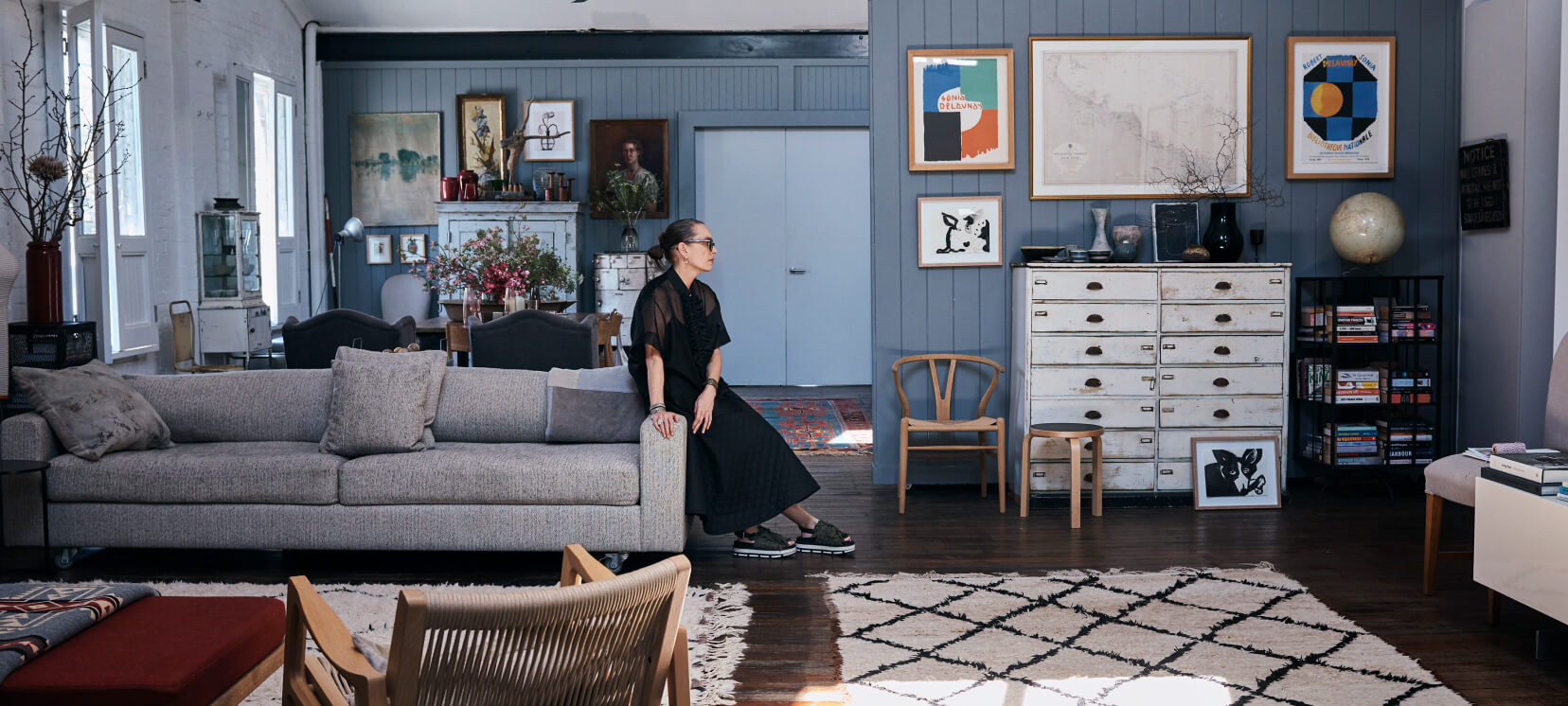 Related Reading
6 Designers New to the goop Shop—and Worth Getting Behind
Why We All Want to Be (and Dress) Like Natalie Martin
How a Psychic Reading Inspired Summer's Cool-Girl Brand