Over the past few years I've been lucky enough to drive a large majority of the new cars on sale, from hot hatchbacks and family SUVs to ultraluxury sedans and supercars. I love getting to experience the amazing variety in the automotive industry, especially as the world is reaching a tipping point in terms of electrification. Recently, while spending a week with the 2023 Mercedes-AMG EQE, I solidified my thoughts on something that's been brewing in my brain for a while: I don't want to drive gas-powered cars anymore. In nearly every new car internal-combustion car I've driven over the past couple years, I've come away thinking, "damn, that would just be better as an EV."
The outgoing Mercedes-AMG E63, the EQE's closest ICE equivalent, was a hilarious car. It was rowdy and fun to drive while still being an excellent luxury car with all the best modern tech features. Obviously I love AMG's twin-turbo 4.0-liter V8, one of the most giggle-inducing engines on the market. I'll be sad when the AMG V8 dies — it's true that EVs can't match the visceral drama of a loud, powerful engine. But for all the old-school character you lose when the gas engine goes away, Mercedes has introduced plenty of new, interesting drama with its AMG-specific EV powertrain.
Of course the AMG EQE has mega straight-line performance; that's a given for an EV. Its 677 horsepower and 738 lb-ft of torque result in a 0-to-60-mph time of 3.2 seconds, on the quicker end of the EQE's midsize segment. But the AMG also has continuously variable torque vectoring, rear-wheel steering, a low center of gravity, excellent regenerative braking, well-tuned adaptive air suspension and improved thermal management, all of which add up to the EQE being an absolute hoot on a twisty backroad. It's fun to drive because it's electric, not in spite of it. Plus, the AMG gets a bunch of unique spaceship-like noises pumped through interior and exterior speakers when you accelerate, brake, power the car on, or lock it and walk away. The Jetsons sounds won't be for everyone, but they're definitely for me.
The EQE's closest competitor is the Porsche Taycan, which isn't just a fantastic electric car — I think it's the best car Porsche makes today, full stop. It has the same sharp steering, impeccable ride quality and intense performance you expect from the brand, with cutting-edge 800-volt architecture giving the Taycan a wholly modern feel. Plus, it's far more appealing than the Porsche Panamera, a fantastic car in its own right. The BMW iX and Rivian R1S are two of the best SUVs on sale, period, in large part because of their electric powertrains. BMW's iX has controversial styling, but it also offers phenomenal ride quality and an exceptional interior that would not be possible with an internal combustion engine. Rivian's R1T truck and R1S SUV have on- and off-road capabilities only achievable with an EV.
G/O Media may get a commission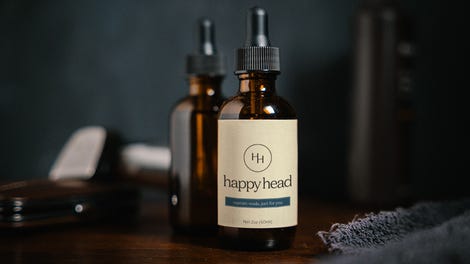 Grow those luscious locks back
This proprietary, prescription-grade topical Finasteride is proven to regrow hair in just a few months.
Go up another rung or two in the luxury ladder and EVs are an even bigger no-brainer. The Bentley Continental GT Speed and Rolls-Royce Ghost Black Badge both have whisper quiet twin-turbo 12-cylinder engines that are absurdly smooth and hugely powerful. These cars already drive like EVs, so the transition to electrification for high-end brands (and their customers) should be seamless. Aside from needing to plug in overnight, no owner will really notice a difference. Rolls-Royce has already revealed the Spectre, its first EV that will go on sale later this year with spectacular looks and, Rolls claims, the company's best comfort and performance yet. While the Spectre's 260-mile range is on the lower side, the concept of range anxiety truly doesn't matter for this caliber of vehicle.
It's not just luxury cars that make me feel this way. The Chevrolet Bolt EV is another great example. Chevy's entry-level cars, like the Trax and now-dead Spark and Sonic, have never been that compelling. Most economy cars aren't, honestly. The Bolt has an affordable price tag, but it's certainly a more pleasant driving experience than gas-powered cars in its category, thanks to instant torque, a quieter cabin and a more composed ride — all courtesy of that big battery pack and electric motor. The Volkswagen ID 4 is boring as hell and plagued with obnoxious ergonomic and infotainment issues, but at least it's much nicer to drive than a Tiguan. Segment favorites like the Honda Accord, Hyundai Tucson, Kia Telluride and Mazda CX-5 would all be improved with an electric powertrain; so would the least appealing models in each class.
A large number of EVs currently on the market are electric versions of existing internal-combustion cars, which leads to inherent compromises when compared to purpose-built EVs. Still, I prefer all of these adapted EVs over their gas counterparts. Take the new Kia Niro, for instance. The standard Niro is a wonderful little crossover with a funky design, lots of desirable features and a fine hybrid powertrain, all for a more than reasonable price. But for not much more money, you can get the Niro EV, which is more enjoyable to drive than the hybrid in every single way — especially if you try them out back-to-back, as I did at the launch event. The Mini Cooper S E is far and away the best version of the current Mini, even with its meager 110-mile range and slow charging speeds. I spent a few months with one last year and it was honestly a perfect commuter for Los Angeles, with a zippy powertrain and that traditional Mini charm. While Volvo's XC40 is a great little crossover, its coarse turbocharged engines are a weak point. The XC40 Recharge EV remedies all of the car's powertrain issues and feels more premium as a result. BMW's redesigned 7 Series is fabulous —probably the best car in its class — but the fully electric i7 is even better, all because of the EV drivetrain. I can't wait to try out the upcoming EV version of the fifth-gen Range Rover, already an exceptional SUV that should be made even better with a couple of electric motors.
Dedicated EV platforms allow for car designers to have a lot more fun with proportions and details, resulting in much more playful and groundbreaking designs. I miss the BMW i3, one of the most revolutionary cars of the past few decades that truly felt like a breath of fresh air when you stepped inside, but its ethos is alive and well throughout the industry. The lovely Hyundai Ioniq 5 and Ioniq 6 have cyberpunk, super efficient designs that could never exist in an internal-combustion form, and they look totally different from the platform-sibling Kia EV6. After years of concept attempts, Volkswagen finally nailed the Microbus revival with the ID Buzz, which has clever packaging that wouldn't be possible with a conventional drivetrain. And look at the Cadillac Celestiq, a wild $300,000 fastback that's bringing back hand-built American opulence.
Engineers get to be more experimental, too. Many electric cars are pushing the boundaries of aerodynamics, partially because a sleek design helps with battery range. Mercedes-Benz's super slippery Vision EQXX recently drove 747 miles on a single charge, and its awesome styling and aero tech will be found on the electric CLA replacement arriving next year. On the flip side of efficiency, performance EVs are achieving feats that gas cars could never. Multiple electric SUVs on the near horizon will be able to do "tank turns" to spin in place. The Rimac Nevera has the most advanced torque-vectoring system ever made, and it has broken every acceleration record under the sun. Lexus is even working on a simulated manual transmission for its upcoming LFA successor, and the Hyundai Ioniq 5 N will debut later this year with a simulated DCT.
Obviously, there are vehicle segments where EVs just don't have the capability to replace internal combustion just yet, like heavy-duty trucks and certain commercial vehicles. For enthusiasts, there's really only one type of vehicle that isn't quite ready for a total EV makeover: The sports car. Outside of super limited hypercars (and, perhaps, the original Tesla Roadster), no brand has managed to make a battery-powered vehicle that offers the all-around performance of a serious enthusiast vehicle. It's hard to replace a characterful internal-combustion engine, like the Hyundai Kona N's raucous turbo four-cylinder, or the Porsche 911 GT3's sublime naturally aspirated flat-six, and I'll be sad when they're gone. And we aren't at a point yet where an EV can match the value of a Toyota GR86, Honda Civic Type R or Mazda Miata.
We're getting there, though. Honda is working on multiple electric sports cars, and I couldn't be more excited for the next generation of Porsche's 718 Boxster and Cayman, which will be available exclusively as EVs. AMG, Audi, Honda, Hyundai, Lotus and Toyota are among the brands working on dedicated EV performance cars, not to mention companies like Ferrari and Lamborghini. Some people are rightfully worried that all EVs will feel and drive the same, or just be plain boring, but recent experience tells me that won't be the case. One of the best cars I drove in 2022 was the Automobili Pininfarina Battista, a $2 million hypercar with 1,877 horsepower. It's crazy fast, yes, but what made me fall in love was the car's personality. The Battista has all the theater of a traditional Italian supercar with none of the powertrain-related drawbacks.
Sure, the infrastructure can still be a pain in the ass — for example, I have no way of charging at my apartment. There aren't nearly enough chargers in our country for an all-out switch to EVs, and the chargers we do have are frequently annoying to use, too slow or completely broken. It's a chicken-or-egg thing — the infrastructure won't improve until more people start buying EVs, but people won't buy EVs until the infrastructure improves.
It helps that, in addition to major companies like Chargepoint, Electrify America and EVgo expanding their networks, automakers are jumping. Tesla has its massive Supercharger network that will soon open to non-Tesla EVs in the U.S., and Rivian has started constructing its own network. Audi is working on fancy EV rest stops, Jeep is installing chargers at trailheads and national parks, and Mercedes just announced plans to build 2,500 chargers in the U.S. by 2027.
And luckily, despite what some people post on Reddit, gas cars are not on the verge of being totally banned. We still have about a decade before most automakers plan to go fully electric — in markets that can support that shift — and even then, it's not like the hundreds of thousands of Toyota RAV4s sold over the years will suddenly be banned from the streets. Classic cars will still exist, too, and the promise of vintage iron converted to EV power is extremely enticing to me, but that's a whole 'nother hot take.
The power and serenity offered by an electric powertrain is unmatched, and one-pedal driving is so enjoyable, it's hard to go back. I love not having to stop at gas stations, instead plugging in while I run errands. And I'm excited that the world is just at the beginning of the electric-vehicle revolution. The technology is still in its infancy, but improvements and innovations are happening rapidly throughout the industry, resulting in truly interesting cars. The widespread adoption of EVs is coming, whether you like it or not. Personally, I'm glad to be firmly in the camp cheering "bring it on!"