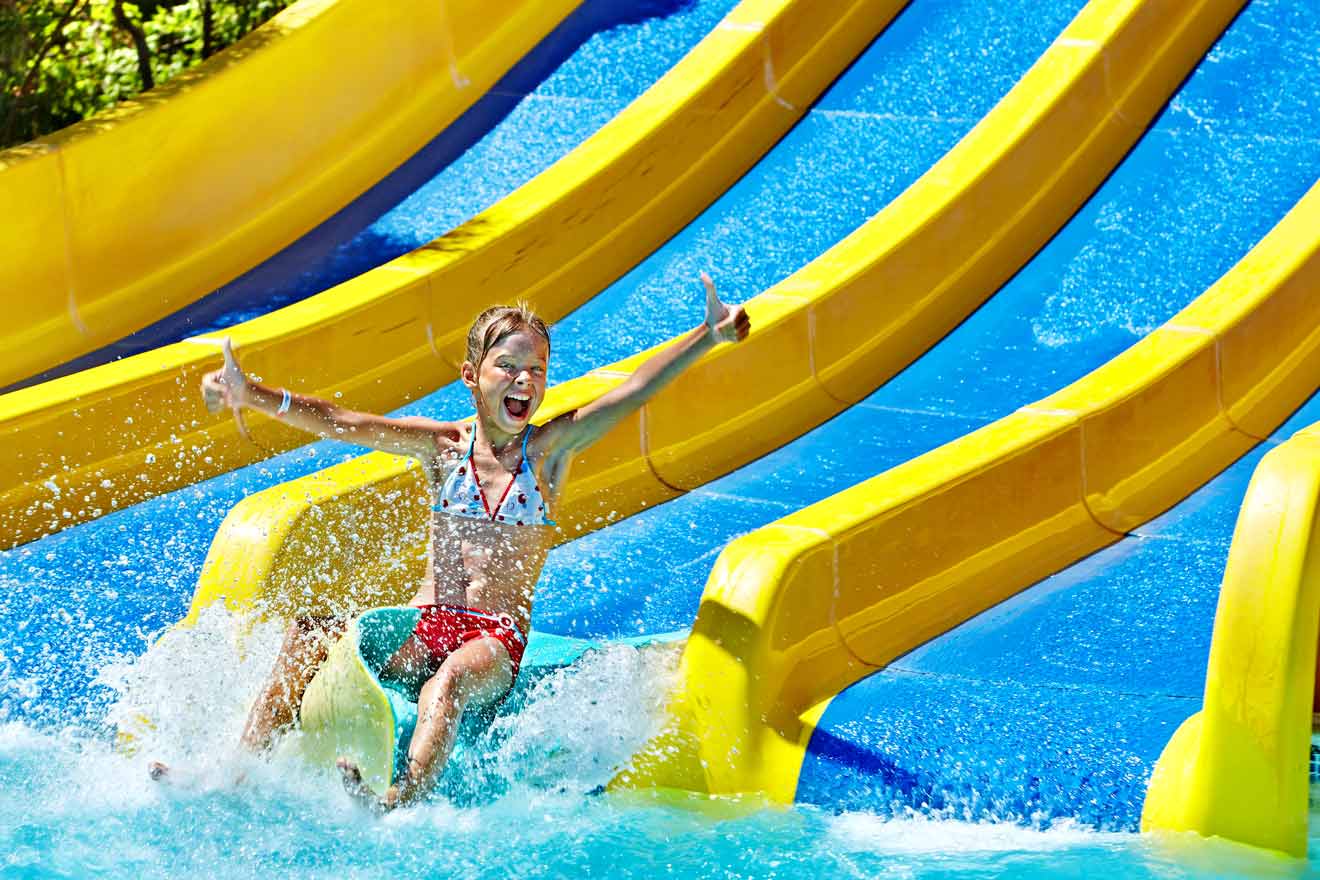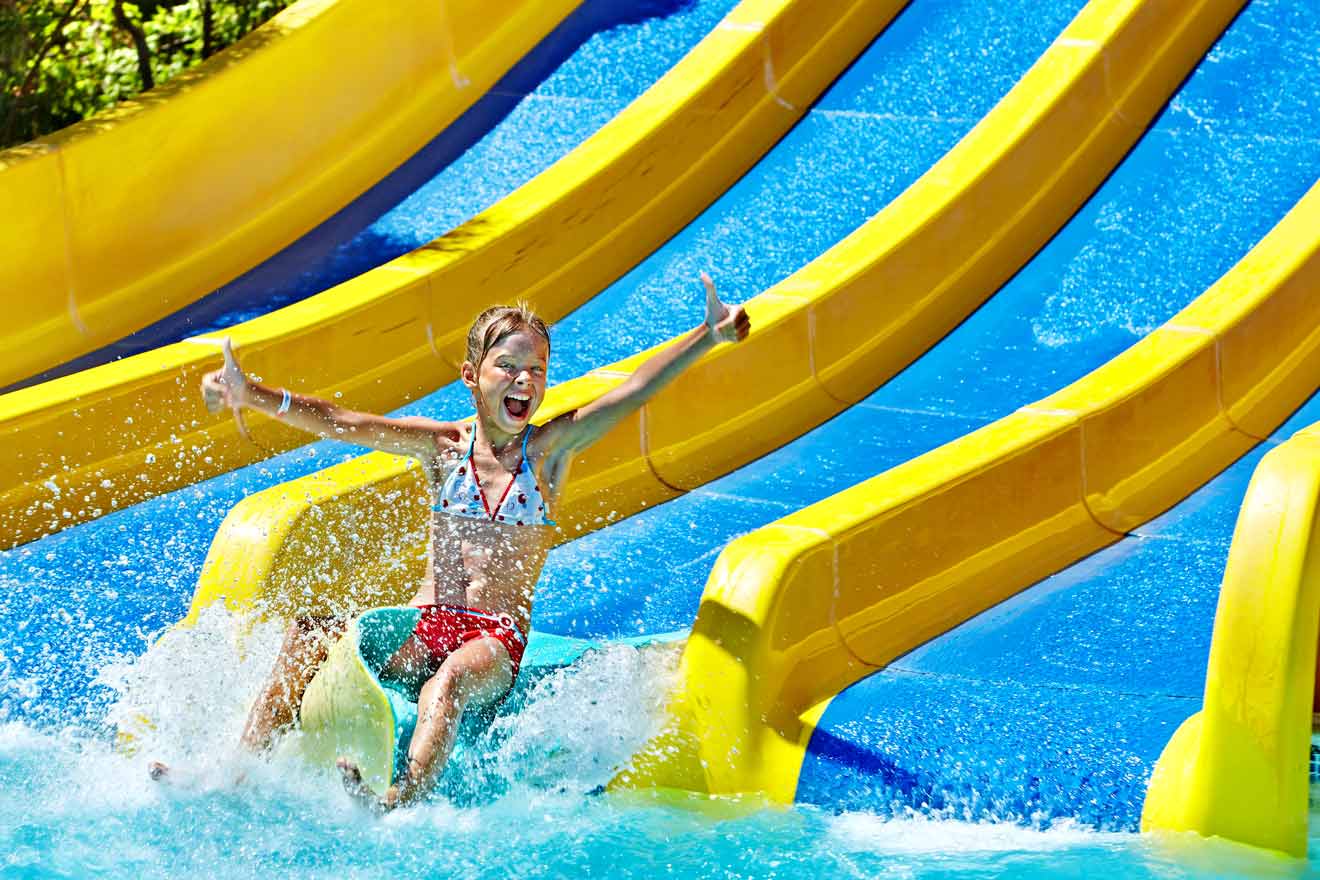 Buenos dias amigos! Are you planning a fun trip to Cancun with your little ones and you're looking for some fabulous resorts? Well, you're in the right place!
Come along and let's find the perfect Cancun water park resort for you! I've searched the web for so long that I became a pro in picking the right one, and you'll see that I've only included the resorts with the best reviews in this list!
I've also listed them from most to least expensive so you can easily go through the list and find something to suit your budget.
But I don't want to bore you with all the details so let's start. Just one more thing that I can't emphasize enough: book fast! Oh yes, these accommodations sell out super quickly (especially the all-inclusive family resorts) so make sure to save your spot!
Vamos a la playa!
If you are in a hurry
Looking for a short but trustworthy summary of the post? Check out this list it has the best resorts in Cancun with water parks:
1. Hyatt Ziva Cancun – family resort with a kids club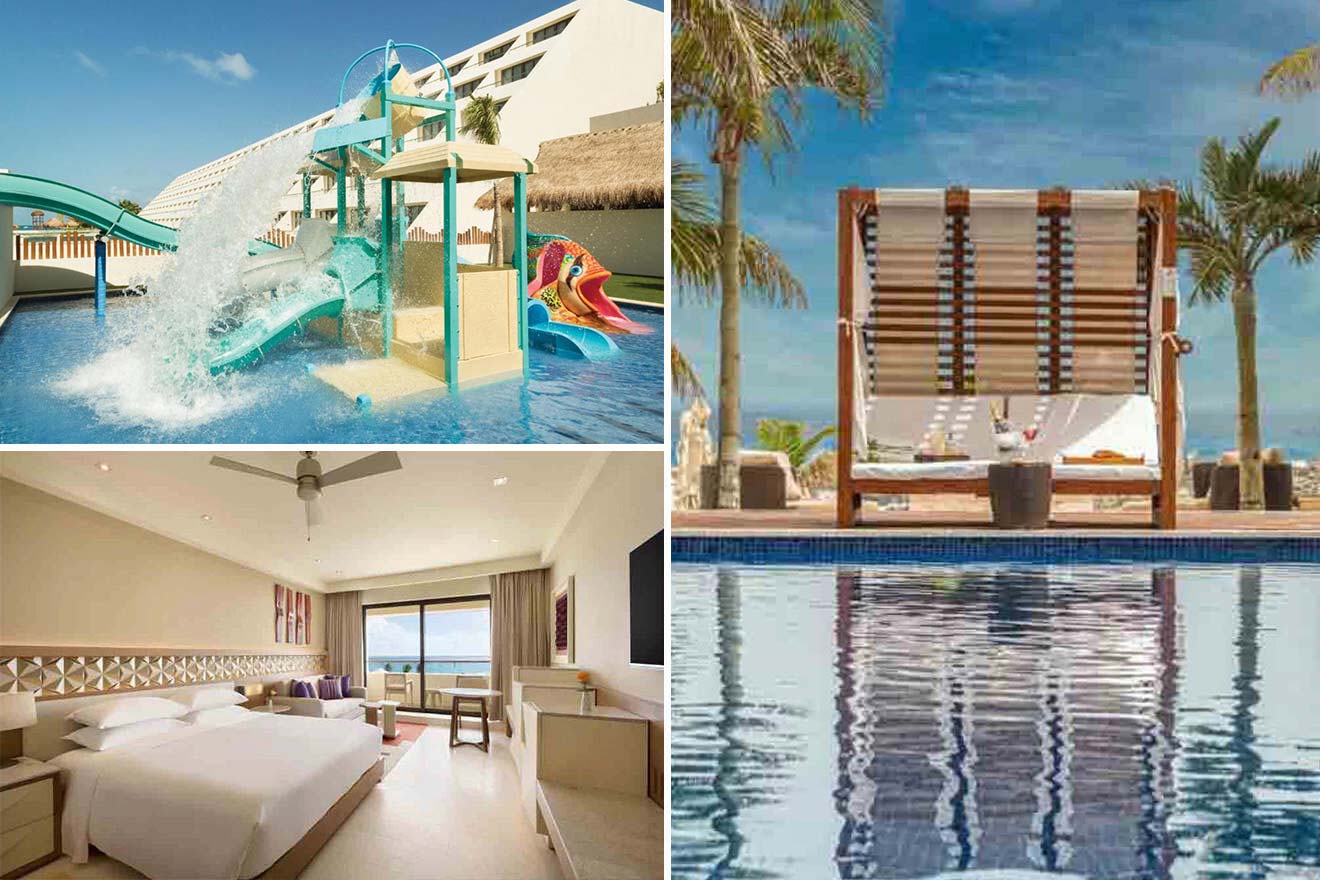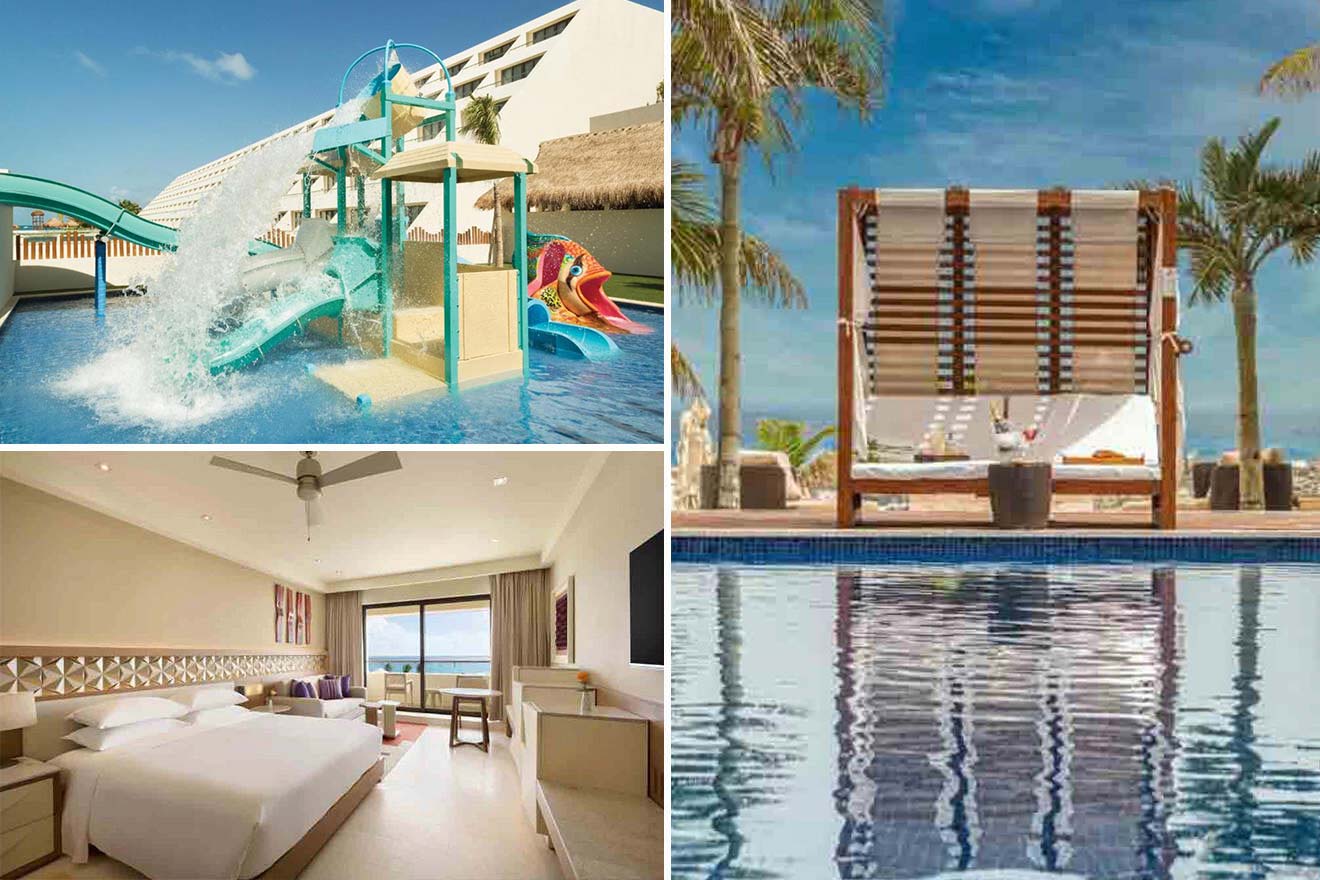 Planning your family vacation to Cancun? Well, I'm sure you know that there are some amazing family resorts with water parks in Cancun! Just like this beachfront resort that offers incredible views of the Caribbean Sea and a fantastic water park that has cascading pools and water slides!
And that's not it, the resort also has an on-site dolphin habitat (which I'm sure will make the older kids super happy). And don't worry parents, there are plenty of fabulous amenities for you as well, including the scenic infinity pool and a spa center where you can relax when you're not playing with the little ones at the kids club!
Check Current Prices
2. Finest Playa Mujeres – cool resort with 10 pools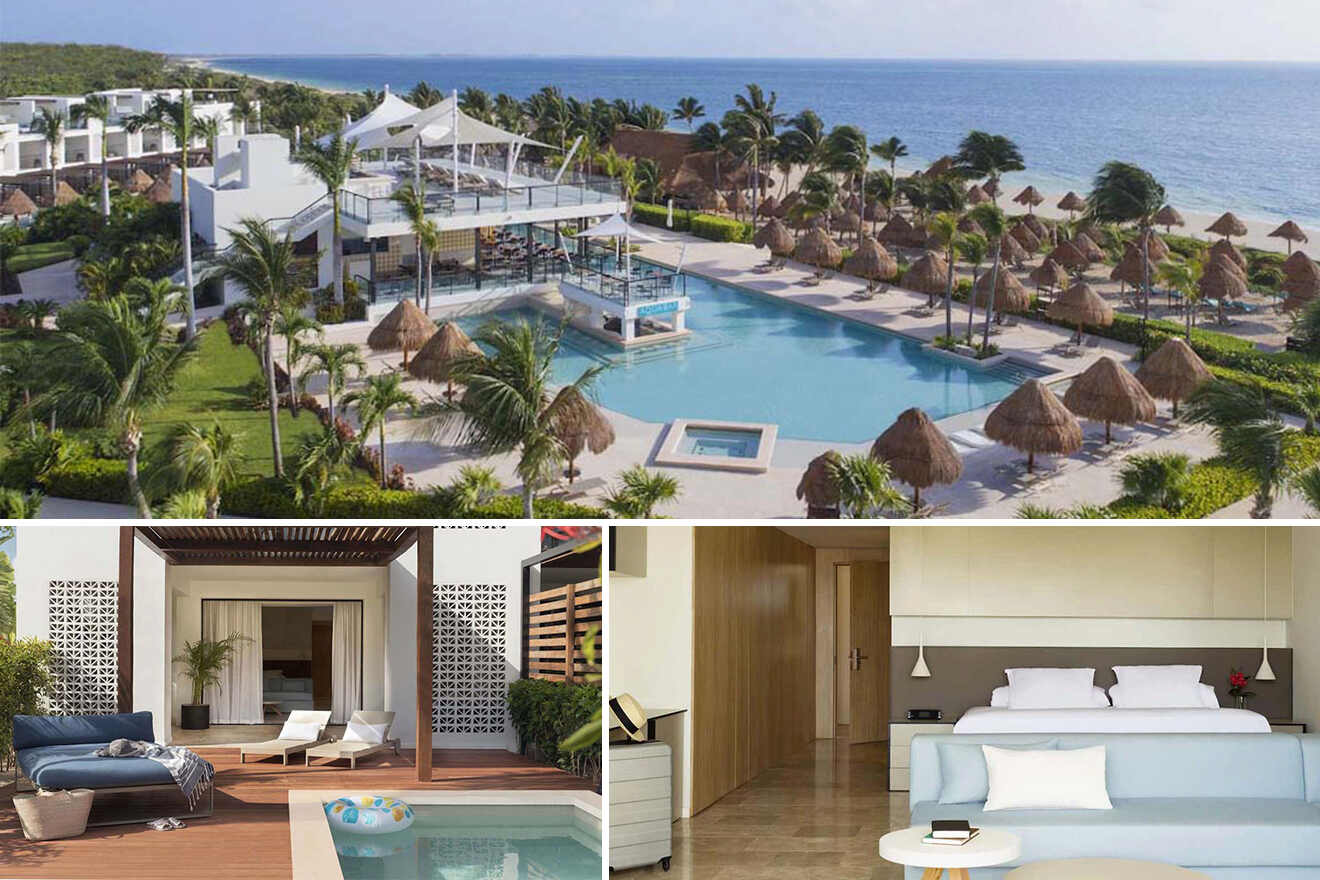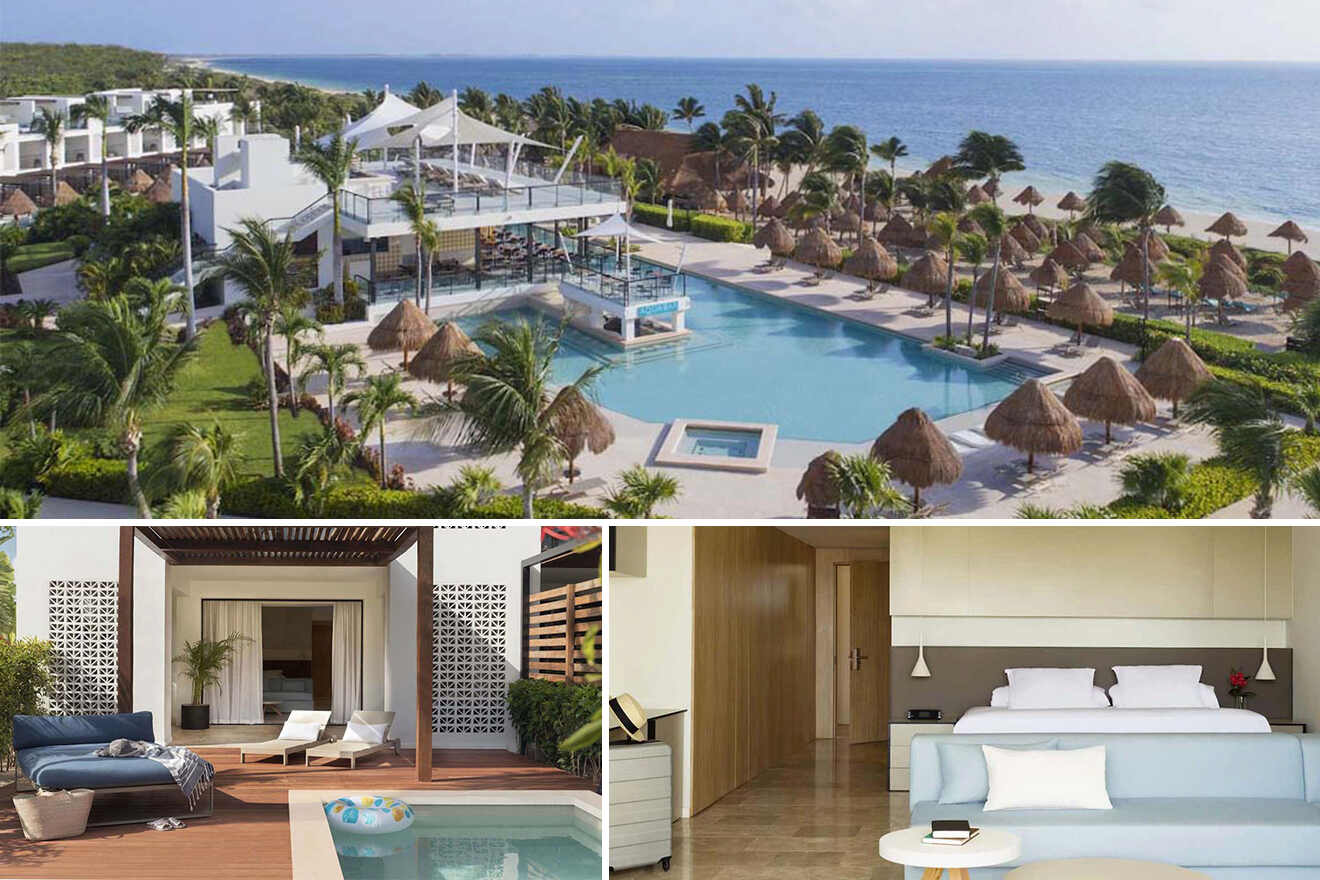 Your Cancun trip with the whole family will be unforgettable, of that I'm sure! Especially after staying at one of these amazing resorts with water parks! This all-inclusive resort has everything you need for your stay including ocean view, spacious rooms, multiple pools, and a fun water park of course!
You and the kids will never want to leave! You can start your days with a yummy breakfast and then head out to try some of the water sports that they offer. They also offer babysitting services for the young kids in case you need a moment at the spa center (can't say no to a hot stone massage)! Don't forget to book your hotels in Cancun early, because these ones will sell out fast!
Check Availability
3. Dreams Vista Cancun Golf & Spa Resort – with a splash park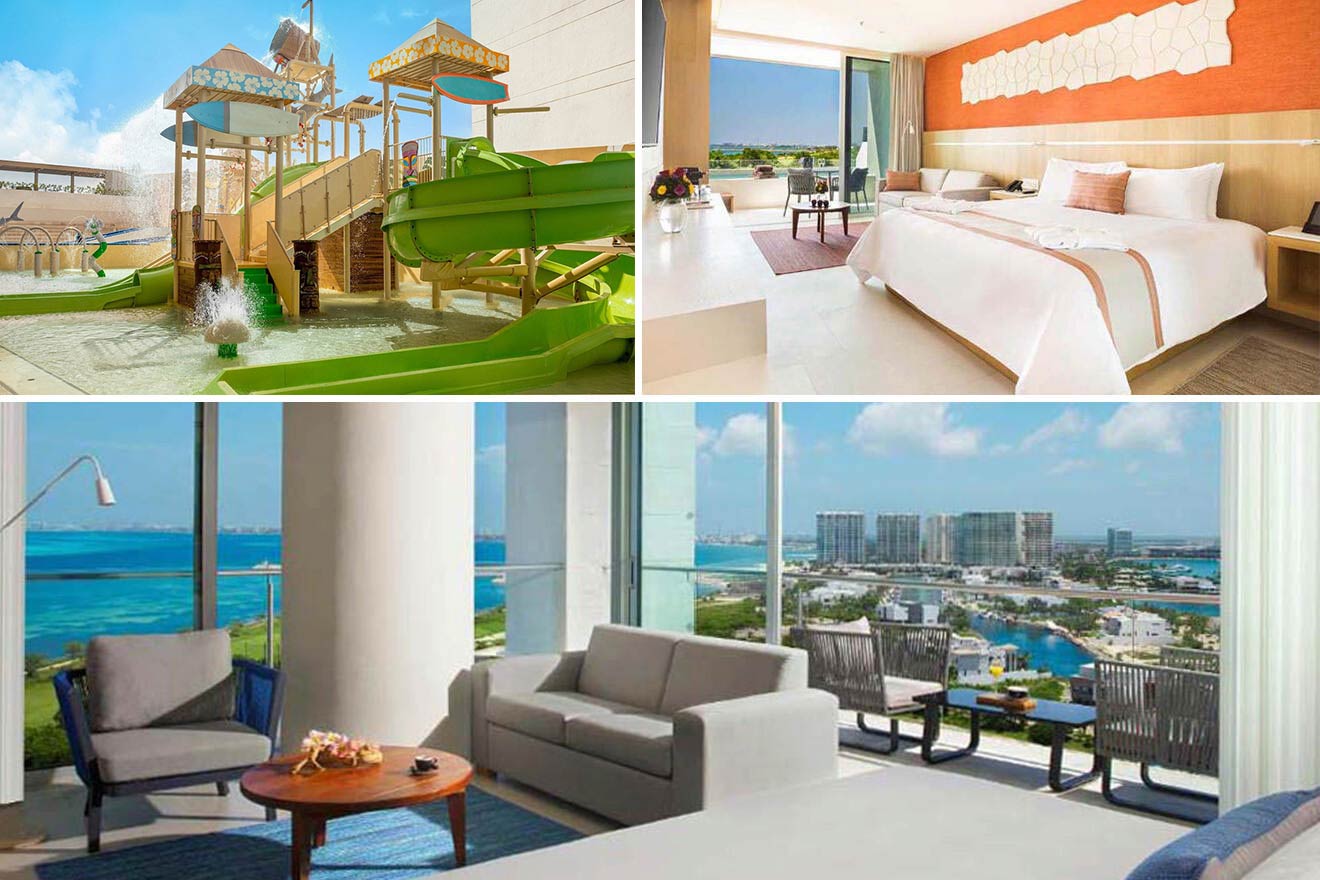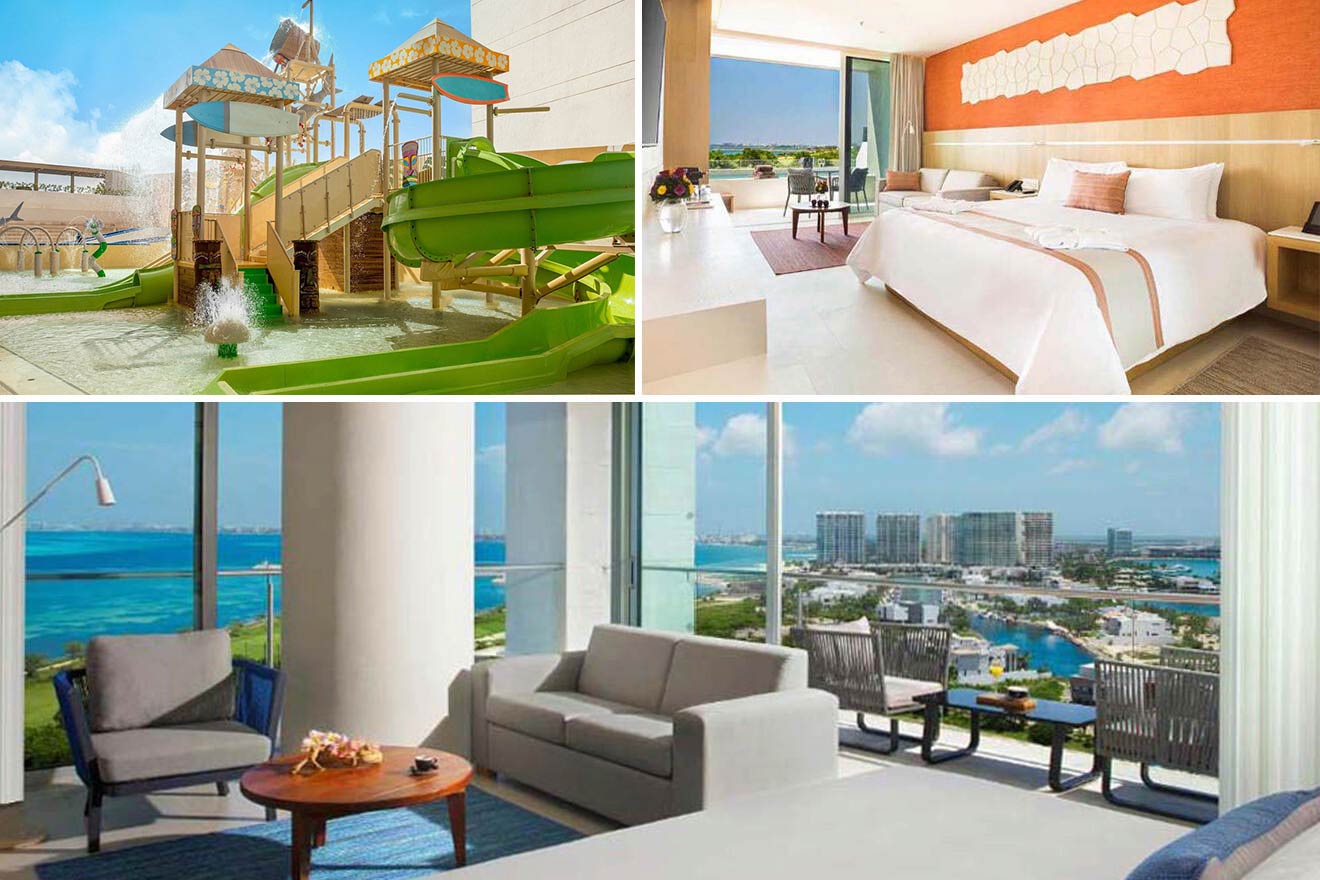 Set on a private beach area and right next to a golf course, this all inclusive family resort has such cool amenities! Starting from their dreamy rooms with a plunge pool and a private balcony offering incredible views to their ever-amusing splash park will make this family vacation a memorable one!
Of course, there are a bunch of more cool amenities like surf pools, live performances and a kid's club. Oh yes, the parents will love the evening entertainment as they will the spa which has around 8 treatment rooms. And if you're looking to stretch those muscles after trying all the water sports and hanging by the water park, then sign up for a beach yoga class (it does wonders for one's well-being)!
Find Available Dates
4. Dreams Playa Mujeres Golf & Spa Resort – with 2 infinity pools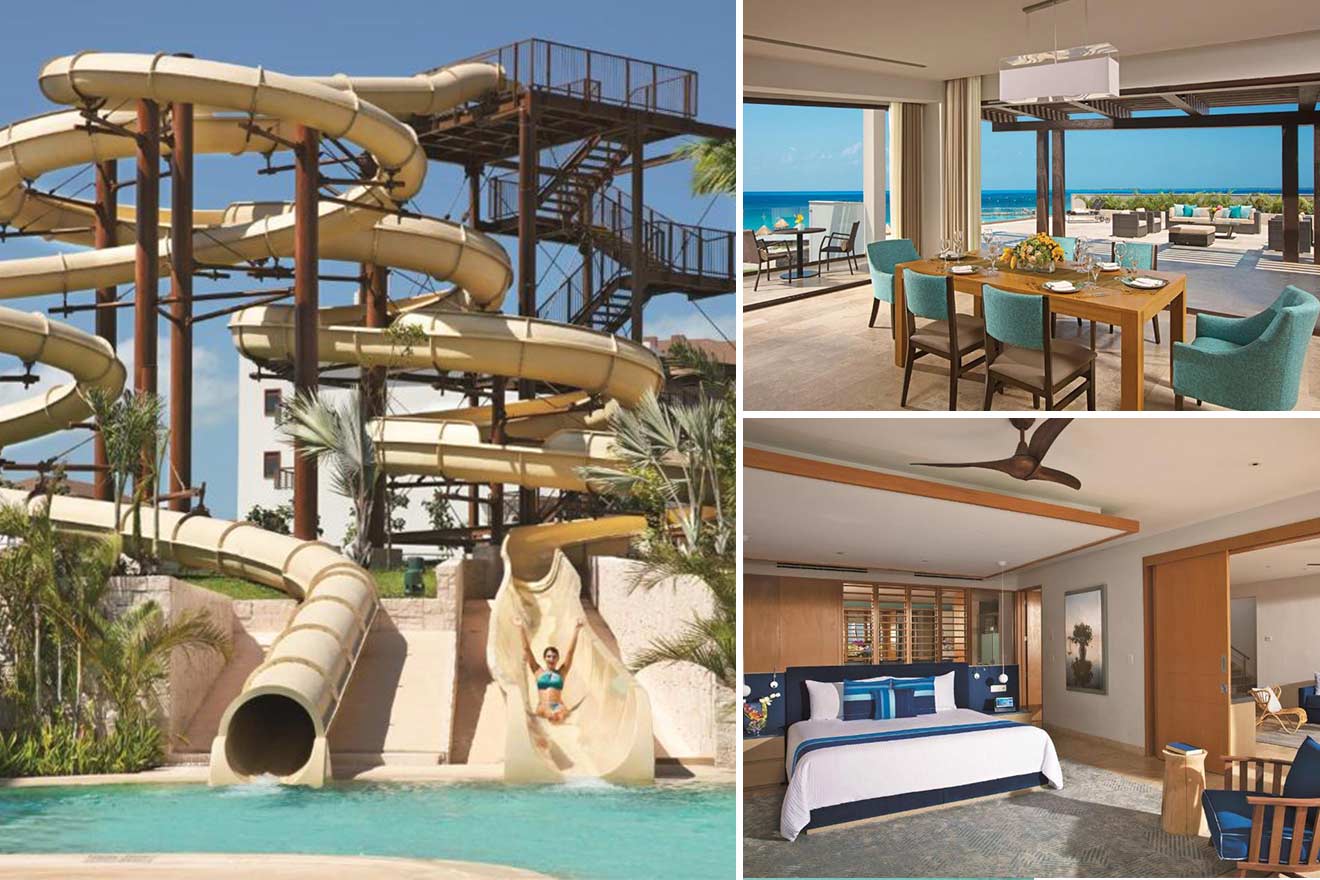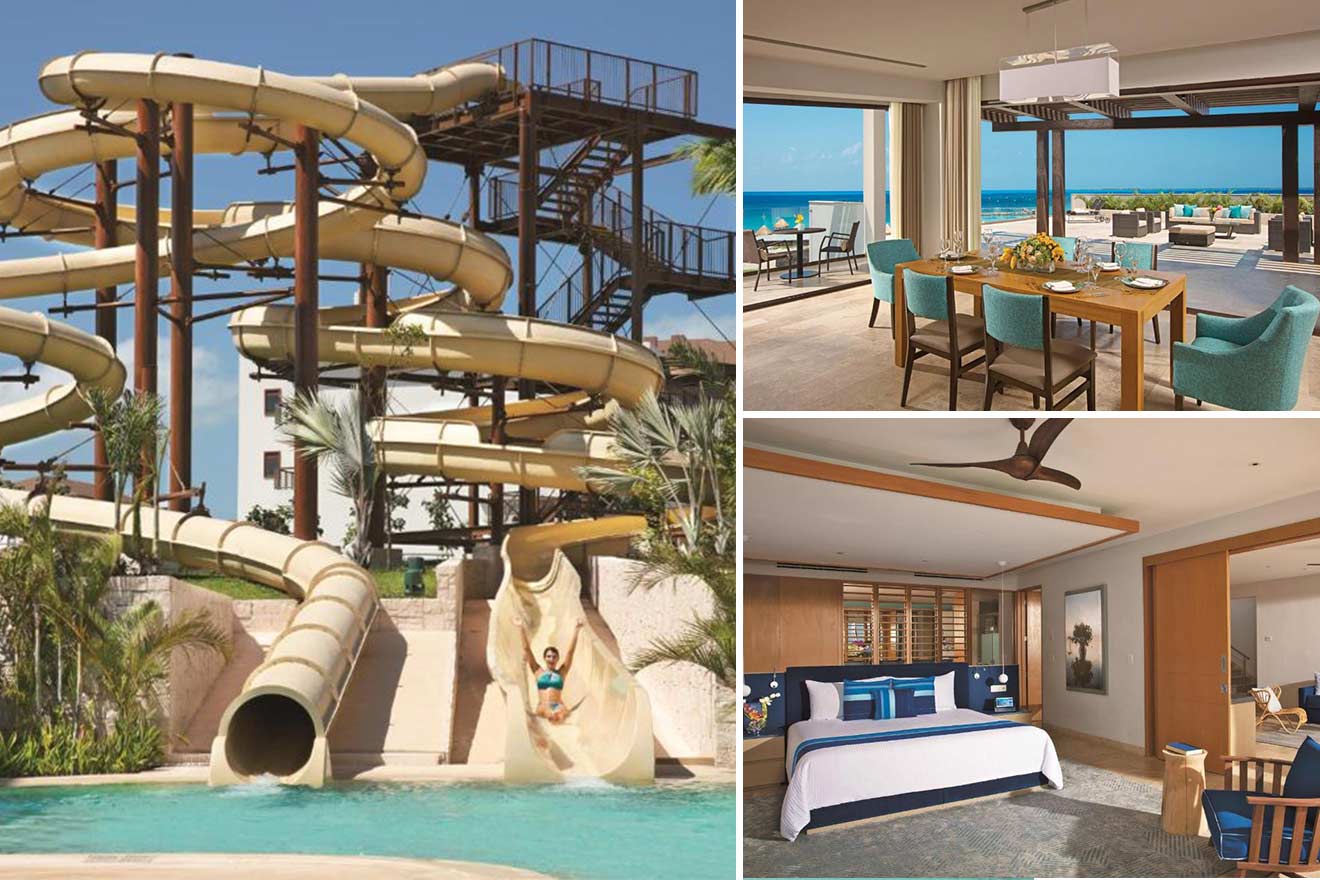 Fancy a Cancun resort that has 3 levels of swimming pools that include 2 infinity pools, 6 hot tubs, a mini-golf course, a children's pool, and a water park? Me too! I mean look at this place, it screams a fun family holiday!
Located only a 30 min drive away from Cancun Airport, the all-inclusive resort has no more and no less than 13 restaurants on-site (hand me the fork)! But I'm sure the star of this place will be the water park, with its long slides! But guess what, they also got a game room, and lots of watersports so you better charge your batteries because there are lots to try here!
Check Current Prices
5. Moon Palace Cancun – beach resort with mini golf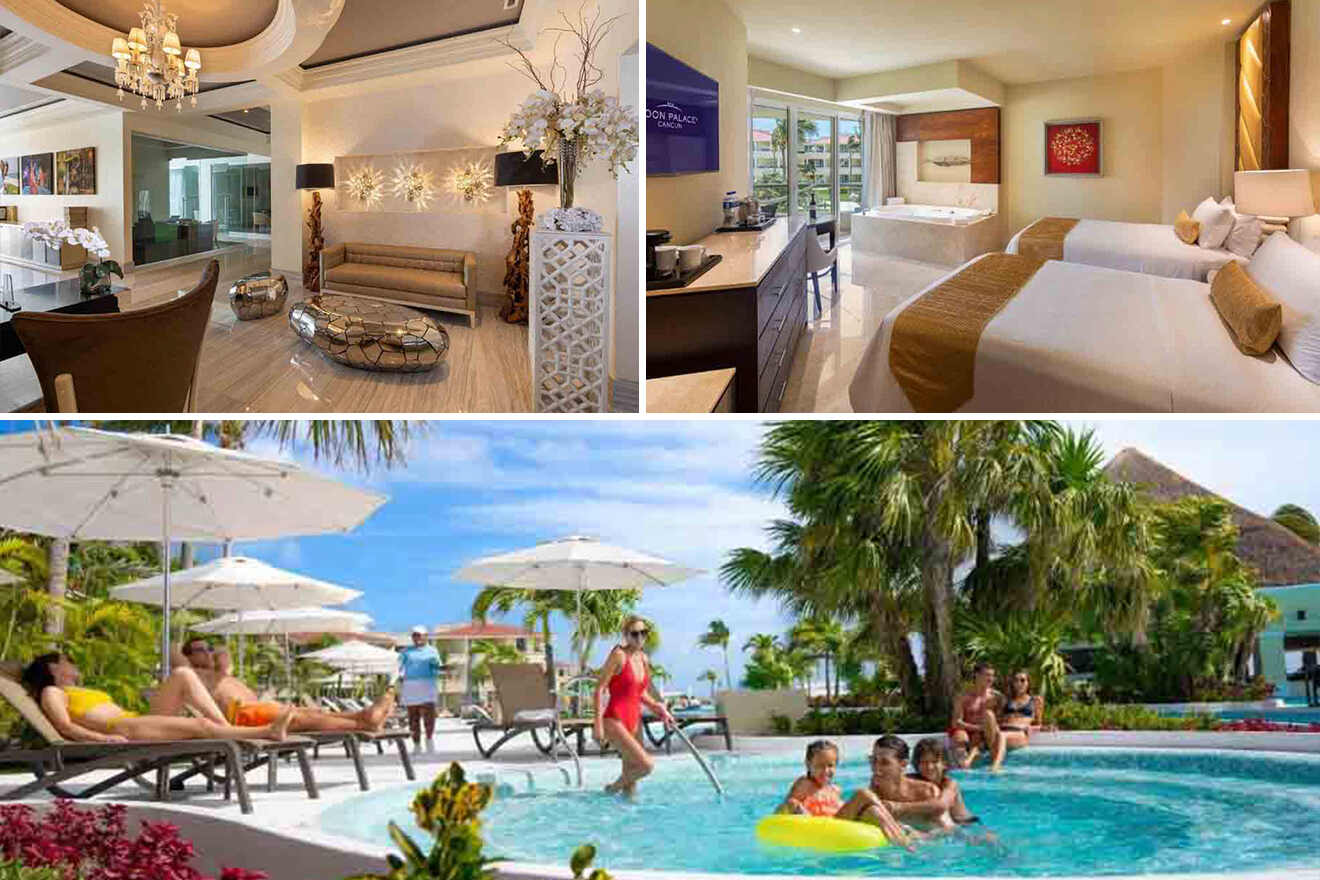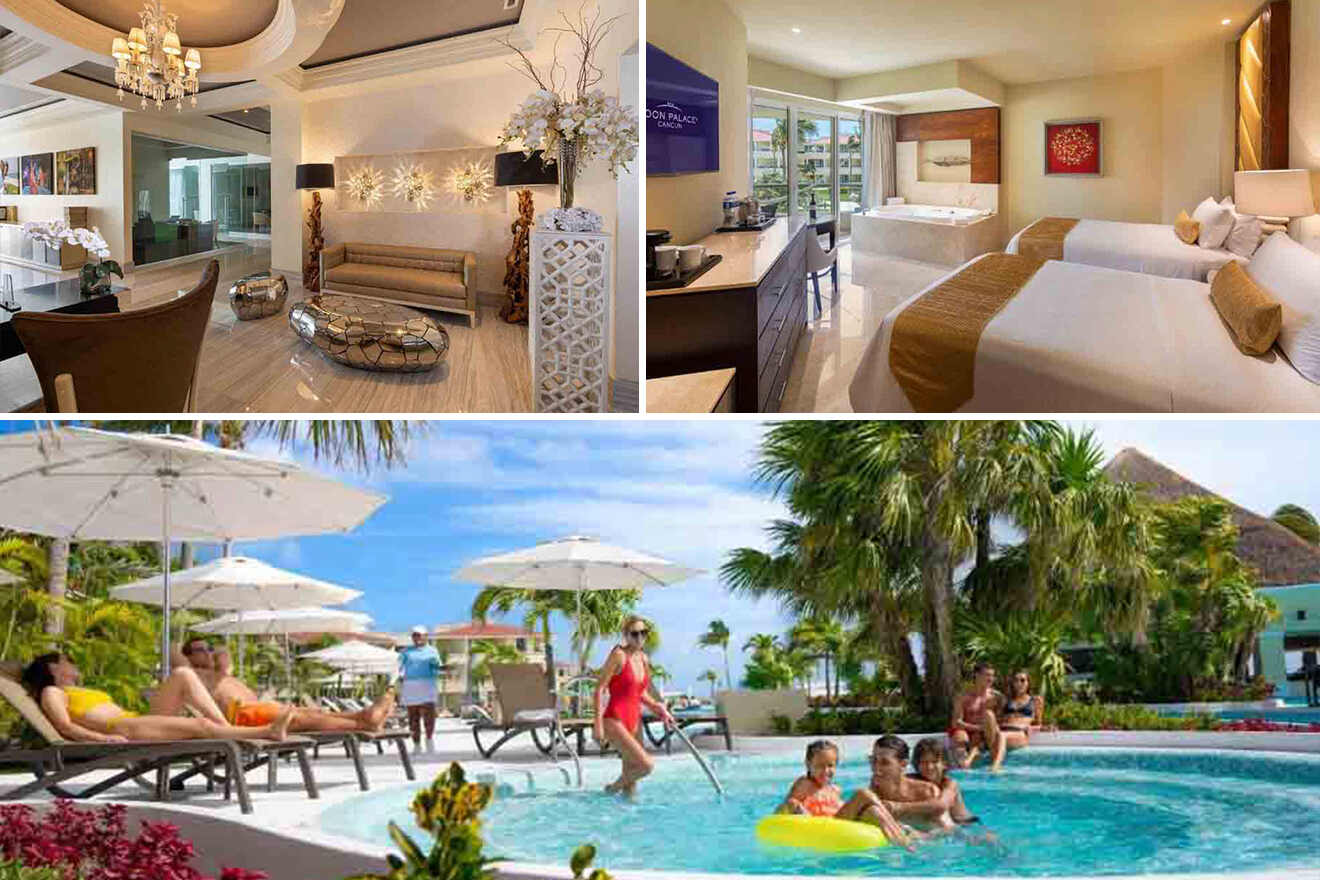 Located on a beautiful beach (that's also private), this luxurious all-inclusive resort offers some breathtaking ocean views that you can admire from your super comfortable room that has plenty of space for the whole family!
And guess what, not only does Moon Palace resort have a 27-hole golf course (Jack Nicklaus designed that) but also a huge water park! Oh yes! I'm talking about lots of slides and lagoon pools! And although the list of amenities doesn't end here (you also get a kids club, a game room, and a tennis court), I'm sure you'll want to venture outside of the resort, and for that, you can join some bike tours or local culture tours! 
Check Availability
6. Wyndham Alltra – beach resort with 8 restaurants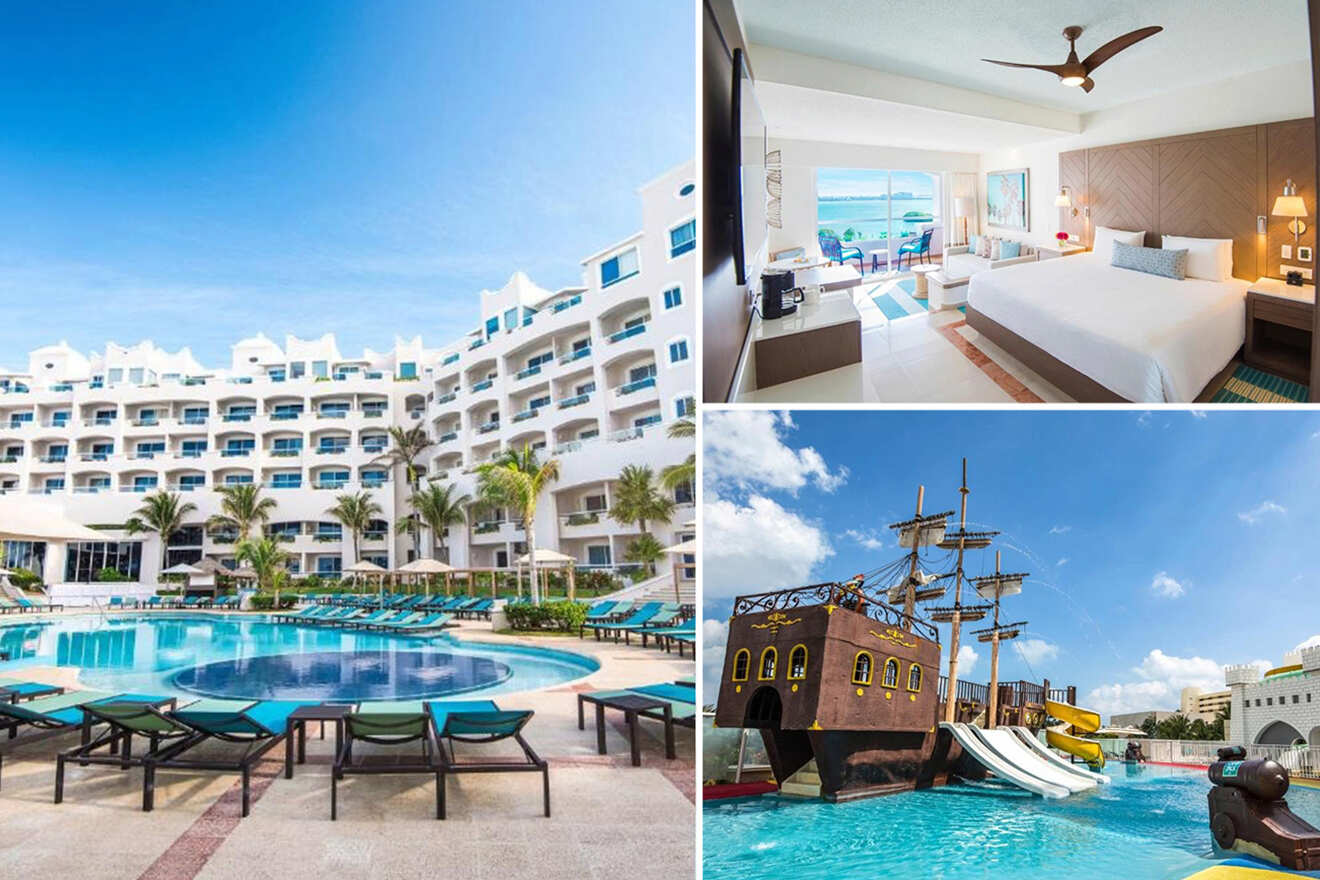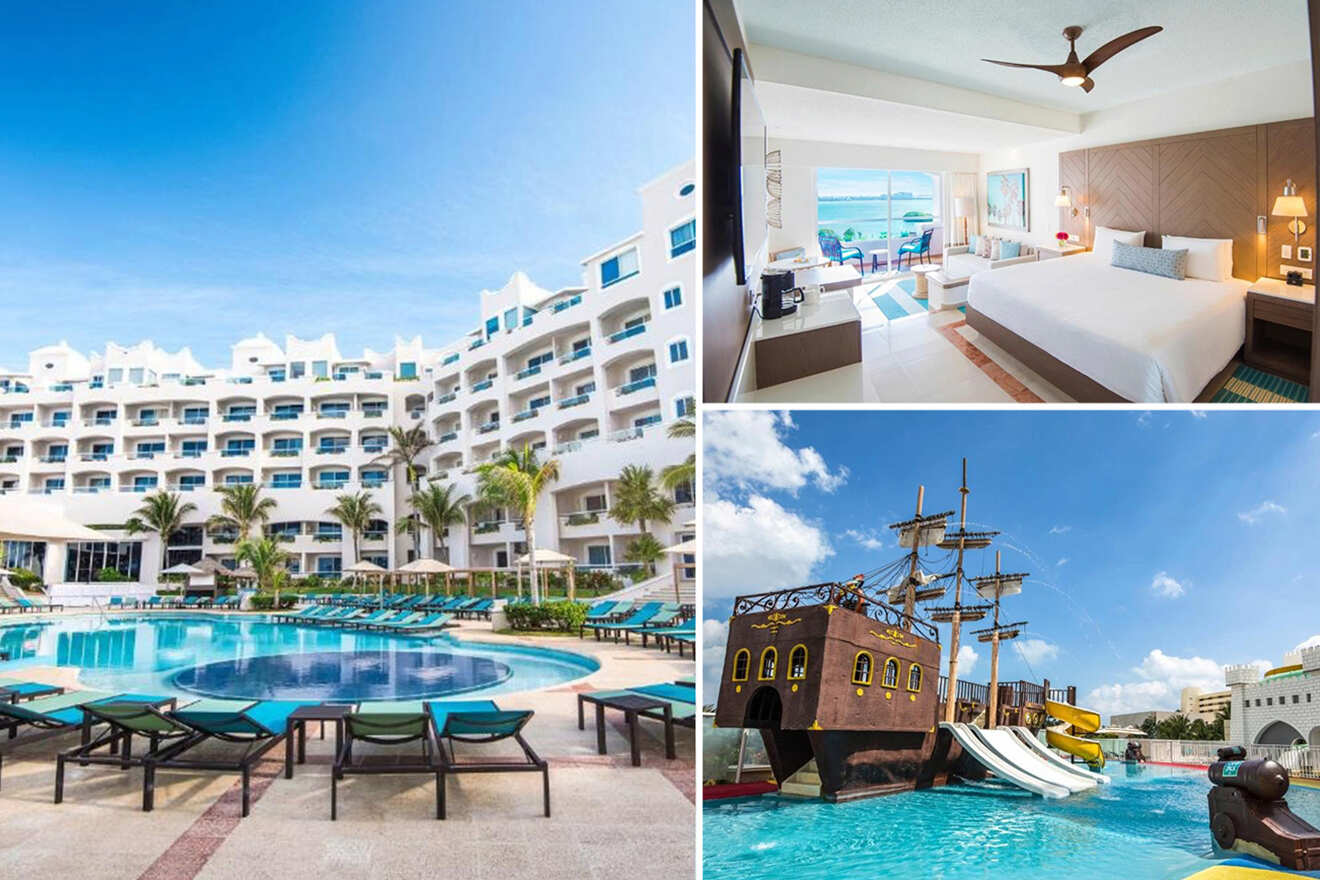 You'll want to wake up to this view of the Caribbean Sea every day because this Cancun resort (the former Panama Jack Resorts Cancun) has a stunning location in the city's hotel zone! Equipped with all the facilities you need for your family vacation like a pirate-themed water park that the kids will love, beautifully decorated rooms with ocean views and a playground!
You can enjoy your breakfast in your suites, however, I wouldn't miss the chance to dine at all of the 8 restaurants on-site which offer different cuisines from Mexican to international. Afterward you can play some mini-golf, chill in the game room with the little ones or book an afternoon just for yourself at the spa (I hear the neck massage is a must-try)!
Find Available Dates
7. Iberostar Selection – family resort with 4 swimming pools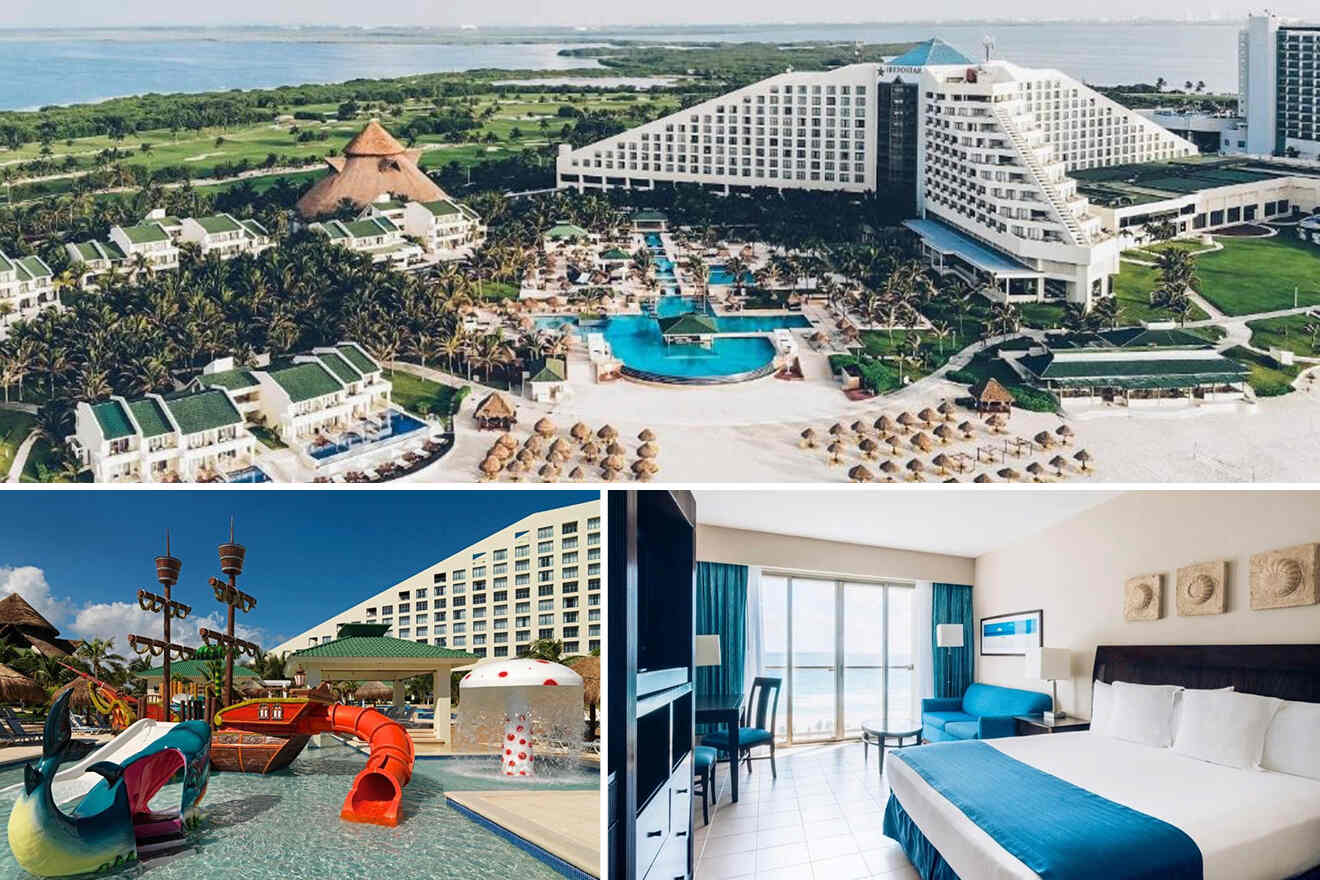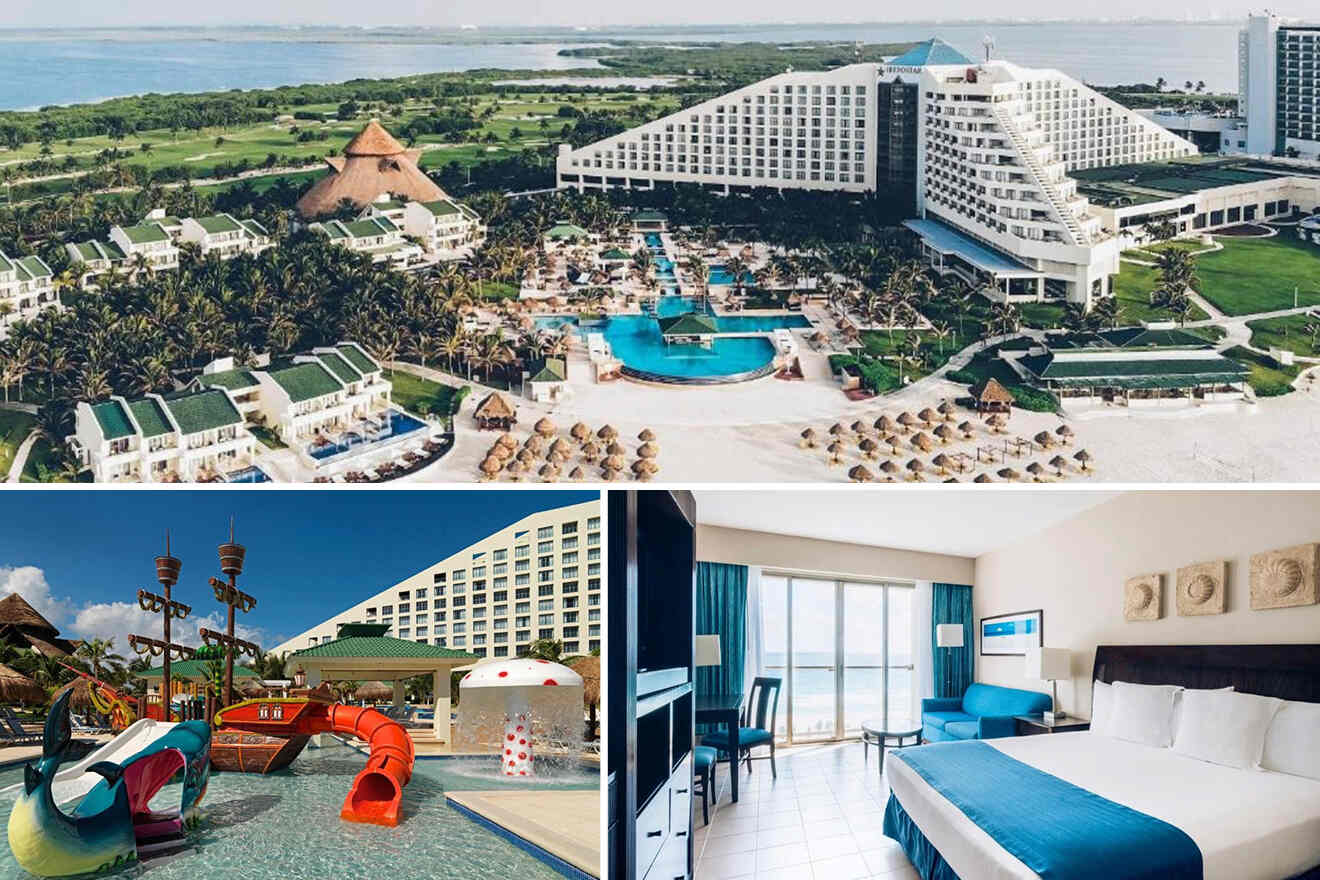 Chilling by the pool all day, relaxing at the spa, and eating yummy food, now that sounds like my kind of trip! This resort set in Cancun's hotel zone is perfect, and it offers so many family fun activities and a direct access to the beach so you can spend your mornings under the Mexican sun sipping on some iced coffee!
With seven pools on-site and a themed water park that has pirate boats and slides, Iberostar Cancun will become your favorite family resort in the city! Everything from the bars, restaurants, gardens and children's playground was designed to offer you the best time ever!
Check Current Prices
8. Riu Dunamar – modern resort with 5 swimming pools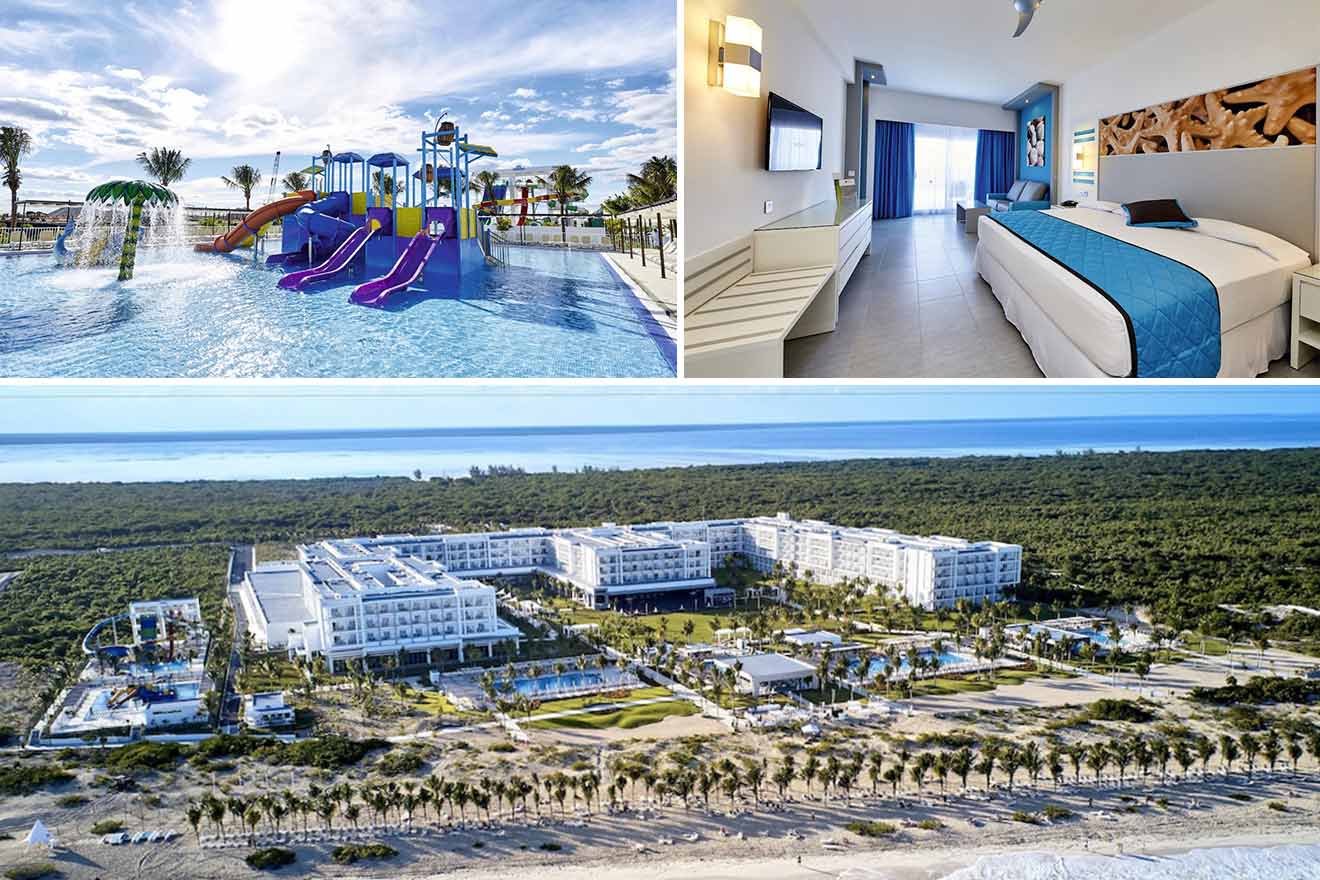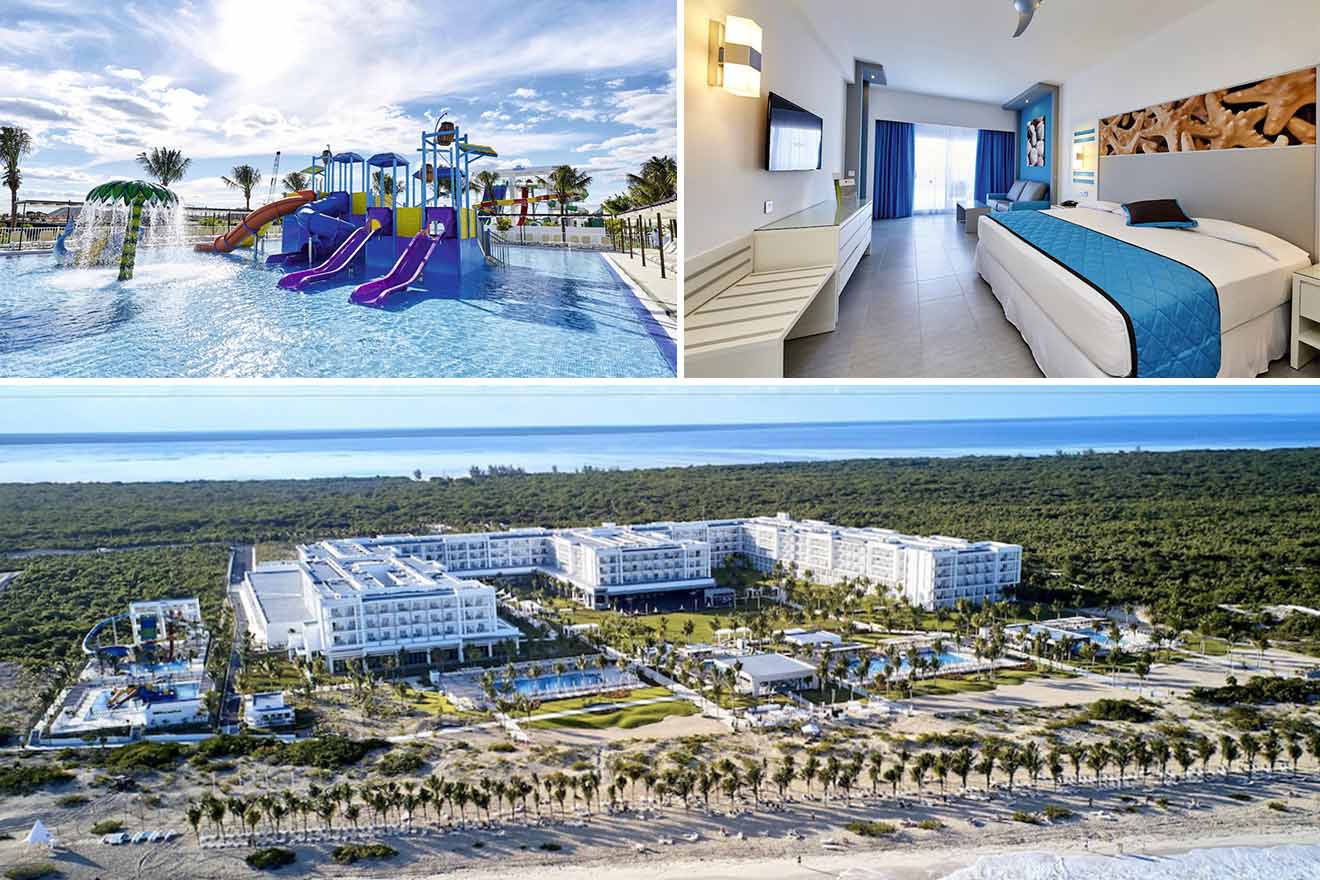 Start your morning with a massage on the beach at one of the best all-inclusive family resorts in Cancun! Then you can enjoy a yummy breakfast at one of the 5 restaurants on site and continue with some mimosas at lunch from the swim-up bar!
By the time the kids wake, you'll be ready to start a day full of play at the water park which has multiple slides! However don't forget that there are lots of water sports which you can try here from snorkeling, windsurfing and scuba diving. I hear the golf is pretty nice here too, as is the spa center which comes with 2 treatment rooms and a steam room!  
Check Availability
9. Royal Solaris Cancun – cool resort with a mini water park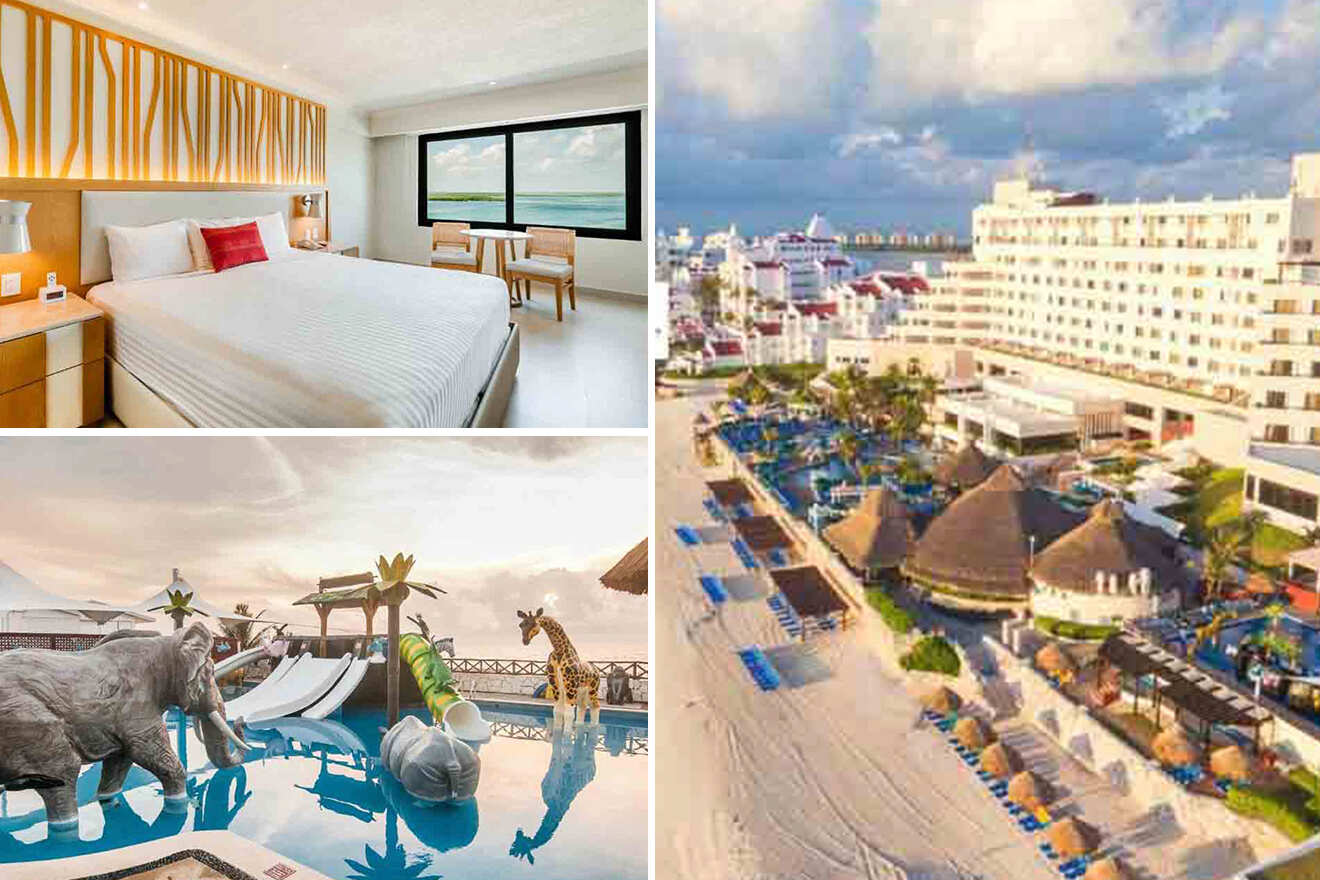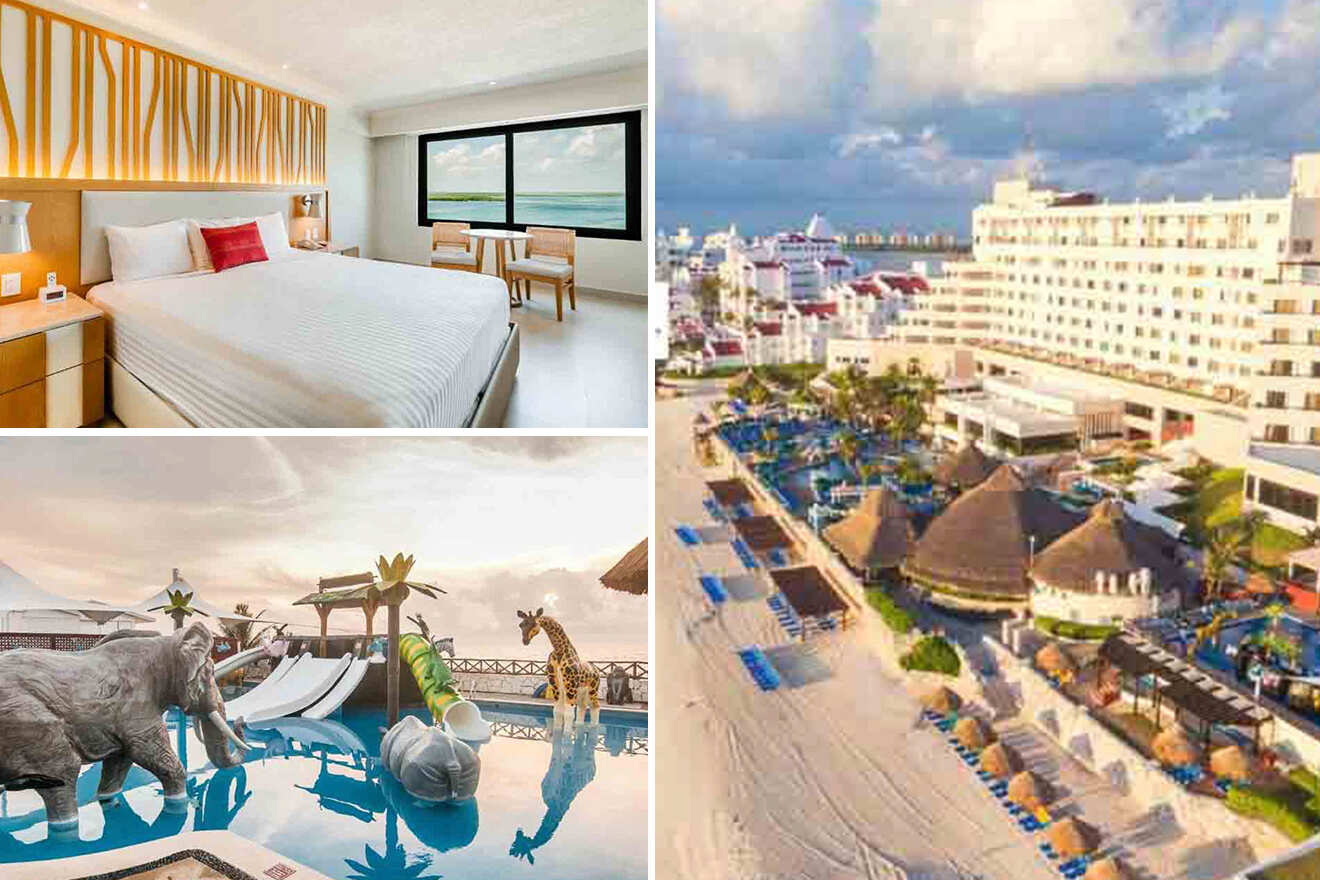 If you're looking for an all-inclusive beachfront resort that's a bit more affordable but still offers lots of cool facilities, then check out this one that features rooms with views of the Caribbean Sea or the Nichupte Lagoon!
But for sure one of their main perks is the animal-themed water park, which the little ones absolutely love, the playground and the shallow pool. I always say that a great hotel knows how to offer fun things to do 24/7. And that's the case for this one which has lots of activities after the sun goes down like movie nights, live music performances, and themed movie nights!
Find Available Dates
10. Nickelodeon Resort – the ultimate family resort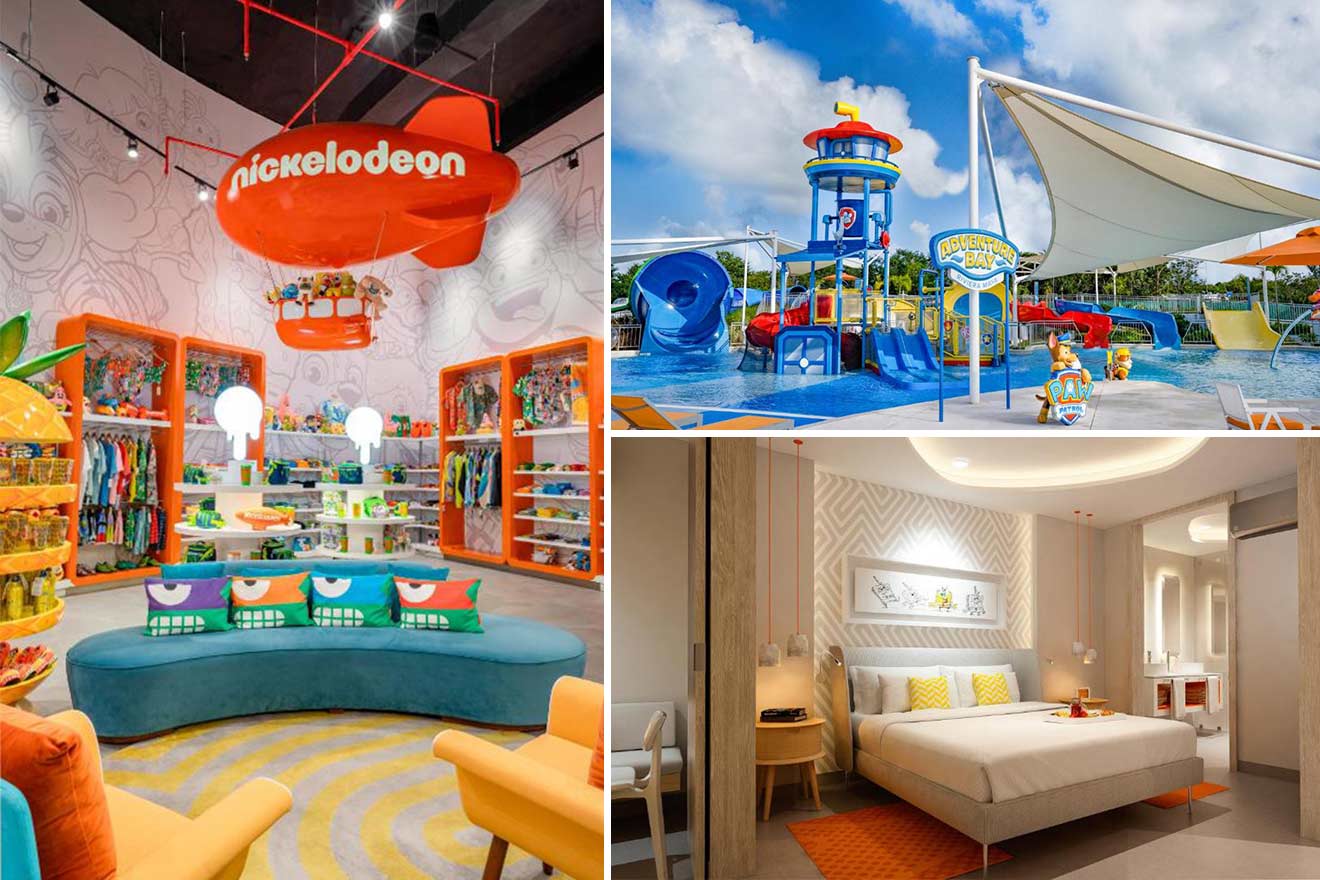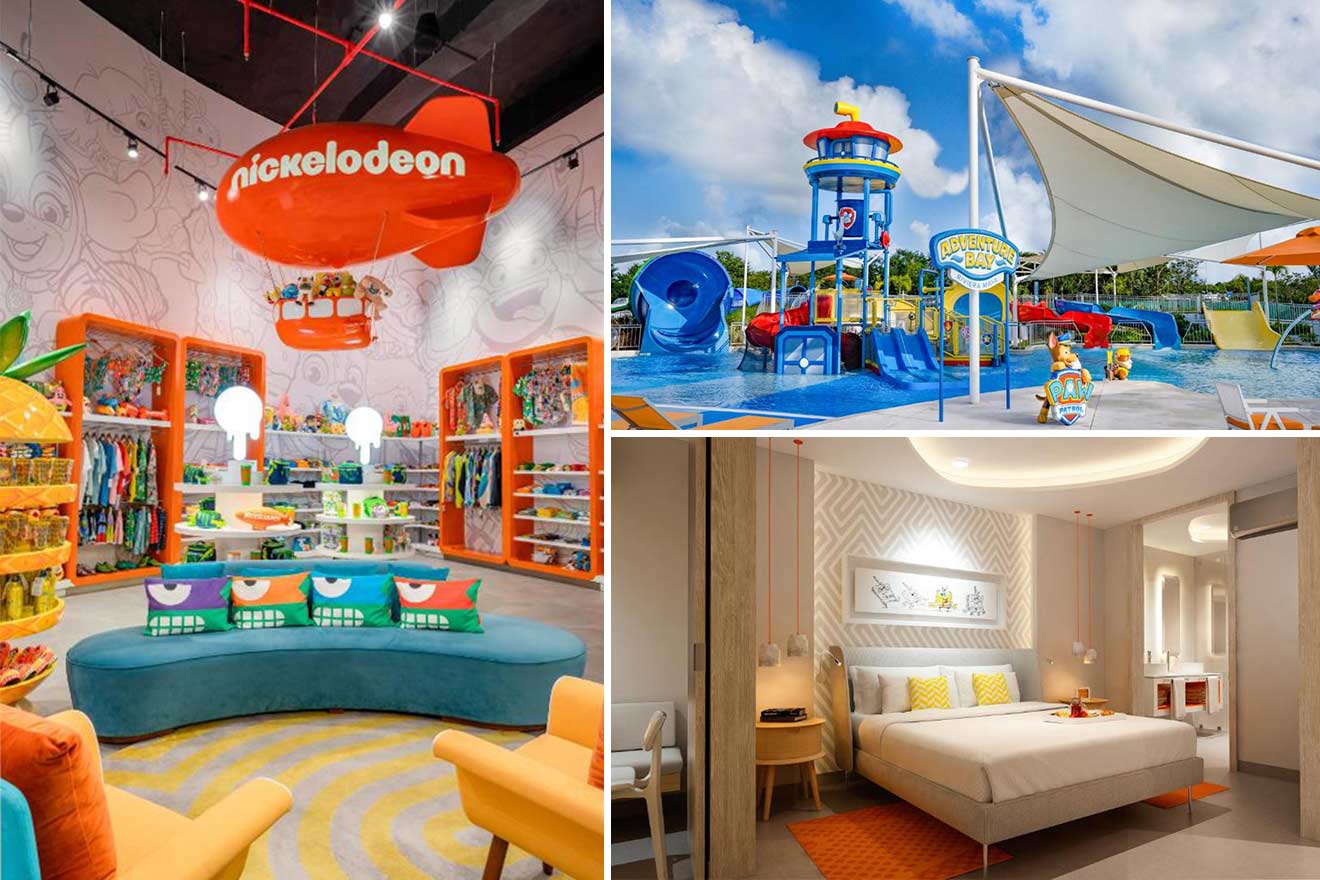 Finishing this list of Cancun resorts with a banger which is actually a bit outside of Cancun, but I had to add it because it's so cool! Get ready to meet Spongebob and have the best time ever with the kids at the water park! Unlimited fun by the water slides, swimming all day long and playing in the game room until late at night! Oh yes, this will be a trip that your kids will cherish forever.
As for you, if you need a breather and a bit of me-time, you can always hit the spa, relax in the hot tub, or enjoy a nice and long yoga class! These all-inclusive resorts sure know how to treat their guests!
Check Current Prices
FAQs about Cancun water park resorts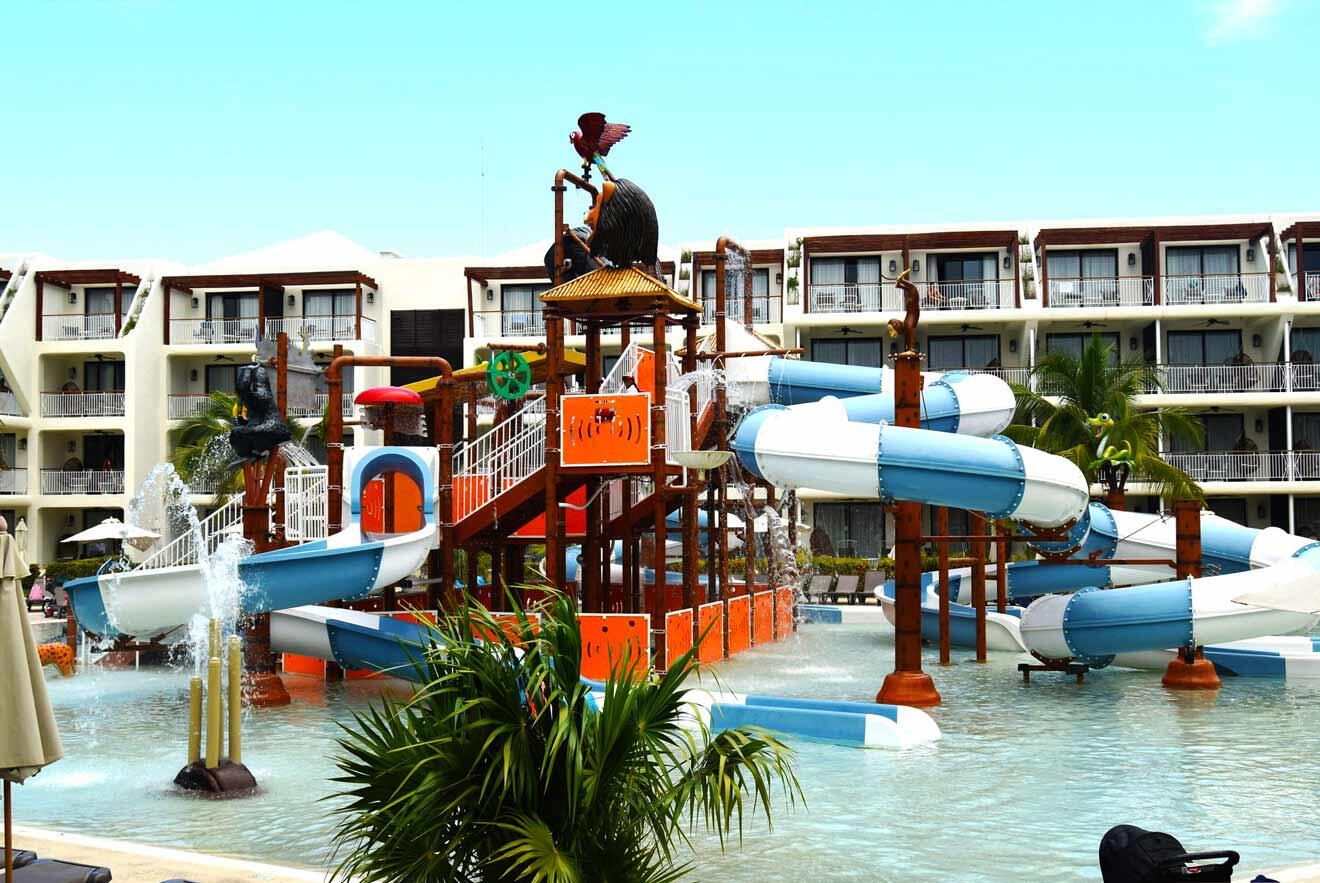 🤽‍♀️ Does Cancun have resorts with water slides?
Yes, Cancun has numerous resorts with water parks that have water slides and some of them are all-inclusive!
👪 Which are the best family resorts with water parks?
🏨 Which Iberostar has a water park?
Iberostar Selection Cancun is the hotel location that has a water park. The accommodation also comes with multiple swimming pools and a spa center!
🌊 What part of Cancun has the calmest water?
Akumal Beach, which is one of the most popular beaches in Cancun, has the calmest water making it perfect for swimming and snorkeling!
Conclusion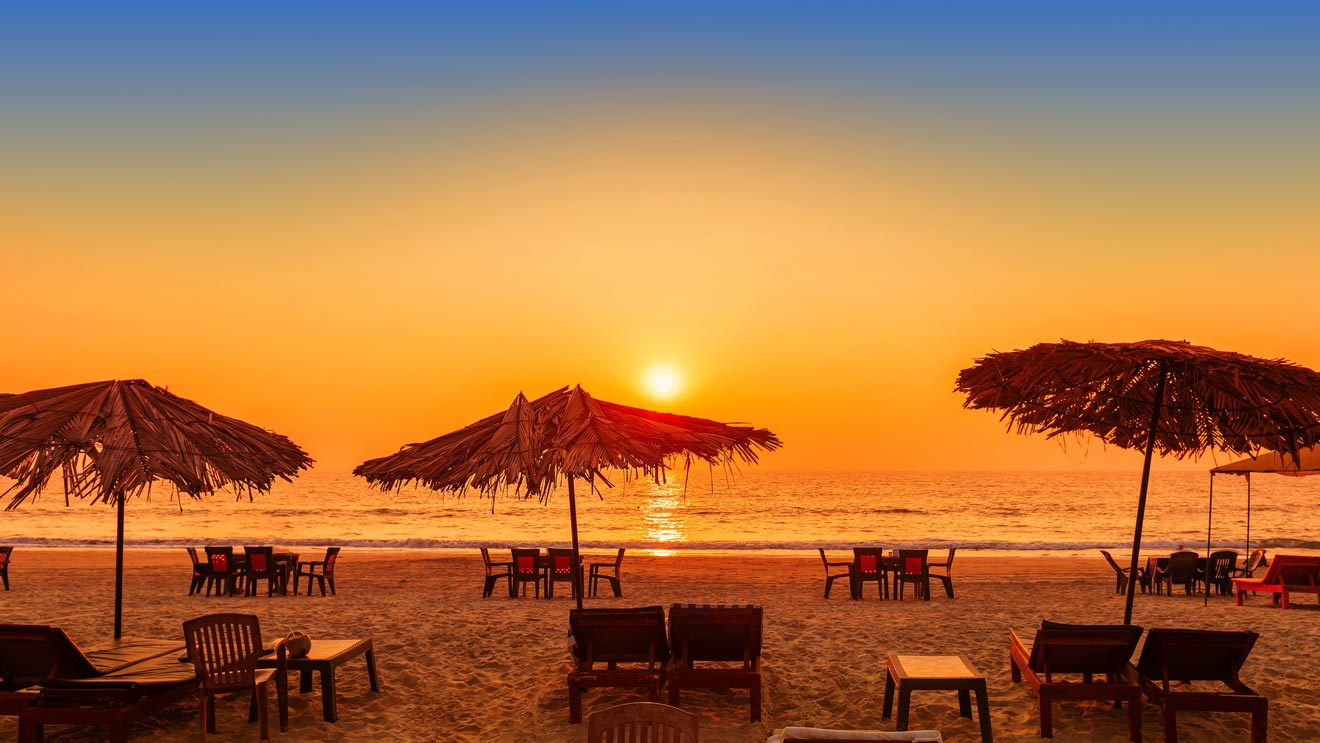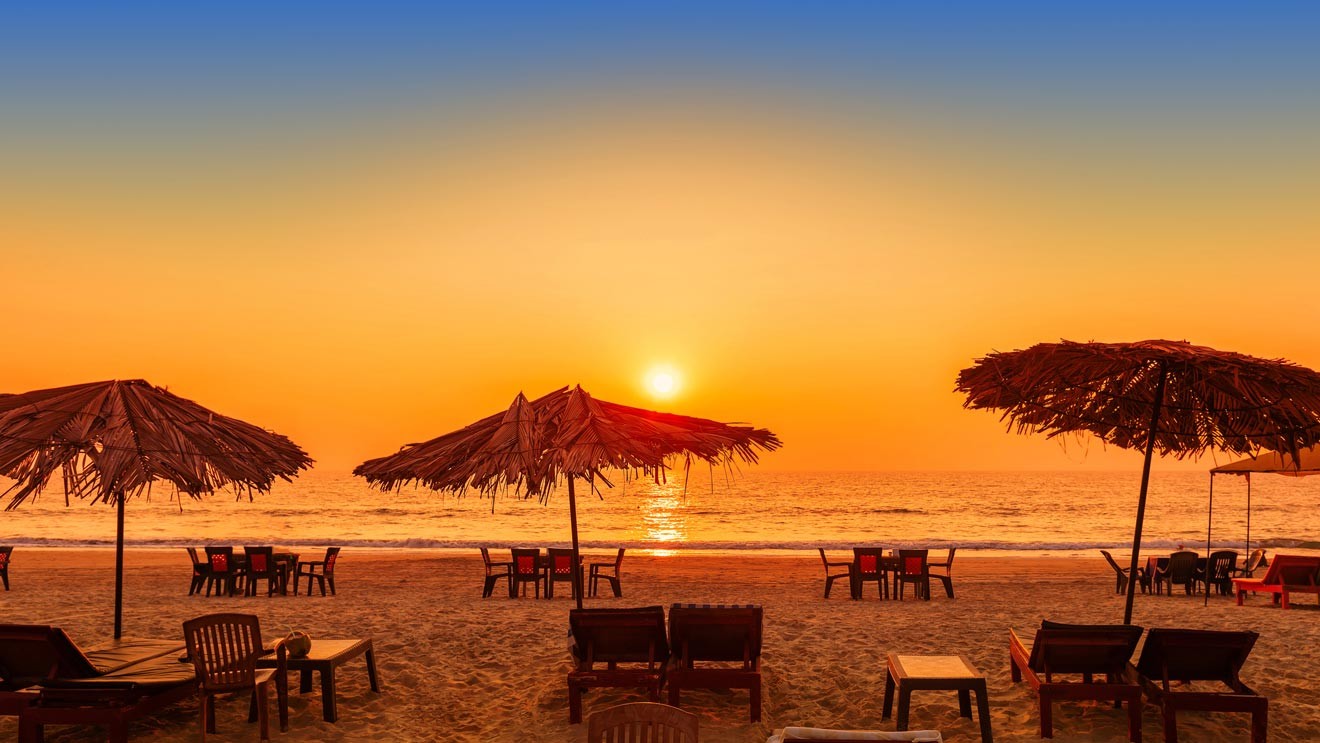 I'm already daydreaming about cocktails on the beach and waterparks! Who's with me? I'm sure everyone, especially those who picked their favorite Cancun water park resort and booked it in advance (which is super wise and I recommend it to everyone)!
And now that we've gone through this list of resorts with a water park in Cancun and have seen which ones have the best kids clubs and the most amazing family pool, I think we're ready to wrap it up!
But not before I give you my top 2 favorite options and the best hotels in my opinion:
Hyatt Ziva Cancun – An oceanfront resort with a stunning infinity pool, 8 restaurants and a children's playground
Finest Playa Mujeres – One of the best all-inclusive family resorts that comes with 10 swimming pools, water sports, and a spa center
Yay! I hope everyone has found their perfect holiday resort! Enjoy your time in Cancun, you'll love it there!
Happy exploring,
Victoria
---
Pin it for later!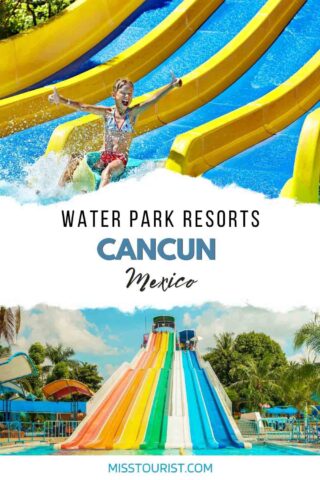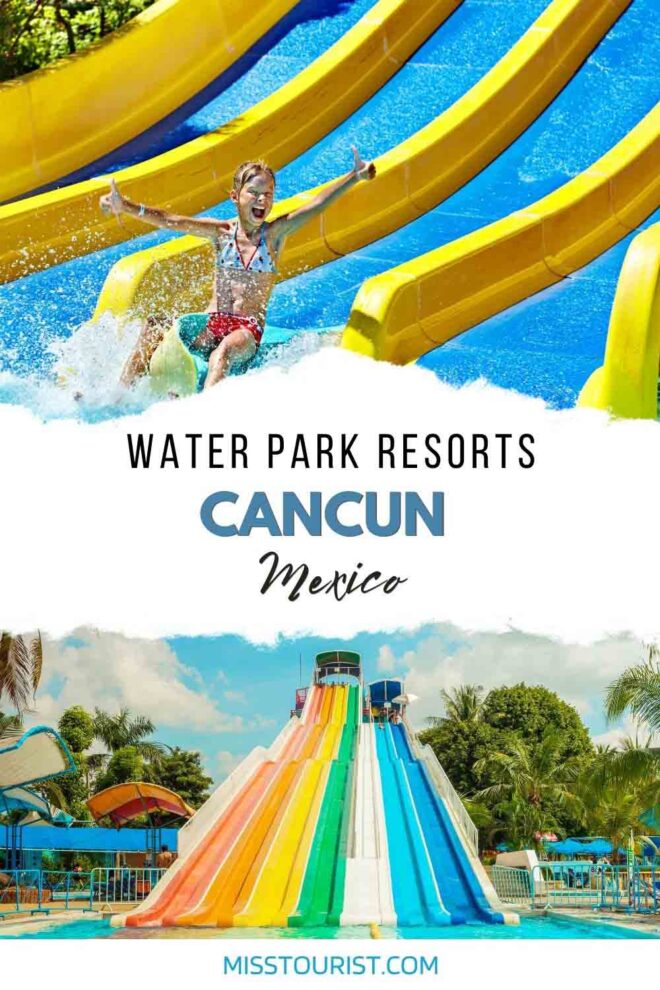 Pin it for later!