The automotive industry's two darling EV startups just aren't setting the world on fire as quickly as investors and analysts hoped, Tesla might build a battery plant with CATL, and a Toyota factory in Russia has fallen back into the hands of the state, as they tend to these days. All that and more in this Friday edition of The Morning Shift for March 31, 2023.
Tesla's Cybertruck Is Really Late to the Electric Party
1st Gear: It's Never Enough
It's got to be hard being a Rivian or a Lucid. You've got great product — when it works, anyway. Product so good that everyone expects you to just chip away at the juggernaut that is Tesla in short order, something companies that have been making cars for far, far longer than you have are even struggling to do. The analysts shake their heads in disapproval when you set realistic targets, and they shake them even harder when you don't meet them.
That brings us to today's lead story, courtesy of Automotive News, which cited new data from Cox Automotive to suggest that neither company is going to make investors happy come the end of the first quarter:
Electric vehicle maker Rivian Automotive is trying to scale up its Illinois factory to turn out 50,000 vehicles this year, but Cox Automotive estimates first-quarter deliveries of just 8,145 units, for a 1.1 percent gain over the previous quarter.

Luxury EV maker Lucid Motors is growing at a faster clip, but Cox projects deliveries of 1,344 vehicles in the January to March period. That represents a 27 percent increase vs. fourth-quarter 2022, but it's a slow start for Lucid to meet its 2023 guidance of 14,000 Air sedans.

The two startups are cutting costs and laying off workers a year and a half after their first deliveries in fall 2021. Both have seen their stock prices drop by about 70 percent in the last 12 months.

Rivian says it has enough demand, but has been unable to solve manufacturing issues at its Illinois plant, which has a 150,000-unit annual capacity. Lucid says it needs to raise brand awareness to grow its order backlog.
G/O Media may get a commission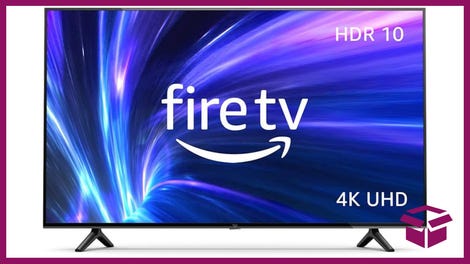 42% Off
Amazon Fire TV 50″ 4K Smart TV
Incredible visuals
This smart TV has access to a wide array of streaming services, all of which are easier to navigate, has 4K visuals for a stunning picture, and comes with an Alexa Voice Remote too.
The last paragraph there makes it pretty clear that these companies are facing different issues. Rivian can't build trucks and SUVs fast enough, while Lucid says it "solved production" and can't find enough people to buy what it makes. For Rivian, the manufacturing hurdles are obviously due in part to external forces, but also down to vehicles that are a bit too complex and over-engineered for volume production, according to consultancy firm Munro & Associates.
Lucid, on the other hand, hopes the forthcoming Gravity SUV will be the product that gets the brand on buyers' radars, and spares it another round of layoffs. The Air is unquestionably a beautiful sedan, but it's just that — a sedan — and probably also one too expensive for its own good, at least at launch. Maybe it should've started with the SUV.
2nd Gear: Tesla and CATL
Now it's Tesla that is reportedly seeking to build a joint-venture battery plant with CATL, the largest maker of EV batteries globally. Per Bloomberg:
The EV maker discussed plans involving Contemporary Amperex Technology Co. Ltd. with the White House in recent days, said the people, who asked not to be identified revealing private conversations. Tesla representatives sought clarity on the Inflation Reduction Act rules that the Biden administration is finalizing this week, according to some of the people. Rohan Patel, the company's senior global director of public policy, was among those involved with the discussions, one of the people said.

Tesla wants to pursue a deal similar to one that Ford Motor Co. announced last month in Michigan with the battery maker, known as CATL, to construct a plant wholly owned by the US automaker, according to the people.

Representatives of Tesla, CATL and the White House didn't immediately respond to requests for comment. Patel also didn't respond.

CATL shares rose as much as 2.3% in early trading in Shenzhen on Friday.
The story goes on to mention the criticism Ford received for its arrangement with CATL from senators Joe Manchin and Marco Rubio, who argued that it allowed the Chinese battery maker to benefit from U.S. subsidies. Ford contested that concern on the grounds that it will wholly own the factory, and CATL won't see a dime of taxpayer money.
Regardless, there's nothing in the Inflation Reduction Act that prevents Chinese companies from building North American factories and receiving the same treatment as firms hailing from anywhere else, so long as their products satisfy the material origin criteria. But don't worry — Senator Marco Rubio is already seeing to it that such impartiality is patched out of the bill.
3rd Gear: BMW Doesn't Want Any Part of No Mine
Plenty of automakers these days are investing in mining companies to secure raw materials needed for battery production, but BMW wants to be different. It says it will get the supply it needs through improving battery efficiency and thorough recycling. From Reuters:
BMW is taking a different approach, focusing on creating demand via car production and relying on partners with more expertise to build large-scale infrastructure required for electrification.

[Chief Financial Officer Nicolas Peter] said although BMW believes in recycling over mining as a way to reap critical minerals and has a battery cell recycling facility via its joint venture in China, it does not see the need to develop large cell recycling facilities of its own.

Instead, it will prove demand for recycled raw materials via the sales growth of its electric cars, and work with partners to recycle at scale, he said. "With our business development, we are creating the motivation to invest – but we do not need to develop big recycling facilities for battery cells ourselves."
BMW also believes developing and offering hydrogen fuel-cell cars will help it take some of the load off the battery supply chain, though that seems rather optimistic at this stage.
4th Gear: Ford Doesn't Need That Robotaxi Exemption Anymore
Self-driving outfits like GM's Cruise and Google's Waymo need permits to run their driverless taxis on public roads. Once upon a time, Ford was invested in that game too. But with Argo AI having been dead for a minute now, it's finally revoked those petitions it previously filed with the National Highway Traffic Safety Administration. Courtesy Auto News:
In the notice, which is scheduled to be published Friday, NHTSA said Ford has withdrawn its July 2021 request for a temporary exemption from certain federal safety standards for a vehicle equipped with an automated driving system.

Ford sought an exemption from seven safety standards to deploy vehicles that would be used to support mobility services such as ride-sharing and package delivery, according to the petition.

Ford notified NHTSA in February of its decision to withdraw the petition.

If it had been approved, it would have allowed Ford to deploy up to 2,500 self-driving vehicles annually.

In a statement to Automotive News, Ford spokesman Alan Hall said it withdrew the petition as part of a strategic decision announced in late 2022 to focus more on its advanced driver-assist system development for personally owned vehicles, "shifting away from developing Level 4 autonomous vehicles for commercial fleets."

"As a result of this decision, we no longer need NHTSA to extend the exemption petition to support Level 4-related testing for Ford at this time," Hall said.
Instead of making robotaxis, Ford's AI efforts are today focused on ADAS features, like its Level-2 BlueCruise tech, in consumer cars.
5th Gear: Toyota Has One Less Factory
Toyota's St. Petersburg, Russia plant that had been building the Camry and RAV4 is now no longer Toyota's, as the government announced Friday that it now owns the facility. From Reuters:
"Toyota's production site in St Petersburg has… been transferred to the state," Russia's Ministry of Industry and Trade said in a statement.

The company said in September it had decided to stop vehicle production in Russia due to the interruption in supplies of key materials and parts.

"Toyota confirms that it has concluded the transfer of its vehicle production plant to NAMI effective from March 31, 2023," Toyota said in a statement. "The agreement includes the full transfer of ownership of the plant buildings and land."

Neither party disclosed a fee for the transaction, and Toyota declined to give any further details of the deal.
Some 80,000 sedans and SUVs rolled out of the factory in 2021, before Russia's invasion of Ukraine began in February 2022. No sale price was publicized, but if it's anything like Renault and Nissan's recent transactions with the Russian government, it's fair to assume it ended up being no greater than one euro but perhaps more than 0.012 of a euro. That's what one ruble is worth these days, anyway.
Reverse: A McLaren F1's Gearbox Overheats
It was on this day in 1998 that Andy Wallace hit 240.1 mph in a McLaren F1 at Volkswagen's Ehra-Lessien test track, setting a long-unbeaten top-speed record for a production car. A record I remember well, thanks to the announcer in Need For Speed. Here's an excerpt from an old piece commemorating the achievement, written by our good pal Andrew Collins:
The car was lapped, tested, tweaked, had its rev limiter bumped up by 1,000 RPM, and made ready to achieve its maximum velocity.

"I didn't really know what to think, but I had seriously sweaty palms on the steering wheel," Wallace remembers.

Then on March 31, 1998, he laid down a top speed of 240.14 mph on the track at the Ehra-Lessien Proving Ground. And really, nothing could touch it until the Koenigsegg CCR and Bugatti Veyron came along around 2005.

After the run, Wallace simply noted–"Gearbox temp reached 130 degrees [celsius], everything else is fine."
Neutral: Who You Got?
In my haste writing yesterday morning's TMS, I completely forgot to acknowledge baseball's Opening Day, the one pure, good day of the year. The Yankees won and Cole looked great, so I have no complaints. Any and all baseball thoughts welcome below.