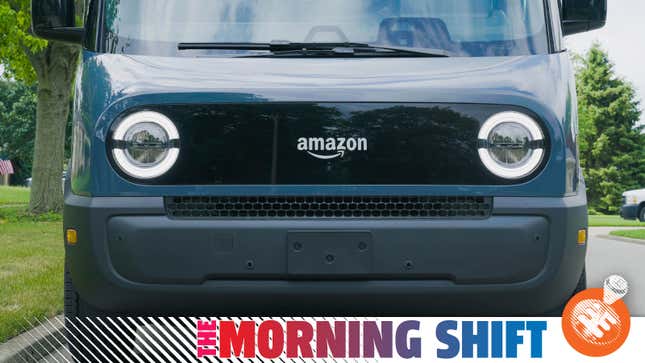 Rivian expected more from Amazon, Porsche doesn't want to look back in 10 years to find it invested all its money in synthetic fuels for nothing and Volkswagen CEO Oliver Blume is dreaming of a Skoda stock market spinoff, among other things. All that and more in The Morning Shift for Monday, March 13, 2023.
In case you missed it:
1st Gear: Rivian Breaking Free
Amazon owns 17 percent of Rivian, and in exchange, Rivian is required to sell all of its vans to the online retail giant. That must've seemed like a pretty good arrangement to Rivian at the time that deal was minted in 2019, but Amazon only intends to buy 10,000 vans from the startup this year, and Rivian's got to put bread on the table. The EV maker is now looking to end the commercial exclusivity part of the deal, per the Wall Street Journal:
An Amazon spokeswoman said the company remains committed to buying 100,000 vans from Rivian by 2030, which were the terms outlined in the original agreement. "Rivian remains an important partner for Amazon, and we're excited about the future," she said.

A Rivian spokeswoman said: "Our relationship with Amazon has always been a positive one. We continue to work closely together and are navigating a changing economic climate, similar to many companies."

Executives at both companies have touted the deal, which gave Rivian an anchor customer and Amazon a key component of its pledge to slash carbon emissions. […]

Amazon has initiated cost-saving measures over the past year amid a slowdown in e-commerce sales, following a surge during the pandemic. The online retailer has said it is pausing construction on its second headquarters in the D.C. area and laying off more than 18,000 workers, one of the largest reductions among technology companies.

For Rivian, the Amazon contract has provided steady demand for one of the three vehicles the auto maker builds at its Normal, Ill., factory. If Amazon agrees to end the exclusivity arrangement, Rivian would need to find new commercial customers for the vans.
G/O Media may get a commission
The thing is, while Rivian is beholden to sell all its vans to Amazon, Amazon can get its fleet from wherever it pleases, including Rivian's competitors. You can understand why Rivian might feel like its wings are clipped by the state of things, then — though it remains to be seen how the company's funding could suffer if the exclusivity terms are revised. Something tells me Rivian would have no trouble finding other, more interested buyers.
2nd Gear: Porsche Has a Lot Riding on E-Fuels
It's important to Porsche's future that the European Union works a provision for synthetic fuel into its next wave of regulations. So you can imagine how the brand's (and Volkswagen's) CEO, Oliver Blume, feels about the challenge facing lawmakers in the coming weeks, and how he's hoping this all plays out. From the Financial Times:
Porsche chief executive Oliver Blume said on Monday that synthetic fuels would be a "useful addition" to the transition towards sales of battery-driven cars, adding that "I know no other way to decarbonise [existing] combustion engine cars."

Calling on tax benefits to make e-fuels cheaper as well as political support for the alternative fuel, Blume said that "the federal government has to undertake the respective steps". He added that he saw "no conflict between electro mobility and e-fuels".

The comments are in contrast to those made by Markus Duesmann, the head of Audi, which like Porsche is part of the Volkswagen empire. He warned in an interview with German magazine Der Spiegel that anything that risked putting the EU's combustion ban into question — spurring uncertainty over future rules — "would be fatal for the car industry".
The idea that owners of existing cars will just switch to synthetic fuel — the cost of that fuel being what it is — is a big assumption for anyone except the people rich enough to buy a Porsche. This is less about the majority of cars on the road and more to do with the automaker's ability to keep its most loyal customers happy, and give them an ICE option as EVs take over.
3rd Gear: Blume's All About the IPOs
In other news around the Volkswagen extended universe, apparently Blume gathered top managers across the group's various brands in Berlin in January to figure out how Lamborghini, Bentley, Seat and even Skoda could get in on some of that sweet IPO juice that's done so well for Porsche lately. It sounds like it was a really weird retreat, if you can call it that, according to Bloomberg:
The exercises the chief executive officer ordered after Porsche AG's successful listing last year had advisers from McKinsey & Co. and Wall Street banks including Goldman Sachs Group Inc. salivating over a potential role in VW's next blockbuster IPO.

But some attendees walked away from the 25 Hours Hotel Bikini with little new insight on Blume's concrete strategy for the brands, according to people present at the event. Participants struggled to craft meaningful IPO narratives for certain units because they lacked up-to-date details on financial figures, spending priorities and new models, said the people, who asked not to be named discussing private talks.

Blume, who took over in September, is under growing pressure to reveal more about his strategy for Europe's biggest carmaker when Volkswagen reports earnings next week as well as at its yet-to-be-scheduled capital markets day. The CEO is focused on fixing a chaotic software push and scrutinizing costly projects started by his predecessor Herbert Diess, but hasn't said much on how he plans to ramp up Volkswagen's electric-vehicle output to catch up with Tesla Inc.
Of course, the big problem with Blume's hope to pull another Porsche is that Skoda is not Porsche. Hell, Bentley isn't either, and while Lamborghini would probably be the best poised to have a successful IPO among that group, I'm not even sure it could pull it off. Porsche's kind of the closest thing the automotive industry has to Apple — a brand that could really do no wrong. Those don't come around often.
4th Gear: Cars and Gen Z
AdAge recently published its list of 20 brands that supposedly have rising stock among Gen Z'ers, and wouldn't you know five of them are automakers. It was BMW that finished the highest of the lot, at No. 4, closely followed by Volvo at No. 5, Subaru at No. 7, then Cadillac all the way back at the 17 spot and Mini bringing up the rear in 19th. Among these, I'll highlight Volvo and Cadillac's placement. Courtesy of Automotive News:
No. 5 Volvo: The Swedish brand teased a forthcoming small electric crossover targeting Gen Z. Volvo Cars CEO Jim Rowan described plans to use subscription-based shorter-term ownership and online purchases to reel in consumers. "Gen Z … is our next market," said Rowan. "We don't talk to Gen Z right now, the brand has never really spoken to that younger demographic. We are absolutely heading in that direction." […]

No. 17 Cadillac: General Motors' luxury brand launched a campaign in October with singer-songwriter Lenny Kravitz for the Celestiq EV. It included a video showing Kravitz designing his own version of the Celestiq and an art installation in Los Angeles.
If you've been paying attention to Volvo at all, you can kind of see what Rowan's talking about — the brand has been carrying itself in a trendier way as of late, and seems to be shedding its somewhat stodgy reputation. Polestar's probably helping that, too.
As for Cadillac, I don't know that I would call any ad campaign starring Lenny Kravitz as pitching to the youths, but I suppose since this is Cadillac we're talking about, Kravitz may as well be Zendaya. Lenny might work, but only if they reference Neil Cicierega's "Fly Away (lyrics)" specifically.
5th Gear: The UK's Fear of Missing Out
You can add domestic auto production to the laundry list of reasons Brexit has screwed the United Kingdom. With the U.S. and European Union putting forth their own incentives for electric vehicle makers, industry insiders in the country are worried about being left to fend for themselves, which is a very valid concern. From Reuters:
"Britain's ability to compete as an EV production leader is at risk unless government responds urgently to increasingly fierce international competition," the Society of Motor Manufacturers and Traders (SMMT) said.

The United States last year announced $369 billion in subsidies to support clean technologies and electric vehicles under the Inflation Reduction Act (IRA). That was followed up by the Green Deal Industrial Plan proposed by the EU last month on concern the U.S. law could put companies based in Europe at a disadvantage. […]

British Prime Minister Rishi Sunak said last week he was talking to the United States and European Union about the IRA amid concern it could make European markets uncompetitive.

Concerns have been rising within Britain's car industry over the lack of major EV battery plants, without which many fear vehicle production will shift to the EU. So far, only Nissan has announced it will build a battery plant in Sunderland, while dozens of plants have been announced, or are under construction in Europe.

Last month Carlos Tavares, chief executive of world No. 3 carmaker Stellantis, said Britain's car industry would be "in trouble" without UK-made batteries.

The SMMT's recommendations for making Britain more competitive include providing more generous incentives and subsidies for battery-related projects, cutting energy costs, streamlining planning approval for battery production, and expanding the country's free trade agreements.
Indeed, they should probably do all of those things. It seems like the U.K. has now progressed beyond the "complaining about other countries' incentives" stage of trade grief and are now firmly within the "scrambling to cobble together their own" part.
Reverse: Volkswagen Makes a Vow
It was on this day in 2008 — 15 years ago — that Volkswagen, anticipating a hostile takeover from Porsche which had increased its voting stake in the company beyond 50 percent earlier the same month, made a declaration. From wire reports, via The Local Germany:
VW also said that early 2008 sales underpinned a trend that saw the group post record results last year, while chairman Martin Winterkorn told reporters at VW's headquarters in Wolfsburg that "we are pleased" Porsche planned to raise its VW holding to more than 50 percent from around 31 percent at present.

"The Piech and Porsche families have written automobile history. They have been closely associated with the Volkswagen group for a long time," Winterkorn said in reference also to Ferdinand Piech, a former VW boss who currently heads the Porsche supervisory board.

"A new automobile enterprise is now taking shape that will open an entirely new era," Winterkorn stressed. "Our competitors understand the enormous potential of this partnership."

"We know a player is emerging here that with its reach, its profitability and and its innovative force, will be the best auto manufacturer in the world."
Of course, things would turn out quite differently for Porsche, the "hedge fund that made cars."
On the Radio: "Born Slippy .NUXX" — Underworld
I've been watching a lot of Derry Girls lately, which is a very fun show made better by its period-appropriate soundtrack choices.