Salon-Styled Hair—at Home
Written by: Jean Godfrey-June
|
Published on: March 9, 2023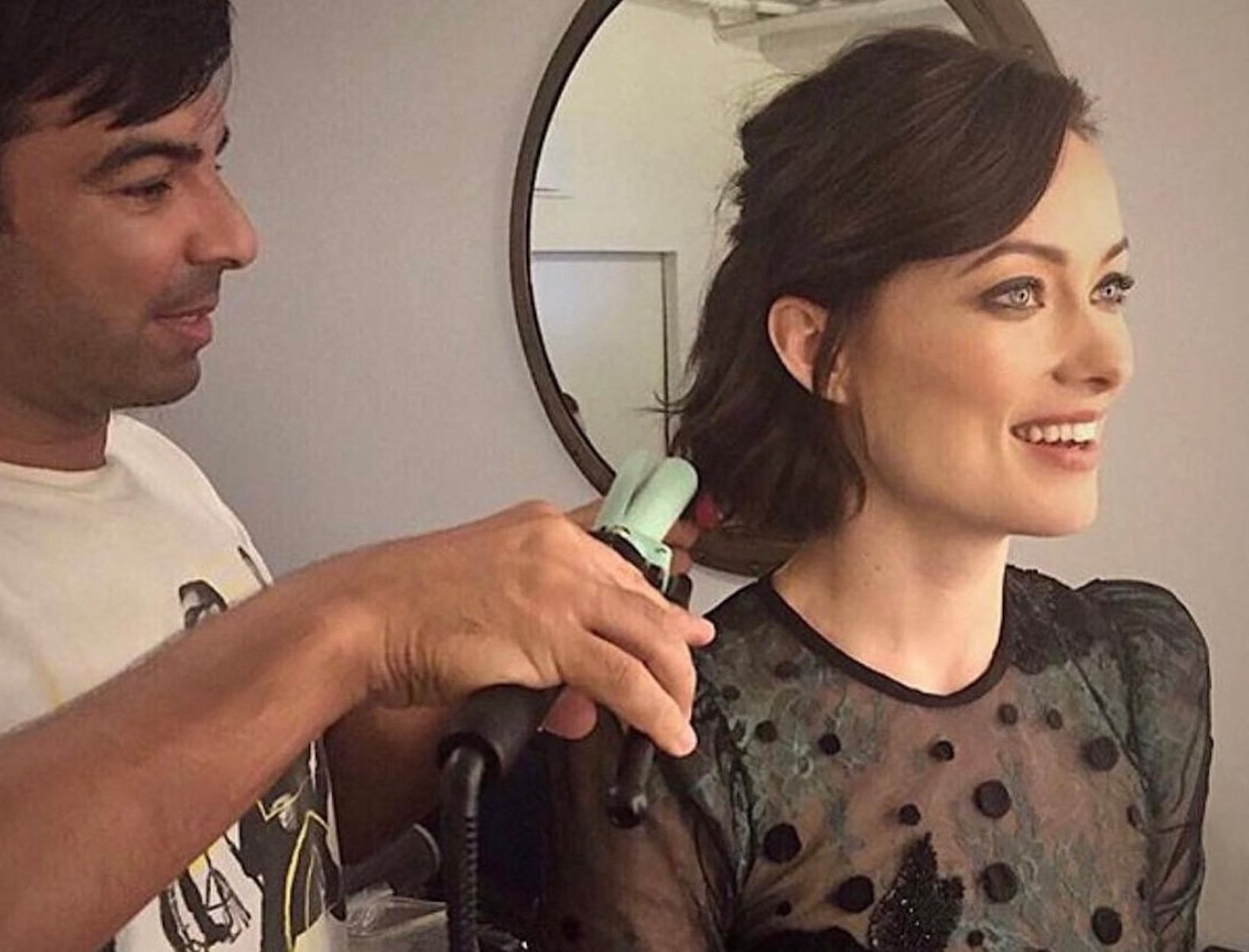 Ever run out of power using a cordless curler or straightener? Set an iron down and scorch a table or a sweater? Or get frustrated with the tangle of cords and tools in front of the mirror? Famous NYC hairstylist Harry Josh—who created the Hermès bag of blow-dryers 10 years ago—relates. And he's always working to eliminate the pain points people (pros and at-home hairstylists) experience when styling hair. "If we're talking about our hair, we want it all," he says.
His newest invention—launching as an exclusive set on goop—really delivers in the "all" department: full-size, professional-grade styling wands that are totally, blissfully cordless. Both the curler and the straightener heat fully in 60 seconds and leave your hair soft, smooth, and beautifully styled—and they come in a sleek, chic, endlessly recharging stand, meaning that the included two batteries are identical, so you can be charging one while you use the other.
Only on goop: The Multitasking Hair Station

Harry Josh

Cordless Exclusive Styling Set

goop, $629

SHOP NOW
"Cordless tools came out about two years ago, and of course I tried them," says Josh. "I ran into problems. I'd be curling a girl's hair for an event, and suddenly I'm out of power: Does. Not. Work!" he laughs. "Friends would take their cordless straightening iron to the gym, and even if the power lasted, they'd have to wait for it to cool down completely before they could go out for drinks."
Shiny Hair Starts in the Shower

goop Beauty

GOOPGLOW Restore + Shine Hair Serum

goop, $55/$44 with subscription

SHOP NOW

goop Beauty

G.Tox Himalayan Salt Scalp Scrub Shampoo

goop, $55/$38 with subscription

SHOP NOW

Jolie

The Jolie Filtered
Showerhead

goop, $165

SHOP NOW
Room for improvement, as Josh saw it, was an opportunity. "I wanted to come up with a real solution for the power issue, of course," he says. "But I wanted to solve for everything else, too." First things first: The rechargeable smart batteries for both the curler and the straightening iron can last nearly an hour—and both tools and batteries can be recharged in the base (which is also a brilliant and chic-looking storage stand). "So say I'm styling someone's hair and it's going past an hour," he says. "The other battery's been charging in the base, so I just pop a new one in. It's never-ending power."
The base solves the problem of where to put your scorching-hot iron down—not to mention how to keep your tools organized—but Josh had more ideas in that department. "There's still that woman who's taking her flatiron to the gym," he says. He created a heat-resistant carrying case that fits both tools plus—bonus—a heat-resistant mat you can rest them on while you're working with them on the go. "It really changes the game for travel," he says. "You could literally curl your hair in the car on the way to the airport and throw it right in your suitcase." The tools and port are dual-voltage (100–240V), so they're ideal for worldwide travel.
Harry Josh

Pro Makeup & Wave Setting Clips

goop, $25

SHOP NOW
Whether you're a hairstylist or an ordinary person, the set (and the travel kit) simplifies and streamlines any routine. The set went viral on Instagram the first time Josh posted about it. "All my hairdresser friends were like, 'I need that thing now,'" says Josh.
You can also buy the tools individually, and they come with USB ports for recharging if you don't want the stand: The one-inch silver tourmaline-barrel curler heats to 400 degrees Fahrenheit within 60 seconds and has adjustable temperature controls. "The one-inch is the perfect size for any kind of curl you might want to do," explains Josh. "Anything from a Marcel wave to the perfect beachy wave."
Harry Josh

Exclusive Travel Pouch &
Detachable Heat Mat

goop, $75

SHOP NOW
Harry Josh

Cordless Ceramic
1″ Curling Wand

goop, $325

SHOP NOW

Crown Affair

The Comb No. 002

goop, $46

SHOP NOW




Act + Acre

Cold Processed® Leave-In Conditioner

goop, $48

SHOP NOW
The flatiron's floating ceramic plates heat to 425 degrees Fahrenheit in under two minutes (the temperature is also adjustable) and leave hair gleaming, silky, and smooth as glass. "It easily does your whole head, but it's also amazing for even the littlest flyaways and cowlicks," says Josh. "And one of my favorite tricks is to air-dry, then just go over the top with the iron where you need it."
Rahua

Enchanted Island Sea Spray

goop, $34

SHOP NOW




Harry Josh

Cordless Ceramic
1″ Styling Iron

goop, $350

SHOP NOW

Innersense

Inner Peace Whipped Creme Texturizer

goop, $22

SHOP NOW
Both wands are ultralightweight and ergonomic and protect against overcharging, overdischarging, and overcurrent. They also each have a 15-minute automatic shutoff function for added safety.
"I listened to all my hairdresser friends and all my clients, too—everybody had the same complaints about curlers and straight irons, especially rechargeable ones," says Josh. "We redid everything, and now it's so easy."
Styling Essentials

Harry Josh

Pro Dryer 2000

goop, $249

SHOP NOW




Innersense

Hair Love Prep Spray

goop, $28

SHOP NOW




Rahua

Smoothing Hair Balm

goop, $32

SHOP NOW




Innersense

I Create Lift Volumizing Foam

goop, $28

SHOP NOW
SHOP HAIR CARE
Related Reading
A World-Famous Hairstylist on How to Get Shiny, Healthy Hair (No Matter What Your Hair Type)
Ask Jean: How Do You Get the Best Blowout, Step by Step?
The Best Way to Air-Dry Your Hair—without Frizz or Fuss