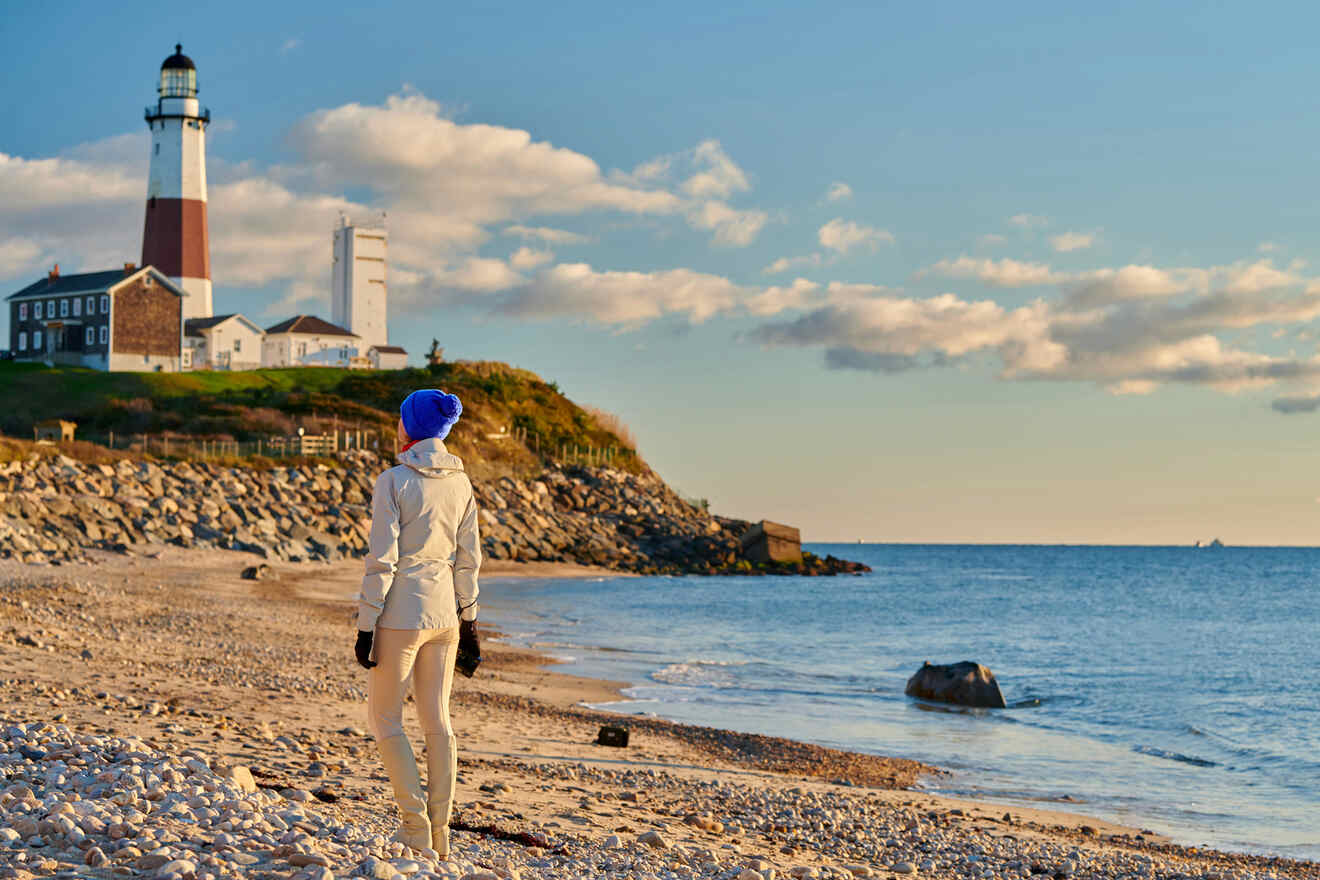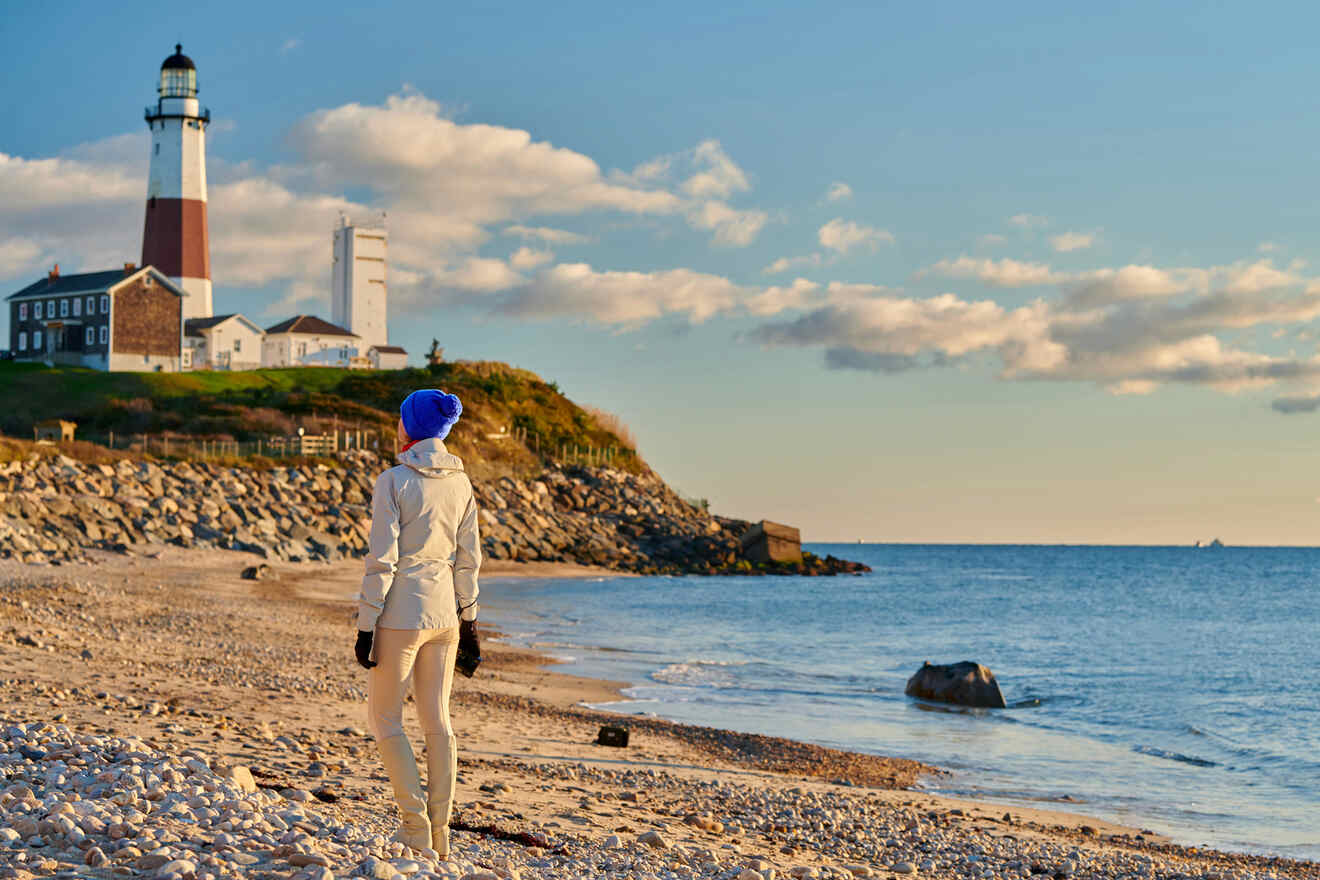 Lazy days at the beach, crazy summer nights, laughter, sun, waves, yummy food, yachts, and luxury… this is how I'd describe Montauk, a small village at the easternmost point of Long Island, New York. This is why the best hotels in Montauk get so expensive, especially in summer.
Having lived & worked here, I made sure to give you only the top Montauk hotels, listed from the most expensive (~$1,100/night) to the most affordable (~US$300/night). But even with these peak season prices, some get booked out even in January, you need to be quick and book that hotel you really liked as soon as possible.
P.S. The majority of hotels in Montauk are seasonal, and open April through September, so I recommend picking a date between June and early September, when the weather is the nicest.
If you are in a hurry
If you want to jump straight into action and book immediately, here are the 3 best hotels in Montauk that I wholeheartedly recommend:
1. Marram – screen-free hotel with a direct beach access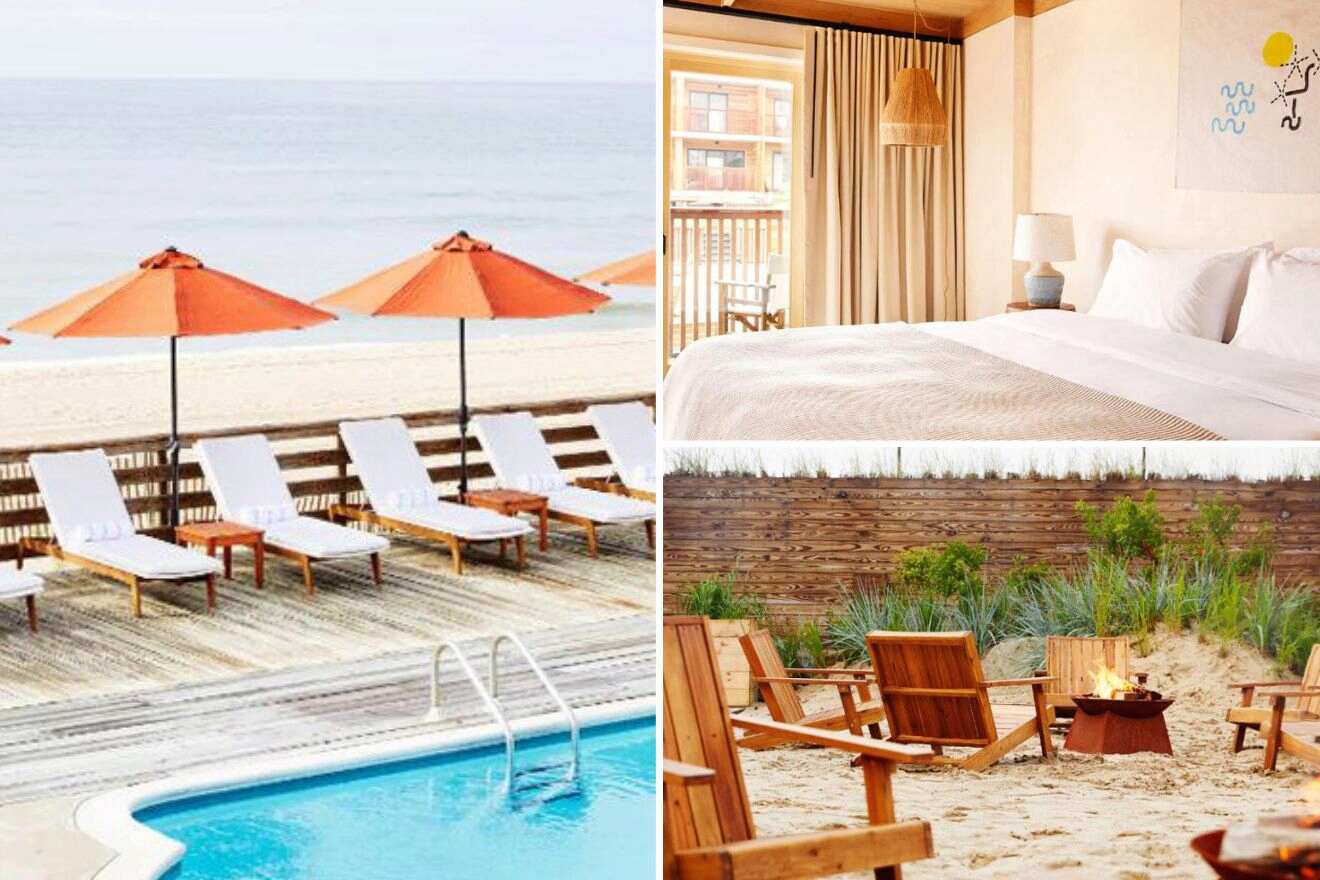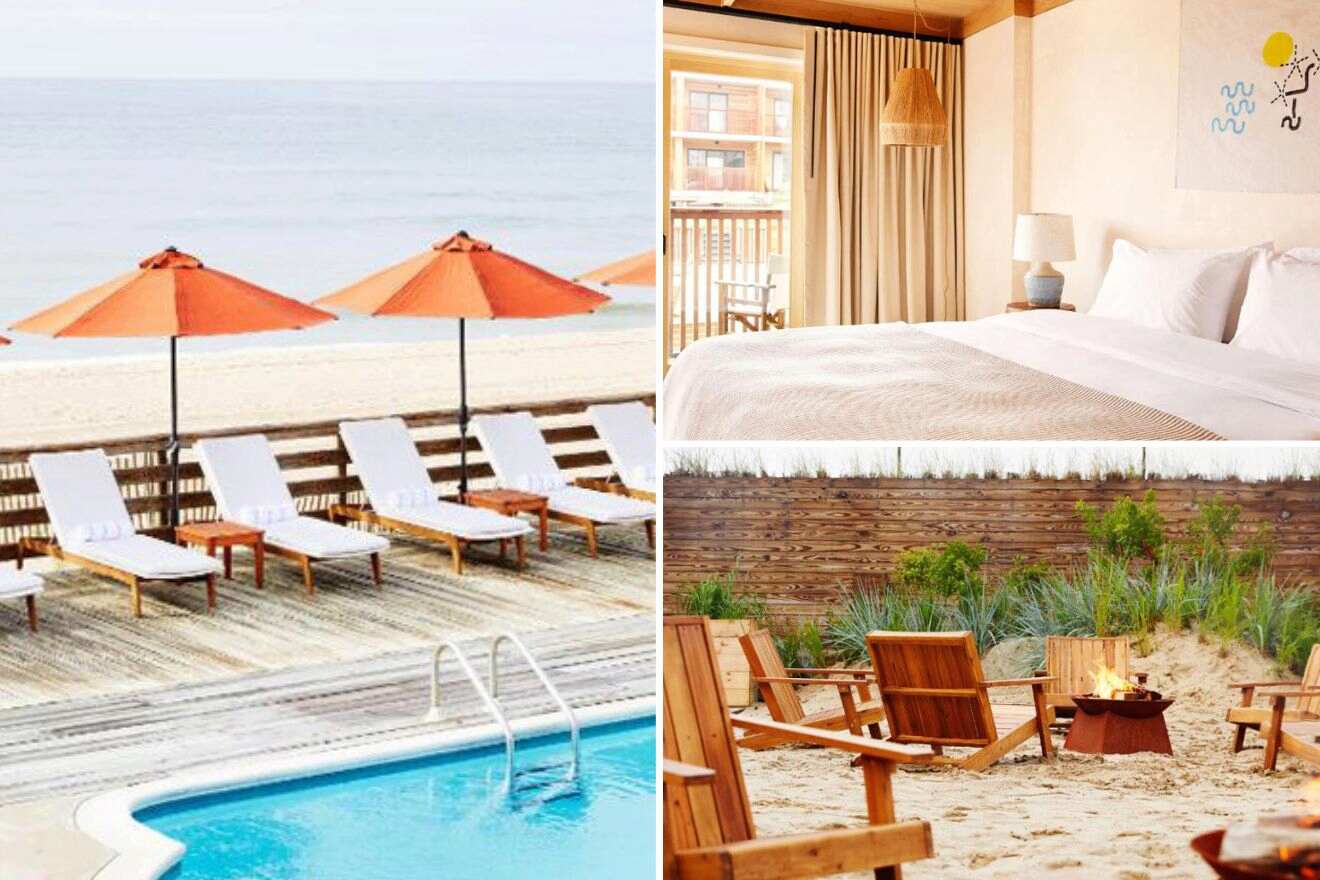 This Montauk hotel matches the relaxed Montauk vibe, and is the place where people go to escape the "pretentious crowd". Marram Hotel has spacious, screen-free rooms with a simple and clean design, and is located right on the beach, within 500m from Montauk's shops, bakeries, and cafés.
The rooms are spacious with a dining area and a fridge. There are also balconies and a view over the Atlantic Ocean. Here you can spend your day relaxing at the private beach, swimming in the oceanside pool, or practicing morning yoga on the sun terrace.
Check Availability
2. Gurney's Montauk Resort & Seawater Spa – the celebrity spot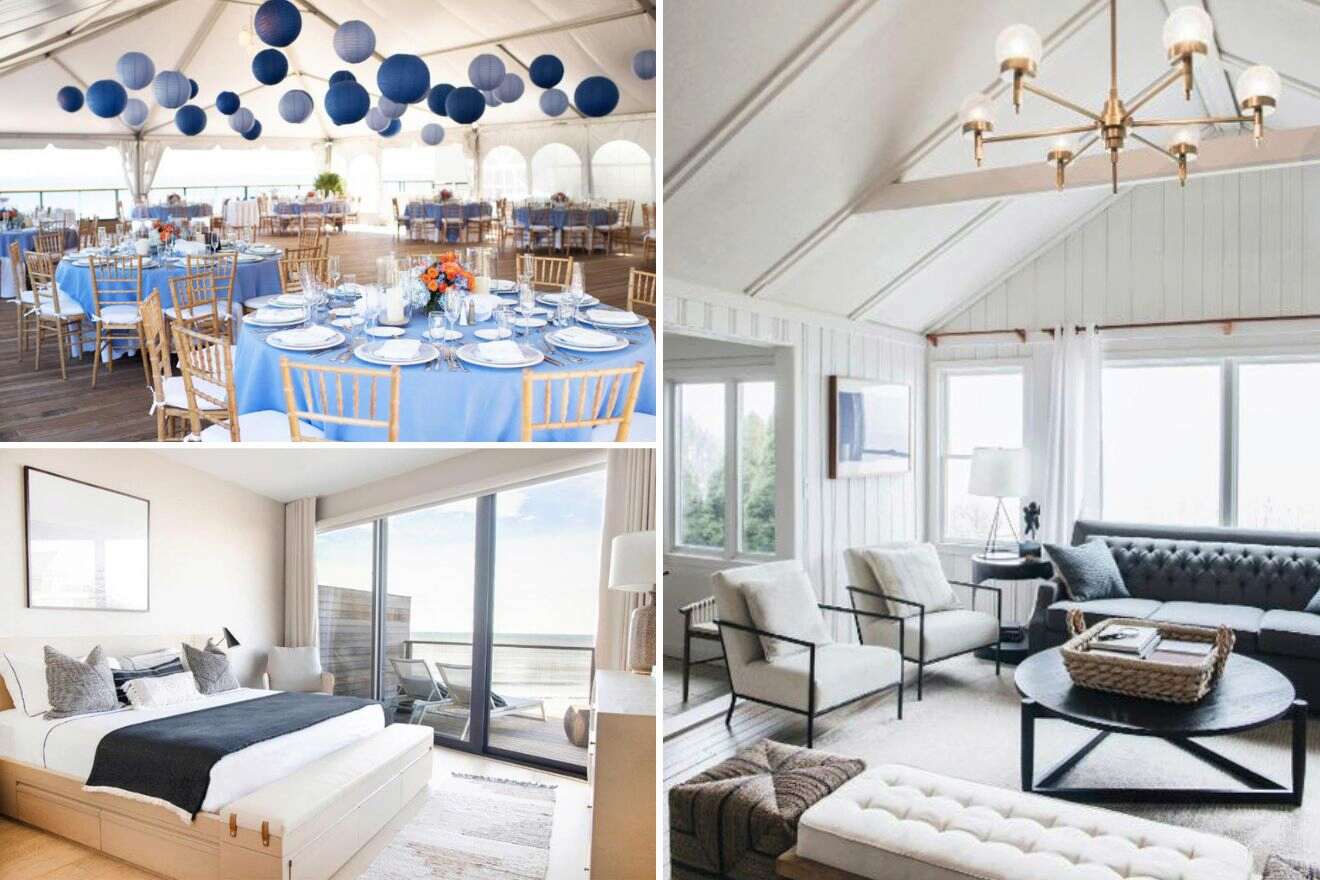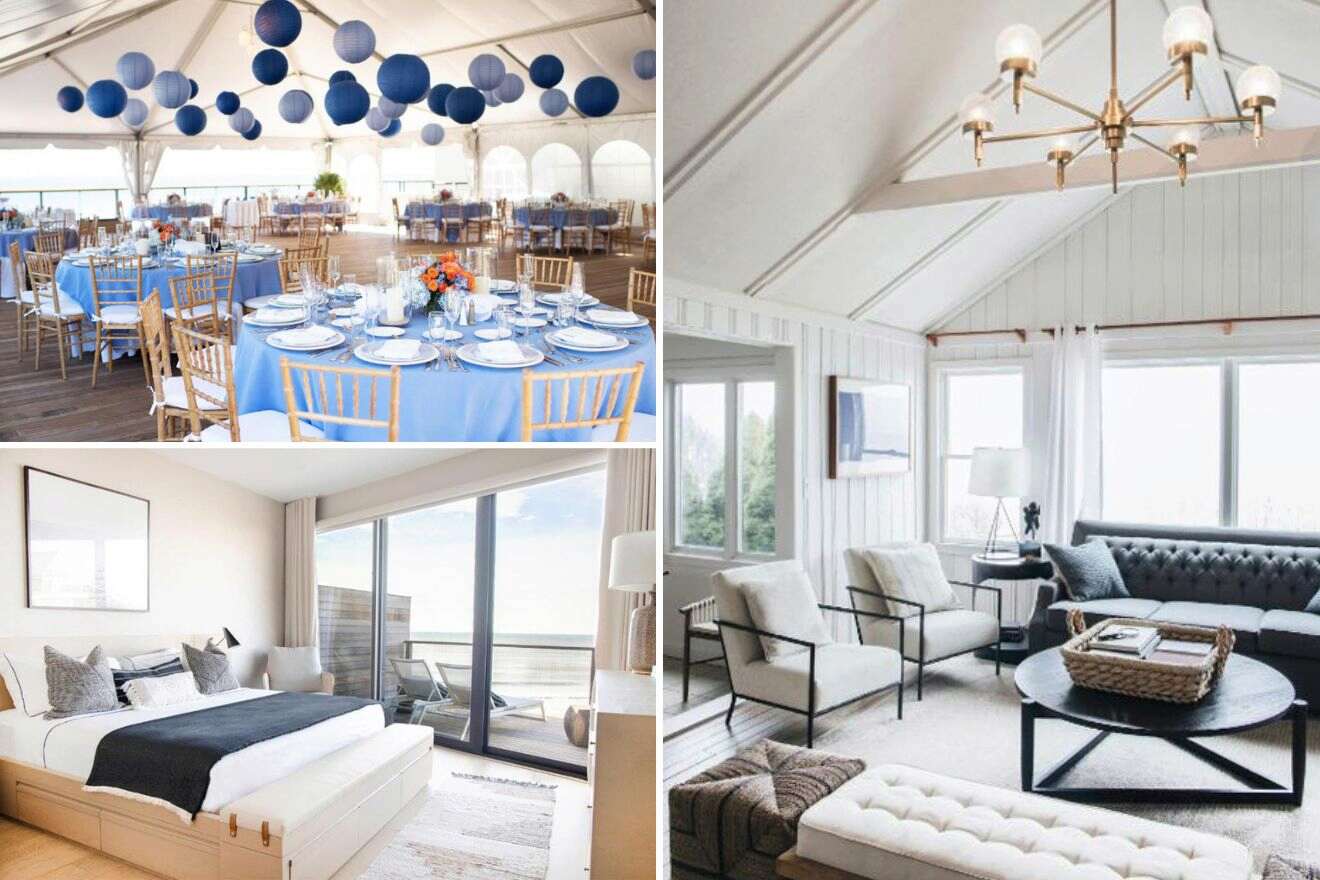 If you're up for a fabulous vacation where you'll be pampered year-round, then come to Gurney's – a luxurious hotel in close proximity to Hither Hills State Park.
This hotel is adored by celebrities and has literally everything you need. Start your morning with breakfast in bed in your elegantly decorated room with a view over the ocean. Then go to their private Scarpetta beach to sunbathe under the hot Montauk sun, snapping pics on the amazing beach cabanas with a mimosa in your hand. Spend your late afternoon spoiling yourself at the spa & wellness center, with an indoor ocean-fed seawater pool, and finish off the night partying or chilling at the outdoor bar.
NOTE: This hotel is rated lower than I would usually recommend, but it's the most luxurious option in Montauk, and I just couldn't avoid including it.
P.S. If you're staying in winter, you'll get to enjoy the seawater winter igloos which are so cool!
Check Current Prices
3. Hero Beach Club – for a rustically-modern vibe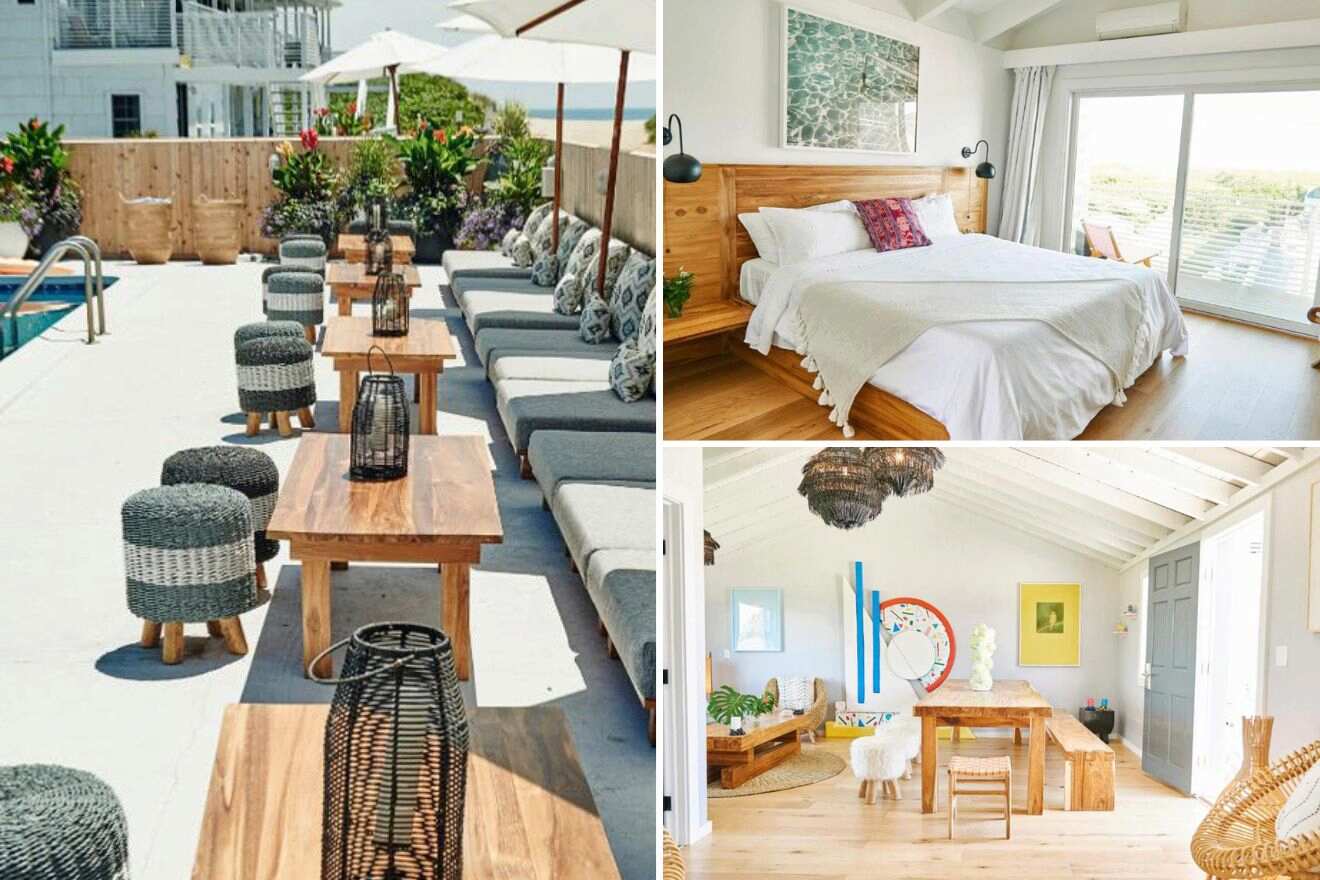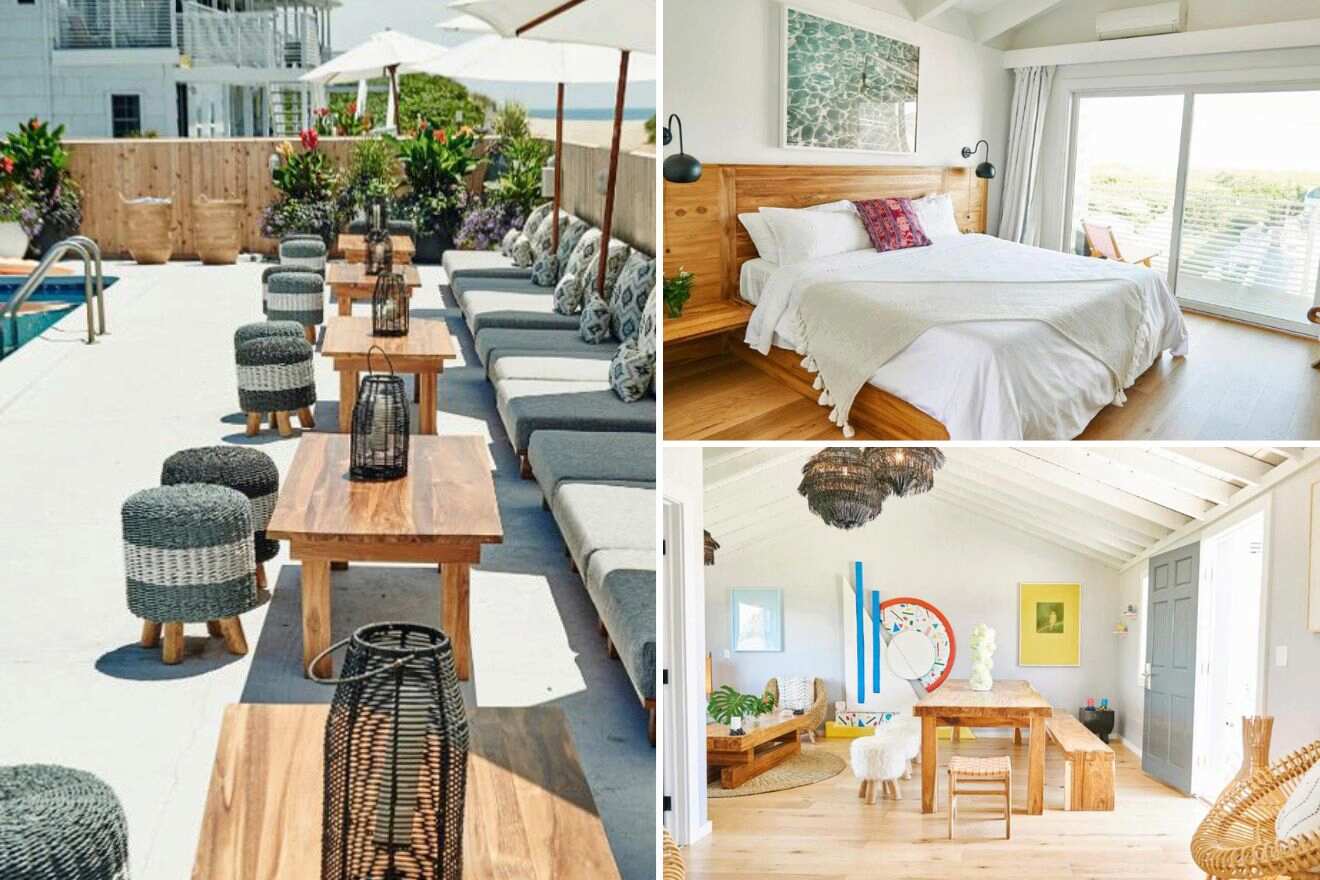 This is one of the Montauk hotels with a design that is somewhere in between a typically American road motel, and a fancy beach cabin with a rustically-modern vibe – perfect for free spirits.
This boutique hotel is located 1 mile (1.6 km) from central Montauk, and has direct beach access although it doesn't have a beach on its own. The rooms are neat with private bathrooms and a private entrance. Some of them have balconies with a beach or garden view, and others are suitable for people with disabilities.
For the hot summer days, there's an outdoor pool surrounded by beach chairs where you can swim and relax, and for the chilly summer nights, there's a fire pit where you can enjoy your vacay toasting marshmallows.
Check Availability
4. Hartman's Briney Breezes Beach Resort – for convenience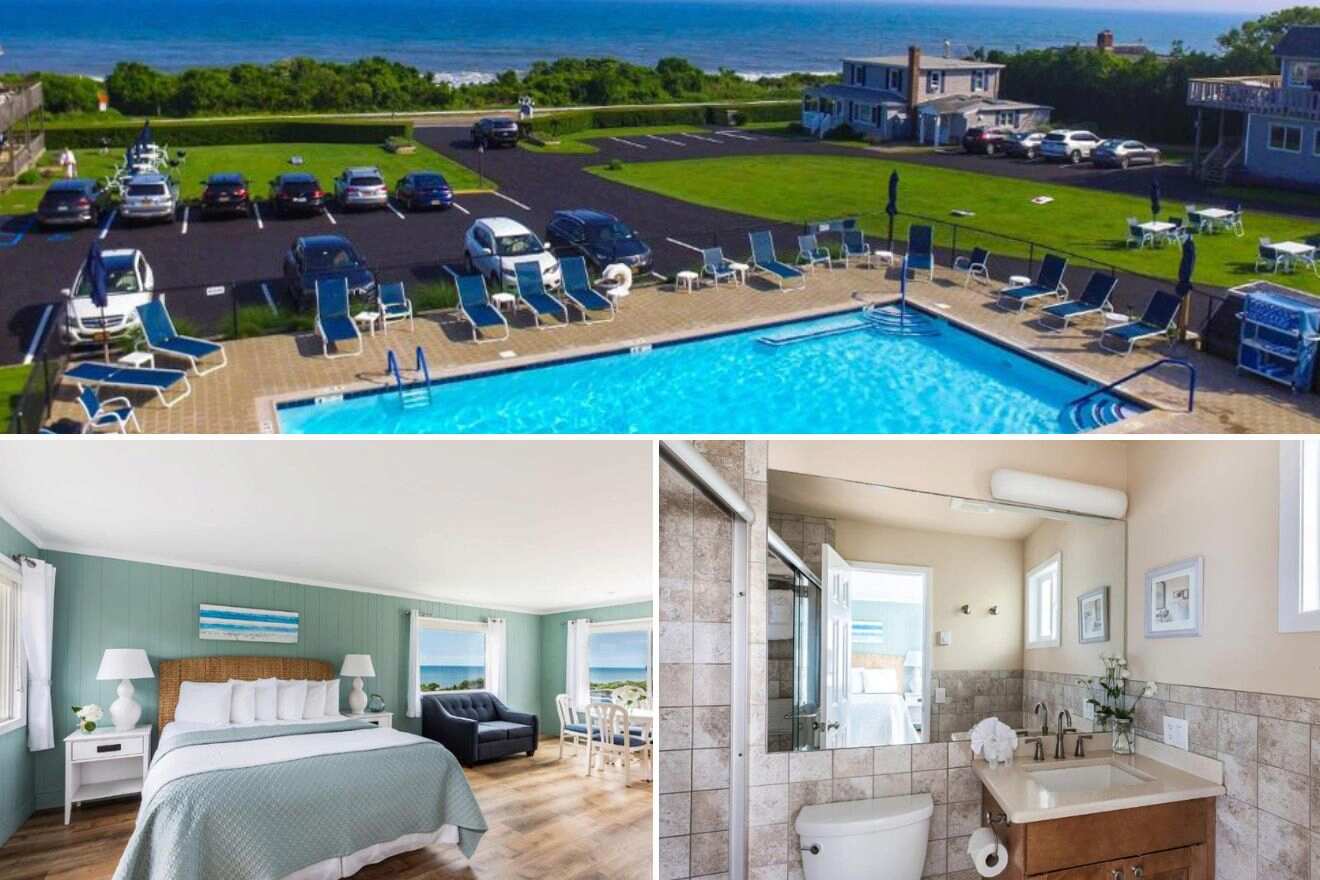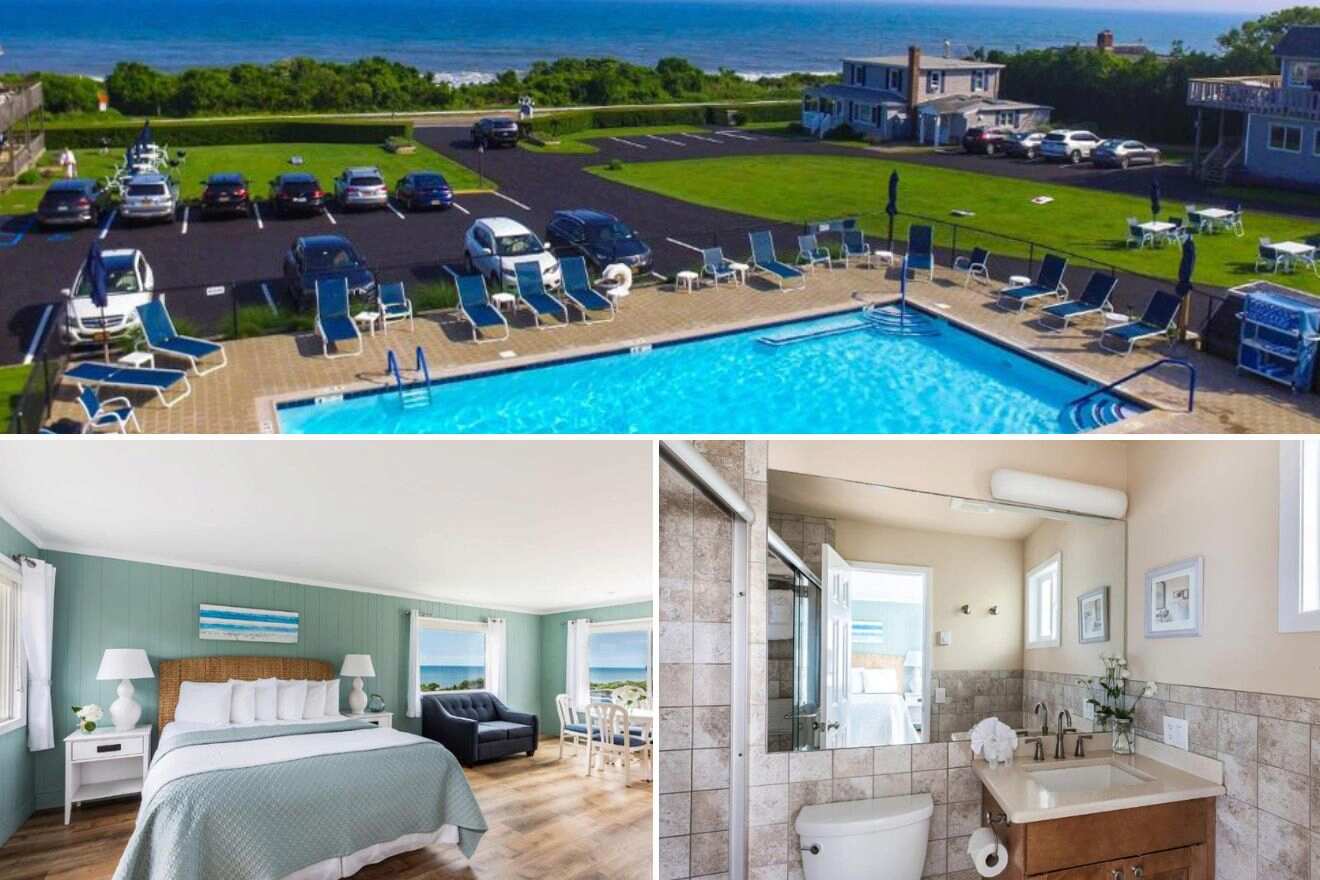 Looking for the most convenient among the hotels in Montauk? This one will meet your needs.
The guest rooms are clean and spacious, with comfy beds, lots of towels for the room, beach and pool, a private bathroom, and a kitchen. 
So, once you arrive and are nicely greeted by the welcoming staff, you can hit the beach opposite the hotel, or grab your spot by the outdoor heated pool. Then, when you are done for the day you can explore downtown Montauk which is a 20-minute walk alongside Montauk's gorgeous beaches.
And if that's not enough, you can use the outdoor barbecue grills, and have a nice picnic in the garden of Hartman's Briney Breezes motel.
Check Current Prices
5. Sea Crest Resort – for the most peaceful stay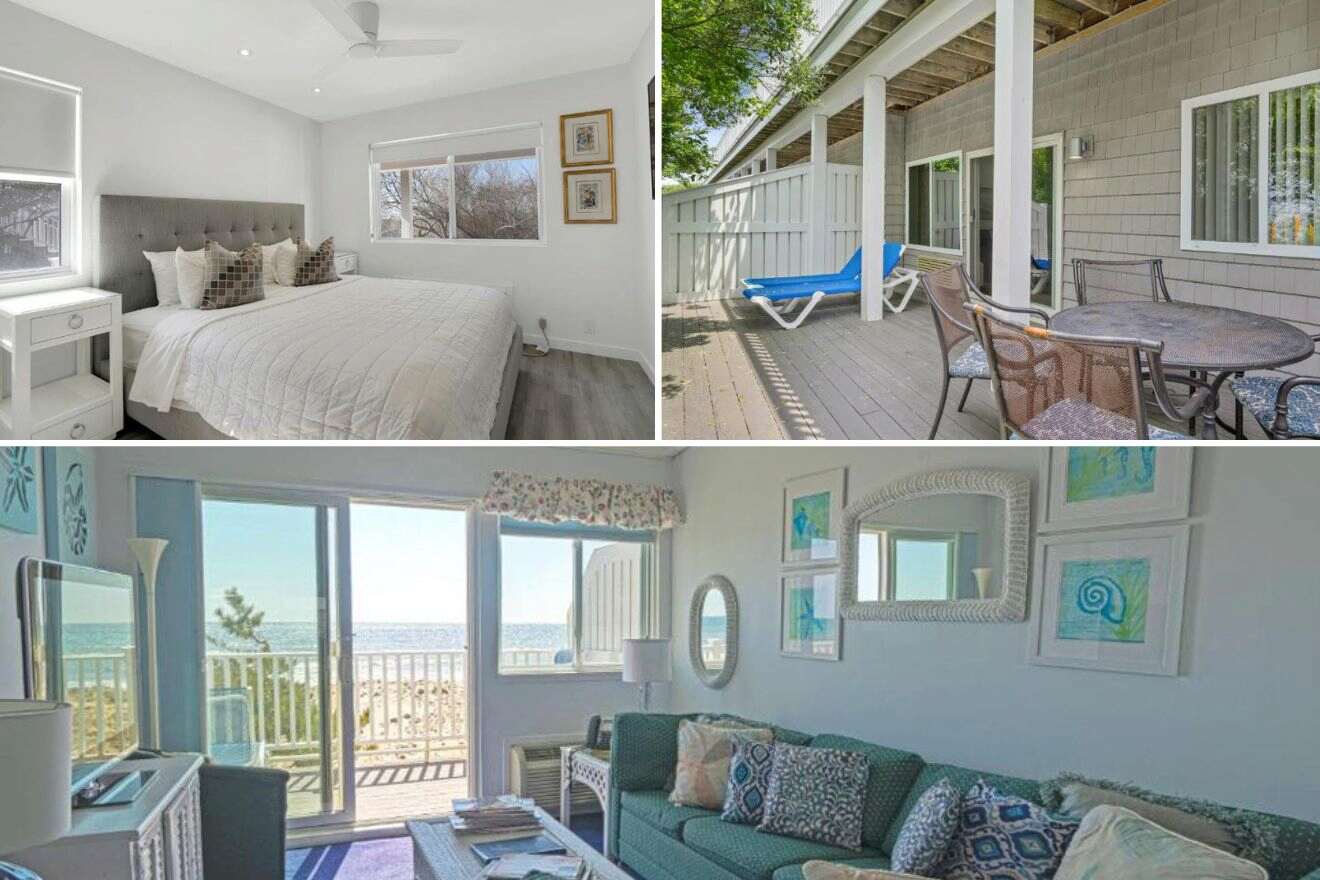 Technically in Amagansett, but realistically on a beach somewhere in between Montauk and Amagansett, the Sea Crest Resort will provide you with the most peaceful stay.
The rooms are spacious with comfortable beds, living rooms, ocean views, free Wi-Fi, and a small kitchenette.
There aren't many hotels nearby, so you'll enjoy the tranquility, as well as the outdoor pool, and the BBQ and picnic area. In case you want to hit the beach, then Hither Hills State Park is within walking distance.
Find Available Dates
6. Gurney's Star Island Resort & Marina – one for family fun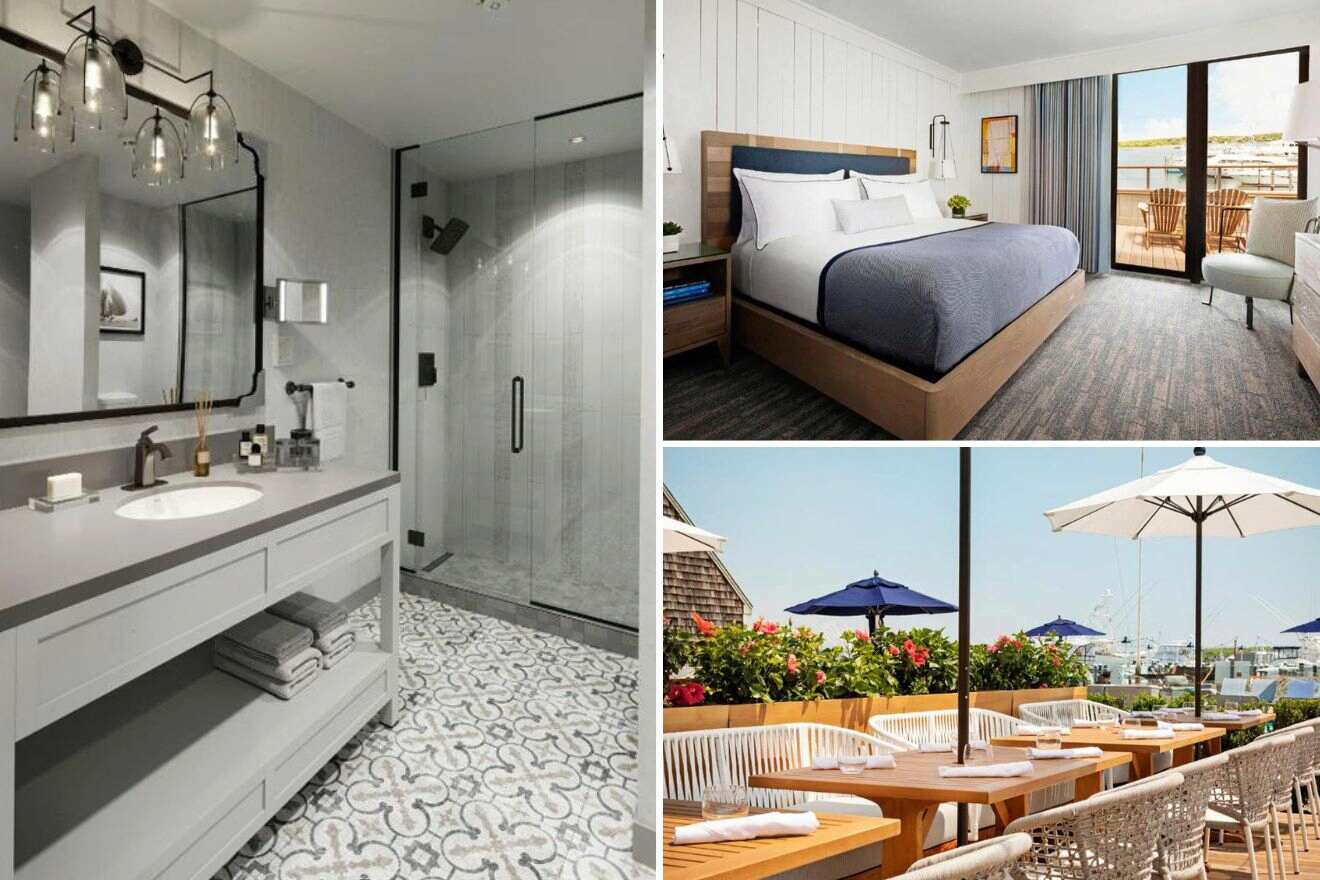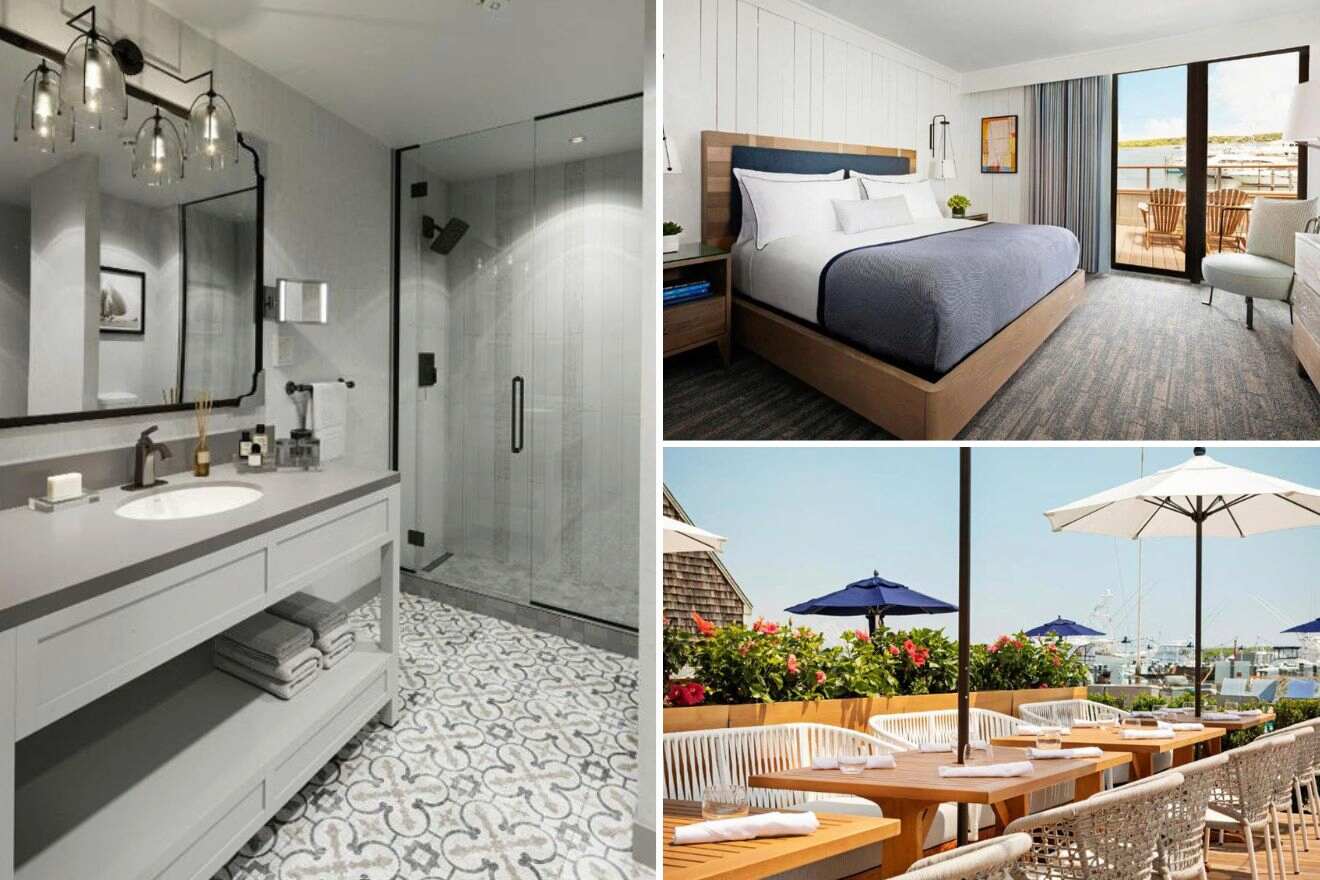 Gurney's resort, featuring an iconic lighthouse replica, is the place to stay for families with kids. It's located on Star Island on Lake Montauk and has nautical-themed spacious rooms with private bathrooms, private balconies, and free Wi-Fi.
Families have so many options here: a large outdoor pool, a private beach with paddle boards, and a vast dock to walk around at night. If the weather's not good, you can take your kids to the heated indoor pool where they'll be supervised by staff, while you relax at the spa or fitness center.
If that's not enough, you can shop some cool stuff at the gift shop, explore the area on bikes, have lunch at the on-site Italian restaurant Il Forno, or entertain yourself by the bonfire at night.
Find Available Dates
7. Montauk Beach House – for the best parties & cocktails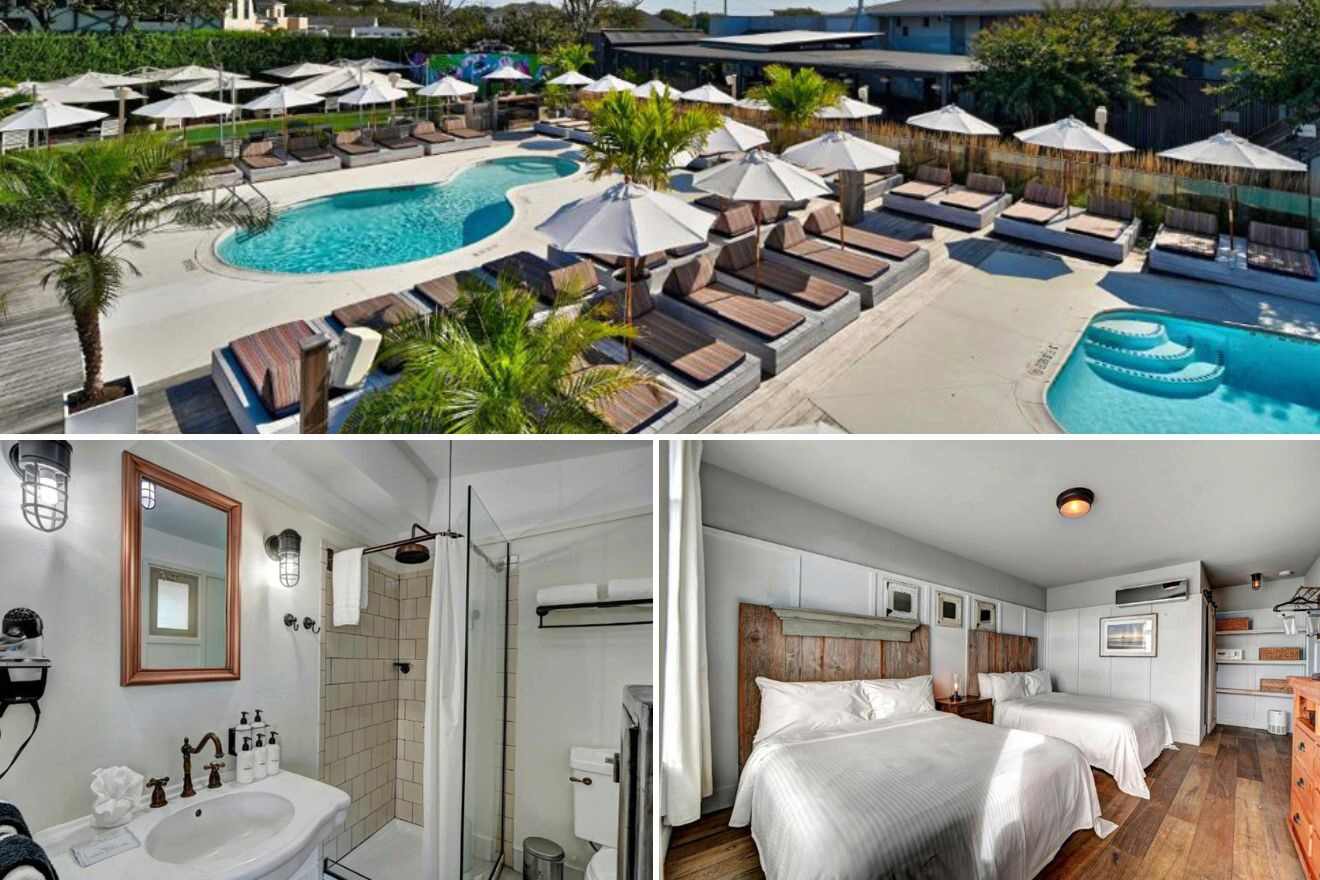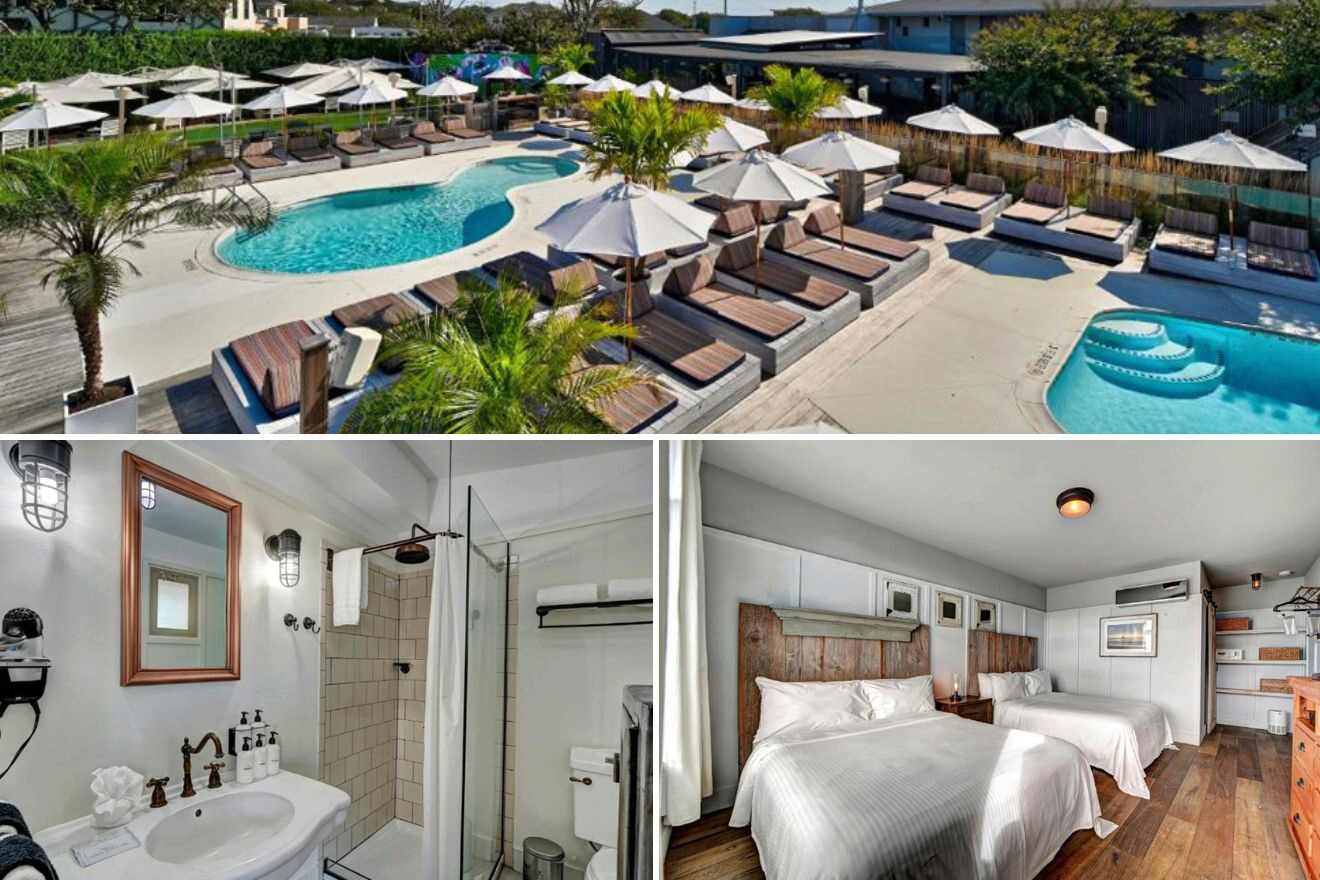 If you've been to Montauk, and haven't been to the Montauk Beach House, then it's a pity because this centrally located hotel is just something you shouldn't miss, even if you're not staying there.
The tastefully designed guest rooms, with claw foot tubs, and comfy beds are highly adored by guests. Check out the outdoor area with 2 swimming pools, lounge couches, and tables with fire pits, and wait for it – a bar, craft cocktails, and a DJ every weekend!
Now you know why Montauk Beach House is ranked among the best Montauk hotels!
Find Available Dates
8. Montauk Blue Hotel – for a convenient location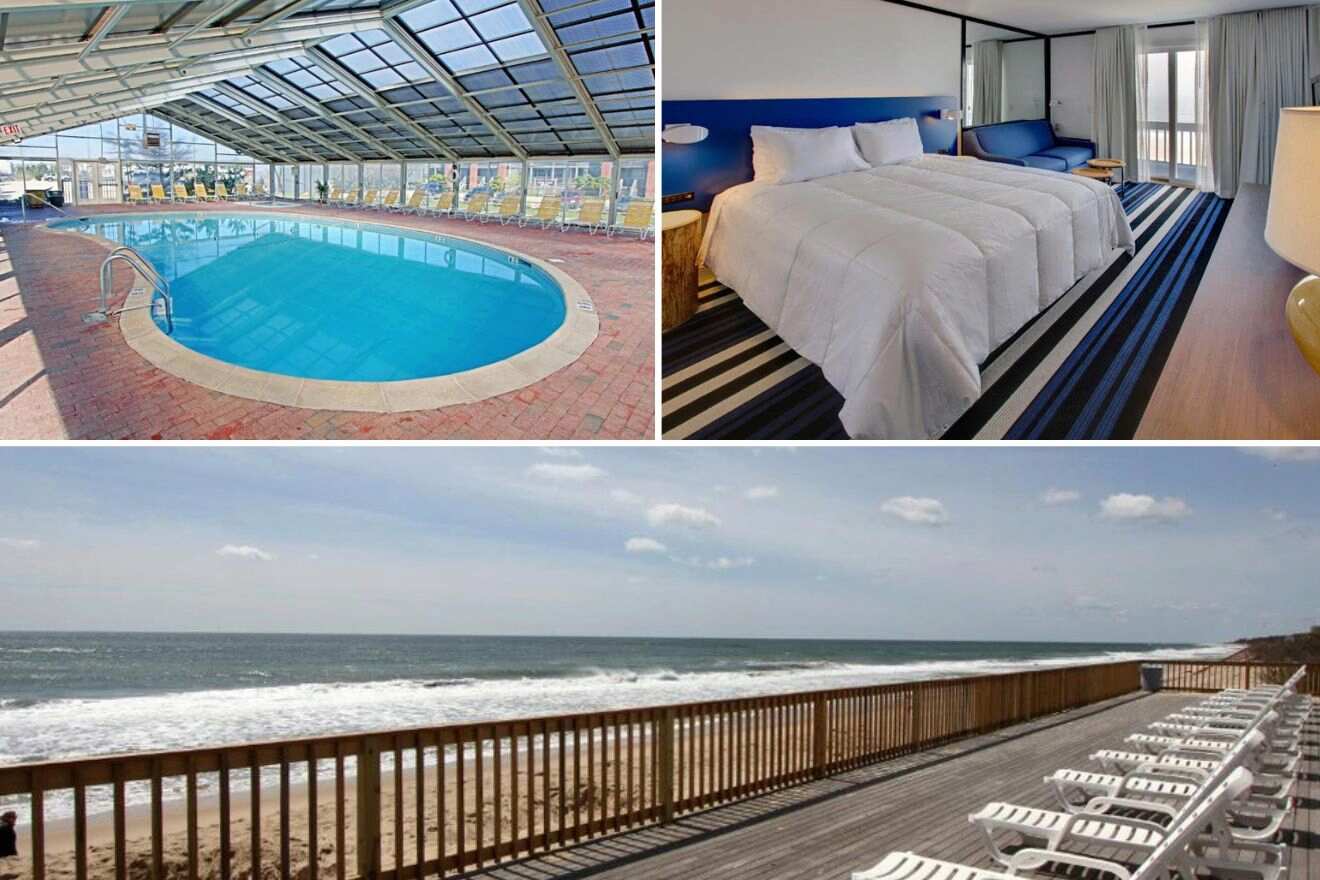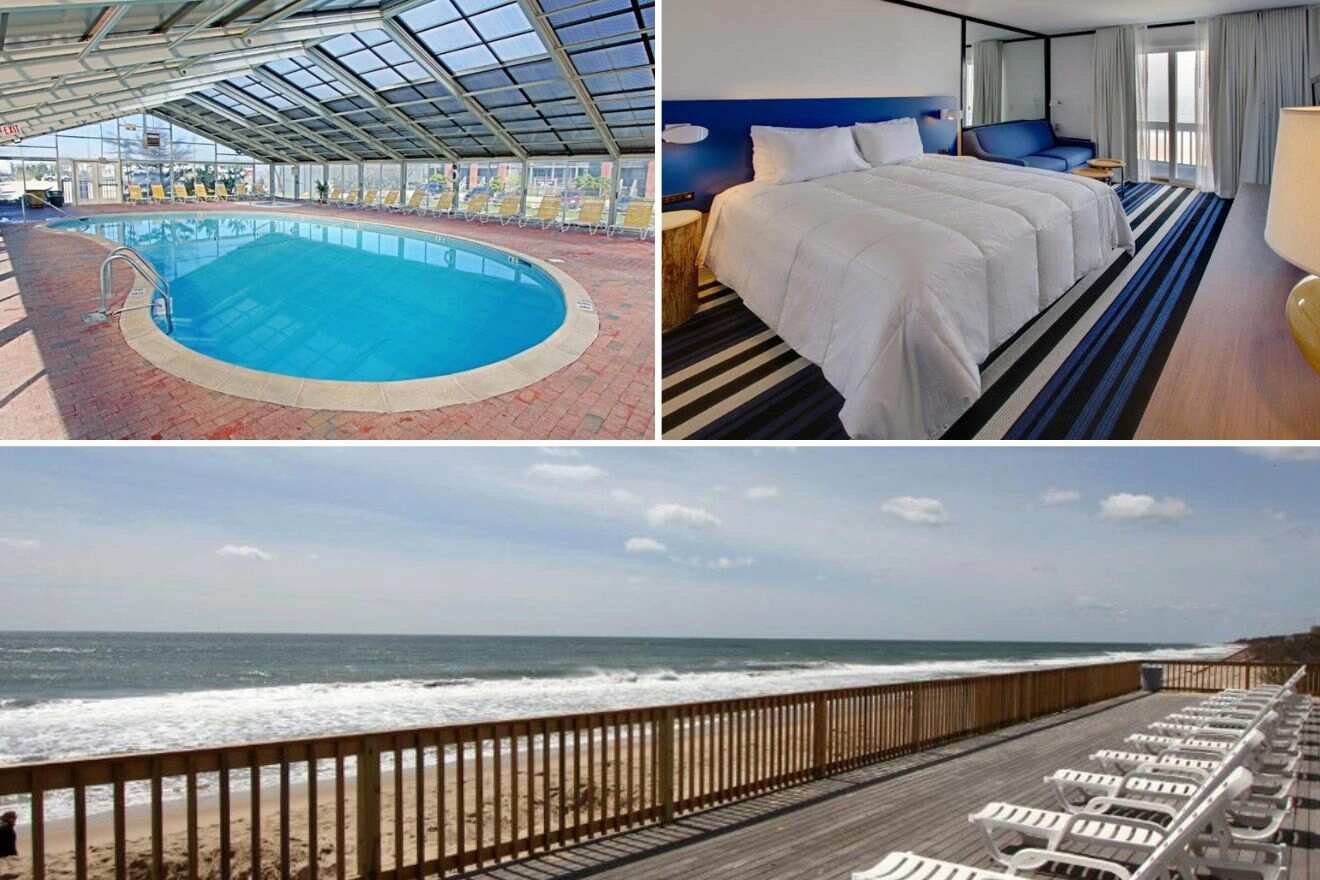 This hotel is for those among you who like to stay on top of the happenings, as it's located next to the public beach in the very center of Montauk village.
This means that you have all the best local restaurants, cafés, bakeries, and stores within walking distance. So, the perfect plan for the day would be to wake up in your comfy hotel bed, have a shower, hit the beach, then check out Harvest on the Fort Pond for the most delicious brunch with a view.
Next, you can make use of the free Wi-Fi to finish some work, relax on the hotel's large sun deck overlooking the ocean, or try out the indoor swimming pool. Finish off the night with a drink, and a summer party at The Point. I promise you, you won't be disappointed.
Check Current Prices
9. Beach Plum Resort – for the ultimate simplicity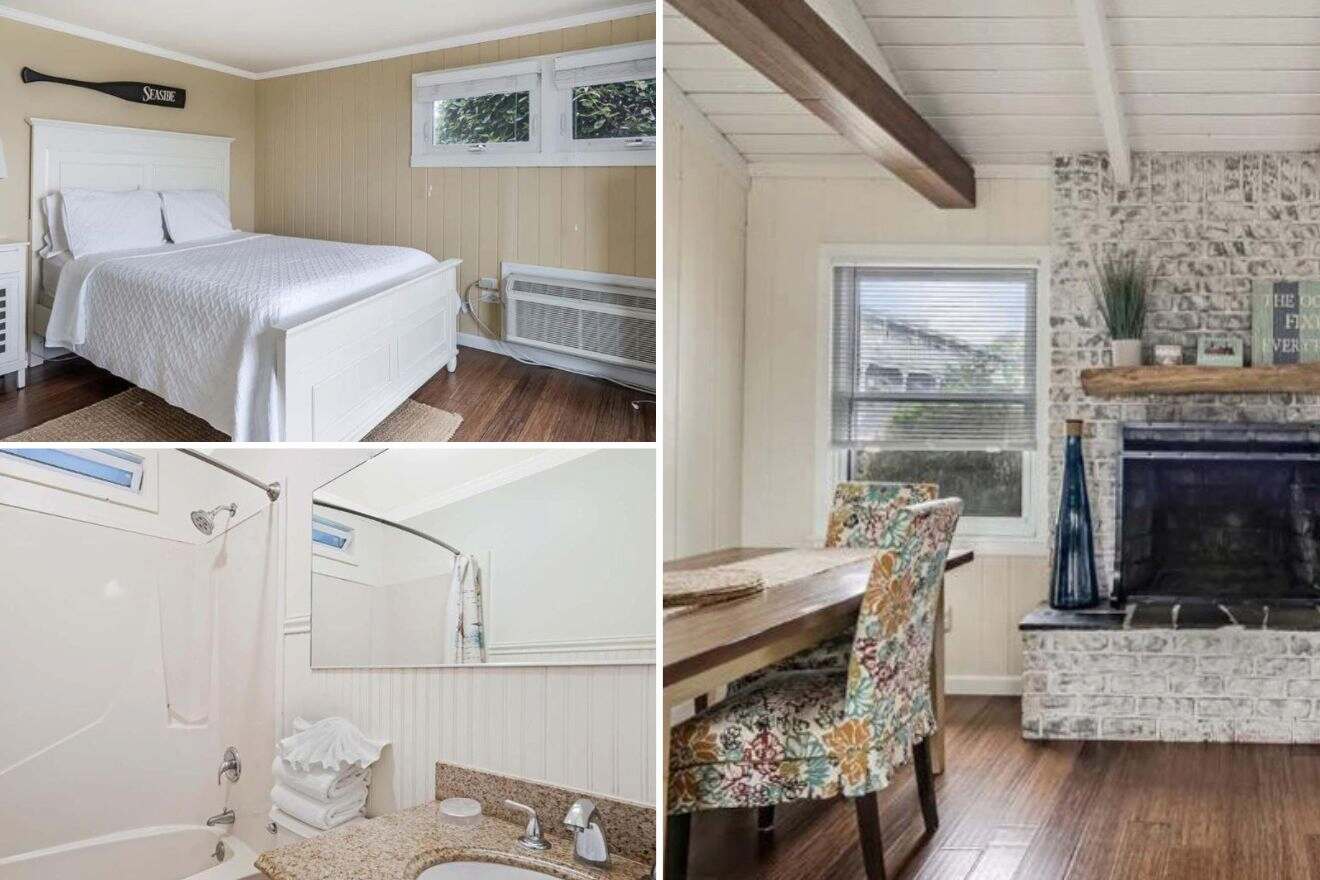 Located within walking distance from Kirk Park Beach and The Plaza, this family-friendly hotel features comfortable rooms with bright colors, a living area with a flat-screen TV, free Wi-Fi, and a private bathroom.
The accommodations range includes rooms, studio apartments, cottages, and bungalows. There is also a seasonal pool, a BBQ area, a beautiful garden, and even a kid's playground.
What I particularly like is the simplicity of the hotel and the ocean views from where you can occasionally spot whales in the distance.
Check Available Dates
10. Beachcomber Resort at Montauk – for business trips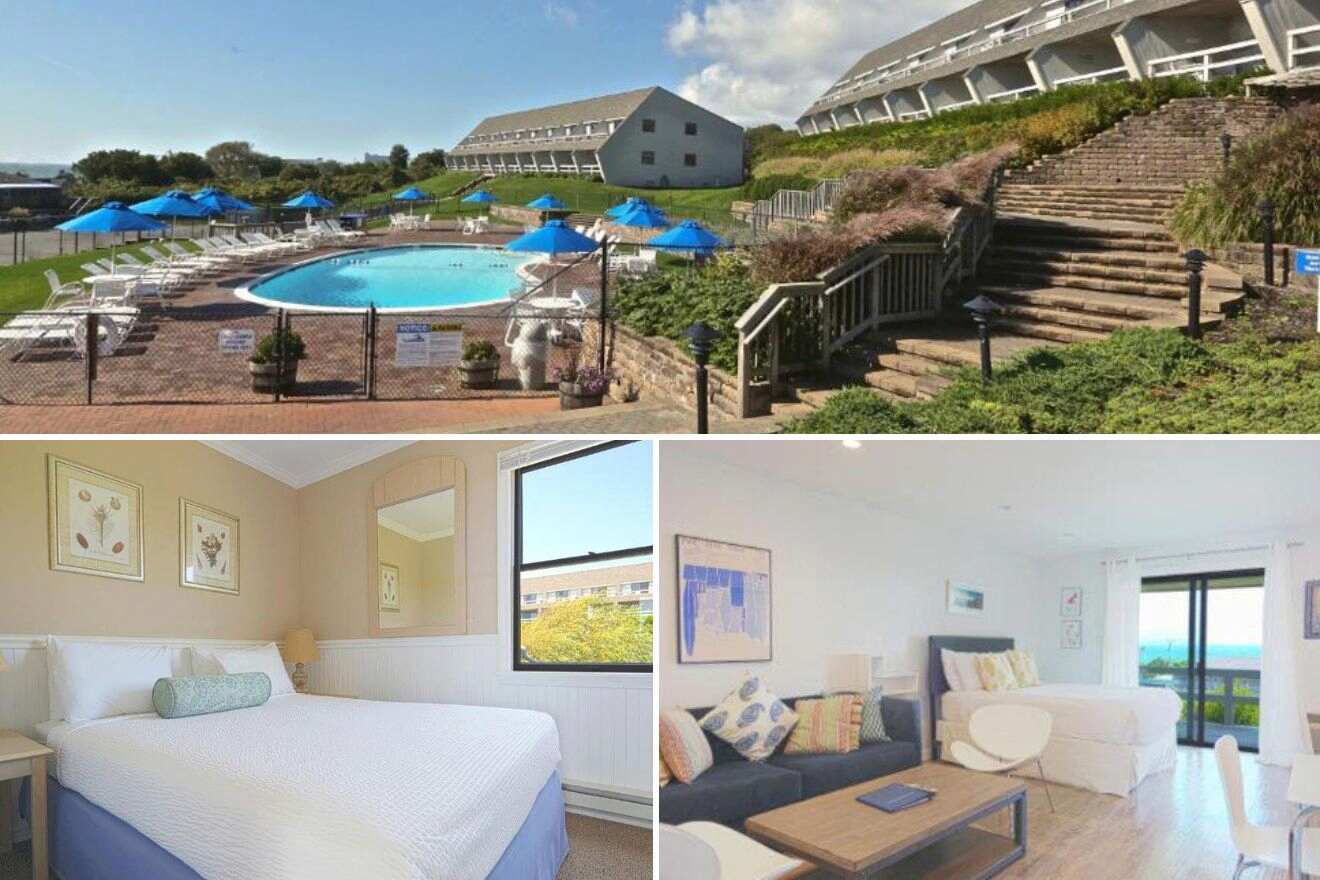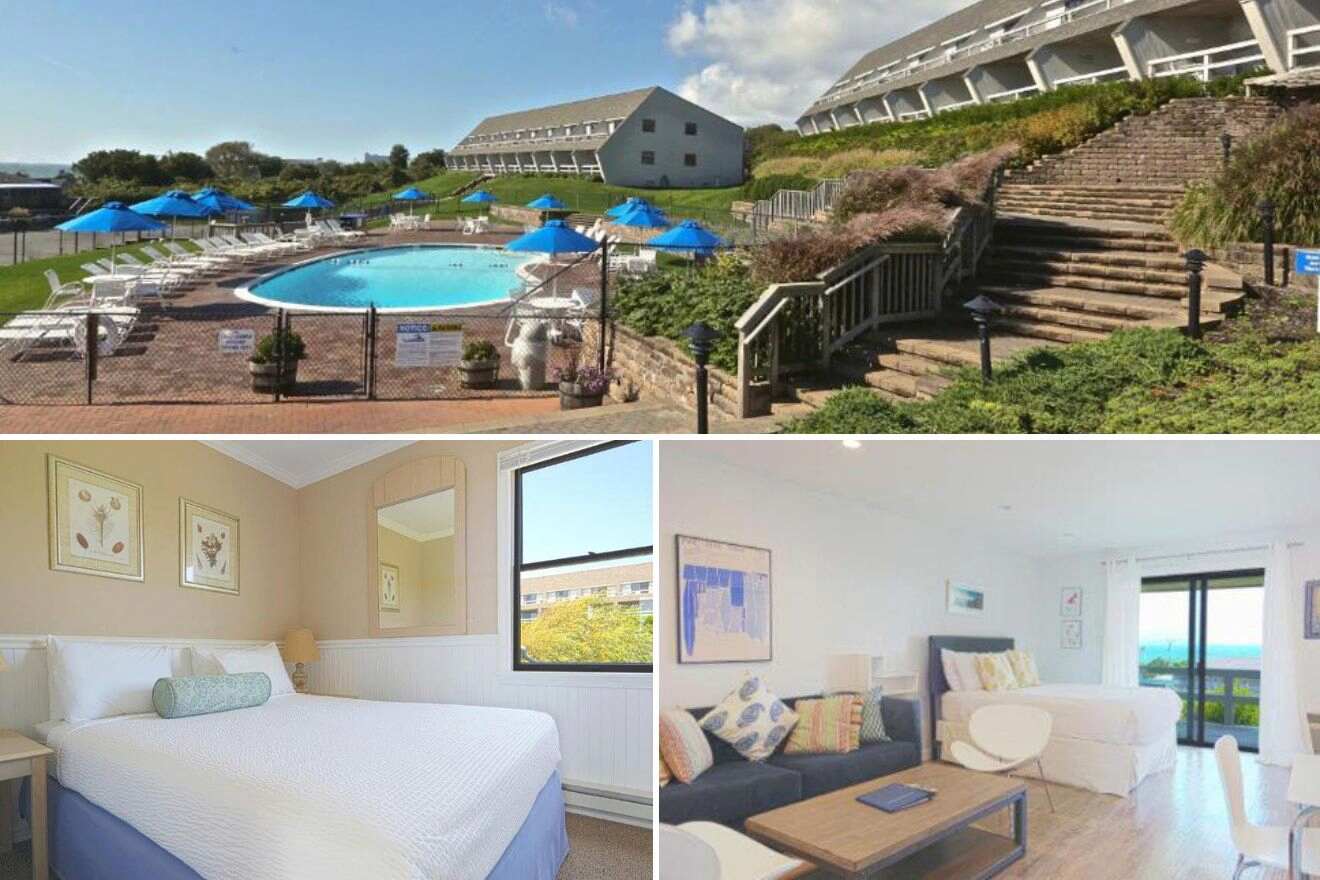 Located a 10-minute drive from Montauk Downs State Park, this comfortable hotel features light-colored rooms with ocean-view private balconies, private bathrooms, cable TV, and free Wi-Fi.
In addition to the room choice (one-bedroom suites, two-bedroom suites, queen studio with disability access, etc.), there is a small outdoor heated pool with beach chairs, direct beach access, tennis courts, fitness rooms, and a spa center. Whether you come for work or play, this hotel will grant you a pleasant stay.
Check Current Prices
11. Montauk Manor – for history buffs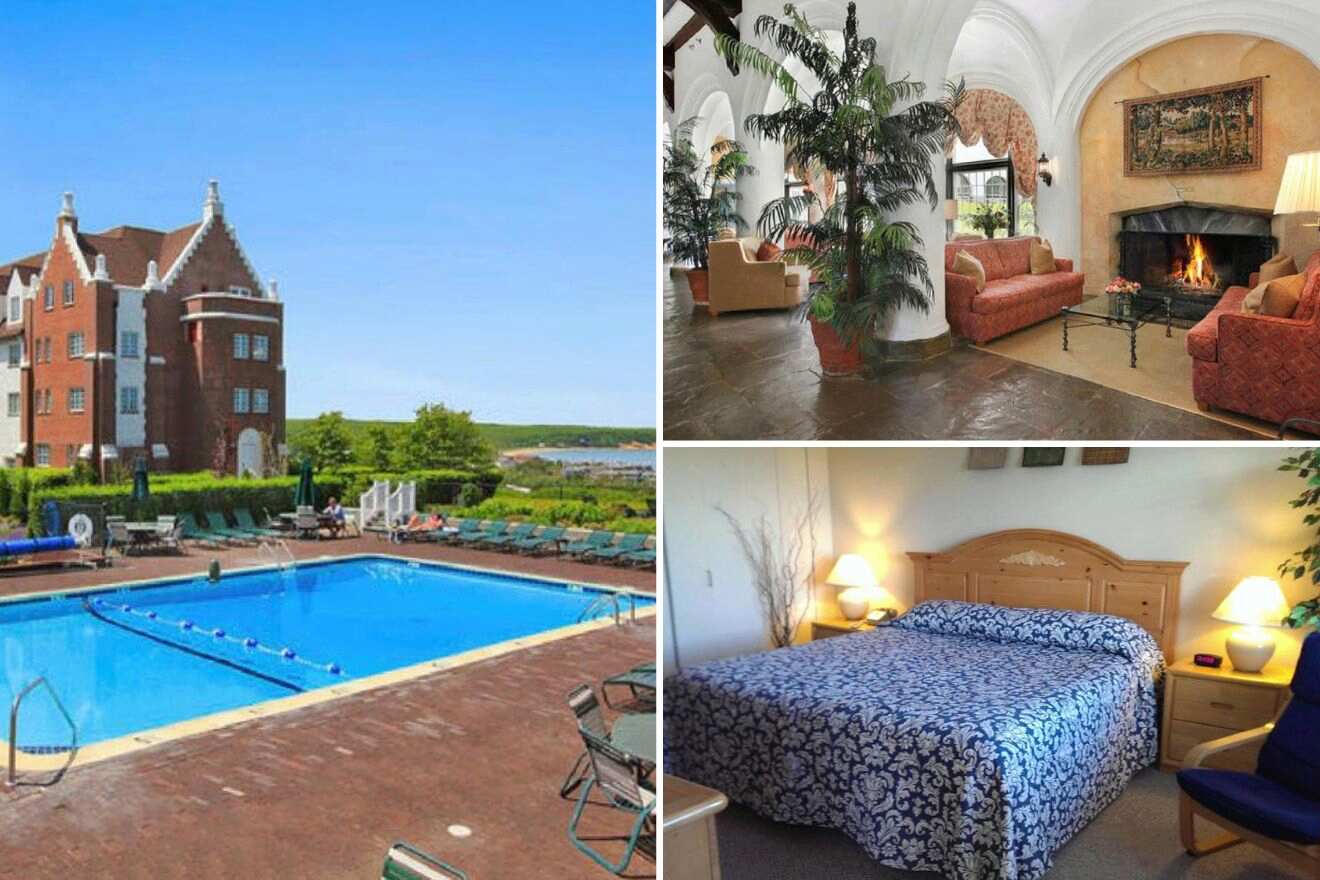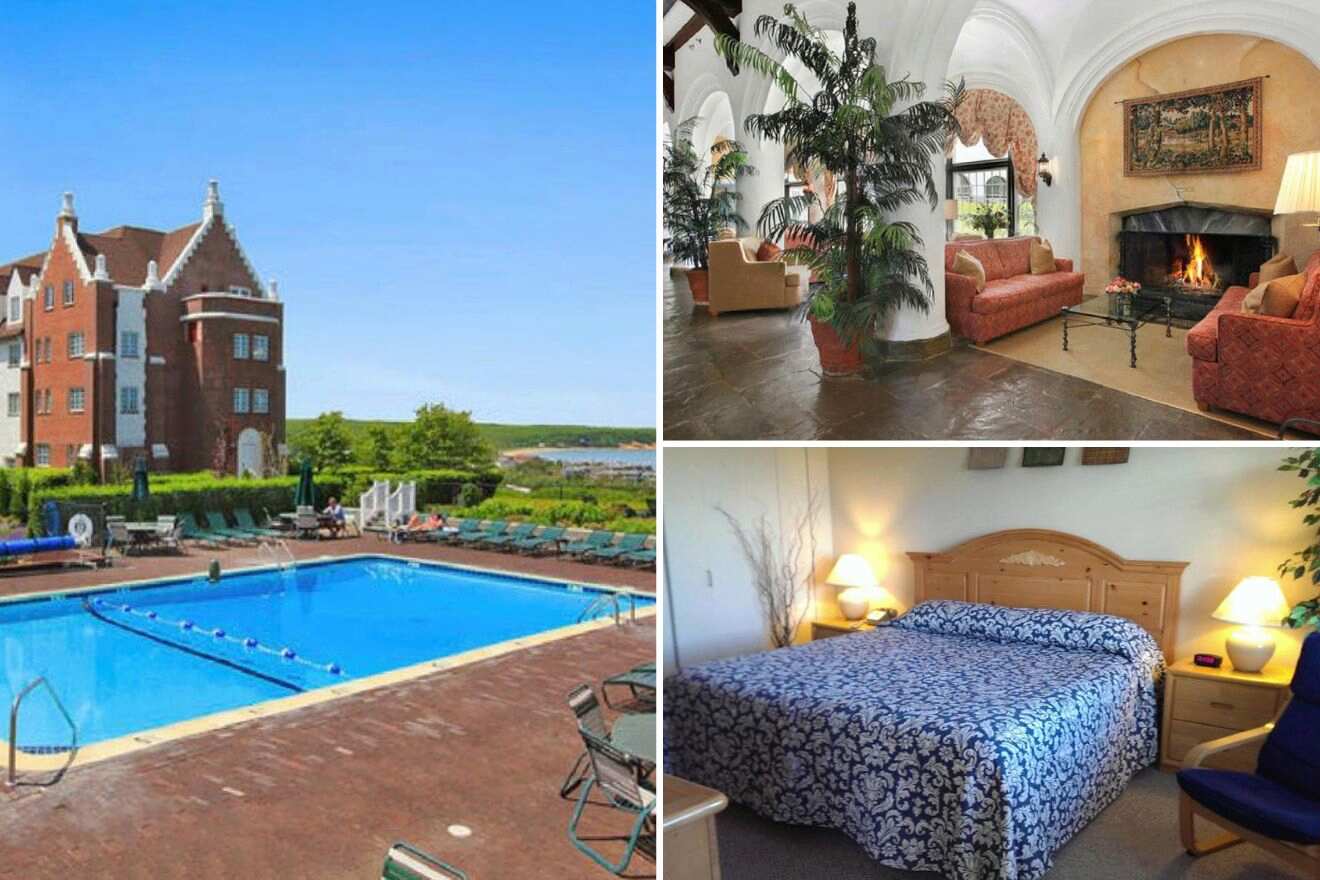 If you're a fan of hotels with history, then Montauk Manor won't disappoint. Built in 1927 on Signal Hill, overlooking Fort Pond Bay, this Tudor-style hotel still fascinates its guests with its grandeur.
There are 140 condominium apartments in this boutique resort including three luxurious bedroom suites. There's also an outdoor heated swimming pool, an indoor pool, 3 tennis courts, a spa & fitness center, an on-site restaurant, and facilities for guests with disabilities. There is also a complimentary shuttle service that will take you anywhere in Montauk.
Check Availability
12. Driftwood Resort on the Ocean – most beautiful sunsets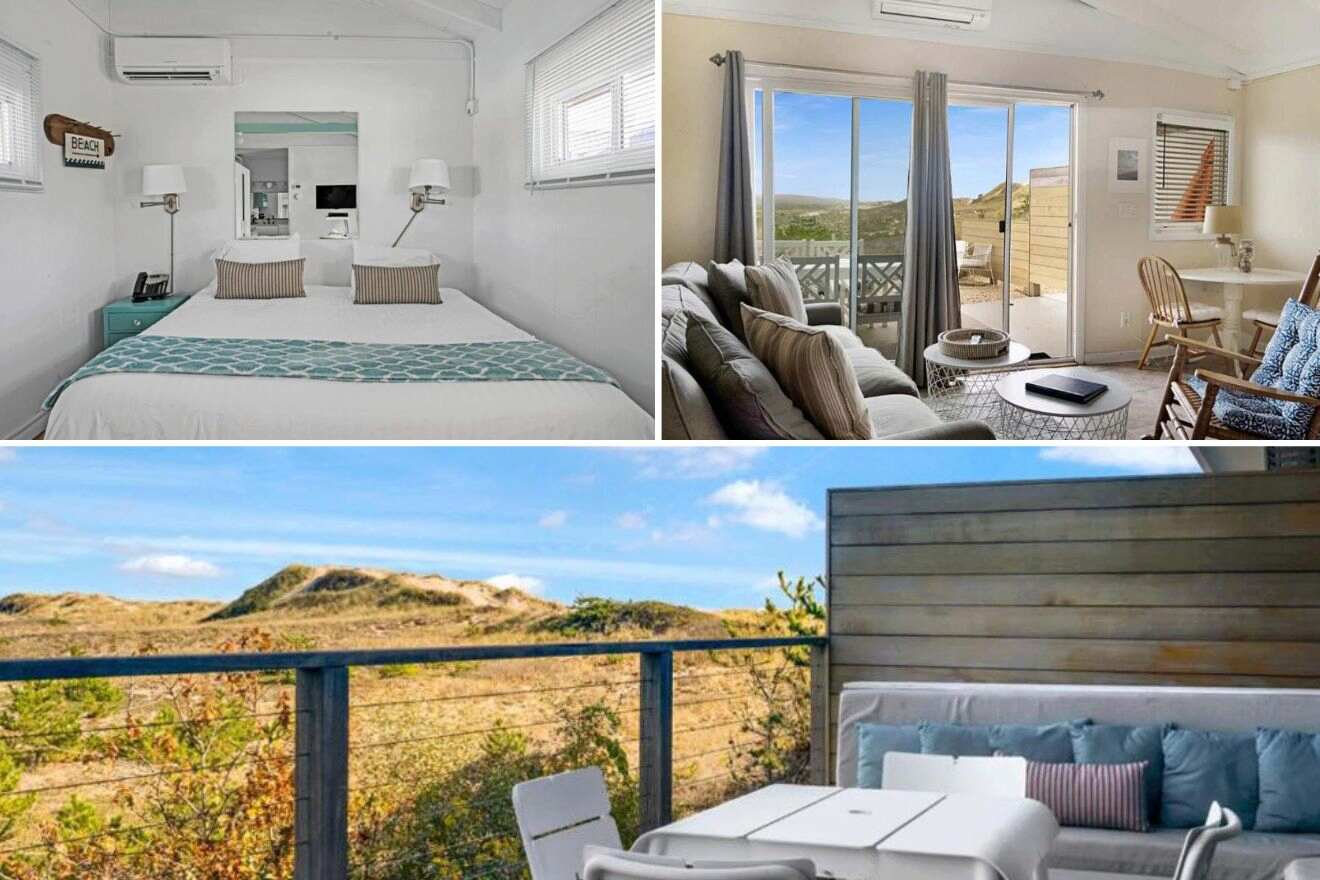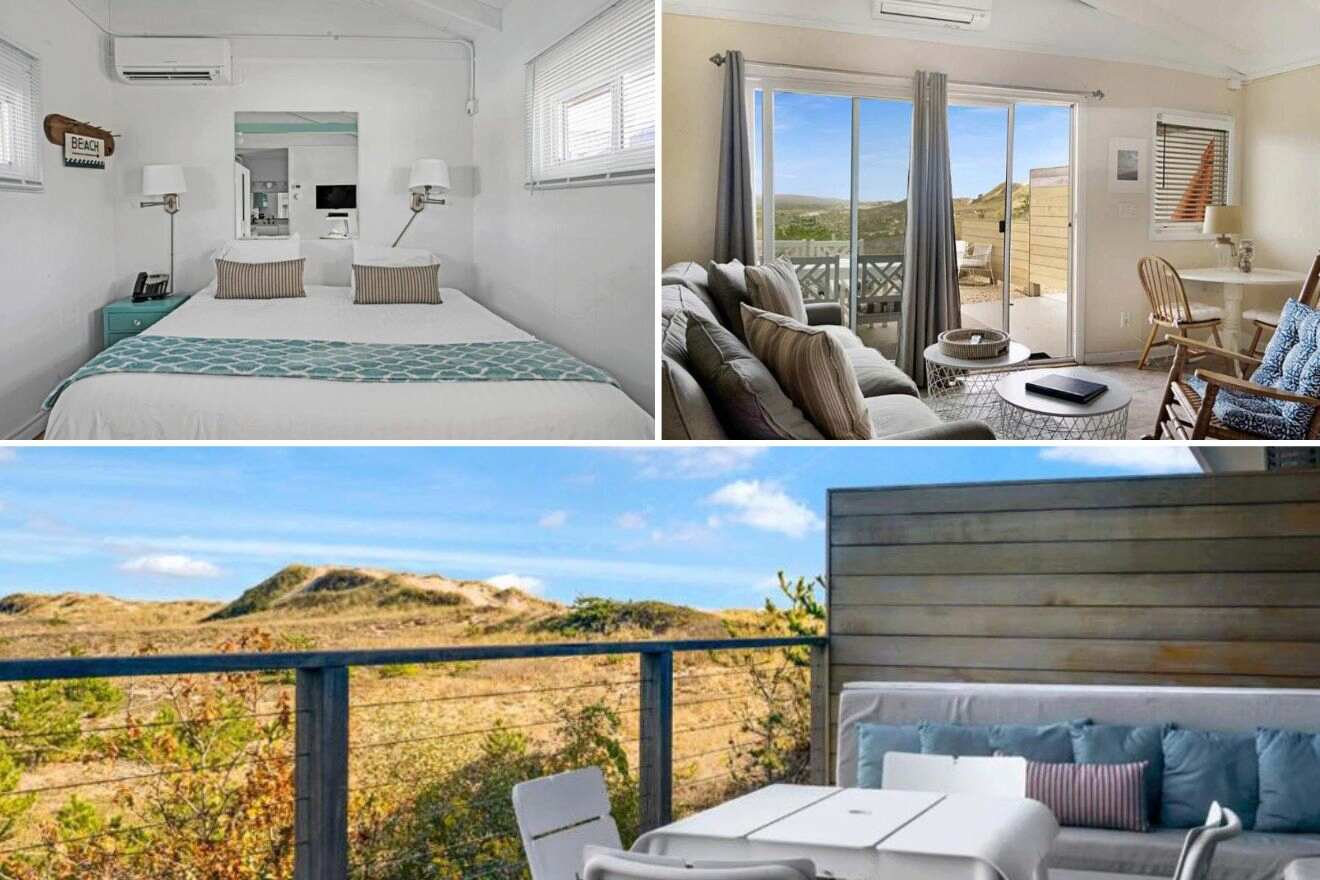 If you're on the hunt for the most stunning sunset, then come here because the private balconies of this secluded getaway hotel have the perfect view of the sun setting. Moreover, they're also perfect for sunrise meditation because the Montauk – Amagansett mid area isn't as crowded, so you'll enjoy the peace & quiet.
The rooms are beach-themed, with comfy beds, private bathrooms, private patios, and a cable TV. The staff are also very pleasant. When ready for the day, you can hit the private beach, relax at the outdoor swimming pool, play tennis, or have a BBQ.
Find Available Dates
13. Haven Montauk – for a heavenly stay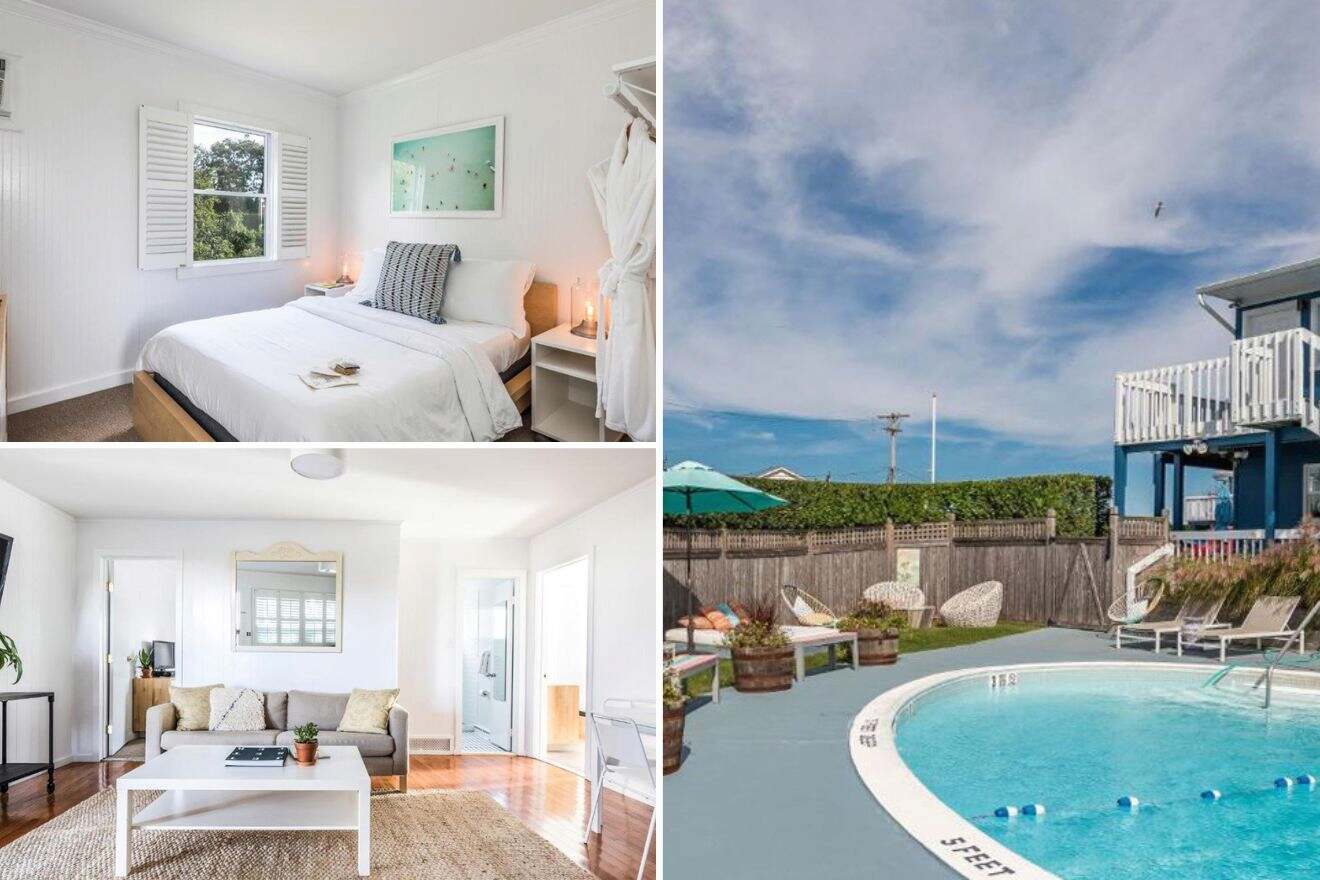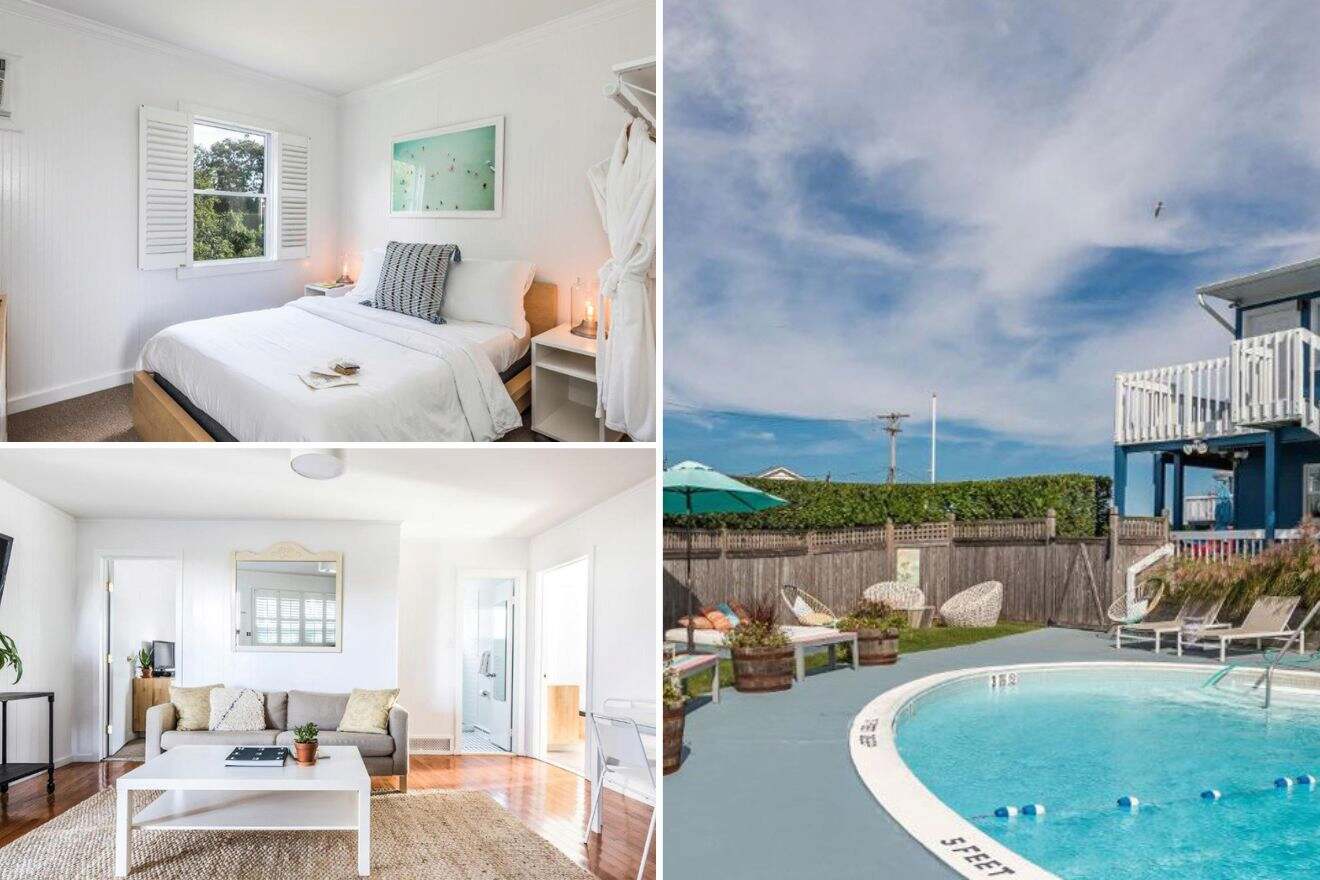 This heavenly yet so down-to-earth boutique hotel is for those who like beautifully humble accommodations. It's located in a residential area that is 3.2 km away from Montauk Train Station, and a bit further from Montauk Center, but still so enchanting.
The guest rooms are simply decorated in a rustic beach theme. Guests have a seasonal outdoor pool and a BBQ area with a garden at their disposal, while the bay is just 4 minutes walk away.
I strongly recommend taking one of the complimentary bikes from the hotels and exploring the area, as you have so much to see here from Gosman's dock with all the chic boutique shops, to Salivar's, and the Viking Fleet which can take you on a shark dive. Definitely one of the best things to do in Long Island.
Check Available Dates
14. Montauk Oceanside Suites – a budget stay with an ocean view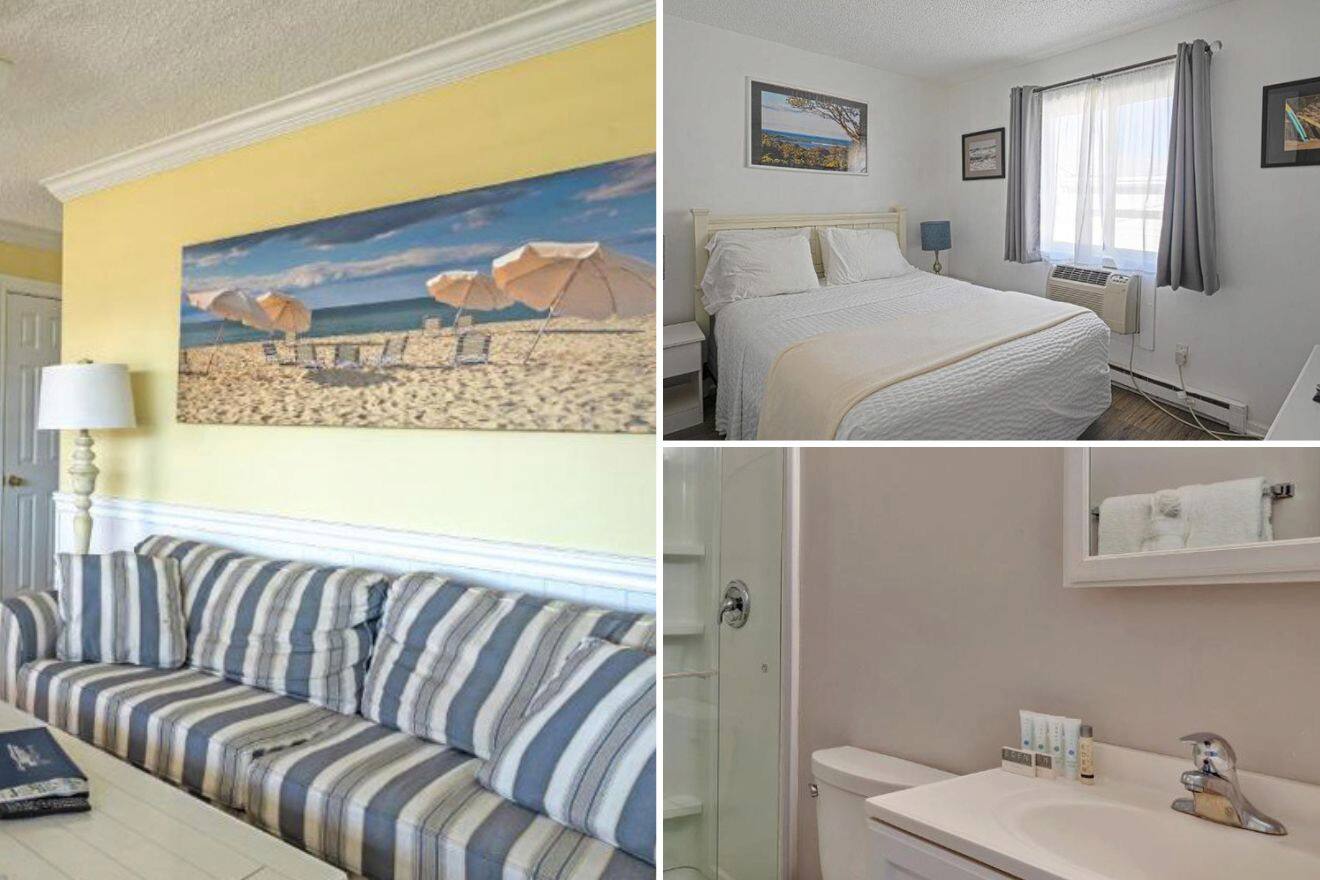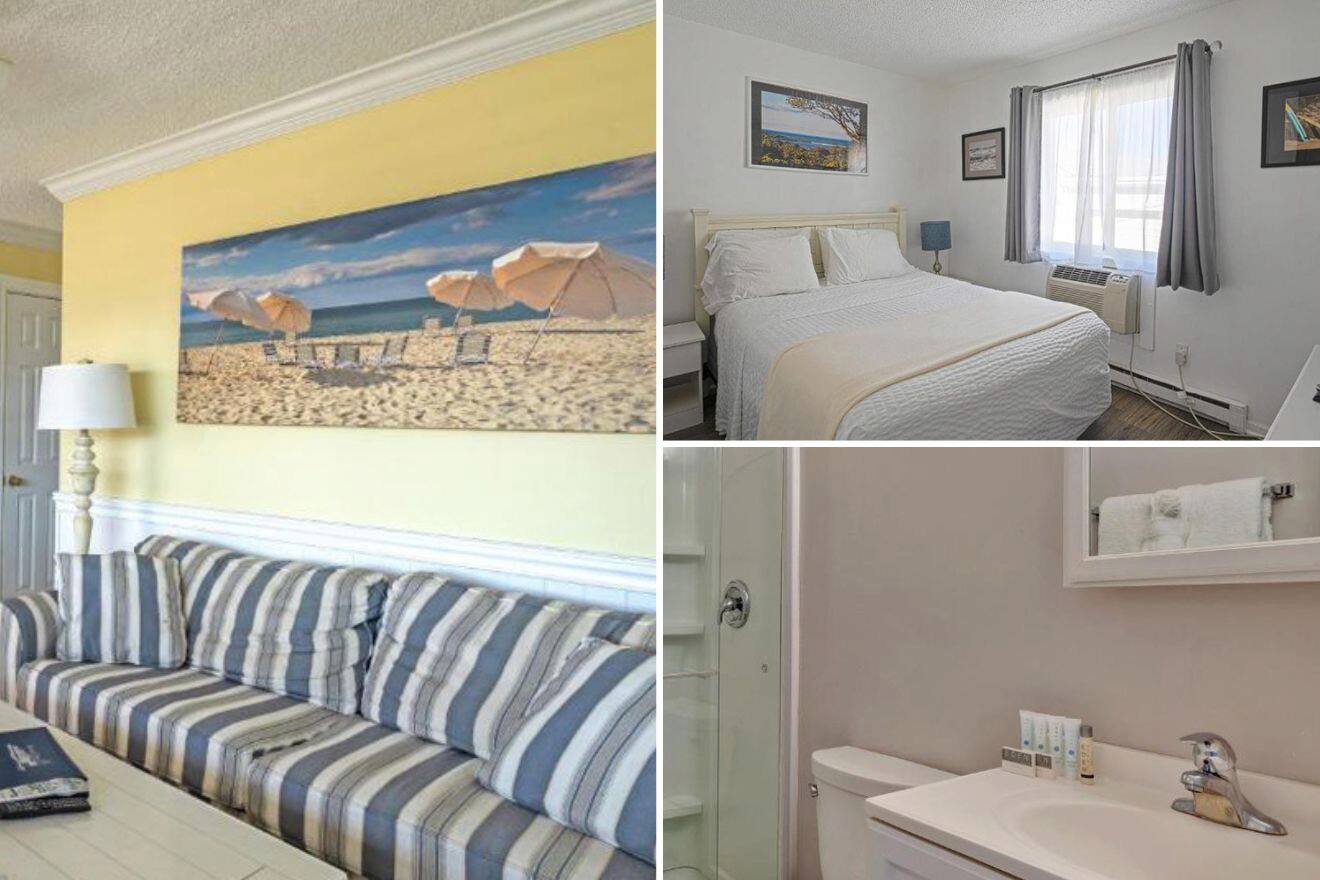 Located across the street from the beach, these oceanside suites are great for people who are looking for affordable accommodation in Montauk in a good location.
It doesn't have a pool, but the suites are close enough to the beach so that you never lack a good swim, yet far enough to avoid the noisy crowd on summer days and nights. The guest rooms are comfortable with a private bath or shower, a cable TV, and a fully equipped kitchen. Free Wi-Fi is available, as well as free parking.
Check Current Prices
15. Daunts Albatross Motel – for a zen experience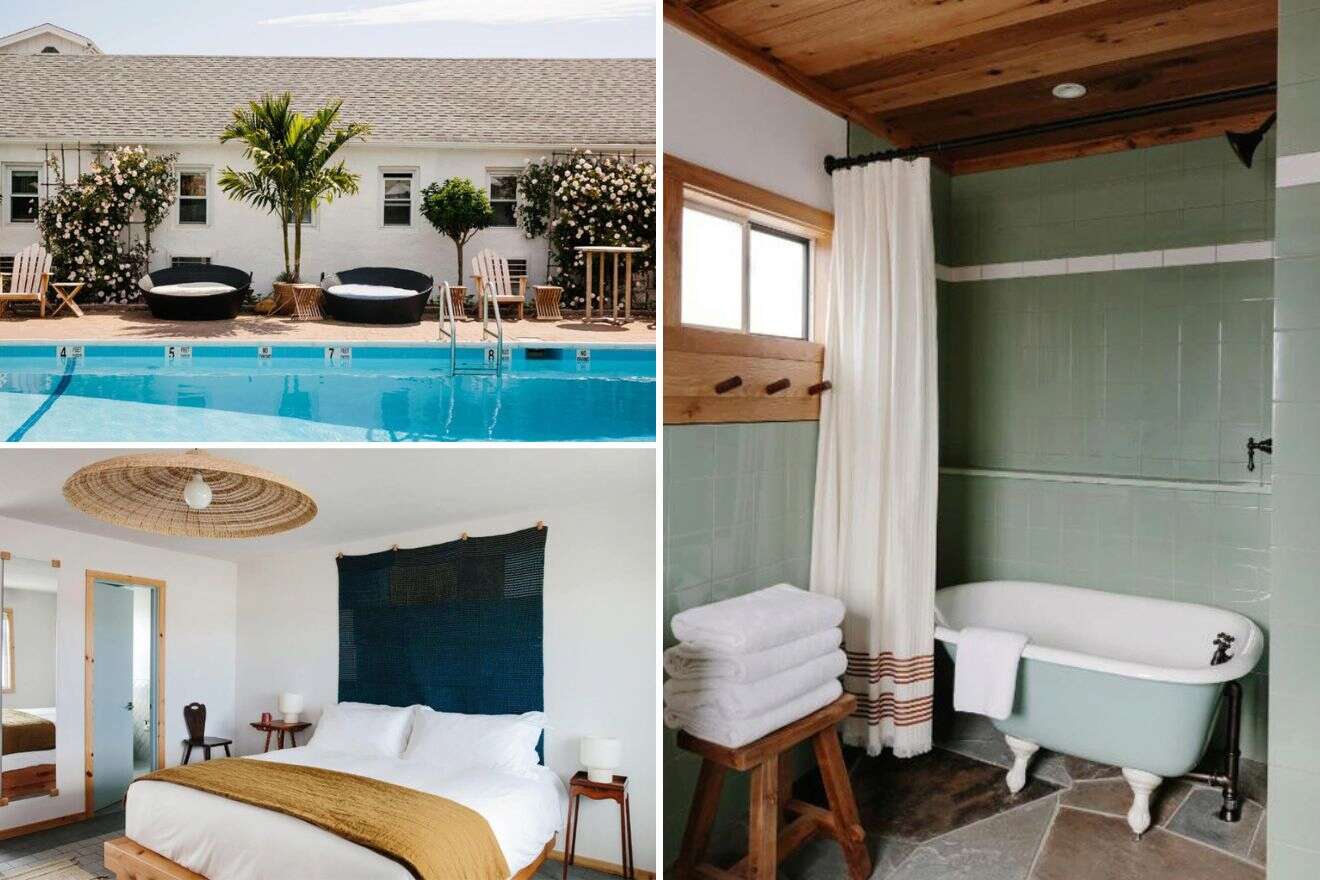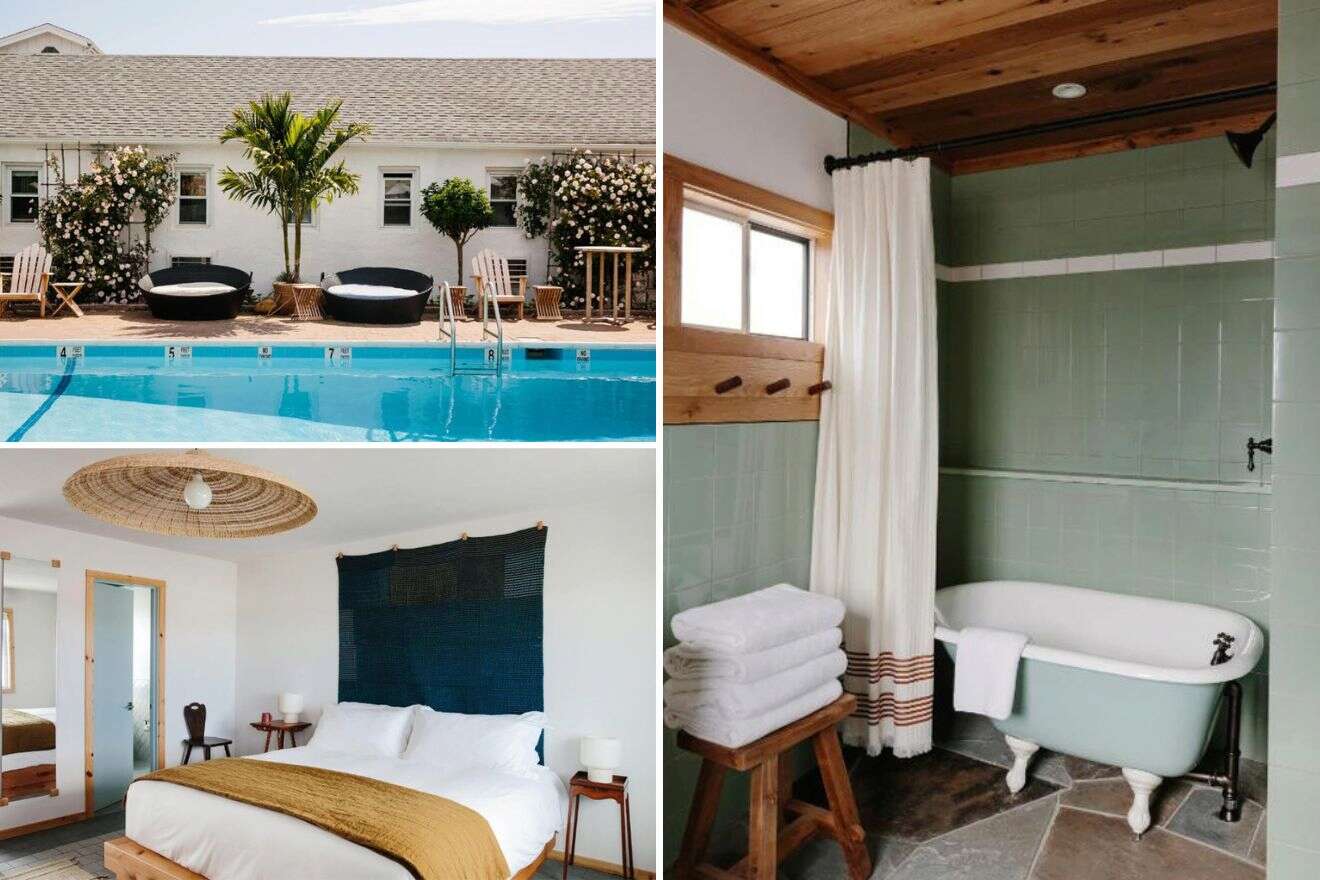 This is one of the top Montauk hotels if you ask me, as I just love the design! The rooms are clean with pastel colors and cute private bathrooms with claw foot tubs. It can't get more chic than this!
There's an outdoor swimming pool, and the garden is well-decorated with small Buddha statues that add to the zen vibe of the place along with the on-site yoga studio. And to top it all, the motel is close to the local beaches, bars, shops, and delis that I promise you'll want to come back again.
Find Available Dates
FAQs about top hotels in Montauk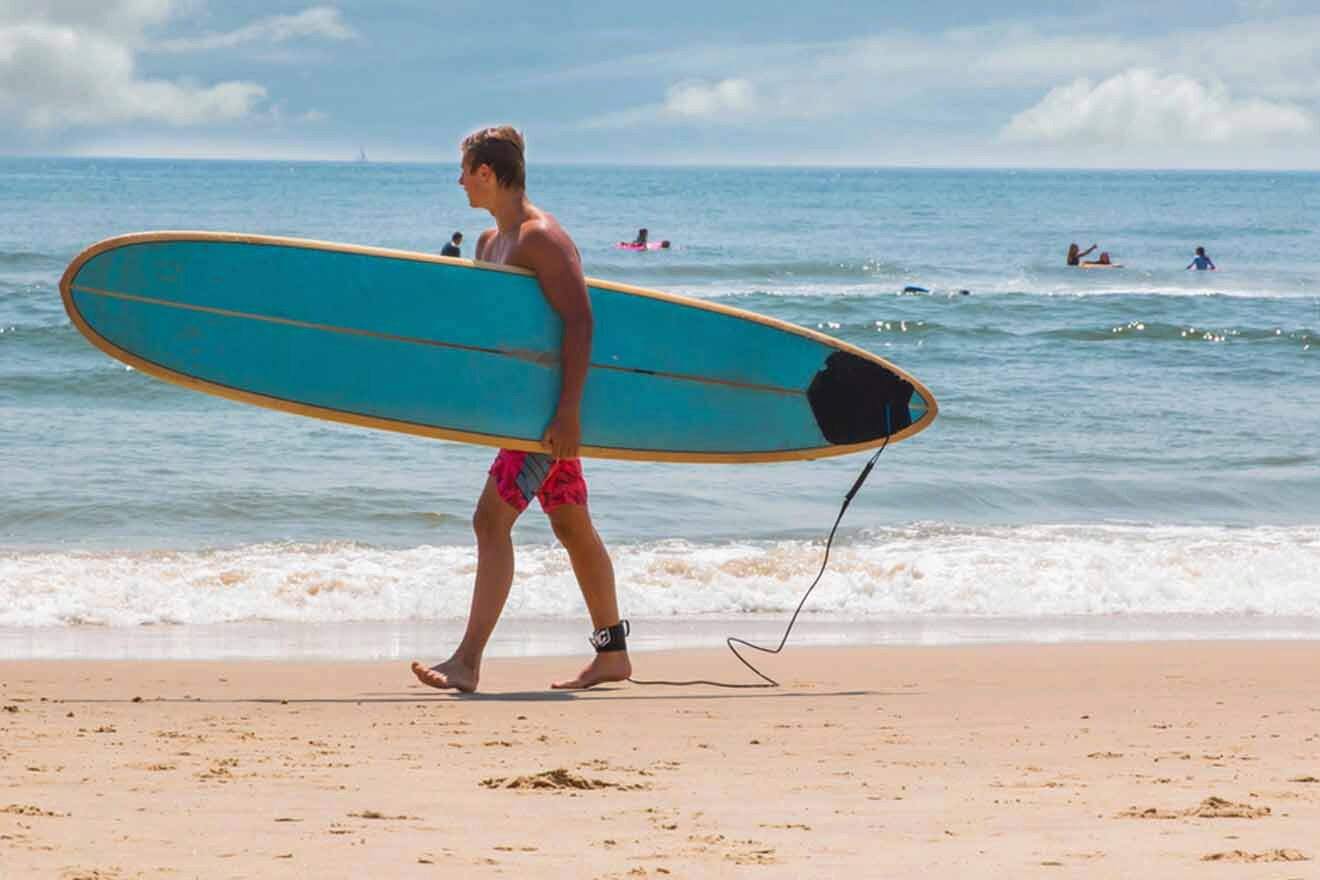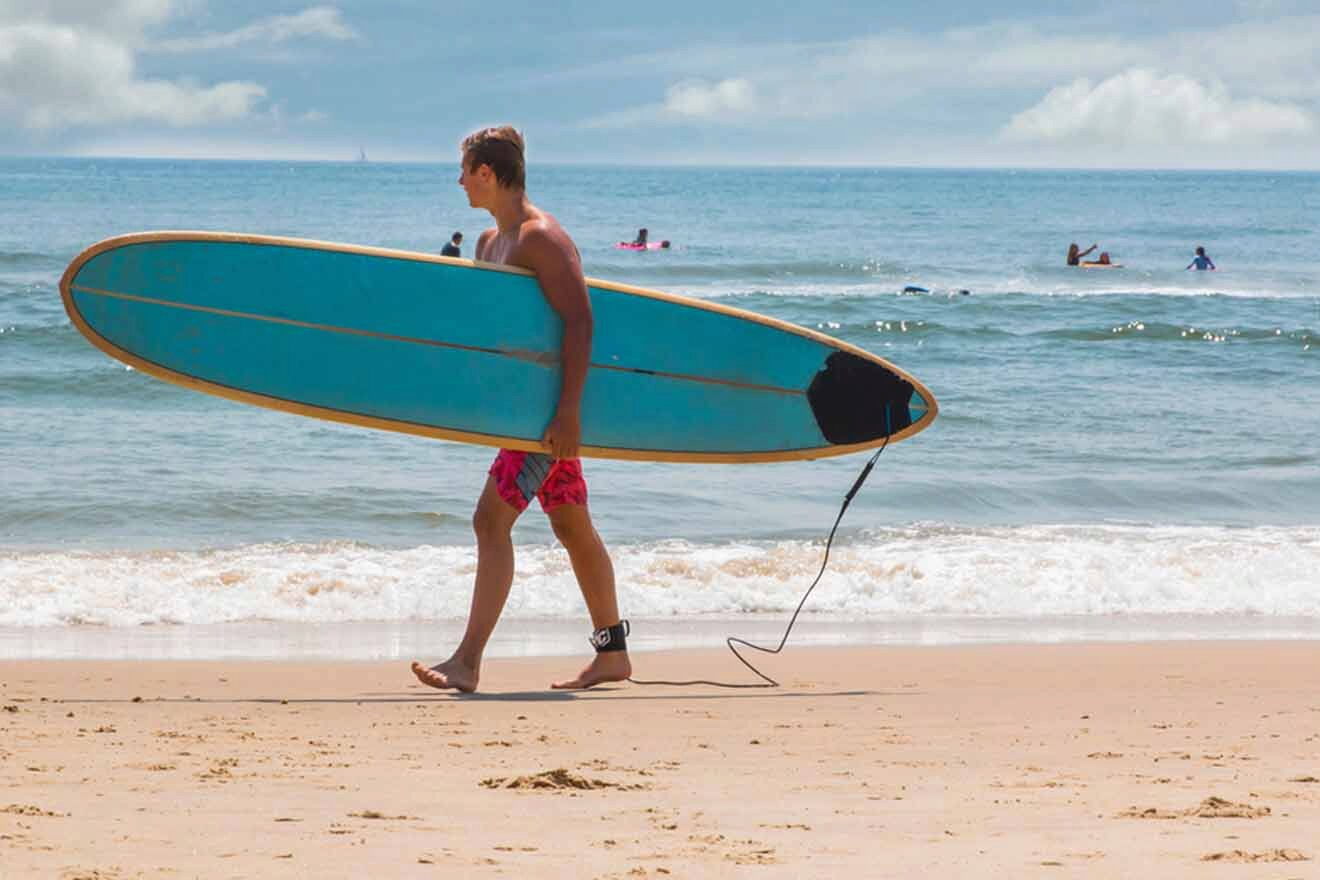 🏖️ What are the best hotels in Montauk on the beach?
💸 Are there any cheap hotels in Montauk?
👨‍👩‍👧‍👦 What are the best hotels in Montauk for families?
🛎️ What is the most luxurious hotel in Montauk?
The most luxurious hotel in Montauk is Gurney's Montauk Resort & Seawater Spa. Although it's a lower rate than what I'd recommend, it's the only hotel in Montauk that has literally everything, is open year-round, and is where celebrities stay.
Conclusion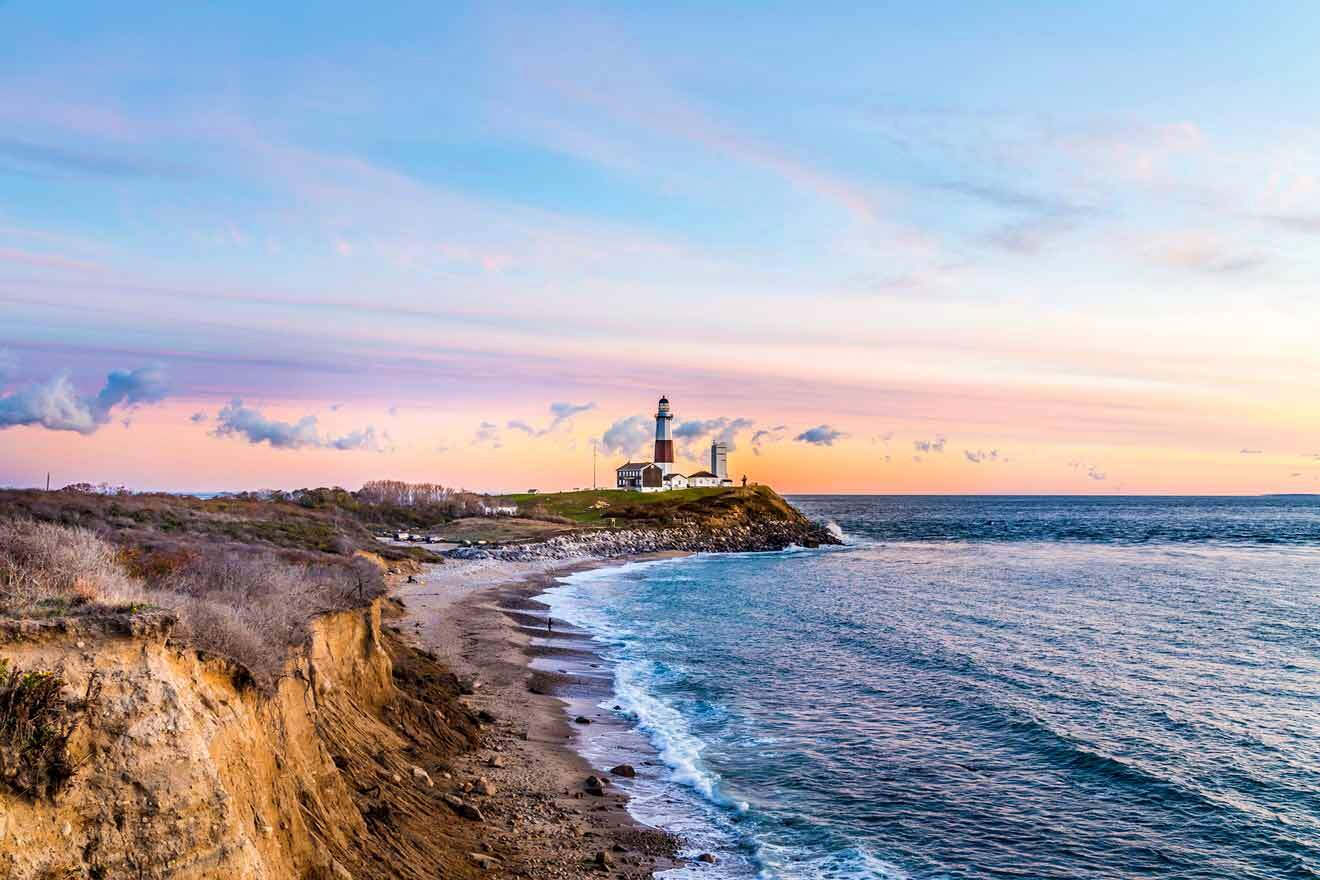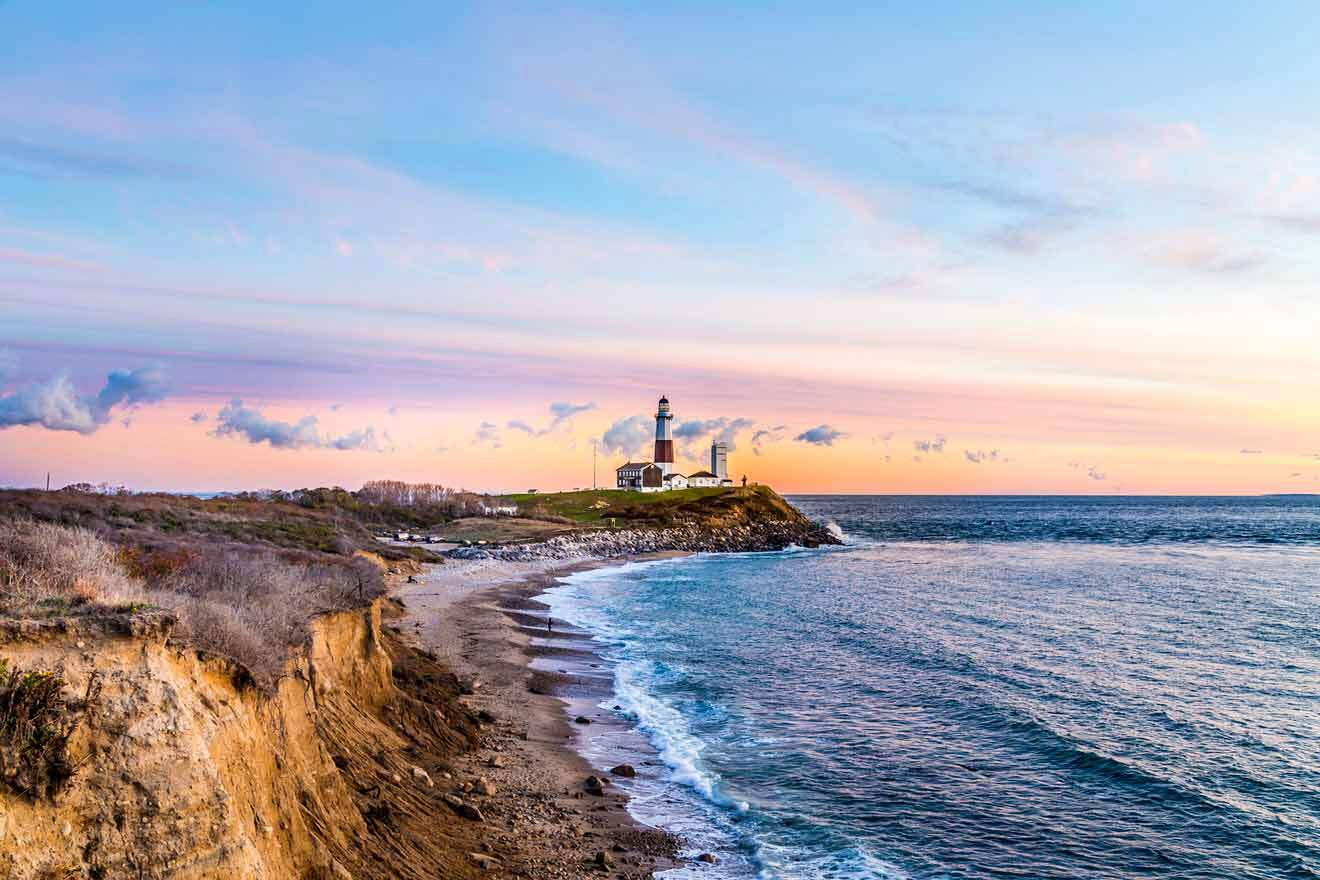 This is where we part ways, and you go plan what you're going to bring on your summer vacation to Montauk!
If you're still in two minds about which is the right one for you from this list of best hotels in Montauk, then let me suggest my 2 personal favorites:
Marram – the most comfortable hotel on the beach
Beach Plum Resort – the most reasonably priced for big families
Just remember, the majority of hotels and attractions in Montauk are open seasonally (April through September), and the best time to visit is during summer when the weather is the nicest.
Whatever you decide, don't forget to book your room at least 3 months in advance, because however expensive the best hotels in Montauk get booked out for the summer as early as in January.
I hope you enjoyed reading this post, and if you have any questions, feel free to drop a comment below. I'd be happy to answer your queries.
Looking forward to a Montauk summer,
Beti
---
Pin it for later!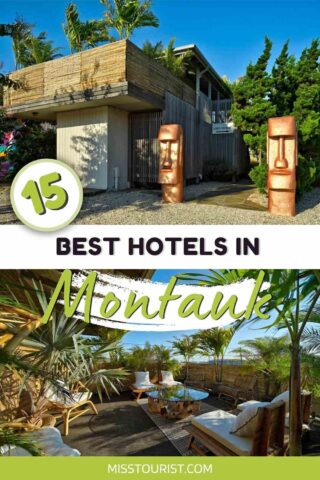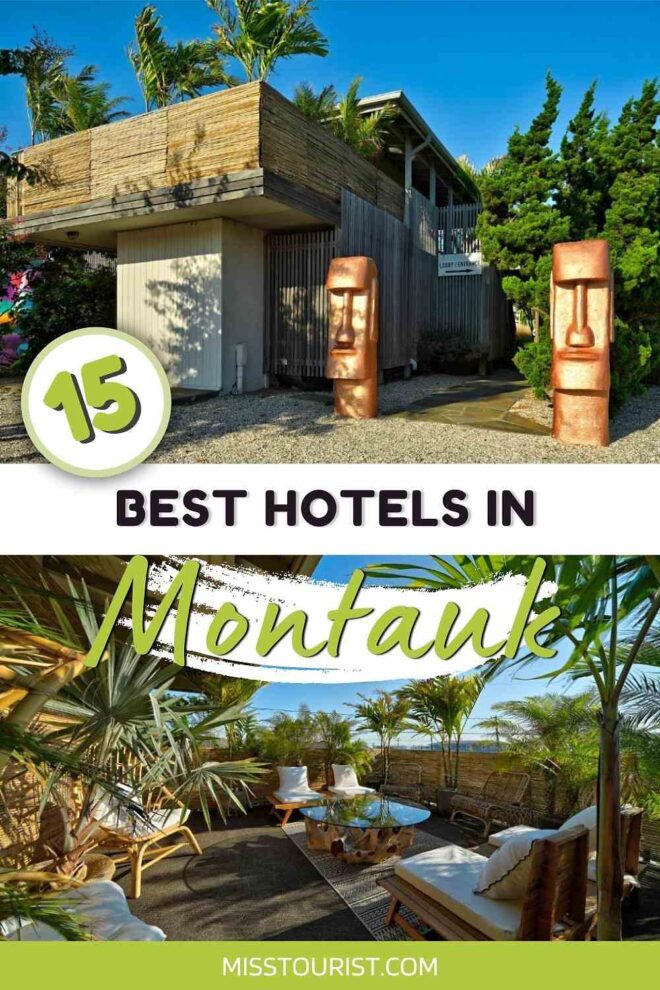 Pin it for later!