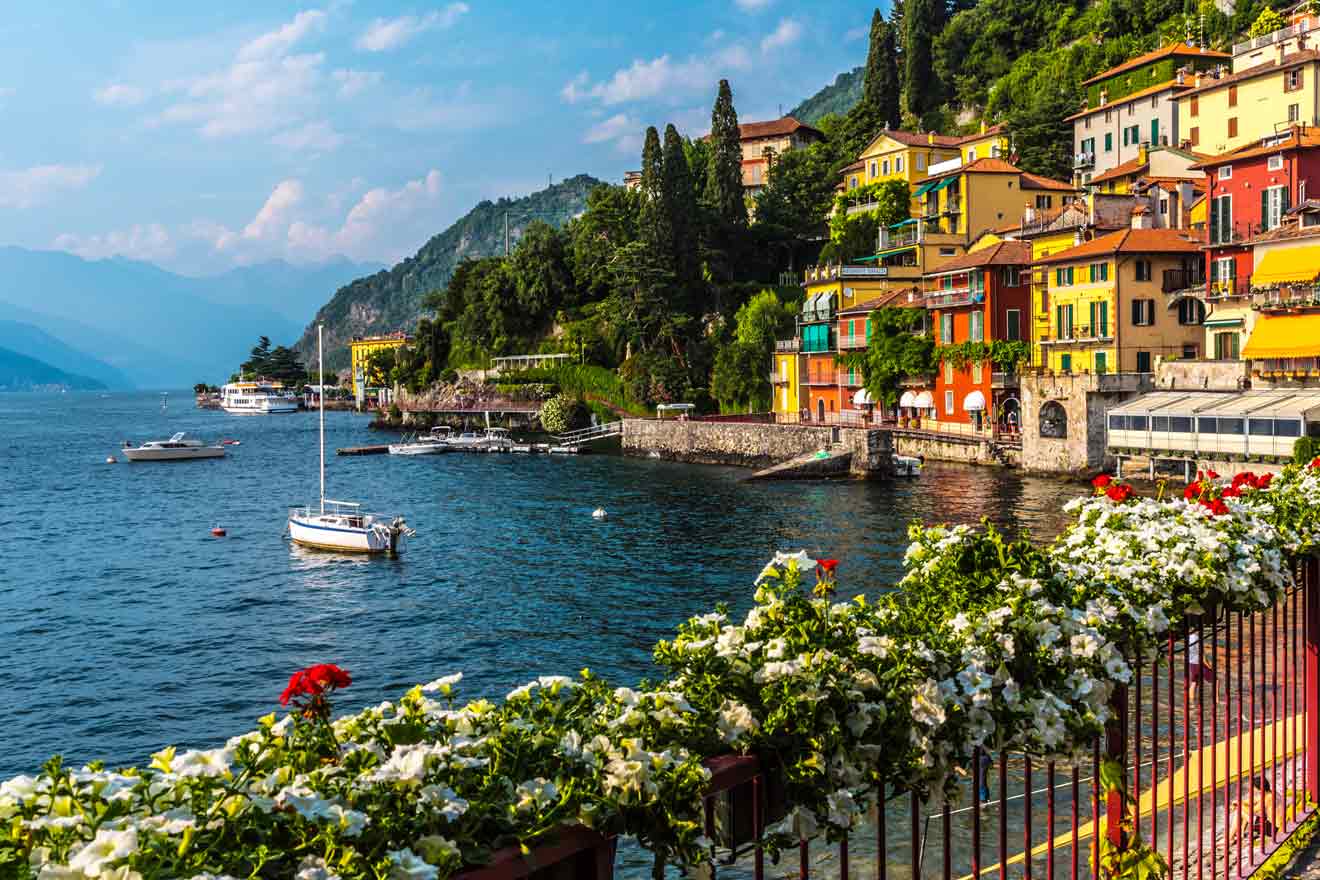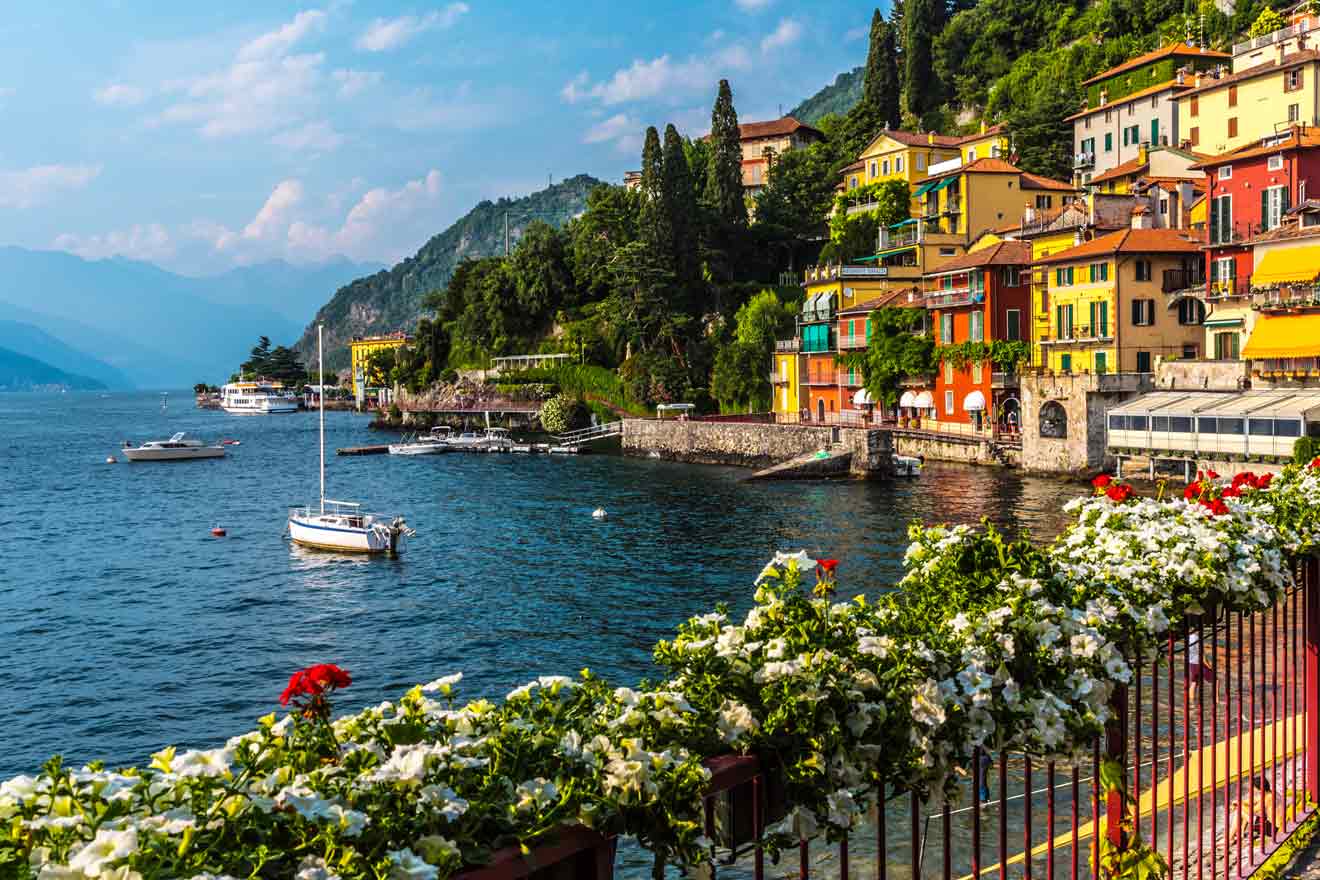 Lake Como, Italy is a gorgeous lake surrounded by spectacular mountain peaks and speckled with traditional, picturesque villages. There's something for everyone at Lake Como, and between magnificent scenery, incredible food, luxurious villas, and crystal-clear waters, you'll never want to leave!
The last time I went to Lake Como in northern Italy it was absolutely MAGICAL – I honestly can't wait to go back! I'll talk you through all the best things to do in the Lake Como area and provide you with some amazing guided tours to make your trip as smooth as possible.
I'll be going through some fun things to do in Lake Como, some essential tips, and provide all the info you need on how to get around and so much more! Stay tuned for a taste of La Dolce Vita!
Andiamo!
If you are in a hurry
If you're looking for a few quick links for visiting Lake Como, here are the best things Lake Como offers!
Here are the main things to book in advance:
And here are the best hotels: Villa Lario Resort Mandello (luxury), Rumi Rooms (mid-range), B&B Aquarelle (budget)  
Since there are a few different towns dotted around the lake, here's a visual of all the places I'll be talking about:
1. Explore the romantic Villa del Balbianello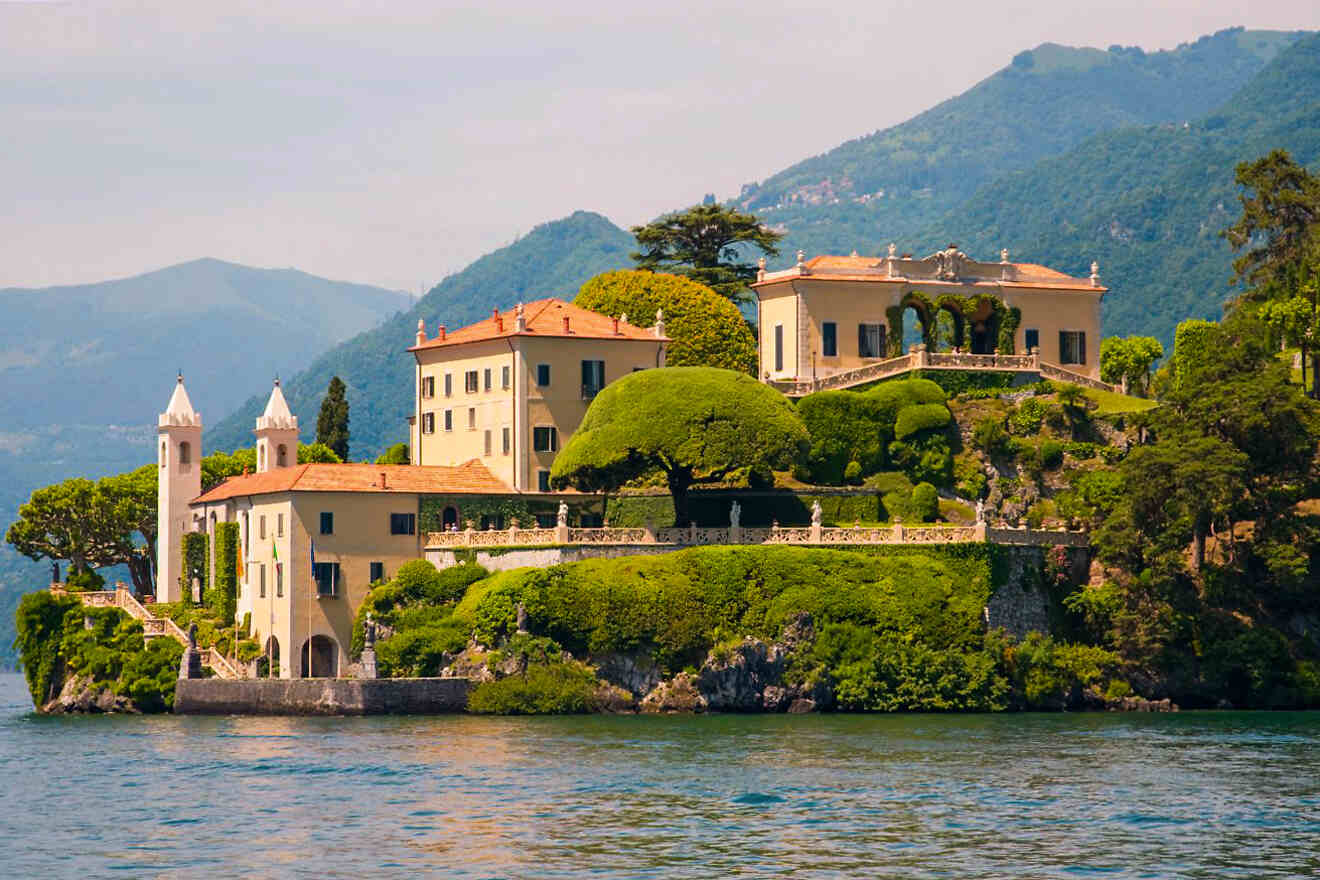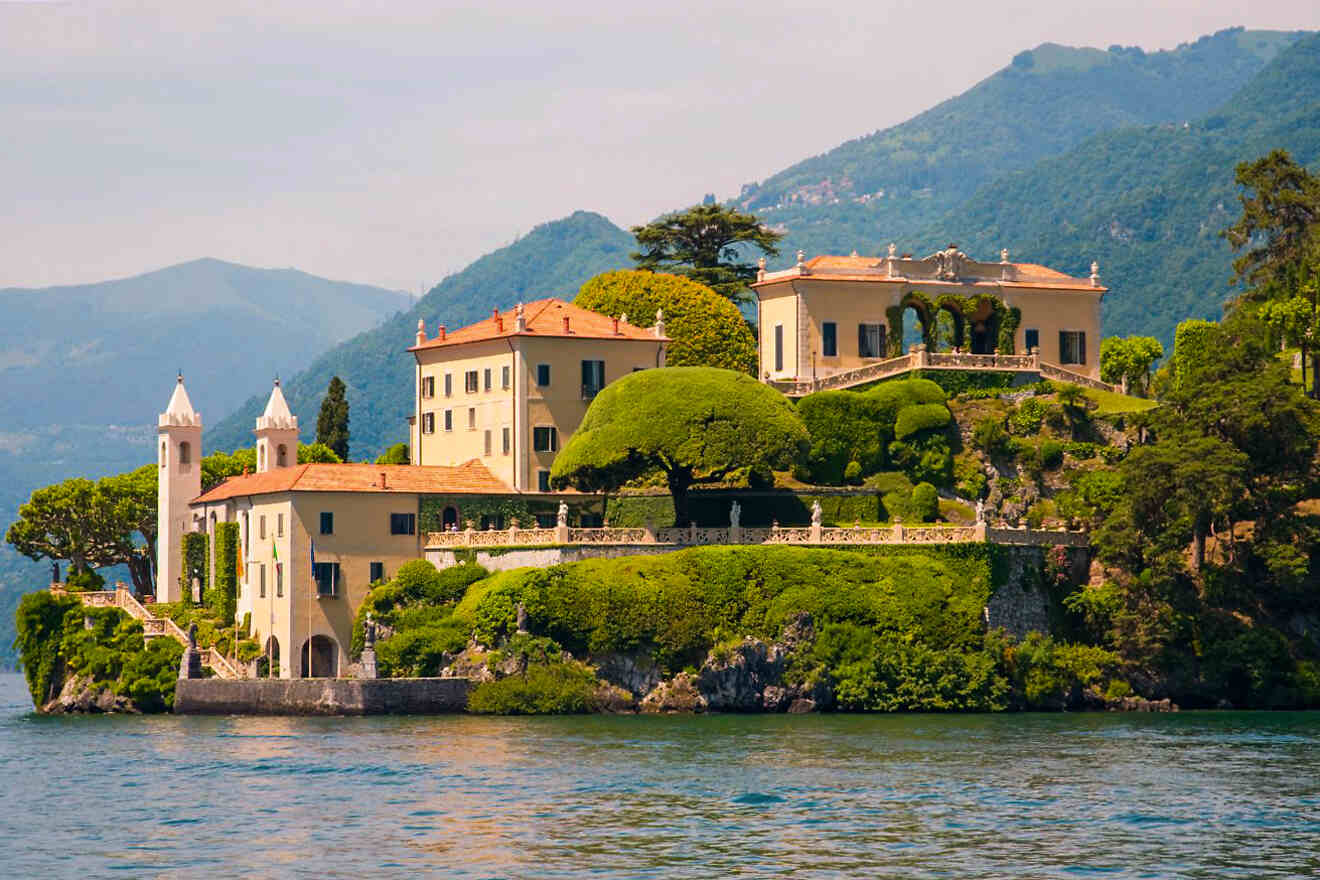 Villa Balbianello is the most elegant villa in Lake Como. With turrets reaching high into the skies and lush Italian gardens jutting out over the waters, Italian style doesn't get much better than this!
Lake Como doesn't exactly lack beautiful villas. Built in the 12th century on the western shore of the lake, the villa provides a testimony to the escapades of Guido Monzino, an entrepreneur with a predilection towards adventurous travels and mountain climbing. It was also the set of one of the James Bond 007 movies!
At Balbianello you can wander the lush gardens and watch the gardeners pruning the great oaks at the tip of the water. Inside, you'll find a museum dedicated to Monzino's adventures and his precious collections of rare objects.
Urban legend even suggests there's a tiny Italian Atlantis in Lenno, near the villa. See if you can find it from the lakeside gardens when you go!
Before you leave the villa, take a picture at Durini Lodge in the gorgeous terraced gardens! A shaded arch overlooking the lake on the waterfront promenade, you can sit with your love and enjoy a fairytale view of the mountains surrounding Lake Como.
Afterwards, head over to Pasticceria L'étoile, a quaint, understated patisserie that serves the most delicious pastries and typical Italian coffee.
NOTE: Unfortunately, the Villa is not yet wheelchair accessible 🙁 It's also closed Mondays and Wednesdays so plan accordingly!
PRICE: €11
2. Visit Como Cathedral at Piazza Duomo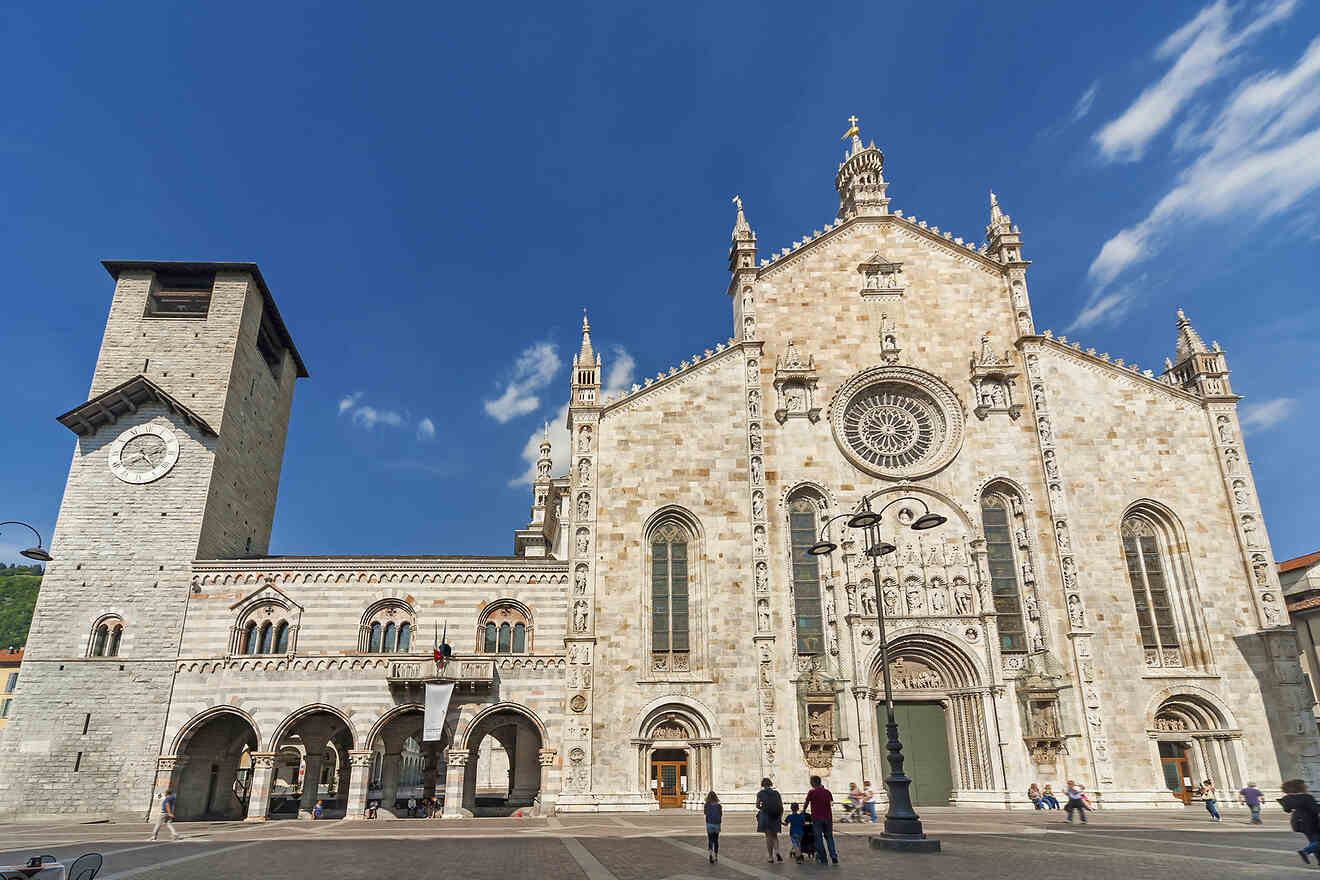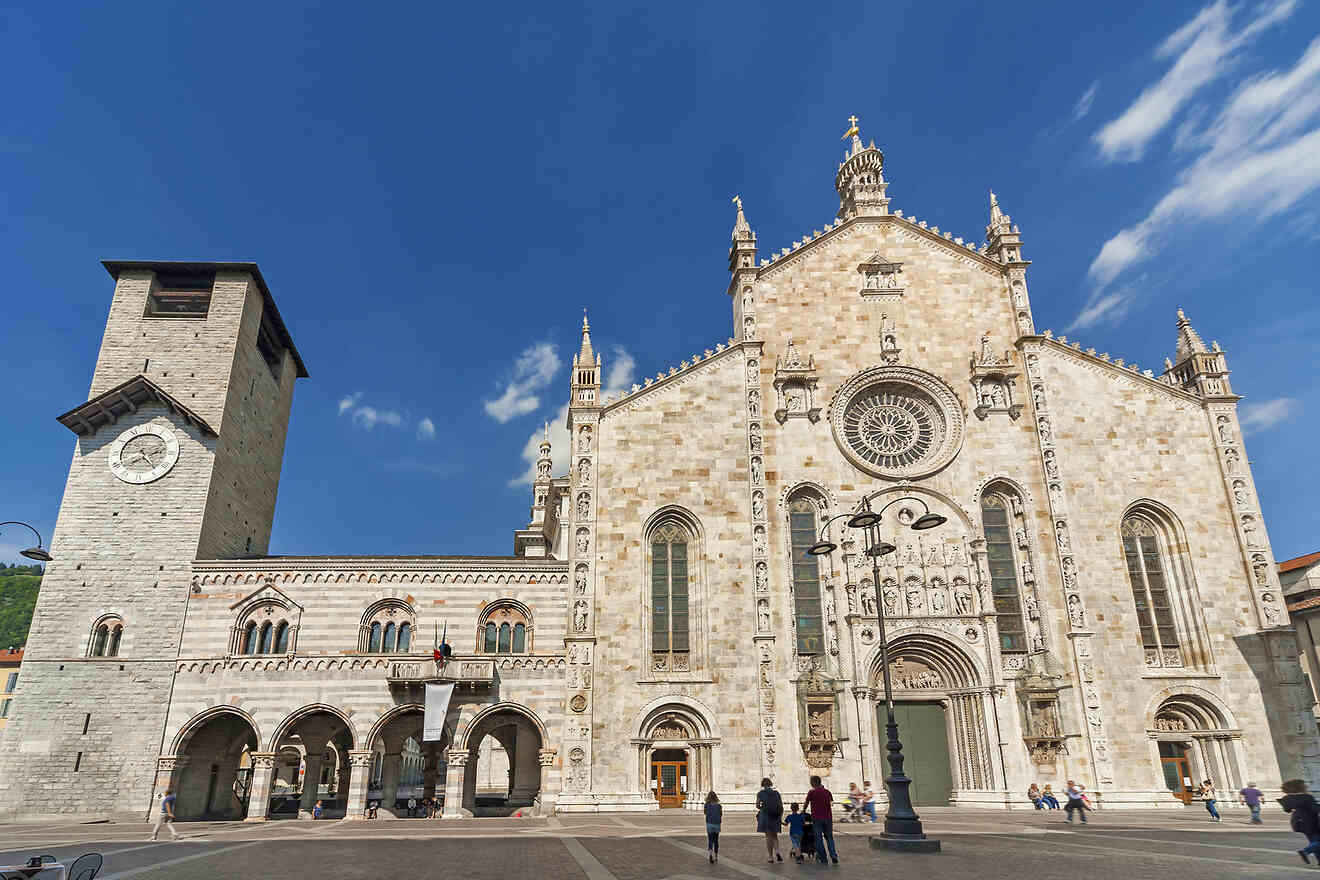 The Cathedral of Santa Maria Assunta, right in the heart of Como town, is a stunning piece of architecture and its opulent interior is just mesmerizing. It's hundreds of years old and took almost 400 years to build – and it's hailed as the most beautiful church in Lombardy.
Since the cathedral is in the main piazza, it's super easy to find. Entry is free (which is great considering things can get a little expensive in Como) and you can spend time inside reading about the intricate history of the cathedral and spending a moment of tranquility.
PRO TIP: Even if you're not religious, I recommend visiting on a Sunday if your trip allows it. The choir is absolutely incredible during high mass (usually at 10 AM).
NOTE: Your knees and shoulders should be covered to go into the cathedral, so be mindful of how you're dressed when you visit.
PRICE: Free
3. Spend the day sailing on Lake Como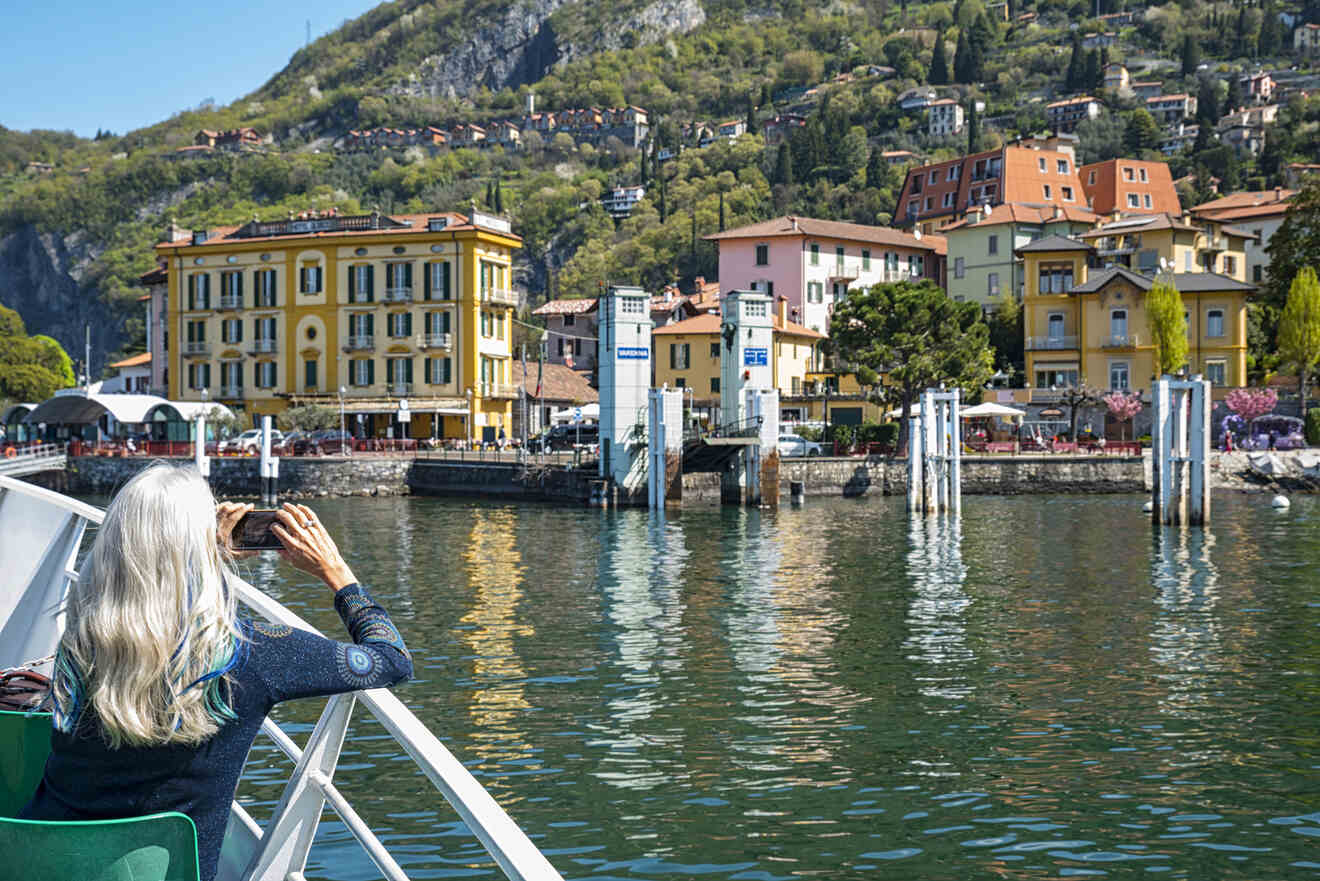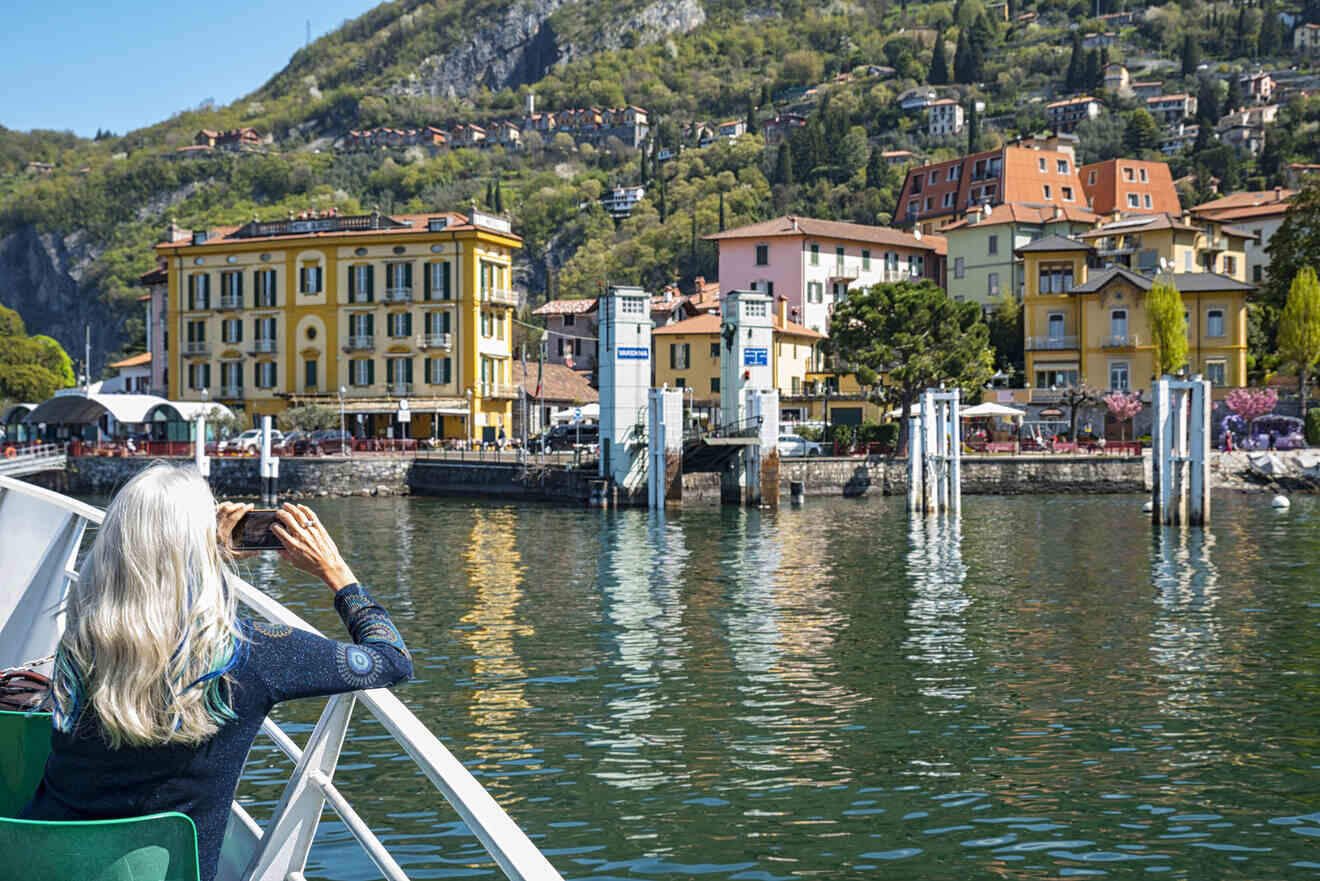 I highly recommend going sailing on the lake when you visit Lake Como. Como water sports offer an incredible way to enjoy 360° panoramic views of the lake without having to visit lots of different sites – and a boat trip offers a great way to spend time with family!
When I was there, we went down to the nearest boat club and asked for someone to take us out on the water, but it was really expensive – which isn't a total surprise, considering Lake Como is quite touristy!
To make sure you don't make the same mistake, I've done all the research for you to find the best boat tour on the lake!
So here it is: the most amazing sailing experience ever! You'll embark from Malgrate which is on the west side of the lake, and you'll spend four hours with fully-trained skippers (great for those who've never sailed before) sipping prosecco and eating Italy's famous aperitivo – all included in the price! This is a day trip to remember 🙂 
PRO TIP: Remember to take your ID on the boat tours! You'll need it anyway when exploring Lake Como (and anywhere else in Italy) since it's mandatory to carry it with you when you're out.
PRICE: €140
Book Your Sailing Experience
4. Hike up to Phare de Volta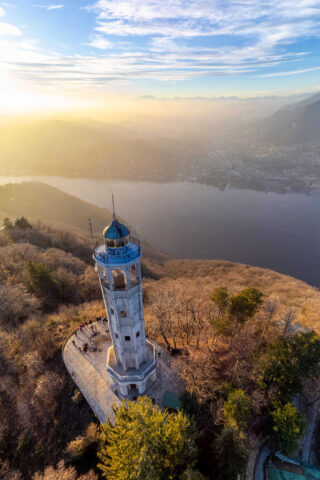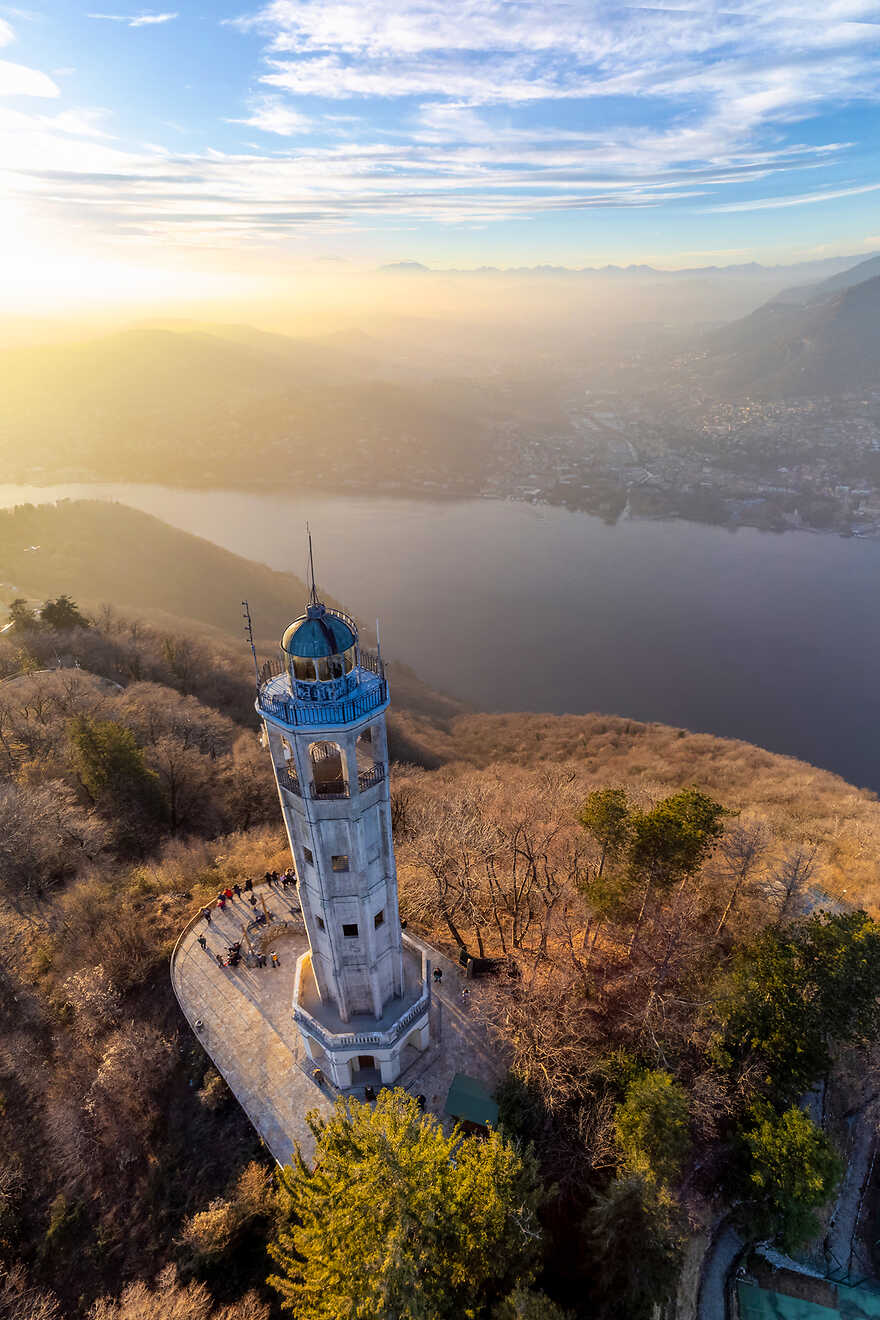 This INCREDIBLE lighthouse is a must-see! Located in the hilltops of Brunate, one of Lake Como's charming villages, this towering masterpiece gives arguably the best view of the southern part of Como.
You can trek all the way up to the top and take in the breathtaking views around you. The hike isn't too difficult, but just in case you want to take it slow there are some cute little benches to rest your tired legs 🙂
However, for those of us who aren't exactly hiking material, the best way to visit the lighthouse is in a Jeep! This awesome tour takes you all around the area and will drive you to all the best places to take pictures, plus they'll even take you to the lighthouse itself! 
Lake Como is the deepest place in all of Italy. It reaches down to astronomical depths of over 400 meters and was even around in the last Ice Age!  
I'd recommend going up there in the late afternoon. You'll be able to see the Swiss mountains in the distance and have a glass of vino bianco at one of the little restaurants around the base of the lighthouse. You'll also see an abundance of ancient cedars in the area!
NOTE: If you choose to enter the lighthouse and wind your way up the steps to the top, you'll need to pay €2 (cash only) to do so. Additionally, the lighthouse itself is not wheelchair accessible 🙁
PRICE: €10 (+ €2 if you choose to enter the lighthouse)
GETTING THERE: The best way to get to Brunate is on the funicular from Como town! This tiny railway is a really fun way to get around and you'll get some pretty fantastic views on your way up. Have a look at the funicular timetable here.
Get Tickets for the Jeep Tour
5. Discover Como's glorious food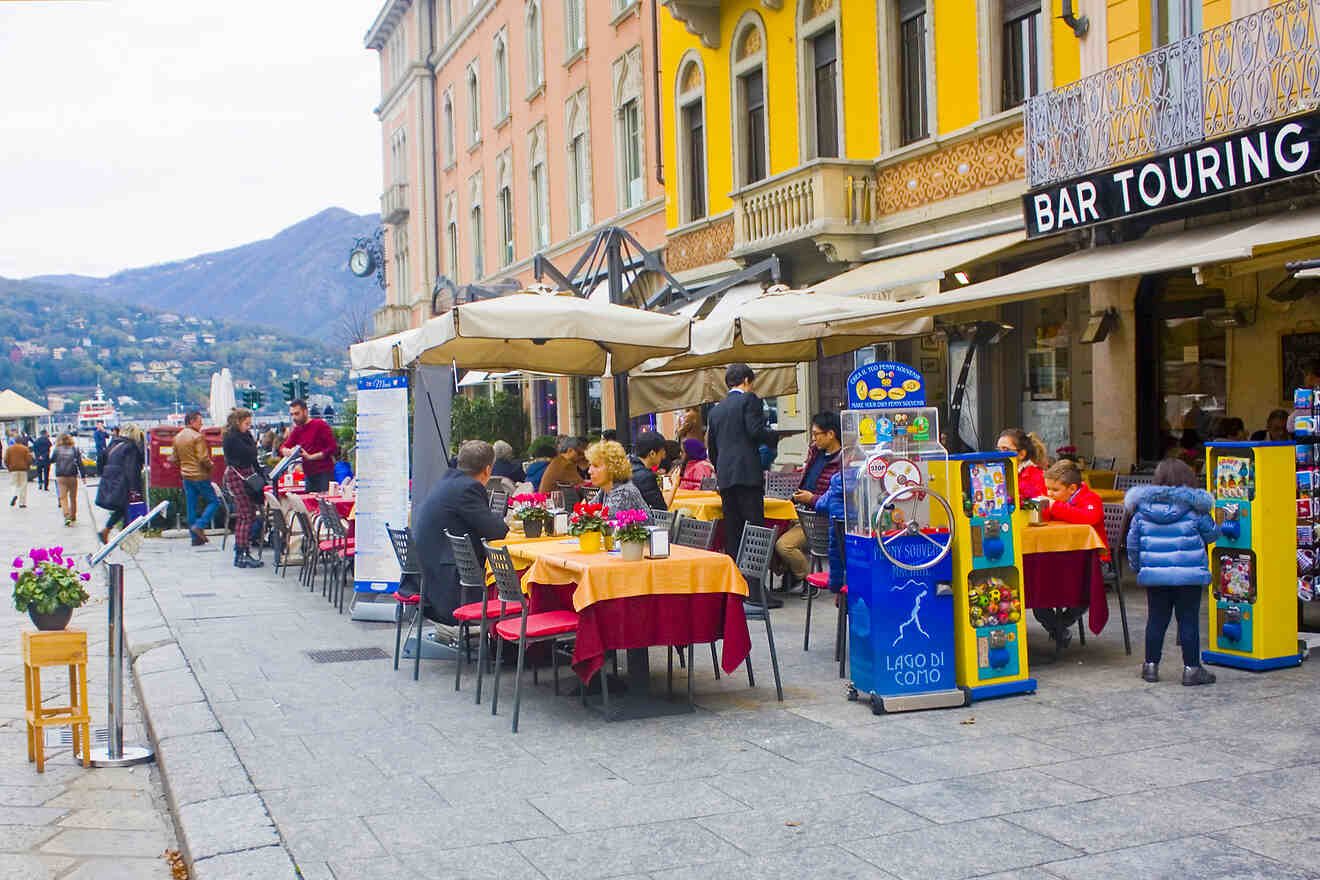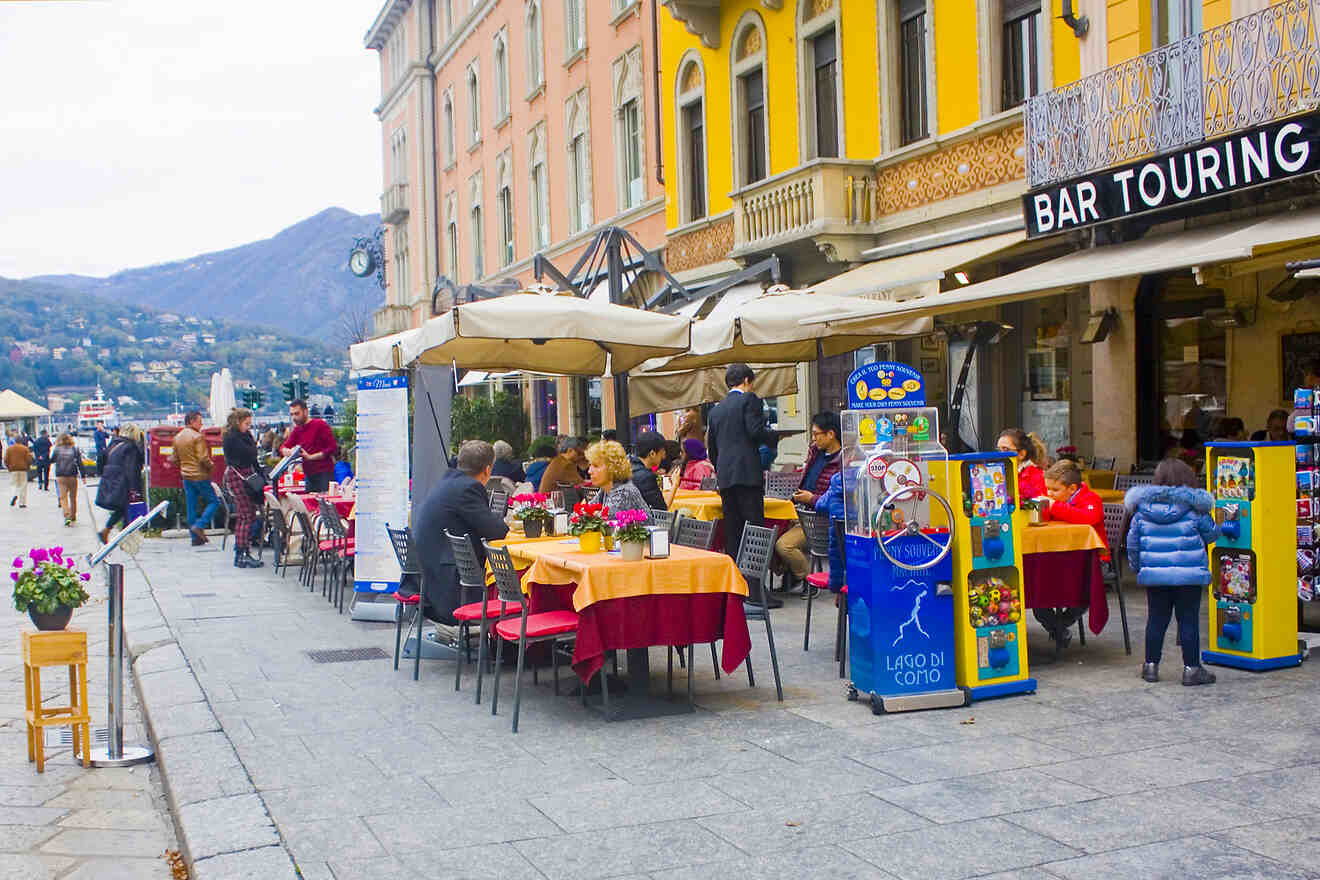 You cannot come to Lake Como without taking the time to savor the food! Risotto is arguably one of the most famous dishes in this region, and you'll also find plenty of typical Italian staples like polenta, wild boar, and so much local cheese!
Como is famed for its bread, Pan de Comm. This fluffy artisan loaf is typically round and traditionally baked in a wood stove – a must-try!
There are too many amazing restaurants in Como to choose from, and many places are tourist traps! That's why I think you should go for a food tasting tour – it will take you to all the most authentic places without you having to worry.
The best tour EVER is this food walking tour. You'll amble through tiny, alluring streets and visit traditional bakeries, pizzerias, and cafés to sample the best that Como has to offer. You'll be absolutely stuffed full of food and wine by the end of it – but it's worth it, trust me, especially for the wine lovers among us!
PRO TIP: If you're looking for the best food, avoid the restaurants along Piazza Duomo in Como. The food here is not as good as you'll find elsewhere, but it'll be more expensive!  
HACK: The best way to find good restaurants in Lake Como is to go off the beaten track. Instead of looking on the main promenades, wander down little alleyways away from the crowds and tourist attractions to find homely trattorias and less expensive menus.
PRICE: €85
Go on a Gastronomy Tour
6. Visit Villa Monastero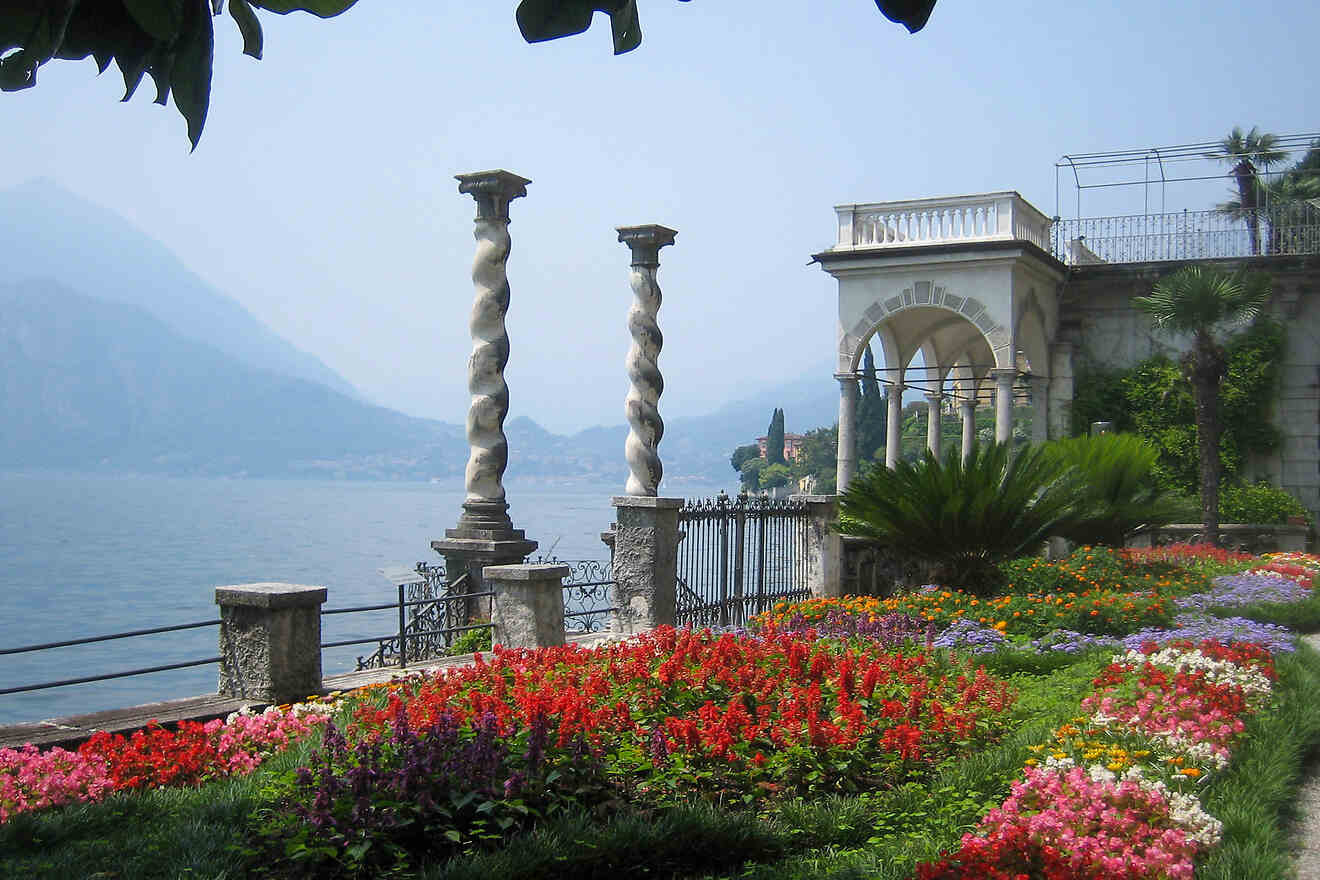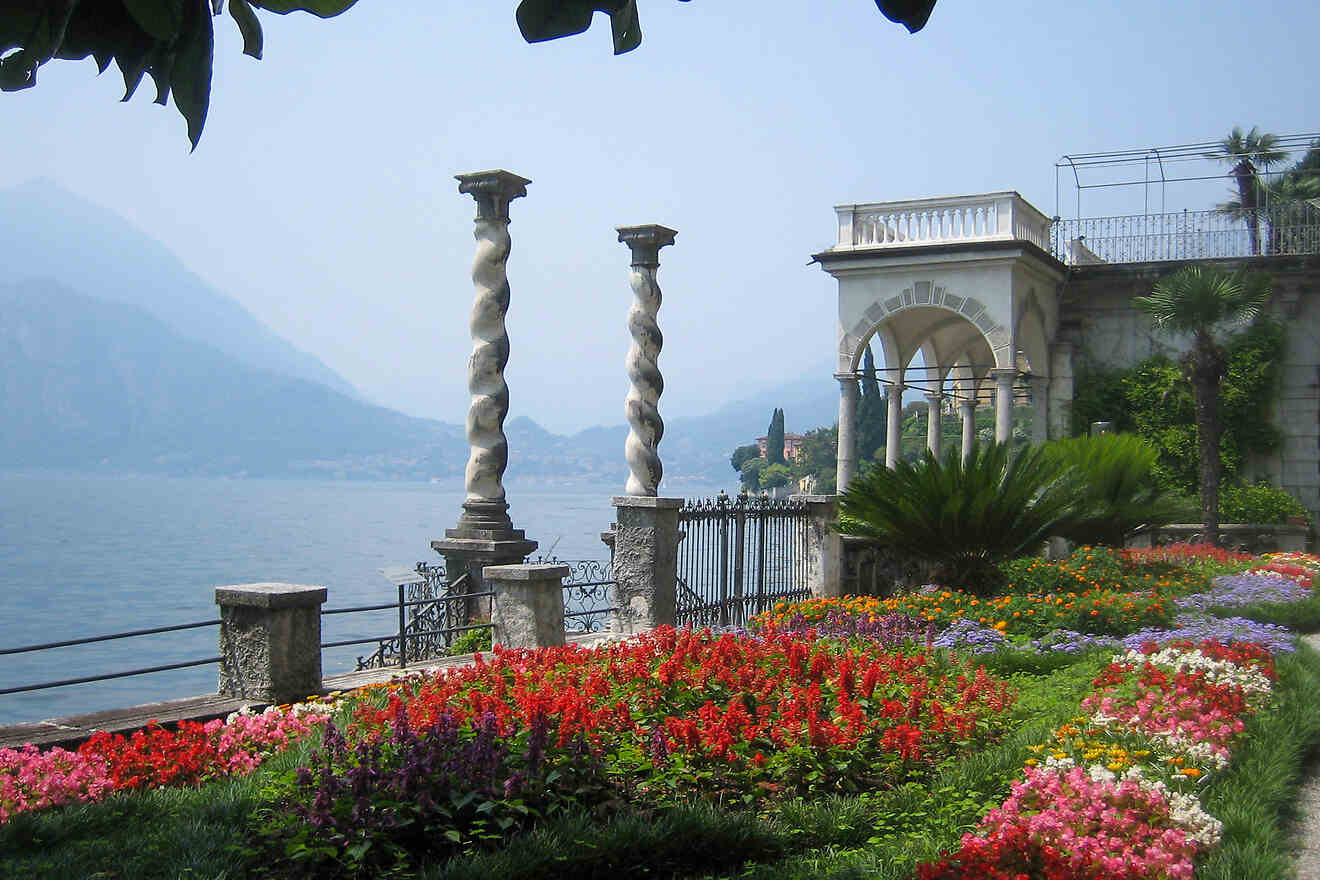 Villa Monastero, on the eastern side of the lake, is truly an incredible experience. It used to be an ancient convent back in the 1200s, and is now a historic center along the beautiful shoreline of Lake Como in Varenna.  
Villa Monastero is decadent to say the least, with many rooms to admire with beautiful tapestries and décor. Once outside, you could easily spend hours wandering amongst some of the rare trees that reside here in the villa's famous botanical garden.
You can certainly just visit the villa yourself (€10), but the best way to visit Villa Monastero and appreciate its surroundings is with this awesome nature walk tour. You'll get the chance to explore the beautiful area around the villa and see some extraordinary wildlife in the process.
It's a full-day tour from Varenna (around 7 hours) and you'll end the day with a guided tour around Villa Monastero. You'll be able to learn the intriguing history behind the villa and you can take a wander around the gorgeous gardens.
There are tons of walking routes around here, so you can also choose to trek along Sentiero del Viandante, which is 45 km long!
PRICE: Entrance – €10 / Full Day Tour – €140
Book Your Tour
7. Spend a day in magical Nesso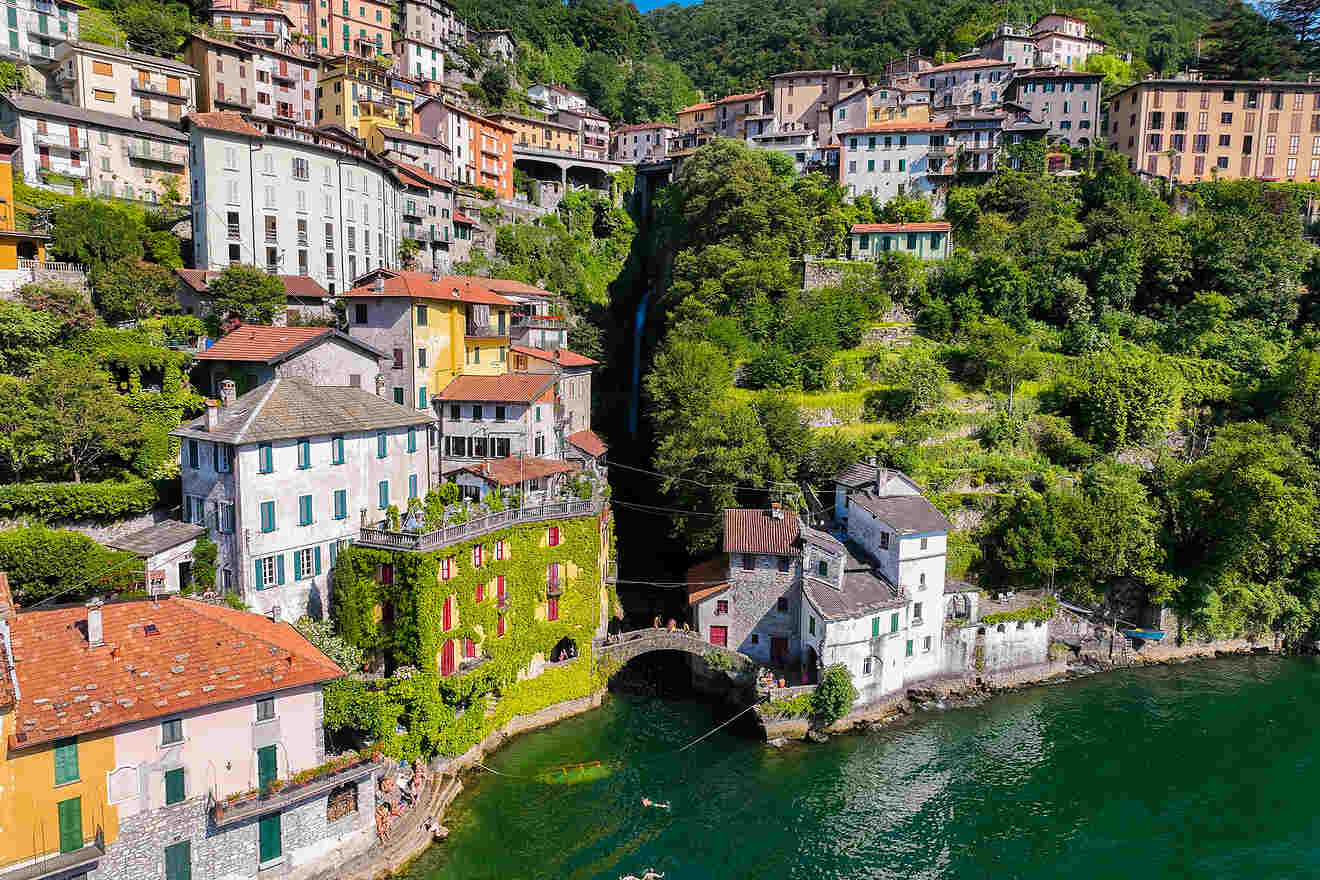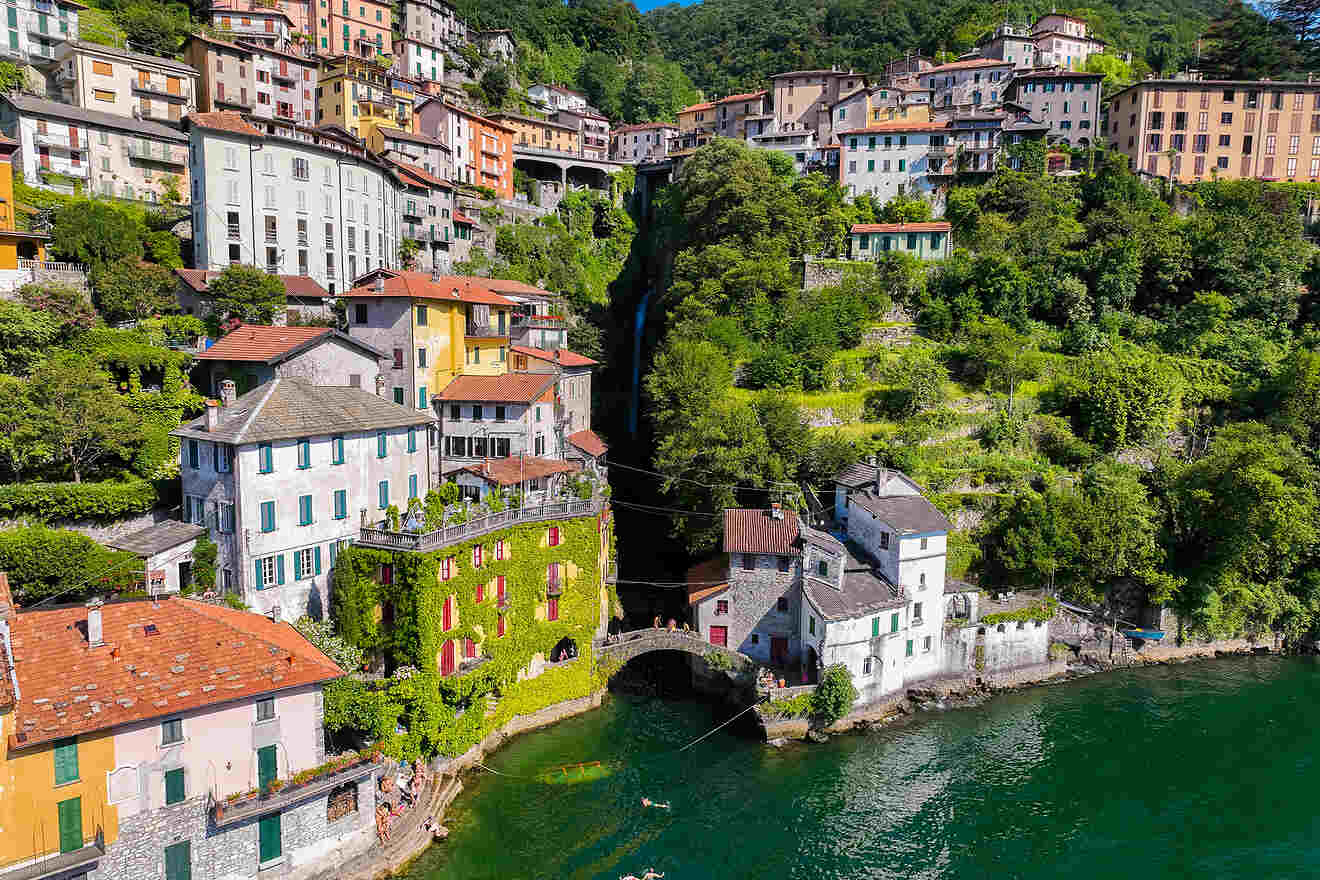 When most people visit Lake Como, they hit all the main sites – Como town, Bellagio, Varenna – but there are some real hidden gems dotted around the lake that can't be missed, and Nesso is one of them!
If you're looking for somewhere off the beaten path and away from the crowds of tourists, you'll love Nesso. Nestled 40 minutes' drive up the lakeshore from Como town, Nesso is a historical paradise!
A tiny village set over a natural gorge, you can sit and admire the waterfall on the Romanesque bridge. It's a bit of an uphill walk from Piazza Castello, but well worth the ambiance and views! Plus, when you get there you can jump off the bridge (if you dare) into the pristine waters below – perfect for a family outing!
PRICE: Free
8. Go on a wine tour in Domaso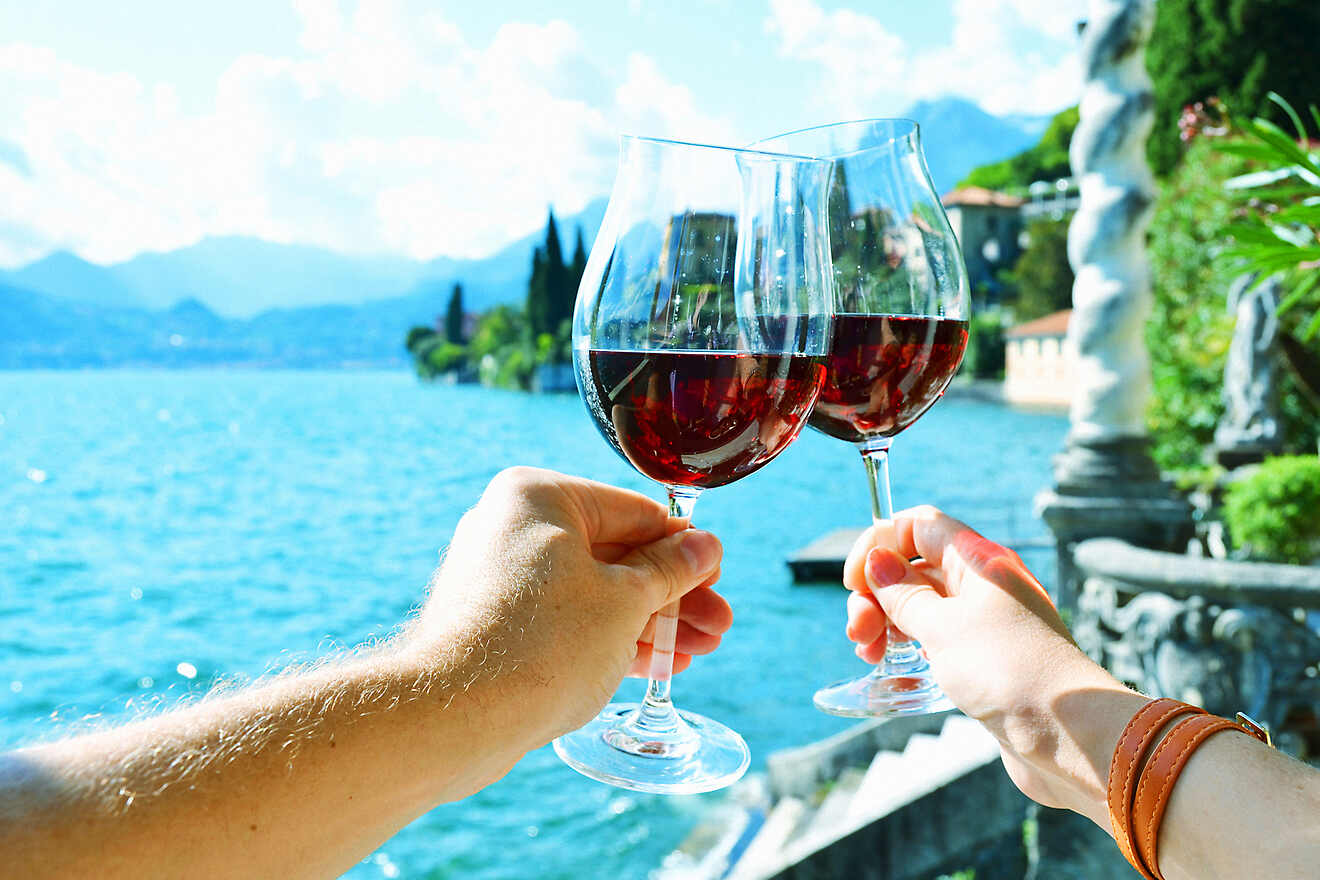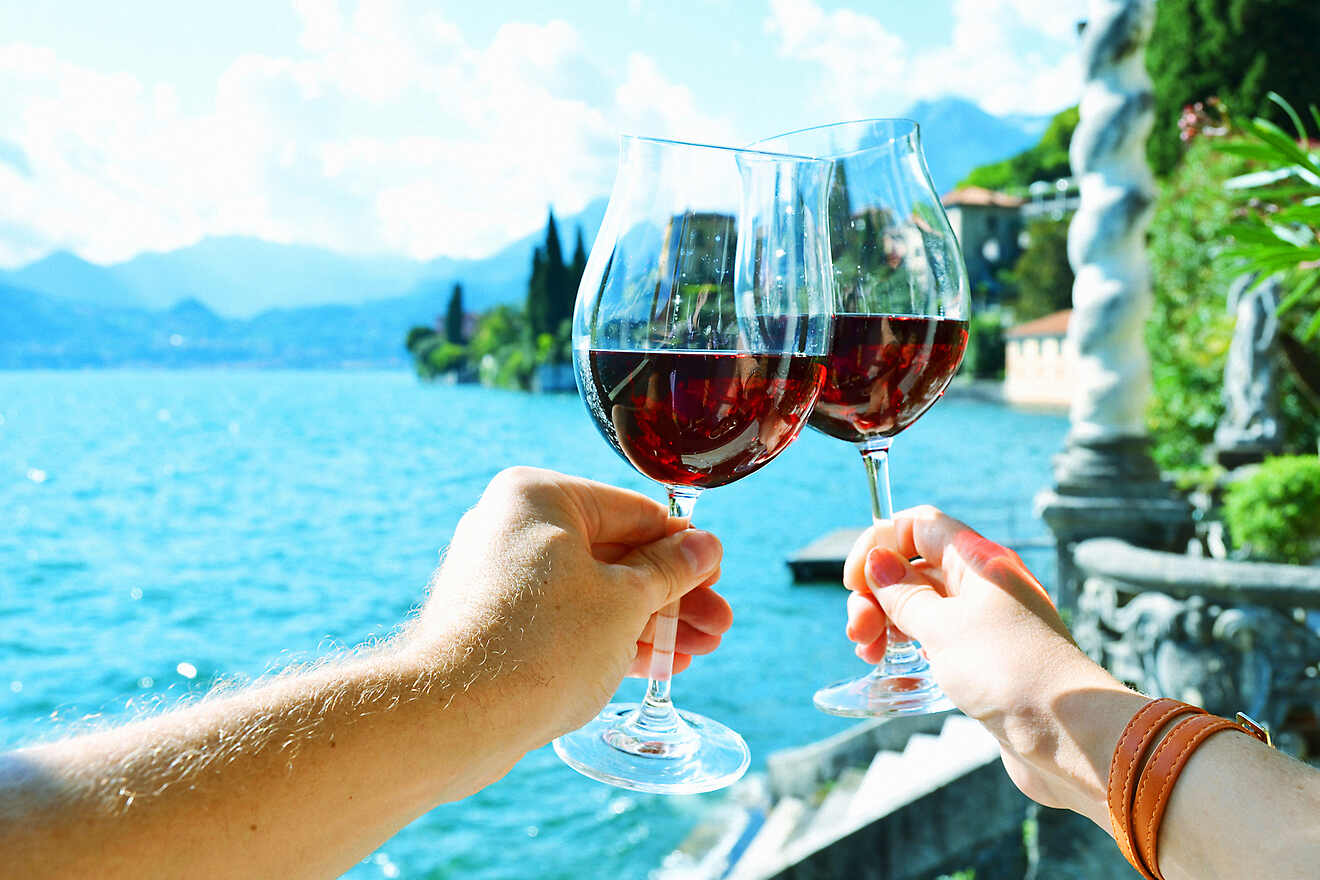 A trip to Italy is never finished without a classic wine tour! Lake Como is part of Lombardy's wine country, and you have to experience it for yourself!
The best wine tour to take in Lake Como is this wine tasting at Domaso villa winery, where you'll learn all about the age-old processes of wine-making and taste local delights that you certainly won't find anywhere else!
Domaso is a town set in the north of Lake Como, and you can get there from Como town by taking the Hydrofoil, a ferry boat that goes all over the lake! Catch the ferry from Como town and enjoy the views on your way up to Domaso – and end your day sipping wine and eating local aperitivo 🙂
PRICE: €42
Book Your Domaso Wine Tour Here
9. Visit the historical Villa Erba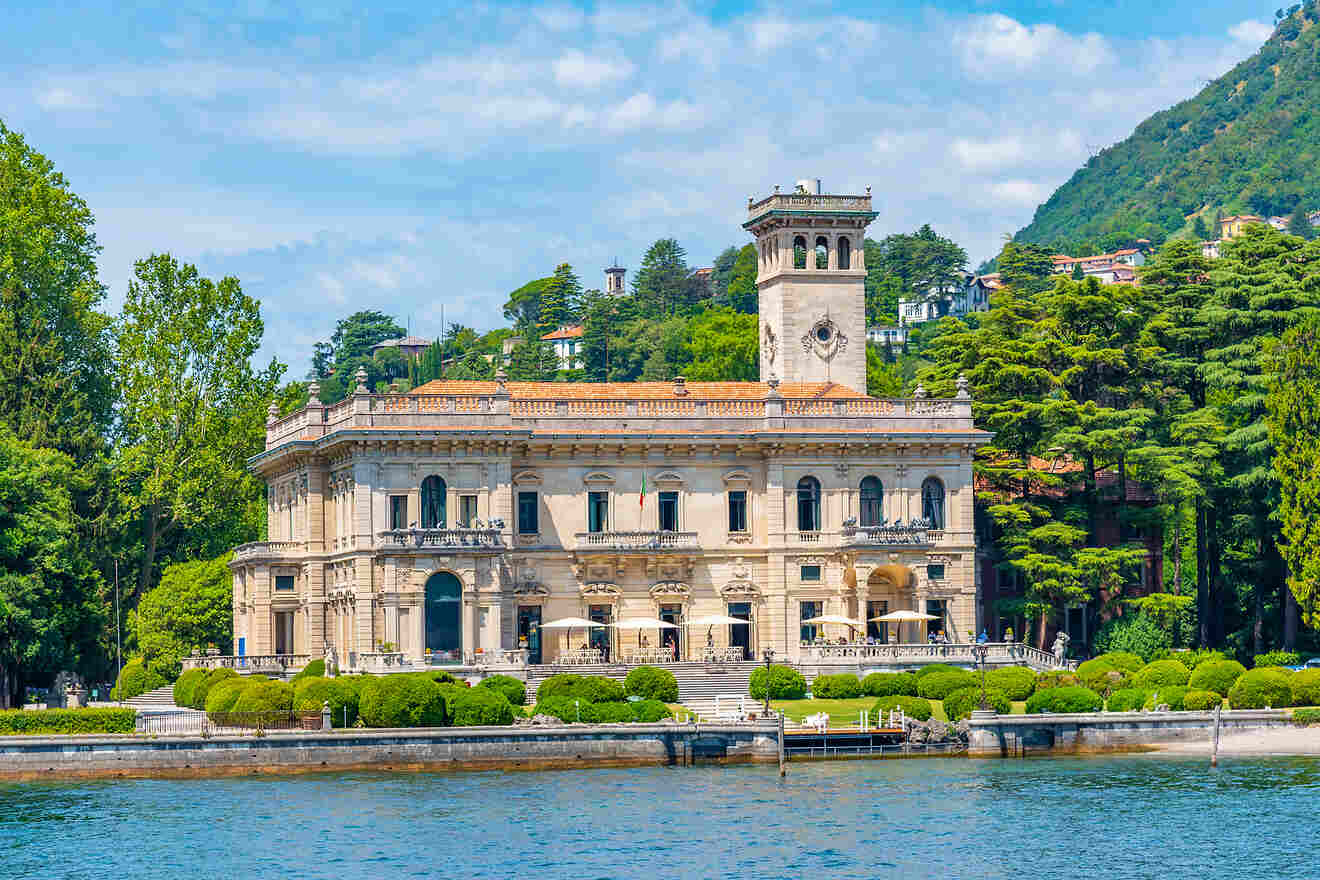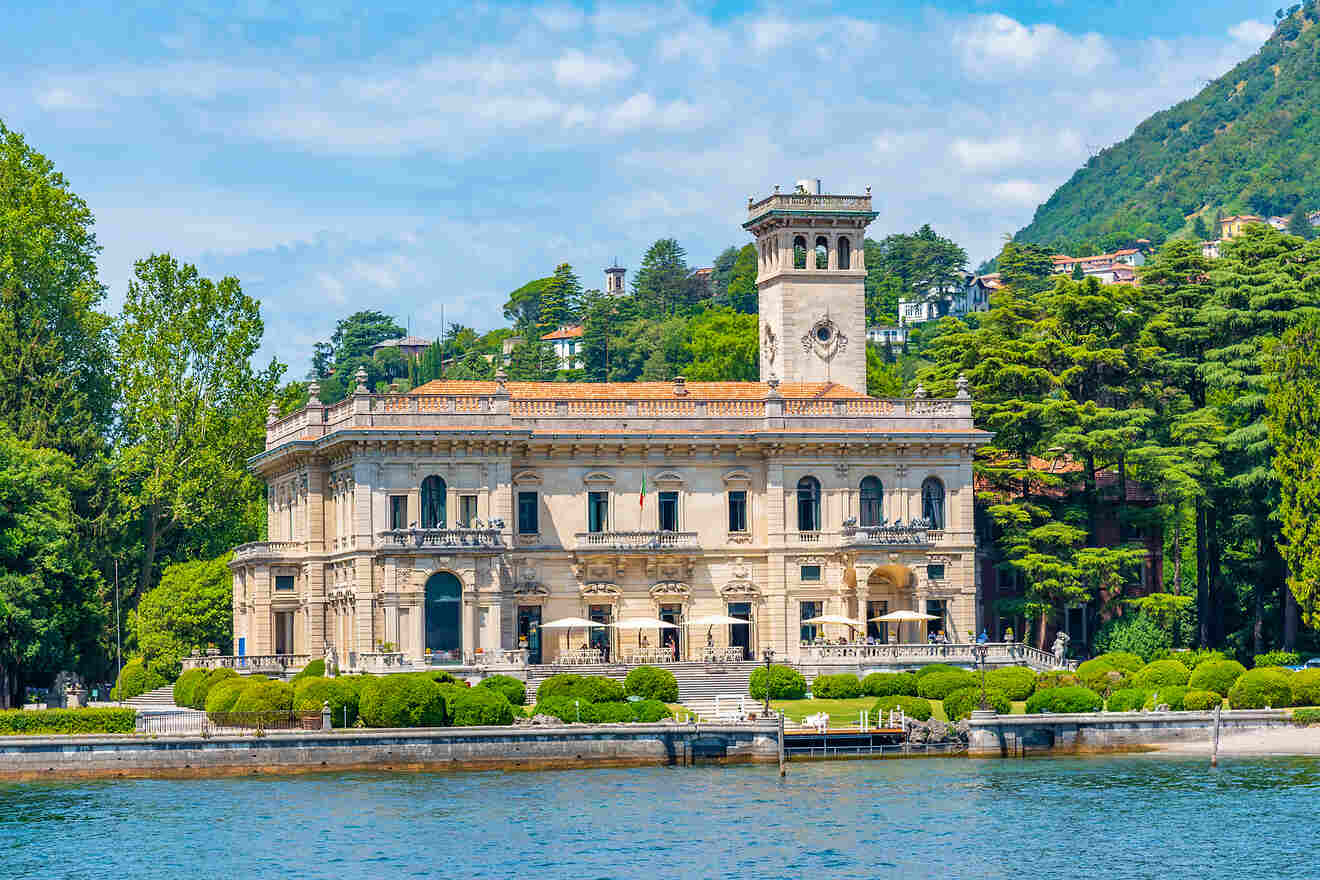 The majestic Villa Erba, located just a 20-minute drive from Como town, is truly a sight to behold. Built on the site of a centuries-old monastery, this grand villa is now the site of many of Como's cultural events and wedding ceremonies!
Villa Erba's interior is absolutely stunning, with age-old frescoes and romanesque columns, but the park itself is incredible! It's 1,000 sq. m and overlooks the lake – perfect for a romantic stroll with your loved one.
10. Go to the beach!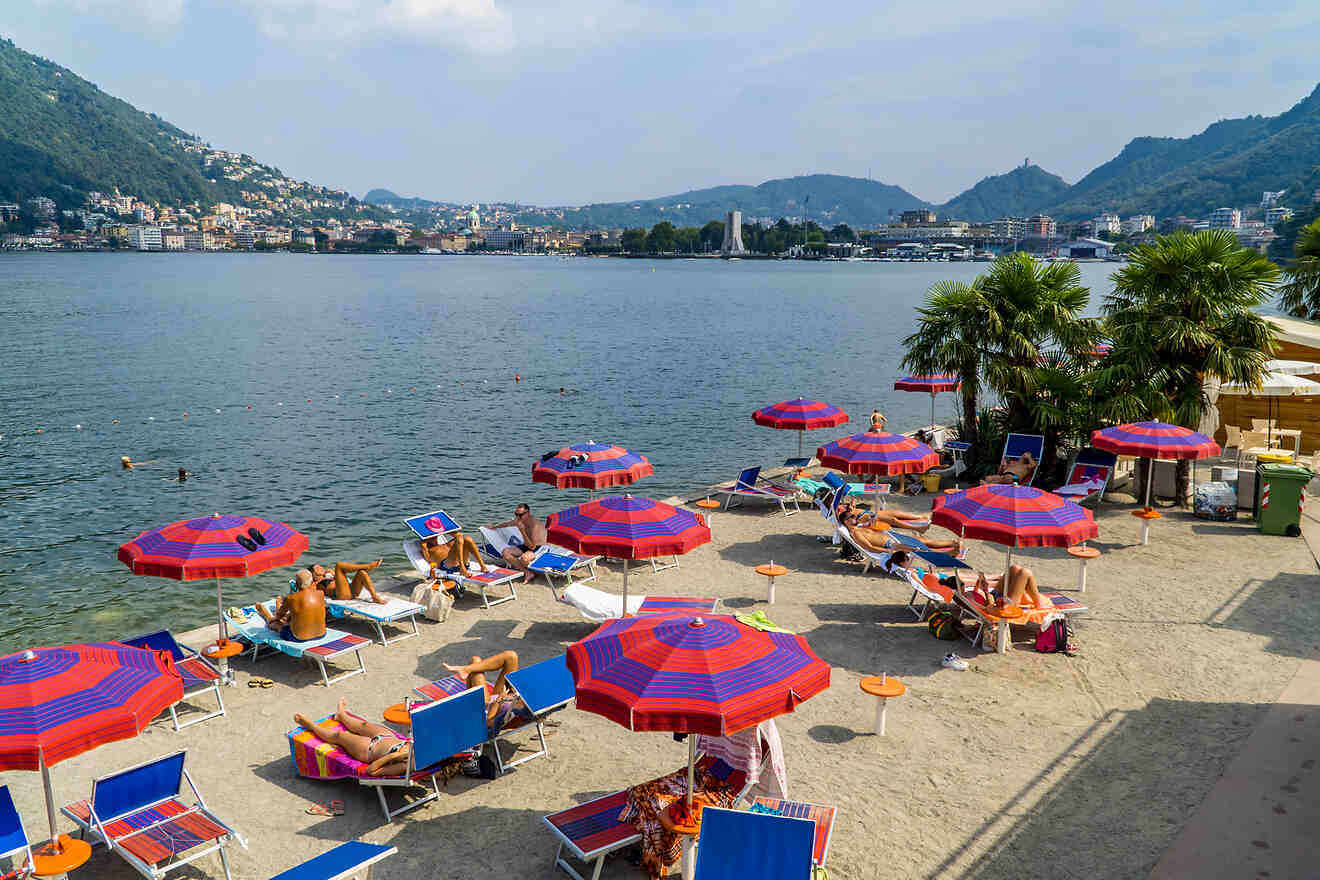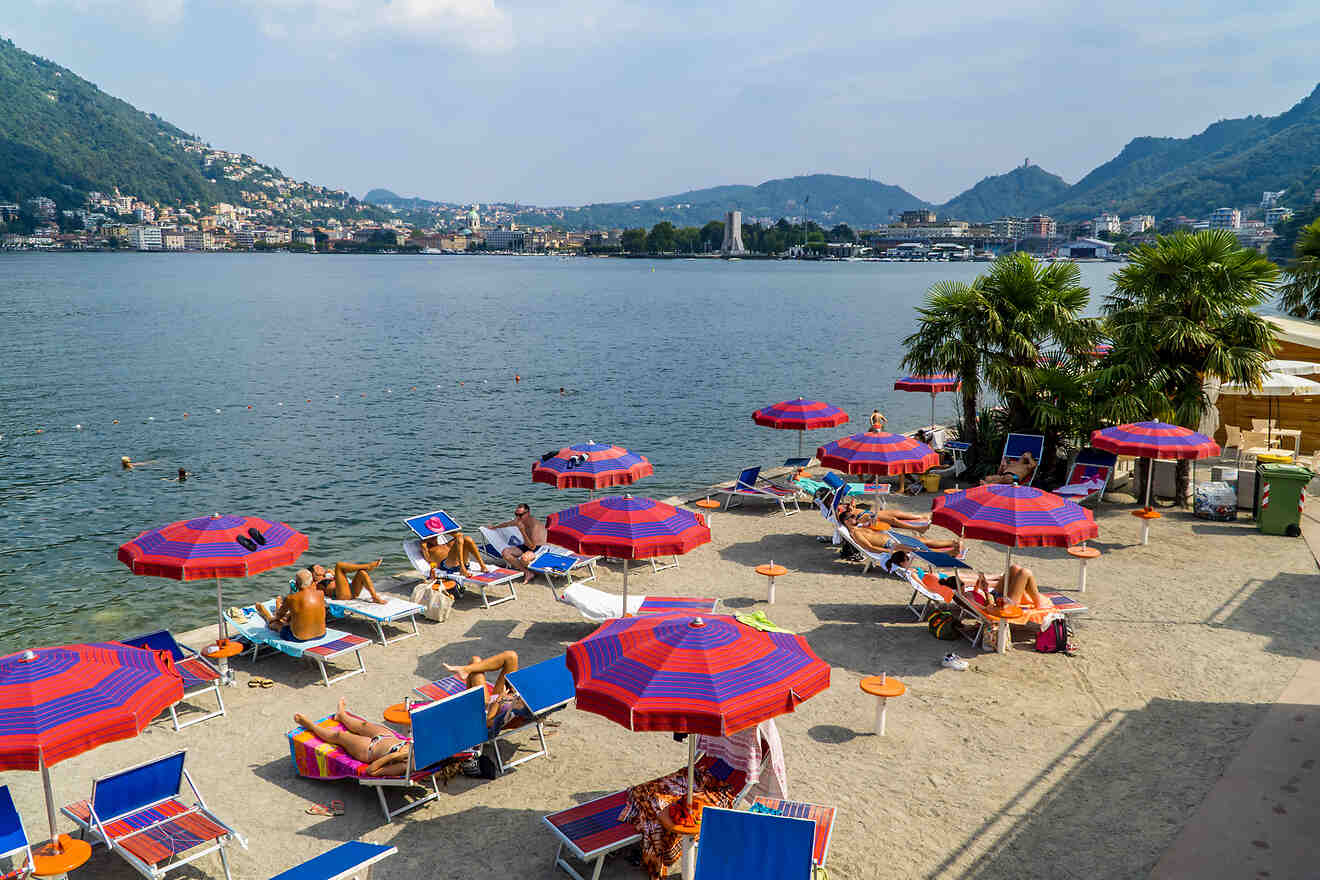 If you're on a trip to Lake Como, you can't possibly miss out on their lakeside beaches! Most of the beaches in the area are private, but there are also a few free public beaches to lounge at. Here are a few I think are worth visiting:
Lido Villa Olmo: Fancy a beach bar and restaurant right on the grounds of a beautiful villa? This one will take your breath away!
Lido di Lenno: Searching for white sandy beaches? This one will suit you just fine, and it's super luxurious with a fancy restaurant and comfy beach beds!
Domaso Beach at Camping Madonnina: Looking for a freebie? This one is secluded, grassy, and tranquil – perfect for a day out with the fam!
PRO TIP: Once you've decided on your favorite beach, make sure to give them a call before you go – if you just turn up, the entry price will skyrocket!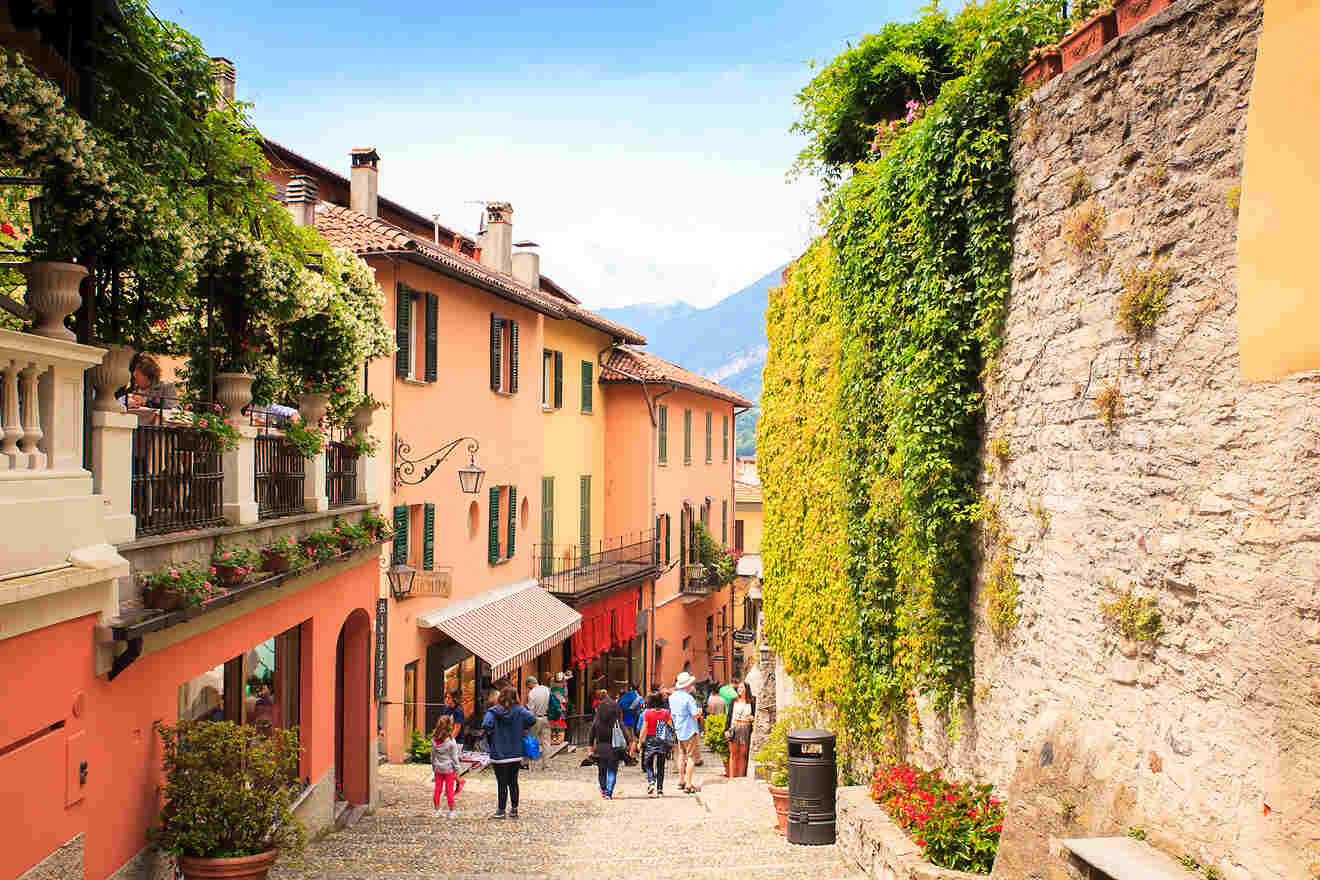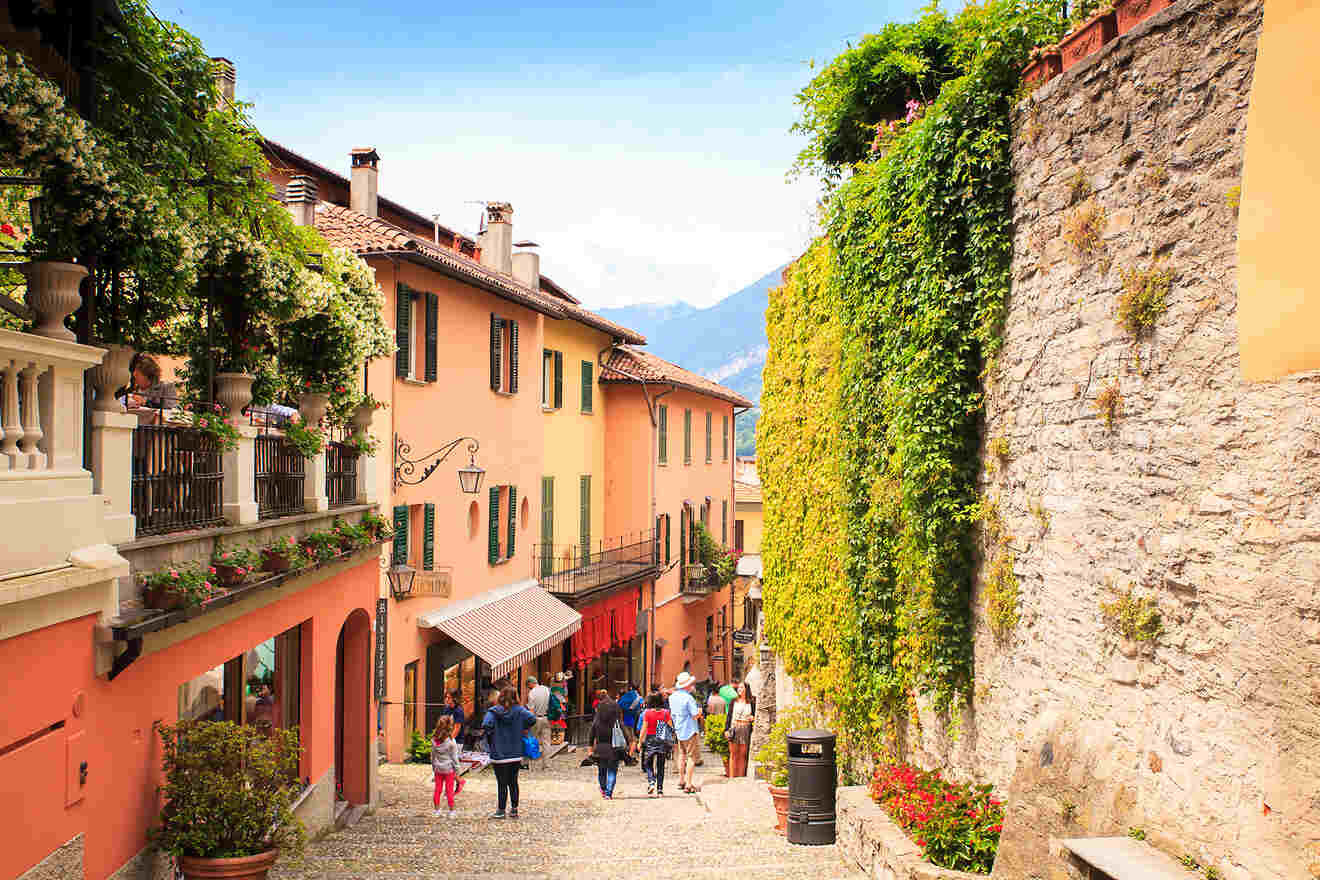 Bellagio, a small commune located around 45 minutes' drive from Lake Como, is the perfect end point for a small road trip from Como town! It's a quintessential Italian village complete with boutique shops and hotels, lovely little restaurants, and a historical vibe you'll be hard-pressed to find anywhere else.
This lovely village is set into the hills of Como and you'll find so many hidden gems here! You can easily spend a day wandering through the teeny tiny streets of Bellagio, stopping in at local shops and restaurants, and filling up on aperitivo! 
PRO TIP: If you're looking for instagrammable snaps, Bellagio is the perfect place – just head up to the top of the town and you'll be able to see the Lake peeking over the cobbled streets with the mountain backdrop behind.
| | |
| --- | --- |
| 🤩 Range of activities: | Large |
| 👪 Family-friendly score: | High |
| 🎢 Top paid attraction: | Domaso Wine Tour |
| 🚶🏽‍♂️ Best free activity: | Como Cathedral |
| 🥟 Must try food: | Pan de Comm |
Where to stay in Lake Como
Now you've got your itinerary down, you'll need somewhere to stay, so here are a few of my personal favorites. You can also check out our post on where to stay in Lake Como!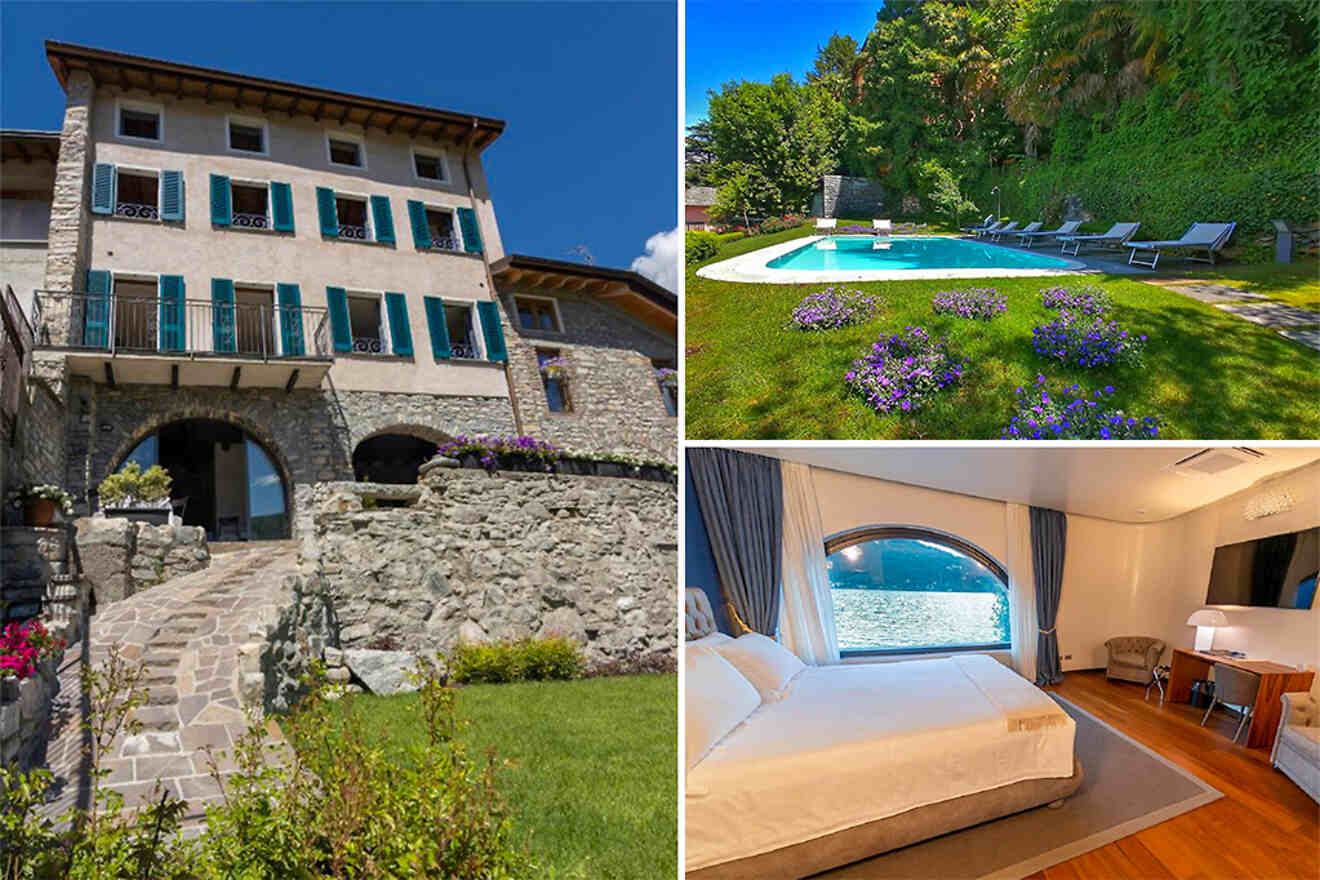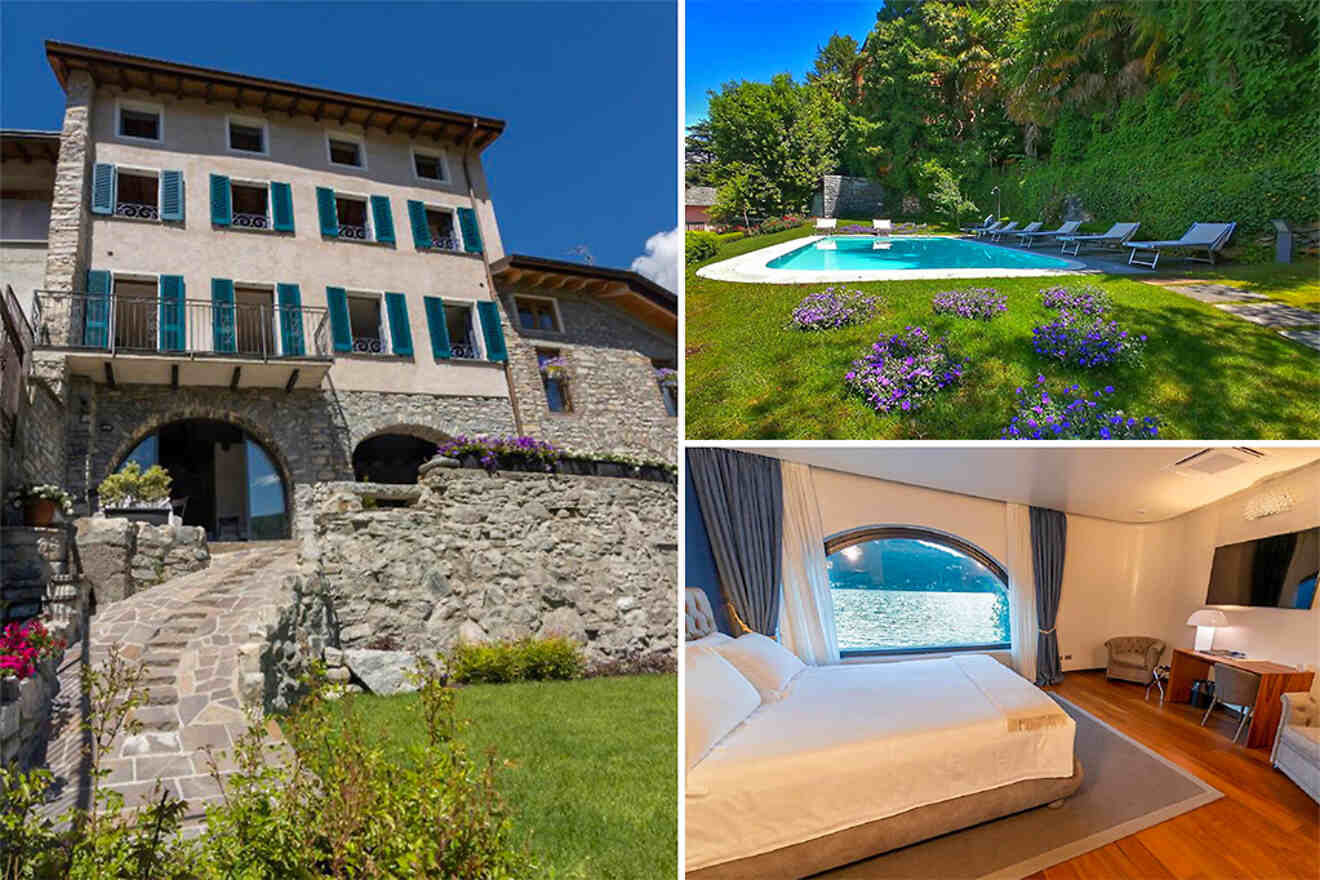 Luxury (€300 and up)
Villa Lario Resort Mandello – This boutique hotel takes luxury to a whole new level. With gorgeous suites overlooking the lake, a private beach and pool, and fine dining experiences, your stay in Lake Como doesn't get much better than this!
Domus Plinii Suites – Here you'll get a full private suite with a fully-stocked kitchen, private pool and terrace, and a gorgeous view over the lake and distant mountains.
Mid Range (€150 – €300)
Cà Piodèe – For a romantic stay deep in the hills on the west side of Lake Como, this hotel offers a beautiful restaurant and terrace overlooking the lush green surroundings right at the top of the mountain.
Rumi Rooms – If you prefer to stay in Como itself, this hotel is in the old town close to the train station and includes cute suites with adorable balconies overlooking the cobbled streets.
Budget (up to €150)
Cadorna Chalet – This traditional chalet offers stunning views from high above the lake and is in the perfect spot to explore the surrounding villages.
B&B Aquarelle – For a classic, historical stay in a rural village just a 10-minute drive from the lake, this is an excellent choice. You'll really get a true sense of Italian style here, and they even offer e-bike rental!
Check the rates here
Practical Information
So you've figured out where you're staying and what you'll be doing. I'll now go through some important information about the region so you're fully prepared for your trip!
How to get around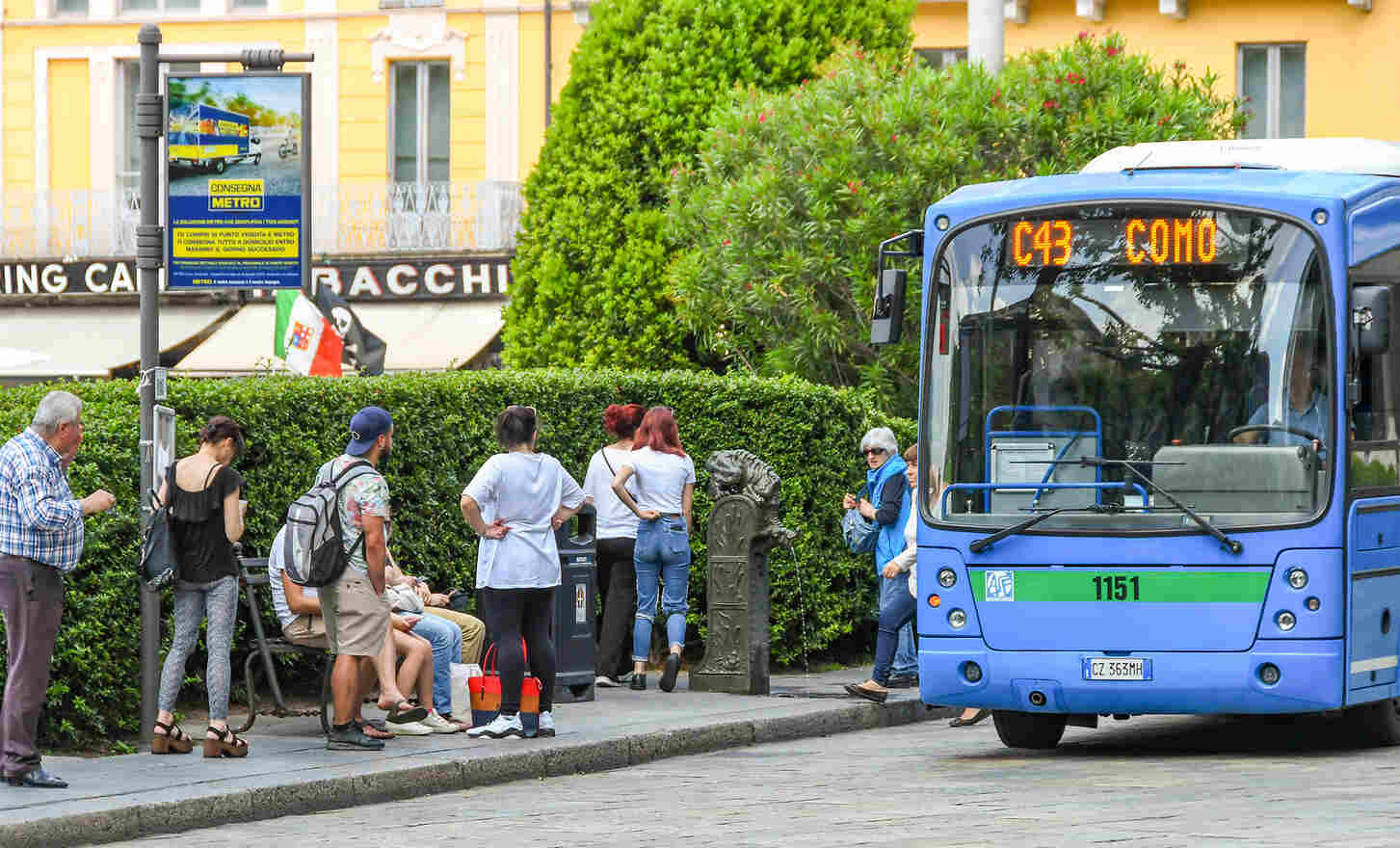 Public transport in Italy can be unreliable, but Lake Como's prettiest towns are pretty well connected. There are buses going between the areas and they're relatively frequent, and the prices are pretty low (usually between €1 and €3 one way).  
PRO TIP: To take the bus, download an app called Autoguidovie. This will allow you to buy tickets anywhere in Lombardy! You can pay for your tickets through the app and see bus timetables.
NOTE: If you buy a bus ticket through the app, make sure you activate the ticket by pressing attivare on the ticket when you get on the bus. If it's not activated you could end up with a hefty fine!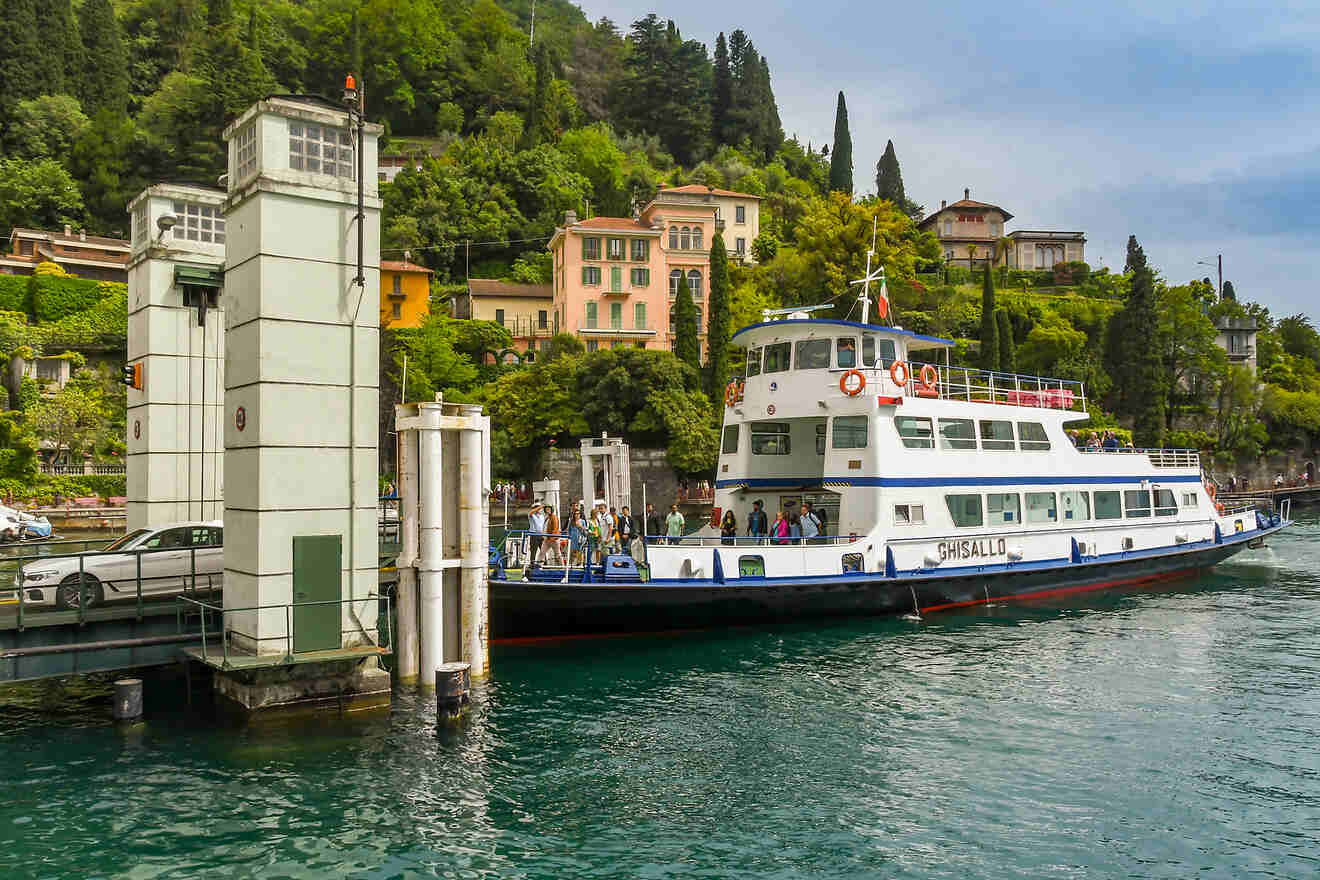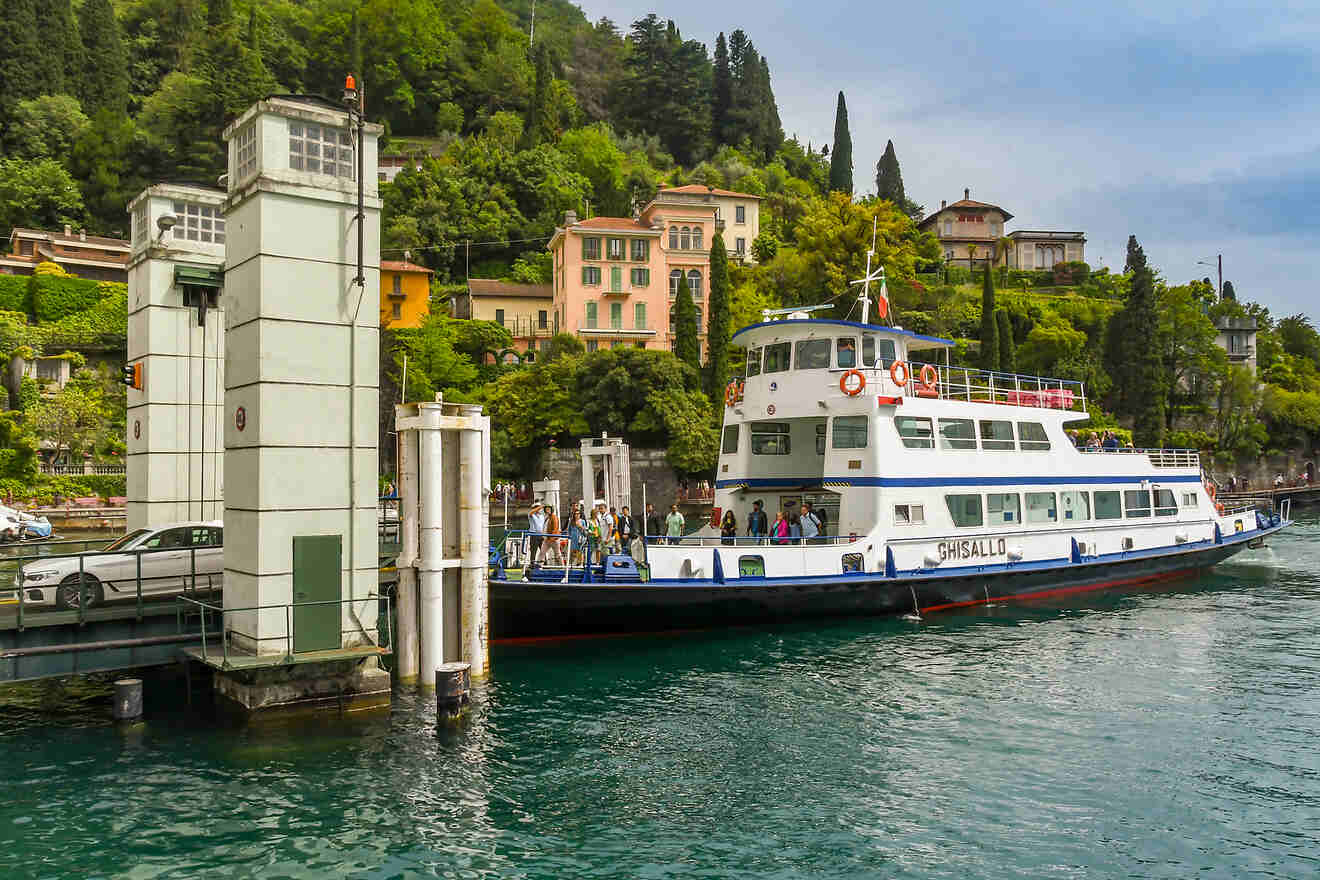 Ferries: There are ferries going across the lake at many points – Lake Como is pretty big, so it's often much easier to just cross the lake if you're going that way rather than driving/bussing all the way round the lake! Have a look at this map to see your closest ferry station from the south to the northern end of the Lake
Taxis: There are taxi services in Lake Como's towns, but they run pretty expensive! You won't find Uber in the area either since Uber doesn't really exist anywhere except the main cities. If you fancy taking a taxi, you'll find them around the town center and the main Como train station.
The best way to get around: Honestly? Your best option is to rent a car. Seriously, you'll thank me for it – especially if you want to explore other towns and villages outside the main touristy areas, which is a must if you want to experience true Italia! You can use Google Maps to road trip your way around the lake, which will be the most fun you'll ever have.
NOTE: If you choose to drive, remember that you can't drive into the central part of Como town during the day because it's a Low Emission Zone. If you need to, you'll have to get a permit from the municipality.  
All about sim cards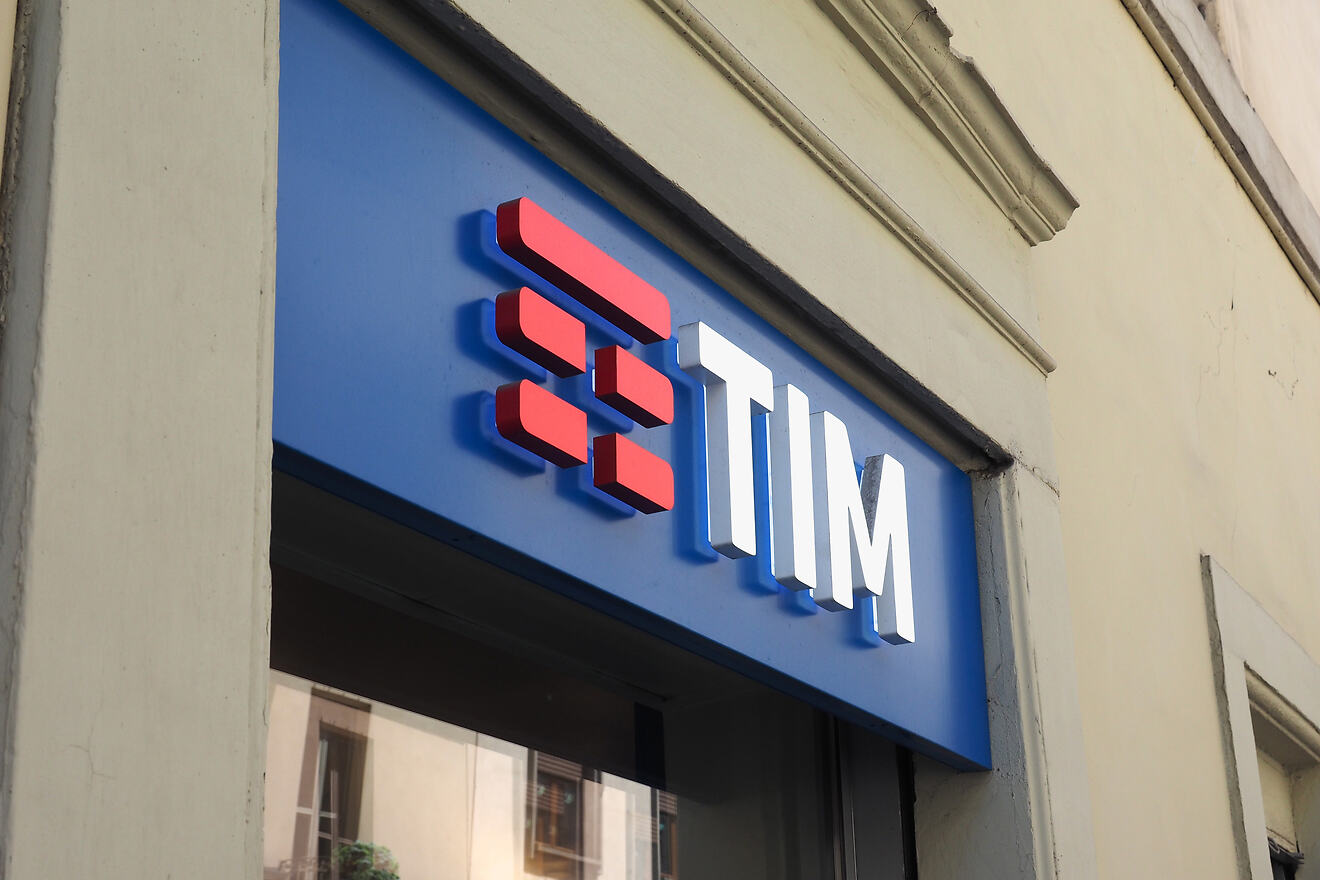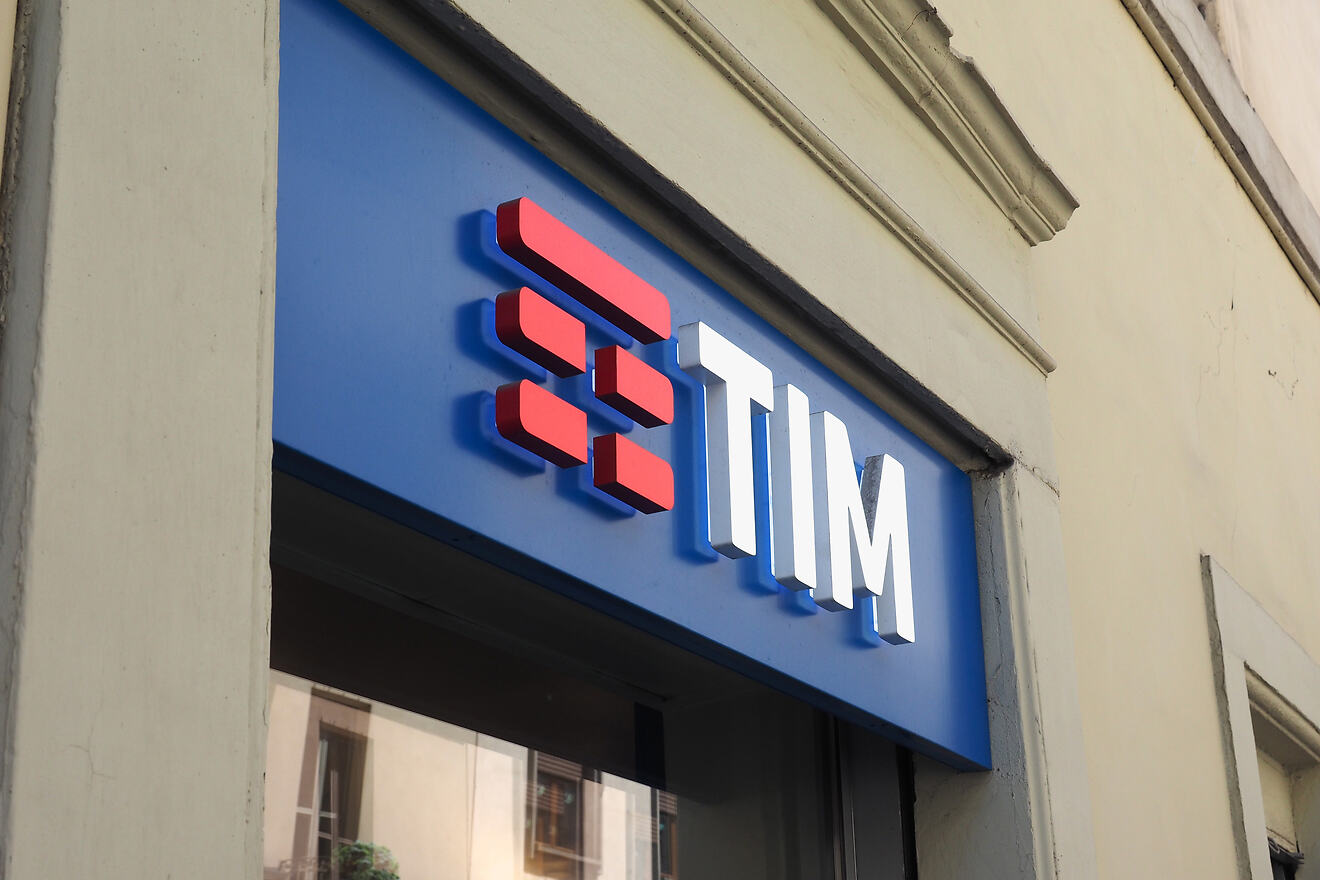 Getting a sim card is a must if you're planning on staying in Lake Como for a week or more. However, do not fall into the trap of buying a sim card at the airport – they're so overpriced it's crazy!
Instead, get a prepaid sim card from one of these providers:
TIM is arguably the best in terms of coverage and unlimited minutes – which is great if you're Instagramming all the time! The store is just a short walk from Como station.
NOTE: To purchase a prepaid sim card in Italy you'll need to have your ID or passport with you. You also need to have a fiscal code, but if you just tell them you're a tourist they'll bypass it for you.
FAQs about Lake Como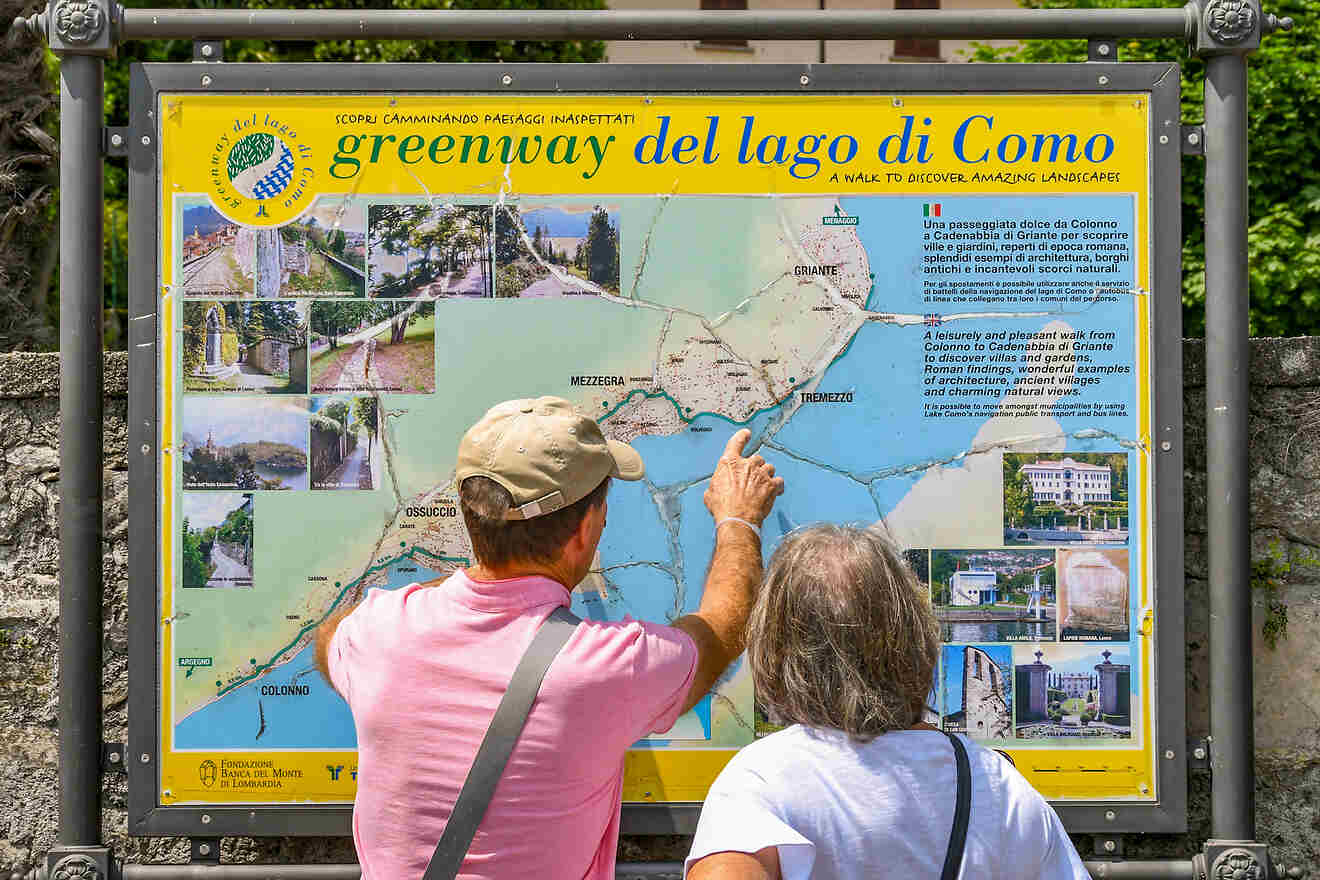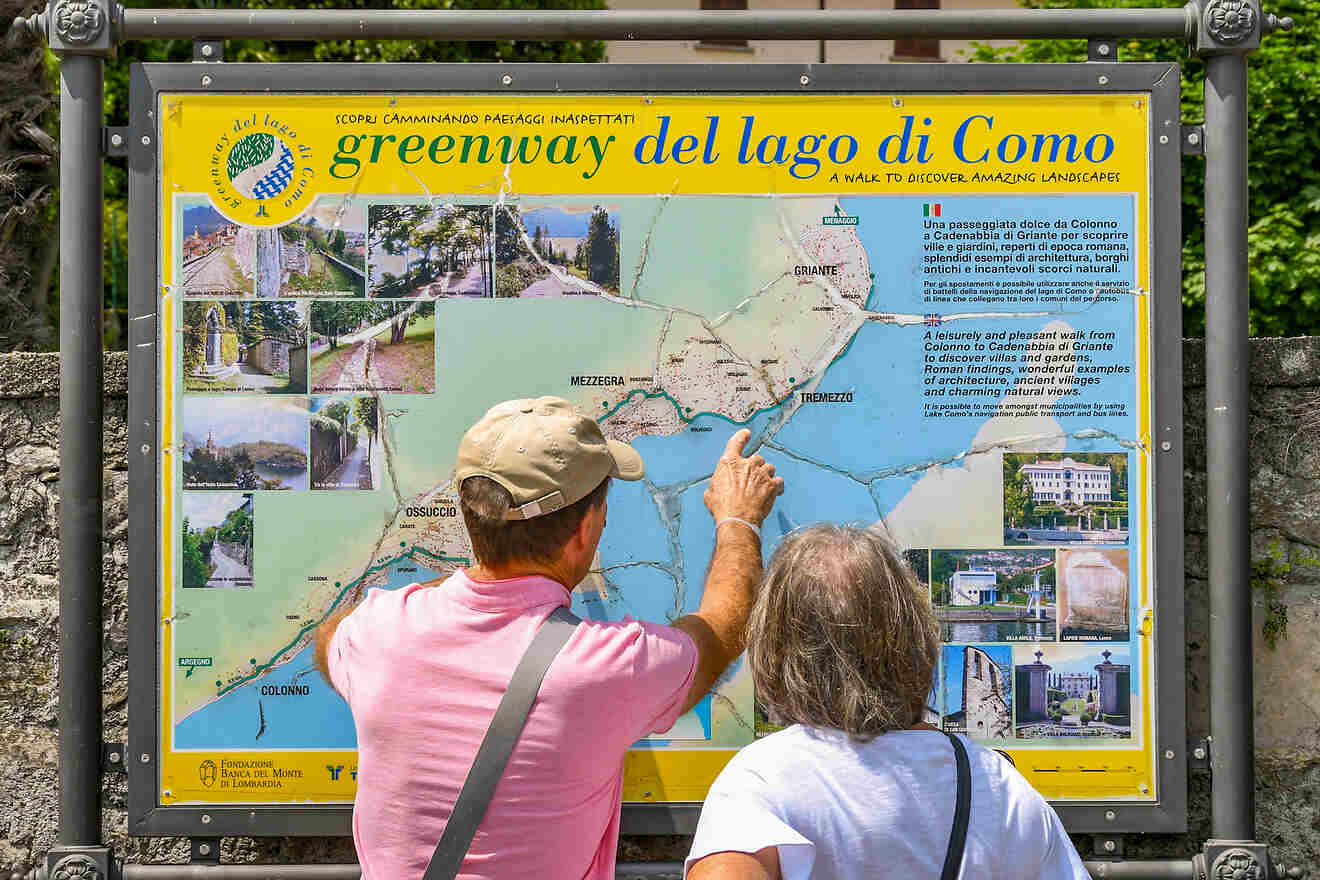 💸 What are some cheap things to do in Lake Como?
Como can get pretty expensive, but there are plenty of things to do on a budget! Some ideas include visiting one of the many public beaches and exploring the rustic villages and beautiful gardens scattered across the shores.
👪 What are the best things to do in Lake Como for families?
Lake Como is super family-friendly with tons of outdoor activities, like sailing for the day, or taking the funicular up to Brunate to see the lighthouse!
☔ What can I do in Lake Como when it rains?
It does rain in Lake Como, especially around mid March – and when it does, it pours! The best thing to do when it rains in the off season is to take a cooking class! Learn traditional recipes from a local at this awesome class!
🥳 What are the best things to do at night in Lake Como?
Lake Como has some absolutely gorgeous lakeside bars with amazing views, like Terrazza 241 in Como's main beautiful town! You can also take evening boat rides on the lake, so check out this romantic boat ride at sunset!
Conclusion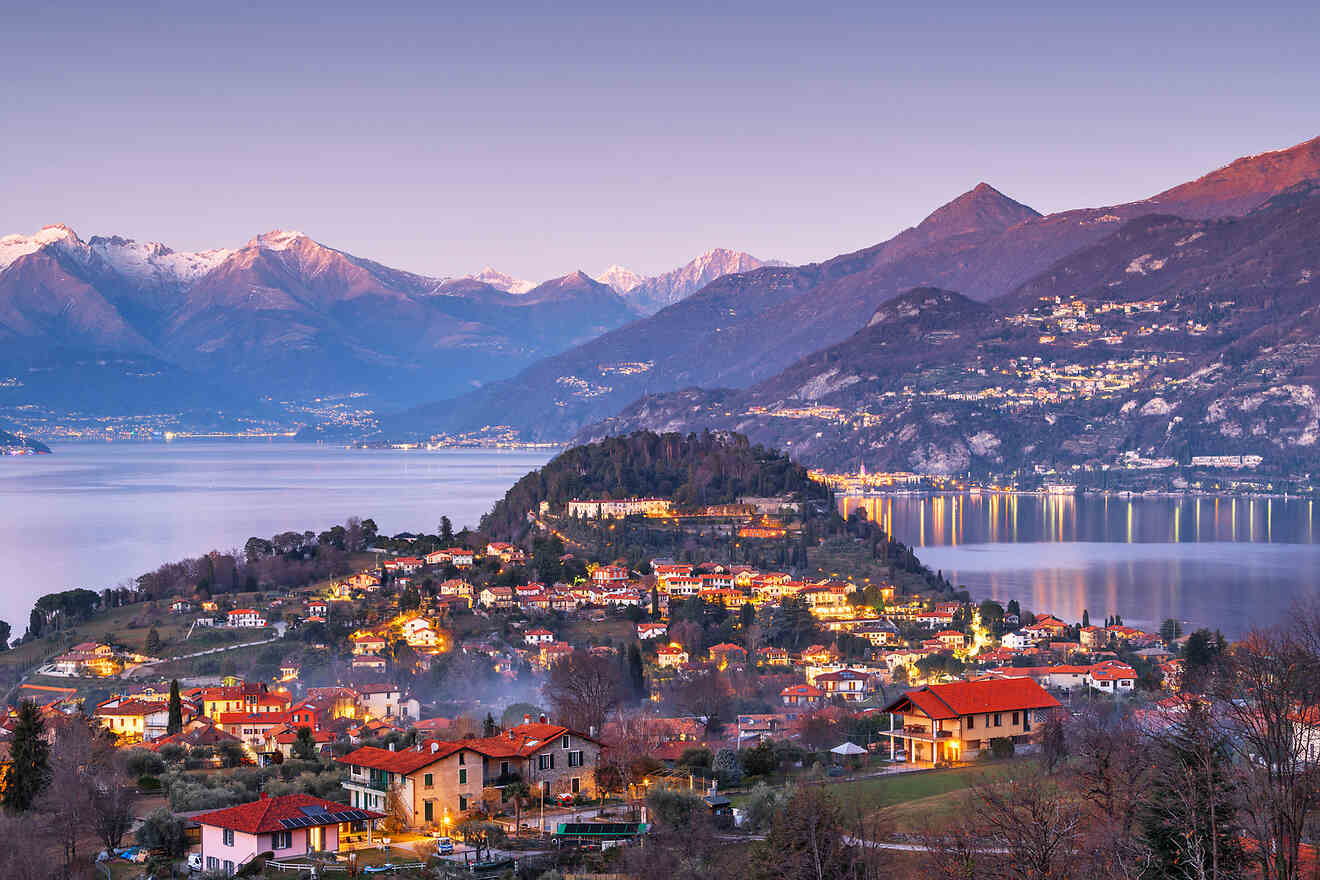 So there you have it – all the most amazing things to do in Lake Como! We've covered pretty much everything, from sailing trips and mountaintop views to renting a car and road tripping around the lake.
The villas especially are incredible, and although I think Villa Balbianello and Villa Monastero are the best, there are also plenty of other villas to discover, like Villa Carlotta and Villa Melzi!
Lake Como is super busy in the summer months, especially with their annual festival, Sagra di San Giovanni, so I recommend you book fast so you get to see all your favorite sites.
If you have any questions, just let me know in the comment section and I'll be happy to help you out!
Buon viaggio! 🙂
Lizzie
---
Pin it for later!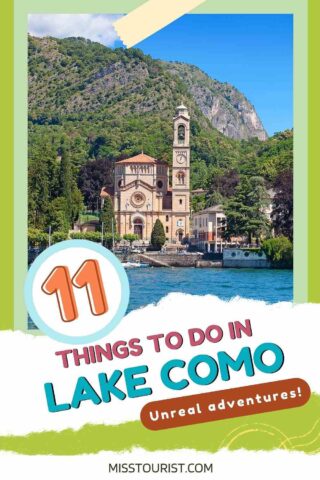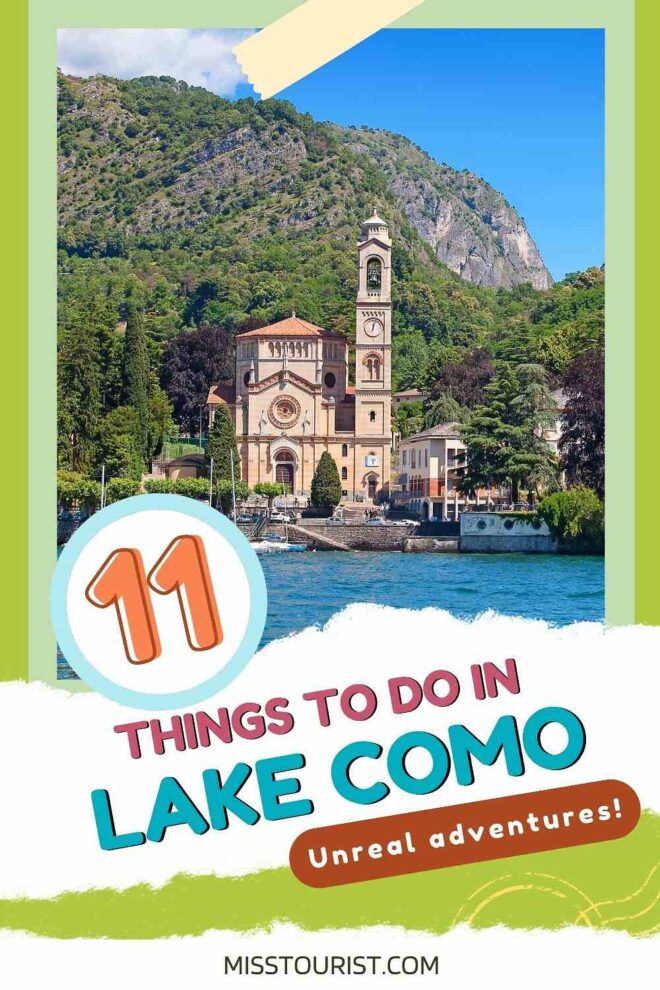 Pin it for later!