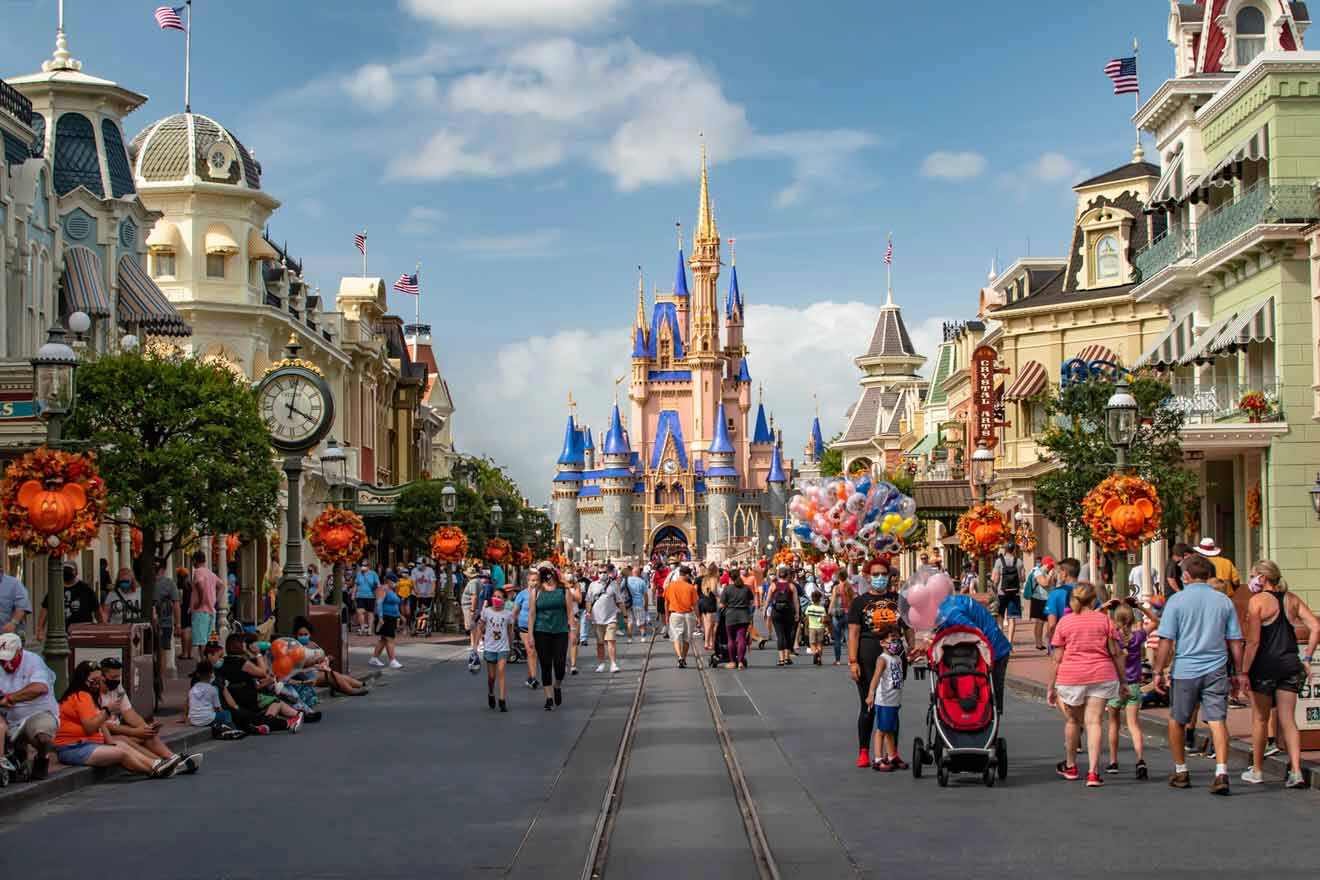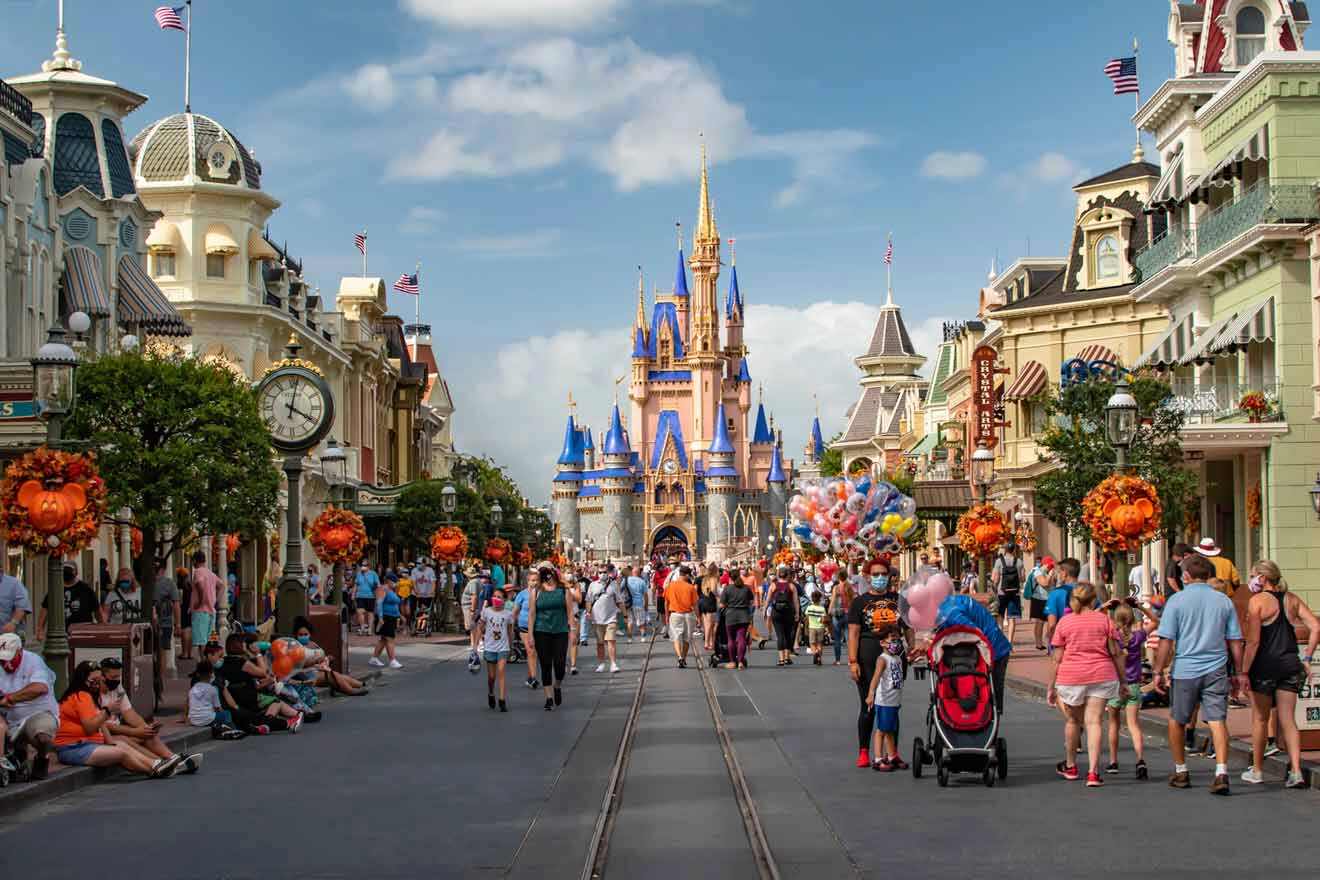 Is there anything more magical than a trip to Walt Disney World? Comprising 4 incredible theme parks, 2 immersive water parks, a 120-acre (50 hectares) waterfront entertainment complex, over 25 uniquely-themed resorts, and so much more, Walt Disney World is the ultimate vacation destination for kids and kids at heart!
Walt Disney World is a second home to me – I'm a former Magic Kingdom cast member turned Disney annual pass holder, so I've been to the parks more times than I can count. In fact, you'll almost always find me there on weekends, as it's just 45 minutes from where I live in Orlando.
With so much to do and see at Walt Disney World (it's literally the size of San Francisco, California), there is no doubt planning can be overwhelming. We will cover everything you need to know before heading there, including what to do, where to stay, and how to save time and money in this guide to Disney World!
I'm sharing some expert knowledge, tips, and tricks with you today to make your trip to Disney World even more magical. You can always reference this article by section later, but I recommend reading it in order the first time, as there are a lot of fantastic Disney vacation tips throughout!
Overview of Walt Disney World Resort
Let's start with an overview of Walt Disney World. It covers 40 mi² (105 km²), so it's basically a city within itself! The key to making the most of your Disney World trip is having a plan – figure out what you want to see and do beforehand, so you can focus solely on making magical memories once you arrive.
In this section, we'll go over the 4 theme parks and 2 water parks at Walt Disney World Resort, as well as Disney Springs, so you can get an idea of what you want to prioritize during your time there!
P.S.: Here's a map of where each theme park and water park is located so that you have a visual illustration of the locations.
1. Magic Kingdom Theme Park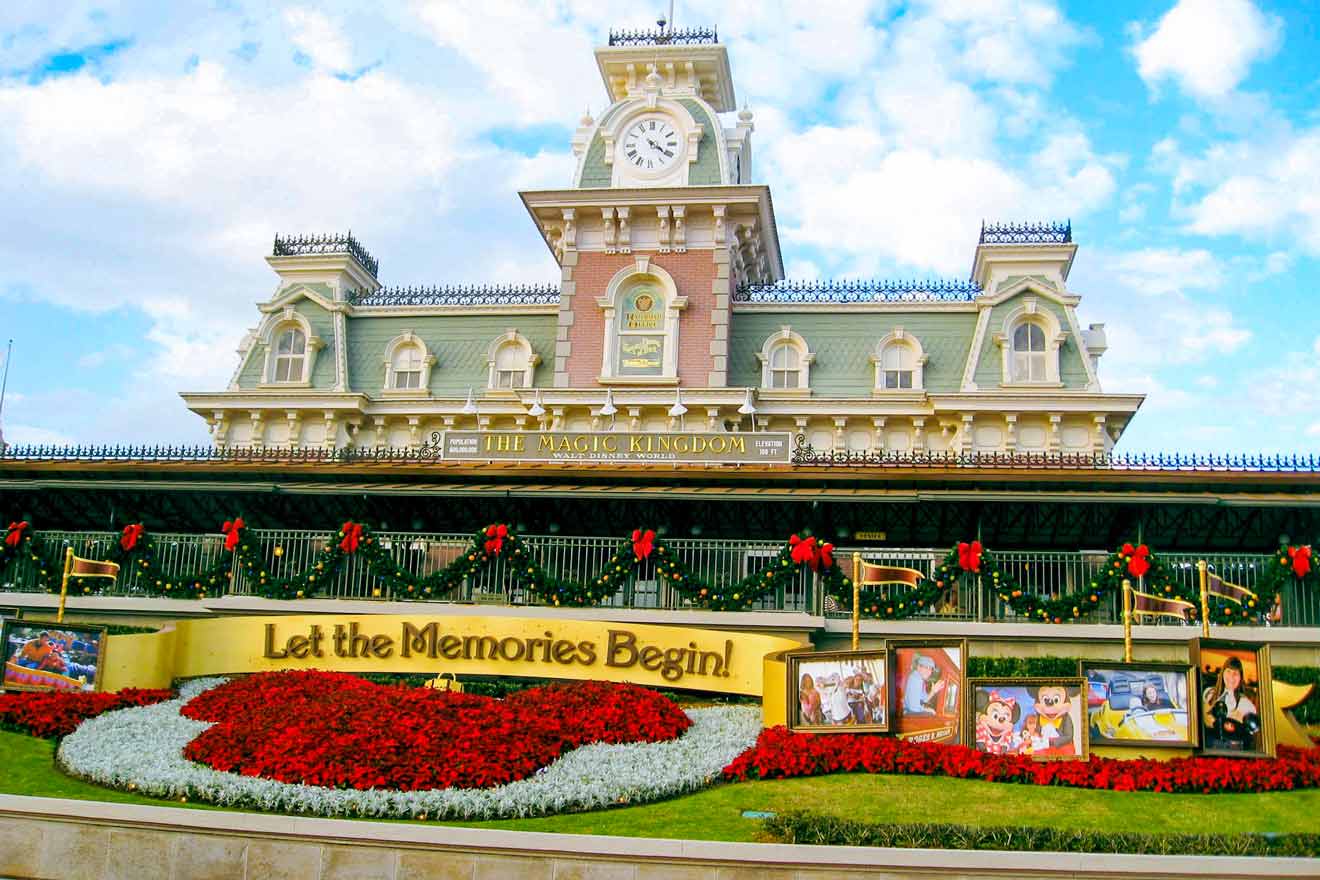 When most people think of Walt Disney World, they think of the Magic Kingdom. This iconic Disney theme park, home to Cinderella Castle, was modeled after Walt's original park Disneyland in Anaheim, CA.
Your favorite Disney movies and characters come to life in the 6 immersive lands at Magic Kingdom: Main Street USA, Adventureland, Frontierland, Liberty Square, Fantasyland, and Tomorrowland, where you can find attractions, parades, entertainment, dining, and fun for the whole family.
Some of the classic rides include:
Make sure you stay for the legendary fireworks show at the castle! If you're visiting Walt Disney World for the very first time with kids, you definitely don't want to miss out on Magic Kingdom – it's quintessentially Disney.
Magic Kingdom hosts 2 major ticketed events each year:
These events are a ton of fun, especially for kids, but they are not included in regular admission, and tickets must be purchased separately. They're known to sell out very quickly!
BEST PARK FOR: first-time visitors, little ones, kids at heart
2. EPCOT Theme Park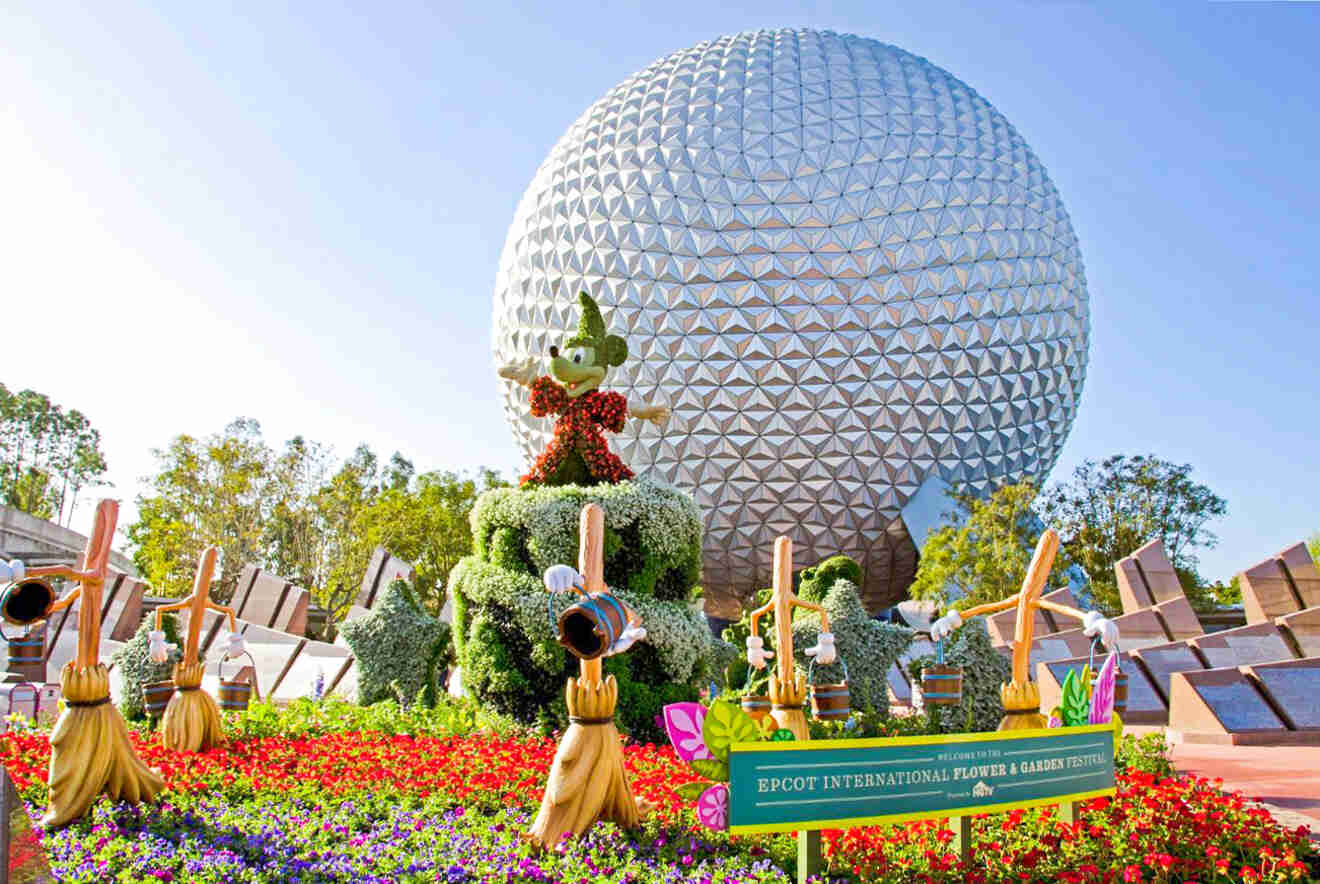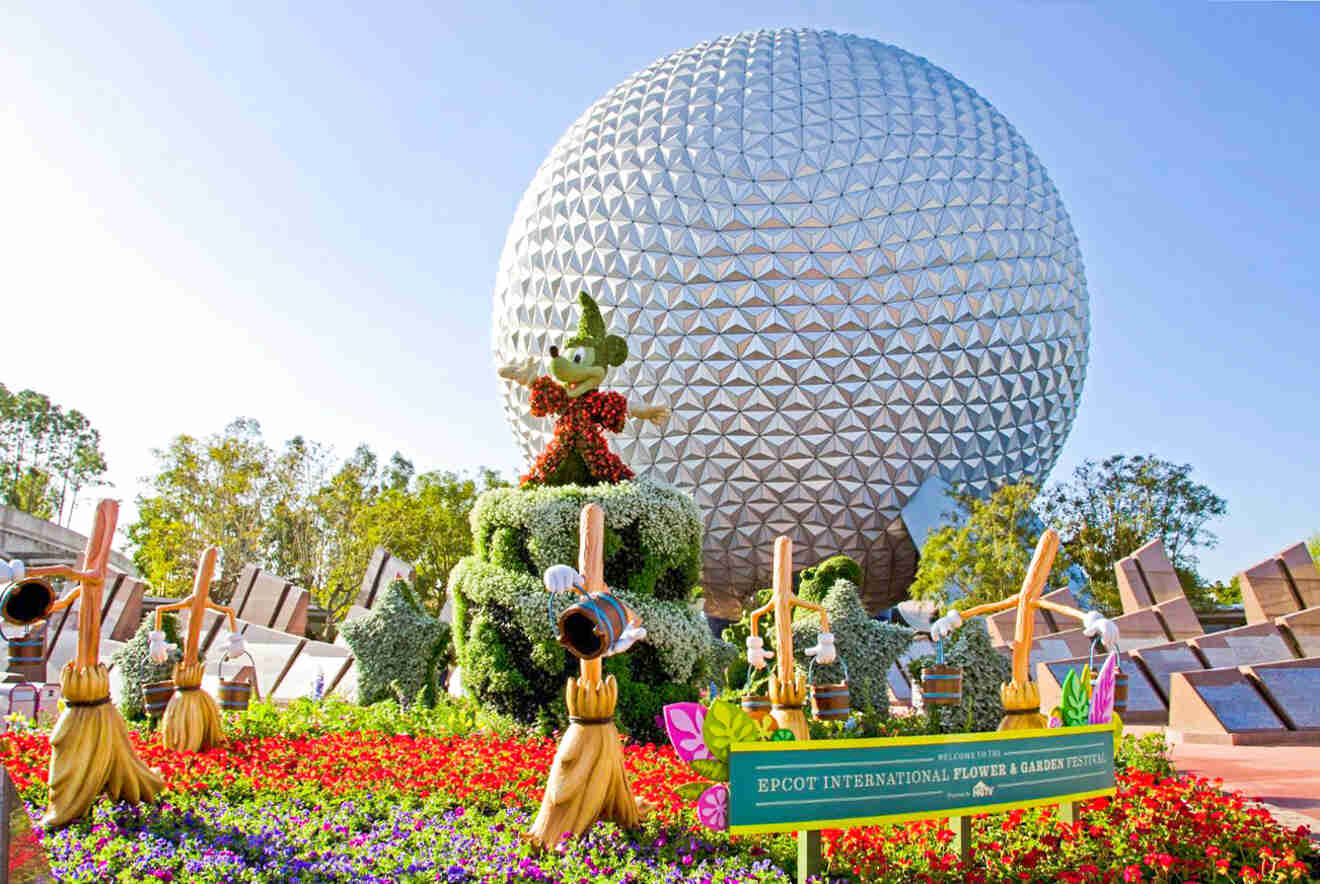 EPCOT is a one-of-a-kind theme park based on a concept Walt Disney dreamt up during his lifetime.
Explore 11 immersive countries in EPCOT's World Showcase – each pavilion features its native food, drinks, gifts, displays, traditional entertainment, and architecture.
Many of the cast members who work in each pavilion are originally from that country themselves, so it's a fantastic way to connect with people from all over the globe. This is where you'll find rides the whole family will love, like Remy's Ratatouille Adventure in France and Frozen Ever After in Norway.
Walt Disney's mission for EPCOT was that it be, in his own words, "a community of tomorrow that will never be completed." In addition to the world showcase, EPCOT offers exciting state-of-the-art attractions, such as:
There is even a whole aquarium adjacent to The Seas with Nemo & Friends called SeaBase, featuring one of the largest man-made ocean environments on Earth! You'll find countless, incredible marine life, from sharks and dolphins to rays and reef fish, including 2 manatees in rehabilitation here, Lou and Lil' Joe.
EPCOT also hosts 4 seasonal festivals:
EPCOT International Festival of the Arts
EPCOT International Flower & Garden Festival
EPCOT International Food & Wine Festival
EPCOT International Festival of the Holidays
The festival is part of your admission, not extra like the Magic Kingdom parties, and they are absolutely amazing!
For the 21+ crowd, drinking "around the world" at EPCOT (having an adult beverage in all 11 World Showcase pavilions) is a popular activity, although not an official one.
It's especially for trips with friends or a significant other and bachelorette parties! That's what we did for mine, and it was such a blast. So in case you were wondering, no, Walt Disney World is not just for kids. 😉
BEST PARK FOR: foodies, 21+ fun, science, and technology lovers
3. Disney's Hollywood Studios Theme Park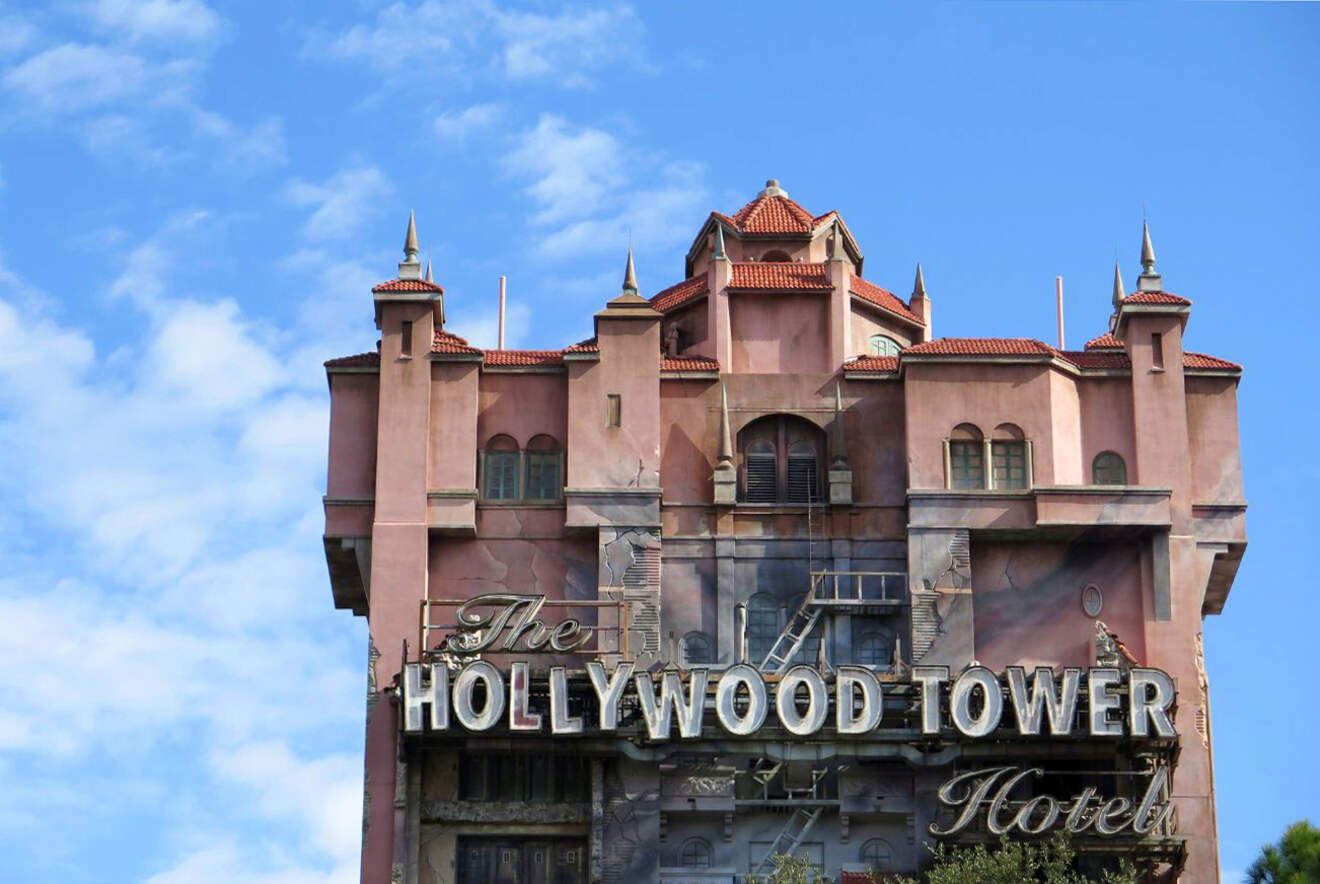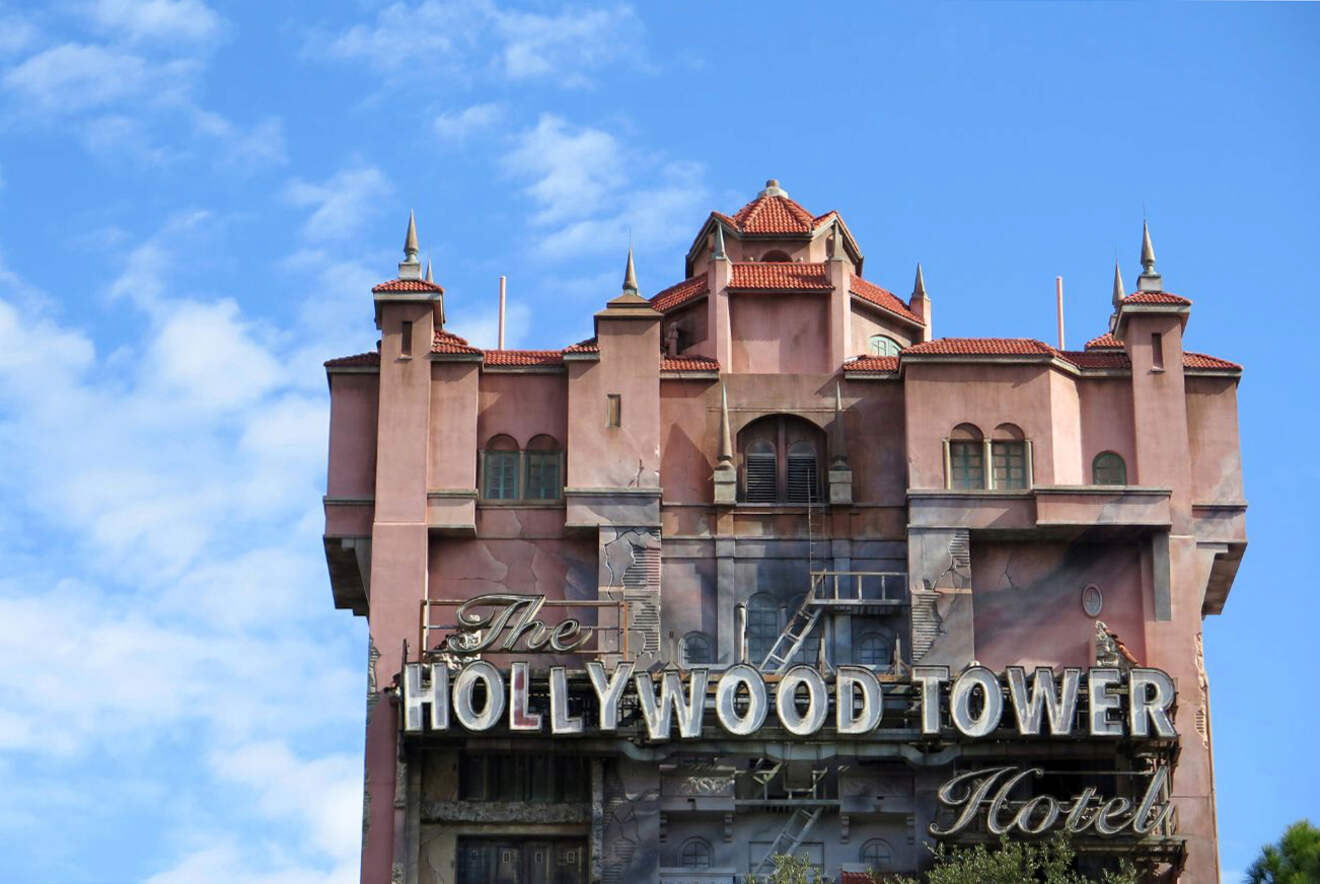 Step into Disney movie magic at Disney's Hollywood Studios, home to some of the best Walt Disney World rides, like Tower of Terror, Star Wars: Rise of the Resistance, and Slinky Dog Dash.
At Disney's Hollywood Studios, you'll find Star Wars: Galaxy's Edge, an incredibly immersive Star Wars-themed area that brings you straight into the films. In addition to the state-of-the-art rides, try some of the unique food offerings, like Blue Milk or lunch at Docking Bay 7, build your own lightsaber or droid, and meet some iconic Star Wars characters on the streets of Batuu.
Another must-see area at Disney's Hollywood Studios is Toy Story Land, which brings the iconic Toy Story movies to a larger-than-life scale. There are some super fun, family-friendly rides in this part of the park, as well as uniquely yummy snacks.
Hollywood Studios also has some of the very best entertainment in all of Walt Disney World, like broadway-style Beauty & The Beast Live on Stage, Indiana Jones™ Epic Stunt Spectacular, and Fantasmic!
BEST PARK FOR: thrill seekers, movie buffs, Star Wars fans
4. Disney's Animal Kingdom Theme Park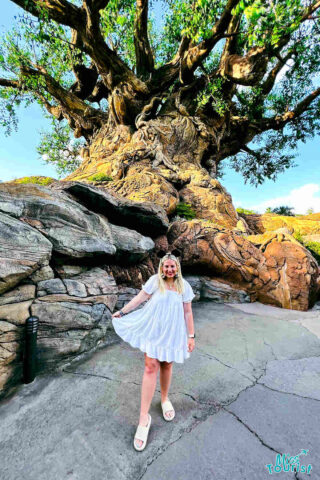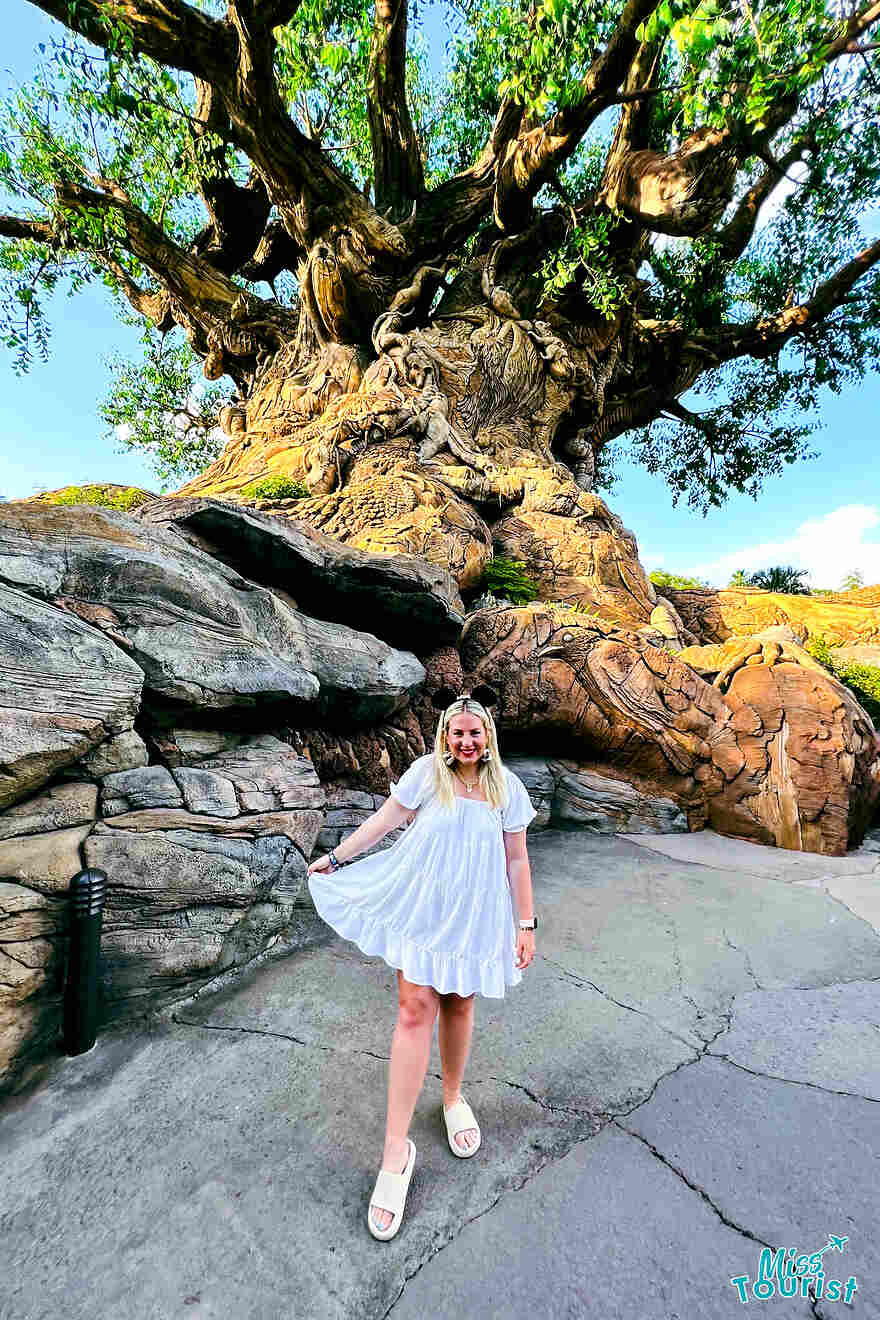 Disney's Animal Kingdom celebrates all creatures that call this planet home, and if you or your little ones are animal lovers, this park is an absolute must-do. Part thrilling theme park, part zoo, and conservation area, Animal Kingdom is an adventure for the whole family.
Get up close to the awesome animals that call the Harambe Wildlife Reserve home on Kilimanjaro Safaris. This isn't your average theme park ride. Explore this picturesque area on a rugged safari vehicle to see real giraffes, zebras, elephants, rhinos, crocodiles, cheetahs, and many more roaming around freely.
Take a thrilling ride on Expedition Everest in Asia or Dinosaur in DinoLand U.S.A. Disney's Animal Kingdom's newest area, Pandora – The World of Avatar, brings the extraordinary movie to life with incredibly immersive rides, food, drinks, and more.
Animal Kingdom boasts 3 unique walking trails where you can meet and learn about the park's animal residents, like hippos, tigers, bats, birds, gorillas, and many others.
There is also the Affection Section, the only petting zoo at the Walt Disney Resort, and a wonderful hands-on experience for your kiddos to spend time with new furry friends.
BEST PARK FOR: nature enthusiasts, adventurers, animal lovers
5. Disney's Blizzard Beach Water Park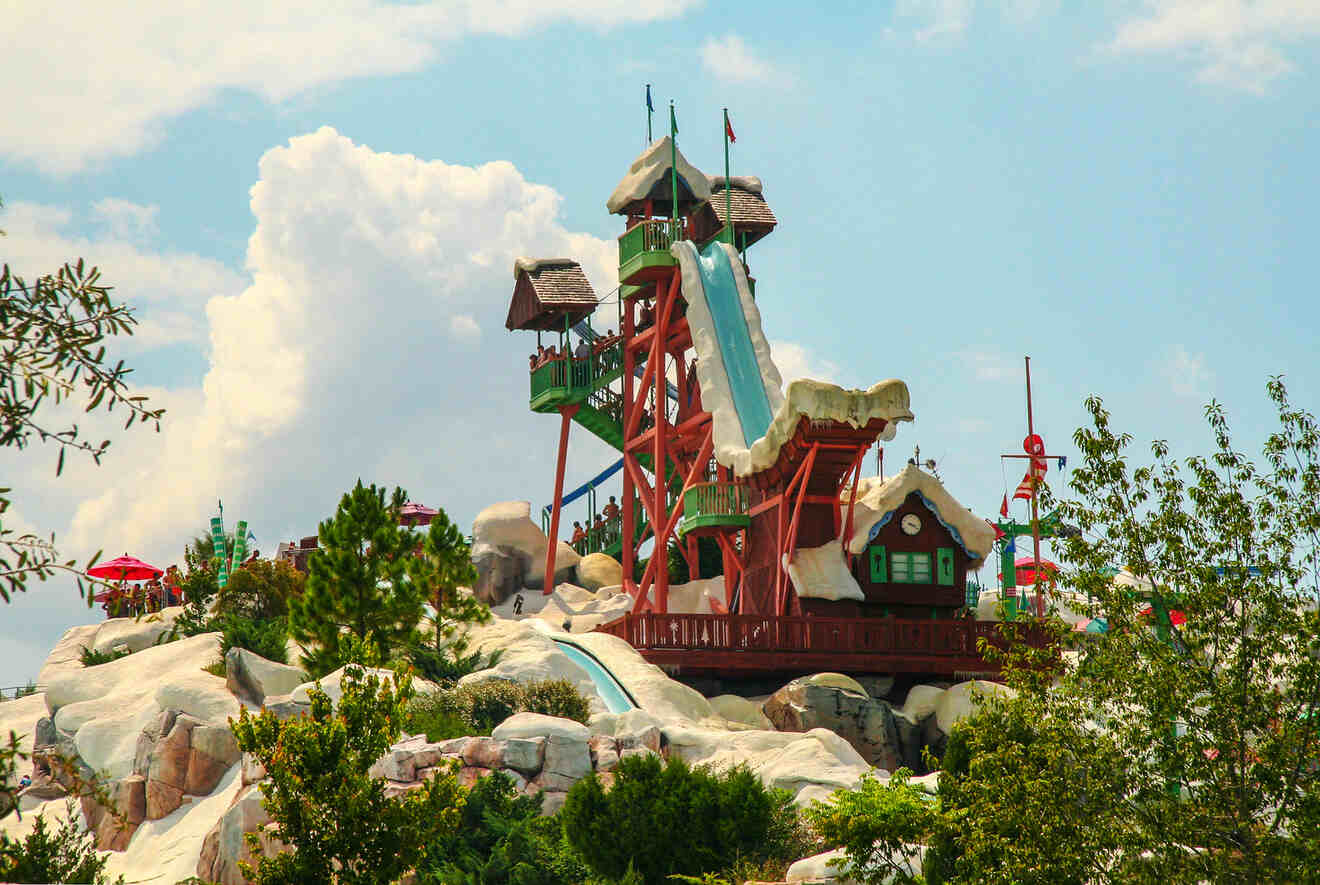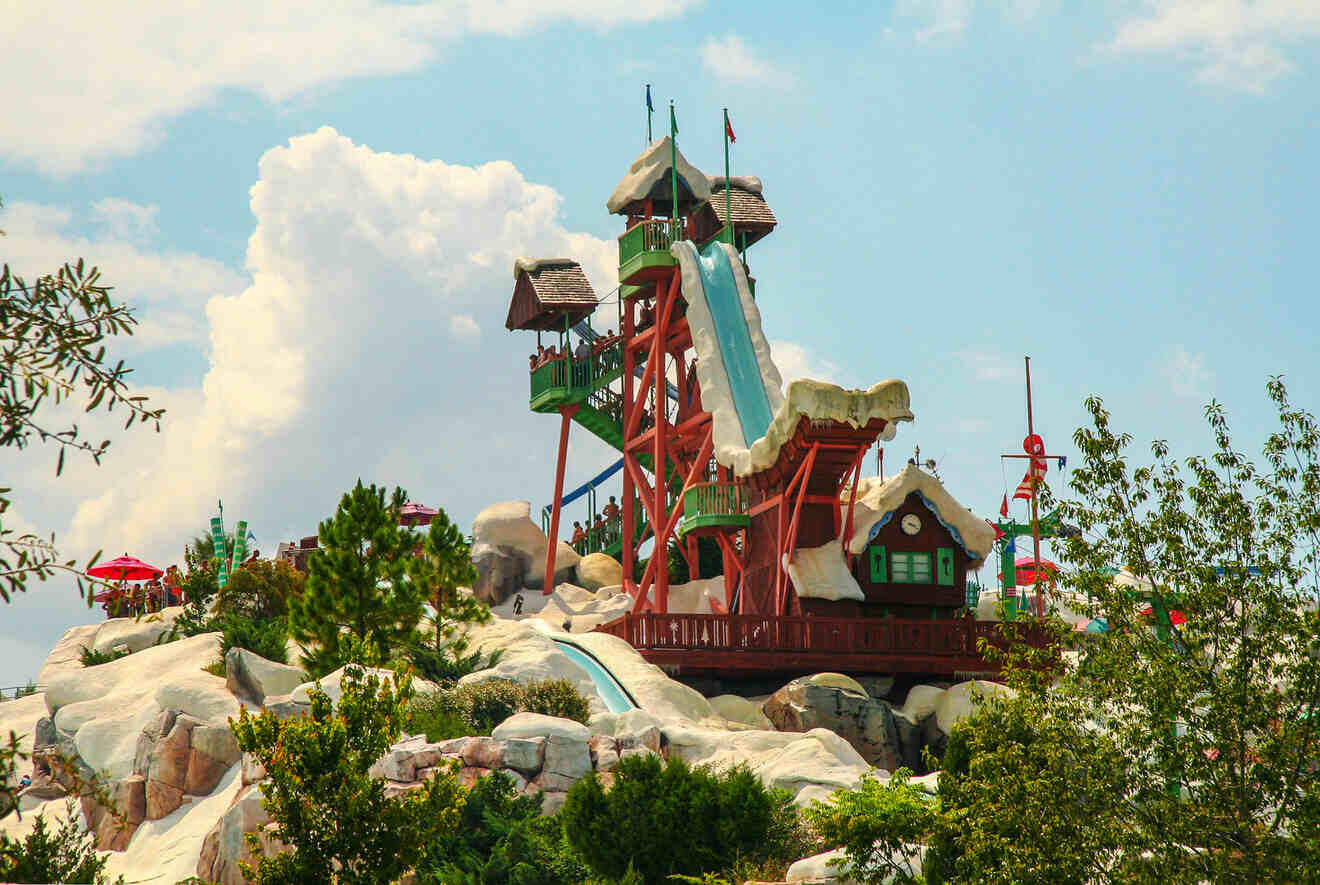 You've never been to a water park like this before – Disney's Blizzard Beach is themed like a ski resort! Cool off from the Florida sun in a wintery wonderland, complete with thrilling slides like Summit Plummet, one of the world's fastest, tallest free-standing water slides, and plenty of family-friendly attractions, like Toboggan Racers and Melt-Away Bay.
6. Disney's Typhoon Lagoon Water Park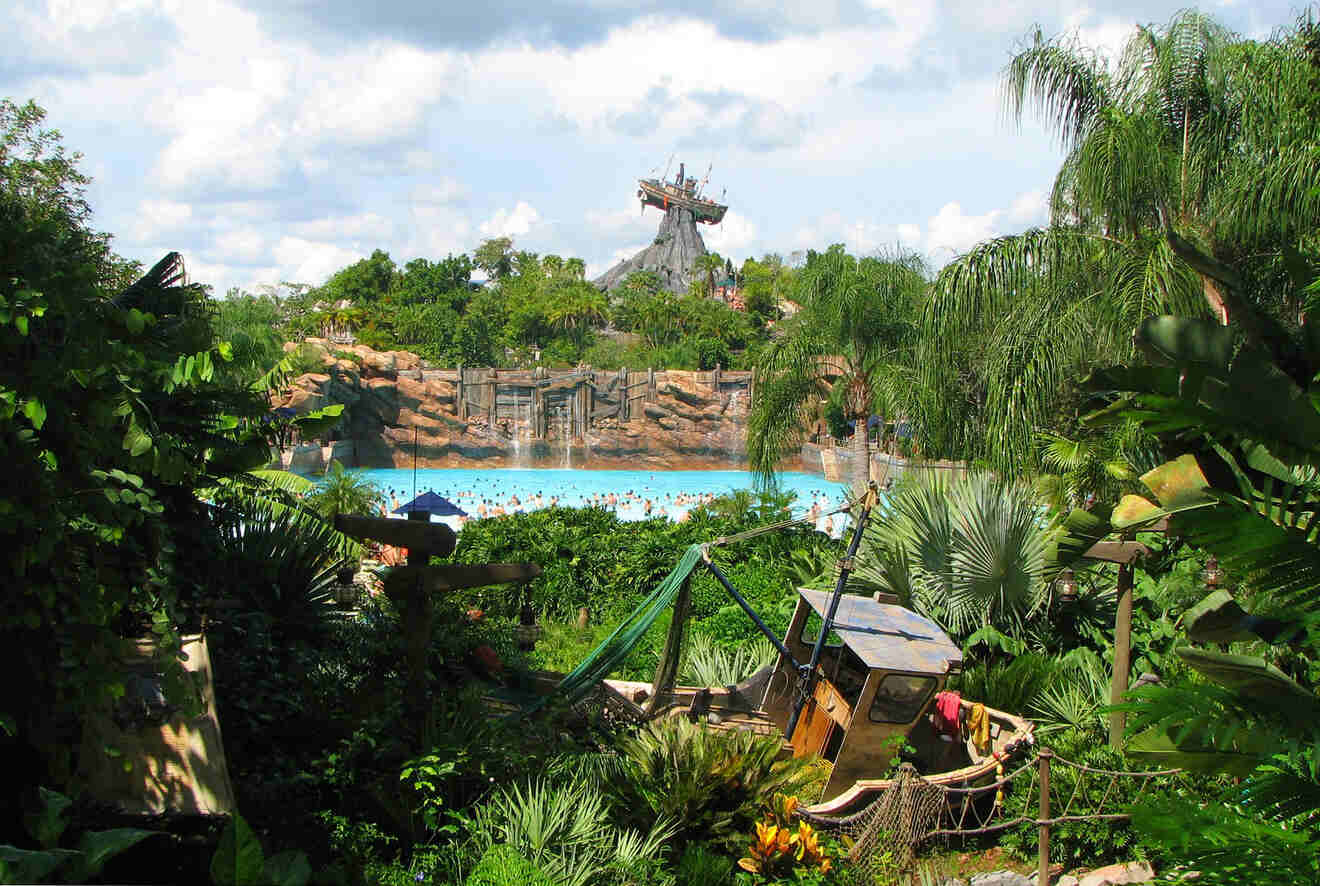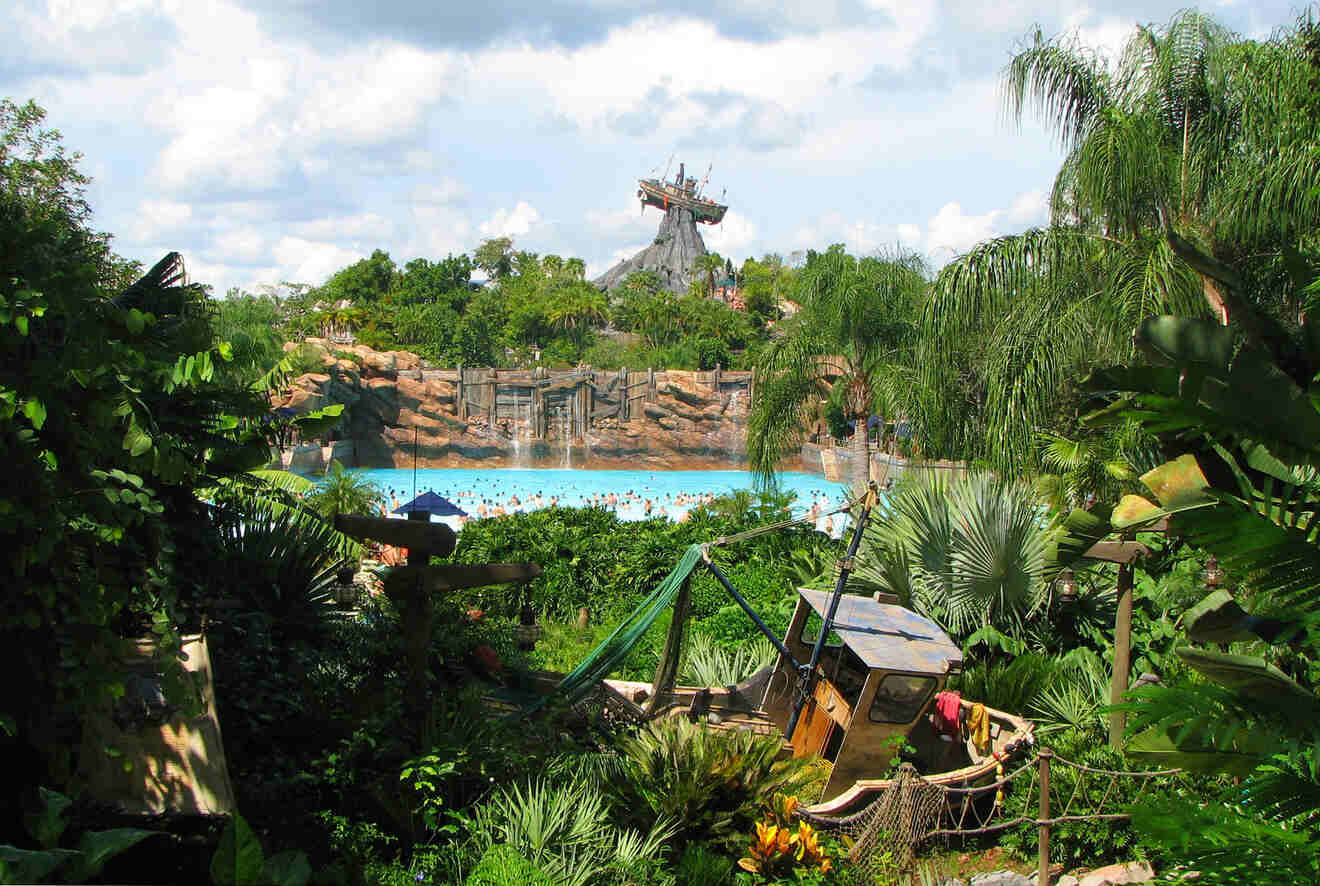 Discover a tropical oasis begging to be explored at Disney's Typhoon Lagoon water park. Plunge down the Crush 'n' Gusher, Humunga Cowabunga, Keelhaul Falls, or one of the other thrilling, paradise-themed water slides. Pop down on a tube at Castaway Creek, and float the day away on this lush lazy river. You can also catch some waves at the Typhoon Lagoon Surf Pool!
7. Disney Springs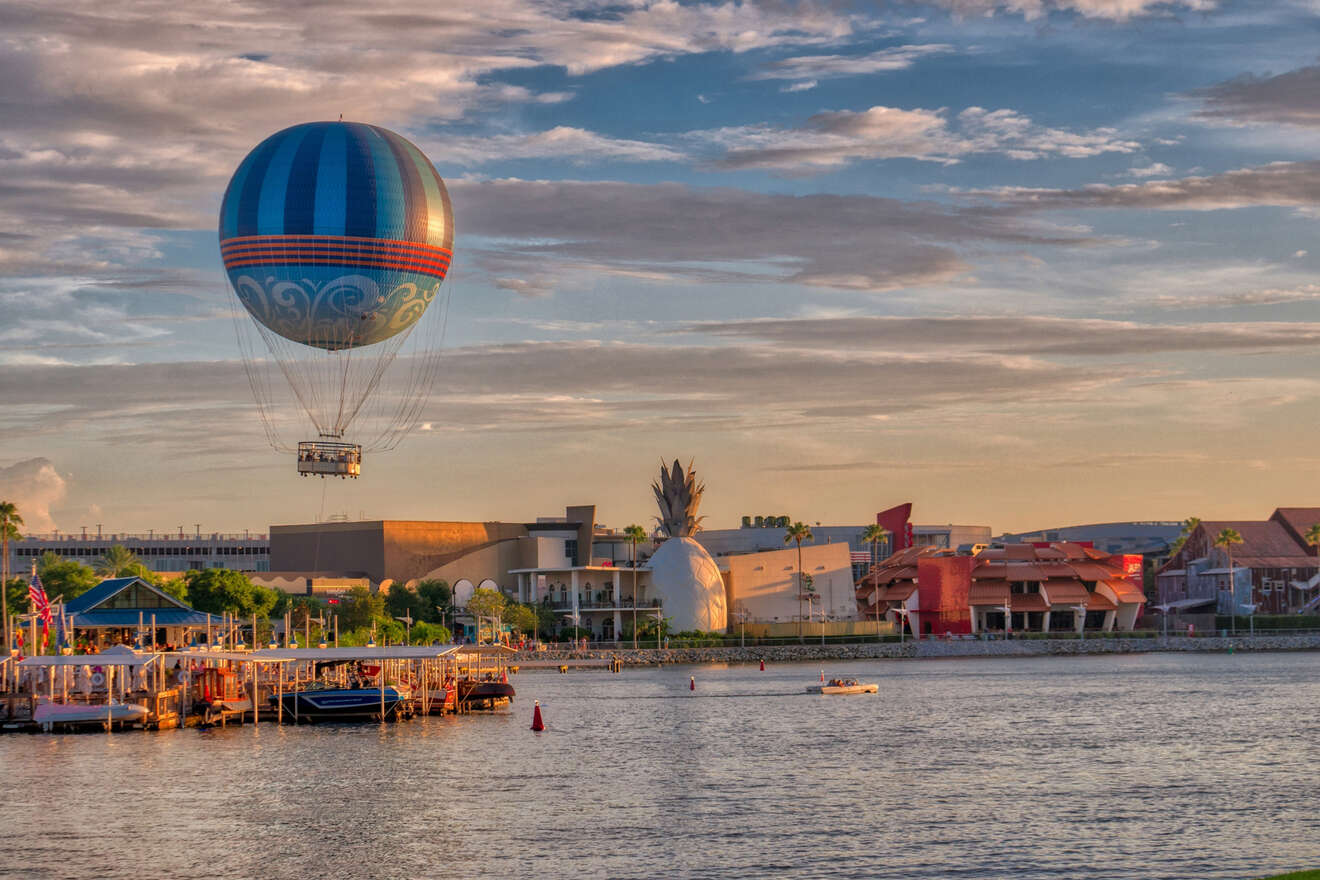 The theme parks and water parks at Walt Disney World all have ticketed admission, but Disney Springs is full of Disney magic with no entrance fee! This sprawling outdoor shopping, dining, and entertainment complex built on the water has something for everyone.
You'll find unique dining options, from world-class restaurants to delicious food trucks for a quick bite. We're talking about everything from Morimoto Asia to an Indiana Jones-inspired watering hole.
Do some shopping at the 100 shops, ranging from the massive World of Disney store to popular brands and stores like Lululemon, Zara, UNIQLO, Anthropologie, Free People, LEGO®, and many more.
No matter the season, there is always something going on at Disney Springs, like daily live music and performances at AdventHealth Waterside Stage and various venues, like House of Blues and Raglan Road.
It's a hub of fun for the whole family, as well as a great spot for date night, offering one-of-a-kind experiences, such as taking a vintage amphicar tour of Lake Buena Vista or getting a bird's eye view of the magic from a tethered balloon adventure from the world's largest hand-painted helium balloon.
Buy your Disney World tickets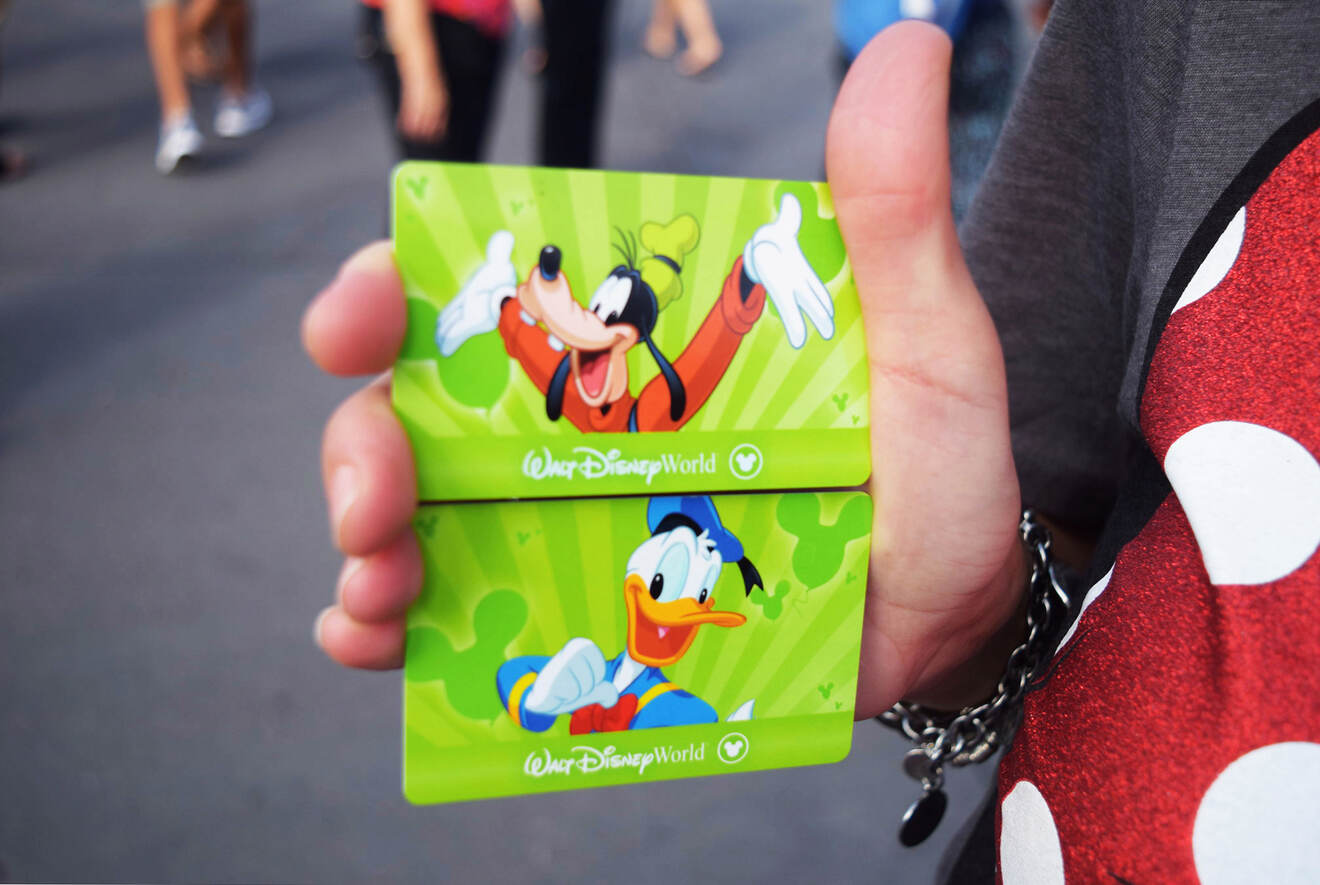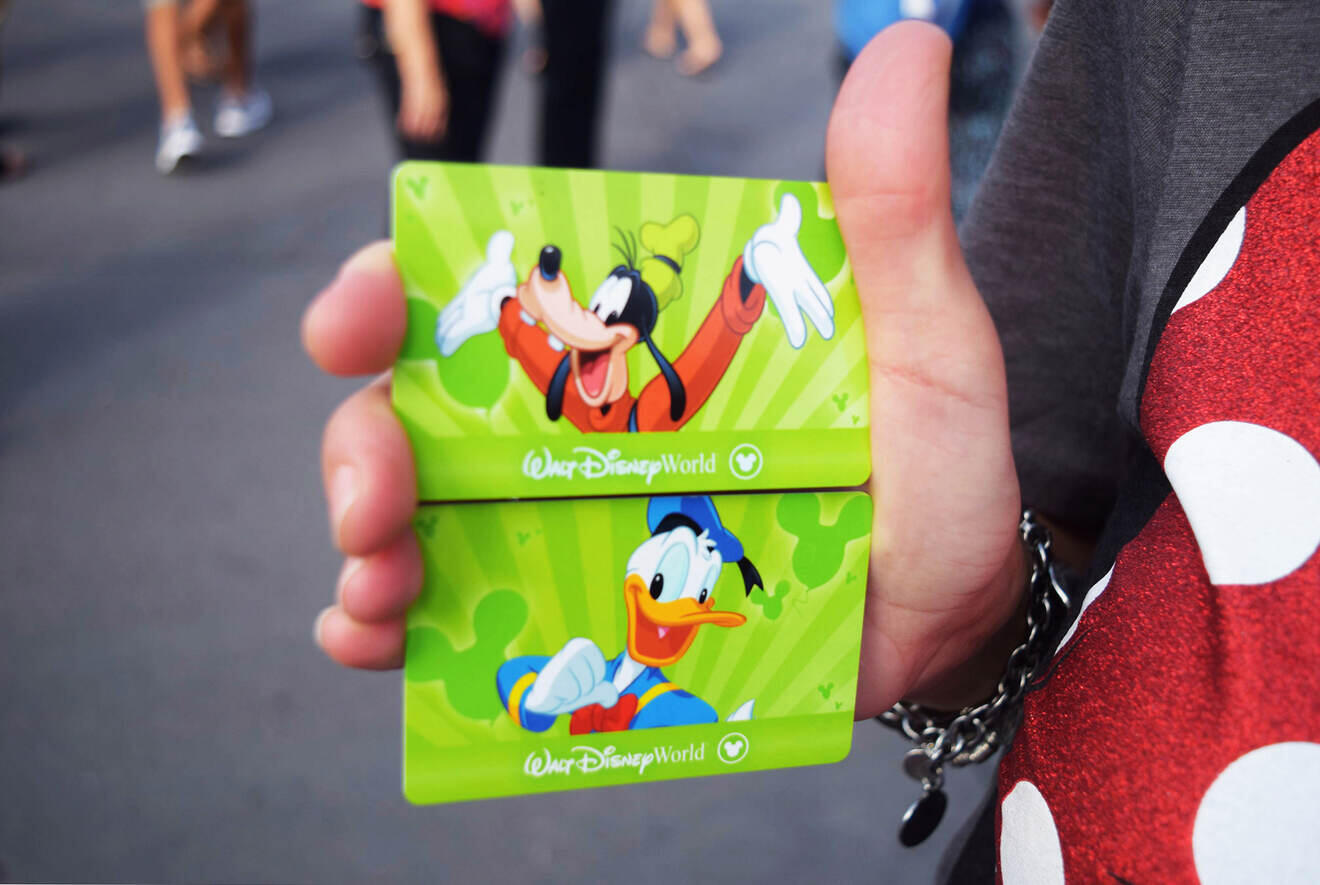 Disney offers multiple types of tickets, as well as vacation packages that include theme park tickets and a hotel stay on Disney property. The vacation packages are a great way to bundle your fun while saving money, and you can customize your Disney World vacation online in just a few clicks.
Selecting the right Disney World tickets can be a little confusing since there are several options at different price points, and you may not know which is best for your Disney trip. I can help out with that as well!
One Park Per Day Tickets – This is the most standard park ticket you can buy, allowing access to one theme park on one day. There is also a separate water park option and an option to combine the two.
Park Hopper Tickets – Park hopping is a great way to maximize your time at Walt Disney World. With a park hopper ticket, you can visit any and all of the 4 theme parks in a single day. Like one park per day ticket, the more days you purchase, the more money you will save.
Park Hopper Plus Tickets – Take park hopping to a whole new level with Park Hopper Plus, which includes all four theme parks and the two water parks, so you can make a splash after a long day in the Florida sun.
Klook – You also have the option to purchase certain Disney World tickets at Klook, where sometimes you can find some really great deals, so I recommend checking this one as well.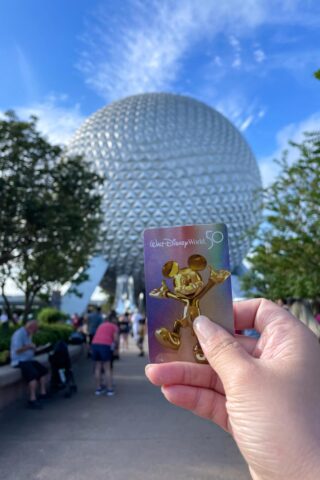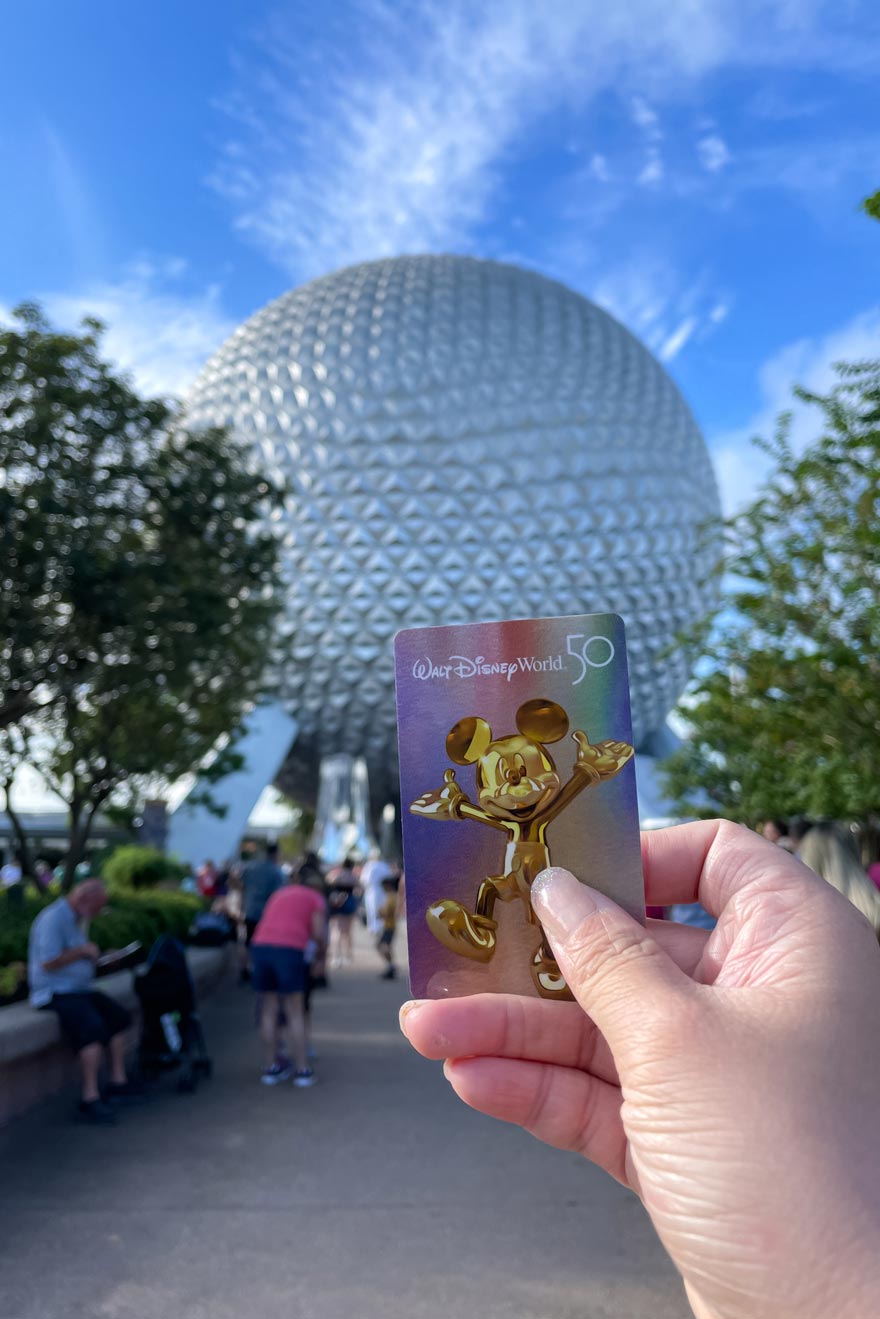 People often wonder if it's even possible to see more than one Disney park in a single day, with so much to see and do at each one. With the exception of Magic Kingdom, you can absolutely experience everything at a Disney theme park in just half a day if you plan properly!
Park hopper tickets are 100% worth it, especially if you're planning to visit Disney World for 2-3 days – you'd be able to see all 4 Disney theme parks in half the time!
I don't recommend attempting more than 2 Disney parks in a single day. However, it's entirely possible to do more (if you're feeling adventurous) since the transportation available within Walt Disney World is really awesome and complimentary! My personal advice for the perfect Disney World vacation is to pick 1-2 theme parks to explore each day so you don't miss out on the top attractions.
NOTE: All ticket prices vary based on the park, date, and number of days. The more days you purchase, the more you save on park tickets. Disney also offers special discounts for Florida residents.
Make use of Disney Genie+ and Lightning Lane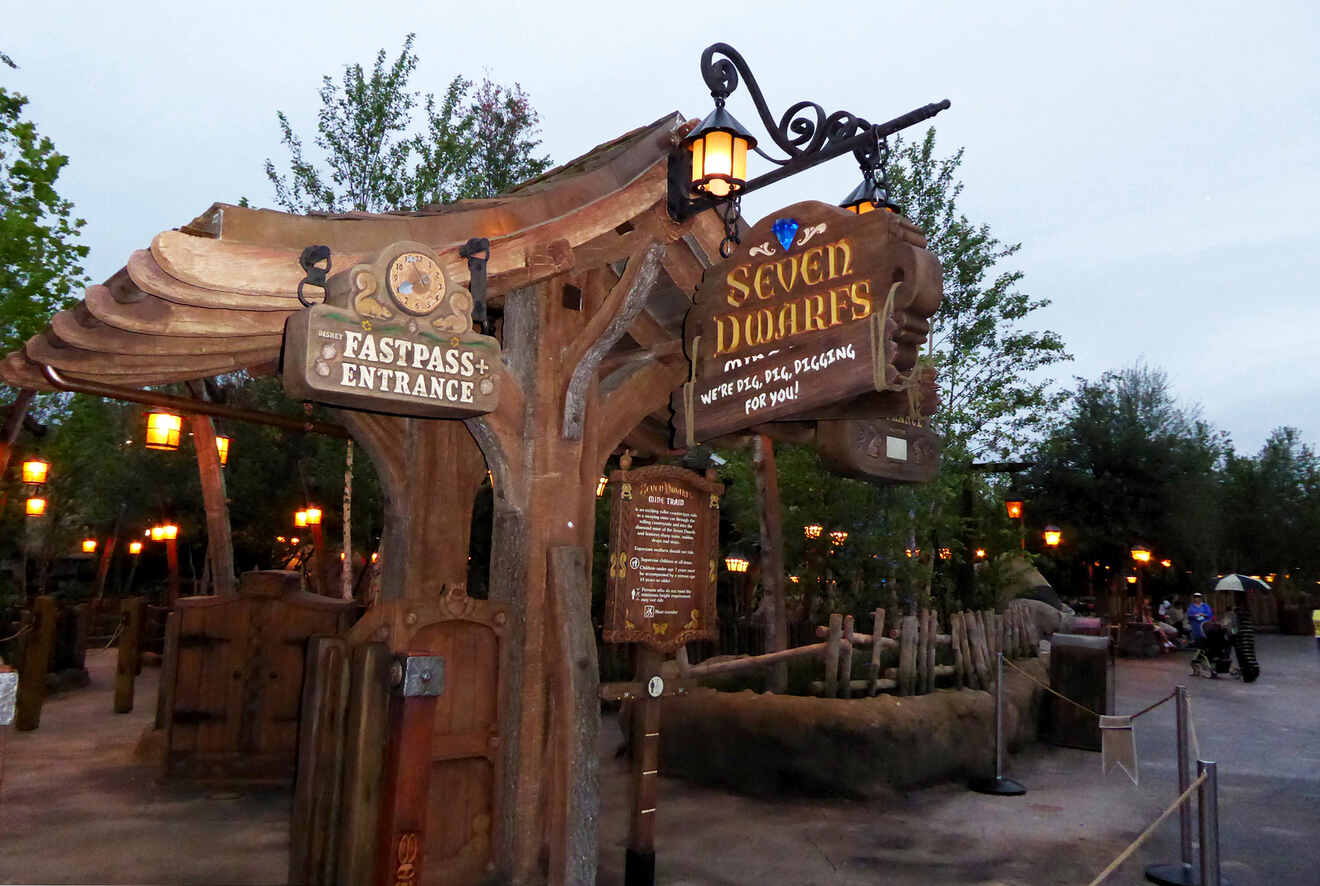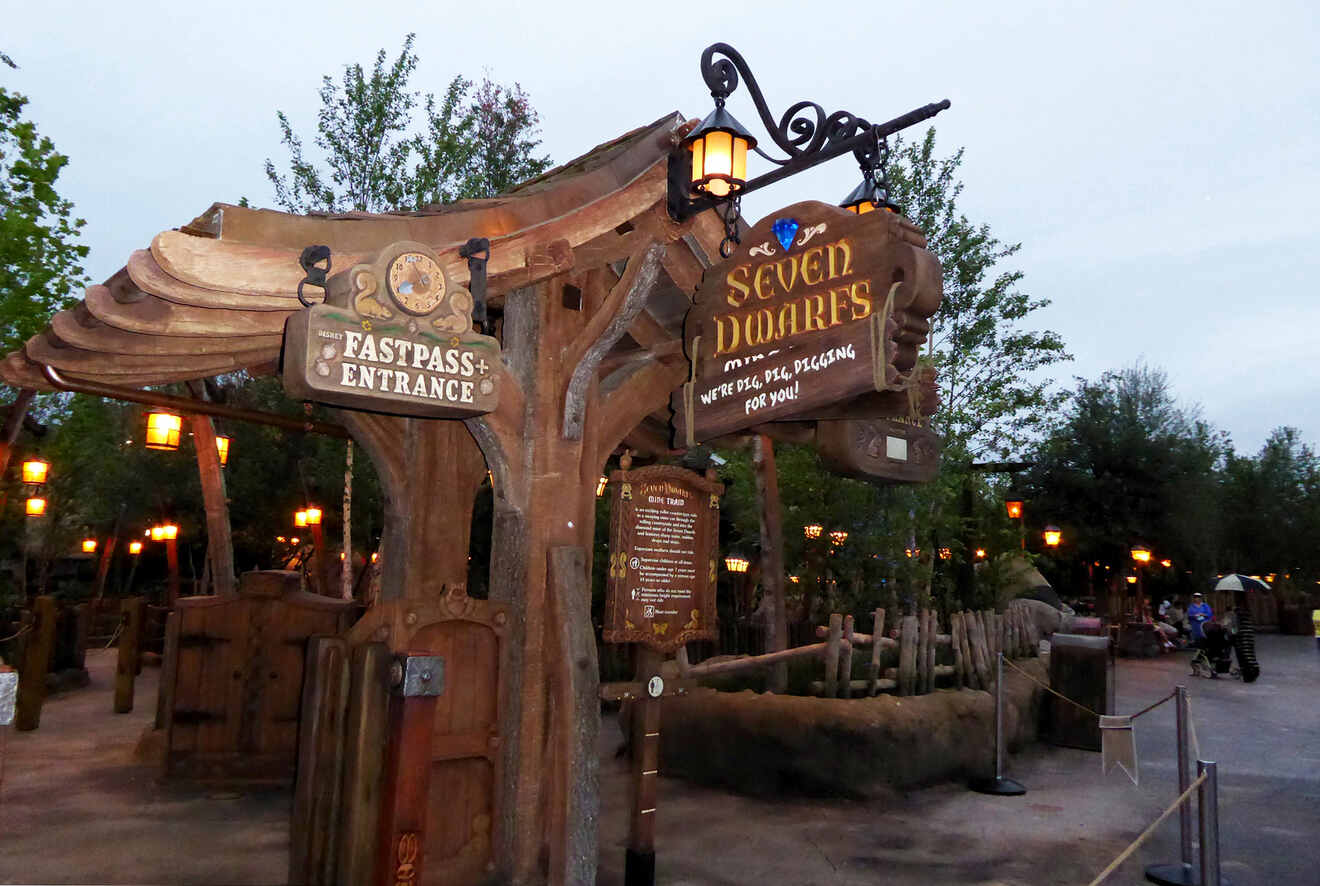 The absolute best way to save time on your Disney World trip is by adding Genie+ to your ticket – you'll cut down on so much time you would have spent waiting in lines.
Genie+ is essentially Disney's skip-the-line pass, allowing you to use attractions' Lightning Lanes. Lightning Lanes are, as the name implies, fast tracks to the front of the queue. Adding Genie+ to your park day gives you access to many of the Lightning Lanes throughout the parks, and I find it worth the extra cost, which starts at US$15 per ticket per day.
A few of the most popular attractions at Walt Disney World, like Seven Dwarfs Mine Train at Magic Kingdom, Guardians of the Galaxy: Cosmic Rewind at EPCOT, and Avatar Flight of Passage at Animal Kingdom, are not included in Genie+ but offer individual Lightning Lanes available for purchase. This option makes sense if your heart is set on a specific ride, but you don't want to commit to a 2-hour wait time.
How to make the most of Genie+
You can add Genie+ to your entire trip when booking your Disney World vacation online, but you can also add it later, typically even the day of.
To get the most out of Genie+, make sure you've signed up for it at least one day before the first day you'll be using it, as you can make your first Genie+ attraction selection as soon as the park opens (and as early as 7 AM if you're staying at a Disney hotel). Popular attractions book up first thing! You can use Genie+ for any Disney park you visit on the day you purchase it for.
Make theme park reservations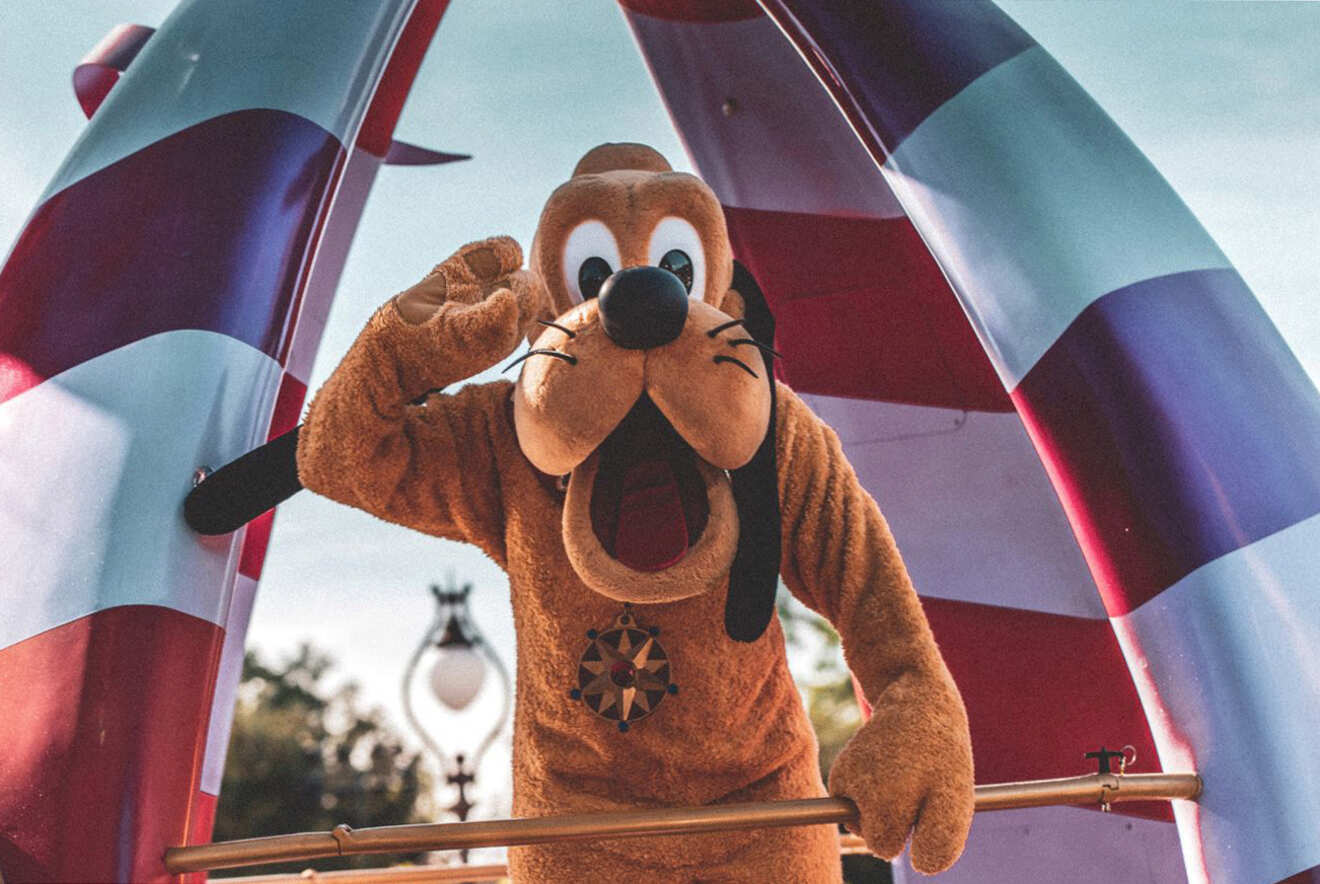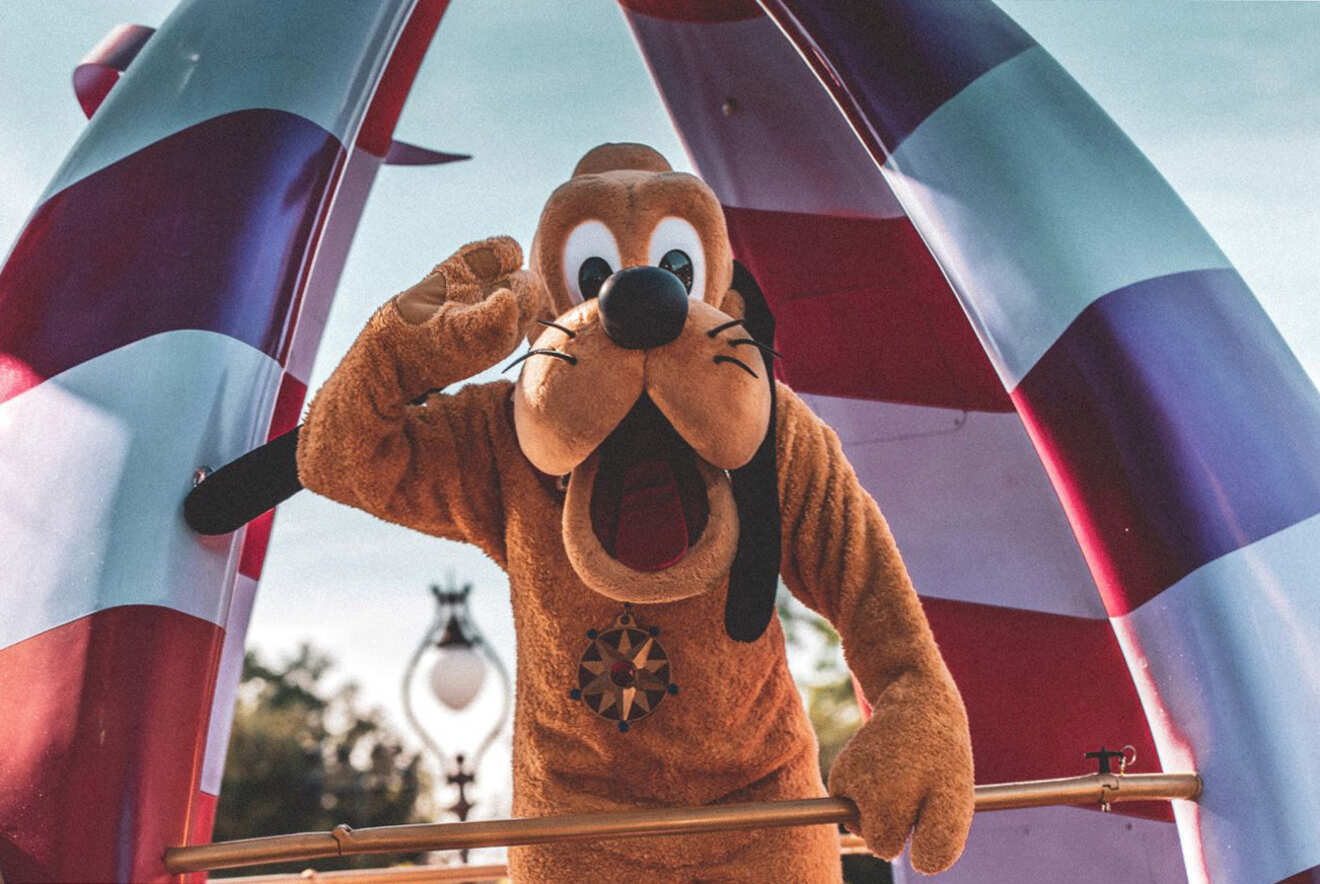 In addition to buying your theme park tickets, you'll also need to make park reservations for the days you're visiting Walt Disney World theme parks. You only need to make a reservation for the first park you're visiting.
With a park hopper ticket, you can visit any of the other Disney parks after 2 PM, as long as they haven't reached capacity.
You must check in at the park your reservation is at first, or you won't be able to park hop! If you don't have a reservation in at least one park, even with a park hopper ticket, you won't be able to visit any.
It's not uncommon for one or more of the Disney parks to have their reservations completely booked up, especially during popular times like holiday weekends. I highly recommend checking theme park availability for your desired dates PRIOR to buying tickets and making your park reservations immediately after purchasing.
Availability differs depending on whether you have park tickets, annual passes, or are staying at a Disney hotel, so be sure to toggle that option on the theme park availability calendar to see the most accurate information.
You do not currently need reservations to visit one of the Walt Disney World water parks or Disney Springs.
Get around Walt Disney World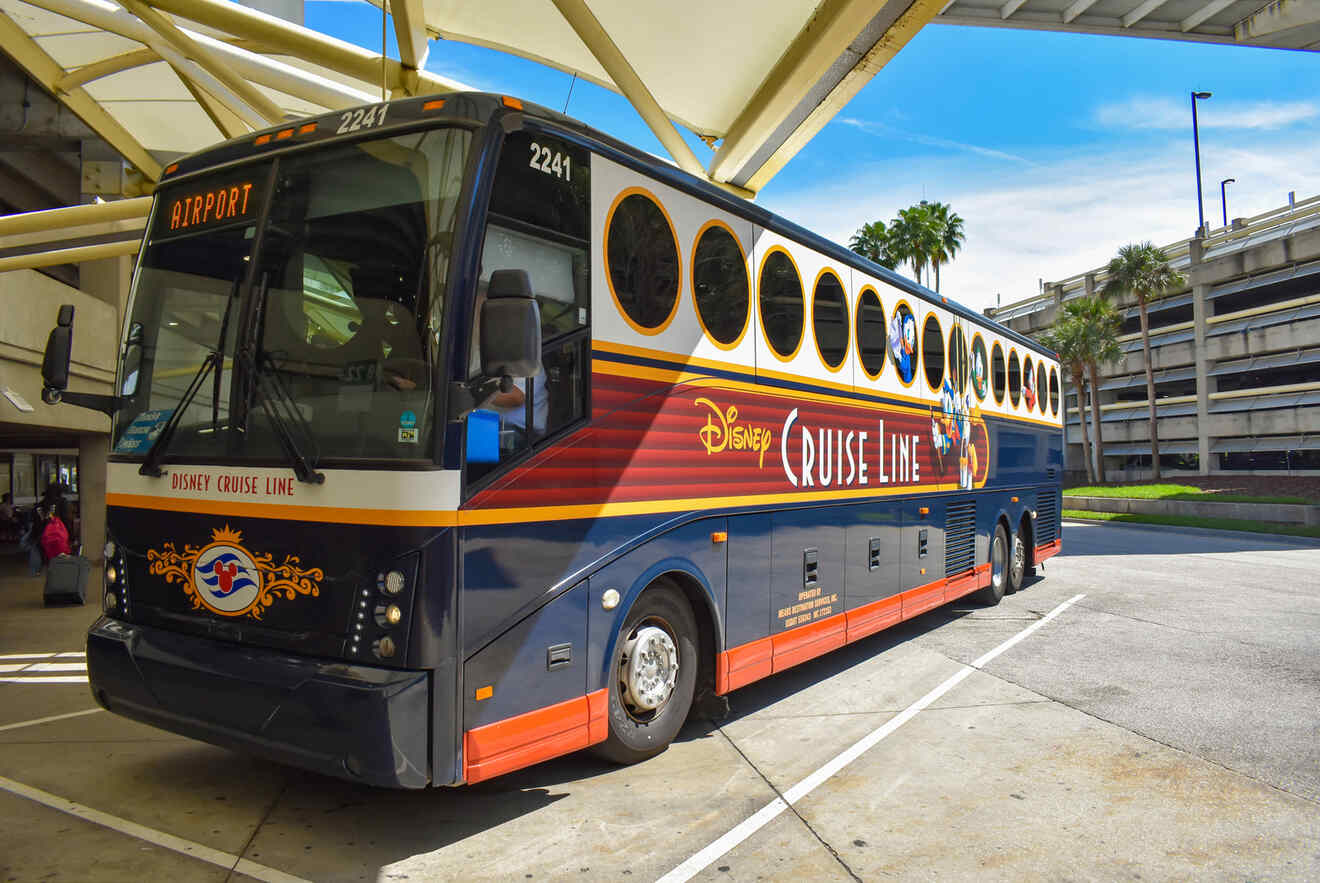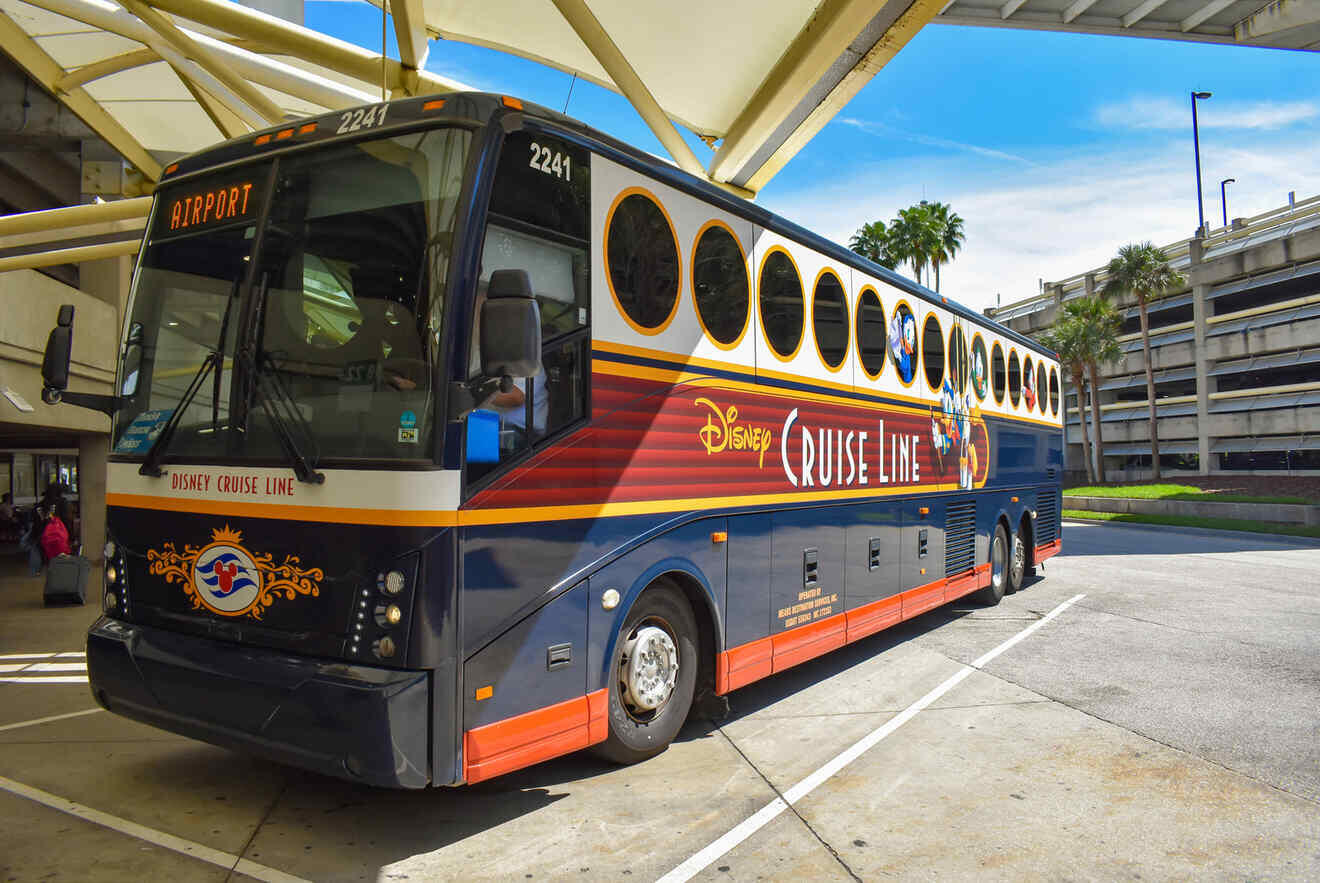 I mentioned above how the complimentary transportation at Walt Disney World is fantastic, so let's chat about what makes it so great! You can easily hop from park to park, from resort to park (and vice versa), and from park or resort to Disney Springs (and back), and leave the driving to someone else!
Walt Disney World® Buses – The buses run every 20 minutes, starting from 45 minutes before the park opens to approximately an hour after the park closes. You can hop from park to park via the buses, and if you're staying at a Walt Disney World Resort hotel, you can use the buses to navigate from your resort to the parks and vice versa.
Walt Disney World® Monorail – Known as the highway in the skies, the monorail stops at Disney's Contemporary Resort, Disney's Polynesian Resort, Disney's Grand Floridian Resort, the Ticket & Transportation Center (TTC), and the front gates of the Magic Kingdom! You can also take the monorail from the Magic Kingdom to EPCOT (and EPCOT to Magic Kingdom) by transferring at the TTC.
Disney Skyliner – These whimsical aerial gondolas have magic Disney touches and connect EPCOT (from the World Showcase side) with Hollywood Studios and 4 Walt Disney World Resort hotels: Disney's Art of Animation Resort, Disney's Caribbean Beach Resort, Disney's Pop Century Resort, and Disney's Riviera Resort.
Boat transportation – Walt Disney World offers various boat transportation throughout Disney property. There is a ferry that connects the Tickets & Transportation Center to Magic Kingdom, a boat that launches to and from Magic Kingdom at surrounding deluxe resort hotels, and a boat that goes between EPCOT and Hollywood Studios.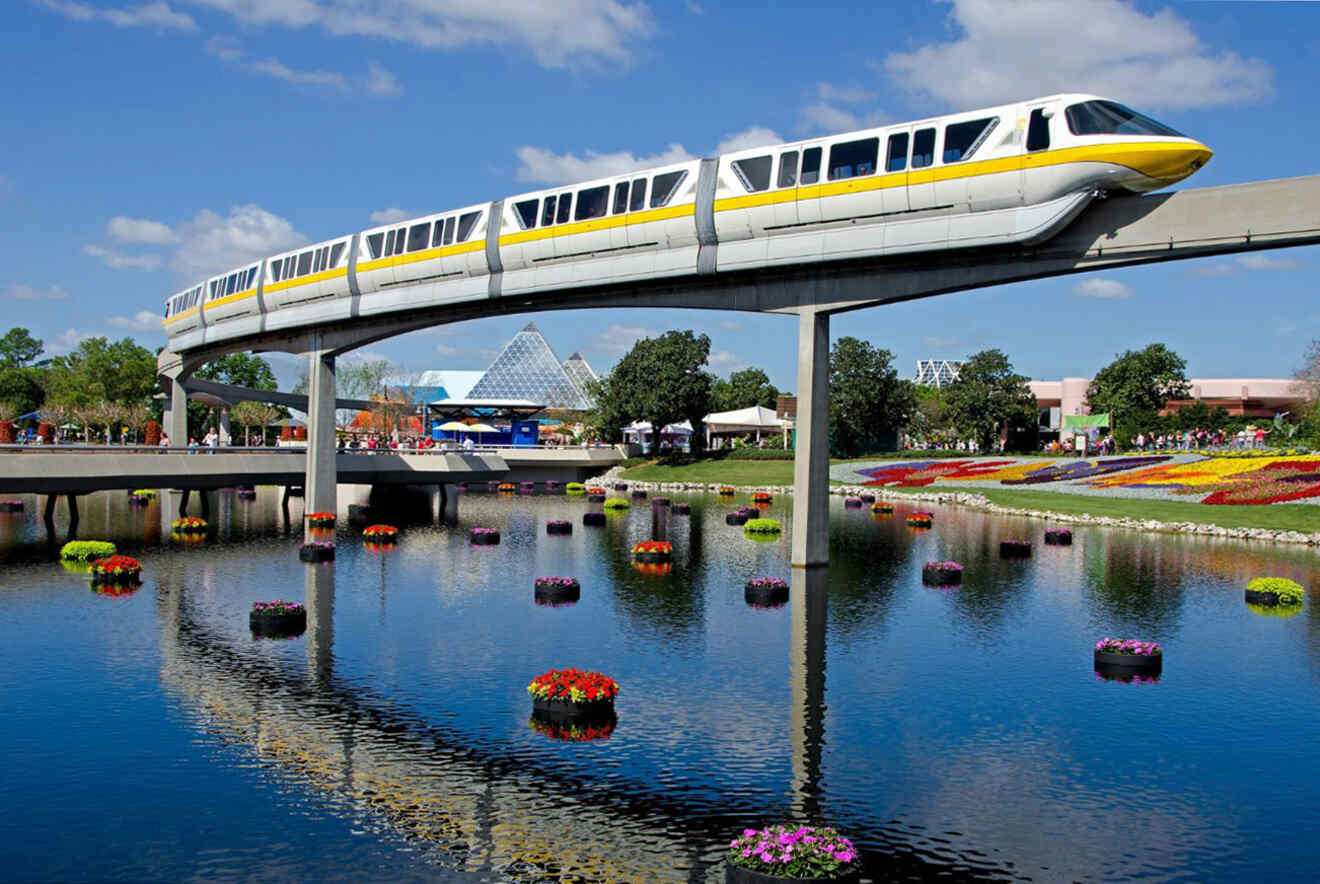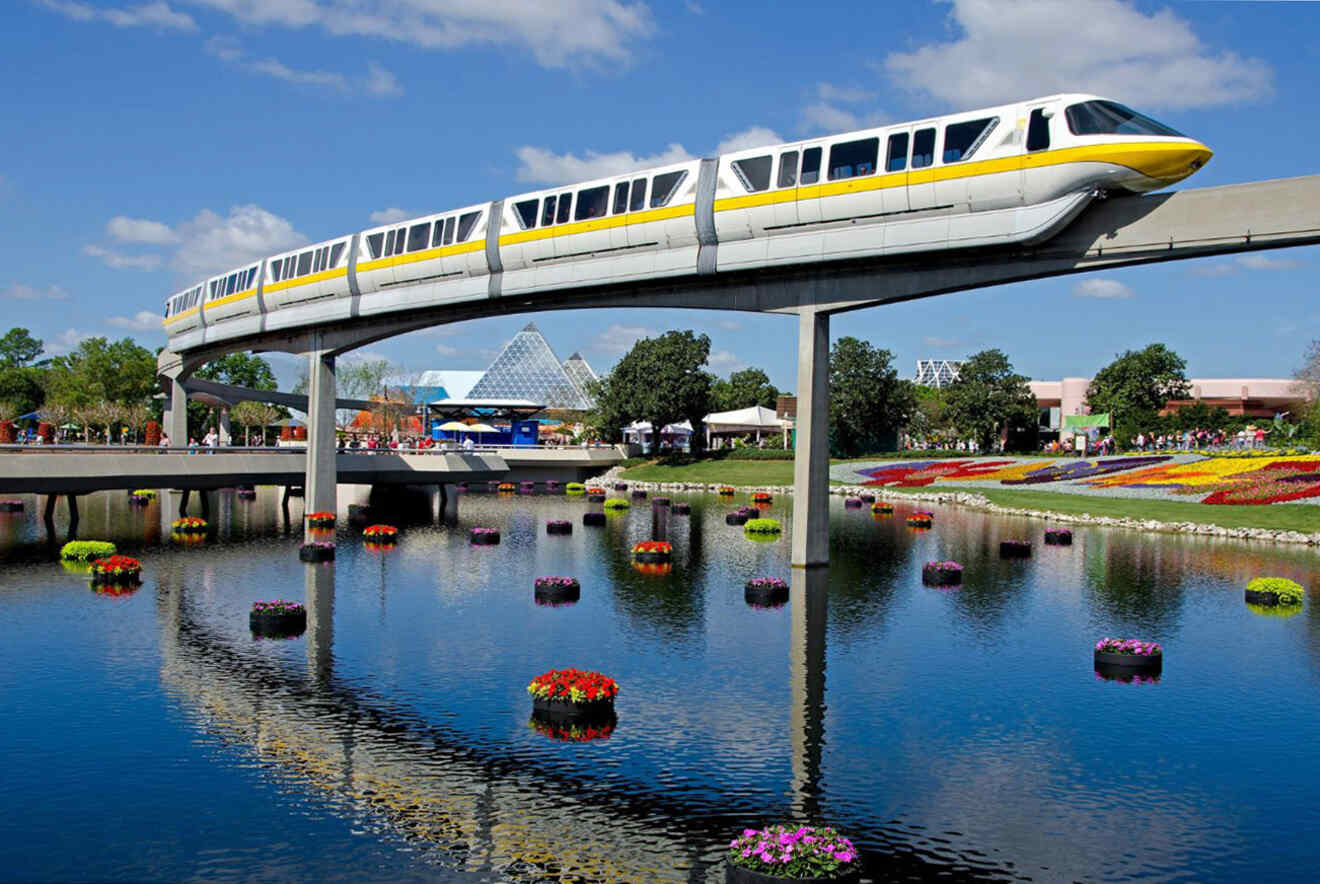 Select Walt Disney World resort hotels offer their own additional transportation options. For example, you can take a boat to and from Disney Springs at the following resorts: Disney's Port Orleans Riverside, Disney's Port Orleans French Quarter, Disney's Old Key West Resort, and Disney's Saratoga Springs Resort & Spa.
If you have your own car or a rental car and prefer to drive, there is ample parking available at all theme parks, water parks, and Disney Springs. Parking at the water parks and Disney Springs is complimentary, while parking rates at the Disney theme parks are as follows:
Standard parking – US$25 per day
Preferred parking – US$45-50 per day
Oversized vehicle parking – US$30 per day
You only need to pay for parking once per day, even if you park hop. Walt Disney World Resort hotel guests can park for free at all the parks – it's one of the perks of staying at the Disney World hotels, which we'll go over later in the article.
Grab a bite at Walt Disney World dining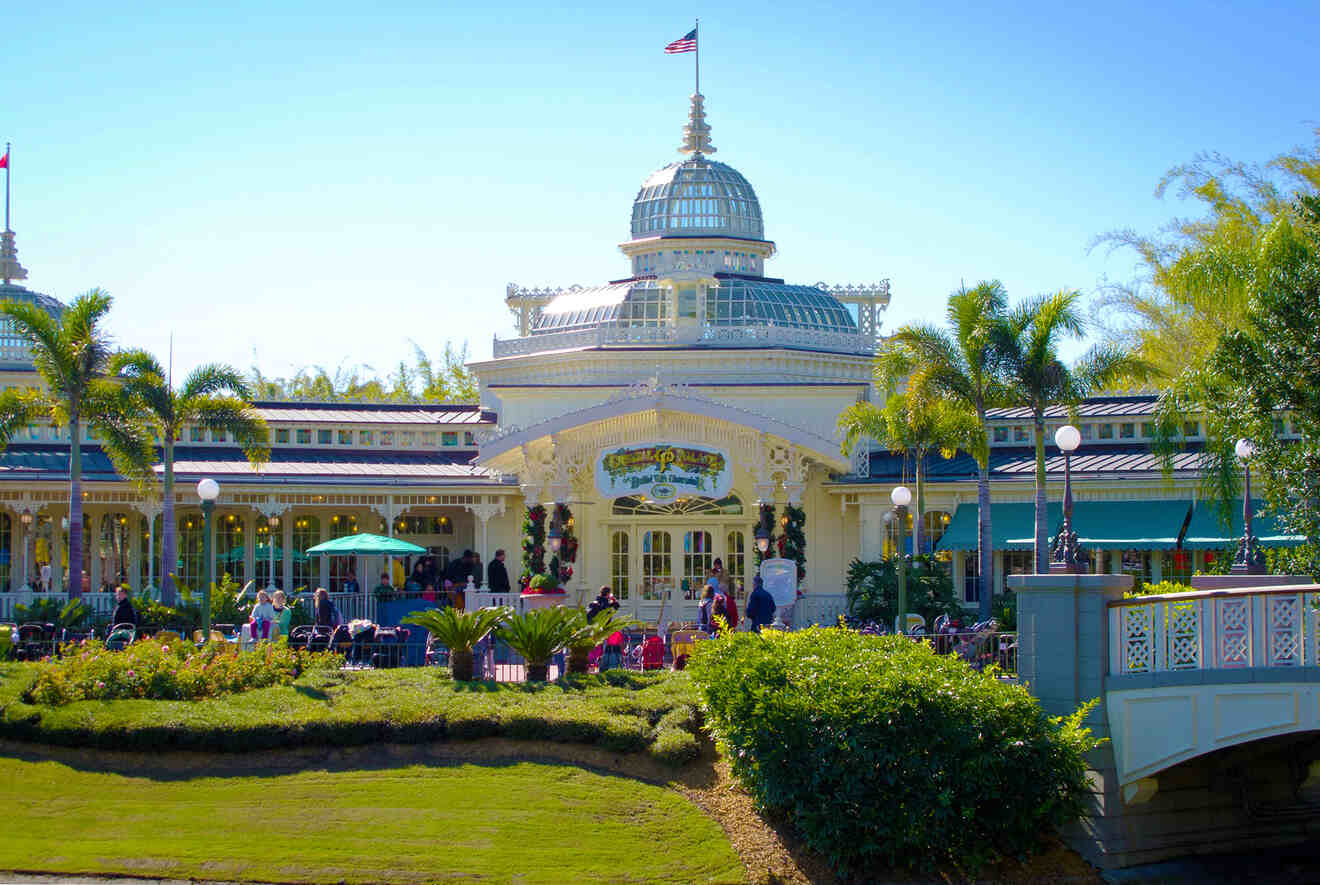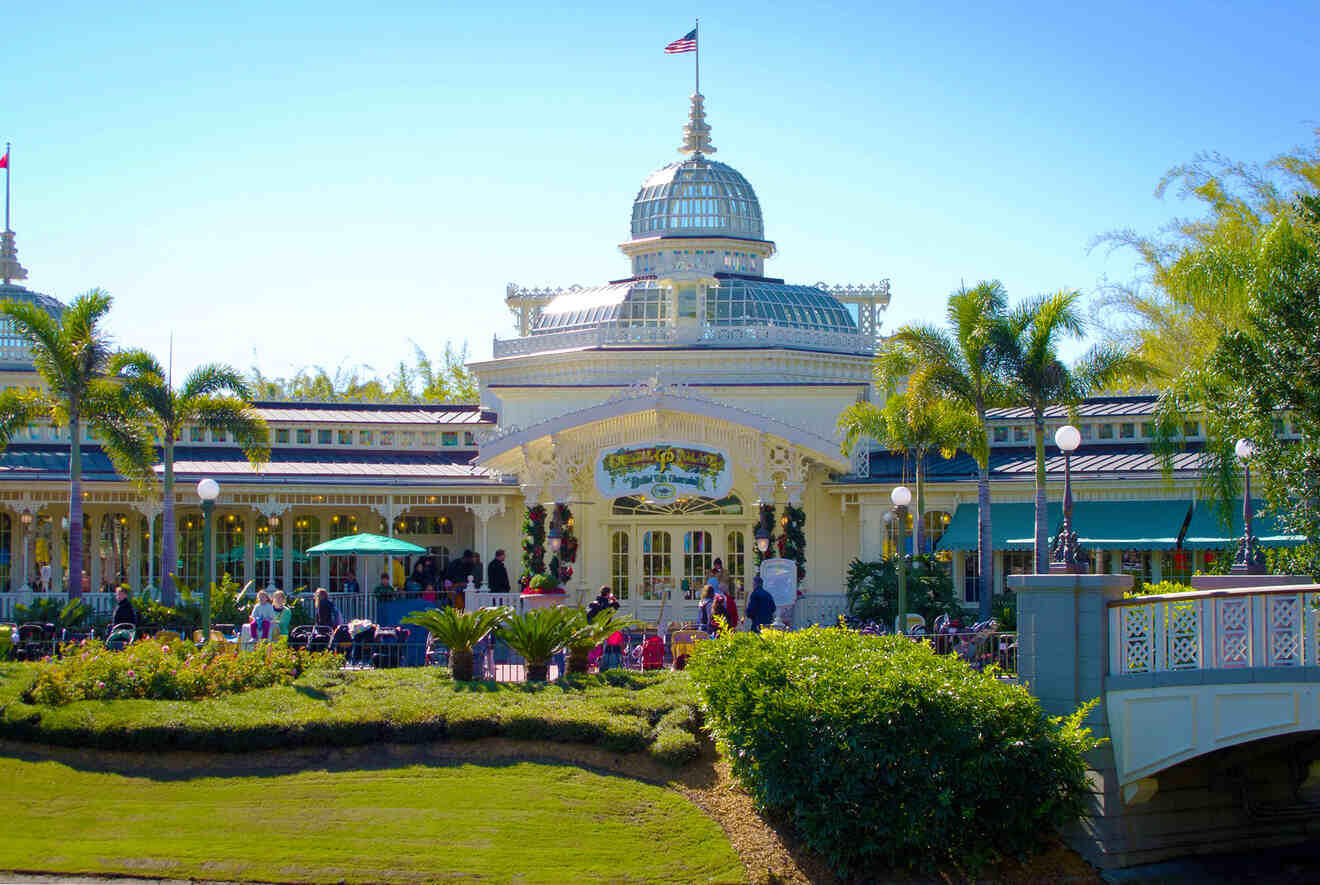 At Walt Disney World, theme park food doesn't mean just popcorn and corn dogs. One of the absolute best things about a Walt Disney World vacation is the food. There are so many incredible restaurants – you could easily spend a whole trip doing nothing but eating!
Quick service eateries
There is no shortage of delicious quick-service eateries at Walt Disney World either, so when you're ready to fuel up for more fun at a theme park, you can easily find something good to eat. Many of the quick-service restaurants offer mobile ordering, which is a huge time-saver. Place your order on the My Disney Experience App, select a pickup time, and show up when it's ready! No long lines, no hassle!
You can easily get by without making a single dining reservation on your next Disney vacation. In fact, sticking to quick-service meals over full-service is a good way to make your trip more budget-friendly. But if you are interested in Disney's full-service dining, there are a few things you need to know.
Full-service restaurants
Advanced dining reservations are highly recommended for the majority of full-service restaurants at Walt Disney World Resort. However, I always encourage people who missed out on reservations to inquire in person the day of. Sometimes the restaurants are able to accommodate walk-ins, especially smaller parties, and it never hurts to ask! I once got a reservation at Be Our Guest that way!
If you're traveling with kids, look into restaurants that offer character dining experiences, like Crystal Palace at Magic Kingdom, where you can meet Winnie the Pooh and the gang. Of all dining reservations, character dining tends to fill up the quickest.
When to make dining reservations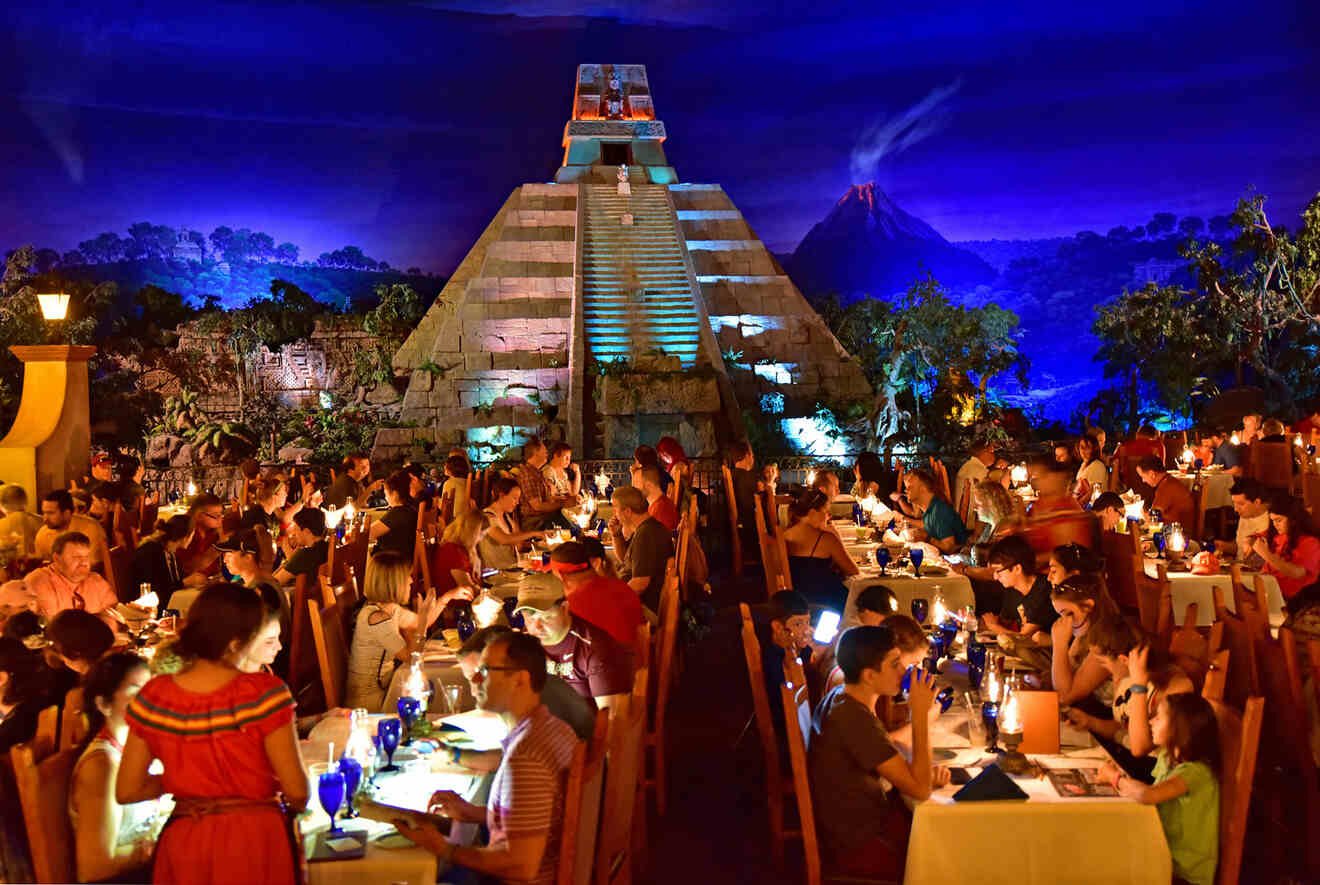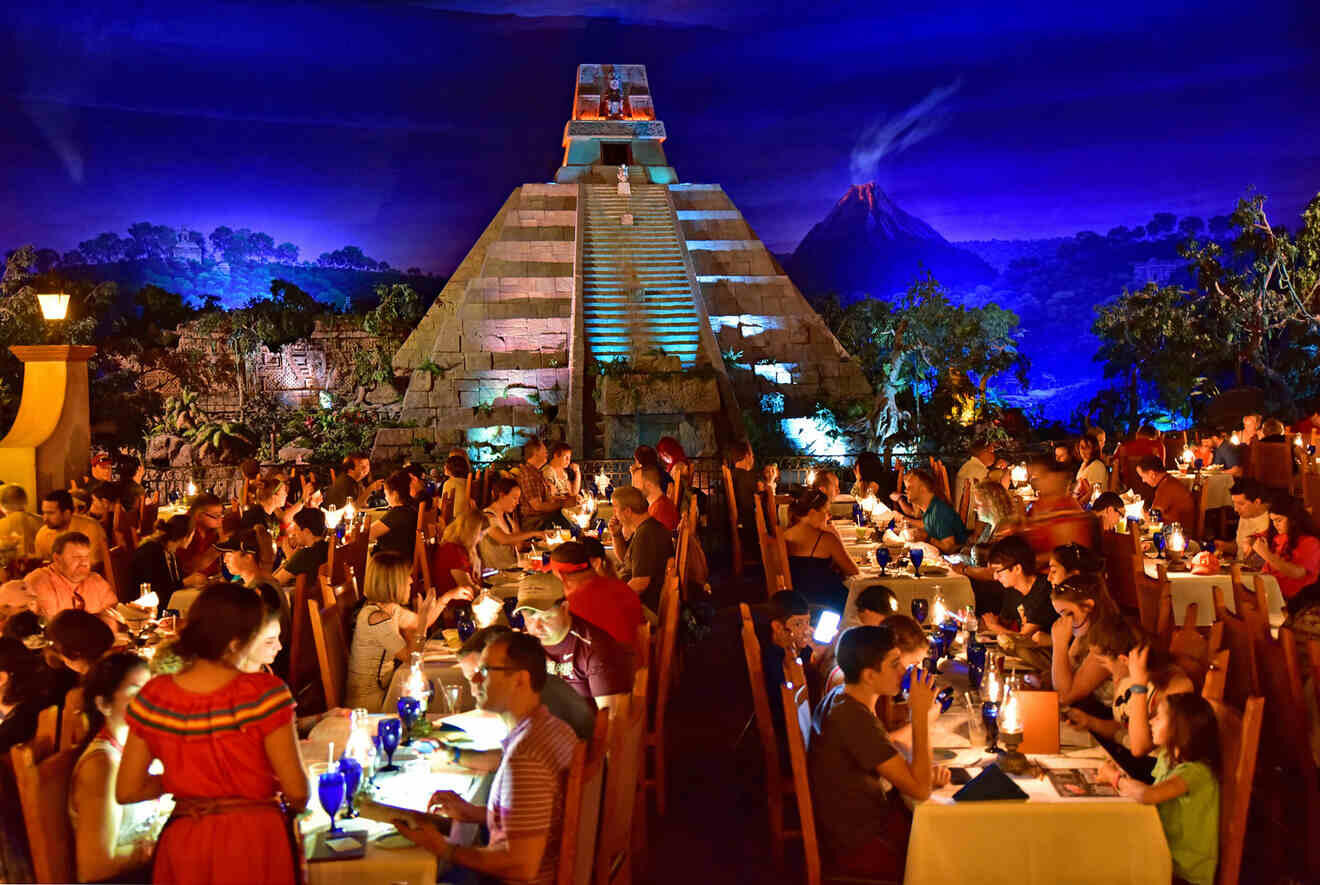 You can make dining reservations up to 60 days in advance. The most in-demand Walt Disney World restaurants – Space 220 at EPCOT, breakfast at Topolino's Terrace at Disney's Riviera Resort, California Grill at Disney's Contemporary Resort, Be Our Guest and Cinderella's Royal Table at Magic Kingdom, and renowned Victoria & Albert's at Disney's Grand Floridian Resort and Spa, just to name a few – fill up without moments of going live.
You'll need a credit card on file to book a reservation, but it won't be charged unless you don't show up. You have up to 24 hours before the reservation to cancel, which can be done easily through the My Disney Experience app. Some dining experiences at Walt Disney World do require a deposit to reserve a time, but you'll be notified of this when booking online.
Check out the complete list of Walt Disney World restaurants so that you can plan your advance dining reservations accordingly!
PRO TIP: To nab a coveted reservation at one of these super popular restaurants, you'll want to be online and ready to book at 5:45 AM EST, exactly 60 days out. I'm not ashamed to admit I've had to set a lot of very loud, consecutive alarms for this very reason!
HACK: Many cancellations happen in the days leading up, so it's a great time to grab that hard-to-find reservation you've been searching for! Check the app periodically 24-48 hours before you want to dine – this method has worked so well for me in the past when it comes to rare reservations!
Where to stay at Walt Disney World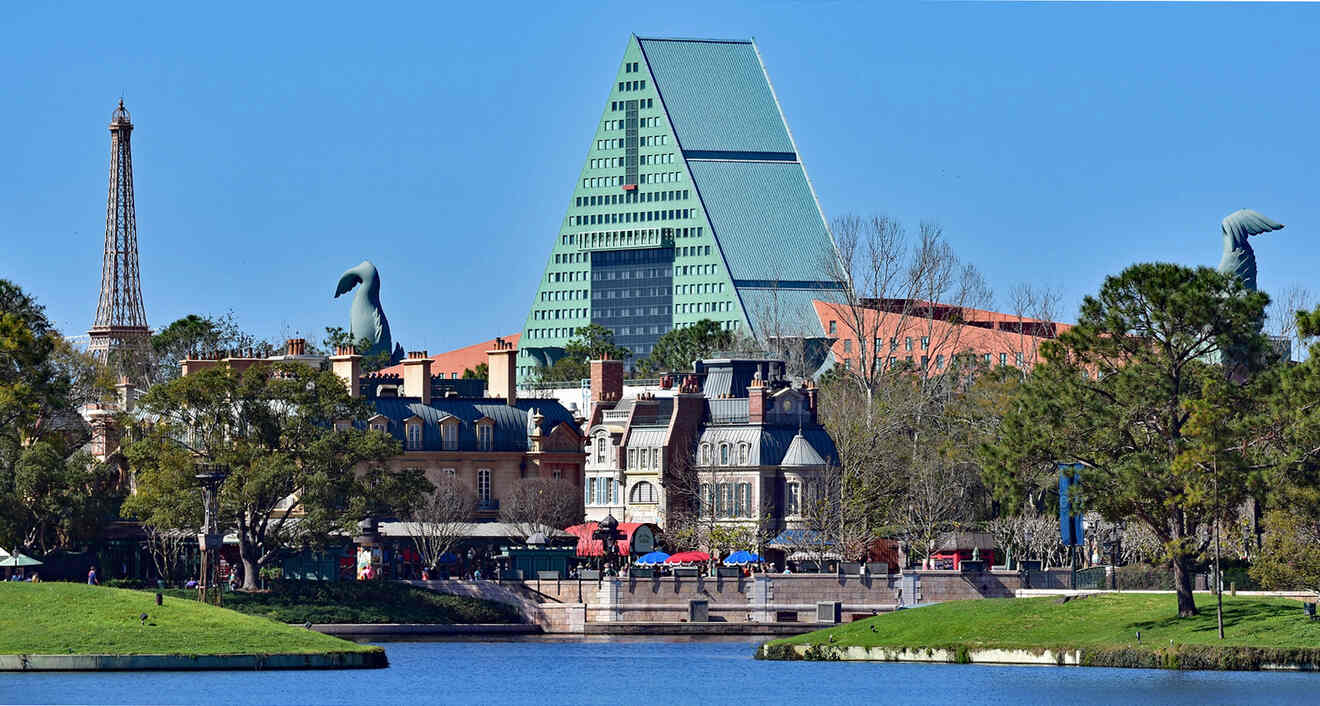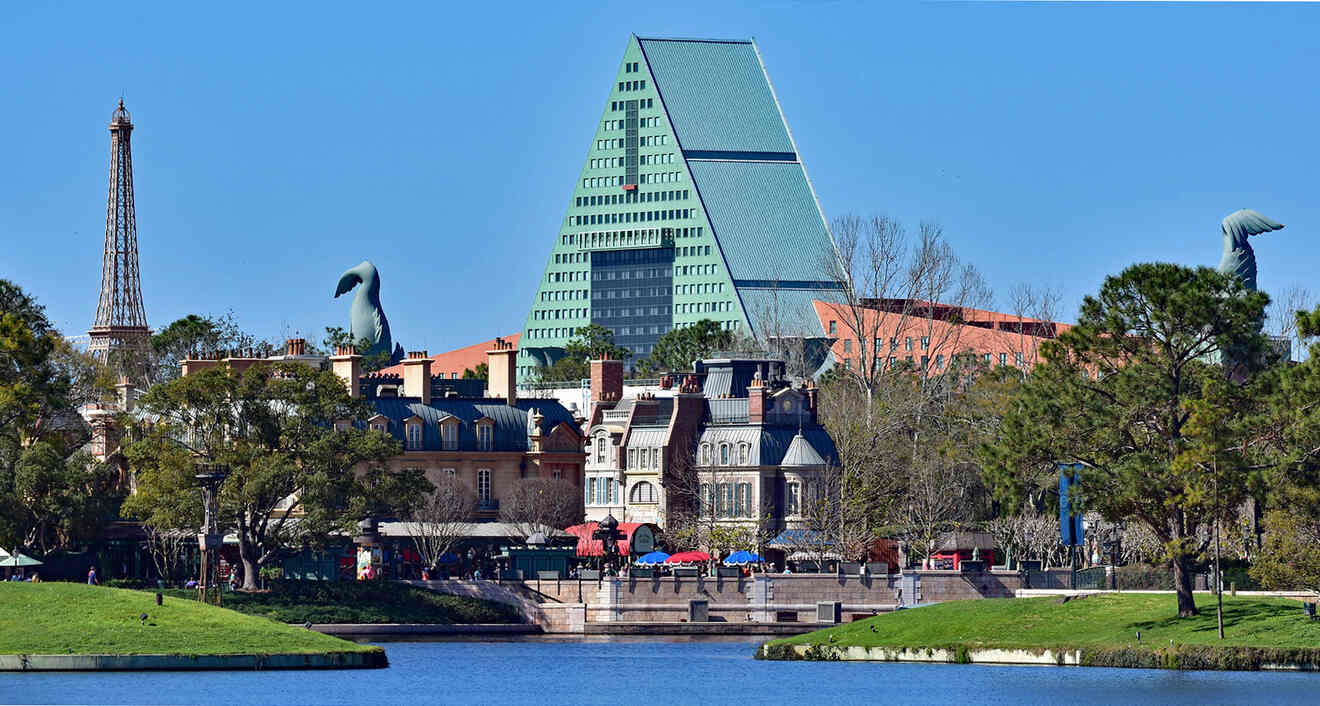 We've covered Disney World theme parks, water parks, tickets, transportation, and dining! Now it's onto lodging and how to pick where to stay on your next Disney vacation.
One of the most commonly asked questions is whether to stay at a Walt Disney World Resort or to save money by staying off-property. Walt Disney World Resort hotels are significantly pricier than other local hotels in the area, so you might be wondering if it's worth it to stay at a Disney hotel.
Let's take a look at some of the pros of staying at the Walt Disney World Resort:
✔️ Incredible, unique, and immersive theming with magical touches throughout
✔️ Early entry to the theme parks
✔️ Extraordinary customer service and attention to detail Disney is known for
✔️ Complimentary transportation to and from parks and Disney Springs
✔️ Free parking throughout Walt Disney World
✔️ Amazing pools for both kiddos and adults at every hotel
✔️ Easy to go back to your room at any time throughout the day to rest
For many, this justifies the extra cost of staying on Disney property. There are 3 pricing tiers of Walt Disney Resort hotels, serving a range of budgets.
Luxury resorts at Walt Disney World (app. US$450+ per night)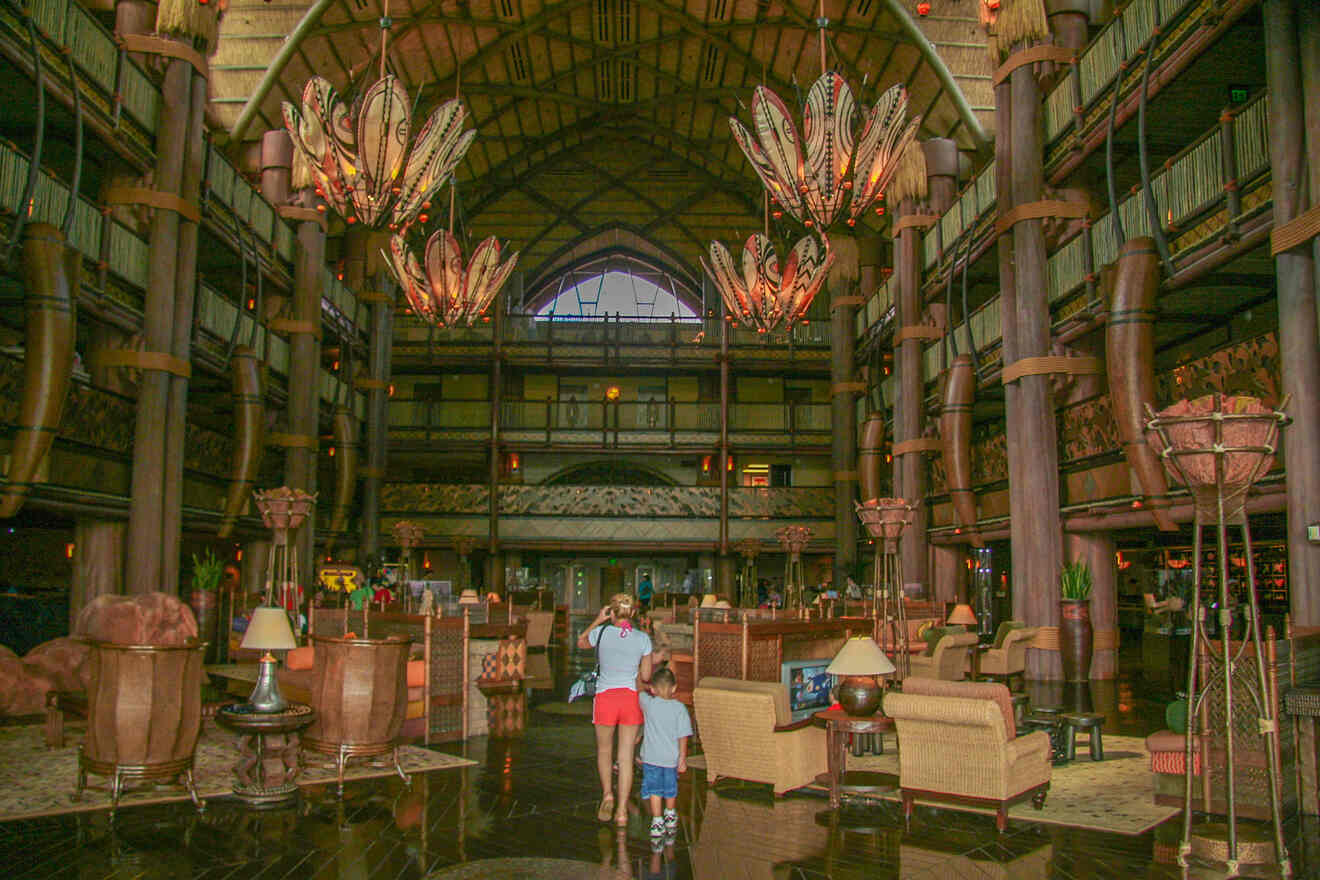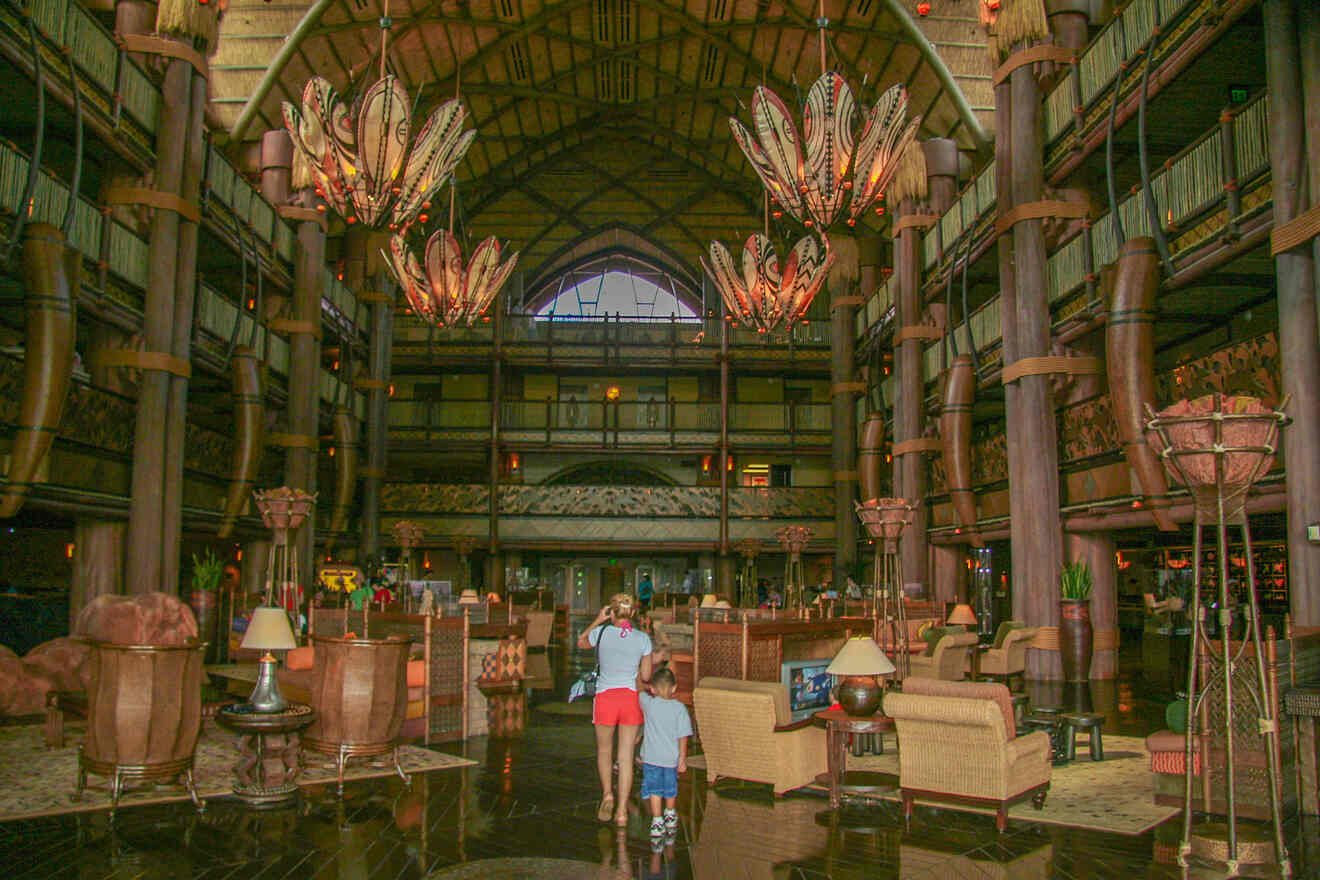 Luxury meets magic at Disney World's deluxe resorts, complete with everything you need for the perfect Walt Disney World vacation. These are the nicest resorts on Disney property and, of course, the most expensive. They're gorgeously themed and designed, boast a variety of amazing dining options, and come with additional perks as well: prime locations right near the theme parks and extended park hours after they close!
Disney's Animal Kingdom Lodge – You won't believe you're still in Florida at this stunning resort inspired by Africa, featuring views of 4 lush savannahs teaming with over 30 species of exotic African wildlife. Imagine sipping coffee next to a giraffe!
Disney's Beach Club Resort – This resort immerses you in a New England beach town with the best pool on all of Walt Disney World Resort property. It's located on Disney's Boardwalk, an entertainment district based on boardwalks of bygone days, which is within walking distance from EPCOT.
Disney's Boardwalk Resort – Also located on Disney's boardwalk, this waterfront resort hearkens back to a picturesque past on the New Jersey seashore with turn-of-the-century charm.
Disney's Contemporary Resort – The monorail goes right through this ultra-modern resort, split down the middle for the monorail track! Stay at Disney's Contemporary Resort for an unparalleled view of the fireworks and the fact you can walk to the Magic Kingdom.
Disney's Grand Floridian Resort & Spa – Inspired by Hotel del Coronado in southern California, this resort is the most luxe of all Disney hotels. In fact, Princess Diana once stayed here on a trip to Walt Disney World. It's where many magical Disney weddings take place.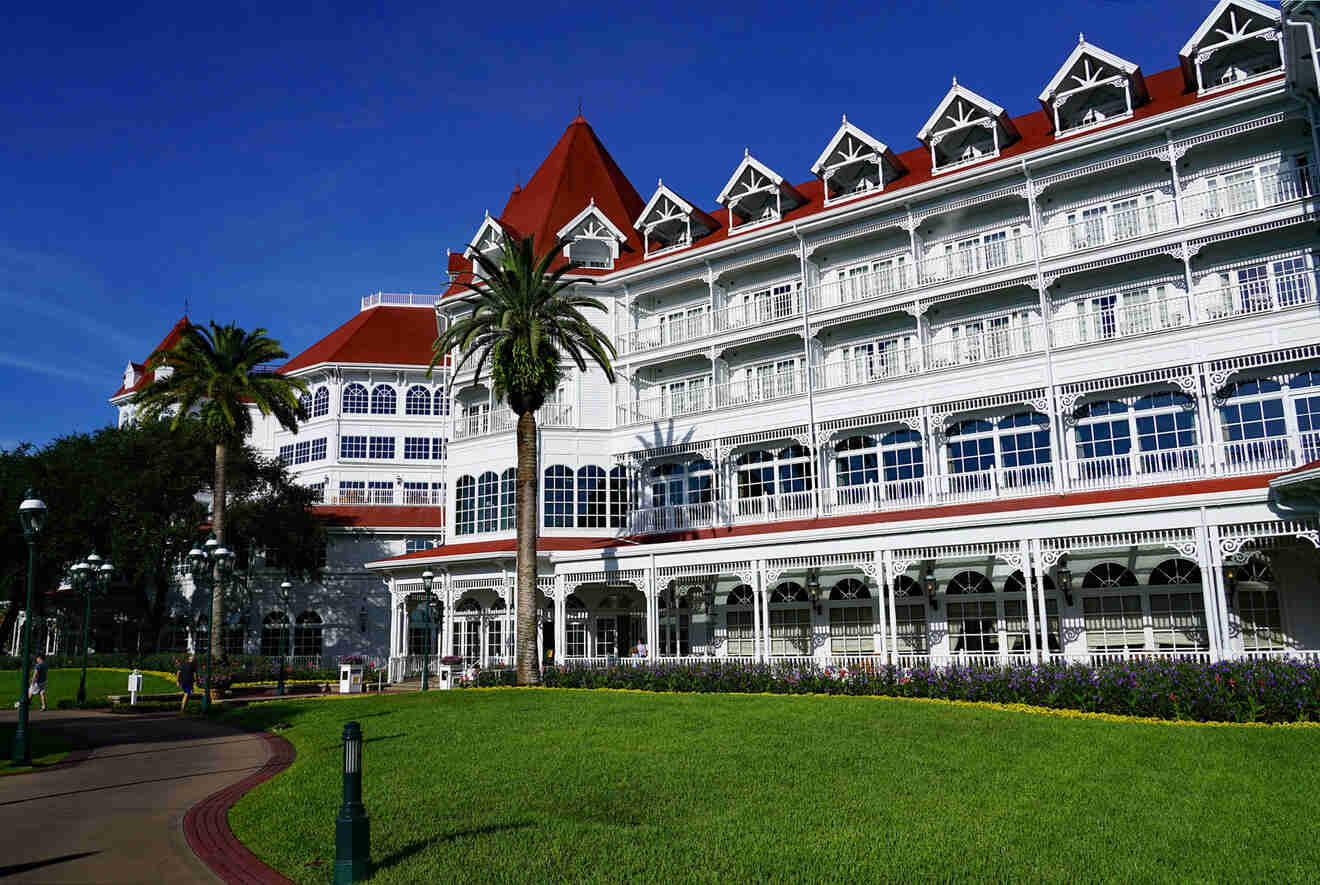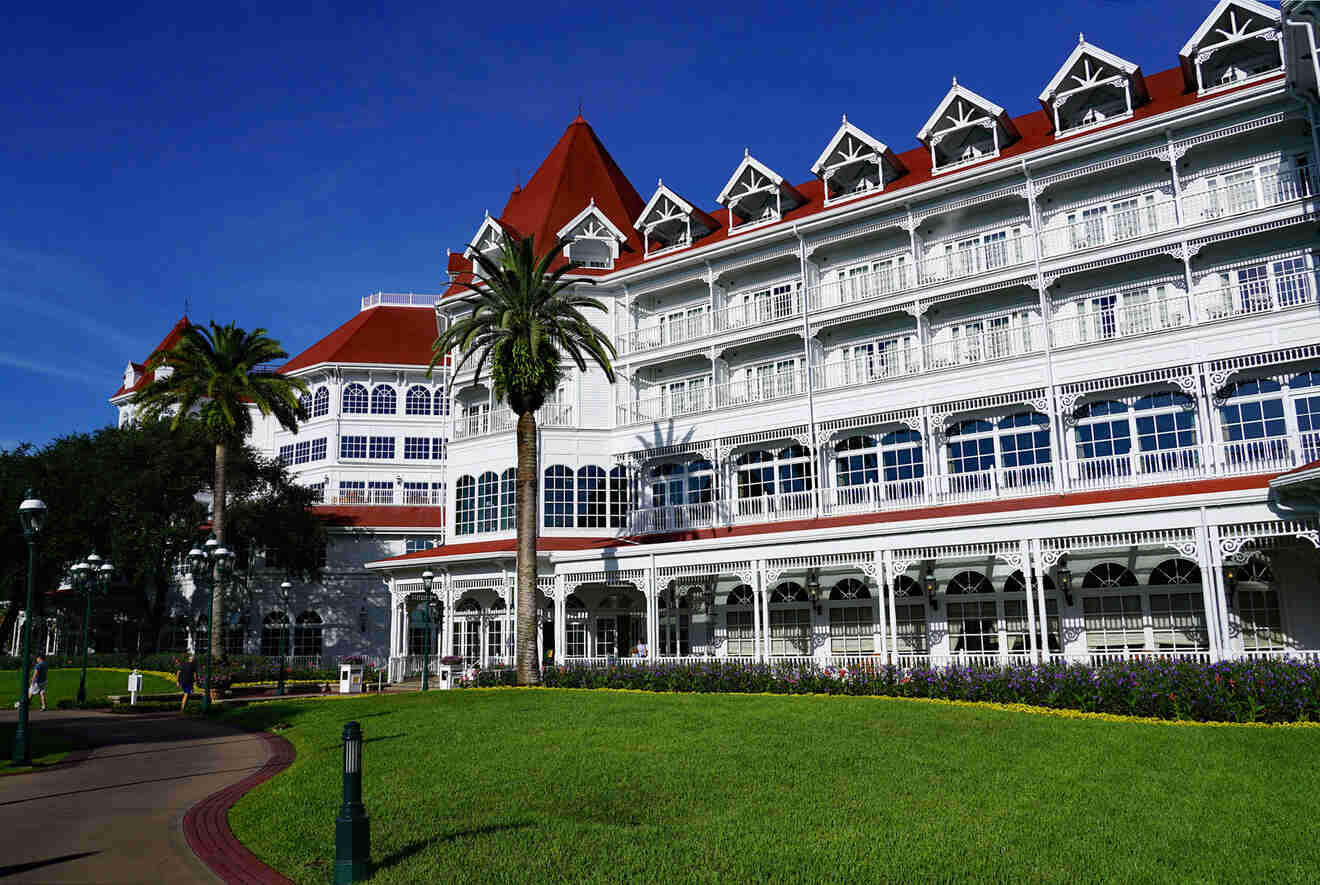 Disney's Old Key West Resort – This resort is all laid-back island flair, inspired by the beauty and romance of Key West, Florida.
Disney's Polynesian Village Resort – The closest you can get to the South Pacific in Florida, this tropical resort right across from Magic Kingdom boasts amazing views and a relaxing atmosphere. Disney's Polynesian Village Resort even has bungalows right on the water you can stay in!
Disney's Riviera Resort – The newest in Disney's lineup, this resort combines European design with Disney magic.
Disney's Saratoga Springs Resort & Spa – This equestrian-themed hotel designed in Victorian style is a wonderful choice for guests seeking rest and relaxation, although it is just a short walk over a bridge to Disney Springs when you're in need of a little excitement.
Disney's Wilderness Lodge Resort – This resort draws inspiration from turn-of-the-century National Park lodges. Disney's Wilderness Lodge completely transports you to the Pacific Northwest, and its intricately designed lobby is such a sight to see!
Disney's Yacht Club Resort – The sister hotel to Disney's Beach Club Resort, this resort is themed after the elegant Martha's Vineyard and shares the best pool on the property with Beach Club. An excellent choice for business travelers.
Mid-range resorts at Walt Disney World (app. US$200+ per night)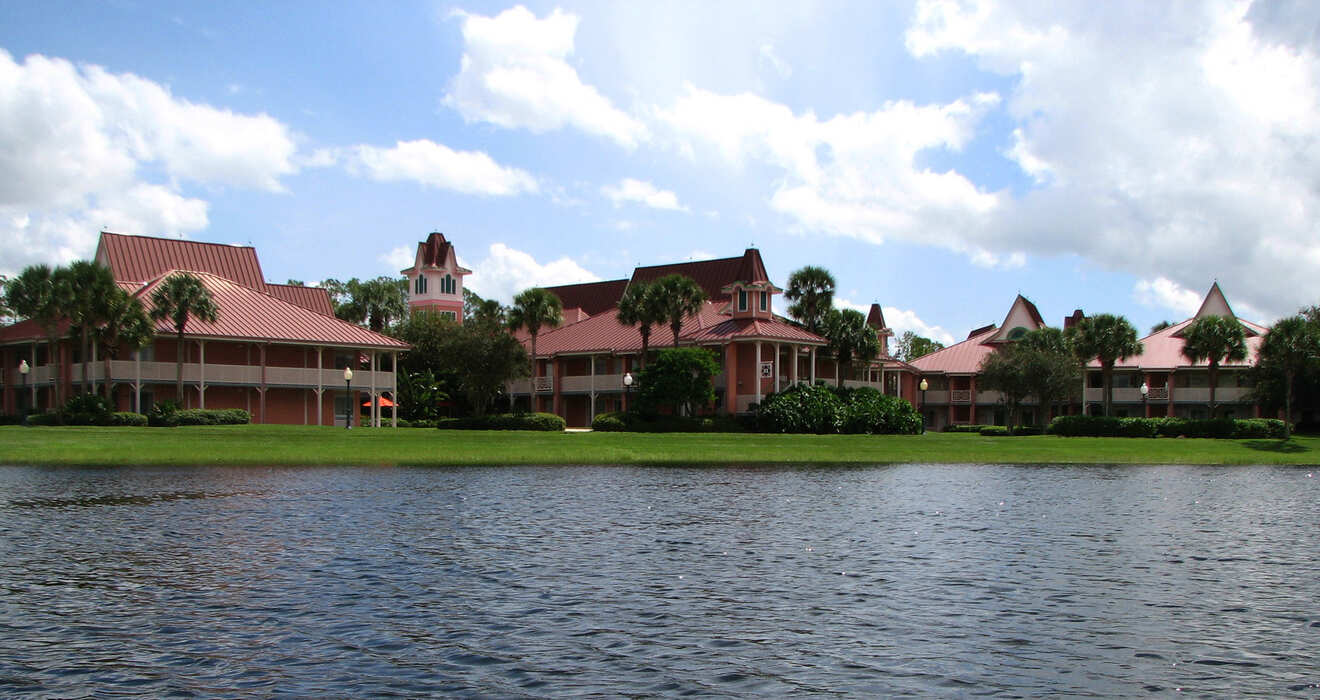 A great option right in the middle of value and deluxe, moderate Disney resorts offer a more upscale experience while remaining affordable. These resorts aren't as hectic as value resorts because there aren't as many large groups. The rooms are bigger, and more amenities are on site, including full-service dining and immersive pool areas with water slides.
Budget resorts at Walt Disney World (app. US$110+ per night)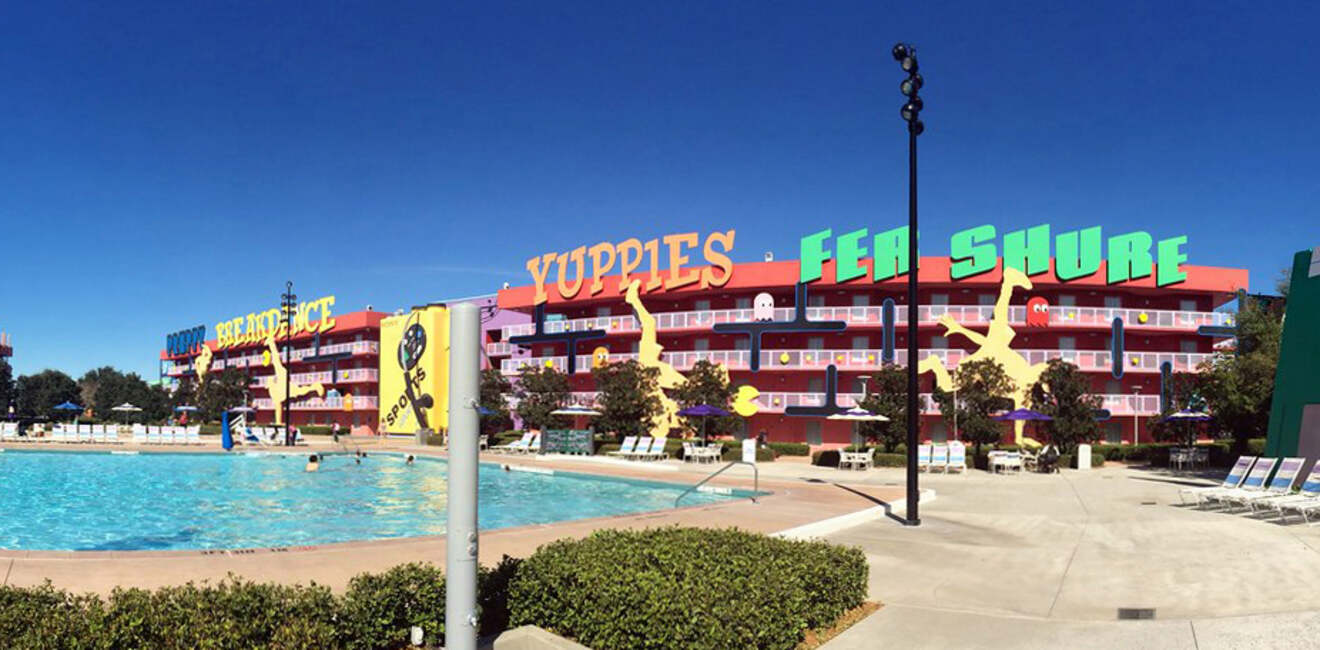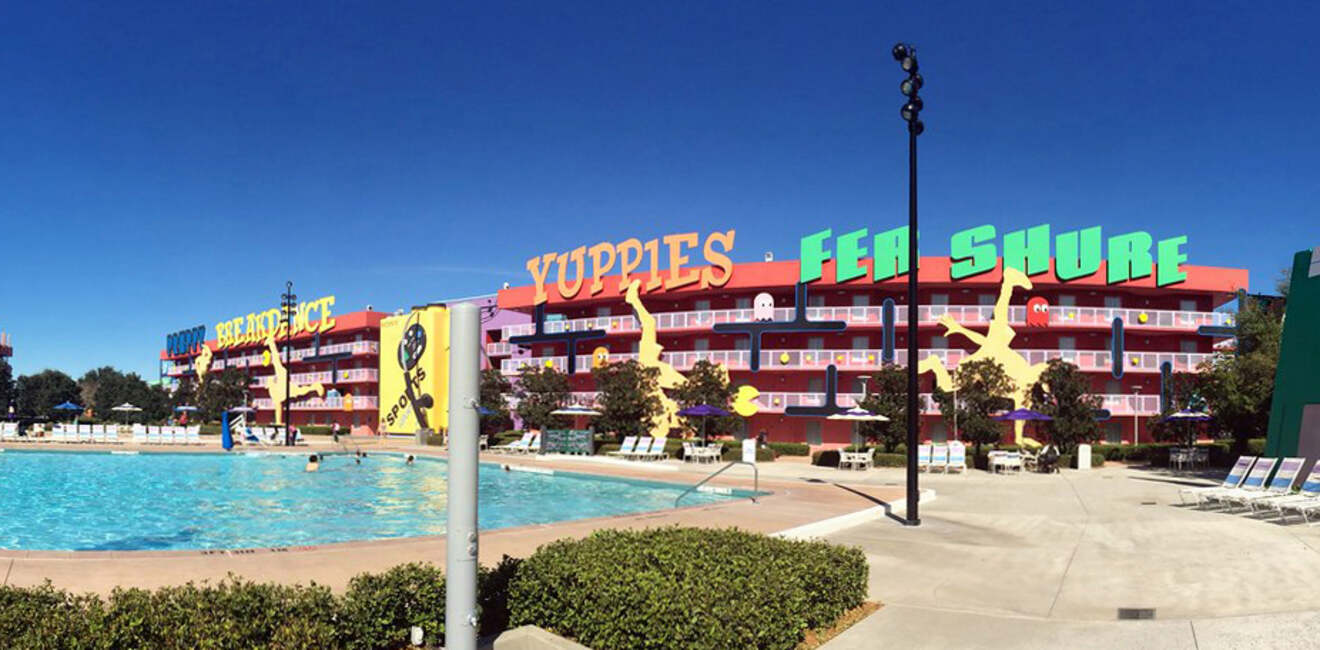 The least expensive Disney hotel option, stay in the Disney magic without the sticker shock of some of the other resorts. These are popular options for families and large groups, so they tend to be on the louder, more chaotic side. They're still a ton of fun, though, and the theming is great for kids!
Disney's All-Star Movies Resort – See beloved characters and scenes from iconic Disney films larger than life at this Disney movie-themed resort
Disney's All-Star Music Resort – This music-themed resort celebrates various genres of music throughout the decade, from rock 'n roll to show tunes
Disney's Pop Century Resort – Step back in time at this super fun Disney hotel paying homage to fads of the 1950s through the 1990s. You've never seen playdough like this before!
Disney's Art of Animation – Surround yourself with the artistry of your favorite Disney characters at this one-of-a-kind animation-themed resort, featuring suites based on movies like Cars and the Little Mermaid
The Campsite at Disney's Fort Wilderness Resort – You can camp at Disney World! Bring your tent or an RV and set up at one of the fully equipped campsites at Disney's Fort Wilderness Resort, and enjoy ample opportunities to play in nature
Many of Disney's deluxe resorts have villas available as well, which are an ideal option for extended stays or larger families who don't mind the splurge. The villas are absolutely amazing!
You can receive many of the benefits of staying at an official Disney resort at an even more budget-friendly price point by staying at a Walt Disney World Good Neighbor® Hotel instead. These hotels offer value, quality, and convenience – they're almost all within walking distance from Disney Springs, which is a really great perk. My favorite Good Neighbor® Hotel is Hilton Orlando Buena Vista Palace – 10/10 stars from me!
Check out the complete list of Walt Disney World hotels, and if you plan to stay on Disney property, be sure to bundle your tickets and hotel stay in a vacation package to save $!
Where to stay near Walt Disney World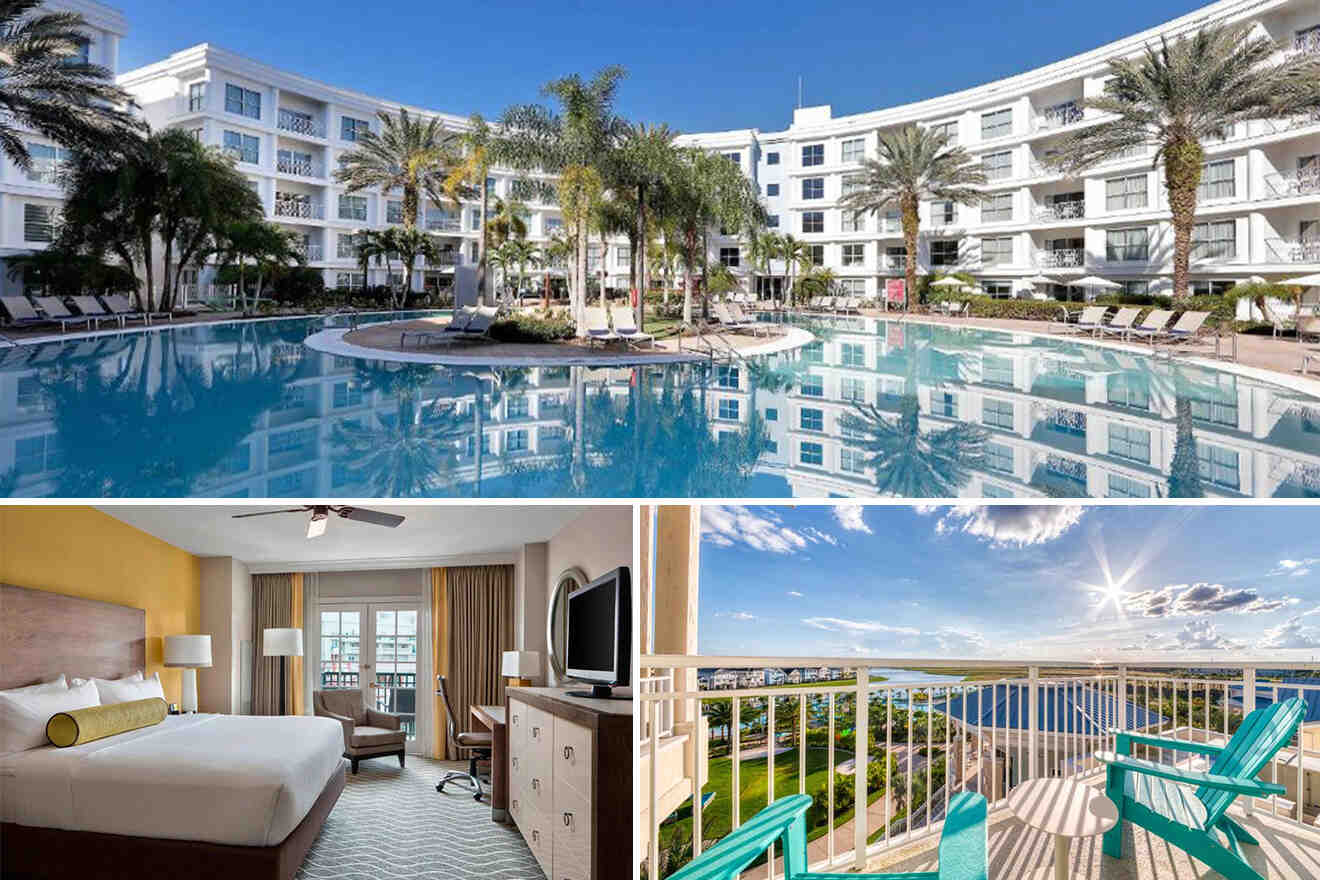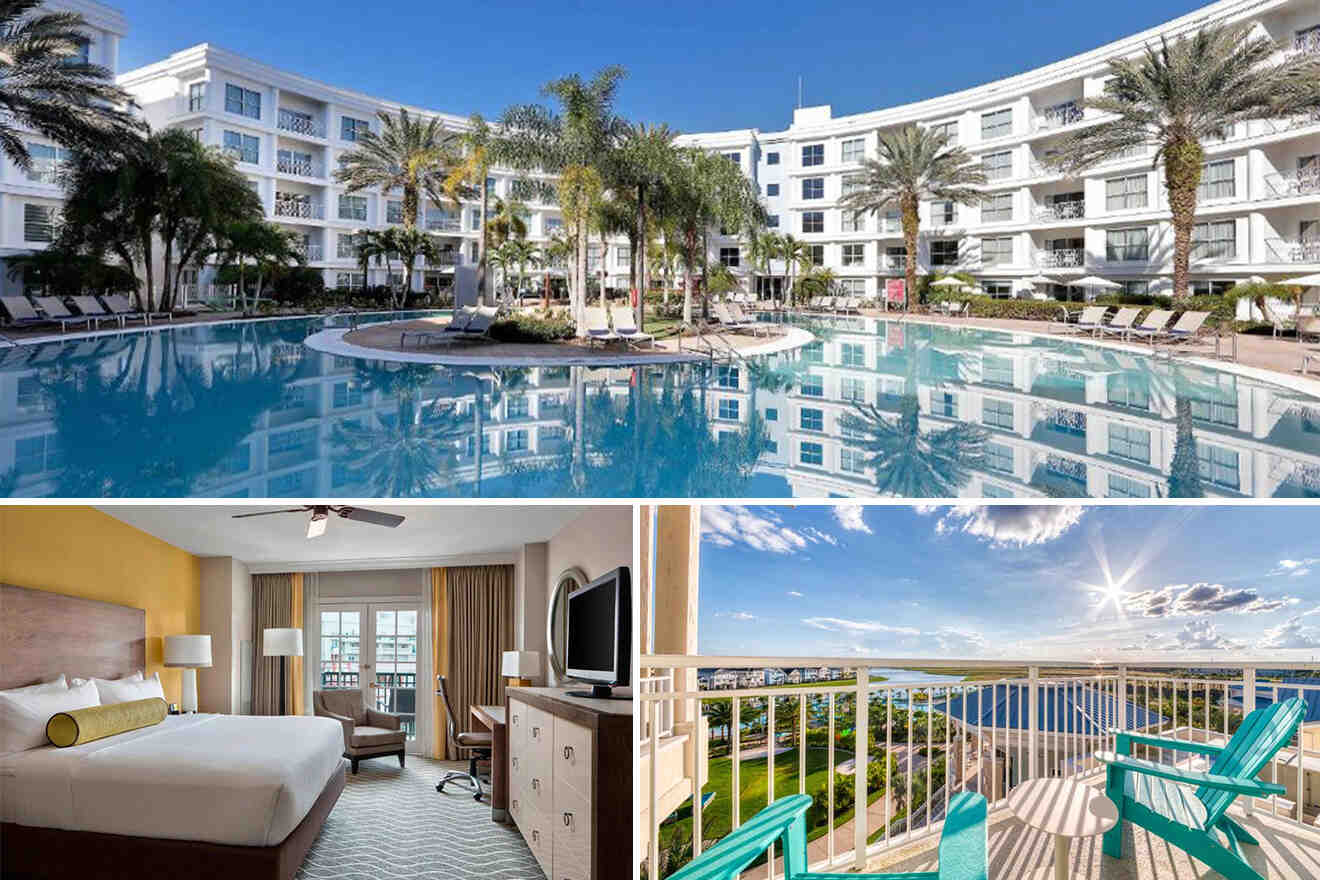 As many benefits as there are to staying within the Walt Disney World Resort, there are plenty of reasons why you'd choose to stay elsewhere. Maybe Disney World is just part of your overall Orlando vacation, or you'd rather not be surrounded by Disney 24/7 – hey, nothing wrong with that!
Here are a few of my favorite hotels near Disney World, but not on Disney property:
Hyatt Regency Grand Cypress – This incredible resort includes a private lake with activities like fishing and kayaking, tennis courts, an outdoor lagoon pool with a water slide and cave, 6 amazing restaurants, and spa. It's only a 3-minute drive from Walt Disney World.
Margaritaville Resort Orlando – Nothing says Florida quite like Jimmy Buffett! This sprawling Key West resort features sandy beaches, a zero-entry pool, and adorable pastel cottages you can rent. It's always 5 o'clock here!
Gaylord Palms Resort & Convention Center – This resort is almost too beautiful to be real. Florida past and present come to life in this incredibly unique hotel that makes you feel like you're outdoors when you're inside!
Meliá Orlando Celebration – Tucked away in the charming neighborhood of Celebration, the town Disney World building, this hotel is away from all the hustle and bustle of the theme parks, with the added conveniences of a town.
Getting to Walt Disney World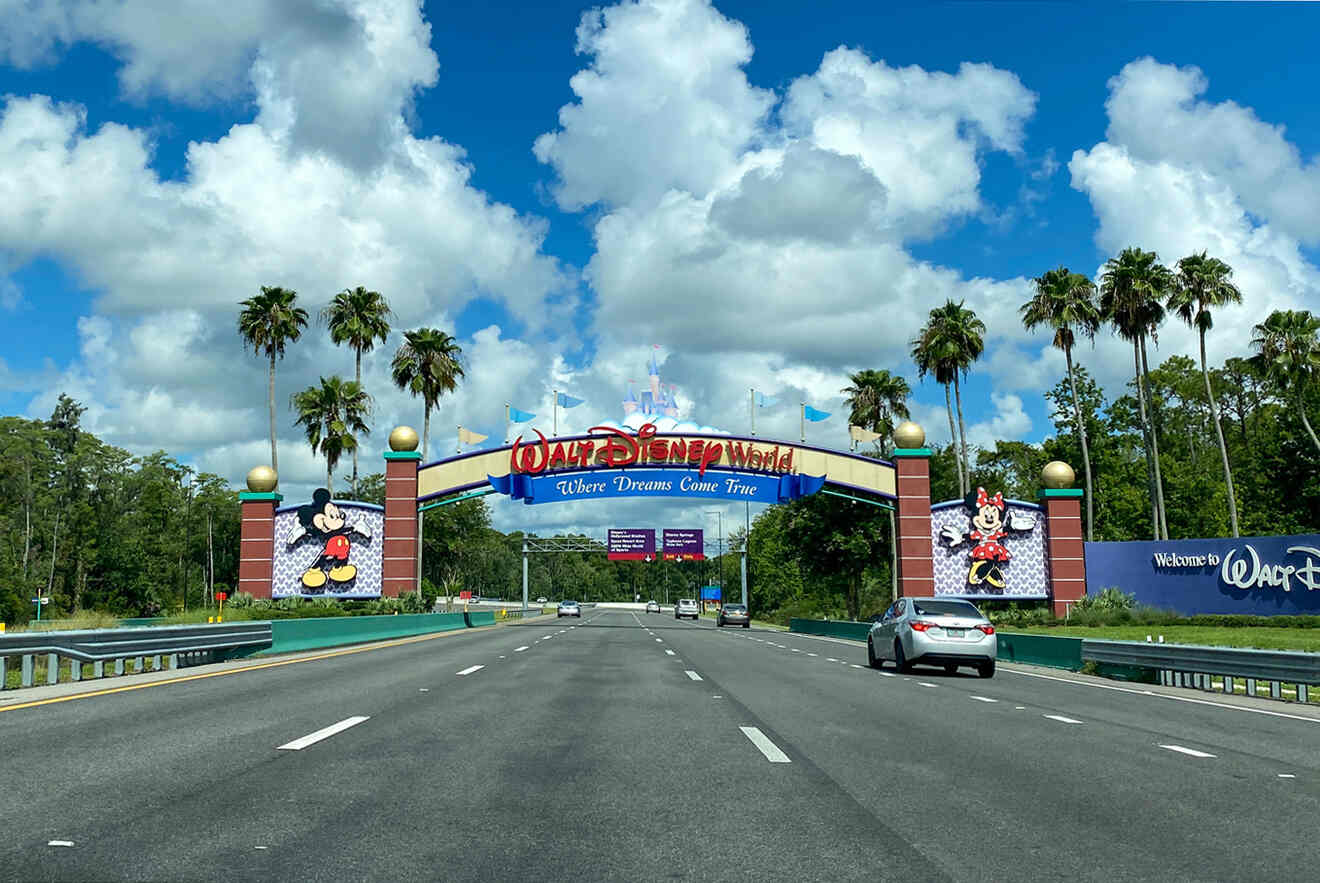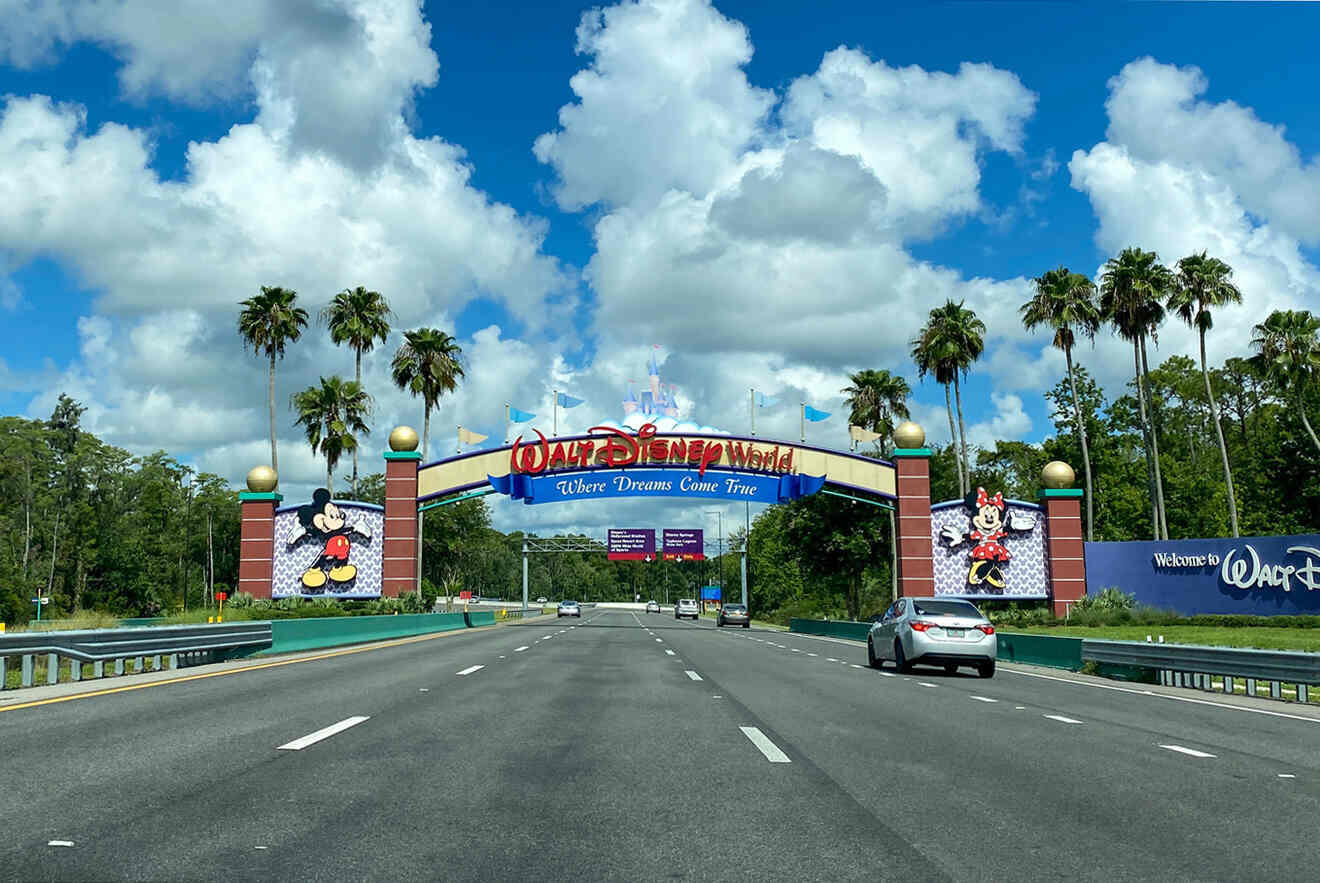 The entrance to Walt Disney World is about a 20-minute drive from the Orlando International Airport. You have a few options for transportation to and from the airport if you're flying in.
Rental car – There is much more to do in Orlando than just Disney, so if you'd like to explore more of what the city has to offer or something other than theme parks, renting a car is ideal.
Uber and Lyft – Rideshare is a popular choice to get to Walt Disney World from the Orlando International Airport. While you may have to deal with surge pricing during busy times, some people prefer rideshare for convenience.
Shuttle – If you're traveling with a group of 5 or more, this mini shuttle bus will get you from the Orlando airport to Disney World for an affordable price, starting at just US$16 per person.
How many days is enough?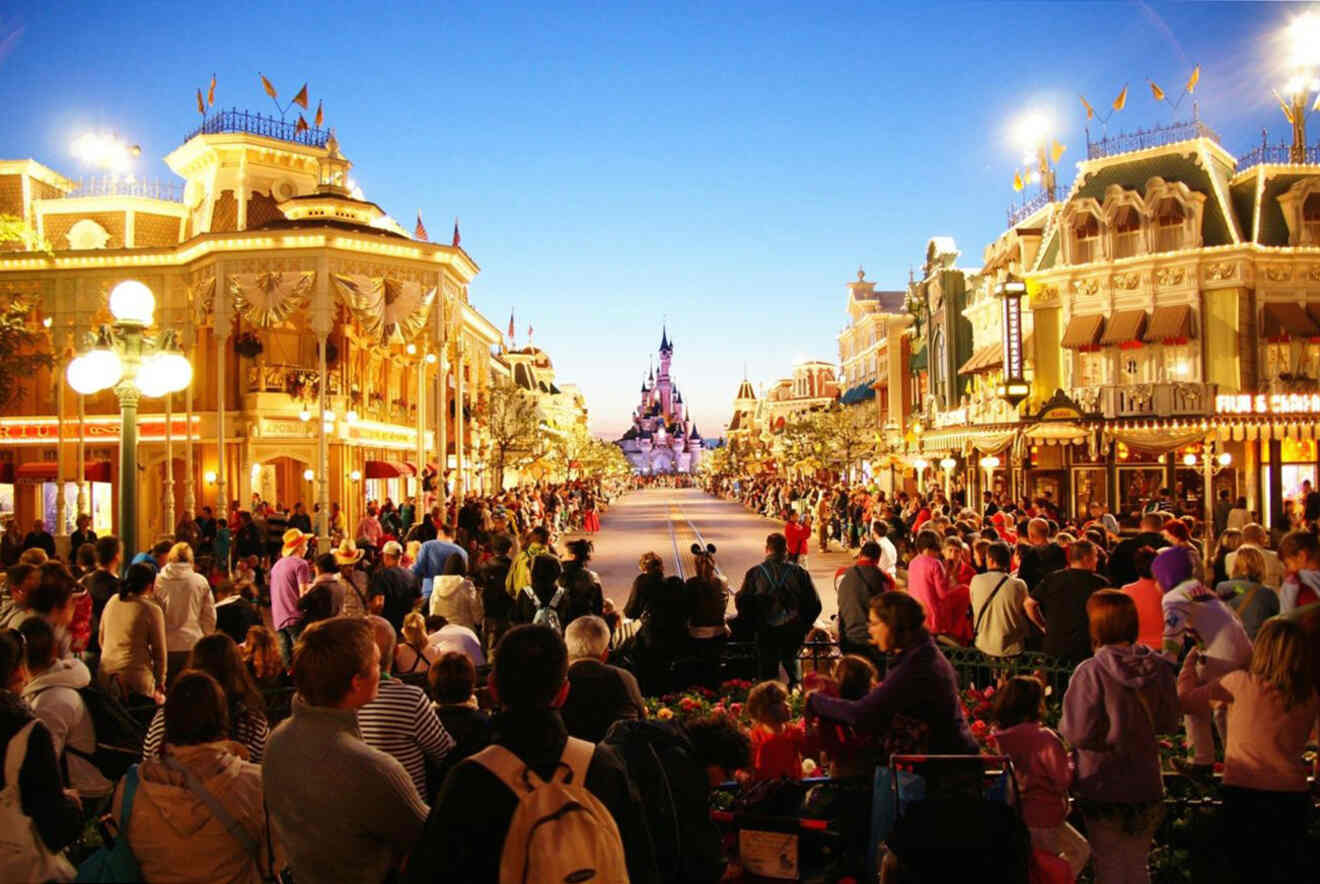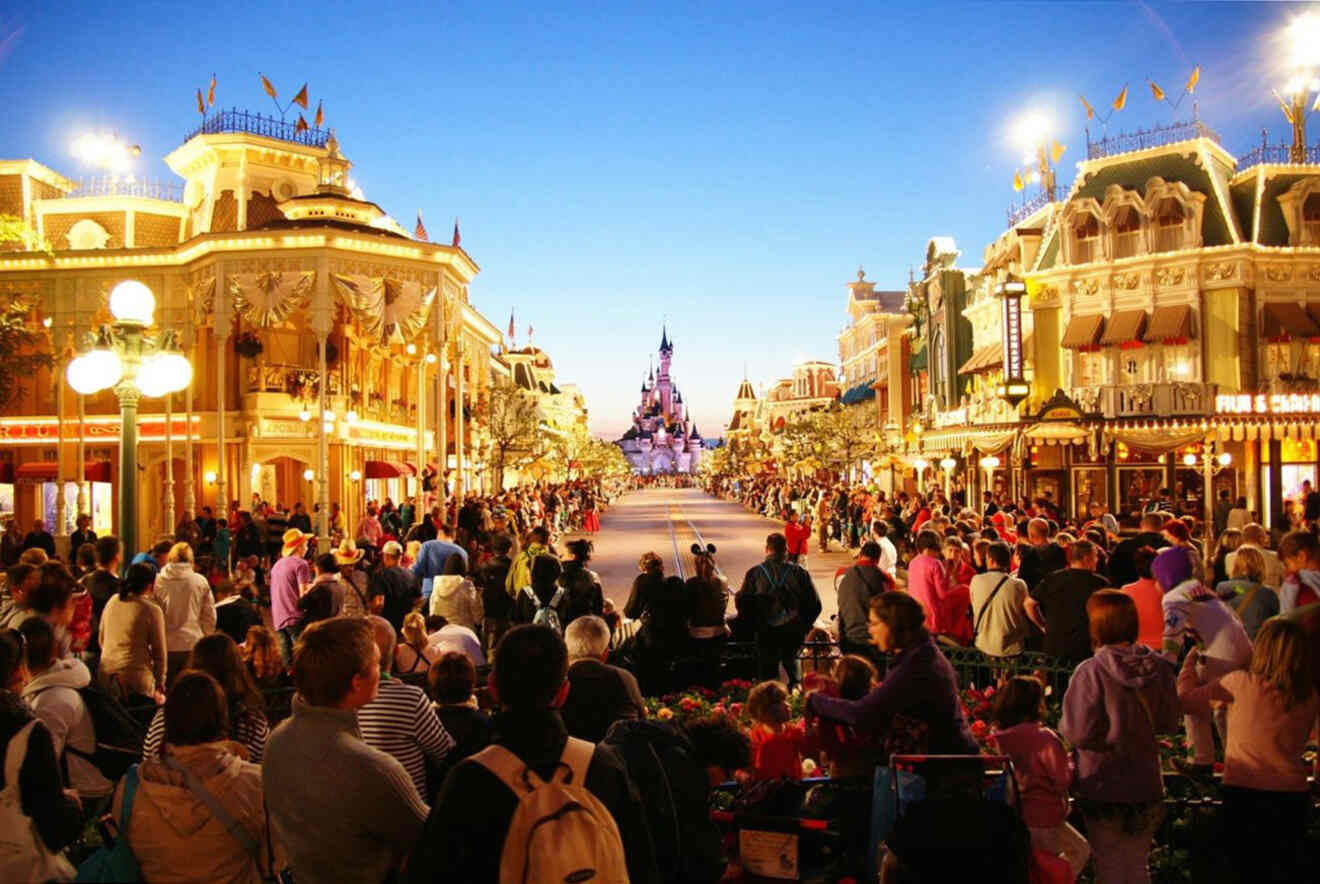 The length of your Disney vacation depends mainly on how much you'd like to see and do while you're there.
For your first trip, I'd say a minimum of 4 nights and 3 days is best. While you won't be able to experience everything in that time frame, you can cover a lot of ground, especially if you utilize Genie+, extra park hours from staying on property, and some of my time-saving tips, coming up next!
Of course, there is no right or wrong answer to this. Some people pop into one park for the day and have had their fill, while others could spend weeks at Walt Disney World and still not be ready to leave. The longer your stay, the more time you'll have to relax in between long days at the parks.
The perfect Disney vacation would allow you some recovery days at the pool and Disney Springs so you recharge for more adventures.
When to visit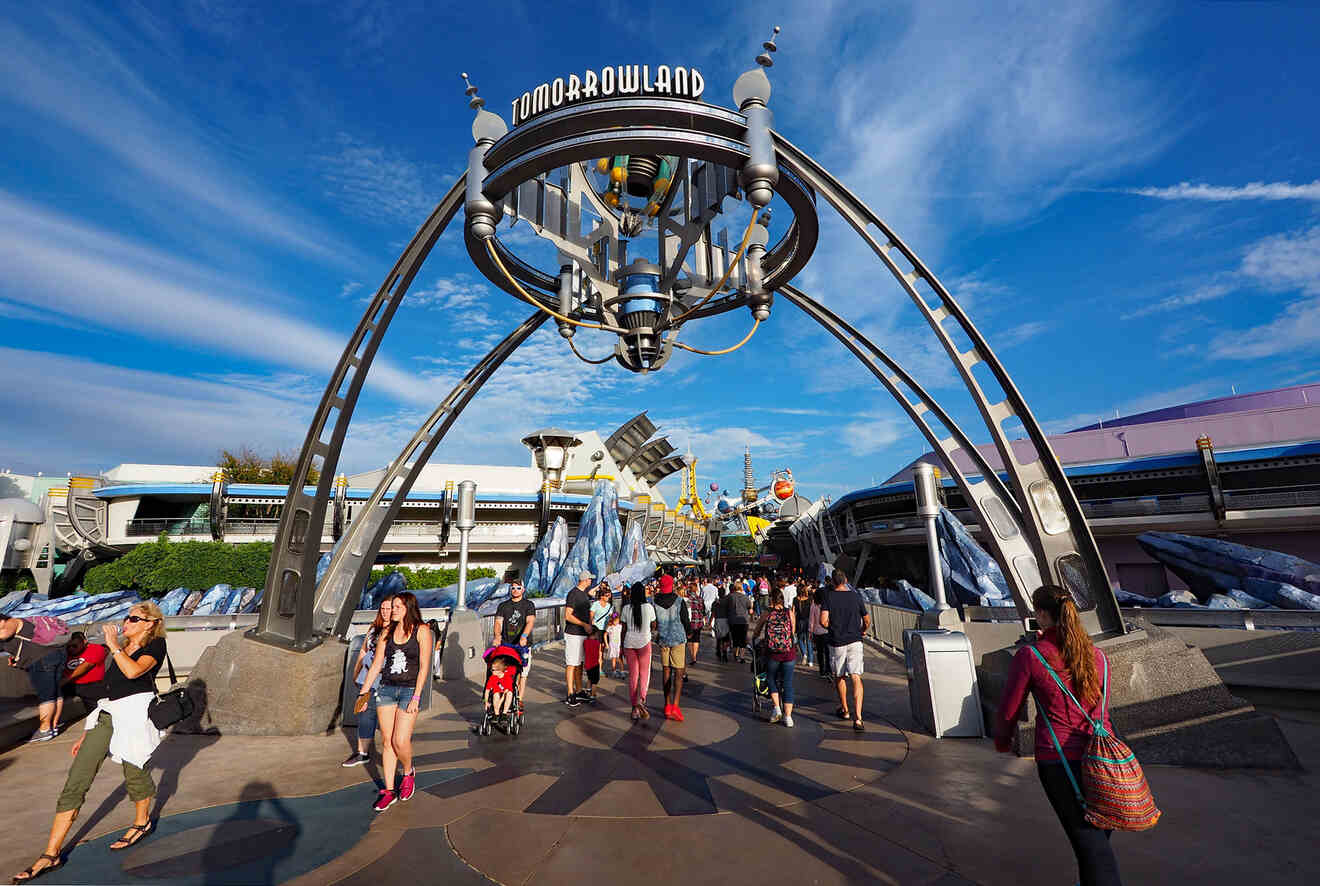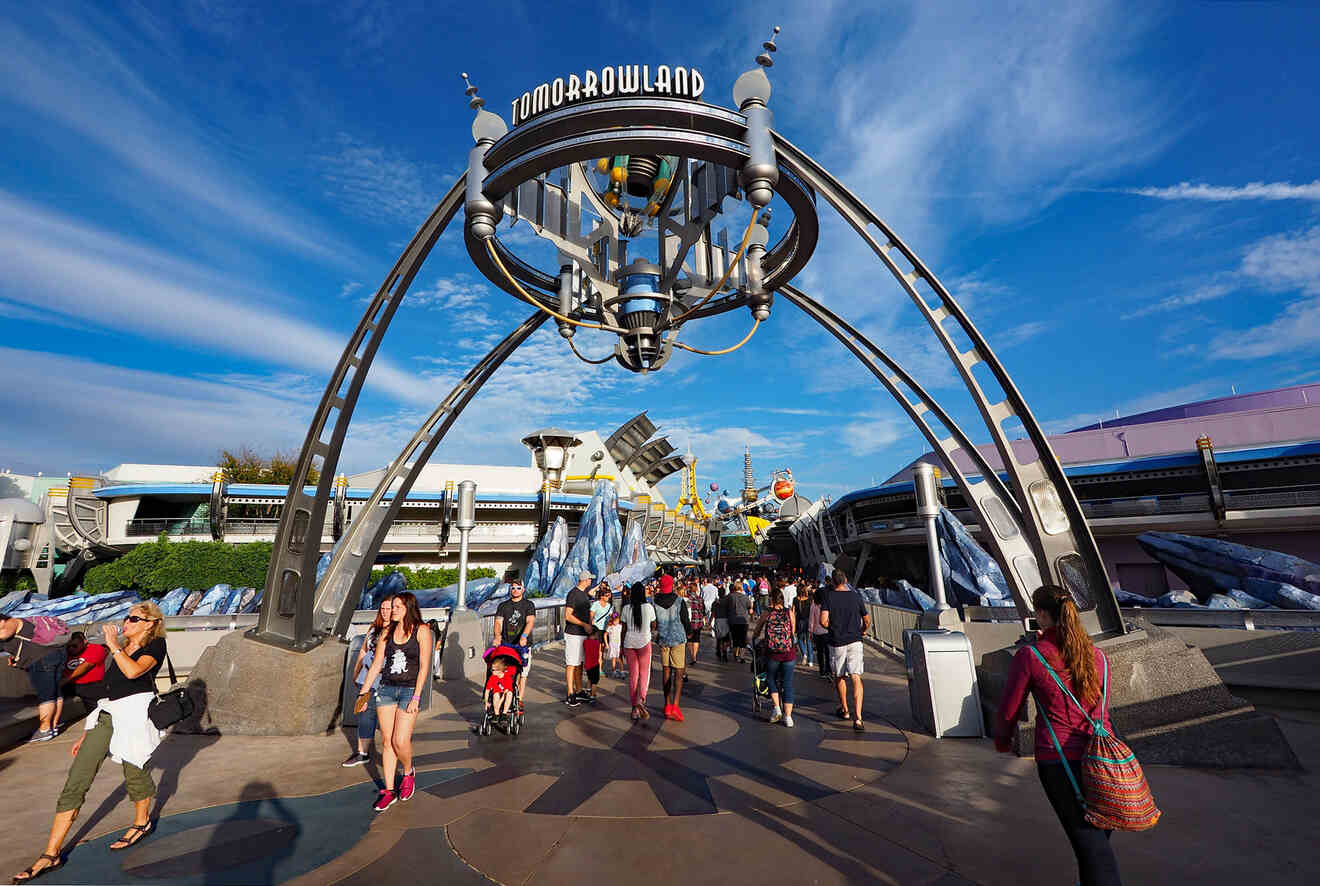 There are a few factors that go into the best time to visit Walt Disney World. If your goal is the least amount of crowds possible, I suggest any time school is in session – avoid spring break, summer break, etc. Plus, crowds are almost always lower on weekdays compared to weekends.
If you're looking for the least expensive time to go to Disney World, January is your best bet. The prices drop right after New Year's and typically don't increase again until the end of January. The weather is normally so perfect then too!
You can also plan your visit around one of the EPCOT festivals or other Walt Disney World special events, like the Magic Kingdom parties. My personal recommendation for a first-time visit is to go sometime in November through January. The temperatures are much milder then (Central Florida gets inexplicably hot and humid during the summer), and nothing feels quite as magical as Disney at Christmas time!
Costs & how to save money on your vacation
Let's face it – a visit to Mickey Mouse doesn't come cheap these days. Between the hotel, park passes, food, drinks, extra experiences, and souvenirs, costs add up quickly at the most magical place on earth.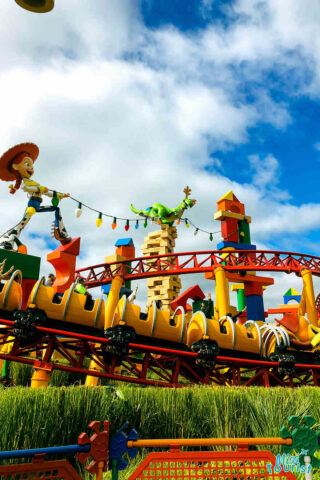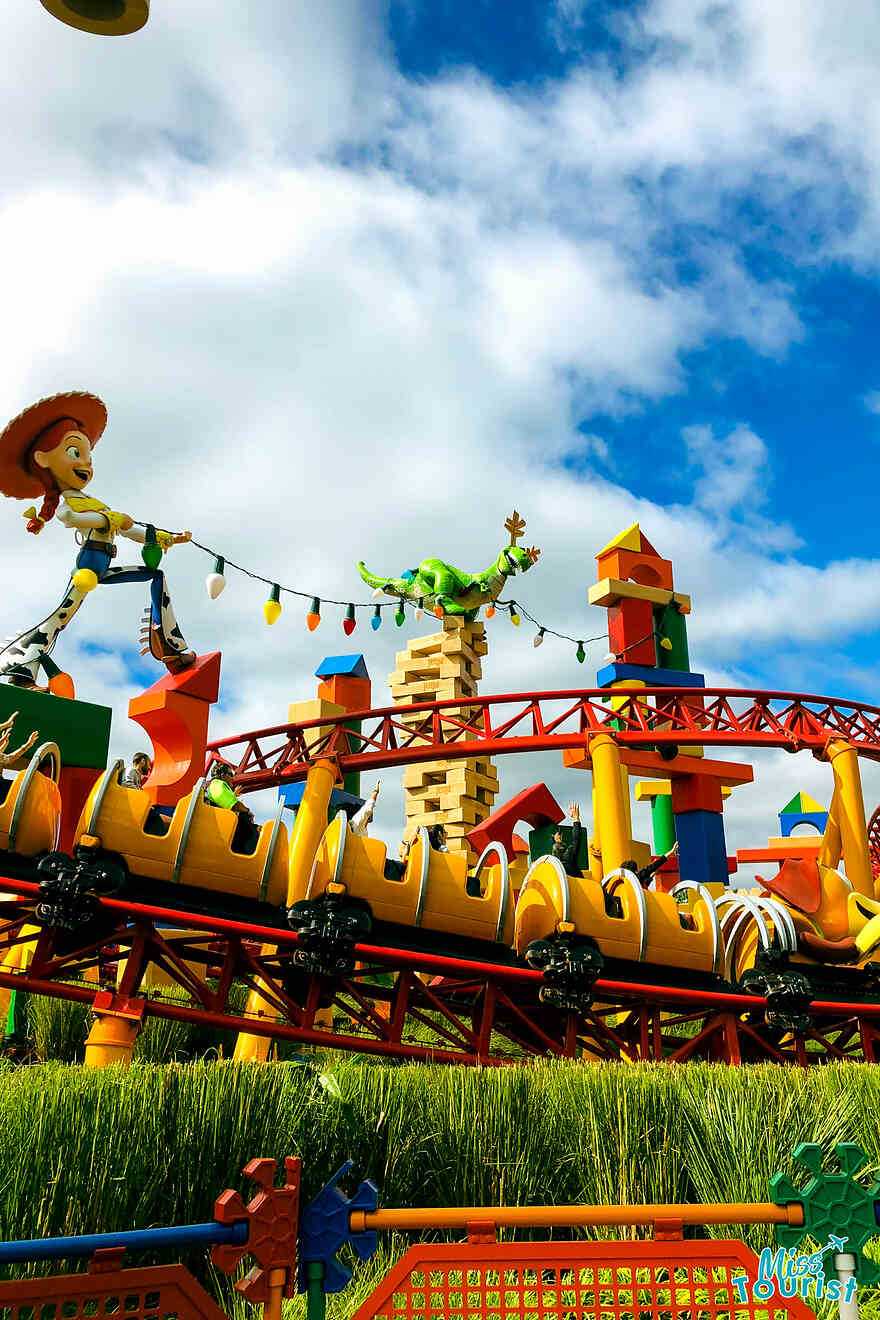 Hotel – Lodging near Disney World starts at around US$130 per night but can dramatically increase from there. For a balance between value and amenities, I recommend bundling your park tickets with a stay at a Disney Good Neighbor® Hotel, like Hilton Orlando Buena Vista Palace.
Tickets – Disney park tickets vary throughout the year, but typically range from US$109 – $189 for a one-day, one-park ticket. A park hopper ticket is an additional US$65 for a single day and US$60 for 2+ days. Purchase tickets from a reputable seller, like Klook, for a discounted price!
Food and Drink – Eating and drinking (especially at EPCOT) can make a major dent in your Disney World budget. Save money by prioritizing 1 or 2 full-service meals during your stay, and sticking to quick-service dining for the rest of the time. Disney has some really tasty, inexpensive food options in the theme parks!
Genie+ and Lightning Lane – The Genie+ add-on that allows you to skip the lines of some of the best Walt Disney World rides is US$15 – $25 a day, depending on the date. Individual Lightning Lane access varies from US$7 – $25 per ride, with the most popular rides on the pricier end. This is totally optional, but an excellent way to save time otherwise spent waiting in lines.
Shopping – Disney merchandise gets cuter and cuter every year, I swear. Before I moved locally, I approached every Disney trip with a shopping plan. I'd peruse the latest and greatest merch online at ShopDisney, and have an idea of what I wanted to purchase on my trip. That way, I could budget around those items and leave a little extra spending room just in case.
P.S.: If you're traveling with a large group and don't want to shell out for US$30 mouse ears to wear in the parks, you can pick up Mickey Mouse ears for a fraction of the price on Amazon or even select Target locations near Disney World!
My Disney Experience App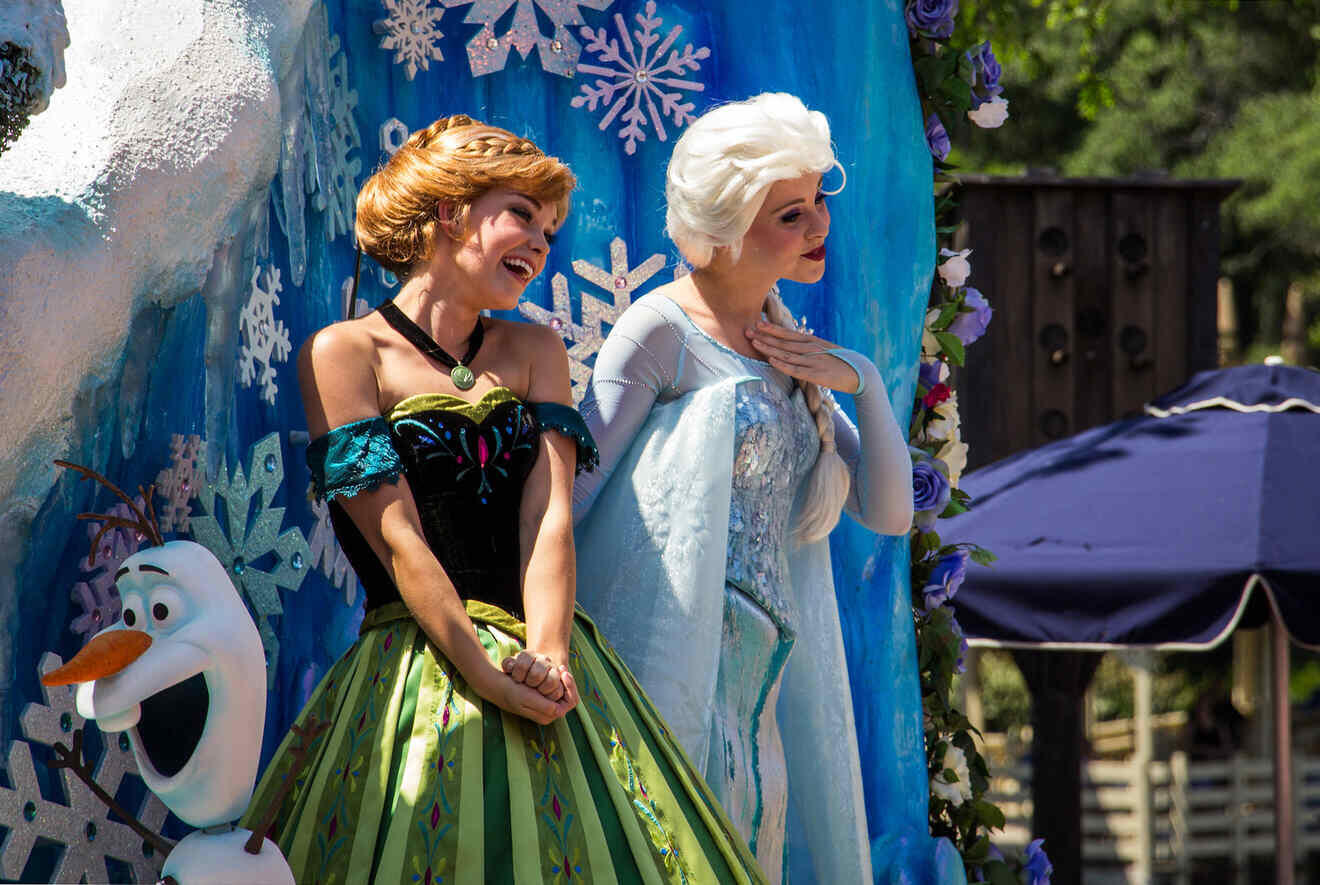 The My Disney Experience app will be your best friend, both during the planning and during your stay at Walt Disney World. This app connects you to all things on your Disney vacation, such as:
Dining reservations
Checking wait times
Customized time-saving tips
Mobile checkouts
Mobile food order at select quick service locations
Access to Genie+ and individual Lightning Lanes
Each day, you can make your first ride selection starting at 7 AM. The popular rides fill up super fast, so it's definitely worth setting an alarm for. With Genie+, you can only make one ride selection at a time, so if your #1 priority is known for long wait times, make it your first Genie+ selection in the morning.
Check out the Walt Disney World website for a more in-depth explanation of how Genie+ works!
Parks time-saving tips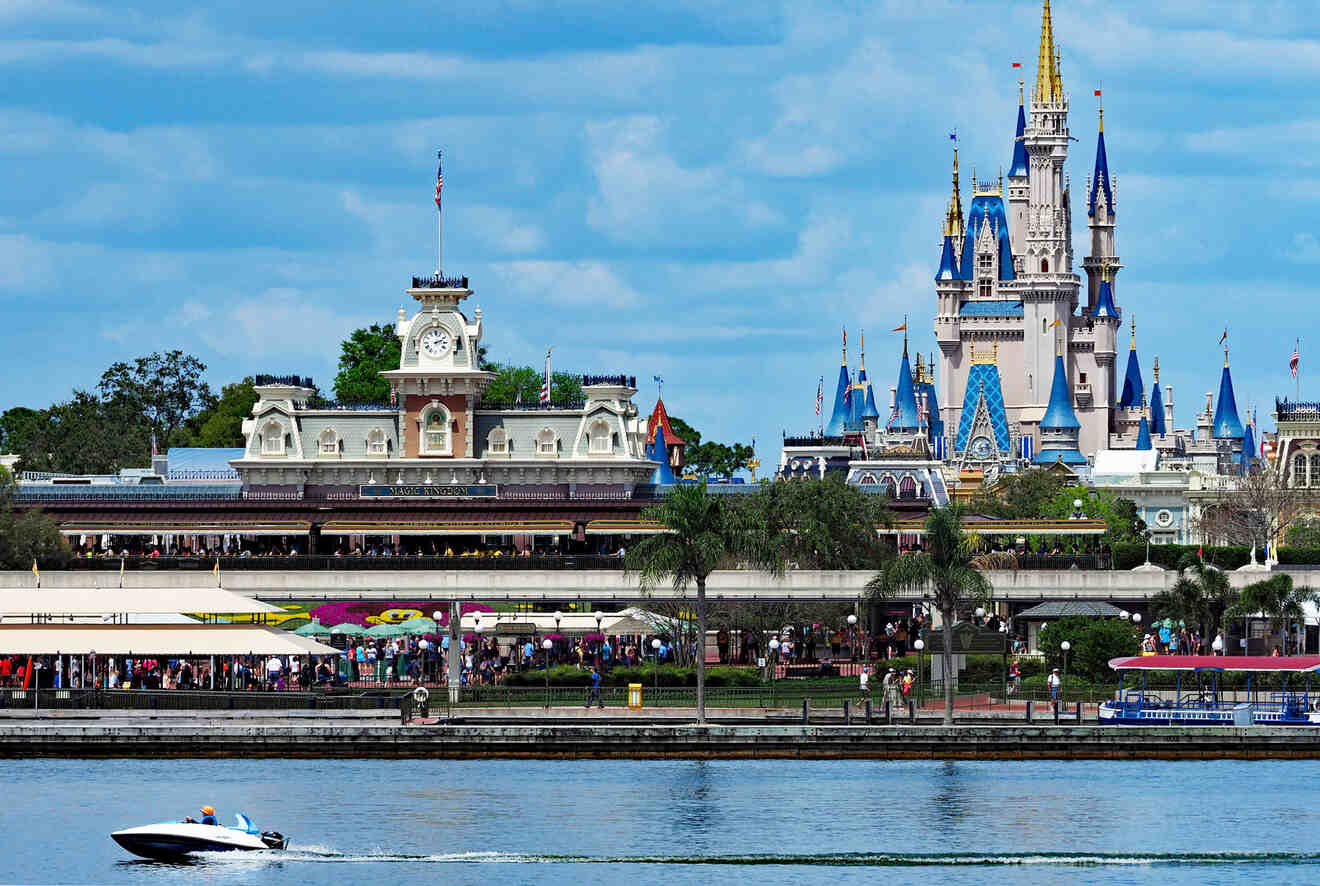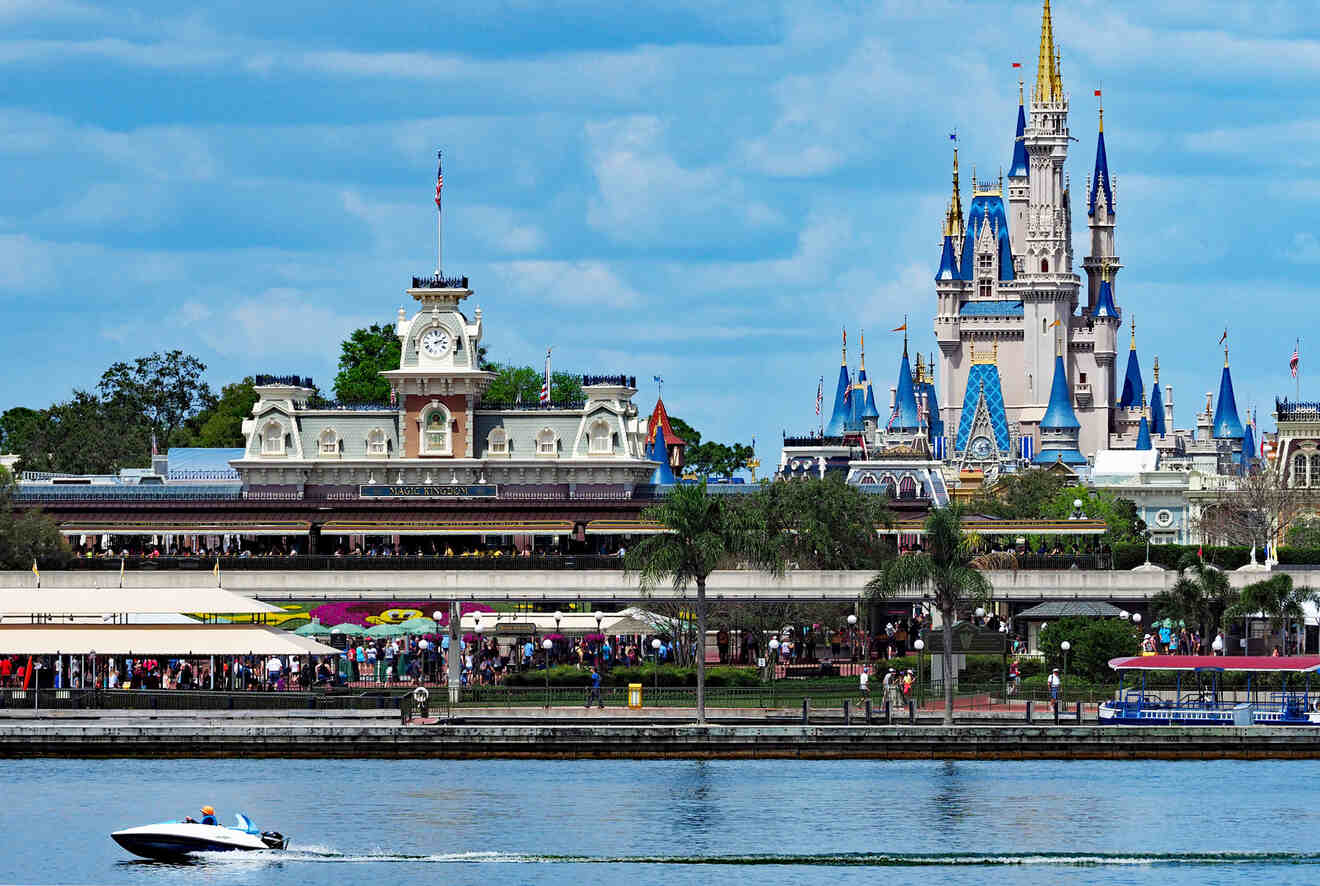 To maximize the magic of your vacation, you'll want to manage your time as efficiently as possible. I've put together a few time-saving tips for your next Disney World trip:
1. Buy your tickets in advance
There's no need to waste time in line to buy a ticket when you can do so completely online! It seems obvious, but so many people forget to do this, and the ticket lines get very long, especially early.
2. Have a game plan
Even if you're not the type to plan your day out minute by minute, have a general idea of what you want to do at the park each day. This way, you won't spend time trying to figure out every next step at the moment – you'll be onto the next fun thing!
3. Download the My Disney Experience app
As much as I love to unplug at theme parks, this app really does come in handy. It shows you the optimal time to ride attractions based on their average wait times. You'll also find the schedule of parades, fireworks, and other shows.
4. The Second Parade Rule
This is my favorite time-saving tip. If you're not trying to race home by bedtime, wait until the later showing of any in-park entertainment. Most families will have caught the earlier showing, so they'll be headed home by then.
The final showing lets you see the parade and take advantage of shorter wait times during the earlier parade.
5. Take advantage of mobile checkout and mobile ordering
Avoid waiting in long lines to order food or checkout at stores by using these features in the My Disney Experience app.
Select stores will allow you to scan your items on your phone, pay for them through the app, and present a receipt to receive a bag. This cuts down on a ton of time!
Select service restaurants and snack stops around the parks have the option to mobile order your food, select a pickup time, and show up when it's ready. More time is saved by avoiding lines!
FAQs about Walt Disney World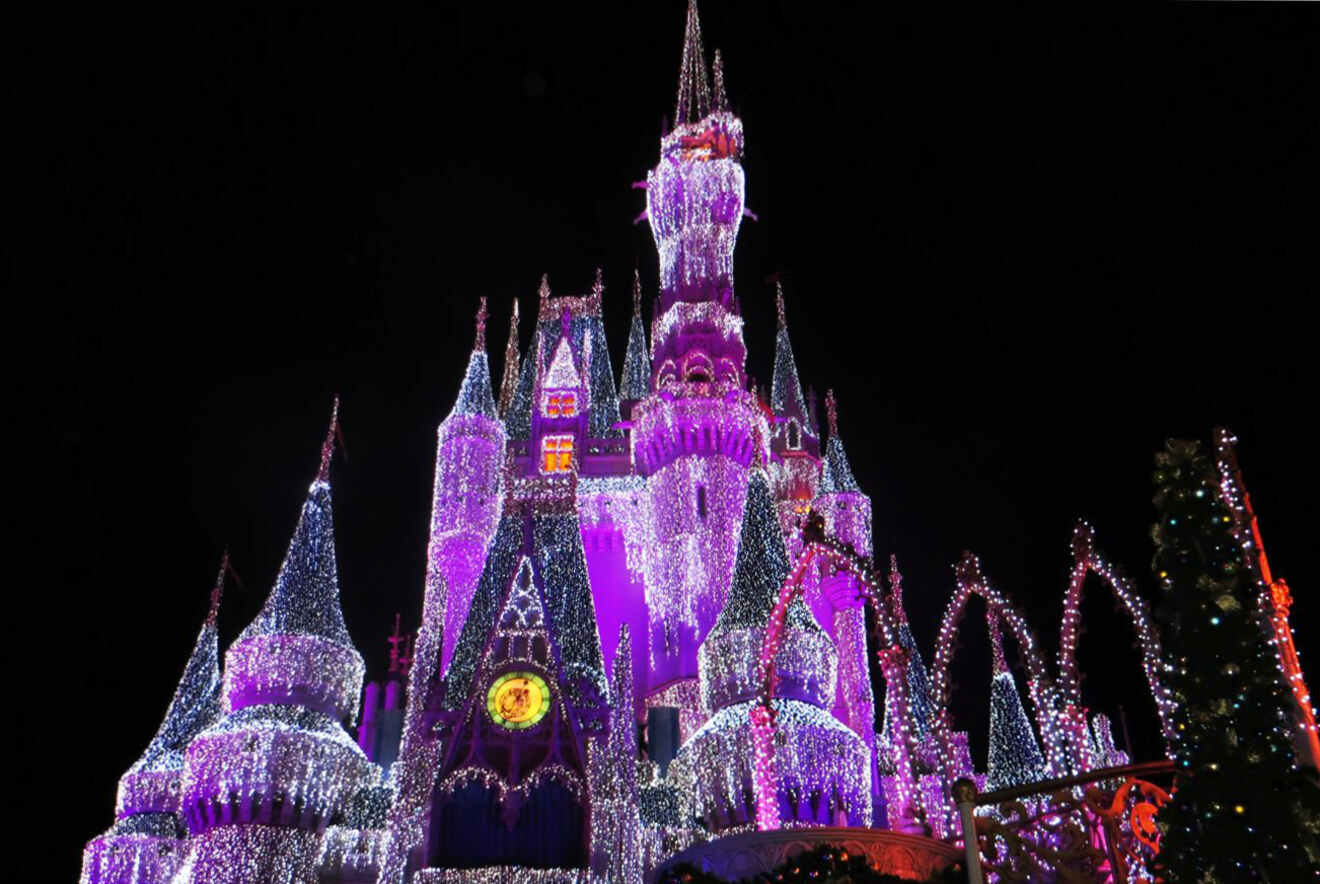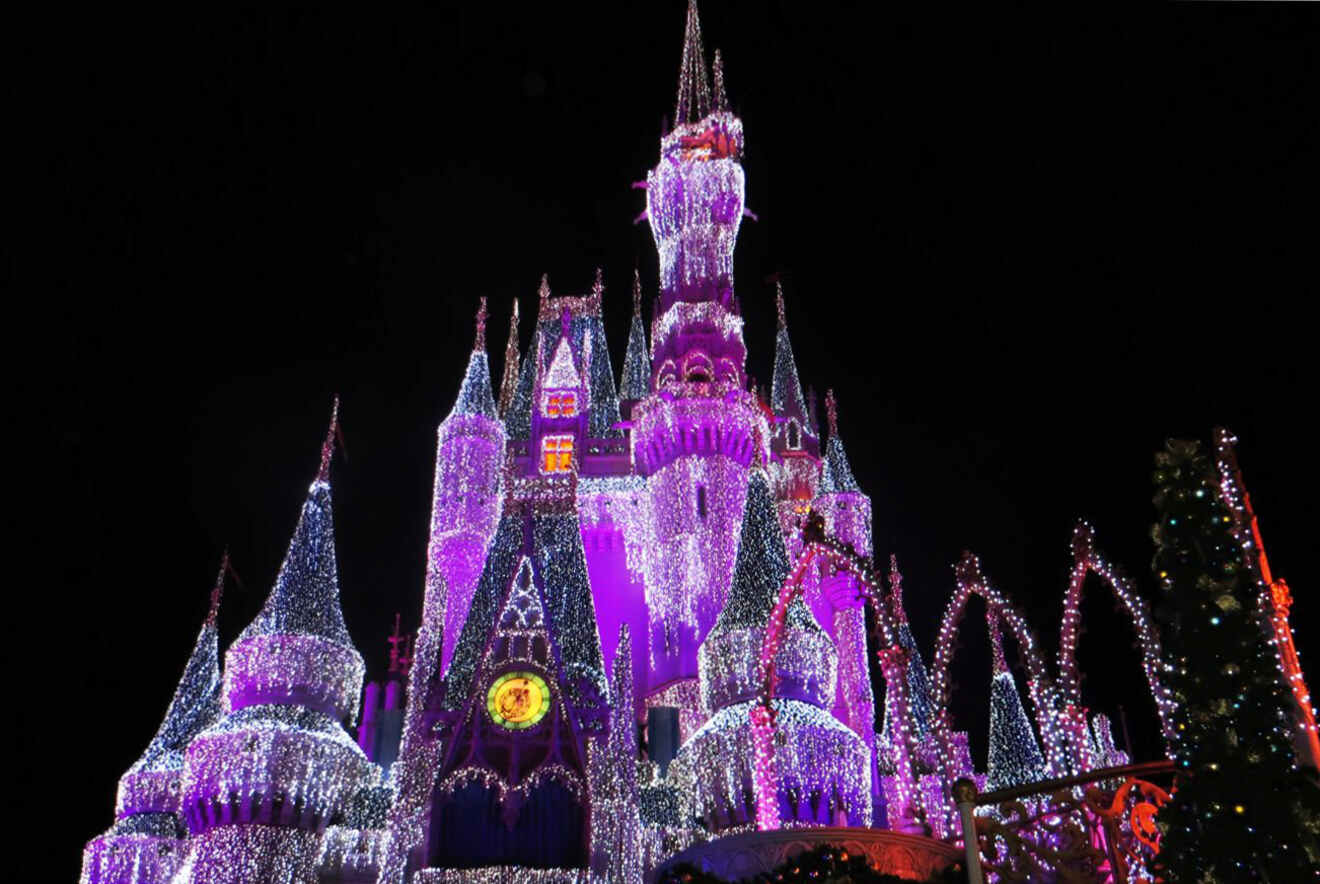 📆 How many days is enough for Disney World?
3-4 days is a great length for a Disney World vacation, although you wouldn't have much time to rest if you wanted to fit everything in. 5 days is ideal for a more leisurely pace, especially if you'd like to explore beyond the theme parks.
📝 Where do I start planning for a Disney World vacation?
🎟️ Where can I buy Disney World tickets?
You can buy Disney World tickets from the official website or Klook. However, don't forget to make a reservation for a theme park as soon as you purchase your tickets.
Conclusion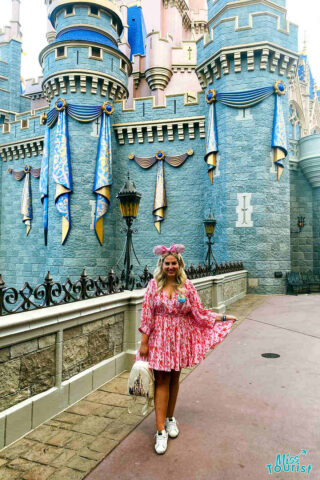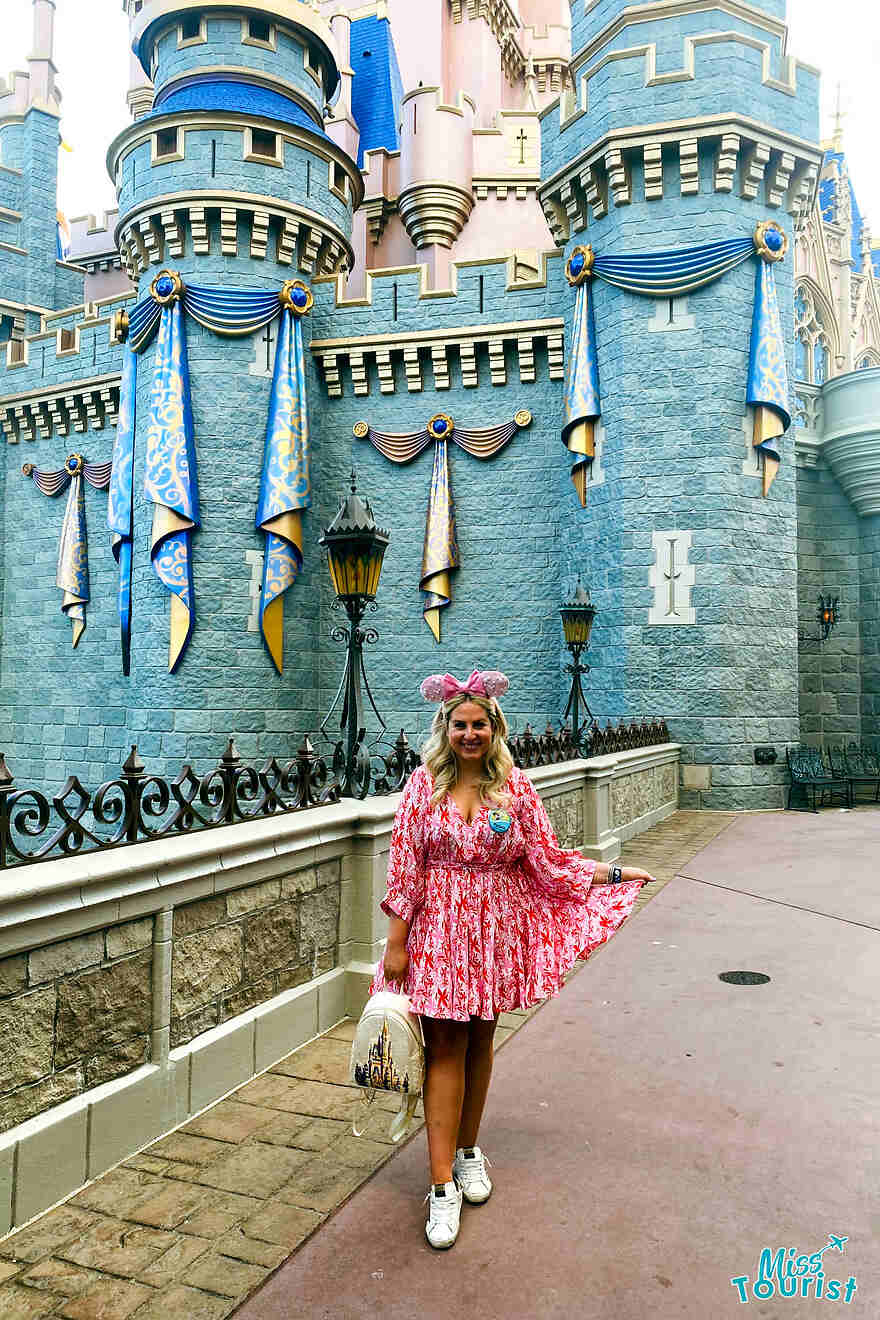 That wraps up our Ultimate Guide to Disney World! Hopefully, this article made planning your Walt Disney World vacation a little less overwhelming. I tried to focus on what you absolutely need to know, with some personal expert advice mixed in. 😉
As you can see, Disney World is far more than just theme parks. It's a larger-than-life vacation destination where visitors of all ages make magical memories, which is why it is all the more important to buy your tickets online in advance and make reservations!
I know we just went over a lot of information, so feel free to leave me a comment with any questions you have – I'm here to answer.
Peace, love, and pixie dust!
Montana
---
Pin it for later!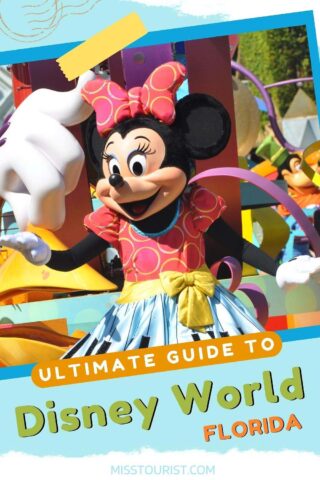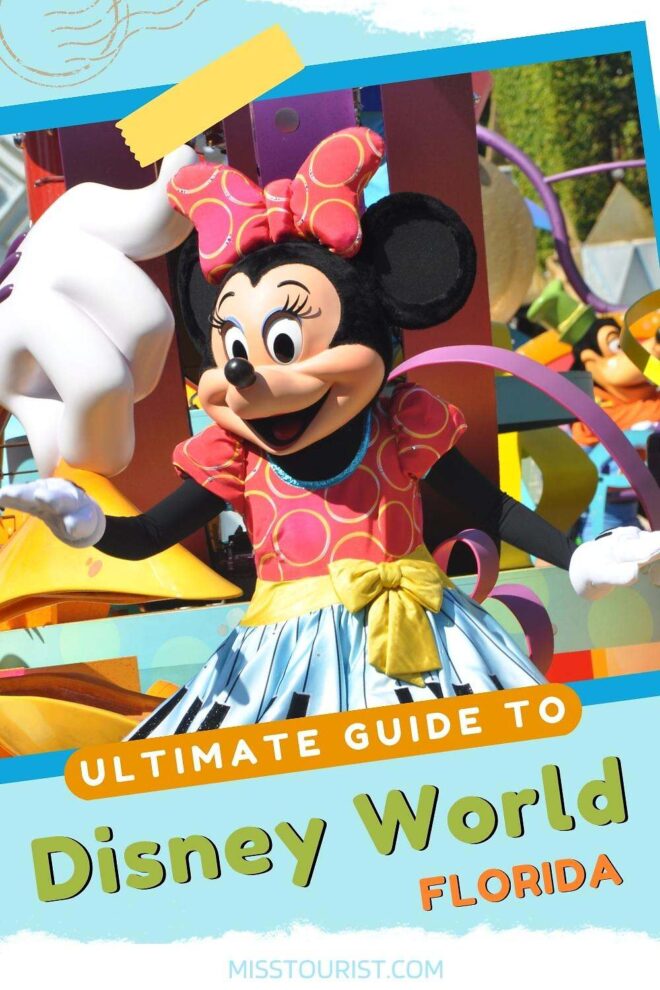 Pin it for later!