Volkswagen has a big recall on its hands for its biggest SUV, Kia has big plans for the future buoyed by its recent triumphs and Stellantis CEO Carlos Tavares made big money in 2022, perhaps too much. All that and more in this edition of The Morning Shift for Wednesday, April 5, 2023.
Volkswagen's CEO Is Stepping Down
1st Gear: Do Not Sit
Nobody should sit in the front passenger seat of a Volkswagen Atlas while the vehicle is in motion, according to the National Highway Traffic Safety Administration. That's because the wiring for the sensor that detects whether an occupant is present could be faulty, which means the airbag may not deploy in the event of a crash. From Reuters:
The recall covers 2018-2021 model year Atlas and 2020 model year Atlas Cross Sport vehicles, and relates to potential faulty occupant-detection systems in front passenger seats.

The passenger occupant-detection system may experience a fault in the wiring, which could deactivate the front passenger air bag even when the seat is occupied. A deactivated air bag will not deploy in the event of a crash, increasing the risk of injury to the front seat passenger, NHTSA said.

Volkswagen said it is currently developing a remedy, which it expects to be ready likely in late 2023. VW in late 2020 introduced a new cable to address potential issues with the system.
This recall accounts for 143,000 Atlases built over a period of four years, going back to the very first model year in 2018. Apparently Volkswagen began investigating the problem way back in 2019. Two years later, it reported "field data analysis indicates that the failure is highly sporadic and the warning light is illuminating immediately upon failure."
The automaker says it hasn't been informed of anyone having been injured as a result of this defect. If the fix isn't ready until "late 2023," owners are looking at a good, what — six months without a usable passenger seat, having to chauffer everyone around in the second or third row? Six painfully awkward months.
G/O Media may get a commission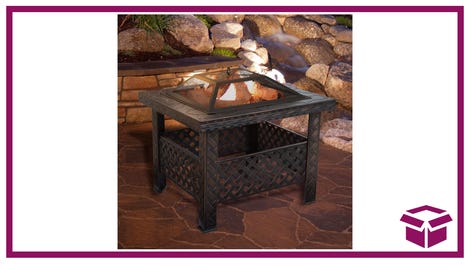 67% off
Steel Outdoor Fire Pit
Gather 'round the fire.
With a powder-coated, bronze-colored steel finish, this fire pit looks as pretty as it is durable.
2nd Gear: Kia's Dreaming Big
Those KN cars are proving very popular, and it's that momentum that has spurred Kia along to set a target for itself. CEO Ho Sung Song wants to see half of the brand's global sales originating from electrified vehicles by 2030. That actually seems like a pretty reasonable goal. Via Automotive News:
The automaker wants to sell 2.38 million full-electric and hybrid vehicles in 2030, he said.

That represents a 300,000-unit increase over Kia's target from last year.

EVs will account for some 1.6 million of those vehicles in 2030, as Kia expands its full-electric lineup to 15 models by 2027, Song said.

Following the introduction of the popular EV6 hatchback, Kia plans to release the EV9 three-row all-electric crossover this year as the brand's new flagship.

Also on tap in the midterm is the smaller EV5 crossover, Kia said.

Kia expects to sell 258,000 EVs worldwide in 2023. The revised 2030 EV sales target represents an increase over the 1.2 million goal Kia had set for worldwide EV sales just last year.

To supply the coming EV surge, Kia will open its first dedicated EV factory next year in Gwangmyeong, outside Seoul.

In the U.S., Kia will also produce key EV models locally, beginning 2024. Kia said it will also produce small and midsized EVs in Europe.
Of that electrified half, Kia still plans battery-electric vehicles to comprise 37 percent of sales globally — up from 8 percent in 2023. That'll certainly be much easier to realize once the brand gets its future U.S. facility churning out products, to benefit from federal tax credits.
3rd Gear: Did Carlos Tavares Make Too Much Last Year?
That's the question two advisory firms are attempting to settle for Stellantis shareholders. One said the CEO's $25.8 million payout including bonuses were "in line with market practice," but admitted that the criteria is vaguer than it should be, while another came out against Tavares' generous pay package. From Reuters:
Institutional Shareholder Services (ISS) has recommended a vote in favor, while Glass Lewis said shareholders should vote against it according to reports seen by Reuters on Tuesday.

Tavares' total compensation for 2022 was almost 23.5 million euros ($25.8 million), including long-term compensation. Stellantis said his cash and vested equity awards was 14.9 million euros ($16.3 million), 13% lower than the previous year.

In its report, ISS said the proposed remuneration was in line with market practice, but raised concerns including for a "lack of clarity regarding the key perquisites allocated to both the CEO and chairman."

ISS said concerns also remained about some incentives introduced in 2021. Despite no payout in the past fiscal year, if performance targets were achieved, they could lead to a 40 million euro payout, at current market value, on top of the CEO's existing pay package.

It "may be considered excessive once vested," it said.

Glass Lewis said Tavares' "total pay opportunity and realized pay appear to exceed most European peers."

Glass Lewis cited some improvements in disclosures of Stellantis' executive compensation, but said shareholders may rightfully expect "further, more comprehensive improvements" to that process.
Tavares and Stellantis are no stranger to being dragged by investors for paying the big boss too much. They came under fire in 2022 for similar reasons, resulting in more than half of all voting shareholders rejecting the proposed renumeration for senior managers. Given that this is the second year in a row vested parties are having this discussion, I'm going to go out on a limb here and say there's a case to be made.
4th Gear: Panasonic's Getting Attention
Stellantis and BMW have reportedly taken an interest in Panasonic's cylindrical cells, according to an exclusive report from the Wall Street Journal. The automakers are supposedly considering joint-venture battery plants with the company in North America, citing the perceived benefits to efficiency and safety of Panasonic's approach versus the newer pouch-type cells many automakers prefer.
Stellantis, whose brands include Chrysler and Jeep, has said it plans to make an announcement about a third North America EV battery factory during the current April-June quarter. It has already started building two—one with LG Energy Solution Ltd. in Canada and another in Indiana with Samsung SDI Co.

Stellantis is talking to Panasonic as a possible partner for the third factory, said people familiar with the discussions, although they cautioned that discussions are at an early stage and issues remain to be worked out.

Panasonic manufactured around 7% of all EV batteries deployed in 2022, behind Contemporary Amperex Technology Co.'s 37% and LG Energy's 14%, according to SNE Research.
For Stellantis, working with Panasonic presents another opportunity to diversify its offerings, rather than entrusting its entire EV business to one firm. For BMW, the interest might have something to do with Congress discouraging cooperation with a Chinese supplier like CATL, particularly given the blowback Tesla and Ford have already received.
Last year, BMW said its new class of EVs to be released from 2025 would use large cylindrical batteries instead of the rectangular prismatic ones that it used in previous models. On a recent earnings call, BMW executives cited cost savings, improvements in vehicle range and faster charging as reasons for the shift.

BMW has said it plans to build six new EV battery plants in Europe, China and the North America free-trade area that includes the U.S., Canada and Mexico. The company said in September it had awarded contracts in the "two-digit billion-euro range" to Chinese battery suppliers CATL and Eve Energy Co. to build two factories each in China and Europe.
5th Gear: UK Car Sales Are Healing
Sales of new cars haven't been particularly wonderful anywhere over the past three years, but the UK had a particularly rough go of it, especially early in the post-COVID world. It's good news, then, that auto purchases in the country saw a massive lift March, rising 18 percent relative to their position during the same month in 2022. From Reuters:
The Society of Motor Manufacturers and Traders (SMMT) said new car registrations jumped to 287,825 units as supply chain challenges continued to ease, making the first quarter of 2023 the strongest three-month period since 2019.

Battery electric vehicle (BEV) sales reached a record monthly high of 46,626, representing 18.6% year-on-year growth, while petrol-powered vehicles remained the most popular fuel type, comprising 56.3% of new units in March.

"The best month ever for zero emission vehicles is reflective of increased consumer choice and improved availability but if EV market ambitions – and regulation – are to be met, infrastructure investment must catch up," SMMT CEO Mike Hawes said in a statement.

The industry body said increased investment in public charging infrastructure is key for the success of the Zero Emission Vehicle Mandate, which is due to be enforced in less than nine months.

John Wilmot, CEO of car leasing comparison website LeaseLoco, said in a note that it would be foolhardy to declare the car industry is out of the woods just yet, as current reported numbers were still well below pre-Covid levels.
At this point I don't think the industry's ever getting "out of the woods." We've been firmly entrenched in the woods for so long already, we're just going to have to get used to the woods, alright?
Reverse: Howard Hughes
On this day in 1976 — 47 years ago — the world lost Howard Hughes, the guy who did a little of everything.
Neutral: There's Nothing Like an Auto Show Pretzel
Today is media day for the New York International Auto Show. Many of my colleagues are on the ground, while I am some 90 miles to the west. I don't know what it is about the Javitz Center that makes a Super Pretzel taste 400 percent better than it does in any other place or at any other time of the year, but I am somewhat despondent I'm not chewing into salty dough while blankly staring at an Eclipse Cross in the basement everyone seems to forget about. What's your favorite snack in such situations?