In all honesty, I have a limited history with broccoli. As a kid, I filled my plate with, well, pretty much everything else. Fortunately, my tastebuds have evolved—since discovering all that broccoli has to offer, it's become a staple in my kitchen. In honor of my newfound passion, I rounded up 19 delicious and healthy broccoli recipes that make the very most of this versatile veg.
Served as a main dish or stunning side, broccoli is generally easy to prep and cook. It can be seasoned countless ways and pairs deliciously with almost any protein. Read on for loads of creative ways you can get the most out of broccoli.
Featured image by Suruchi Avasthi.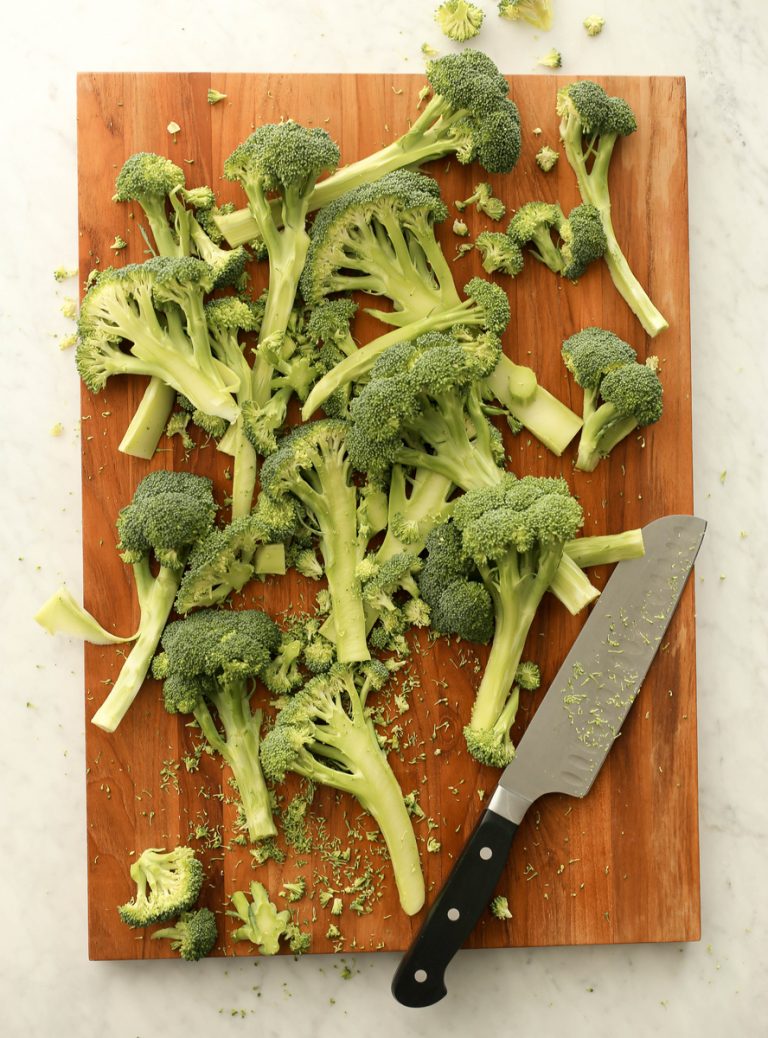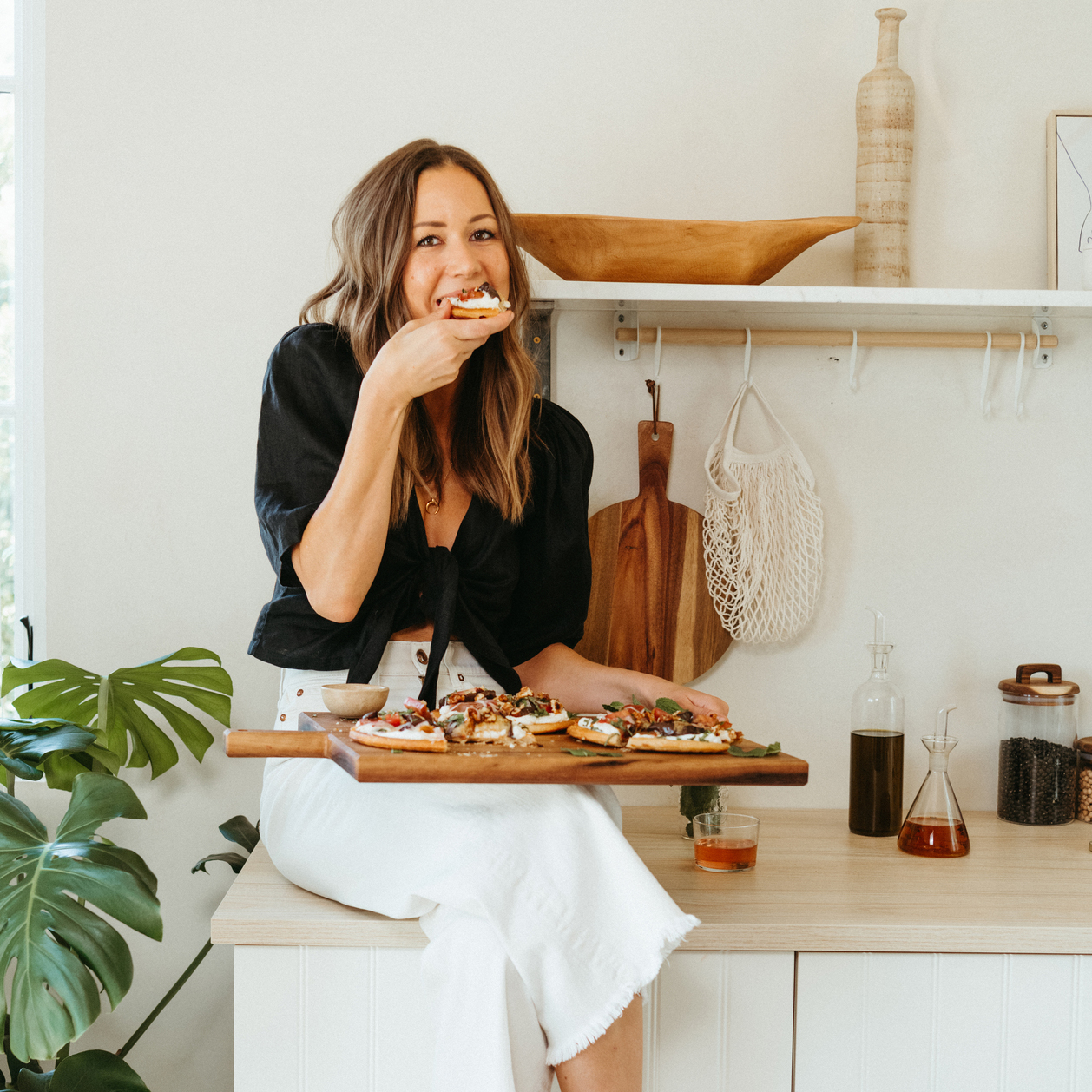 Subscribe
Our Top 10 Recipes
Sign up to receive a FREE E-BOOK of my top 10 most popular recipes of all time!
Thanks for Signing Up!
Oops!
Looks like you're already signed up or your email address is invalid.
Oops!
Looks like you unsubscribed before click here to resubscribe.
The Health Benefits of Broccoli
This veggie isn't just loved for its taste and ease. Broccoli contains high levels of vitamin C—an antioxidant you need for cellular and overall immune protection. Broccoli is also high in vitamin K, used for the functioning of blood clotting, and fiber which aids in digestive health. While raw broccoli retains all of the nutrients mentioned above, certain preparation methods are best when it comes to retaining all its nutrients.
Easy Tips for Choosing, Prepping, and Cooking Broccoli
How you cook broccoli can impact the nutrients your veggie retains when it comes time to eat. Typically, the cooking methods that preserve the most nutrients for broccoli are roasting, stir-frying, and steaming. (If steaming isn't an option, you can also microwave broccoli for similar results.) Conversely, boiling broccoli can cause this vegetable to lose many of its nutrients, so keep these cooking methods in mind when choosing your dish.
There are a few tricks that come in handy when selecting the best broccoli at the farmer's market or grocery store. Broccoli with firm stems and bright green heads is your best choice. Thick and tough stems with any discoloration or softening should be avoided. To prep broccoli, simply wash, dry, and chop to the length you desire. I recommend dividing the bushel of broccoli into florets and breaking the florets apart from the stem into smaller pieces. You can then cut the florets as small as desired, and even cut the stem stalk if it can be used in your dish.
19 Healthy Broccoli Recipes That Will Elevate Your Side Dishes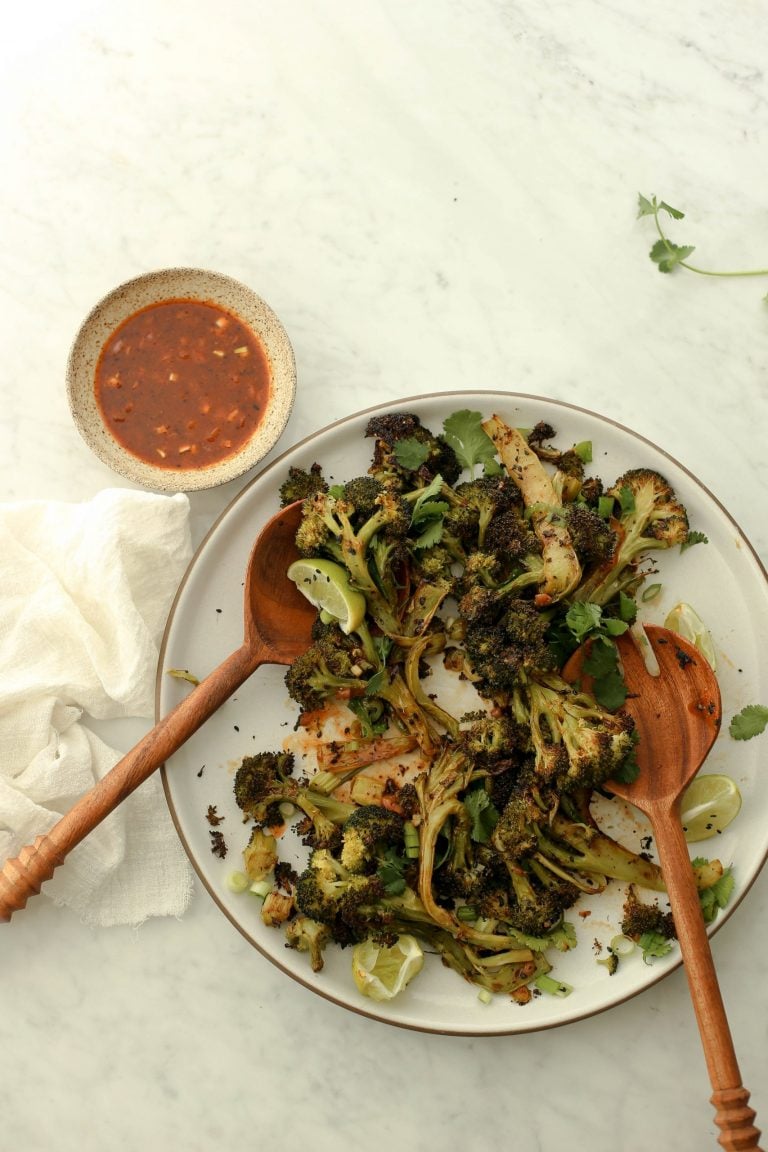 Spicy Chili Lime Miso Broccoli
Why We Love It: Chili and lime go together like peanut butter and jelly. The flavors counteract each other perfectly while keeping your plate from overwhelming your taste buds. Showcasing broccoli as the star of this dish makes it simple and easy to throw together for any meal.
Hero Ingredient: Chili oil adds the perfect hint of heat.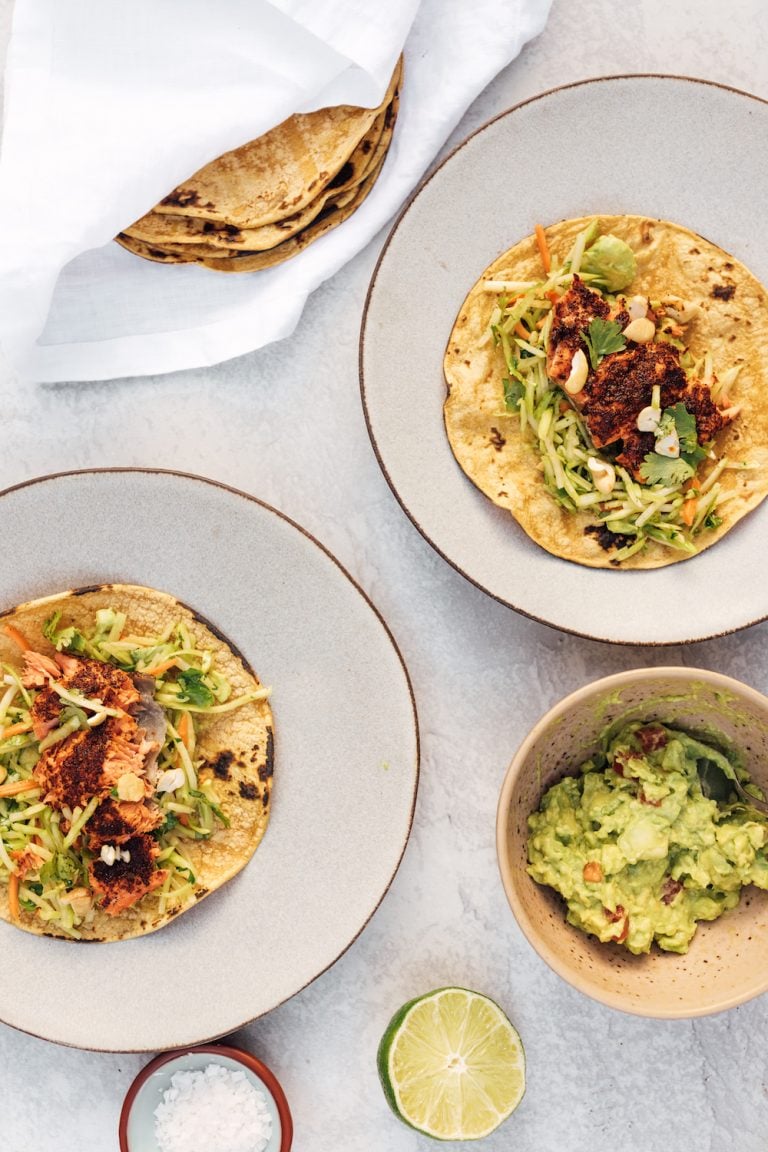 Easy Salmon Tacos With Broccoli Slaw
Why We Love It: Salmon is arguably the perfect protein partner for broccoli with its savory flavor. This broccoli slaw is a great topping to add to a variety of different dishes, as broccoli's sometimes bitter taste isn't too prominent and complements traditional slaw flavors. These tacos are an easy solution for incorporating veggies and healthy protein into a delicious meal.
Hero Ingredient: Cashews add a nice, savory nuttiness to the fresh broccoli slaw.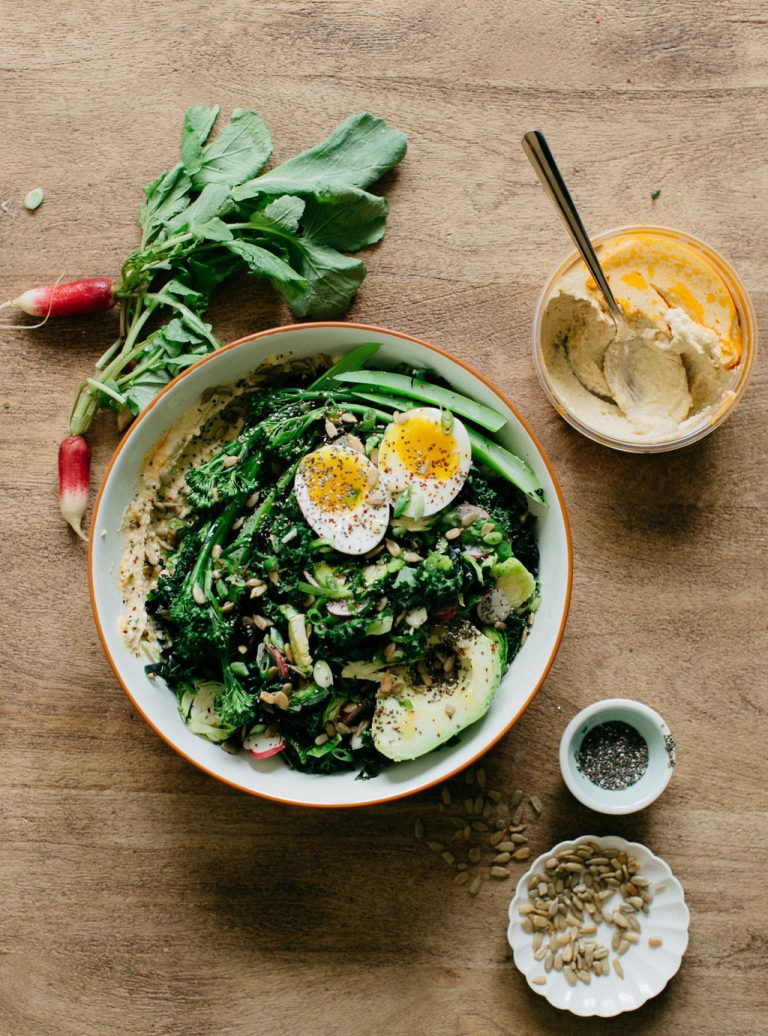 Hummus, Greens, & Avo Bowl
Why We Love It: Bowls are one of my favorite ways to incorporate all of the major food groups into one plate. Whether it be for a hearty lunch or a healthy dinner, this bowl has it all—from fresh green broccolini to soft-boiled eggs filled with protein.
Hero Ingredient: Never underestimate the power of an avocado to transform a lighter dish into a filling, complete meal.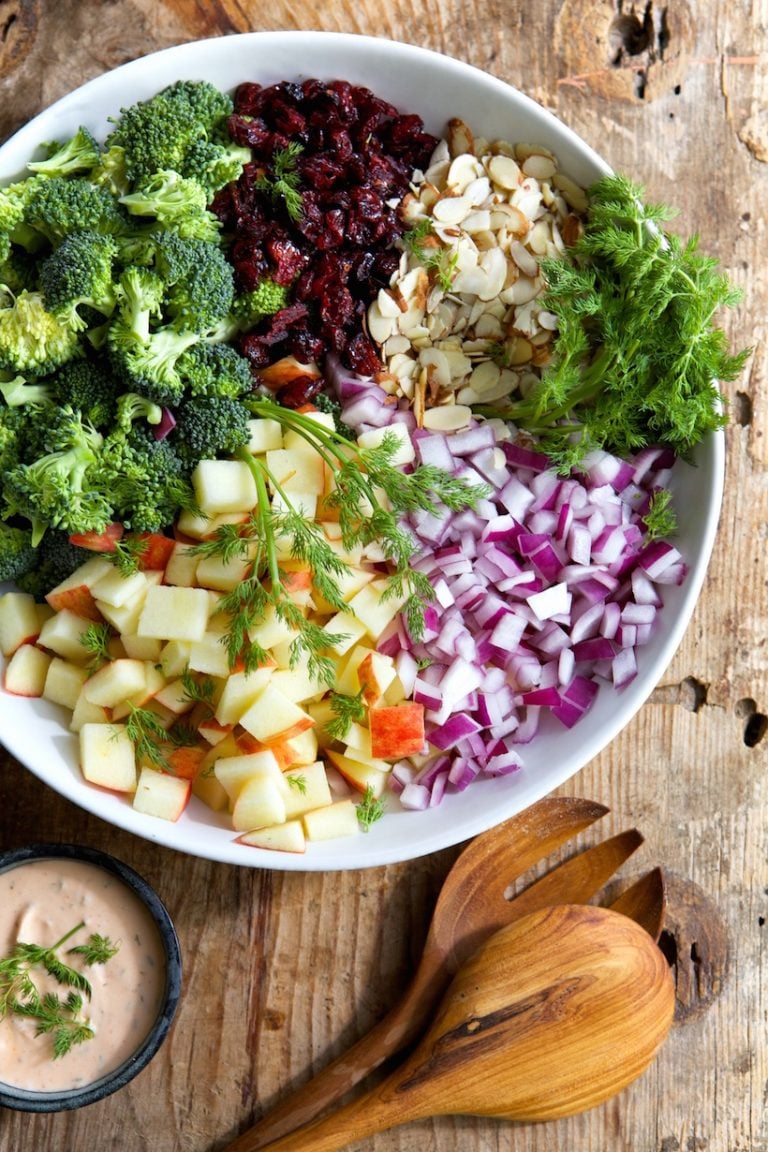 Raw Broccoli Chopped Salad
Why We Love It: It's almost the perfect weather for light and refreshing salads. This raw broccoli chopped salad? Definitely on my list. It's the perfect way to put together a side dish to serve a crowd or meal prep with fresh ingredients for the week ahead.
Hero Ingredient: Greek yogurt doubles up as a probiotic source of protein (satiating and good for the gut!) while also making the dressing extra creamy.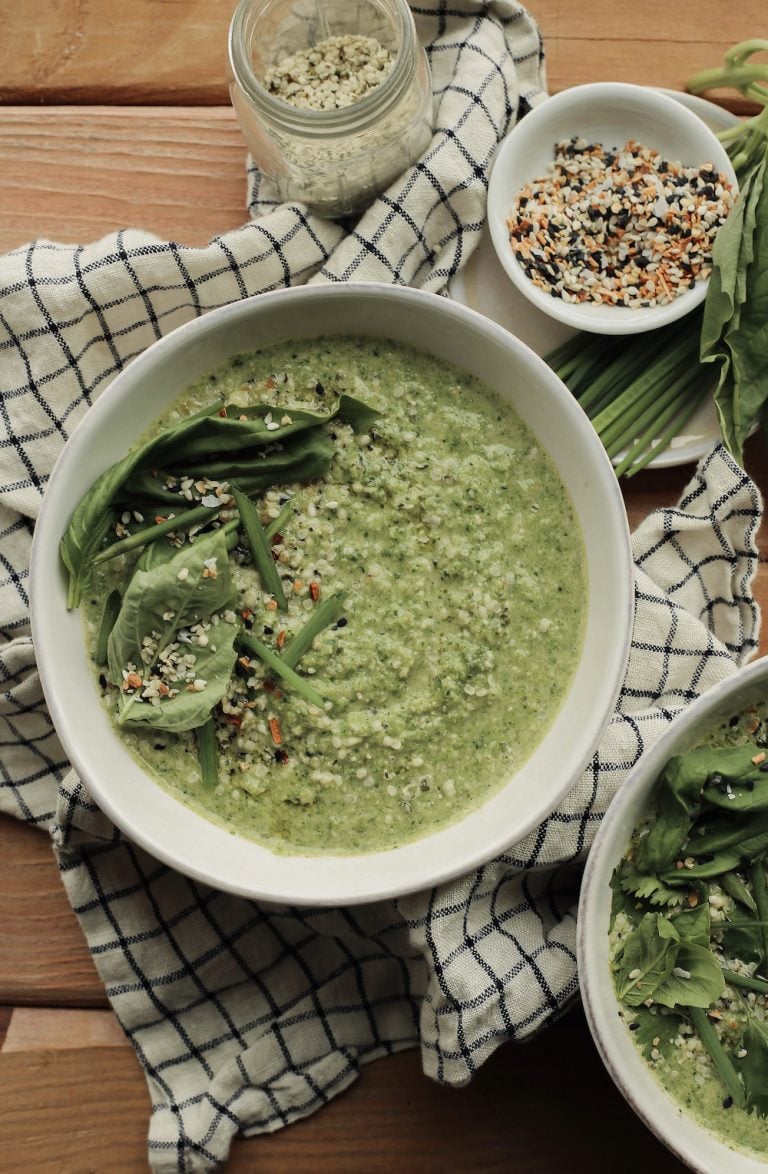 Big Green Immunity-Boosting Vegetable Soup
Why We Love It: Isn't it always the case that the best evenings consist of cozying up with a hearty soup, no matter the season? This immunity-boosting soup pulls in produce you probably already have in your refrigerator (spinach and asparagus, in addition to the broccoli). The result is a bowl of creamy goodness with major nutritional value to boot.
Hero Ingredient: Add a little citrus zest (lemon or lime works perfectly in this dish) for an impressive balance of flavor. Your soup will never be the same.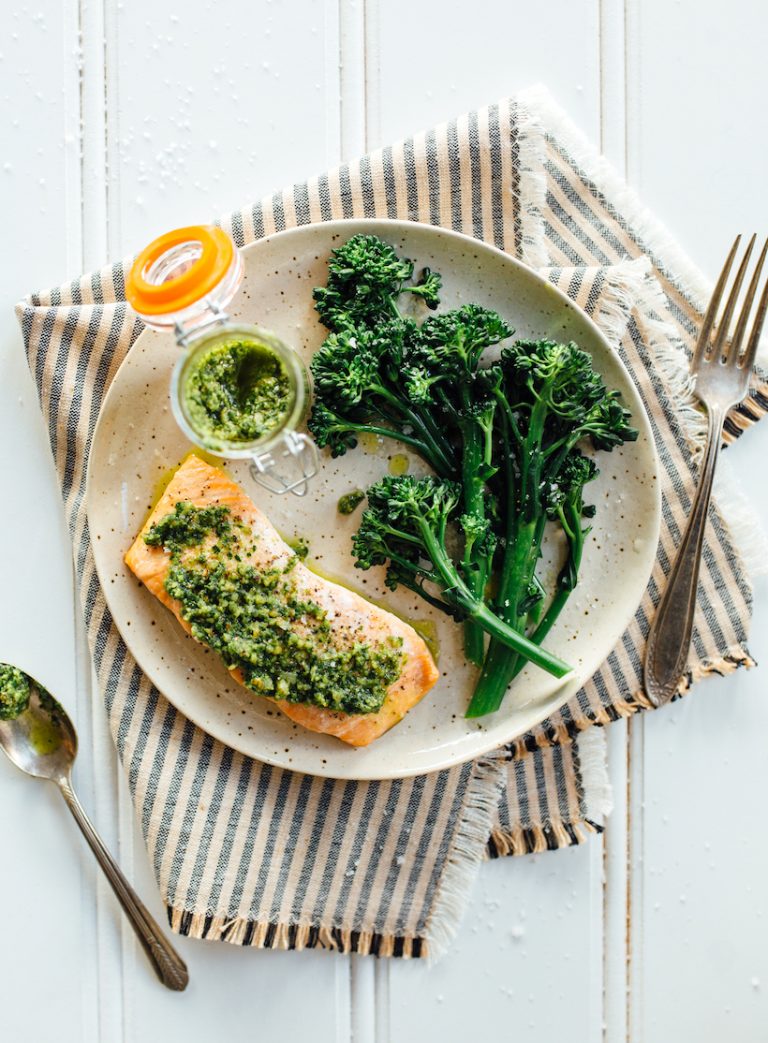 Baked Pesto Salmon with Broccolini
Why We Love It: Just a reminder that once you pair broccoli with salmon, you may never go back. Add in pesto, and you've created an irresistible dish that's unlikely to leave you with leftovers. Bonus: this recipe is only five ingredients! Your Monday night menu, sorted.
Hero Ingredient: Store-bought or homemade, be sure to top this dish with plenty of pesto.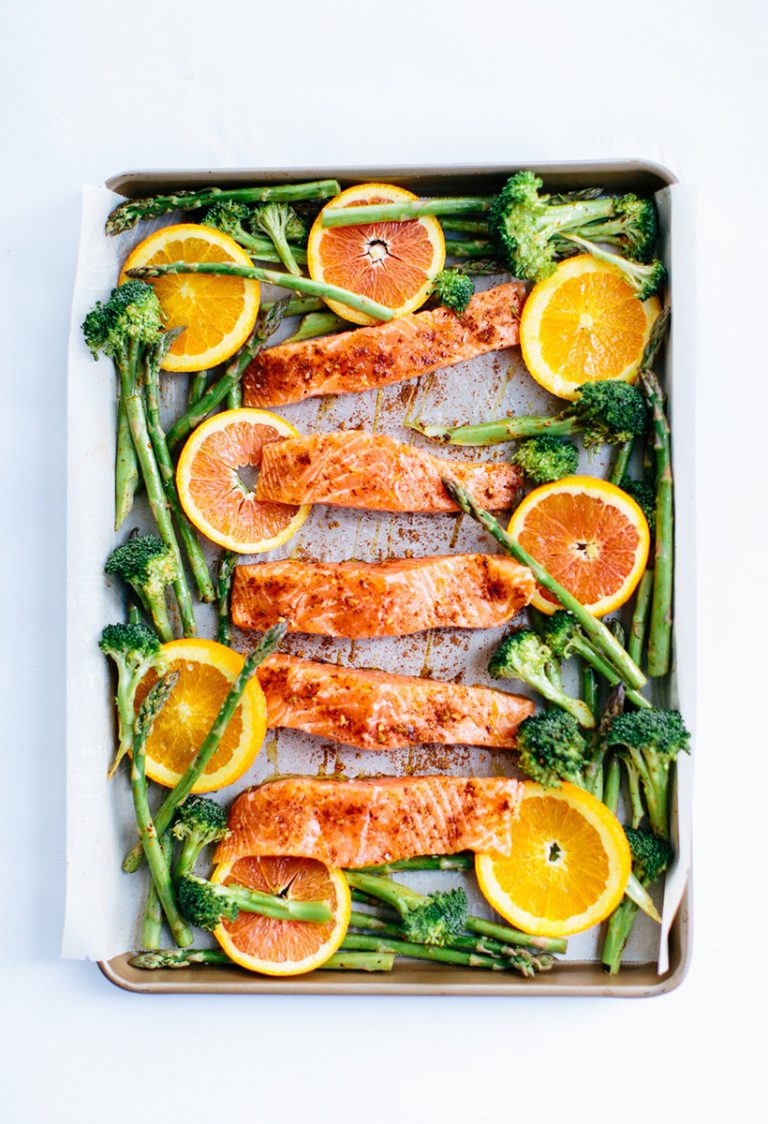 Roasted Chili-Orange Salmon with Garlic & Green Veggies
Why We Love It: Not only is this sheet pan salmon with veggies simple to cook, but it's also a no-mess clean-up process that's perfect for weeknights. Roasting these veggies with the same seasoning you use for the salmon ties this dish together seamlessly. Satisfying salmon and crunchy veg—is there anything better?
Hero Ingredient: Blood oranges are a picture-perfect addition to your pan.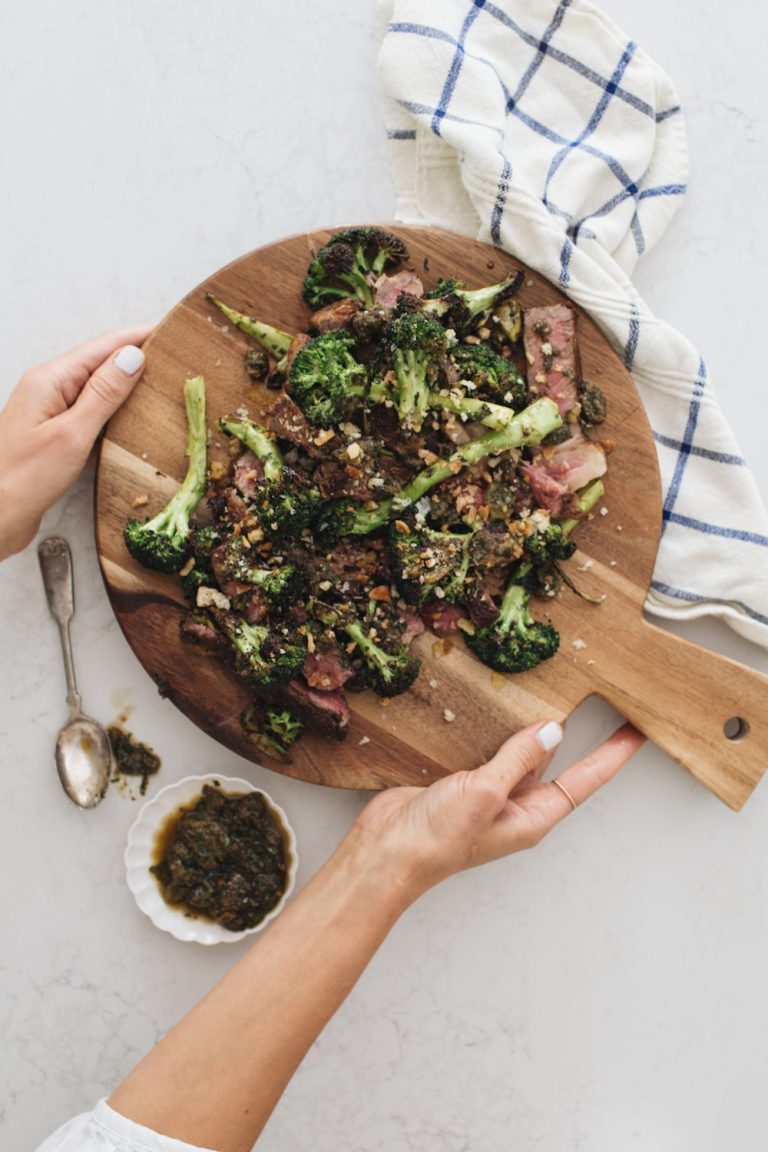 "Chinese" Beef and Broccoli
Why We Love It: Beef and broccoli is a well-known combination that requires very little effort. Joshua McFadden adds a new twist to this classic by coating his dish with a raisin vinaigrette. Unexpected, but totally delish.
Hero Ingredient: This caper-raisin vinegarette does not disappoint.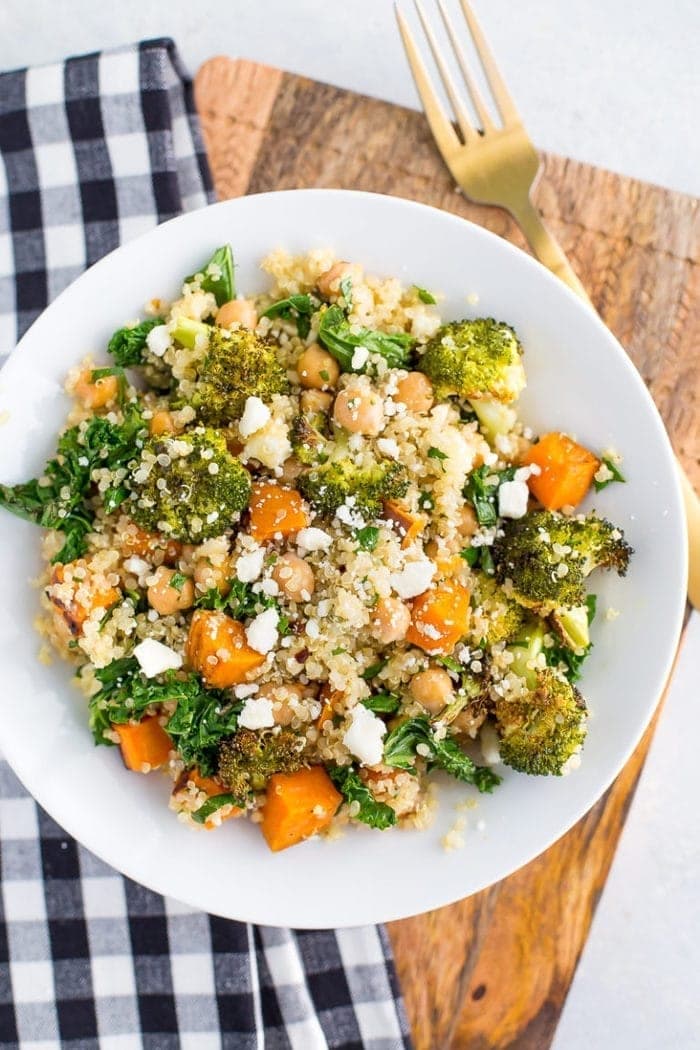 Roasted Broccoli Quinoa Salad from Eating Bird Food
Why We Love It: One of the best feelings is discovering a delicious salad that is more than just a side dish. This plate will keep you full with sweet potatoes and quinoa and wake up your taste buds with a tangy lemon dressing. Roasting the kale and broccoli adds a great crunch to complement these flavors.
Hero Ingredient: Feta cheese is a no-fail topping for any great salad.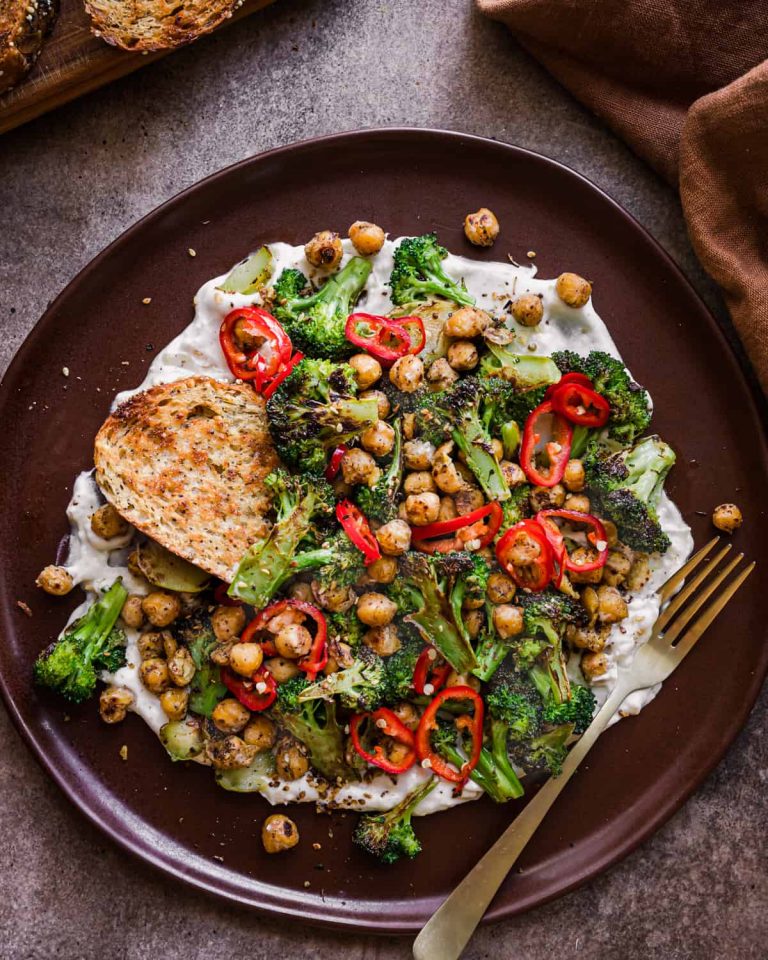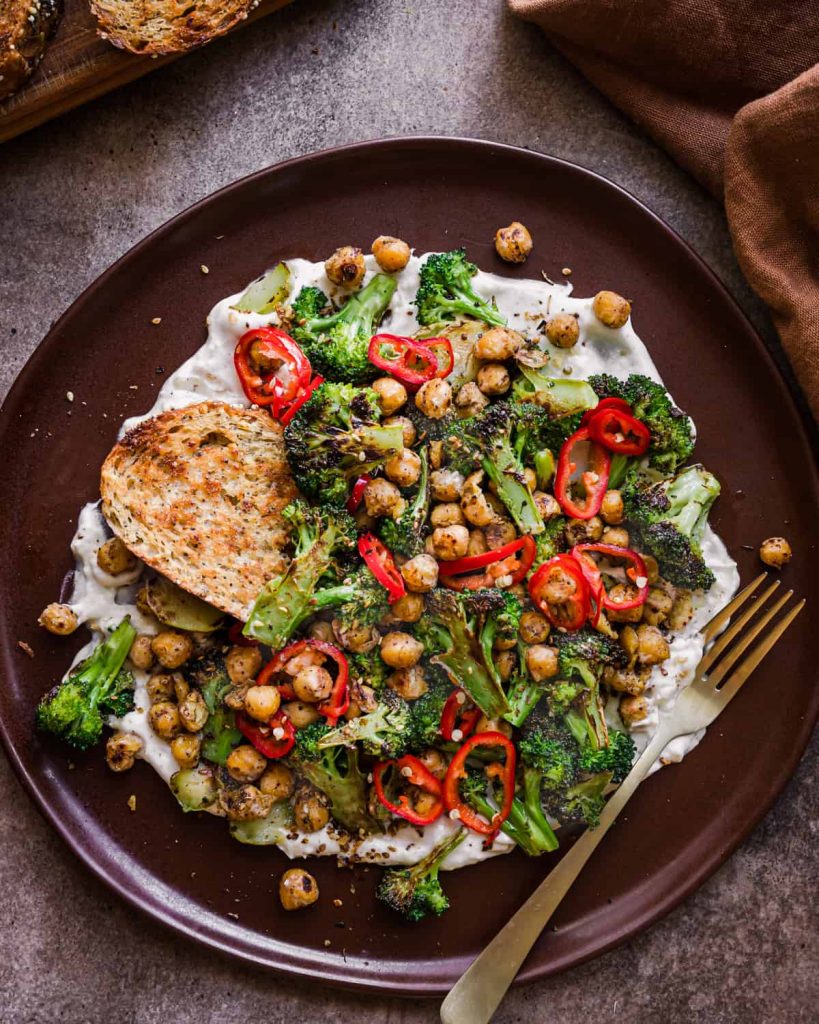 Charred Broccoli and Za'atar Chickpeas with Yogurt Sauce from Rainbow Plant Life
Why We Love It: Visually stunning and even tastier, this recipe has it all. The yogurt sauce is a top-tier complement to the charred broccoli and chickpeas. Don't be intimidated by the looks of the plate, this recipe only takes 20 minutes.
Hero Ingredient: Your dish wouldn't be complete without the Middle Eastern seasoning, za'atar.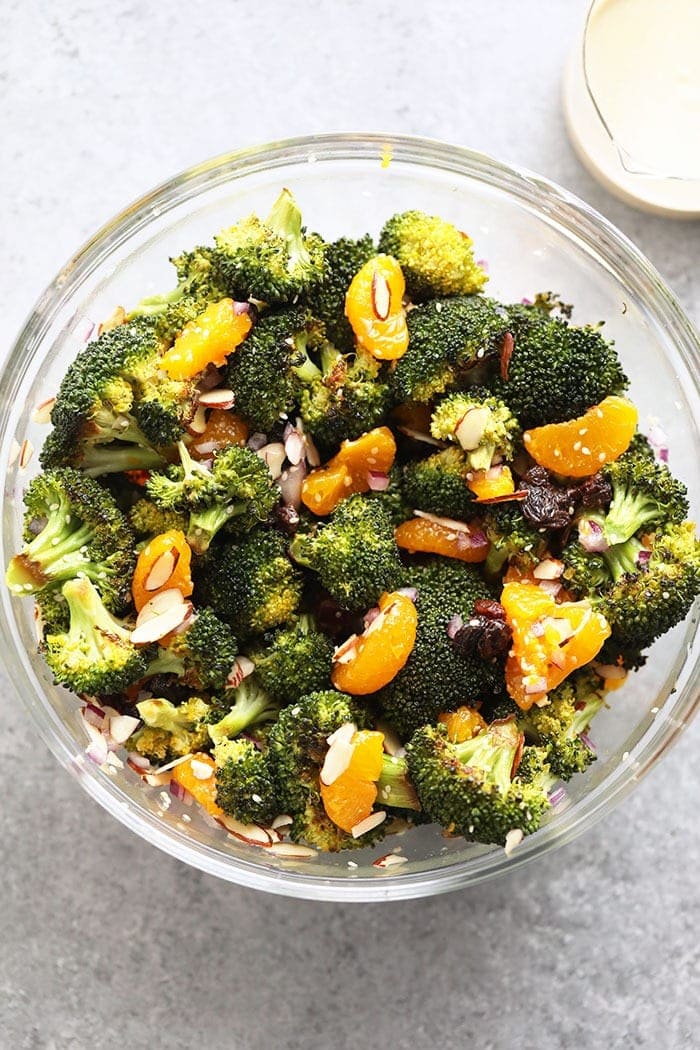 Vegan Mandarin Orange Broccoli Salad from Fit Foodie Finds
Why We Love It: A great way to keep your broccoli salad interesting and nutritious is by incorporating a bit of natural sweetness from the fruit. Mandarin oranges do just the trick. In this recipe, the citrus mellows out the dressing's soy sauce.
Hero Ingredient: The base of this dressing uses soaked cashews. It's key to achieving next-level creaminess.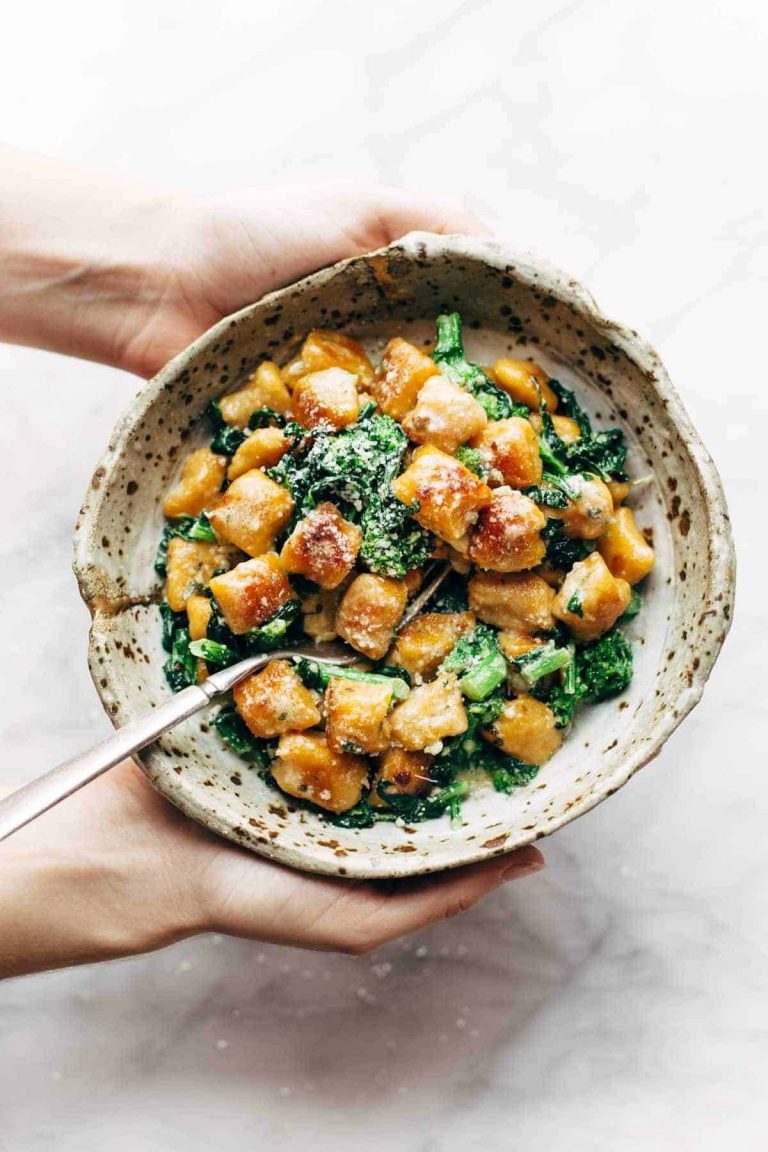 Sweet Potato Gnocchi With Broccoli Rabe And Garlic Sage Butter Sauce from Pinch of Yum
Why We Love It: Gnocchi of any kind has my heart, but sweet potato gnocchi is a great way to keep this beloved carb on the healthy side. There couldn't be a more perfect veggie than broccoli rabe to pair with this pillow-like pasta.
Hero Ingredient: Never underestimate the versatile, fresh flavor that sage can impart to any dish. It's earthy, minty, and adds just a hint of citrusy tang. Added to the garlic butter sauce, it's perfection.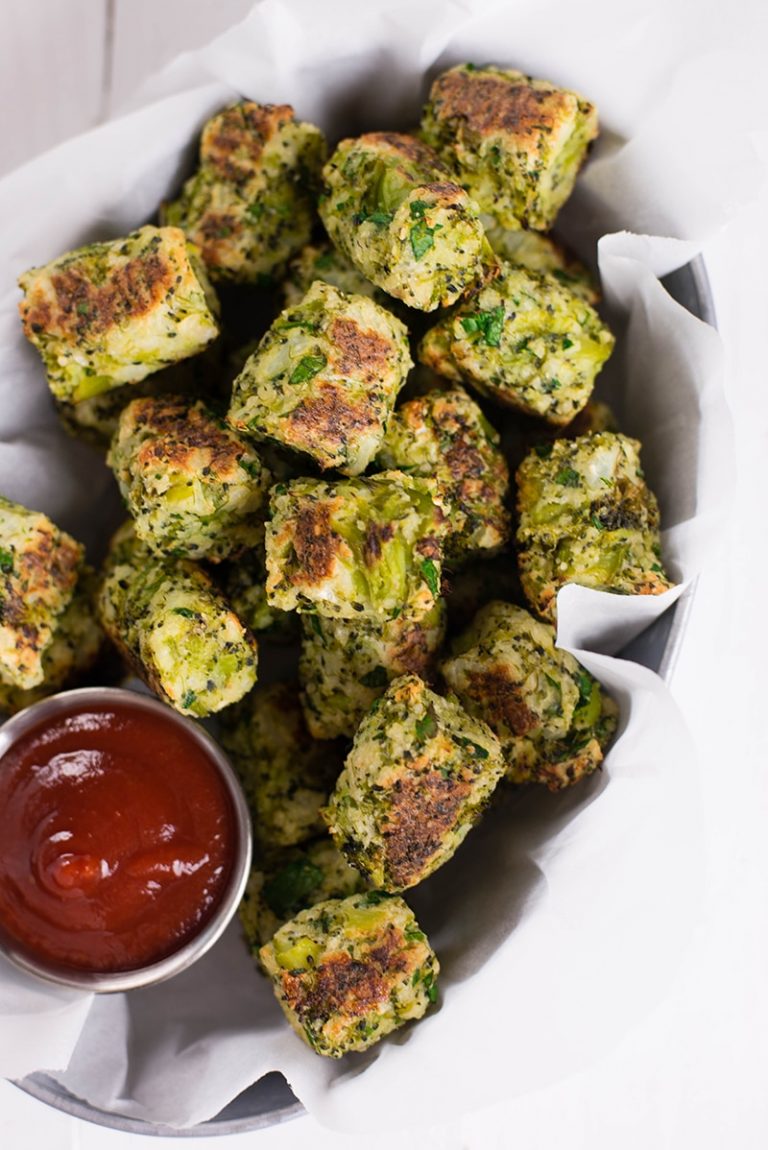 Healthy Baked Broccoli Tots from A Sweet Pea Chef
Why We Love It: As I mentioned, it was only recently that I discovered all that broccoli has to offer. With that being said, I never could have imagined turning a fast-food staple like tater tots into a delicious and nutritious side. Paring these tots with any type of veggie burger is a great plant-based alternative to beloved American-style dishes.
Hero Ingredient: These broccoli tots wouldn't be the same without, you guessed it, broccoli!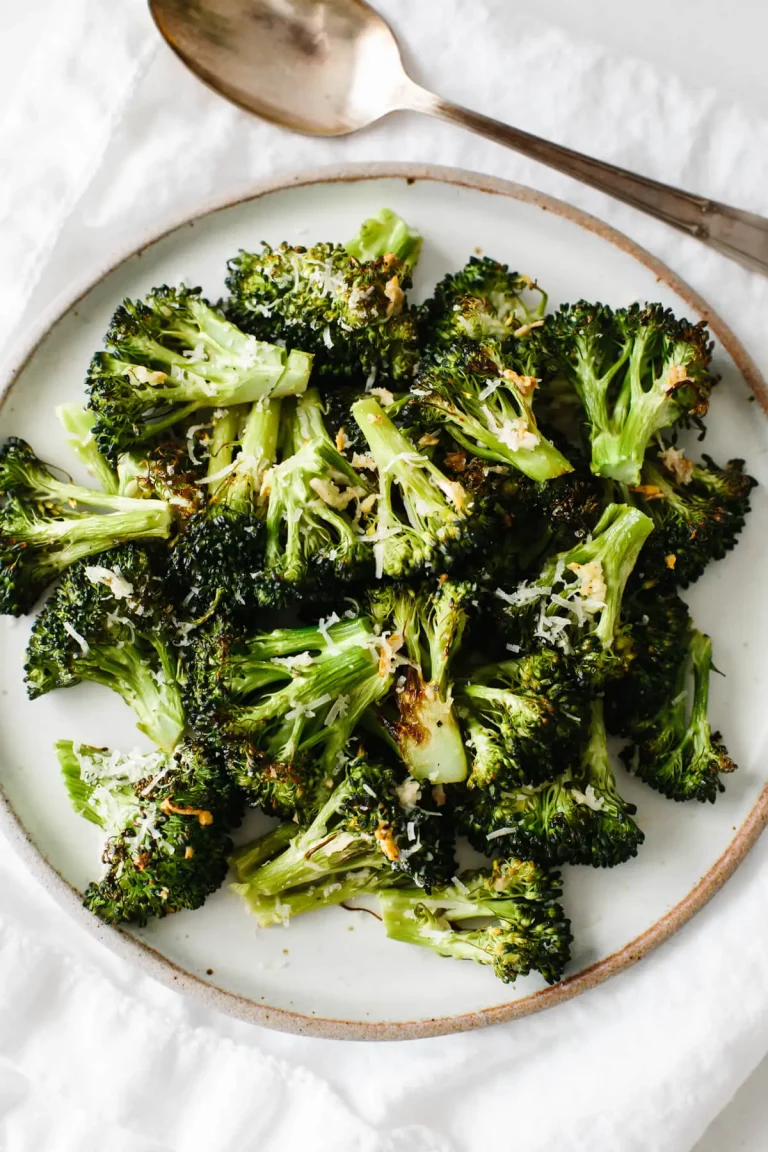 Roasted Broccoli with Garlic and Parmesan from Downshiftology
Why We Love It: If you're searching for a simple side that won't disappoint your taste buds, look no further. This roasted broccoli with garlic and parmesan is it. This flavor combination is one we know and love—it's never not satisfying.
Hero Ingredient: A squeeze of lemon juice really brightens up this veggie.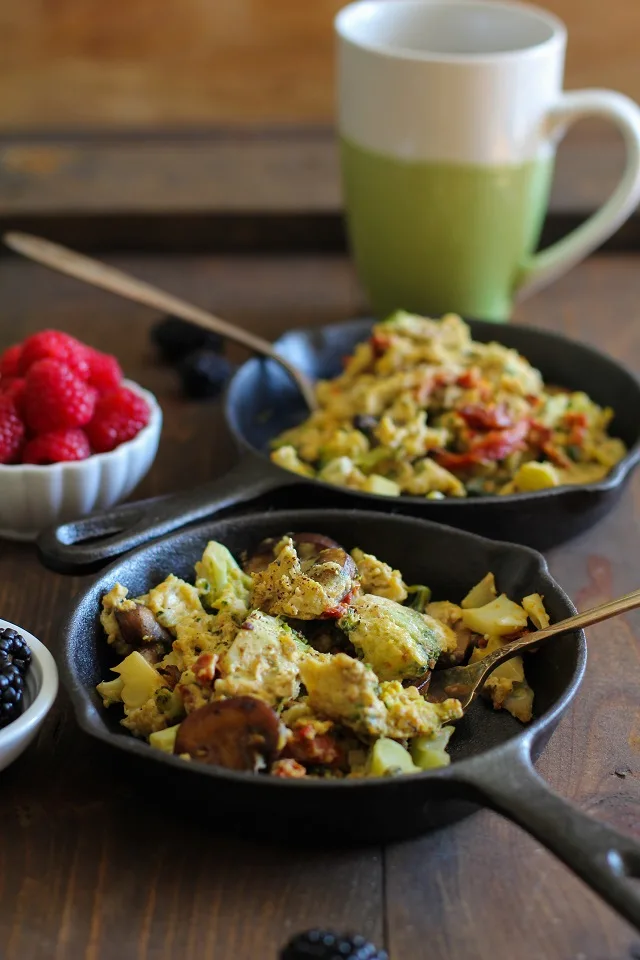 Broccoli, Mushroom, and Sun-Dried Tomato Scramble from The Roasted Root
Why We Love It: A scramble is a great way to throw together a nutritious and simple breakfast. This recipe is sure to make your weekly menu with pops of flavor from sun-dried tomatoes and nutrients from broccoli and mushrooms.
Hero Ingredient: I may be biased, but sun-dried tomatoes are one of my most frequented pantry staples.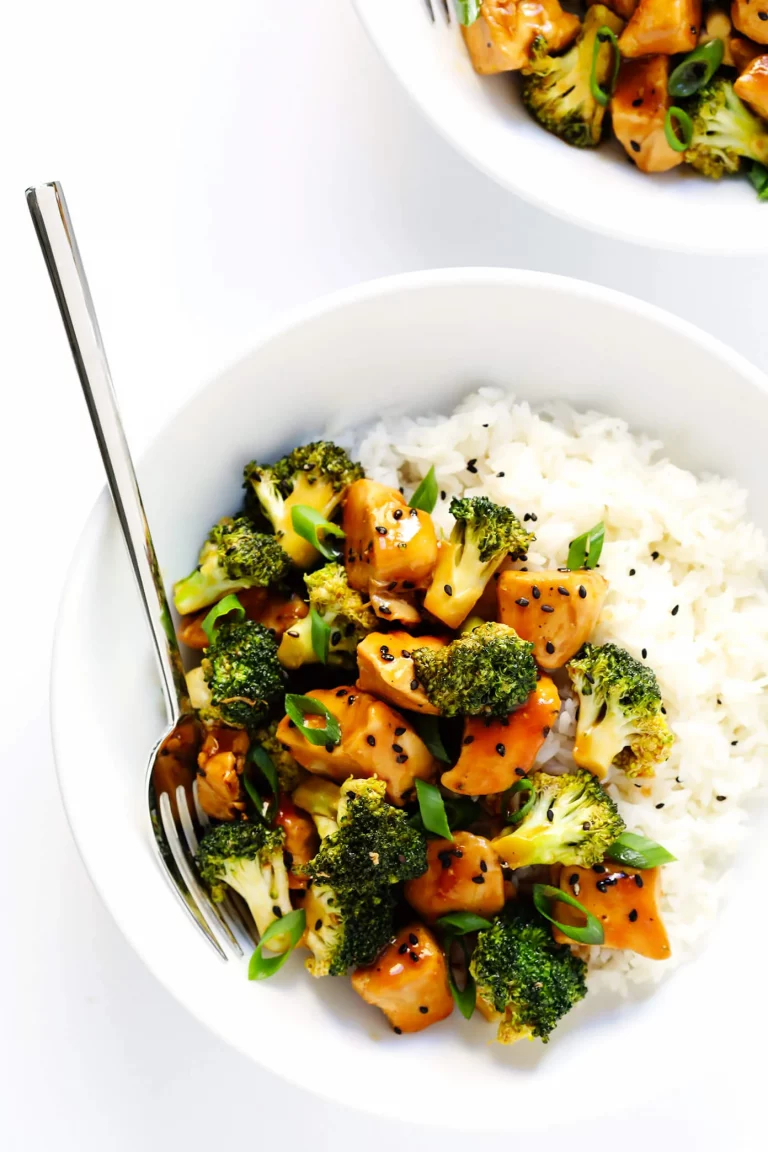 Chicken and Broccoli from Gimme Some Oven
Why We Love It: When it comes to healthy broccoli recipes, it couldn't get more simple than this. Covering your protein, grain, and vegetable categories, this recipe is a perfect way to curate a balanced dinner that everyone will love.
Hero Ingredient: Toasted sesame oil is one of those ingredients I just can't live without.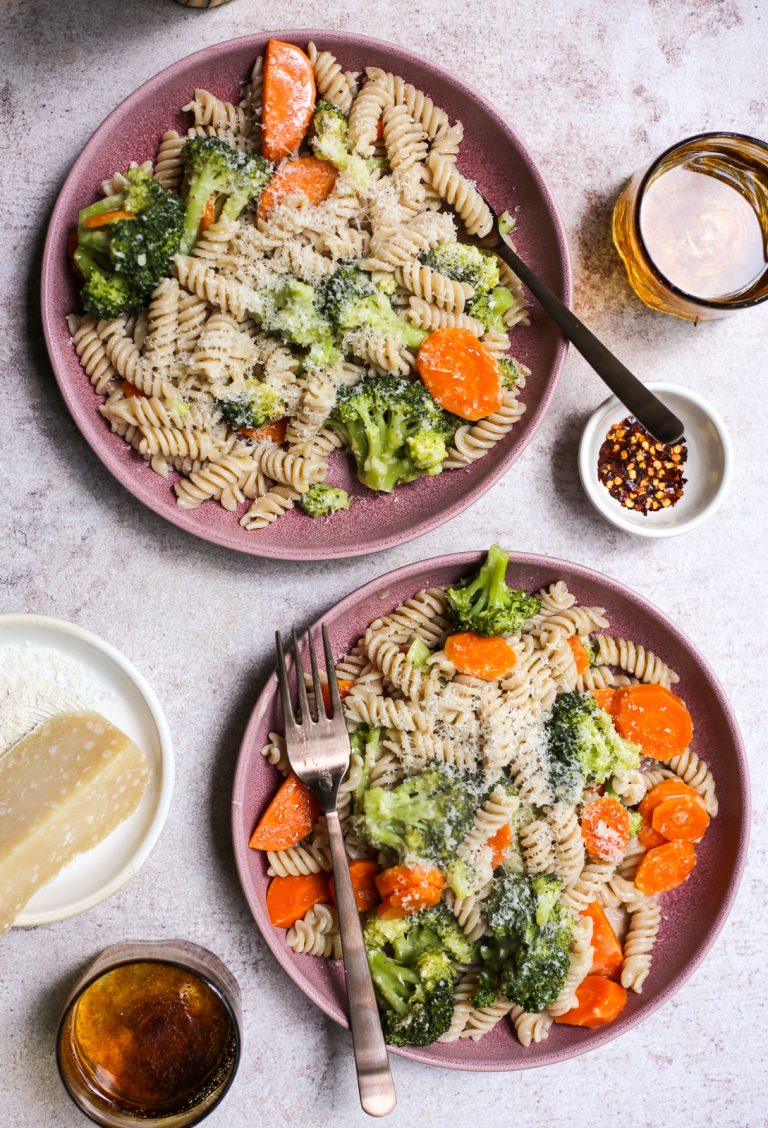 Aunt Leigh's Broccoli and Carrot Pasta from The Defined Dish
Why We Love It: This pasta combines your grains and veggies all into one plate. Serve this dish all by itself or as a side dish for any protein. That's right, it's the vegetarian dish that does it all.
Hero Ingredient: Very few pasta dishes are complete without freshly grated parmesan.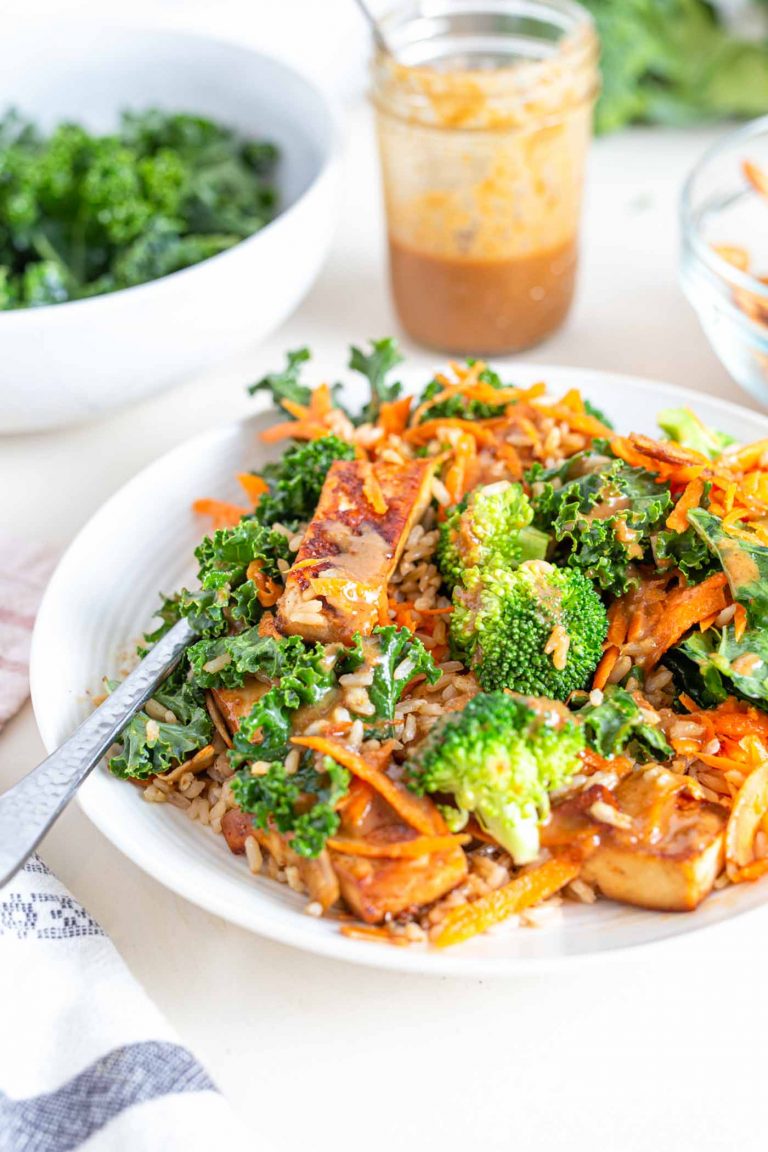 Broccoli Brown Rice Bowls from Running on Real Food
Why We Love It: This brown rice bowl is a great way to keep your meal vegan while still incorporating familiar flavors. Brown rice also adds a nutty component to your bowl that's deliciously satiating. To keep this dish totally gluten-free, try tamarind instead of soy sauce.
Hero Ingredient: Tofu has recently become one of my favorite protein alternatives. Don't believe what you may have heard: when cooked and seasoned correctly, it's anything but bland.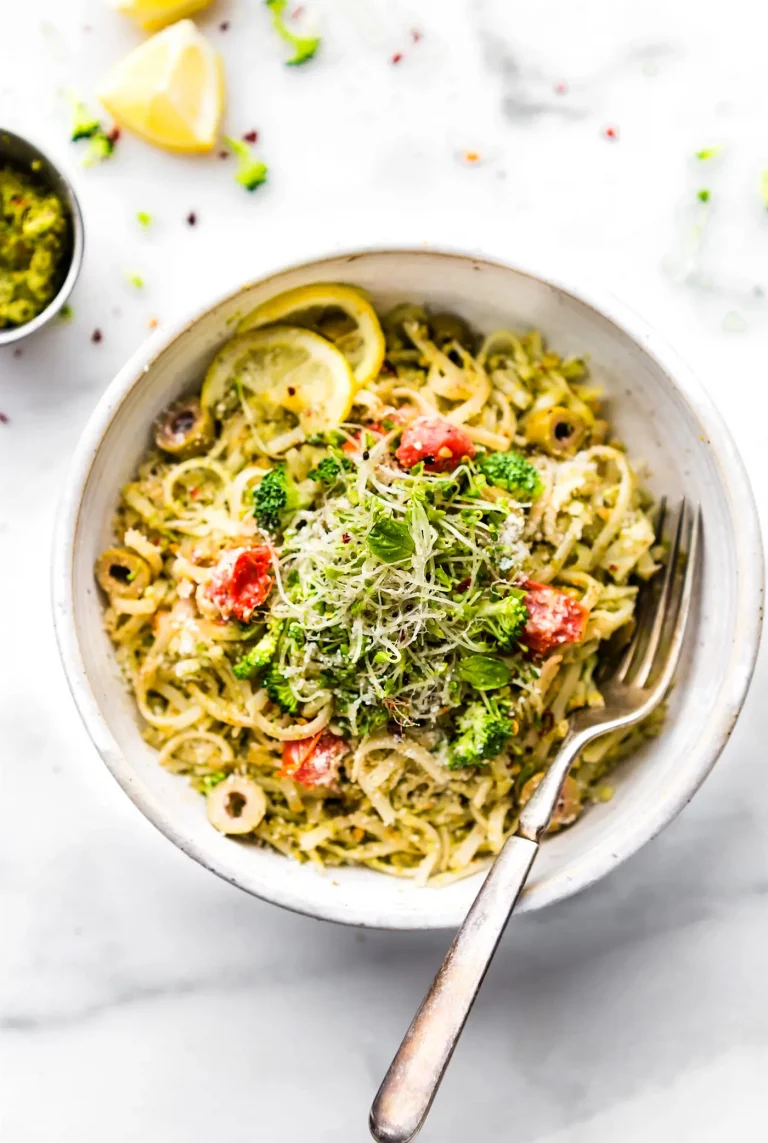 Broccoli Arugula Pesto Pasta from Cotter Crunch
Why We Love It: If you're a fan of pesto pasta's light and bright flavors, this dish might just blow your mind. Break out your food processor and prepare for a light pasta dish to enjoy in warmer weather.
Hero Ingredient: Don't skip the red pepper flakes to deliver a bit of heat.