A 10-Step At-Home Facial from Skin Whisperer Crystal Greene
Written by: Megan O'Neill
|
Published on: March 21, 2023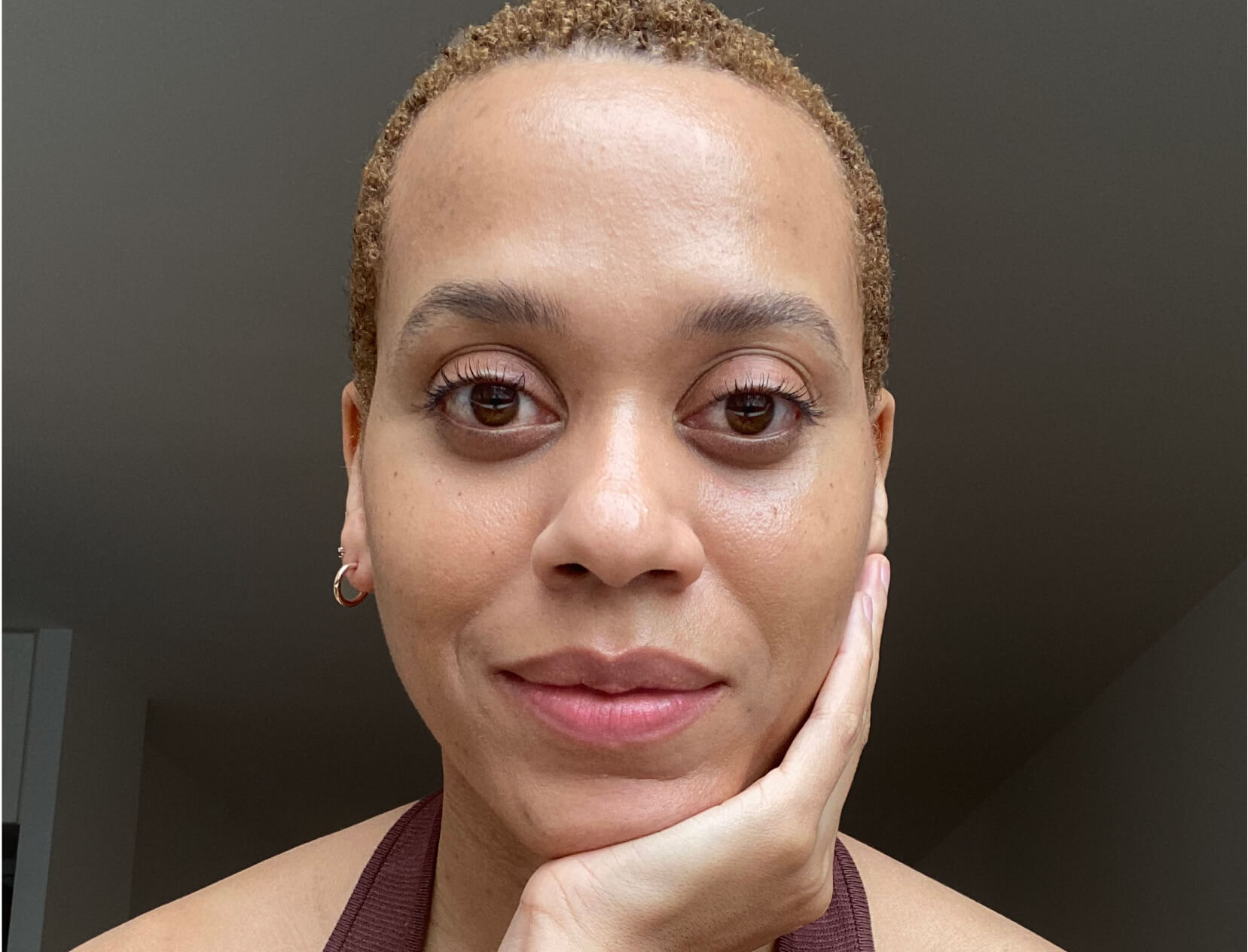 There's something so head-turning—iconic, even—about a woman with super short hair. With her effortless close crop, NYC facialist Crystal Greene (above) is a prime example—but it's her luminous skin that really stops you in your tracks. "I've had short hair on and off since I got a pixie cut at 13, but last year, before my 40th birthday, I cut it this short," says the founder of Crystal Greene Studio, the serene SoHo outpost where Greene performs serious skin magic.
Unsuspecting clients can't possibly anticipate the level of pampering they're in for: "There's so much I can feel and sense when I touch someone's skin," she says. "I move my hands at different speeds, and it's like a dance, my own form of meditation." She incorporates the clinic-grade near-infrared LYMA laser into every treatment. "I love that you can use it for so many different issues: firming, targeting rough skin, pigmentation, and more. And it looks like a beautiful wand," she says. "I use it on my own skin as well."
LYMA

LYMA Laser Starter Kit

goop, $2,700

SHOP NOW
Greene looks at skin from the perspective of barrier health. "People tend to be dehydrated," she says. "Sometimes that's environmental, and sometimes it comes from not using the right products to support your skin. All skin types need hydration. Ceramides are naturally occurring in skin, but our supply depletes as we age; using them topically helps strengthen skin."
If you can't get in to see Greene at her studio—a bucket list objective for sure—follow the steps below to approximate one of her facials at home.
1
Breathe
"At the very beginning of a treatment, before I even touch a client's skin, I ask them to take a few deep breaths to unwind and let go of anything they've been carrying around."
2
Double-Cleanse with Moisture
"Massage your skin with oil cleanser first. If you wear makeup or sunscreen, oil is the best way to gently break those down."
Silky Blend for Dry Skin

Tata Harper

Nourishing Oil Cleanser

goop, $88

SHOP NOW

Oil-to-Milk with Silver Ear Mushroom (a Natural Source of Hyaluronic Acid)

KORA Organics

Milky Mushroom Oil Cleanser

goop, $44

SHOP NOW
"Rinse and smooth in a cream formula for the second cleanse to make sure you've thoroughly removed any buildup."
Infused with Brightening East Asian Medicinal Herbs

YINA

Bioadaptive Cleanser

goop, $75

SHOP NOW

Gently Exfoliating with Bakuchiol

Alpyn Beauty

Juneberry & Collagen Hydrating Cream Cleanser

goop, $39

SHOP NOW
3
Replenish Skin with Toner
"I like toners made with humectants—ingredients like hyaluronic acid and glycerin that draw water into skin. And I veer away from astringent formulas: You don't want to strip your skin of natural oils."
Glow-Boosting Toner with Glycerin and Hyaluronic Acid

goop Beauty

GOOPGLOW Flower Acids Resurfacing Toner

goop, $45/$40 with subscription

SHOP NOW

Softening Elixir with Glycerin

MAKANAI

Pure Botanical Charge Lotion Toner

goop, $45

SHOP NOW
4
Sculpt with Face Oil and Massage
"I smooth on face oil and massage it in for as long as 30 minutes (I really like the feel of the GOOPGENES oil). I focus between the brows, as well as at the jaw, which is a huge muscle—my clients tend to carry a lot of tension there. Tools and devices can give great results, but I see my hands as my main instrument."
Firming Face Oil with Clinical Results

goop Beauty

GOOPGENES All-in-One Super Nutrient Face Oil

goop, $98/$89 with subscription

SHOP NOW

Vibrating Massage Bar for Subtle Lifting

Jillian Dempsey

Gold Sculpting Bar

goop, $195

SHOP NOW
5
Exfoliate with Enzymes and Acids (When Your Skin Needs It)
"I stimulate skin so much with massage—which really moves things along and supports detoxification—that I don't always exfoliate, depending on the client's skin. When I do, I like gentle enzyme exfoliators.
"Sleep milk isn't something I use during sessions—it's an overnight treatment you apply to clean skin before bed—but I love the texture and how gentle it is and that it also works as a great spot treatment."
Brightening Treatment with Alpha Hydroxy Acids

Humanrace

Lotus Enzyme Exfoliator

goop, $46

SHOP NOW

Glow-Boosting Overnight Multiacid Serum

goop Beauty

GOOPGLOW Dark Spot Exfoliating Sleep Milk

goop, $98/$89 with subscription

SHOP NOW
6
Moisture-Bomb Skin with a Mask
"I like to apply a hydrating mask—something with vitamins and ceramides that skin is ready to drink up after being stimulated.
"Before rinsing it off, I massage the décolletage, shoulders, and neck, where we also hold a ton of tension, with Marie Veronique or In Fiore products; they're beautiful. It's especially powerful—and heart-opening—to work my way down the sternum."
Calming Chamomile and Sweet Almond Oil Cream

Dr. Barbara Sturm

Face Mask

goop, $125

SHOP NOW

Plumping Hyaluronic Acid Gel

Seed to Skin

The Golden Dew

goop, $141

SHOP NOW
7
Target Dullness, Lines, Dryness, and More with Serum
"I blend a custom serum—vitamins, minerals, and antioxidants from plant extracts are a few of the ingredients—based on the needs of my client's skin."
For Brightening

goop Beauty

GOOPGLOW 20% Vitamin C + Hyaluronic Acid Glow Serum

goop, $125/$112 with subscription

SHOP NOW

For Firming

Skin Design London

Face Tight Serum

goop, $220

SHOP NOW

For Soothing Puffy Eyes and Skin

Furtuna Skin

Porte Per La Vitalità Face and Eye Serum

goop, $185

SHOP NOW
8
Use Laser Energy
"Sometimes I use two LYMAs at once for the sake of time. If someone has dark spots or fine lines, I hold the LYMA over that specific area. I use it on the neck as well.
"I apply cryo sticks to the skin for a toning and tightening effect right after, followed by another layer of serum."
LYMA

LYMA Laser Starter Kit

goop, $2,700

SHOP NOW
9
Seal It All In
"I smooth on moisturizer, eye cream, and SPF (I love the plum cream SPF from Le Prunier, which melts into every skin type invisibly)."
Glow-Cream for Eyes

goop Beauty

GOOPGLOW Vita-C Brightening Eye Cream

goop, $58/$52 with subscription

SHOP NOW

Turmeric Moisturizer for All Skin Types

KORA Organics

Turmeric Glow Moisturizer

goop, $62

SHOP NOW

Melting Mineral Sunscreen

The Organic Pharmacy

Cellular Protection Sun Cream SPF 30

goop, $69

SHOP NOW
10
Finish—and Have Fun—with Makeup
"I like a bit of concealer around my eyes and at the corner of my nose, a quick coat of mascara, and some brow gel. Sometimes I dust bronzer on my cheeks for a warm, sun-kissed tint. And a bold red lip is my favorite when I want some color."
Invisible Liquid Concealer

Beautycounter

Skin Twin Creamy Concealer

goop, $34

SHOP NOW

Inky Mascara

Tower 28 Beauty

MakeWaves Lengthening and Volumizing Mascara

goop, $20

SHOP NOW

Clear Brow Gel for Lifting and Shaping

Rye Beauty

Brow Grooming Serum

goop, $42

SHOP NOW
Bronzer for Summer Glow

Westman Atelier

Beauty Butter Powder Bronzer in Soleil Riche

goop, $75

SHOP NOW

The Perfect Red Lip

Saie

Lip Blur Lipstick in Classic

goop, $24

SHOP NOW
Related Reading
How Often Should You Exfoliate Your Face? Tips from Gwyneth's Skin Guru
The Rentmeester Twins on "Dry and Neglected" Skin
Glowy Skin and No-Makeup Makeup for a Workout